Top 15 Best Gifts for New Dads 2023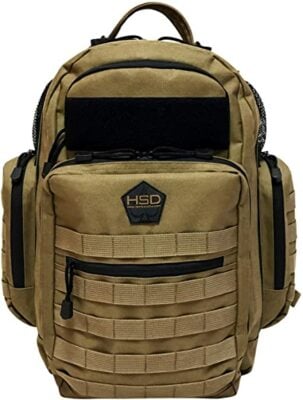 On this outside, this baby-related diaper bag looks suspiciously like a hardcore military kind of backpack, and that would be the point!
The outside pocket area is specifically made for baby wipes and is designed to conceal them while, at the same time, being easy to access in general. At the bottom is a section that is dedicated to smaller yet important items, such as keys, cellular phones, pacifiers, medications, small snacks, and anything else you can think of. Also on the exterior are two large and insulated bottle holders on each side, which are great for keeping dad's coffee suitably warm in the wintertime!
The interior of the backpack, however, is where this product really shines. There are many different pockets inside that are good for organizing smaller items. Thre are also three plastic hook mechanisms for keys and other accessories to hang from. The real appeal to this product, however, is the 25L internal carrying capacity. This is more than enough for multiple diaper changes along with anything else you can reliable shove into this awesome backpack for dad.
We're aware that sometimes having to lug around a bunch of baby-related items can be a bit tiresome, even for the toughest of dads. Never fear, though, the HSD Diaper Bag Backpack also comes complete with special straps built into the outer frame which are designed for mounting on a stroller.
Verdict
Some of the zippers don't work as well as they should, including some that came off after a few uses. The zippers are of YKK design and are usually of high quality, though sometimes manufacturing accidents may occur. When you consider the limited lifetime warranty that comes with this product, however, we are confident that any issues can be resolved quickly through the manufacturer.
This is the perfect option to get a new dad who might be a little shy wearing bright pastel colors for a backpack. Its look is utterly masculine in a classical sense, and appealing to men that resonate with that sort of feel. If you want to look at some more diaper bags, we have a whole article about them.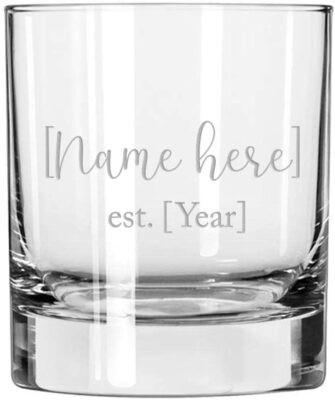 Fatherhood can be stress-inducing beyond the scope of words, and sometimes you might want to kick back and have a dram of fine whiskey to celebrate the new arrival (and alleviate some of the stress!). These fine glasses made by the 1st Legal company are the perfect gift for the new father in your world that is also a connoisseur of fine spirits.
The big draw for this product is its versatility in terms of the design on the outside of the glass. You can ask for a custom name to be put on the glass along with the year. This is a fantastic gift idea for a pregnancy reveal ceremony due to its customizable yearly portion, or a more private gift between close friends.
These whiskey glasses are made in the USA, so you can be sure you're getting high quality with your hard-earned dollars. Additionally, the wording on the glass is etched on, not merely just printed. This gives it a longevity that printed glassware usually can not compete with.
Also, if you're worried about the glass arriving in one piece to its final destination, don't worry. 1st Legal package all of these glasses up in 100% recyclable material, and they deliver it in an attractive box. It's a safe and eco-friendly way to have your new product delivered.
Verdict
The only real issue we could find with this product is it might not appeal to some demographics. Be mindful of whether or not a person imbibes in alcohol before purchase to nullify any embarrassment on your end. Otherwise, this is a fantastic product and it's really hard to find any real negatives.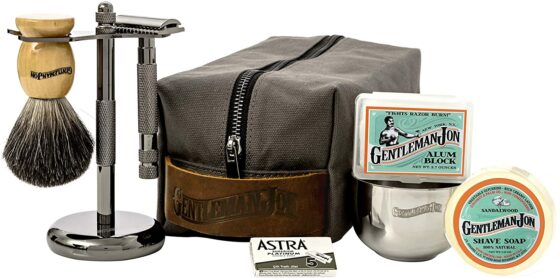 Shaving is generally seen as something of an antiquated aspect of personal grooming nowadays, especially when you take electric razors (and modern-day beard culture) into consideration. There's an intimidation factor at play as well; a lot of folks are just flat-out scared to use old-school razors on their face!
It doesn't have to be this way, however. We all want our new dads to look as fresh as they can be, and since wet shaving is commonly considered to be better for one's skin than any other type of shaving, we think this extraordinary kit from Gentleman Jon is a perfect gift for a new or expecting father.
This is a shaving kit designed specifically with the beginning wet shaver in mind. It comes with a Gentleman Jon brand safety razor made of a quality build (with gorgeous gunmetal grey styling to boot). There's also a badger-hair shave brush that allows one to lather up with shave soap and open up one's pores, which creates an environment for a smoother shaving session without the potential of razor burn/irritation.
When you're finished using both of these fine shaving products, you can literally hang them up on the included razor and brush stand. The stand is practical beyond just being aesthetically pleasing in that it allows both the razor and the brush to dry easily in the air.
This kit also includes a bar of shaving soap that smells vaguely of sandalwood. Also provided is an alum block, which is an older kind of aftershave-related product that has the consistency of a stone or crystal. Simply wet it lightly with water and rub it against the shaved area in order to reduce the redness caused due to razor burn. There is also a pack of Astra brand razors provided as well, which should keep any man well-shaved for quite a while before needing to purchase more.
Finally, to top off everything in this fantastic starter set, there's a provided steel shaving bowl to keep everything clean and orderly. And when you're finished with your shaving session, you can store everything in a fantastic zip-up travel carrying case.
Verdict
Our only issue with this incredible starter set is the shaving bowl is a bit too small. We think it could benefit from being a bit wider in order to keep any kind of mess potentially at bay, but it's still perfectly usable. This is a solid gift to purchase, not just for new dads, but any guy in your life who is passionate about the art of wet shaving.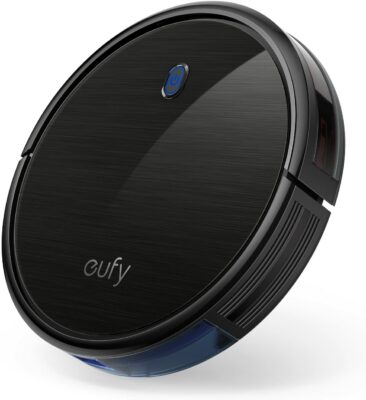 Being a parent is more than just a full-time job. You rarely get a chance to even do the most essential of things, at times. This robot vacuum made by Eufy is here to help save the day, or more to the point, save your floors!
This wonderful device can not only clean a variety of floor types, including most carpets, but it is also small as well. It's height is three inches off the ground, which means it's perfect for getting under all kinds of furniture. The 11S is also quiet and comparable to the noise a microwave emits when in use.
Is it a decent vacuum cleaner, though? Well, it has a 1300 Pascal Pressure power rating, which basically is the extent to which it can suction up dirt with ease. The bigger the number, the better the suction power. There are other robot vacuums with larger PA's, but you'll also pay a steep price for them as well.
The thing that really makes this robot vacuum shine is how long it lasts on a charge. This, however, can vary depending on what surface it's on. For example, the 11S can run for up to 100 minutes on hardwood floors. On carpeted floors, it runs at a respectable 50 minutes on a full charge. Don't worry though, if there's still a hefty job left to do, then the 11S will return back to its charging station automatically and return back to the job as soon as it's at full capacity.
Verdict
Like many robot vacuums, the 11S can get stuck on objects at times. This isn't a deal-breaker by any stretch of the means, but it's crucial to note that you won't get precision-level accuracy out of this product. However, for the price point, this is an excellent introduction to the wide world of robot vacuums. Give dad some rest time while Robo does the rest!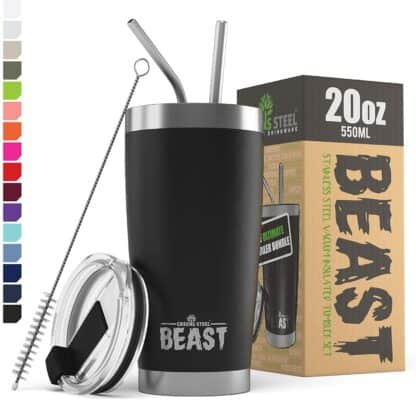 Coffee is a crucial drink of choice for many parents, and in many cases, it can be a father's best friend. Let's face it, you don't get a lot of quality sleep in the first few months of being a father, and a good cup of steaming hot Joe can sometimes be the difference between walking around the neighborhood like a zombie and functioning somewhat decently.
You don't want to get that father-to-be you know just any kind of coffee mug, however. You want to get him something sturdy and equivalent to his overt manliness, right? Well, that's where Greens Steel Beast Tumbler comes into play.
This impressive drink tumbler comes in 20 oz and 30 oz varieties and comes with a number of key features that separate it from the competition. Its double-wall insulated design keeps hot things piping hot, and cold things frosty as can be. That's right, this tumbler can accommodate cold drinks as well! It also comes complete with a tight lid design, which aids in keeping the drink at the desired temperature along with minimizing leaking and spillage.
This tumbler is tough, and it is made with 304 18/8 stainless steel, which is also considered to be food grade for safety purposes. Adding to the impressive safety record of this tumbler is also its BPA-free design, so you can rest easy knowing the recipient of this massive coffee receptacle won't be imbibing any sort of nasty toxins or chemical byproducts.
Is the dad you know on the go a lot? The Beast has a sturdy grip design in its base that allows it to fit snugly into many different types of vehicle cup holder setups. Additionally, the tumbler is also manufactured to keep sweat from extremely cold drinks from manifesting on the outside of the cup, which keeps it from slipping out of the hands while driving.
Verdict
Like many similar products, the Beast suffers from leakage issues at times. It's not enough to dissuade us from recommending it, however, it's a little bit of a black mark. However, with all of the other fantastic elements, this is a fantastic, high-quality drink tumbler that lives up to its hearty namesake.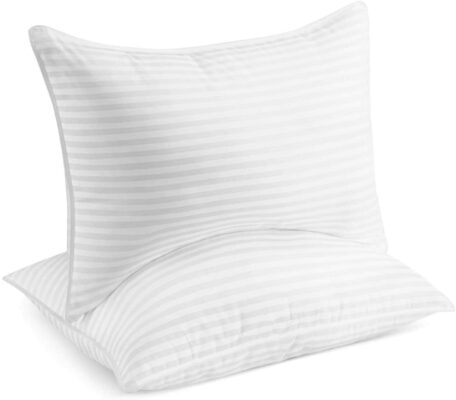 Quality sleep is crucial when you're a father, but it's also a bit of a challenge if you're constantly tossing and turning all night long due to a cramped neck. Treat the father-to-be in your life with these quality gel pillows from Beckham Hotel, and he'll probably thank you for it later!
These pillows are designed with a central gel fiber interior which can mold to the contours of your head as soon as you lay down on one of them. The gel fiber also allows for greater airflow through the pillow itself, which means you're always going to get a temperature-neutral pillow that negates a lot of nighttime sweating in hotter temperatures. And with its no-shift design, your pillow won't slide back and forth all night long, keeping your head in one standard position for the duration of one's sleep.
Know someone that is sensitive to allergens? These pillows are resistant to mold, dust mites, and mildew. This is perfect for men (or women) who suffer from seasonal allergies, asthma, or any other breathing concerns. If the pillow does get soiled in any way, however, they are perfectly machine-washable.
Verdict
The pillows could be a bit thicker in regards to neck support. Some individuals, depending on how big their head is, might want some additional thickness in the pillow itself to keep their head and neck stabilized overnight (which is why a lot of folks double up on pillows). Other than that, these are solid little pillows that will help daddy get the restful sleep he needs so desperately. When you pair it with some quality sleep mask, then you've got a solid sleep combination.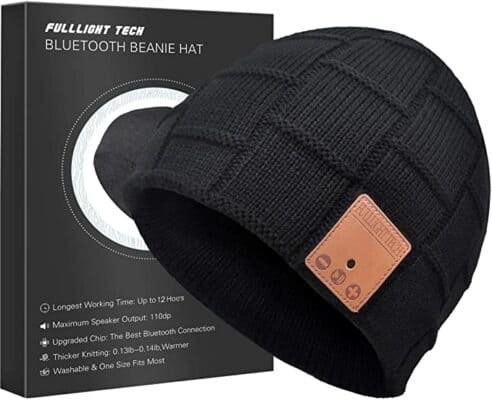 Dads have to brave the elements all the time in order to get whatever it is their little one needs. Here's a product that can not only keep daddy's ears safe from the extreme cold but can also keep him up-to-date and entertained in a hands-free manner? (Hand that will be used for the child, of course.)
This stylish and utterly hi-tech beanie has a set of speakers woven into each side of the hat. These speakers pair with any Bluetooth device (such as a smartphone or a tablet) and allow you to listen to music or participate in phone calls while on the go. There's even a section on the side where you can do things like volume control and accept incoming calls, much like a typical Bluetooth device would.
We tend to think the best part about this product is the fact that it allows you to hear what's going on all around you with relative ease – assuming you don't go too high on the volume. This allows you to, say, push your baby around in a stroller and still be able to react to any issues that may come up with them while listening to your favorite music, a podcast, or even taking an important phone call with your boss.
Verdict
The biggest thing we could find with this impressive Bluetooth-powered beanie is that the microphone quality was not the best for the person on the other end. However, when you take the hands-free aspect of the product into consideration, along with the style factor, this is a great product for hitting the streets with your kid in a stroller, and when paired with an excellent smartphone holder for a stroller, it's simply unbeatable.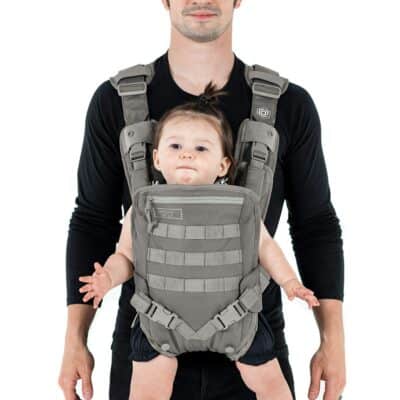 Men want to be comfortable wearing something out in public with their baby, especially if they have to wear it for long periods of time. It's conceived with a similar notion to one of our previous items, the diaper bag.
The Mission Critical S.01 Action Baby Carrier has a similar ethos in its design with its overt "military" design aesthetics. The design, however, isn't just mere window-dressing and comes with a high degree of rugged functionality that parents crave with products concerning the safety of their children.
The Mission Critical Baby Carrier is a forward-facing carrier that is not only easy to put on (both for you and your child) but also is made of high-quality military-grade 1000D nylon, which is some of the toughest material out there. This baby carrier won't tear easily, even if it happens to snag on something sharp that would normally tear fabrics up.
Another thing that it has in common with its overly military-grade look is its MOLLE webbing design, which allows you to attach multiple external items to the carrier that would not be possible with more traditional systems. Here's a helpful video from Tactical Baby Gear explaining just what the MOLLE system is, and why it's beneficial.
While this baby carrier is highly durable, it's extremely comfortable as well. Located on both the chest as well as the back area is a smartly designed mesh ventilation system that keeps both the parent as well as the child cool during the hottest of days. To add to the comfort factor even more, there's an embedded sunshade that tucks away nicely in the front zip pocket when not in use. This keeps your child safe from UV rays and other inclement weather.
Verdict
One of the biggest downsides to this baby carrier is that, due to its overly rugged design and tough material it can, at times, be not as comfortable as some other baby carriers on the market. However, if you know someone who values maximum security and longevity in a baby carrier, this is certainly the item to be considered.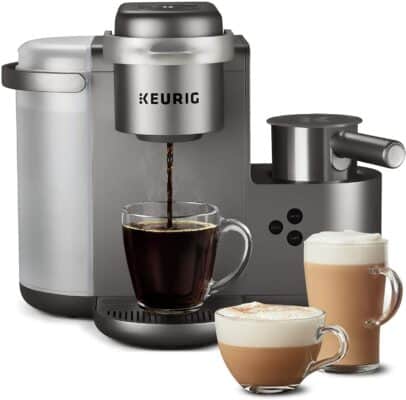 There's not much that can compare to taking a whiff of freshly brewed coffee in the morning. There's also nothing else that compares to coffee when it comes to rejuvenating oneself after a long and hard night of parenting a newborn baby. The Keurig K Café Coffee Maker is the perfect gift for constantly on-the-go parents who want to brew up a quick pot of go-juice without too much time hassle.
The versatility of the brew size is the first key component we need to look at with this particular Keurig machine. It holds a decent 60-ounces of coffee within its reservoir, which is around 6 regular cups of coffee in total. You're also able to brew in 6, 8, 10, and 12-ounce increments as well. This is helpful for versatility purposes. Some days, you only want one cup of coffee. Other days, you absolutely NEED 6 cups or more!
This machine is designed with a hardcore coffee aficionado in mind. We mean the types that like to literally buzz after drinking a high-powered shot of espresso. This brewing machine has the ability to make these sorts of "coffee shots" with the Shot brewing option on full display. This allows you to brew a high-concentrated (and highly caffeinated) shot of espresso in no time flat.
Another cool feature of this Keurig machine is how well it creates a frothy texture on the top of your drink. Just add any sort of dairy/non-dairy product, such as milk, half-and-half, heavy cream, and more. The frothing mechanism is lightweight and comes with a sturdy steel jug to pour whatever frothing base you have into. The machine does all the work, so you can sit back and relax while the Keurig does its magic. Once it's finished, you can pour the froth into a premade cup of coffee. The overall result is heavenly, to say the least.
Verdict
No product, not even one as high-quality as this one from Keurig, is perfect. First of all, this is an expensive buy. Second, true coffee fanatics might not appreciate the K-cup requirements of the machine. Some individuals prefer the heartiness and various flavor profiles of grinding their own coffee beans and picking various different flavors from around the globe. However, if you're fairly certain that the dad in question you're buying this for isn't that much of an elitist when it comes to coffee then this is a solid pick for them and their caffeine needs.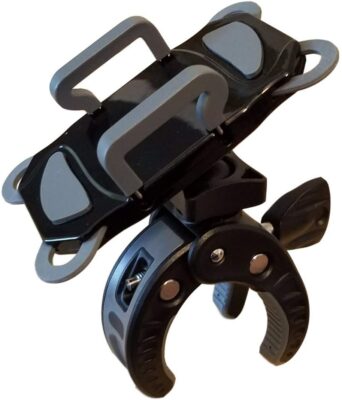 Smartphones are somewhat of a necessity for modern-day life. Not only do they keep us connected with others at all times of the day, but they also have replaced the now mothballed personal digital assistant of yesteryear. New fathers are keenly aware of how important it is to always be in communication in case of times of need arise out of nowhere, especially where their newborn child is concerned.
This stroller cell phone holder for Sheer Living is a fantastic gift idea for the on-the-go dad who wants to always keep in touch without worrying about the structural safety of their smartphone too much. Its design is a simple clipping mechanism that tightens onto a stroller's via a unique mounting system that clips on to the handle. This allows for hands-free mobility for the parent while being able to enjoy all the benefits that a smartphone can give while on long strolls, such as listening to podcasts, checking shopping lists, and other practical reasons.
There are a lot of smartphone holders on the market, but not many of them are universal in their design. The Sheer Living smartphone holder can accommodate all varieties of cellular phone designs, so it doesn't matter if you're an Apple or an Android fan – you've got a product here that can support them all.
Verdict
One of the more glaring things we found with this product is that the screw system that mounts it to the stroller is somewhat difficult to use, and there's a distinct possibility of the screws stripping when trying to remove the product from one location to another. We highly recommend that if you decide to go with this product that you set it up where you want it to remain and keep it fixed there due to this issue with the screws stripping easily.
It's worth noting that Sheer Living offers a generous 90-day money-back guarantee if you're not satisfied, and a solid 2-year warranty on top of that, so we think it's a safe purchase if you're looking for something that will help keep their cell phone safe and secure while doing any number of stroller-related activities with your child.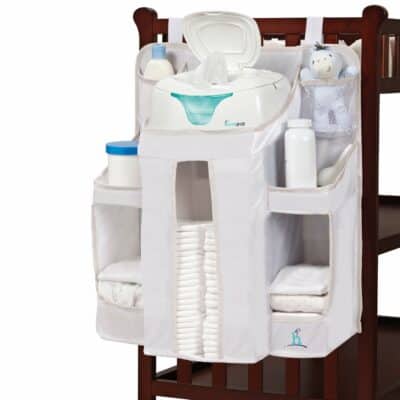 Organization skills are a big part of parenthood, and for many, it's something that you learn as you go along. There are all kinds of products that can help expedite the process that are of great value to all new parents. The Hiccapop Nursery Organizer is just the thing a struggling father needs to take his organizational skills to the next level, especially when it comes to one of the most demanding jobs of a new parent: changing diapers.
This helpful tool is composed of a unique strap-based design that allows the unit to hang almost anywhere in a nursery, no matter how big or small it might be. Cribs, doors, walls, and even the ends of tables are all viable options for this product. This sort of versatility in design if a great feature and makes it a solid purchase right out of the gate
As far as the storage capacity, this item definitely has you covered on that end. It's large enough to hold a stunning 72 disposable diapers in the central compartment alone. On top of that, it also has six different shelf units that can hold anything from towels, additional pacifiers, baby wipes, and any other important tool needed for the arduous diaper-changing process.
Verdict
While the convenience of this product is incredible, it does come with some small issues that we feel like need addressing. While it's true this product is very modular, it can be difficult to hang up in different locations depending on numerous external factors. This isn't a very surprising notion considering that it would be nigh-on impossible to create a truly universal "fit" for every kind of nursery out there, but it's still frustrating. Additionally, the unit can, depending on the surface it was attached to, shift diagonally at times, potentially causing spillage of the items on the shelf portions.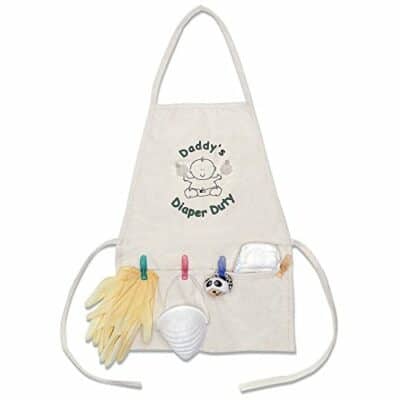 Not every gift for a new dad has to be super serious in nature. After all, there's a lot of joy in becoming a new parent, and sometimes that's a bit overshadowed by the more stressful aspects of it all. We discussed the need for proper organizational skills with a previous product on our list.
Now, of course, that was a highly practical nursery tool; we're looking for something a bit more fun here. So with all that being said, when it comes to babies, here's a not-so-serious gift to keep the new dad in your life reminded of his constant need to be organized as well!
The Daddy's Diaper Duty Apron is highly reminiscent of a traditional handyman apron at first glance, but a little closer look will reveal just how silly the entire setup actually is. There are several pocket areas on the front that are useful for any sort of quick item needed in a flash, such as pacifiers, diapers, or even a quick beef jerky snack for a very hungry daddy.
The other really silly aspects of this apron are the scandalously placed bottle nipple fixtures on the chest area. These are, obviously, non-functional, but they really round out the hilarity of the product and will probably make it a fantastic talking point when handed out at any baby shower or gender reveal party.
If your baby happens to make a mess of daddy's new apron by accident, or dad himself takes a nasty fall in a mud puddle somewhere, never fear. The apron is highly stain-resistant, and machine washable.
Verdict
The biggest issue we found with this product is that the actual size of the apron runs smaller than it seems based on the image previews. Bigger guys might not fit into this gag gift all too well, so keep that in mind prior to snagging this hilarious item.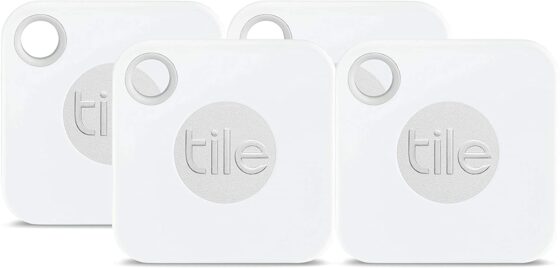 Tile Mate is a small 1.4-inch plastic square device that houses a simple button battery, the same as you would find in watches and other small electronic devices. The punched hole design at the corner of the tile is meant for the purposes of fastening to a keyring or pretty much anything else you can think of. The premise is simple; this device works in tandem with one's smartphone so you can literally never lose important items ever again, such as the aforementioned keys.
It's fairly easy to use. Simply utilize the smartphone app that comes with the product, and you will instantly hear a loud beeping emitting from the area where your keys are hidden, whether it be underneath couch cushions or behind a bookshelf somewhere. Each Tile device has its own transmission signifier, allowing you to keep track of different items in your house separately via the app. So you could, in theory, have two different sets of keys being tracked separately at the very same time.
What if you know where your keys are at but can't find your phone now? Another great feature of the Tile Mate is it works in reverse, in a manner of speaking. With just a quick press of a button, Tile Mate can search for your misplaced phone instead. It's worth also noting that this product doesn't have to just be used with something like a pair of car keys. You can also purchase adhesive strips that are sold separately and literally stick the Tile on anything you can imagine, such as laptops, important financial documents, and much more.
The Tile also links to Google Assistant and Alexa devices, allowing you to directly ask your household digital assistant to find your keys for you. Soon after, assuming the device is properly calibrated, Alexa or your Google Assistant will start ringing your Tile device within seconds.
Verdict
While this product is a helpful way of keeping track of important items you wouldn't want falling by the wayside, not everything is perfect with it. For one, we found that the device, despite having a range of 150 feet, would sometimes not register through different types of materials. However, if you know of a chronically forgetful dad who loses key items on the regular, this might be the perfect gift idea to consider for him.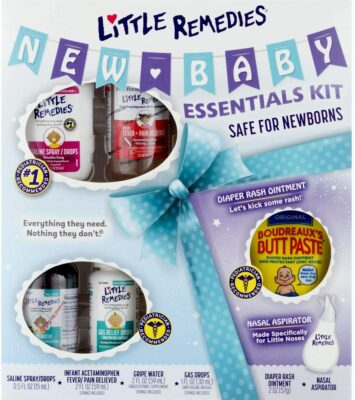 With fatherhood comes the need to surmount new challenges with your newborn almost every single day. Babies deal with a lot of different health concerns, and it's made even more complicated since they can't express themselves to you in any other way but crying. This can make even the sternest parent crumble under the stress. Never fear, however. This highly useful gift set from Little Remedies is made specifically with newborns in mind, and any potential ailment they might come down with over time.
This kit comes complete with a saline spray that can also be used as drops as well due to the bottle design. This is perfect if your little one has serious sinus issues, as saline is safe for flushing out the nasal area. To round out the sinus/nasal portion of the kit is a nasal aspirator that removes any of the loose mucus from the saline solution.
Stomach problems are also another huge thing babies deal with on the regular. Little Remedies also provide gas relief drops as well as gripe water to relieve colic.
The final two items in this useful gift set are a fever/pain reliever that contains no traces of aspirin or ibuprofen, making it safe for infants. Finally, a paste to prevent diaper rash from forming is included as well.
Verdict
Some of the bottles we noticed leaked in transit, which can create a pretty nasty mess as soon as you open the package. This lowers the score of this item for a bit, but at the price point and the overall value that the set provides, it could certainly be a good gift for concerned parents everywhere.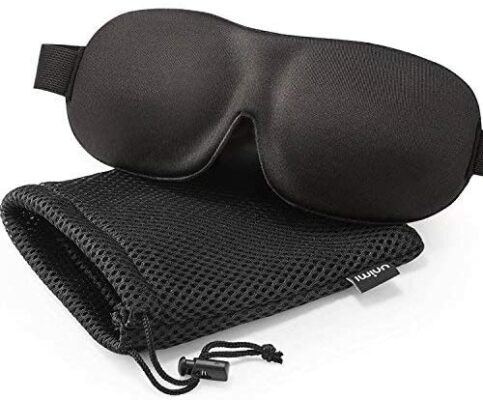 Catching a good night's sleep is a challenge as a new father, and it's even more difficult in this highly technological world we live in. Many don't realize it, but the blue light glare from one's digital devices can inhibit decent sleep cycles. It doesn't just stop there, though. Practically any kind of light can disturb deep restful sleep. This is where a high-quality sleep mask can make the difference between a well-rested night and a groggy morning.
The Unimi Sleep Mask is just the ticket any new dad needs to get the deepest, most rejuvenating sleep they possibly can get. Made of top of the line memory foam, the mask adjusts to the contours of your face, ensuring that you don't feel any discomfort while trying to get some well-earned shut-eye. It's also shaped in such a way that you'll have zero pressure around your eyes while wearing it, minimizing the potential of tension headaches from wearing an overly tight mask.
The strap is of a unique design as well. It's purely Velcro, so not only can it be adjusted to whatever comfort level one desires, but it also keeps things like long hair from getting tangled up in the long run, which can easily cause distress during the nighttime hours. Also, with its elastic design, you won't feel any tightness around your skull, allowing for almost perfect levels of comfort all around.
Verdict
One of the things we found with the Unimi Sleep Mask is that, while the loose-fitting design is great for maximum comfort, it also can cause the mask to shift slightly during the night depending on how tight you set it. This isn't too major of a deal, especially if you don't move very much throughout your sleep cycle, but it's still something to note. Overall, it's an incredibly solid sleep mask that any would-be dad can find a great use for to catch a few valuable winks.