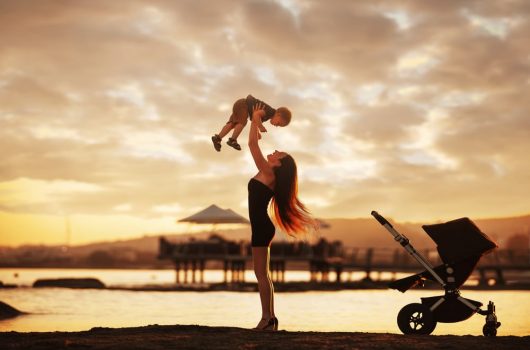 O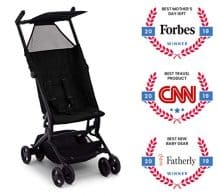 Delta Children - The Clutch Stroller
B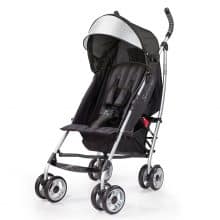 Summer Infant 3D Lite Convenience Stroller
P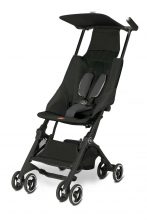 gb Pockit Lightweight Stroller
Previous
Next
Is your baby's stroller too heavy? If your current stroller is weighing you down, it may be time to shop for a lightweight option. Perfect for the park, airport, or running errands, a lightweight stroller can make it a lot easier for busy parents to get around with their baby. Even better, recent improvements in materials and design have allowed companies to include more convenience features in their lightweight strollers than ever before.
To help you choose the right one for your family, we put together a list of the 10 lightweight strollers for 2020.
Finding the Right Lightweight Stroller for Your Family
While you have lots of options when shopping, not all lightweight strollers are created equal. Some offer superior performance, while others provide extra features that make travel easier. Understanding which features are important to you is key to finding the right stroller for your needs and budget. Here are some of the features and factors you should have in mind before making your purchase.
Safety Features
It is essential to ensure the stroller features a safety belt that will keep your little one from falling or slipping from the seat. It should also have a parking brake to keep the stroller from rolling away from you when you are not pushing it. The brakes should be easy to initiate. A JPMA certified unit will further add to your confidence regarding your baby's safety. Another feature to consider is a peek-a-boo window so you can watch your little one throughout the ride.
Wheels
Consider a stroller with large wheels for improved stability. The wheels should feature excellent suspension to offer the most comfortable ride for your little one. Think about opting for air-filled and foam-filled tires as opposed to plastic tires to ensure a smoother ride.
Swivel-wheels will make it easy for you to maneuver the stroller around tight spaces. Consider a stroller that allows you to lock the rotating wheels when on bumpy terrain to enhance stability.
Reclining Seat
A good stroller should feature a reclining seat for your baby's comfort. You should find a seat that tilts more than 150 degrees backward if you want to use it with a newborn. Ensure that it reclines with ease even when your little one is on it. Additionally, the seat should be well padded so your child is comfortable.
Canopies
A canopy will shield your baby's delicate skin from the sun. Consider an adjustable one with a sun visor for maximum coverage. Avoid Velcro closures since they are noisy and will disturb your baby's sleep. It's also good to get one that is removable so you can clean it easily. Another accessory to consider is a rain cover, which should be windproof to ensure your baby is well protected from the harsh weather.
Durability
Consider a lightweight stroller that is made of a high-quality frame and tough fabric to ensure it will serve your little one until they outgrow it. Aluminum is a popular choice for lightweight strollers because it offers a combination of durability without being too heavy.
Folding
You will be taking the stroller with you during your outdoor trips, and you do not want anything that's a hassle to transport. As a result, a convenient stroller should be easy to fold and stow away while holding your baby in your other hand. The stroller should also self-stand once folded for ease of storage.
With all that in mind, let's go through the best lightweight strollers for you and your little one.
Top 10 Best Lightweight Strollers 2020
Guide to Buying the Best Lightweight Strollers
How do you want to use it?
You should only invest in a stroller based on how you plan to use it. If you want a lightweight carriage for taking a trip to the grocery store or shopping mall, consider one with rotating wheels for enhanced maneuverability. For example, Our best premium pick is superbly maneuverable. The wheels should ideally have a locking system for increased steadiness when on rough sidewalks.
Meanwhile, a pushchair that is compatible with most car seats or one that reclines fully very useful if you have a newborn or an infant. If you are looking for a stroller to use while traveling, consider one that folds to a compact size, is lightweight, and features a shoulder strap. These features will make it far easier to carry, push, or stow away the stroller in the car or while traveling on a plane.
Weight
The main reason you are going for a lightweight stroller and not a traditional one is to have less weight to carry. While they should generally be light, some are light yet lack durability and stability. Therefore, the stroller needs to offer a combination of being lightweight and durable. The ones on our list all have this quality.
Adjustable handles
Who will be pushing the stroller? If different people are going to push the stroller, consider one with adjustable handlebars to allow people who are not the same height to push it comfortably.
Ease of assembly
Consider a lightweight stroller that assembles hassle-free for your convenience. It would be useful to select one that comes fully assembled to save you time and energy.
Accessories
Get the most out of your purchase by considering a stroller with the latest accessories and technology. It will make your life easier. Consider items such as a cup holder, storage basket, organizer, mosquito net, sun visor, and canopy – among other convenient add-ons.
Budget
One of the important decisions you will have to make before buying a stroller is the amount of money you are willing to spend on a lightweight version. Unfortunately, baby strollers are expensive; however, there are some very good value options on the market – such as our best value pick.
Final words
We all want to get the best for our babies. When you understand what you are looking for, the buying decision is far easier. There is a multitude of options on the market, and it can get intimidating quickly.
Consult our list of the best lightweight strollers for 2020 in order to help narrow down the number of options. We can't wait to hear about your new adventures regarding you and your little one in your next, favorite stroller.