Pokémon is a Japanese franchise of toys and video games that is popular across the globe. It's not only popular among kids, but also among adults and kids who grew up in the '90s and 2000's. From Pokémon Red and Blue/Green in the GBA up to the latest ones on the Nintendo Switch, such as Pokémon Shield and Sword, and Pokémon Sun and Moon, the adventures to finding different Pokémon and catching them never ends. There's also the app called Pokémon GO that has enabled the franchise to be marketed to the Gen Z's or the millennials.
If your child wants to be a Pokémon trainer like Ash and his best buddy Pikachu, they'll love Pokémon toys that are meant for them. Your children can join Ash and Pikachu on their adventures while they both learn compassion, friendship, and what teamwork is all about. Whatever form of play your child is looking for in the world of Pokémon, these top 30 Pokémon toys in the list here are the highest-rated Pokémon toys on market today. They come in various toys, such as card games, video games, figures, and other memorabilia. If you're a true Poke-fan, then you'll most likely recommend to other parents and purchase for your little kids.
Top 30 Best Pokémon Toys 2020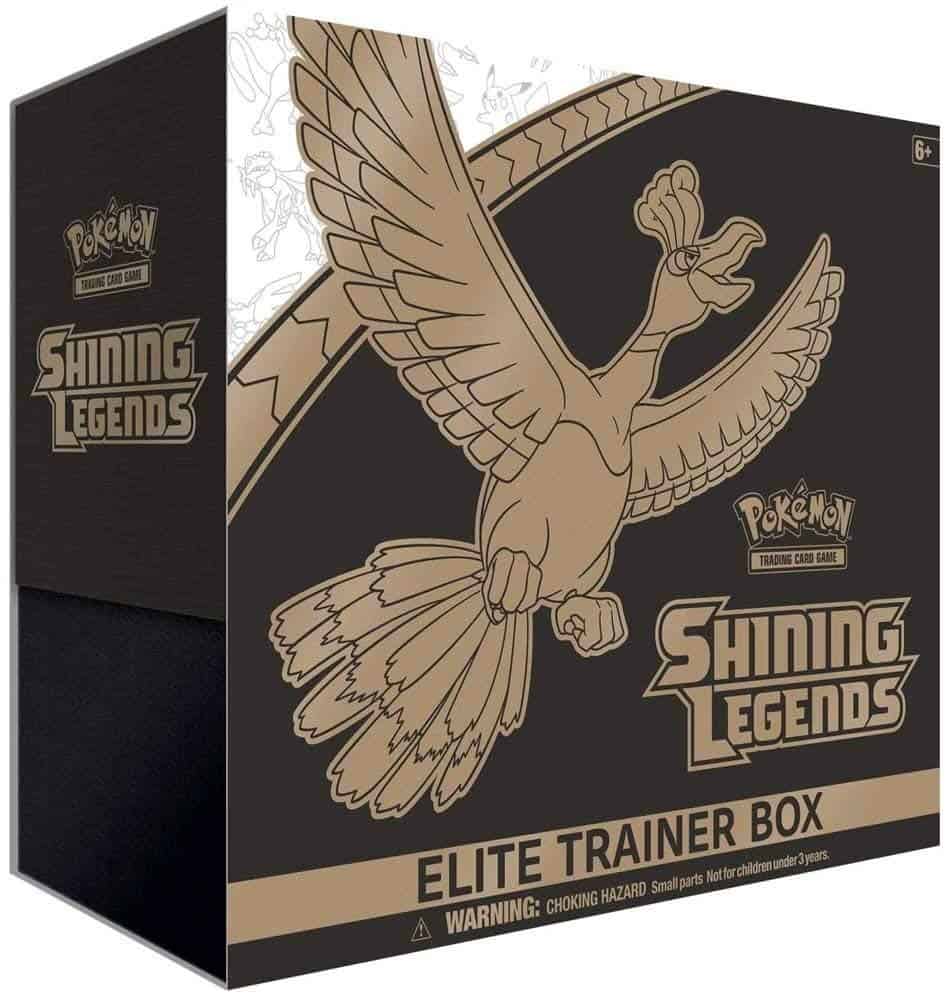 There's a vast world of Pokemon. Pokemon should be a thrilling adventure for children to share with those they love. However, for those with little experience playing the game or watching the cartoon may end up feeling confused or overwhelmed. The box set comes with a player's guide to help beginners learn all they need to know to make it one of the best Pokemon gift ideas. The Shining Legends expansion pack is a recent addition, coming out in late 2017. It's a series of rare Pokemon that have incredible skills and intricate backstories. It also includes 10 booster packs and 45 energy cards. Everything comes in a collector's edition box with four dividers for easy storage. Additionally, there's a bonus foil card with each set.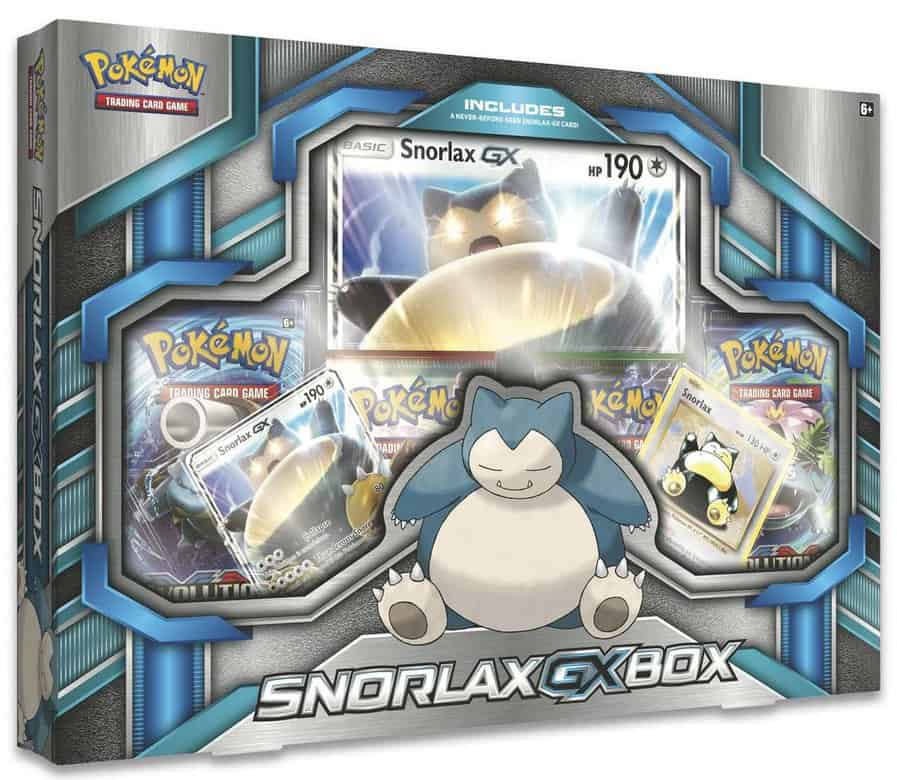 This code allows children to trade and further expand their collection. Snorlax is featured beautifully with hologram graphics and designs. Although the set is more costly than others, the Pokemon gift is worth the excitement and joy it'll bring to any Pokemon fan. Although consisting of some pretty powerful life lessons, Pokemon does have a certain level of violence within its storyline. Snorlax is one of the more gentle souls. He's oversized and spends most of his day eating or sleeping. He's a lovable little guy, making him a comforting starter Pokemon. Snorlax is perfect for smaller children or children who may be gentle spirits. This card and board game duo features the snuggly Snorlax Pokemon. The game set includes two new promo cards and four booster packs. There's also a card with an online code.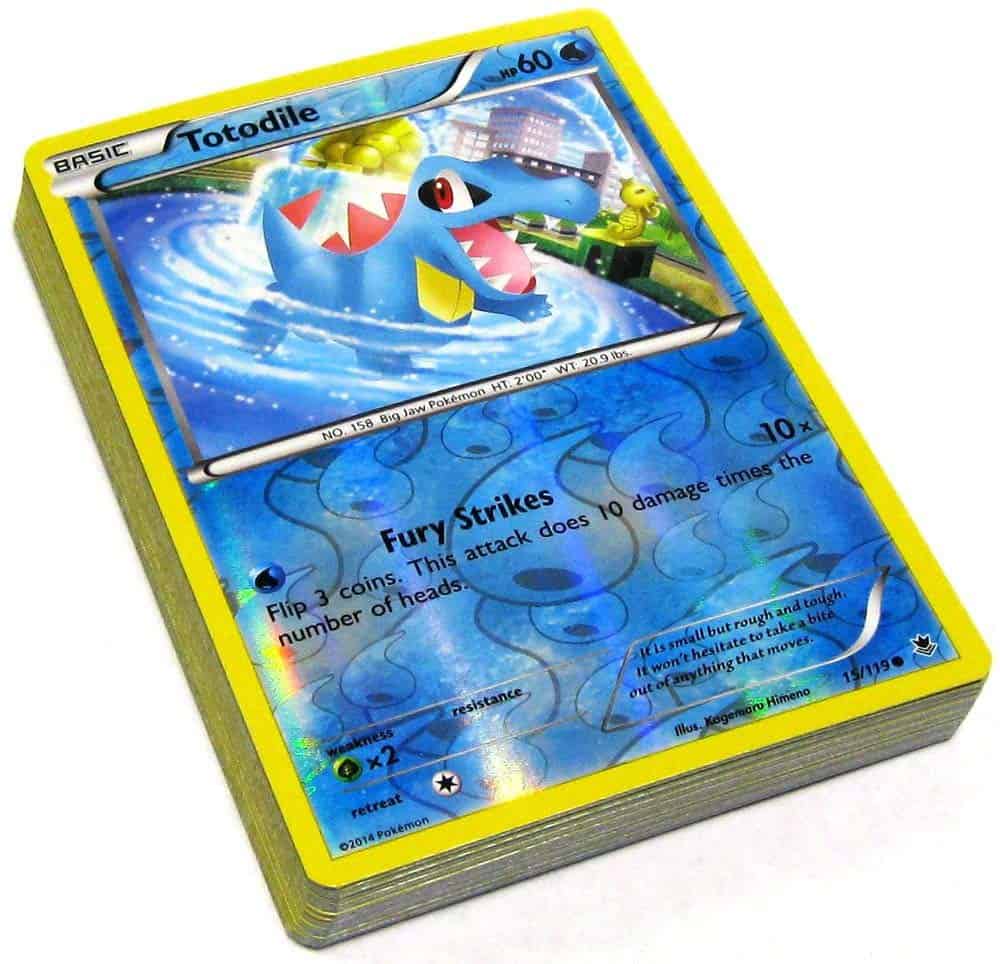 Pokemon cards are meant to set the scene for children to invent an imaginary world of their very own. In this magical world, they can capture pocket monsters and expand their collection with hundreds of Pokemon. There are 25 cards in each pack with both rare and common Pokemon. Each pack is randomized and carefully packaged to provide a sense of mystery, making them an excellent gift idea. Pokemon has been around for more than twenty years. This means there's a vast amount of information about the games, series, and memorabilia. These cards sets are great starter sets for children who are only recently discovering their love for this adventure-packed game. Ranging from sports to cartoons, Pokemon included, trading cards have for years been a favorite amongst youth. There's no better way to enjoy something than to immerse yourself fully and trading cards allow you to do just that.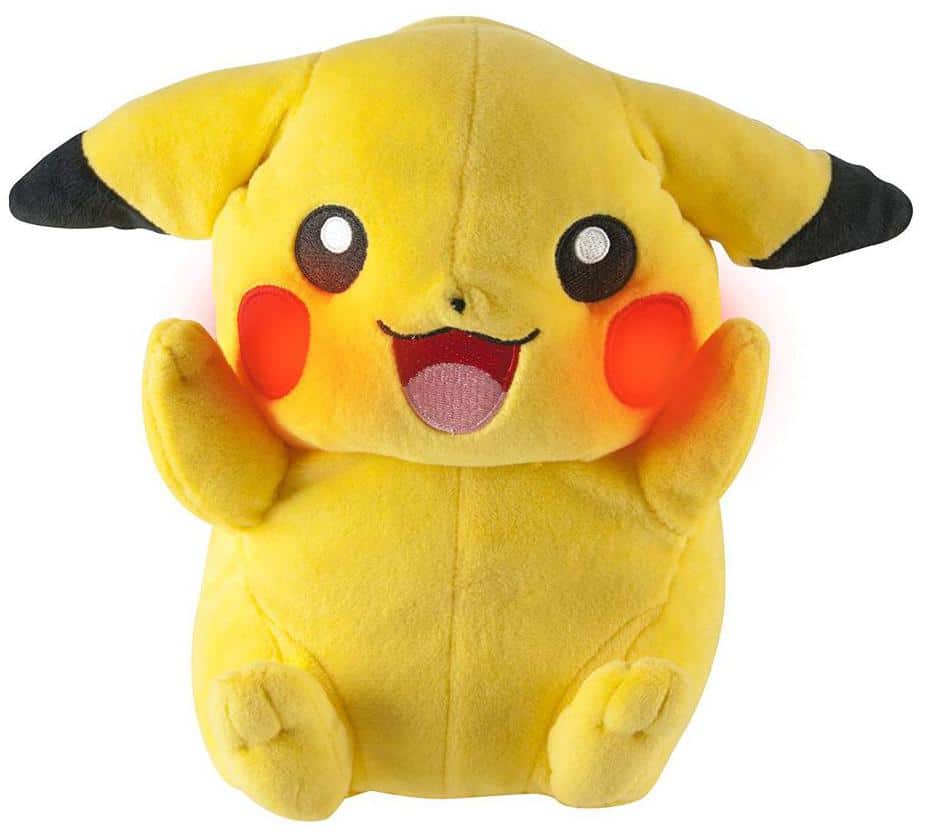 Soft, cuddly, and cute! This plush Pokemon toy will make a great best friend for your little one. When you introduce kids to plush toys and other items like this, it can help boost their confidence levels. When they feel comfortable with themselves and can tackle the world around them with their best friend at their side, it'll build long-lasting confidence that'll support them throughout their life. Standing at 10-inches tall, this plush Pikachu is easy to cuddle and fun to take along anywhere you go. When he lights up and talks it develops a communication pathway between the Pokemon toy and their owner. When this pathway is opened up, it allows children to explore the world of their imagination. This creates a creative individual who aspires and dreams. TOMY is one of the leading manufacturers of plush Pokemon toys. They create quality plush toys with special features that the kids just love. This wonderful Pikachu has been created for children who are three-years-old and above. The toy has been created to entertain and bring a smile to their face.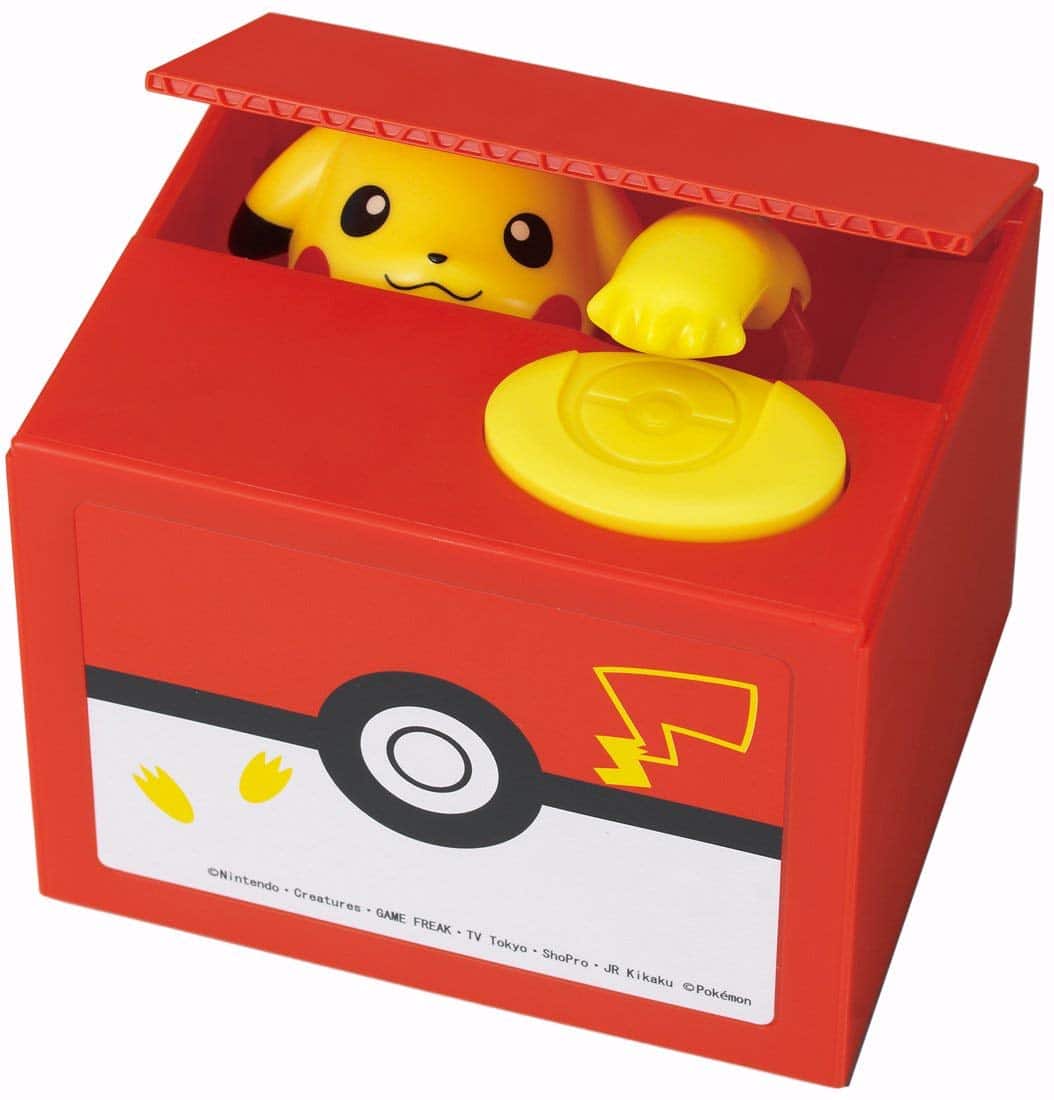 Kids often love to show their new favorite Pokemon toys to their friends and this will surely be one to show off. It's a fully interactive bank that makes saving money fun. Who wouldn't want to see that? Between learning about saving money, the value of money, and the bank displaying their favorite character, this is a great Pokemon toy bank for the kids to join around and have some fun with. Presenting your children with these types of experiences creates great strong interpersonal social development skills. That's why it's also the best Pokemon gift idea for young kids. When the coins are placed on the yellow spot, it allows parents to talk about the value of the coin and also talk about the difference between the values, maybe even add in some addition math lessons. The bank has been created by a licensed manufacturer that has authentic merchandise. It does feature the officially licensed logo on the front of the bank along with the registered trademark. It comes from a brand that's well known for creating high-quality banks. This is a limited edition bank that features a star character from the Pokemon series.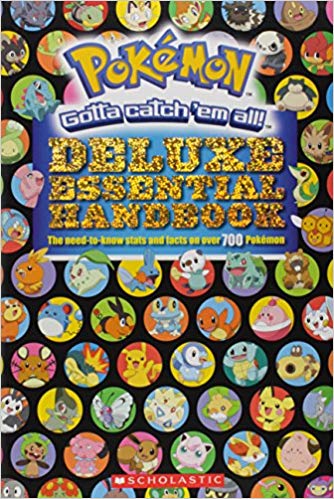 It can be used to promote family bonding and strengthen the bridge for understanding why your child is enthralled in the imaginary world. The book is ordered alphabetically and features bright, colorful pictures of each Pokemon. To accompany each picture, the pages are filled with stats and facts so you can learn together about this popular pastime. Being capable of understanding phonics and reading go together hand in hand. Both are vital skills for accomplishing countless daily tasks. This Pokemon gift only features gorgeous graphics but inspires children to want to read. With over 700 Pokemon to read about, there's an endless opportunity and countless hours of fun, into which children can immerse themselves. Despite having been their age at some point, we are sometimes faced with a challenge in trying to relate to our children. This book provides kids with a handy tool to visually explain what all the excitement is about. Coming in three format options, you have the choice of library binding, paperback or spiral bound, each book provides an in-depth look at Pokemon from all regions.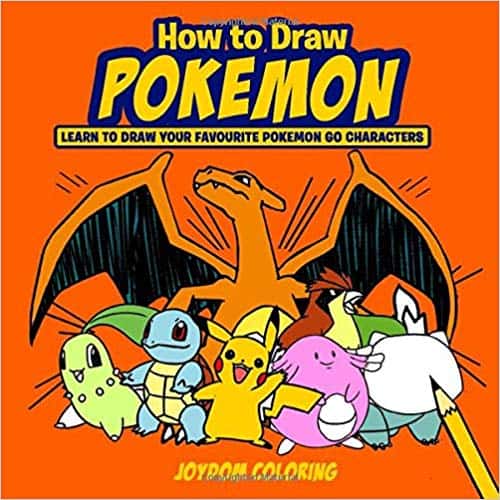 This learn-to-draw Pokemon book features various Pokemon from different genres of the hit series. It features some of the original Pokemon that have been forever favorites such as Pikachu and Pichu among many others. You may even spot some rare ones that your child can draw or they might simply be capable of creating theirs. It also has newer Pokemon like Chikorita. Your child will be capable of creating their Pokedex by being able to learn how to draw their favorite Pokemon friends. While it's recommended for ages 6 and up, but if you have a younger child, they may also be capable of following along with this guide. Soon your fridge will be covered in your child's latest drawings of their favorite character! Happy Drawing!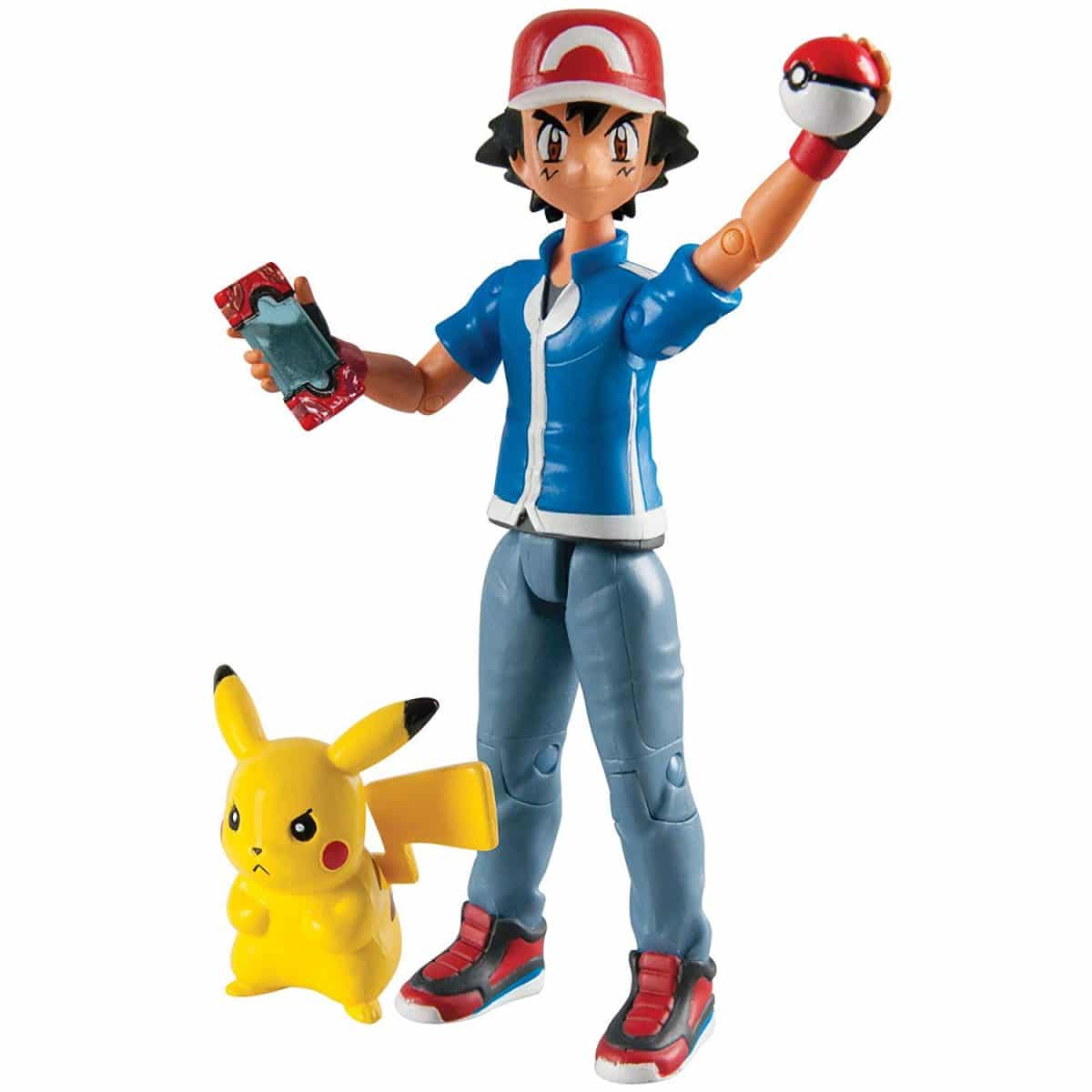 Children can play out several scenarios, maneuvering Ash into thirteen different stances and positions. While playing, children will improve their fine motor skills and learn to set and achieve goals. Ash stands at just five-inches and Pikachu at two-inches, making this Pokemon toy compact enough to take anywhere for hours of entertainment no matter where you're. Children look forward to many occasions throughout the year and it's one of the most anticipated being birthdays. In preparation for this occasion, lots of hours are spent in planning, discussing themes, and placing orders. Of course, there's the cake, and this figuring set makes the perfect decoration. It's an adorable addition to set on top of the cake making the final touches for your child's Pokemon adventure party.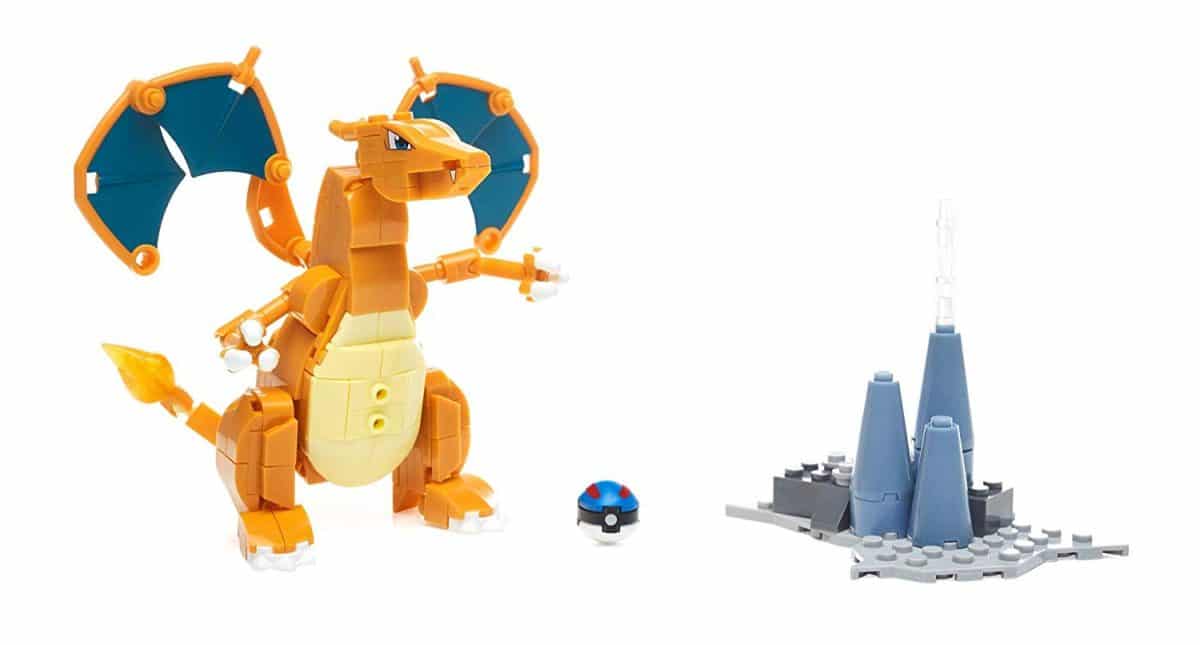 Your little one can show off their dragon-taming skills with the Mega Construx Charizard Pokemon toy build set. This LEGO-like model includes almost 200-pieces that can be assembled to create a 4.5-inch tall Charizard. The mighty beast is a fully articulated model meaning that it can be positioned into several poses from attacks and even in flight! The Pokemon toy also includes a buildable environment scene that doubles as a display stand and features the Great Ball that your little one would have needed to use for its capture. Bring your child's Pokemon fantasies to life with this delightful model. Designed for ages 8-years-old and up, the massive Pokemon toy set can be a bit difficult to assemble but manipulating the small pieces can help improve grip strength as well as hand-eye coordination. Since it's a bit more on the hard side of building sets, working together with your child to create their favorite Pokemon is a great way to encourage familial bonding and positive adult-child interactions. This building set makes a fabulous display piece but may not hold up to everyday play.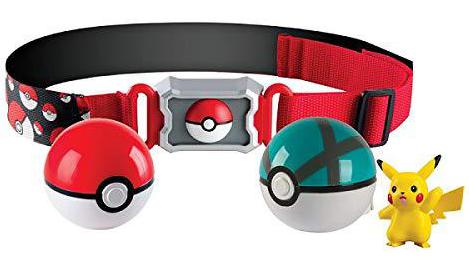 Your little one will feel just like Ash with the Clip 'N' Carry Poke Ball Belt. This fabric belt has been designed to look just like the one utilized by the protagonist of the Pokemon cartoon, Ash. It comes with two Pokeballs in various styles that attach directly to the belt via a clip. The belt is a great Pokemon toy for pretend play as it allows your child to emulate characters from their favorite game/TV show with a high level of accuracy. Although the Poke Balls aren't designed to be thrown, they can easily snap back together if they should break apart and will most likely get tossed around a bit as your little one pretends to capture their favorite Pokemon. This Pokemon toy is also great for building socialization skills as all your kid's friends are going to want a turn. A 2-inch tall Pikachu, one of the franchise's most popular character, fits neatly inside the balls. Add a red baseball cap and you're on your way to a perfect Pokemon costume! The belt is capable of holding up to six total balls, allowing you to purchase additional pieces that feature your child's favorite Pokemon. The belt is also adjustable to fit a variety of body types and sizes and attaches via a heavy-duty Velcro connection for an easy take-on and take-off.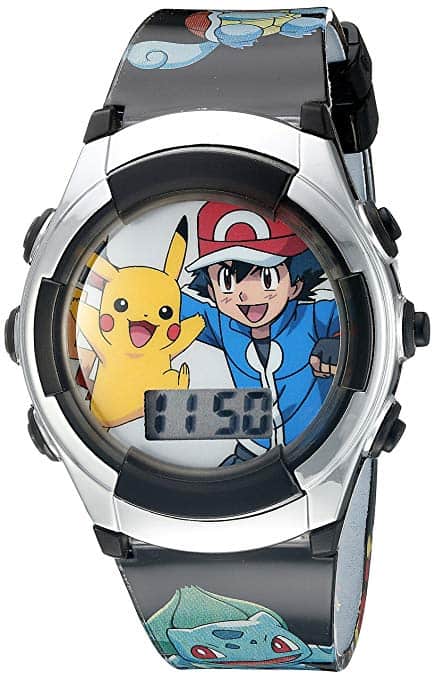 Kids love to check their watch and tell you what time it is. This Pokemon digital watch can teach children how to tell time and it's fun for them to wear. The watch face has Pikachu and Ash on it, Pokemon characters that everyone knows and loves. Press on one of the three buttons on the side to light up Pikachu and Ash. Pressing another button activates flashing blue, green, and red lights. The thick watch band is easy enough for kids to put on and take off themselves. Best for children over the age of 4, the watch is ready to go right out of the box as it comes complete with batteries.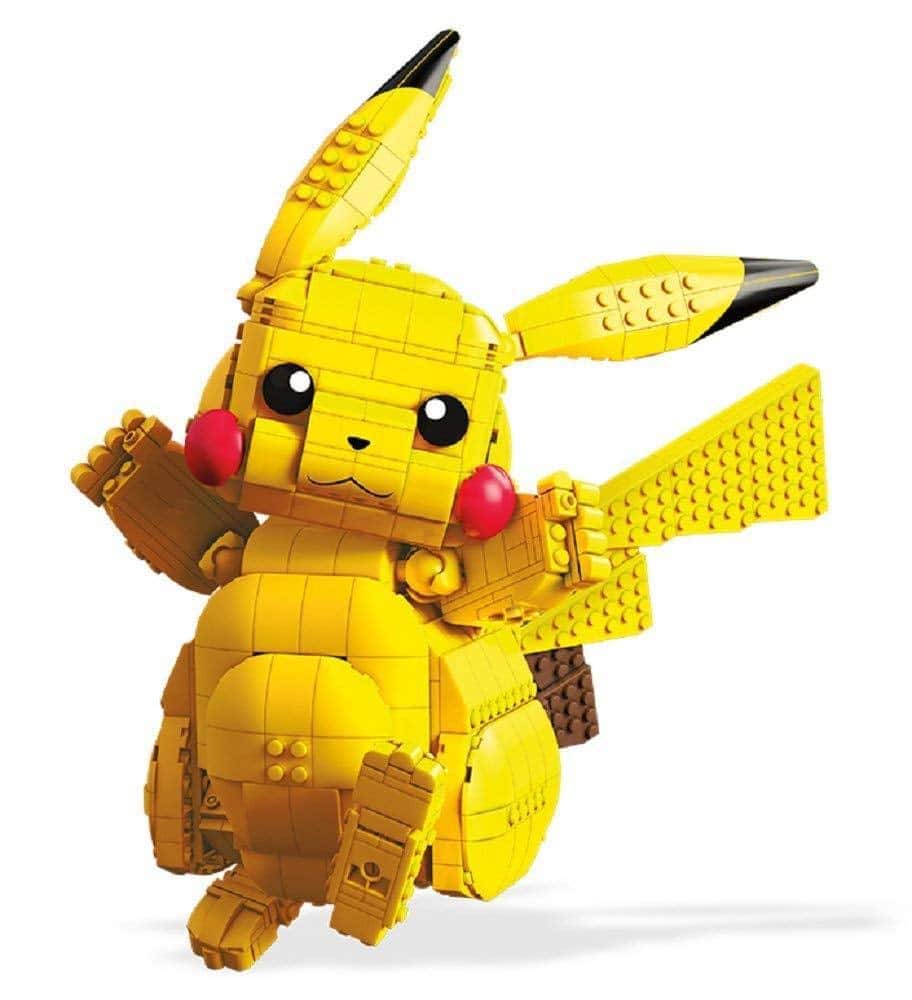 If your kids like building things, they'll love this jumbo Pikachu by Mega Construx. This is a popular line of the toy, with different sets available using colored blocks of varying sizes to build many popular toy Pokemon characters. With over 600 blocks and pieces, Pikachu is fun to put together for kids aged 8-years old and up. When built, this toy stands at 12-inches and kids can position Pikachu in different poses. Ready for battle, sitting down, or pouncing on all fours, jumbo Pikachu is ready for anything. Once your child has this toy from the Mega Construx lineup, they'll want the other Pokemon building sets as well.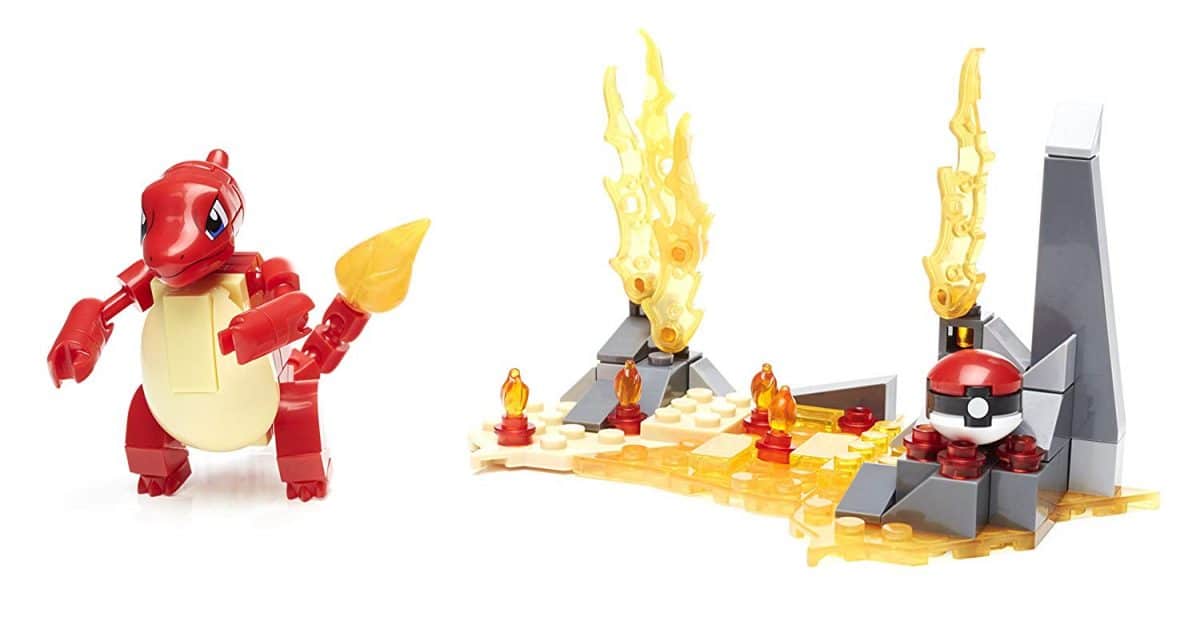 This is another great toy in the Mega Construx lineup. This time it's Pokemon Chameleon, ready to charm your kids as they spend hours first building, and then playing. Charmeleon is true to its character, with its flaming transparent tail and fierce look. This toy comes not only with Charmeleon to build but also includes extra blocks so kids can build a flaming world for battle. It's good for kids ages 6 and older, when they've got this toy built they'll be capable of posing their Pokemon character, getting Charmeleon ready to jump into action.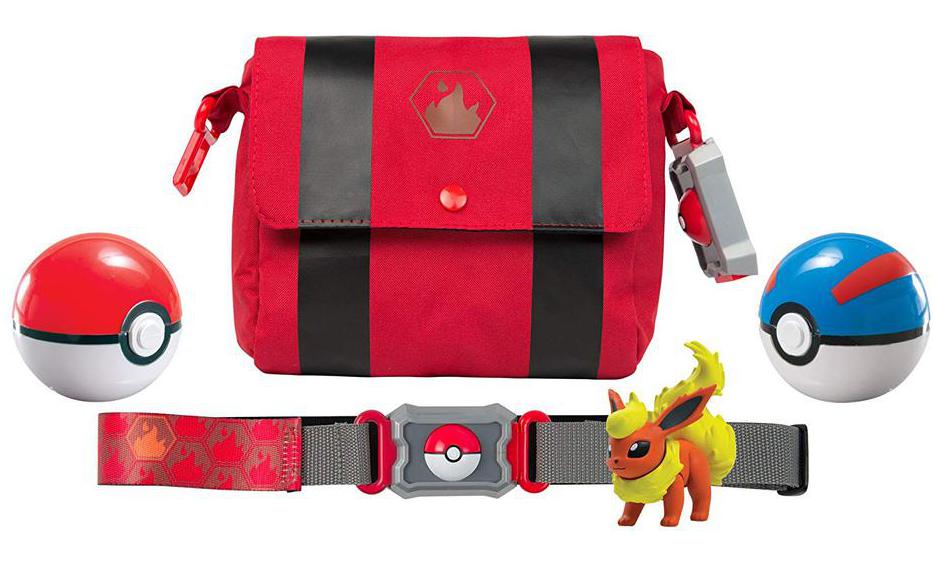 You can buy additional Poke balls, which is great if your child is determined to train Pokemons and is always misplacing balls. With the Pokemon Trainer Kit, kids can let their imagination run wild. What could be better than pretending you're a Pokemon trainer, keeping Pikachu and all the other characters in the line. The pack attaches around your child's waist. As well, it can be strapped bandolier style over the shoulder. The kit comes with two balls that can be clipped to the belt – the Poke Ball and the Great Ball. The Fire-type pack is ideal for carrying the balls and as well can hold the Pokemon Flareon character that comes with the kit.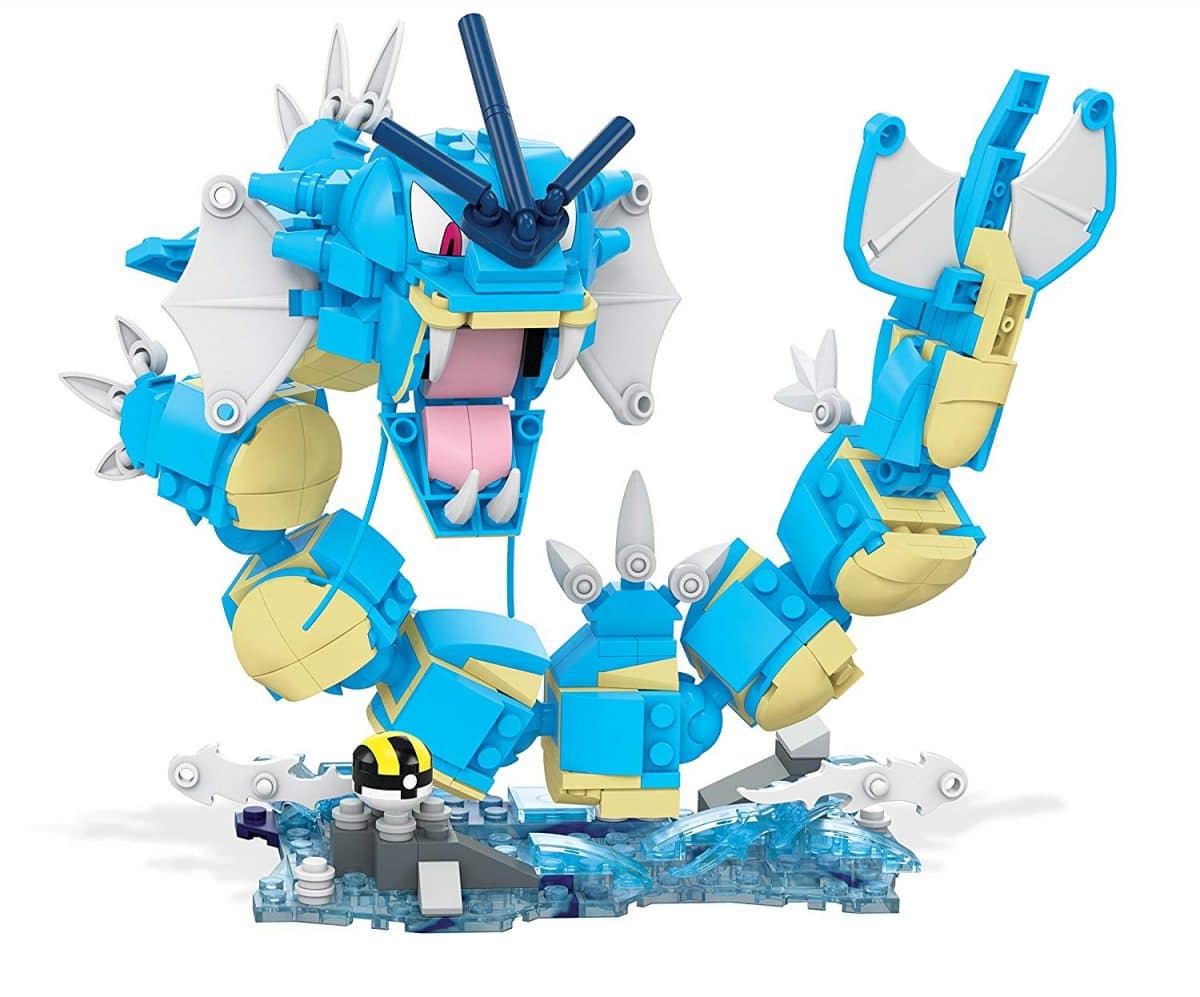 Building blocks are always a good buy for kids and Mega Construx is a brand that always delivers good quality. The Mega Construx Pokemon Gyarados has 352 pieces and stands at 9-inches when built. His fierce character comes out in the details with his fangs, fins, and spikes. Along with a Pokemon character to build, kids also put together the water environment where Gyarados rises from the waters to do battle. Gyarados is poseable when built, letting kids use their creativity to stand him up, ready for action.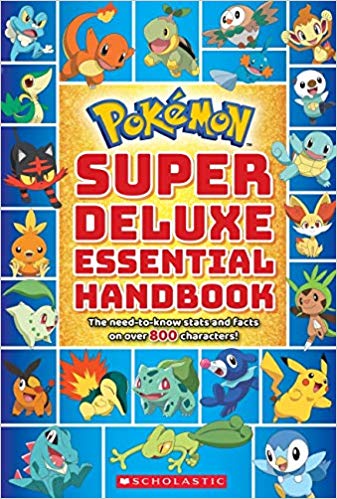 For Pokemon fans and trainers, the Pokemon Super Deluxe Essential Handbook is a must-have. The book is ideal for children in grades 2 to 5. With page after page filled with Pokemon information, your child will never get bored. This Essential Handbook has the details and stats of over 80 Pokemon characters, from the popular ones known, to the more obscure. Listed in alphabetical order, it's easy to find the character you're looking for. There are 496 illustrated pages, bringing the world of Pokemon into the room with your child. This book is a necessity for all Pokemon trainers.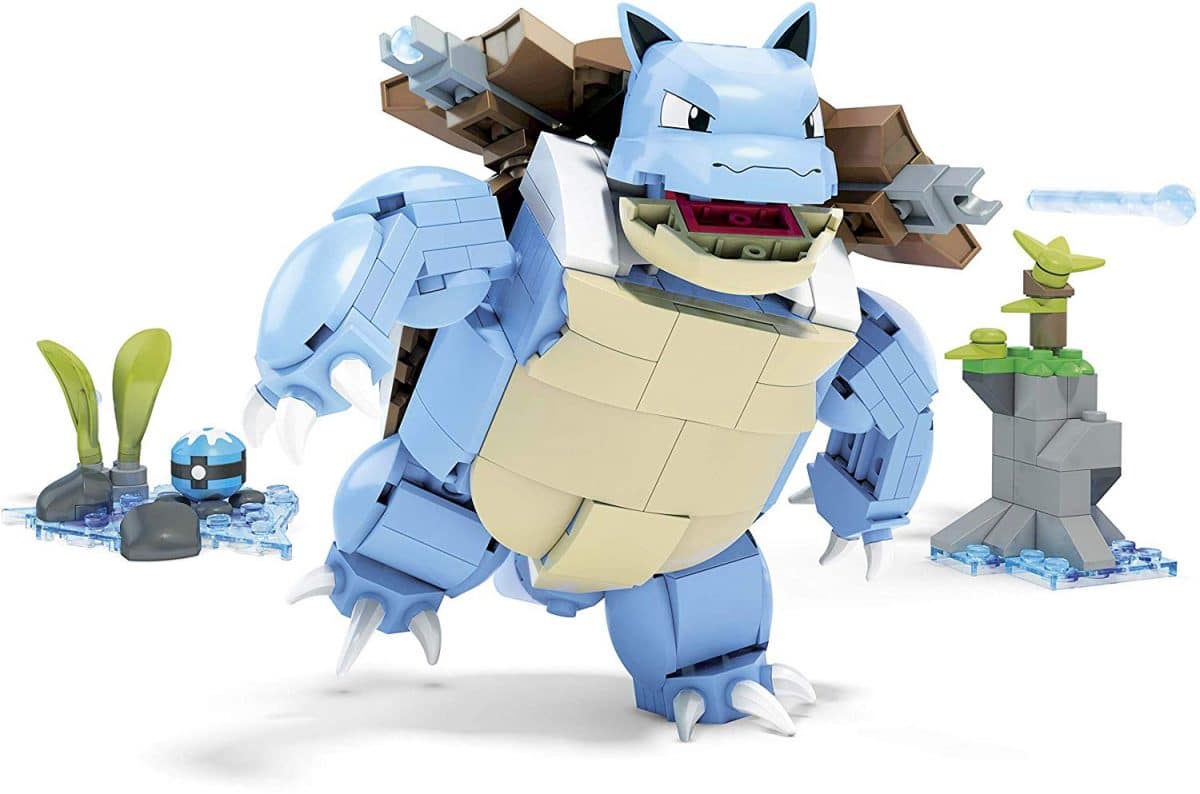 This buildable Pokemon figure is good for ages 8 and older to play with. Made with durable Mega Construx blocks that lock together, kids can construct one of their favorite Pokemon characters. When built, Blastoise can be posed in some menacing positions. Along with Blastoise, two water cannon blasters blast water after they've been put together. Kids can also build the water environment that then acts as a base for the Blastoise. This building set also comes with a mini Dive Ball for kids to build, making this a toy that'll keep your kids busy for hours.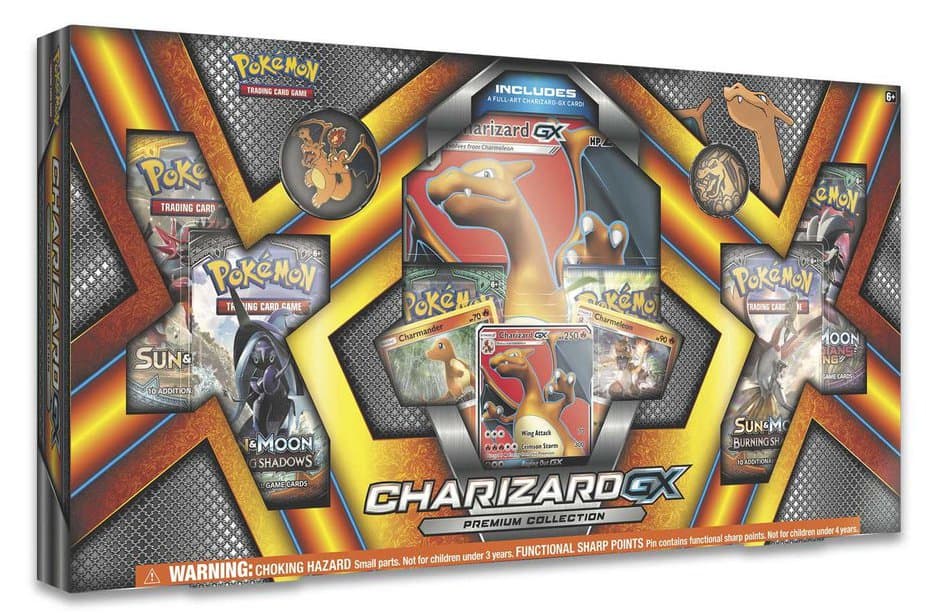 Charizard is a popular Pokemon character that's showcased very nicely in this card collection. Pokemon collectible cards are popular for all ages, making this Charizard-GX set a great gift for card collectors. The set contains six Booster Packs featuring Charizard, with its flaming breath and wings of speed. Charizard is a fierce Pokemon that can create a huge Crimson Storm over the battlefield. Included in the set inside the six booster packs: foil promo card featuring Charizard, foil promo card featuring Charmeleon, foil promo card featuring Charmander, and a Charizard collector pin. With these Pokemon trading cards, your child will be capable of trading with friends, adding to their collection of characters.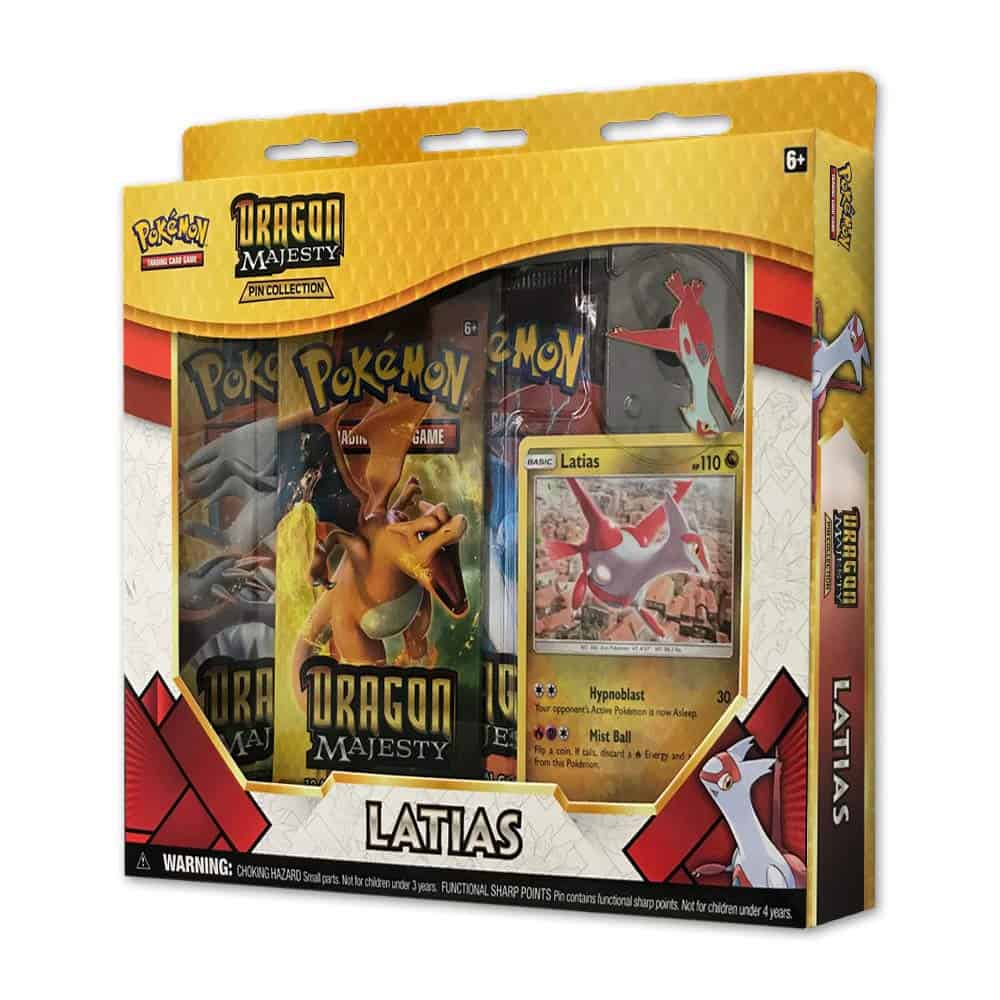 Buying your kids Pokemon trading cards will never get boring. The Dragon Majesty Pin Collection Box features the Pokemon Generation from "Dragon Majesty". Dragon Majesty is the second set of cards that are part of Sun & Moon, the popular role-playing video game. This collection box includes three Booster Packs, as well as a collector pin of Latias. Boxed sets are a great way for kids new to Pokemon trading cards, as well as experienced collectors, to get their hands on some new cards. This collection of cards lets kids who play the video game collect some of their favorite characters.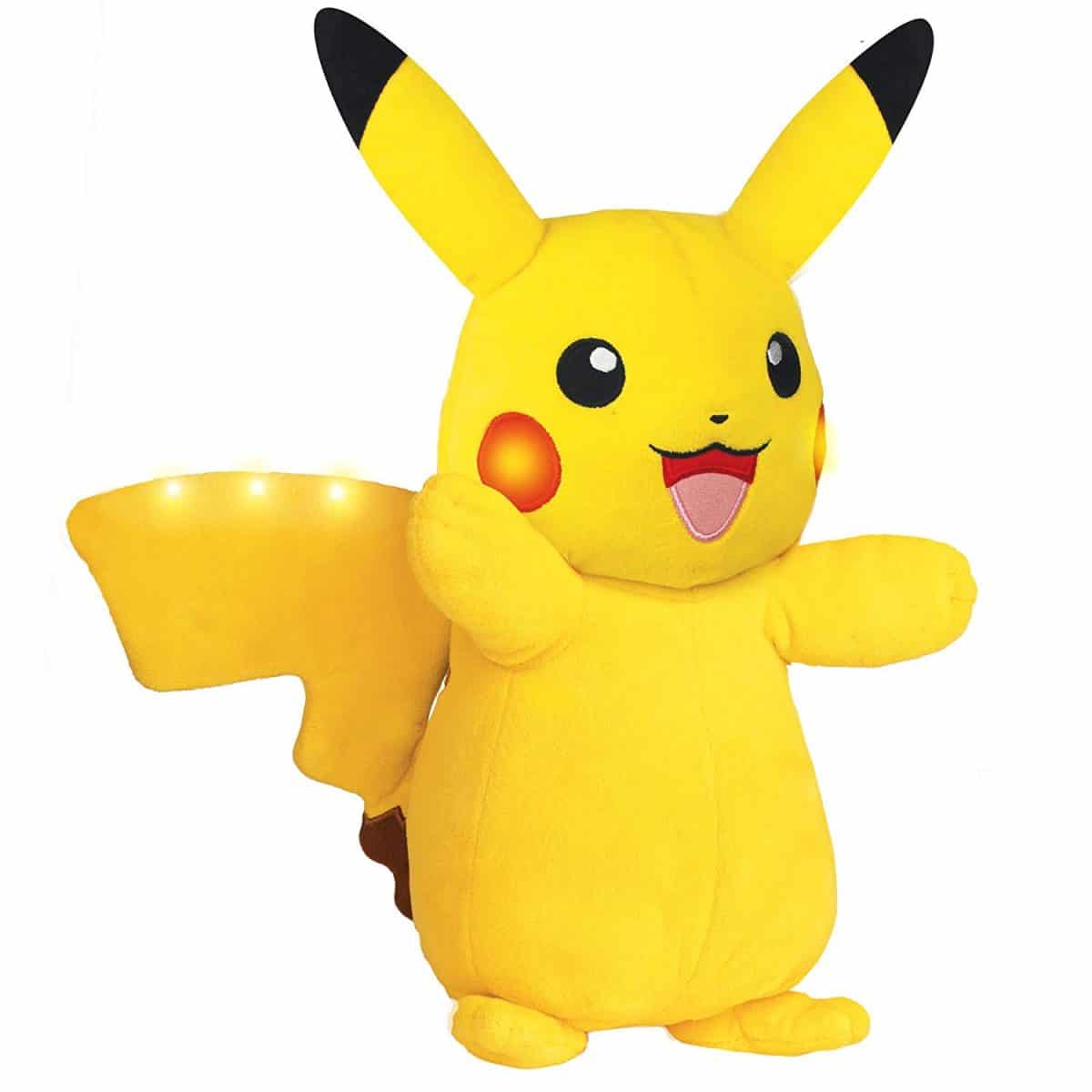 This electronic Pokemon toy is perfect for kids 3 and older. Pikachu is a favorite with the younger kids, with his cute smile and red cheeks, he's more popular than any other Pokemon character. The Action Pikachu is more than just a stuffed toy. Not only can your child cuddle with it, but it also keeps kids entertained with lights that flash. Squeeze his hands and watch his cheeks and tail light up as he talks. Electronic toys such as this Pokemon are good for interactive play, letting kids do more than just one activity.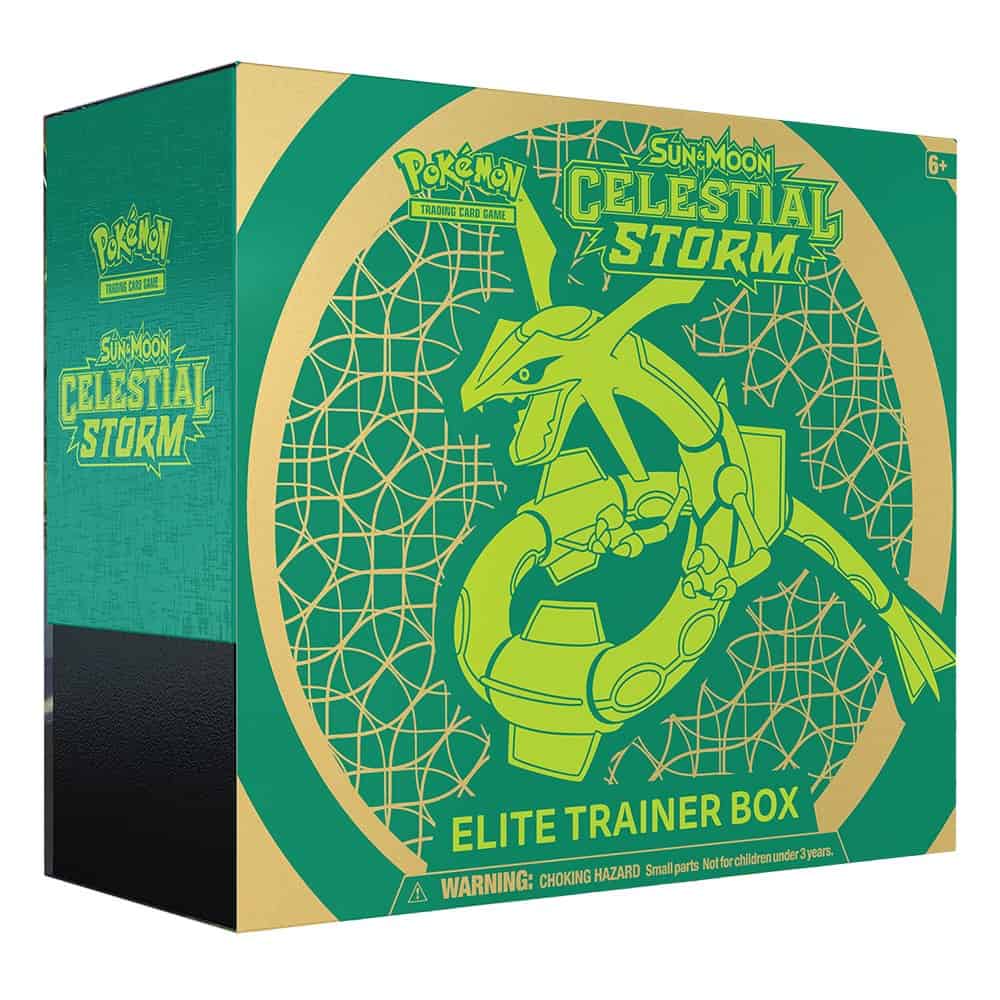 There are so many items in this Elite Trainer Celestial Storm Box that your kids won't know where to start. The mix of Pokemon character cards and Energy cards lets you play a complete game and train all the Pokemons you can. For kids into Pokemon trading cards, what could be better than Sun & Moon? This card pack has everything your kids need for hours of entertainment. Not only does it come with eight Celestial Storm Booster Packs, with 10 cards each, it also comes with 45 Energy cards. Celestial Storm is the 7th expansion pack in the Sun & Moon Pokemon trading cards. It included characters such as Articuno, Wailord, and Blaziken. The hard thing will be stopping your kids from wanting more Pokemon cards to trade with their friends.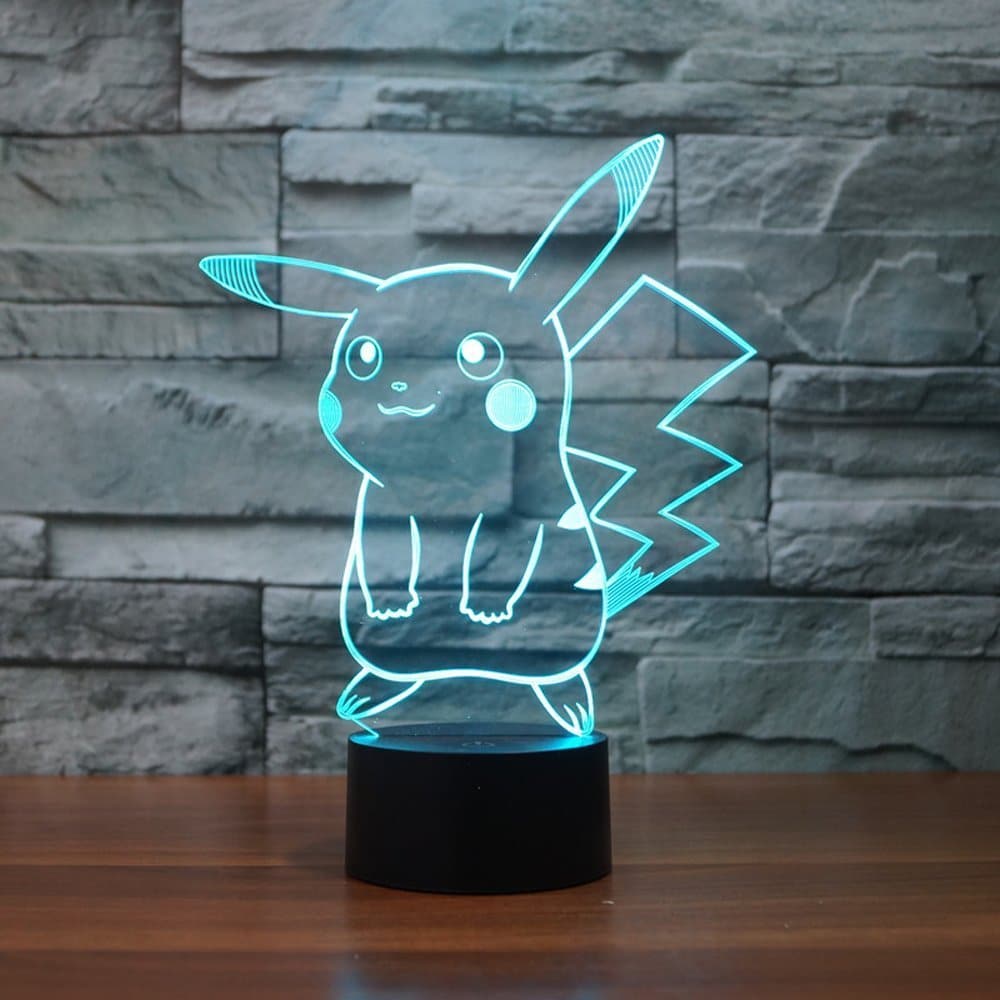 The most popular Pokemon and the mascot of the Pokemon franchise, the Pikachu, is adapted in the form of a night light LED lamp and stays true to the characteristic of Pikachu as an electric type Pokemon. When lit up, this lamp creates an optical illusion by which you see a 3D form of Pikachu glowing in soft light. This 3D visual creative lamp Pokemon toy can be used as a piece of home décor for lending artistic beauty to the atmosphere and create a 3D visual impact. At the press of a button, you can switch between 7 light color options for different effects. Weighing at 8-ounces, this lamp has been designed to last for 10000-hours.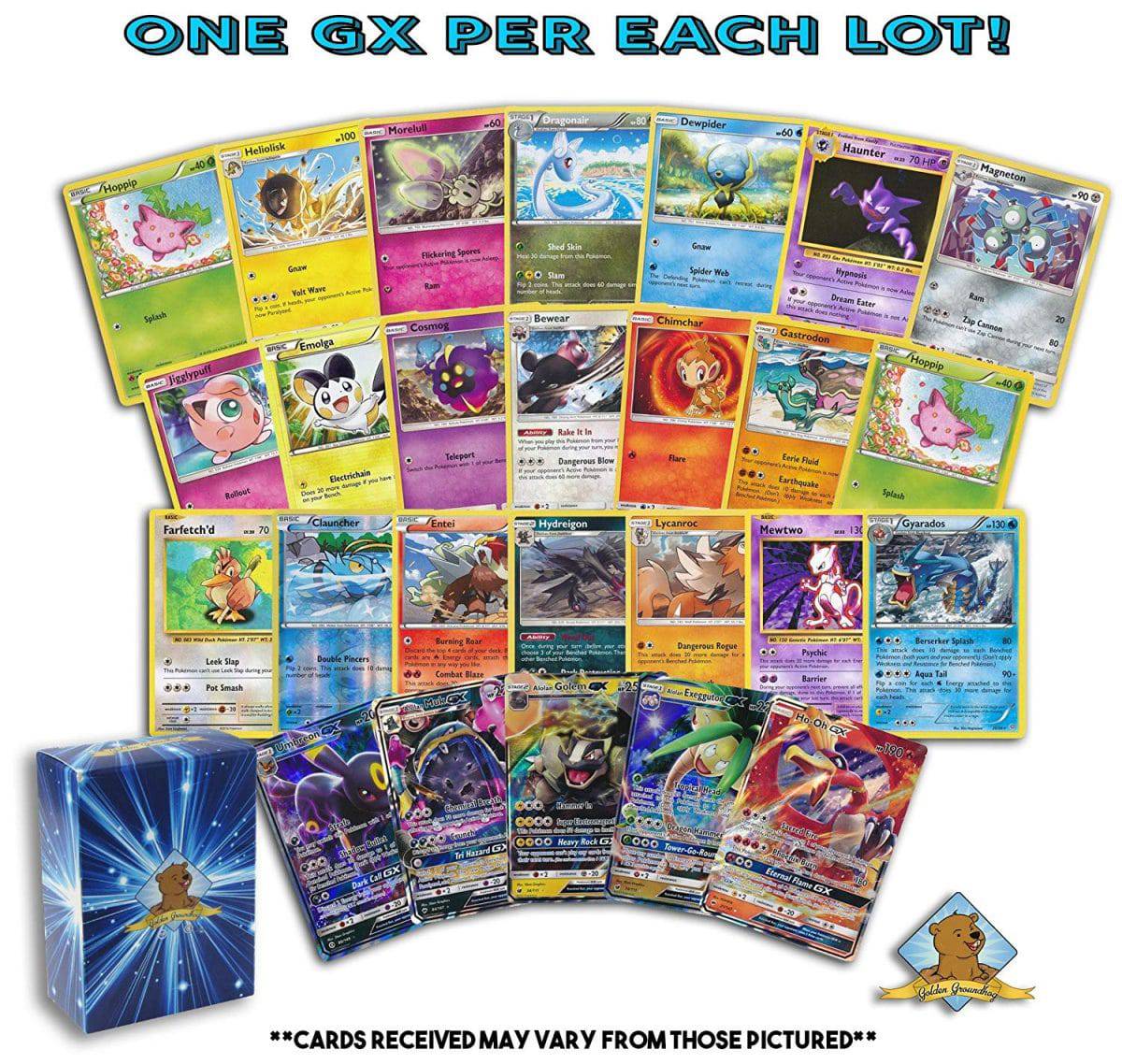 If you're a Pokemon fan, then you would know about Pokemon toy cards. GoldenGroundhogg has come out with Pokemon 100 Common/Uncommon card lot with an additional bonus of 5 Rares, 3 Foils, 1 Holo Rare and 1 Ultra Rare card. Part of Pokemon Trading Game, these are some of the coolest Pokemon cards you can lay your hands on. For kids, this would be a great way to start with their Pokemon collection, and with so much variety on offer, it'll certainly be a fun experience. This card lot comes with a deck box to store your Pokemon toy cards. So store them away safely and be sure of never losing them.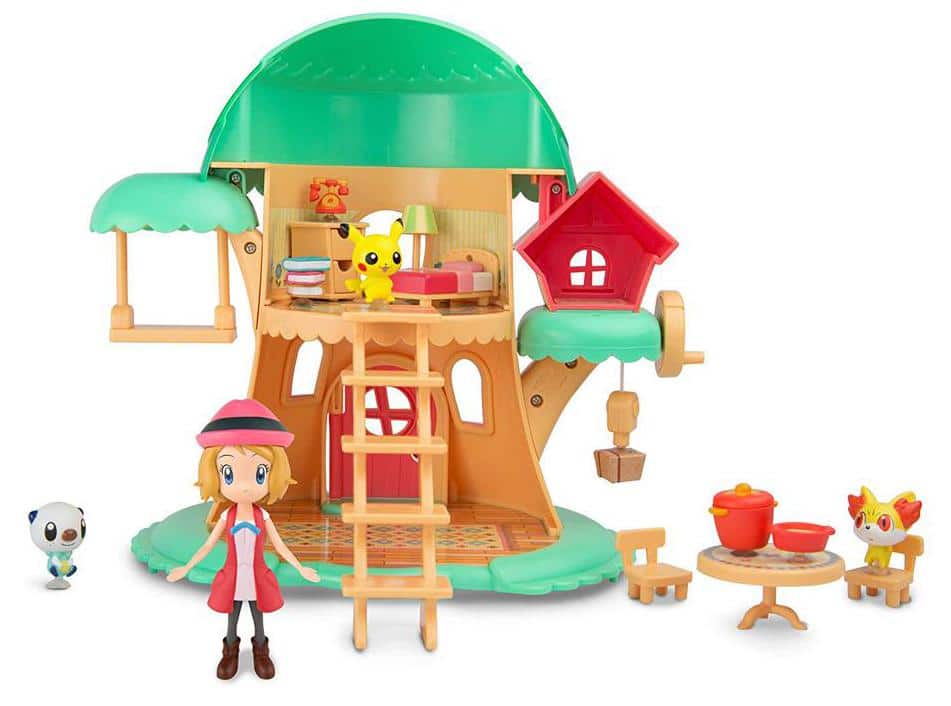 Are you raring for some fun in the jungle? Then the Pokemon Petite Pals Escape in The Forest Playset is the best Pokemon toy that'll take you there. It transports you straight into a treehouse in the forest where Serena is enjoying with Pikachu, Fennekin, and Oshwatt. This Pokemon toy set consists of Serena figure and the three popular Pokemon figures and comes with 20 accessory pieces and treehouse playset. With these accessory pieces, you can build and decorate the treehouse exactly the way you want it and set up your home in the jungle. The accessories include miniature suction cups, a swing, an elevator, and many others, all of them to make for a relaxing stay in the woods. This toy is suitable for ages 4 and above.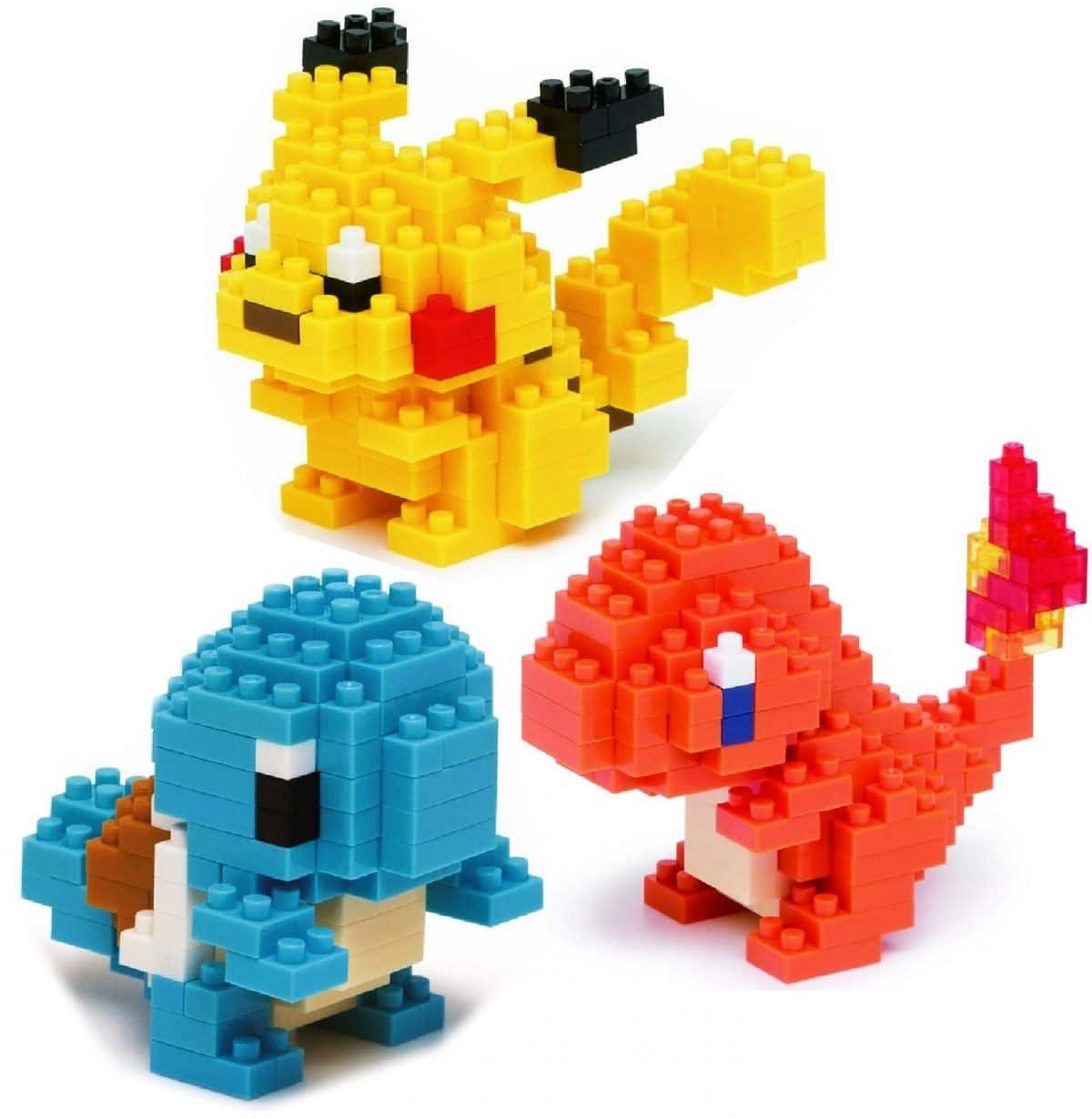 Bring the Nanoblock Building Blocks Pokemon Gift Set bundle home and enjoy building your popular Pokemon characters from scratch, block by block in great detail. This Pokemon gift set consists of Pikachu (130 pieces), Charmander (120 pieces) and Squirtle (120 pieces). Assemble these individual micro pieces to unravel beautiful Pokemon toy figures and build your army of miniature Pokemons. The individual block pieces connect securely, so you get the sculpture in accurate detail. Grown-ups too can enjoy this construction expedition to build their favorite Pokemons. It's challenging enough to get your brains racking and great for some family time together with the kids. This Pokemon toy set is suitable for 8-year olds and above.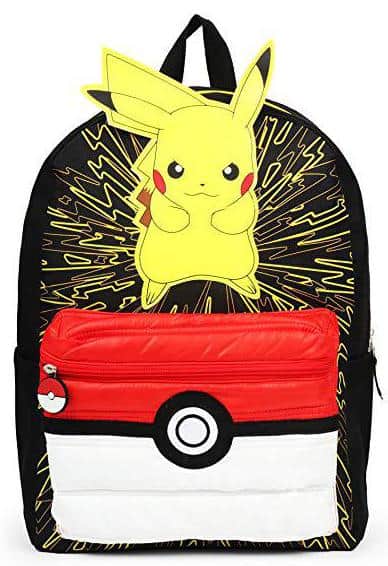 Carry your favorite Pokemon to your school where you spend most of your daytime so the fun never ends. The Pokemon 3D Pikachu School Bag is a utility toy that features a large 3D shaped Pikachu to store Poke Ball puff. The bag has two storage compartments to carry your stuff and has two pockets on the side for storing your bottles. Measuring 16-inches long, the backpack is durable and makes for an ideal Pokemon toy for any school going kid.
Pikachu is one of the most popular Pokemon as a result of the long-running TV series. Pikachu's electric abilities are captured in many playsets, but few genuinely "capture" Pikachu and put it inside a Pokeball. Given that the famous Pikachu of the Pokemon series refuses to live in the Pokeball, your child may realize that the Pikachu they've "captured" isn't the same – but they'll love it nonetheless. The toy works best when your child is playing with other children and pretending to have Pokemon battles. There isn't very much that you can do with this toy when you're sitting alone, although the Pikachu inside the Pokeball may be somewhat entertaining.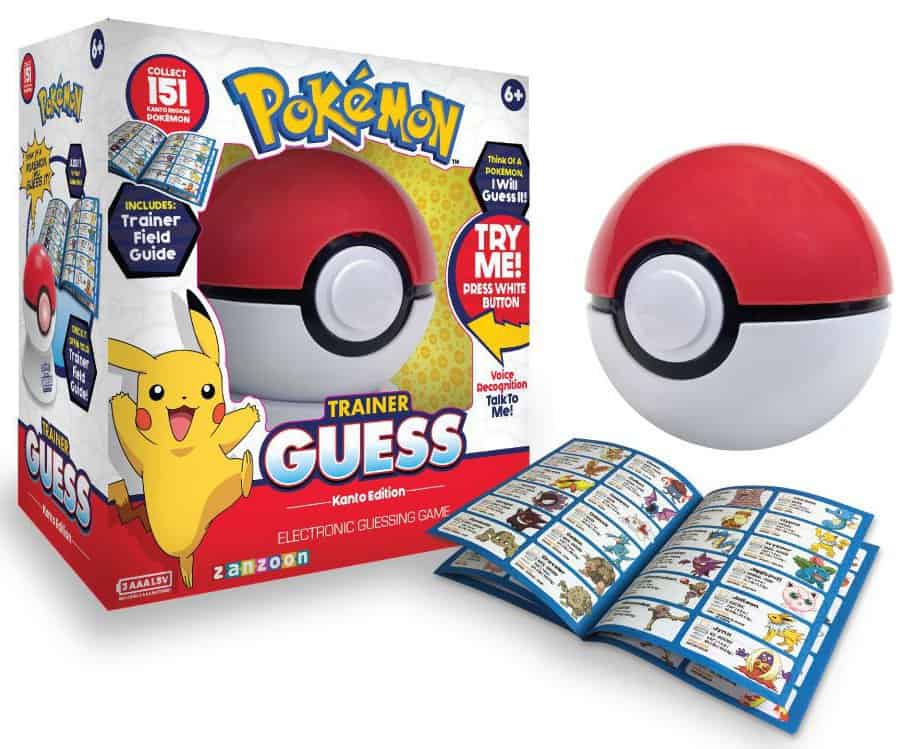 Guessing the Pokemon based on the outline or other Pokemon facts is a tradition among Pokemon enthusiasts, and this set is no exception. With this playset, your child can read through a manual of the original 150 Pokemon, then play an electronic game that allows them to guess which Pokemon has certain features. For Pokemon enthusiasts who want to push their knowledge to the limit, this is the set. While this game can be played with small groups of people, it shines the most on its own. There aren't many multiplayer features of the game, though it's technically possible for more than one person to read the trainer field guide at a time.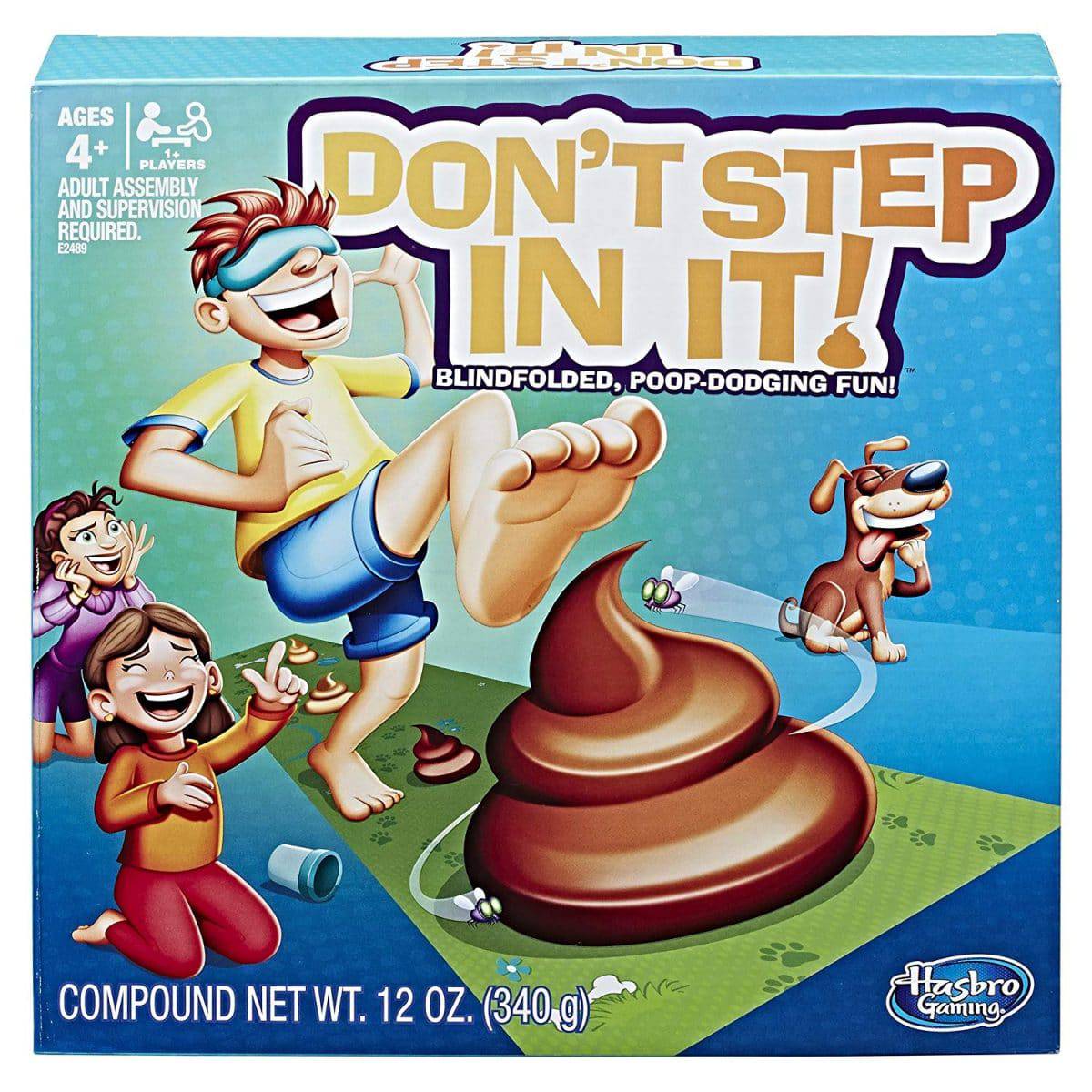 This Pikachu hat has all the cheer of Pikachu itself. As with other Pokemon toys, this Pikachu hat will make your young trainer feel good about representing their favorite Pokemon in style. Unfortunately, because it's a piece of apparel, there aren't too many ways to play with the Pikachu hat.
The Mega Construx Pokemon Pikachu vs. Bulbasaur is another toy that you can build from scratch. It comes with a base that has a tree and some grass on the side, in which you can place Bulbasaur and Pikachu on either side. You can power up Pikachu with its thunderbolt or have Bulbasaur let it out its vine whip. Because all of the figures can be posed in any way, it can be used to make pretend battle poses. You can also use it with other Pokemon construction sets from Mega Construx if you have those (such as the Gyarados mentioned earlier). You can create classic battles with your favorite Pokemon! Choose your Pokemon and battle to become the best.
The Verdict
It would seem that buying toys is easy. Just head to the store or shop online. However, getting the right toy is more than just picking the first random toy you find. Before buying the perfect Pokemon toy for the child in your life, narrow down your options based on their age and what their interests are. The Pokemon theme is huge, and unless you know what you're looking for, you could spend hours looking through toys without ever making a decision.
Are you looking for educational toys that'll teach your child something as they play? Or are you looking for Pokemon toys for an older child, such as new cards for the Pokemon Trading Card Games? Consider what your child is going to do with their new toy – games, creative play, or a toy to add to their ever-expanding collection of Pokemon action.