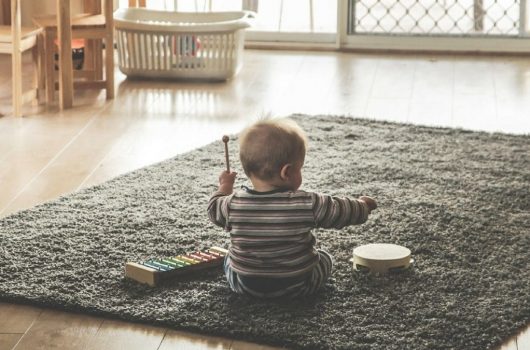 1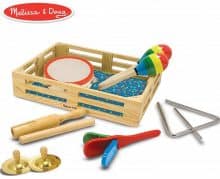 Melissa & Doug Band-in-a-Box Musical Instrument
2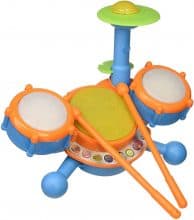 Vtech KidiBeats Drum Musical Toy
3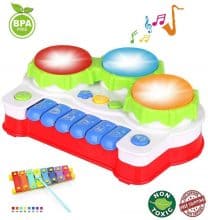 EXCOUP Baby Drum Musical Keyboard Toy
Previous
Next
Babies love songs, music, and rhythm. Right? Music plays a crucial role in the development of a child. Besides, studies indicate that children can develop advanced motor, linguistic, and intellectual development when exposed to music in the womb. Music also allows toddlers and infants to be in tune with emotions such as happiness or even sadness, which makes music vital in social development and interaction of a child.
Once your baby starts to hit three months+ you'll notice a wide range of miniature musical instruments in the market which can make it a daunting task to know which best suits your needs and that of your baby. In this guide, we've narrowed down the list of the Best Musical Toys for Babies that little boys and girls can start to play with from the early stages of life that include maracas, drums, recorders, shakers and more.
Top 30 Best Musical Toys For Babies & Toddlers 2020
Bottom Line
It's hard to emphasize the significance of music in the early stages of a baby's life. Song, sounds, and tunes stimulate different areas of development such as hand-eye coordination, gross and fine motor skills, strengthens growing muscles, and enhances creativity.
An early introduction to a musical environment will significantly add to your child's cognitive and sensory growth. Besides, early recognition of music offers the young one will love for the subject later in life.
In addition to purchasing a perfect musical toy that meets the needs of your baby, ensure that all toys and musical instruments are kept safe and clean. Don't leave your toddler without adult supervision when playing with any toy and confirm your pick comes with no removable parts.