Top 30 Best Musical Toys For Babies & Toddlers 2021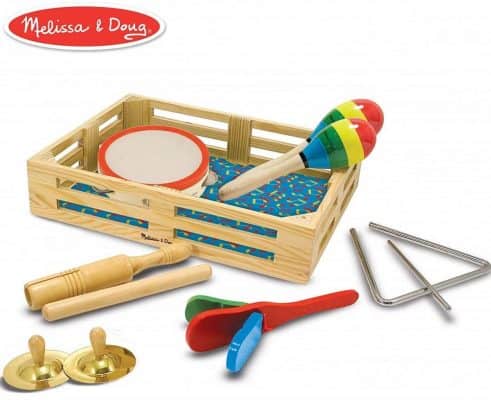 The Band-in-a-Box Musical Instruments features high-quality material construction that allows your kid to move, groove, and feel the beat. Additionally, it comes with a convenient wooden crate with plenty of space that helps you manage and organize all the toys after play.
The musical set allows little boys and girls to explore the most common musical instruments as they hear the different types of sounds from each device. Besides, your child will develop a natural ability to decode sounds and words.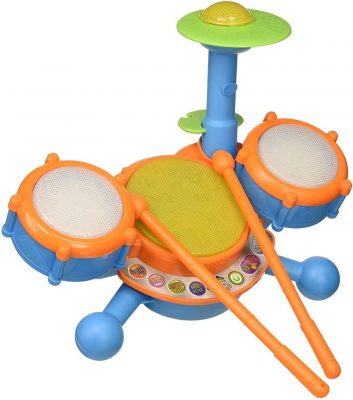 Vtech KidiBeats Drum Set includes three drum pads and cymbals that come with unique sounds to improve the sensory development in the little one. The drum pads light up to guide your child as they hear the letters and the sound produced.
The set features nine melodies from four genres of music. The toy operates with 3 AA batteries and also features an automatic shut off mechanism that preserves battery life. Vtech also included a volume settings that regulate the sound. It's an ideal toy for teaching numbers, letters, phonics, and words.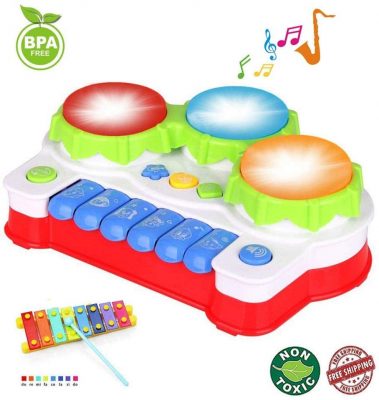 The Baby Drum Musical Keyboard toy features a piano, a mini-colorful xylophone, a hand drum, a sax, a guitar and a trumpet that nurtures the baby's interest in music. EXCOUP also included animal sounds and sing-along songs for fun. It's a colorful set that helps the little one develop cognitive competence of colors and patterns.
The set features a 1.5V AA battery and includes a volume setting that allows you to regulate the volume for less noisy play at any time. This Baby Drum Musical Keyboard toy will teach the young a straightforward note sound learning; rhythm discovery and improves communication skills.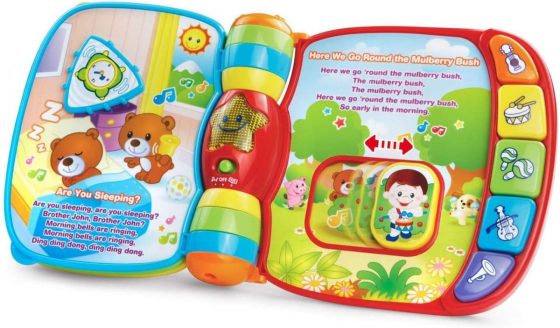 The Vtech Musical Rhymes Book comes with various developmental benefits, which plays an essential role in pre-literacy skills and auditory skills, which helps the child develop the ear for music. 
Additionally, this book features high-quality material construction that will stand little hands abuse. It features more than 40 songs, melodies, sounds, and phrases. There are also five colorful piano buttons that make different sounds when played. Besides, the toy is interactive and comes with visually stimulating pages that light up, making this talking book attractive for early learners.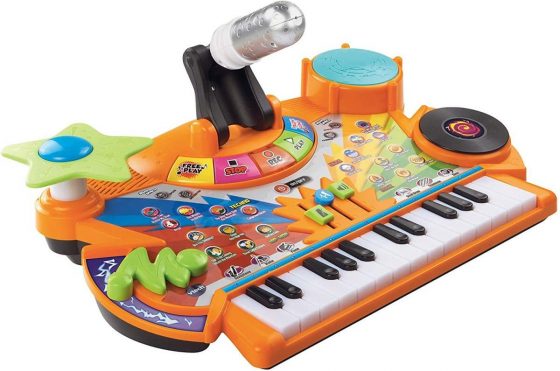 This Record & Learn KidiStudio features an inbuilt karaoke system that teaches kids how to sing with a different tempo, rhythm, and melodies. The recording studio also allows little boys and girls to record and playback their own songs thanks to the microphone and voice change included in the package.
Additionally, this toy allows your child to pretend play and interact with a variety of sounds that come from different musical instruments. The keyboard lights are a nice feature that helps the kid follow along with the preset music.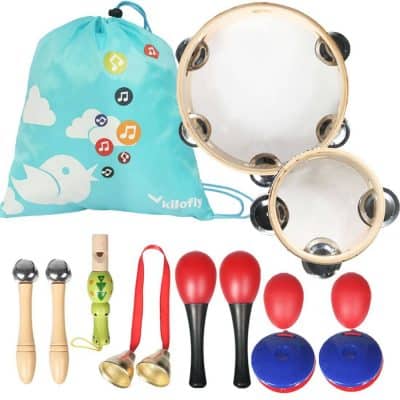 The Kilofy Kids Mini Band Musical instruments is an entertaining and educational tool that features 12 pieces of devices including, shakers, maracas, xylophones, guitar, wrist bells, and more. The set introduces your child to different musical instruments making it a perfect starter kit for your kid to enjoy.
Besides, it includes high-quality construction and a spacious bag that allows you to keep all the toys together and easy to store away after play. The pieces are easy to clean and feature safe materials that will not harm your baby.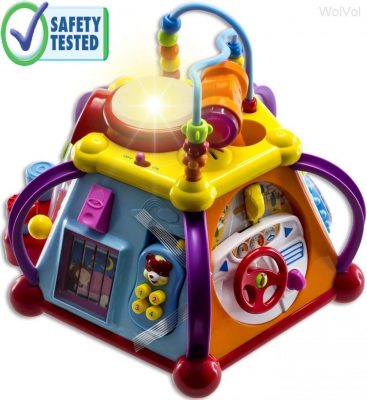 The WolVol Educational Musical Activity Cube features different functions that require little boys and girls to drive, sing, and talk. It includes buttons, a horn, a steering wheel, fun sounds, combined with eye-catching colors that will thrill the young one right out of the box.  
It notably features durable and plastic material construction that supply long-term strength to withstand abuse from little hands. The toy contains no Lead making it safe for use and endless hours of fun. Besides, the lights, music, and sound effects encourage creative thinking and promote motor skills.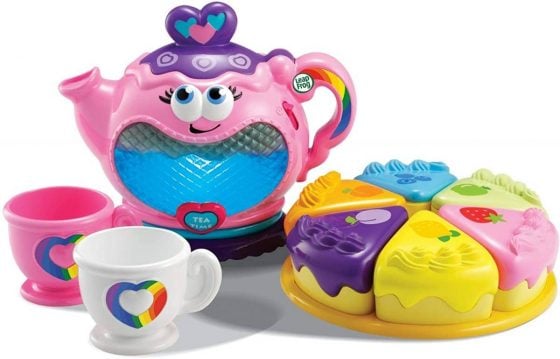 The LeapFrog Musical Rainbow set allow little boys and girls to interact through imaginative play as well as introduce them to essential preschool skills like vocabulary, taking turns, singing, sharing, and patience.
Additionally, the teapot lights up in six different colors to teach them the various colors while the colorful cake inspires sharing and serving. LeapFrog also included a shiny mirror in the teapot lid which reveals fun sounds when lifted.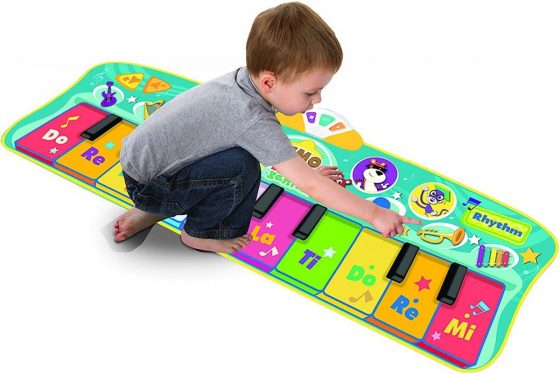 The Baby Genius Step to Step Dance Mat features ten multi-colored keyboard keys that produce guitar, piano, clarinet, saxophone, harp sounds, and more. It included a volume button that adjusts the volume when needed.
Music encourages kids to move to help them develop motor and gross motor skills. This toy will allow your child to learn new tunes and dance moves, especially when played in the company of other children. Besides, the rhythm is entertaining, which makes the toddler move up and down, which helps in muscle development, and balance.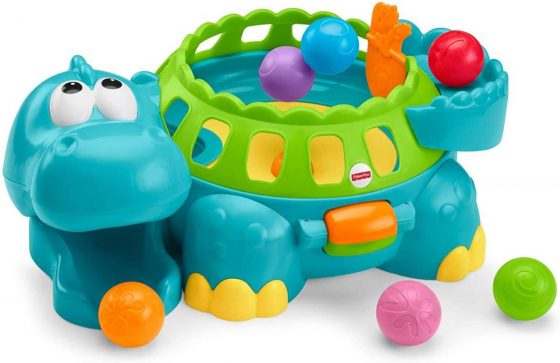 The Fisher-Price Musical Dino will help parents calm their kids down as music lifts and soothes the spirit. You can incorporate this toy in your child's playtime routine to indicate the different moments in your child's daily schedule. Besides, grasping and popping the balls, strengthens the little muscles, and improves hand-eye coordination. 
This toy features high-quality material construction, bright colors, and b music and popping action. Exposing babies to various rhythms and beats of music early in life will enhance cognitive development and the natural ability to decode sound and words.
This musical toy features a baby maraca with smooth small beads that hits the side of the plastic, making a decent loud noise while the plastic tambourine adds extra fun. Hohner Accordions Kids Musical kit is easy to manipulate and features high-quality plastic material construction, making it safe for use. 
Kids are naturally curious and will enjoy exploring different sounds with a range of musical educational toy. This toy will help promote creativity, boost cognitive skills, and develop sensory development.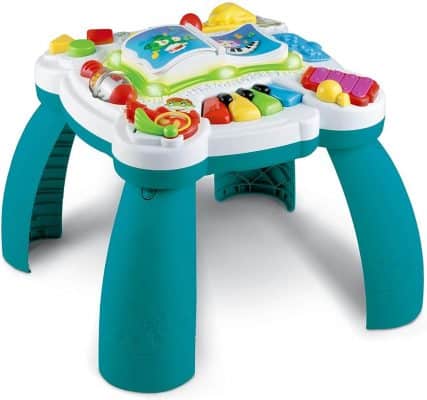 It can be a hurdle for little fingers to master the coordination required to hold musical instruments, this LeapFrog Learn & Groove Musical Table will allow the young one interact and explore with the sounds produced by different musical instruments that you can introduce them to later.
This toy helps your child build coordination even if they don't understand the lyrics of the song yet. Additionally, LeapFrog Learn & Groove Musical Table features sturdy plastic material construction and includes bilingual play options in English or Spanish.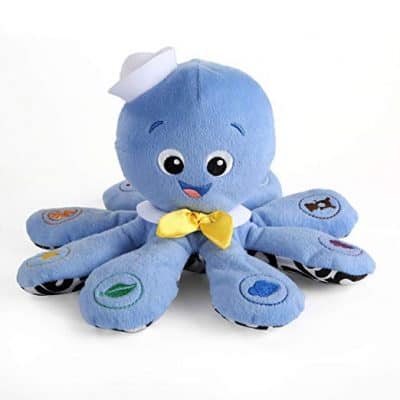 Baby Einstein Octoplush Plush Toy includes a squeezable, soft, and huggable stuffed octopus that is both interactive and fun. It features soft, cozy material construction and comes in a bright color, making it an attractive toy right out of the box.
Additionally, this toy's structure and colors helps to develop the child's sensory and can be utilized as a lullaby toy to keep the child calm, soothe, and lift their spirit. It's also effortless to use as she pushes the buttons to manipulate the Baby Einstein Octoplush Plush Toy.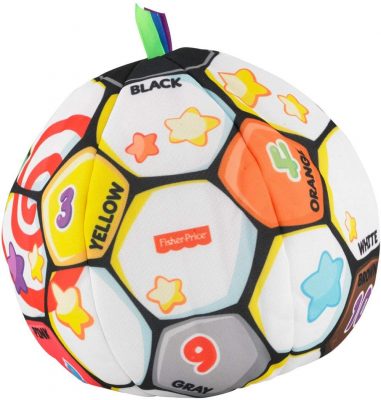 Music is the first information processed by a young brain. This Fisher-Price toy encourages active play. Additionally, it includes three interactive modes which introduce the young learner to songs and phrases.
It comes with a power and volume control button to regulate the sound. It's comfortable to hold, easy to move, and comes with exiting learning activities about colors, numbers, and rewarding phrases. This toy is machine washable and safe for use by little boys and girls.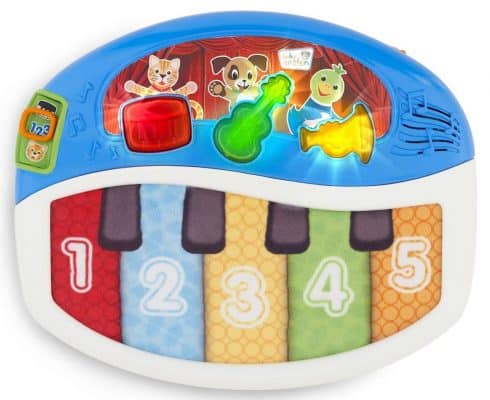 Recommended Age: 1-3
Music is one of the languages that both the young and old appreciate. This little piano introduces babies to instruments, animals, and numbers. Baby taps on to the softly designed keys and gets entertained by instruments mode by the wonderful sounds of the drum, violin, or horn. The animal mode produces sounds made by animals such as meow, woof, or quack, while numeric mode will introduce numbers 1 to 5 in English, Spanish and French.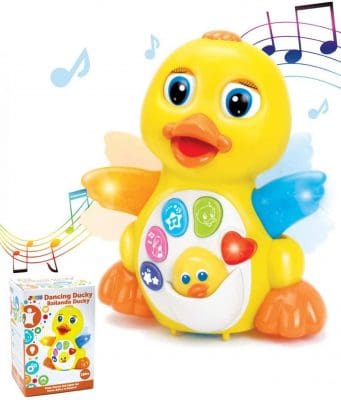 The JOYIN Dancing Walking Yellow Duck Baby Toy is a musical duck with lots of movement and buttons to push and spin, making it fun for little boys and girls. It features multiple modes that can play seven different melodies to help develop your child's listening skills, sense of music, and rhythm.
Additionally, the toy features safe and durable ABS plastic construction and bid colorful buttons and lights that encourage the baby to touch and press to enhance gross and fine motor skills. Besides, the little one will also grow hand-eye coordination as they discover the joy of music.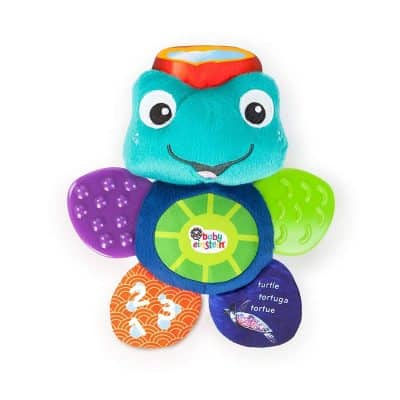 The toy features soft and textured material construction to encourage tactile play and help your baby develop cognitively, socially, and emotionally. Before your child learns how to speak, it's often difficult to know what is wrong when they're upset. Baby Einstein Musical Toy allows sensory play that helps the little one develop language, cognitive, and improves social interactions.  
This stuffed animal sensory toy helps your baby to chew on it and relieve sore gums, which has a longterm benefit in the little one's physical and mental development. The soft body and soft textured fins are all bite-worthy.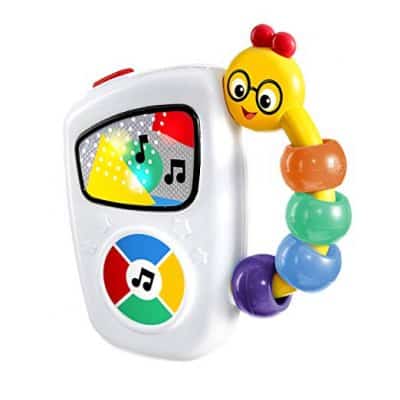 Baby Einstein Take Along Tunes includes seven melodies that light up thanks to the AA batteries included in the package. Additionally, the toy comes with a volume control button that allows quiet play. 
This musical instrument is easy to use thanks to the ergonomic handle included that helps the young one develop gross and fine motor skills as they learn how to hold the toy in their hands properly. Besides, since the little one uses this instrument while sitting or standing, it requires muscle control and coordination.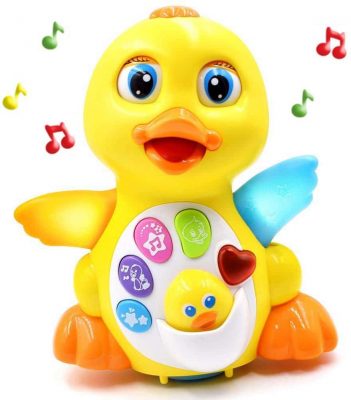 This musical toy duck features sturdy ABS plastic construction and comes with vibrant colors and songs that enhance the emotional well being of the toddler. Besides, the lyrics produced will help the young one expand vocabulary and develop language skills. 
Additionally, the Fantastic Zone Light Up Dancing and Singing Musical Duck sings and makes fun movements prompting your child to dance along which improves and strengthens the growing muscles making it an excellent holiday and birthday gift for little boys and girls.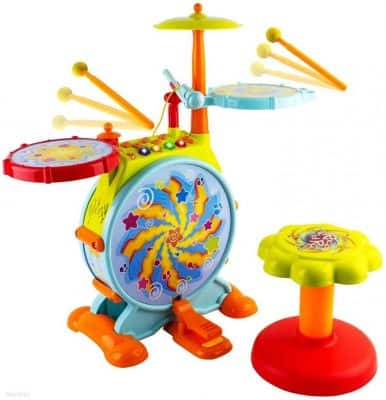 Like any other skill, playing a musical instrument require time to master. This WolVol Electric Drum set features a cymbal, microphone, two drum sticks, and a stool to provides hours of fun and equip the little one with a love of music. 
The toy features sturdy plastic construction to last a long time. It also comes with vivid bright colors making it a perfect choice for little boys and girls due to the vast array of attractive features and functions. They can play the drum in freestyle, listen to the melodies, and enjoy hours of entertainment.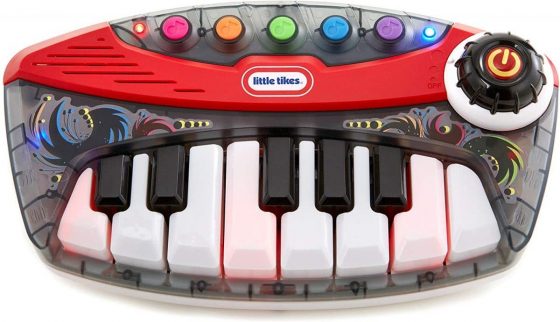 The toy includes a sturdy build to handle some abuse and constant play. Additionally, the PopTunes keyboard comes with two volume settings that allow you to adjust the sound for a quiet game. Besides, the bright colors will keep little boys and girls entertained as they play their favorite tunes and melodies. 
The PopTunes keyboard will help the little one build coordination and encourage them to move as they listen to the different tunes, which in turn develops motor and gross skills. The melodies are entertaining and will offer the young one with hours of entertainment.

This Otamatone is an excellent learning tool that will help your child develop coordination even when they don't understand the lyrics of the music yet. The miniature musical instrument is a Japanese choice instrument that will allow the little one to develop the sensory organs. 
The toy features a sturdy plastic construction and comes in bright colors that will allow the young one to identify sound patterns and learn colors. Besides, your child will learn new tunes and dance moves when they play with this miniature Otamatone.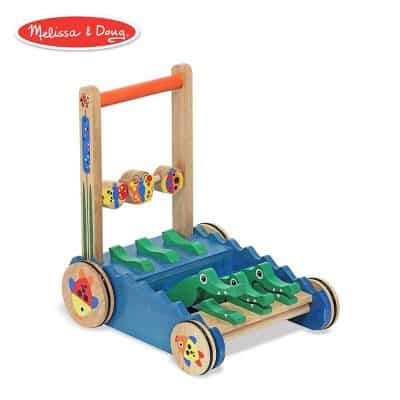 The Push toy allows active play as your baby flexes every muscle as they push the Chomp and Clack Alligator around. Besides, the toy features sturdy construction and high craftsmanship with precision making it a safe toy for children aged 12 months and above. 
Additionally, the toy encourages the development of gross and fine motor skills. The push toy includes three chopping alligators, ladybug beads, and printed fish patterns on the wheels. Chomp and Clack Alligator Push Toy is colorful and will make an instant hit to little boys and girls.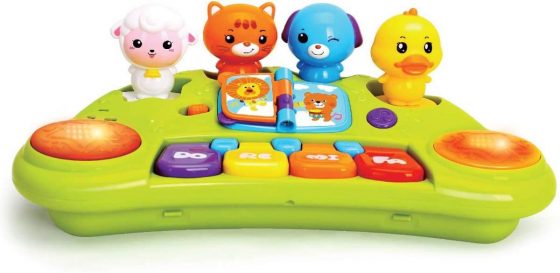 The keyboard features four different instrumental sounds, including piano sounds, electronic flash drum, and funny animal sounds for fun hours of play. This toy fosters creativity and helps stimulate curiosity in very young children. Besides, this miniature keyboard requires hand-eye coordination to strike the correct keys.
The toy promotes restful sleep and relaxation, which can be beneficial to the overall development of the young one. At the same time, will enhance emotional well being of your baby as they release pent-up energies, especially if they get frustrated easily.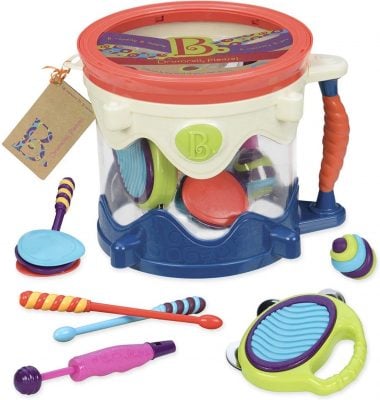 B Toys Drumroll Please Drum Kit features seven pieces of instruments and an easy to store and carry storage bag that allows you to keep away the toys after use. Additionally, the toys are brightly colored and come in different textures that help the young one develop healthy sensory organs.
The kit notably features bumps and bristles, knobs and different handles that encourage the little one to move, develop gross and fine motor skills. Besides, this toy will help strengthen and improve the small muscles.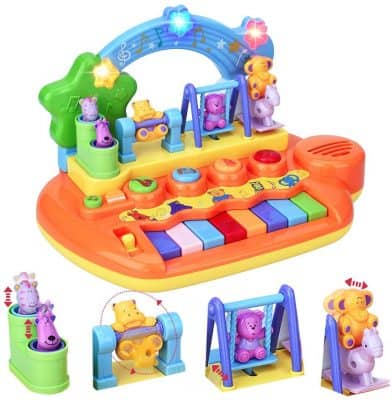 The Forstart Learn-To-Play Musical Toy features lots of different sounds settings with moving characters that make this instrument unique. The colorful lights develop the sensory organs and help the child identify various colors. 
This toy stimulates learning and brain development. Forstart Learn-To-Play Musical instrument has inbuilt lyrics that include the piano, accordion, guitar, and the saxophone. Besides, there are different sounds along with lights that work along with the melodies.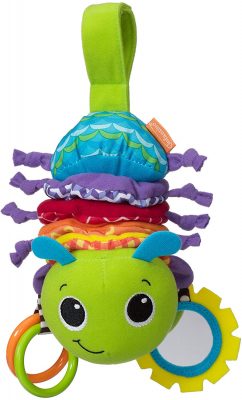 Infantino Hug and Tug Musical Bug features two clacker rings, pick n' see mirror and eight knotty legs. It includes high-quality materials and plastic rings that are safe and free of any harmful chemicals.  
The toy helps to increase motor skills and coordination as they play with Infantino Hug and Tug Musical Bug. Besides, the bug will lift the mood of your baby and soothe them when they are upset.
The Fisher-Price Rattle n' Rock Maracas includes high-quality ABS plastic construction and comes in a variety of colors, textures to help stimulate the babies senses. The toy is unbreakable and child-safe, making it a durable option that will serve you a long time. 
Additionally, this maracas allows your child to express their skills and enhances creativity. Fisher-Price included colorful beads on the handle that help the little one to hold it firmly as he shakes the maracas. Besides, this toy features the perfect size for little hands.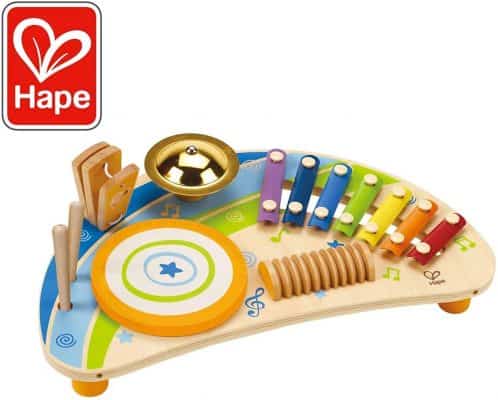 This Mini Band Instrument features five different musical elements that include a wooden drum, a xylophone, cymbals, a clapper, and a guiro. The toy also notably includes wood sourced from environmentally sustainable forests and meets all the safety standards. 
Additionally, this toy develops creativity skills as the child expresses themselves when playing. It can also withstand much abuse from little hands thanks to the durable and sturdy construction.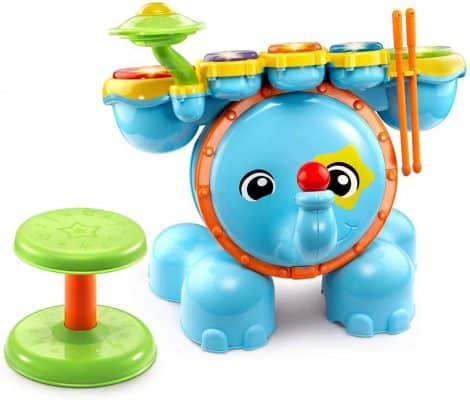 The Vtech Zoom Jamz Stompin' Fun Drums set features a bright elephant bass drum and four modes that include rock, orchestra, and many silly animal sounds that keep the baby entertained for hours of fun. Additionally, the toy contains four game modes that encourage the little one to count, memorize, and sing along. 
The drum set includes electronic drum panels powered by two AA batteries. The music and rhythm that this toy will produce stimulates areas of development and helps prepare little boys and girls brains for language and movement.