Top 30 The Best Minion Toys 2021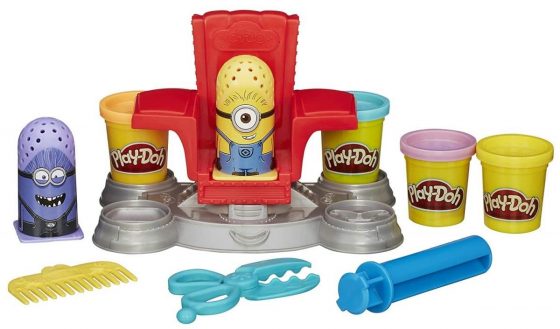 This Minion Toy is a Play-Doh set that allows kids to create custom Minions by placing the yellow plastic mold on a press and pressing out crazy hairstyles. Once the hairstyle has been completed, there are additional molds to make bananas, sirens, and other molds that are half shapes to allow them to create a whole custom scene. Included in the set are two Minion character yellow molds, Play-Doh (4 colors), scissors, comb, and press base. Play-Doh is a great way for kids to give their hand and fingers a good workout. During the workout, kids will be enhancing their fine motor skill development. The pressing, molding, cutting, and shaping is a wonderful exercise to practice all extensions of the hands and fingers.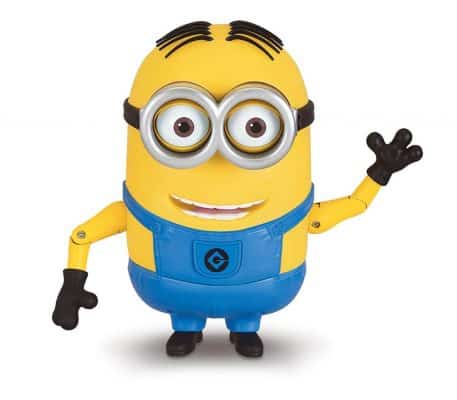 The Despicable Me Talking Minion Dave Toy Figure is recommended for ages 4 and up. He's made of soft, pliable materials so your child won't hurt themselves when playing with this toy. With over 55 Minion sayings and the original voice, the Dave Talking action figure is sure to make your child giggle with delight. He also makes farting noises and comes with his own Banana Mode. This toy is easy and entertaining to use. To get Dave to talk, your child simply has to press his pocket and he'll spew funny sayings from the Despicable Me movies. Moreover, it comes with Banana Mode. Press the back of Dave's tongue and he'll think you're feeding him. By making funny noises and talking, this toy helps children grow emotionally and socially. Kid's will also develop fine motor skills and inspire imaginative play.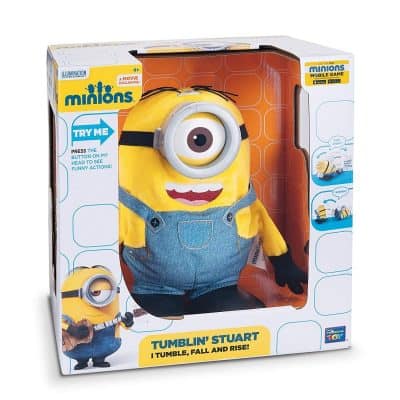 The Despicable Me Minions Tumbling' Stuart makes a wonderful buddy for kids as he laughs and tumbles. He's the perfect size to carry around and take a nap with too. The colors of the fabric are colorful and vibrant, and the material is very soft and snuggly. Children four years old and older will love having this toy that'll remind them of the movie personality in the Minion movies. Stuart laughs and makes a farting noise which will keep kids laughing for long periods of time. The toy speaks in the same voice as the character in the movies, and it has talkback and talk features. This toy's eyes, feet, and eye goggles are all made of plastic, but the rest of him is the soft plush fabric. This item is great for Minion fans and those that like fun toys. The talkback features will increase your child's knowledge of cause and effect while carrying him around will improve your child's fine motor skills. Kids will also enjoy laughing and mimicking Stuart and his roly-poly antics. Chasing after this toy will build fine motor skills and balance.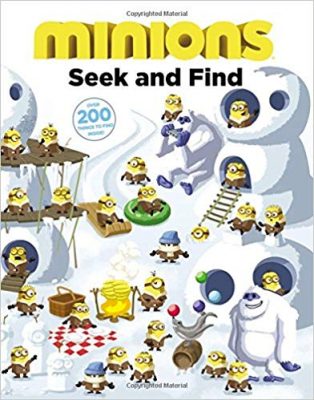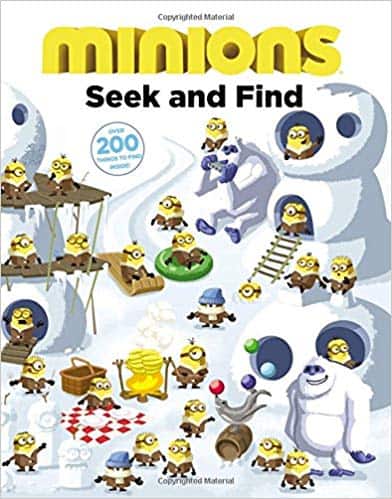 The Trey King Minions Seek and Find book is great for family fun or play alone. The Minions make finding objects so fun with this fabulous coloring book. It's a quiet activity that can be played almost anywhere with others or alone. There's some reading to enjoy on the inside pages, so kids four to eight years old will enjoy the book the best. Younger children can join in seeking fun but may have to have the words read to them. Any age can practice their counting abilities looking for the items, and games can be devised among groups to see who finds the most things or challenge each other to find particular items. Hunting for picture objects and characters gives children the opportunity to use the abilities to identify and then recognize items in a maze of other objects. These skills will benefit them later in life when they must search for things in real life.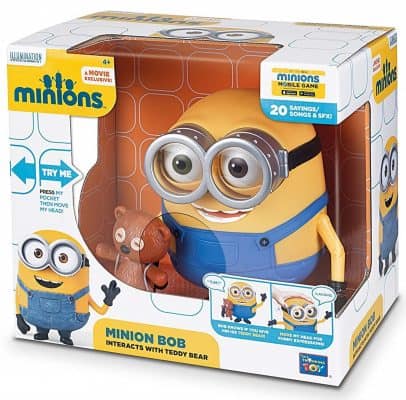 The Despicable Me Minions Bob Interacts with Teddy Bear is recommended for children aged 4 and up. They can interact and play along with the figure of Bob Minion and his adorable teddy bear Tim. Placing Tim the teddy bear into Bob's side will activate the talking function, and by touching the pocket of Bob, he moves and speaks. Bob can move his head right, left, backward, and forward. Besides, he has very soft skin that covers his upper body. This is about as real-looking as a Minion can get in its miniature form to entertain children. With his teddy bear friend, Bob will have kids laughing and having fun as he talks and sings. The 20 preloaded songs will stimulate your child's development by having your little one singing and dancing right along with Bob.
This figure pack includes three Minion character figures as pirates to build with interchangeable parts, such as hats, goggles, clothing, arms, and feet. A white shark that kids can also put together has a tail that moves and a jaw that really opens. A connected fishing rod and the line can be raised and lowered for the best make-believe and excitement. The best thing about Mega Bloks sets is that they can be used with other such sets to expand the possibilities of constructions. Children five and older will get the best use of this figure pack because it's at this age that the cognitive abilities of imaginative play begin. Any Minions or Despicable Me enthusiast would like to have this set Mega Blok excitement to play with or collect because it's so unique and easy to enjoy.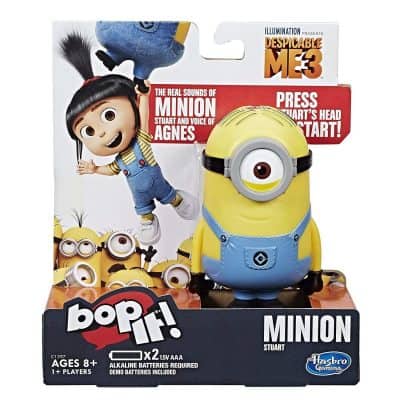 The Bop It Despicable Me Editions Game by Hasbro Gaming laughs, talks and you can bop it, twist it and pull it. Using the voices of Minions Stuart and Agnes, this Bop It instructs kids and parents to take part in a fast-paced game filled with fun. Bright colors and thinks to pull, twist and bop, this toy is great for engaging and entertaining kids. Not only is it clear on instructions, but it also includes written instructions and AAA Alkaline Batteries. Despite its ease of use, younger children under 8 may not be able to keep up with its fast-paced nature. Besides building fine motor skills, this toy also challenges children to remember patterns. It also encourages hand-eye-ear coordination, as the game gets faster as you get more right. Your children will continually grow more accustomed to the speed and build on their skills.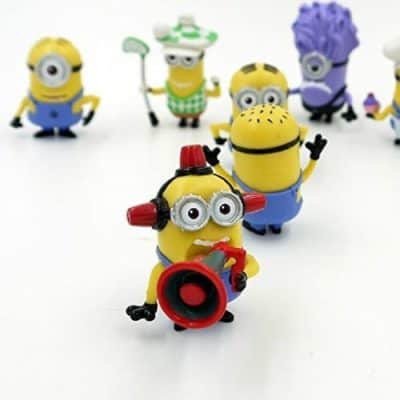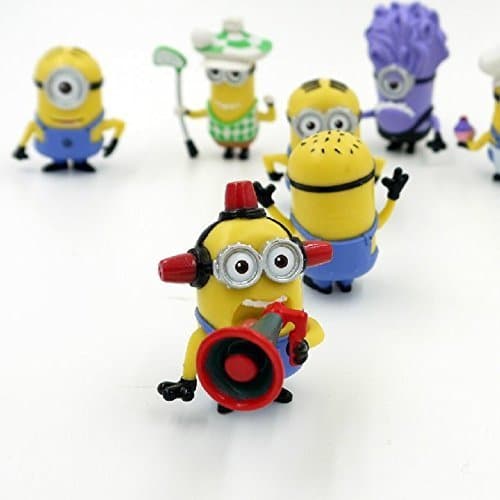 The characters of Despicable Me are all in this miniature set of figures in the most vivid colors and costumes. With zanzy faces that'll make children laugh and squeal with delight, they're ready to be a part of any playtime happenings. Bob, Stuart, and Kevin are joined by other Minion personalities in this eight-pack set of tiny figures that are just 1.5 to 2-inches tall. They're made of PVC plastics and are very durable. The small size of these Minions makes them easy to transport, thus allowing your child to engage in imaginative play anywhere. Their size also makes them perfect for topping cakes and cupcakes.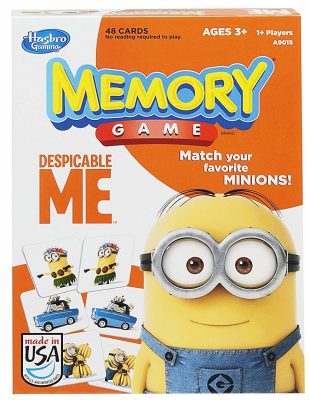 The Hasbro Memory Game Despicable Me Edition is a great memory game for school-age children. The goal of the game is easy. The player with the most matches wins. It's best suited for two or more players and kids over the age of three. It has been made from high-quality materials ensuring that it's safe for everyone. Matching their favorite Minions couldn't be more fun than with this game.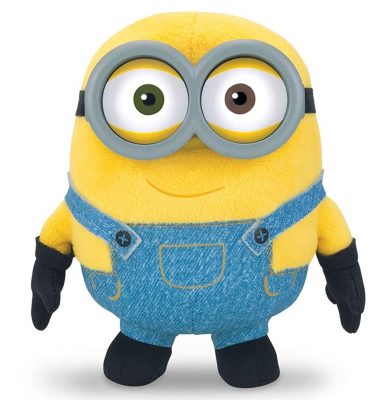 Minion fans will love the Despicable Me plush buddies that are available in both Bob and Stuart. The material of these plushies is super-soft, even the glasses, so your little one can be extra comfortable while snuggling. The Bob plush is around 5 to 6-inches tall whereas the Stuart plush is 8 to 9-inches tall, thus making them easy to carry. The high-quality stitching gives this Minion a level of durability that will allow it to survive countless adventures with your child. Designed with overalls and black work gloves, these toys stay true to the characters original look in the movie.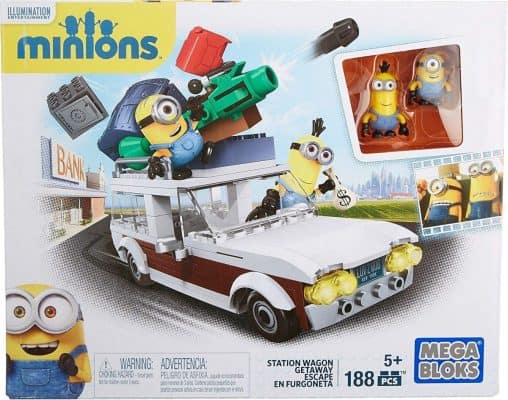 The Mega Bloks Minions Station Wagon isn't too challenging to build and is more or less exactly as complicated as you would want a self-built toy to be. Your child will enjoy both Kevin and Stuart in this set. Both Minions have a handful of accessories, which gives this set a good deal of replay value. There's also a fairly good potential for creative play thanks to the numerous modifications that are offered with the station wagon itself. While the wheels on the wagon aren't functional, the set itself is of high build quality, and it can stand up to surprisingly heavy abuse. If your child loves the idea of taking the minions on a road trip to get into some mischief, this is the right set for them. You can also mix and match the minions' blocks from this kit with other constructible minions sets.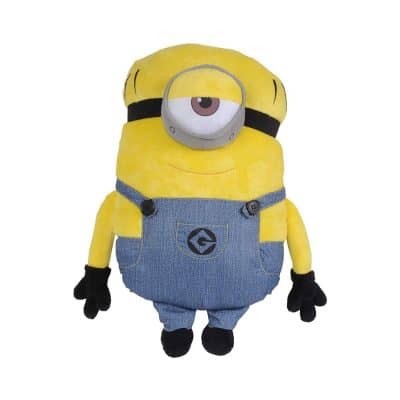 The Universal Despicable Me Minions Mel Character Shaped Soft Plush Cuddle Pillow is versatile and can fulfill multiple needs at once. Rather than purchasing a separate minions toy and pillow, you can have them both in the same item. This makes it harder to lose track of the toy your child needs to enjoy themselves when on the road. This toy is very easy to clean and doesn't become discolored easily. The toy is surprisingly durable, even in areas that would typically suffer from tearing like the goggles. You may find that its large size makes it a bit convenient for your child to truck around and play with, but it's a small concession for a multifunctional toy.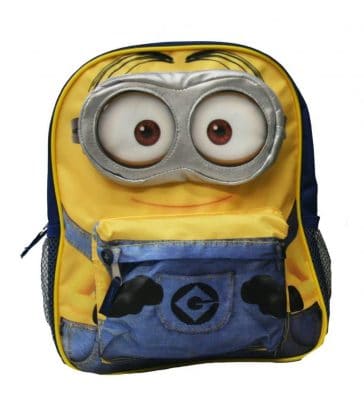 As far as children's backpacks go, this minions backpack is a winner. Complete with a cheerful minion emblazoned on the back, there are several pockets and a fair amount of carrying capacity. Your child will find that this backpack is trendy and functional. You will appreciate that the bag itself is easy to clean. It also is fairly stain-resistant and can even resist the rain for a while. The zippers on the backpack could stand to be improved, but that's probably the least of your little minion lover's concerns. Other minion toys will fit easily into the side or rear pockets, and your child will find the backpack straps are comfortable.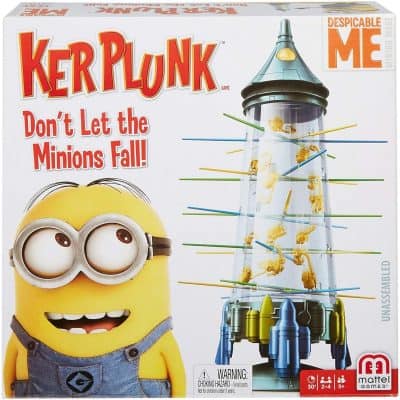 Don't let the Minions fall. You have to place the colored sticks through the holes in the empty tower first, then place the 30 different Minions across the sticks. Each player takes turns removing the sticks while trying to drop as few Minions as possible. It's a Minion-themed twist on Mattel's classic Kerplunk game. The game includes a Ray Gun Tower, 30 sticks (three different colors). 30 Minion characters (also three different characters) and instructions. It's recommended for kids older than five. Up to three kids can play at once and it can even be played solo as a skill-based game.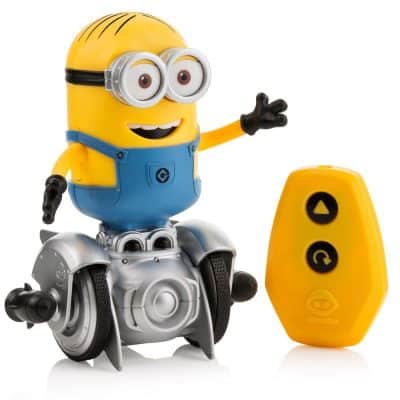 Turbo Dave is the fastest Minion of the bunch. This remote-controlled toy has dual-action driving capabilities. He zooms forward, spins in circles and is sure to delight younger kids. At just five inches tall, this mini-Minion is portable and perfect for travel. With just buttons, the remote control is simple to use. It's designed for kids four and older.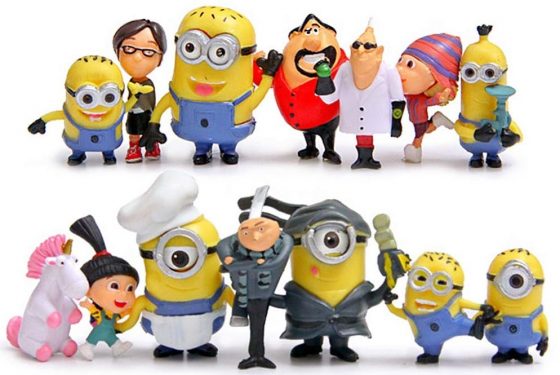 A 14-piece Despicable Me figure set that's sure to be a favorite with any young Minion fan. These exciting characters, all from the Despicable Me animated series, are each 1.6 to 2.5-inches tall, making them the perfect size for taking out and about. All of your child's favorite characters are sure to be included in this set providing hours of imaginative play. This set isn't suitable for children under three years. A lovely figure set that'll be enjoyed by any young child and enable them to recreate their favorite Despicable Me Scenes.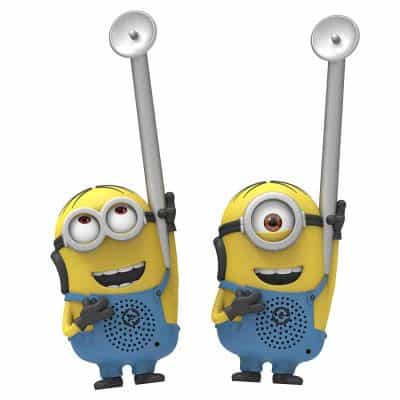 You and your trusty accomplices can rely on the Dave and Stuart Walkie Talkies to maintain contact wherever your adventures take you. This is an exciting Minion Walkie Talkie set that kids will love playing with when out and about. There are two walkie talkies included in this set and they're based on the Minion characters of Dave and Stuart to make this set extra fun for your kids. These are real functioning walkie talkies that have a button to push to talk and an adjustable volume that makes it easy and simple for your child to use them. These walkie talkies do require 4 AAA batteries in each one to work. The batteries aren't included in the package and have to be bought separately. However, this is a perfect gift for any Minion fan and will be a great toy to take out on adventures and share with friends.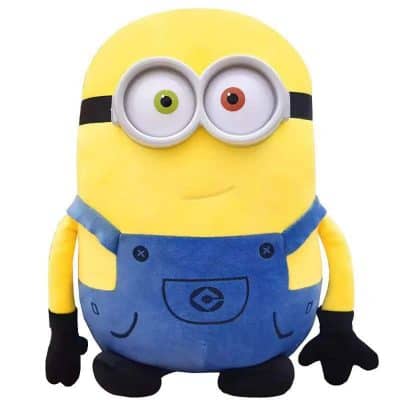 This lovely Plush Bob the Minion toy is a super soft cuddly toy that'll be much loved by any child who's a fan of the animated series Despicable Me. At 9-inches tall, this Minion toy is a good size for a child to cuddle, though this toy isn't recommended for children under the age of 24 months. Bob the Minion is made from plush fabric and filled with high-quality cotton, so this toy is super soft for your child. Bob is wearing the classic Minion clothing of blue dungarees, with black gloves and feet. This toy will be much loved by any child or even an adult making it a good Minion gift idea.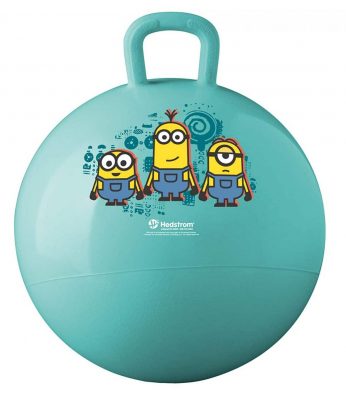 The Hedstrom Minions Hopper Ball is a good quality active toy for your child to play with. This 15-inch diameter ball can be used indoors or outside for fun during any weather. This Minion hopper ball is made from durable vinyl material so that the ball stays inflated and your child can continue using it throughout the day. It's suitable for children 4-years and older, so fun exercise can be had by all of the family. This hopper ball can be easily deflated so it can be taken out and about or conveniently stored. The Minion hopper ball has a textured handle to give your child a secure grip. This is a product that has been made to last, and with its bright color and attractive Minion graphic, it'll be a firm favorite with your child.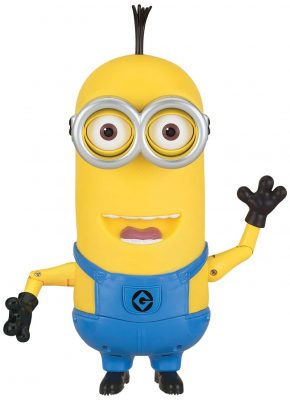 Another lovely Despicable Me Toy based on the Minion character Tim. This Talking Tim Minion Figure is sure to be a favorite with any young minion fan. Tim has free moving eyes and arms and stands at around 7-inches tall. He also has soft skin on his upper body making him comfortable for your child to hold and play with. Your child can move Tim's head from left to right or forward and backward for different expressions. If they press Tim's pocket, they will hear him talk. Tim says 25 popular Minion sayings so is an exciting talking Minion toy that would make the perfect gift for your child.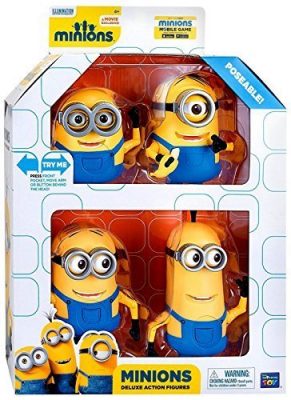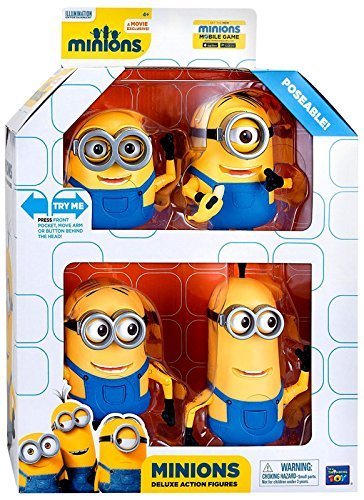 This Deluxe Action Figure 4 pack comes with 4 Minion characters from the Despicable Me Minions movie. Stuart, Kevin, Jerry, and Dave are the 4 Minion characters that are included in this set and they stand at 5-inches tall, a good size for children to play with and suitable for taking out and about. They are each dressed in the classic blue dungarees and each figure has its own individual characteristics. Children will love playing with these Minion figures as they have poseable arms to makes playing more exciting. They also have a button that can be pressed for eye or mouth movement. This set isn't suitable for children under the age of 3-years old. A lovely Minion Action Figure set that's sure to include your child's favorite Minion so is a perfect gift idea for any minion fan.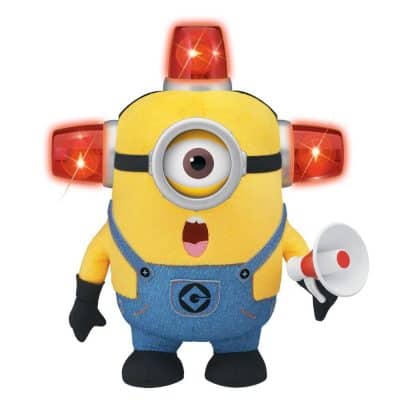 Everyone will love this Despicable Me Bee-Do Fireman Minion. This is a soft and cuddly Minion with flashing light headgear to entertain any child. By pressing this Fireman Minion's tummy you can hear his original voice, sound effects and the Bee-Do Siren. To hear sayings from the film, you can press his left hand. This Fireman Minion needs 2 AA batteries which aren't included in the set. This toy isn't suitable for children under 3-years of age. However, it's an ideal gift for any Minion fan and will provide hours of entertainment.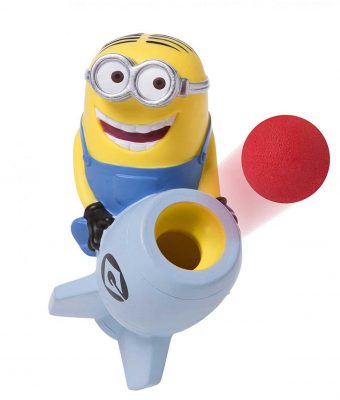 A fun Minion Squeeze Popper Ball toy that'll provide hours of entertainment for your child. The shooter is in the design of a Minion, either Dave, Carl or Tim. There are also 6-soft foam balls included in the set. Squeezing the Minion will cause the foam ball to be released where it can travel up to 20-feet. This toy can be used indoors or outdoors and will encourage your child to be active. This Minion toy isn't suitable for children under the age of 3-years old. A fun Minion toy that will appeal to young Minion fans and can be enjoyed along with friends.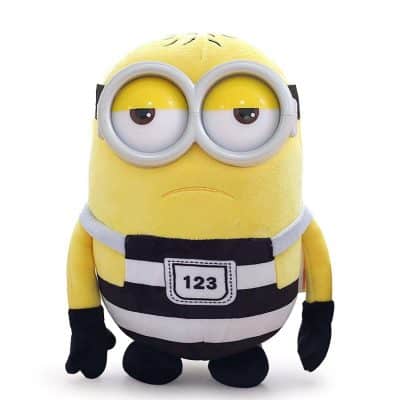 The Ray-E Plush Bob soft toy is another cuddly toy from the Minion range. This one features Bob in a black and white stripy jail outfit from the movie Despicable Me 3. This cuddly toy is super soft and has been made with plush fabric and filled with high-quality cotton for that extra cuddle factor. At 12-inches tall Bob is also a good size for your child to play with. This soft Minion toy will be a favorite with any young child or adult alike and would be a lovely gift for someone who enjoys the Minions. This toy should, however, be kept away from fire and flammable materials.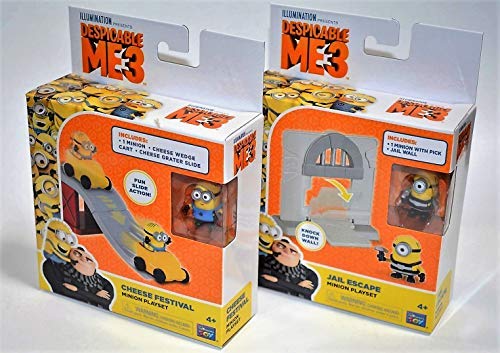 This pack of 2 Minion Playsets means double the fun as 2 toys are included. The first is a Cheese Festival Minion Playset and the second is a Jail Escape Minion Playset. The Cheese Festival Playset includes a Minion figure that's from the Despicable Me 3 Movie, a Cheese Wedge Cart and a Cheese Grater Slide that'll entertain your child for hours. The Minion stands at over 1-inch tall. The Jail Escape Playset also includes a Minion character from Despicable Me 3, the Minion has a pick and there's a jail wall for him to knock down. Both sets are for ages 4-years and above. These Minion playsets will encourage imaginative play and will be enjoyed by many children.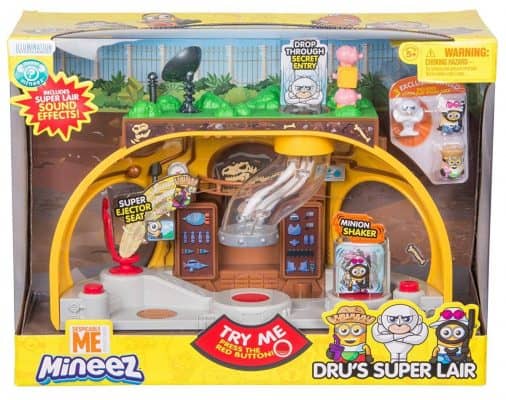 Dru's Super Lair Playset is an exciting Minion toy that's based on Dru's Secret Lair in the Despicable Me 3 movie. This is the perfect toy for any Despicable Me 3 fan and children will love the imaginative play that this toy will enable. This playset comes with 3 Mineez figures and a number of Super Lair special effects including silly sounds. There's also a trap door, launcher and Minion shaker which are nice extra features to this set. This set is recommended for children over the age of 5 years old but isn't suitable for those under 3-years old. The playset does require 2 AAA batteries and these aren't included with the set. An exciting Despicable Me 3 toys that your child will have many fun adventures with.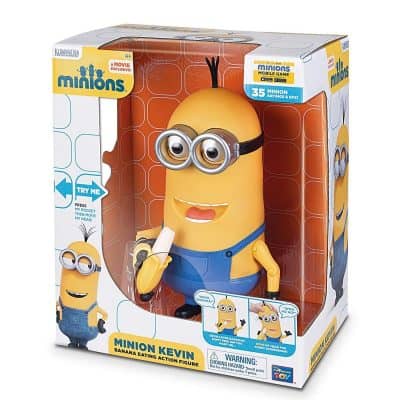 An exciting Kevin Minion Banana Eating Figure is based on Kevin from the Despicable Me 3 movie. This interactive Kevin can say 35 sayings and sound effects that'll be familiar to your child. Kevin is also holding a banana which you can feed him by moving his arms, which activates an additional function. Your child can move Kevin's head from side to side and forwards and backward for changeable expressions. There's soft skin over Kevin's upper body for a more realistic effect. The 2 AA batteries included with this toy allows your child to start playing with Kevin right away. This toy isn't suitable for children under the age of 3-years old. Kevin is a lovely Minion toy that's sure to be a favorite with many children.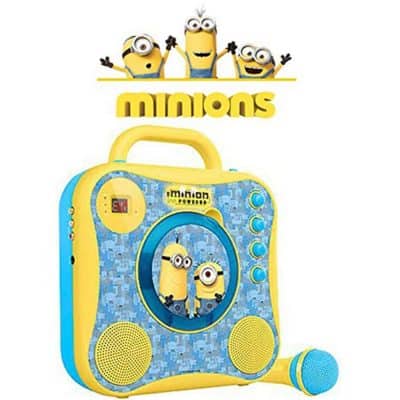 This Minions Karaoke Machine will be a favorite with many children and their friends. This machine has built-in speakers, a 2-digit LED display and dial controls to adjust the volume of the music and volume, echo and balance level for the microphone. The microphone plugs into the machine so your child can sing along to the music and there's the option to add a second microphone if you wish. The Karaoke machine can also be connected to your television so that lyrics can be shown. This fun Minion machine decorated with a Minion graphic also has a Minion's voice selector for added excitement. The CD player is front loading and for portability, there's a handle to make the machine transportable. This Karaoke machine will be loved by children of all ages and will provide hours of entertainment.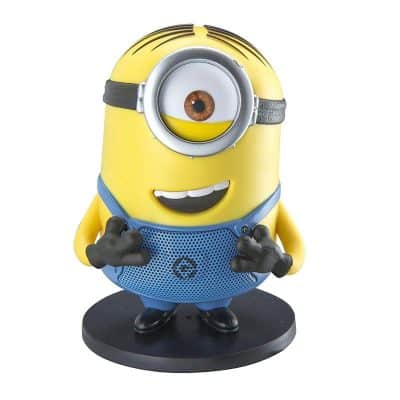 The Stuart Minions Bluetooth Wireless Speaker is the perfect present for any Minion fan. This cute speaker is in the design of the Stuart, everyone's favorite Minion, for added appeal. It uses Bluetooth so it can play music from your smartphone, tablet, computer, mp3 player or any other device with Bluetooth capabilities, for easy, no hassle listening. The speaker comes with a rechargeable battery and charging wire, enabling you to take the speaker anywhere and to be able to use it continuously.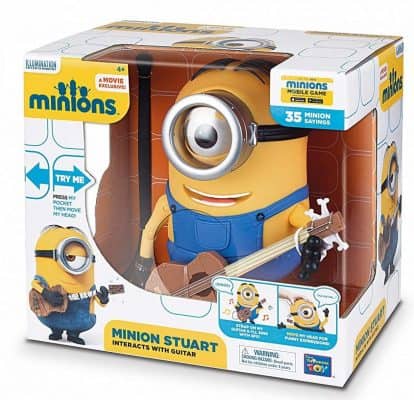 Get into the groove with Stuart Guitar Player, who'll happily provide the accompaniment for your own personal karaoke performance. You can turn the song he's always got in his heart into a tune you won't mind having stuck in your head. Stuart holds a guitar which you can move to his belly to activate a special function. There's a soft skin over this toy's upper body for a more realistic effect. It's a lovely Minion toy that's sure to be a favorite with many kids.