Breastfeeding is one of the most joyful parts of the new-mom experience; the connection that you feel with your newborn while feeding them is indescribable. It can also, however, quickly become a pain if you don't have the right support. This is a time in life when you definitely don't want to skimp on investing in a good-quality nursing bra.
Nursing bras are designed specifically to support new moms' ever-changing breasts. They're usually made of a soft, stretchy fabric and provide easy and quick access when it's feeding time. There's no doubt that a few good nursing bras are worth investing in, even if you won't be using them forever. Trust us: your body will thank you!
What to Look for in a Nursing Bra
There are so many nursing bras on the market that it's hard for a first-time buyer to know what makes a good one. And how is a nursing bra different from a regular bra, anyway? These are some things to consider for when shopping for a nursing bra that's perfect for you – and yes, it makes a difference to invest in a bra that's made specifically for nursing!
How Does a Nursing Bra Differ From a Regular Bra?
If you're feeling tempted to just stick with your pre-pregnancy bras even after you've had a baby, think again. Taking good care of your breasts is so important while you're nursing, and a well-fitting nursing bra can provide the support and comfort that you need. Regular bras can quickly become too tight, and tight bras can cause a lot of serious complications when breastfeeding.
Nursing bras are worth buying for the comfort factor alone, but it's also important to consider the ease of access: the main advantage to a nursing bra (vs. a maternity bra) is that it lets your precious little one have easy access to your breasts during feeding time. No one wants to have to take off their entire bra or have to uncomfortably shift it around every time their baby is hungry! Nursing bras also provide extra support for those extra-heavy, milk-filled breasts. All in all, we think they're worth it to save yourself the pain and hassle.
Choosing the Best Nursing Bra for You
What makes a "good" bra is, to a large extent, up to each woman and her personal preferences. When you're shopping for the nursing bra that's right for you and your nursing needs, keep an eye out for some of the following factors.
Easy Access
The whole point of investing in a nursing bra, rather than trying to make do with the maternity bras that you already have, is for easy feeding access. The moment your baby is hungry, you want to be able to easily remove the bra cup with one hand to be able to feed him or her quickly. Most nursing bras accomplish this with quick-clasps so that the cup can be clipped down, but a soft, relaxed style that's easily pushed aside works better for some women. This is so crucial in a nursing bra that we didn't include any options without this feature; we'll let you know which type of access each of our recommended nursing bras provide. For even more detailed info on what makes each type of nursing bra unique, check out our full guide below.
Comfort
New moms want to be comfortable above all else, and that's definitely true when it comes to the bra they wear. When you're a busy mom with an infant on your hip and a diaper bag over your shoulder, an uncomfortable or too-tight or itchy bra is the last thing you need. Comfort over everything! If comfort is your primary concern, you can jump straight to the incredibly comfy Kindred Bravely French Terry Racerback Bra. Look for bras made of a soft, stretchy fabric. This will make sure your skin doesn't get irritated, and that the bra won't become too tight if your breasts grow. Fit plays an important factor in comfort, too – a good fit is essential for your breasts' health!
Support
Starting in the later stages of pregnancy, your breasts grow and become heavier as they become filled with milk. Having enough support for your breasts while breastfeeding is essential for many reasons, not the least of which is to help support your back from the extra weight. Particularly if your breasts are feeling extra heavy, look out for nursing bras that have extra features that offer extra support: thicker straps, a wide bottom band, or a racerback design might be things to look out for.
If you're a busty woman who values support above most other factors, you might want to consider a well-fitting flexible underwire bra. However, it's very important to keep in mind that underwire bras, particularly ill-fitting ones, are thought by some to contribute to clogged ducts and even more serious conditions like mastitis, especially during the first few months after giving birth. Make sure that any bra fits well, isn't too tight, and that the underwire isn't digging into you.
IMPORTANT: Wearing an underwire bra, especially in the early weeks after giving birth, is thought to contribute to clogged ducts and even more serious complications such as mastitis. If you choose to wear an underwire bra, make sure it's the perfect fit and isn't compressing your breasts in any way.
Padding
It's not only breast size that changes during pregnancy – the nipples can also change in shape and size, which is why many women value having sufficient padding in their nursing bras. In addition, many breastfeeding women experience milk leaking. Nobody wants to walk around in the world with their nipples leaking through their clothing, so choosing a bra with enough padding is crucial. Some bras come with removable padding so that you can choose not to deal with the pads when you're just lounging at home, which is a nice feature.
Style
Just because you've had a baby doesn't mean you need to convert to only wearing granny underwear! Although it's completely understandable to value comfort and ease over anything else right now, the color or pattern of a bra might make a difference to you, and that's totally valid, too. No one ever said a nursing bra couldn't be both stylish and practical.
Considering those features, let's take a look at our top picks for the best nursing bras on the market.
Top 10 Best Nursing Bras 2023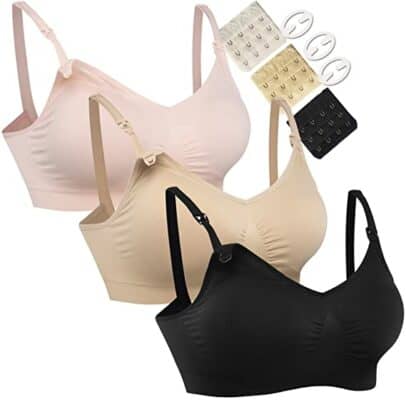 Why we like it:
Our pick for best overall nursing bra, the Hofish bra provides full-bust support while still being comfortable, comes with free bra extenders, and does it all for an affordable price.
Editor's Rating:
Quick Facts:
Easy access feature: Clip-down clasp for one-handed feeding
Sizes available: Small through XX-Large
This 3-pack from Hofish is our pick for best overall nursing bra, and as one of the best-selling nursing bras on Amazon, it's clear we're not alone in our appraisal!
Comfort
The comfort factor is one of the things that makes this nursing bra stand out. We love that it's soft and comfortable without sacrificing support. The silky-smooth fabric won't chafe your already irritated nipples, and there's no underwire that might dig into your ribs. Best of all, the entire bra is seamless, which means that there are no places in which this bra might get itchy or irritate your skin. However, the short shoulder straps may not fit women with longer torsos well.
Support
Even without an underwire, this bra provides fantastic support for your heavy breasts. It provides nice, full coverage with wide sides even for bustier women: you won't be spilling out of this one! The back fastener comes with 4 eyelet hooks, which is thick enough to make sure the bra doesn't slip around, and the high sides ensure that your boobs stay firmly in place.
Padding
The Hofish bra also comes with removable padded cups, so you can confidently wear it out of the house without worrying about your nipples showing through. Removable padding has the tendency to shift around, so if that annoys you, you may have to remove them.
Style
Sadly, these bras only come in 3 basic colors: black, beige, and pink. They're great for ordinary occasions, but not necessarily stylish. If you'd love a more fashionable option, check out Gratlin Women's Full Coverage Nursing Bra.
Bonus points
These Hofish bras would be great enough just on their own, but the retailer has also generously thrown in free bra extenders to accommodate growing breast sizes. Your breast size will largely fluctuate during both pregnancy and the nursing stages, so not having to buy entirely new bras each time your breasts grow a size is crucial!
The Hofish bras are also shockingly affordable: they come in a 3-pack – so you get 3 bras for around the price of one regular bra. All of these great features for an affordable price solidify the Hofish 3-pack's position as our best pick.
Looking across comfort, support, padding, easy access, and affordability, the Hofish bra wins in every category.
Pros
Buttery-smooth fabric doesn't chafe skin

Provides enough support for large breasts

Removable padding makes it wearable outside of the house

Each bra comes with a bra extender

Get 3 bras for the price of 1
Cons
Shoulder straps may be too short for some

Removable padding may shift around

Not very stylish: only comes in 3 basic colors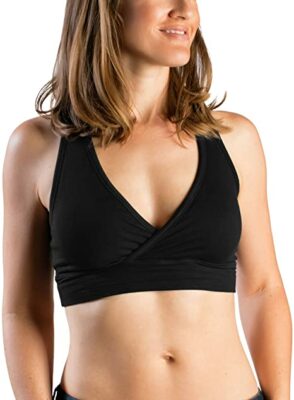 Why we like it:
This is the most comfortable nursing bra available for sleeping, and provides just enough support so that your breasts don't get in your way of a good night's rest.
Editor's Rating:
Quick Facts:
Easy access feature: Soft coverings that are easy to push aside
Sizes available: X-Small to XX-Large; each size is available in a "Busty" option
Any new parent knows that your baby's feeding needs don't come to a stop when you're trying to catch some z's. This Mom's Choice Award-winning bra is perfect for sleeping or to wear on casual days lounging at home.
Comfort
The Kindred Bravely sleep nursing bra is made of a divinely soft bamboo material that won't rub against or irritate your skin – it's the most comfortable nursing bra out there! Quality sleep is so hard to come by as it is when you have a newborn, and this bra gives your body the support it needs so you can get a good night's rest. Without an underwire, claps, or any metal pieces whatsoever, there is nothing that might pinch your skin as you roll around in the sheets. The soft bamboo fabric is also nice and stretchy, which means that the bra can grow along with you as your body changes.
Support
This bra is designed for sleeping, so it doesn't come with much support at all. Although the bra won't give you any lift, it does provide you with more nighttime support than sleeping braless while still prioritizing comfort.
Padding
Again, since this bra is meant for sleeping, it doesn't come with any special padding, which means that you'll likely not be able to wear it out without your nipples showing through.
Style
This sleep bra is one of the cuter ones on our list, and comes in a variety of pretty colors and prints like pink, mint, and pink camo.
Bonus Points
One of the best features about this bra is its inclusive sizing: it comes in sizes X-Small to XX-Large, and a "busty" option is offered for each those sizes for ladies with bigger breasts (or those who think their breasts might grow a lot during late pregnancy and the breastfeeding months). This helps with making sure that the bra fits not only around your ribcage but that it covers your breasts fully, as well.
Because of the lack of support or padding in this bra, it wouldn't be our first pick for going out on the town, but for cozy nights in, it's perfect.
Pros
The most comfortable nursing bra on the market

Bamboo material is exceptionally soft

"Busty" options in each size

No metal clasps, clips, or wires

Easy pull-away feeding access for nighttime
Cons
Not enough support for use outside your house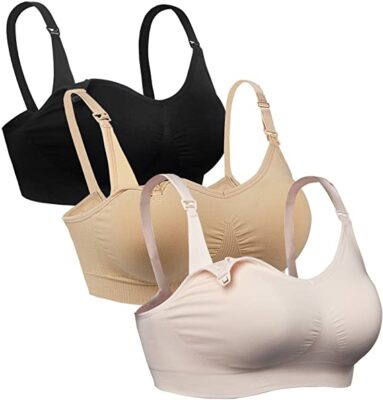 Why we like it:
This 3-pack of comfortable and affordable nursing bras is a solid choice for those wanting a simple nursing bra with all of the features a breastfeeding mom needs, like easy access and support.
Editor's Rating:
Quick Facts:
Easy access feature: Clip-down clasp for one-handed feeding
Sizes available: Small through XX-Large
The beloved iloveSIA nursing bras are our top pick for a comfortable and affordable nursing bra for everyday wear.
Comfort
We love this bra mostly for the comfort factor. There are no wires or seams to have to battle, which makes it perfect for everyday wear or even sleeping. The fabric is soft and stretchy, perfectly fitting your body even as it goes through changes.
Support
The iloveSIA bra boasts some features that help with providing support, like a U-shaped back that prevents the straps from slipping. Even though this bra doesn't come with an underwire, the bottom band is ribbed, which gives a little extra support. The molded cups and ribbed center also give the chest a nice shape – no uniboob here! However, bustier women might want more support than these bras offer.
Padding
This bra comes with removable foam inserts that provide more than enough padding to be able to wear it outside of the house. Again, if you find that these bother you, simply take them out.
Style
These bras are super simple, but they do come in one extra color besides the basic 3 of beige, black, and white: purple! You can also mix and match the colors that come in the 3-pack.
Bonus Points
One of the things we appreciate most about this bra is its affordable pricing. They come in a 3-pack, and getting one bra for the price that iloveSIA sells three bras for would still be a good deal.
Pros
Comfortable and stretchy fabric

Some features for extra support

Ribbed center gives breasts a nice shape

Comes in an affordable 3-Pack
Cons
Not enough support for some bustier women

Only comes in 4 colors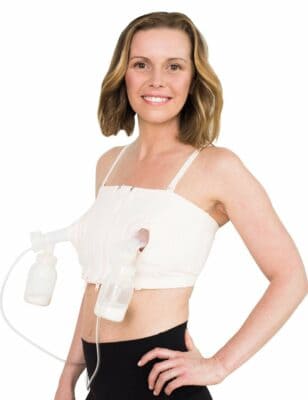 Why we like it:
For pumping moms, this hands-free bra is hands-down the best option out there with a comfortable design and a simple contraption that allows you to attach almost any brand of breast pump.
Editor's Rating:
Quick Facts:
Easy access feature: Ability to attach any breast pump; also has a zip-down feature that allows feeding access to your other breast
Sizes available: 2 sizes only: X-Small to Large (basic one size) and Large/Large-Plus.
There are lots of reasons why new moms pump their breast milk. Of course, pumping allows working moms to save their breast milk so that their babies can be bottle-fed, but it also can be a solution to many milk supply issues that postpartum women may face.
For pumping moms, the best bra option is the Hands-Free Pumping Bra from Simple Wishes. New moms are busy, and pumping takes a lot of time! This hands-free bra makes it simple to pump while still being able to multi-task and get other chores done – or maybe even take some moments to relax.
Comfort
This bra is super soft and comfortable, being made almost entirely of a cotton fabric. The adjustable Velcro back panel makes it ridiculously easy to adjust the size of the bra to your changing breasts and make sure it always fits perfectly. The one-size-fits-all seems a little odd at first, but the Velcro adjustment allows for this bra to fit a great range of breast sizes. The Velcro back is also more comfortable than the usual eyelet-hook attachment.
Support
This is an at-home bra and doesn't provide enough support to wear out, but you can throw on another nursing bra with more support under it when you're out and about, especially if you think they might need to pump before you get home. At the end of the day, you'd buy this bra because it allows you to pump hands-free without the hassle, not necessarily for the support it offers.
Padding
Again, this bra is primarily meant for pumping, and not to use outdoors. Although the material is fairly thick, you'll probably want to insert some nursing pads into the bra when you're not pumping.
Style
We'll be honest: this is probably the most unstylish bra on our entire list. Keep in mind, though, that a pumping bra isn't something you buy for how it looks, but for how well it gets the job done. The bra does come in two different colors, black and light pink.
Bonus Points
If you're looking for a pumping bra, you're probably looking for functionality above anything else, and this bra has got your back. Just secure your pumps into the bra, and the specially made bra shields will hold them firmly in place and prevent leaking. The bra is compatible with all the biggest brands of breast pumps out there, so you don't have to worry about whether yours will fit.
Pros
Hands-free pumping feature

Velcro back

Breast shields prevent spilling
Cons
Not enough support or padding for outdoor use

Not stylish or flattering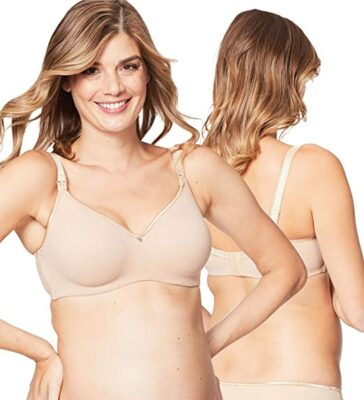 Why we like it:
This is a high-quality and durable bra with lasting support, and we love that the company who makes it is socially and environmentally conscious.
Editor's Rating:
Quick Facts:
Easy access feature: Clip-down clips for one-handed feeding
Sizes available: 32C to 42I
For those willing to splurge a little on a high-quality nursing bra, Cake Maternity offers their classic Croissant bra with specially engineered features that provide extra support and durability. Cake is a conscious company that was created by mothers for mothers, guaranteeing that the people who created this bra know what they're doing.
Comfort
If you heard "underwire" and automatically thought that this bra was uncomfortable, you thought wrong! The designers at Cake have designed a "flexi-wire" that's so comfortable that you'll forget you're even wearing an underwire bra. Not only that, but the straps both on the shoulders and the back are nice and wide, which means the bra isn't digging into you anywhere. It makes a difference to invest in a high-quality bra, and the comfortable fit of this one will leave you feeling luxurious.
Support
This bra provides excellent support even for large-breasted women. Because the bra comes with the specially designed "flexi-wire", it provides more lift and support than many of the other options on this list. There are even some additional wires under the arms, which give your breasts even more needed support. Lift also means that the bra is flattering and will make you look good in your clothes, which never hurts!
Padding
This bra has the perfect amount of padding: not super thin, but also not foam-thick to the point where it gets in the way of feeding. Not only will your nipples not show through this bra, but you can even discreetly stick nursing pads underneath the cups.
Style
These are premium bras, and it shows. Although there's nothing extravagantly stylish about them, they look incredibly classy and come in three simple but elegant colors: nude, mauve, and black. They even have a little golden charm in front which adds some flair.
Bonus Points
Cake is an eco-conscious company that makes sure that they are doing their part to protect our planet. They boast that their bras are sustainable and OEKO-TEX certified, which means that all of the material that they use is guaranteed to be free of any harmful chemicals. We love that these bras are easy on even the most sensitive skin and also really good for the environment!
This company also takes their social responsibility very seriously and support motherhood charities to prove it. This is the kind of company we want to support!
Pros
Incredible support

Perfect amount of padding

Great fit and comfort, even with an underwire

Sustainable and socially conscious company

Free of harmful chemicals
Cons
Not a good choice for those who don't like underwires

Quite expensive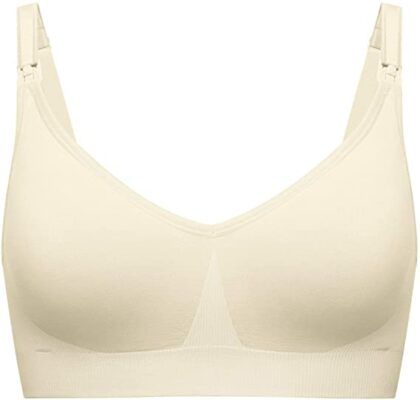 Why we like it:
This bra takes the clip-down feature to a new level, allowing for full skin-to-skin contact with your baby during feeding time.
Editor's Rating:
Quick Facts:
Easy access feature: Full drop-away cups with quick-clasp
Sizes available: X-Small through XX-Large
This Mom's Choice Award winner is our top pick for the best clip-down access feature. Many of the bras on this list have a clip-down feature, which allows women to easily remove the strap in the front of the bra to give babies easy access to the breast when feeding. Although any clip-down bra is functional, Bravado Designs' Silk Seamless Nursing Bra brings the clip-down game to a whole new level.
Comfort
This bra is extra comfortable: the material is super soft and stretches 4 ways, accommodating pregnant and breastfeeding women's constantly changing bodies. Each size covers two cup sizes, which means you don't have to buy new bras as your breasts fluctuate during nursing and weaning!
Support
This bra offers good support even for larger-breasted women, with full cups providing that coverage that you need. Because this bra doesn't have an underwire and the lower strap isn't as firm as it could be, you might find that your breasts droop a little over the bottom when wearing it. Women with smaller busts shouldn't have a problem.
Padding
The extra padding in this bra provides a little bit of extra lift, but also might make your boobs look lumpy or weird-shaped underneath tight clothing. We think optional padding is definitely better than no padding at all, but we'll let you make your own decision. You can replace the cups if you don't like the shape of the ones that the bra originally comes with. For a bra with outstanding fit, take a look at Gratlin Women's Full Coverage Nursing Bra.
Bonus Points
Instead of just unclipping and having to push the bra material down so your baby can feed, the Bravado bra features full drop-away cups to maximize skin-to-skin contact as you're feeding your baby. No bunching up of material! Skin-to-skin contact with your newborn baby has many benefits for both parents and babies, so this is a very important feature in a clip-down nursing bra.
Pros
Maximizes skin-to-skin contact while feeding

Comfortable material stretches up to a full cup size

Padding is replaceable with pads of your choice
Cons
Weak lower support means sagging breasts

Original padding might make some breasts look lumpy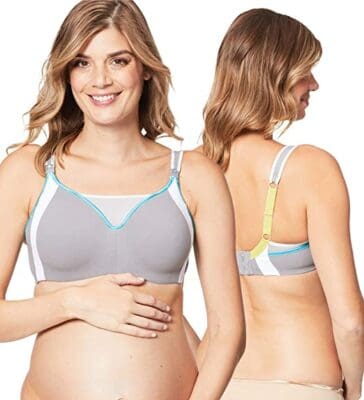 Why we like it:
The Cake Zest Nursing Sports Bra provides extra support for high-impact exercise while still offering the functionality and easy access of a nursing bra.
Editor's Rating:
Quick Facts:
Easy access feature: Clip-down cups with an A-sling shape that brings breasts naturally forward
Sizes available: 32B to 40K
Exercise has lots of benefits for postpartum women, including increasing energy (we know you want some more of that!), getting better sleep, and toning that post-pregnancy tummy. But exercising in a nursing bra that's made more for comfort than support? Forget about it: your breasts would be furious with you.
Although you might be tempted to just throw on one of your old sports bras to work out, many pregnant or postpartum women find that regular sports bras are too tight for their growing bosoms, and they also don't provide feeding access if your baby cries out during your workout.
Nursing sports bras are the best way to go, and the Cake Maternity takes the "cake" again in this category with this fantastic sports bra made just for nursing mamas trying to get fit.
Comfort
This nursing sports bra is made out of a special fabric that's breathable for comfort, and its straps are nice and wide which prevents them from digging into your skin. Other than that, it's not one of the softest options on our list, and the flexible underwire could make it uncomfortable for some. It's certainly not comfortable enough to sleep in. Of course, while you're working out, the most comfortable thing is that your breasts are kept in place, so support plays a huge role here, too.
Support
Enough support while exercising is a hard ask for even regular sports bras, and this bra needs to have the strength to support breasts that are filled and heavy with milk. The Cake Zest sports bra bravely rises to the challenge. It has minimal stretch to hold your breasts firmly in place while you're exercising, which sounds uncomfortable, but there's nothing more uncomfortable than having your breasts bounce painfully around! For even more support, it comes with a flexible underwire, solidly built straps, and an option to turn it into a racerback to reduce any strain on your back.
Padding
This bra doesn't have any extra padding, so take note that your nipples might show through the bra on cold days. However, the padding that is there is extra-absorbent, so in terms of leakage, you won't have any problems.
Style
This sports bra looks so good that you could go to yoga without putting a shirt on over it. It comes in three designs: gray with a turquoise lining, a sleek black, and navy blue with orange lining.
Bonus Points
One of the best features about this bra is the specially engineered cooling material that allows for air to flow between the outer and inner layers of fabric. This helps to cool your body down while you're working out, something that we can all appreciate!
Because of all of the extra support it provides, this bra may feel bulky underneath tight clothing, and it is one of the more expensive options on this list. However, if you're looking for a high-quality nursing bra that will give you enough support for exercise, the Cake bra is a great choice.
Pros
Great support including flexible underwire

Cooling material keeps you fresh during workouts

Stylish designs

Easy clip-down cups for feeding access while on-the-go
Cons
Significantly more expensive than other options

The underwire may make it less comfortable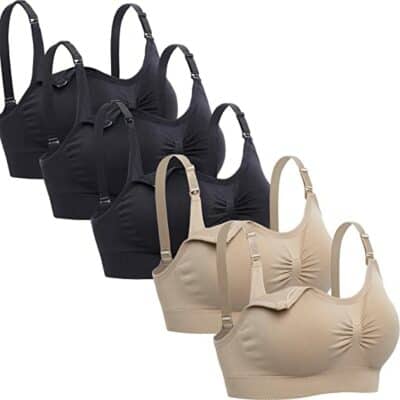 Why we like it:
For mamas on a budget, this is a great comfortable nursing bra with all of the features necessary for nursing - best of all, for a shockingly affordable price.
Editor's Rating:
Quick Facts:
Easy access feature: Clip-down clasp for one-handed feeding
Sizes available: Small through XX-Large
We get it: parenting is expensive! With all the new baby costs that are adding up from diapers to baby bottles, you might be feeling unsure about spending even more money on something like a nursing bra. But there's no need for your breasts to suffer: the Lataly Nursing Bralette is a fantastic nursing bra option that won't clean out your wallet.
Comfort
Like most nursing bras, these are wire-free and are made from a soft, stretchy fabric, which makes them extra comfy. Women everywhere absolutely love how smooth and silky the fabric feels on their skin overall. However, the quality of the fabric and the seams isn't as high as some of the more expensive bras, so you might find that there are a few places where it itches or irritates your skin.
Support
Although they're called bralettes, these nursing bras offer a surprising amount of coverage. Even large-breasted ladies are happy with these bras because they fit like a glove. No side boob popping out with these bras! However, the straps are quite thin, which means these bras don't provide as much support as other, sturdier bras. The spaghetti straps are adjustable, which is nice, but those who are really feeling the strain of their ever-growing breasts on their back might want to consider a bra with thicker straps or a racerback for more support.
Padding
The Lataly bras come with removable inserts which provide enough padding, which is fantastic. The padding might make your breasts look lumpy depending on how the bra fits on your body, so feel free to remove them if they're not for you.
Style
These bras aren't necessarily stylish, only being offered in the basic colors of black, white, and beige, but there are plenty of other great features to make up for it. If style is vital to you though, consider the Cake Maternity Croissant Nursing Bra.
Bonus points
Overall, this bra provides shockingly good quality for those on a budget. They come in a 5-pack, which all together costs significantly less than one bra would cost at a lingerie store. A nursing bra for the price of a Venti coffee drink? Count us in.
Pros
5-pack of bras for an extremely affordable price

Comfortable and stretchy fabric means enough coverage even for large-breasted women

Clip-down cup for easy feeding access
Cons
Spaghetti straps are not enough to carry heavy breasts

Quality of material not as high as other, more expensive bras

Only comes in 3 basic colors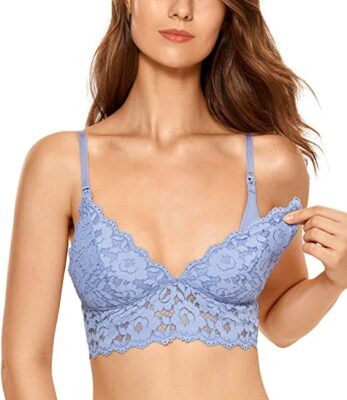 Why we like it:
This bra is perfect for stylish new moms looking for a nursing bra that has both sexiness and functionality.
Editor's Rating:
Quick Facts:
Easy access feature: Clip-down clasps for one-handed feeding
Sizes available: 32A to 40E
Like we said, there's no need to start wearing only granny underwear just because you've had a baby. New moms deserve to feel sexy, too!
At the same time, we completely understand that as a new mom, you would never sacrifice comfort for cuteness, especially not in a bra. Luckily, the Nursing Lace Bralette by MAMANDA offers both style and comfort, all in one package.
Comfort
This bra is surprisingly comfortable for being so sexy. The lace doesn't irritate skin because of the luxuriously soft lining on the inside, and doing away with an underwire also makes it super comfortable and relaxed.
Support
There is a wide band at the bottom of this bra to replace the underwire, which helps with support, as well as thicker straps than you'd expect if it were a regular lacey bralette. Overall, though, busty women won't find the support that they're looking for in this bra. However, it's a great choice for smaller-busted women who don't need as much support.
Padding
The padded lining of this bra is thin enough to fold down easily, but not so thin that it doesn't do its job. If you're comfortable with the amount of support this bralette provides, then you should be able to wear it out without worrying about your nipples being obvious.
Style
What this bralette really has going for it is how cute it is. On the surface, it just looks like any lacey bralette that you may have worn in your pre-pregnancy days. It comes in beautiful colors like Avocado Green, Gentle Rose, and Mystery Blue. The delicate lace texture of the bra would make any new mom feel their sexiest – and it might even be a good pick for a date night (who remembers those?).
If you're looking primarily for support and lift in a nursing bra, then this may not be the best choice for you. However, if you're wanting more of a balance between functionality and something that makes you feel cute after giving birth, the MOMANDA bralette is a great choice.
Pros
Cute, lacey design comes in beautiful colors

Clip-down feature makes for easy feeding access

Comfortable and wireless
Cons
Not as much support as other nursing bras

May be too small for larger-breasted women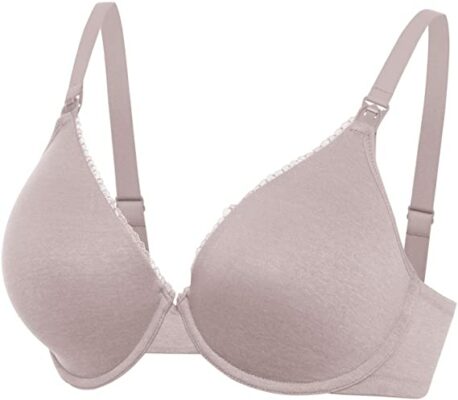 Why we like it:
This nursing bra gives you excellent lift and shape, making postpartum bodies look fantastic.
Editor's Rating:
Quick Facts:
Easy access feature: Clip-down cups with an inner sling
Sizes available: 32B to 40K
Many of our recommendations on this list are wire-free bras, and that's for the sake of comfort. However, if you're looking for a bra that gives you extra support and lift, you may want to consider a nursing bra with an underwire. This bra helps your postpartum breasts look perky while still being comfortable.
Comfort
These bras fit true-to-size, and a good fit means a comfortable bra. The material is soft and the underwire doesn't cut into your ribs. However, keep in mind that a nursing bra with an underwire is going to fit differently than one without it. If you're looking for the softest, most comfortable out there, then this might not be for you. However, if you feel more comfortable when your boobs are lifted in a bra that truly fits your cup, then this is a great choice.
Support
This is where this nursing bra really shines. Although bras without an underwire try to provide support in other ways, they're never going to give you the same amount of support as an underwire. The Gatlin bra's underwire really helps to support and lift up your heavy postpartum breasts. Even the bustiest ladies will be happy with the amount of support this bra provides.
Padding
This bra is lined but not padded in the push-up bra style. This means that there's enough lining to prevent leakage from seeping through your bra and clothing, but not so much that the bra cup is hard to push out of the way when it's feeding time. The perfectly lined cup also gives your body a flattering silhouette, and you can easily wear it even under a tight T-shirt.
Style
It's hard to differentiate these nursing bras from a regular bra – which is a good thing! It comes in a variety of cute colors like Pumpkin(burnt orange), Gentle Rose(light pink) and Slated(a light blue), and there is a beautiful lacey edge in the cleavage area. Overall, this is one of the most stylish options on our list by far.
Bonus Points
What we really love about this nursing bra is how flattering it is. Because of the underwire support and the lightly lined cups, the Gatlin underwire bra makes your postpartum figure look uplifted, perky, and amazing. Like we mentioned, there is no lumpiness in this bra and you can wear it under tight clothing and still look good.
If your priorities are good support and lift while still maintaining some level of comfort, then this is the perfect nursing bra for you.
Pros
Very flattering to your figure

Excellent support and lift, even for larger-busted women

Very stylish and virtually indistinguishable from regular bras
Cons
Other bras without an underwire are more comfortable

Underwire may start poking through eventually
Things to Consider When Shopping for a Nursing Bra
Shopping for a nursing bra is an entire experience. You may have decided which nursing bra is right for you after reading through our recommendations, but there are lots of other factors to consider when buying a nursing bra, especially for the first time. We're here to give you all the information you need.
Do You Really Need a Nursing Bra?
Like we touched on in the beginning, some new moms might be tempted to just continue wearing their regular bra while nursing or lactating. Although the temptation is totally understandable, we guarantee that your pre-pregnancy bra will no longer be the right fit once you start lactating. Most women's breast size goes up at least one cup while breastfeeding, not to mention the several sizes that they increase during pregnancy. A too-tight bra can compress your chest, causing clogged milk ducts or even mastitis, which are the last things you'll want to be dealing with while you're enjoying time with your new little one.
But what if you already own a well-fitting maternity bra? Can't you just wear that while breastfeeding? Well, of course, you can. You don't have to wear a nursing bra – in fact, you don't need to wear any bra at all! However, the main advantage of a nursing bra vs. a maternity bra is the clip-down cup feature that they come with, which allows for super easy access for feeding. If you don't want to be messing with your bra cups every time your baby is hungry, we highly recommend buying bras that are specifically designed for nursing. One less hassle to worry about while balancing the stress of being a new mom is always a good thing.
When to Buy a Nursing Bra
One of the top questions that women have when shopping for a nursing bra is: when is the right time to buy one? Do I buy a nursing bra when I'm still pregnant, or after the baby's born?
Experts agree that to ensure the best fit, the best time to buy a nursing bra is when you're approximately 8 months. Although of course there will be some fluctuation, by that time your breasts should be around the size they will be when you're nursing and letting out milk. Don't get fitted right before you give birth, because at that time your body is getting ready to prepare milk, and your breasts might be quite a bit bigger than they will be after the baby starts feeding.
You might be so shocked at how much your breasts have grown even at less than 8 months of pregnancy that you're tempted to buy a nursing bra before you reach 8 months. This will likely end up costing you some money: believe it or not, your breasts are almost guaranteed to get even bigger! Wearing a bra that's too tight can cause a lot of complications in your body's ability to produce milk. So be patient, and wait until 8 months to make sure that the nursing bra you invest in is the right fit.
Different Types of Nursing Bras
All nursing bras have some features in common, like providing some sort of easy feeding access, but there are also many ways in which they vary. Some common types of nursing bras include:
Clip-down nursing bras: As you can probably guess from our top picks, a big majority of nursing bras are the clip-down style, featuring an easy clasp at the top of each cup that allows you to clip the bra down with one hand, providing easy access when it's feeding time. This is the basic style of most nursing bras and is great for all women who want a simple way to feed.
Push-aside nursing bras: The soft, push-aside style of nursing bra cups is usually seen in sleeping bras that don't necessarily have solid cups to have to unclip and fold down. These bras are soft and flexible, and it's easy to simply push the material aside for feeding. These types of bras are great for sleeping, lounging, or for smaller-breasted women who don't need as much support.
Underwire bras: Although most of our favorite nursing bras don't come with an underwire so that they can be as comfortable as possible for nursing women, some do – like the Cake Maternity Croissant Nursing Bra. An underwire can help with lift, shape, and support, and some women simply prefer bras with one! If you do wear a bra with an underwire, however, make sure it fits comfortably and the wire isn't digging into your breasts: it's important to keep in mind that wearing an underwire, especially in the early postpartum weeks, is thought to sometimes contribute to cause mastitis or clogged ducts, which interferes with milk supply and are serious, painful conditions. The main concern with underwires has to do with constriction, which is an issue with any ill-fitting a nursing bra. If your bra feels to tight or the underwire is cutting into you, get a new one.
Pumping bras: We only included our favorite pumping bra on our list, the Simple Wishes Hands-Free Pumping Bra, but these bras are lifesavers for new moms who pump their breast milk as well as (or instead of) breastfeeding. Pumping bras aren't typically designed to give enough support on their own like other nursing bras, but they allow moms to pump without having to use their hands, which gives them a moment to breathe.
Frequently Asked Questions About Nursing Bras
Buying a nursing bra can be a confusing experience, but we're here to answer all of your most pressing questions. Here are a few more that we haven't touched on yet:
Q: How many nursing bras should I buy?
A: Experts recommend buying at least 3 nursing bras so you always have a clean one available. You can do this easly by buying a multi-pack, like the Hofish 3Pack. Don't forget that your breasts might leak while you're nursing, not to mention baby drool – in our opinion, you can't have too many nursing bras.
Q: How do I know what size nursing bra to buy?
A: It's extremely important to find the right fit for your nursing bra, because as we mentioned earlier, any bra that squeezes your breasts too tight or has an ill-fitted underwire can cause complications with milk supply like clogged ducts. Although it's always best to get professionally fitted for a nursing bra (remember to purchase at around 8 months of pregnancy), you can also measure your own bust size (around your ribs) and cup size (around your bust). Additionally, don't forget to follow the sizing guidelines for each individual bra. A bra with a Velcro back, like the Simple Wishes Hands-Free Pumping Bra, can help you adjust the sizing of your bra as needed.
Q: Should you wear nursing bras at night?
A: This is a personal preference, but most new moms prefer to wear a comfortable sleeping nursing bra at night that's designed just for sleeping to keep their breasts in place.
Q: Does wearing a bra reduce breast milk?
A: This depends on what kind of bra you're talking about. Wearing a regular or otherwise ill-fitting bra while you're nursing might affect your milk supply and even cause medical complications because it likely isn't the right fit and might be compressing your breasts. Inflexible underwire bras can contribute to this as well. This is why it's so important to wear only nursing bras that are the right fit while you're breastfeeding.
Get Pain-Free Support With the Best Nursing Bras
Whether it's your first time or your fourth, breastfeeding is an incredibly special time in every mother's life. Although it can be physically painful and a hassle at times, it's worth it to feel that skin contact and one-of-a-kind connection with your little one as you nurture them while feeding.
Nursing bras make the entire experience of breastfeeding so much easier by helping your breasts feel supported comfortably while giving your baby easy feeding access at the same time. No matter what your personal preferences are, with the right information and fit, there's no doubt you'll find a nursing bra that works for you.