Top 17 Best Christmas Gifts & Toys for Girls 2023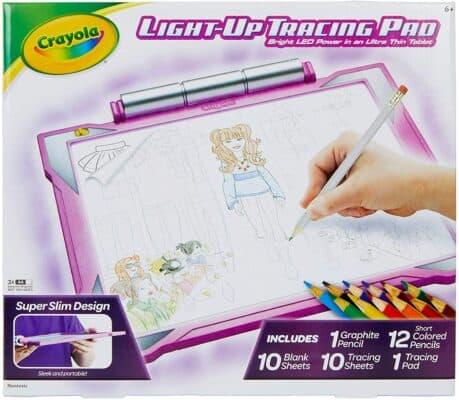 Specifications:
Age Range: 6 years+
Choking Hazard: Yes
Batteries Required? Yes (3 AA)
What Is It?
The Crayola Light-Up Tracing Pad is a slim tracing tablet with a bright LCD backlight. There are also 100 traceable images included, and yet more printable images for tracing can be found on Crayola's web site. Kids can mix and match the images to create intricate drawings of their own. Included with the set is also a graphite pencil, a set of 12 colored pencils, and 10 blank sheets for tracing.
What They Will Learn
When kids use the Crayola Light Up Tracing Pad to create their own artwork, they develop confidence and their own artistic ability. The included tracing patterns encourage children to be creative and combine the images in different ways. Tracing helps improve hand-eye coordination and drawing skills.
Fun Factor
Because the Crayola Light Up Tracing Pad is so light and thin, it's easy for girls to take outside, in the car, or on an airplane. It also works in all lighting conditions, even in totally dark rooms or in daylight. Kids who enjoy coloring will especially enjoy being able to draw their own pages, just like their favorite coloring book!
The Big Reveal
While kids who have an interest in learning to draw will be immediately attracted to the Crayola Light Up Tracing Pad, the real moment of triumph for parents who give their daughters this gift for Christmas is seeing the look of accomplishment on their face when they complete their first work of art. Make sure to pick up batteries before the big day, as the three AAA batteries required to run this toy are not included.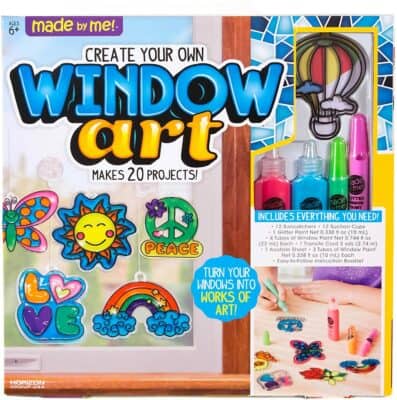 Specifications:
Age Range: 6 years+
Choking Hazard: Yes
Batteries Required? No
What Is It?
The Create Your Own Window Art kit is a full set of everything your daughter will need to create over 20 different suncatchers. The kit comes with 12 pre-traced suncatchers that just need to be colored in. Kids who want to create their own design can use the included acetate sheet to make their own designs and a booklet of drawings for tracing or inspiration. The set also has 4 regular colored paints and 4 glitter paints. Once a suncatcher is completed, it can be attached to the included suction cups and easily secured to windows.
What They Will Learn
Girls will learn color mixing and how to plan and create their own window designs. Waiting to complete each step before being able to start the next helps improve patience and concentration.
Fun Factor
Decorating the premade suncatchers is a fun and calming activity and more creative girls will love getting to make their very own suncatchers from the included acetate page so make beautiful peel and stick window art from their very own designs. The included suction cups can wear down over time, so it may be worth it to look into a better way to secure the suncatchers for long term use. We also found that the tips of the paint pens are a little too large for some of the more detailed designs.
The Big Reveal
Seeing all of the different suncatchers they can color or trace will instantly spark creativity. Included suncatcher designs include flowers, animals, and even a hot air balloon. Girls will immediately recognize the potential of making their own suncatchers to decorate their rooms and windows and will probably want to get started with The Made By Me Create Your Own Window Art set right away.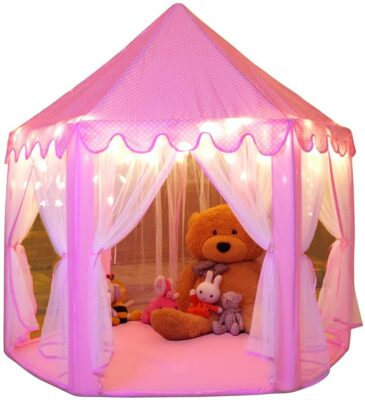 Specifications:
Age Range: 3 years+
Choking Hazard: No
Batteries Required? Yes (3 AA)
What Is It?
The Monobeach Princess Tent is a pink play tent that girls can use inside or outdoors. The Princess Tent is hexagonal in shape and tall enough for little ones to fully stand up in. A full-floor keeps this tent self-contained. Everything needed for set up comes in the box, including poles, connectors, and even extra pieces in case some are lost during assembly and storage.
Parents will love how easy this tent is to set up and that it comes with an included carrying case for easy storage or travel. However, we do think it's more difficult to set up and break down over again compared to other pop-up tent models.
What They Will Learn
This Princess Tent is a great stage for roleplaying and imaginative play. Setting up and sharing a play tent can help develop social and language skills.
Fun Factor
Girls will love to have their very own play space perfectly sized just for them. Each side of the hexagon has sheer taffeta tie-back curtains that they'll love playing and decorating with, and the included battery-powered star lights are a cute and whimsical touch. We think the tent makes a soothing reading nook or calm down space.
The Big Reveal
This one will make a big splash on Christmas morning, especially if it's already set up and ready for them to explore. The star lights and tied back curtains will immediately look like a magical space they want to play in.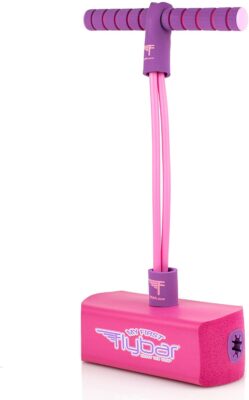 Specifications:
Age Range: 3 years+
Choking Hazard: No
Batteries Required? No
What Is It?
Flybar's My First Foam Pogo Jumper is a fun bouncing toy children can use to jump and hop. The Pogo Jumper has a foam footstep with a bungee-cord-type handle. The foam footstep has a hollow core that squeaks when hopped on. The bungee handle makes it so it fits children as young as three and it can stretch to fit older children too. The foam block step won't scratch floors so it can even be used inside.
What They Will Learn
The Pogo Jumper helps teach hand-eye coordination and gross motor skills. It also helps kids develop a stronger core for better balance.
Fun Factor
Most pogo sticks have a learning curve and are difficult for children with poor balance to manage, but Flybar's Pogo Jumper is simple and fun right out of the package. The foam block step makes it easy for feet to stay on, and the soft bungee handle means the Pogo Jumper moves with your child so it's safe. Children are delighted by the squeaking sound it makes when it's hopped on.
The Big Reveal
The My First Pogo Jumper is immediately fun and inspires kids to want to play outside. It even comes in several different colors, and animal themes like monkeys and unicorns to fit your child's individual style. The squeaking sound it makes when jumping is a fun surprise.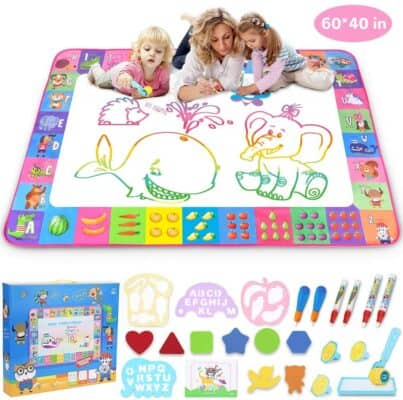 Specifications:
Age Range: 3 years+
Choking Hazard: Yes
Batteries Required? No
What Is It?
The Aqua Magic Mat is a mess-free 60" x 40" drawing mat for kids to color on the floor, take over a table, or even draw outside. The Magic Mat is a nylon mat with a colorful rainbow fabric behind a white drawing canvas. When kids draw over the white canvas with their water pens, stencils, or brushes, the rainbow pattern shows through, creating a great effect.
The doodle mat is also reusable. When it's all filled up, leave it to dry and the drawings disappear ready to be used again later.  The Aqua tools only use water, so there's no ink, paints, or staining. Along with the mat, the set includes 6 pens, 1 rolling stamp and sponge pad, a drawing booklet, and a variety of stencils and molds.
What They Will Learn
Little girls who use the Magic Mat will improve their hand-eye coordination and fine motor skills. Older girls will enjoy tracing the stencils which help to improve visual analysis skills and encourage creativity.
Fun Factor
The Aqua Magic Mat is a hit at home, on playdates, and at parties. It's large enough that multiple children can play at one time and because it can be on the floor, it's accessible and engrossing for younger children. Girls love the rainbow colors and will enjoy being able to use it over and over again. Parents appreciate that it doesn't make a mess, and when you only have to leave the items to dry, it's a cinch to clean up.
Older children can get bored with the selection of stencils over time and 1 roller after a while, but it is easy to supplement your own stencils. While the doodle mat's reusability is great, it is inconsistent with the amount of time it takes to dry, sometimes it dries in the middle of a long drawing, and other times can take an hour, children may get bored waiting.
The Big Reveal
Girls will love opening up the Aqua Magic Mat and be impressed by the size and it's larger than life way to color. It's a great gift for granddaughters or nieces because the parents will love the easy cleanup.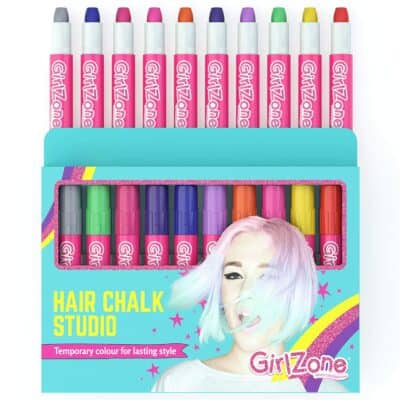 Specifications:
Age Range: 4 years+
Choking Hazard: Yes
Batteries Required? No
What Is It?
GirlZone Hair Chalk is a set of 10 non-permanent hair color pens that you can use to color in streaks or designs that then last until your next hair wash. The chalk shows up on all hair colors and types and can even be used as a face or body paint. The set comes with 5 bright colors and 5 metallic ones so your child can be colorful, sparkly, or both. Each pen lasts up to 80 uses so girls will be able to switch up their hair color over and over again.
What They Will Learn
Hair Chalk works best on clean dry hair, so it encourages positive body hygiene. Girls will also be excited to change up their look so they'll look forward to their next bath or shower and being able to pick a new color.
Fun Factor
Girls enjoy being able to show off their unique styles and parents will love that it's a temporary option that washes out easily. Our favorite part is that the 10 piece set allows girls to choose more than one color and draw in patterns. It's easy for girls to apply on their own with just a hairbrush and a mirror.
The Big Reveal
Girls who love creative activities and are interested in fashion and accessorizing will be immediately drawn to this set of Hair Chalk. Girls will love that at first it looks like a regular set of markers but turns out to be a fun way to temporarily change up their hair without the mess. Parents will enjoy that it's easily washed out and doesn't stain clothes or porcelain fixtures. The 10 bright colors instantly pop and are a great addition to a stocking or under the tree.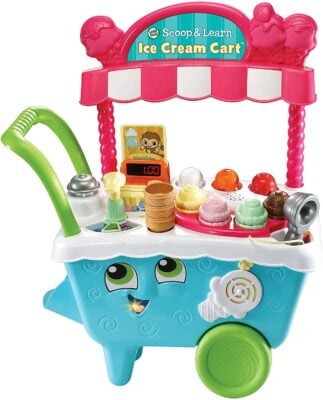 Specifications:
Age Range: 2 years+
Choking Hazard: No
Batteries Required? Yes (3 AA, included)
What Is It?
The Scoop & Learn Ice Cream Cart takes the fun of a favorite dessert and turns it into pretend play for toddlers. The brightly colored cart is packed with 8 pretend flavor options, 3 cones, a scoop, and even 3 different toppings. Girls can play shopkeeper by using the register and premade "order cards" to prepare orders for pretend customers. When the order is up, just ring the bell.
The attached canopy can have difficulty staying on, so if this toy gets a lot of use, it may be worth it to secure it separately or remove the canopy altogether. Parents will appreciate the built-in storage cubby when it's time to clean up.
What They Will Learn
The order card prompts boost memory, counting skills, and color matching, and preparing a pretend dessert for family and friends encourages sharing. The roleplay of playing as the ice cream parlor owner inspires creativity and imagination, which are both important for toddler development.
Fun Factor
Girls love pretending to dish up dessert when using the Scoop & Learn Ice Cream Cart and are sure to enjoy the 21 different accessories that give them plenty of realistic ways to serve it. Ringing the bell gives a sense of accomplishment, and because it's on wheels, they can take the fun all over the house.
The magnetic "magic" ice cream scoop means they can really feel like they're scooping up different flavors and toppings to serve in the cones. With over 200 different songs, sounds, and phrases, the noise doesn't become too repetitive, even for nearby parents. We do wish that the cones themselves were magnetic as well though.
The Big Reveal
LeapFrog's Ice Cream Cart makes for an instant hit on Christmas morning. The size of the cart makes an impression and because it's playfully realistic your daughter will really feel immersed. She'll be delighted when she wheels it around and the cart plays songs like an ice cream truck.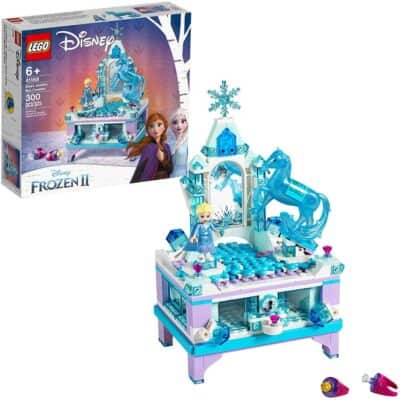 Specifications:
Age Range: 6 years+
Choking Hazard: Yes
Batteries Required? No
What Is It?
The Frozen II Jewelry Box by LEGO is a 300 piece Elsa themed build-your-own jewelry box kit which is great for girls 6 years and up. Girls will be able to build a jewelry box with a drawer, locks, and mirror, and the set even has pieces for them to build 2 life-size LEGO friendship rings.
The jewelry box has spinnable turntables that are topped with 2 removable minifigures, Elsa of course, and Nokk, the horse-shaped water spirit.
What They Will Learn
LEGO's Frozen II Jewelry Box requires girls to have patience and following the piece by piece instructions while keeping track of the 300 blocks teaches concentration. Girls who complete the kit have a sense of accomplishment when they're able to use what they've made. 
Fun Factor
Girls love to build usable pieces of decor featuring their favorite characters, and it's fun to be able to remove Elsa and Nokk and play with them in other LEGO sets. The turntable is fun to put together, and the included ring set can be mixed and matched with other LEGO blocks to create entirely unique pieces.
The Big Reveal
LEGOs are a delightful and immersive building toy, and the Frozen theme is a great stepping stone for beginning builders or fits in nicely with established kits. Your child will enjoy being able to play with her favorite Frozen character while also using a jewelry box she built herself.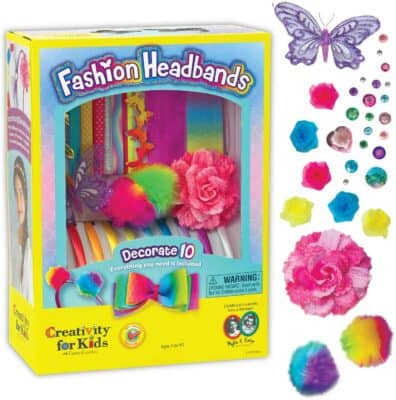 Specifications:
Age Range: 5 years+
Choking Hazard: Yes
Batteries Required? No
What Is It?
Creativity for Kids' Fashion Headbands Craft Kit is an all-inclusive kit containing everything your daughter needs to create and customize her own fun headband. It comes with 10 colorful plain bands, a variety of decorations and accessories like feathers, rhinestones, and flowers. There's also plenty and adhesive and string to make sure it all stays together.
What They Will Learn
Girls who love crafts will enjoy getting to spend time creating their own hair accessories and learning about fashion design. Planning out designs and executing them inspires imagination and helps develop project management skills.
Fun Factor
Creating and wearing your own fashions is instant fun and many girls may even enjoy designing the headbands as gifts. The variety of accessories to personalize each band gives girls plenty of cute ways to create their own unique fashions. Unfortunately, some of the included beads can get tangled up in hair when worn.
The Big Reveal
The Fashion Headbands Craft Kit is a hit on Christmas morning, especially because the kit is self-contained with easy to use adhesives so girls can decorate headbands on their own for hours.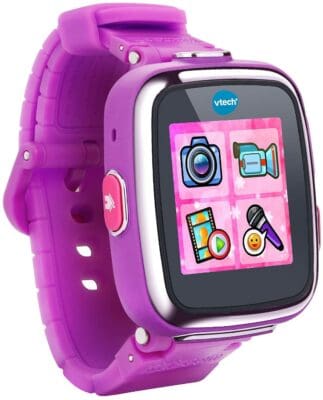 Specifications:
Age Range: 4 – 9 years
Choking Hazard: No
Batteries Required? No (rechargeable)
What Is It?
The Kidizoom Smartwatch by VTech is a touch screen smartwatch designed just for kids without the need for a phone or internet connectivity. Kidizoom features a watch and game system all in one, with a camera/video recorder, games, activities, action challenges, alarm, calendar, and calculator. It's sweat and splash-proof so it won't be damaged by a little water, but it isn't waterproof so kids will need to remember to take it off before getting in the shower.
While the internet isn't required to use, we think it's handy that you can connect to VTech's online "Learning Lodge" to download more games.
What They Will Learn
Keeping track of a schedule is an important part of childhood development and kids love being able to jot down their plans in their own electronic calendar. The Kidizoom is a great tool for teaching little ones how to tell time because it can switch back and forth between digital and analog displays with the touch of a button. Kids also get helpful nudges to stay active with the activity challenges and keep track of their steps in the limited pedometer mode.
Fun Factor
The 8 preloaded games and challenges are fun and keep kids entertained, and the touch screen interface is especially satisfying. Kids will definitely enjoy being able to have their own smartwatch that looks and acts similarly to mom and dad's. Budding photographers will like being able to capture photos and video and we were impressed by how easy it is to upload images onto a computer. Your daughter will also love being able to customize the watch face with over 50 different designs and layouts to choose from.
The Big Reveal
Girls who love technology, or want a fun step up from a regular watch will be thrilled to see their very own smartwatch under the tree. It's packed with lots of applications and features that are fun to discover, and she'll be impressed by how much it can do.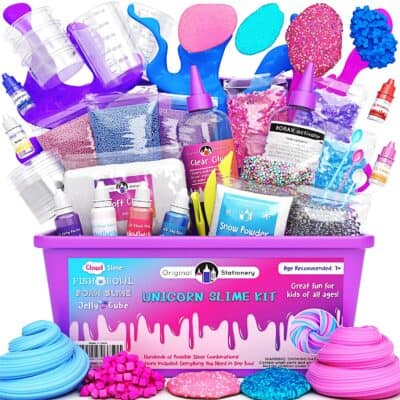 Specifications:
Age Range: 7 years+
Choking Hazard: Yes
Batteries Required? No
What Is It?
The Unicorn Slime Kit by Original Stationery has everything your daughter needs to make multiple batches and even different types of pastel slimes. All of the essentials for making slime are included like glue, borax activator and even mixing cups. The kit also includes texture add-ons like beads, sparkles, scents, and inks to make colorful fun slimes. Girls will be able to create 4 different slimes: cloud, fishbowl, floam, and jelly-cube. It also comes with a manual for slime beginners.
What They Will Learn
The Unicorn Slime Kit teaches how to follow detailed instructions, and girls will enjoy forming their own hypotheses for which mixes will turn into what slimes and testing them. Playing with the slimes stimulates sensory development and girls can practice their color and scent mixing.
Fun Factor
We love that this kit has everything girls need to create many different slimes with everything they need to keep it contained, like mixing containers, stirring sticks, and storage cube. Girls will love exploring their creativity and playing with their very own homemade slime.
The Big Reveal
Girls will love opening up this large basket of slime making essentials. It's packaged like a fun gift basket and digging through to see everything they can use is exciting.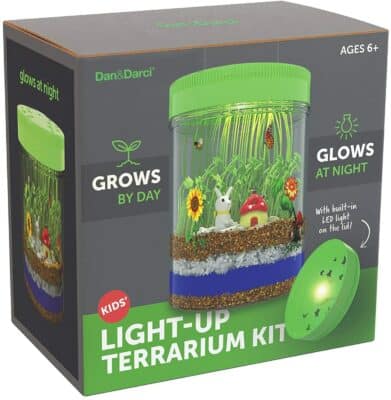 Specifications:
Age Range: 6 years+
Choking Hazard: Yes
Batteries Required? No 
What Is It?
This Light-up Terrarium is a fully enclosed grass garden with everything a girl needs to create her very own miniature ecosystem, just add sunlight and water. It includes a jar for the terrarium, wheatgrass seeds, chia seeds, LED light-up lid, sand, river rocks, soil, a sowing stick, and even a water spray bottle. It also includes 2 figurines, a bunny and small mushroom house for making a fairy garden, and decorative stickers for the outside of the jar.
What They Will Learn
Children will love learning about planting and growing something from the earth. Monitoring the growth of the wheatgrass or chia is fun and observing when it needs to be watered is a unique way to learn gardening and cultivate an interest in botany.
Fun Factor
Growing something with your own hands is not only rewarding, but fun to watch. Girls will enjoy being able to decorate their terrarium and create a fairy garden. The attached LED lid light also makes a magical night light and is battery-powered or can be plugged into a USB charger.
The Big Reveal
Girls will love unwrapping their own miniature ecosystem and imagining their fairy garden. The light-up lid is a fun addition and she'll like being able to use it as a night light. Because it comes with everything she'll need to get started we think it will be a fun individual project that she will enjoy getting to watch grow for months.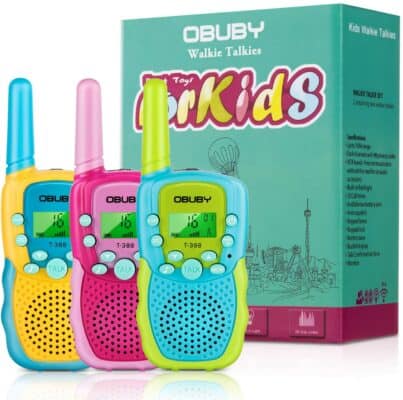 Specifications:
Age Range: 3 – 12 years
Choking Hazard: No
Batteries Required? Yes (4 AAA in each walkie talkie)
What Is It?
The Obuby Walkie Talkies are a set of three brightly colored 2-way radios in a small child-friendly size. They're operated with a simple push-to-talk button, but can also be used with a hands-off mode so little ones can talk without having to remember to push a button.
The radios can switch between 22 different channels so conversations and playtime are private and secure. They come equipped with a flashlight, alert signal, and have a maximum range of 3 kilometers. Users can pick from 10 call tones. Each one has a built-in headphone jack, but they do not include headphones. Parents will want to make sure the Walkie Talkies are fully powered down when not in use so as not to waste battery power.
What They Will Learn
Girls will love building their social and communication skills all while learning how to communicate with each other or their parents with their own handheld device.
Fun Factor
Walkie Talkies are classic and Obuby's add in lots of extra features to take them to the next level. Kids love switching between the 10 different call tones and being able to talk to each other from long distances while playing inside or out. The flashlight also makes them fun for sleepovers or camping.
The Big Reveal
Obuby's Walkie Talkies is an instant hit, and girls will love that it comes in a package of 3 instead of the standard 2.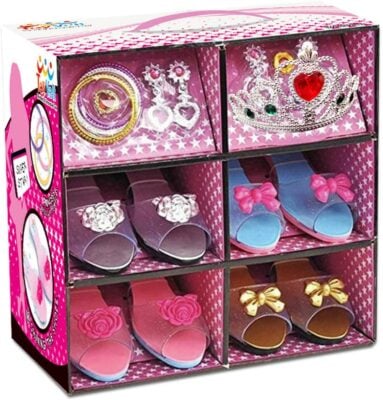 Specifications:
Age Range: 3 – 12 years
Choking Hazard: Yes
Batteries Required? No
What Is It?
ToyVelt's Princess Dress Up & Play Shoe and Jewelry Boutique is an adorable way for little girls to accessorize like their favorite princess. The set comes complete with 4 pairs of dress-up shoes to fit girls from 3 to 12 years old, 1 crown, two pairs of clip-on earrings, 3 rings, and 3 bangles. When not in use the accessories can be stored in the included storage box organizer.
What They Will Learn
Dress up toys teach girls hand-eye coordination and how to dress themselves. Role and imagination play help kids to explore and develop their social skills, like cooperation, conflict resolution, and sharing.
Fun Factor
Your little girl will love being able to feel like they have their own gems and jewels just like the princesses they imagine. The sparkly play heels are easy to slip on and off to transform any outfit into something more fun. The clip-on earrings are especially appealing, but some girls may dislike how they feel on their ears.
The Big Reveal
Seeing ToyVelt's Play Shoes and Jewelry makes little girls want to accessorize and play princess immediately. The pretend gems are over the top, bringing imagination to life. Girls will love that the 4 different shoe options allows them to play with their friends, or simply have multiple choices depending on their outfit.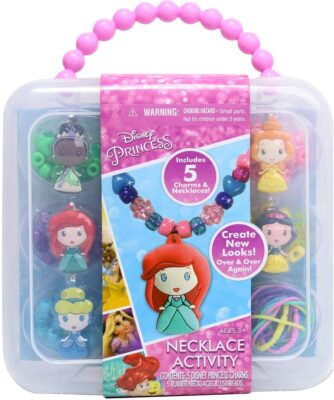 Specifications:
Age Range: 3 years+
Choking Hazard: Yes
Batteries Required? No
What Is It?
Tara Toy Disney Princess Necklace Activity Set is a make your own necklace kit with everything your daughter needs to make a fun beaded necklace complete with their favorite character charm all packed up in an easy to store carrying case. The kit contains enough pieces to make 5 full necklaces, with 5 rubber Disney Princess charms, necklace string, 150 differently colored beads, and necklace clasps. The Tara Toys Necklace Activity Set also comes in 10 other character options, like Frozen, Trolls, and My Little Pony.
What They Will Learn
Making necklaces with the Princess Activity Set helps girls develop better fine motor skills and explore their creativity. Smaller children may need help opening and closing the necklace clasps.
Fun Factor
A great feature of this activity set is that once a necklace is made, it can be disassembled to create new patterns and designs, so once the necklaces are completed the fun doesn't stop. It's also easy to change out the princess charms and older children will be able to use the clasps by themselves. The rubber-like texture of the necklace string means it won't fray but might pull hair if it gets caught.
The Big Reveal
The bead organizer looks like a little purse and looks adorable. Girls will love seeing their favorite characters on the front of the Activity Set and planning which charm to use first.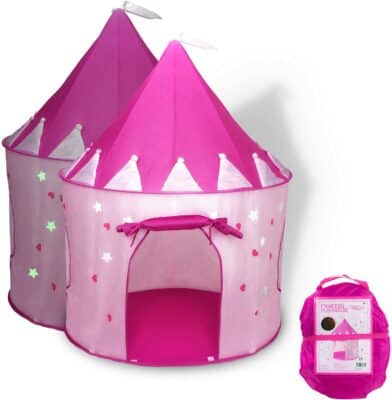 Specifications:
Age Range: 2 years+
Choking Hazard: No
Batteries Required? No
What Is It?
FoxPrint's Princess Castle Play Tent is a small pop-up play tent and sets up in seconds, it's 54" tall when fully assembled, perfect for toddler girls. The tent can be used inside or outdoors, and when it's time to clean up, it folds down flat into a zip-up pouch for easy storage. The Princess Play Tent has a fun entrance flap that can be tied up or left down like a pretend castle door. Glow in the dark stars on the walls bring the tent to life, and girls will love peeking out the 2 windows.
What They Will Learn
This Princess Castle encourages toddlers to play make-believe and explore their imaginations to develop social skills and problem solve.
Fun Factor
Girls will love playing inside their own miniature castle for tea parties, playing house or princesses, and more. Toddlers especially like raising and lowering the curtain style "door". Looking up at the glow in the dark stars make indoor camping cheery and bright. Because this is a pop-up tent, parents need to use caution when putting it outside as it can blow away, and they may want to look at a sturdier model.
The Big Reveal
Girls love having their very own miniature castle, and will definitely want to explore it as soon as possible. Parents will appreciate that it has little setup, so it makes a huge impression when it's already set up with little effort.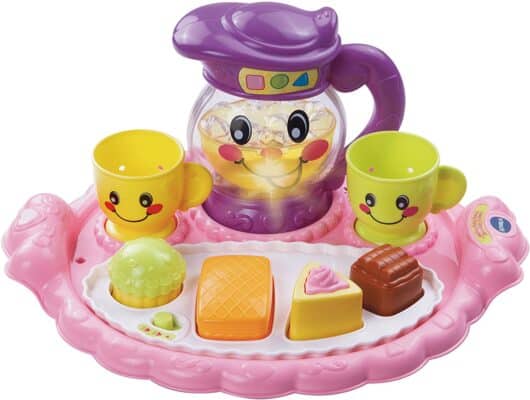 Specifications:
Age Range: 6 months – 3 years
Choking Hazard: No
Batteries Required? Yes (2 AA)
What Is It?
The Vtech Learn and Discover Pretty Party Playset is a pretend service tray that plays over 70 sounds, melodies and phrases while your little girl hosts a make-believe party.  It includes a pretend pitcher of lemonade, cups, and a tray with a spot for each individual piece. During play, the toy gives interactive responses based on which objects kids pick up and put back on the tray.
What They Will Learn
By experimenting to see what sounds are made during play, your toddler will learn cause and effect and develop their listening and language skills. Playing make-believe has been shown to provide a positive benefit to a toddler's communication abilities and social skills.
Fun Factor
Each accessory included in the VTech Learn and Discover Pretty Party Playset is designed to fit well in little hands and fit into the carrying tray in a satisfying manner. Little girls will also love the cute faces and fun sounds. Expect to hear lots of giggles when this toy is being played with. Unfortunately, like many electronic toys, it can be pretty intense on batteries.
The Big Reveal
The friendly-looking faces on the pitcher and the cups are sure to make an immediate impression on your little girl on Christmas Morning. They will be especially excited the first time they "pour" the lemonade and see it disappear while making the sound.