Outdoor toys for kids and toddlers can offer many days of fun in the sun. Spending more time outdoors has numerous benefits, including improving health, bone density, and even the vision of kids. It is important to encourage kids to play outdoors, but easier yet is to pick out the correct toys that incentivize your kids to get out of the house. With the right toys, it's easy for kids to enjoy the great outdoors and spend some time in the sun.
Picking the Best Outdoor Toys
All outdoor toys are different. From climbing toys to sports-inspired toys, there are plenty of choices for fun, outdoor playtime. However, parents need to ensure they have all the information necessary to make a good decision when purchasing an outdoor toy.
Age Range
Children of different ages need different toys. An inflatable pool has different restrictions compared to a golf set, a bike, or a sandbox. Whoever you're shopping for, pick a toy that fits their age range. We've listed a reccomended age for each toy, so make sure you're paying attention to that range for your own children.
Installation
Many outdoor toys might require assembly. Most toys that require assembly may already come with included tools. Others might require the purchase of additional tools: be sure to have what you need on hand so there are no tears when the box gets opened.
Learning Curve
There is a learning curve with every toy. Since outdoor toys tend to be larger, kids might take more time to master them properly. Bikes and skateboards take even longer to master. However, having fun during the process is the best way to learn.
Each of the following outdoor toys combines fun with creative play and are specifically made to be used outside the home. A large part of what the best toy for you and your family will be depends on your own personal preferences, so read on to see our choices for the best outdoor toys for every kind of kid out there.
Top 10 Best Outdoor Toys for Kids & Toddlers 2022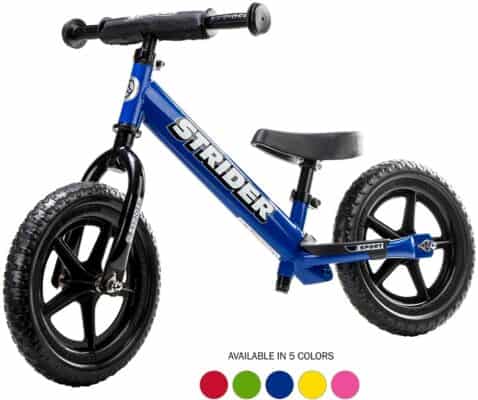 Why we like it:
Decades ago and today, the quintessential outdoor toy is a bicycle. Strider's balance bike is the single best way to learn how to ride.
Editor's Rating:
Recommended Age: 18 months to 5 years
Design
With a simplified, pedal-less design, this bike goes back to basics. It's so easy to use, it can be even used before kids have mastered walking, meaning that it can be used by kids as young as one. While the typical starting age is about 18 months, it will fit riders up to  5 years old. An adjustable design means it can grow with a child. It comes with a customizable handlebar, comfortable grips, and multiple color options. There are no required tools to make these adjustments. With a minimal maximum speed, although it has no brakes, it's very safe.
Features
With hundreds of thousands of kids learning to bike this way, the Strider is slowly but surely replacing training wheels. It puts kids straight into the action, with a low seat allowing kids to scoot across the ground, learning how to balance the bike slowly with minimal frustration. The bike can be used around the house or even while out shopping. It's great for heading out on a walk with minimal fuss.
At a weight of just under seven pounds, the little bike is easy to carry and maneuver for children. They don't have to choose heavy bikes which would only put extra pressure on their small muscles. With foam wheels, it's impossible to get a flat tire, and with built-in footrests, kids can stand or cycle at their own pace.
But the adjustability of the bike is also impressive. Parents can set the handlebar to a height between 46 and 56cm. The seat height can be adjusted between 28 to 48cm. This also allows parents to save money on the bike. Since kids won't outgrow their bikes as with less-adjustable kmodels, it means they'll have the ability to choose the design which suits their height as they grow to the age of 5.
Strider does a good job with fitting bikes,  using inseam to offer the perfect fit for happy kids. Inseam is often considered by serious bikers but it is actually what can best determine the proper size for this balance bike. Parents who are unsure of their childs inseam can actually measure it at home by themselves. Kids need to be in the shoes and with their back against the wall. A book is then placed between the legs and raised until it reaches the crotch seam of the pants. In this position, the inseam is the total length from the top of the book to the floor.
Verdict
With a practical design, this adjustable bike grows with the kids, making it easy to learn a 'big kid bike' with no training wheels required.
Pros
Height adjustable

Only weighs 3kg

Suitable for a wide age range

Improves strength and coordination
Cons
Some assembly is required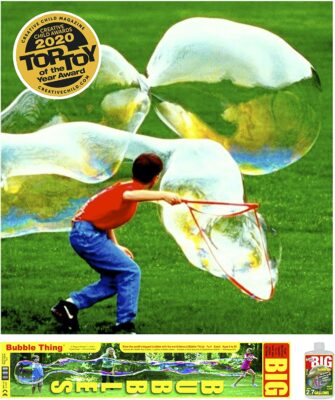 Why we like it:
If there's a timeless outdoor toy that's fun for all ages, it's this bubble wand.
Editor's Rating:
Recommended Age: 6 months +
Design
Even back in 1984, the Bubble Thing Big Bubbles Wand was a popular way to entertain kids. Today, it is still as easy and as fun to use outside of the house. Instead of coming with a compact design fit for the pocket, it comes with a large design which aims to offer the most impressive balloons which will mesmerize kids every time they are seen.
Features
The Bubble Thing only needs warm water, a bucket, and some soap to create its magic. Kids can make huge bubbles themselves from the beginning and from there,  master the art of creating larger and larger balloons. There are a few bubbles which can be created with patience. This includes tunnels, double bubbles, bubbles within bubbles, and even kids in bubbles.
The wand itself is small. With a bucket of water, kids can enjoy the bubbles in the backyard, driveway, or park. Shortly after making a few bubbles in different weather conditions, kids will realize the perfect elements that make the perfect bubble. Warm water melts the soap faster which allows kids to create more flexible bubbles. Colder days with higher humidity can alter a bubble's integrity for a longer period of time. But most importantly, soap bubbles can be created in any type of weather when it's not raining and the concentration needed during the process means kids can relax and forget about their day for a while when with friends or with their families.
Verdict
Those seeking an affordable and fun outdoor toy can find the Bubble Thing to offer the most versatility both at home and away from home.
Pros
Timeless design

Only requires soap and water

Fun for all ages
Cons
Requires a lot of soap and water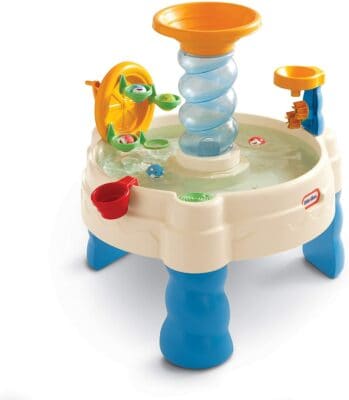 Why we like it:
As one of the most original outdoor toys, the Waterpark Play Table is fun and interactive for one or more kids.
Editor's Rating:
Recommended Age: 2 to 6 years
Design
Made from quality materials, the Waterpark Play Table is built to last with a fun unique design. Recommended for kids six and up, this table-sized waterpark is a top choice for the hot summer days. It allows kids to creatively play with water while learning a few things about what makes water move and how certain objects float on water.
At nearly 12 pounds, it is not too heavy to move from location to location. Of course, due to its nature and size, it's best to put it someplace permanent. Toddlers and up can develop their sharing skills, hand-eye coordination and learn cooperative play with other kids. With an included water cup and 5 character balls, kids have all the tools to play with the toy. Of course, parents need to offer a helping hand with the water. Up to 7 gallons of water can be added to the toy for a wet and wild playing experience.
Features
All the elements on the waterpark are exciting and interactive. The biggest attraction is the central spiral which allows kids to drop the floating balls and see them go round and round until dropping into the water. Once the balls reach the water, they're scooped out with a Ferris wheel that is turned and to scoop every ball individually. There is a twin water funnel powered by water as well.
One fun fact about the balls is that they come with a squirting design. Once filled with water, they can be used by kids for a fun water-based shooting game. Of course, all of these complex elements will require assembly by parents.
Verdict
The original water toy impresses with its simple and fun design and its construction is among the best as well.
Pros
Made with quality materials

Unique outdoors game

Can be played by kids in groups

Comes with squirting balls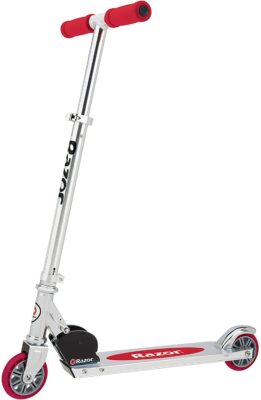 Why we like it:
This is the classic kick scooter, a quintessential summer toy for just about every kid who loves ripping around on two wheels
Editor's Rating:
Recommended Age: 5+
Design
Available in vivid colors for both boys and girls, this innovative scooter is the number one selling kick scooter in the world. It is actually based on three wheels, offering extra stability. It comes with a solid metal deck and great, fast-spinning bearings, offering little ones smooth speed. It folds up for easy transport and stowage, even the hand grips fold out of the way to minimize the profile.
Features
One of the convenient features of this friendly scooter comes with its adjustable height. Kids can grow as the scooter grows, up to a maximum height of about five feet. Make sure to wear a helmet while using the scooter!
Learning a few tricks is possible after a few sessions. Kids rely on the scooter's aluminum frame for plenty of cool, fun rides. With a wide deck, the scooter is suitable for both learning use and for those with more experience that want to perform tricks more than anything else.
The scooter itself comes with a back-wheel brake. It's suitable for ages of 2 and up, but make sure younger users are supervised and wearing adequate safety equipment. Most importantly, the scooter can easily fit in the car or on the school bus. With its folding aluminum frame, it offers freedom of movement, which can motivate all kids to become more active. With a weight of just 7lbs, this should not be too complicated for most kids.
Verdict
The scooter has the advantages of height adjustability and of the folding design to even make it a top outdoor toy when away from home.
Pros
Made with a folding aluminum frame

Improves balance and strength

Fast spinning wheels
Cons
Replacement wheels sold separately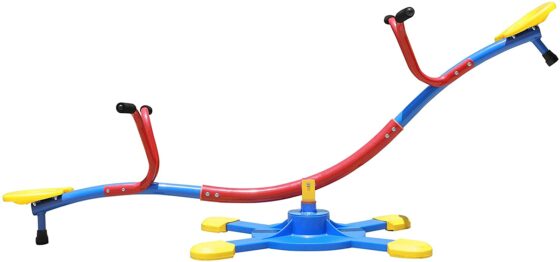 Why we like it:
This seesaw comes with a unique 360 design that makes it even more fun than a standard seesaw.
Editor's Rating:
Recommended Age: 3 to 10 years
Design
A seesaw is among the must-have outdoor toys to consider. It is timeless for a good reason. From a simple piece of wood on a rock, this time of toy has been used for hundreds of years. But Slidewhizzer offers it as a modern alternative which is specifically made to offer fun and safety at the same time.
Of course, everybody expects it to go up and down. But the teeter totter actually turns round and round with its 360 capacity as well. This tri-directional design means kids can select their own way of playing it, switching things up to maintain motivation and fun levels.
Features
In order to use the toy, kids need to sit on their seats, which come with handlebars for safety. With durable steel construction, kids can hop on as often as they want on the seesaw With an anti-rust paint coating, it can be left outside all the time without any damage. This is why kids can actually hope on even after the rain is gone and as soon as their seats are dry.
With plastic molded seats, there is sufficient comfort for kids to swivel, jump around and balance as long as they want. There are two included stoppers which ensure kids won't fall from heights in case their feet get too tired. For many parents, it is the perfect seesaw due to its safety, its durable materials and because it can be quickly wiped for a shiny look as often as needed.
Verdict
With a unique design, the seesaw is the best of the best not only because it's fun but also for its extra safety rubber stoppers which reduce ground impact, making it safe and comfortable.
Pros
Made with rubber safety stoppers

Based on durable materials

Allows the main beam to rotate

Dual side handles for extra stability
Cons
Takes up to 3 minutes to assemble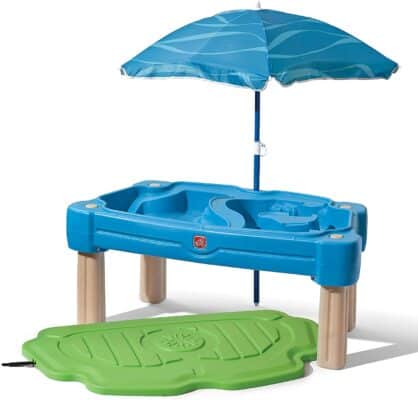 Why we like it:
Combining sand and water on this plastic table leads to creative and fun outdoor toys for kids.
Editor's Rating:
Recommended Age: 3 to 10 years
Design
The toy is designed as a 2-in-1 attraction. It comes to offer plenty of creative fun ideas with its sand and water parts. One part of the table holds sand up to 10lbs. The other part of the table holds up to 3gal of water. Of course, this means kids can actually bring their favorite sand and water toys to play with. The design of the toy allows kids to build a sandcastle on one side and play with their favorite water boats on the other. Both creations can actually be protected as there is a cover that goes over the table for the off times.
Features
While playing in direct sunlight might not be the best choice for kids with sensitive skin, parents can rest assured the conveniently included umbrella can go a long way from this perspective. There is an included drain plug that kids or parents can use to release the water once their fun has finished. The added table cover can also keep the sand and water clean for a longer period of time and it can even allow the table to be left out when it's raining.
With a sturdy design, the table can also be moved from location to location by a single person. Of course, the umbrella would need to be removed when moving the table. But the good news is that since kids don't need to play on the floor, the table can be placed around the yard or even on the deck. The fact that it can also work with multiple sand and water toys can only mean there are extra hours of fun to be had by the little ones.
Verdict
With a distinct design, the sand and water table offers the best of two worlds. Kids can also add their favorite toys for extra fun on the sand or on water.
Pros
Made with a convenient design

Ships with an umbrella

Works with multiple toys suitable for all ages

Can be the base for group play
Cons
Sand is not included in the pack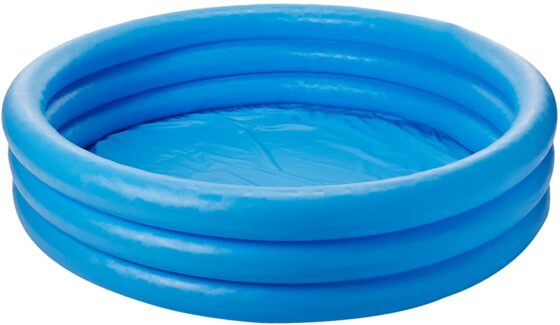 Why we like it:
An inflatable pool is the quintessential summer must-have for all kids. Intex's design is perfect to escape the summer heat.
Editor's Rating:
Recommended Age: 2 years +
Design
The inflatable pool is available at a remarkably low price, with a 45 x 10 inch size perfect for younger kids. It's made with an efficient design to maximize durability and to allow kids to enjoy a fun way of escaping the high temperatures of hot summers.
Of course, its large design means the pool can be used for various water games. Adding the kids' favorite ducks and even using a water slide can be great way to add to the fun experience for your little ones. There is plenty of room even to bring friends over for a pool party out in the sun.
Features
Made with vinyl, the pool is easy to clean. Parents can use various cleaning solutions from around the house to make it sparkling clean for the next water fun day. At 6.5" of water depth, it is just the right amount of water to keep the kids entertained.
Once playtime is over, parents will need to remove the water from the pool using a larger cup for the most part as the stretchy material might allow them to easily turn it over. Made for ages 2 and up, the inflatable pool also installs easily. After a bit of help from parents during assembley, it is ready for a fun day of games with friends and family coming together.
Verdict
This efficient inflatable pool is among the most popular outdoor options for kids to use during the hot summer months.
Pros
Made with durable vinyl

Inflates in minutes

Can be filled with water or play balls

Ships with an included repair patch
Cons
Requires some time to assemble and empty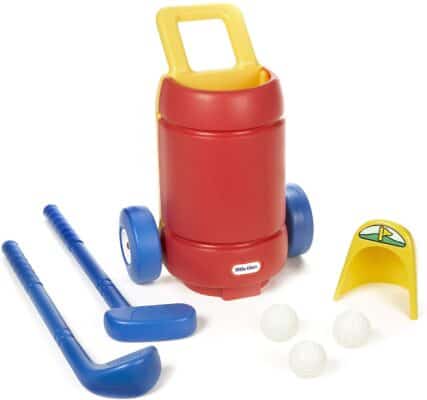 Why we like it:
This mini golf set is perfect for one kid or a group, offering unlimited backyard fun.
Editor's Rating:
Recommended Age: 1 to 6 years
Design
Designed for kids, this golf set is incredibly easy to use. It doesn't require too much effort or practice to play, which makes it perfect for toddlers. Its main purpose is to offer a fun game. However, it can also offer better coordination and improved balance.
Made from plastic materials, the set is phenomenal when it comes to durability. Furthermore, parents can easily clean the set with warm water whenever needed. Even the cart can be rinsed out in a matter of minutes.
Features
Inside the golf set kids find 2 golf clubs and 3 golf balls. Of course, they are made to be shorter and lighter than actual clubs, which means kids can go for a full swing at maximum speed. Even the balls are made larger than regular golf balls to make the learning curve much shorter.
Verdict
Made with easy-to-use lightweight materials, this golf set is a good introduction to an internationally-famous sport.
Pros
Made from durable plastic

Includes two clubs

Ships in a plastic cart

Helps develop motor skills
Why we like it:
A skateboard is one of the most fun ways kids can spend time playing while out of the house.
Editor's Rating:
Recommended Age: 5 years +
Design
Designed with durable pieces and customized with amazing artwork, the Meketec skateboard is perfect for younger skaters just getting ahold of their balance. It is based on a sturdy maple board, making it flexible but giving it a distinct look as well. Its design includes a 7-layer wood construction, the same as premium models.
The wheels of the board are made to hold up as well. With hard PU wheels and ABEC-7 bearings, the board is ready to take kids a few yards down the block or even for miles every day. Depending on the skills, it can offer one of the most reliable options for kids seeking the ultimate freedom.
Features
The top of the board comes with pre-applied grip tape. Parents don't need to apply the tape themselves, and kids can easily have proper footing for balance and tricks. But the board is also made with a double kicktail popsicle deck design which allows for all types of tricks to be put into practice. In fact, it suits both amateurs and skilled kids very well, and it's great even for transportation, cruising around town
But the boar is also made to look distinct, as this characteristic is important for kids as well. In fact, each line of the board comes with its unique graphics. Carrying the board through the city or to the nearest park is made with pride as a result. From quirky patterns or eagles to bears, tribal designs and historical figures, there are many unique graphics to consider.
Verdict
The skateboard is made to a durable standard and it can practically offer years of outdoor fun.
Pros
Made with quality maple wood

Designed with unique graphics

Ships with pre-applied grip tape

Based on aluminum trucks
Cons
Stability can be improved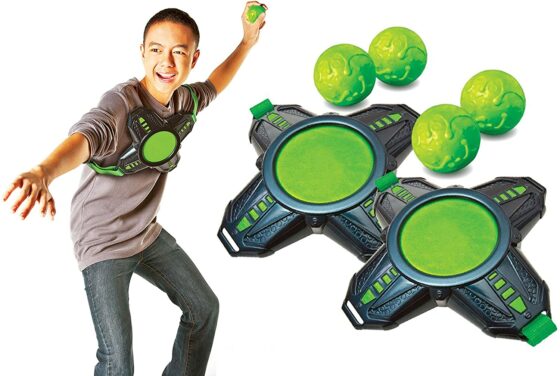 Why we like it:
This fun game remains a top choice for kids who want to challenge their opponents and improve coordination by 'sliming' their competitors.
Editor's Rating:
Recommended Age: 6 years +
Design
Designed as one of the simple options on the market, the Slimeball Dodgetag is very fun for kids and their friends. There are two vests the opponents need to wear. When these vests are in place, kids can throw the Slimeballs towards the opponent. Of course, they will not stick anywhere else apart from the target of the vest. It is why kids need to develop their aiming skills and coordination skills to actually score points.
The Slimeballs don't leave any marks on the kids' clothes, which will see happy parents at the end of the day. But having to wear the vests and having to find the best strategies to win points why avoiding the opponent's efforts is what makes this game fun.
Features
Supporting two players, the game can be a timeless approach to outdoor fun. It can be played in the yard, in the park or while camping. Of course, the actual Slimeballs are soft. They will not hurt the opponent if they miss their target. But how do kids actually master the game? Playing the game is easy but becoming really good at it is where kids need to put in a bit of extra effort. Dodging the shots of the opponent, hiding behind a tree or simply getting lower towards the ground can all be techniques used both in defense and when trying to score points. Kids can have their own fun outdoors where they can put these strategies into practice.
Of course, there are only two vests which ship with the game. So if kids plan to play with more friends, they would need the extra vests to include everybody in the game. 4 sticky balls are also shipped with the vests. They are durable and easy to clean at the end of the game with a bit of soap and water.
For safety and coordination purposes, the game is mainly recommended to kids ages 6 and up. Of course, it is actually safe since kids can't hurt themselves with the squeeze balls. For most players, it can actually be an opportunity to practice sprinting outside the house.
Verdict
With a concept easy to comprehend, the game offers countless hours of funs for kids.
Pros
Ships with two target vests

Includes 4 slimeballs

Safe design for kids of various ages

Requires a lot of running
Cons
Balls need to be thrown harder than expected
Picking Out the Perfect Outdoor Toy
Buying the next outdoor toys for the kids is exciting. With so many fun options, parents can already visualize the fun their kids can have. However, there are a few general guidelines which can lead to the best outdoor toys for kids and toddlers.
Number of Players
The number of players who can interact with a game is crucial. It's one thing playing alone and totally another thing playing in a group. It is why if there are multiple kids in the family, it is advisable to integrate all of them in an outdoor game to improve communication and bonding. The Little Tikes Spiralin' Seas Waterpark Play Table offers enough different activites to entertain the whole family at once.
Age Range
The age range of a child dictates the type of toys parents can look for. Of course, the lines get blurry in time and toys as toys are made for various ages. However, these indications are important as the toys need to be easy to play with for the kids. Even the youngest kids can have fun blowing bubbles (with supervision), but older kids might prefer something a bit more exciting like a skateboard.
Type of Activity
Kids like to build things, they can splash in a mini pool, they can shoot plastic balls, they can cycle or they can even drive a toy car. These options are great for most kids as they offer a different playing experience than they usually have inside.
Storage Options
All toys eventually end-up in storage during the winter or when not in use. But since some outdoor toys are larger than others, parents need to find the right storage place. Of course, carrying a sand table inside might not be something parents would actually want to do. It is why it's crucial to find the right storage options ahead of the purchase.
Versatility
Some toys can only do one thing. Others combine multiple toys. Of course, no option is truly better than the other, rather than actually being just different. It is why the toys need to be made in a way in which they allow for maximum results and plenty of fun. In this case, versatile designs prove to be worth the investment.
However, parents can also consider versatile multi-player designs for their kids as they can even play together. At the same time, versatile tools can also be the focus of a children's party. It can also be the case that versatile toys keep kids occupied for longer. But this is not to say that a bike needs to be anything more than a bike. It just depends on what parents consider to complete the toy collection with.
Final Thoughts
Some toys also come with a creative or educational side. It is why they might need to be chosen according to a range of parameters such as locomotor development. Other toys might boost the creative side such as toys which require kids to build something. Climbing toys can be a great addition to a child's collection as they are not to be used inside the house.
But selecting the right toy might also mean exposing the kid to a few bruises here and there, especially with sports-based toys. This doesn't mean these toys are not great. Even more, they can teach kids a few things about team spirit, tactics, and coordination. They can also build better physical strength which is crucial as they grow.
As long as kids have a playing partner, most toys can be fun and interesting. As kids grow they need different types of toys. It is best for the parents to match one of the above toys with the child's personality or interests as this is what ultimately makes the product a fun toy to play with.