Top 30 Best Pool Toys for Kids 2022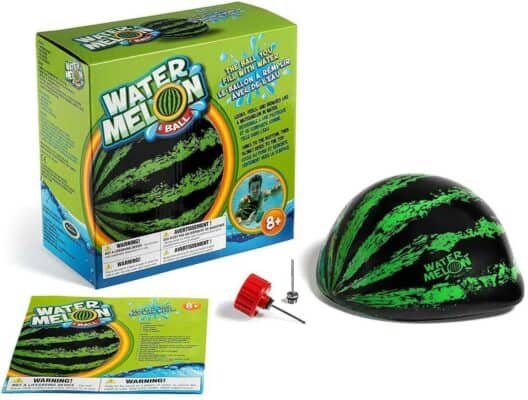 Quick Facts:
Recommended Age: 8+
Number of Players: 1+
This ball helps your kids enjoy fun and exercise with friends as they play around in water without the ball bobbing on the surface. The ball is neutrally buoyant when filled with water from a garden hose and not air (keep this in mind as some parents say its unclear in the instructions), as well as extremely durable and able to withstand thrilling games such as basketball, football, and rugby.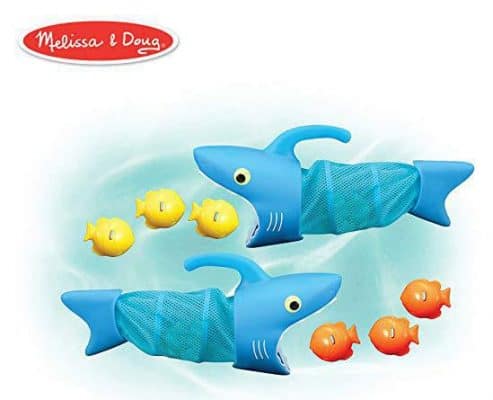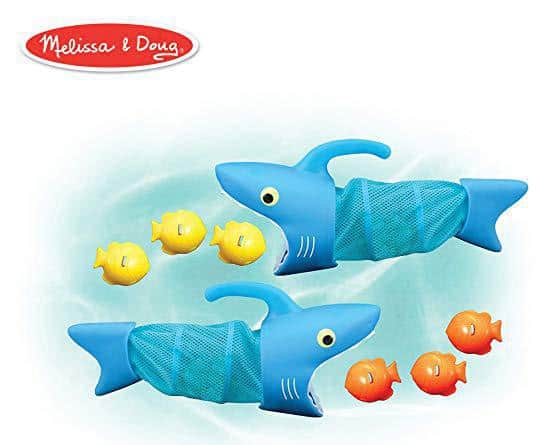 Quick Facts:
Recommended Age: 6-8
Number of Players: 1-2
This set comes along with two shark nets shaped like a shark with its dorsal fin serving as a handle and guides its swimming. Its open mouth acts as an opening to the net that encompasses the shark's body. There are also six little fish to be caught and a set of various game suggestions that can be used to utilize the nets (which are a bit rough, so teach your kids to handle them gently) and the fish. You can scatter the 2-inches long little fish across the pool surface and let your six and eight-year-old child get them using the net-fish.
This is a fun and exciting activity for kids. Moreover, your child gets to develop fine motor skills by grasping the shark fin handle, gross motor skills by swimming, and enhancing their spatial reasoning skills when your child finally captures all the fish. Your kids will have inbuilt self-confidence in their abilities to achieve goals.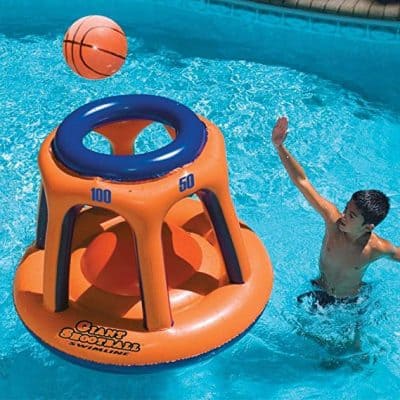 Quick Facts:
Recommended Age: 7+
Number of Players: 1+
This pool toy has a 45-inch tall hoop that is constructed for allowing multiple players to play at a time due to the presence of multiple ports. The hoop and 36-inches by 45-inches ball are made extremely durable and flexible by the heavy-gauge vinyl used to make them. It's a game pool toy that uses the same basic basketball concepts. Players get to shoot the ball into a giant floating hoop with multiple ports making it an excellent sport to fine-tune hand-eye coordination.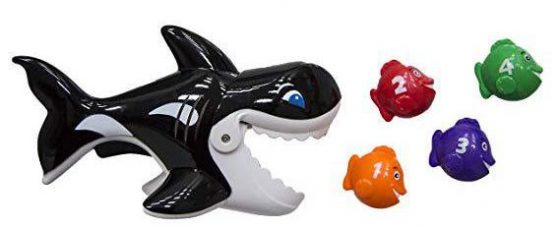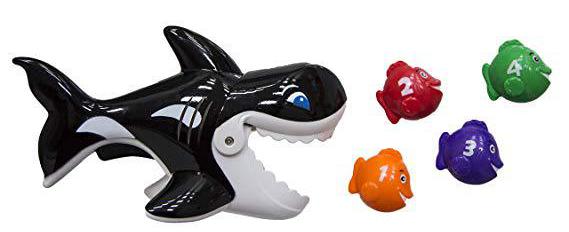 Quick Facts:
Recommended Age: 2+
Number of Players: 1
The SwimWays Gobble Guppies toy provides fun for your kids while honing their fine motor skills because it engages hand and finger movements. The toy comes with an orca toy and four guppies that are red, orange, purple, and green—though these colors fade over time due to chlorine. They are also numbered one through four, and they float on the surface of the water making it easy for children as young as two years old to play with.
To gobble up all the four guppies, one needs to squeeze the trigger on the whale's tail that causes the mouth toy's mouth to open up wide. The four numbered and colored guppies enable your little one to start understanding numerical counting, categorization, and colors as well as it improves the ability of your child, who might be nervous about learning how to swim—and they can even be used in the bathtub, letting kids as young as 2 join the fun.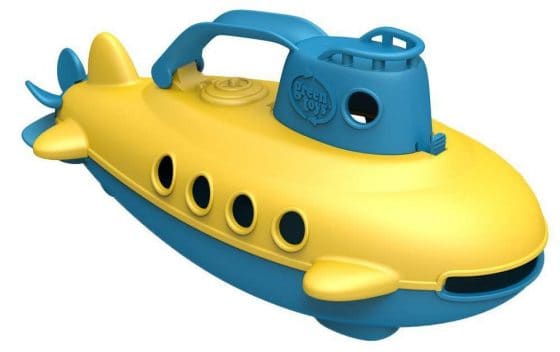 Quick Facts:
Recommended Age: 6 months – 6 years
Number of Players: 1
You can submerge the Green Toys Submarine and make it explore the terrain of the tub before moving it to the surface to await the next adventure. This is a very exciting activity for kids with this pool toy. The Green Toys Submarine is a pool toy that your child can get a hold of to scoop sand and later pour it out.
This outdoor and indoor toy is made with 100% recycled milk jugs making it environmentally friendly alongside being child-friendly since the pool toy is BPA- and phthalate-free, though the smaller holes can trap little fingers.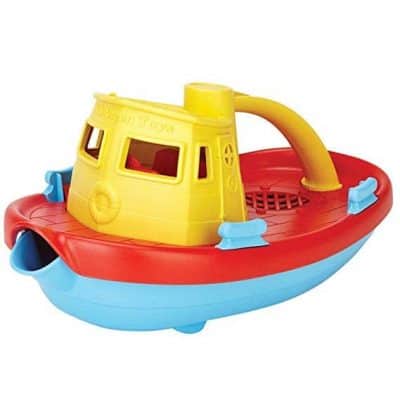 Quick Facts:
Recommended Age: 6 months – 3 years
Number of Players: 1+
Toddlers aged six months and above can splash around using the Green Toys Tugboat whether it's in the pool of the bathtub. This can be done without putting to an end the fun these young sailors can have with the toys—and you can even bring the kids in on the fun of cleaning them after they're done!
The toy is made of environment-friendly material such as recycled mild dishwasher safe plastic containers and it contains no BPA, PVCs or phthalates. It has a wide spout that enables your child to scoop out mud or pour water whenever necessary. In addition, it features a ladder, a life preserver, anchor, horns, and five windows where one can observe the steering wheel as well as the captain's seat.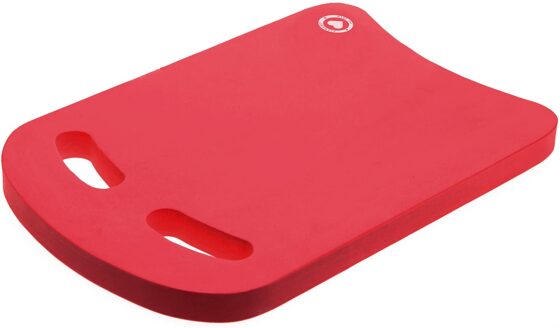 Quick Facts:
Recommended Age: 2+
Number of Players: 1+
The kickboard is soft and comfortable due to the presence of a closed-cell EVA foam. It's offered in different colors ranging from blue, pink, green, and orange, giving user a variety to pick from based on what your child would find appealing—though it unfortunately only offers plain single-color designs.
The kickboard has been made of multi-layered lightweight polyethylene foam, which makes it puncture and tear-resistant. It's safe and easy to clean with soap and water to ensure years of vivid colors and endless fun.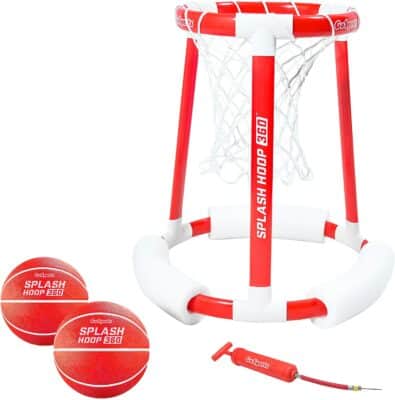 Quick Facts:
Recommended Age: 4+
Number of Players: 1+
Instead of the 180 degrees you get out of a normal basketball hoop, this floating basket offers 360 degrees of fun in the sun. It's got just the right height for dunking and even includes two basketballs for lightning-fast play. Its clever design rocks and bobs with the movement of the water, adding a fun challenge and a dynamic element to the game You can pump up the balls with the air pump that comes with the toy.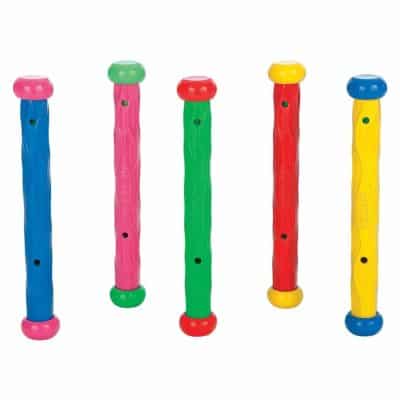 Quick Facts:
Recommended Age: 6+
Number of Players: 1+
Children who can safely swim underwater will find this set of underwater dive sticks fun to play with. By just tossing the sticks throughout the pool they sink to the bottom and remain standing in a vertical position for easier grabbing. They're fine once they're in the pool, but note that the chemical odor they produce upon opening can be offputting.
For safely gripping underwater, they are made out of a flexible material that is 8-inches long and 1-inch thick, allowing your child to get a hold of it easily. Furthermore, they come in multiple colors such as blue, pink, red, green, and yellow, making them easily visible at the depths of the pool due to their bright color.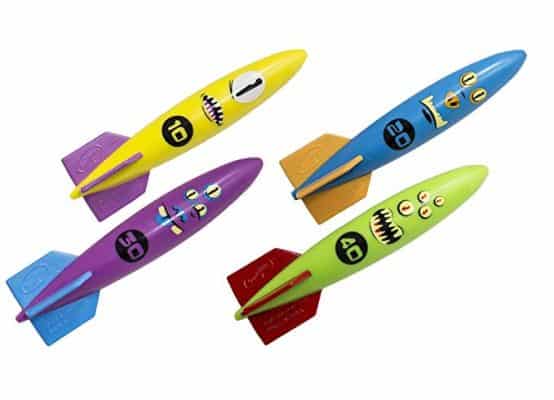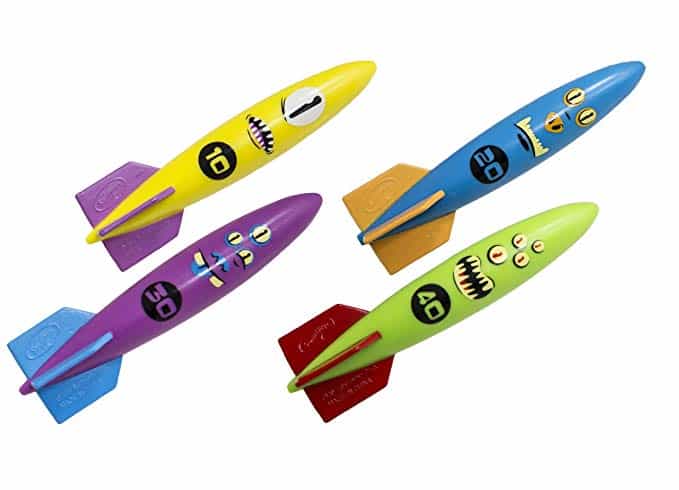 Quick Facts:
Recommended Age: 5+
Number of Players: 1-4
The SwimWays Toypedo Bandits have been made up of a set of four sinking dive toys shaped like torpedoes, that glide about ten feet when thrown underwater. The 5-inch long torpedo dive toys each come with a number, either ten, twenty, thirty, or forty that represent a point system that can be utilized for inherent educational purposes. This may involve counting or simple addition.
Furthermore, it has a variety of colors that provide the incentive for color-based categorization games that involve the toys from the bottom of the pool. This toy will help improve a child's gross motor skills because it involves the use of hands and fingers when diving using the four sinking toys. Breath control must be used in order to retrieve the dive toy and safely return to the surface.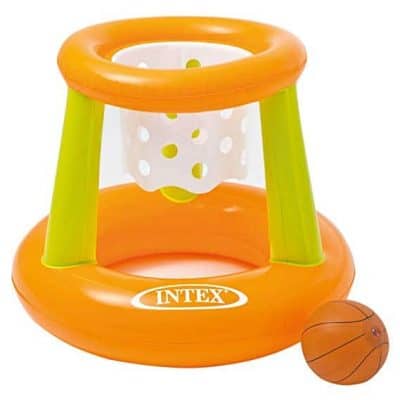 Quick Facts:
Recommended Age: 5 months +
Number of Players: 1+
It has been made with a durable 10-gauge vinyl on the hoop that is hard to break and includes an inflatable ball as well as a repair patch. To use it, the base must be filled with water for stability. It's 26.5 inches by 21.5 inches in height; thus can easily be used by your young ones, but it's a bit small for older kids.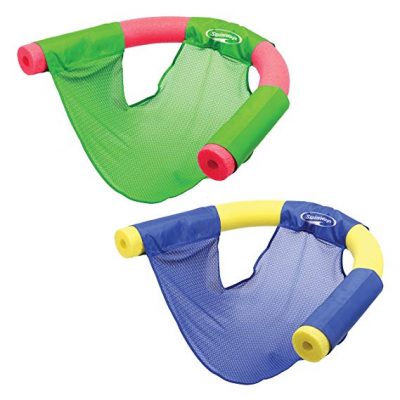 Quick Facts:
Recommended Age: 5+
Number of Players: 1
This pool chair features a fabric mesh seat that makes it easy to create your own floating chair. It also has a supersized noodle via the openings with a pack of mesh seat sling in either green or blue, making it both safe and comfortable. On top of that, it's affordable and doesn't require too much skill to set up. What more could you want out of a pool chair?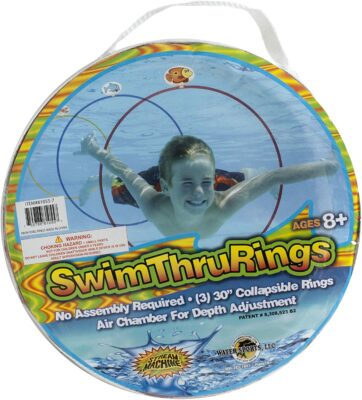 Quick Facts:
Recommended Age: 8+
Number of Players: 1+
Kids swimming sports manufacturing Water Sports has a hit product in the form of their Swim Thru Rings, a neutrally buoyant ring meant to swim through by children. Set the three 31-inch rings up to create a fun and creative swimming maze that will help your child learn breath skills, one of the most important things to know how to do when swimming. Keep an eye out for the air chambers, which can be customized to reach any depth but are tricky to get perfectly buoyant.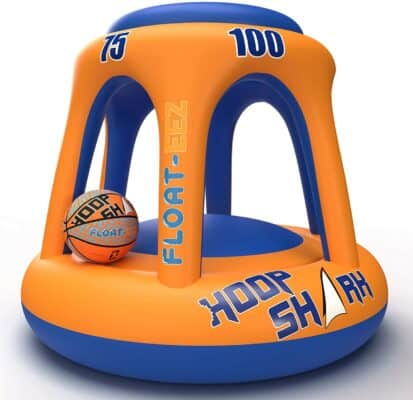 Quick Facts:
Recommended Age: 7 months +
Number of Players: 1+
Swimming opens a whole world of imaginative possibilities for kids. There's a whole world under the water to imagine, enjoy, and explore. This shark based swimming pool hoop set helps your child explore that world, combining the action-packed sport of basketball with the imaginative underwater world of sea creatures.
That's thanks to the shark decals on the side; we also like the point values below that create a fun, interesting option for play. As it's inflatable, be careful to not pop it!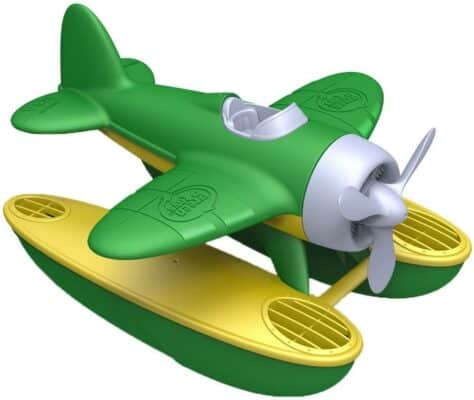 Quick Facts:
Recommended Age: 1+
Number of Players: 1
Who says a plane can't fly under the water? Who says water rescues can't be done under the surface of the sea? Not toy manufacturer Green Toys, a company that creates quality plastic toys based on the concept of environmental stewardship.
This toy goes after the idea of water rescues, as the fun, smartly designed plane is realistic looking and buoyant, although the pontoons can fill up with water to make it sink a bit.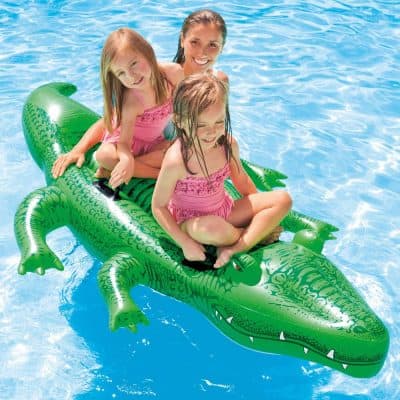 Quick Facts:
Recommended Age: 3+
Number of Players: 1-3
The Intex Gator Ride-On measures 80-inches long, meaning you can pile onto the float with your kids or let two or three young kids enjoy the ride—while also meaning you should pick up an electric pump rather than relying on the power of your breath.
It features two sets of handles on the beast's back so you can hold on tight while you drift. It features sturdy, two-chamber construction, along with UV-resistant vinyl that will not fade or easily rip.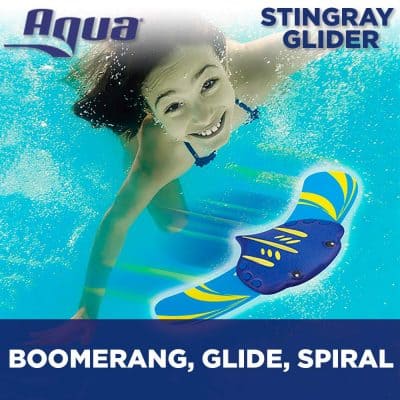 Quick Facts:
Recommended Age: 5+
Number of Players: 1-3
The Aqua Stingray Underwater Glider is suitable for children aged five years and above. It propels itself as it glides through the water covering over sixty feet deep. This enables your younger one to go deep into the water while holding their breath as they try to catch it.
It's the perfect size for kids as it measures 8-inches in length and 10.75-inches wing-width: your child's small hands are able to get a hold of it perfectly—just warn them to watch the inner ring, which is rough and can cause some minor scrapes. Besides, you can adjust the fins/wings to create your own flight pattern.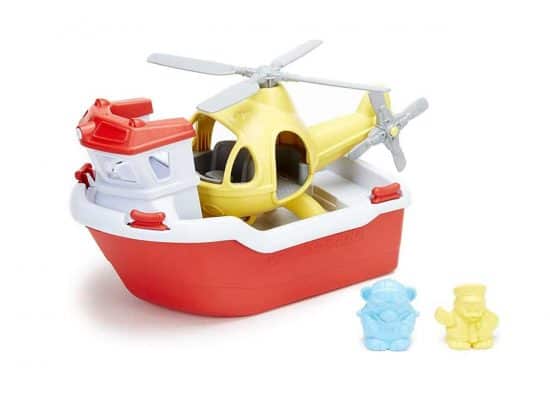 Quick Facts:
Recommended Age: 6 months+
Number of Players: 1
This four-piece set has been made from 100% recycled plastic from the USA and come along with a rescue boat, helicopter, and two characters: Captain Duck and Pilot Bear. The bold colors and the entire toy are dishwasher safe, and it has been designed to float in water—though the holes can take on water, so be sure the toy doesn't capsize! It's the perfect addition to any bathtub or poolside fleet.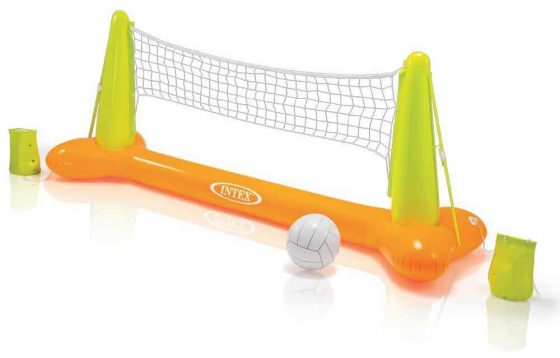 Quick Facts:
Recommended Age: 3+
Number of Players: 1+
How much is there to really say about an enormous beach ball? It just shouts out pool fun. No, it doesn't have a net (though you may want to buy one separately) or include anything else than the 24-inch ball, but the pink, yellow, and blue toy is a classic for a reason. It's safe, great for kids three and up, and includes an easily inflatable valve, but watch out for its thin construction, which can deflate if it's scraped or scratched.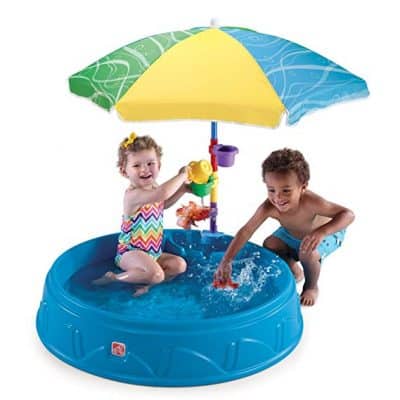 Quick Facts:
Recommended Age: 2-10
Number of Players: 1-2
It has been designed to hold a forty-inch umbrella that nests nicely on the side of the pool, ensuring your child is under a convenient shade away from strong sunlight rays—just be sure they don't lose it, since its not permanently attached.  The umbrella post is built with three funnel cups and a fun spinning water wheel that easily attaches to the umbrella post for an extra added play out.
The bottom of the pool provides traction for your little child's feet to move around the water and the two molded-in seats let your little one relax after a day on the water.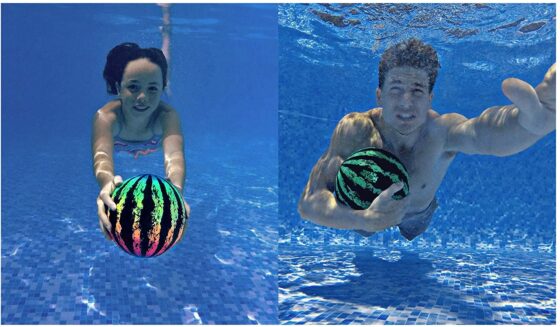 Quick Facts:
Recommended Age: 8+
Number of Players: 1+
The Watermelon ball is an incredibly popular summer pool toy, known for its buoyancy that creates the possibilities for tons of clever, fun games.
So what makes this inexpensive set a great pick? The balls come in multiple sizes, allowing you to play in multiple ways. A few balls mean more players, more action, or new types of underwater play. The only limit is your imagination. The only thing on our wish list is that they were a bit lighter, as they can get heavy to throw around above the water.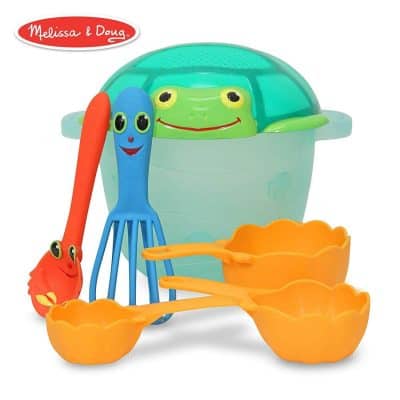 Quick Facts:
Recommended Age: 3 – 5
Number of Players: 1
The toy is made up of shell-shaped measuring cups, an octopus whisk, and crab mixing spoon. The mixing, sifting, and baking themes are unique for sand toys thus presenting an exciting twist. The turtle lid on the mixing bowl doubles up as a sifter apart from mixing.
It's part of Melissa & Doug's Sunny Patch, a line of products that encourages exploration as well as outdoor play while simultaneously enhanching hand-eye coordination. The chunky handles are just the perfect size for small hands so that the young ones can also get a chance to enjoy making mud pies and sand cakes, though the lid can be a bit hard for young ones to snap shut.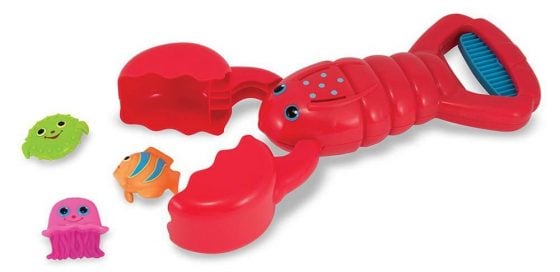 Quick Facts:
Recommended Age: 3 – 8
Number of Players: 1
The Melissa & Doug Sunny Patch Louie Lobster Claw Catcher allows your kid to enjoy a variety of game ideas it offers. The toy includes a Louie Lobster Claw Catcher, three fishy sinkers, and a variety of game ideas.
It has a sturdy plastic construction and is well suited for indoor and outdoor activities. It can be used in bathtubs or in the pool with kids. This tiny toy is easy for kids to use with one hand, but its parts can easily be lost.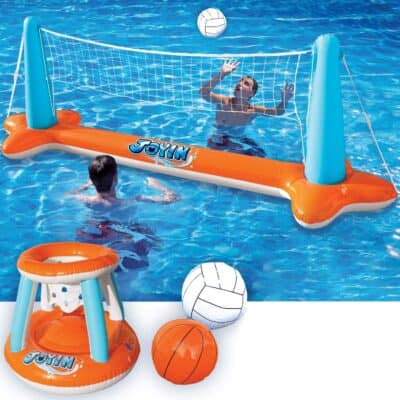 Quick Facts:
Recommended Age: 3+
Number of Players: 2-8
This toy includes an inflatable volleyball net, which is the perfect size for any backyard swimming pool, as well as a bonus basketball and floating hoop for double the fun. It includes weight bags alongside it that gives you a chance to take it on vacation. This versatile toy can be used to play on the lakeside, beachside, and also the poolside, so long as the water isn't too deep to anchor the toy. This ensures that you constantly have hours of fun and familial bonding as you battle against each other to determine the volleyball champion.
By encouraging swift swimming, this toy offers a good way to relax as well as improve cardiovascular health. The volleyball also helps improve muscle tone and increase dexterity since it's a cardiovascular sport, making it a perfect match for enjoyable exercise.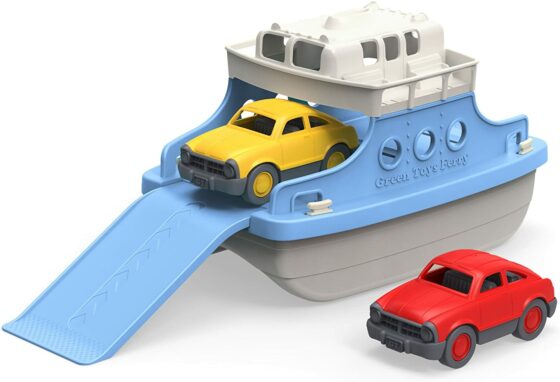 Quick Facts:
Recommended Age: 6 months +
Number of Players: 1
This watercraft is made by company Green Toys, meaning it's earth-friendly and environmentally safe. It's easy to clean and chlorine resistant, so it's good for playing at the beach or in the swimming pool.
A spinning propeller brings the toy to life: your child will love putzing through the water with this fun toy! It's got a flat bottom that can float on the surface of the pool. It's a bit smaller than some expect, so be aware that this isn't the biggest pool toy on our list.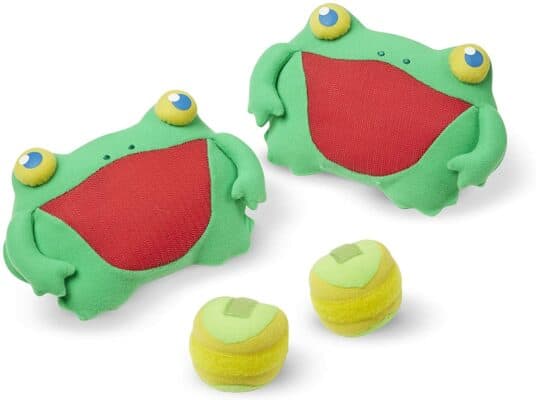 Quick Facts:
Recommended Age: 3-7
Number of Players: 1-2
The Melissa & Doug Frog Toss and Grip is not just good for the pool, but for the beach or poolside as well. The set comes with two nets and two balls, which can be used with a single player or in group games involving many players.
They're made from fade-resistant materials and can be able to stand up to the sun and the chlorine. As kids get used to playing with them, they can start to unlock tons of gaming possibilities with the set—but be warned that the balls sometimes won't pop up, making the toys a bit frustrating for younger kids.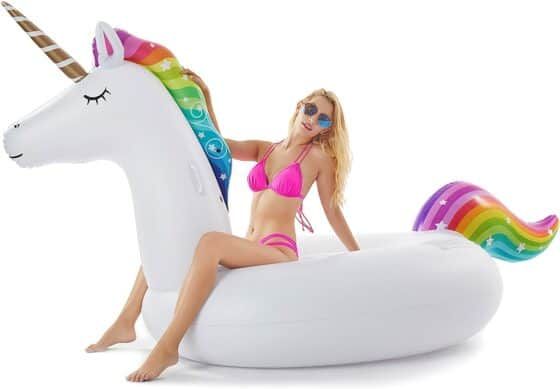 Quick Facts:
Recommended Age: 8+
Number of Players: 1-2
This toy features a fantastic color and appearance. The toy has been finely crafted with smooth curves and the utmost attention to details in vibrant colors. It's easy to inflate and deflate because it has an improved valve enabling it to easily inflate by pump or hairdryer. It's also got with a built-in cup holder and two grab handles on the unicorn's neck to ensure that the ride is safe.
There is a valve that fully opens to deflate in seconds, although some parents noted that the toy didn't hold up to repeated inflations and deflations.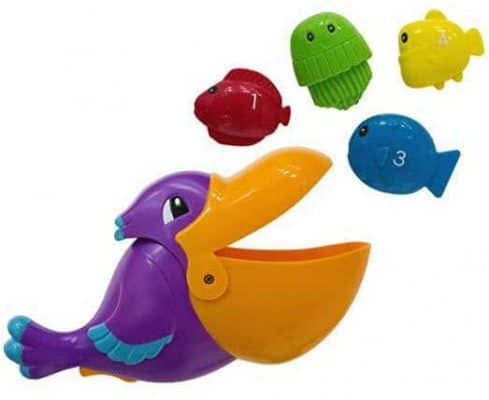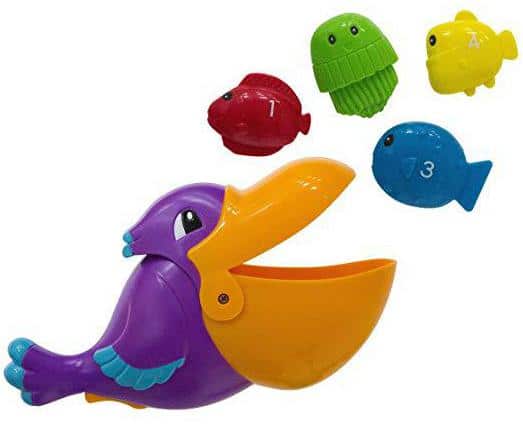 Quick Facts:
Recommended Age: 2+
Number of Players: 1
All one has to do is to squeeze the trigger on the pelican to open the beak and scoop up the floating sea creatures. It's made up of a series of four fishes, each with a different color and number, making learning through color and number recognition fun. The set, consisting of a pelican and four sea creatures, is recommended for two-year-olds and above.
Note that the shark does not often open wide enough to easily get the guppies in, and the guppies in the mouth tend to float out whenever one tries to get additional ones in, making it a bit difficult for especially young children.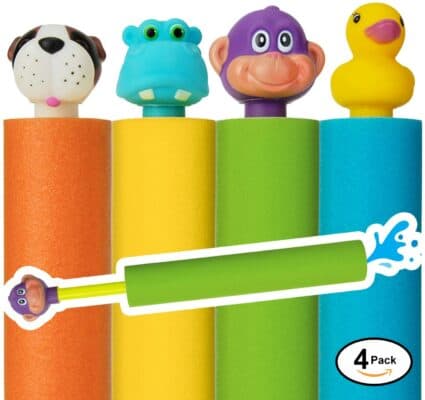 Quick Facts:
Recommended Age: 3+
Number of Players: 1-4
This pack includes four colorful toys that provide hours of fun to a group of pool-goers. One might mistake it for an ordinary pool noodle, but it's slightly different due to the user's ability to pull back the handle to allow water in the cannon until it's completely loaded. Once loaded, you can aim and push the handle forward to blast the water at your target.
It's easy to grip and play water battle games in the swimming pool with this water toy. The small noodle-like toys float and are constructed out of non-toxic material. They float, but they are fairly small, so they're best suited for younger kids.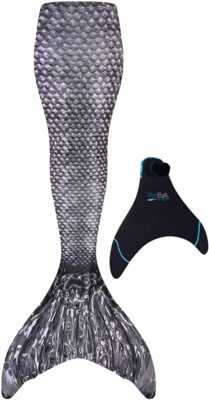 Quick Facts:
Recommended Age: 6+
Number of Players: 1
These Fin Fun Mermaid tails are covered in scales that sparkle in water. These swimsuit-style tails are beautiful and intricately designed. They have a monofin that comfortably fits under the tail providing serious propulsion in the water.
The monofin is made up of a flexible and unbreakable polypropene and dive-grade neoprene and does not require feet to be strapped that makes the removal, especially in case an emergency occurs, easy and simple. This perfect swimming gift is recommended for the development of your child's underwater breathing and swimming skills, with a tail and fin design as a source of encouragement to children doing the dolphin-kick style swimming—just be sure to check the size chart, because a tail that's a bit too large will be constantly falling off.