There are few matches for a good police car. Kids are fascinated by the forces' vehicles from a young age. The toy industry has been constantly producing such toy police cars. With various designs such as exact scale replicas to remote control police cars, kids can find a toy which appeals to their tastes. In other instances, police car toys can even be assembled by kids themselves. The best part is that toy police cars can be used on their own or as part of a larger game. They can be played with solo or shared with friends.
Eventually, the best toy police cars can become collectibles as kids can cherish them and store them to come back to their memories years into the future. Some of the following toy police cars are the best for kids of various ages and they can spark hours of imaginative fun.
Top 30 Best Toy Police Cars for Kids 2020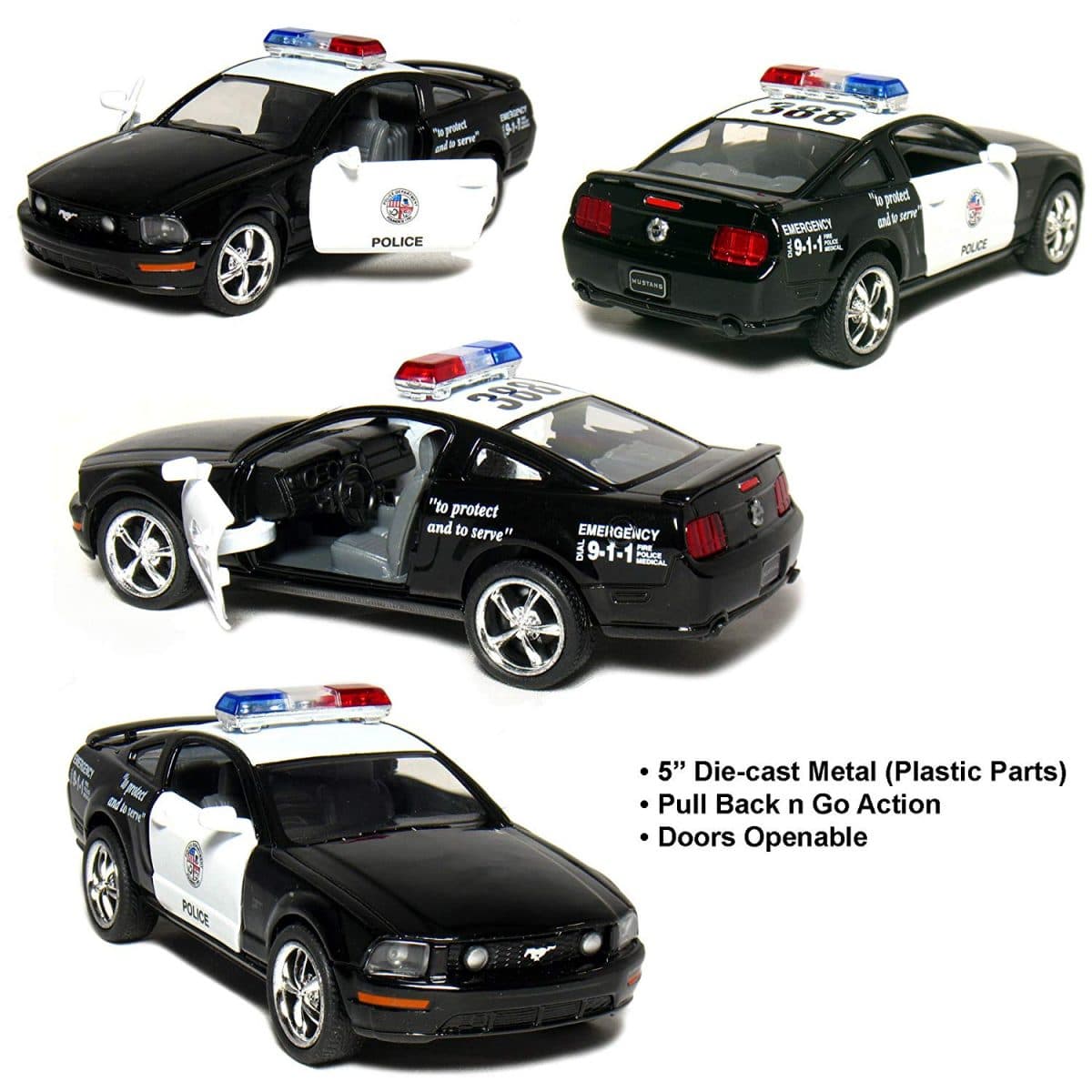 If you ask a kid to quickly recognize a car, the Ford Mustang GT is one of the first cars to be pointed at. With such a distinct design, the Mustang GT has inspired generations. Kids became adults and they actually bought themselves this motoring icon.
But the toy version of this amazing car comes with the police appeal kids look for. With such an impressive and realistic design, the car is actually an officially licensed product. It means the replica is as good as they get. Both doors of the car open wide for more versatility. There is a pull-back system in place as well. The Mustang GT reaches higher speeds when it pulled more towards the back.
Other versions are also available from the manufacturer. Dodge Viper or the Lamborghini Huracan are just a few options to consider apart from the impressive Ford Mustang GT.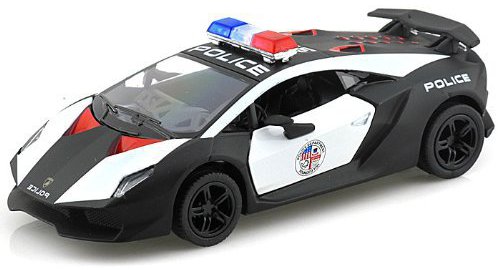 The officially licensed police car combines some of the best characteristics kids love about toy cars. With police branding, the car has a distinct appeal among kids. At the same time, it is a Lamborghini which means the supercar is probably already on the kids' minds. Many such supercar posters are actually hanged on the wall in the kids' bedroom.
Made using a combination of metal and plastic parts, the super police car can open its doors as well. Like most cars from this series, it also comes with pull-back action. Kids can simply pull it all the way back until it clicks before releasing it. It will work at its highest speed on flat floors such as hardwood or tile surfaces.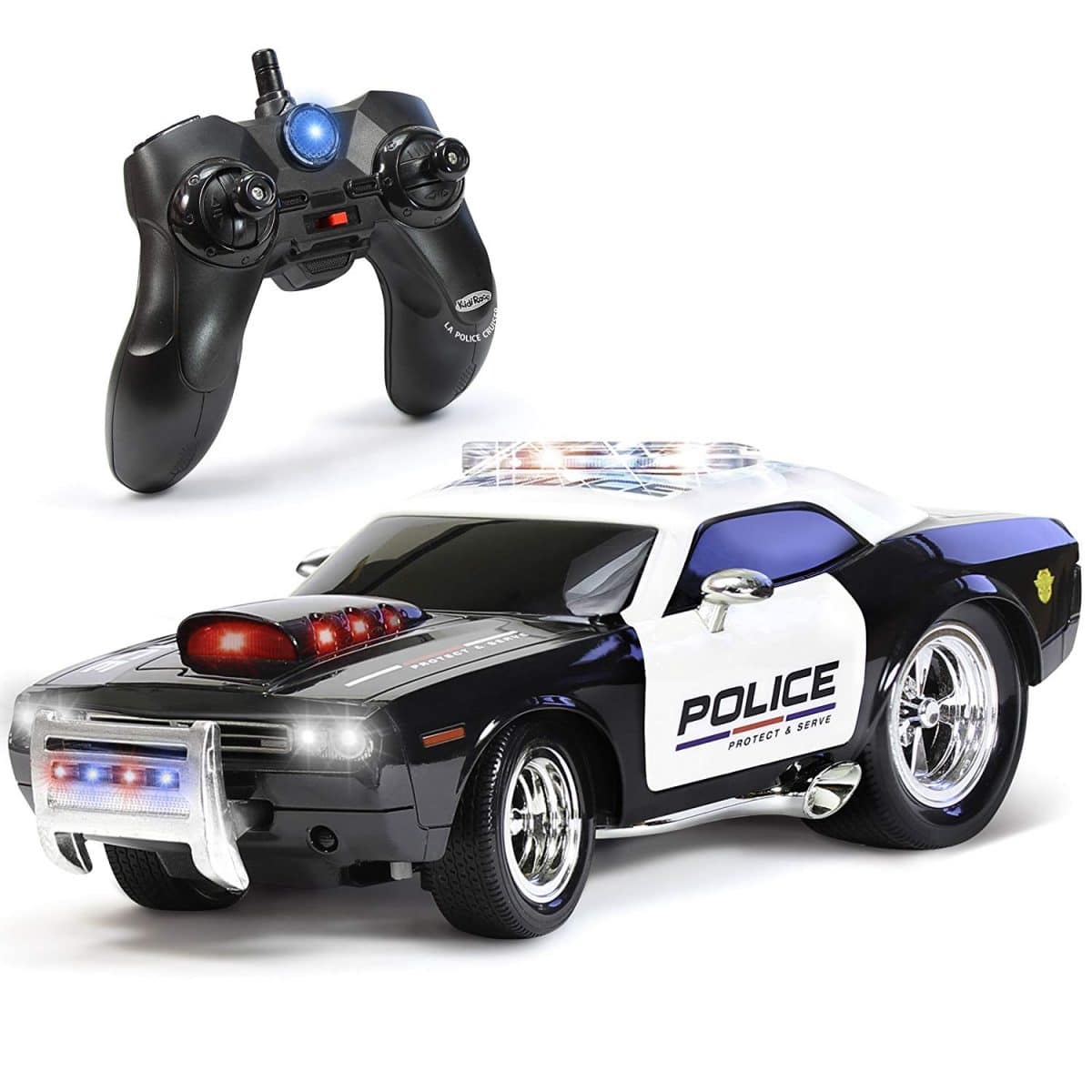 As one of the most practical remote control police cars, the KifiRace vehicle is perfect for kids who want to play every day. There are a few technologies in place which make this possible. One of them is the rechargeable batteries system. It practically ensures kids are able to simply enjoy the police car as often as they want to. Charging is made via USB and the car can be played with for up to 30 minutes afterward.
There is another interesting technology in place in the police car. The 2.4Ghz technology installed in the car means there could be up to 6 cars driving around in the same area. It is why kids can even play with more cars with their friends and start a police pursuit right in the comfort of their own homes.
With realistic sounds, shapes, and colors, the police vehicle even comes with a horn. Its muscle car appeal also means the police car is as cool as kids expect when dreaming about their next thieve-catching vehicle.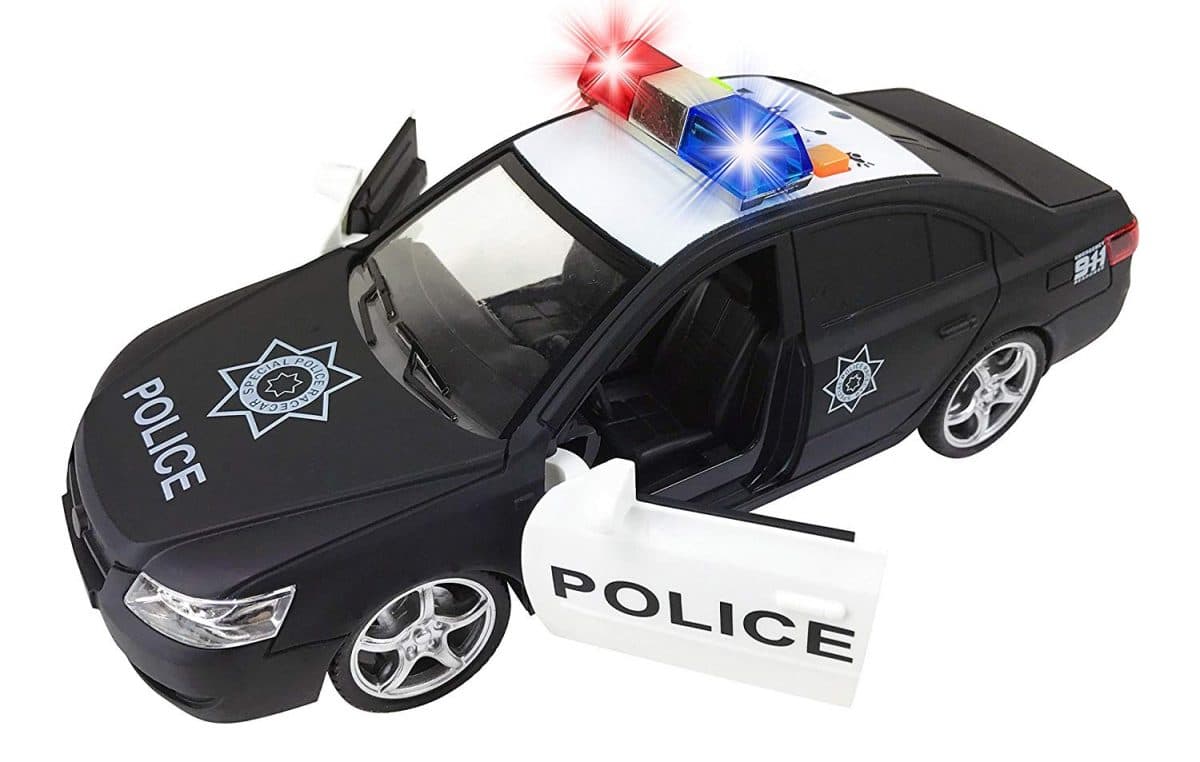 As one of the few friction power police cars, Liberty Imports' design can be appealing for its rare modus operandi. The car is actually based on friction power. Simply pushing it forward a few times will make the car run on its own. At a length of just above 10", it is also quite large and it means it can tackle some small uneven surfaces.
With front doors which open, the police care can also be part of other types of police games. Furthermore, it comes with accessories such as a siren and a honk. The car can be used mostly inside the house. But it can also be taken on family trips as it is lightweight and suitable for air travel as well. Made with non-toxic durable plastic, the car is ready to be played with out of the box.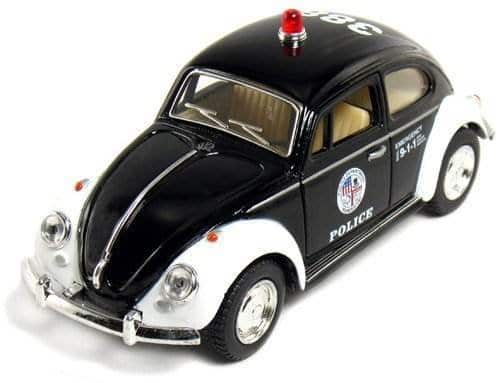 This 1:32 scale car is based on one of the most popular cars in history. Once seen on the roads of many countries, the classic Beetle still has an unmatched design and appeal. Although Volkswagen has already made new Beetle versions, the 1967 release is still hard to match with its quirky design.
The officially licensed car is as fun as kids would hope for. It sends them back in time with its small police siren which kids can still see in movies and cartoons.
As all cars form this series, it comes with pull-back action for extra speed. The front doors of the car open fully and they are among the simplest designs for kids to play with around the house, on car tracks, on the furniture or even outside on other flat surfaces.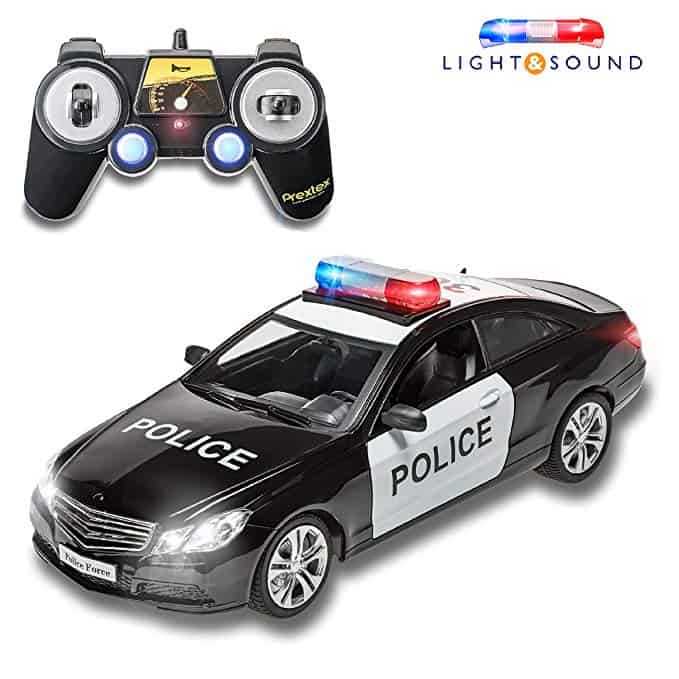 With an enhanced range of up to 60 feet, the police car is suitable for large homes or even outdoor play. To control the car, kids only need to use the left joystick on the controller to make it accelerate and brake and the right joystick on the controller to make it turn.
Complete with lights and siren, the car is resembling a Mercedes coupe, which will have kids inspired and relate to the toy car better than with other generic vehicles. Those who want to offer the police car as a gift will be glad to know the vehicle comes nicely packaged. Powered by regular AA batteries, the police car is among the fully-equipped designs, as it even comes with a police horn.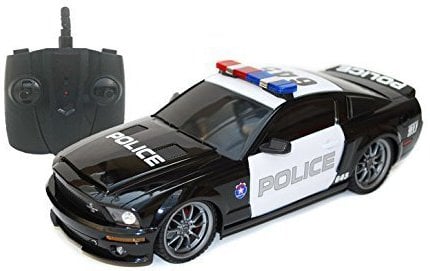 The GT500 Shelby is one of the staple muscle cars in history. Kids now have the ability to chase crooks in a powerful vehicle which is also looking very sporty. With its 2-door coupe design, the vehicle is mainly suited for different types of flat surfaces but it can also be one of the rare remote control cars to be put on display due to its distinct look.
Made with stylish rims, the car can also be part of the police remote control toys series. As it comes from a popular manufacturer, the car is also quite versatile and it can be used on some tracks. But kids will mainly have to keep it on flat surfaces as the vehicle has a low ride design.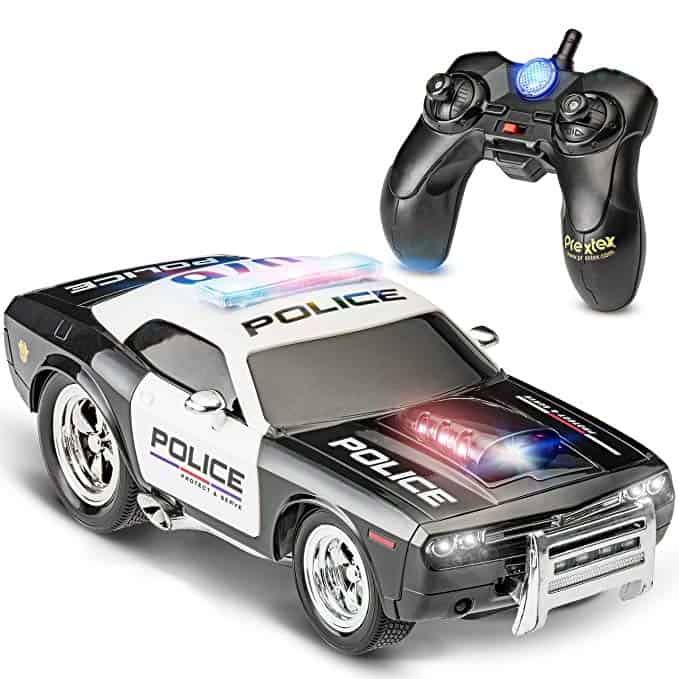 This police cruiser is made with a cool muscle car look. It immediately stands out with its large wheels which are ready to tackle different surfaces such as carpets, tile or wooden floors. With an aggressive bull bar, it is ready to slam into escaping vehicles with no damage.
Designed with a 60-feet range, the vehicle is among the simplest and most efficient in its class. It may not have the most complex controls, but it is made to be easy to operate. This is why kids as young as 5 can take it for a drive around the house on different types of surfaces.
Part of the larger police car designs, the RC's design recommends it to be used with other large cars. This is where kids can start chasing each other around the house and the best part is the large wheels of the police car will tackle many obstacles around the way.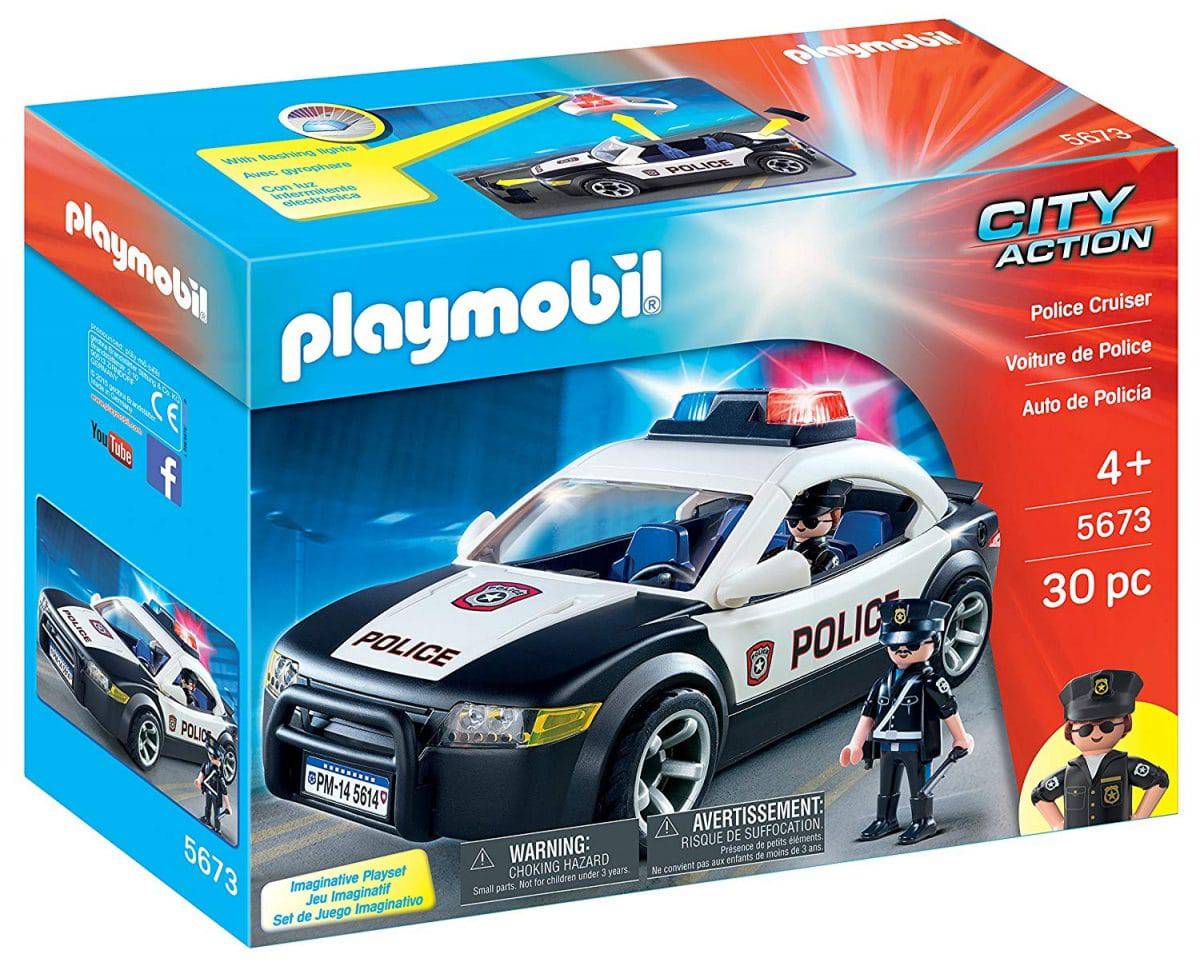 A police car which can be taken apart is certainly appealing to curious kids. It can offer a different perspective on the types of toys kids can actually use for developed imagination. With a distinct line of accessories, it can even be paired in a complex game. However, the car already comes with 2 police officers.
The trunk of the car can open and it allows kids to store essential police gear. The car's roof can also be removed so that kids can access its interior and place the officers inside. Made with flashing lights, the take-apart vehicle is mainly suitable for games which include other accessories, such as figurines, roads, and other cars.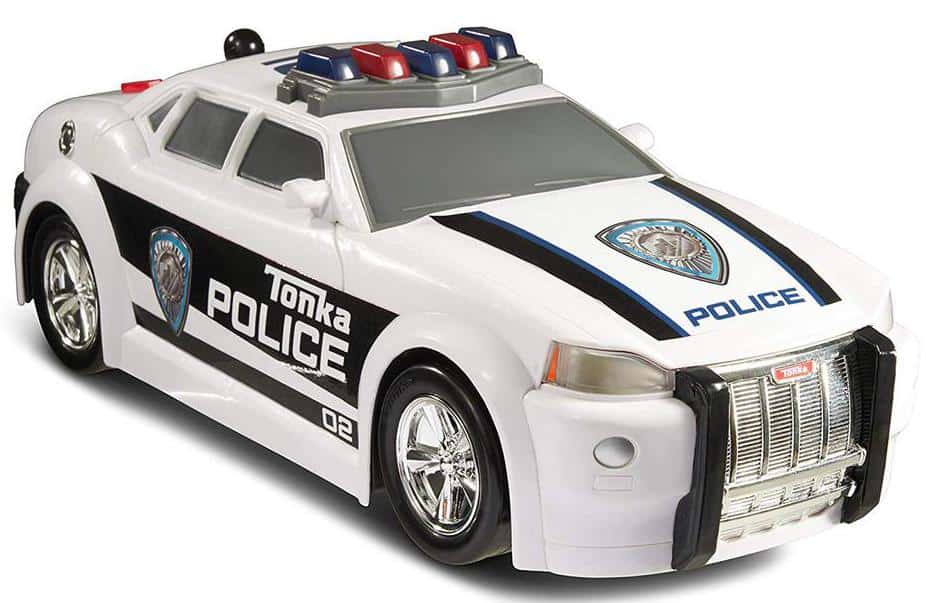 With realistic lights and sounds, the police car is one of the attractive designs for small children. With its bulky design, it is rather aggressive and it will suit boys who are fans of police cars in movies or those driven in superhero cartoons.
Made with realistic styling, the police car also drives by itself. Kids need to push it forward for a short distance before it will travel by itself. With simple operation, a large design and no small parts to worry about, the police care can be controlled by kids ages 3 and up.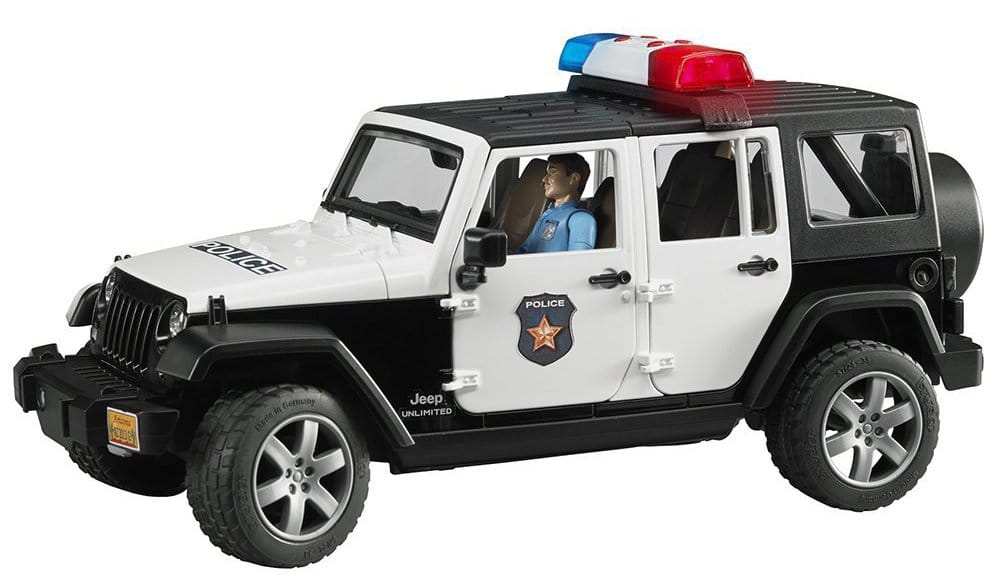 The realistic Jeep police vehicle is one of the recognized designs kids love. Manufactured in Germany, the car is made from ABS plastic, which is one of the most durable types of plastic. It comes with a realistic 1:16 scale reproduction which means it actually looks like a Jeep.
With an included police figure, the vehicle can also be used in combination with multiple other toys. At the same time, it represents a simple and intuitive option for those seeking a design with fully functional doors. But since it comes with some small parts, the vehicle is only recommended for kids 4 and above.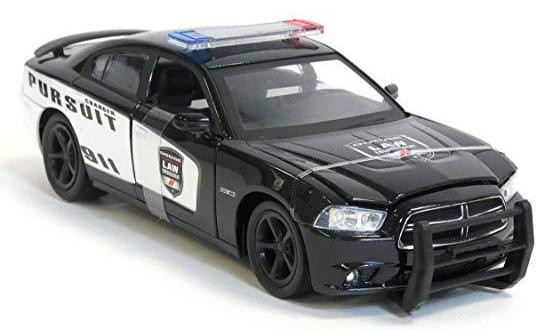 Can any car be cooler than a Dodge Charger? As one of the iconic cars, the police vehicle can be one of the most attractive designs for kids of all ages and even for adults. Built at a realistic 1/24 scale, the car is among the most durable designs in its class without compromising on looks.
The police car is an officially licensed product which means it has Dodge's stamp of approval. With large rubber wheels, it may seem like it could handle carpets. But since it comes with a low profile, it mainly needs a flat surface to reach full speed.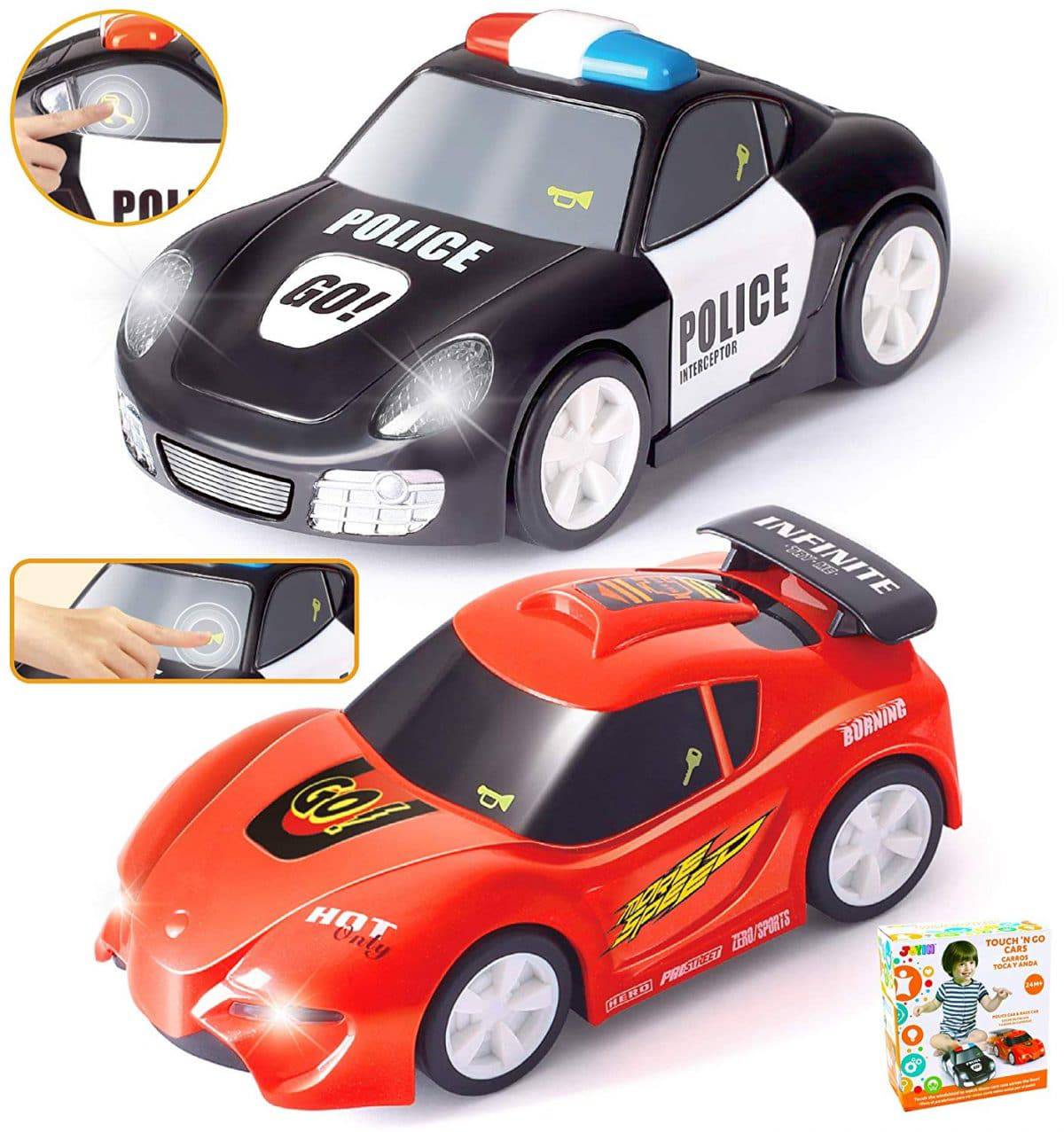 The unique police car set is suitable for kids who want to race with a friend or their siblings. The two cars are a successful combination of a racing car and a police vehicle. Interestingly, racing cars are touch controlled. It means they are actually inclusive of smart touch technologies.
To make the cars race, kids simply need to touch their hoods. But there are also other touch-controlled areas on the cars. For example, they come with touch controls for the realistic horn. Since they are made with no moving parts and without complicated remote controls the police cars can actually be driven by smaller kids of ages 2 and up. The set is suitable for both boys and girls as one police car comes in red color while the other comes in black.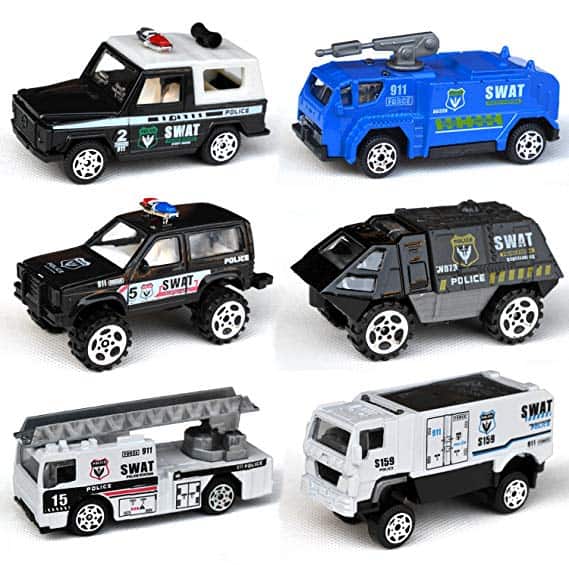 The set contains 6 impressive police vehicles and it can be an inspired gift idea. It comes to meet the needs of kids who want more complex police play time or who want to play with friends. From the classic police patrol car to the specialized SWAT intervention vehicles, the set has them all.
All cars are made with alloy materials which means they have a premium feel. Combining plastic and zinc alloy, the toys are also among the durable designs kids can play with. Once they find other toys to play with, the set can be put on display at the police vehicles are great as collectibles.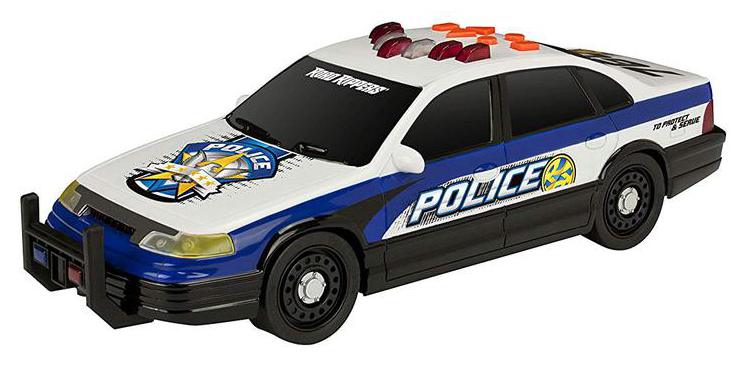 The classic police vehicle can be a larger design suitable to get kids into toy cars. It comes with motorized forward drive and it represents one of the most efficient options for kids to play without having to push the car around for too long. Simply pushing the car a bit is enough to get the internal motor to take over.
Made with realistic sounds and a police siren, the car is ready for action chasing all those involved in illegal activities. With added engine sounds, the car even comes with a realistic feel. Kids can show interest in the car for longer periods of time as a result. Given its 14" size, the car is also suitable for other larger cars to play with.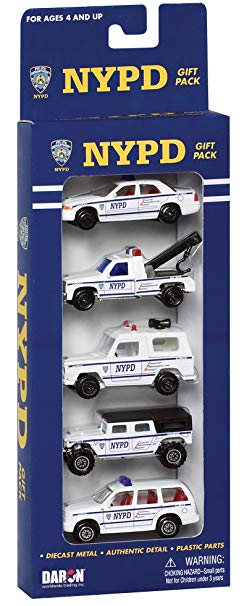 NYPD has been an inspiration for kids and their imagination for decades. The police department has been featured in movies and cartoons so kids can immediately relate to it. The police car gift set is an official product, licensed and realistic as a result of the recognition.
There are 5 police vehicles included in the set. One of the most popular options includes the standard police cars used on an everyday basis. But intervention vehicles are also included in the set. Kids can use these vehicles even on car track for faster chasing.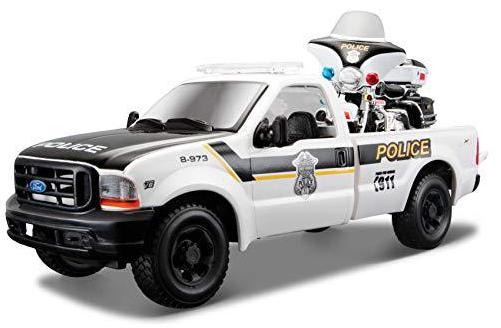 The detailed police vehicles are a unique combination of quick action. Kids can enjoy the realistic Ford pick-up truck as well as the police motorcycle together or separately. Built on a 1:24 scale, the vehicles are suitable for various police games. Taking action against illegal acts might require multiple vehicles for kids to take action with.
With large wheels, the Ford truck is able to tackle even small obstacles. Once it can advance no further, the Harley Davidson can take over. The best part is that kids can play with the set both on their own or together with a friend, using the two vehicles in action-packed police games.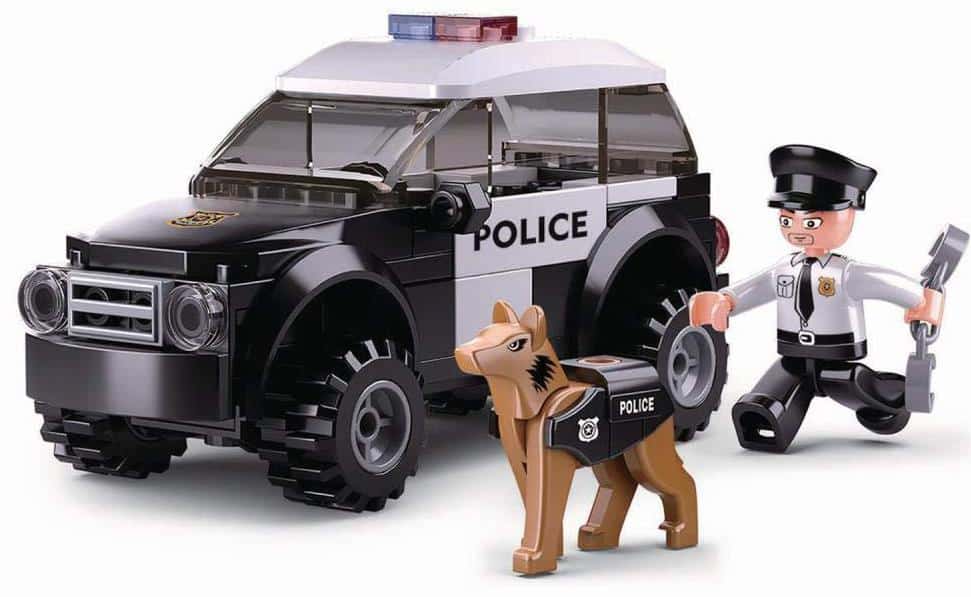 The set is one of the immersive police car toy gift ideas for kids. The little ones have to figure out how to put the vehicle tougher. But the good part is that there are not too many pieces to put together before playtime can begin.
Including a K9 dog and a police officer figurine, the police set is one of the complete choices for kids who love the force. With a strong educational side, the police car set is also a top combination for any other SlubanKids toys. Kids can start collecting all the figurines and all the police-inspired vehicles available from the manufacturer.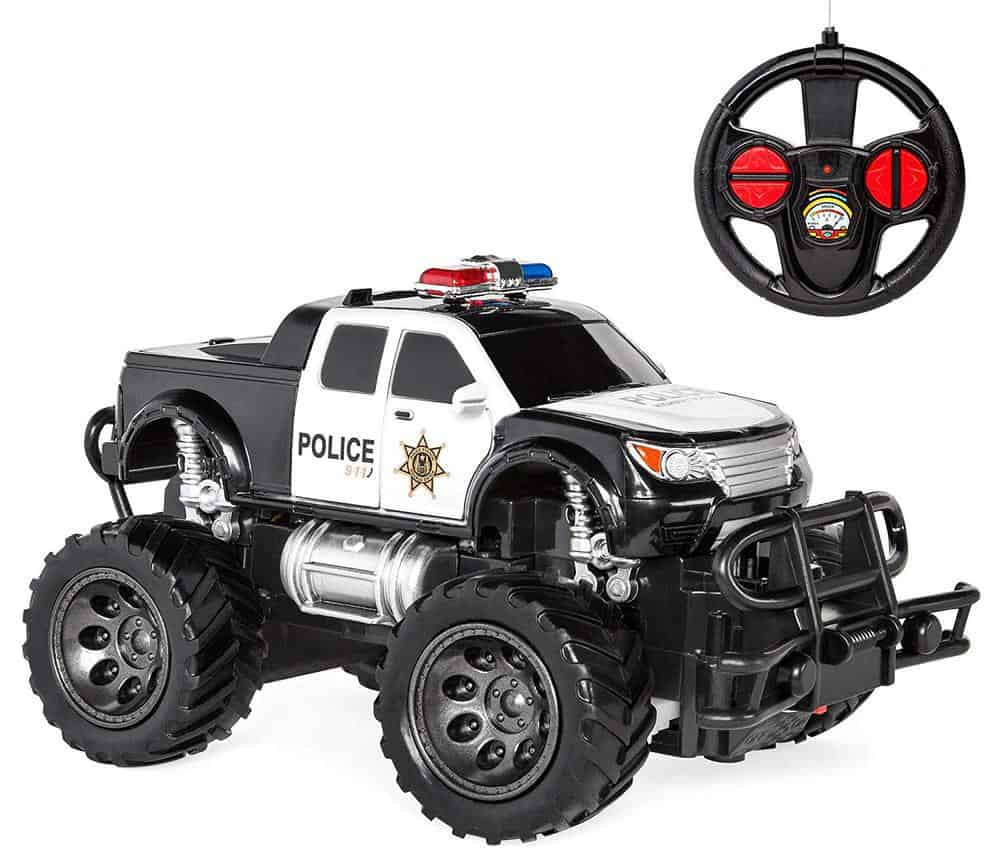 As one of the distinct monster truck-style remote control designs, the police cars are a suitable option for outdoor play. It might not be the most compact police car but it is actually made to tackle difficult obstacles. This means the monster police car is ready to tackle small rocks, grass, and even small sidewalk climbs.
The unique design of the car is matched by the unique design of the remote control. Shaped as a steering wheel, the remote control is actually among the most efficient designs when it comes to ergonomics. Kids will love to hold the remote control and take full advantage of the fast car they control. With a top speed of 6.2mph, the police car is among the top choices in its class for ultimate outdoor fun.
With a robust design, the car is also one of the leading choices for durability. Since it has higher ground clearance, it is also among the top choices for years of fun. The car is quite durable even if it is only made from plastic. But the choice of materials also means it is lightweight and that it can push over small rocks more efficiently.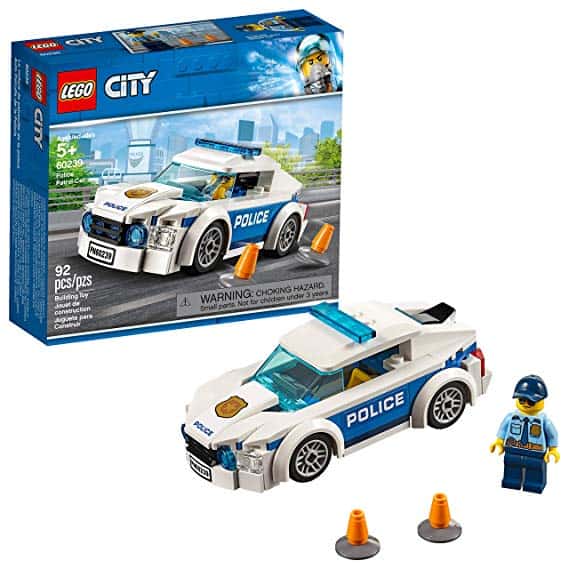 LEGO toys have remained such an icon over the years in the toy industry. It seems that regardless of how generations change, building their own toys is something all kids enjoy. This is also the case with the City Police Patrol Car.
There are 92 pieces which need to be put together to build this impressive police patrol car. With a removable roof, kids can even place the included police officer inside the car once it's fully assembled. The included traffic cons of the set are also useful to teach kids how to properly control the car but also to create a police perimeter.
Improving motor skills and a child's strategic thinking, the police car is one of those toys which are actually fun for long periods of time. It can also be part of an inspiring collection of police LEGO toys which are available in the hundreds.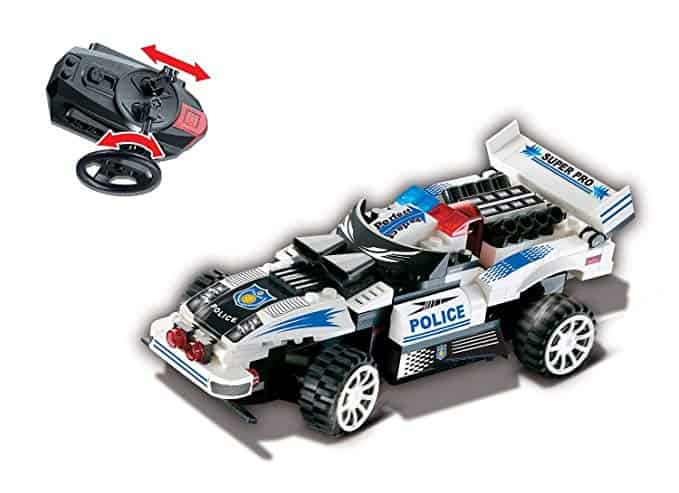 As one of the few police cars which need to be assembled and which are remote controlled, the police vehicle is suitable for curious kids. It comes as one of the major attractions for kids looking to improve the way they are using their toys or who simply want a different approach to out-of-the-box toys.
It takes a bit of time to assemble the vehicle but kids actually enjoy this intuitive process. The good news is that parts of the vehicle are actually compatible with other assembly-style toys on the market so that kids can create their own fun environment.
With headlights that light up, kids can enjoy one of the most impressive designs of its class. It comes to meet the need for assembly fun which is seen in toys with multiple pieces. But the car can also be put on display as it has an unmatched racing-style design.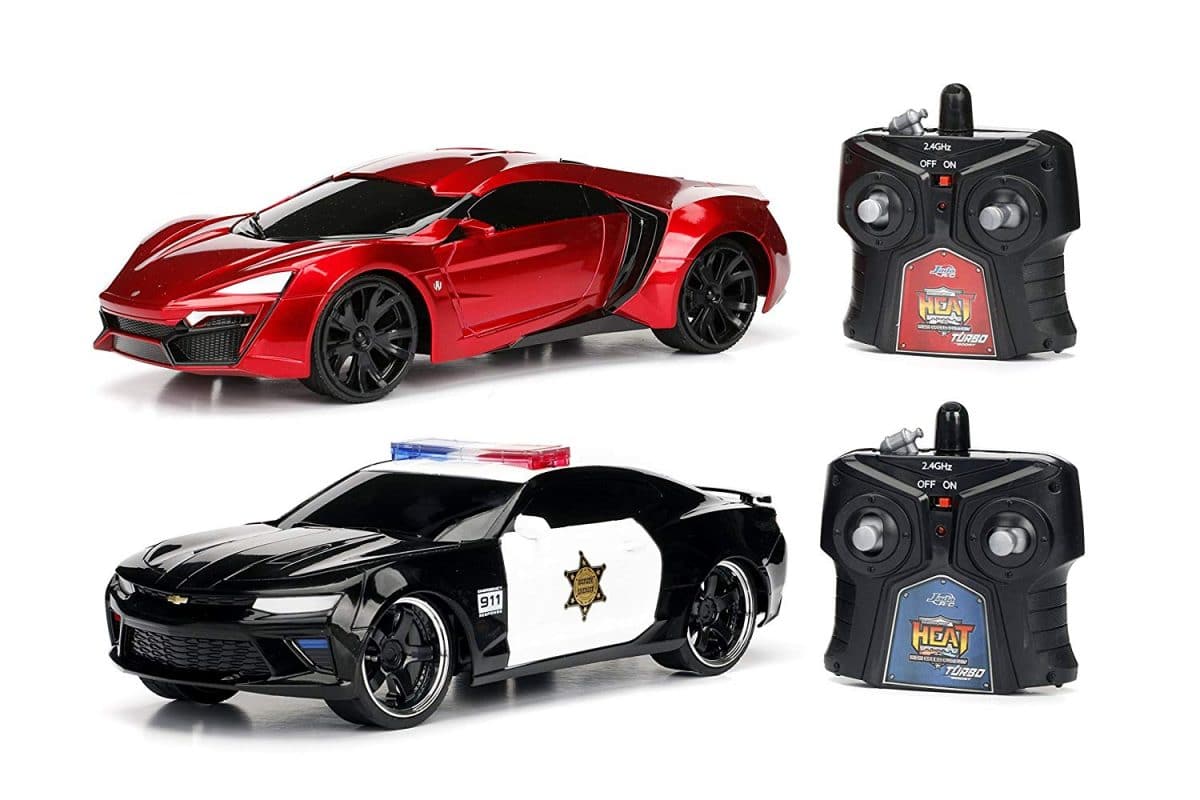 The supercar police set is suitable for kids in love with icon designs such as that of the Camaro. Many kids find these cars more than interesting to look at and having the ability to play with them can be an exciting event.
Based on remote controls, they can be driven around the house at high speeds. But kids will also love the cars for reasons adults might not spot at a first glance. One of these reasons is the enhanced range of remote control. The cars can be operated even at distances of up to 100 feet, which is considerably more than the average remote control police car can offer.
Based on actual car replicas, cars are among the best options for older kids who want a more realistic experience. Fans of racing videogames will relate to these cars even more. The set could be a good gift for kids who want to race friends as well.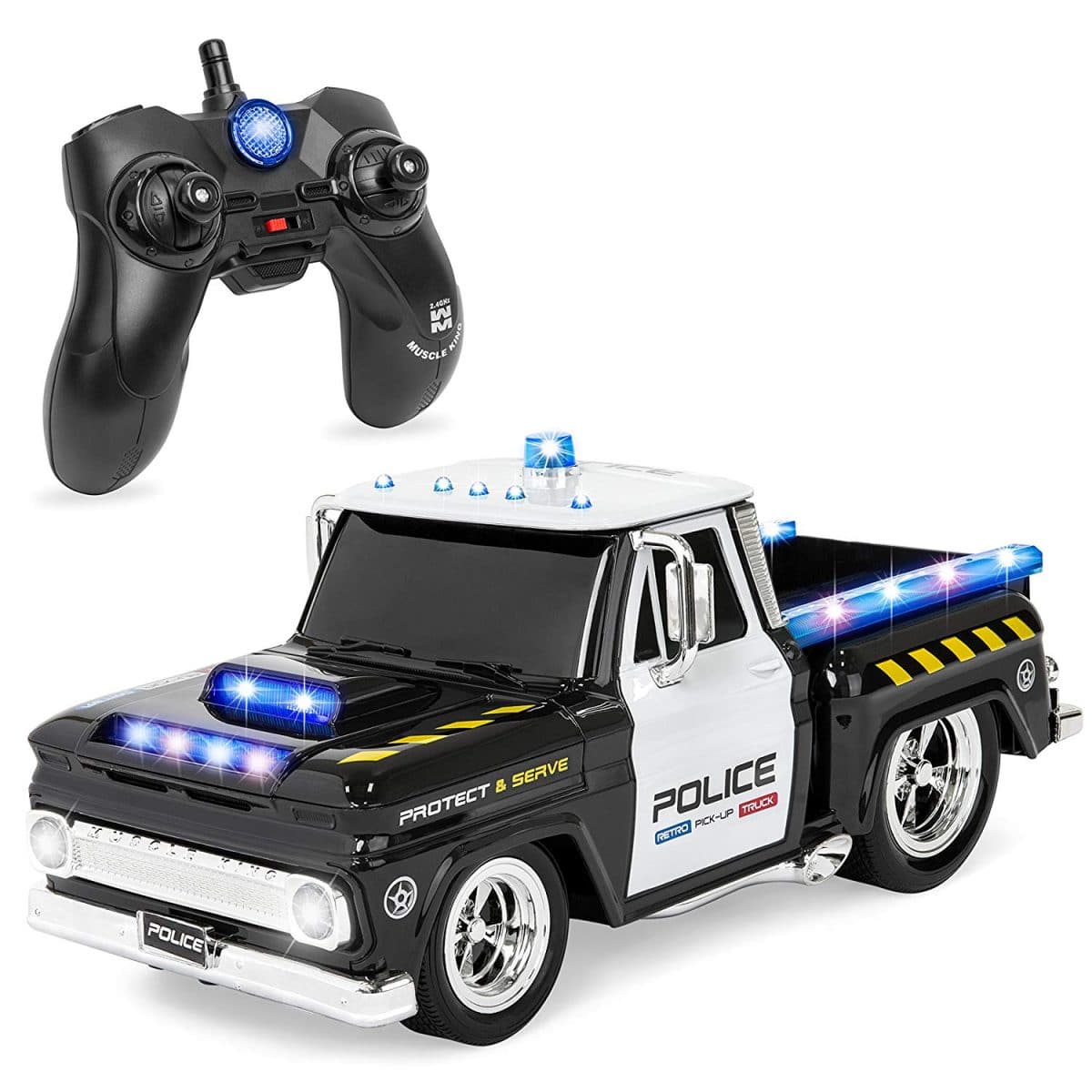 This impressive police care truck is one of the top designs for kids who want a standout vehicle. Made with a unique design, it is certainly an unmatched gift idea as there are not too many pick-up trucks with remote controls in the police toy vehicles segment.
With a robust remote control, the police car can be driver freely around the house. The remote control will not interfere with other remote controls as long as they are connected to a maximum of 6 similar vehicles. It means parents can even purchase their own vehicles and race their kids in fun police games.
With added sounds and bright lights, the remote control police truck is one of the distinct designs of its class. It manages to offer a complex and highly-detailed vehicle with included rechargeable batteries. With a charging time of around 5 hours, the car can be ready to race the first thing in the morning.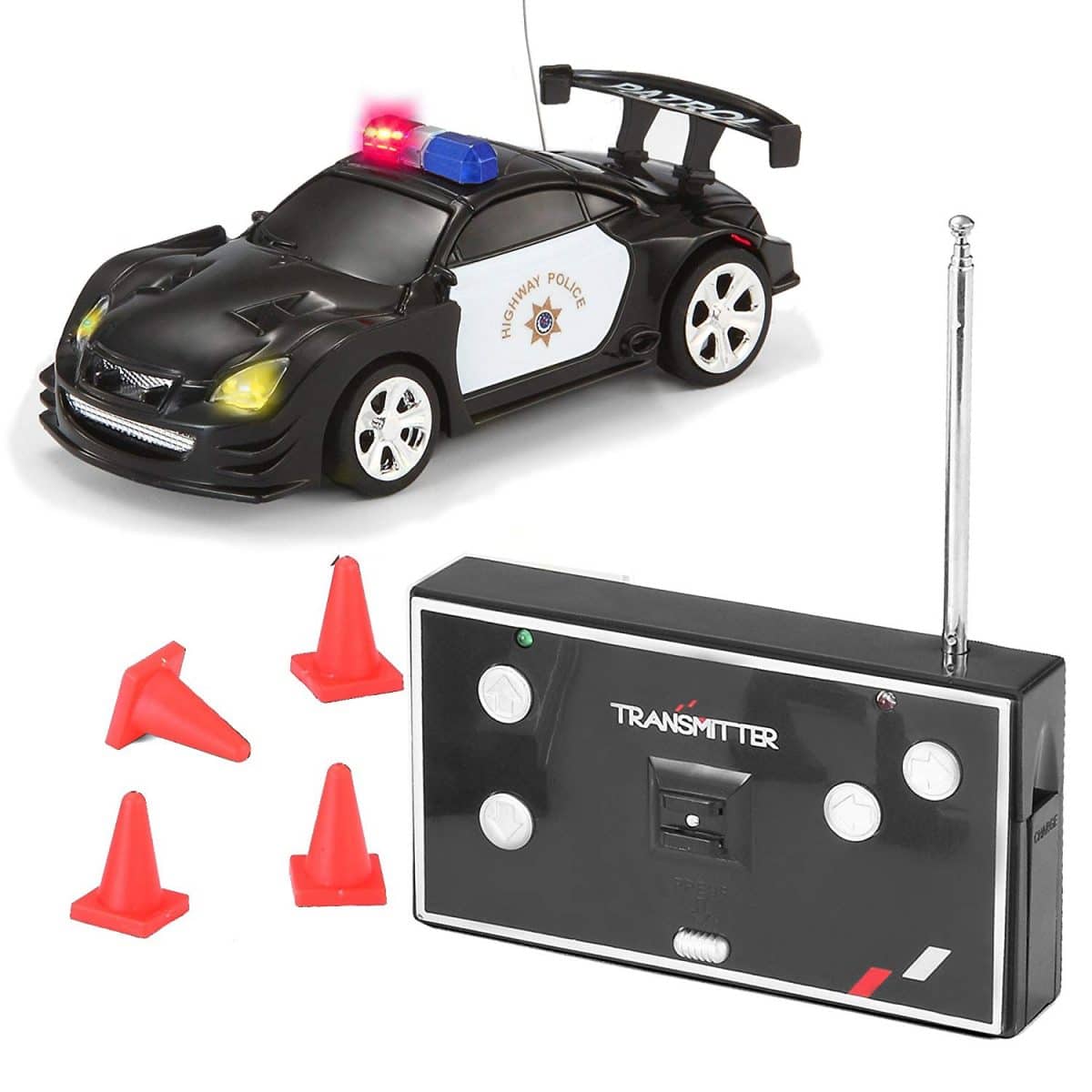 Pocket size remote control cars are rare but they are very underestimated. Their compact size means they can reach higher speeds than most larger remote control cars. The Joyin Min Micro Racing Police Car is one such example. It flies across the floor and offers a distinct feeling that kids love.
With an old school remote control transmitter, the car is actually very easy to control. Across flat surfaces such as tile or hardwood floors, it runs at its highest speed. But its main strength lies in its size. Since it fits pockets, it can be a top holiday toy for kids to bring.
The design of the car is not bad either. It actually resembles touring cars and it might look similar to kids who play racing video games. With a supercar profile, the police cars certainly have the speed for any type of action.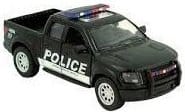 The Ford F-150 police car is mainly made for kids who appreciate true replicas. Adults collect it as well as it comes with a premium feel and a design which has plenty of attention to detail. With fully functioning doors, the truck can be one of the select display toys for collectors as well.
Made with a metal body, the car has a premium feel. It is actually part of a larger series from KiNSMART which uses the same Ford truck but in the fire department or civilian design alternatives. Kids can collect all of them and create their own F-150 premium collection.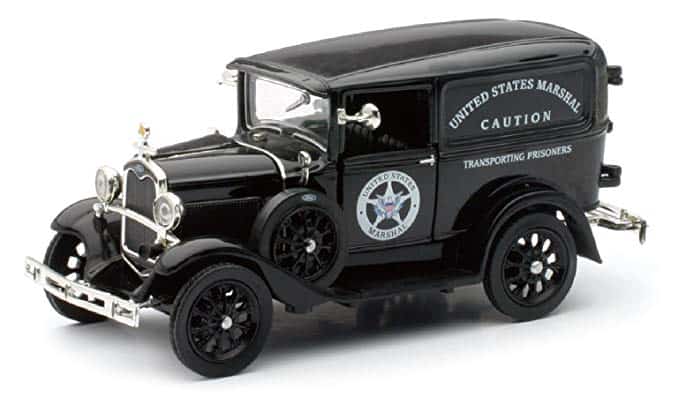 At some point, simply collecting the same generic police cars might lose its appeal to kids. In this situation, a different type of car such as the 1931 US Marshall Van can be great alternatives. With sheriff detailing, this unique model cars is surely a hit with kids who appreciate the true value of a unique toy.
The van comes with a distinct all black look. In the early days, it has been used for prisoner transport and this is why it comes with no windows in the back. The back door of the van which is fully functional. It is through here that prisoners would be placed inside the van.
Most of all, the model van is mostly a display or collector's item. It even comes with a display rack which gives it a special luxurious feel. The great news is that it's actually an affordable design compared to most other collectibles.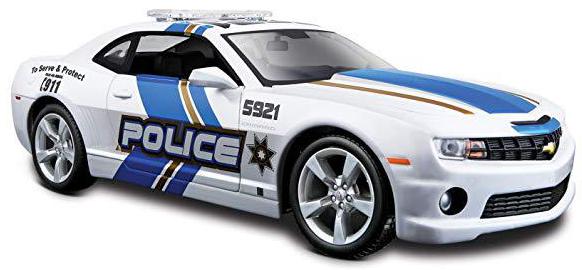 The unique Camaro police car is one of the eyes candy designs kids love. Made as a 1:24 replica, the police car comes with a realistic design. Kids can use it as part of their police squad where they would collect different types of vehicles for different jobs.
While playing with another type of commercial police vehicle can be suited for regular patrol work, the Camaro is suitable for high-speed chases with its muscle car profile and powerful engine. Without actually offering remote control play, the car still manages to attract most kids.
The two doors of the car are fully functional. They can be left closed while playing and even left open when the car is put on display. With an opening hood and trunk, it is actually suitable for display on the desk or on its own shelf.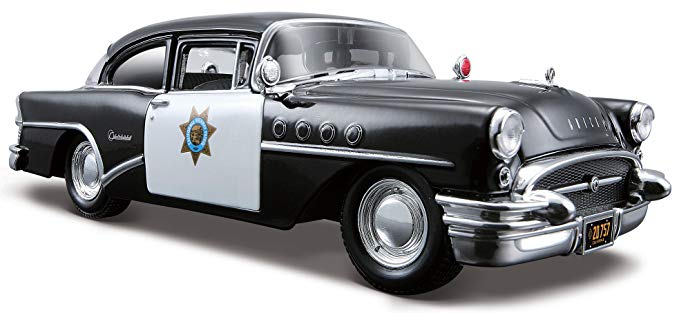 The Buick remains an American icon. It has been one of the most featured cars in movies and cartoons due to its unique design. This is why children will recognize it immediately. Regardless of how many new electric toys car replicas are going to be built, there is something special about the old classic and the Buick might just be one of the top names on the most memorable cars list.
With opening doors and plenty of attention to details, the car is already a top choice for collectors. Its hood pops open as well. Kids can leave it open when they put the car on display. There are plenty of details to make them look at the car for long hours. As a collector's item, the toy police car is also one of the options for adults seeking to get their hands on true classics.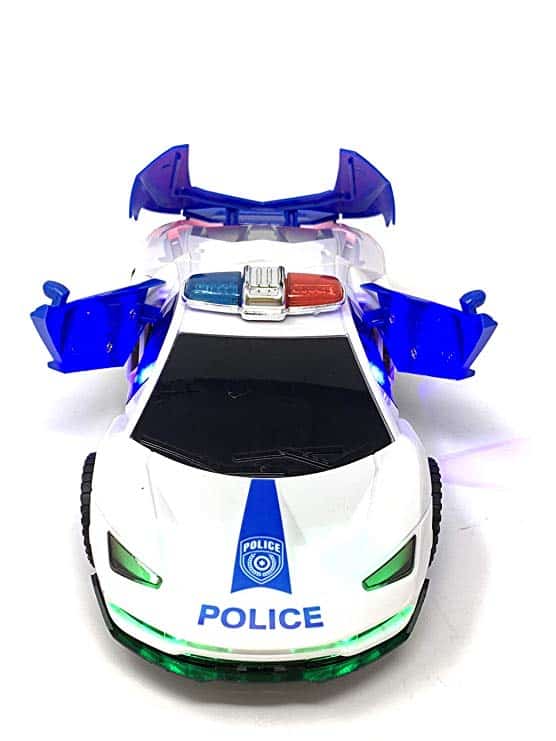 Designed to offer a unique lights show, the car is mainly suitable for kids who might need their attention drawn by more than simple details, such as young kids. This is why the car can be an inspired gift for kids as young as 3.
Featuring opening doors, an opening engine hood and plenty of lights and sirens, the car is a joy to play within dim light. It is mainly considered for its attractive display of lights and the aesthetic contrast as the car comes in white color.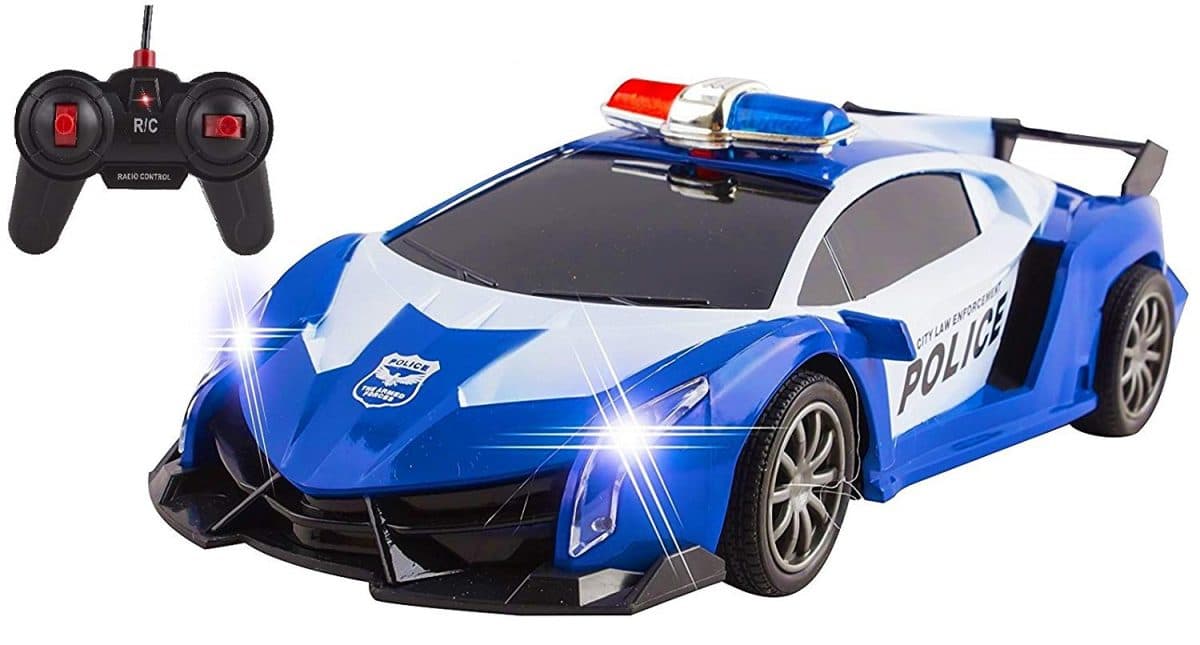 With a sporty design, the police car is mainly suitable for supercar fans. With a modified chassis, it resembles a touring car or the powerful police cars use on highway patrol. It also features remote control operation. With simple controls for acceleration and turning, the car is very easy to maneuver which might see it even handled by younger kids.
Final words
With so many inspiring designs to choose from, the best toy police cars can be found in different categories. From contemporary cars to supercars or even to classic cars, there are many top designs can play with. Some of these cars come with impressive detailing which means they are also suitable for collectors. But most importantly, these toy police cars can bring joy to kids which most other cars cannot.