For sleep-deprived parents, nothing can save the day quite like a good pacifier. Babies who are capable of self-soothing with a pacifier sleep longer and require less attention in the middle of the night. If your baby gets accustomed to being fed or rocked in order to fall asleep, this is what they will come to expect any time they need soothing, regardless of how inconvenient that may be for you. To help you choose the best for your baby, we researched the best pacifiers for 2020.
Features to Consider in Good Pacifiers
Don't Get Too Attached
When it comes to pacifiers, the parent doesn't have the final say: the baby does. Before you can stock up on your pacifier of choice, your baby has to accept it. This is also called "taking" the pacifier. No matter how good the reviews are, it's possible that your baby will just refuse to use a certain type of pacifier. Thankfully, pacifiers are fairly inexpensive, so most parents have no problem buying a few different kinds to let their baby choose from. Still, the market is so crowded that we've put this list of the best options together so that you can narrow down your choices as much as possible.
Choosing the Best Pacifier
There are lots of reasons to choose a pacifier. Not only is it important to find one that your baby likes, but there are also lots of options to choose from. Here are the most important factors you should consider before deciding on which pacifier to buy for your baby.
Age Range: Pacifiers usually come in three sizes. It's important to make sure your baby is using a pacifier that fits their mouth, or you risk creating a safety hazard. Generally, small pacifiers are for infants younger than 6 months, medium pacifiers are for babies between 6 and 18 months, and large pacifiers are for babies and toddlers older than that.
Materials: While all pacifiers are made out of some kind of rubber, most parents are surprised to see how many options there are when choosing a pacifier. Since 1999, all pacifiers must adhere to very high safety standards, but many companies choose to go above and beyond.
Oral Development: Because the first few years of a baby's life are so important for their skeletal development, it is important to find a pacifier that promotes jaw health and proper tooth development.
Features/Accessories: We believe that every pacifier in our top 10 is high-quality, so you should make your decision based on which one offers the features and accessories that best meet you and your baby's needs. For instance, if your baby has sensitive skin around the mouth, you'll want to make sure to look for a pacifier with good ventilation.
Daytime/Nighttime: The main feature of a nighttime pacifier is that it glows in the dark. While this may seem like a gimmick at first, it can be a huge help when you are looking for a dropped pacifier in the dark and can be the difference between your baby fully waking up or not.
Now that you have an idea of what to look for in pacifiers, let's run down the top 10 pacifiers for your baby in 2020.
Top 10 Best Pacifiers 2020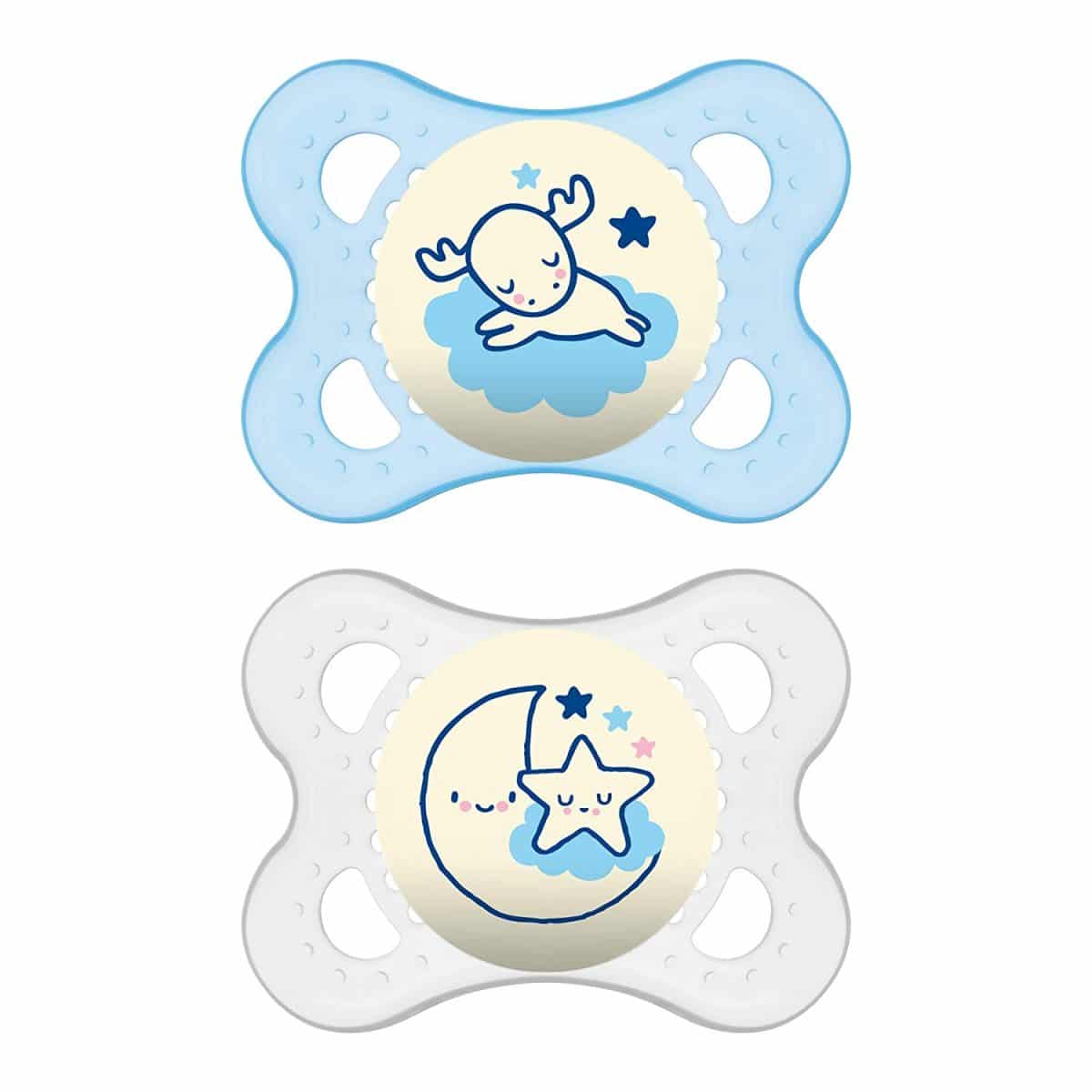 Why we like it:
A two-pack of excellent pacifiers for a great price, and the addition of a glow-in-the-dark nighttime feature makes this our top pick.
Editor's Rating:
Age Range: 6-18 months
Designed with input from doctors, engineers, and mothers, MAM packs a lot of technology into a small pacifier. Known for an innovative nipple design that soothes and promotes your baby's orthodontic development, parents around the world have trusted MAM Pacifiers for over 40 years.
Materials
In addition to the great design, the materials used in MAM pacifiers are equally well thought out. The patented SoftSkin textured silicone is meant to feel as life-like as possible. There is also a patented ventilation system found in the base of MAM pacifiers that helps regulate airflow. This results in reduced gas and colic from using this pacifier.
Design
The two pacifiers feature glow-in-the-dark images of a moon and a sleeping moose. Not only does this look great, but it can also be really useful when searching for dropped pacifiers in dark rooms at night.
Features
The MAM Night Pacifiers comes with two pacifiers with an impressive array of features. The nipples are made with SoftSkin silicone and the base is designed to encourage airflow. We also like the symmetrical design of the nipple, meaning these pacifiers fit comfortably in your baby's mouth even when upside down. They even include a sterilizing storage case with your purchase. Unfortunately, the design of the nipple tends to lead to saliva getting stuck inside, making these somewhat difficult to clean.
Performance
With a 94% acceptance rate in independent testing, it's clear that improved design of the MAM pacifier results in more happy babies. In this package, you get two great pacifiers that most babies will love for an affordable price, making the MAM Night Pacifiers or top pick.
Pros
Patented SoftSkin latex

The symmetrical shape is ideal for developing teeth and jaw

Excellent acceptance rate

Glow-in-the-dark pacifiers are great for nighttime

Includes a sterilizing storage case

Excellent value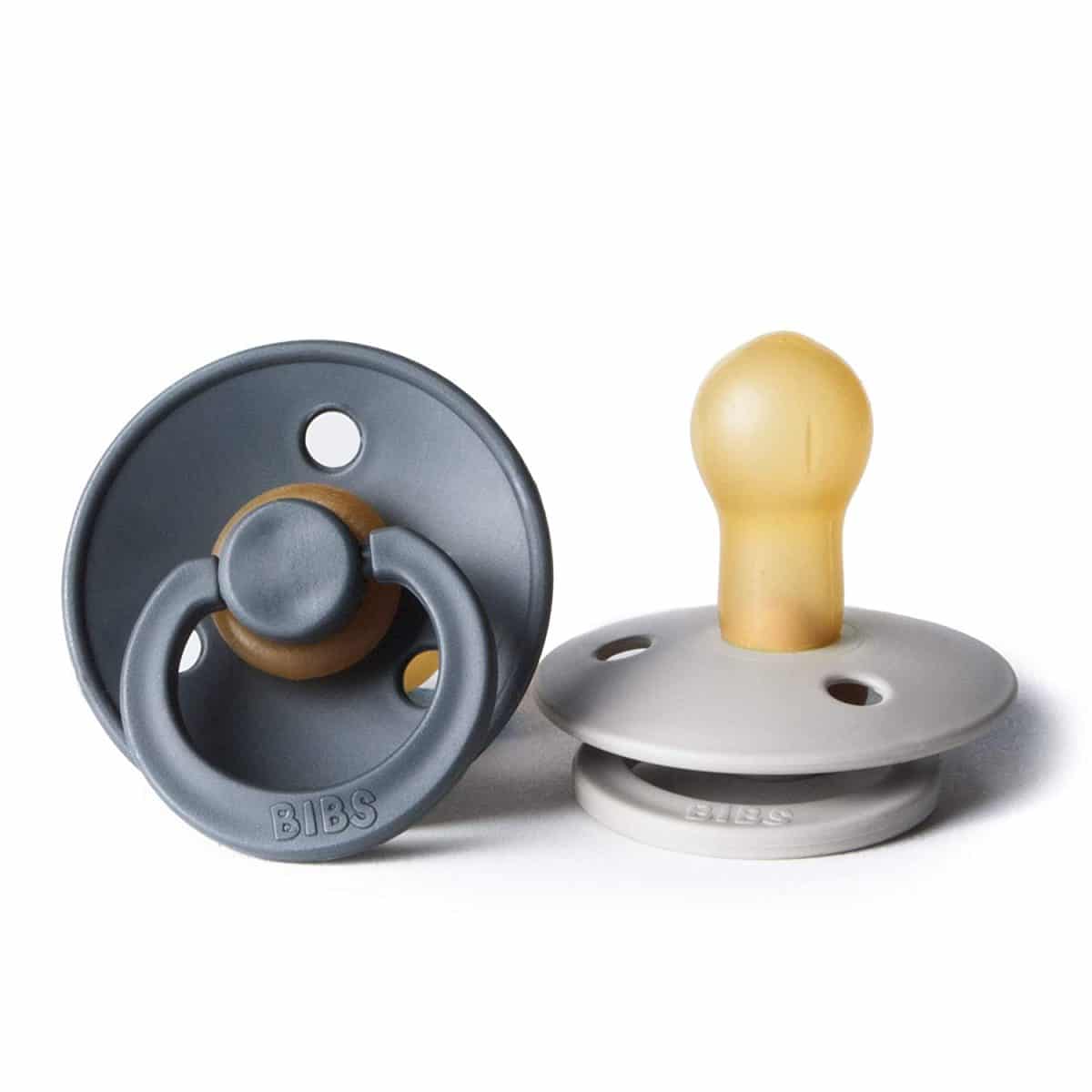 Why we like it:
Dedicated to making pacifiers with only natural latex, the Bibs pacifier is a great premium choice, especially for environmentally conscious parents.
Editor's Rating:
Age Range: 0-6 months, 6-18 months, 18-36 months, various sizes
Designed in a small town in Denmark, the Bibs pacifier is the result of over 40 years of research. Using only the best natural latex for their pacifiers, Bibs has developed a reputation for making quality pacifiers for babies of any age.
Materials
Totally BPA and PVC free, this unique latex material mimics the look and feel of a mother's skin more closely than any other pacifier we reviewed. While babies tend to prefer the natural latex material, it does tend to stretch out over time, reducing the lifespan of the pacifier.
Design
The vintage design of the Bibs Pacifier is is simple and natural. One of the best-looking pacifiers we reviewed, the Bibs combines classic style with modern technology. Though more expensive than most other models of pacifiers, each package of Bibs comes with two pacifiers in different colors. The colors are muted and vintage-inspired to complement handcrafted toys and fabrics like cotton and linen.
Features
The most important feature of the Bibs Pacifier is the natural latex nipple. Softer and more realistic feeling than other pacifiers we reviewed, many infants take to this pacifier much more quickly than several they have tried.
Performance
The Bibs Pacifier looks and feels different than other pacifiers we reviewed. This is because it is made of a soft latex rubber that is 100% natural. The nipple is designed to have a shape and feel that replicates the feeling of nursing as closely as possible. While this is a very effective way to soothe your baby, one drawback compared to synthetic latex is that the nipple tends to stretch and wear out more over time. This pacifier is as excellent as any other, but it's price combined with the fact that it doesn't last quite as long as our top pick prevents it from being the best of the best.
Pros
Made from 100% natural latex

Contains no BPA, PVC, or phthalates

Choice of 5 natural matte colors
Cons
Wears out a bit quicker than most pacifiers

More expensive than most other pacifiers we reviewed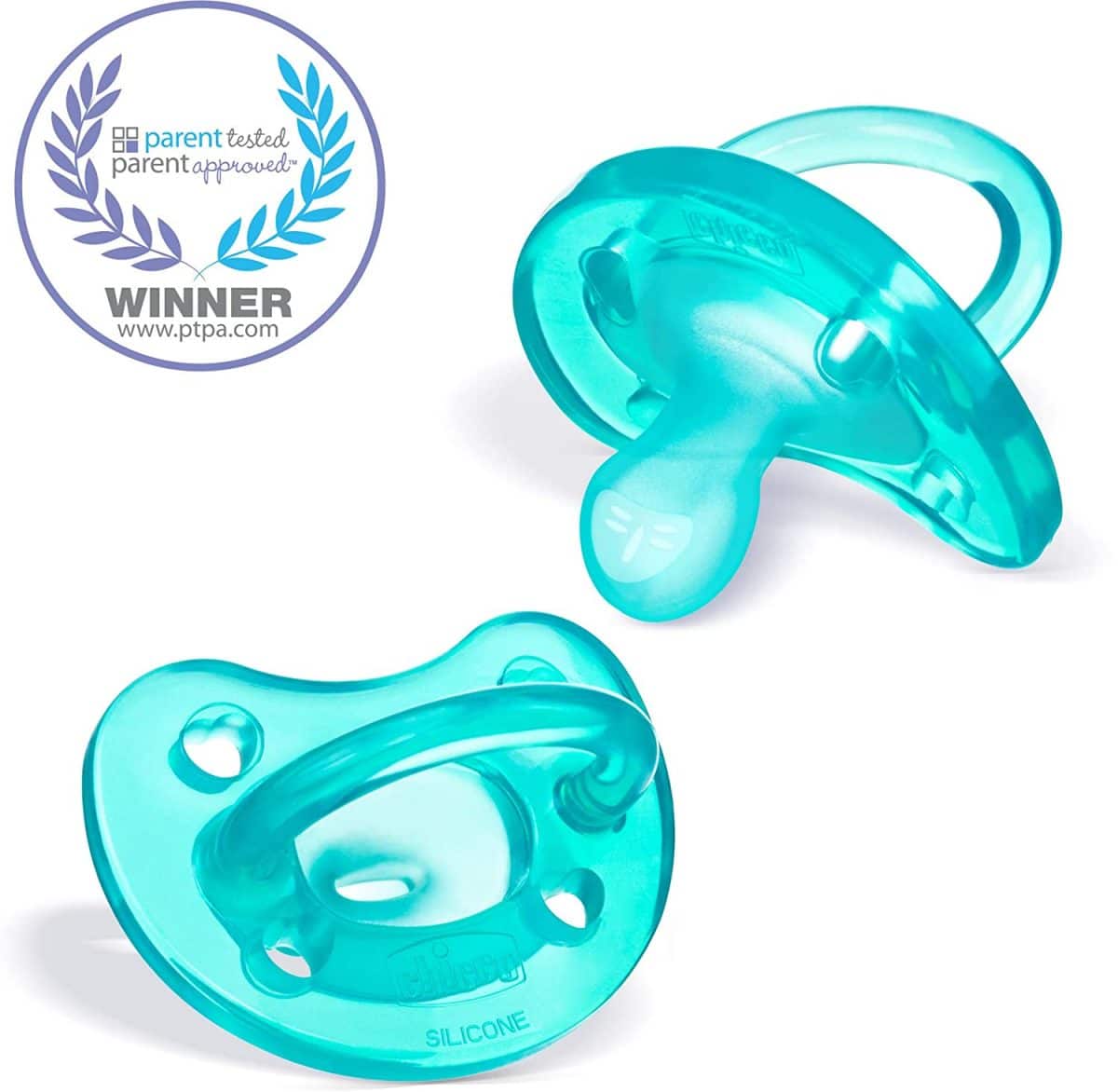 Why we like it:
A high-quality one-piece pacifier. Parents who lose lots of pacifiers won't mind ordering extras thanks to the great price.
Editor's Rating:
Age Range: 0-6 months
The Chicco PhysioForma Pacifier features a simple, one-piece design that is easy to clean and supports your baby's breathing. While the design seems simple at first, a closer look reveals exactly how much thought has been put into the design of this pacifier. Every part of this pacifier has been designed with your baby's comfort and oral development in mind.
Materials
This pacifier is made entirely out of silicone and is certified to be BPA and latex free. It also is approved for use by the American Academy of Pediatrics. Parents we spoke to also appreciated the included reusable carrying case that makes sterilizing the Chicco PhysioForma Pacifier incredibly easy.
Design
Designing the Chicco PhysioForma Pacifier was a collaboration with an advisory panel of leading child development specialists including pediatricians, orthodontists, and neonatologists. The curve of the nipple was designed to evenly distribute the weight of the tongue across the lower jaw and encourage healthy jaw development. The ventilation holes are also well placed and help promote breathing and make cleaning the pacifier easier. Unfortunately, the clear color of this pacifier tends to yellow over time, although this doesn't affect the usability of the product.
Features
The reusable case that comes with the Chicco PhysioForma Pacifier lets you sterilize it for use in just three minutes. The handle is large and easy to hold, even for little fingers. There are three sizes of this pacifier ranging from birth to 16+ months.
Performance
Designed by health experts, the Chicco PhysioForma is a simple pacifier that performs amazingly well. It's easy to clean and has a positive effect on your baby's oral health. Being able to microwave the pacifiers using the included sterilization case is a big time saver and helps keep your baby safe and healthy.
Pros
Designed by leading medical experts for improving breathing and development of your baby's jaw and teeth

Sterilization case makes cleaning easy

Excellent value

Comes in multiple sizes
Cons
The clear material can turn yellow over time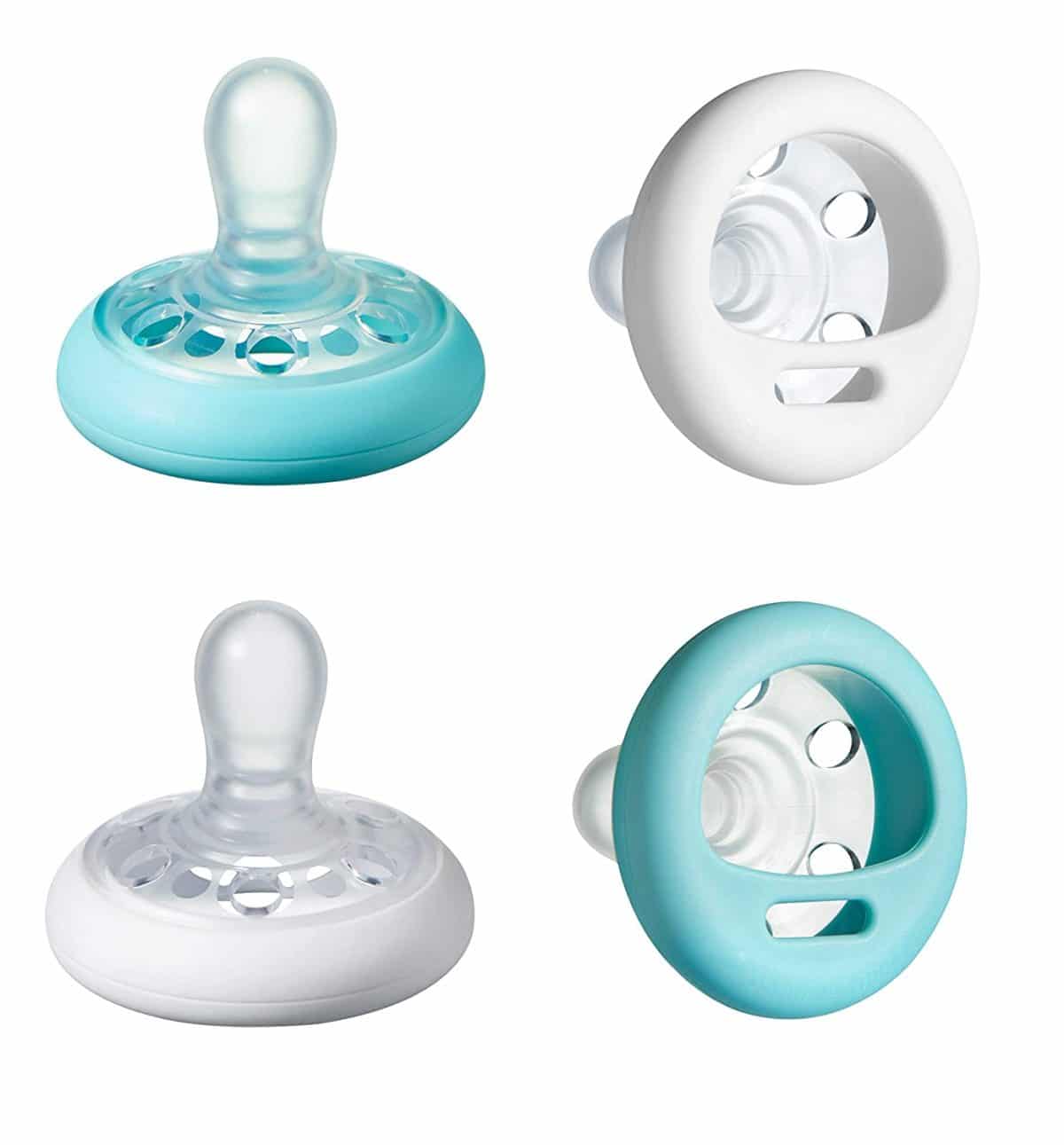 Why we like it:
One of the most unconventionally-designed pacifiers out there, the Tommee Tippee Closer to Nature Soother is the most authentic breastfeeding pacifier we reviewed.
Editor's Rating:
With an interesting curved design that makes sure no hard plastic is pressed against your baby's face, the Tommee Tippee Closer to Nature Soother comes in two different designs for day and night.
Age Range: 0-6 months
Materials
The skinlike BPA-free silicone of the Tommee Tippee Closer to Nature Soother replicates breastfeeding surprisingly well. Not only does this mean this pacifier does a great job of soothing, but it also comes with a large amount of additional developmental benefits.
Design
Unlike any other pacifier, as the name indicates, the Closer to Nature soother is designed to be as natural as possible. With a curved outer ring designed to mimic the shape and movement of a mother's breast, this pacifier provides comfort and promotes healthy oral development. The design also allows for improved ventilation and rash prevention.
Features
Unlike most pacifiers that have a hard plastic base that rests against your baby's skin, the Closer to Nature Soother curves away from your baby's face. The result is better airflow and fewer rashes. The most breast-like of any pacifier we reviewed, this pacifier will not interfere with the development of your baby's eating, drinking or speaking.
Performance
Because of the authentic feeling motion of the Closer to Nature Soother, we heard from lots of parents who told us that their picky babies took to this pacifier right away. We also appreciate how hygienic the design is, not allowing saliva to pool in the areas around the baby's mouth. However, this pacifier is more difficult to clean than other pacifiers we looked at.
Pros
The unique design replicates breastfeeding

Promotes air flow and prevents rashes around the mouth

Promotes the development of healthy teeth and gums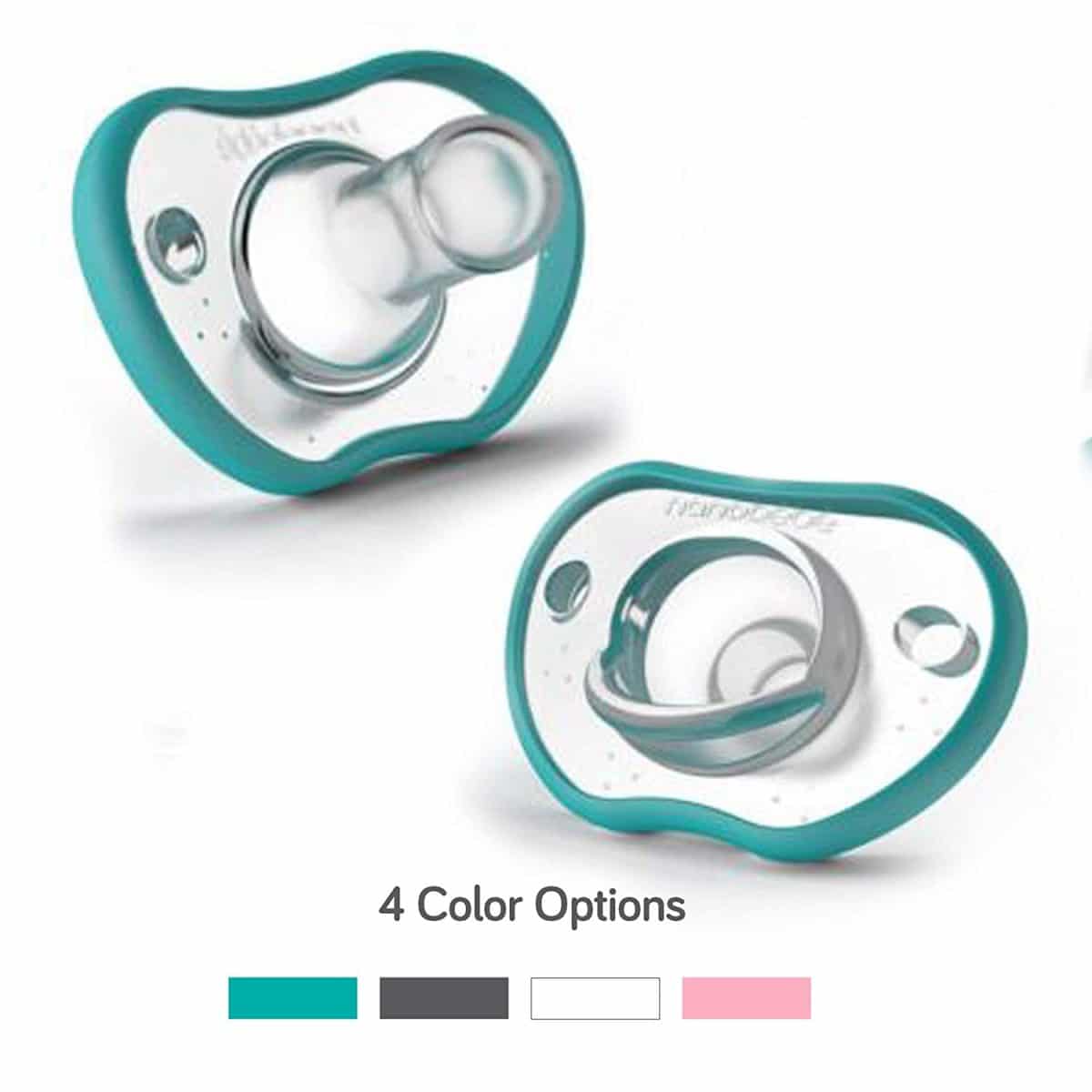 Why we like it:
Designed to avoid nipple confusion, the Nanobebe Pacifier is our favorite pacifier for newborns.
Editor's Rating:
Age Range: 0-3 months, 3-6 months, various sizes
Specifically made for infants who are breastfeeding, the Nanobebe Pacifier has been carefully designed to prevent nipple confusion. This teaches your baby to self soothe without having a negative effect on your feedings.
Materials
Made from soft silicone, this flexible pacifier gently forms to your baby's face while they are using it, protecting their gums and encouraging proper tooth development. The extra-soft silicone nipple is comfortable and BPA free.
Design
The Nanobebe pacifier has an ergonomic shape that helps keep the pacifier comfortably in the baby's mouth. It is also small and light, making it ideal for little hands. The design of this pacifier conforms to all standards set forth by the American Academy Of Pediatrics. Available in four fun colors, this pacifier is made entirely of one piece and does not pose any kind of choking risk. The Nanobebe pacifiers are available in two different sizes, one for infants younger than three months, and a larger size for babies between three and six months old.
Features
The nipple of the Nanobebe Pacifier is designed so that babies can easily tell the difference between their pacifier and their mother's breast. Nipple confusion can result in babies not receiving the nutrition they need.
Performance
The Nanobebe Pacifier is one of the smallest pacifiers we reviewed and can get lost more easily as a result. Because the design is unique and designed to prevent nipple confusion, there is a higher risk of a baby not taking to this pacifier.
Pros
Designed to prevent nipple confusion that can cause issues for breastfeeding babies

Extra-soft silicone nipple

Features a lightweight, ergonomic design.
Cons
Some parents report difficulty getting their babies to take to the Nanobebe Pacifier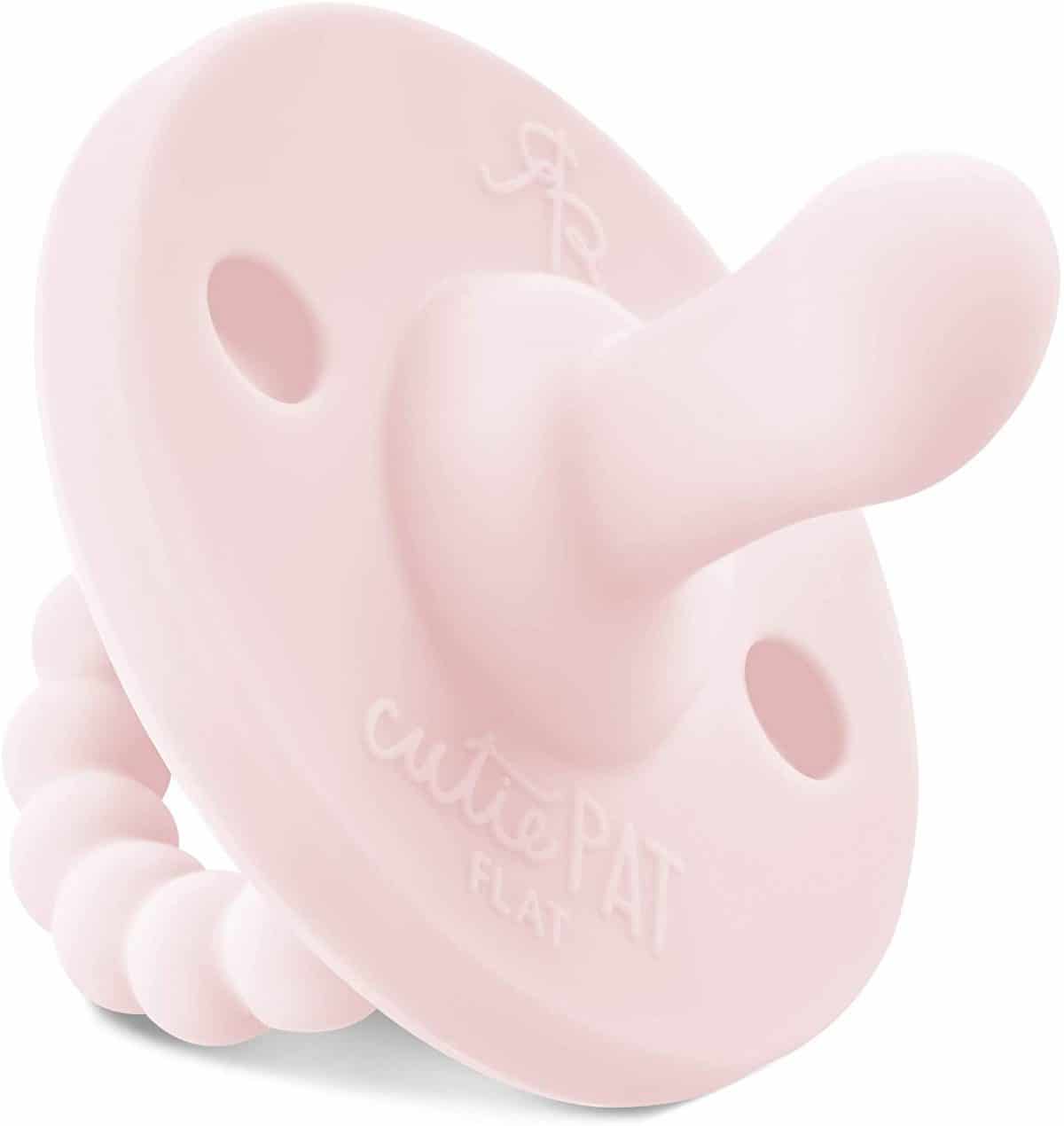 Why we like it:
Our top pick for babies who prefer a flat nipple, the Cutie PAT Flat is easy to clean and also makes a great teething toy.
Editor's Rating:
When learning how to soothe your baby, it's important to try lots of different kinds of pacifiers to see what works best for them. Some babies take to pacifiers with flat nipples. For those babies, we recommend the Cutie PAT flat pacifier and teething toy. Available in 20 different colors, this pacifier can be used by babies with or without teeth.
Age Range: 0-18 months, various sizes
Materials
The Cutie PAT flat is made with medical-grade silicone and approved by the FDA. It is also BPA, PVA, and latex-free. We were also impressed with how easy this pacifier is to clean in the dishwasher.
Design
We love the design of the Cutie PAT Flat pacifier. Every part of this pacifier is safe for babies to put in their mouths. The base is a teething toy and the handle is made of thick, soft silicone. Parents we talked to raved about how easy this pacifier is to clean. The simple one-piece design prevents dust and dirt from sticking between the crevices of the pacifier. The handle is well designed for little hands. Because of the unique shape of the nipple on the Cutie PAT Flat, we recommend that you try this pacifier with any baby who has rejected one or more others.
Features
Suitable for babies at every stage of development, the Cutie PAT Flat pacifier is one of the softest pacifiers we reviewed. This is because it is made of silicone only, while most other pacifiers also use latex.
Performance
Because of the quality of materials used, this pacifier is one of the more expensive options we reviewed. Thanks to the unique design and additional use as a teething toy, we believe this pacifier is well worth the money.
Pros
Medical-grade silicone

Dishwasher safe

Also a teething toy
Cons
More expensive than most pacifiers we reviewed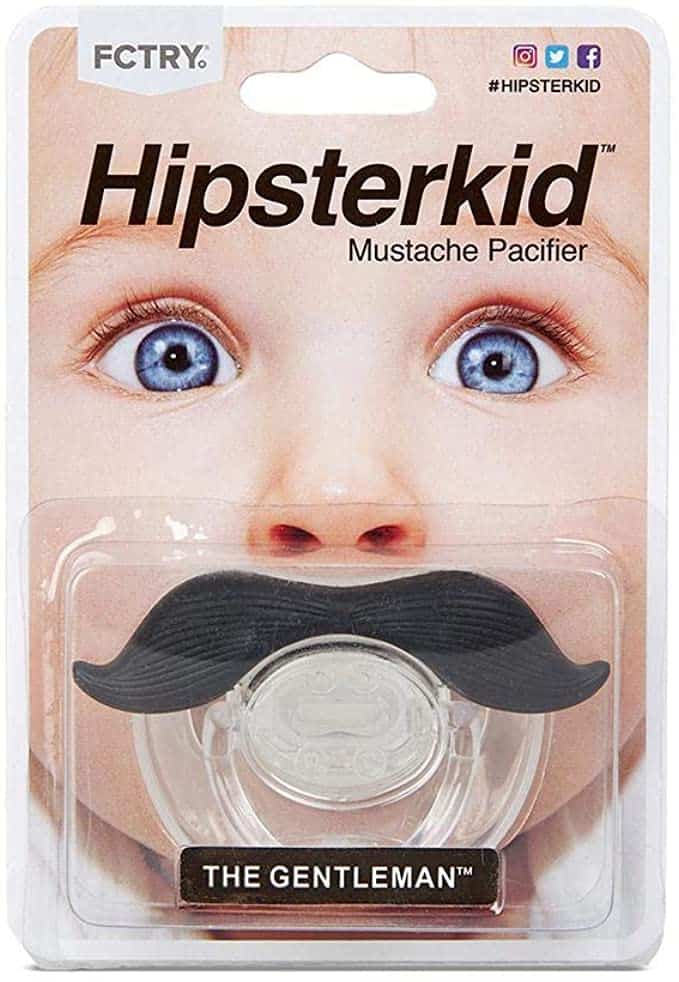 Why we like it:
More than just a gag gift, the Hipsterkid Gentlemen Mustachifier is a great pacifier that supports your baby's oral development.
Editor's Rating:
Age Range: 0-6 months
Definitely the funniest looking pacifier we reviewed, not only is the Hipsterkid Gentlemen Mustachifier hilarious, but it's also a safe and practical pacifier you can feel good about giving your baby.
Materials
It's BPA free and made only with eco-friendly material, you can rest assured that your little one will stay perfectly healthy while using this pacifier. In addition to the quality materials used, the Hipsterkid Mustachifier is designed to have a positive effect on your baby's natural oral development. The mustache itself is made out of TPE, a plastic used in all kinds of teething toys. This means that it can be chewed on with no adverse effects.
Design
Great for a laugh or a hilarious Instagram picture, there are three different designs to choose from. Parents can choose between the Gentleman (in a choice of three colors), the Ladies Man, or Cowboy. You can also order "The Full Monty" and get all three at a discounted price.
Features
The Hipsterkid Gentlemen Mustachifier combines a great pacifier with a high-quality teething toy. It's also guaranteed to get laughs wherever you go.
Performance
Much to the delight of many of the parents that we talked to, the unique shape of the Hipsterkid Gentlemen Mustachifier combined with its effectiveness as a teething toy makes this a favorite pacifier for babies everywhere.
Pros
Hilarious design

Best pacifier for taking funny pictures with your baby

Soft BPA-free Silicone

Also a teething toy
Cons
It's hard to look at anything else when your baby is using this pacifier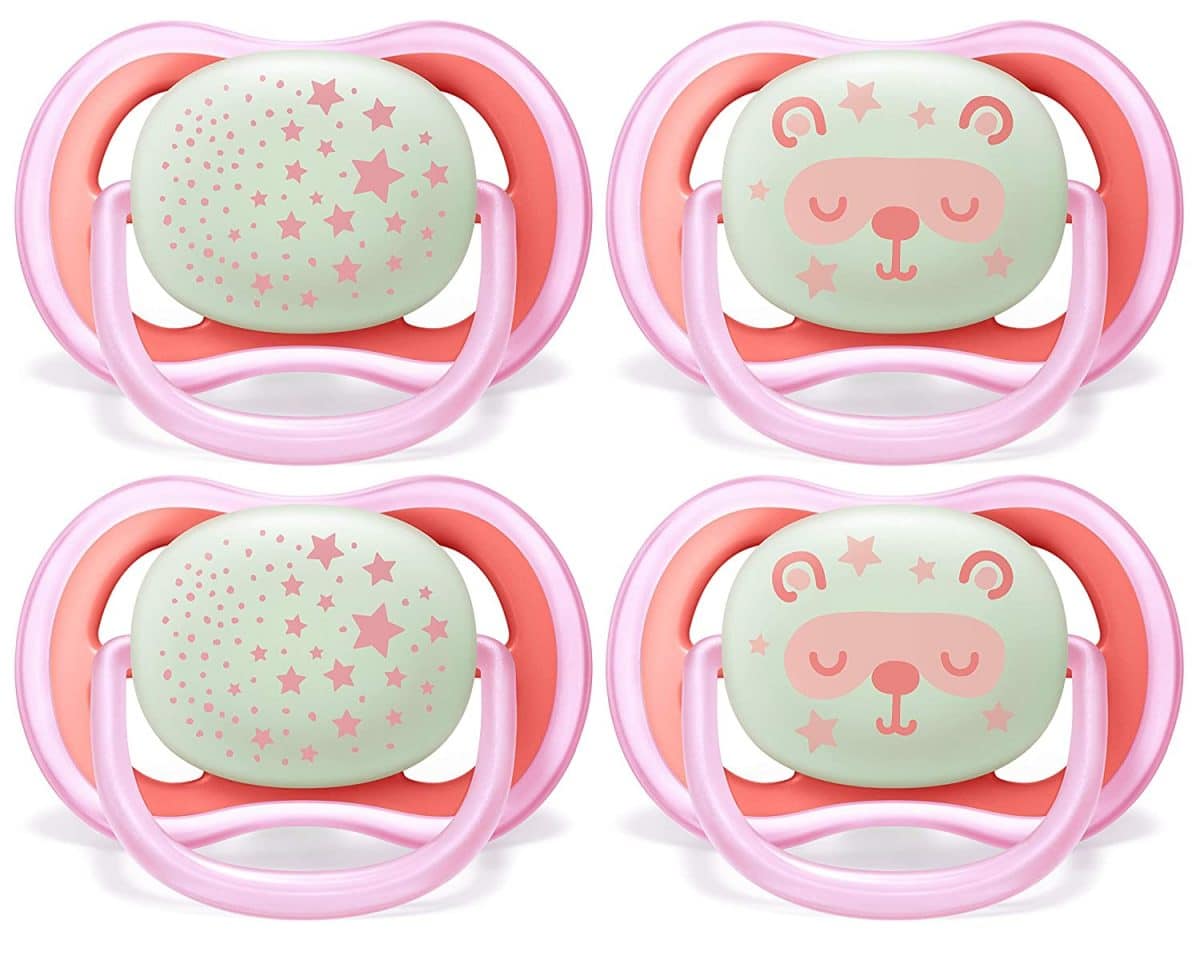 Why we like it:
Pacifiers that glow in the dark can help save crucial seconds when it's dark and your baby is getting cranky. This pacifier has the highest overall acceptance rate of any that we reviewed.
Editor's Rating:
Age Range: 6-18 months
When you purchase a 4-pack of Philips AVENT Ultra Air Nighttime Pacifiers, you'll get two different cute glow-in-the-dark designs that make it easy to find a dropped pacifier, even when it's dark. Ideal for babies with sensitive skin, the pacifier features four large air holes that help your baby's skin breathe and make the pacifier easy to clean.
Materials
The BPA-free Phillips AVENT pacifiers are used in hospitals throughout the world and 98% of babies accept this pacifier immediately. This set also comes with two microwave-safe carrying cases that let you quickly sterilize the pacifiers and carry them with you hygienically.
Design
This pacifier is light and has excellent ventilation around the baby's mouth, which helps keep the skin around the mouth dry and reduces irritation. The textured nipple is designed to encourage your baby to take to this pacifier right away. This set of pacifiers is available in blue or pink.
Features
The glow-in-the-dark backside of this pacifier does more than just look good. It can be a lifesaver in the dark when your baby drops their pacifier and starts to get testy. The precious seconds saved by being able to locate the pacifier quickly at night can keep your baby from fully waking up and keeping them (and you) up all night.
Performance
For babies between 6 and 18 months, the Philips AVENT Ultra Air Nighttime Pacifier is an effective and convenient pacifier. Your baby is very likely to take this pacifier on the first try and it is prone to become one of their favorites quickly. The included carrying cases make sterilization quick and easy. Though not quite as well-designed as our top overall pick its glow-in-the-dark feature works a little better—though it does take quite a lot of direct light to charge.
Pros
4-pack of great pacifiers for one low price

The long-lasting glow-in-the-dark effect makes this pacifier easier to find in the dark

Includes two microwave-safe cases for easy storage and sterilization
Cons
Must be placed under direct light for 2-3 hours for the glow-in-the-dark effect to last as long as possible.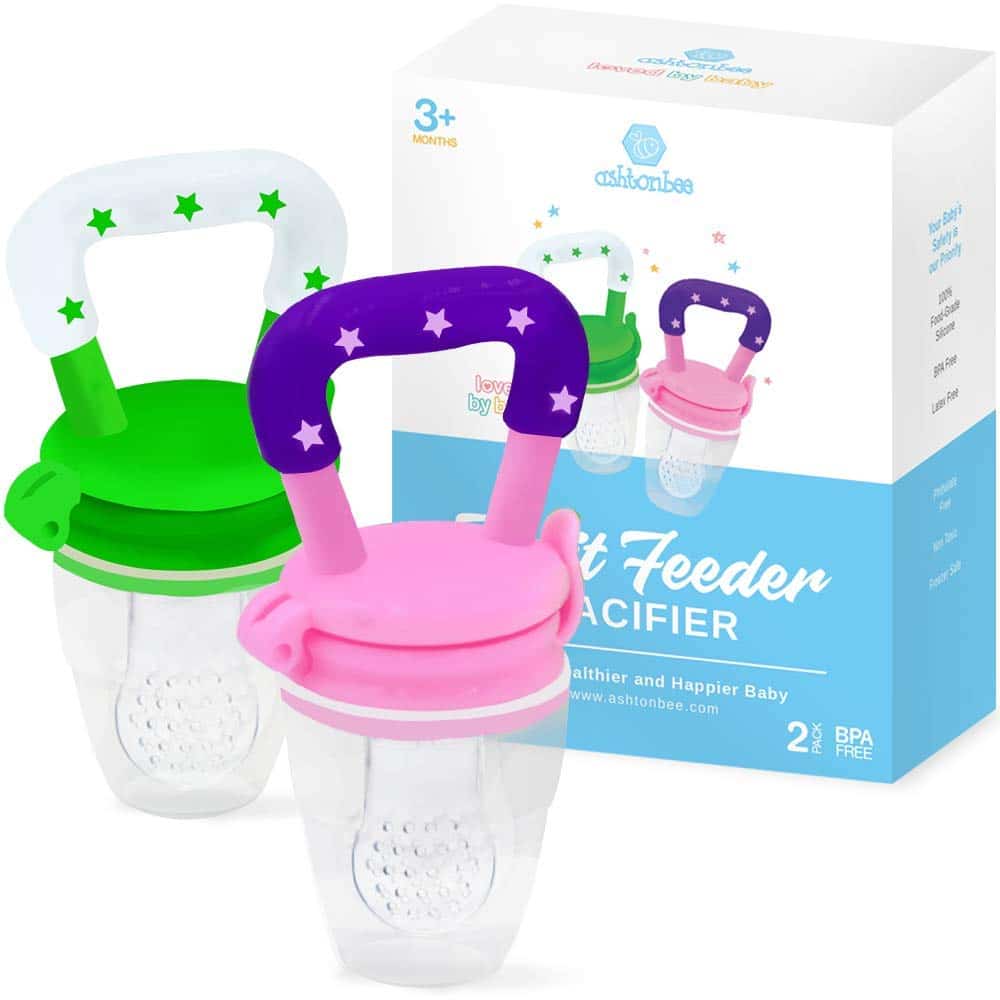 Why we like it:
Our favorite way to give your baby their first taste of solid food. The Baby Fruit Feeder Pacifier will quickly become one of your baby's favorite.
Editor's Rating:
Age Range: 3 months+
A great early introduction to solid food, the Baby Fruit Feeder Pacifier only allows the smallest bits of food to pass through the latex nipple in order to avoid choking. In addition to fruit, the pacifier can hold all kinds of interesting foods for your baby. Parents we talked to have had good results using the Baby Fruit Feeder Pacifier with breast milk, ice chips or even medicine. This pacifier is appropriate to give to toddlers starting around six months.
Strawberries and bananas work particularly well inside this pacifier and provide relief for teething toddlers, especially when cold or frozen. We were impressed by how little mess was made when using this pacifier. We also appreciated that these pacifiers are dishwasher safe for easy cleaning. The soft silicone material is also stain resistant.
Materials
The pacifier is made of soft, dishwasher-safe, food-grade silicone that is certified to be free of BPA, latex, petroleum, lead, and phthlatates. On top of those safety considerations, it's durable and soothing on the gums.
Design
This unique pacifier is designed to release only enough solid food to let the baby taste without creating a choking hazard. We also liked the provided carrying case. This case allows the pacifiers to come straight out of the freezer and right into your diaper bag.
Features
The Baby Fruit Feeder Pacifier features a locking lid that allows parents to load a small amount of any fruit, vegetable or food item they want. This allows parents to introduce their teething toddler to solid foods without presenting a choking risk.
Performance
While they take a little more effort to prepare than the average pacifier, the Baby Fruit Feeder Pacifier gets rave reviews from parents and toddlers alike. We heard from several parents who said that they get an immediate reaction from their baby the second this pacifier comes out.
Pros
Holds small food items to add taste for babies

Dishwasher safe and stain resistant

An ideal introduction to solid food for teething toddlers
Cons
Requires more effort than most other pacifiers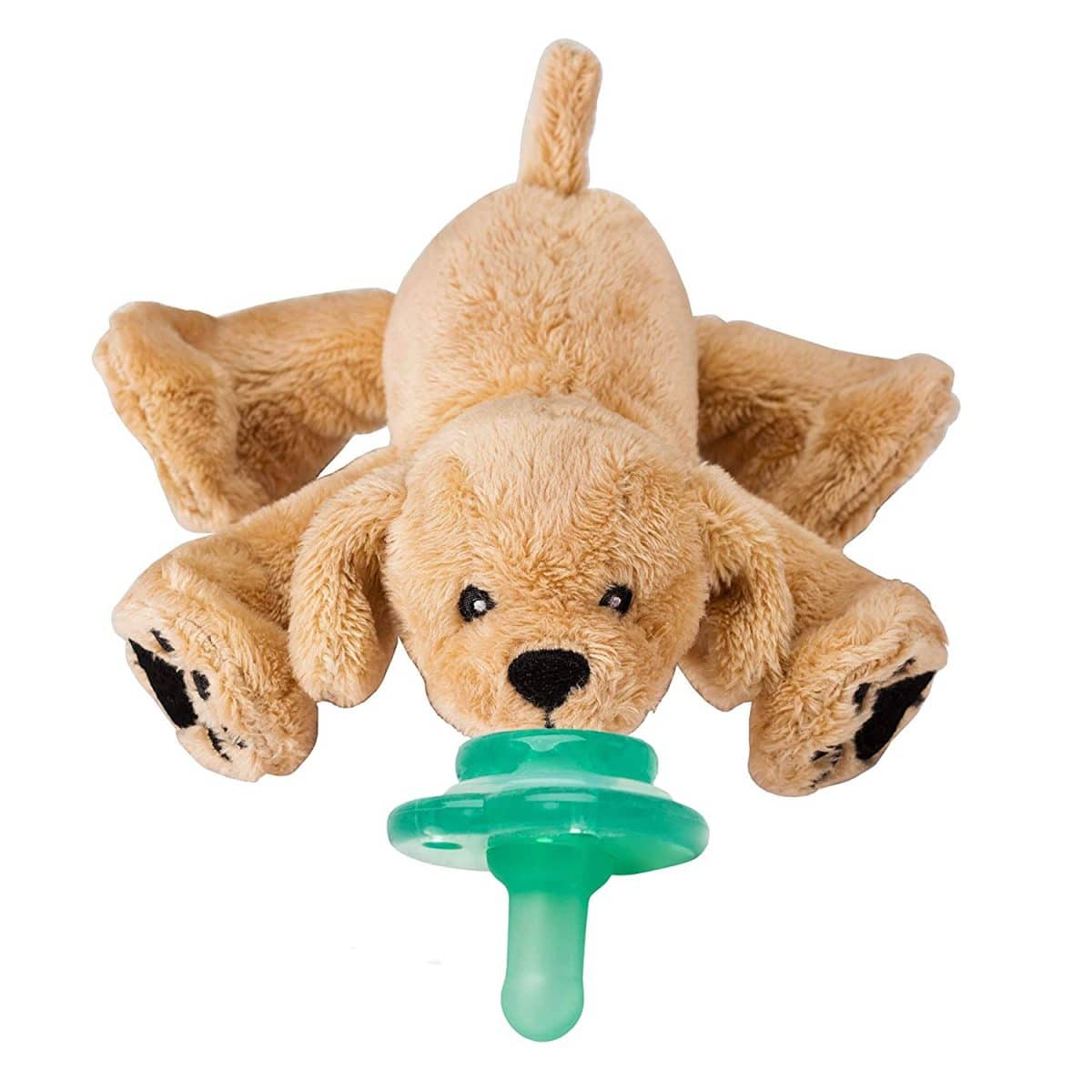 Why we like it:
The plush holder that comes with this pacifier is our favorite part of the package. Attach it to almost any other pacifier and help your baby develop motor skills.
Editor's Rating:
Age Range: Newborn+
For parents who feel like they lose too many pacifiers, the Paci-Plushie Buddies are a lifesaver. By combining a soft stuffed animal and pacifier, this product makes a pacifier easy to use and hard to lose. While the Paci-Plushie Buddies come with a detachable pacifier, you could also use it with your baby's favorite pacifier instead.
Thankfully for parents who want to use a different pacifier with the plush holder, most other pacifiers are able to easily attach using the flexible hug ring. The Nookums pacifier that is included with this set is decent quality, but other pacifiers do a better job of supporting your baby's oral development.
Materials
The included pacifier is made of medical-grade dishwasher-safe silicone that is free of BPA, latex, and phthalates, and the Paci-Plushies case is 100% machine-washable polyester.
Design
Our favorite part of this product is obviously the adorable stuffed animal pacifier holder. Not only does it make it easier to keep track of pacifiers, but it also makes it easier for little hands. We were impressed by the "hug ring" that allows different pacifiers to be swapped out easily.
Features
On top of the cleverly-designed pacifier plush, we also like that the toy can be used with cold teether toys when your baby gets older.
Performance
The Paci-Plushie is our favorite add-on for pacifiers. It helps your baby develop fine motor skills and have better control over their pacifier. This means less dropping it on the floor.
Pros
100% polyester plush pacifier holder is machine washable

Compatible with most other brands of pacifier

Makes it easier for babies to handle their pacifiers by themselves
Cons
Parents will want to replace the included pacifier quickly
Guide to Buying the Best Pacifiers
Types of pacifiers
There are hundreds of choices when shopping for pacifiers, but almost all of them fall into just a few different categories. Here is a brief rundown of the different types of pacifiers for sale today. Many pacifiers on our list fit into multiple categories:
Round-Tip Pacifiers – This is the kind of pacifier most of us used as kids. The circular tip is meant to resemble an actual nipple. These are often recommended for babies who have recently begun breastfeeding. Our top pick, the MAM Night Pacifiers are great round-tip pacifiers.
Orthodontic Pacifiers – These pacifiers are designed with a focus on the oral development of babies. Usually flattened at the bottom and rounded at the top like the Ryan and Rose Cutie PAT Flat, the shape of these pacifiers is intended to reduce the pressure on a baby's jaw and allow for proper jaw and tooth development.
Silicone Pacifiers – One of the two main kinds of rubber used for making pacifiers, pacifiers made with silicone are sturdy, inexpensive and easy to clean. Many silicone-containing pacifiers also include latex, but others, like the breast-shaped Tomee Tipee pacifier, are made purely of silicone.
Latex Pacifiers – Softer than silicone, pacifiers made with latex like the Bibs Natural Rubber Baby Pacifier, are more flexible and feel more natural to most babies. Unfortunately, the softness of the material means that older children can bite through the pacifier and create a choking hazard. Some babies also have latex allergies, and as such wouldn't be able to use latex pacifiers.
Hybrid Pacifiers – Most modern pacifiers fall into this category. By creating blends of silicone and latex, manufacturers are able to create pacifiers that combine the strengths of the two materials
One-piece Pacifiers – Pacifiers that are made from a single piece of molded rubber like the the Chico PhysioForma are some of the simplest pacifiers available. We like these pacifiers because they minimize the risk of choking, are inexpensive, and are easy to clean.
Multi-piece Pacifiers – These pacifiers usually combine a plastic ring, a guard, and a silicone nipple. These pacifiers often have more features than their one-piece counterparts. Most of the pacifiers on our list, including our top overall pick, are multi-piece pacifiers.
The Pacifier Debate
Depending on who you ask, conventional wisdom differs on whether giving your baby a pacifier is a good or a bad thing. Despite this debate, the overwhelming consensus is that when it comes to pacifiers, the benefits far outweigh the negatives. Here are the main benefits of using a pacifier with your baby:
Lower risk of SIDS. Sudden infant death syndrome, also called SIDS, claims about 1,200 babies in the USA every year. While we are not sure what exactly is the cause of these deaths is, doctors believe it is generally a combination of factors in the baby's genetics and their environment. One thing we do know, however, is that the use of a pacifier while sleeping greatly reduces the risk of SIDS. Breastfeeding and being vaccinated also have shown to reduce the rate of SIDS in infants.
Encourages self-soothing. Until your baby learns to calm themselves down when they are tired, they will need to be held every time they need to fall asleep. Needless to say, this can get very old quickly for parents. A pacifier can help them relax and learn to control their emotions. Babies who self-soothe also sleep longer at night.
Satisfy your baby's instinct: Babies have a natural desire to suck. This instinct helps them feed, but it can last longer than the hunger itself. A pacifier can help satisfy this need between mealtimes without having negative effects on your baby's feeding habits.
Precautions for using a pacifier
Skip the binky for the first few weeks. While it can be tempting to start using a pacifier to help soothe your baby right away, moms who plan on breastfeeding should wait a few weeks until a good nursing pattern is established. To introduce the pacifier too early could result in "nipple confusion." This is a situation where the baby starts to prefer the pacifier over the breast and makes feeding difficult. After the first few weeks, adding a pacifier shouldn't cause any breastfeeding problems.
Tooth Development. One of the most common questions from new parents looking at pacifiers is whether or not the pacifier will have a detrimental effect on their little one's teeth, especially as they get older. Parents do not have to worry about this before age 2 at which point they will want to reduce the amount of time spent using a pacifier. In order to prevent long-lasting effects on your child's adult teeth, it's important to stop pacifier use by the time they reach age 4.
Increased Ear Infections. Some studies have shown that kids who use pacifiers are twice as likely to get recurring ear infections as those who don't.
Cleaning Your Baby's Pacifier
Pacifiers should be regularly cleaned in between uses. More than simply running a pacifier under running water, it's important for the pacifier to be disinfected. Here are four ways to disinfect your baby's pacifier so it stays clean and safe. Many pacifiers have particular cleaning instructions, so be sure to read the packaging on your pacifier before trying yourself.
Hot Water and Dish Soap – The simplest method of cleaning your baby's pacifier is also one of the most effective. Many pacifiers can be washed in the top area of the dishwasher.
Microwave – A glass container and water in the microwave is a quick way to sterilize a pacifier. It takes about 2 minutes of time in the microwave to boil the water and sterilize the pacifier.
Vinegar and Water – Submerging a pacifier in a mixture of 50% water and 50% white vinegar is a quick and easy to disinfect. Remember to rinse off the pacifier before giving it back to your baby.
Boiling Water – The best way to sterilize several pacifiers and feeding supplies at once, just bring a large pot of water to a rolling boil on the stove. Use tongs to place the pacifiers in the water and remove them after 5 minutes.
Properly cleaning and sanitized a pacifier is essential, so consider purchasing a pacifier with a sanitizing case like the MAM Night Pacifiers, which will allow you to simply add water and microwave, or a dishwasher-safe pacifier like the Ryan and Rose Cutie PAT Flat.
Pacifier Safety Tips
Never attach your baby's pacifier to their crib, stroller, or anything else with a string that is longer than 6 inches. This creates a strangulation hazard. Do not hang a pacifier around a baby's neck with a ribbon, cord, or string. There are some clips made specifically for pacifiers that are fine for this purpose.
Never make your own modifications to pacifiers or add any additional parts. Sometimes well-meaning parents do this to dress up their baby or for a Halloween costume, but this can lead to an unforeseen choking hazard.
Feel free to let your baby have their pacifier when they are falling asleep, but don't attempt to put it back into their mouth once they are already asleep.
Never use the pacifier as a way to delay a meal. Pacifiers should only be used when your baby is not hungry.
You should never dip the pacifier in honey or sugar. Babies under a year old should not have these foods anyway, but coating a pacifier in sweets can be really bad for your baby's gums.
Pacifiers should be replaced every 1-2 months. Pacifiers should be cleaned regularly with soap and hot water, and dishwasher-safe pacifiers can be cleaned even more easily.
Baby Pacifier FAQ
Q: Are pacifiers good for my baby?
A: Especially for babies between 6 and 24 months, there are very few downsides to using a pacifier. Children older than two years should be gradually weaned off the pacifier.
Q: How long do pacifiers last?
A: With normal use, pacifiers should be replaced every 1-2 months. They should also be replaced when showing any visual signs of wear and tear.
Q: Can my baby sleep with a pacifier?
A: Yes, it is perfectly safe to give a baby a pacifier when they are falling asleep. Do not try and place it in their mouth after they have already fallen asleep.
Q: When can my baby start using a pacifier?
 A: While it is safe for newborns to use a pacifier right away, we recommend avoiding use for the first 4-6 weeks while learning to feed. This is especially important for babies who are breastfed.
Weaning Your Baby off the Pacifier
A pacifier is a temporary solution. For the first few years of their life, there are very few downsides to allowing your baby to self soothe with a pacifier whenever they want. As they turn two, however, the downsides begin to accumulate and it's time for your little one to start learning how to calm themselves down in other ways.
While it's not necessary to stop pacifier use immediately, this is the time to begin practicing moderation. You shouldn't feel guilty for using the pacifier to take breaks throughout the day or when you need to sleep. After two years of age, pacifiers can also be useful for helping babies who are feeding too aggressively. The key is to use it sparingly and be sure that you have totally weaned your baby off of their pacifier by the time they turn four.
As long as you choose a pacifier that meets you and your child's needs, the benefits will far outweigh the negatives and the pacifier will be a joy for both you and your child throughout these precious years.