Top 30 Best Teething Toys for Babies 2023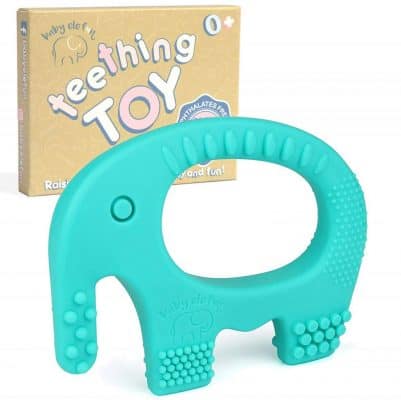 The Baby Elefun Teething Toy is the perfect gift for any occasion whether it's a baby shower, your baby's birthday, or that first sign of a new tooth coming in. It's also 100% dishwasher safe and easy to clean if you don't have the luxury of a dishwasher. These teethers are perfect for your baby while they're uncomfortable gaining that new tooth. This special elephant is easy for your baby to hold onto and they'll love chewing away on this metal-free silicone design. It's recommended for infants 4 to 6-months and is a great way for your child to strengthen their muscles and gums. What's great about this tiny elephant is it can also be refrigerated making something nice and cold a little more comfortable for your baby to enjoy. Being able to hold onto the elephant will also help strengthen your little one's hand-eye coordination and fine-motor skills.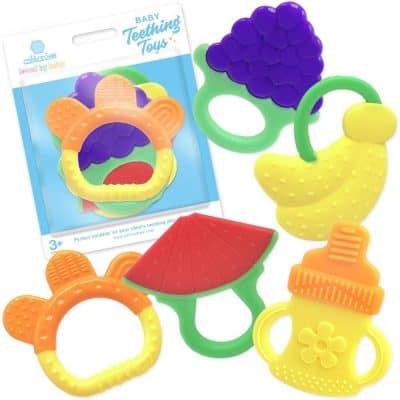 With Ashtonbee's five-pack of baby teething toys, you can always be prepared for the next time your child becomes fussy because of their painful gums. Each of the five teethers is free of BPA, PVC, lead, BPS, and phthalates. Therefore, your child won't come into contact with any harmful chemicals while they're chewing. Your little one can easily grasp each teether as they're designed with a handle. Furthermore, your child will increase their fine motor skills as they grasp the handles. The bright colors of each teether will stimulate your child's sensory development. The silicone material makes it easy to clean if accidentally dropped. The design makes it attractive to the child because it's in the shape of objects they can associate with that bring pleasure or relief.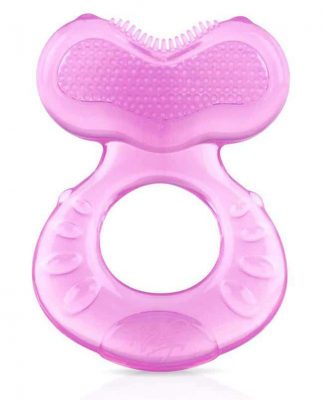 Along with the teether, you'll receive a hygienic carrying case that makes transporting it easy. If the teether does get dirty, the silicone material is easy to clean. You can hand wash it or throw it in the dishwasher. The case will also help keep the teether clean. The fish-shaped design makes this teether great for front and back teeth. There are no added parts. Thus you won't have to worry about anything breaking off. The material is soft and BPA-free, making it safe for your child's mouth. Designed for babies three months and up, this teether can easily fit in and be grasped by tiny hands. When purchasing, you can choose between a blue or pink teether.
The Bright Starts Grab and Spin Rattle is perfect for traveling, taking on your shopping adventures or for those long drives. They'll keep your little one entertained for hours. The design of the rattle is designed to help keep your baby calm and to soothe their gums during the difficult time of teething. It's also perfect for your little one to hold on to easily. The little rattling that the teething toy comes with also introduces new sounds to help occupy your little one and keep them calm as well. It's the perfect toy for any teething infant. The materials used are 100% safe for your child to teeth onto. It's designed for your child to easily grasp and the pieces that slide make it perfect to reach the tough spots where your child can reach. Your child can work on their hand-eye coordination skills. By grasping and reaching for their favorite object, they'll also strengthen their muscles.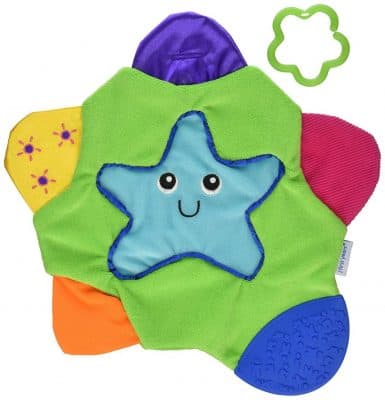 There are soft terry cloth and even a crinkly satin. The soft and chewy textures provide babies with a variety of experiences. Additionally, a squeaker is built-in into one of the star's points. Each point comes in a different color and comes with a teething blanket loop for easier transport. Nothing comes more naturally for a child than to chew on his or her blanket or pillow. It's convenient because there's no worry about slippage or it falling. Baby can crawl around with it, sit with it, lay with it, all within reach of hands and mouth. This is a different type of teething toy that's nevertheless, effective in soothing more gums. It's also beneficial in developing babies' visual, tactile, and auditory skills while at the same time encouraging mastery of gross motor skills.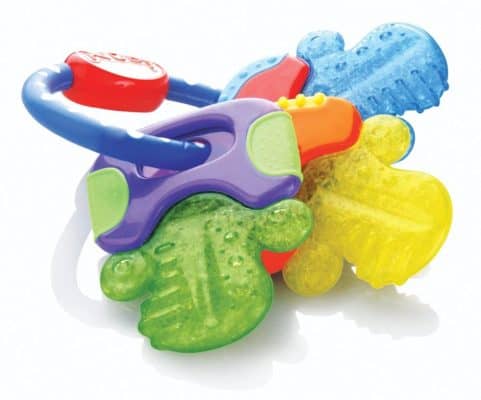 For added relief to your child's mouth, place the teether into the refrigerate and allow it to cool. The teether is available in a variety of colors. It's lightweight and easy to transport, so you can easily take it anywhere you go. The Nuby Ice Gel Teether Keys provide your child relief by offering a variety of textures for them to chew on. Each of the three keys on the teether ring is BPA-free and will assist in the eruption of the front, middle, and back teeth. The toy also has all the hallmarks of a great education and socialization toy, along with its practicality. The keyring not only keeps all the teether in one place and graspable, the fact that they're aligned on a ring aids in developing functions in counting, causal relationship, and the subtle manipulation of objects through the selection of one teething key over another. Moreover, the varying colors of the keys provide visual stimulation, adding to the soothing quality of relief from sore gums.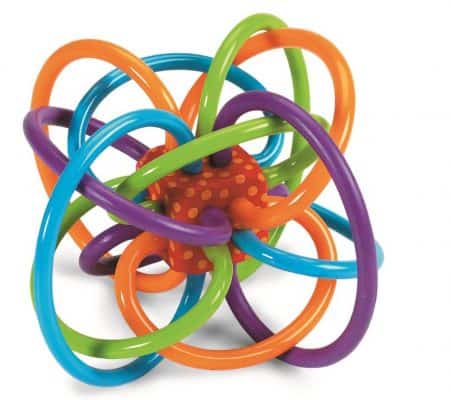 The teether features a similar structure to that of an atom, making it have an intricate design that's also colorful to give your baby a complete range of pleasing aesthetics. The endless loop rings and facets will keep the baby constantly engaged in trying to find the endpoint. The quiet rattler has a subdued effect that's just enough as a teaching tool in understanding cause and effect. The loops are soft and pliable. Meanwhile, the entire design is meant to be lightweight and ideal for little hands to hold and maneuver. The toy is BPA-free giving parents a reason to rest well. To ensure the toy does indeed engulf the baby in stimulation, within the cube's center are small rattling beads that offer auditory stimulation.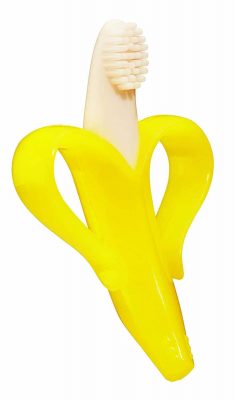 The two-in-one design of the Baby Banana Infant Training Toothbrush and Teether is great for those babies that are creating and using those new teeth every day. It has been constructed from baby safe and BPA-free food-grade silicone. It's best suited for babies to toddlers 12-months of age. The peels of the banana make it easy to grip. The teether is excellent for early teethers, as well as later teethers, who'll enjoy mimicking the brushing motions. Parents love how it goes right in the dishwasher afterward, though it can just as easily be washed and dried, or sanitized with a steam sterilizer.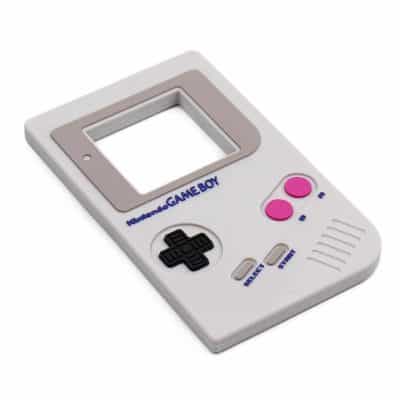 The Bumkins Nintendo Silicone Teether is one-of-a-kind, and not just for its looks. The different hardness levels and textures provide different levels of pain relief, and that's very important since teething occurs over many months. Besides soothing their gums, these textures are amusing, sensory-awakening experiences for your baby. Other functional elements include the ability to freeze for extra relief, and clean with either soap and water, or by placing on the top rack of the dishwasher. The product is free of BPA, phthalate, PVC, and vinyl, and made from 100% food-grade silicon. The teether works as a fun baby toy even once the teething relief is no longer needed. Older babies can bend it and press the buttons that are so helpful in developing their motor-sensory skills.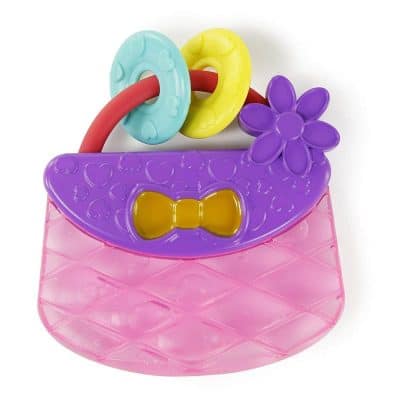 The Bright Starts Pretty in Pink Teethe Purse features a water filling that's great for using at room temperature but can also be frozen to provide a great soothing feeling. The handle of the teething purse is accentuated with two movable and textured beads. Babies love these for chewing and also for working on visual and fine motor skill development. The colorful lights light up as the button on the front is pressed for a little tune. The BPA free teether contains nothing but water for a safe, satisfying chewing experience. The water also makes the toy soft, so this is a great choice for early teethers with extra-sensitive gums.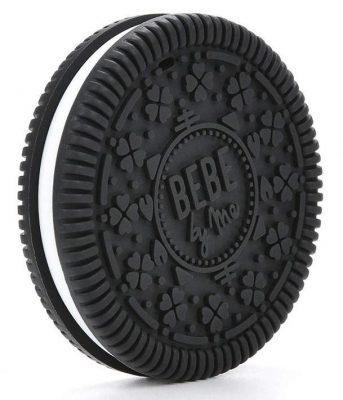 The Oreo shaped cookie teethers come in two's. A soft and hard one so that your baby has two chewing options. It makes senses considering babies need a softer teether when their gums are sore and inflamed, then a harder chew when teeth start poking through. The ridges in the cookie shapes have different soothing effects for relieving those aching gums. Besides their efficacy in relieving pain and discomfort, these teethers are made from a high-end medical-grade silicone used in Japanese labs and hospitals. The material is 100% free from BPA, phthalates, latex, lead and other contaminants you don't want in your baby.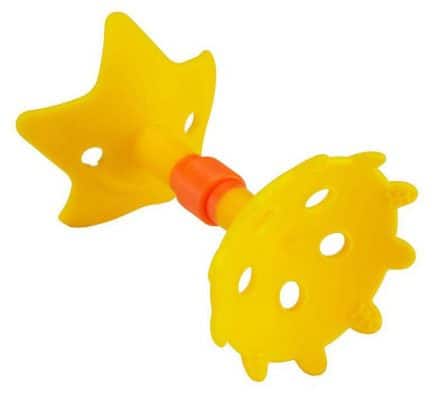 The Innobaby EZ Grip Teether is an easy to grip teething toy for babies. That's good news for parents since they're the ones in charge of picking up and cleaning dropped teethers. Innobaby has several models, but this one provides an especially stimulating chewing experience. Made of TPE (thermoplastic elastomer), the toy is soft yet has exceptional durability. It's ventilated for safety and has won several awards from parenting groups.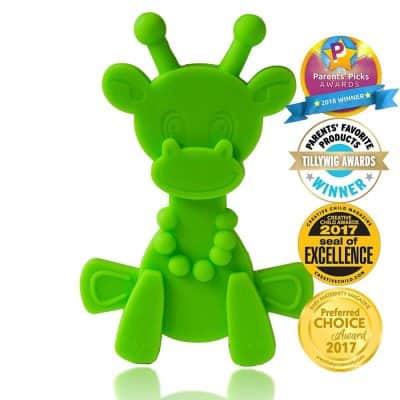 The Little Bambam Giraffe is a teething toy that's cute as it can be and also comes with a lifetime guarantee. Made of soft silicone in jewel-bright colors, the teething toy is molded all in one piece, so there are no crevices for germs to hide. That detail also allows it to be used for double duty as a bath toy. The whimsical design gives baby lots of spots to hang on to and lots of good chewing spots as well. Bambeado products are always free of BPA, PVC, latex, and other contaminants, making the teether toy safe for babies.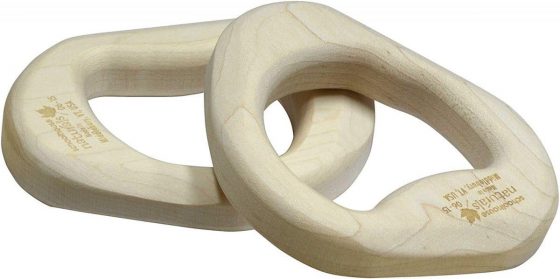 Believe it or not, some authorities believe that natural wood makes the very best teethers. Unfinished wood has antimicrobial properties, so germs don't grow on it. It's naturally non-toxic too. It's firm for achy gums. The set of teething rings from Maple Landmark is sanded paper smooth, and the modified ring design makes them easy to hold and chew on. Wood teethers shouldn't be soaked in water or put in the dishwasher. They should simply be wiped clean. If any treatment is desired, it's okay to rub a bit of food-grade oil on them.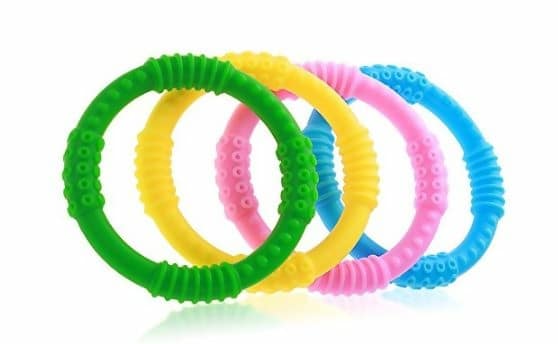 These teething ring for babies are amazing in their simplicity and effectivity. They're 100% safe, non-toxic, and choking-hazard free. The ridged sides provide effective relief for the baby, and the clever design will provide your baby with stimulating fun and help develop the sensory systems, as well as motor skills. It has been developed after extensive research, and the company will provide you with a 60-day money-back satisfaction guarantee. The eBook that comes with the purchase is highly valued. For the low price, you get a lot of fun, education, relief, and development. Moreover, the rings can also be worn on the hand so you never lose them.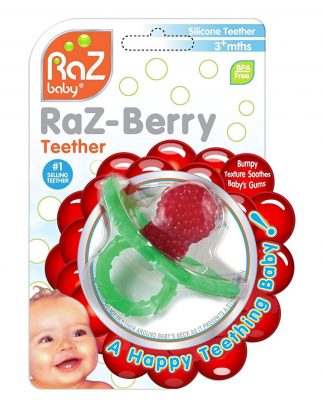 This RaZbaby teether is a cool raspberry teether that's highly safe and non-toxic and provides both a soothing relief with the berry bumps and a hand-free, pacifier-like design. The cool fruit teether design also provides extra stimulation for the child. The silicon material is 100% safe and non-toxic, and the raspberry bumps are going to help soothe the pain while stimulating tongue activity and sensory systems. One problem with this is that the handle may be ripped off, and so supervision is a must. It's also slightly big, and more appropriate for larger babies, although the manufacturer recommends it for 3-month olds.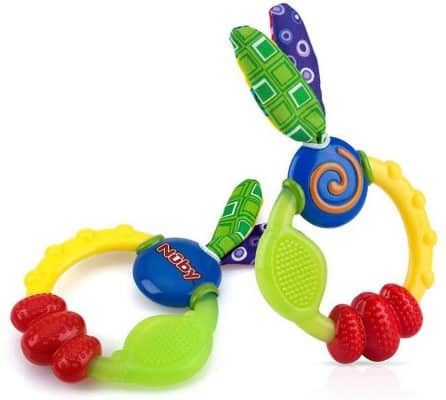 A cool nuby teething ring, this great toy is the best of all worlds. The company has mixed into it parts that have different textures and are intended to work in three stages: soft gel-like silicon for the front teeth, firmer parts for the middle teeth, and firm parts to provide the greatest pressure for the back teeth. And at the top, you'll find bunny ears that make a crunchy sound when you bite into the. Babies will naturally be attracted to this toy, and it'll provide hours of great stimulation and pain relief. The teething toy includes everything your child will want and is a great buy for a great price. All three parts are made with safe, non-toxic materials.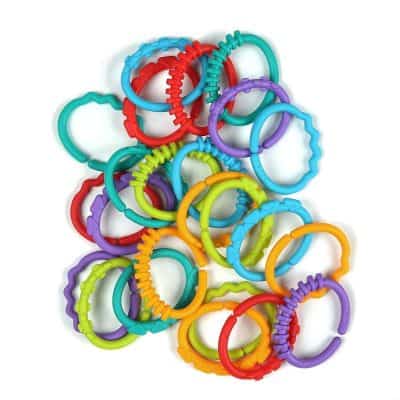 These wonderful Bright Starts teether links are one of the most versatile toys, yet they retain their simplicity. For a ridiculously low price, you can get 24 links that you can use anywhere, are safe, and have stimulating textures and colors. They can also attach to carriers, strollers, and whatnot. Your baby will be thankful to have these great teething rings everywhere. These links are a little on the thin side and can be easily pulled apart. This may be of importance to you if you want them to remain locked.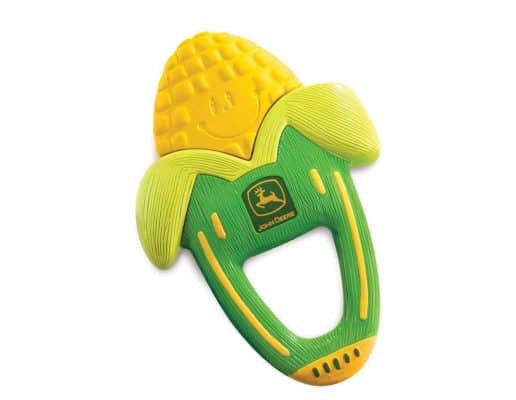 If you're looking for something that'll serve as the perfect, soothing baby teething toy, then nothing can beat a vibrating teether. The corn-shaped toy will provide gentle vibrating that massages the gums. It not only helps with that, but the button that turns it on and off will teach your baby about the concept of cause and effect. You baby chews it, and it vibrates. They stop, and it stops. Teaching this at that age is perfect. However, it may be too big for a baby's mouth, and can also be a bit too strong when it comes to the vibration.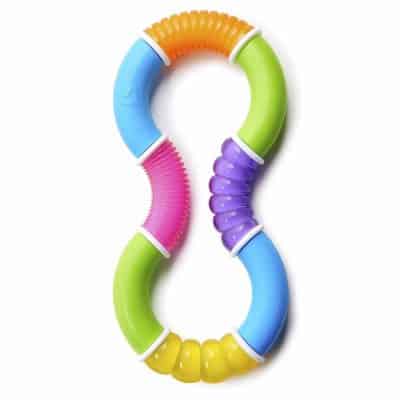 The Munchkin Twisty Figure 8 Teether has a cool design that keeps the baby interested. It's a great chewing material and the shape is perfect for gripping. The twisty looking baby teething toy is going to help develop motor and cognitive skills, as the child spins it around and figures out how to use it to soothe their gums. There are different textures to help satisfy the chewing needs, and besides, shaking it makes a nice rattling sound. However, it's hard to clean as dirt gets in the cracks between the pieces. It's also a bit on the thicker side and may be hard for the baby to put in the mouth.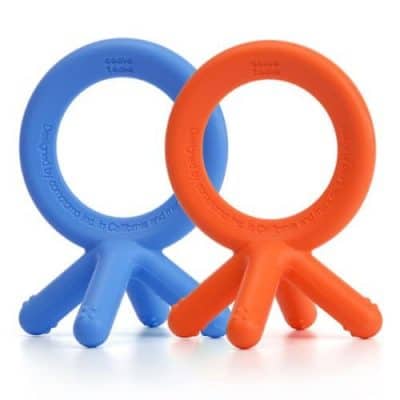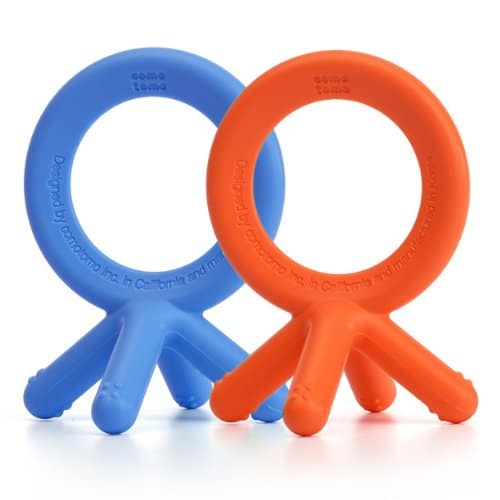 The Comotomo Teether is an inspired piece that has been designed to stimulate what babies' fingers feel like in their mouth. The design also makes it easy for them to grab and hold tightly. There are multiple pieces for them to grasp it and many biting points. It has been constructed from hygienic silicone that's 100% safe for all little ones, plus it contains no BPA, PVC, and Phthalates. The teether is easy to clean, just place in boiling water, the top rack of the dishwasher, or any sterilizer. The teether will bring joy to your little one and some comfort to you knowing they're using something safe and a toy that's designed just for them.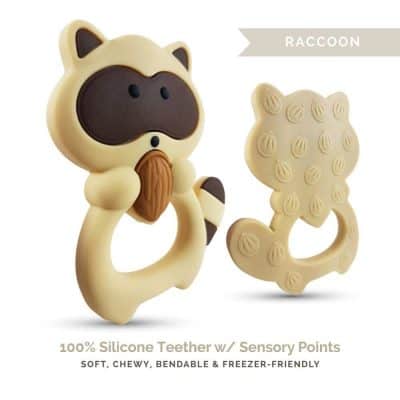 The Tulamama Lil' Teethers has been created from high-quality silicone. The mold of the teether has been created with grips that are located on the back of the teether, making it easy for little hands to grasp and chew. It easily attaches to a pacifier clip. This gives them access to the teether and also keeps it safe from falling on the floor when they're not using it. The teeth can easily be cleaned with warm water and dish soap, thoroughly rinsed and it's ready to go. Teethers are a great way to develop fine motor skills at a young age. The grasping of the teether and placing it to the mouth develops the skill set and sets them up for being able to master other fine motor skills that require grasping objects and placing them in a certain place.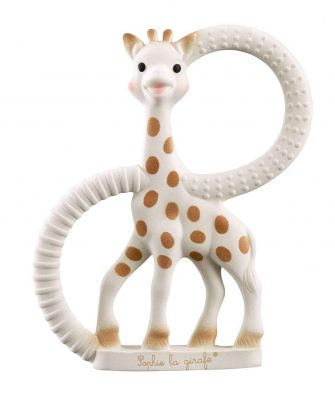 Sophie the Giraffe Teether is composed of natural rubber and colored with natural dyes, making it perfectly safe to go into your child's mouth. It's a simpler design for a more advanced teether. The two looped handles of varying textures can be seen as more for gnawing than for massaging sore gums. Moreover, the handles are more than a handful for the baby's grasp. With the teether being composed of only natural products, you can relax knowing they're safe as they chew. The teether arrives in an adorable gift box that makes it the perfect baby shower gift.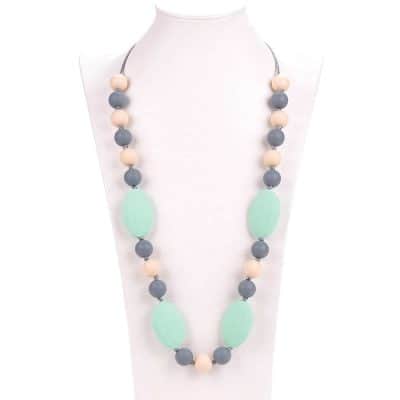 It provides a safe and clean item for the baby to chew on and receive some teething pain relief. It's an engaging experience for both parties, but unlike other toys, you can keep this one off the ground. It has been created from food-grade silicone materials that are dishwasher safe. The beads are corded together with a smooth and silky string that won't pull any hair. The BPA free, 100% food-grade silicone beads vary in shape and size, so your baby has plenty of chewing options to choose from. These also grow along with your baby, a crucial thing when teeth are slow to come in. If your baby is having a particularly difficult time, you can stick these right in the freezer for extra soothing power.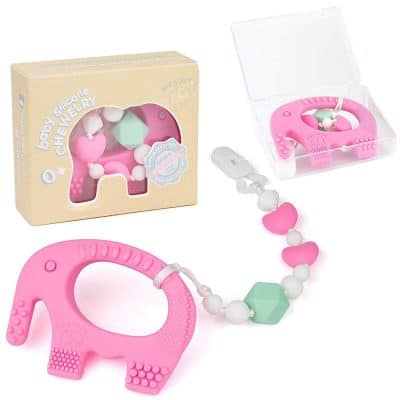 The cute pink elephant design of the Baby Elefun Teether is accompanied by different chewing textures and hardness levels. Your baby is sure to find soothing gum relief from this teether. The teether is more modern and sleek, but it's still bright pink and adorable. The attached beads are quite stylish as well, in their variations of pearl-like spheres and pink hearts, punctuated by a green square bead. This sort of design wakes a baby's sense in a whole new way and looks great in the hands, or clipped onto a car seat/stroller. Each of the beads is knotted for increased safety, and the plastic clip securely latches onto any pacifier.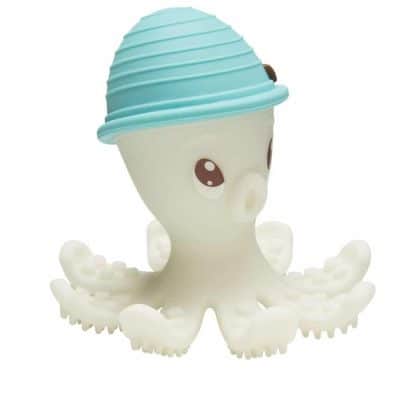 The Safety 1st Featuring Mombella Ollie Octopus Teether features tentacles as teething aids. The tentacles offer choking-hazard free, long-lasting relief, thanks to the clever design of flared out tentacles from a wide, round head. It's dishwasher safe and easy to clean. Less time cleaning means more time for the baby to be ready to enjoy. The sweet little teether is made from BPA-free silicone and provides soothing gum relief for babies as young as 3-months. It can also be frozen for extra pain relief and tossed right in the dishwasher for easy sterilization. Room-temperature or cold, Ollie's eight soft and gummy tentacles offer consistent chewing for your baby at every angle. The big, round head is easy for tiny hands to hold, while the ridges on the blue beanie awaken their tactile senses. Despite the gummy softness, Ollie is durable and guaranteed to last through all the different stages of teething.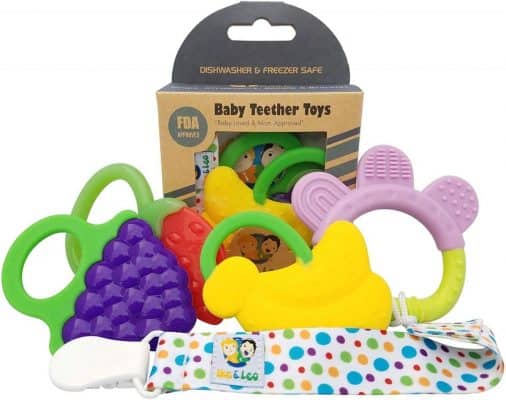 Teether sets like this give you plenty of spares for the diaper bag, the car seat, grandma's house, or wherever else your baby goes. Not only do you get 4 soft, easy to grab teethers in one box, but you also get the nifty holder/clip for added insurance. It helps that the cord is wide and silky soft, with a durable plastic clip that has survived countless toddler pull tests. They're made from FDA approved premium food-grade silicone, free of BPA, PVC, and phthalates. While the fruit shapes may seem like mere "decoration", they provide varying sizes, shapes, and textures to meet the needs of different babies. Each item is also completely lead-free, as are all Ike & Leo products. The included signature pacifier clip will help keep the teethers in baby's hands, but if they do drop on the floor, they can simply run in the dishwasher for a quick steam.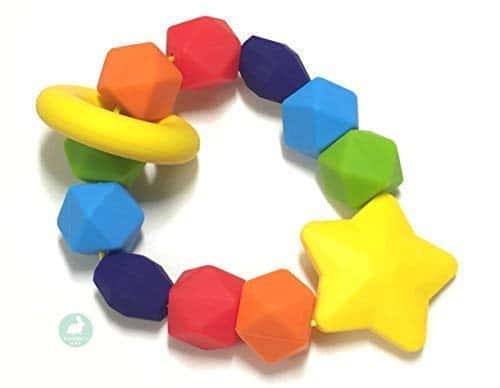 Give your baby the gift of "chewelry" with the adorable Rainbow Sensory Silicone Teether. The beads are made of pure silicone for safety and soft chewing purposes. They're strung on a strong cord, and the circle is just the right size for a baby to grip, while it's small enough not to pose any type of hazard. It can be washed with soap and water or put in the top rack of the dishwasher. It can also be refrigerated to provide the baby with a cooling chew.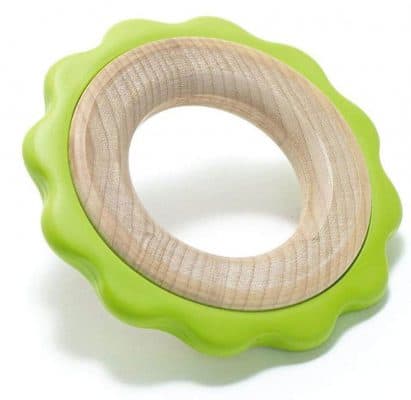 Sometimes simplicity is best. The toy won't make your baby wiggle with excitement, but it's a handsome teether that you can feel good about. It's made of natural beech wood circled by a ring of resin. The toy has a natural vanilla scent, and the ring comes apart so that the part the baby chews on can be sanitized in the dishwasher. It's available in green, pink, and blue. BeginAgain also makes a set of chewable keys from the same materials.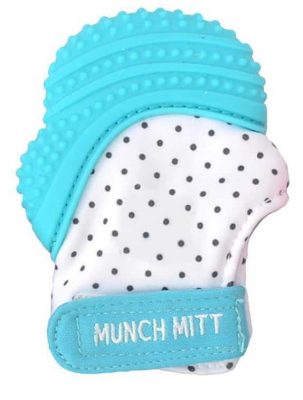 The Malarkey Kids Munch Mitt is a mitten with areas of nubby silicone for the baby to chew on. Just put the mitten on the baby and watch the action begin. The fabric is a water-resistant cloth that won't get soaked with the baby's drool. The mitt can be flipped to fit either the right or the left hand. It also makes a crinkly sound to help entertain the baby. It comes with a travel bag that doubles as a wash bag. Put the mitt inside, and it can safely go into the washer and even into the dryer, as long as you use low heat. It should be washed regularly.