Top 29 Best Pianos for Kids 2023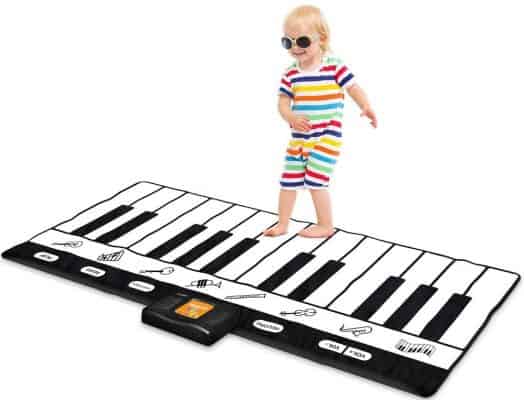 This piano is ideal for kids one year and above. At this age, children usually take their first baby steps. Letting them play on the "magical carpet," that generates a new tune with each step may make walking more interesting. With this playmat piano, your kid has 24 keys to play with. In case your toddler gets bored quickly, the piano comes with eight instrument sounds. The sounds include violin, trumpet, and banjo among others. Also, the piano has record, playback and demo modes, that records your kid's dance tunes! This playmat piano is crafted from a very durable vinyl material which can withstand a lot of stomping.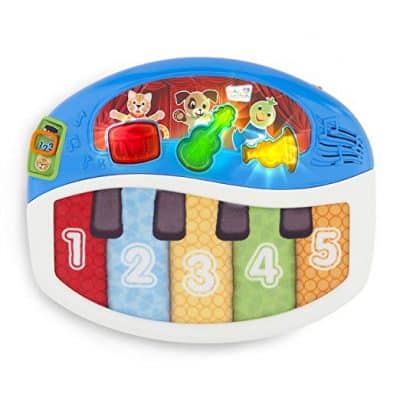 When your child reaches the babbling stage, they may love something that makes them 'sing' along to. The size of this piano should not fool you because it has several surprises. Your kid will be able to play around with instruments, numbers, and animals. The piano also features some classical tunes rather than the traditional nursery rhymes. Studies indicate that listening to classical music may stimulate the generation of endorphins in a child's body. The piano is the size of a magazine, making it very compact which is not a bad thing. It can easily be carried around in a bag to be used whenever your kid needs a small distraction.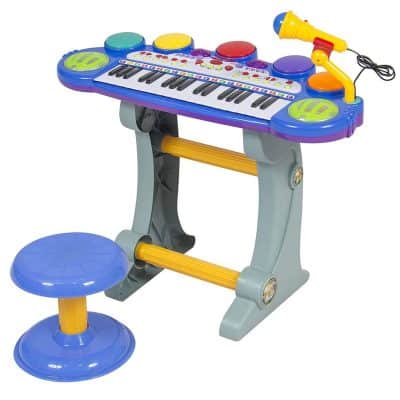 This light-up piano gives your kid 37 keys to play with. It includes sounds such piano (of course) and other instruments like violin, trumpet, and music box. Also, the piano includes several animal sounds such as cat, frog, and dog. As well it comes with 8 rhythms that include rock, samba, and many more that help your kid create their beats and songs. It is equipped with a playback feature that lets your child record and play their creations. The built-in microphone has its stand on the piano. This toy kit includes a little stool for your budding musician to sit comfortably as they play.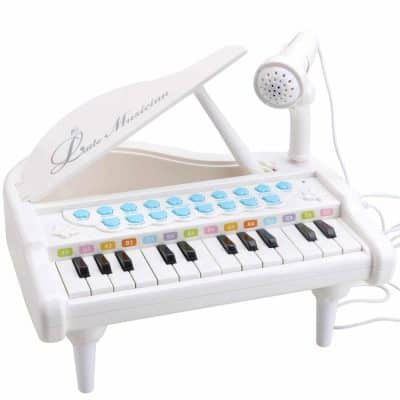 This piano is equipped with 24 keys that let your kid choose between various drums and other musical instruments. Also, it features a music box and various rhythms like tango and disco. The volume is adjustable. Your kid can play with the tempo. The kid will also be able to use their vocals, and possibly record their song via the built-in mic. This piano comes with a cable for hooking it up to an iPad or a speaker. This lets your kid show their skills, and you may even play along.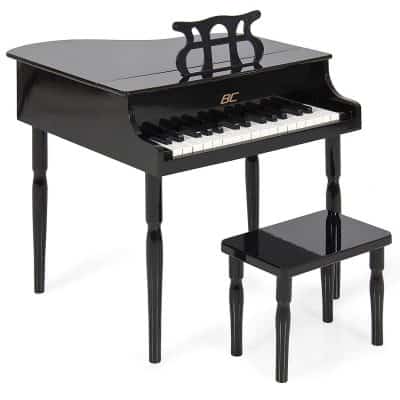 If you wish to gently push your child in a musical direction, then this mini piano may help. It resembles a real grand piano, even though it is only equipped with 30 keys. Just get it and install it in your kid's room or play area and leave them alone. To complete the look of a real grand piano, it comes equipped with a note holder and a stool. Since the stool is not adjustable, smaller kids may need an additional pillow or cushion. This piano is made from hardwood which gives it an elegant glossy finish. It lacks extra features or sounds, so it only comes as a piano. This introduces your kid to music without distractions. It is suitable for kids between 1 and 5 years old.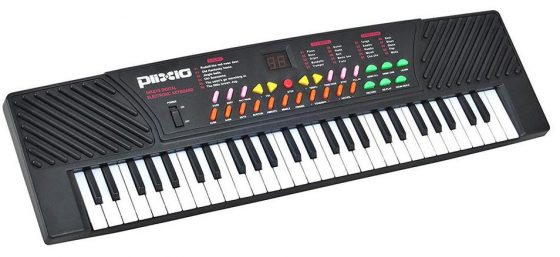 This keyboard realistic feel makes it easier for your kid for when they start to play the real piano. It is not just for kids since it is suitable for older novices. The keyboard is light and portable so your kid can go with it to school when needed. The piano can use batteries, however for unlimited fun, plug it into an electric outlet. It is equipped with 54 keys to get your child accustomed to the piano feel although they are on the small side compared to a piano. The electric keyboard set comes with 20 tones and rhythms for your kid to sing along to and six demo songs. Your pianist will be able to develop their music, record it, and playback repeatedly.
This foldable keyboard will be a plus for your kid if he/she to play the piano anytime, no matter the location. It can easily be rolled up to fit in a backpack. It comes with built-in speakers. Also, it allows your child kid to insert headphones when playing for themselves. The toy keyboard is made from waterproof silicone that also happens to be food-grade material. This unit comes with 61 realistic keys that resemble a real piano. Of course, the feel is not the same, but it is a good finger-placement practice. There is a huge range of rhythms and tones to choose from.

Smart pianos are very effective in assisting your child learn how to play. They usually have a screen which lets your child follow movements. Also, they allow for plugging in a tablet or phone for additional options. This smart piano is equipped with 61 keys that light up as a way of guiding your kid on where to press. The unit lets you connect an iPad or phone to download an app. The app has crash courses that help learn songs, also there are arcade games which focus on how to play. The keyboard a MIDI output that lets you connect it to your computer when you want to edit or record. This keyboard is easier for kids who struggle with the "traditional" method of learning the piano.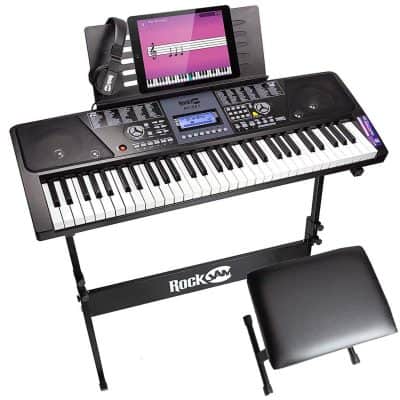 This keyboard gives your child a real keyboard experience that gives them an authentic feel as they play. The lack of a comfortable setting to practice can make or break your kid's interest. The keyboard is equipped with an adjustable stand and a padded stool. So, your kid can play when seated or standing. Also, the keyboard can be taken off the stand and placed on a table when necessary. It also includes headphones and a noteholder that can easily support an iPad or a smartphone. This keyboard comes with 100 sounds, 100 rhythms, and 50 demo songs.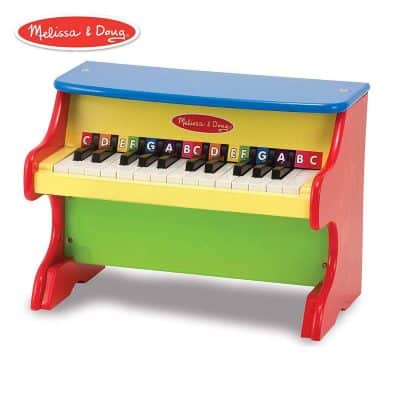 It is equipped with 25 keys that have full octaves. The piano uses a brightly colored design that is guaranteed to capture your toddler's attention. Also, it comes with an illustrated songbook that will help your child learn how to play the common nursery rhymes on this piano. The general construction of this kid piano is very impressive since it does not have sharp edges making it safe for children. The size of this piano measures 11.5" x 15.75" x 9.5" (H x W x D) after assembly making it a considerably lightweight and solid piano for kids.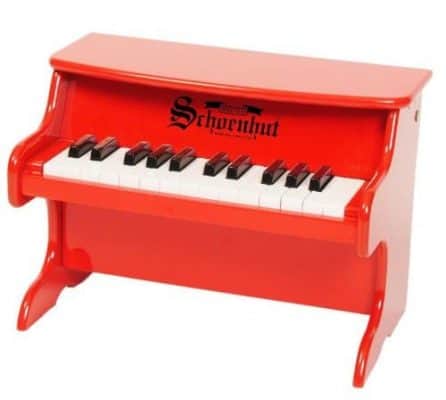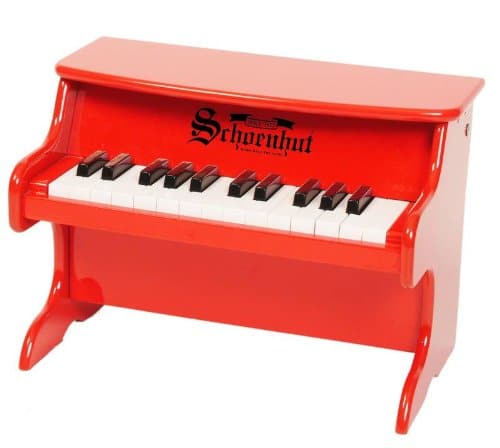 The Schoenhut 25 Key earns the title of "My First Piano". Its design encourages creativity in terms of music and improves hand-eye coordination. This piano for toddlers comes equipped with various useful features like the play-by-color approach that lets toddlers learn to play music in a fun way. The width of the keys enhances proper finger placement allowing for an easy transition to a bigger piano when ready. It is equipped with a patented Tri-Play Learning system that makes playing simple and fun. The patented construction makes this product durable. It is intended for kid 3 years old and above.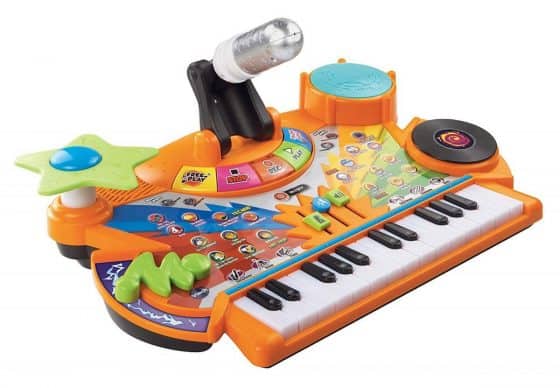 This is a powerful piano that comes in bright orange complemented by teal and black accents that grab your kid's attention. It lets your child record and playback their creations, play the piano, mix a record and play drums on this toy. It comes with 40 songs and includes light effects. The keyboard works in tandem with other functions. For all what this piano does for kids, it is a steal! This a sturdy toy piano that can take a beating and keep singing.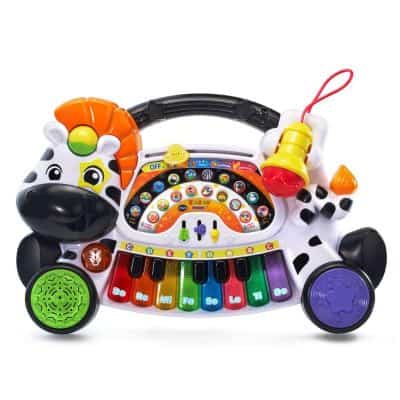 VTech Zoo Jamz Piano is a lit, noise-making machine that works for your baby and toddler. Your toddler will find the black and white pattern of this piano interesting coupled with the cute zebra character. As your baby grows, they will love the colors as well as the lights that will surely keep them interested. This piano I equipped with 4 instruments and more than 20 melodies and songs. Best of all, the toddler will learn to play as they press the keys when they light up in a song. Also, your toddler can sing and play their creations if they want using the amplified microphone, disc scratcher and drum buttons.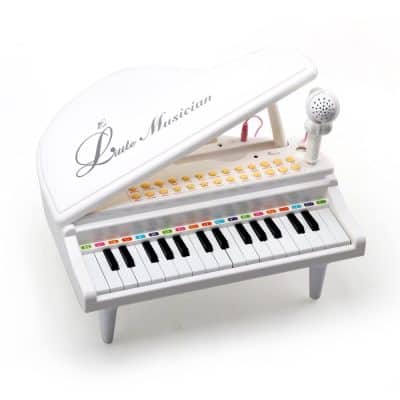 This Amy Benton Piano let your kid connect it to external MP3 and smartphones. Although this toy piano remains mostly gender-neutral, it is very white with a few girl colored buttons. The baby grand look is super decent. This is a cute and spunky educational toddler piano toy with multiple functions that let your kid play and record. It features plenty of lights. Your toddler will love the 22 demos, watching all the dancing lights and banging on the piano keys. The toy is fully featured which ensures that your toddler will never luck with this adorable kit.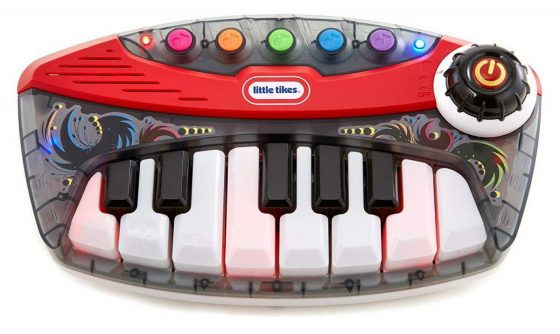 Little Tikes PopTunes Piano has a fantastic simplistic design that allows your baby to play pre-recorded tunes. Although this piano has only 8 keys, your toddler will be charmed by its ability to make a sound. This tiny red and grey piano may not be as pretty or colorful as other pianos however, it will please children who value simplicity. Your kid will love the ease with which they can use the eight keys and the two different play modes. This Little Tikes piano can take a beating and be able to play songs all day long. It comes at a great price for a fun toy.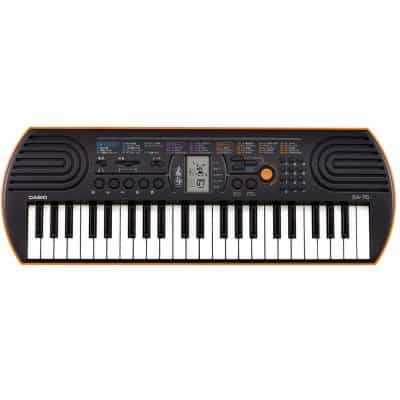 The SA76 is equipped with essential features for your children to learn the basics. Its LSI sound source, as well as 8-note polyphony, give your children a sense of a real piano. The piano comes with an LCD, provides various music options and gives your child the option of switching from piano to organ mode. The buttons for drum sounds is an added feature that your kids will love. These feature 5 different buttons for the drum pads to introduce your kid to digital drums. This feature can be used together with the piano so that your kid will be able to build their rhythm and begin making their music. The piano has 44 keys, 100 tones, 50 rhythms and 10 songs.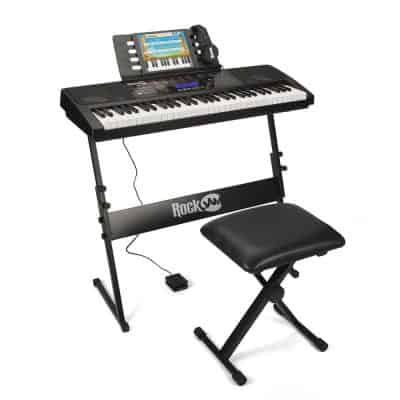 If features an LC screen as well as high-quality headphones. To complete your child's piano experience, this kit is equipped with 100 keyboard sounds, 50 demo songs and 100 rhythms. The unit can be powered by electricity or 6 x 1.5V D size batteries. This allows your kid to take it and play whenever they desire. The unit stands on a stable and strong stand. This piano is made for your child's comfort and can be adjusted to match your kid's height when sitting on the stool that comes with the piano. Also, the RockJam kit has an app that can connect to it on smartphones.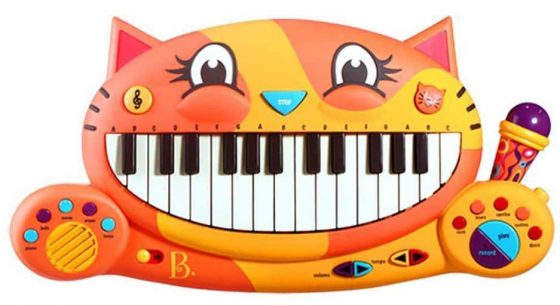 Meowsic features different musical effects like organ, bells, banjos, meowaphone and piano sound. It features 20 songs and 7 bonus kitty tunes. This kit lets your kids record and playback their creations, modulate beat and tempo or use the mic that comes with it. With its entertaining features and fun design, your children will never have a dull moment. The musical toys included in this kit introduce music instruments at a young age which helps build stronger memory skills, patience and self-esteem. This cute cat toy keyboard lets your kid grab and sing along. The keyboard entertains children two years and above and promotes interactive play with plenty of buttons to press and songs to play.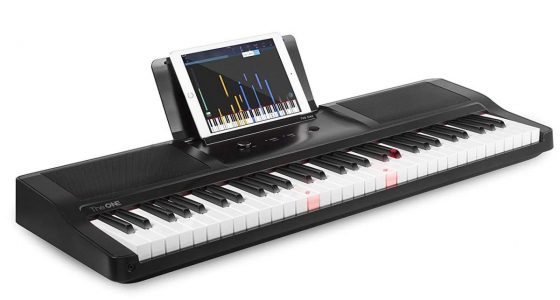 The piano is pleasingly attractive and clean physical features may be the one for your kids. This smart piano will lead your children to great piano skills. It features 61 keys each with an LED light that your kid can follow to play a smooth song like an expert. It comes with a powerful built-in speaker that amplifies your kid's music. The piano is equipped with 128 notes with polyphony. Also, it comes with free music sheets both you and your kid can select from and more than 128 musical sounds of musical instruments. For convenience, the piano supports a smartphone app that comes with plenty of features. Your kid can listen to more than 3000 free music in the app's library.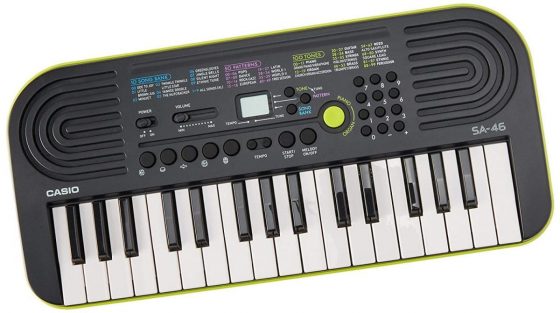 This piano is more than a toy for young kids. It is fun playing this unit that comes with 32 keys. SA-46 mini keyboard is equipped with 8-note polyphony and a new sound source. Also, it comes with 50 rhythms and 100 timbres. SA-46 is a well-designed playmate that is equipped with an LC display. Of its great highlights is the simple change-over switch that lets your kid switch from piano to organ sound. This toy has a cool retro design.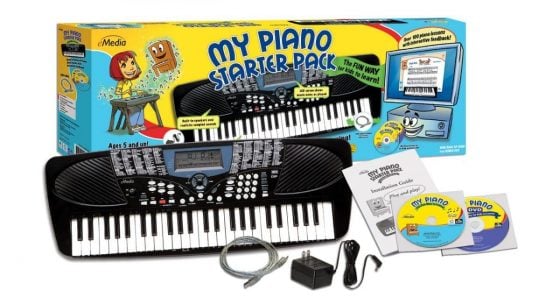 eMedia My Piano Starter Pack is an electronic keyboard whose keys are ideal for small fingers. This is a 49-key plug-and-play keyboard. It comes with a power supply and a USB cable that connects the MIDI keyboard to a computer. This piano has built-in speakers and various realistic sampled sounds. What's more, the unit comes with an interactive CD-ROM (supports Mac and Windows computers) for kids 5 years and above. Also, it comes with My Piano DVD. The software in this keyboard sets it apart from others. This educational eMedia piano covers piano basics such as hand and finger position, playing harmonies, counting rhythms, reading music and learning notes.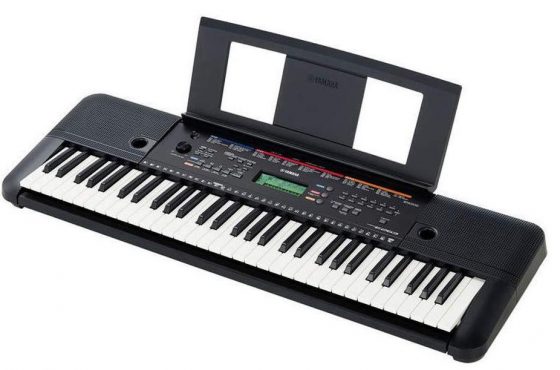 Yamaha PSR-E263 is a portable 61-key keyboard that features various functions and sounds. It is equipped with a 3-step learning program making it a great choice for those aspiring musicians who are starting. The onboard lesson feature known as Yamaha Education Suite lets your children learn the 100 preset songs, or even capitalize on the 385 instrument voices and 100 styles as they experiment and create their music. It comes with an aux line input that turns this piano into a speaker system for an MP3 player such that your kid can play along or listen.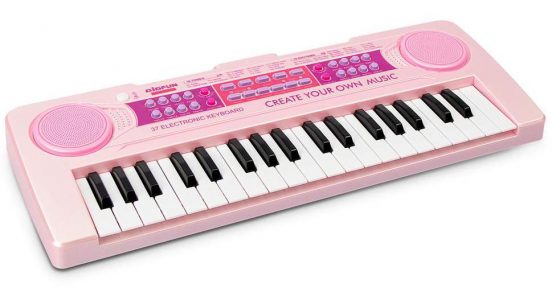 The toy piano has 37 keys which are ideal for beginner kids who show interest in learning to play music. The keyboard piano is equipped with many functions. It has 16 instruments, 8 demo songs, 16 rhythms and a record and playback capability. It is made using eco-friendly material that are not toxic to children making it a safe learning tool for toddlers. The speakers on both sides of the keyboard produce a good surround sound each time you kid plays the piano. This is a rechargeable keyboard that can be charged using the provided USB cable. It is hardy when you travel with your kid. Also, it is equipped with a microphone for recording voice.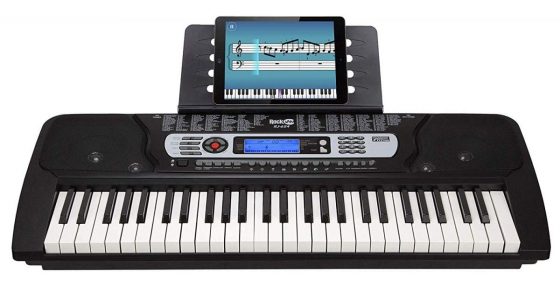 RockJam 54-Key Portable Electronic Keyboard is equipped with 54 keys that make it a good keyboard for intermediate players like teens. It comes with 100 keyboard sounds to select from to make playing it livelier. As well, it is fitted with 100 rhythms that act as back up when you or your kid plays this keyboard. It includes an LCD that helps you select and set up the sounds you want. Also, it can be integrated with a free app on Android and iOS tablets that come with 30 demo songs. This is a great toy if your kid is a little older and able to deal with many octaves.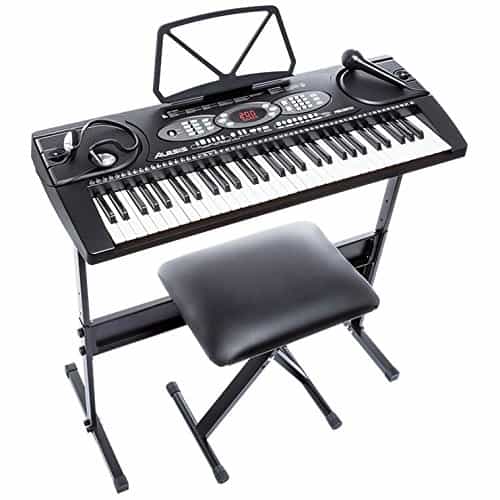 This Alesis piano is equipped with 61 keys that are light weighted which makes this unit ideal for kids who are unable to play on the real piano or keyboard. The built-in speakers produce a clear sound on both sides of the keyboard. This ensures your kids enjoy playing songs and selecting from more than 200 sound choices. It is equipped with 128 rhythms that you may choose to accompany your chords or melody when playing. Also, your child gets 10 demo songs that they can use to learn. The best thing is that assembling the stand is simple and the bench height can be adjusted.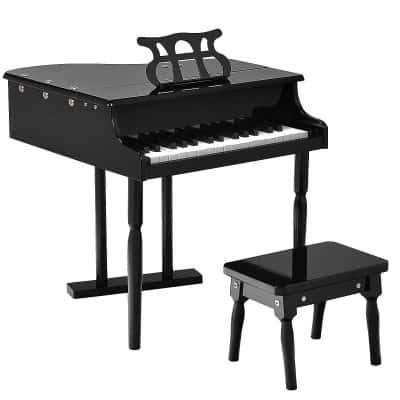 The piano is equipped with a free stool and comes with a hinged top so that your kids never hurt their fingers. It uses non-toxic paint which makes it safe for small children to play with. Its MDF body construction ensures extra support while the legs are crafted from birch wood to ensure that the piano is durable. A non-toxic ABS material is used to make the keys, which won't crack easily. The musical holder is great for learning easy music sheets and the bench is perfect for kids between 1 and 5 years old.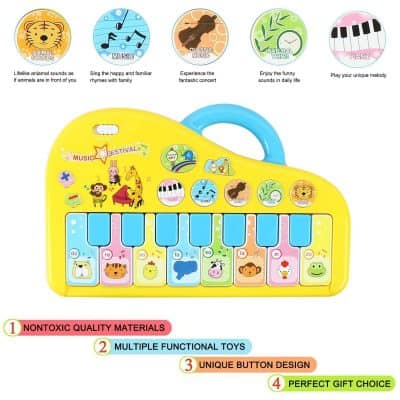 This AresKo piano features a safe, rounded shape that eliminates harsh edges. Also, its handle is reasonably big, to help your kid carry it around. The piano provides multiple modes of play. The piano plays various voices including a wide variety of animal sounds. Your kid will also use their imagination when exploring sounds in their environs. The piano is made from non-toxic plastic in case your kid likes to use their sense of taste. For small fingers, the keys are easy to press. The piano comes with a free xylophone.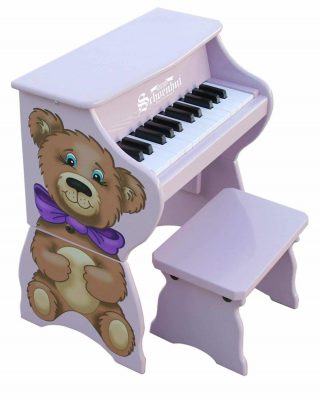 This Schoenhut piano uses patented Play-by-Color learning system that helps make playing this piano fun and challenging activity for kids. Also, it features an adjustable design that gives it a longer shelf life alongside the development as your kid grows. The piano comes with a bench. This piano is developed to be played by kids aged 3 years and above. The dimensions of this piano are 17" x 12" 12" (L x W x H) which make it one of the compact toy pianos available today.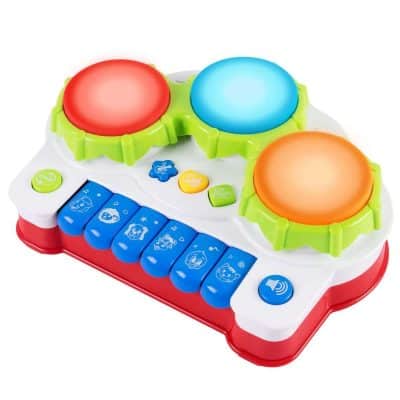 This SGILE's piano has the appearance of a baby piano although it can work for toddlers as well. It is equipped with bright festive colors that will surely capture your child's attention. Besides the piano and the animal sounds, this toy piano is equipped with drums, tambourines, and other musical sounds. Your kid will have fun for hours even when on the go. This toy piano for children is strong enough for mothers and dads to use too. The toy is reasonably priced which lets you buy extra ones for birthdays. Little boys will love the physical drums.