Top 30 Best Stacking Toys for Kids 2023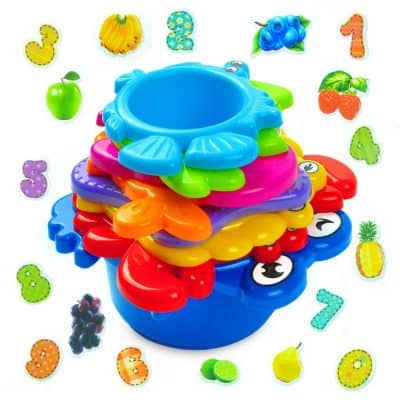 Development of physical abilities is very important for a child. Stacking toys like these colorful stacks are an excellent way to promote fine-motor skill development. The movement of the fingers, the pinching and grasping to pick them up, then stacking them creates an exercise that develops the movements that encourage their development. The Stacking Cups Bath Toys for Toddlers can be stacked, nested, and even played within the bathtub or the sandbox. They feature scooping and pouring features that make them one of the most versatile stacking blocks on the market. Featured in the set are 8 different sized stacks. The largest cup measures in at 10.5cm and the smallest one measures in at 7.3cm. The size is just right for kids' little hands and fingers. Each of them is molded from BPA free plastic materials and feature the shape of a different animal.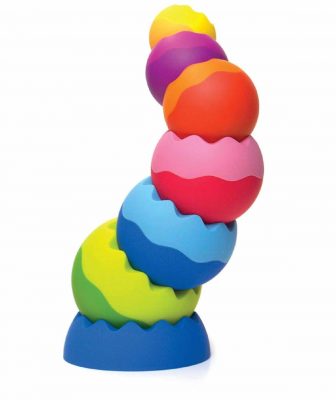 The Fat Brain Toys Tobbles Neo is a creative and innovative design of the classic stacking game. It has been designed with a creative flair and modern concept. The stacks can be played in several ways. They can be stacked, balanced, wiggled, rolled, and spun making playtime interesting and playful. Each of the stacks features dual-colors giving them an interesting appearance along with a texture that's easy for little hands to pick. The set includes six different sized, weighted, and balanced pieces making them fun to spin and balance. The uniquely designed stacks add adventure to playtime along with inspiring sensory developmental skills, strengthening fine-motor skill development, and promoting hand-eye coordination. It's a great busy toy for those toddlers that need to explore and is best suited for children over six months old.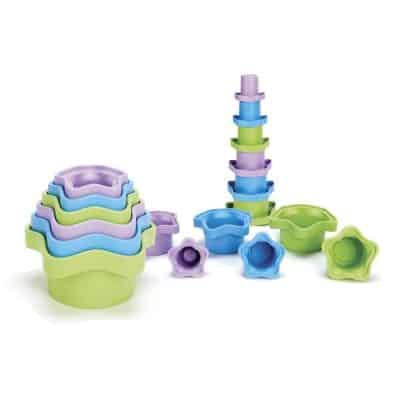 Unlike other similar products that have holes in the bottom, the Green Toys Stacking Cups doesn't so it makes for an excellent tool for tons of fun during bath time. There's an infinite number of possibilities where kids can use the Green Toys cups. It's all dependent on their imagination. These cups are made from recycled milk jugs which significantly reduces their carbon footprint. The cups come in beautiful star-shaped pattern with a number embossed on the bottom of the product making it not only a great baby stacking cup but also an excellent instrument for learning the numbers 1 to 6. Each of these star-shaped stacks come in alternating colors of green, blue, and purple as each one progressively decreases in volume from the bottom up. The stacking cups are a great way to encourage cognitive development skills, boost creative/imaginative play, and promote visual and spatial perception development.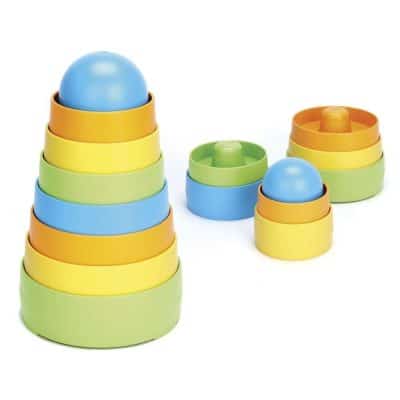 The My First Stacker is composed of 8 nesting stacks that are made of kid-safe recycled milk jugs. These don't contain BPA, phthalates, or any other chemicals that have been hugging the limelight because of their known harmful effects on the human body. The Green Toys product adheres to the time-tested toy design principle of simplicity to stimulate young kids to use their imaginative abilities to the fullest. The toy has been designed to eliminate the need for a separate rod for inserting the rings or shapes in. Each disk or nest comes with a protruding center that serves as the disk's center post. When these are stacked one on top of the other, the center extensions provide a secure mechanism to hold the entire structure together. Moreover, the toy comes in varying colors and features pieces that are stacked or nested inside of each other.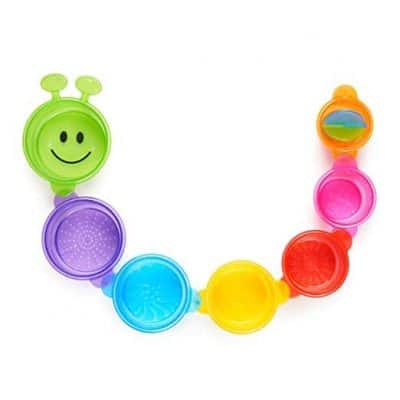 The tiniest stack, and also the crowning jewel of the tower, has an adorable little spinner that your little one will love playing with. They're made from durable bright plastic and are top-shelf dishwasher safe so they're easy to clean and you won't wind up with bacteria hiding in little crevices. When bath time's over, just nestle your caterpillar stacks, then swaddle up your little one with their towel like a bug-in-a-rug. There are seven colorful stacks that can stack, strain, pour scoop and link. The stacks are nested in design, so when you're done with them, you can cuddle right up for compact storage. Help your little one build their hand-eye coordination while working on recognizing the size, colors, and numbers, too. Besides, the Caterpillar Spillers Stacking and Straining Cups have been created with child-friendly materials and don't have small parts that present a choking hazard.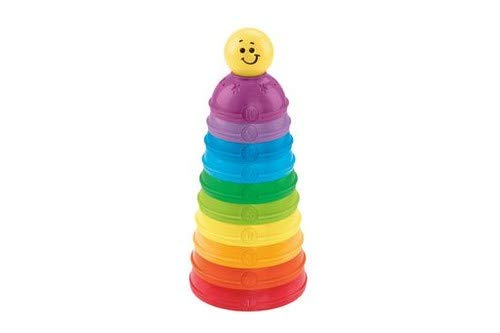 The Brilliant Basics Stack & Roll Cups are no ordinary baby stacking toys. They aren't ordinary nesting stacks either. These colorful half-spheres from Fisher-Price are so versatile that they'll naturally grow with babies well into their toddlerhood and preschool age. Unlike the traditional ring stackers, the Stack & Roll can be played within a variety of ways. Exactly how is technically up to your child who'll then have to use their beginning problem-solving skills to determine the best way to play with these hemispheres. Instead of stacking or nesting consecutively sized stacks, children can experiment with a combination of various sizes to find out the final form it'll make. There are a total of 11 pieces to nest, stack, roll, and explore with, each one beautifully textured to add to the brain's sensory development. The Stack & Roll provides kids with an inherently unique opportunity to explore and discover the infinite ways in which these gadgets can be played with.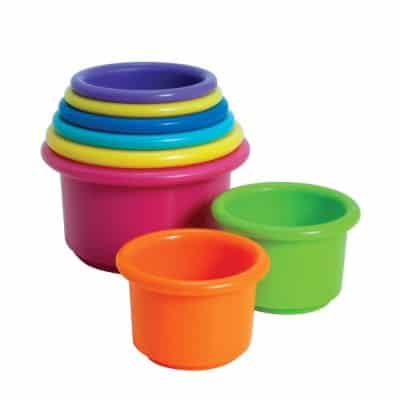 If you're on the lookout for colorful and multipurpose baby stacks, The First Years Stack Up Cups make perfect sense as the best gift you can provide. You get 8 colored stacks each slightly larger than the one preceding it. Babies don't need to insert any of these stacks on any rod for the simple fact that it doesn't have any holes in the center making it very versatile. Therefore, it can be used for a variety of purposes such as scooping sand during beach play or even as sand mold in sandcastle building activities. It can also double as a carrying mechanism for a variety of child stuff like small toys and playthings. Unfortunately, they certainly can't hold water for so long because each one has unique holes at the bottom that allow water to trickle during bath time fun. However, playing with these stack up cups will help facilitate the development of hand-eye coordination while giving children the opportunity to test their problem-solving skills. The First Years nesting stacks make perfect gifts for children to learn numbers, colors, and sizes as they train their muscles in the stacking of these cups.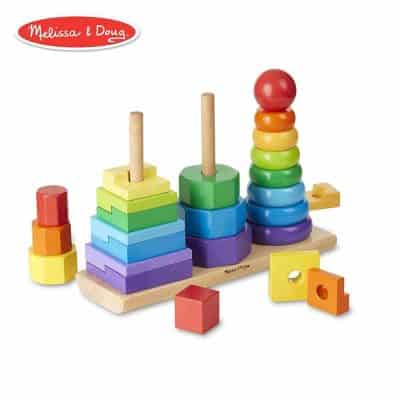 The stacker toy offers a variety of colored wooden shaped objects that then stack on a base with three wooden rods. The shapes can be stacked in so many different ways making it fun for even the youngest stacking child. It features wooden rings, wooden octagons, and wooden rectangle shapes all in one toy. The high-quality design and constructed toy will offer hours of endless playtime fun. There are 25 pieces of colorful wooden blocks that come in a variety of shapes, sizes, and colors. Technically, this is the best playset for introducing early math concepts to very young children. From the different geometric shapes to concepts of progressive sizes as well as areas occupied by certain blocks, these are beginning ideas that may pave the way to appreciating the value or importance of mathematics in modern life. Melissa & Doug's Geometric Stacker also serves as a great color, shape, and size sorter for young children, further helping them learn the basic concepts of mathematics.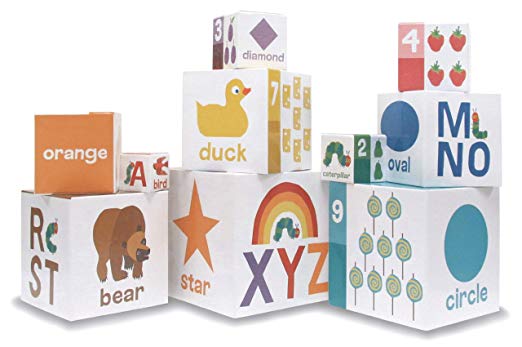 Each of the blocks features a color, a number, something to count, a shape, a letter, and a day of the week. The designs are bold, colorful, and grab one's attention. Every one of the blocks is unique and feature their own work of art. When they're completely stacked together, they stand at 34-inches tall. They're best suited for kids over the age of six months old. These blocks are colorful, bright, and will encourage children to engage while learning. They make a great addition to any stacking toy collection. The set includes 10 blocks that stack or nest and help promote creativity, encourage discovery, and learn through the art of exploration. The sharp and clear images that are displayed on the sides of these blocks allow children to learn while they play.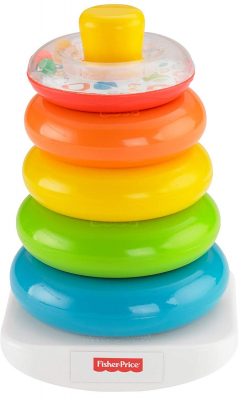 Recommended Age: 6 months – 2 years
Your baby will explore this toy that has five different rings by grasping, shaking, sorting, and stacking them. The rings are of different sizes and colors and are stack to the wobbly base of the toy. your baby will also begin learning the concept of size the moment they will begin stacking the rings from largest to smallest. The topmost and smallest red ring has rattling beads and a shiny reflective surface.
To help your baby develop good balance and coordination as well as other skills, try placing the rings far off in different directions and watching how your little one will make an effort gathering and sorting them.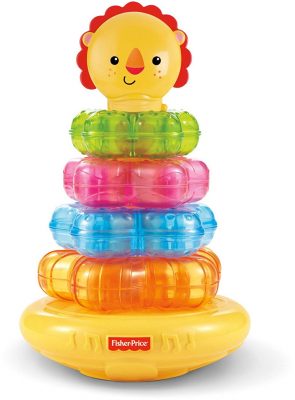 The Fisher-Price Light-Up Lion Stacker uses lights and sounds to engage with small children. The stacker features four large, translucent rings, each a bright primary color. The star-shaped rings are large, soft and durable. Even young kids will have no problem grasping and stacking the rings. Unlike many other stackers, the Light-Up Lion includes a variety of sounds. One of seven different songs plays whenever a new ring is stacked on the base. Of course, the real star here is the lion. Pressing down on his head plays additional songs, while also lighting up. As your kid plays with this stacker, they'll be able to understand relative size and learn about cause and effect. The stacks are placed from the largest to the smallest up, thus encouraging the development of hand-eye coordination and fine motor skills.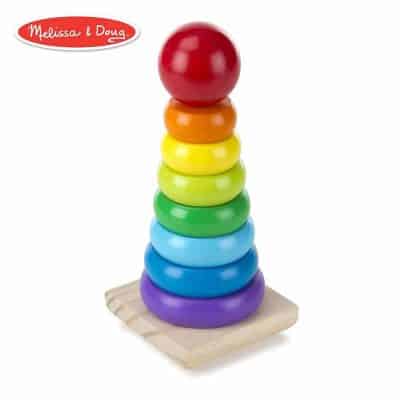 The Melissa & Doug Rainbow Stacker Classic Toy is an all-wood set with eight colorful pieces. These smooth and easy-to-grasp pieces stack on a solid-wood rocking base. Each piece is sanded smooth so no splinters will stick into little hands. All paint and -materials used are non-toxic. The brightly colored pieces help children to build early shape, color, and size differentiation skills. It makes an exceptional gift for kids 18 months and up. Parents can help their kids develop strong skills by playing several games, such as removing the stacking pieces from the rods and placing them on a flat surface, then helping them name the colors and pieces. They can also learn to count by knowing the number of pieces on the stack.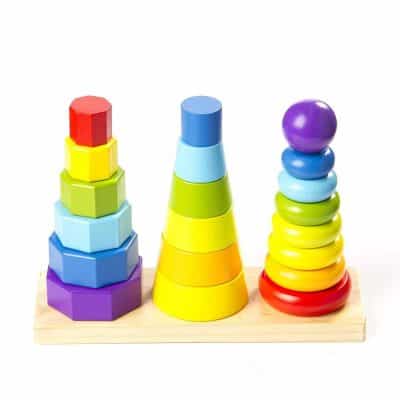 The GeoPeg Stacking Tower comes with three separate sets that include six octagons, five cones with a cylindrical topper and seven rings with a spherical topper. The pieces come in colors yellow, green, blue, and other bold primary colors. The set helps teach kids different shapes, colors, and more. All materials are precision crafted using BPA-free plastic. Besides, you can simply place all the pieces onto their pegs for easy storage and transportation. The set lets kids explore and creatively stack the shapes in any way they want. They'll be capable of developing fine-motor and visual-spatial skill while also learning about colors, shapes, and sizes.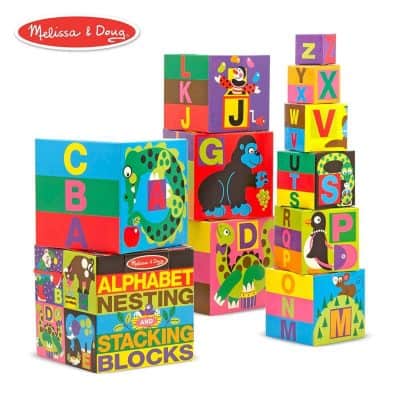 This set of blocks is fun from A to Z. Each side of the 10 blocks contains a different letter of the alphabet as well as an illustration of an animal or object that starts with that letter. The large and lightweight blocks are made of cardboard. Stacking all the blocks together creates a tower about three feet tall. The set is ideal for beginning readers ages two and up. Blocks can be stacked by letter, color, or size. It introduces kids to each letter in the alphabet as well as words related to that letter. Aside from stacking, blocks can also be nested inside one another, allowing for easy storage.
Mega Bloks have a reputation as a LEGO knock-off, but they're great for kids. They're large enough not to pose a choking hazard plus they're durable enough to withstand rough play. Also, they connect from top to bottom so even young kids can easily build towers and structures. Parents love how easy they're to store. Simply scoop them into the included storage bag. Unlike Legos, Mega Bloks are softer and easier to use, so you're far less likely to step on them and hurt your feet. The blocks in the set are compatible with all other Mega Bloks products.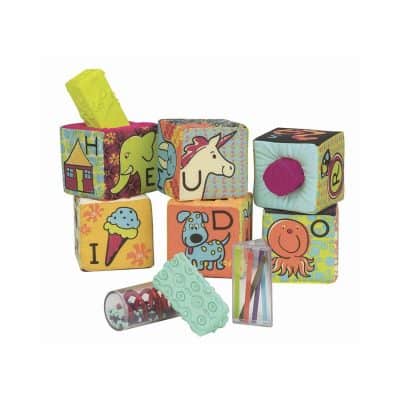 Blocks don't have to be hard cubes. There are squishy and soft options for younger babies like this one. That way, babies can have the benefits of blocks without worrying about hurting themselves or choking. The aBc Block Party Baby Blocks comes with six soft blocks with five interchangeable inserts that each provide different sensory experiences. These blocks are great for helping introduce the alphabet to your baby with vibrant illustrations and corresponding letters. The blocks are BPA- and phthalate-free and are completely safe for babies with curious mouths. It also comes with a recycled, reusable bag for easy storage. The aBc Baby Blocks is recommended for babies aged 6 months and up.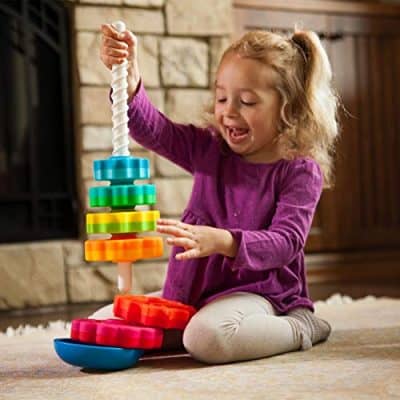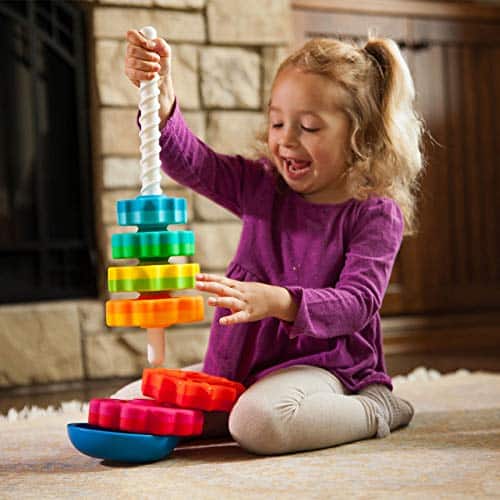 This unique stacking toys is the winner of the 2016 Parent's Choice Award and is recommended for kids aged 12 months and up. It comes with six brightly colored graduated discs that the child can stack. They can watch as each piece cascades down the corkscrew middle. The toy is unique since it doesn't have to be arranged from biggest to smallest like other classic stacking toys. It's good for working on hand-eye coordination, cause and effect, and practicing dexterity. The toy is made of strong ABS coated plastic. It has been safety tested and is BPA-free.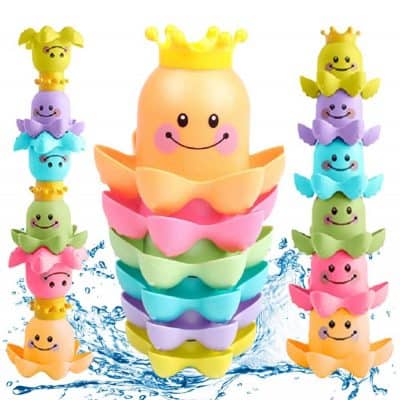 If you want something for bath-time play, the Conquer Baby Waterfall Octopus Stacking Cup is a good option. These stacking cups are made to look like octopuses with crowns. It comes with six octopus cups that can be stacked three different ways: straight upwards, back to back, or upside down. The toy is recommended for kids aged 12 months and up. Each cup is made of safe ABS material and won't mold.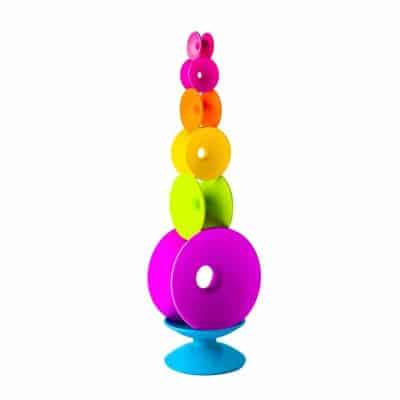 The Fat Brain Toys Balancing and Stacking Toys put another unique spin on the classic stacking toy. The largest piece measures 5 x 5 x 2.5-inches and is easy to grip. Each easy-to-grip piece is in the shape of a spool. They can be stacked virtually any way without falling over. This is nice for those babies just beginning their hand-eye coordination practice. It comes with seven spools in various colors and each one varying in size. The pieces are also constructed of high-quality, BPA-free plastic for long-lasting use. The toy is recommended for babies from 10 months old and up.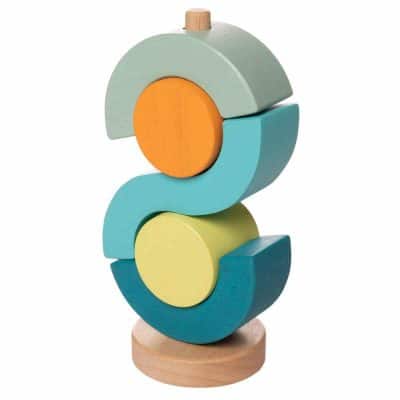 The Manhattan Toys Wooden Stacking Toy is what you should consider if you're looking for a visually pleasing toy. It's made completely of wood and is compact enough to fit on a shelf. There are two different options to choose from: circles and arches, or one with a rectangular design. The toy comes with five stackable pieces as well as a sturdy rod base. The wood is made of smooth grain and is painted with non-toxic, water-based paint and finish. It's good for hand-eye coordination, problem-solving, and spatial perception. The stacker is recommended for babies 12 months and above.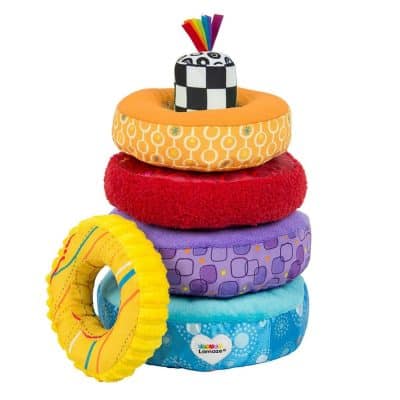 These soft stacking rings are a nice alternative to the classic plastic sets. It comes with multi-textured rings that fit around a soft base. The entire toy is made of soft fabric so it's easier for the baby to grip. Moreover, this will help prevent accidental injuries. The fabric features bright and bold colors and the rings make a crinkling sound to delight your baby. These rings are recommended for babies 6 months and up.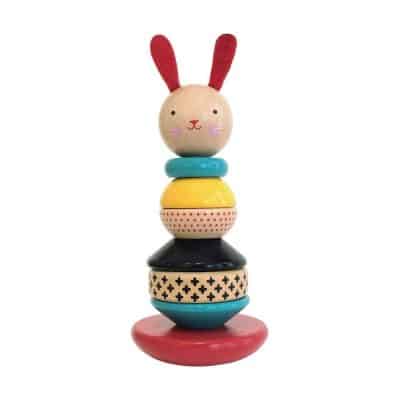 If you're trying to stick to a wooden theme, consider the Petit Collage Rabbit Stacking Toy. It has a whimsical design that would make a cute addition to your baby's nursery. It comes with six brightly colored polished rings and a bunny head with felt ears. The pieces are made of sustainably-harvested wood and are painted with non-toxic and water-based paint. This is nice because you don't have to worry about harmful chemicals going into your baby's mouth. This stacker toy is recommended for children ages 12-months and above.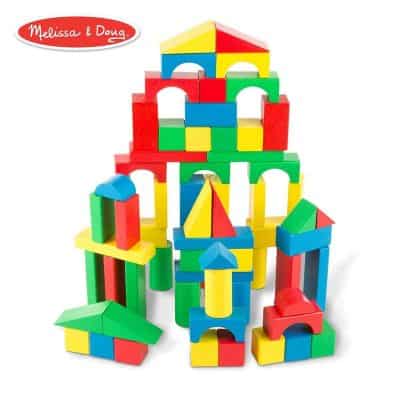 This set of 100 wooden building blocks will keep your little one entranced for hours. They come in four colors and nine different shapes so along with building, she will be learning colors and shapes. It's a really nice toy to use with her as you can build various structures together and it also stirs up her imagination and creativity as she comes up with various designs.
Unfortunately, it doesn't come with a storage container, so you'll need to use something to keep the many pieces together.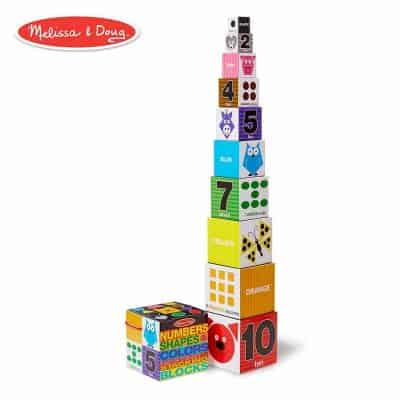 This Melissa & Doug toys are a set of 10 colorful nesting and stacking blocks with illustrations featuring animals, numbers, shapes, and colors. The vibrantly illustrated blocks with vividly colorful images that have been designed for kids aged two and up. The sturdy cardboard block set becomes a towering toy for playful learning. Your little one will truly pick up on these and it'll help them learn the order in which to place the blocks. Repetition is key with toys like these and little ones will get a thrill out of stacking these up and tearing them down.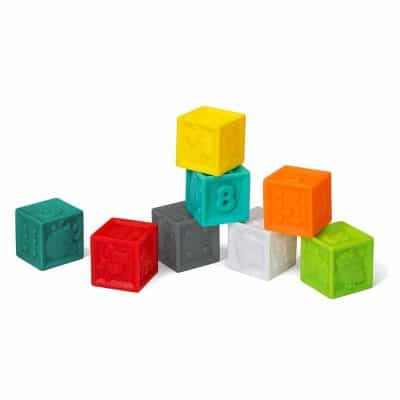 Little hands and minds still need to be kept busy, but it can be difficult to find blocks that are age-appropriate. The Infantino Squeeze and Stack Block Set are a great option because not only are they super colorful and squishy, but they can be squeezed or chewed on with no problems. Your little one can start exploring these blocks at a young age and then eventually utilize them for numbers and letter usage. If you're looking for a block set that can grow with your child, this one has the capabilities. They can start out as cool teethers and transition into fun stacking blocks. A cool perk of these blocks is that they're also bath-time safe. Toys always seem to be more fun once they enter that bathwater.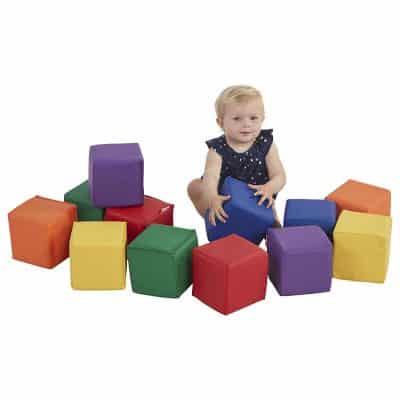 The ECR4Kids Block Playset is a set of twelve soft blocks for toddlers and kids to build and play with as they explore movement. Toddlers love these foam blocks because they're large but lightweight. The size makes little ones feel empowered because they can finally move large objects. The large size of these foam blocks makes them fun and easy to stack. The fact that these include one size makes them a little less challenging for toddlers to figure out how to build them together. There are a variety of vibrant color options to choose from and your little one will be well stimulated by whatever color selection you choose. One benefit of these blocks is they ensure safety because of their large size, and the foam is covered with reinforced leather to combat slobber and bites.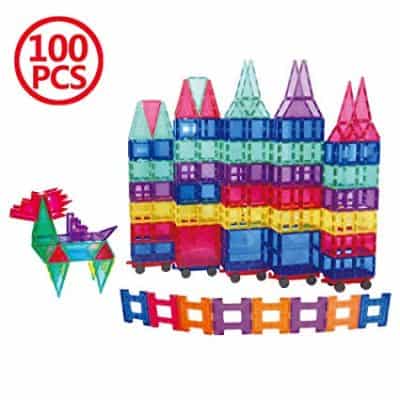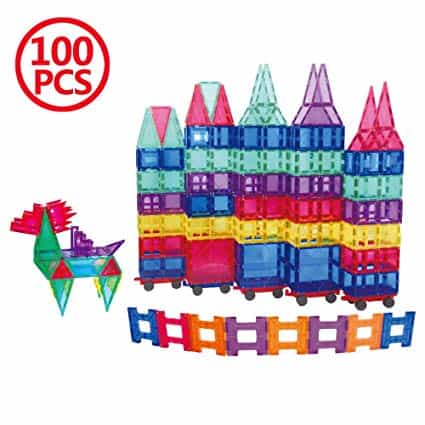 The FunEdu Magnetic Tiles Building Blocks can provide hours of fun because each piece offers its own unique challenge. Your toddler will have the opportunity to try problem-solving with the magnetic blocks because each block has a specific way it must be turned to connect to another block. If your child is up for a little more of a challenge than traditional blocks offer, these might be a great choice.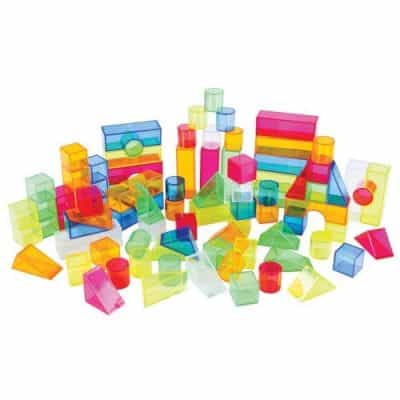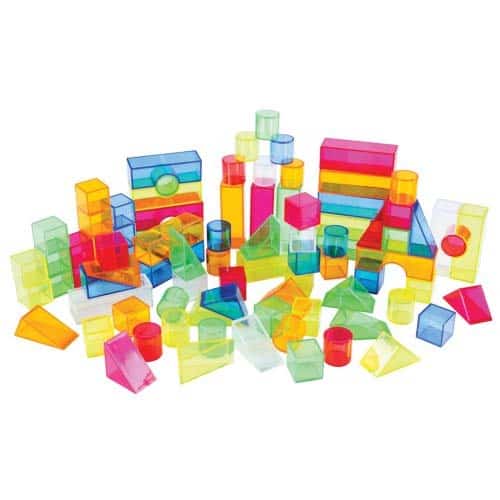 The Joyn Toys comes with an assortment of 6 different colors and 6 different shapes to make up the set. Toddlers will love the idea they can build an object and still be able to see through it. The translucent blocks always help your child to visually see how blocks can be built together. These blocks are designed with older toddlers in mind, so there might be pieces that are too small for younger kids. Besides, these translucent blocks are lightweight making it easy to carry them along.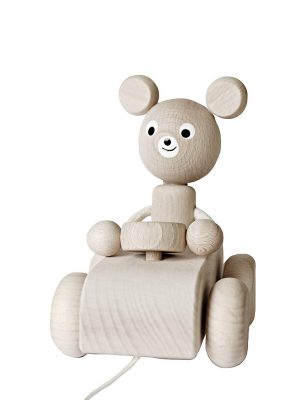 The Montessori method has always had a dedicated following. If you've taken the Montessori leap, this may be a great toy for your baby. It's made from sustainably-sourced beech wood and also comes in several other designs. The stacking toy is great for fine motor development and sensory skills. The way they're made makes them the perfect family heirloom toy that can be passed down through several generations. The cute wooden dog is polished, unvarnished, and 100 percent natural. However, these toys aren't made for chewing or biting and you may need to be on the lookout for kids that put toys into their mouth.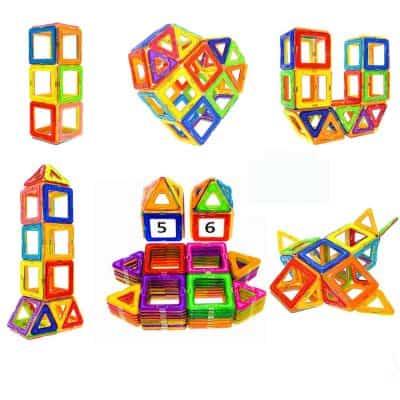 The Soyee Magnetic Blocks come with a set of powerful cylindrical magnets seamlessly enclosed in tough, non-toxic ABS plastic. There are 40 triangles and 24 squares that come in a storage carry bag. These blocks are complex, but they help promote science, tech, engineering, and math. The vibrant colors and intriguing designs are captivating for toddlers and keep them mesmerized.