Top 30 Best Robot Toys for Kids 2023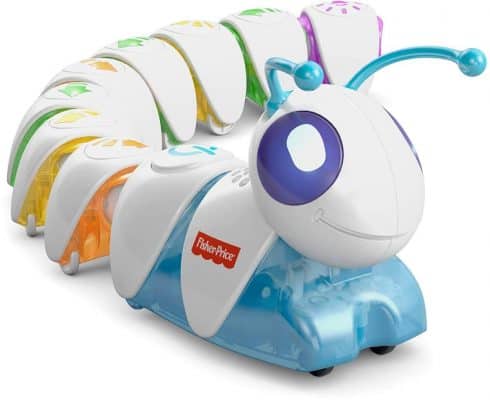 This fun robot toy is developed for children between 3 and 6 years old. It introduces the basics of coding in a manner that encourages children to be independent thinkers and problem-solving through experimenting. The Code-a-pillar robot toy consists of detachable sections representing chunks of code. Rearranging these sections makes the cute bot to follow a different path. The robot toy set includes a sound segment, two right turns, two left turns and three straights. Also, you can purchase other sections such as extra sounds and 180-degree turns to make something more complicated. The toy is great on the carpet and hard floors. As your youngster plays with this toy, they will have a head start on the basics of programming.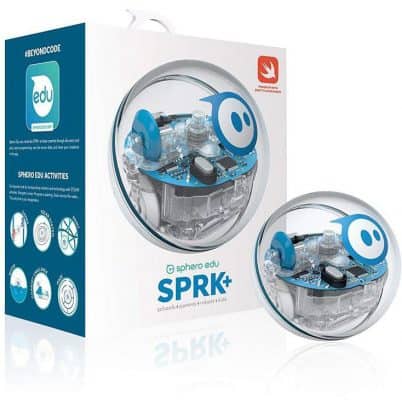 SPRK+ can connect to a tablet or smartphone through Bluetooth. The robot is compatible with Android, Kindle and iOS devices and lets users to either create their programs or run the ready ones. It comes with a couple of challenges that need to be completed such as a raft rescue with a waterproof ball. Young programmers can share their programs with the SPRK+ community. The robot toy provides three different levels of complexity i.e. draw (you young one can simply sketch a path for the robot to follow), blocks (drag-and-drop chunks of code) and text (allows the child to write their code). So, this robot will grow with the owner for many years.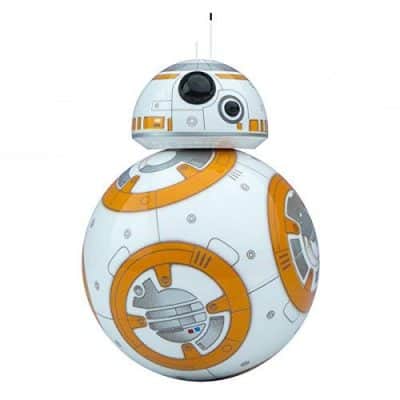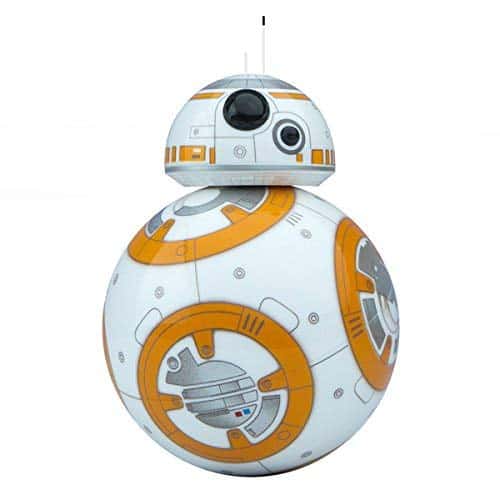 The BB-8 Star Wars droid is the perfect companion for any young fan. It recognizes and responds to voices. It will spring to life and roll around the house or patio as they follow commands like 'go forward.' Also, the droid can be controlled through a smartphone to deliver several instructions that let the toy to explore the world at a maximum speed of 4.5 mph. The robot has an inbuilt camera that kids can use to record holographic messages that change the world around them. The robot can roll over wet surfaces, carpets, and course-correct depending on the environmental stimuli. Also, the toy can adapt its personality when responding to others.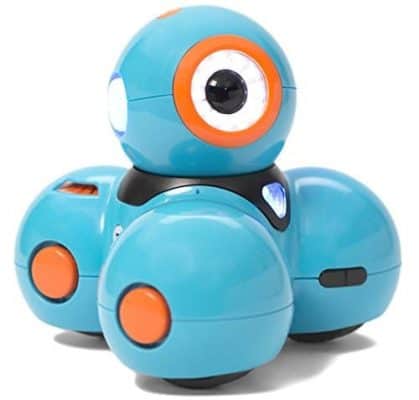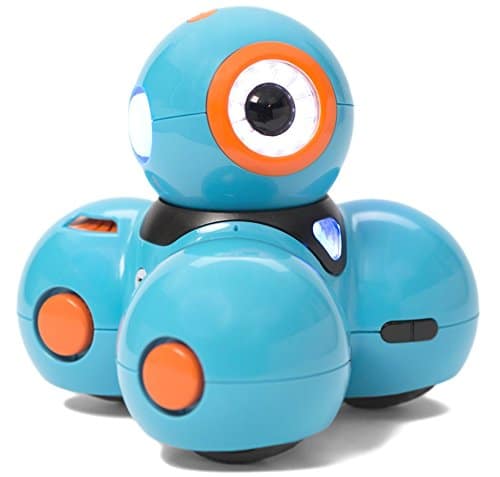 This quirky and fully programmable is compatible with iOS, Android and Kindle devices. Dash has a sturdy design and uses three wheels that make it move around without falling over. Apart from controlling it via apps, the robot toy can also respond to voice commands. This feature sets it apart from most other robot toys available today. If your child is ready to start coding, the toy enters quest mode to allow the app to carry out programmed tasks and user-defined quests. The robot uses drag-and-drop coding to program its movement and behavior. It connects quickly to the app.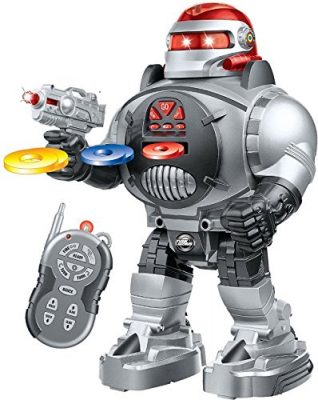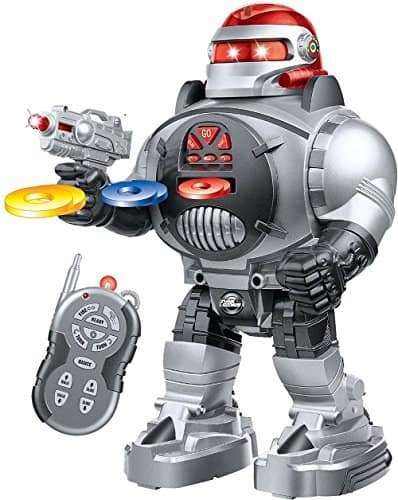 After loading this robot toy with the 12 brightly colored disks included in the package, your kid can use the remote to get the robot into position and when ready, fire the disks. The robot toy can be programmed in advance to make it move and shoot on its own for a surprise attack. Parents take cover! A dance button makes the toy show you some move. The robot can move forward, back, right and left. When switched on, the toy will greet and treat your young as a master whose role is to give commands. This toy will surely encourage your kid to be active.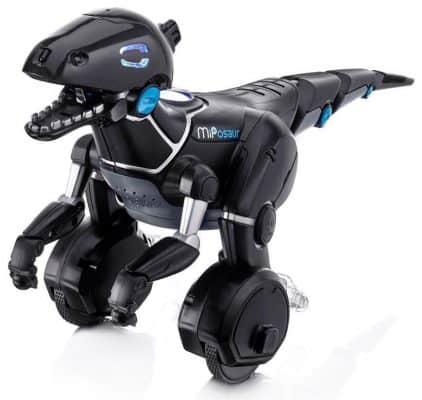 This robot toy is great for robot enthusiasts for several reasons. It can be controlled through voice recognition, path tracing and hand gestures. Kids will enjoy controlling its movements such as feed on prey, giving chase and dancing. To ease control, the toy comes with a Beason Sense trackball. The trackball allows your kid to engage in multiple game modes i.e. train, game and tame. The robot is compatible with Android and iOS devices. This toy responds to swiping of the hand and comes with three modes and 10 different commands.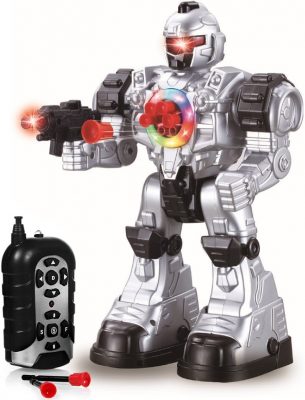 Play22 Remote Control robot toy is equipped with impressive features that kids will find interesting. It comes with flashing LED lights, dancing, sliding, and missile shooting among others. The features let children have super fun as they play with it. It is equipped with 9 missiles that children can control and launch using a remote control. The missiles are made from foam to ensure they are safe and easy to play with. Using the remote control is easy for kids. Thus, kids will play with the robot without hassle. The toy is recommended for kids 5 years and above.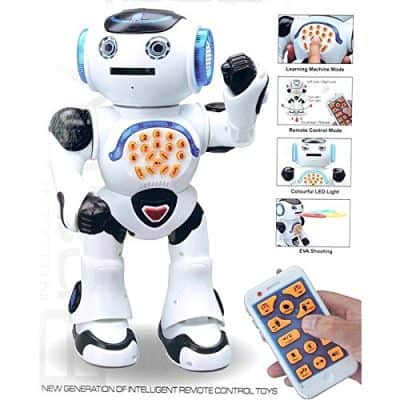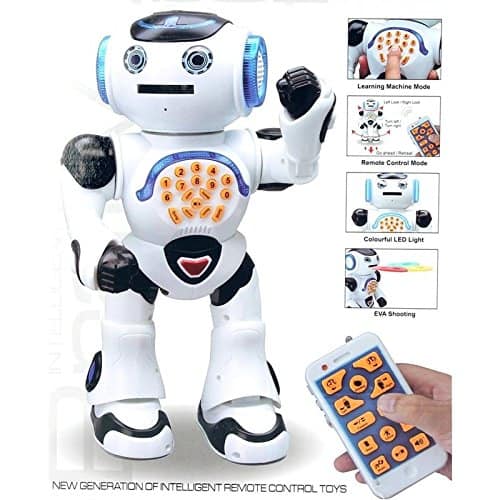 This robot toy can perform several things for your kids. It can read stories, dance shoot discs, mimic voices, provide math quizzes to kids and even sing. These features are impressive considering that most of them have educational benefits. Kids can use this robot for fun while also developing their math skills and listening skills. Also, it is equipped with LED lights that flash as kids are playing. This is exciting for kids, especially during play. It stimulates visual senses in children. Voice imitation feature is an attention grabber for kids. They will love listening to the robot repeat what they say. It comes with songs that will entertain them for long. Great for kid 3years and above.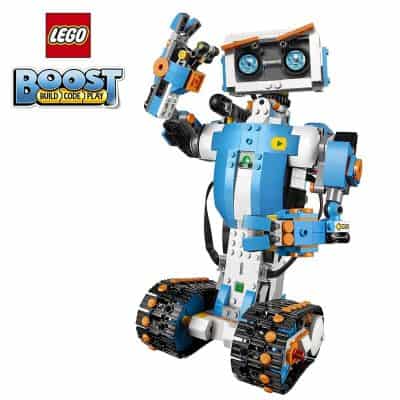 This LEGO toy robot set comes with 847 pieces. SO, it will surely keep your child busy as they build the set. Kids can create 5 different models that have multi-functional features. The building process helps develop hand-eye coordination and motor skills in kids. Given the many pieces in this robot set, their problem-solving skills will also come into play. Apart from building these robot toys, kids will have an opportunity of learning how to code. The robot is educational and teaches kids a new skill. Creativity will let kids use the codes to make robots perform various things such as moving around and dancing. It is good for kids between 7 and 12 years.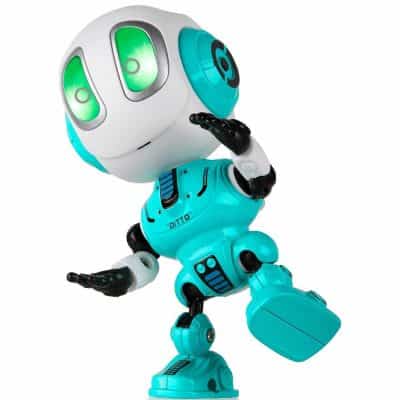 This mini talking robot lets your kids interact with it by talking to it and then listening to its response. The robot is easy to use since the button only needs to be tapped twice. The size of this toy is perfect because it lets children talk to it while traveling. Therefore, your kid will be entertained as you travel. It can easily fit into any carry-on without any hassle. It is made from durable die-cast metal. This guarantees the durability of the toy for years to come. The toy is equipped with various LED lights that flash and illuminate the toy. These make it more interesting for kids and helps stimulate their visual senses. good for 8 years and above.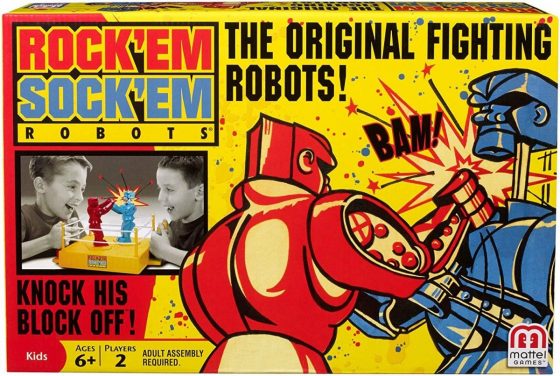 This robot introduces children to the classic boxing match between Red Rocker and Blue Bomber. It entails 2 players fighting each other to try to knock off the block of the opponent. This fun game lets kids play with friend and family which helps develop social skills. Children can move their fighters in the ring and use the punching button to hit the opponent. This is an amazing robot game that enhances hand-eye coordination and motor skills. It uses realistic sound effects which make the robot game more exciting and immersive. It stimulates hearing senses in kids. It is recommended for children between 6 and 15 years.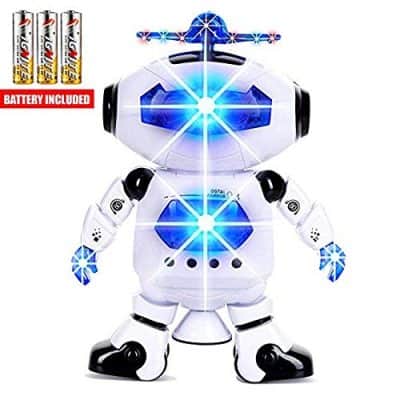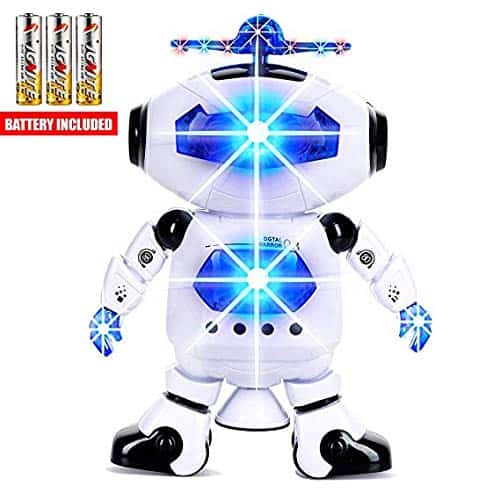 This walking and dancing toy from Toysery has an amazing 3600 spinning motion. The dancing motion combines the movement of both legs and arms which kids will enjoy imitating. Also, the robot is equipped with several flashing lights. These stimulate the visual senses of your kid and makes the toy exciting to play with. In addition, the design of this toy ensures it remains upright as it dances. This possible through the dual wheel foot balancing feature. It lets the robot to move around without falling over. The robot is appropriate for kids 4 years and above.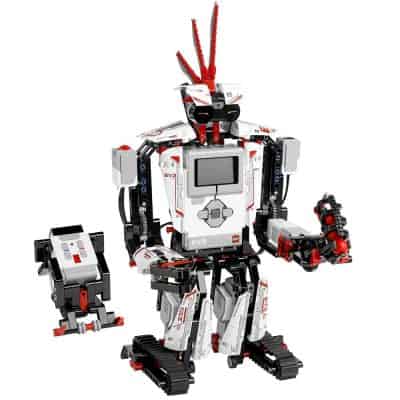 This robot toy comes with 601 pieces, which gives children plenty of pieces to keep them busy as they put them together. The robot is great for improving motor skills as well as hand-eye coordination in kids. Also, problem-solving skills will come into play as your kids try to assemble the pieces. A manual is available that guides your kids to build 17 different models. This will keep your children busy for a long time. The robot has IR sensors that are sensitive to color and touch. Also, it comes with 3 servo motors. The robot can grab things, shoot targets, talk and walk. It is appropriate for kids 10 to 15 years.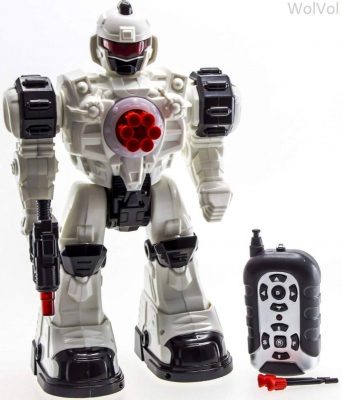 The 10 different actions of this robot police toy will keep your kids entertained for a long time. The controls are easy to hold and use. The remote control promotes the child to be very creative as they move the toy around. The design of this WolVol Robot Police Toy is such that it comes with various lighting and sound effects. As kids play with this toy, they will enjoy the flashing lights and even listen to the sound effects. This exciting robot toy enhances your kid's audible and visual learning skills. It is aimed at kids between 6 years and above.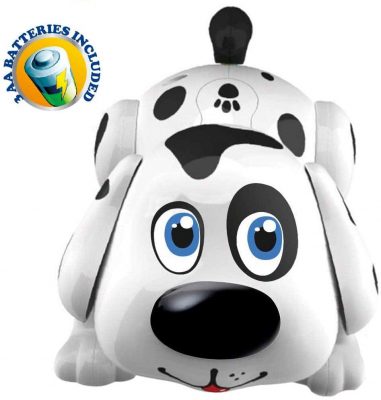 This robot puppy makes several dog sounds and can walk. It has plenty that will keep your children engaged and interested in playing with this toy for a long time. It is also equipped with sensors. When children touch the robot, it can sense and react accordingly. The sensors provide an interactive feature. Touching the head of the robot toy lets it sing and dance. Children will enjoy the interactive features. The robot helps develop audible and visual learning skills in children. The fantastic puppy design lets kids chase it around on smooth surfaces. The fun with this toy encourages kids to play with it proactively. It is ideal for kids between 2 and 7 years.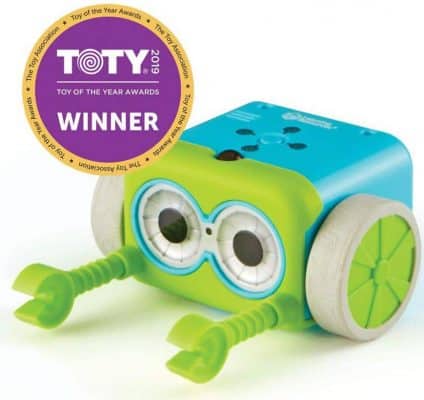 This robot set gives your child plenty to play with. The robot will teach kids coding skills, which is an awesome skill to learn. This learning resource Botley robot set helps children develop problem-solving skills and the ability to think critically. It only needs 5 AAA batteries for your children to start playing with this robot toy. The best thing is that kids can learn how to code without staring at the screen. Its remote programming capabilities lets your kid give the robot toy commands remotely and watch it respond to the code. The robot can avoid bumping into objects. It comes with 27 pieces for creating obstacle courses and detachable robot arms, coding cards (40), 6 tiles and a remote programmer. Suitable for kids between 5 and 8 years.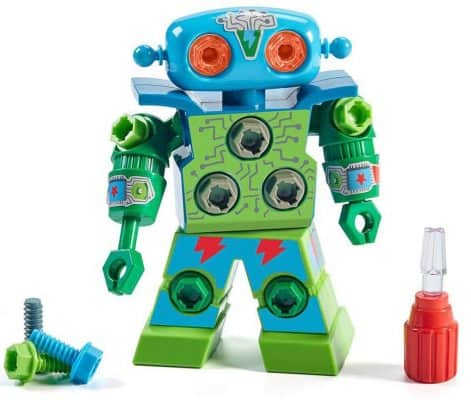 This robot lets preschoolers snap together the arms of the robot and price drilling using the provided screwdriver. The robot comes with swiveling arms, upper body and arms which make this robot interactive and fun. It comes with 15 multicolored bolts and decorative stickers. The robot is great at developing various skills in kids such as fine motor, creativity and construction. The toy is good for boys and girls. The robot supports STEM learning and introduces kids to tools which promote interest in engineering.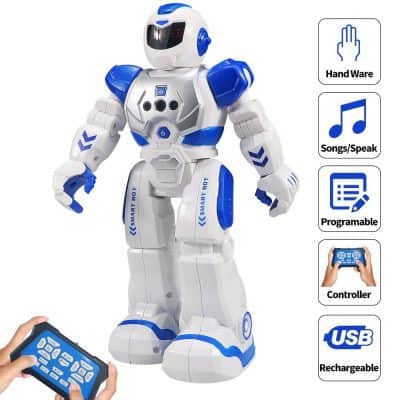 The robot can dance, slide, walk, sing and interact using gesture sensing control mode. The robot can complete a maximum of 50 moves or simply program it to repeat various movements. This robot will teach children basic facts on astronomy. The robot comes preinstalled with 28 simple words that not only make it fun to play with it but also educational. It also comes with 4 different types of funny language and various songs and music. The robot is easy to use and charge. Its battery can last for approximately 90 minutes. It is programmable and will teach kids the concepts of technology, science, art and robotics. The robot will enhance creativity in children.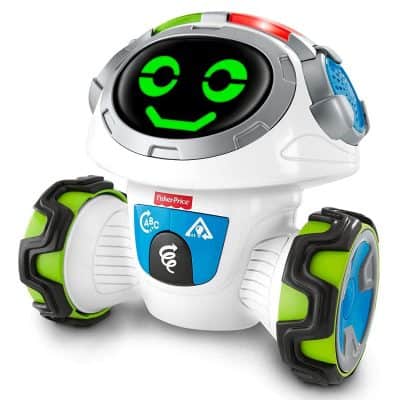 This robot can move around that lets your kid spend hours in creative play. Movi is great at introducing critical thinking skills in kids and teaching preschoolers how to follow instructions. It can move in 360 degrees and features 3 gaming modes and 6 games that kids can choose from. The robot asks plenty of questions that prompt kids to think about the way they answer, which helps foster early development skills such as critical listening. Also, the robot comes with a movement and motion option which gets your kid up and moving since it encourages them to dance and even pretend to a popular animal. This robot comes with a cute face that can express 60 different emotions and looks. The bot comes with buttons that add to the fun factor.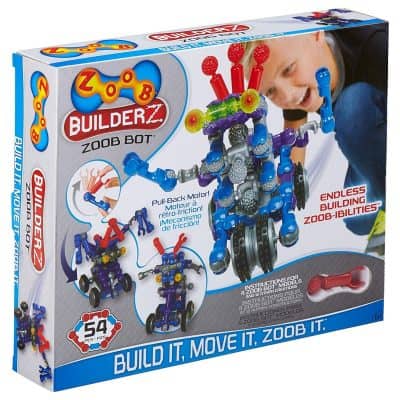 Although most robots are preassembled, Zoob Builder Zoob Bot is different. The package contains pieces that snap together to let kids build the robot they want and then watch it move around the room. It comes with 60 separate pieces with 49 clip-together pieces 1 light-up piece with batteries, 2 wheels, 2 wheel motor assembly and 4 tires. Also, it comes with an instruction manual to help your kid get started with the assembly of this amazing robot.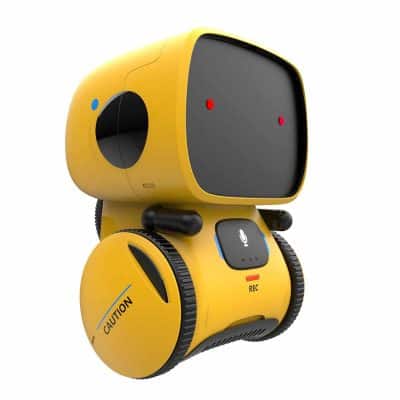 This Remoking Robot toy comes in yellow and can move around on wheels and ever respond to touch and voice commands. It has 5 essential functions. The bot can sing and dance which involves spinning in cute little circles as it sings. It can also respond to voice commands and comes with a button that lets it record your voice to parrot phrase it back to you. Also, it responds to touch when you pat it on the head. This is an adorable little robot that kids will appreciate. Recommended for kids 3 years and above.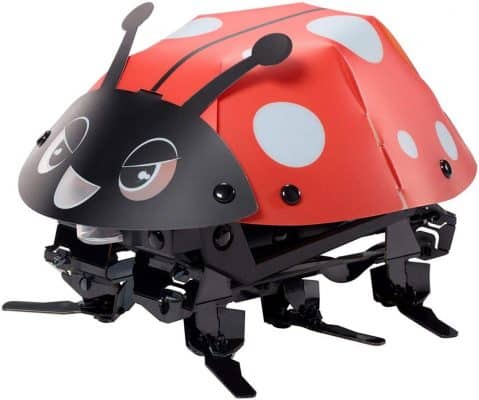 This robot is a blast for kids to assemble as kids can customize it to make it race, engage in sumo fight and even battle other Kamigami robots in their neighborhood. All the materials used on this robot are foldable so it becomes easy and fun for your kids to assemble. It can be controlled via Android and iOS app. Also, the app with every new update provides new tricks and behaviors for the robot. The app lets your kid race, drive or make the robot dance. Easy to program interface lets kids design unique robot movements. This version of the robot resembles a ladybug and comes with 6 legs that make it run very fast.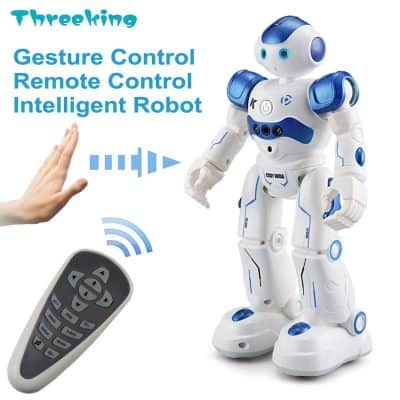 The robot has gesture control feature which provides a lot of fun to kids. It comes with sensors on its body that recognize when it is beckoned to come forward using hand gestures. This lets kids control the robot without using the provided remote control, which tends to be more convenient. The robot can move by using wheels as its feet. This makes the movement of the robot realistic and increases its speed of movement. The control unit provided with this unit lets your kid program the bot in various ways.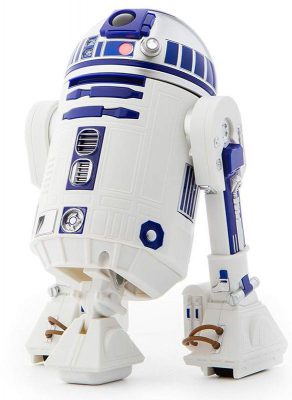 This robot features a specialized tech which makes this app-enabled droid authentic. It can be controlled via smart devices. This iconic droid is complete with bright LEDs and sounds. Its front leg can retract which makes it switch from driving to waddling. It lets kids explore through its fully programmable interface, watch it react to Star Wars saga and even show off the R2-D2 personality. It comes with many features for your kid to explore and interact with the droid. This robot has a lot of tech int it such as Bluetooth connection, USB charging, 3D accelerometer, free app and integrated speaker.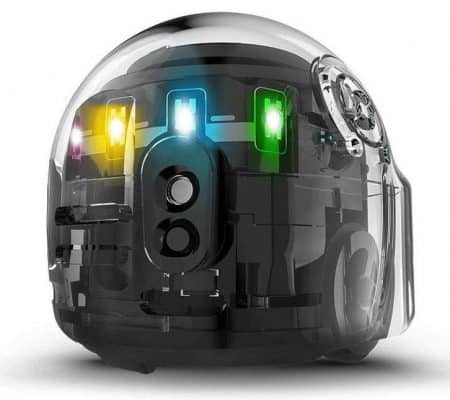 This is a pocket-size robot that lets your kids carry their pre-programmed bots wherever they want to go. To ease the use of this robot, most of the coding and robot settings is done through an Android or iOS app. The robot is equipped with programmable LED lights, Bluetooth functionality and optical as well as proximity sensors to ensure it does not get damaged during play sessions.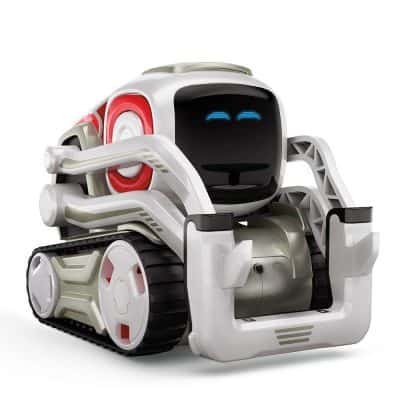 This toy is equipped with more than 100 human-like emotions. Although it aimed at kids 8 years and above, the toy has plenty to keep older kids and adults entertained. When connected to free Android and iOS app, the robot can recognize names, faces and even as to play. After a child gets used to it, coding the toy can occur through a drag and drop function. So, this compact robot evolves as the kid interacts with it. Although you or your child may not win often when playing against it, it occasionally throws a tantrum. This adorable and tiny toy is deceptively clever. It will keep you and your kid entertained.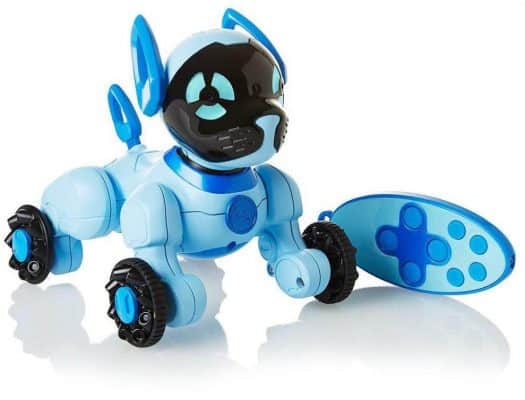 This WowWee Chippies Robot Toy Dog for children is an amazing toy. When kids pet the head of the pet, they get a response. The robot can either bark, sneeze, sniff or give puppy kisses. The many interactive features will keep your kid entertained for many hours. Also, it helps them understand the notion of cause and effect. The robot has built-in sensors that children can use to guard their room to get a notification in case someone enters. It comes with a remote control that gives kids more control over the way they play with the toy. The toy can sing, dance, chase its tail and roll. The controller is very easy for kids. The robot is ideal for kids between 4 and 15 years.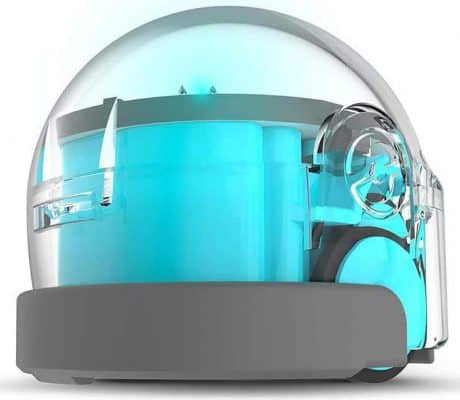 It can be integrated with a smartphone via an app. This robot will teach your children how to code and comes with 4 levels of complexity. To follow commands, the Ozobot uses optical sensors to follow the color code. Although this is a basic robot, it is great for introducing children as young as 6 years to coding. The robot does not need any assembly so your kids will get straight to coding its movement. It also comes with optical sensors and LED lights.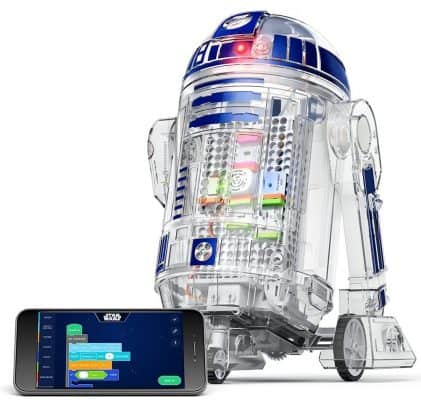 The droid combines the use of smartphone app and block-based coding to program how the droid behaves. It comes with over 20 missions for children to capitalize on as they teach their droid various skills and even program some personality into the droid. Also, kids can drive the droid around, wave or use force to get the droid moving and watch as it navigates without running into anything. It promotes creativity in children since the robot promotes experimentation that makes engineering fun and more inviting. It inspires kids to invent through technology.
The toy comes with distinct movement that can be controlled through a remote unit. It is capable of moving side to side and even speed walking. Also, by pressing a button, the bot will sing and dance providing kids with plenty of entertainment. This is an educational robot that can be programmed in various ways. It can also record 50 actions to keep your child fully engaged as they play and learn.