Top 30 Best Play Kitchen Toys for Kids 2023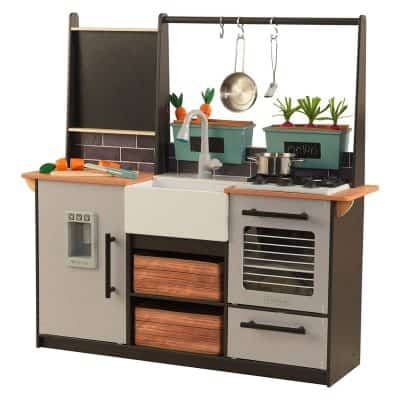 Our favorite feature on this kitchen toy is the adorable window featuring planted carrots and onions. Your kid can harvest and chop them with the included cutting board using the safe wooden knife. The realistic crunch sound made by chopping these veggies adds to the realism of this kitchen set.
As with other KidKraft kitchen playsets, it comes with cooktop sounds with lights. The included sink with lights and running water sounds not only adds to its realism but also educates the toddlers on the importance of handwashing before and after cooking.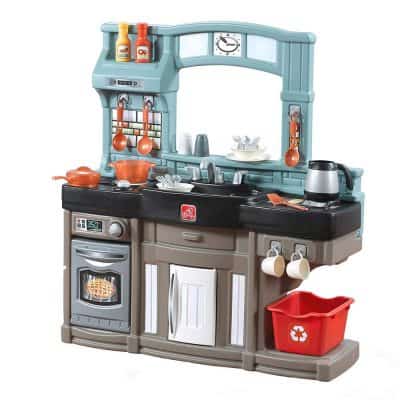 The realistic sounds and lights not only make the playset realistic but also fun to use. The refrigerator and oven doors open and close, making realistic click sounds. There are several hooks that come in handy when storing utensils and other items, such as bottles, cans, and other pretend accessories.
The counter space has a window with ample space where your kids can pass through the already made food as they serve the meals. The Step2 Best Chef's Kitchen Playset attached recycle bin trains your kids to mind the environment with a coffee pot that is perfect for tea parties.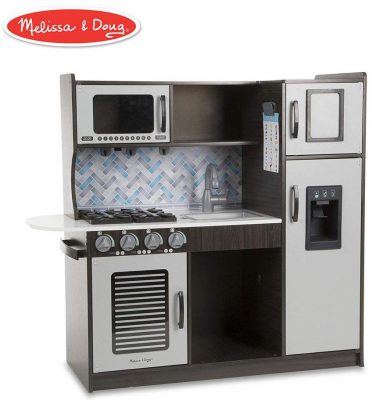 Once fully assembled, the kitchen toy stands approximately 3.5ft long and 3ft high, making it probably the biggest kitchen toy model available on the market. Thanks to this, it is roomy and spacious enough that several kids can play together simultaneously. This helps kids develop teamwork and enhance social skills that come in handy later in their lives.
This set is packed with intriguing details that enable your kid to prepare countless creative yet imaginary meals. The fridge with innovative ice maker, microwave with a turning plate, oven and stovetop with functional dials, sink, movable hooks, and a grocery checklist are just but a few items included.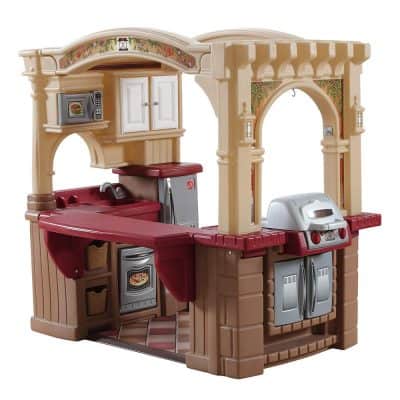 The set features a stovetop, grill, and phone with electronic features to make realistic sounds. The fridge has a stainless steel appearance to make it more realistic. Your kid will certainly enjoy the realistic cooking sounds of the grill with the large sink with a faucet for easier cleanup.
The Step2 Grand Walk-in Kitchen and Grill is constructed from plastic materials but is sturdy. Cleaning and maintaining are also easy and large enough to accommodate several playing children. It can be used by toddlers and older children.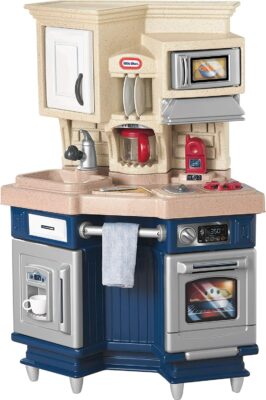 As the name suggests, this kitchen is small, making it possible to set up in any part of the house. Once assembled, it provides endless hours of busy cooking for your little chef, with all the accessories for her to start cooking her favorite imaginary dishes. Common accessories include the microwave, oven, refrigerator, and cabinets that provide ample storage space.
Other accessories included in this playset include a coffee pot, 2 plates, 2 cups, 2 forks, 2 knives, a frying pan, 2 spoons, and a phone. The burner produces electronic cooking sounds while the clicker knob can be turned to enhance realism.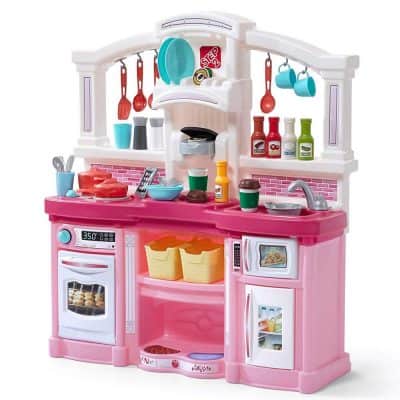 Like other products from Step2, this kitchen playset comes with realistic accessories that brings forth a realistic cooking experience. The set has an electric stove burner that is battery powered and produces realistic boiling and sizzling sounds, and a refrigerator that opens and closes like your real home fridge.
The Step2 Fun With Friends Kids Play Kitchen also features an instant coffee maker that makes it swift for your toddler to prepare their favorite coffee blend. The included storage bins are spacious enough to keep all the accessories. It requires a slightly advanced adult assembly.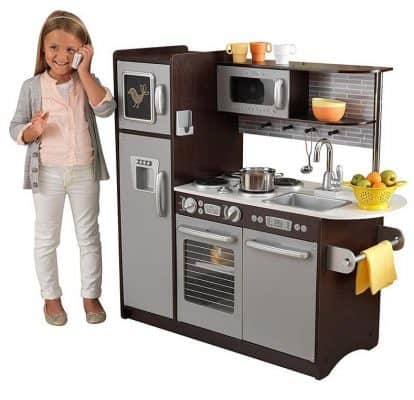 This playset features a removable sink for easier cleaning. The doors on the refrigerator, freezer, microwave, and dishwasher easily open and close with special latches for durability purposes. Its four raised burners are also designed to accommodate bowls, pans, and plates with a windowed microwave and oven that will have your little one pretending to watch the food cook.
The KidKraft Uptown Espresso Kitchen is large enough that it accommodates more than one child playing simultaneously. It is made from metal, composite wood coupled with molded plastic. This perhaps explains its sturdy nature and long-lasting ability. The extra storage space helps keep this playroom or bedroom tidy and neat.
With the modern resemblance of a real kitchen, extra storage with many accessories, it is a perfect kitchen toy for kids aged 3 years or more.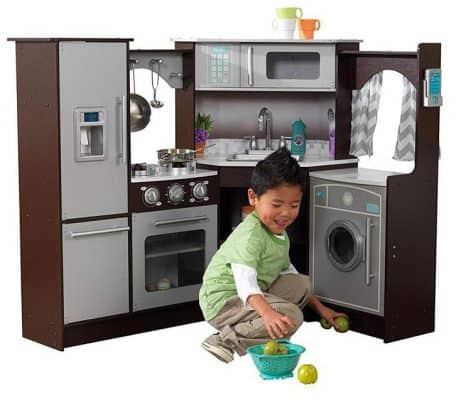 Like other KidKraft products, this set is packed with tons of interactive features to accommodate any toddler's play. Perhaps something outstanding is the fully functional appliance doors that easily open and close. It also comes with a rumbling ice cream maker that will keep your enthusiastic young chef busy.
For sufficient storage, it boasts of overly functional shelves that accommodate all the plates, pots and pans. It also has integrated sounds and lights that complete its realism. Despite its compact build, it has an extended counter space that accommodates multiple toddlers playing together.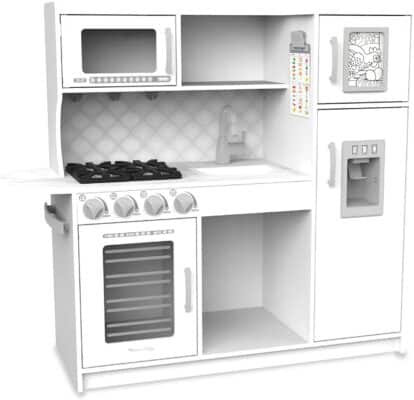 This small but clean-looking toy kitchen is a great option for someone who doesn't want a big, colored monstrosity in their living room. It's still great for play, although a bit less engaging, perhaps, than other more colorful, light-up, sound-producing kitchens. It's still feature-packed in its small format, with an oven, microwave, stove, sink, refrigerator, and cabins. We love the added touch of a grocery list holder that can teach writing skills and organization.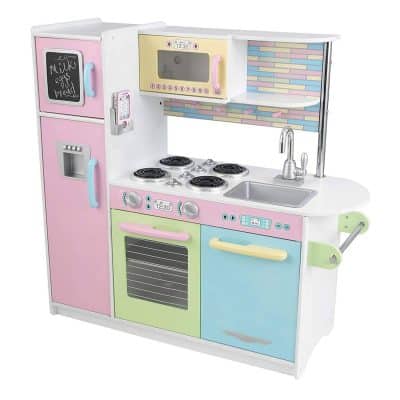 Special features of this toy include the cordless phone for pretend calls alerting friends and family when the food is ready and a chalkboard where your kid can note essential to-do tasks, daily specials or a grocery list.
Besides its attractive design, your kid will love the innovative countertop design that cleans easily. It is also large enough to allow multiple activities, with several accessories common in all kitchen playsets. For neat organization, the KidKraft Uptown Pastel Kitchen Playset features a convenient storage area above the sink where all the accessories can fit perfectly.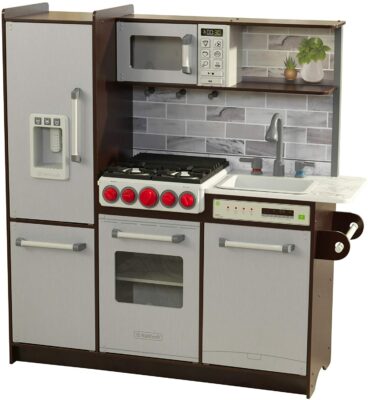 This small kitchen is one of the most realistic models in the lineup, with a host of features that are pretty close to the real thing. It's got an ice maker that spits out fake ice cubes along with a spinning towel rack. The hardware and fittings are realistic and functional, causing the kitchen to light up the cooktop and the microwave. The cabinets, the stove, and the fridge all latch close, and clear showcase doors let your child see what they're cooking. For the size, though, it's a bit pricey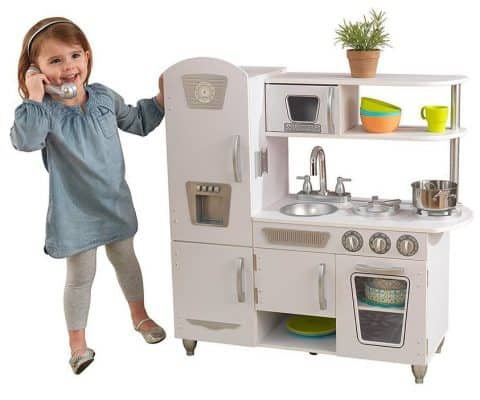 Like other products from KidKraft, it comes with a microwave, freezer, storage cabinet, and a refrigerator with doors that open and close like in real life fridges. The oven knobs can also easily turn and click, not forgetting the interactive pretend ice machine.
Your kid will also enjoy the sufficient storage space on the top and bottom of the sink that can keep all the toys and accessories. Its large counter space also makes it possible for multiple toddlers to play at once. This fosters teamwork and social skills.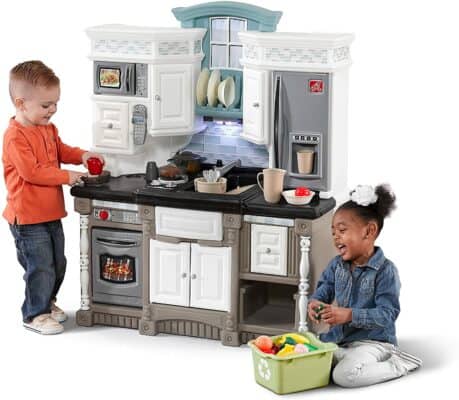 The stainless steel style microwave, an oven with 30-piece accessories make this kitchen play set a fully engaging toy for your kid. Your toddler will also enjoy the exciting delights of an electronic microwave keypad with a light-up stove that produces bubbling and frying noises.
To enhance attraction, manufacturers include stickers in the packaging for those who want to decorate the playset. The included coffee pot features a molded-in coffee maker with a nice touch for coffee enthusiasts.
To top it all off, its combination of durability and light weight make it great for anyone looking for a portable kitchen toy.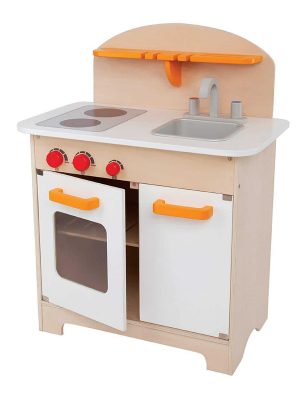 Its simple yet elegant finish is overly impressive, coupled with its ease of assembly. You will also admire the durability of this set despite the wooden make. Your kid will enjoy interacting with the refrigerators, burners, sink, and see-through oven that brings the kitchen realism to perspective. All of the materials used in its construction are as safe as possible. The Hape Gourmet Kitchen Kids' Wooden Play brings out a perfect combination of simplicity, great aesthetics, and functionality.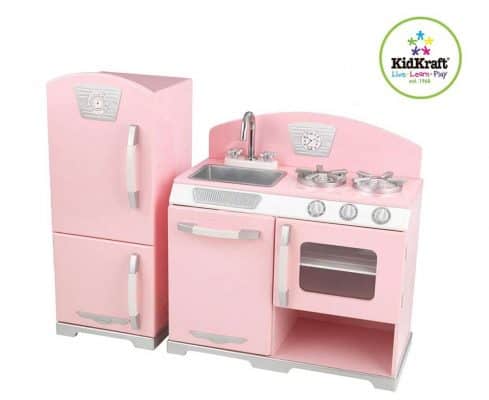 It is built from composite wood that is not only quality crafted but also durable to last for years. The bright finish is durable, easy to clean, and toxic-free. The sink can be easily removed for cleaning. The set is positively packed with various interactive features ready for fun cooking.
Doors of the set open and close easily adding to its realistic feel. The modular design allows your kids to arrange the fridge and kitchen set in a way that suits them better, considering the play space. The realistic stove burners made from molded plastic feature a detailed, durable design.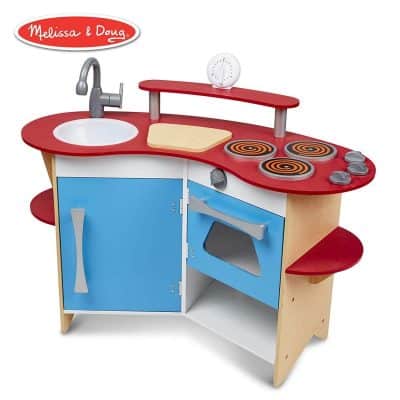 Like other high-quality kitchen toys, it has an oven, cutting board, stove with realistic clicking knobs, fridge and other essential kitchen accessories. Similarly, its sink is fully removable, and your kids can use it for water play or as a mixing bowl.
The ample shelf storage space and the 3-minute timer make it easy for your toddler to keep the area neat and organized. Despite its compact build, it is sturdy and fulfills your kid's fun and pretend cooking.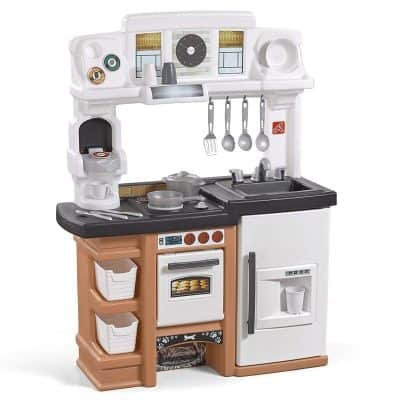 Among the vital features include an oven, microwave, stove, storage cabinets, and a fridge. Its real-looking stove will certainly catch your kid's attention as it lights up the pan placing and produces sizzling sounds. Note that batteries are required for this.
Your kid will also like the built-in coffee area in the toy. For upcoming baristas, they can grab a cup of their favorite coffee blend instantly. Once done cooking, your kid can easily clean the dishes in the sink with a swivel faucet. Your kid can then store all the included accessories once done with cooking and cleaning in the included storage compartments.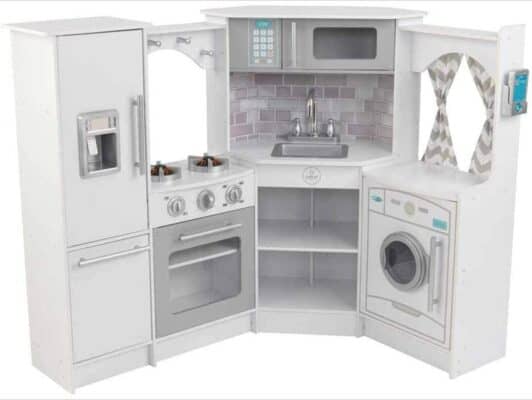 This KidKraft product is meant to fit in wherever, using a corner design and a white color that's perfect for a playroom of any color. It's loaded with engaging features like light up burners, along with speakers as well as shelving for storing play pots and pans. There's even a cordless phone with a hands-free clip and a removable sink that can be taken out for cleanup.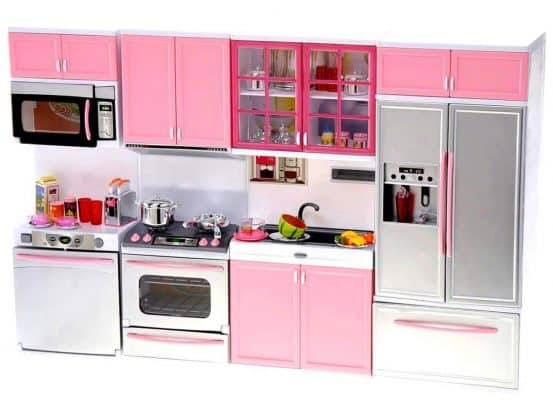 Firstly, the set lights up and produces bubbling sounds that make it almost real. It is battery operated and thus comes with an included battery. You will also love the beautiful, detailed design of the toy set.
Functionality is the other impressive feature of the Power TRC Kids Battery Operated Kitchen Playset. Cabinet doors open and close easily for enhanced accessibility and better storage. It also includes a wide assortment of kitchen accessories, including cups, pans, plates, and other food items.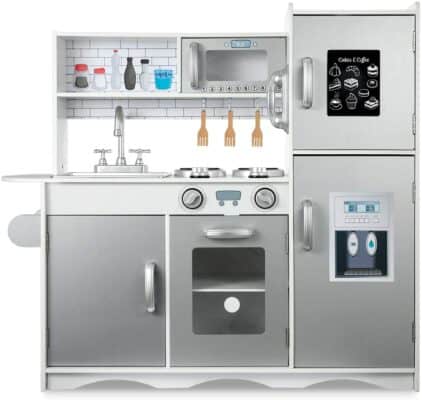 The fun details, including the stovetop with turning knobs, turns and clicks with realistic sounds for a realistic play. The much-needed convenience by your kid is also made possible by the included accessories in the set such as doors, refrigerator, dishwasher, microwave, removable oven, and dishwasher rack. It's got a flat back, meaning it works best when put up against a wall.
With all these accessories, this set provides ample storage space located under the microwave and sink with several cabinets. This brings room for neat and tidy organization.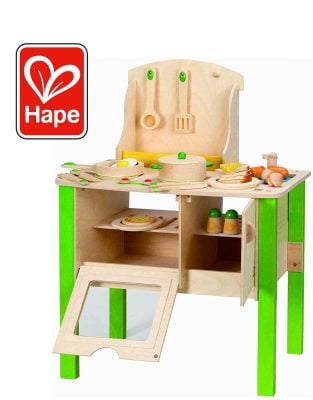 Basic accessories featured in all kitchen playsets include utensils for making essential foods, opening and closing door ovens, cabinets, hooks for hanging supplies, cabinets for storage and starter pans, among others. The set is also kid-height friendly for more comfortable play.
Hape My Creative Cookery Club Kid's Wooden Play Kitchen's solid wood construction with a combination of natural wood surface and painted finish adds to its stylish design. You will certainly see the quality craftsmanship and design.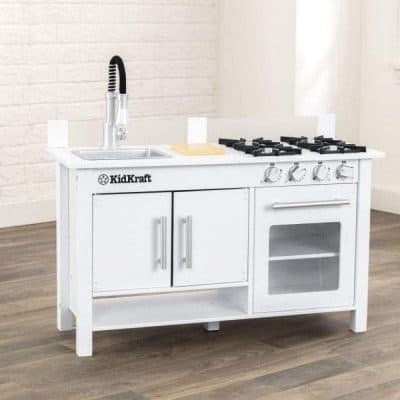 For your little chef to maintain a tidy and neat working environment, the play set has enough storage below the sink that is perfect for keeping food and other kitchen accessories. The wooden construction provides an assurance that your toddler will enjoy years of imaginative cooking fun, and the toy should even last long enough to pass down between generations.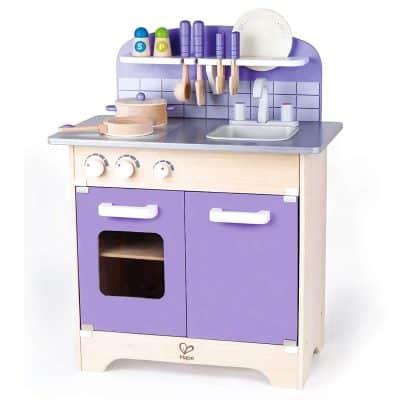 The high-quality wood make is an assurance of durable use and its sturdy nature. Your kid will enjoy cooking from this set for years. Being made from wood, manufacturers coated it with non-toxic paint to ascertain safety play for kids aged more than 3 years.
The various included accessories in the playset promote organization, spatial learning, and memory. Assembling this wooden set is easy, thanks to the detailed assembly guide.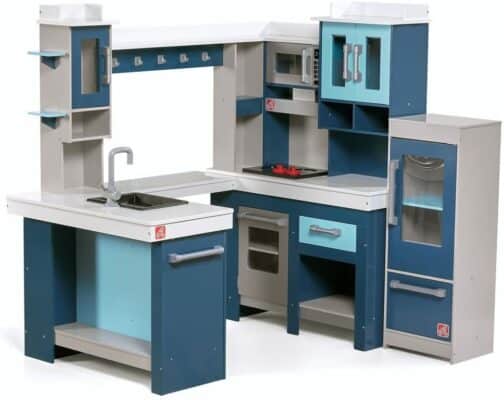 The kitchen set is made from solid wood. Among the featured accessories include pots, food, mitts, plates, and pans. The sink is also easily removable to ease the cleaning process. Once your kid is done cooking, he/she can place the dishes in the sink for cleaning and remove the sink for rinsing. Storage also isn't a challenge, thanks to the extended cabinets that provide ample storage space. It's one of the biggest kitchen sets in our lineup.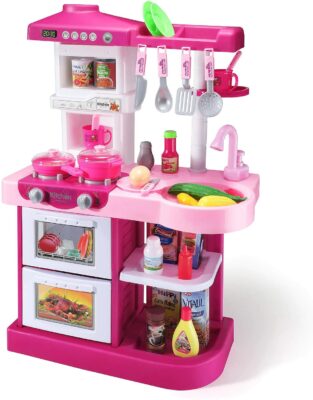 This colorful pink kitchen playset has a classic look and does a great job of imitating the real thing. It's got a small format with plenty of ingredients for playing-pretend. It also comes with vintage telephones featuring painted numbers on the rotary dialer, stripe cabinet carving, silver faucet, cookware, enamel-feel cabinet handles, and a silkscreen backboard with various pictures of appliances.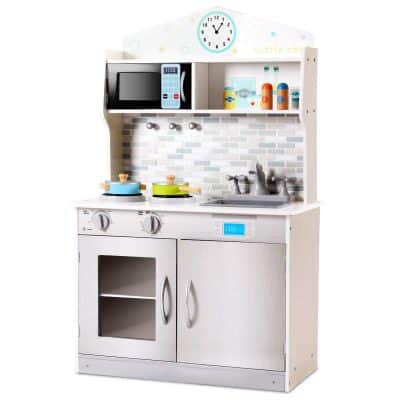 Realistic details are what most people look out for when purchasing any kitchen playset. Well, this model includes realistic accessories including a pot, kettle, sink, dish towel bar, and spatula to keep your little one busy creating some imaginary meals. The clicking adjustable oven switch brings forth plenty of imagination.
Storage space isn't an issue with the CostZon Kids Kitchen Playset. The set features a large storage space that can store all the cookware. The sink is also removable and easy to clean up.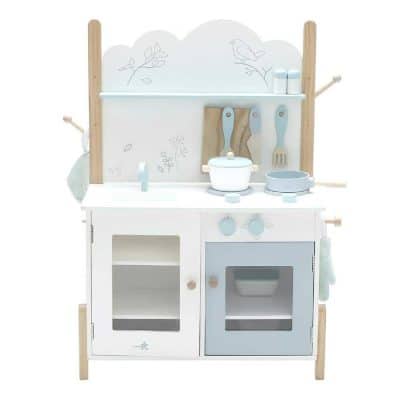 Kitchen playsets are not just fun, but also set up an environment for your toddler to role play and use their imagination. They also encourage fine motor skills, hand-eye coordination, and cooperative social situations. This set's high-quality material make is designed to last long whole ascertaining safety. All the pieces are tightly looped together to provide a smooth and comfortable touch.
Besides the fine quality make, it is finished with non-toxic covering paint without potentially harmful odor. This enables kids to play carefree. The Labebe Kids Wooden Pretend Kitchen Playset is a perfect birthday gift for any toddler who enjoys cooking.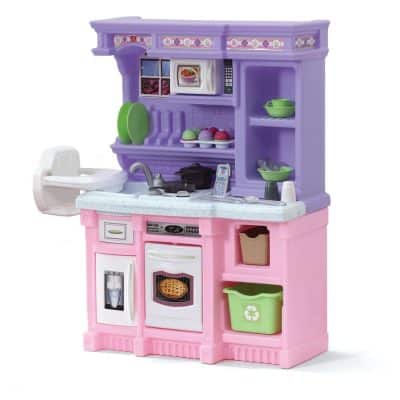 The featured oven, refrigerator, and microwave in the set are overly realistic and will entertain your toddler for hours. It also comes with a frying pan and a pot that makes frying and boiling water sounds for enhanced realism. For ease of use, it has a built-in chair where your kid will sit for hours "preparing" meals.
Despite its plastic make, it features a granite-looking countertop. The construction, in general, is compact and won't take up much of your kids or kitchen room.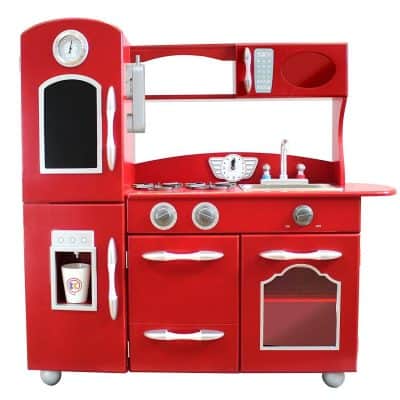 For imaginative play, the set comes with a chalkboard where kids can keep track of their grocery lists and to-do list. The kitchen also features a cordless phone where kids can keep in touch with friends and family when preparing their perfect meal.
The included removable sink is easy to clean. It is a stainless steel finish unit that is not only attractive but also spacious to enable your kid to wash their dishes with ease. The easy to grip microwave and oven knobs click as they turn to create a realistic cooking experience. The fridge has a wide storage and comes with various cooking accessories.
The playset comes with all the essential accessories, including a sink, stove, clock, working knobs that enable plenty of imaginative play. It is also made from long-lasting materials that endure long periods of rough play from kids. It is finished with a non-toxic paint.