Top 30 Best Play Tents For Kids 2023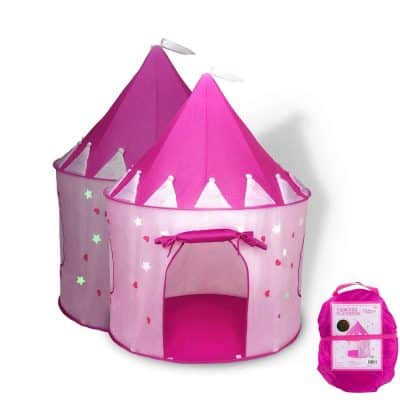 This Princess Castle Play Tent is perfect for girls between 2 and 8 years old. Your little girl will enjoy her new secret hiding place with colorfully decorated hearts and glow-in-the-dark-stars. The play tent features sturdy shock-corded fiberglass poles for quick and easy assembly.
The foldable toy house features a fold-down door and a peep-through window for hiding and piping, a great way to have fun and adventure. This cute little tent is both lightweight and portable and features a compact carry zipper bag for easy storage—although refolding the tent isn't quite as easy as setting it up. The play tent also features a kid-friendly design that's easy to clean with a damp cloth and soap.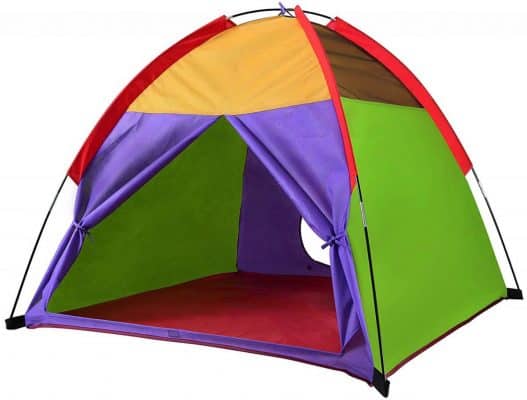 But the play tent is not simply intended to make kids enjoy outdoor camping. It is mostly used indoors due to its vivid colors. Each side of the play tent has a distinct color which already makes it more child-friendly. But it is also important to recognize the play tent is one of the few rare breeds which has been made with true versatility. From hosting tea parties to being the play tent chosen to play games such as chess, it can support various needs. It is not as specific as a castle-themed play tent.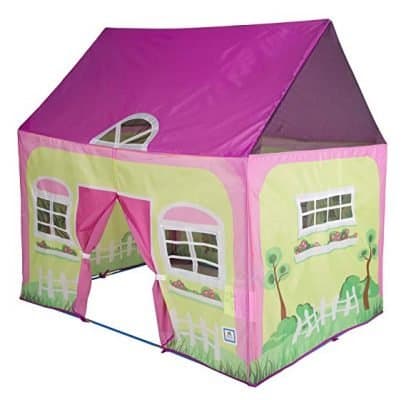 Front door access and rear tunnel port access is included. It means kids can have their own escape plan and enjoy one of the simplest and most efficient methods of playing hide and seek. Of course, the access point also comes with makeshift doors which means kids can have their privacy when needed.
With a large design, the play tent is suitable for different types of games. It can accommodate more than 3 friends and it does this with full durability. Made with distinct durable stitching, the play tent is one of the simplest and most efficient manufacturing examples in the play tent market. Based on durable fiberglass poles, it can resist for years and years.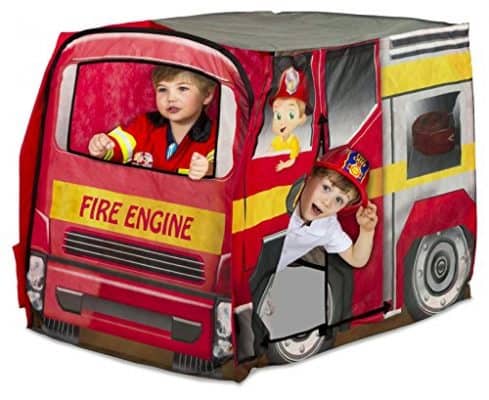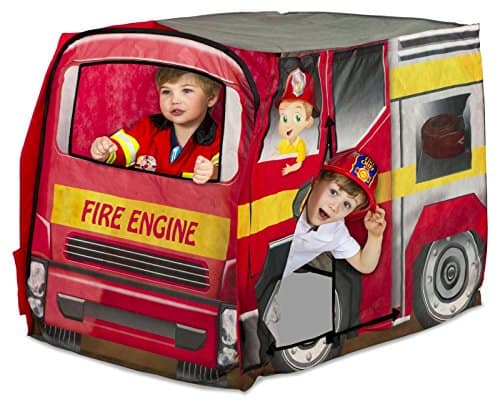 Made with patented twist-and-fold technology, it stands out with its versatile profile and one of the simplest and most efficient folding designs. Once playtime is over, parents can kindly fold it down and put it into storage. Furthermore, the play tent can also serve a storage space in itself, keeping most of the toys kids have around their rooms.
In terms of other tents compatibility, the Fire Engine Vehicle can also be connected to a tunnel port, which means the combination of play tent options is actually endless. But most importantly, the play tent offers kids a bit more perspective into the important work firework departments around the country are doing.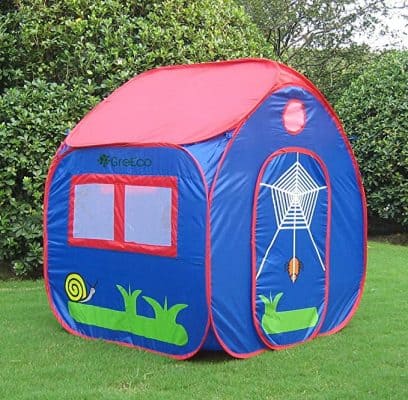 With a size of 4 X 3.5 feet, the playhouse tent can host various games and events. With spring pop-up, it may prove useful even when kids want to take it to parks or simply away from home. With open doors and mesh windows, the pop-up tent can also be a source for hours of fun during the summer.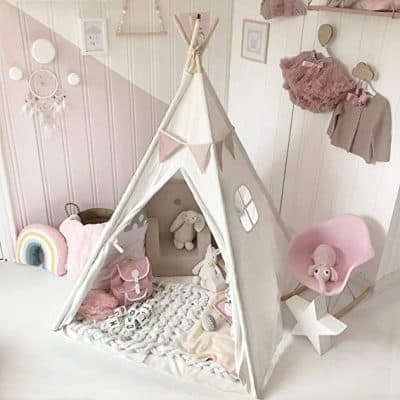 One of its distinct advantages is the impressive cotton material. There is a cotton mat shipped with the teepee as well. The mat has 7 anchoring points and it provides a comfortable and safe surface for kids to play on or even sleep on. With a height of 5 feet, the teepee is suitable for kids of various ages. However, parents should also know that cotton might need a bit of ironing when the teepee is installed from storage. But the good news is the cotton can also be washed in the washing machine to clear it from dust mites.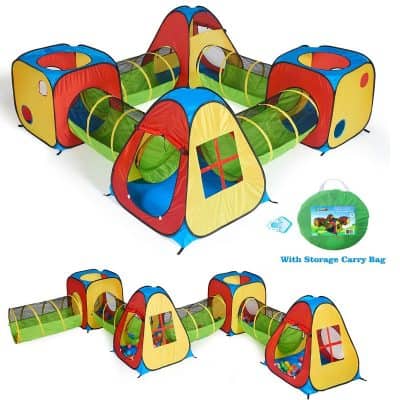 There are two square-style tents and two teepee style tents which are connected by a system of tunnels. Parents can install the system both indoors and outdoors. In total, the 8 pieces encourage physical play and it can even help some kids burn a few extra calories. But most importantly, it targets the imagination of children who will come up with different ways of going through the tunnels and through the tents shortly. Designed with large mesh panels, the system is safe to use for kids of all ages.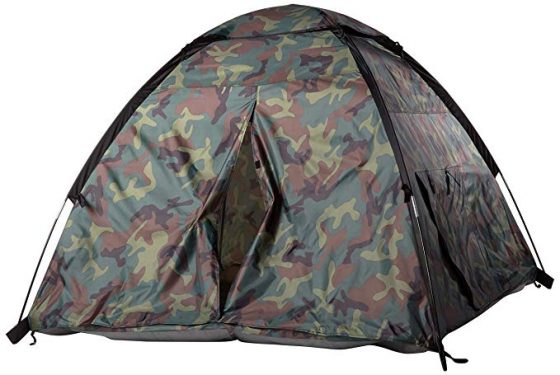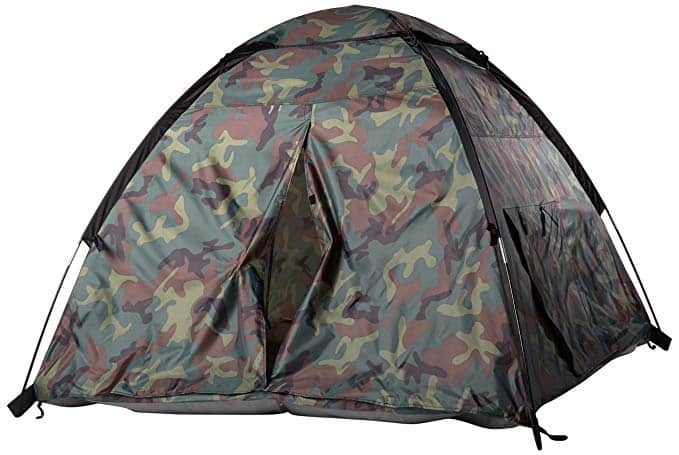 Apart from its distinct military look, the play tent also features two large front doors for easy access. There are two tunnel ports for kids to crawl through as well. Since the camouflage tent has its place in certain areas such as outdoor camps, parents can rest assured it can even be left outside during rainy days. Made to resist water infiltration, the tent uses durable materials. This can also be seen in the strong and flexible fiberglass tent poles. Encouraging physical activity, the camouflage tent can also be part of an inspired gift idea with other military games.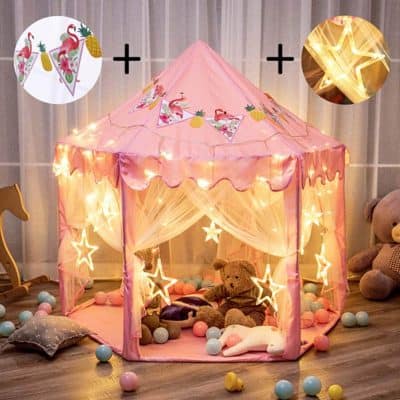 The soft mesh fabric play tent panels can also be distinctly folded to suit various types of decoration ideas. Together with accessories such as comfortable pillows and toys, girls can enjoy one of the most distinct play tents of the moment which turns its magic on when the lights are off.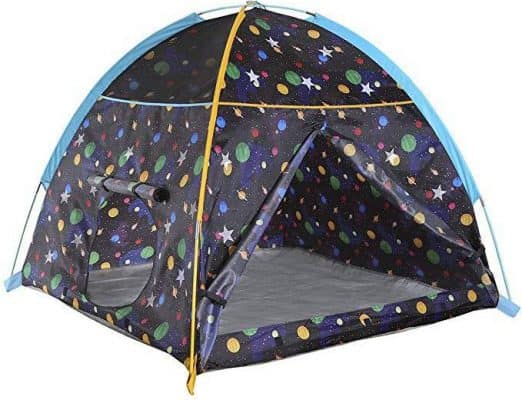 With plenty of rooms for friends, brothers, and sisters, the tent can also fully closed when not in use. But distinctly, the tent is also made from one of the most durable polyester fabrics in its class, making it suitable for multiple kids due to its durability. At the same time, the play tent also comes as one of the options for play tunnel compatibility. There is a 19" opening for this purpose. With such a durable profile, the play tent can be one of the safe spaces kids use in the evening to watch the stars or to simply enjoy a relaxing playing space with glow-in-the-dark stars.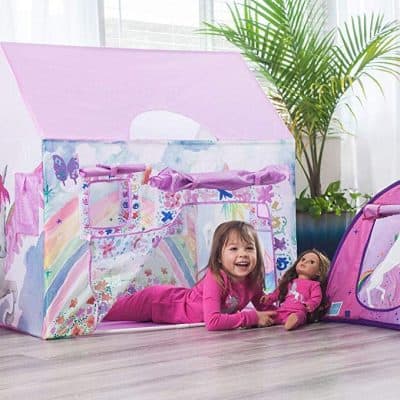 Inspiring the imagination of little girls, the play tent is also made with durable and breathable materials. A few of its panels are ventilated for better breathability. But most importantly, the playhouse can be installed within minutes. Parents can install it both indoors and outdoors. Since the tent has a size of just 40"X41", it can also be one of the permanent structures in the kids' playroom.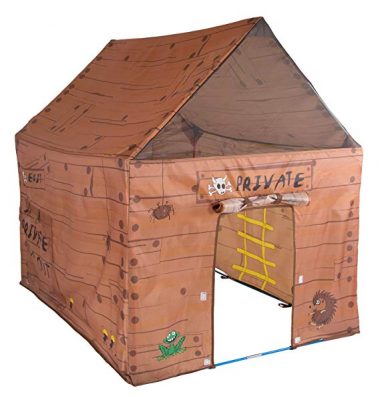 Kids can enjoy multiple ways of actually playing with the tent. The durable polyester materials are used for any types of games. Even crawling through the back tunnel port proves a simple way of enjoying fun activities with friends.
Made with durable stitching and ventilated mesh panels, the playhouse tent can also completely shut its doors and windows for kids to tell their most unique and adventurous stories. Most importantly, the tent is made to encourage physical play, which has now become rarer and rarer as kids get access to more gadgets.
At the same time, there are multiple ways in which this luxurious tent might be used. If it could get dirty easily when installing outside, it is certainly a comfortable option for indoor fun. The tent is used by kids of all ages and it can even fit small child furniture. But at the same time, it can also be accessorized with pillows and blankets for hours of fun.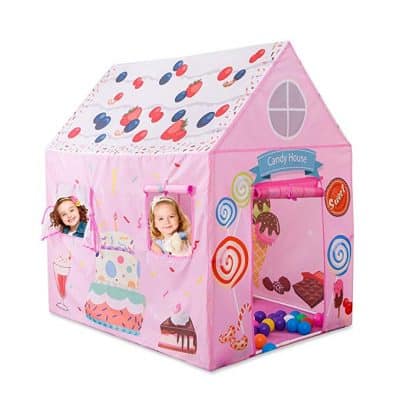 Up to 3 kids can play inside the tent at the same time. Of course, it doesn't need to be a special occasion such as a birthday to enjoy the tent. Parents can even consider taking it to friends' house since it is so lightweight and easy to install. At a combined weight of just 3lbs, the play tent is one of the lightest designs in its class, making it a suitable option for playing in different areas of the house.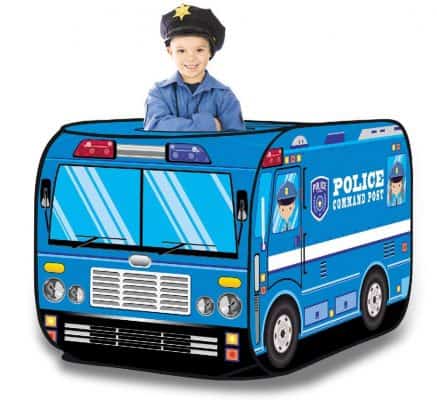 Liberty Imports has done a good job with its polyester police play tent. It has two openings. One opening is at the top of the tent to allow kids to stand up. Another opening is to the back of the tent which is also the access point for future police officers. Interestingly, the tent has a self-standing fold-up design which means it is actually ready for action in seconds. Other alternatives such as school bus or ice cream truck designs are also available form Livery Imports.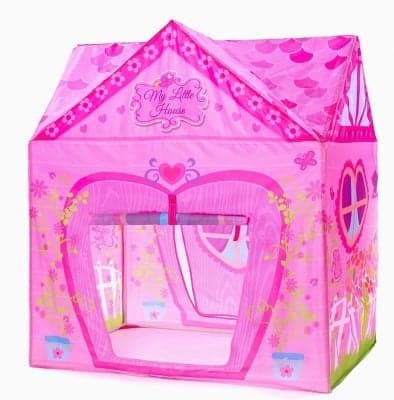 Made with two access doors, the play tent can be used both indoors and outdoors. It is among the suitable options for play and sleep. This is why many girls prefer to curl up with a blanket for nap time inside the play tent. However, with multiple access doors, the play tent is also highly suitable for friends' gatherings.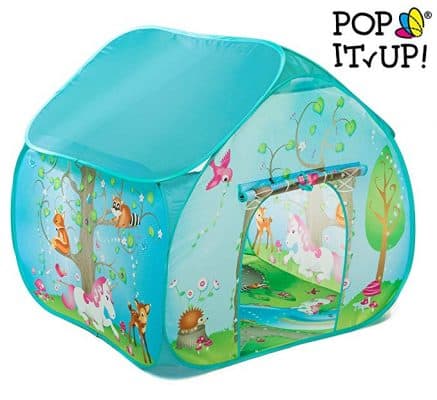 Kids can also use the play tent to learn more about animals living in the forest. Parents can have kids sitting inside the ten while reading them stories. Luckily, there are many positive stories to tell with animals and the printed theme of the tent can help kids visualize the animals better.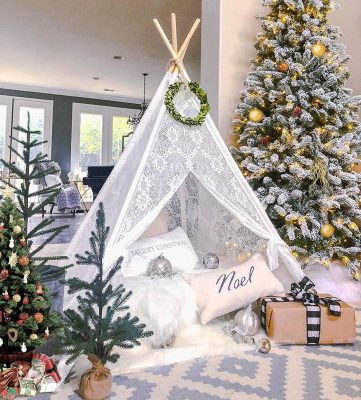 The teepee is supported by real pine wood poles which give it a special look that kids will love. As with all teepees, parents also have the ability to decorate it to suit the kids' room. The sheer material also means the teepee will not be installed outside, although parents might get away by placing it on a patio or balcony not facing strong winds.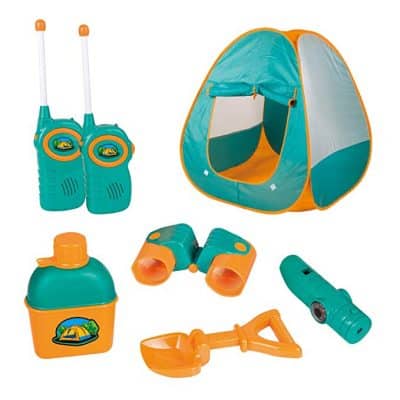 Kids will love the pop-up style of the tent which ensures it is ready for action in seconds. Then they can use the included walkie-talkies to communicate and to strategies their hide and seek plans. Sharing the playset is one of the main advantages of the 12-piece kit as kids can learn how to bond and how to communicate better among them.
There are other educational benefits to the set as well. For example, kids can learn how to use a thermometer. But one of the best parts about the set is that it actually encourages play outdoors in the fresh air, which is something many kids lack today.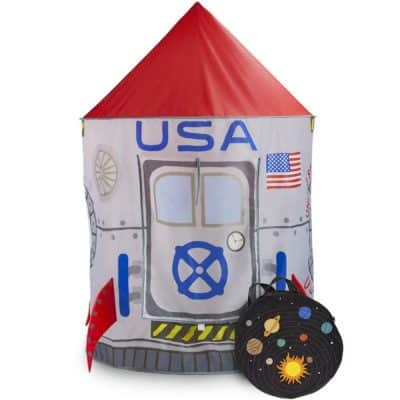 There is minimal assembly required with the spaceship. Even more, it folds completely flat and it can fit inside a small travel bag it comes with. Kids can take it with them on sleepovers as a result. However, the tent is mainly a design made to boost imagination. For most kids, it represents a design which can make them think more about tech and outer space, which would also be a great time for inspired bedtime stories.
Some other ways of enjoying the play tent can also be considered. For example, kids can fit up to 600 ball pits inside the play tent, making it a distinct design for hours of fun with friends as well. With enhanced functionality, it can also be used for toy storage.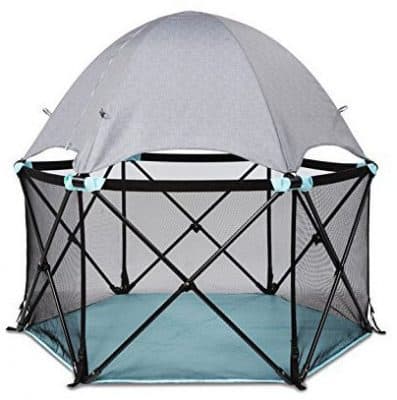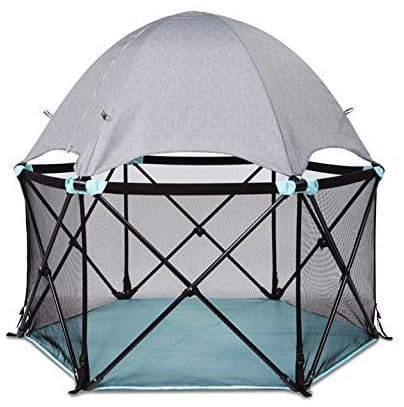 Design-wise, the playard is made with a lightweight folding frame. It supports kids of different ages and it offers functionality which means it can easily be stored behind furniture, in the garage or in the basement. However, the bottom section is not removable so parents will need to lay blankets to keep it clean.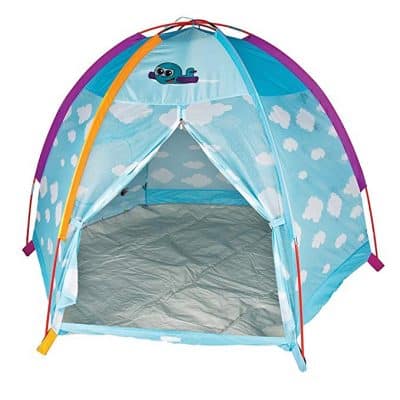 With simple tent pole installation, the Dome is one of the designs which are also easy to clean. This is why kids can even consider having their lunch inside the tent. Once playtime is over, the tent is fully foldable and it can be stored in the carry bag it comes with.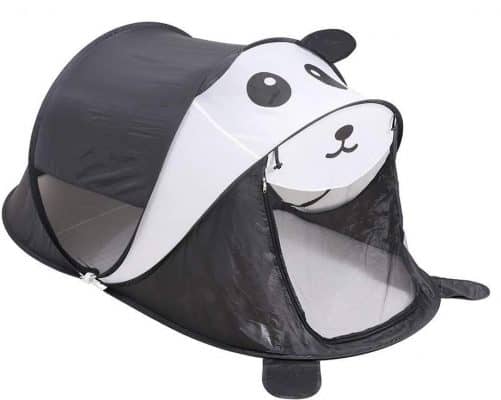 The panda-shaped tent comes with a zipped front access door. It allows kids to have their own space and they can even use the tent for toy storage if needed. The pop-up design means the tent is free from anchoring points as well and that it can be installed freely inside the home.
Made with thick materials, the Dream Tent blocks out strong air currents in the house and it also blocks out the light from windows. Kids can fall asleep faster as a result. Using a zipper to completely block out light, the tent is useful for kids of all sizes.
Furthermore, the tent can also be used by adults as it can accommodate grown-ups and sleeping mats. Made with a sturdy frame, the sleeping tent.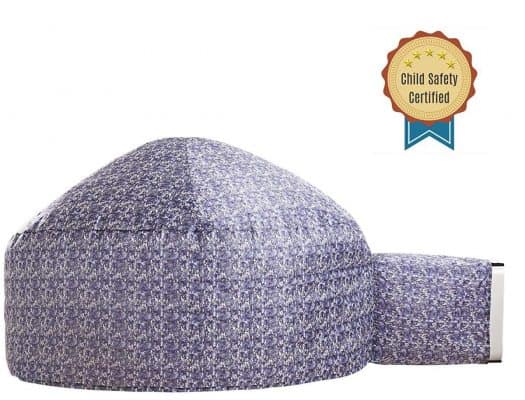 One of the best parts about the inflatable float tent is that it comes with no floors so that kids can enter and exit it quickly. There is a ventilated mesh opening on the roof for better breathability as well. Inside the pack, kids will discover 4 adhesive tabs as well.
One of the best parts about the tent is that it allows plenty of light inside. Kids can actually draw, write or play inside for a long time as a result. Furthermore, kids also have the freedom to enjoy it as often as needed, as it only takes a few minutes to fully inflate.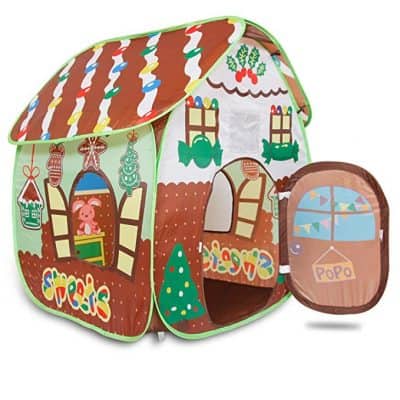 The house itself is tiny so it will only fit one or two kids. But it comes with a fully functional front door. Similarly to some of the best play tents in this class, it also comes with a pop-up design. Having it ready for playtime will not take long. Kids can enjoy its colorful design both from the outside and from the inside.
Due to its friendly design, the play tent can be used in many locations. It can be used at home as a cozy play space. It can be used in the kindergarten where it can be one of the multiple toys kids can play with. But the tent can also be the main attraction of various weekend kids' parties.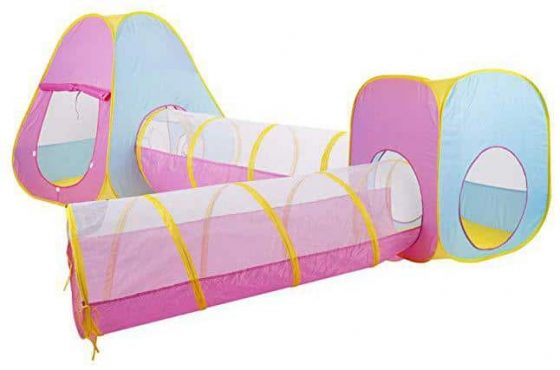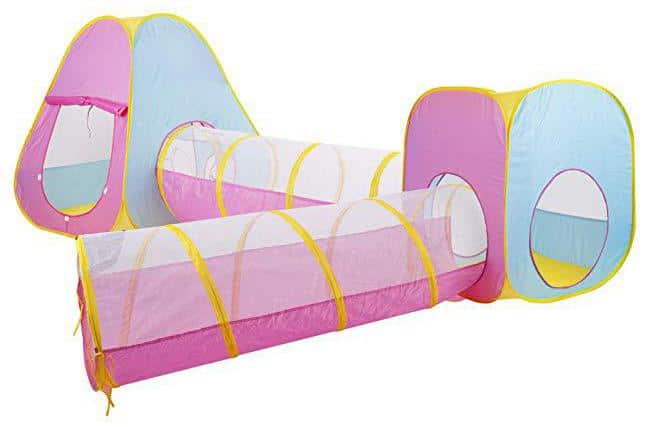 Made with materials which can fold down completely, the play tent is among the most rewarding designs in its class. Since it is quite large, it may only be a temporary playing solution. It can be placed in storage easily as a result.
Using polyester materials, the set is also durable. With added mesh sections, it remains safe as it allows good airflow inside. Kids can use it for hours at a time for endless games and a boost in imagination.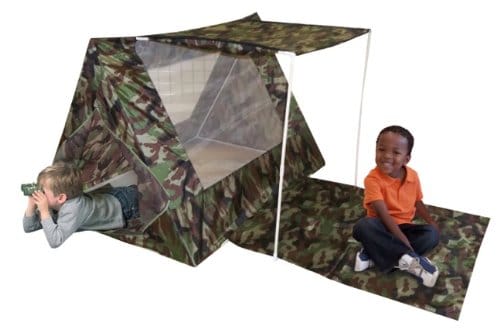 With a camouflage design, the play tent is perfect for outdoor activities. With large mesh windows, it is suited for use in the summer heat as well, which means kids can make the most of their day outside the house.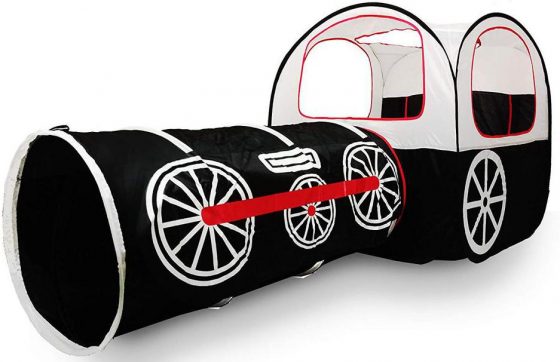 Kids can crawl and stand up in the tent and they can use it as part of their daily playing routine. Most importantly, the ten will spark their imagination with its unique train-inspired design. As all tents from Alpika, it also meets USA CPSC toy safety guidelines.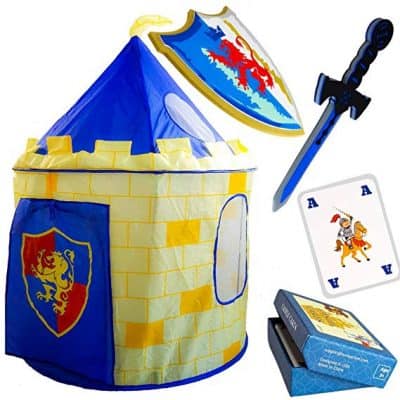 The durable tent is made with Velcro. It comes with castle-specific artwork and it also includes a few interesting extras such as the air circulation mesh windows. Apart from the distinct historic design, the play tent also comes with different card games which kids can use to have their own fun inside the castle. But other accessories are shipped with the play tent also. They include a shield and a sword. But parents can relax knowing these accessories are actually made from foam.