Some of the best play tents offer one of the simplest and most fun solutions for endless playtime. Regardless of the gadgets today's kids have, there is something special about play tents as they stood the test of time. From the classic tent up in minutes to stylish teepees, there are so many options to consider.
Parents can even consider multiple play tents as they have different themes. Kids can enjoy some of the best designs of the moment simply by following their favorite cartoons or group activities with these play tents. At the same time, there are indoor and outdoor designs to consider. All of them have their own characteristics and they can be the foundation to inspired hours of solo or group fun. The following best play tents for kids selection follows the different options at hand at the moment.
Top 30 Best Play Tents For Kids 2020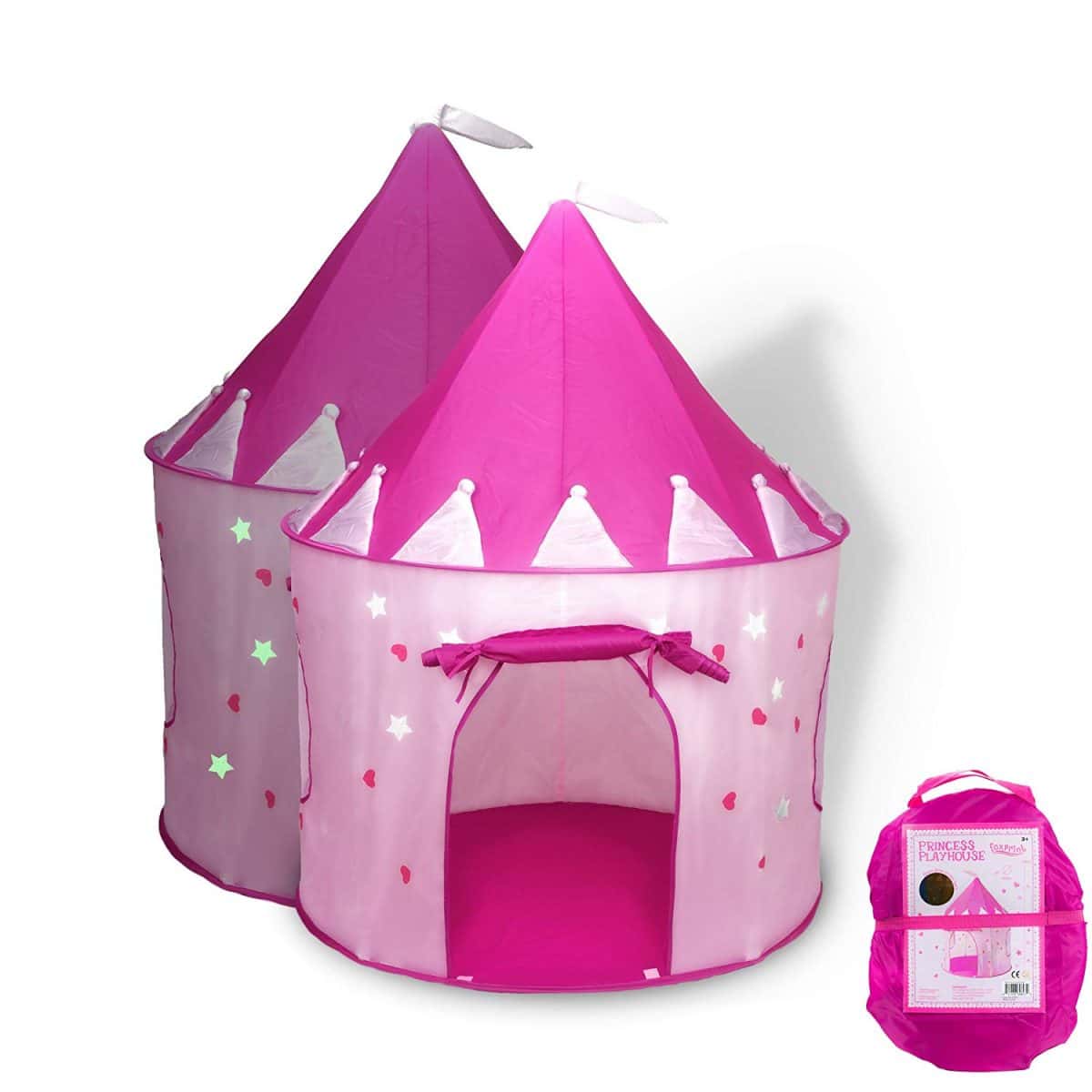 All kids need space of their own. Whether it comes under the form of a secret hideout or under the form of a simply hanged blanket, personal spaces have always intrigued children. The FoxPrint Princess Castle Play Tent is a great example of a child's personal space.
Made with a foldable pop-up design, the play tent can be the mobile solution which then transforms into a play tent in different locations around the house. Its design allows for even more secluded personal space as it comes with drop-down front door access. Most importantly, kids will be able to enjoy their own space with a design which intrigues mostly girls, but which has proven friendly to young boys as well.
On its own, the play tent enhances imagination. Little girls can enjoy some of the best time being actual princesses with their closest friends. On sunny days, princesses can also move outside the house where the play tent is as easily set up as indoors.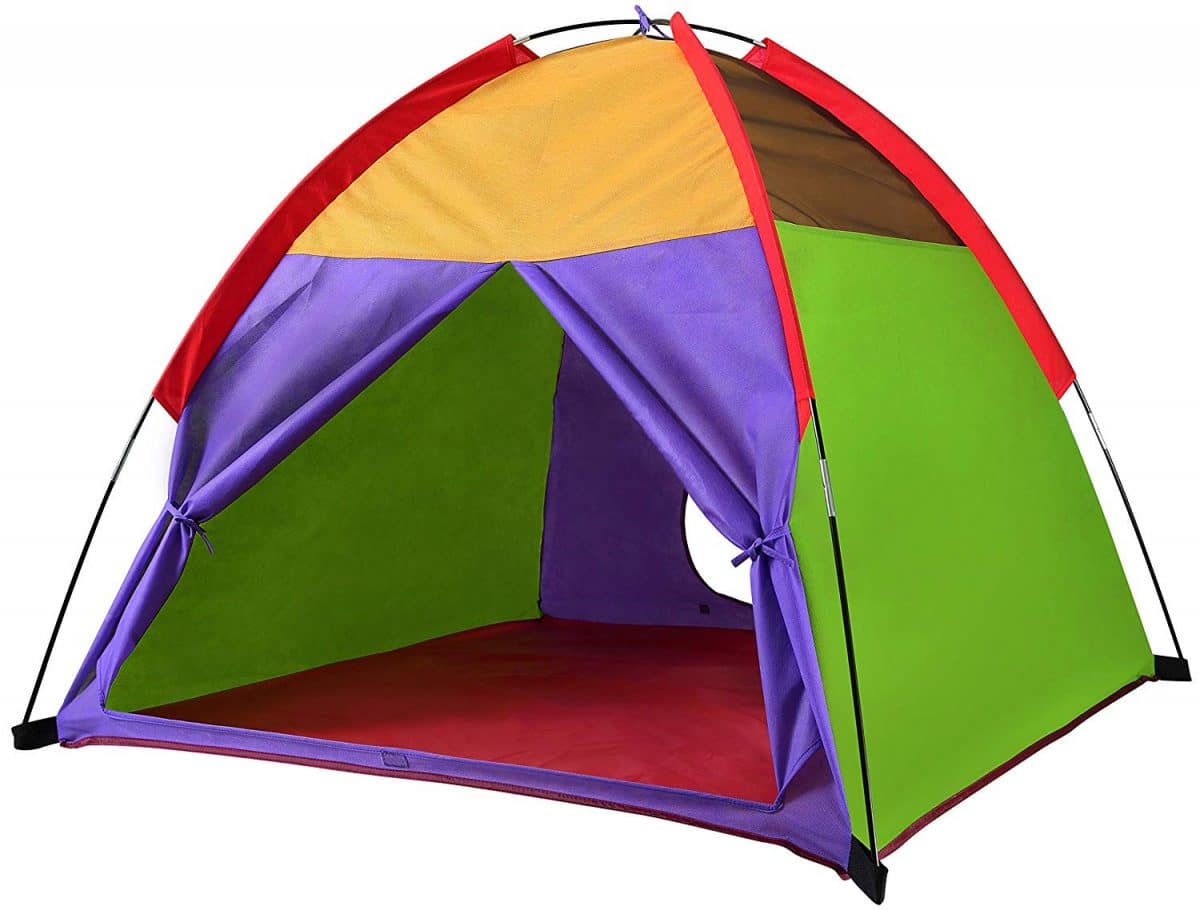 There is no denying a play tent which resembles an actual tent can have immense appeal with children. The Alvantor Kids Tents Play Tent is a rare example of how an actual tent can have an appeal to children looking to have fun. In some cases, the tent can also represent a smooth transition from a simple play solution to a real tent and outdoor camping.
But the play tent is not simply intended to make kids enjoy outdoor camping. It is mostly used indoors due to its vivid colors. Each side of the play tent has a distinct color which already makes it more child-friendly. But it is also important to recognize the play tent is one of the few rare breeds which has been made with true versatility. From hosting tea parties to being the play tent chosen to play games such as chess, it can support various needs. It is not as specific as a castle-themed play tent.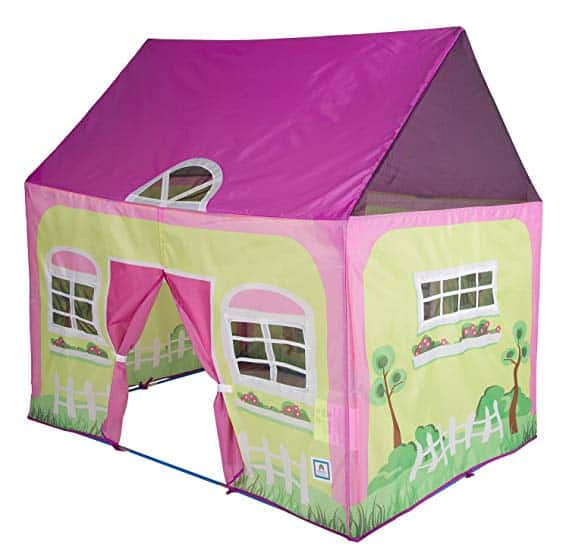 A cottage play house tent is serious business. It allows many small kids to stand inside and this is why it is often transformed into an actual playhouse. Without too much pressure on accessories and complicated designs, the manufacturer has managed to successful focus on the simplicity of the play tent.
Front door access and rear tunnel port access is included. It means kids can have their own escape plan and enjoy one of the simplest and most efficient methods of playing hide and seek. Of course, the access point also comes with makeshift doors which means kids can have their privacy when needed.
With a large design, the play tent is suitable for different types of games. It can accommodate more than 3 friends and it does this with full durability. Made with distinct durable stitching, the play tent is one of the simplest and most efficient manufacturing examples in the play tent market. Based on durable fiberglass poles, it can resist for years and years.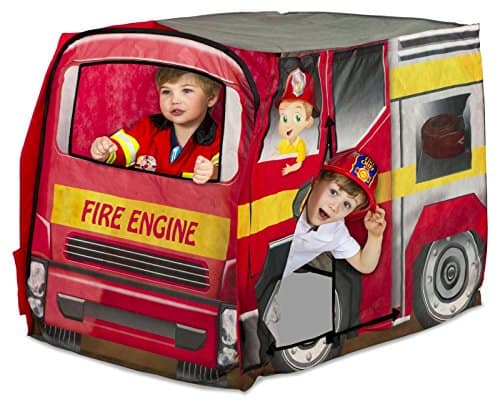 This distinct play tent is actually a 2-in-1 design. It is also a fire engine vehicle which makes it one of the attractive solution for kids who want a bit more action during play time. Without too many complications, it can be one of the toys for themed-parties, but it will mostly work for imaginative play.
Made with patented twist-and-fold technology, it stands out with its versatile profile and one of the simplest and most efficient folding designs. Once playtime is over, parents can kindly fold it down and put it into storage. Furthermore, the play tent can also serve a storage space in itself, keeping most of the toys kids have around their rooms.
In terms of other tents compatibility, the Fire Engine Vehicle can also be connected to a tunnel port, which means the combination of play tent options is actually endless. But most importantly, the play tent offers kids a bit more perspective into the important work firework departments around the country are doing.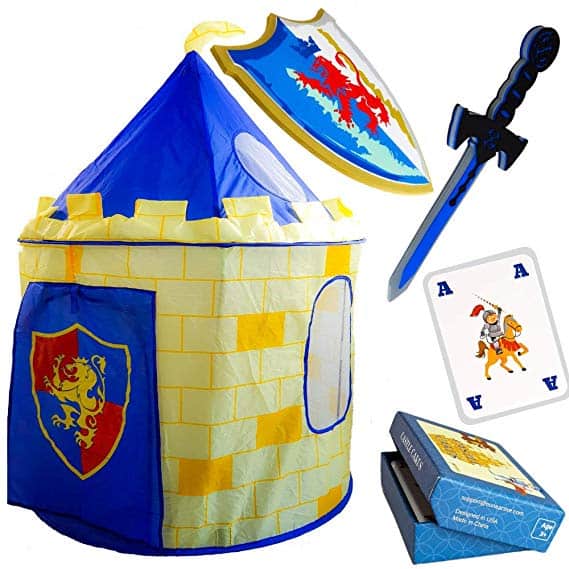 The knights in shining armor might be seen in real life, not just in fairytale books. This distinct Knight Castle Play Tent offers a memorable design. It is one of the most intriguing play tents in its class. Of course, its main appeal is its theme but its design is not bad either.
The durable tent is made with Velcro. It comes with castle-specific artwork and it also includes a few interesting extras such as the air circulation mesh windows. Apart from the distinct historic design, the play tent also comes with different card games which kids can use to have their own fun inside the castle. But other accessories are shipped with the play tent also. They include a shield and a sword. But parents can relax knowing these accessories are actually made from foam.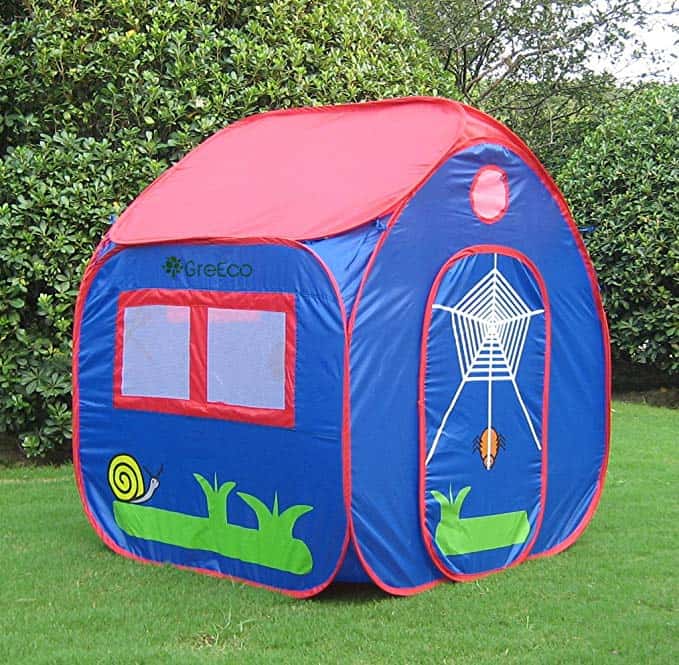 In some homes, having tents which are easily installed and folded is crucial. Those with many kids know the importance of such versatility. It is why the GreEco Kids Pop Up Tent is distinct in its own way. It comes as one of the options for those who want a tent but who do not have space for a permanent solution. This is why the tent offers a unique twist to collapse design. It allows parents to fold it even without having to remove its frame.
With a size of 4 X 3.5 feet, the playhouse tent can host various games and events. With spring pop-up, it may prove useful even when kids want to take it to parks or simply away from home. With open doors and mesh windows, the pop-up tent can also be a source for hours of fun during the summer.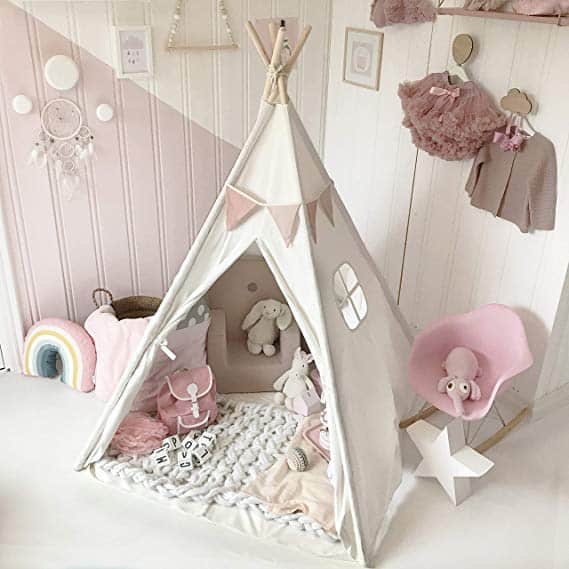 This elegant teepee might be one of the special options for kids and toddlers. It can be distinctly decorated and its luxurious feel and design can make it fit any type of room. Of course, as with all teepees, it can actually be easily accessorized.
One of its distinct advantages is the impressive cotton material. There is a cotton mat shipped with the teepee as well. The mat has 7 anchoring points and it provides a comfortable and safe surface for kids to play on or even sleep on. With a height of 5 feet, the teepee is suitable for kids of various ages. However, parents should also know that cotton might need a bit of ironing when the teepee is installed from storage. But the good news is the cotton can also be washed in the washing machine to clear it from dust mites.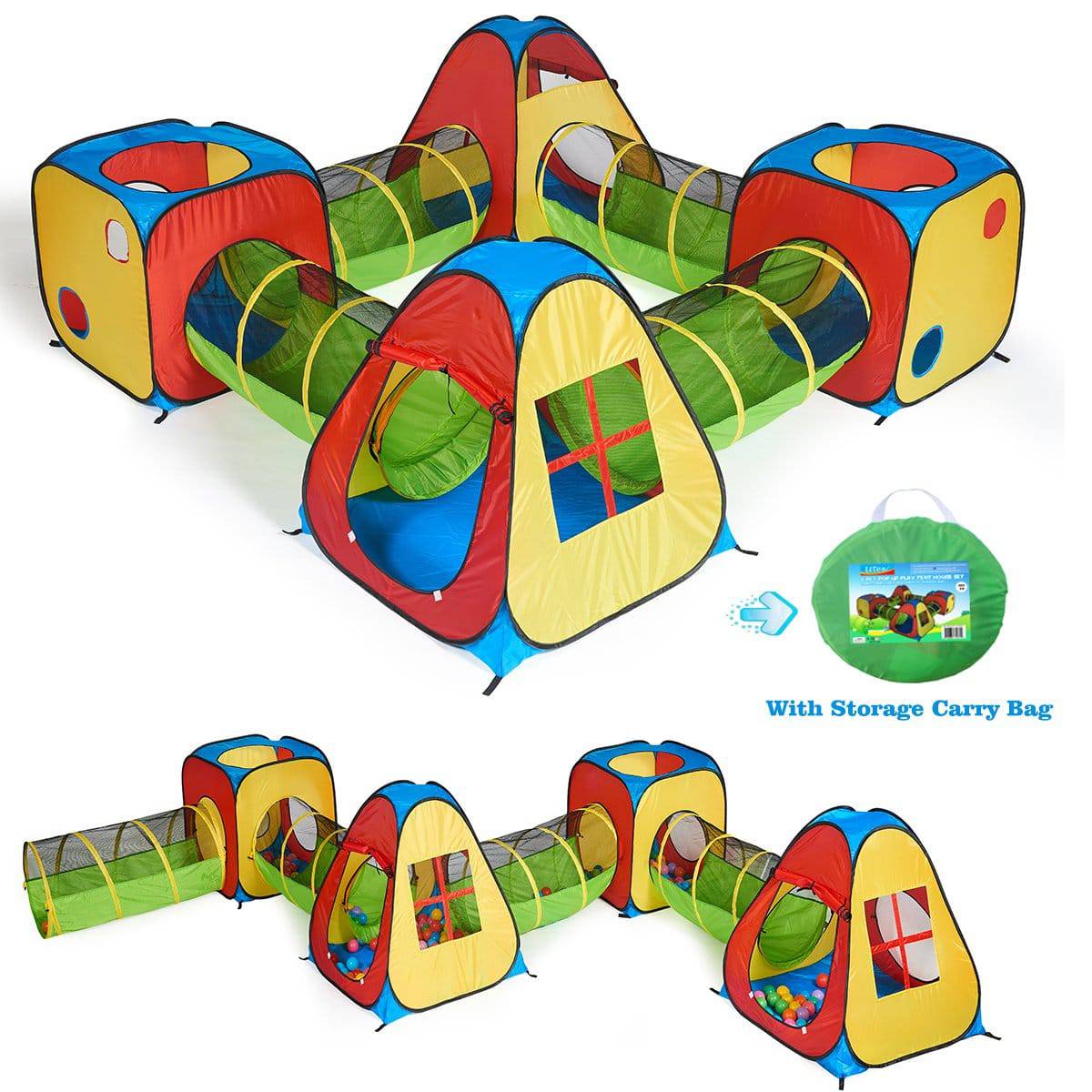 This extra-large play tent is a sensible choice for active kids. Not all kids want to stay inside a teepee and they might consider a more active style of play. This is where Utex's design comes in with its 4 tents and 4 tunnels. These tents can also be filled with play balls to offer even more accessories for hours of fun with friends.
There are two square-style tents and two teepee style tents which are connected by a system of tunnels. Parents can install the system both indoors and outdoors. In total, the 8 pieces encourage physical play and it can even help some kids burn a few extra calories. But most importantly, it targets the imagination of children who will come up with different ways of going through the tunnels and through the tents shortly. Designed with large mesh panels, the system is safe to use for kids of all ages.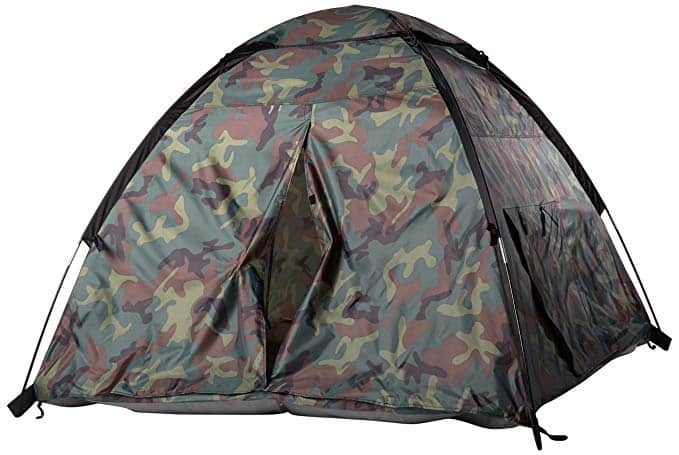 A camouflage tent is one of the simplest and most rewarding play tents kids can hope for. Any child can remember playing different games where camouflage was part of the routine. But the Narmay play tent is actually made to be used both indoors and outdoors.
Apart from its distinct military look, the play tent also features two large front doors for easy access. There are two tunnel ports for kids to crawl through as well. Since the camouflage tent has its place in certain areas such as outdoor camps, parents can rest assured it can even be left outside during rainy days. Made to resist water infiltration, the tent uses durable materials. This can also be seen in the strong and flexible fiberglass tent poles. Encouraging physical activity, the camouflage tent can also be part of an inspired gift idea with other military games.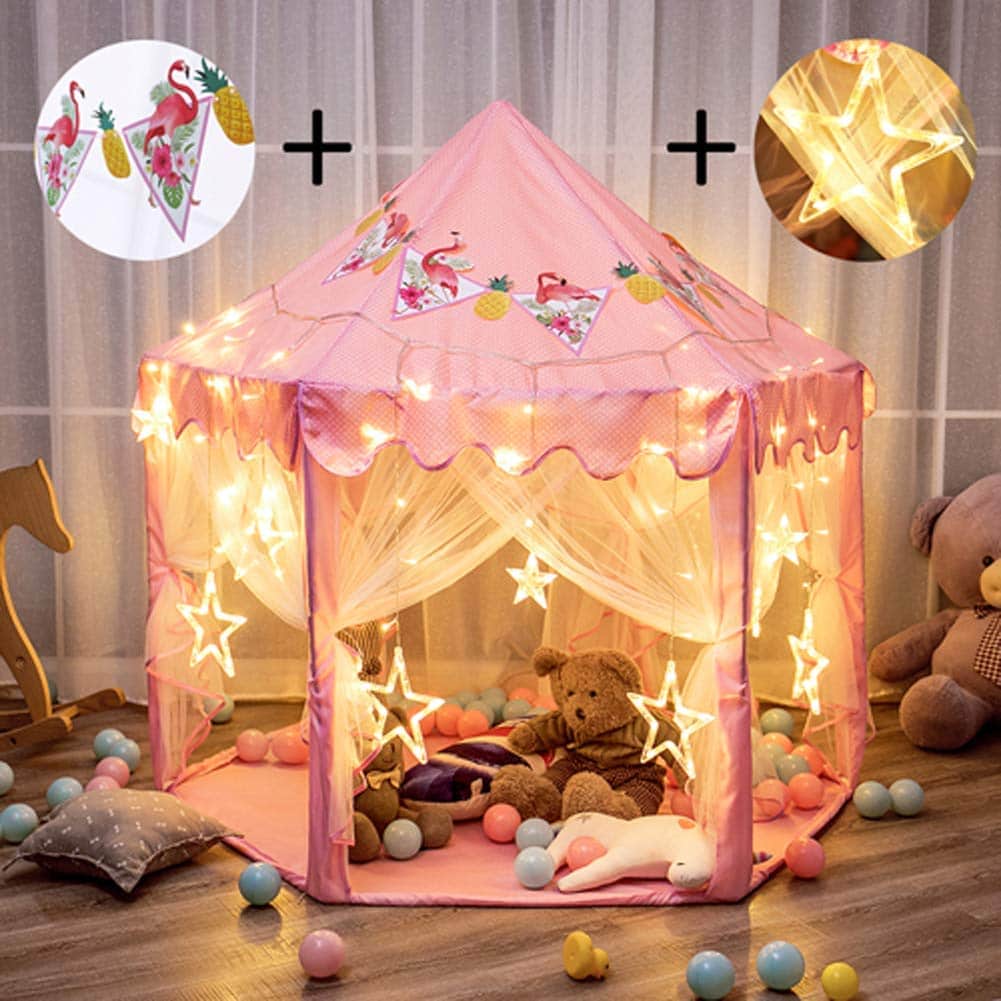 These distinct princes play tent can inspire nights of fun reading, playing with toys and dolls or simply enjoying a personal fairytale space. Made in a unique hexagonal shape, the play tent looks very distinct from what kids can choose from at the moment. Even more, it represents one of the suitable options for extra decoration. It ships with decorative LED start lights which create a very distinct ambiance for kids to enjoy.
The soft mesh fabric play tent panels can also be distinctly folded to suit various types of decoration ideas. Together with accessories such as comfortable pillows and toys, girls can enjoy one of the most distinct play tents of the moment which turns its magic on when the lights are off.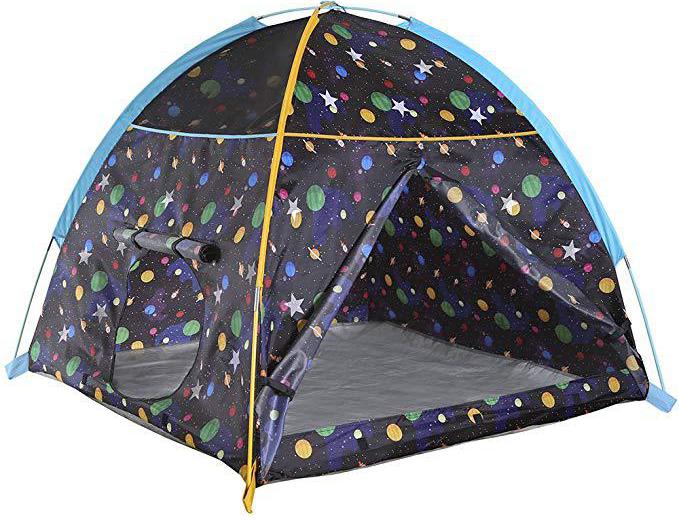 The Galaxy Dome Tent is one of the few options for evenings spent in the backyard. It is perfect for star watching and kids can enjoy its distinct design during the evening as well. There are glowing stars on the tent which make it an even better-suited option.
With plenty of rooms for friends, brothers, and sisters, the tent can also fully closed when not in use. But distinctly, the tent is also made from one of the most durable polyester fabrics in its class, making it suitable for multiple kids due to its durability. At the same time, the play tent also comes as one of the options for play tunnel compatibility. There is a 19" opening for this purpose. With such a durable profile, the play tent can be one of the safe spaces kids use in the evening to watch the stars or to simply enjoy a relaxing playing space with glow-in-the-dark stars.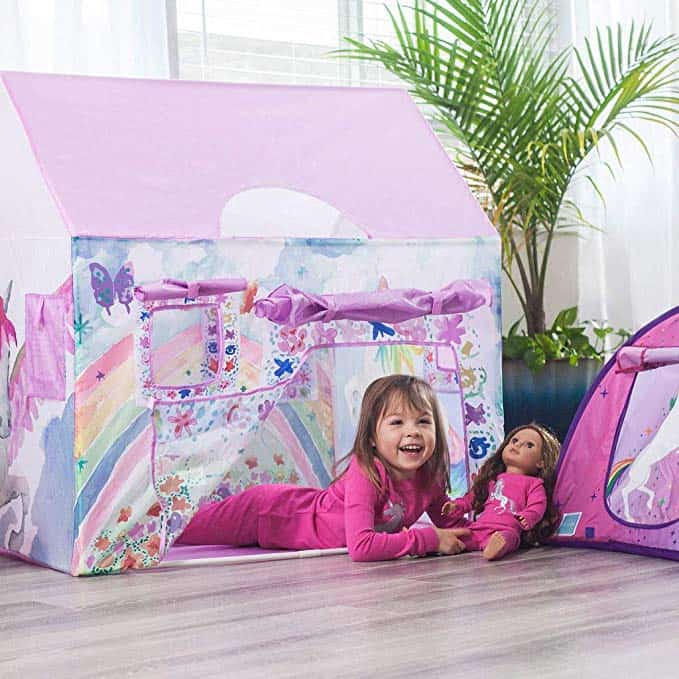 As one of the smallest playhouses for girls, the Princess Tent is one of the attractive designs with its unicorn theme. With colorful walls, printed unicorns and plenty of rainbows to make girls smile, a play tent is a friendly option for small girls. There are roll-up windows and doors to play with as well. So girls can invite a friend or two for an afternoon tea party.
Inspiring the imagination of little girls, the play tent is also made with durable and breathable materials. A few of its panels are ventilated for better breathability. But most importantly, the playhouse can be installed within minutes. Parents can install it both indoors and outdoors. Since the tent has a size of just 40"X41", it can also be one of the permanent structures in the kids' playroom.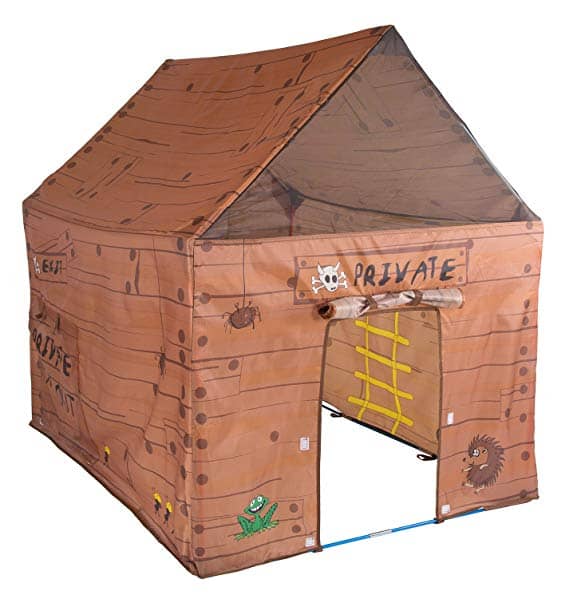 This unique fun house is one of the simples play tents for installation procedures. At the same time, it hosts multiple clubhouse friends and it is suited for hours and days of fun games. It can be easily installed in the backyard, providing a temporary solution or an alternative to wooden clubhouses.
Kids can enjoy multiple ways of actually playing with the tent. The durable polyester materials are used for any types of games. Even crawling through the back tunnel port proves a simple way of enjoying fun activities with friends.
Made with durable stitching and ventilated mesh panels, the playhouse tent can also completely shut its doors and windows for kids to tell their most unique and adventurous stories. Most importantly, the tent is made to encourage physical play, which has now become rarer and rarer as kids get access to more gadgets.
The unique play tent has a design which combines the aesthetics of a castle with the coziness of a teepee tent. It has a large front opening and distinct windows which allow good airflow. However, its strength lies it its luxurious cotton canvas. Made from 100% cotton, the tent is one of the truly distinct options made for the ultimate playtime fun.
At the same time, there are multiple ways in which this luxurious tent might be used. If it could get dirty easily when installing outside, it is certainly a comfortable option for indoor fun. The tent is used by kids of all ages and it can even fit small child furniture. But at the same time, it can also be accessorized with pillows and blankets for hours of fun.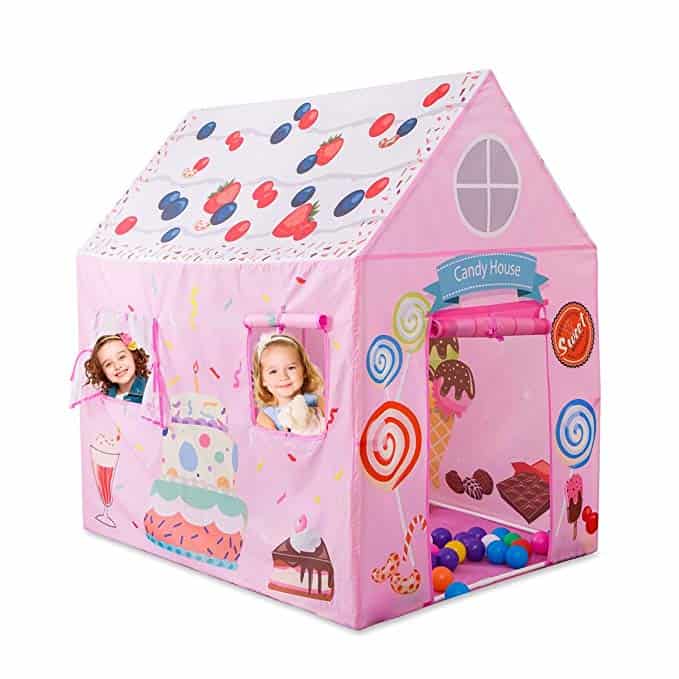 There are not too many play tents with birthday cake prints. Anyshock has designed such a playhouse tent and it offers one of the friendliest and inviting designs young girls can hope for. While there are other similar play tents, none of them has this party theme print which means the play tent is perfect for wide smiles every day.
Up to 3 kids can play inside the tent at the same time. Of course, it doesn't need to be a special occasion such as a birthday to enjoy the tent. Parents can even consider taking it to friends' house since it is so lightweight and easy to install. At a combined weight of just 3lbs, the play tent is one of the lightest designs in its class, making it a suitable option for playing in different areas of the house.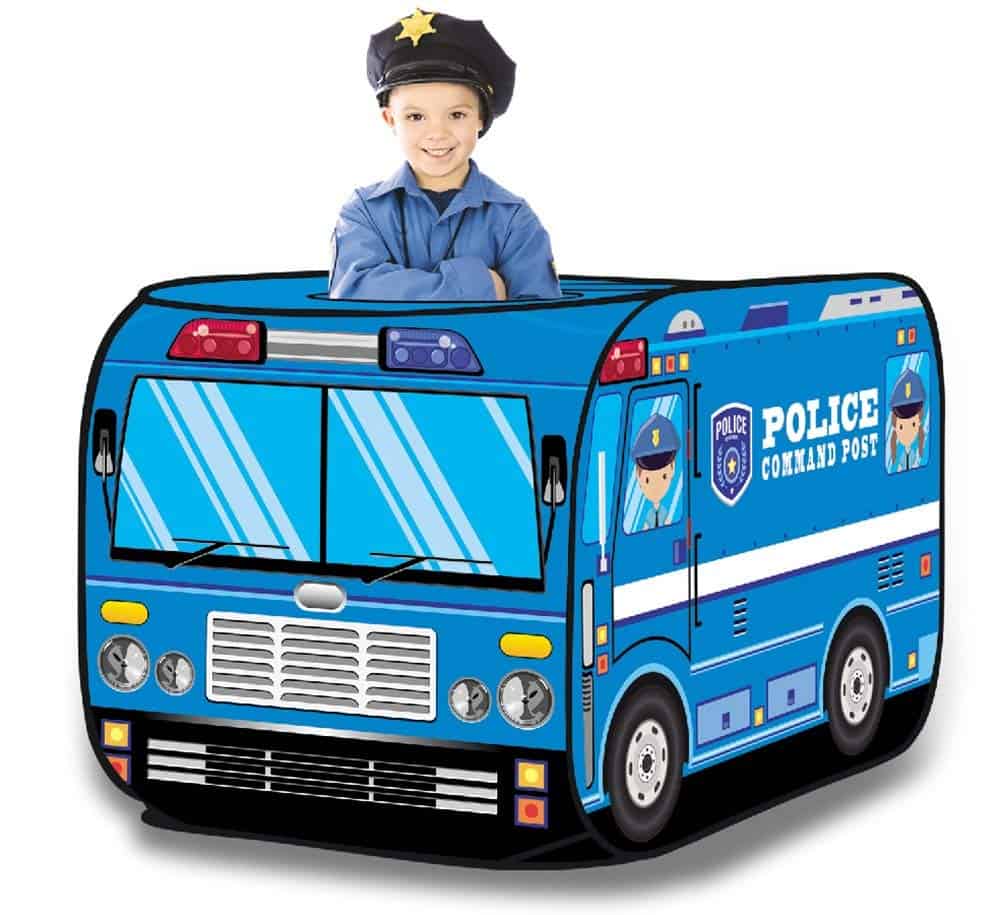 What is a childhood without playing police games? At some point, both boys and girls have played games which involved police cars or police outfits. But having a police tent is one of the distinct options of getting real with these games.
Liberty Imports has done a good job with its polyester police play tent. It has two openings. One opening is at the top of the tent to allow kids to stand up. Another opening is to the back of the tent which is also the access point for future police officers. Interestingly, the tent has a self-standing fold-up design which means it is actually ready for action in seconds. Other alternatives such as school bus or ice cream truck designs are also available form Livery Imports.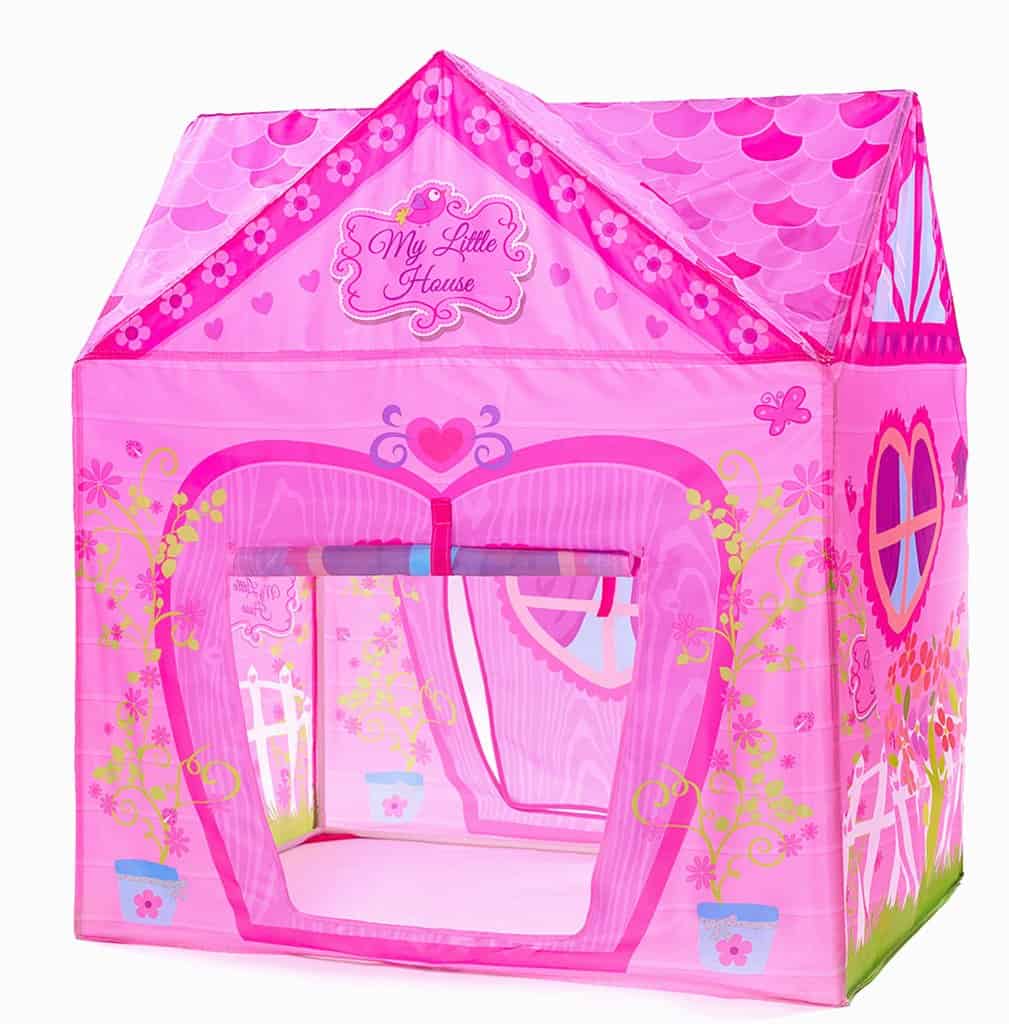 With various shades of pink, the colorful play tent features a distinct floral theme. Girls can enjoy their design without the need for other types of decoration. This unique design has been achieved by the Play 10 team which has been traveling the world to discover the designs kids actually love.
Made with two access doors, the play tent can be used both indoors and outdoors. It is among the suitable options for play and sleep. This is why many girls prefer to curl up with a blanket for nap time inside the play tent. However, with multiple access doors, the play tent is also highly suitable for friends' gatherings.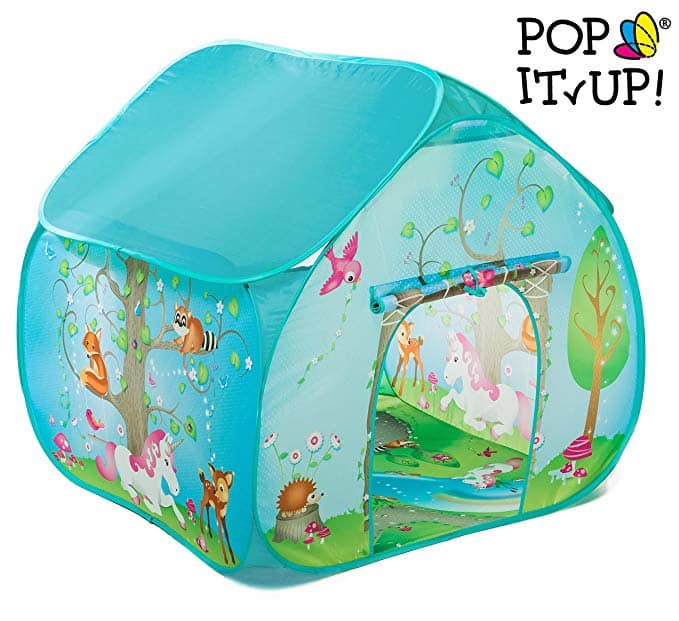 This pop-up tent is one of the few forest-themed designs. Kids can enjoy its simple structure which is also very durable. Since there are no poles needed in the installation process, the pop-up tent is also very sturdy. So even if friends come over and play with high levels of energy, the tent remains in places offering a safe space for play time.
Kids can also use the play tent to learn more about animals living in the forest. Parents can have kids sitting inside the ten while reading them stories. Luckily, there are many positive stories to tell with animals and the printed theme of the tent can help kids visualize the animals better.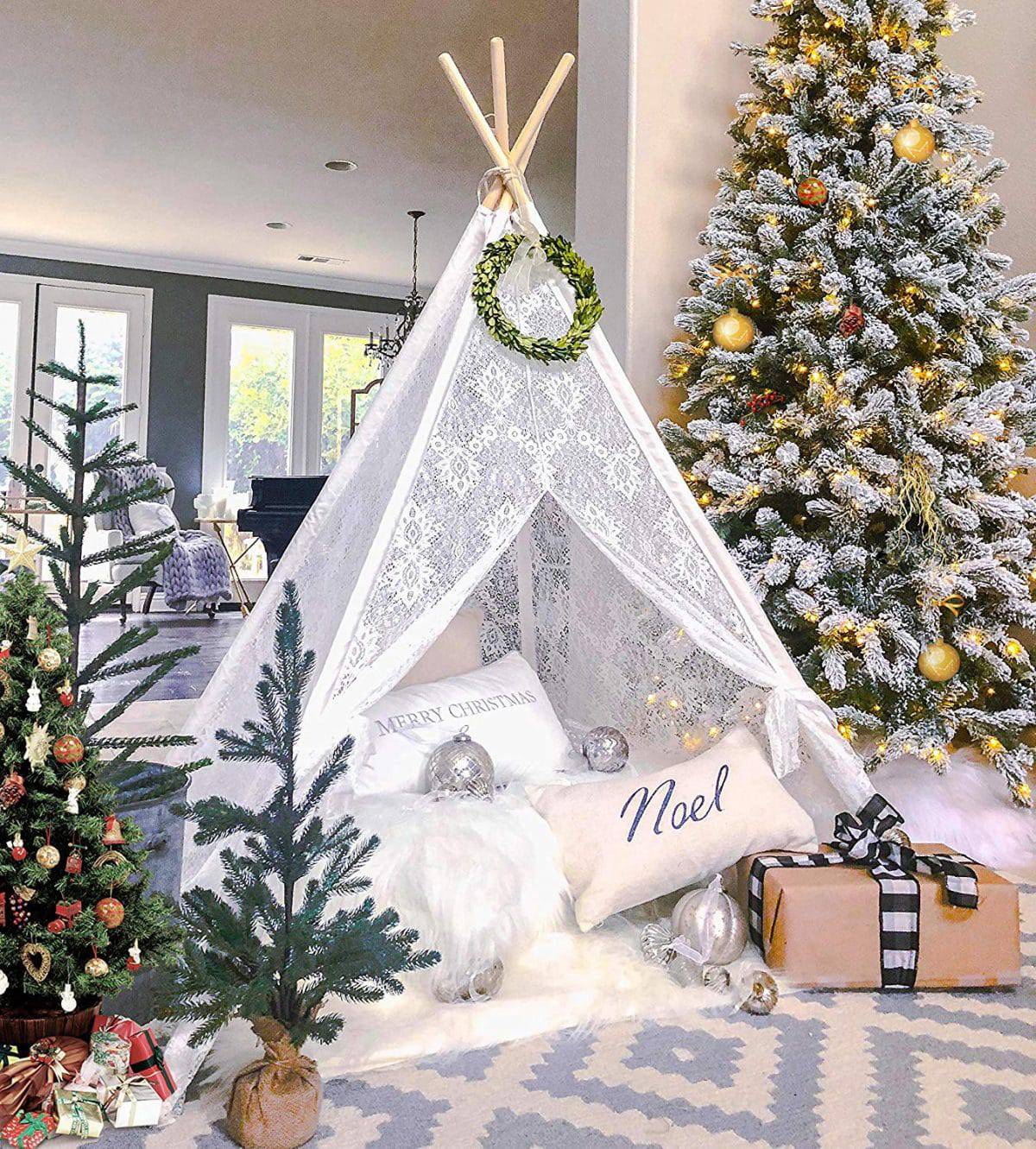 Made with distinct luxurious sheer fabric, this kids teepee is one of the stand-out designs from the hundreds of teepees parents can choose from. The attention to detail is impressive in its design. With breathable materials, it manages to offer one of the simplest and most efficient designs for the hot summer days.
The teepee is supported by real pine wood poles which give it a special look that kids will love. As with all teepees, parents also have the ability to decorate it to suit the kids' room. The sheer material also means the teepee will not be installed outside, although parents might get away by placing it on a patio or balcony not facing strong winds.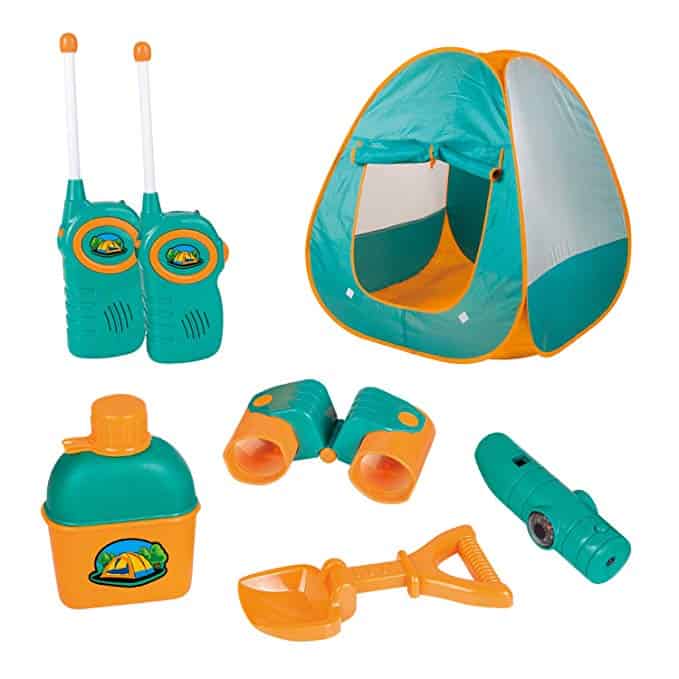 This incredible tent camping set is one of the distinct solutions for those seeking the ultimate outdoor experience. Apart from the tent, it also includes walkie-talkies, a water bottle, a shovel, a whistle, a compass, a flashlight, and a thermometer. All of these accessories can be the foundation for hours of fun playtime.
Kids will love the pop-up style of the tent which ensures it is ready for action in seconds. Then they can use the included walkie-talkies to communicate and to strategies their hide and seek plans. Sharing the playset is one of the main advantages of the 12-piece kit as kids can learn how to bond and how to communicate better among them.
There are other educational benefits to the set as well. For example, kids can learn how to use a thermometer. But one of the best parts about the set is that it actually encourages play outdoors in the fresh air, which is something many kids lack today.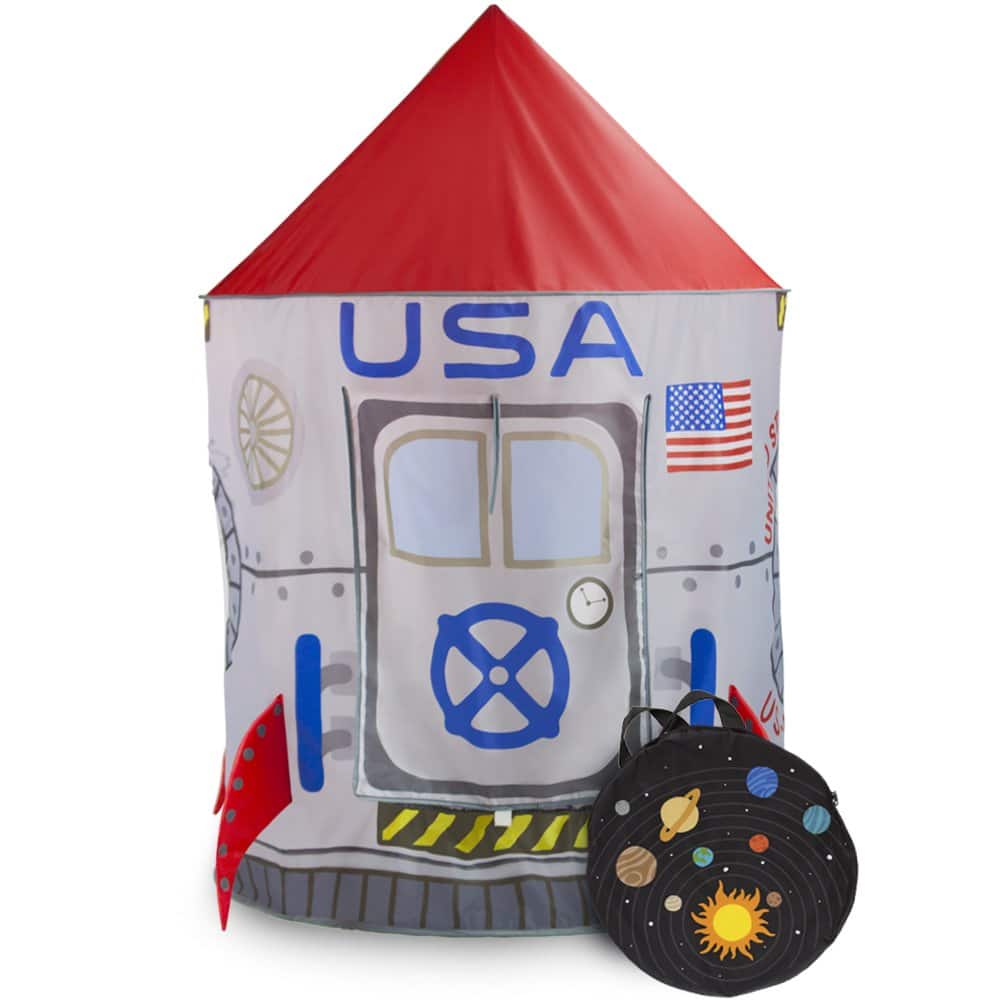 Before embarking on the next space adventure, kids can comfortably play inside the Rocket Play Tent. Made with a distinct design which reminds of the early spaceships, the play tent is a suitable gift idea for kids in love with the outer space.
There is minimal assembly required with the spaceship. Even more, it folds completely flat and it can fit inside a small travel bag it comes with. Kids can take it with them on sleepovers as a result. However, the tent is mainly a design made to boost imagination. For most kids, it represents a design which can make them think more about tech and outer space, which would also be a great time for inspired bedtime stories.
Some other ways of enjoying the play tent can also be considered. For example, kids can fit up to 600 ball pits inside the play tent, making it a distinct design for hours of fun with friends as well. With enhanced functionality, it can also be used for toy storage.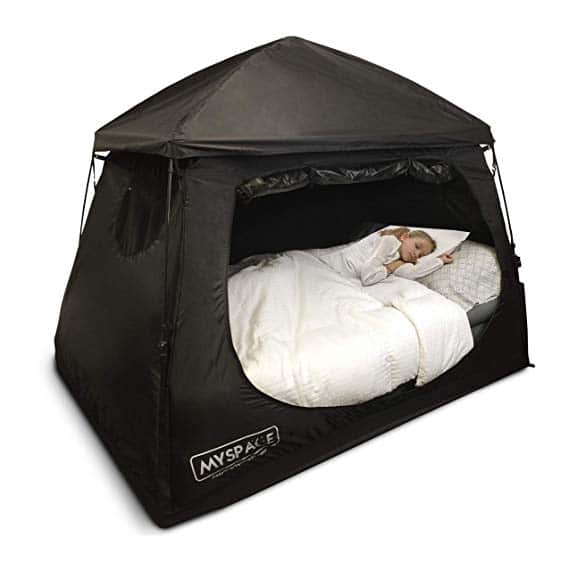 This warm and cozy indoor tent has a unique function. It is actually made for nap time. Kids can use it to get some sleep during the day. As many parents know, kids can have trouble falling asleep during the day. But when they have their own comfortable space, they can actually look forward to nap time.
Made with thick materials, the Dream Tent blocks out strong air currents in the house and it also blocks out the light from windows. Kids can fall asleep faster as a result. Using a zipper to completely block out light, the tent is useful for kids of all sizes.
Furthermore, the tent can also be used by adults as it can accommodate grown-ups and sleeping mats. Made with a sturdy frame, the sleeping tent.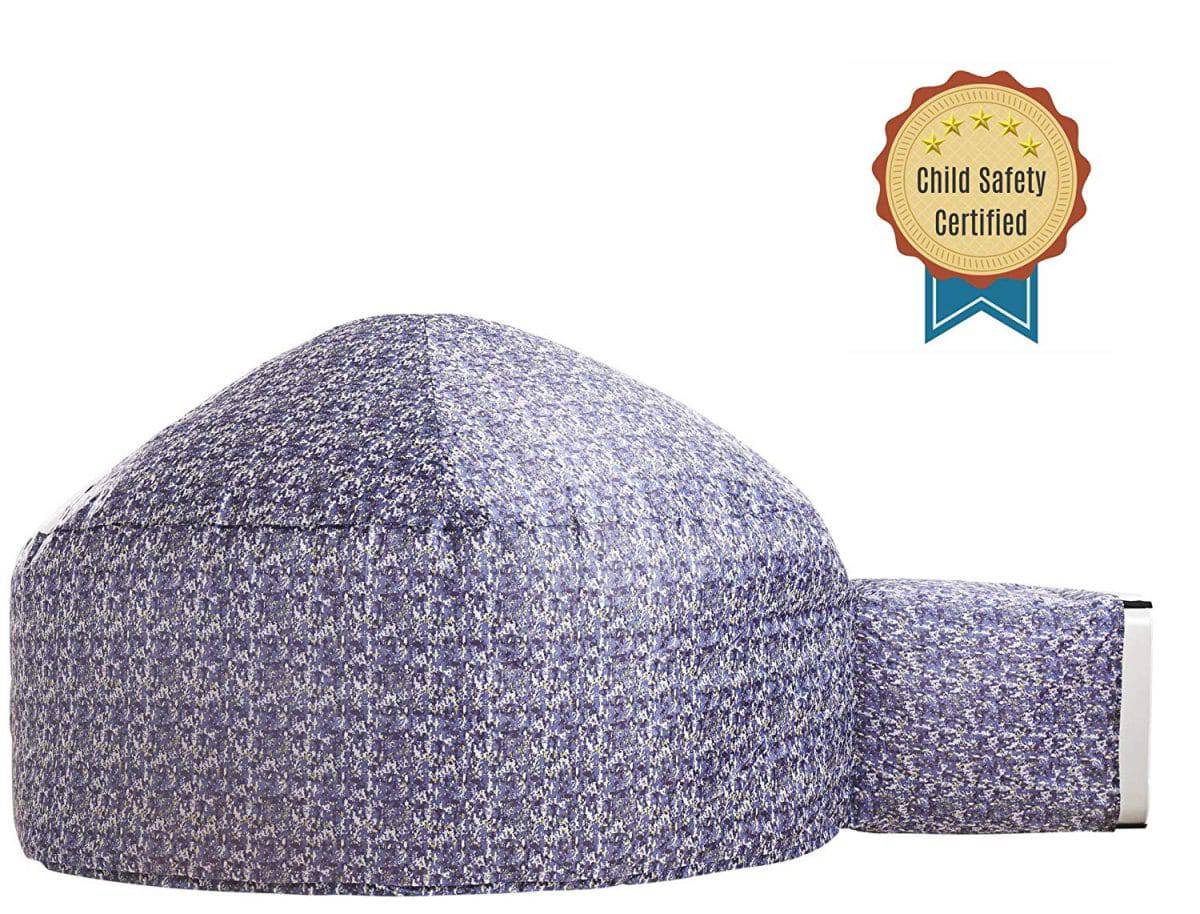 This unique design is actually installed using a regular household fan. It is distinct in the way it sets up and this is why kids might like it even more. At the same time, the play tent is one of the strongest options for those who want a solution easy to store. As it takes virtually no storage space, it represents one of the simplest and most efficient designs to consider.
One of the best parts about the inflatable float tent is that it comes with no floors so that kids can enter and exit it quickly. There is a ventilated mesh opening on the roof for better breathability as well. Inside the pack, kids will discover 4 adhesive tabs as well.
One of the best parts about the tent is that it allows plenty of light inside. Kids can actually draw, write or play inside for a long time as a result. Furthermore, kids also have the freedom to enjoy it as often as needed, as it only takes a few minutes to fully inflate.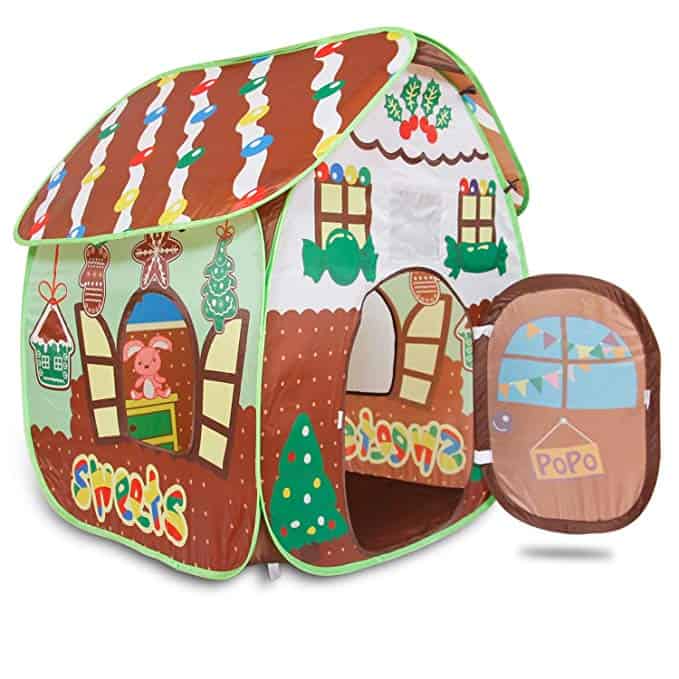 When it comes to gingerbread, kids have their attention at the highest level. The Alpika Toys gingerbread tent is one of the ideal setups for kids who are in love with Hansel and Gretel. It is one of the distinct designs mainly due to its gingerbread theme.
The house itself is tiny so it will only fit one or two kids. But it comes with a fully functional front door. Similarly to some of the best play tents in this class, it also comes with a pop-up design. Having it ready for playtime will not take long. Kids can enjoy its colorful design both from the outside and from the inside.
Due to its friendly design, the play tent can be used in many locations. It can be used at home as a cozy play space. It can be used in the kindergarten where it can be one of the multiple toys kids can play with. But the tent can also be the main attraction of various weekend kids' parties.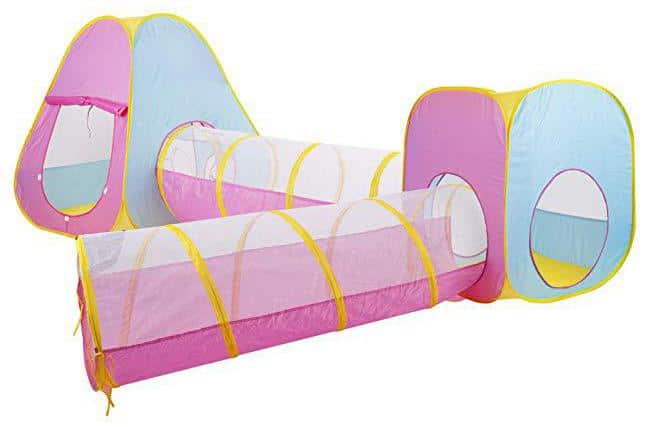 Made with a triangular tent and a square tent, the set is connected by tunnels and it is a fun idea for the kids play areas. It can be filled with pit balls or it can be used as it is. As many parents can attest, it has a simple and functional design. In fact, the playset is among the simplest solutions for quick installation as it has a pop-up design.
Made with materials which can fold down completely, the play tent is among the most rewarding designs in its class. Since it is quite large, it may only be a temporary playing solution. It can be placed in storage easily as a result.
Using polyester materials, the set is also durable. With added mesh sections, it remains safe as it allows good airflow inside. Kids can use it for hours at a time for endless games and a boost in imagination.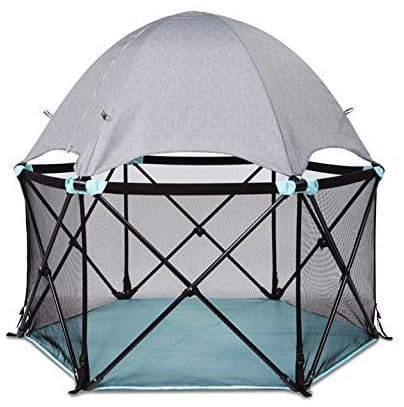 This unique playard has been made with a hybrid design. It combines the qualities of a playard with the shading function of a play tent. This is why it can be used both indoors and outdoors. Its removable top cover can shade kids from harmful UV lights while allowing them to sleep or play outside on summer days.
Design-wise, the playard is made with a lightweight folding frame. It supports kids of different ages and it offers functionality which means it can easily be stored behind furniture, in the garage or in the basement. However, the bottom section is not removable so parents will need to lay blankets to keep it clean.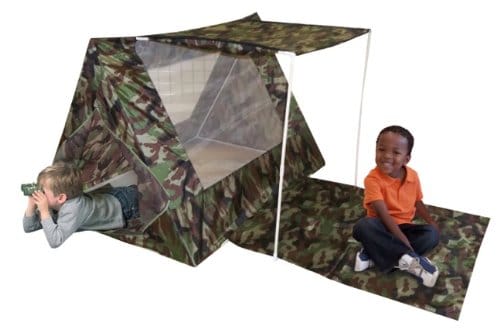 This fully functional camouflage play tent is one of the top options for outdoor adventures. It features a practical design with a roll-up the window, a canopy on the side and even an added slumber mat. Kids can make the most of the design simply by playing in pairs or in groups.
With a camouflage design, the play tent is perfect for outdoor activities. With large mesh windows, it is suited for use in the summer heat as well, which means kids can make the most of their day outside the house.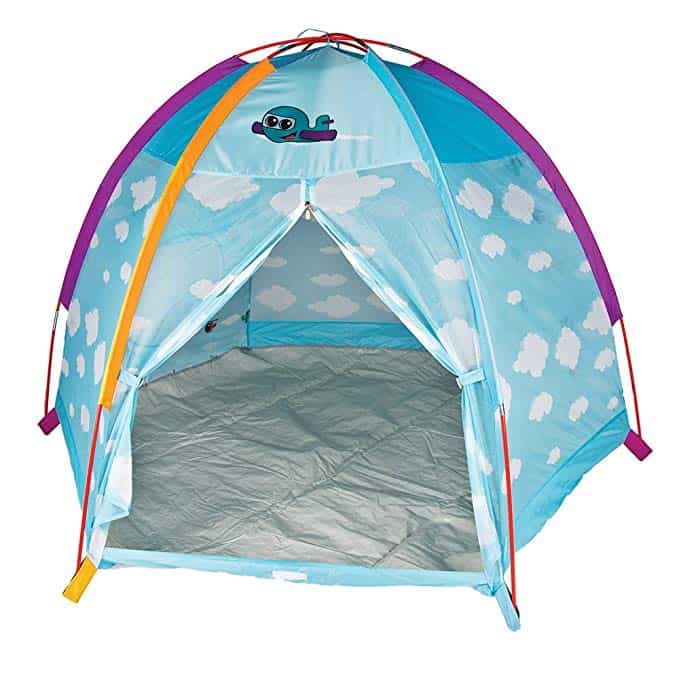 The dome-shaped tent is one of the most efficient options for kids and plays time. It is available in 3 attractive themes. The Fly With Me version is suitable for a dreamy look. Fairy Blossom is a great alternative for girls. The Ocean Adventure version is the right choice for those in love with the sea and its animals.
With simple tent pole installation, the Dome is one of the designs which are also easy to clean. This is why kids can even consider having their lunch inside the tent. Once playtime is over, the tent is fully foldable and it can be stored in the carry bag it comes with.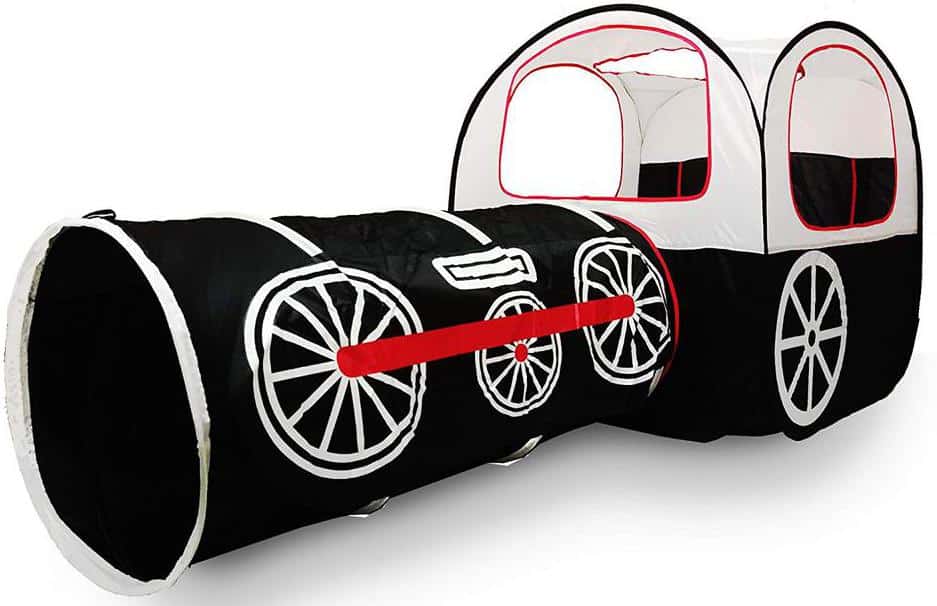 Trains have always fascinated kids. Alpika's unique tent combines the look of a train with the square design of a play tent and a connected play tunnel. It can be used indoors as it is not too large and it can create a creative play space.
Kids can crawl and stand up in the tent and they can use it as part of their daily playing routine. Most importantly, the ten will spark their imagination with its unique train-inspired design. As all tents from Alpika, it also meets USA CPSC toy safety guidelines.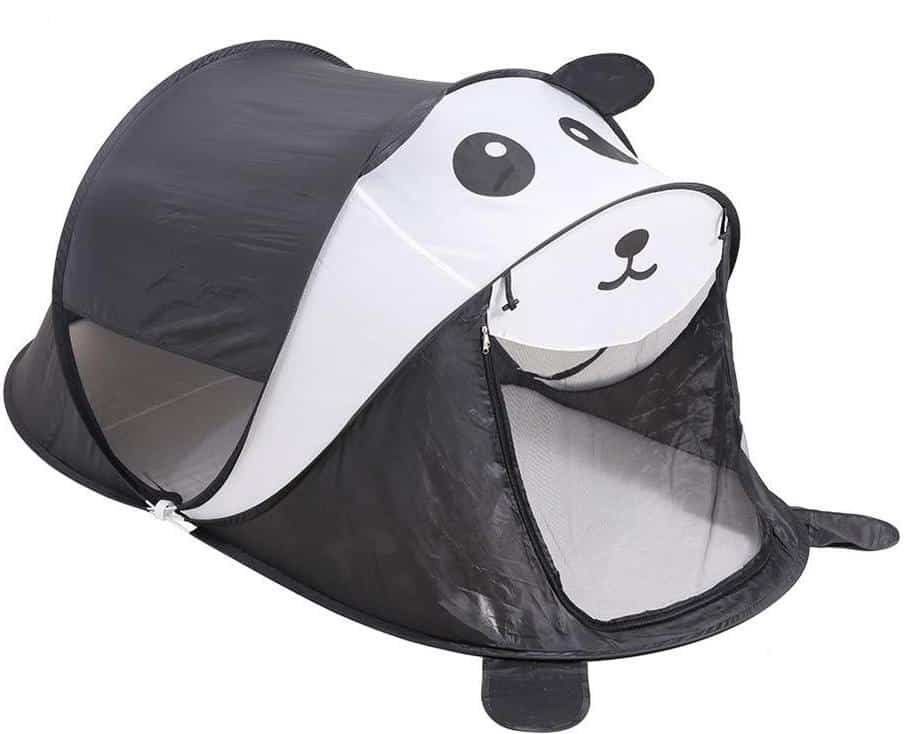 Pandas are always friendly and attractive for kids. They are seen in most cartoons. But having a panda-shaped pop-up tent at home can be the next level of fun kids can experience. Since it is quite generous in space, kids can use it as a space for sleeping, studying, drawing or playing other games.
The panda-shaped tent comes with a zipped front access door. It allows kids to have their own space and they can even use the tent for toy storage if needed. The pop-up design means the tent is free from anchoring points as well and that it can be installed freely inside the home.
Final words
Choosing the best play tents for kids is a fun process. With so many great designs to consider, parents can find the ultimate solution for their kids to play with. Even more, these designs have a different appeal and they can be suited to the likes and the personality of each child.
Made with materials which are easy to wash and which are great for storage, most of these play tents can also be used for years. They are also functional and versatile. Kids can enjoy them either on their own or together with friends for fun and endless playtime ideas.