Buying your kid a wristwatch is an essential step towards independence and an incursion into the world of adults. With the advent of smartphones, some might argue that wrist watches are slowly becoming obsolete. However, studies show that a first-time analog wrist watch is an essential tool in your child's learning process that helps him to learn the basic concepts of telling time at the same time supports the young one learn how to schedule and plan their time.
Many kids' wrist watches are available in the market right now that are either analog, digital or smart. While watches make them feel like grown-ups, your option should be sturdy enough to handle active lifestyles and curious minds. Below is a list of the best watches for kids in 2020, with kid-friendly features and easy to read and light up dials.
Top 30 Best Watches for Kids 2020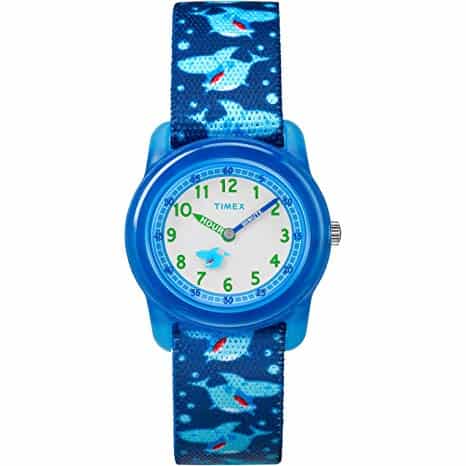 The Timex Time Machine app included in this elastic fabric strap watch equips your little one with learning skills on how to tell time in a fun and engaging way. This watch comes with an easy to read analog quartz dial with minute hands that feature large numbers for natural learning. Additionally, there are rotating graphics included in this product for fun and beauty.
Timex Boys watch features a water-resistance construction of up to 30 meters and scratch-resistance mineral glass for durability. The watch is lightweight and notably features Indiglo backlight display that makes it bright and colorful.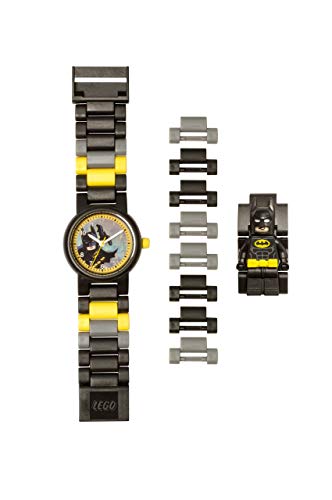 The Lego Batman Minifigure watch is what your kid has been waiting for, to go and parade his new prized possession to his peers. There's an iconic Lego Batman Minifigure featured in this watch for the little superhero. The watch features a multi-colored interchangeable square link and a Batman Minifigure link.
Your kid can't swim with this watch, but it features a splash-proof resistant design. It's also lightweight. It comes with a plastic casing and a bezel included on the left side for easy adjustment.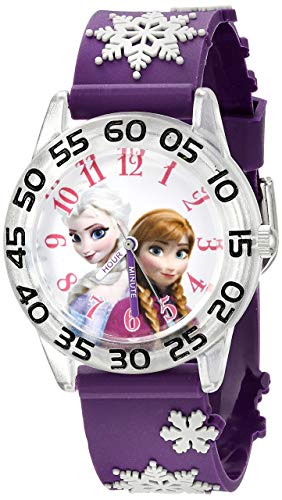 Disney Kids' watch is an excellent educational toy for the young one that displays Disney's favorite characters Elsa and Anna of the Frozen cartoon. The monochrome display features an e-paper that gives it visibility during the day and night. The watch notably features water resistance construction of up to 30 meters.
The watch is lightweight, comes in a plastic body and features a polished matte finish for attractive appeal to the young one. Disney Kids' watch will help your kid keep track of time with cleverly labeled hour and minute hands.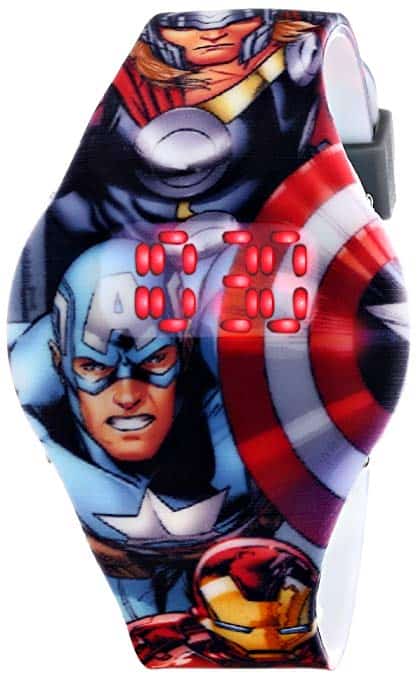 This beautiful, colorful Marvel Kids' Avengers digital watch features a lively screen in a plastic construction for durability. It's resistant to elements in the environment including water but is not suitable for swimming.
This kid's wearable features a slim design with adorable graphics of the Avengers, America's superheroes team of Iron man, Captain America, Hulk, and others. It's sturdy even when dropped making it a durable option for heavy use without worry. Also, the adjustable strap watch is perfect for the growing young one that will allow him to use for a long time to come.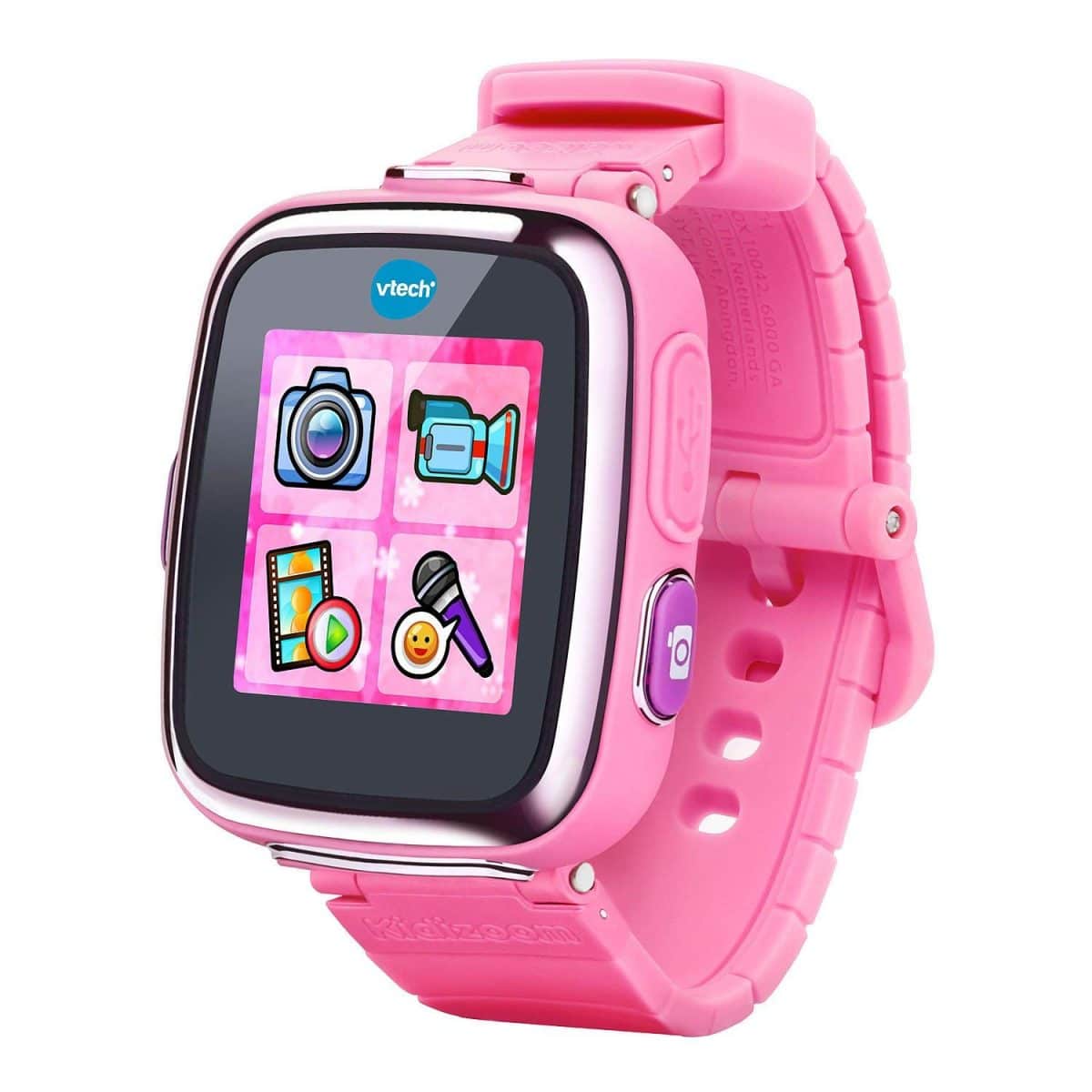 This VTech KidiZoom Smartwatch is feature loaded with eight fun games that your kid can play using the included touchscreen. This smartwatch features a plastic scratch-proof screen, around edge square and bright colors with more than fifty 3D digital and analog displays. In addition to these features are a timer, calendar, stopwatch and a calculator for working out simple arithmetic.
Additionally, the plastic construction makes this watch scratch and shatter resistant to withstand bumps and scratches for everyday play. It comes with a rechargeable lithium-ion battery and a micro USB cable for charging. This smartwatch will connect the young one with more games and face designs that are downloadable with the Learning Lodge app. The little one can take photos, download and upload images with this smartwatch.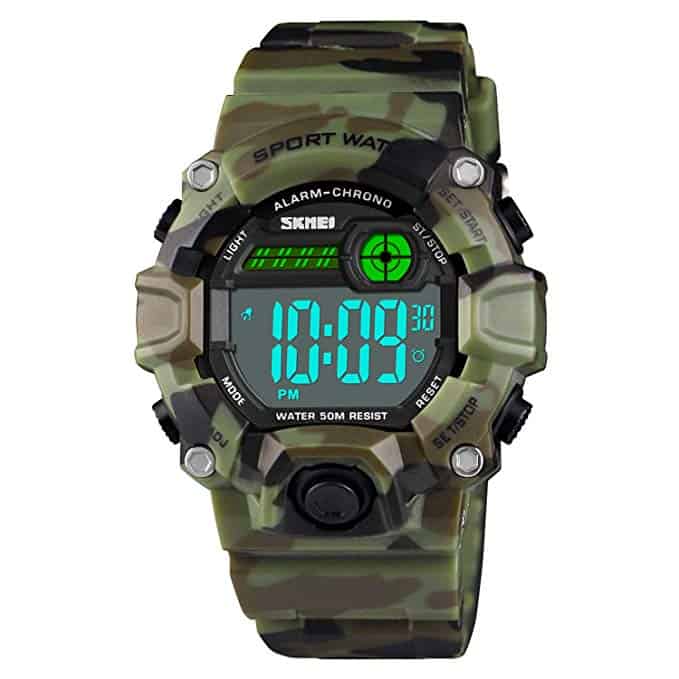 Boys Camouflage LED Digital Sport Watch is a multifunctional digital smartwatch that features a unique military style look suitable for all types of sports and everyday wear. The layered display is a critical feature in this smartwatch that allows it to withstand a fair bit of punishment and last the distance. There are two spaced-out buttons on each side of this watch with large display numbers and an Indiglo light that lights brightly in the dark
That said, this watch is a fashionable sporty with a military-style outlook and waterproof up to 50 meters making it an excellent watch for wet weather elements and swimming. It also features a plastic, shockproof construction for durability.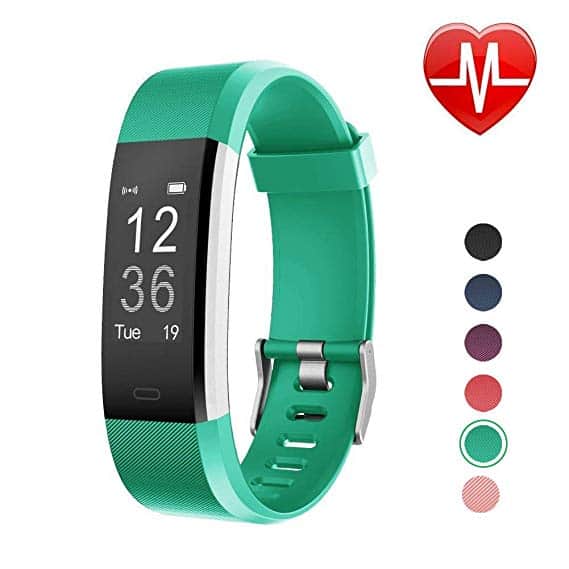 LETSCOM smartwatch and fitness tracker introduces your child to high-end wearables that are feature-packed. This smartwatch features outstanding battery life and a suitable option for multi-sport tracking and heart rate monitoring. It comes with a call, SMS and SNS reminder that can be paired to your kid's smartphone to minimize the chances of losing the phone or 'accidentally' forgetting it.
This smartwatch comes with a rechargeable battery that can last you for seven days and a high res camera for shooting photos all day long. The wearable also features a waterproof design against weather elements and is also suitable for swimming, washing hands and sturdy enough to handle spilling drinks.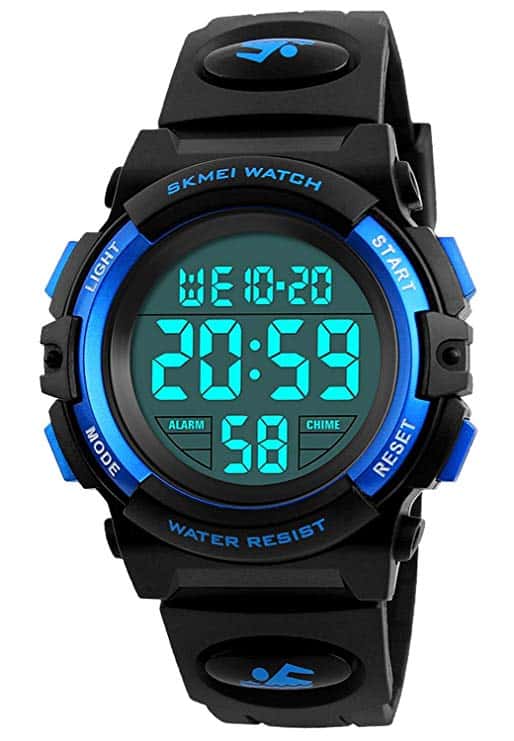 This multifunction digital watch is a full-featured kid wearable with large numbers on the dial and EL backlight for comfortable and convenient reading in dark environments. The watch features high-quality material construction suitable for all kinds of indoor and outdoor use. It has waterproof capabilities although the manufacturer does not recommend pressing buttons while underwater.
The Kid Watch features a slim flame that sits comfortably on the wrist. Also, the screen resolution is bright enough to read everything. Other notable features include a calendar, stopwatch, an alarm and a scratch-resistance mirror surface making it an excellent Christmas gift for both boys and girls.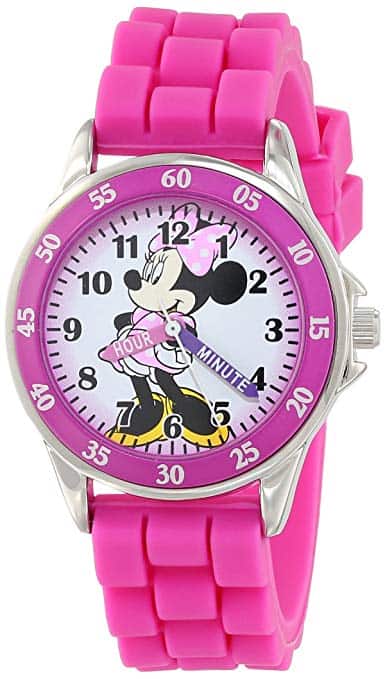 The Minnie Mouse Kids' watch is suitable for younger children who are becoming familiar with the concept of time. The watch features an analog face and two different colored hands to help with the process of learning.
This kids' watch that features the Disney character Minnie comes with a plastic, comfortable strap that is easy to adjust and buckle up. The material used to make the watch is non-toxic and safe for your child. It also features a 6mm regular round face display with a toughened sturdy glass that makes the kids' wearable durable even with heavy usage.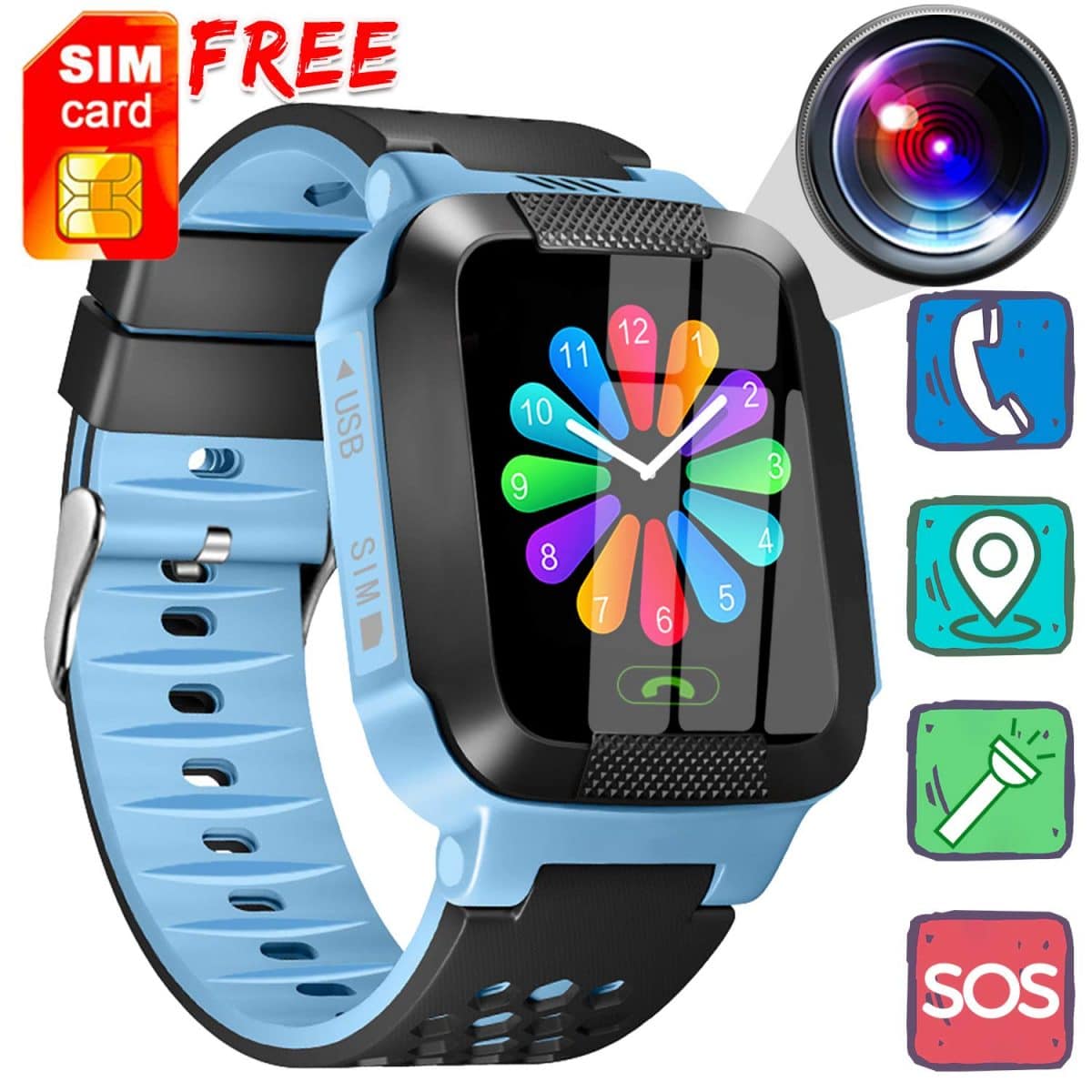 Xenzy GPS Tracker Watch for kids is a feature-packed 2020 GPS tracker and smartwatch for kids. This watch supports Micro SIM SD card for saving telephone numbers, making calls and sending text messages. It also comes with a classroom anti-disturb mode that ensures there's order in class.
The remote camera function included in this kids' smartwatch can record your child's best moments and share the story with friends and family. The GPS Tracker features a light screen technology with a full-color display with a backlight that gives it a vivid reflection for early adopters.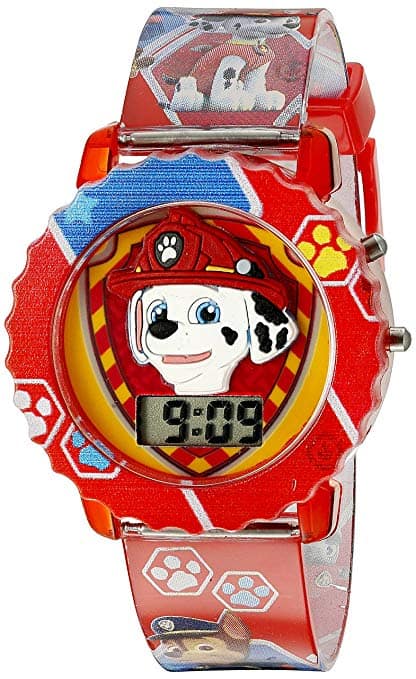 The Paw Patrol Kids' is a regular digital watch features a large 3D paw patrol character on the dial suitable for kids aged three years and up. It comes with a comfortable, adjustable strap that is easy to buckle up designed to fit most wrist sizes to give the little one adventure and fun.
The watch is relatively lightweight and comes with an indigo backlight to give it visibility at night. Unlike the analog counterpart, the wearable is easy to read and comes with cute colors and an excellent birthday gift for the little one. Paw Patrol features plastic construction that's non-toxic and safe for your child.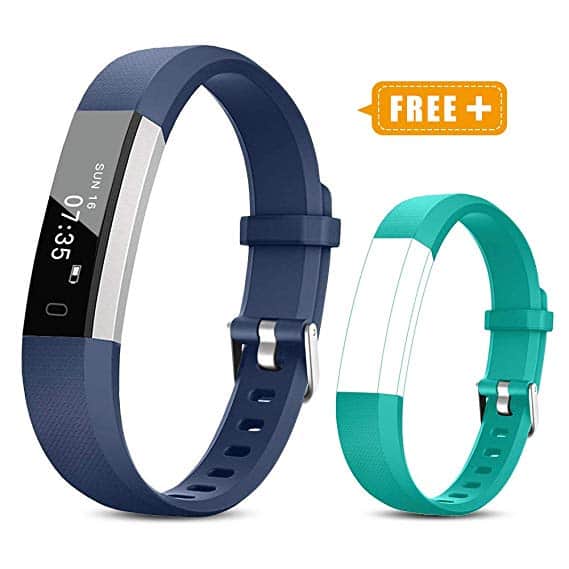 This fitness tracker features a slim and adjustable design making it an excellent option for kids aged eight years and up. The smartwatch is designed to look like top-tier wearables for a striking look and adventure in every step. TOOBUR fitness tracker comes with a calorie counter that helps your kid track how much calories they are burning.
There's also a sleep monitor that included in this fitness tracker is available in five different colors. The tracker is lightweight and sits comfortably on your little one's wrist and a suitable option for outdoor running, cycling or walking. It notably features a 2D gorilla glass and a lightweight design to sit comfortably on the young one's wrist.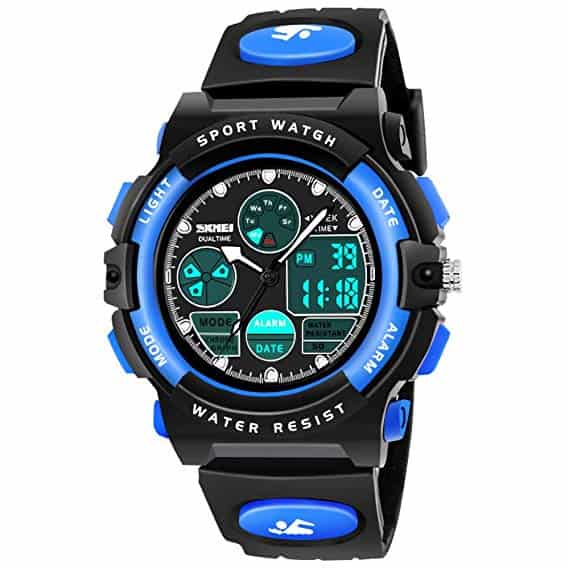 SOKY LED Digital sport is a cool and useful watch and an excellent gift for your kid's birthday. It comes with a reading and counting function and a unique design for indoor and outdoor wear. Soky LED digital sport watch features smart functions like the dual time display and EL backlight display for visibility in dark environments.
Soky also included shock resistant and a waterproof design up to 50 meters making it excellent sports watch for swimming activities. Soky LED comes with a high hardness corning glass and plastic body construction that gives the watch durability and scratch resistance.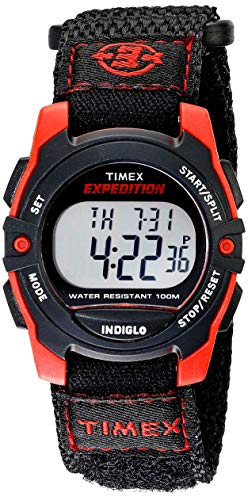 If you're looking for a comfortable wristwatch with essential functions for casual outdoor wear for your kid, then Timex Unisex Expedition Classic digital Chrono watch would make an excellent option. This watch features a durable and lightweight resin case that will last the young one a long time to come.
In addition to these features is the quick wrap Velcro strap that provides a fast and comfortable wear all day long. The watch is water resistance up to 100 meters and suitable for swimming, snorkeling activities and can also handle frequent hand washing, water splashes, and accidental drink spills. The Indiglo backlight allows easy visibility in dark environments while the chronograph function will allow your kid to track personal bests.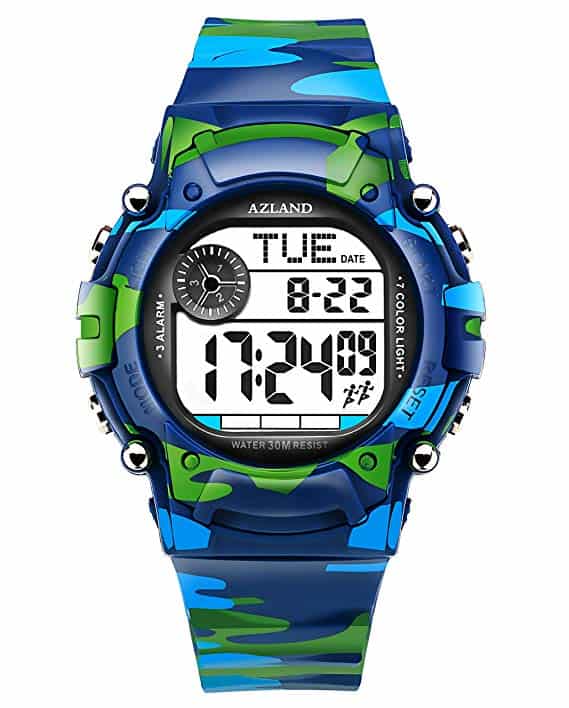 AZLAND is simple and easy to use rugged sports kids watch suitable for kids aged four years and up. The watch features colorful lights flash and glows for visibility in dark environments. AZLAND 3 comes with user-friendly analog bezels that located on both sides of the wearable. The wearable features a sunlight-visible high- resolution display screen viewed from any angle.
The replaceable battery can last up to 36 months while the three daily alarms offer discrete reminders like school tasks, medical alerts and more. The watch features a sturdy solid plastic construction to resist shock even when crushed two meters from the ground.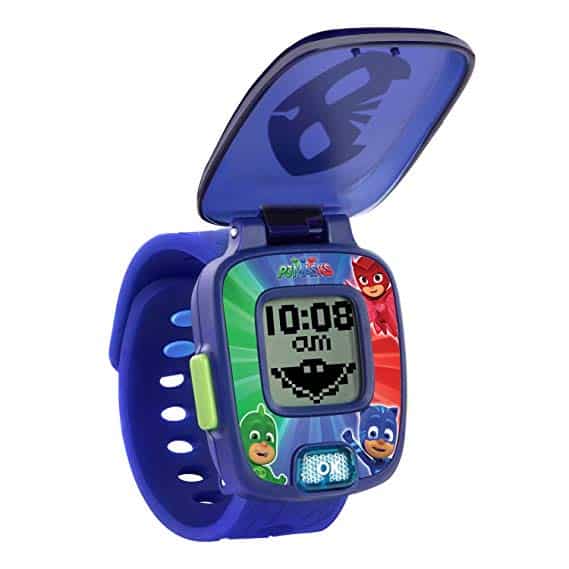 Vtech is an excellent watch for young learners with an easily readable face. The digital watch features play four games that help the kid explore numbers easily like counting, and learning shapes.
Vtech kids watch notably features Catboy, Gekko, and Awlette cartoon characters of the favorite series PJ Masks. The watch is a suitable gift option for three up to 6-year-olds.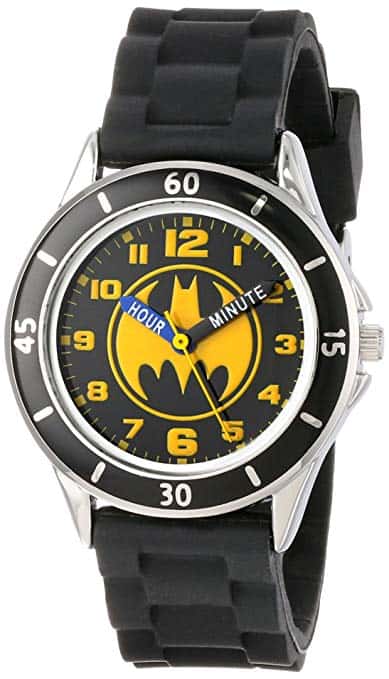 Every kid knows and loves the Batman superhero character. This watch will is a Time Teacher for learning how to tell time. It features the hour and minute hand that is clearly labeled to help the young one differentiate between 'to' and 'past.'
There's a sizeable yellow Batman symbol on the dial and black bezel on the side for adjusting time. The watch features a plastic strap with an easy to buckle strap that offers comfort and is easy to change.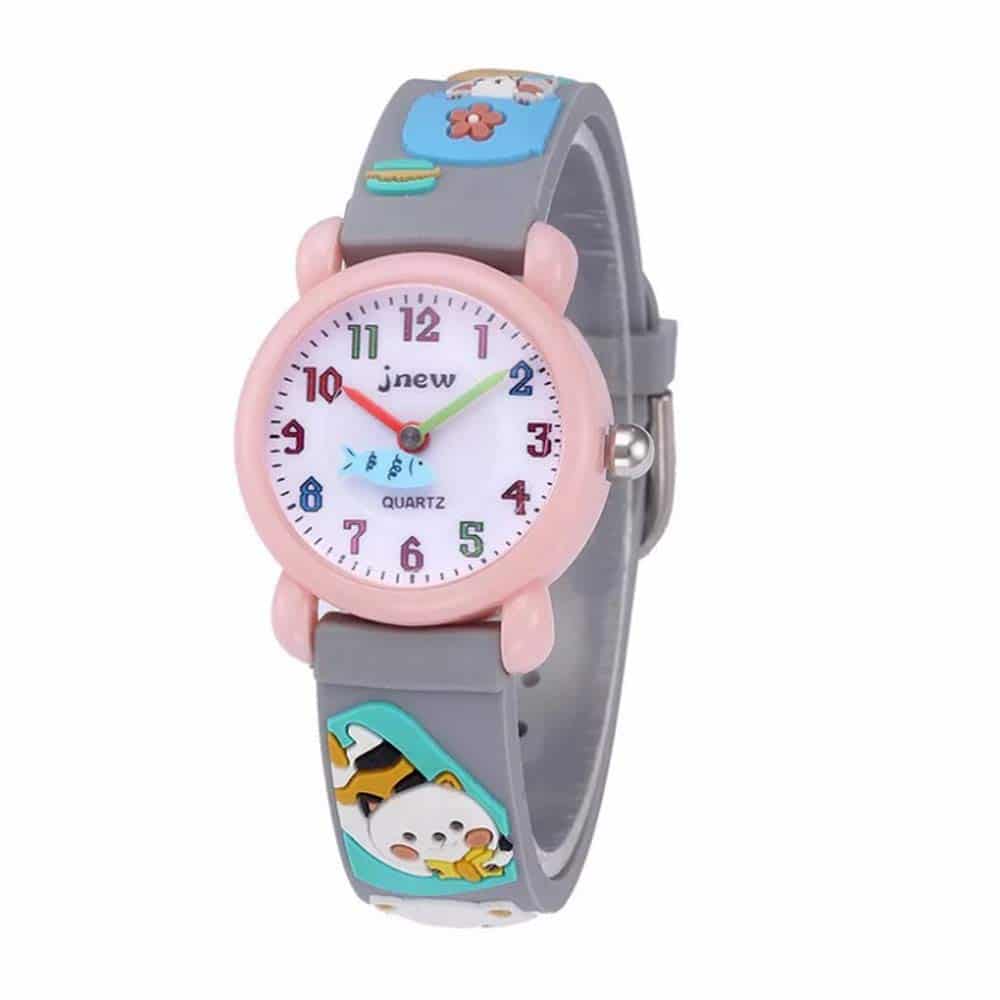 GZCY kids watch a perfect wearable for 3 to 12 years old made from safe and comfortable materials that are environmentally friendly and safe. The watch features resin imported materials sealed with a high-frequency machine for shock-resistant against bumps. Additionally, GZCY also features a metal case and a stainless steel body construction for strength and durability.
Your child won't be able to swim with this watch although it's reasonably splash-proof resistant. However, it comes with a scratchproof screen for sturdy build quality. The wearable comes with an easy to read big clear numbers and an adjustable strap for comfort. It features an impressive battery life that is set to last a long time to come.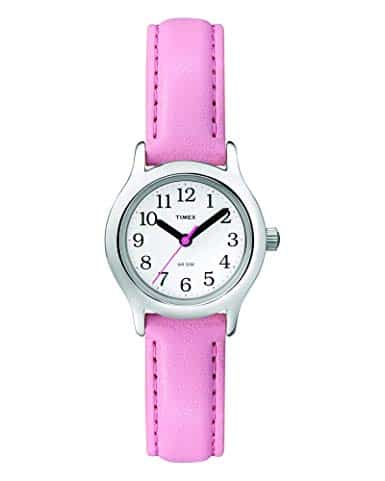 This beautiful, colorful pink Times Girls' watch comes with easy to read numbers with a white background dial that features a vivid screen. The watch features scratch-resistant mineral glass construction for durability. This kid's wearable is sturdy even when dropped making it a durable option for heavy use.
Timex included the revolutionary Indiglo backlight technology that helps the young one to check time in dark environments. The watch comes with an impressive battery life that will last a long time to come. It's also resistant to weather elements including water.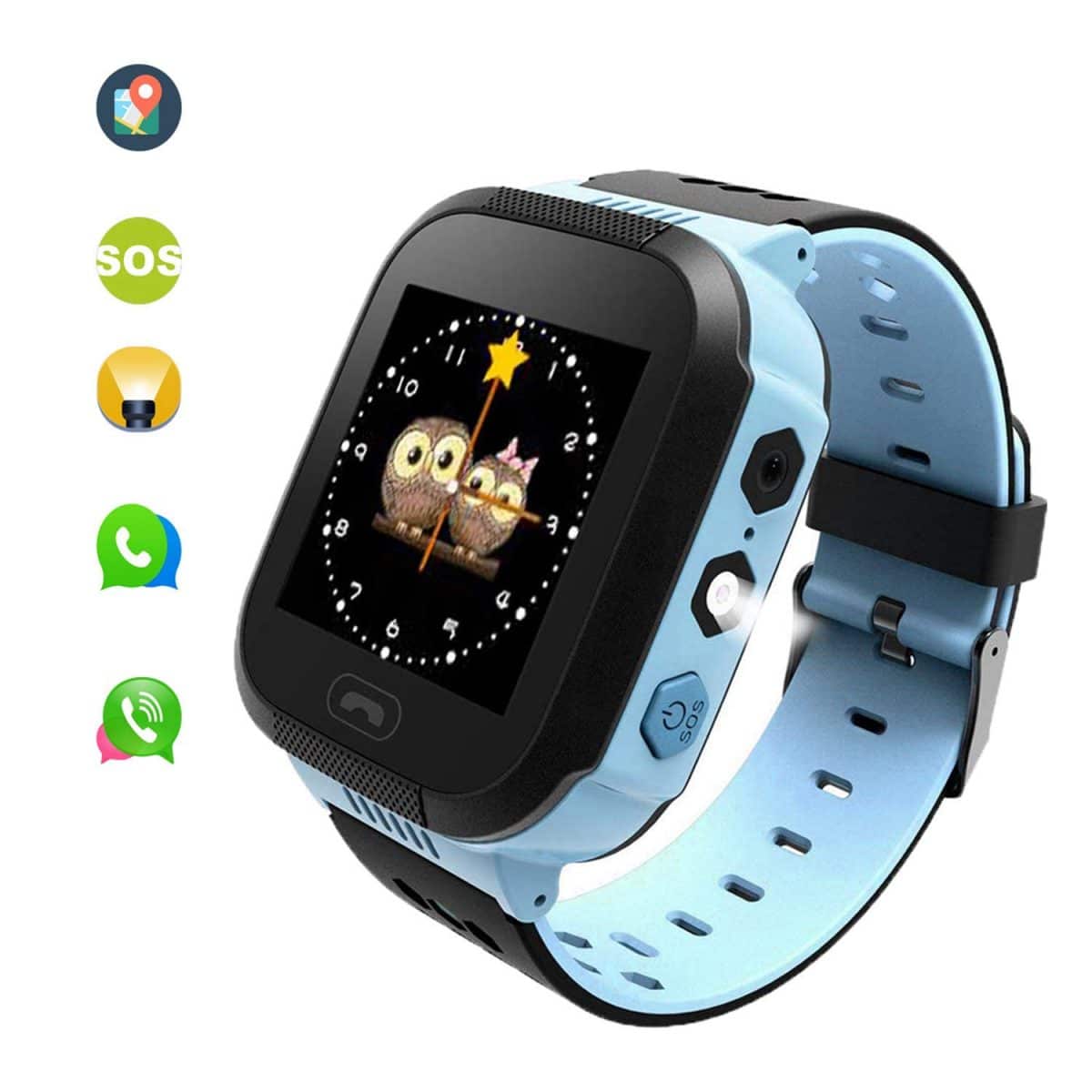 This kids' smart watch is an excellent way to acquaint your kid into the world of smartwatch wearables. The watch features a high sensitivity touch screen that offers easy navigation while the user-friendly SOS button will help your kid to call an emergency contact. Unlike the analog kids' wearables, this watch can make a call and send text messages.
Although the screen resolution isn't the highest, this watch features a slim design and a plastic strap that is comfortable for your kid to wear all day long. It also features a long battery life and a remote monitoring feature that parents can use to check the whereabouts of their child 24 hours. The watch comes with a call and text function for secure communication.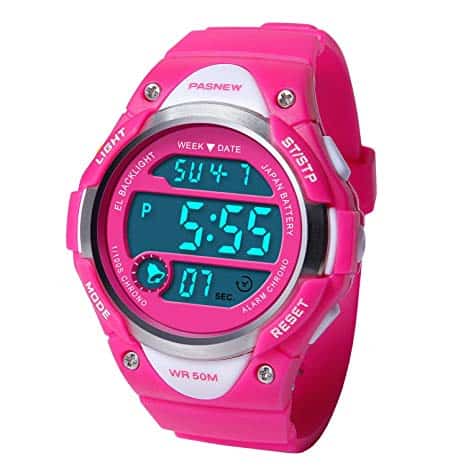 HIwatch Kids digital LED sport wearable is an excellent gift for kids aged 5 to 15 years. It comes with multiple functions like the inbuilt alarm clock, and a stopwatch is making it a perfect option for use in sports activities. It also features a water resistance function up to 164 feet although the manufacturer does not recommend it for swimming.
Additionally, HIwatch features an adjustable strap with stainless steel buckle for comfort and durability. There's also an intuitive button that will help the young one read in the dark.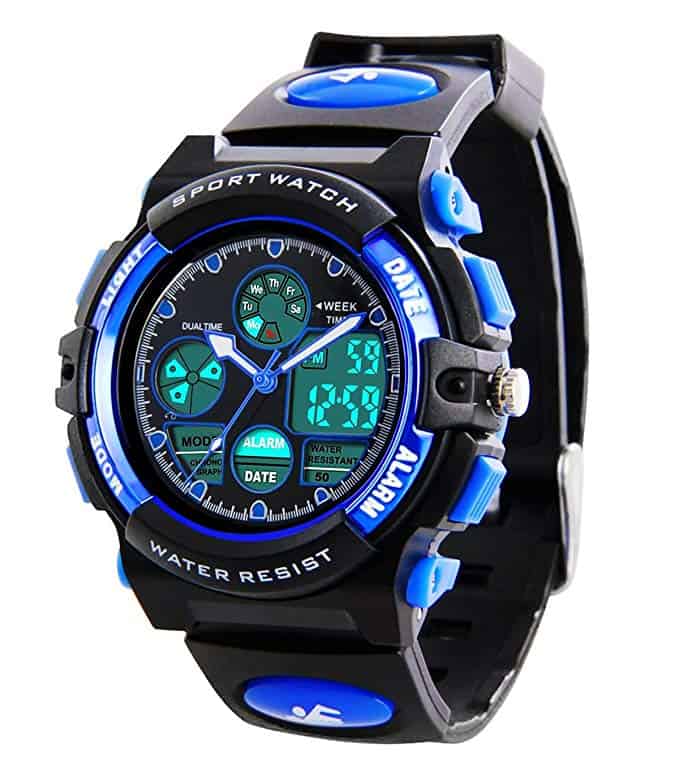 This Kids Sports Digital watch is an excellent outdoor watch for boys with a water-resistant feature suitable for snorkeling, swimming, white-water rafting and fishing. The watch features high-quality plastic construction and high abrasion rubber that gives it durability and shock resistance against hard use.
Kids Sport Watch also comes with an LED night light for easy visibility in dark areas. There's also an anti-magnetic function and a calendar that helps schedule all his activities.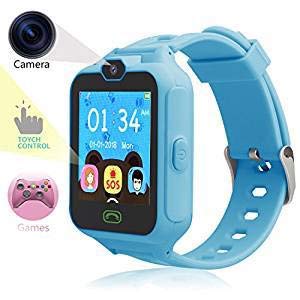 The HSX_Z smartwatch wearable for kids is a full-packaged watch that comes with multiple functions. The wearable comes with simple operations and a call function that your kid can use to connect to his parents and peers all day long. The Watch doesn't have to be charged every other day as it can last a few days on a single charge with an extensive series of activities.
It features an OGS captive touch screen with sunlight-visible high- resolution display. The watch comes in a Silicon body construction with a sleek, slim body and an unbelievably lightweight design.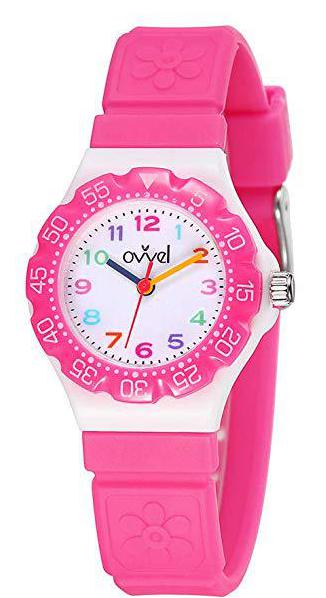 This beautiful and adorable pink watch is an excellent watch for little girls with a stylish design and a time teacher wearable which is a must have for every little girl. It comes with innovative easy to read features like the differently colored hour and minute hands that help with the time learning process.
There's a large bezel on the side of the watch that helps your kid to adjust the time for precise timekeeping. Ovvel included an impressive battery life that is powerful and reliable and will last a long time to come.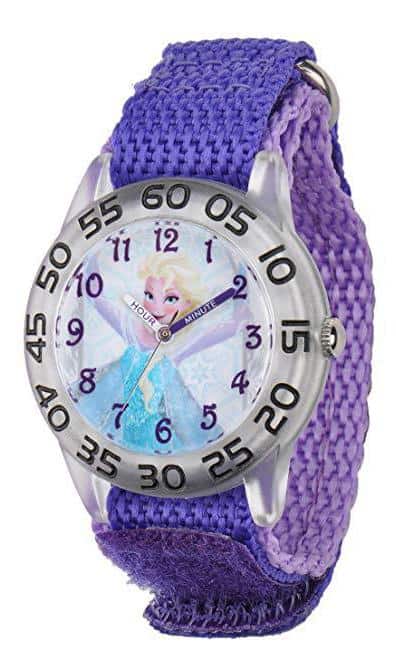 Disney Frozen Time Teacher features a sleek circular design and attractive purple color suitable for kids aged 3 to 7 years. The watch notably features a scratch resistant mineral crystal and loop nylon strap construction for durability and scratch resistance. It also comes with a water resistance design up to 99 feet to withstand rain but is not suitable for swimming.
The watch features large round numbers on the plastic casing and a comfortable easy to close nylon strap and safe to wear under any weather. The plastic construction makes the watch lightweight for added comfort.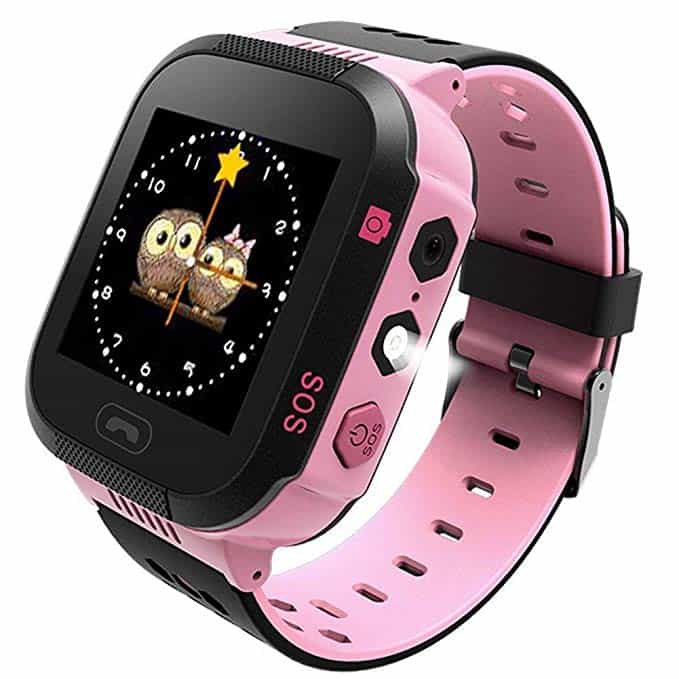 If you're worried about your kid and need to know his whereabouts, then this Kids smartwatch with a GPS function will make an excellent buy with easy to use features. Besides, the remote camera and voice monitor will help you keep watch of the little one any time of the day. On the other hand, the telephone function is essential for all-day tracking and monitoring.
Additionally, this watch is a fun toy for kids with games and simple touch screen operations that help the little one navigate effortlessly. This smartwatch doesn't come with a SIM card, but you can purchase it separately for connectivity with a mobile device.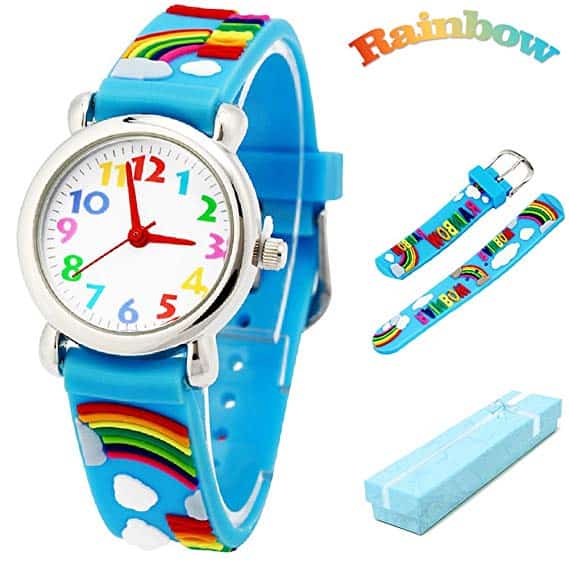 Vinmori is colorful rainbow kids' watch for boys and girls. It's an excellent gift for beginners with 3D cute designs with lively and exciting cartoon characters and a favorite for all children. The large colorful numbers on the face of the watch help the little one explore the mystery of time quickly and effortlessly.
This Time Teacher features a waterproof design up to 30 meters and provides precise, accurate time retention. The watch comes in a soft silicone strap body that provides comfort on the young one's delicate skin. There's also an exquisite watch gift box included in the package for use when gifting your kid.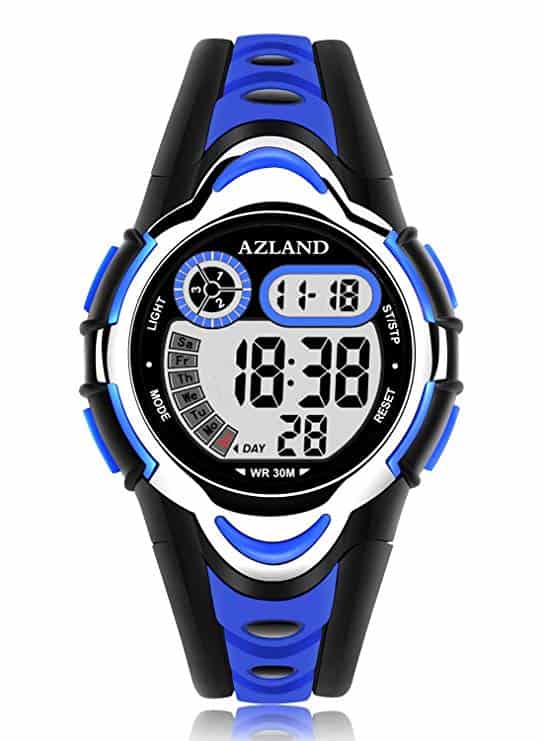 This LED digital AZLAND watch is an excellent wearable for children aged 5 to 12 years. This digital sports watch features a classic 35mm round design with a bright green display that is easy to see under direct sunlight. It also features a high-quality soft rubber band that is comfortable on the young one's skin. The El night light gives the watch visibility in dark environments.
There's a water-resistant function up to 30 meters in this watch that makes it suitable for use in water sport activities or at the beach. The digital wearable is available in different colors and comes with a gift box package.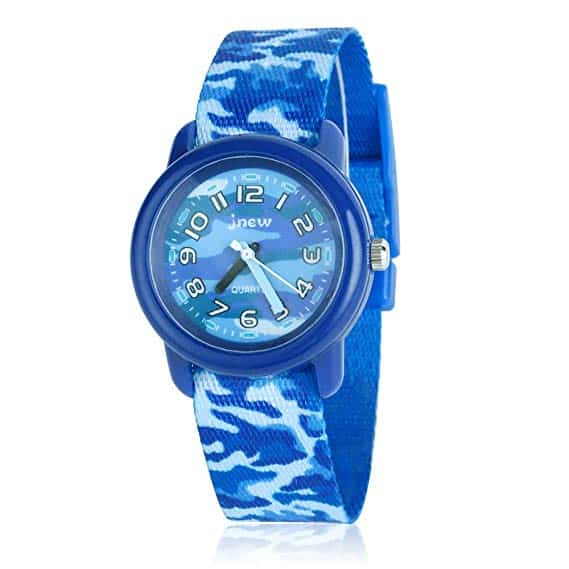 MICO cartoon watch features high-quality resin glass construction and a waterproof design but not suitable for swimming, bathing or submersion in water. There's a sturdy silicon strap that provides comfort when your kid wears this watch. Also, the cute cartoon images featured in the watch appeal to kids aged 3 to 10 years.
The Japanese battery included in the watch provides precise and accurate time keeping. MICO kids' Waterproof watch features a long battery life that will last a long time to come. The wearable is lightweight and comes with an impressive battery life making it a useful device for the money.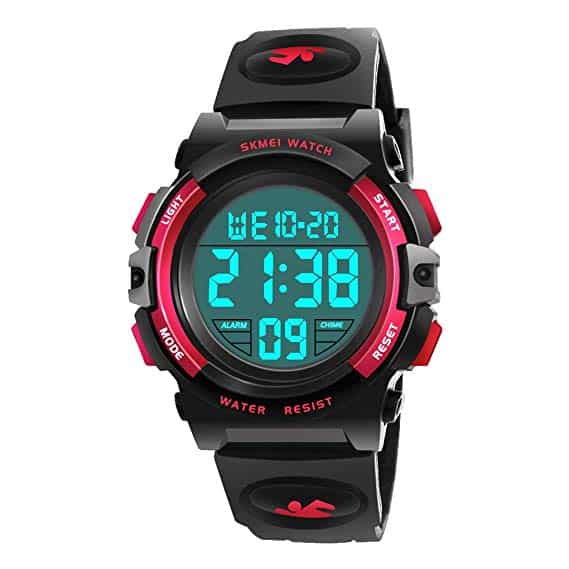 My-My Sports Digital watch is a convenient wearable for kids with a 50-meter waterproof design making it an excellent wearable for watersport activities. The watch features soft PU material construction for durability and comfort. The adjustable strap ensures, and the stainless steel buckle ensures added comfort and customization for a perfect fit.
On the other hand, the display is sharp enough to read under bright sunlight while the backlight enables him to understand it in dark environments. The watch comes in a stylish and exquisite gift box for excellent packaging when gifting the young one on their special day or event. The digital sports watch would make an attractive gift option for kids aged 4- 12 years old.
Bottom Line
Buying your kid a first watch can be a huge deal. The wearables we have discussed in this guide come with different features that can suit both boys and girls of all ages. Some features are simple, easy to use and read analog dials with favorite colors, animals and cartoon characters for beginners that provide the young one with a learning opportunity by helping them master basic mathematical concepts. Others in this list feature a digital function for children who are already familiar with the idea of time and are also inherently more comfortable to read than the former.
There are also more advanced wearables in this guide are feature-packed with various applications that help you kid monitor and track fitness metrics such as heart rate, calorie monitoring and quality of sleep. These smartwatches come with advanced intuitive features that are user-friendly. A wristwatch can be a timepiece that is essential for gifting and give the young one memories of first time ownership of a watch.