Top 12 Best Outdoor Tree Swings for Kids 2023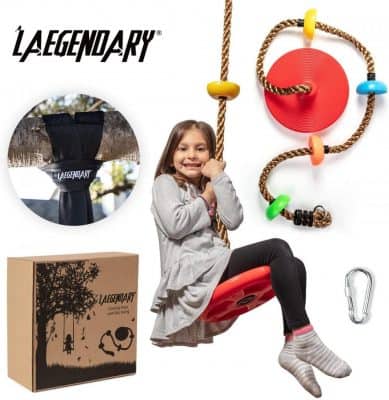 This low-cost tree swing is great for kids ages 3-and-up to have fun swinging while sitting or standing. It also serves as a great strength and balance builder. The tree climbing rope has multiple platform discs which allows your child to climb up it. This helps build gross motor skills and to develop sensory integration. The swing is also a wonderful way to strengthen kids' balancing skills and muscle strength.
Another great feature about this swing is that it can be hung from a tree, a standing swing set, or even monkey bars. The length of the rope is very adjustable. The rope is 6.6 feet long with an additional black tree strap that can extend the length of the swing an additional 4.2 feet. You won't be able to extend it beyond that, however, as the company doesn't sell further extensions.
The installation process is very simple. If you want to adjust the rope to make the swing shorter, all you have to do is pull the secured rope through the disc seat and tie a knot underneath, which will make the 6.6-foot rope 4.3 feet instead.
The swing disc that the child sits or stands on is 12 inches in diameter. The rope is made of easy to grip, thick polyethylene, which reduces the chance of rope burn on your child's hands. The weight limit is 120 pounds, ideal for small children or even small adults. Unfortunately, you'll only get one person at a time on this. All the things needed to install the swing are included. It comes in bright multi-colors or in dark green.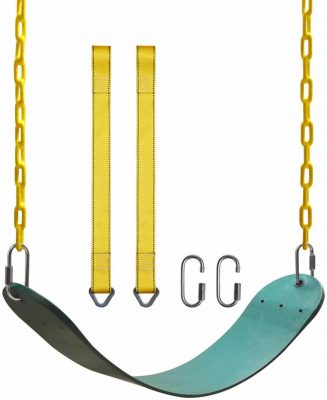 The simple design and effortless installation process make the PACEARTH Outdoor Playground Tree Swing a top contender for the best outdoor tree swing for kids. Unlike other single rider tree swings on this list, this swing has a 660-pound weight limit, so adults can also channel their inner child.
With the purchase of this swing includes 1 swing seat, 2 zinc-plated chains, 4 screw carabiners, and 2 free hanging straps. The swing seat is made of EVA plastic and measures 26 inches by 5.5 inches, making it large enough for kids of all sizes and ages. It is chemical resistant, corrosion-resistant, crack-resistant, and easy to clean. You have the option to purchase the seat in several colors: green, blue, pink or red.
The thermoplastic anti-rust chains are zinc plated and measure 68.9 inches in length each, but the connecting buckles can be placed in whatever link is needed to create the perfect length. The 2 extra hanging straps are 23.6 inches in length, so there's no need to purchase additional straps. The polyester material of the hanging straps are very durable and are great for bearing weight and force.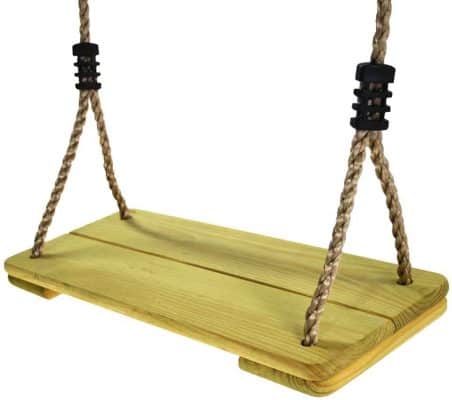 The straightforward, simple design makes the Happy Pie Play Hanging Swing a great addition to your child's outdoor playing experience. The seat is made of two pieces of wood. You have the option to choose between pinewood or hardwood. The seat dimensions are 17.32 inches by .55 inches by 6.89 inches. The seat is wide enough for most children ages five and up.
This swing is preassembled with heavy-duty, rust-resistant adjustable chains and PE rope, created specifically for strength and durability. The PE rope length is 70.8 inches can be adjusted all the way down to 46 inches. That said, the manufacturer suggests the height of the playset or tree should not be less than 59 inches. The suggested weight limit is up to 200 pounds, so the swing can be used as your child grows.
It does not include the gear needed for hanging it. So you'll have to have your own tools. Furthermore, the seat is not stained which leaves it vulnerable to rain and humidity. You can take advantage of this drawback by painting it yourself!
The M and M Web Rider Outdoor Swing has a weight capacity of 600 pounds, which is great for parents of multiple children.
The suggested age range for this product is 5 to 16 years old, but with the high weight limit, the swing can be used by adults and children alike. The swing is 39 inches in diameter, with adjusting hanging ropes and two four-inch Steel Monster Spring Clips which allow for an easy installation.
You have the option to hang from two points for a traditional back-and-forth swing or from a single point for a spin merry-go-round experience.
It is made with large corrosion protected steel frames, and the seat is made of tight weave rope. The outer layer is PVC backed polyester which makes it dry faster if it is left in the rain. The non-woven fabric lining prevents mold and mildew from reaching the one-inch thick dry-fast polyester cushion foam. You can also purchase an additional three-layer cushion which is engineered for outdoor use.
There are two types of swing, the Elite version and the Basket. The Elite version is mid-price range compared to similar swings and the Basket swing is considerably more expensive. It comes in multiple colors: basic black, the "Snow Flurry" which is an electric blue, purple, and lime green, the "Superhero Swing" which is red, blue, and black, and the "Tickled Pink" swing which is solid light pink.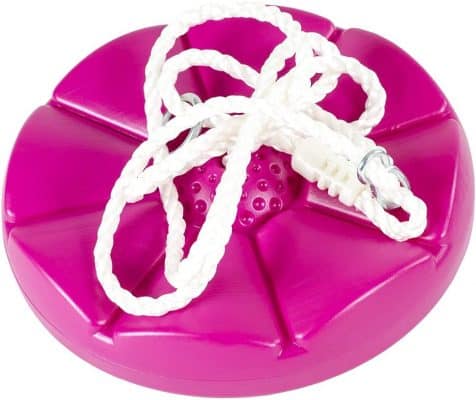 The Squirrel Products Swing Disc Rope Swing is lightweight, durable, and easy to hang from a tree, add to a swing set, jungle gym, or any outdoor playset. Update or complete your backyard with the pink, green, or blue color options. The age recommendation is 3 years and up, but it has a weight limit of 150 pounds, so both small children and older children will be able to use it. Young children may struggle to maintain balance though.
One of the most affordable swings on this list, the purchase includes one disc swing seat attached to braided nylon rope and a metal ring used to attach to swing sets or tree straps. The seat is 12 inches in diameter and 2 ¼ inches thick, which is ideal for smaller children.
The hollow seat is molded from high-density polyethylene which can endure rain or shine. The 78 inch rope is adjustable and kids can take this with them on any camping trip or a trip to grandma's house.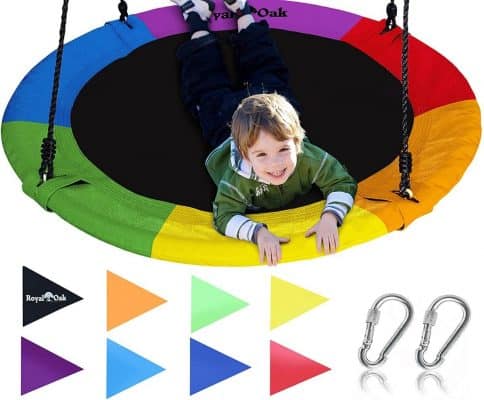 With a weight limit of 400 pounds, the Royal Oak Giant Flying Saucer Tree Swing is perfect for parents with multiple children, parents who want to swing with their children, or even for neighborhood kids to play together. The recommended age range is 3 years and up, and the flat, durable design is ideal for toddlers, bigger kids, or adults.
The tree swing comes in a variety of colors: blue, green, orange, pink, purple, rainbow, red, yellow, and camo. You'll find the colors will fade after long exposure to the sun.
However, you will also get a bonus swing cover with permeable surface protection so that the swing will not be damaged no matter what the weather. The ropes are already attached and threaded through the swing, increasing its safety and stability. The rope is adjustable, with a range of 47 inches to 63 inches.
The swing is versatile in that it attaches to a tree or swing set, and the installation is easy and is not time-consuming. Unfortunately, the hanging kit is sold separately.
The swing is made of an Eva foam-padded high-strength steel frame and 900D Oxford polyester mesh which is both weather-resistant and permeable. 8 flags are also included which can be added as an embellishment, giving the swing a festive feel.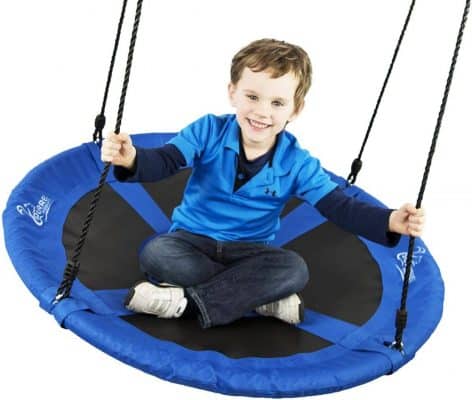 The 40-inch saucer swing by Flying Squirrel is large enough for multiple kids or adults with a weight capacity of 200 pounds. It is designed to be added to swing sets, jungle gyms, or other outdoor playsets. You have two color choices with this particular swing set: blue or green.
The swing features include a heavy-duty steel frame with foam padding for both comfort and safety. The set includes 1 swing, two hanging ropes, and two hanging rings. The hanging ropes are approximately 10 feet long, which is great for a swing set or a low-hanging tree branch. Additional rope may need to be purchased if you are planning on hanging this swing from a higher tree branch.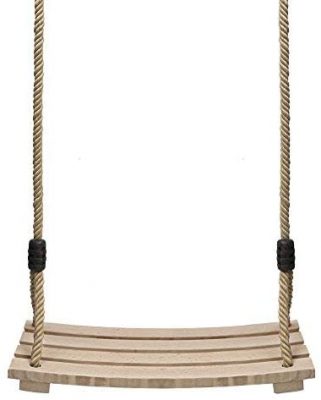 This simple, durable wooden swing has a nostalgic quality to it. It's sturdy enough for small children, or adults up to 300 pounds. The non-slip ridged seat and raised sides are ergonomically designed for comfort and it is made of sturdy beechwood, which is a more hardy wood type, making it ideal for a tree swing. However, you will have to seal the wood yourself.
The product includes 1 swing seat that is equipped with adjusted rope, 2 connecting straps, and 2 connecting buckles. The adjustable rope is 120 to 180 centimeters long, which is ideal for indoor and outdoor use. The rope is attached to the swing using galvanized metal rings and fitting, which further ensures safety.
The seat is available in two sizes. You have the choice of purchasing the smaller seat, which is 16.5 inches by 7.9 inches by 0.6 inches, or you can select the larger seat measuring at 17.7 inches by 7.9 inches by 0.6 inches. If the price is a concern the smaller seat is considerably less expensive than the larger seat.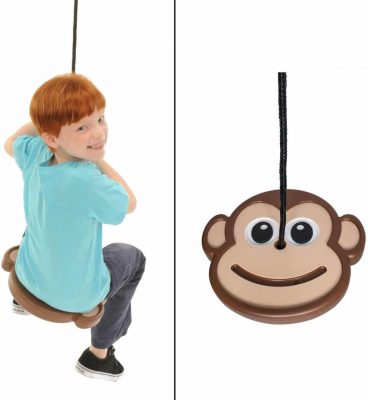 If you are looking for a simple, inexpensive swing for your children ages 5 and up, then this will be the perfect addition to your backyard. The cute monkey face swing disc allows your little Tarzan or Jane to bring their imagination to life as king or queen of the jungle while simultaneously developing their core strength and balance.
The lightweight, solid swing seat is molded from polyethylene plastic with an approximate diameter of 13 inches. The easy to adjust hanging ropes can be adjusted up to 70 inches, making it ideal for tree branches, swing sets, or a secure beam in the house. It has a 250-pound weight limit, so older siblings or parents also have an opportunity to enjoy it.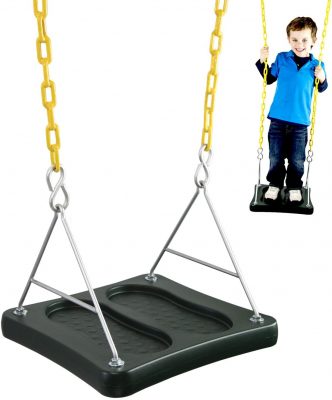 A fun, innovative twist on the traditional swing, the Squirrel Products Stand and Swing is designed to be hung from a tree, or added as an update to a swing set or jungle gym. The seat features 2 places for the rider to place their feet to ensure that they don't slide off while swinging standing up. The seat platform measures 14 by 14 inches, and the shoe indention measures 4.5 inches at the top, 4 inches in the center, and 4.5 inches at the bottom.
The plastic-coated swing chain measures at 67 inches and is designed to prevent finger pinching. Included in the purchase are the swing platform, chains, and two locking carabiners. The feet indention in the seat is large enough to fit a men's 9 ½ shoe, so almost every child will have no problem slipping their feet in comfortably.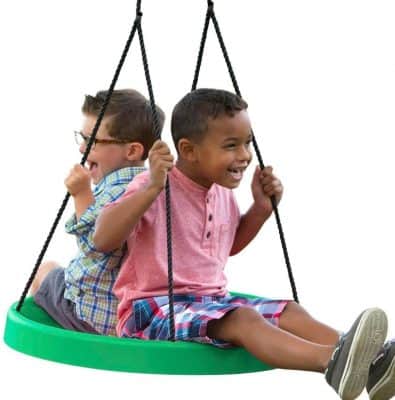 This swing is a great, modern alternative to the tried-and-true tire swing. The Super Spinner Swing made by Super Spinner can serve multiple purposes for your backyard playtime. It can be used as a regular swing, it can be used as a spinner, and it can also serve as a comfortable cot for you or your small child to read on a hot summer day.
The seat is designed to be sturdy, but also comfortable enough to be a great place for your children to have the swing as the designated hang out spot. The curved design of the swing allows for both safety and comfort, and the center hole allows for water drainage from rain, which will help the swing better endure different climates.
The UV resistant rope and locking safety clips easily connect to a swing set or tree, but the equipment needed to hang the swing to a tree is not included, so you will have to make an additional purchase.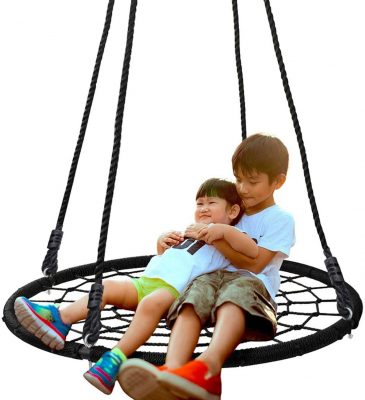 The Super Deal 40 inch is the perfect gift for parents of multiple children. The extra-large oval frame is made of sturdy steel wrapped in padding and durable braided plastic rope, making it strong enough and resilient enough to withstand up to 660 pounds.
The durable polypropylene rope creates spider-web-like netting with comfortable support, making it ideal for an afternoon reading session underneath the shade of a tree on a sunny Sunday afternoon. It is designed to work universally and hangs almost anywhere from a sturdy tree branch or a swing set, or it can even be relocated or taken down easily for storage.
Its high weight capacity means you can fit multiple children on this swing and it should be fine. However, it is more difficult to assemble than advertised, and the directions included are not that helpful.