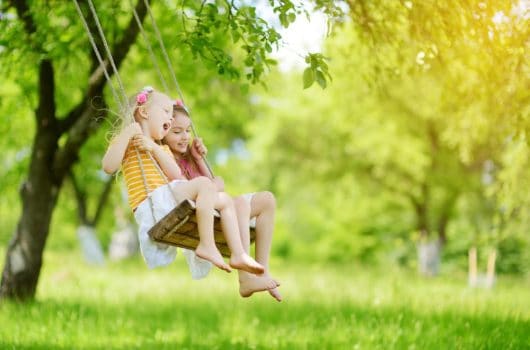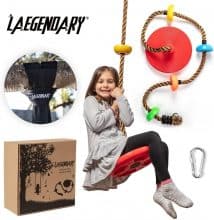 LAEGendary Climbing Rope Tree Swing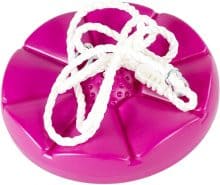 Squirrel Products Disc Rope Tree Swing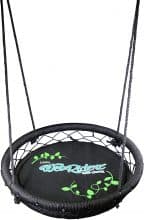 M and M Web Rider Outdoor Swing
Previous
Next
As parents, we often reminisce about our outside adventures, whether that involves hiding away in our tree houses, digging up treasure in the backyard with our siblings, or stowing away in our favorite hiding spot during a game of hide and seek. One essential, timeless staple of outdoor play is a tree swing. Tree swings allow you to relive nostalgic moments while watching your child use their superpowers to soar to great heights, saving the world one day at a time, or even travel to distant lands or different universes. What better way to spend a lazy Sunday afternoon in the summer than to watch your child feel like the sky's the limit, or even relax with your child and read them their favorite fairytale while embracing the great outdoors together?
In this guide, we provide a few guidelines for choosing the best tree swing for your kid or toddler, and we also simplify the decision-making process by offering 12 options to consider for your backyard.
What to Think About When Choosing a Tree Swing
When in pursuit of the best tree swing, there are a few contributing factors to take into consideration. The first factor that must be decided is the purpose. Is the swing intended for a small child to only swing back and forth? Or do you have an older, more athletic child in mind who wants to improve balance and rope climbing skills?
There are also swings that are larger and can hold adults or multiple children, so the weight capacity is an important thing to consider when shopping for tree swings. Before purchasing a tree swing, assess the size and physical capabilities of the intended user. A smaller child will not be able to enjoy more physically demanding swings and older kids are not going to enjoy a swing with a simpler design. If you have many children, do you want to get something they can all use at the same time?
The second major factor to consider is the installation process. When deciding to purchase a tree swing, the height of the intended tree branch should be measured so that you know the required rope length needed in the event that you need to purchase additional rope. Some swings are easier to install than others, and require less hardware, while others are more intricate and may require more than one person to install.
Below we have compiled a list of tire swing options that were chosen based upon extensive research to make your search easier. This list includes swings of all price ranges, weight capacities, and additional features so that you can find the tire swing best suited for your needs.
Let's take a look at our 12 top tire swing sets for kids in 2020.
Top 12 Best Outdoor Tree Swings for Kids 2020
The Bottom Line
All of the outdoor tree swing sets on this list would make a great addition to enhance your child's outdoor adventures. Whether you are seeking a single-rider disc swing or a larger swing with a high weight capacity that the entire family can enjoy, all swings mentioned in this list are guaranteed to be high quality and worth the investment, regardless of budget.
Before buying, make sure that you have everything you need so there are no setbacks that would delay your child's swinging experience. In order to prepare for the installation of your swing, check the sturdiness of the tree limb that you intend to use, measure the height of the limb so that you are sure that the rope length corresponds with the limb height, and also ensure that your child is safe by making sure there is enough clearance on all sides of the swing.
Once you have determined that you have all of the necessary gear needed to hang the tire swing, be prepared to have a staple outdoor toy that will keep your children and their friends entertained for hours.