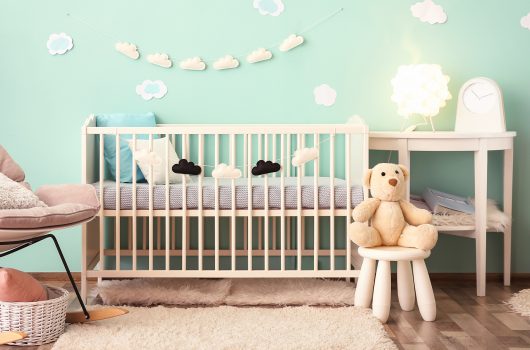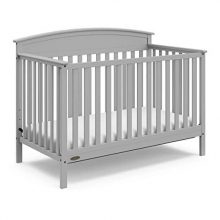 Graco Benton 4-in-1 Convertible Crib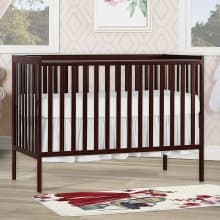 Dream On Me Synergy 5-in-1 Convertible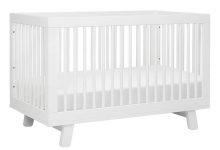 Babyletto Hudson
Previous
Next
Nothing you purchase for your baby's room is quite as important as their crib. For the first three years of their life, your little one will spend more time inside their crib than anywhere else. That's why it's important to buy a crib that is safe, comfortable and suitable for your available space. We searched for the best baby cribs available in 2020. Keep reading to see what we found.
Where can you find popular cribs?
Features to Consider in Good Baby Cribs
Choosing the Best Crib for Your Baby
Many new parents make the mistake of buying a crib simply based on looks. Of course, a crib is a piece of furniture and how it looks in your home is important, but it's also important to make sure any crib you bring into your home fits your specific needs. With lots of new features having been added to cribs in the past few years, picking the right crib now will make your life much easier going forward. To help you decide the best crib for you and your baby, here are the factors we looked at and you should keep in mind when deciding what to go for.
Comfortable for Parents as Well as the Baby
You will want to reach your newborn easily at first. So make sure you consider a crib that is high enough so you are not constantly bending over too much. It is important to find a baby crib that accommodates you.
Cribs That Grow With Your Baby
You may want to consider an adjustable crib. It will not be long before your child is a toddler and standing and climbing on the rails. As a result, you could adjust the crib lower as the child grows so they can climb in and out of it themselves.
Safety Features
Safety is extremely important for newborns. Just about anything can be a hazard. So do your best to find a safe and practical baby crib. Old crib designs like drop-down sides have been banned in modern times because they were deemed unsafe.
What worked for your parents or grandparents likely isn't suitable in the 21st century. So you need to do a series of safety checks with any new crib:
The slats must be strong enough.
The frame shouldn't flex drastically.
The mattress should never tilt.
Corners of the crib need to be square.
The fabrics, materials, and paint used to build the crib must be non-toxic and safety approved.
Furthermore, you should avoid these accessories as they also pose a risk of suffocation in a crib: pillows, crib bumpers, heavy blankets, and sleep positioners.
Also, before buying a crib, do a quick search to check if they haven't been recalled for safety issues since we compiled this list.
Crib Design: The design of a good baby crib is a combination of aesthetics and functionality. While style is important, you should also consider the functionality of the unit. Is it safe? Does the size fit in your crowded apartment or condo? What other features would you like with the crib?
Size of the Crib: Cribs come in a variety of sizes to fit people's needs. There are more compact, portable cribs for people that live in small apartments or duplexes. The crib should not make a room feel cramped because there is no need. The market has a variety of crib sizes based on how big you can afford to go.
Lifespan of the Baby Crib: Cribs are produced for a number of reasons. Some are strictly intended for newborns until they are one year old. On the other hand, some have a longer lifespan and can still function effectively as your baby transitions into a toddler. If you are on a tight budget it makes sense to consider a crib that can last for years.
Top 10 Best Baby Cribs 2020
Guide to Buying the Best Baby Crib
Now that we have presented our 10 favorites, let's dive into a few more details about what you need to know to discover the perfect crib your newborn:
Types of Baby Beds
Parents want the best for their children. When you first start out a lot of the focus is on getting baby essentials like a crib, a bottle or a stroller. It can get overwhelming for first time parents new to the experience.
We want to make your life easier! If you are deciding between a couple of different products on our list that is a good thing. Let's study the different types of baby beds in more detail:
Cribs
Cribs are permanent pieces like furniture. They are generally not designed to be portable like a travel crib or bassinet. Cribs are traditionally very safe because they are the most stable and durable. Cribs can accommodate newborns up to the age of five.
Bassinets
Bassinets are a type of bedding which are much smaller than cribs. This makes bassinets more mobile. They work well for small apartments and homes as you can easily move them from one room to another. Some models even fold for extra storage or travel purposes.
Travel Cribs
The name says it all. Travel cribs are intended for the busy mom or dad. If you are on the road a lot travel cribs are ideal because they are so lightweight and portable. The material of the travel system is not quite as premium as a traditional crib but that is to avoid excess weight.
Multifunctional Baby Cribs
Some cribs almost act like a complete baby station. It is possible to have a multifunctional crib with built-in drawers and a changing area. The crib are built for a variety of tasks involving a baby yet are bulky and take up a fair amount of space. They work best in a dedicated nursery.
Convertible Cribs
Convertible cribs are also multipurpose. They are budget-friendly cribs because they can convert from a traditional crib to something more suitable for a toddler. Conversion sets are usually sold separately so you may have to purchase one intended for a newborn, and one intended for a toddler later.
Portable Cribs
Portable cribs do not always make them good for travel, but more so for storage. Young parents are often restricted with space and either living with family or in a cramped space. A portable crib will fold to free up space when not in use. You can also set the unit up in any room of the house depending on where you are.
When Do You Need a Baby Crib?
A crib isn't a necessity from the beginning. You may prefer letting your newborn baby sleep in a bassinet or co-sleeper. However, around the age of four or five months, your child will probably want something more exclusive. Standard cribs are your best option. Why?
It is difficult for a baby to fall out of a full size crib.
There's enough space to make a growing baby feel comfortable.
Cribs are designed to be safe and remove any potential for suffocation.
It is easy to position a baby monitor above the crib to keep an eye on baby while he or she sleeps.
The arrangement will serve you well for a few years. Depending on these factors, you'll eventually move your child into his or her own bed. New parents can make this determination when:
When the child reaches the age of five.
The weight of the child goes above the recommended support weight of the crib (even if before age five).
Determine that the baby crib is no longer practical for a toddler.
Becomes a safety hazard as the toddler starts to climb and grab onto the sides.
Think About How Long You'll Use the One You Pick
There is no need to spend a fortune on a crib, especially one that is only designed to last for a year if you can't afford it. Convertible cribs, bassinets, and travel systems work really well because they are multipurpose. You may find out that a standard crib is not the most practical for your situation.
Safety Guidelines for a Baby Crib
Safety is the most important aspect of a baby bed along with comfortability. Let's examine safety guidelines in more detail:
Slats
You know your baby will become curious and explore the bed. Consequently, make sure the bed slats do not pose a risk. If the slat cannot support the weight (80 lbs. is the usual standard) then they could potentially collapse. Furthermore, the slats must be close together so a little one can't wedge their feet or their head between them.
Hazardous Materials
Your baby may want to lick or suck on parts of the crib. It is why you need to find out what was used during manufacturing. Are the materials considered safe for a newborn? There are numerous health risks associated with certain types of materials and manufacturing processes.
Recalls
Global standards are quite strict about baby bed safety, which is a very good thing. As a result, you will notice a fair share of baby products that get recalled. Before you make a final purchase decision make sure the product isn't being flagged for any safety issues.
Drop-Side Cribs
Drop-side cribs are among the baby products that have been recalled. However, that doesn't mean that some are still not sold privately owner to owner, or at discount thrift stores. If you see one avoid it! They are no longer considered safe for babies.
What About Used Cribs?
There are many reasons you may want to consider a used crib. A limited budget combined with more affordable prices make used cribs attractive buys. Of course there is always the honor of receiving an existing crib in the family that once was used by you or another family member.
However, you still need to make sure the crib is safe. As previously mentioned, some styles flagged for recall like drop-side cribs still exist and are sold privately. There are other outdated features on old cribs that new ones have fixed.
So while a hand-me-down or used crib may make sense for your wallet that doesn't mean it is appropriate for your child.
Therefore, try to put sentiment and "good value" aside when shopping for a new or used baby crib. Old cribs could potentially:
No longer be practical as crib has been been recalled.
The crib could have been installed wrong by the original owner and have additional safety flaws.
It is difficult to inspect what parts are worn and torn and could break at any moment. Parts could also be missing that had an important purpose.
Used cribs are not sold with a warranty. If anything breaks down you may have trouble finding replacement parts which means you have to quickly find a replacement crib.
We don't want you to be paranoid, but these are realistic threats to your baby's safety. If you have done a close inspection and didn't notice any flaws, there is a chance to get away with buying a used crib. Not every used crib on the market is flawed or a safety risk. Just make sure you are informed beforehand of potential dangers.
Similar Design, Different Price – Why?
You may wonder why certain beds are much pricier than others, even though they look exactly the same. It all comes down to quality.
All types of wood do not perform the same. The pricier version is probably made of solid wood and a durable type such as oak. Solid woods last for years yet cost more to produce, hence the markup in price. Meanwhile, pine is readily available and affordable yet not nearly as sturdy.
It doesn't mean you need to purchase an expensive crib. The problem with pricier cribs is that they usually have shorter lifespans than cheaper cribs, like convertible styles. So you need to find a crib that works for both a budget and long-term objectives.
Final Words
The best baby cribs featured on our list are all guaranteed to provide comfort, safety, peace of mind, and long-term use. It will guarantee that your baby receives the best night's sleep possible and also keeps the parents less stressed.