Let's be clear about this: Crib shopping will NOT be a quick visit to your local furniture store. Take your time to pick the perfect one, because this item will form the center of your baby's home life for the next few years.
And the effort you put into the shopping will determine if it brings you joy or frustration.
What is your main preference? Must it fit with your baby room theme? Or are you one of those parents who is all about functionality. There's no right or wrong. All of it IS important. And we're going to help you find the perfect combination.
Below you'll find a few of the best baby cribs manufacturers have to offer in 2018. Browse the reviews and use our buyers' guides to help you decide. Let's find your baby the perfect place to dream in.
Features to Consider in Good Baby Cribs
The mistake some people make is shopping one dimensionally. Any piece of furniture should be looked at holistically. There are aesthetic factors and then you must ensure your baby's new bed will keep him or her safe. And of course parenting must be made as easy as possible. That's what technology is for and yes, this even applies to baby cribs.
So let's set up your checklist.
The Mattress
A modern day crib is not a simple bed. You have the opportunity to get a piece of furniture that makes parenting easier and keeps babies safer. This also relates to mattress settings:
At first you'll want to reach your newborn easily, so it must be high enough so you don't have to bend down. This also makes sense for short moms.
Pretty soon your toddler will be standing and tall enough to climb over the rails, unless it's possible to adjust the crib's mattress height to a lower setting.
Do you see how one feature can give parents peace of mind? Make sure you purchase one that makes parenting less—not more—complicated. You deserve it.
Timelines
How long will you be able to use the crib? Some cribs are designed to adjust as your baby grows, converting into single beds. This is obviously a smart budget option.
Safety Features
Don't take safety lightly. Crib designs that were used for decades—such as ones with drop down sides—were banned from being manufactured, since they were found to actually be very dangerous.
Your baby will grow into a curious toddler who will discover any features that aren't really safe:
The slats must be strong enough
The frame shouldn't flex too much
The mattress shouldn't tilt
Corners must be square
The fabrics, materials and paint must be non toxic and safety approved
Accessories that accompany a crib shouldn't add to the risk of suffocation:
Pillows aren't advisable
Don't use crib bumpers
Avoid sleep positioners and heavy blankets
Handy tip: Do a search for recent recalls and avoid purchasing from brands that sell low quality items.
For safety's sake, rather spend a little extra to give yourself peace of mind.
The Design
Once again the design relates to aesthetics AND functionality.
Of course you must pick one that matches with your preferred theme. That's part of the fun of setting up a baby room. Luckily manufacturers provide you with modern and classic options, in many different colors so you should find something that catches your attention.
But the design should align with the previously discussed item: Safety. Make sure the design prevents your child from climbing out and ensure slats are set at the right distances from each other. Always make sure a beautiful designs doesn't create more risks of suffocation.
This is why it's wise to trust the market leaders. They know what customers want and what babies need.
The Size
This applies to any piece of furniture, so don't forget it simply because you fall in love with a certain crib. Make sure it fits into your baby's room comfortably. As stated, parenting should be made easier by modern design and when your baby's room feels cramped it makes it impractical. Better to shop for that perfect sized unit for small spaces, because it's out there!
Customization
A favorite selling point of manufacturers is how one purchase can fulfil many desires. As mentioned above some cribs may be customized into beds for small children. You can also get accessories to customize a crib, such as additional rails.
Purchase these when you get your crib, so you don't have a problem finding compatible parts later on.
Top 10 Best Baby Cribs 2019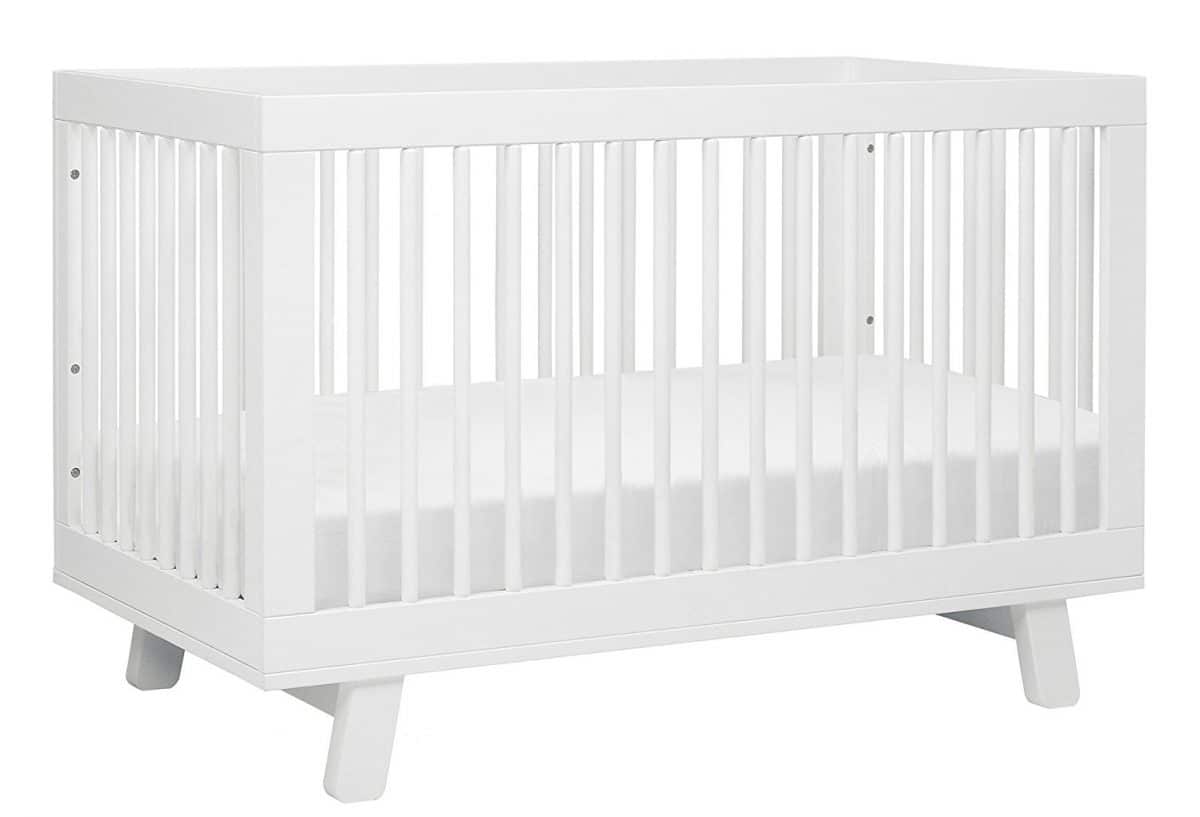 Why we like it:
This is an excellent example of providing parents with a solution that will last them for years. This crib can turn into your child's bed if you use the converter kit.
Editor's Rating:
Here's a beautiful but simple design that should fit with anyone's chosen decorating style. The smooth lines are modern, but it also reminds you of cribs made in previous centuries.
Along with this you get all the important features such as safety and practicality. Use the conversion kit and you can utilize this for years to come.
Health and Safety
This model is all about creating a safe environment for your child. In a screen for over 10 000 chemicals, it's awarded the GREENGUARD Gold Certification, so you know your baby's health won't be negatively affected by spending time inside the crib. This applies even if your child decides to lick all surfaces since the finish is non toxic.
For safety you'll find the slats can take up to 135lb and the crib meets ASTM (International) & CPSC (US) safety standards.
Usage, Capacity and Timelines
You can convert this into your child's bed when he or she is too big for it. This will happen when your toddler is mature enough to climb and has grown to 35".
Adjustable Settings
Apart from the conversion options, you can place the mattress at one of four different height settings. Customize this to your own height and the baby's growth.
Maintenance
Since it's not too heavy, one person can manage to move this around to clean around and under it. Since no toxic products are used, it's safe to clean with a moist cloth.
Specs
Dimensions: 54" x 29.8" x 35"
Weight: 56.5lb
Pros
Affordable option

Perfect blend of classic look with modern safety features

Can change into bed

Super light making it easy to move

Available in various colors to match your décor design
Cons
You must purchase mattress separately

Wheels can't lock into place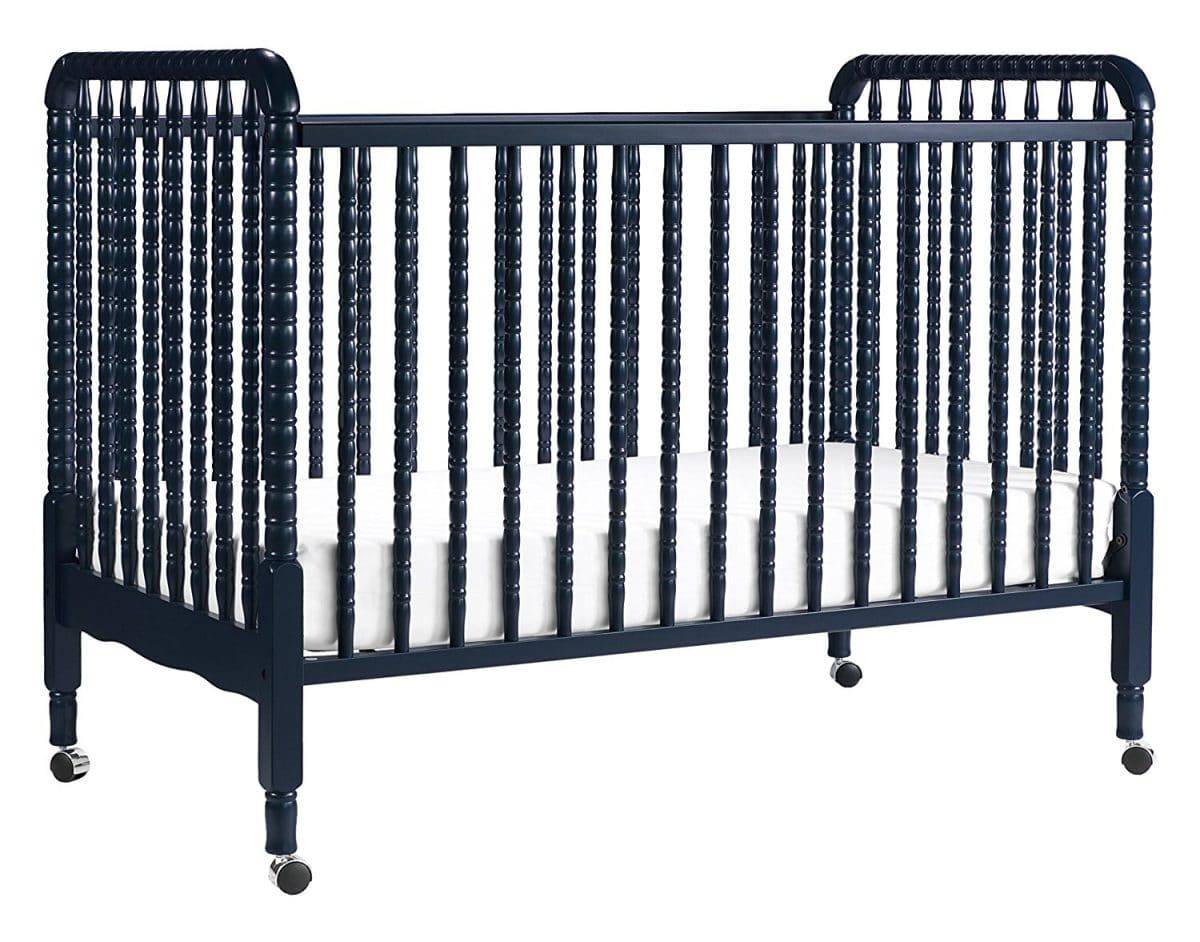 Why we like it:
It's a stunning mix of old, classic design and modern protection, as it incorporates both health and safety features.
Editor's Rating:
This is your crib, day bed and toddler bed all in one. The designers used an age old design and ensured it had modern safety features so your room can look classic & stylish without putting your toddler at risk.
Pick your favorite color and enjoy the practicality of having your crib on wheels.
Health and Safety
This bed adheres to necessary safety standards such as:
GREENCARD Gold Certified for not containing dangerous chemicals
CPSC
ASTM
Lead & Phthalate safe
Non toxic
Usage, Capacity and Timelines
You can use this even past your child's toddler years, since it can turn into a day bed.
Adjustable Settings
You can place the mattress at one of four different height settings. These can be used to customize usage according to your own height, or to prevent crawling (or standing) toddlers from getting out. You can also pick between using wheels (casters) or just the legs, depending on your preference.
Maintenance
The wheels make this easily mobile so you can effortlessly clean around it.
Specs
Dimensions: 36.25" x 19.25" x 39.75"
Weight: 22lb
Pros
Affordable option

Perfect blend of classic look with modern safety features

Can change into bed

Super light making it easy to move

Available in various colors to match your décor design
Cons
You must purchase mattress separately

Wheels can't lock into place
Why we like it:
It's still possible to get excellent products at affordable prices. This IKEA crib is one of them, so you can be sure you get value for the money you can afford to spend.
Editor's Rating:
Here is another square design which makes fitting it into your baby room so easy. The beautiful white matches with most décor ideas. There are removable parts such as some of the sides to make it age appropriate for your toddler later on. Your baby's quality of sleep will even be affected by the design since the bottom allows for excellent air ventilation.
Health and Safety
This bed has been tested for safety, but also for support. Your child gets a safe sleeping environment, but is also provided with comfortable surfaces to enhance health. Remember, sleep is central to anyone's well-being.
Usage, Capacity and Timelines
You can use this well into your child's toddler years. If he or she is big enough to have their own bed, you can remove one of the sides. This will give your child a bit of freedom, but you don't have to purchase new furniture yet.
Adjustable Settings
You can set the mattress at one of two heights to compensate for your own height or how the baby has grown. If you don't want your kids climbing over the rails, simply place it lower. Unfortunately there aren't as many settings as on other models reviewed here.
Maintenance
A simple design makes for easy cleaning and no crevices where dirt can collect.
Specs
Dimensions: 53.5" x 29.5" x 33"
Weight: 44lb
Pros
Durable product

Can use during toddler years

Tested for safety
Cons
You must purchase the mattress and linen separately

Limited height settings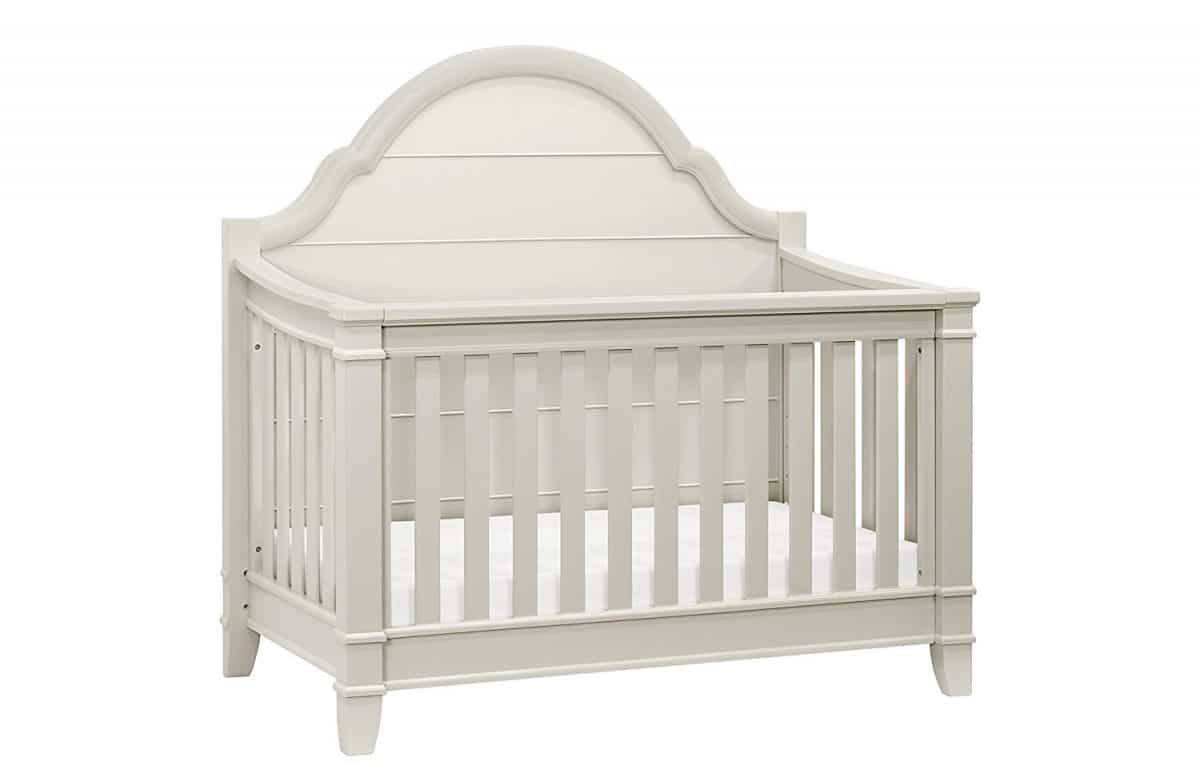 Why we like it:
It takes a small change to transform an ordinary baby crib into a stylish statement. And babies deserve the best. The backboard design adds style while the overall design actually adds sturdiness too. It's practical AND beautiful.
Editor's Rating:
Decorate and furnish your baby room in one go. Here you have a beautifully designed bed and as a bonus it's a long term investment because with a kit you can turn it into a day bed, a toddler bed or a full sized bed. It's also smartly designed, giving you various height settings and of course it adheres to safety standards of the US and international entities.
Health and Safety
This is both ASTM and CPSC certified, but it's actually much safer than that. While their standards demand a support of 80lb of the slats, this bed can handle up to 135lb. The lead and phthalates levels are also much lower than what the experts demand.
Usage, Capacity and Timelines
You can use this for your baby as long as he or she is under your roof by turning it into a regular bed. Note that you'll have to purchase separate conversion kits. Because of the classic design you don't run the risk of it going out of fashion.
Adjustable Settings
Depending on your height and the ability of your baby to climb out of cribs, you can customize the mattress setting by using one of the four height levels. This bed's hardware construction is hidden so there's no chance of it hurting your child. You know they have the ability to get in almost anywhere, but this crib keeps dangerous parts hidden to improve babies' safety.
Maintenance
This crib is on the heavy side, so you may need help moving it around if it's time to clean the room. The design itself is simple enough for an easy wipe down.
Specs
Dimensions: 57.4" x 30.1" x 56.8"
Weight: 96.8lb
Pros
Can use for years

1 year warranty

Four different mattress settings
Cons
Very heavy compared with other units listed here

Expensive model
Why we like it:
This one is sold in many different colors so you can pick one that you know you'll use for years. You'll be using it for so long since it can even convert into a normal bed.
Editor's Rating:
A simple design adds style now and can be used for years. This crib can be transformed into a day bed or a normal bed when you purchase conversion kits. For your baby you get a stylish design that's functional too.
Health and Safety
Here you'll find adherence to ASTM, CPSC and also JPMA.
Usage, Capacity and Timelines
If you look after this you can use it for your child's entire life, since the one side becomes the head board of your child's future bed. Note that the parts for this will be sold separately. Also remember, if you plan on using this long term, to pick the right, practical color.
Just note that the warranty only applies for one year and in its original form it's suggested you only use it to support up to 48lb.
Adjustable Settings
Here you have three different mattress settings to pick from.
Maintenance
It's of a reasonable weight to easily move around when it's time to clean. It's also easy to clean thanks to the many smooth surfaces.
Specs
Dimensions: 30.1" x 56.5" x 45.7"
Weight: 57lb
Pros
Life long investment

Classic lines incorporating modern design

Hardware is hidden

Quality wood used, which lasts longer
Cons
Only three mattress heights

Difficult to assemble
Why we like it:
It saves time and space to have one unit where you can do everything relating to your baby. It also helps to keep rooms uncluttered, because you don't have to purchase separate furniture pieces. And this unit caters for everything from toys to baby cream.
Editor's Rating:
This convertible unit also has a changing area attached to the crib. Below the changing surface you'll find storage space—a cubicle and two drawers—so you can store all your baby's things in one place.
Health and Safety
It has approval from US and international safety institutions.
Usage, Capacity and Timelines
You can use this until your child is grown since it can turn into a normal sized bed. Directions of use with this crib advises you to stop using it in its crib form when your child reaches 35" in length.
Adjustable Settings
You can pick one of three mattress levels and in future you can turn it into a different kind of bed by purchasing conversion sets.
Maintenance
This is quite a heavy unit so you'll have trouble moving it around to clean the room. The design itself is simple so you can easily wipe it down.
Specs
Dimensions: 47.2" x 72" x 30"
Weight: 86lb
Pros
Can convert into daybed or toddler bed

1 year warranty

All you need for your baby kept in one place

Beautiful, classic design
Cons
Mattress not included

Pine wood is not as durable as Oak or Cherry wood

Not ideal for small rooms

Very heavy
Why we like it:
It's always great to find furniture that can easily be put in storage. This makes it ideal for grandparents who need furniture when the family visits, or even to use commercially at hotels for clients who have babies.
Editor's Rating:
A practical and beautiful design as it can be wheeled all over the home or stored when not in use as it easily folds up. It's held together with stylish hardware that most people will find as an easy DIY project. It would have been even better if this hardware can't be seen so hopefully there will be upgraded versions in future. Note that it's smaller than many items on this list so it's not your long term solution.
Health and Safety
The wooden structure is sturdy thanks to metal hardware keeping parts together.
Usage, Capacity and Timelines
This is so easy to use around the home as it's compact enough to wheel through doorways. You'll only use it for around a year as it's smaller than some other models listed here.
Adjustable Settings
You can pick from two height settings for the mattress. It can also serve as a folding bassinet.
Maintenance
This is easy to setup, take down and store. And because it has wheels you can easily move it out of the way when cleaning. The smooth surfaces of the crib itself is easy to wipe down and keep from gathering dust.
Specs
Dimensions: 37.2" x 19.5" x 33.1"
Weight: 57.1lb
Pros
Super compact

Easy setup

Easy mobility thanks to caster wheels
Cons
Short usage time due to small size

Only two mattress settings

Doesn't use standard mattress, but mini one

Metal hardware is visible

Expensive for a unit that will only last you a year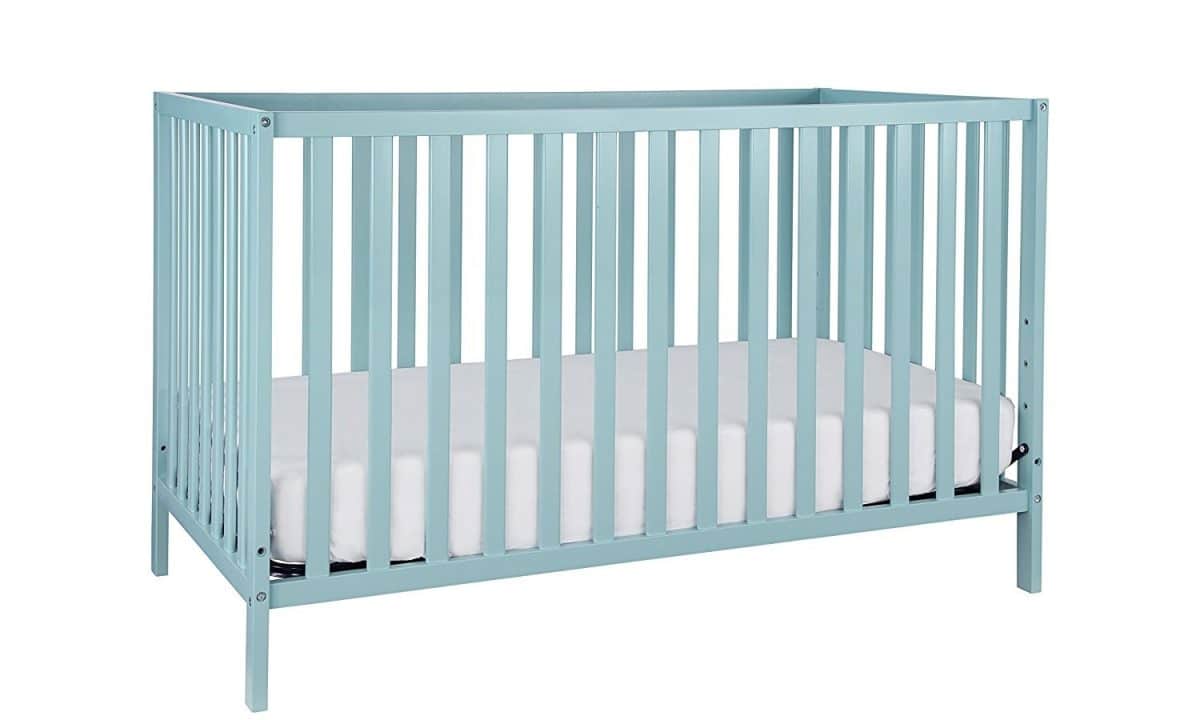 Why we like it:
It is quite versatile for such a plain, inexpensive crib, as it has a full four different settings for the mattress height.
Editor's Rating:
Don't be fooled by the simple design. This makes it easy to match to any décor style. This unit can also convert into a daybed so it's a long term investment.
The materials used in any furniture determines its safety and you can rest easy because this one's pinewood is sourced from New Zealand. On the exterior all finishes are free of lead and phthalate.
Health and Safety
This crib meets both US and international safety standards and you won't find toxic elements on it. Note that the holes for the hardware are big enough for small fingers. You may want to cover them up.
Usage, Capacity and Timelines
You'll use this for a few years as it can convert into a daybed. However, it's not your child's future normal bed, so remember to budget for that item.
Adjustable Settings
You can adjust the mattress to one of four height settings and you can convert it into a daybed. Note that the mattress adjustments require you to take out and replace bolts, so it's not a quick setting.
Maintenance
It's super light, making it easy to move around when cleaning the room. It also has a very plain design so it's easy to clear dust particles away. Simple designs result in easy assemblies too and you won't have problems setting this up or dismantling it to store or transport.
Specs
Dimensions: 53.5" x 30.5" x 33.5"
Weight: 36.4lb
Pros
Lighter than most cribs

Affordable

Many mattress heights

Convertible
Cons
Hardware is visible

Mattress adjustment requires reinstalling bolts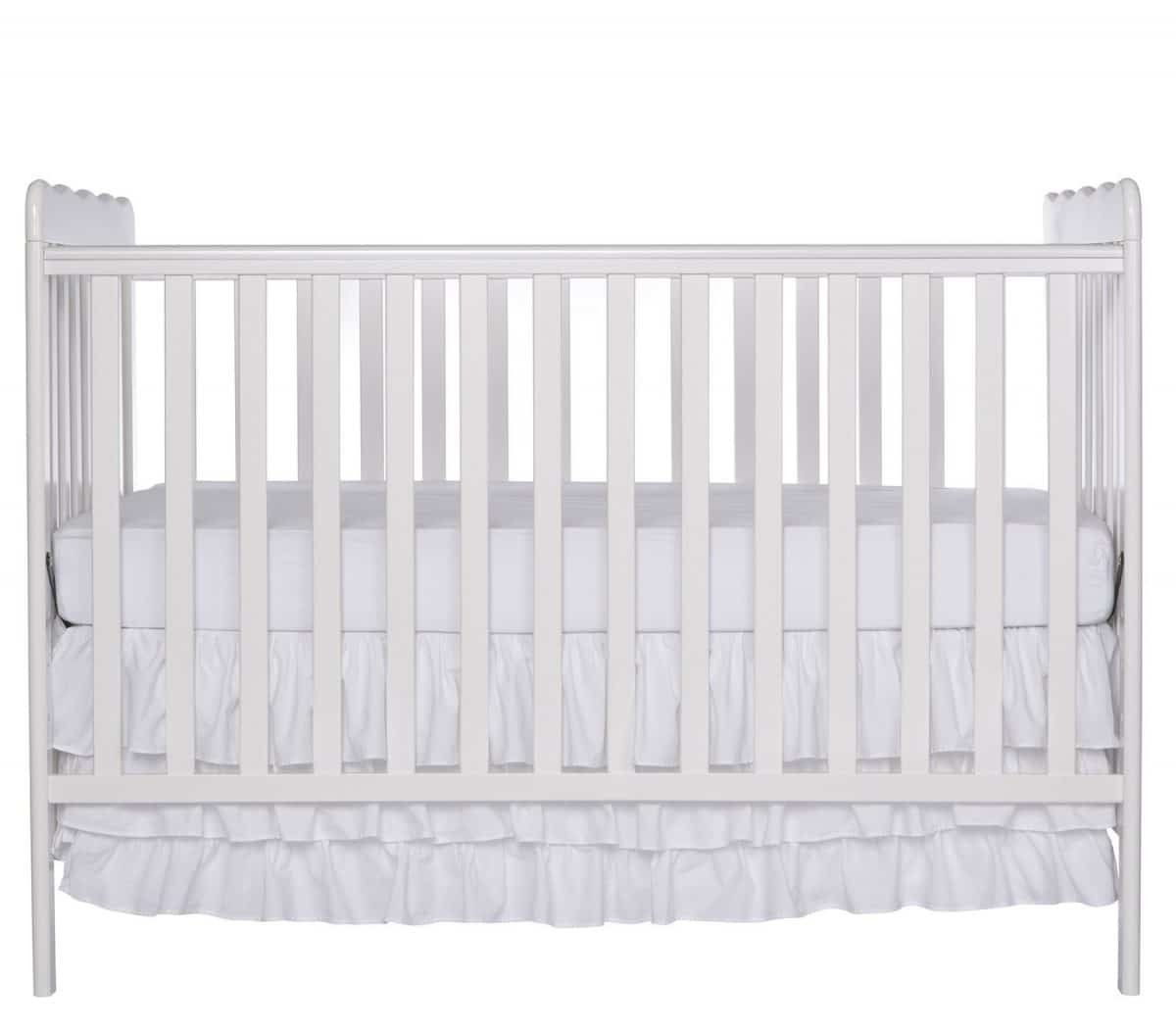 Why we like it:
Here's another affordable option that actually gives you many options. You can pick from three mattress heights and have a convertible bed for future use without breaking the bank now.
Editor's Rating:
Here's another design with three different bed options so this budget purchase is a longterm investment. It's styled in a classic way so it's easy to match with other furniture. The many gaps between the slats help with optimum air flow and you can convert it into a toddler or day bed. It's even one of the few options on the market that has options to add wheels so it's really impressive for this price range.
Health and Safety
No toxins are found on this unit and the pine wood is built into a solid structure. It has wheels that can be locked for safety.
Usage, Capacity and Timelines
You can use this for a few years while your child grows up, however it can't be turned into a regular sized bed, so this isn't your long term solution.
Adjustable Settings
You can pick one of three mattress heights according to your needs. You can also use the wheels for easy wheeling around the house or lock them in place for a stationary furniture piece.
Maintenance
The wheels make it easy to push this out of the way when it's time to clean. The simple design is easy to wipe down as well.
Specs
Dimensions: 54" x.31" x 40"
Weight: 36lb
Pros
Affordable price tag

Convertible into three different options

Light

Wheel options
Cons
Can't be turned into a full sized bed

Assembly requires more than one person

Not the best quality you'll find on the market
Why we like it:
Yes, it's an expensive unit, but the stunning design can be worth it if you have the budget for it. Because it can turn into a normal bed it's a long term investment.
Editor's Rating:
This is a stunning design made with solid wood so will instantly add style to your space. It's made with many handy features such as different mattress heights.
It features lower on our scale because it doesn't incorporate sustainable resources, it's quite heavy and may be too big for some baby rooms. However, if these features aren't on your priority list you'll get a beautiful baby bed.
It's important to note some side panels are solid. It's beneficial to create a solid structure but this also affects air flow to your baby.
Health and Safety
It's JPMA (Juvenile Products Manufacturers Association) and ASTM, an international standard organization, certified.
Usage, Capacity and Timelines
You'll use this for a long time since it can be converted into a toddler or normal bed. Note that it shouldn't be used as a crib when your child is bigger than 35".
Adjustable Settings
You can pick from three mattress heights making it beautiful and practical.
Maintenance
It's quite heavy, so will require some assistance to move when you want to clean the room. The design is somewhat more intricate that others so will be slightly more difficult to clean.
Specs
Dimensions: 60.8" x 29.5" x 50.5"
Weight: 56.5lb
Pros
Use it for years by converting it into other types of beds

Adequate number of mattress settings

Beautiful design

Certified as safe for babies and toddlers
Cons
Expensive unit

Heavy

Doesn't have GreenGuard Certification

Wood used doesn't come from sustainable forests
Guide to Buying the Best Baby Crib
Types of Baby Beds
Manufacturers understand the pressures of being a parent and their ranges of goods are aimed at making life easier. Therefore you'll find baby beds for all stages of a baby's development and for different situations.
Luckily you don't have to purchase all of them as there are models that perform more than one task well. This helps when you need to manage your budget.
Think about your lifestyle and which of these will best fit in with your habits.
Cribs
These are permanent pieces of furniture, not portable. They're designed to create safe and spacious areas for babies to sleep in. They can be used for newborns and babies up to the age of five if necessary.
Bassinets
These cribs are much smaller than standard cribs and may even be portable so you can easily place them wherever you need them in the home. Some models can fold up as well, so you can take it with you when you travel with your baby.
Travel Cribs
If you know you'll travel with your baby a lot, a travel crib is ideal. It's not as sturdy as a proper crib as it's usually made of fabric and netting. However, it's a safe option that you can easily fold up and take with you.
Multifunctional
Save space by having drawers, changing area and other paraphernalia attached to your crib. More than a bed this will be the workzone in your baby room, keeping the overall space tidy and uncluttered.
Convertible
Your crib could turn into a toddler bed or a day bed. This makes sense for your budget since you don't have to purchase an entirely new furniture set when your baby outgrew the crib. However, note that the conversion sets are often sold separately. Purchase them at the time you get the crib because what will you do if the brand takes them off the market in a few months?
Portable
Don't confuse being portable with being appropriate for travel. A portable crib can fold up easily and compact for easy storage, but is still made of heavy materials such as wood. Therefore it will be trickier to travel with.
When Do You Need a Baby Crib?
A crib isn't a necessity from the get go. You may prefer letting your newborn baby sleep in a bassinet or even a co-sleeper. But around four or five months of age, a crib is the best place to let him or her sleep:
Babies can't fall out
There's enough space to make them comfortable
When you remove unnecessary items such as pillows and blankets there won't be a chance of him or her suffocating
It's easy to position a baby monitor above the crib to keep an eye on babies while they sleep, as many monitors are designed specifically for use with cribs
This arrangement will serve you well for a few years. Depending on these factors, you'll eventually move your child into his or her own bed:
Depending on fast your child grows, a large enough crib can hold a child up to the age of five.
For easy accessibility to your child you may move him or her into a normal or toddler bed at two years of age.
If your baby loves climbing and he or she becomes big enough to climb out of the crib, you may move a child to a bed before two years of age. This minimizes the chance of your child falling and getting hurt.
Think About How Long You'll Use the One You Pick
The notes above should help you make a decision on what to pick. It's not necessary to spend a fortune if you know you'll only use the crib for a short while. It also shows you the value of investing in convertible units.
Safety Guidelines for a Baby Crib
Safety is one of the most important aspects of a baby bed, so let's give you insight so you know what to shop for.
Slats
You know your baby will become curious and explore the bed he or she sleeps in. Make sure during these adventures the bed slats don't become hazards. If they can't support enough weight—80lb is the usual standard—they may break when pushed against.
The slats must also be close together so a little one can't wedge feet or even a head between them.
Recalls
Global standards are quite strict about baby bed safety. Based on this brands have had to recall many models. You can search online which ones were recalled so you know you don't make a dangerous purchase.
Drop-side cribs
Drop side cribs are some of the units that had to be recalled. If you still find one being sold these days, just ignore it. Better yet, inform the seller of the hazards so it can be taken off the market.
Hazardous Materials
Your baby may want to lick or suck on parts of the crib. That's why you need to find out about what was used during manufacturing, so you know your baby won't ingest lead or toxins from the paint & finishes used.
What About Used Cribs?
There are many reasons you may want to make use of a used crib. Of course your budget can motivate you to consider this.
What about family heirlooms or gifts from friends? You'll probably feel honored to use a classic piece of furniture that has played a role in many of your loved ones' lives.
Or if you find a good crib at an affordable price at a used goods store, budget baby cribs options make sense, right?
Or does it?
Put sentiment aside and focus on practicality before you commit to a second hand option. Here's what could go wrong:
It may be a unit that has been recalled
If you don't have a manual for it you may not install it correctly and this could have safety implications
Without a warranty on it any faults will force you to buy another one
Wear and tear features are often difficult to discern, but could put your baby in danger
Parts could be missing which implicates the sturdiness of the structure
We don't want you to be paranoid, but these are realistic threats to your baby's safety. However, if none of these apply to your situation, then go ahead and set it up!
Similar Design—Different Price; Why?
Here's a handy tip when you're off to the store. You may wonder why certain beds are much pricier than others, even though they look exactly the same. It all comes down to quality.
All wood types simply don't perform the same. The pricier version is probably made of solid wood and a durable type such as oak. These will last you for years and probably splinter less than a pine baby crib will.
This doesn't mean you must purchase the expensive crib. Think about your timelines. If it's a crib that doesn't convert into a bed, you'll only use it for a limited time, before it's time to get a proper bed for your little one. Then you can pick the budget option and still have peace of mind.
Final Words
Which of these cribs on our list will your baby sleep in? You can find one that gives your baby an ultimate safe and comfortable bed, while also making sense for your budget & lifestyle. Enjoy making memories with your child!