Top 30 Best Punching Bags for Kids 2022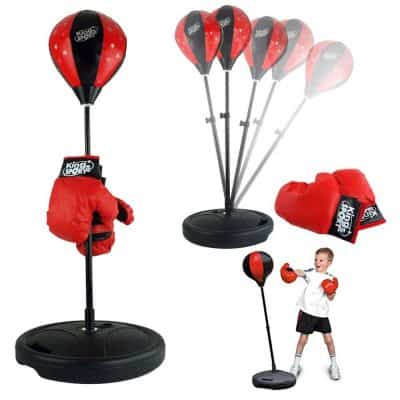 The Liberty Imports Sports Boxing Punching Bag has a weighted stand, which provides a stable target for your child to hit. When your child isn't using their gloves, they can hang them on the stand for easy storage. The height of the stand can be adjusted between 30 to 43-inches to better match your child's height. The punching ball is connected to a lightweight stand so you can easily move it from room to room or even from inside to outside. Along with the punching ball, your child will receive a pair of boxing gloves. The ball is filled with air and covered with vinyl so your child's hands are safe.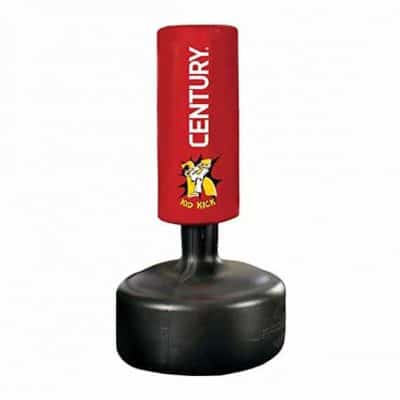 The Century Kid Kick Wavemaster is recommended for those seeking a semi-professional look to a kids' punching bag. The design of this punching bag is very different from the Socker Bopper since it's weighed down by a heavy circular platform that serves as its base. The height of the Kid Kick Wavemaster can also be adjusted in 4 different levels so you can expect it to grow with your child. To help stabilize the whole system, you'll have to weigh the base down with either sand or water. This effectively increases the overall weight of the punching bad to 170-pounds, which should be heavy enough to prevent it from tipping over or being toppled when hit by a punch or a kick by your child. The main punch and kick surface of this punching bag isn't filled with air but rather a high impact foam. This provides a certain amount of resistance that'll resonate through your kid's hands or legs. However, since it's foam, it should not hurt that much compared to systems that are filled with sand and other types of filling materials. Nylon is wrapped around the high impact foam as covering and to provide for a much smoother surface for your child to hit.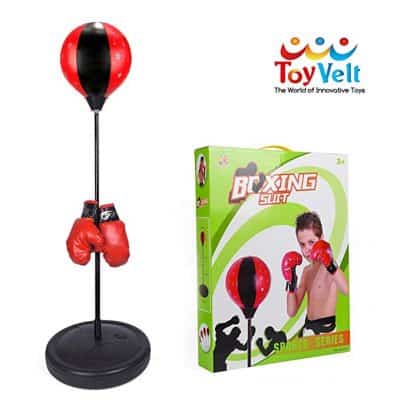 ToyVelt's beginning boxer kit includes a punching bag, pump, adjustable stand, and boxing gloves. The weighted stand can be adjusted to any height between 30 and 43-inches. The ball is made of a durable fabric meant to provide longevity and to be able to take a beating. The stand will need to be weighted by either water or sand, but doesn't take up much room and is perfect for children aged 3 to 6. This punching bag for kids is lightweight and the perfect height for young children. If you have kids just getting started in boxing, or if you want to introduce little ones to it for the first time, this set is easy to set up and includes everything you need straight out of the box. It also comes with gloves that'll help to protect your child's hands.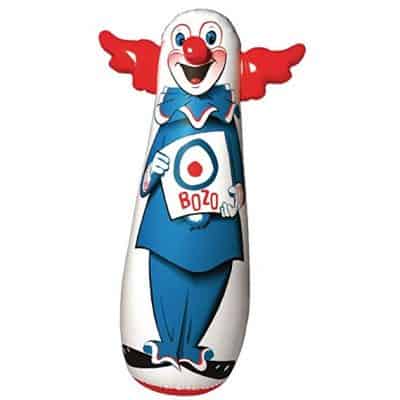 The Original 46" Bozo 3-D Bop Bag stands at nearly 4-feet tall with a sand-filled base that already comes with the package. Additionally, Bozo comes with a squeaker mechanism which is elicited with each punch or kick made right at the Bop Zone or on Bozo's squeaky nose. Bozo can take any hit and will never complain. This punching bag rolls with every punch that's landed on him and he'll keep coming back for more punches as well. This incredibly light punching bag is inflatable making it ideal for travel. It's easy to carry and transport. Storage is a breeze as well because it can be broken down and molded to fit into almost any space. You can easily inflate this punching bag using an air pump. This punching bag has been made using durable and heavy-duty vinyl to provide you with a quality toy.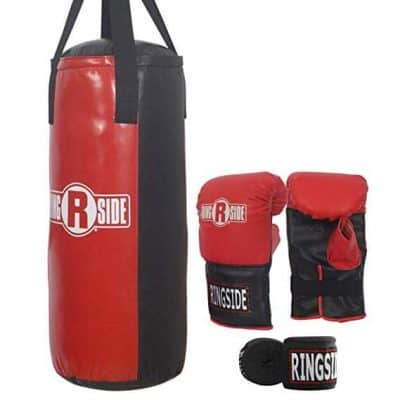 The Ringside Youth Bag Kit is geared towards children between the ages 5 to 13. It includes one pair of youth boxing gloves, a pair of hand wraps, a 40-pound punching bag, and a mounting clip. All the gear comes in a sleek black and red design. The punching bag is made of vinyl which makes this bag highly durable. The swivel and mounting clip makes it easy for you to hang this punching bag from the ceiling. You can set how low it hangs from the ceiling and you can easily raise it as your child grows. This punching bag has hand wraps that will keep your child's wrists protected as they box.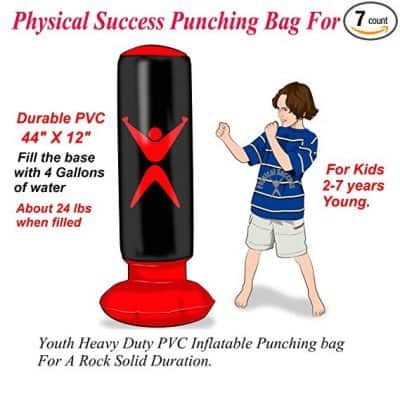 The Physical Success Partners Kid's Punching Bag is perfect for children from ages 2 to 7. It can also be filled with either water or sand so your child can determine which weight is perfect for them. It's quite easy to fill the base with sand or water. The height is adjustable meaning your child will have no problem hitting the ball. Furthermore, the higher you fill the base, the higher the bounce back speed. If your child is a beginner, it's recommended filling the baseless than half-full to slow down the bounce back speed.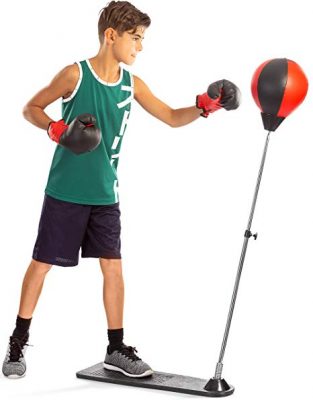 The TechTools Boxing Set has a spring-loaded stand comes with a base that children can step on to keep their punching bag in place. The stand will bend and rebound from whichever way your child is hitting. It's adjustable from 35- to 50-inches, making it ideal for children aged 6 and over. The set includes a pair of gloves as well, so you're ready for action straight out of the box. Besides, this boxing set is genuinely compact and easy to move around. Since you don't have to fill the base with sand or water, you can fold it up for storage or throw it in the back of the car without any hassle. It comes with gloves that'll protect your child's hands from a hard impact on the ball.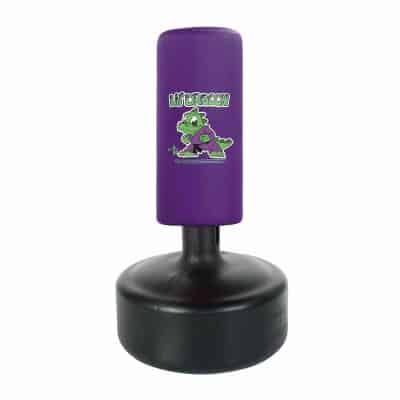 The Century Lil' Dragon Wavemaster Training Bag has the manufacturer's logo located on one side of the punching bag. Your child can continue using this bag as they grow because the stand is adjustable. The stationary stand makes it easy for your child to practice their martial arts skills. This bag is made of nylon to cover the foam which makes it safe for your youngster. Your child will be learning all the tricks and safety tips that they need to become the best martial artist they can be.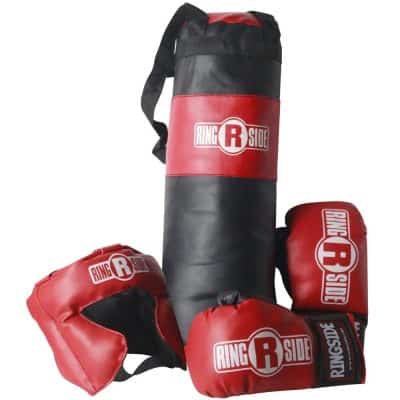 The Ringside Kids Boxing Gift Set will catch your kid's attention with its attractive exterior besides giving them an early start in practicing various sports. This boxing kit contains a pair of youth boxing gloves, an attractive kid's slip-on headgear with an elastic chin strap and a mini heavy bag. This mini heavy bag weighs between 4- to 5-lbs. It's mostly suitable for children aged between 2- to 5-years old. You don't have to buy anything separately. This punching bag is one of the best for toddlers since you can get it at an affordable price. Besides, this set looks more expensive than it actually is and comes in different colors. You can order it in your child's favorite color. You can easily set up this mini heavy bag using a strong rope which will give you the advantage of adjusting the height according to your child's height.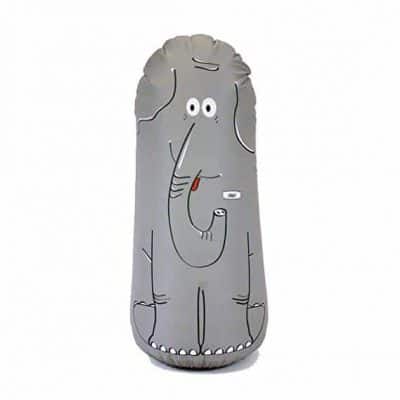 The Bonk Fit High-Performance Inflatable Bop Bag Toy is guaranteed to make your toddler physically active in no time. Since this is a child's toy, it's quite attractive for your child to spare it a second glance. The vinyl cover comes in different bright colors and different character be that of a cartoon or a real person. It's possible to order a customized covering from the manufacturer if your child doesn't like any of the covers that come with the bag. It's super easy to set up this bag since you can add 4-pounds of weight like sand, dried rice, beans, or anything so that it acts as the base. It's easily inflatable using a basic pump. In addition to all these amazing features, this eco-friendly toy is made from recyclable materials.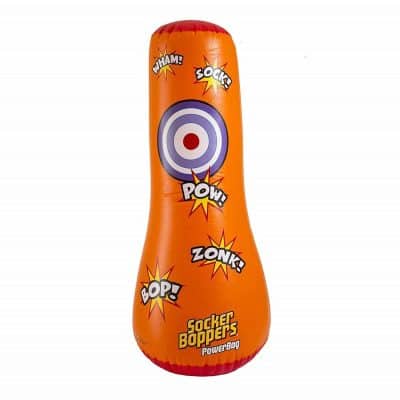 he Big Time Toys Socker Bopper Power Bag is approximately 1.1-pounds and is about 4-feet tall. This top quality bag is made of heavy-duty vinyl which makes it super durable. The construction is top notch too. The bag is weighted at the bottom and inflated with air at the top. Besides, it's super easy to set it up. This bag comes with all the necessary information and you can either fill it with sand or even water using the cap at the bottom. Sand is recommended since there is an instance where the water leaked to the air inflated part of the bag. This punching bag is safe for your kid, so you don't have to worry about your kid getting hurt. It's not only soft on their hands but also bounces right back without falling over.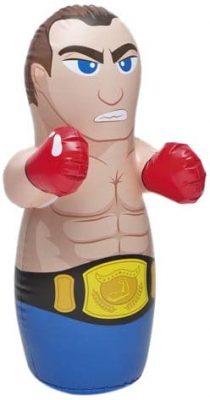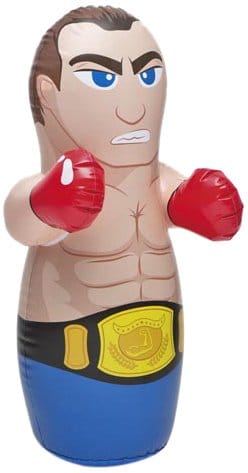 The Intex – 3D Bop Bag is a good option to be considered if you want to give your 3-year old a bop toy at an incredible price. This toy comes in three different characters like pirates, wrestlers or boxers which have an impressive color combination. There are two compartments inside, one is for the base and the other is for the air with an inner membrane that separates the two compartments. We recommend that you use sand or rise for the base instead of the water as suggested by the manufacturer. This Bop Bag is appropriate for children aged 3 or above since it's safe for use. It'll bounce back pretty fast instead of falling over. Besides, you get all the above features at an unbelievable cheap price.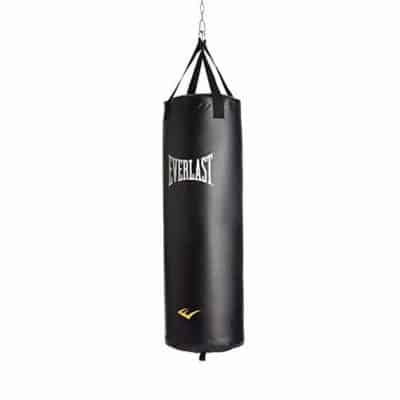 Everlast has a prominent tradition as being the leader in producing training products for Martial Arts. The Everlast 4004 is a great hanging punching bag for kids. It's lightweight, which makes it ideal for the gentle nature of a child's body. It comes with chain attachments for hanging it. Moreover, it features a NeverTear Cover that makes it a very durable punching bag.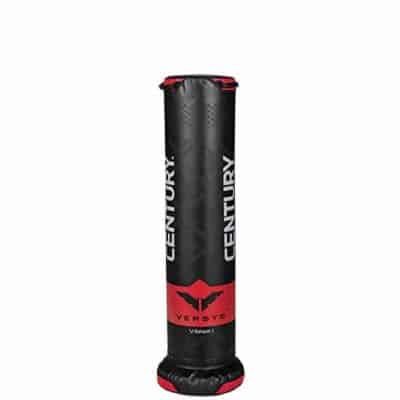 The Century Versys Youth Training Bag is a new line of training bags that was introduced by Century in 2013. It's more costly than any other bag, but this is because of the innovations that the company has added to it. It has a low profile and comes in a daunting black color that makes you want to hit it hard. The low base is very important so it does not topple over because it's a light bag. It weighs in at only 40-pounds.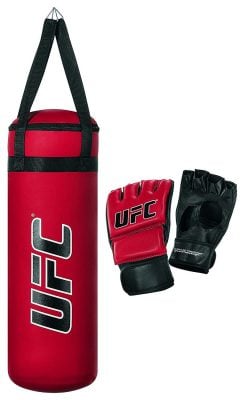 The UFC Youth MMA Training Bag Set is a hanging bag set that's ideal for kids who want to train on movement as well as strength and precision. This is a punching bag that's best suited for kids who want to train in boxing but is also good for other sports such as MMA or Muay Thai. The set comes with its own set of gloves that have a small fit to fit your child's hands.

With the MaxxMMA 3-Foot Heavy Bag, you need both air and water to fill this adjustable weight heavy bag. The first step is to use a regular bicycle pump to fill the bag with air. Then the next step is to add the water. You can adjust the weight to between 70 and 120-pounds depending on your exercise needs. The design of the bag is to simulate what punching a real human feels like. Its 3-foot length provides plenty of hitting area for your child. The bag moves so your child will get a real workout with this heavy bag. The black color will look great in your home or gym.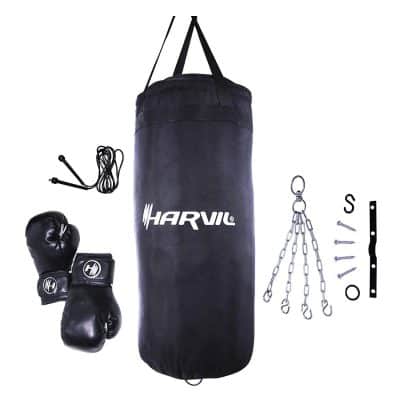 This Boxing Set with 25-Pound Punching Bag comes with 4 chains. All the hardware you need to secure is included in the box. This includes an S hook to hold the chain. To protect your child's hands, a pair of 6-ounce boxing gloves are part of the set. Moreover, you get an adjustable 8-foot skipping rope to complete the exercise regime. The bag measures 25-inches in length and 11-inches in diameter. This punching bag provides more than enough room to hit it with ease. The chain comes in at 12-inches, all you need to do is make sure you hang the bag and chain at an appropriate height.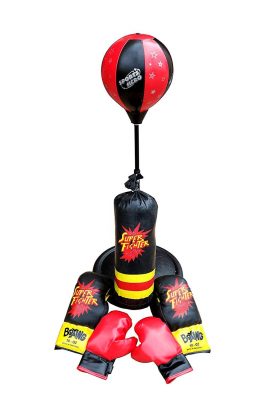 With the Tripact Children, Boxing Set your child can learn to hit like a pro. This foam filled bag can be used in two ways. You can use the adjustable stand to hold the bag or you can hang the speed bag from your ceiling and have it act like a real training bag. The stand can adjust between 30 to 43-inches in size. The bag itself measures 18-inches including the holding stick. This punching bag comes with two pairs of boxing gloves for your child's safety. Besides, it includes a rope to hang the bag from your ceiling. The punching bag is not that heavy and shouldn't hurt your child's hands.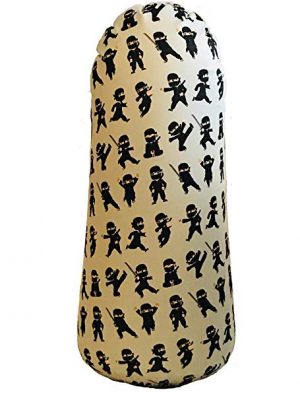 Coming in a variety of colors and designs, this bop bag is made kid tough. A stronger polyurethane material helps the bag take your kid's punches and keep bopping back up. One thing about these bags is that they do not come pre-weighted. You need to add a little sand or sand-like material of approximately 7-pounds to weigh it down properly. This bag reaches up to 3-feet in height. You can get a size to match your child's height. This Bop toy has been manufactured by a US company and comes with a 1-year warranty. It's great fun and exercise for the family.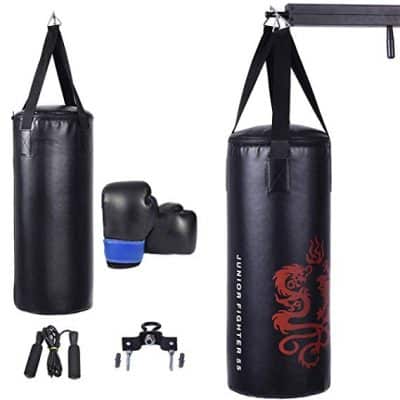 The Gymax Kids Punching Bag Set has been made using high-quality anti-burst PU which offers a smooth and soft surface. The full internal filling makes this punching bag resistant to any punch and isn't easy to become deformed. The gloves use very comfortable, breathable lining, and glove center with ventilation holes. Your child will feel fresh and light even after wearing the gloves for a long time. This set also comes with a strong hook for you to hang your sandbag.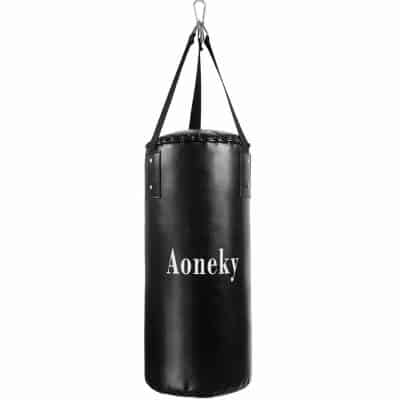 The Aonkey Kids Punching Bag for Children has been specially designed for brave kids training to be MMA champions. This kickboxing gear is challenging enough for kids without hurting them for perfect results. The punching bag for children is crafted to perfection with the finest quality materials and special attention to detail so you can rest assured that it's perfect for your kid. It comes with a heavy-duty braid strap for easy hanging so you can hang it from the ceiling for ease of use. This strap is also durable so it can perfectly withstand the weight and even the most demanding training for long-lasting results.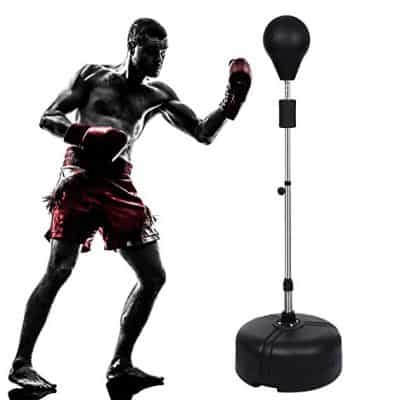 The Anfan Reflex Punching Bag is ideal for parents who don't want to have something that feels like a permanent structure taking their space in the house. It's inflatable offering endless possibilities for packing it up and bringing it on trips or to a friend's house. The height can be adjusted making it perfect for your family members. Besides, it has been made from high-quality PU that ensures it will last long enough. With this punching bag, you can not only exercise your arm muscles but also lose weight.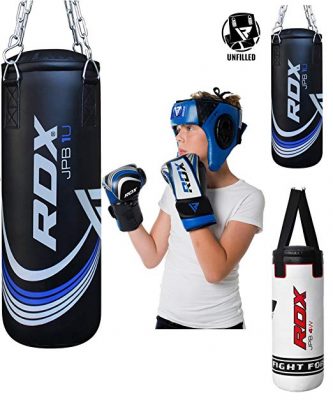 If you have a future MMA fighter on your hands, look no further than the RDX Kids Punching Bag Heavy Boxing. This punching bag comes with training gloves and hanging chains. It features a zip top design which allows you to change the filling as you require. It has a resilient Maya Hide leather construction which makes the gloves durable and long-lasting.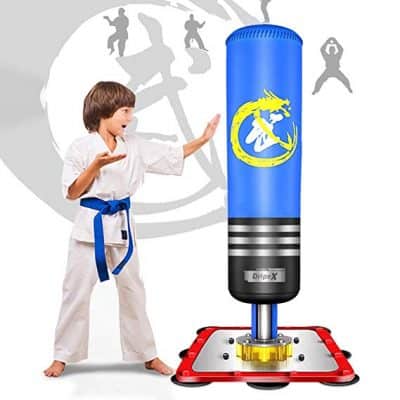 This freestanding punching bag from Dripex features a 360-degree shock absorber and a thick anti-rust steel plate with added silicon edging to prevent kicking injury. There are 12 suction cups at the bottom to stop the base movement. It has a stainless steel tube stand encased in a multi-layer construction. Since it's freestanding, you don't need sand or water for stability.

This punching bag is the perfect way to get kids off their electronics and engage in physical activity. Besides, it comes with a pair of gloves to offer your kid protection. You can easily inflate the bag using an included hand pump. You can also adjust it to a height that suits your kid.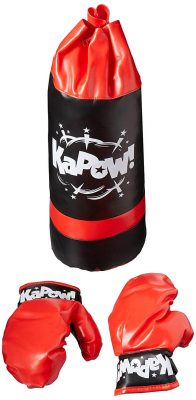 The Schylling Punching Bag & Glove Set looks quite fabulous with the red and black color. The bag measures 18-inches and the product dimensions are 8.5 by 17 by 8 inches. It's filled with light but dense foam whereas the glove set comes with red vinyl padding. However, this bag is pretty small for 7-year-olds as recommended by the manufacturer. Despite this misleading information, if your kid is 5-years old or younger, the bag will be okay, that's if your toddler is a soft hitter of course. The gloves may be too big for your 5-year-old, so you may have to buy another set of gloves.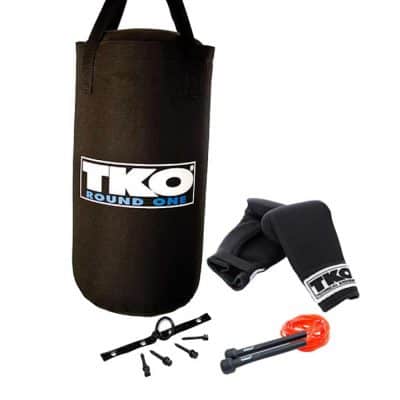 The TKO 4-Piece All Purpose Heavy Bag Set for Children includes a kid-heavy bag made from heavy canvas with double-end tie down design, 6 oz. youth boxing gloves, and adjustable skip rope as a ceiling attachment with hardware. This punching bag is what a kid would need to start boxing and other different skills such as physical coordination and discipline while having fun. It's not necessary to buy other equipment. It has a ceiling attachment and hardware, which helps you hang it hence giving your little one easier access.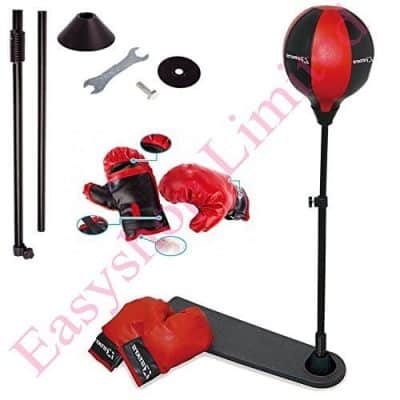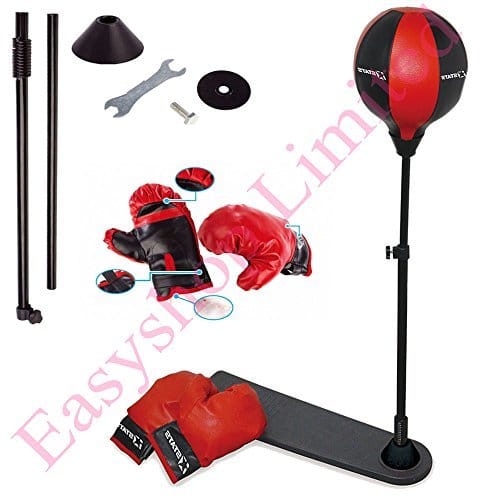 The FB FunkyBuys Kids Sports Punching Bag requires that your child stands on the base of this bag to keep it in one place. Then he or she can hit the adjustable bag at their leisure. The bag adjusts between 92 and 130 cm. This punching bag bounces back and will help train your child to move correctly in a fight. Moreover, when you purchase this bag, you get a pair of boxing gloves, the needle, and a hand pump. The stand is made of metal while the base is made of durable polymer. For stability, the base can be filled with sand or water. The bag is decorated with traditional red and black colors.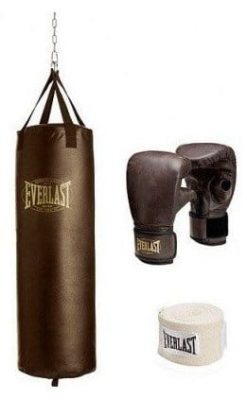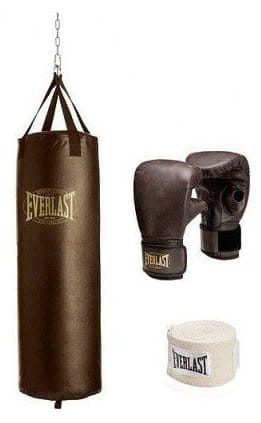 The Everlast 70-lb. Vintage Heavy Bag Kit features a chain holding the bag. This chain is adjustable to meet the height differences in your children. The heavy bag measures 4 by 13-½-inches and it will give your child a good workout. Boxing gloves are included, and they'll protect your child's hands. For further protection, a pair of hand wraps are included as well. The 70-pound bag ships filled and ready to use. You may have to supply the rest of the hardware including the ceiling bracket. The bag's outer shell is made of fake leather, but it strong and durable.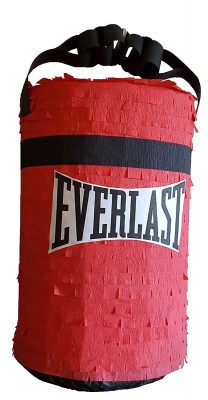 The Pinatas Punching Bag is not a traditional heavy bag. It measures 22- by 10-inches and is a boxing bag. Each bag has been handcrafted out of crepe paper, paper Mache, string and tissue paper. No staples are used to your child's hands will not hurt. Weighing only 3-pounds, this is one-time use only heavy bag. You can spice up your child's special day with this homemade heavy bag. Since the bag is handmade, there needs to be some lead time between ordering and your child's birthday. You can open via a pull string or the traditional hitting method. It's also big enough to stand on its own.