Top 30 Best Birthday Gift Ideas for Boys 2023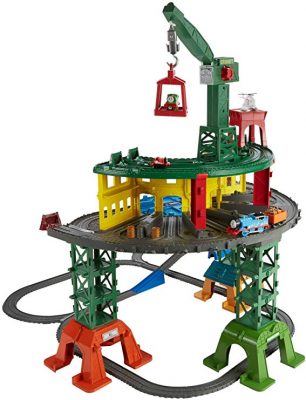 All fans of Thomas the Tank Engine need a Super Station in their life. Your kids can imagine and play out adventures with this toy. This multi-system set with 3 levels of play includes Thomas (TrackMaster), Percy (Fisher-Price Thomas & Friends Adventures), James (MINIS) and Harold. Multiple configurations allow for layouts that can fit any space in the home. The legs can be removed to create a micro-layout for smaller spaces. All legs feature tunnels and cargo bins and can hold over 10 engines. There are also cargo pieces and adapter pieces that connect to other playsets, two racetracks, floor play and more. Besides, this toy features iconic locations including Tidmouth Sheds, Brendam Docks, Knapford Station, the Sodor Steamworks, the Dieselworks, Blue Mountain Quarry and the SSRC with Harold's helipad.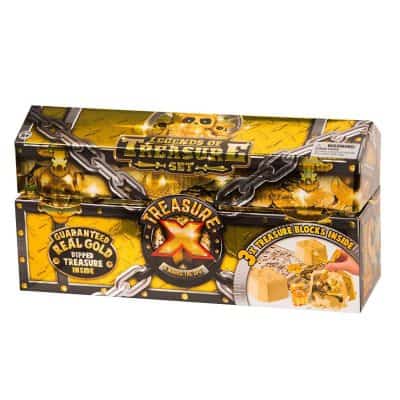 This is the ultimate surprise-reveal collectible with a multi-layered reveal process, cool figures, and the chance to find the real treasure. Using this legend of Treasure set, your son will be able to pretend that he's a real-life pirate searching for treasure. There are three golden blocks inside this chest which he'll have to chip away to find the hidden treasure figure inside, of which there are nine to collect altogether. Your son can build their own character by digging out all the bones and building their own treasure hunter. This is great in helping develop their creativity and cognitive abilities. They can also find the hidden treasure by uncovering the chest and pouring out the ooze to see which treasure is inside. This set includes a map, coin, and digging tool to help the child discover their treasures. They can rip, dig, and fizz their way to the treasure with this treasure set.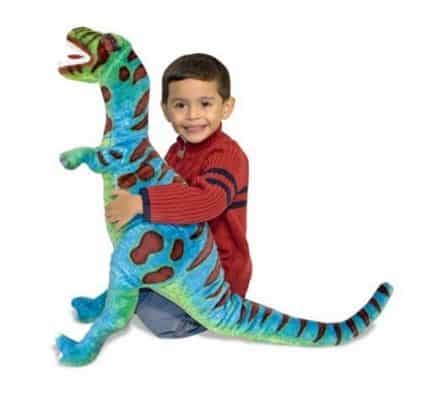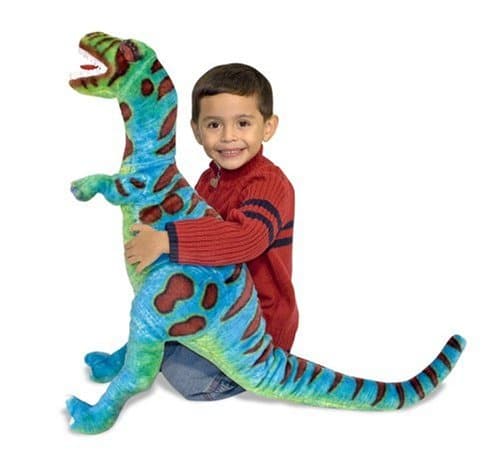 This adorable Melissa & Doug Giant T-Rex Dinosaur is a great addition to your child's dinosaur toys. It has been made from high-quality, colorful, and detailed fabric that displays all the cool features of the prehistoric dinosaur. The very colorful body of this dinosaur helps kids reinforce their color recognition in addition to being ideal for a child's imaginative and make-believe play. This toy is sturdy and durable but still maintains its softness making it not only fun to play with, but rewarding for hugs as well. The lifelike size of this T-Rex gives your child a personal connection and helps encourage their imagination.
Lego Classic Medium Creative Brick Box has pieces which are 35 different colors. This adds another dimension to their creativity because it provides open-ended options to building play. Kids can construct trains and cars with the 18 tires and wheel rims that can be put on the baseplate for role-playing. They can also use their imagination to build tiger figurines to use in their play. This set features windows, toy eyes, and a container to place the assembled parts for storage. It comes with a simple to follow instructions to provide great building ideas for your kid. This set of 484 pieces is suitable for kids aged from 4 and above.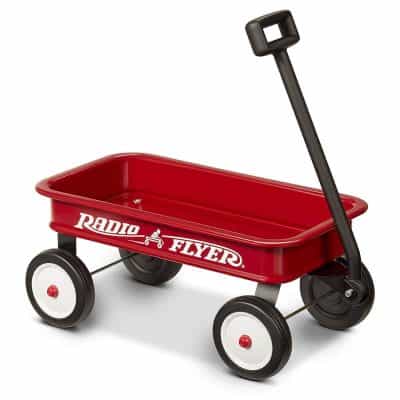 You wouldn't believe the amount of fun a child can have with a wagon, and this miniature version of the Radio Flyer is perfect for your child. It features a real stamped body, front wheel steering handle and durable molded wheels for lasting quality. This wagon is perfect for hauling dolls and toys, or for using as gift baskets or home décor. Getting this wagon for your boy on their birthday will be the beginning of creating smiles and warm memories.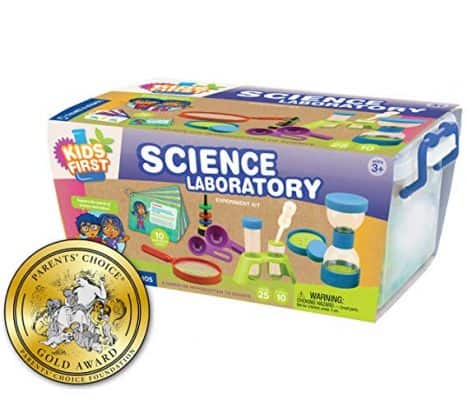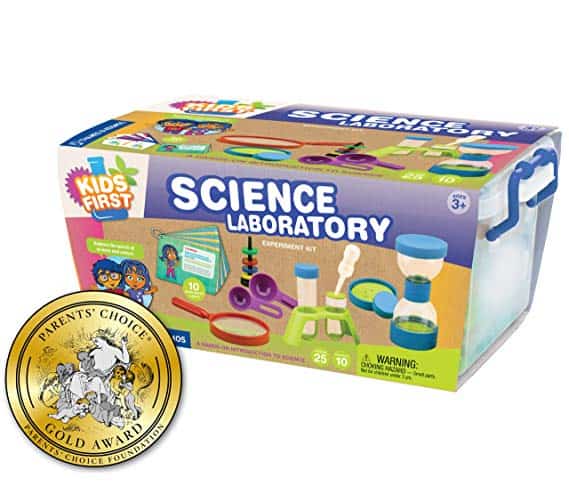 Even though children learn while they're at school, there's no reason why you can't aid their learning while they're at home. The Kids First Science Laboratory KIt's a great introduction to this subject. It inspires children's inquisitiveness and interests by providing them with tools and open-ended learning experiences. Boys can experiment freely with a variety of safe and engaging tools to stimulate their creativity and the spirit of scientific thinking. It's perfect for ages 3+ and comes with a set of ten illustrated experiment cards, 24 science tools, as well as 10 illustrated experiment cards. All the components of the kit fit neatly in a durable plastic storage case ensuring easy clean-up and transport. This fun and informative science kit allow pre-school-age kids to get a head start on learning important STEM skills.

The Super Z outlet Foam Prince Sword Toy set is perfect for class plays or playing make-believe games for themed events such as stealthy ninjas, scary pirates, brave knights. The swords measure 17 inches long and are soft enough for play battles. The toy swords have been made of foam and come in a variety of colored handles with grey blades. This fun and engaging party favor is sure to be a hit at any birthday party. You can pair these with fan favorites such as sports balls and other novelty toys.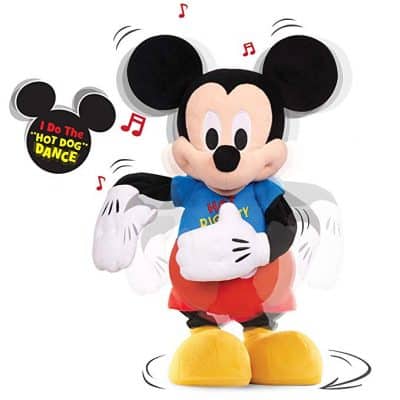 Kids love the iconic Hot Dog Song as seen in every episode of the popular Disney Junior series, Mickey Mouse Clubhouse. The can now sing and dance along with the Hot Diggity Dance and Play Mickey. This interactive plush mouse is dressed in a cool light-up t-shirt and features some sweet dance moves. Not only does Mickey boogie to the Hot Dog Song, but he can also play Freeze Dance and What's That Sound Game. Mickey features lights, sounds, games, and fun dance moves. This toy's shorts light up as he sings and dances. It can dance to the music and then freeze when it stops. Kids will love dancing, spinning, and wiggling with Mickey.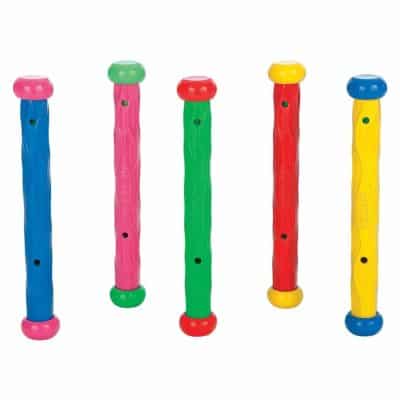 Quick Facts:
Recommended Age: 6+
Number of Players: 1+
Children who can safely swim underwater will find this set of underwater dive sticks fun to play with. By just tossing the sticks throughout the pool they sink to the bottom and remain standing in a vertical position for easier grabbing. They're fine once they're in the pool, but note that the chemical odor they produce upon opening can be offputting.
For safely gripping underwater, they are made out of a flexible material that is 8-inches long and 1-inch thick, allowing your child to get a hold of it easily. Furthermore, they come in multiple colors such as blue, pink, red, green, and yellow, making them easily visible at the depths of the pool due to their bright color.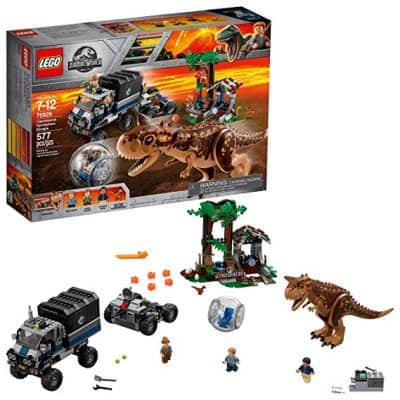 Boys can flee the flying lava rocks and a deadly dinosaur on Isla Nublar, with this dramatic LEGO Jurassic World Carnotaurus Gyrosphere Escape playset. It helps in developing a child's imaginative skills as they try to recreate a scene from Jurassic World. They can keep Owen, Claire, and Franklin safe from the escaped Carnotaurus by keeping them safe inside the Gyrosphere or driving away in the monster truck. The monster truck features a detachable mobile control center that you can hide the characters in. The characters can also take cover in the overgrown Gyrosphere station and discover the dinosaur nest. They can launch the Gyrosphere by rolling or speeding to safety with the dinosaur baby and eggs in the truck. This fun toy includes 3 mini figures and a Carnotaurus dinosaur figure.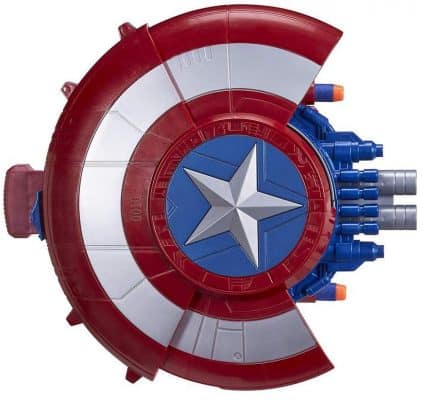 When you have Nerf swords, the other thing you need is a shield to protect yourself during battle. This shield has the iconic Marvel Captain America Shield design to scare and confront your enemy. Push the start button and the blaster will be revealed. You can use it to launch two Nerf darts at your opponent when you switch from shield mode to the blaster mode. It comes with 2 NERF darts in addition to other components of the shield. This is a really cool and surprising thing to have while in the battle, both as a defensive and offensive weapon.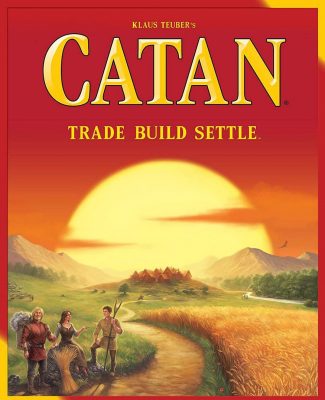 This 60-minute playing time game for 3-4 players pits your boy against other settler families, and it's a race against time to be the ones who are most successful. Your child gets to trade resources and builds up from nothing helping in their development. They can acquire resources through trades, cards or lucky dice and use them to get grain, wool, ore, brick, and lumber to build roads, settlements, and cities. This strategy game helps you boy guide settlers to victory by clever trading and cunning development. The random mix creates a different board virtually every game. There can be no two games that are similar. At the end of playing this game, your child would have developed strategy and tactical skills.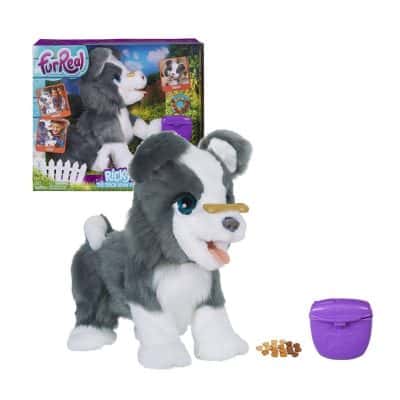 Before buying a family puppy, this FurReal Friends Ricky will give your boys a sense of what it's like to own the real thing. This Trick-Lovin' Pup pet is eager to perform tricks and is sure to entertain everyone who watches him. The interactive pet can balance his bone toy on his nose besides having a voice command. Your kid can reach for the pet's paws and get a friendly handshake. Kids can also pretend they are pet trainers, prompting this clever pup to do tricks and rewarding them. This plush pet can be affectionate and loveable. It can respond with 100 plus sounds and motion combinations. It's an incredible birthday gift for boys aged 4 and up.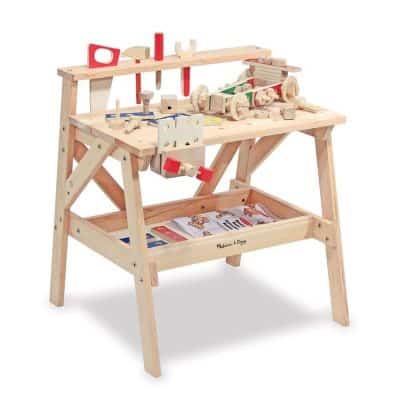 The Melissa & Doug Dinosaur Wooden Jigsaw Puzzle is ideal for kids that enjoy playing alone. This set comes with four different puzzles, each featuring a beautiful prehistoric scene with different species of dinosaurs. Every puzzle consists of 12 pieces, which makes it a great choice for kids. This jigsaw puzzle will help your child to develop their hand-eye coordination and precision in addition to helping in the improvement of their problem-solving skills. Once your child finished piecing every piece of the jigsaw puzzle, they will feel both accomplished and confident.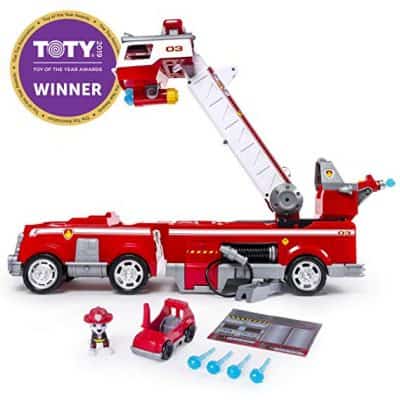 Help protect Adventure Bay from fires with the Ultimate Rescue Fire Truck which has a 2-foot long extendable ladder. There are water cannons on the front and back so you can put out flames wherever they are, and the working claw arm can help rescue people who are in danger. This emergency vehicle is loaded from front to back with multiple moving features to complete any rescue operation. With one motion up, pull up the cab and it becomes a lookout atop the 2-foot tall swiveling ladder. It's been equipped with so many real working features for kids to discover. There's more for kids to explore as they pull-out the fire hose, discover the Mini Fire Cart stored inside, and use the working claw arm to rescue a pup friend. With this pretend play, your boys can build their developmental skills and learn about the world around them.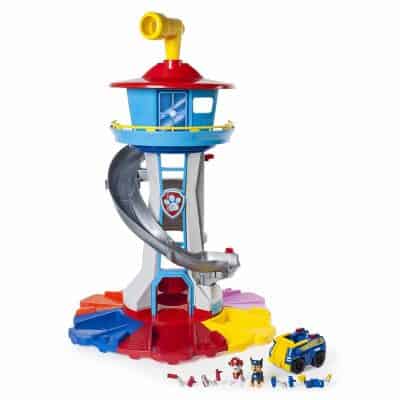 Where else can you see what's going on in Adventure Bay other than the Lookout Tower? Standing at an impressive two and a half feet tall, this tower is the perfect vantage point for your child to observe the action of the city. Using the rotating periscope at the top of the tower, they can do a visual sweep of Adventure Bay. They can use the buttons on the tower to activate lights and authentic sounds from the show. This tower has a unique flip feature on the slide's end that shoots up into the air. You can hear each character's signature phrase with the press of a button. Besides, the pups of PAW Patrol are rescue dogs in training, inspired by real-world jobs like a firefighter, police officer, and construction workers. This set is suitable for kids aged 3 and up and will offer endless hours of interactive and fun-filled adventure.
The Nerf N-Force Stonewall Shield and Sword make it possible for your child to protect themselves from the most powerful attacks even when striking the weakest point in the enemy's defense. It has been designed for the toughest of battles and is flexible enough for both defensive and offensive maneuvers while being in the middle of the action. The foam sword helps you defend yourself and even land a few offensive attacks on your target. The sword is also short enough to be wielded and swung around by kids. In addition, the shield is also lightweight for being held while holding a defensive position.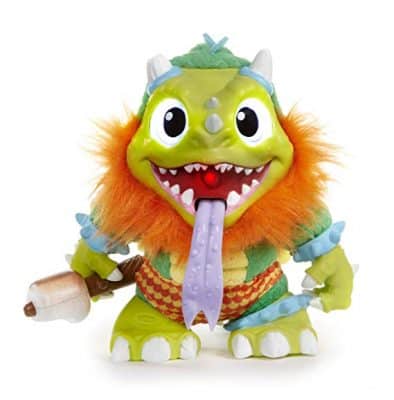 Children love the idea of pets, but what if your child doesn't understand just how full on they can be? Show them just how extreme having a pet can be with a Crate Creature. You can break into the crate using the crowbar to pop the lock and crack open this collectible toy. Your child can pull their tongues for monstrously fun sounds and gross noises. This will also make the toy's eyes to glow while the toy shakes and makes growling monster sounds. Besides, you can squeeze on Sizzle's tail to activate his special Flappy Wings creature feature. Feeding this toy marshmallow makes it produce a chowing sound. With more than 45 cool sounds and effects, you can easily talk to this creature. However, it's not the most realistic toy but the behaviors they display might make your boys want a fish rather than a dog.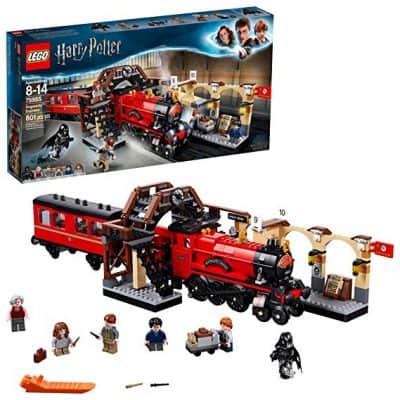 Arguably one of the most iconic parts of the Harry Potter series, the Hogwarts Express takes the students from Kings Cross Station to Hogwarts every year. Kids can build a LEGO Hogwarts Express train with removable side panel roof, plus railway bridge and platform. It includes Ron Weasley, Hermione Granger, Remus Lupin, the Trolley Witch, and Harry Potter figures. This action-packed building set features a railway bridge with a clock and steps leading to Platform 9 ¾ and moving brick wall entrance. It will help spark creative imagination in your child as they create their own adventures. Besides, you can store secrets aboard the train using the hidden compartments. This train replica measures over 3-inches high, 18-inches long, and 1-inch wide. It's a great toy for boys aged 8 and 14 and this set can be built together with all other original LEGO sets.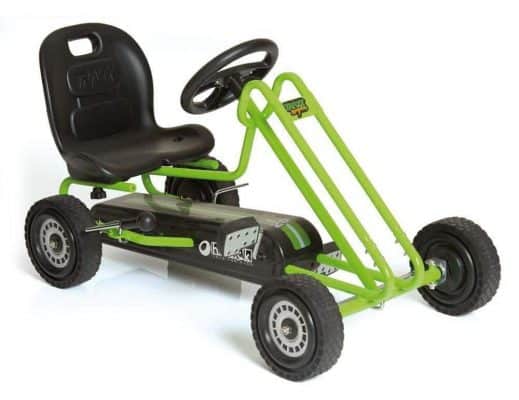 Go Karts are the perfect alternative to use the usual bikes and scooters you'd usually buy for your son. The Hauck Lightning Pedal Go-Kart provides an authentic driving experience and allows the driver to control their speed. It's designed to be the perfect pedal go kart for young drivers and can be used to ride both indoor and outdoor. It encourages physical activity, builds strength, endurance and coordination. You don't have to worry about batteries that require charging since its features an easily designed pedal-push sprocket. The design features race inspired pedals, rubber wheels, and 8 ball style hand brake, 3-point sporty steering wheel, and steel tube powder-coat frame. The custom, ergonomic seat is adjustable and equipped with a high backrest for a comfortable, safe sitting position. This allows the child to be comfortable and ride longer.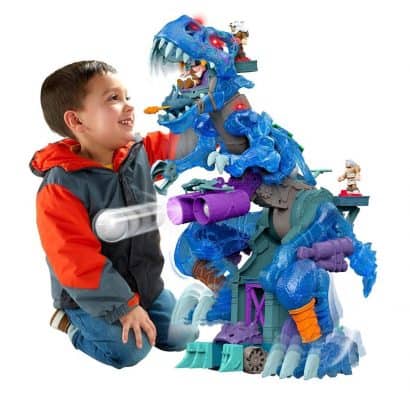 This big, boney, and interactive dinosaur toy features sound and movements with every turn. It's a great toy to create prehistoric adventures right from the playroom floor. In addition to all the cool sounds, the Ultra T-Rex makes, it can stand, fire projectiles, chomp, and launch fun boulders. The multiple numbers of interactions make it one of the favorites for any dinosaur or interactive toy lover. It's a great toy to promote gross and fine motor skill development for your kids and toddlers. The adventure that starts with this toy will be quite epic in any child's eyes. The T-Rex comes with three warrior-themed figures having helmets and accessories, four boulders to fire, and four projectiles.
This fully motorized Nerf gun is a pretty safe bet when you need to buy a birthday gift for a boy. It comes with a rechargeable battery and wall charger so there's no need to stock up on batteries. Besides, this toy comes with 200 Nerf Rival high-impact foam sound and can fire rounds at a velocity of 100 feet per second.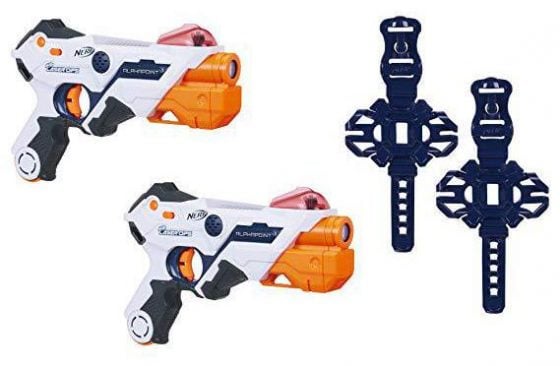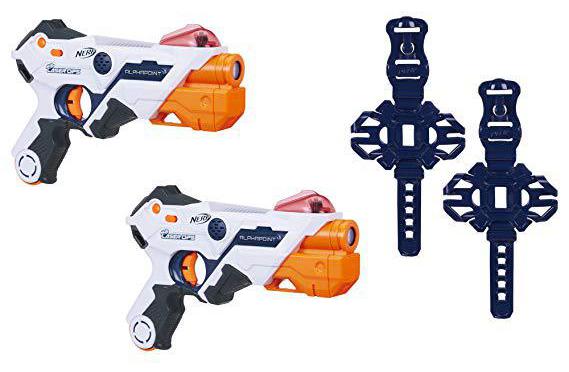 The AlphaPoint Nerf Laser Ops comes with two guns per pack. All you need to do is choose an opponent. Each gun can fire a single-shot IR beam up to 68 meters. Your kids can amp up their play with the Nerf Laser Ops Pro app to customize the blasters, track their performance, and detect other players.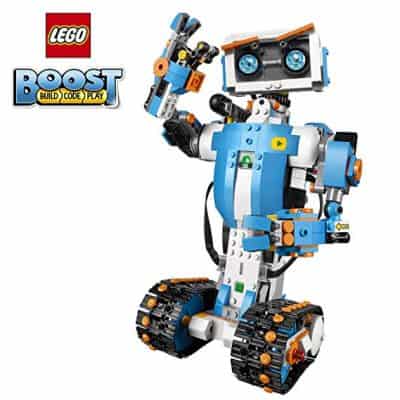 Getting this toy for your kid will introduce them to the creative world of coding with the best educational STEM toys to foster their curiosities. They can build, learn, and program with these robots. They won't be just building the traditional robot, the 847 pieces can also build 4 other models such as a cat and guitar, all of which are compatible with the free LEGO Boost App.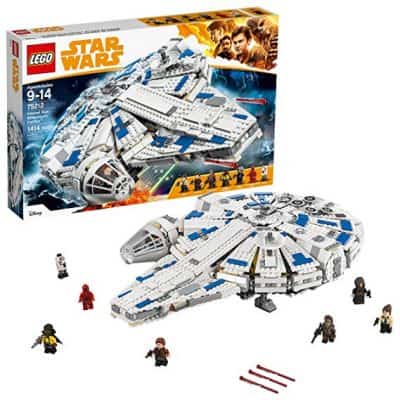 The LEGO Star Wars kit has 1414 pieces which when put together will build a Kessel Run Millennium Falcon from the movie Solo: A Star Wars Story. This will give your kids the best adventure in the galaxy as they spark their creative side through pretend play. This space model also includes opening hull plates for easy access and tons of cool accessories like weapons and repair tools.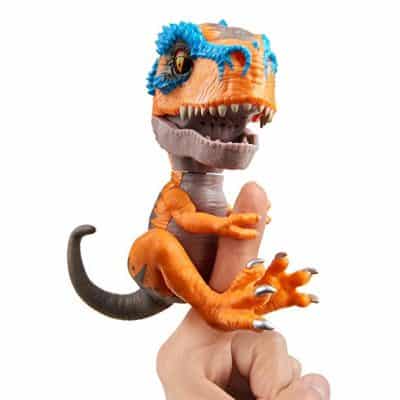 Fingerlings have a reputation for being really cute and fuzzy, but now there's the Untamed T-Rex rage which can have a bit of a bite. When they're in the tamed mode, they're lovely and friendly, but watch out – the untamed mode can be slightly unpredictable as this dino roars wildly, has chomping jaws, and even a little Dino gas. It grips onto your fingers and you can pet them or tap them. You can easily train them using the ARena app.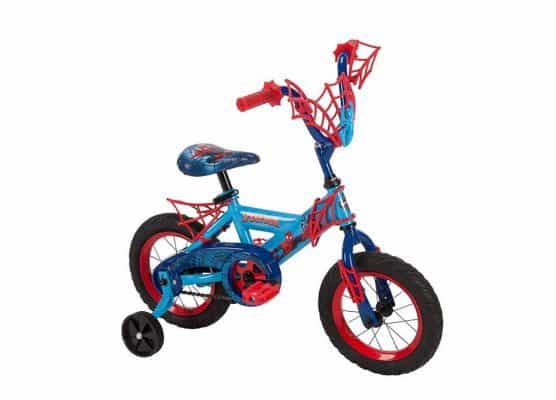 Every child should remember his first bike, and this one is perfect for small boys who are a fan of their friendly neighborhood Spiderman. It comes with sturdy training wheels, and the handlebar has a number of hooks attached so your kid can attach their favorite action figures to come along for the ride. It's ideal for 3-5-year-old kids with a height of 37-43 inches. It has a padded seat featuring Spider-Man graphics, web detail grips, and the eye-catching colors make it so much fun to ride. Besides, it has an easy-to-use coaster brake that makes the riding comfort and helps build confidence for beginning riders.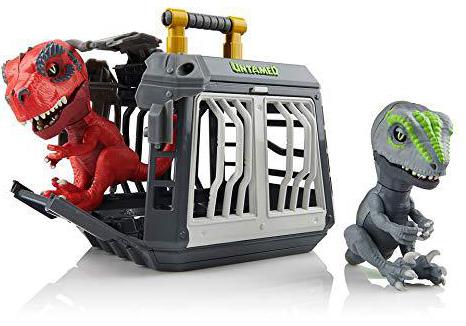 Fingerlings are still wildly popular and now there's a whole new set out. Your kid can now meet the untamed T-Rex's. This special cage comes Breakout, an exclusive T-Rex with eyes that glow in the dark and a fierce desire to escape and Bolt, an exclusive Raptor. You can keep them locked away in their cage or let them roam free, but do so at your own peril. This playset includes a lever that can be pulled so that the Dinos can bust out of their cages. Besides, the Untamed Jailbreak Cage can hold up to two Fingerlings Untamed Creatures which makes it quite easy to transport. This playset comes with batteries included.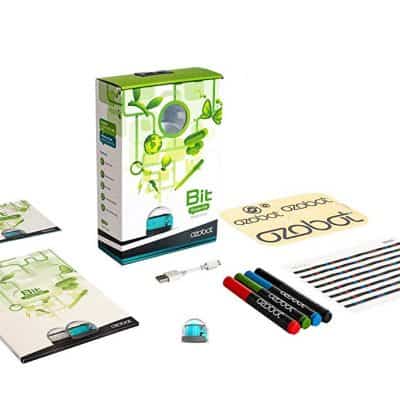 The Ozobot Bit Coding Robot will help bring out the creative side of your child's coding. They can personalize the pocket-sized bot with stickers and pop-outs, with thousands of possible combinations. Boys can start coding Bit screen-free with color code markers and stickers. They can then advance with OzoBlockly visual programming on a computer or tablet. These tools introduce ages 6 and up to basic coding concepts. Kids can discover a language of over 20 color codes as they complete their activity pack. This pack prepares them to make their own color code creations by introducing kids to basic coding and robotics concepts. This toy will help to inspire young minds to go from consuming technology to creating it.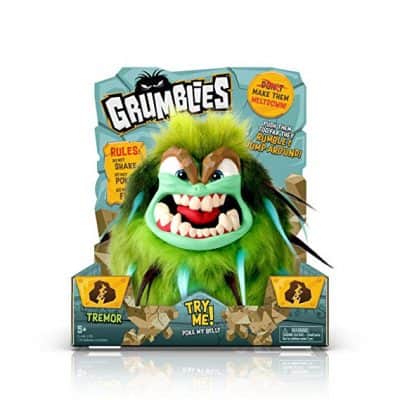 Grumblies are known to cause earthquakes and tremors and now your son can have one as a pet. They can have a go at taming this pet but they should be careful since they have a violent temper and can go into full meltdown mode if you mess with them too much. You can poke this sleeping Grumbly in the belly and you'll startle them awake. There are gassy consequences if you keep poking them. Besides, you can flip these Grumblies around and upside down and if you find they are not grumbly enough, you can shake them back and forth to send them into hysterics. There's also an option to toll, juggle, and smack this toy. There's no rule to playing with them and with more than 40 different reactions and custom sounds this toy is sure to keep your child entertained for hours.