Baby proofing the house becomes priority number one when your little one starts crawling. Once they've left the safe confines of the crib behind, any nook or cranny in the house could become a potential trouble zone.
Retractable baby gates are a great help in keeping your toddler from getting into trouble and marking out safe spaces for them to explore. They are easy to install and portable so you can take them with you even when you travel. Retractable baby gates are the best option when you are dealing with tiny spaces, non-standard dimensions, irregular angles, or difficult corners.
Factors to Consider Before Buying a Retractable Safety Gate
Here's a quick guide to the important factors you should consider before buying a retractable baby safety gate:
Standard Sizes
Most retractable gates can be used as barriers for narrow as well as wide openings and are available in sizes ranging from 18" to 72." The height also varies greatly across all products. Safety gates for pets who may jump should be taller, while those for crawling babies do not need to be so high.
If you're looking for long term solutions, then go for a tall gate so you can rely on the same product until your baby passes the toddler phase. Always measure the area where you need to install the gate and buy one with either the best fit or the closest approximation.
Installation Limitations
Some gates can only be pulled from left-to-right, while some have a right-to-left orientation. Some can only be mounted on flat surfaces while others are more flexible and can be mounted on banisters. Some are unfit for drywalls or require rigid plastic board surfaces, or a hard wall, or timber. Some can be pulled out in all directions, while others can be extended to wide ranges.
A few designs take into account baseboards, and yet others can be used for non-standard corners. Keep the opening space and its surroundings in mind before making your purchase.
Quality
Retractable baby gates are usually made of mesh that rolls and retracts easily into a sleek spool and stays out of the way when not in use. All the gates in our list are made of mesh except one. If you are going to use a retractable safety gate made of mesh, the quality of mesh used in the gate is really important.
Even though it is not usually recommended to place retractable gates at the top of staircases or in tricky corners that require extra safety measures. It is safe if the mesh is strong enough. It also helps if the mesh doesn't wrinkle easily, retracts noiselessly, is washable, sturdy, and long-lasting.
Hardware Accessories
Most mesh gate kits come with their own set of hardware accessories like the mounting gear, screws, measuring tools, and more. The quality of these materials is very important and ensures your gate doesn't come off its hinges. While most brands use steel hardware, some also use plastic.
Single-Handed Operation
Using a retractable baby gate should be easy, and the lock should be child-proof. Emphasis should be laid on whether you can open and lock them with one hand. If your mesh safety gate requires heavy-duty work to open or lock, you've bought the wrong sort!
Easy Installation
Mesh gates should be easy to install and not take more than 30 minutes on average. If you end up with unnecessary drilling, broken screws, and holes in your walls, either the gate has a poorly conceived design or an unhelpful instruction manual. Read the instructions carefully and try to watch a video or two before you begin the process of installation.
Now that you have your checklist ready, let's have a look at the best retractable baby gates available online: Also, don't forget to check out our list of the best bedrails and bumpers to keep your toddlers safe at night as well as during the day.
Top 9 Best Retractable Baby Gates 2023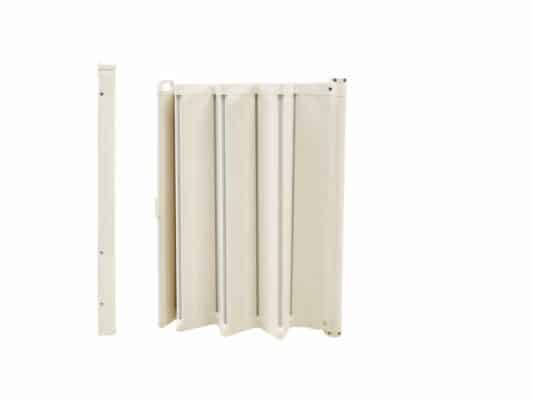 Why we like it:
This is an innovatively designed retractable gate that is sturdier than regular mesh retractable gates, and the number of panels can be adjusted to fit any angle, corner, or wall.
Editor's Rating:
Retractable gates are usually made of mesh. But the 'BabyDan Guard Me' retractable gate is made of lightweight plastic panels that you can attach together to make a foldable gate. You can order additional panels to block wider spaces. It can be mounted both on the inside or the outside of door frames or at the top or bottom of the stairs.
The panels fold over themselves and retract silently to one side with the dual-action 'slide and click' button on the top of the frame. Here is a quick look at how this gate works. There's no bar on the bottom, so you don't need to watch your step to avoid tripping. Latching and locking this gate is a one-handed operation.
This gate is sturdier than regular retractable gates and more durable due to the use of lightweight but heavy-duty plastic panels. It employs a very innovative and unique concept as far as retractable gates go, so it's relatively more expensive compared to regular mesh gates but totally worth it. If you have pets – especially big dogs, or kids that keep knocking down safety gates, then this is the ideal purchase for you.
On the flip side, standard American door frames are usually 36" wide, and this gate stops an inch short at 35, so you have to order an additional panel just to make up for this oversight. Individual panels are more expensive to purchase, and this problem could be easily resolved if one extra panel was included in the standard order.
Protip: Instead of following the complicated installation instructions in the manual, here is a helpful Youtube video with all the necessary information and directions that will guide you better. You can also scan the QR code provided on the box of the product to view it.
Pros
Plastic panels make it sturdier than mesh retractable gates

No bottom bar so no fear of tripping

Silent and fast 'folding and retracting' action

Easy to install and maintain

Dual-action 'slide and click' lock to avoid accidental opening
Cons
It's more expensive than regular mesh retractable gates

At 28.35 inches, it's not a tall gate but tall enough for most toddlers

The instruction manual is very complicated and difficult to follow

One panel short of fitting into most standard-sized American door frames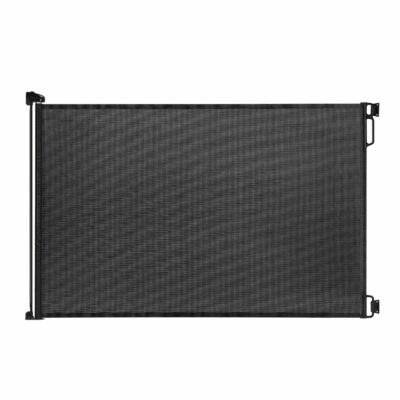 Why we like it:
This retractable mesh gate by EasyBaby is the most affordable safety gate available in the market with decent quality.
Editor's Rating:
This retractable baby gate has a dual-action unlocking mechanism that requires pushing the button and turning it clockwise, so babies don't accidentally press the button and unlatch the gate. Easy handles are provided to pull the mesh gate out and lock it again. Both the operations can be achieved with one hand, which is a win for the design aspect of the gate.
This gate's safety standards are on par with ASTM and EN requirements, so you can rest easy knowing that the right quality checks were performed, and it poses no safety hazards. It is easy to align and install this gate as it comes with a wall template and a clear instruction manual.
While the quality of the mesh used, the design aspects that take into account the ease of usage, and the price, are major plus points in favor of this baby gate, the hardware that comes with the kit is made of very poor quality. Another problem is that toddlers tend to grasp the bottom handle and pull it, rendering the gate useless as it unlatches easily. The gate is 34" tall, and sometimes, instead of retracting completely, it just hangs along the wall.
Protip: The screws provided with the set are made of poor quality steel and break easily. Buy a set of good quality screws in the same size separately and use those instead of trying to retract broken screws while installing the gate.
Pros
Very inexpensive at the price point offered

One-handed operation to latch and lock

Easy use handles to pull the gate back

ASTM and EN safety standards approved

Easy to align and install
Cons
Poor quality hardware

Gate doesn't retract properly on occasion

Easy to unlatch and a problem if your toddler figures it out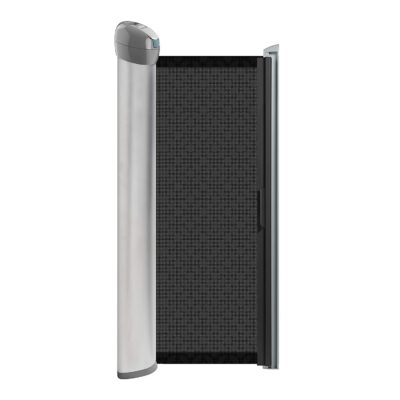 Why we like it:
This gate is made of decorative mesh fabric with a silver satin finish and charcoal accents making it a stunning visual addition to your home interiors.
Editor's Rating:
This gate has a sleek design and an attractive pattern on the mesh, so it adds a bit of style to your home decor. Looks aside, it is a sturdy gate if you secure the spool and latch with additional reinforcements that aren't included in the pack.
There's a bit of a problem with the latching and retracting if it isn't done right and requires some patience. The gate needs to be aligned properly to the latch to lock it, which is time-consuming.  Unlocking in a hurry will leave the mesh hanging instead of retracting properly into the spool. Other than these two very problematic points, the gate works wonderfully.
The mesh is durable; it's the right height and quality, lasts for a long time, and doesn't let toddlers get under it. Installation takes about 20 to 30 minutes and the instructions are very easy to follow.
Protip: Use your own wall anchors or additional reinforcements to secure the gate properly.
Pros
Stylish mesh gate with beautiful charcoal accents

Mesh quality is great and can withstand repeated pet and toddler onslaughts

Sleek spool doesn't take up much space when the gate is fully retracted
Cons
Inconsistent retracting action

The latch can be time-consuming and might require some foot action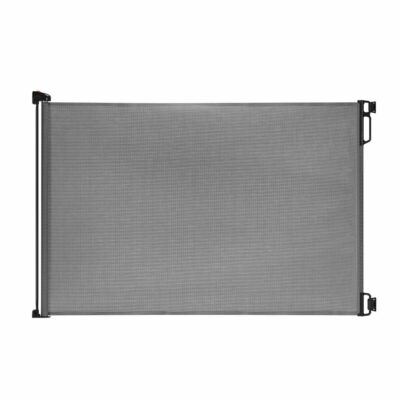 Why we like it:
This is one of the easiest to install mesh baby safety gates.
Editor's Rating:
This is another sleekly designed mesh gate that doesn't take up much space. The template and manual provided for installation are easy to follow, and the gate is sturdy enough to keep your toddlers as well as pets safe.
The design doesn't require a floor bar, which makes the space easy to navigate when the gate is not in use. It was also tested and approved by EN and ASTM standards so that's another point in its favor. This is also one of the most affordable mesh gates available on the market.
This is an extra-wide gate, and the two-step latch and lock action requires both hands even though the official claim says otherwise. And if your opening is wide, say 40+ inches, latching and unlocking might require even more care. If you don't want the gate hanging but properly retracted, you'll need to use both hands to let it unlock and roll properly.
While the template and manual are easy to follow, there's a slight adjustment you need to make with the mount while marking the screw holes, so they align properly. This tip could be included in the manual, so users don't have to figure it out by trial and error.
Protip: If you think the holes marked for screws are slightly off, use the template provided to mark the first hole and then use the mount to mark the second hole, and you'll find the installation much easier.
Pros
Very affordable

Easy to install

EN and ASTM standards approved

Sleek design for wide openings that takes very little space
Cons
Latching and unlocking is mostly two-handed

Instant release will leave the gate hanging instead of retracting properly

Slight adjustment required in the user manual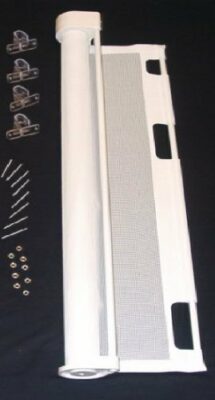 Why we like it:
This is a JPMA certified baby safety gate design for installation near the top and bottom of stairs. We, however, recommend that you do not install this at the top of the stairs.
Editor's Rating:
Since this design is hailed for its sturdiness and safety standards for child-proofing the top and bottom of stairs, it also offers a 'Stair Banister Kit' that allows you to mount the brackets on a flat surface without damaging your banister posts. This is especially useful if your stairs begin or end in awkward non-standard angles.
This kit needs to be bought separately and isn't included in the standard package. The mesh used is transparent, scratch-resistant, washable, and comes in three different colors. This mesh gate comes highly recommended due to its JPMA safety certification and hence carries a higher price tag than regular mesh gates.
Although the latch and lock action is well designed and operable with a single hand, the lock gets stuck sometimes and needs to be switched back and forth to fix the issue. Latching and locking is a 2-step process, and if you forget to lock the gate after it's latched, babies can push through without much effort – a potential safety hazard. Getting the bottom hook to latch on also requires some foot action. For a gate that costs three times as much as the most affordable option included in our list, minor improvements could be made to the design to justify the price tag.
Protip: Always remember to lock the gate after you've latched it. It's a 2-step process, and toddlers, as well as pets, can easily push through the latched gate unless it is also locked.
Pros
Mesh used is scratch-resistant

Washable and transparent mesh used

JPMA certified safety gate

'Stair Banister Kit' to protect your banister post
Cons
Very expensive compared to similar products

Latch and lock operation could be improved

Lock gets jammed frequently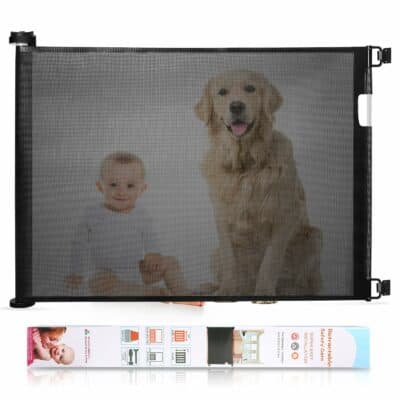 Why we like it:
This gate is made of recyclable and sustainable mesh, making it an eco-friendly purchase for those who are environmentally conscious.
Editor's Rating:
The standard package for this gate comes with an additional set of hardware so you can move it between two different mounts as per usage. The mesh is lightweight, durable, and recyclable. This gate is easy to install, and all the necessary hardware is provided with the kit. It's easy to close and open as latching and locking and pulling it from the spool are all designed to be single-handed operations. The mesh retracts quickly and doesn't get stuck midway.
You might have to install the lower latch above the baseboard, leaving a gap for the pets to get through or chew off the bottom. Although the gate itself is sturdy, the hooks that latch onto the locks are kind of flimsy and prone to breakage. Installation is a little tricky as the manual is poorly worded and getting the mounts perfectly aligned is a chore but absolutely necessary for easy usage later.
Protip: If you need to use this gate at the bottom of the stairs, you can avoid damaging your banisters by using heavy-duty zip ties to secure the mount on that end. Although this isn't the safest way, if done properly, it can save you a lot of hassle.
Pros
Includes two sets of hardware for easy relocation

Recyclable, lightweight mesh

Single-handed locking and unlocking action

Can also be secured with heavy-duty zip ties
Cons
Doesn't have provision for installation with baseboards

Plastic hooks that latch onto the other end are poorly made

Requires perfect alignment of mounts on either side to work properly

Poorly worded instruction manual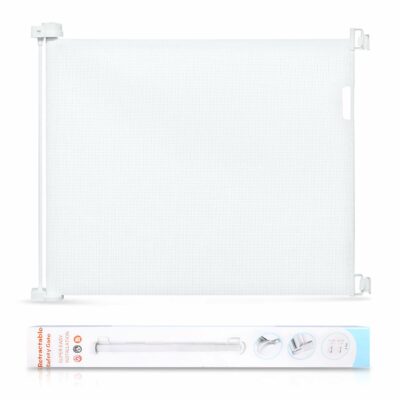 Why we like it:
This gate can be retracted in all directions, making it versatile in its usage. You don't have to worry about left-to-right or right-to-left alignment and can use this gate as a barrier for any and every opening.
Editor's Rating:
This is an extra-wide gate – can be extended up to 59 inches, which can be retracted in any direction. It also comes with two sets of hardware accessories for mounting so you can pull it in any direction. This is a new design released by PRObebi, and the product carries a two-year purchase warranty. If you aren't satisfied with your purchase, the customer support is also excellent, and you'll find the return and refund process hassle-free. They're also very helpful in recommending additional hardware kits, the right gate width, and more.
The mesh used in this gate isn't very durable, wrinkles easily, and needs to be handled with care. Although the wall hardware holds up well when installed, it's all plastic when metal hardware is the norm. Unfortunately, that isn't the case here and the plastic hardware pales in comparison. The drywall anchor screws provided with the kit do not work as intended and you might need to buy sturdier screws that don't break off easily.
Protip: This mesh safety gate is good for toddlers. If you're looking for safety barriers for your pets, go with the other options listed above as this one isn't sturdy enough.
Pros
Two sets of mounting hardware provided with the kit

The product has a two-year warranty

Excellent customer support

Extra-wide baby gate for wide openings

360-degree retractable mesh - can be installed anywhere
Cons
The hardware provided with the kit is all plastic

Screw heads keep breaking off

Mesh used isn't the best quality and wrinkles easily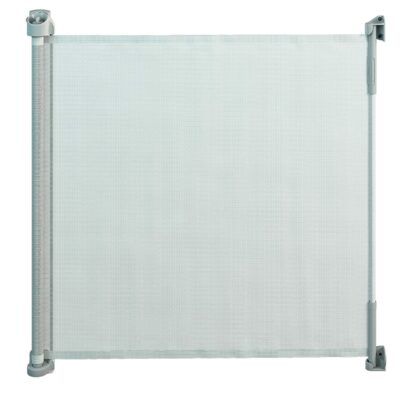 Why we like it:
This baby gate provides a range of 18" to 55", making it the perfect safety gate for narrow spaces as well as wide openings.
Editor's Rating:
This mesh gate is wide as well as tall. You can install it in narrow as well as wide openings as it has a range of 18" to 55". It's best used to restrict tall pets but not recommended for the top of the stairs. This gate also comes with two sets of mounting hardware accessories so you can move it around easily.
This gate requires the usage of both hands to pull it out of the spool, slip the latch, and lock it. Also, if you unlock the gate without pressing the release button, it makes a loud noise while it rolls back – not a good purchase for light sleepers. Pets and babies may figure out how to release the lower latch as it's quite easy. There's also a problem with the lock getting stuck with repeated usage.
Protip: If you don't want to turn the knob every single time you release the gate and avoid making unnecessary noise, then turn the knob in the unlock position and use a small screw to keep it in that position. Problem solved!
Pros
Very discreet and slim spool that's barely noticeable

Mesh retracts completely and gets out of the way when not in use

Can be used for both narrow as well as wide openings

The kit comes with 2 sets of mounting brackets and hardware
Cons
It's a little difficult to operate with one hand

Mesh used isn't very sturdy

Makes a loud noise every single time the gate is released without pressing the release button

The lower latch can be easily taken off the hook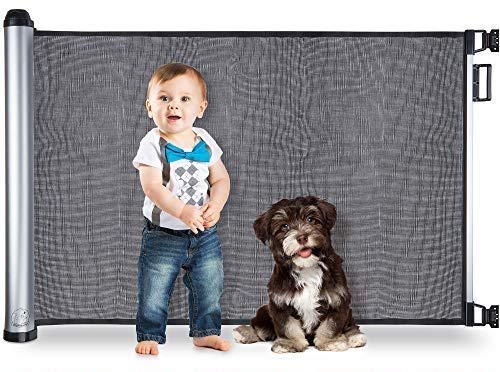 Why we like it:
This mesh baby safety gate uses top-notch hardware and mesh to create one of the best quality mesh baby safety gates available in the market.
Editor's Rating:
This is an extra-wide as well as a tall baby safety gate that is built with sturdy materials. All the hardware required to install the gate is included in the standard package and you'll not need any external tools or screws to secure it properly. The design is sleek and the spool isn't intrusive, taking up very little space.
It has multiple locking mechanisms on both ends so you can rest assured in the knowledge that your toddlers and pets are safe and sound. Opening and closing the gate are single-handed operations. In addition to the instruction manual, screws, and mounting brackets, the standard package also includes measuring tools and a 3D instructions video that takes you through each step of the installation, making it a breeze to install.
The quality and build of the gate are sturdy and long-lasting. The spring tension is intense in the beginning, and you might have to pull hard at the mesh to get it out of the spool. It loosens up over time with regular usage.
The gate is unidirectional and can only be mounted from left to right – this makes it a little constraining to install in certain corners. Contrary to what is advertised, you can't install this gate at odd angles. It's also not easy to install unless you have two proper flat surfaces to mount the gate.
Protip: This gate is very difficult to install with drywall anchors without causing considerable damage. Also, you can increase the durability of the gate by using extra-long screws.
Pros
Sturdy materials make the gate long-lasting

Very helpful 3D instructions video included in the purchase

Tall and wide gate for wider openings

Multiple locking and latching mechanisms on both ends of the gate to make it extra secure
Cons
It's a unidirectional gate with limited installation spaces

Mounting the gate at odd angles or non-standard surfaces is very difficult

Doesn't work well with drywall
That brings us to the end of our list of the top nine best retractable baby gates. Detailed below are further guidelines to understand the functioning, design, usage, and other aspects of retractable mesh baby safety gates.
Guide to Buying the Best Retractable Baby Gates
Retractable baby gates are mounted on hardware and use a retractable fabric as the gate barrier. This material unspools from one side and can be hooked onto the other side when in use. It retracts and rolls back into the spool when not in use. Mesh fabric is usually used as the gate screen as it requires very little space, retracts with perfection, can be moved easily, is lightweight, and easy to handle.
Baby safety gates come in a wide variety of designs and materials. Most people prefer wooden, plastic, or steel gates. You can learn more about the different types of gates and how to install them here.
A lot of these gates have to be installed semi-permanently and can get in the way when you are done with their usage. Other types of baby gates can become bothersome once they've served their purpose. This is where retractable safety gates come in. Retractable gates come with wall-mounted hardware and can be uninstalled with ease. They do not have floor bars and doors that get in the way. A rolling mesh screen serves as the safety barrier and discreetly retracts into its spool when you don't need the gate.
Reasons to Use Retractable Baby Safety Gates
All baby safety gates serve as barriers to certain areas in the house and help ensure your child's safety. Here are a couple of reasons why you should use retractable baby safety gates – or other baby safety gates:
Preventing children from falling down the stairs.
Keeping children away from areas that pose safety hazards like the kitchen, or a work area with sharp tools, or pool areas, and so on.
Keeping your children away from pets or other members in the house.
Creating safe spaces for your child to move around in and play safely.
Safety Certifications
There are several international agencies that require brands to adhere to certain safety standards for mesh baby safety gates. These standards ensure that the product you are buying has been tested for adequate safety measures and that there's no misleading information in the advertisements and branding of these products.
If you see a product that claims to be certified by one or more of these agencies, you can buy it with confidence. A few of these standards agencies are The Juvenile Products Manufacturers Association(JPMA) and the American Society for Testing.
Using Retractable Mesh Gates for Baby Proofing
Retractable mesh gates serve their purpose, but child-proofing the house isn't one of them. You can read more about the how and why of this in this pdf by the Consumer Product Safety Commission. These guidelines are also laid out by other international standards groups for products related to child safety.
You should take these guidelines into consideration before buying any type of safety gate for your child's well being. For example, here is another detailed report on what kind of safety gates are best to child-proof swimming pools and other water bodies in residential areas. These reports also talk about general safety standards that are good to know.
If you would rather have a professional baby safety expert's opinion instead of deciding for yourself, you can consult one of the certified child proofers in your area from this list provided by the International Association for Child Safety.
If you're babyproofing your house, make sure to read our list of the best drawer and cabinet locks.
Advantages of Using Retractable Baby Gates
Retractable safety gates are easy to install, discreet, sleek, stylish, noiseless – mostly, non-permanent, easy to operate, use single-handed operation, and are easy hide when not in use.
They also offer flexibility in the various spaces you can install them. Whether it's non-standard openings that are too narrow or too wide, weird angles, or tricky corners, as long as you align the mounts of the retractable gate perfectly, you can create a safe mesh barrier with ease in any area of the house – whether indoors or outdoors.
Mesh gates do not pose other child safety gate problems like strangulation, entrapment, climbing footholds, splintering, or choking hazards. Mesh is easy to clean, carry, maintain, operate, and replace. These gates do not cost much and provide good service for the duration you need them.
Disadvantages of Using Retractable Baby Gates
While retractable baby gates serve the purpose when installed in relatively safe spaces, when it comes to areas like the top of the stairs, pool entrances, and so on, you are better off relying on other more sturdy and permanent safety gates. Retractable gates are not recommended for big pets, toddlers above 24 months, the top of the stairs, or baby proofing unsafe areas for your child.
Other minor disadvantages include poor retraction mechanisms that might leave the mesh hanging in the middle of the opening instead of disappearing entirely. Mesh can be destroyed with relative ease if your pet or child has a mind to mess with it.
Sometimes the latching and locking mechanisms fail and toddlers and pets can figure out how to crawl out from beneath the gate or unlatch it even.
Proper two-step latch-and-lock mechanism requires the usage of both hands, but when you're using a baby gate, you want it to be as easy to operate as possible. So the gates with proper locks become a hassle to use while the ones without proper locks fail the safety test – quite the conundrum.
Things to Consider While Installing Retractable Baby Gates
Read the instruction manual in its entirety before you begin.
If you can't make sense of the manual, look up videos online.
Read the reviews for the product you've bought. You might find interesting tips and tricks to avoid silly installation blunders.
Check the quality of the hardware accessories that come with the kit.
If the quality isn't up to the mark, either return the product or buy separate accessories with the same specs.
Ensure that your wall mounts are secure.
Do not create a safety hazard by installing the gate in a manner that is discouraged by the manufacturer or unsafe for your child.
Make your own safety checks. If the gate you've installed can withstand adequate pressure without giving in or retracting and locks properly, you are good to go.
Final Words
Retractable mesh gates are designed for ease of use, easy installation, and maintenance. They're easily affordable, serve a specific purpose, and can be hidden easily when not in use. Some options are eco-friendly so you don't have to worry about environmental wastage either.
Most brands that offer this product have a good return and refund policy, so you can test out one today even if you are unsure of how well they will work in your home. Before you dismiss them as another fad, try one today and see if a retractable mesh gate is just the thing you've been looking for.