Top 30 Best Pull Toys for Toddlers 2023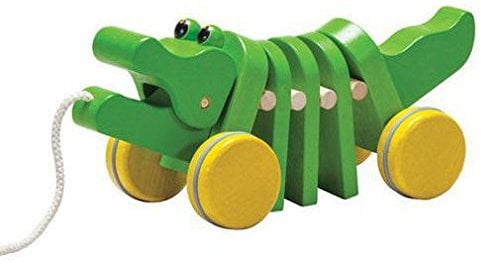 This toy is a great choice for toddlers who love animals and reptiles that are not easily accessible. Being an attractive version of an alligator, the wooden pull toy is less threatening to your toddler as it dances through its connected design. As it moves, the toy makes a clicking sound that provides sensory elements during playtime. This is a cool toy that your toddler is going to take with them everywhere they go. You won't have to be concerned the toy is strong enough to bash on the wall or a drop down the stairs. The toy is recommended for toddlers above 12 months for they will surely love it.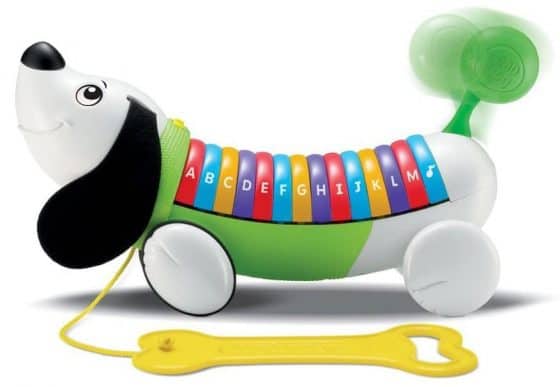 You toddler will enjoy pulling the AlphaPup around and petting its cute and soft ears. The toy also presents a lot of educational value. It comes with buttons that when pushed pronounce the dialed letter of the alphabet. This way your toddler will have an early start in the alphabet letters. Also, the toy comes with several songs that your toddler will love playing them continuously. So, you will get used to it. The awesome pull toy is very affordable and highly recommended. It is the perfect walking and talking companion for your toddler. The exposure to words and letters helps your toddler start to develop early vocabulary and phonics basics.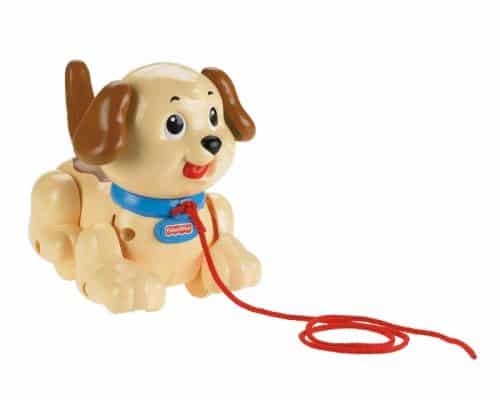 This pull toys will follow your toddler wagging its tail while shaking its ears and moving its head sideways. Lil Snoopy is a cute toy that your toddler will love taking care of as a real dog. With this toy, no batteries are required since all the moving parts are mechanical. That is a bonus. The strong design ensures that it will last for long. Lil Snoopy can handle all your toddler throws at it including dragging the toy all around the house. This is a perfect companion for toddlers aged 1 to 3 years. The toy is ideal for a toddler who has mastered walking skills since it will help build confidence when walking in your toddler.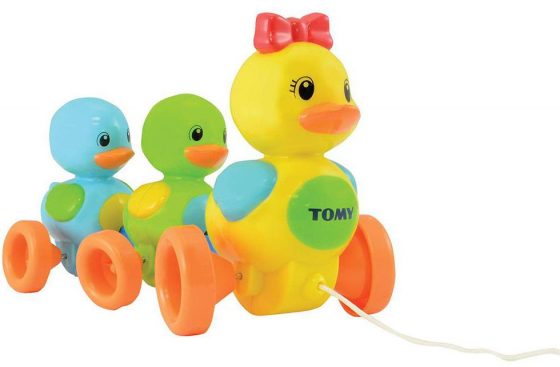 The adorable Quack Along Ducks is a set of mommy duck accompanied by her 2 little bay ducks. These need your toddler to take them for a nice walk. The light pull string allows your toddler to take light duck family everywhere they go. The one thing that will surely make your child smile is the quacking noise these ducks make when moving. Hence, this toy is among the cutest toys for your toddler in the market. What's more, it comes at a very affordable price. This colorful toy waddles from one side to another and is useful in the development of hand-eye coordination. Also, it promotes child play. The toy is appropriate for a toddler 10 months and above.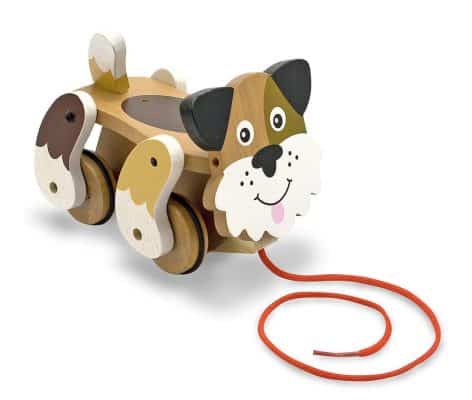 The toy features an adorable, brown and white spotted puppy. This toy stands out in a good way and your toddler will adore the cute little face on this toy. As your toddler pulls this Playful Puppy, the toy will wag its tail as a mark of the good it enjoys when walking. This toy will put a smile on your toddler when playing. The toy is ideal for toddler aged between 18 months and 3 years. Pulling this toy will help develop the gross motor skills in your toddler. The wobbly movement promotes adventure in young ones. It is a great toy for toddlers who love dogs since they would enjoy walking their little puppy.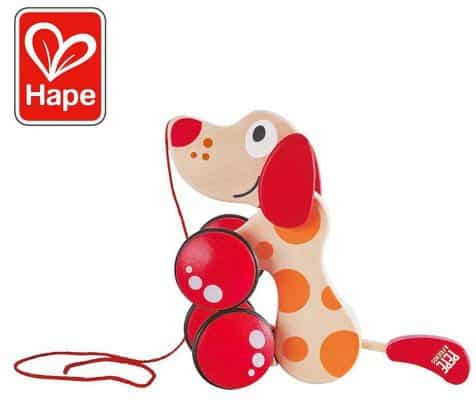 It features a rub rim around the wheels to decrease noise as it moves. Also, it has an articulated neck and legs that make it more perfect for pretend play. Among parents who own pets walking them is a common chore. This is one of the most recognizable uses of pulling in toddler so, shouldn't be a surprise if your toddler loves this a toy dog. This toy is made from strong wood so that your toddler can take it wherever they want. On the face of this toy is a big smile which is charming for toddlers. The mischievous makes it impossible for toddlers not to love him. It is ideal for between 1 and 3 years old.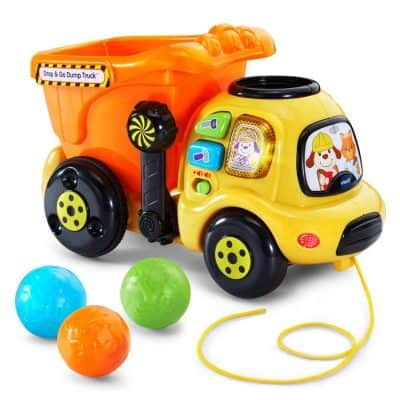 This Drop and Go Dump Truck from Vtech is a charm with its colorful rocks which appeal to both girls and boys of various toddler ages from 6 months to 3 years. This nifty pull toy offers so much for toddlers to keep them busy hours on end. It is great for developing gross motor skills, hand-eye coordination, finger dexterity, and listening ability. Children will be excited to give this truck a spin as it loads it with colorful rocks which make a unique sound when tossed in the truck. Kids can also push buttons on the side to listen to some songs and phrases.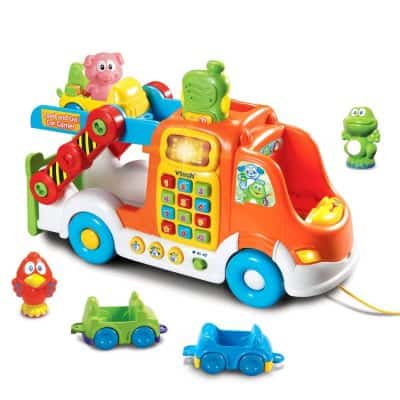 This toy features a huge car transporter with a fully working flip-down ramp to provide access to the upper deck of the car carrier. Also, the package comes with 3 colorful cars and 3 beautiful animal figures. This pull toy is portable, which ensures kids have a lot of fun. The toy is strong enough to withstand your kid's rough and tumble moments during playtime. Besides being a car carrier, the toy features 3 animal figures that fit into the pull toy. Even when the toy is not moving, children will be able to learn by pressing buttons that introduce them to animal, colors, and numbers.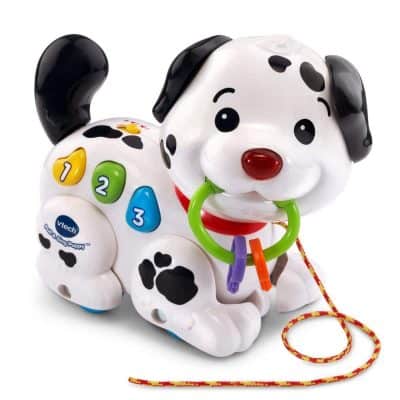 It provides a lot of cognitive-enhancing and interactive features. This is a cute and entertaining pull toy for toddlers. It is great for toddlers up to 3 years. The dog-shaped pull-toy provides a multitude of interactive features for kids as young as 6 months. The toy comes with buttons on the side that give your toddler an early start on the concepts of colors and phrases. After your kid starts to walk, you only need to attach the pull chord to introduce your kids to a whole new world. The keys swing as the toy moves and sing 60 different songs and phrases. Pulling the string encourages early walkers while at the same time developing their hand-eye coordination and fine motor skills.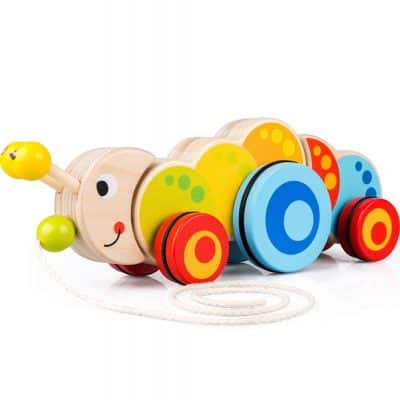 This toy is made from wood and non-toxic material making it a good outdoors toy for young ones. The pull along toy provides a good way for your little one to strengthen their muscles. This caterpillar pull toy is very versatile so your toddler will be able to have a blast with it when playing outside or indoors. The colorful toy lets you kid start noticing the colorful world around them. Also, playing with this toy improves your child's imagination and creativity. As well, it promotes interaction in kids which helps them to socialize. The toy is recommended for kids 18 months and above.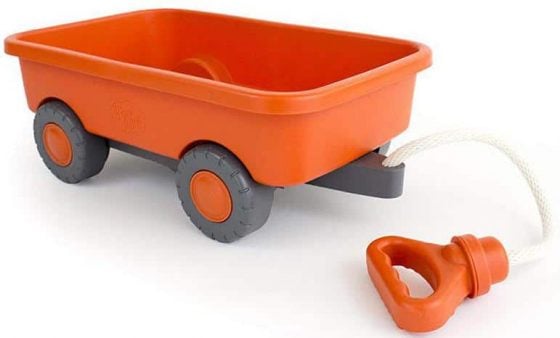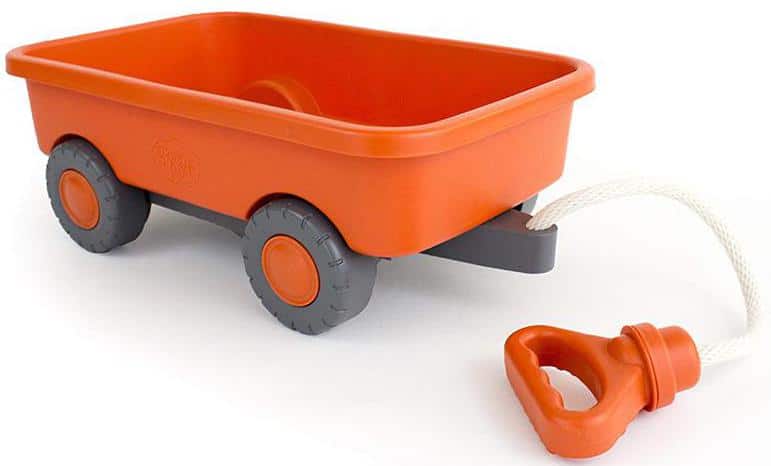 This pull wagon comes with big, chunky tires and low bed with vivid orange that make it a fantastic product. It is made from recycled plastic milk containers as well as safe, soy inks. Thus, the product is eco-friendly and does not contain plastic film. The toy can be used to carry toys and other small items in the backyard, playroom, classroom or at the beach. The attractive toy uses a cotton rope that tucks in the wagon easily for storage, safety, and convenience. The toy is aimed at toddlers at least 1-year-old. It promotes the development of motor skills and imaginative play.
The toy is equipped with a face of a phone and movable dial. Touching the dial makes the mouth move to appear as if it is talking to kids as they talk on the receiver. It provides some background on the technological development of telephones. Although phones have changed, children will enjoy playing with this little phone with its bold rotary dial. The dial rotates and rings when pressed by tiny fingers and the eyes of the cheerful face on this toy roll up and down. The toy promotes fine motor skills, imaginations and finger dexterity among others.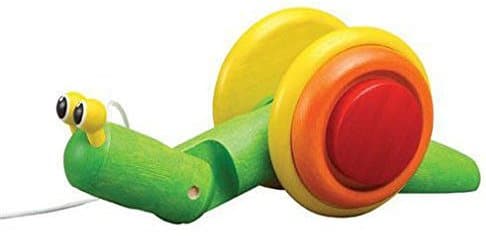 The toy is made from wood and does not include any plastic in its construction making it easy to fix in case something breaks. Moreover, it is strong enough to last several years of play. Pulling it creates an impression of the snail actually contracting its body to move forward. The unique design of this toy makes a very interesting motion. As toddlers pull the toy, the bright wheels that represent the shell of the snail spin which moves the snail's body in an up and down movement.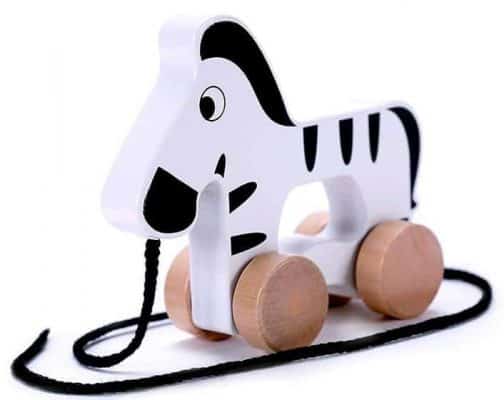 The toy is made from sustainable wood its height is 6 inches. It meets the highest safety standards and purchasing it you get a 5-year warranty. The toy doubles up as a push and pull toy. The easy-grip section lets your toddler manipulate the movement of the toy as they push it. The wheels allow your kid to move around obstacles as they explore their newfound ability, walking. This pull and push toy is recommended for children between the ages of 12 months and above. It is strong and colorful and comes in the right size for toddlers. The smooth action and safe cord length make it a great choice for young children.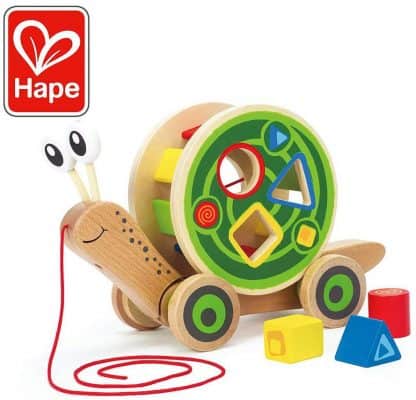 The wooden toy is made from 100% safe wood. This wooden snail toy is equipped with 3 brightly colored blocks on its shell. The blocks match their corresponding shaped hole letting toddlers improve their cognitive skills when not towing the toy. As an extra, the toy comes with a shape sorter section that can be detached from the base of the toy for sit-and-play activities for a crawler. The tor promotes movement with its string which is ideal for toddlers who spend a lot of time closer to the ground. It is recommended for kids between 1 year and 4 years. This pull along snail toy is very impressive especially its quality and excellent function.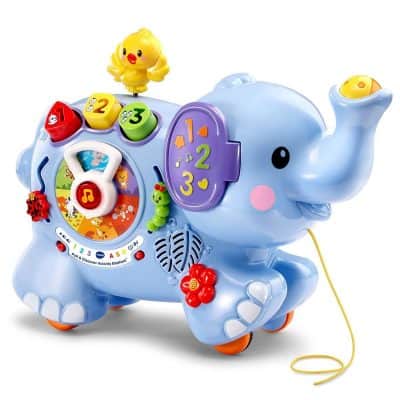 The Pull & Discovery Activity Elephant from Vtech comes with light-up buttons that teach toddlers the concept of shapes, numbers and colors. It includes a shape sorter that let your toddler improve their hand-eye coordination as they match blocks with the matching holes. Also, it is equipped with an interactive dial spin and can call out fun phrases, animal sounds and even sing some music too. This pull toy is great for little walkers who need a challenge. It is recommended for toddlers between 12 months and 36 months. The wheels in this toy roll back and forth and the way the ears of the elephant move back and forth makes it more adorable.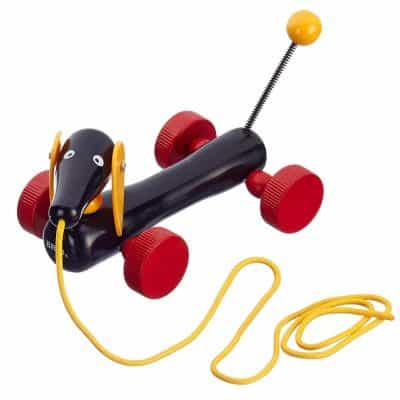 This pull toy is great for children 12 months old and above. It is a sturdy little toy that comes with a gloss paint finish to eliminate any safety worries parents. The toy is made from a sanded non-toxic wood. It comes with brightly colored wheels that can work on any floor surface. This is a cute and simple toy that will captivate your toddler with its special quality. The tiny size lets this toy very portable in case you are traveling with your toddler. The toy is made for tiny hands and will be a delight for your toddler to hold it and play with it.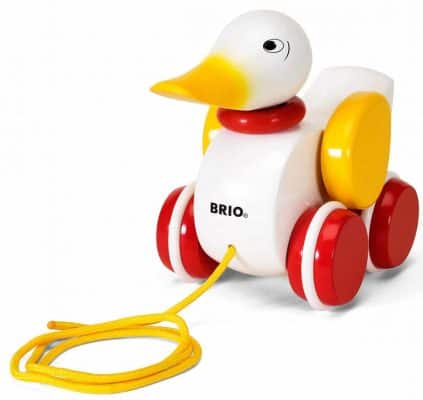 It features a head that moves sideways and wings that flap as it moves. The toy comes with bright red wheels that are built in a way that makes it easy for the toy to roll easily on any floor surface. The little wooden such is going to waddle along behind any toddler and is appropriate for kids 12 months and above. As it moves it makes a soft click sound and the wheels have a rubber string that makes the movement on hard floor quiet. This toy is crafted from a block of solid wood and the painted surfaces are safe and non-toxic. Also, for safety, the toy has smooth edges.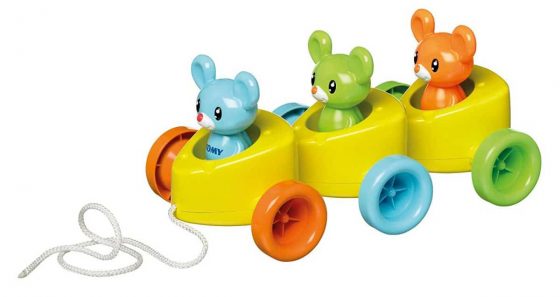 This pull toy comes with 3 little mice with each sitting in their compartment and move up and down as the toddler pulls it. The mice make a tick-tick-tack sound as the toy is towed. Also, the mice can be removed to be played with each individually. These rattles when shaken so your little one will have plenty to keep your toddler busy. This pull toy is fun for toddlers who are 12 months old and above. This toy is quiet considering the noise some electronic toys make. This a quality toy for toddlers and can handle whatever your kids throw at them.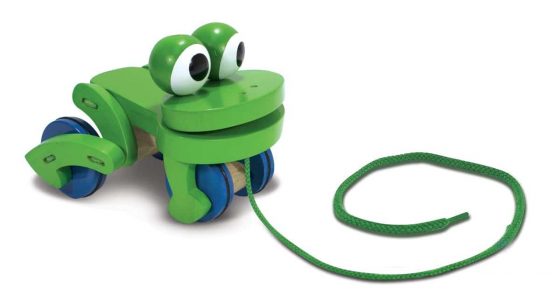 This pull toy is suitable for toddlers above 18 months old. As toddlers pull it along, the frog leaps up and down and the googly eyes wiggle in the head. Your kid will have a fun and exciting experience as they walk along this toy. The bright colors entice little children to play with the toy. This toy uses non-toxic paint that makes it a safe option for kids. The toy is made from wood and does not assembly. This wooden froggie pull toy will provide boundless fun to your toddler. The movement of the frog as your toddlers pulls make it more exciting.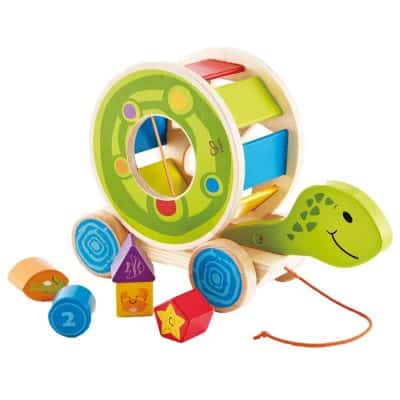 Your toddler will be able to make use of this pull toy for longer and it can stimulate your child's brain in various ways. If you are looking for a pull toy for your kid that offers more than just the typical wooden pull toy, then this Hape's Shape Sorter Turtle has a built-in shape sorting game inside the shell of the turtle. The colorful toy will keep your kid busy and entertained for several hours. This toy is made from a durably crafted solid wood. Your toddler will get playful with this educational toy.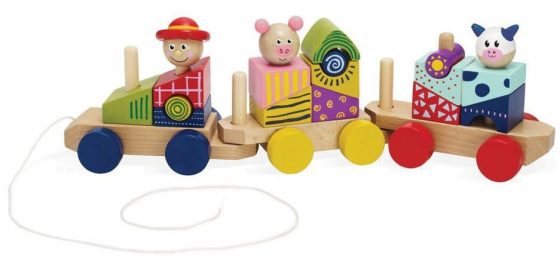 This is another multifunctional pull toy that features a tug along train which also acts as a set of building blocks. It supports unlimited options of play, for instance, your toddler can pull it around, roll it around, stack the various components provided in various ways and configuring the toy in very many styles. This wooden toy comes with 24 stackable pieces and cute character heads and finished with non-toxic paint. The best of all, it promotes fine motor development and shape and color recognition in toddlers.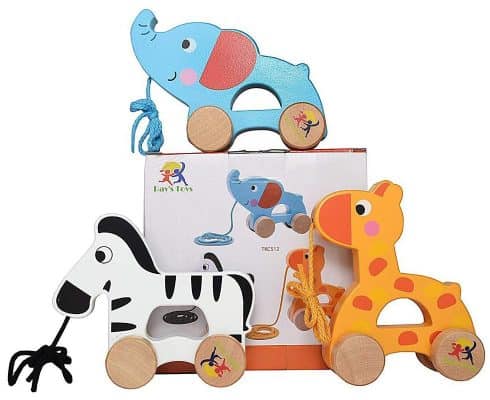 This toy comes with eye-catching design and interactive components that will excite any animal-loving child. The toy comes with 3 zoo creatives i.e. elephant, giraffe and zebra in one package that adds more characters in the pretend play games. The best thing is that these three animals are simple to pull apart, which lets your toddler play with them individually. This is a thoughtfully designed toy that helps toddlers develop early walking, balance and hand-eye coordination. The toy is great as an introduction to owning and caring for a pet. It is recommended for toddlers above 1 year old.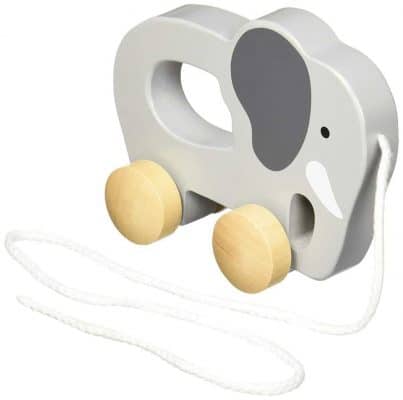 Instead of the traditional car or dog pull toy, this is a unique one that is made in the shape of an elephant. It is perfect for toddlers 12 months old and above. It comes with a pull mechanism that uses a string and the toy is fitted with 4 wheels that are made from wood. This ensures the toy never scratches the surfaces of any wood floor or wood tile. Also, the toy comes with a handle on the rear that makes it easy for your toddler to hold it and take it anywhere they want. The toy has a non-toxic finish and is safe for toddlers.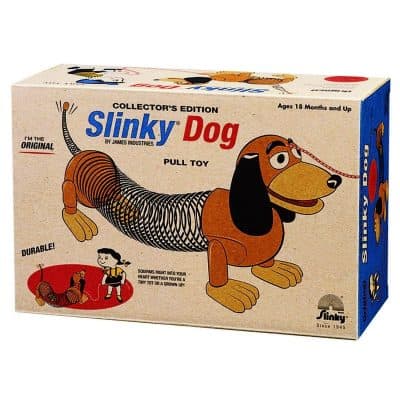 This slinky dog makes a well-known slinky sound and will follow along when pulled. It is a squirming, wiggling, adorable dog who has been a darling for several generations. It comes with a metal slinky in the mid-section. It is a breed of a clever, ingenious and intuitive design that still appeals to all ages. The toy provides timeless fun for toddlers with its tail-wagging design. This toy can sit up, wag its tail and beg. It is recommended for toddlers 18 months and above. The toy will soon become a favorite for your toddler.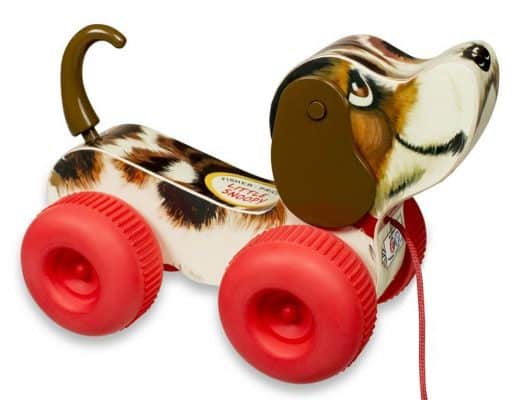 This toy is smaller than most other toys on this list. However, it can still help enhance coordination skills in toddlers. It looks like a dog and is fitted with 4 textured wheels that are able to roll over hardwood, vinyl and carpet among many other surfaces when pulled. When it is pulled, it wobbles back and forth. This is a basic toy that is best pulled when your toddler is sitting on the surface. Toddlers can potentially put a number of small toys on it; however, the toy is basically designed to be used only as a pull toy.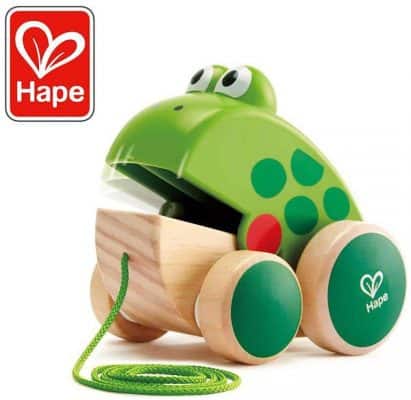 This is a wooden fly eating frog that opens and shuts its mouth as it is pulled by the cord. The toy promotes kids to crawl by pulling the frog and when they learn to walk, they will be able to take him on adventures. The frog will become a great companion when they begin walking. The sturdy wheels on this toy let kids pull the toy with ease. It helps toddlers explore their surroundings. The appealing eyes and cute design make this toy a colorful companion for toddlers. This engaging toy will keep your toddler busy as they explore and enjoy the opening and closing of this toy's mouth.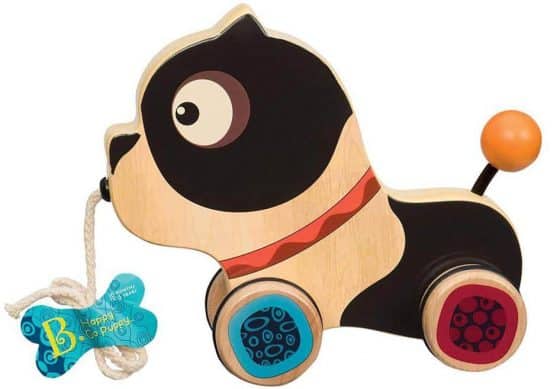 The adorable wooden pull along toy follows everywhere your kid leads it to. This toy doubles up as a push and pull toy. So, your toddler can roll the cute dog on the floor directly before they can master walking it. It is made from natural wood and comes with non-toxic finish. To keep the floor protected from scratches, the 4 wheels have a rubber band. This is a developmental toy which makes it a great toy for improving your toddler's hand-eye coordination and motor skills. Also, your toddler is encouraged to engage in active play using their imagination while they take care of and walk the pull along dog.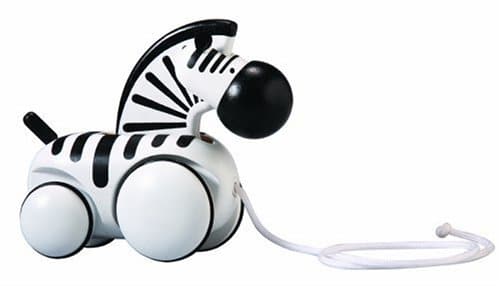 This adorable pull toy will keep your toddler busy for hours on end adoring its movement. When pulling this toy, its head nods up and down and the back rolls and the hind legs spring up and down. Parents can use this toy as the lead character when telling wonderful stories to toddlers with characters who run which will also help develop your kid's vocabulary and language skill. The toy also lets your toddler develop good social skills and family relations. It provides real-world functionality that promotes creative play within a positive learning environment. At the same time, the toy instills a sense of wonder.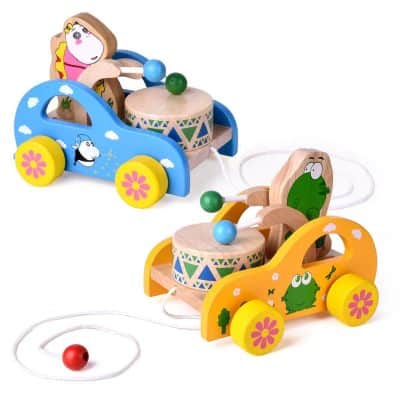 This is a pack of 2 wooden toys that come with hippo and frog drumming. The wood is durable, and the finish uses non-toxic paint to ensure kids are safe as they play with these toys. As the toddler pulls the toy, the hippo and frog will beat a drum. The toy will help your toddler develop their walking skills, fine motor skills and balance. The 4 wheels are rimmed with wood to enable efficient movement and prevent scratching the floor as your kid pulls it. This bright colorful set of pull along toys will help your toddlers learn cause and effect.