Top 30 Best Scientific Toys for Kids 2023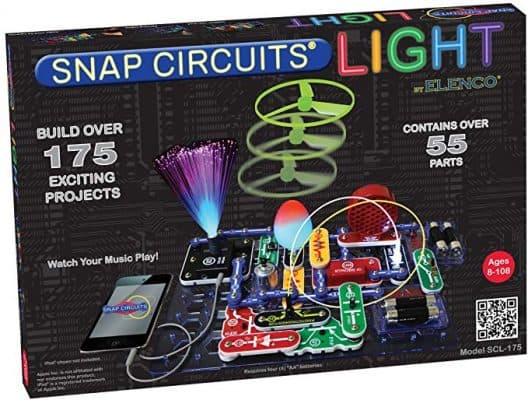 There's absolutely no downside to Elenco's Snap Circuits Lights Electronics Discovery Set. Not only does it give your child a real hands-on experience building electronics but it also connects with your smartphone, mp3 player, or voice. There's also an option to design your own board. It's no surprise that this unique toy has earned multiple awards. With over 500 projects this set has enough to keep your kid busy and to learn for a while. Snap Circuits teaches the science of electricity through small projects. Since each project builds on previous skills, it keeps kids challenged and engaged. Each completed circuit works, which motivates kids to keep playing.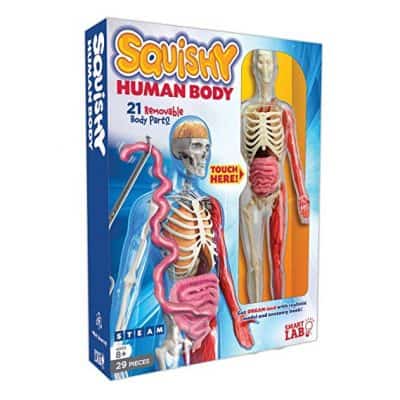 This 12-inch plastic model of the human body includes nine squishy organs that can be removed for a closer look. Along with the organs, your child can use the included tweezers and forceps to explore the 12 plastic bones and muscles. As your child takes parts out of the body, they can lay them on the body organizer sheet to easily keep track of them. The 24-page book included in the set will increase your child's knowledge of anatomy as it contains a variety of information and facts on the body. The multiple tools included and the size of the model makes this a great toy for several children to enjoy at once. Trying to picture organs inside the body can be hard for a child. Use this toy model as a visual aid to reinforce what your child is learning in school. Kids will improve their hand-eye coordination and fine motor skills as they use the tweezers and forceps to easily grab body parts.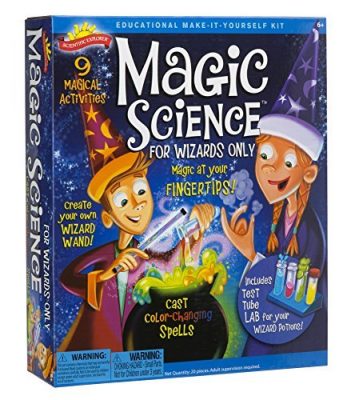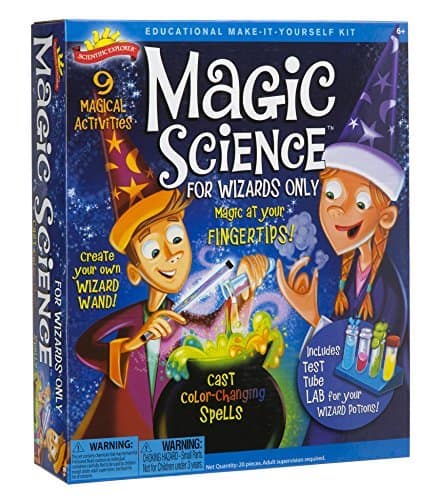 The Scientific Explorer Magic Science Kit comes with safe common household chemicals, test tubes, measuring scoops, and a full-color activity guide. The set also comes complete with a wizard's wand and 2 caps to make your kid feel like Prof. Dumbledore. This kind of toy is part magic, part chemistry lesson, and all fun. Each experiment explores the science behind seemingly magical chemical interactions. During the magical adventure, they'll also learn about famous wizards such as Merlin. The included instruction manual makes this set easy to enjoy for children who are between the ages of six and ten.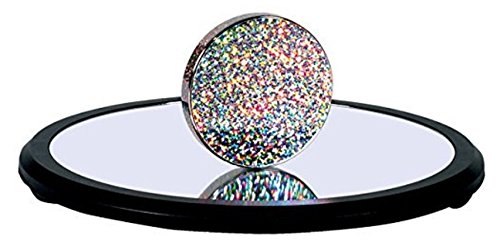 The DaMert Company Euler's Spinning Disk set includes a 3-inch chrome-plated steel disk and a mirror. The holographic disk will produce light and sound as it rotates. This hypnotic science toy teaches the science and energy of dissipation, friction, and low amplitude sound by demonstrating. This set is super easy to use as gravity will do most of the work. All your child need to do is spin the disk and let gravity take over.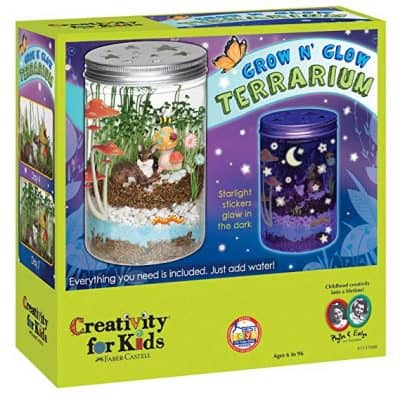 The Creativity for Kids Grow 'n Glow Terrarium allows kids to build their very own miniaturized ecosystem as the terrarium toy already comes with everything that your kid will ever need. This kind of toy also comes with glow-in-the-dark decals to help turn your kid's terrarium into a spectacular nighttime piece. Enchant your child with the ability to create their own forest in a bottle while they learn about botany. Fast growing seeds ensure that your child won't have to wait long to enjoy this ecosystem in a bottle. It's easily customizable making this toy a great add-on for homeschoolers or as a side project for any child that combines art and science into the perfect STEAM activity.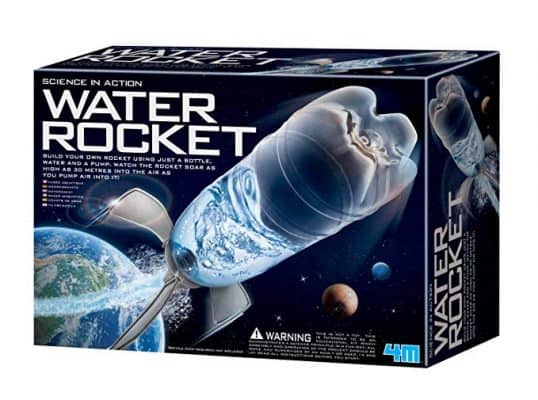 This toy has everything your little one needs to transform an ordinary plastic water bottle into a rocket. However, you will need a bicycle pump to get the rocket to fly. A plastic bottle, bung connector, pump connector, plastic extension pipe, fin support, and four fins are included in this set. Building the rocket will foster a love of engineering and science in your child as well as increase their knowledge of technology. You won't have to worry about the fun ending due to batteries dying as this rocket is solely powered by water and air pressure. Increase your child's social skills and take this toy to the park. Once other children see your little one launching the rocket, they're sure to rush over to join in on the excitement. The instructions even include a couple of paragraphs that explain the science behind the launching so your child will be learning while having fun. While the process may seem a little intimidating, the included instructions make building this rocket super easy for children over the age of ten. Once the rocket is constructed, your child can begin pumping air into the bottle. The combination of water and air pressure will send this rocket flying over 30-feet into the air.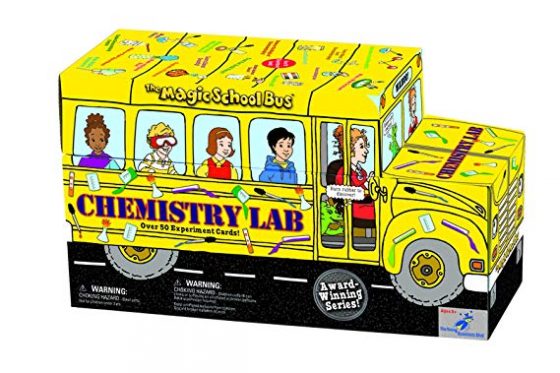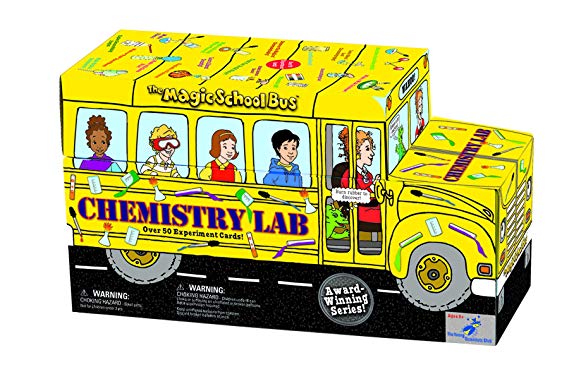 The set comes with 51 experiment cards that come in full-color illustration. It also comes with all the different lab tools your kid will ever need to perform an experiment. Chock full of the educational fun that makes the Magic School Bus a time-honored favorite of kids and parents alike, this set is stuffed to bus roof with experiments. These are certain to delight your own young scientist. With over 50 different experiments that explore chemistry. Creative thinking, and the scientific process, this is the science set that keeps on giving. The experiment cards are easy to understand, so if you have the ingredients on hand, your child will have no problem experimenting.
Butterflies are some of the most beautiful, fascinating creatures in nature and this toy allows your child to become a part of a fascinating life cycle for these insects. The caterpillars come with their own food source but your kid will be able to get hands-on while feeding the butterflies that they become. Follow along with the caterpillar's life cycle from tiny babies to fascinating chrysalides, to beautiful butterflies. The pop-up habitat is easy to use, collapsible, and reusable.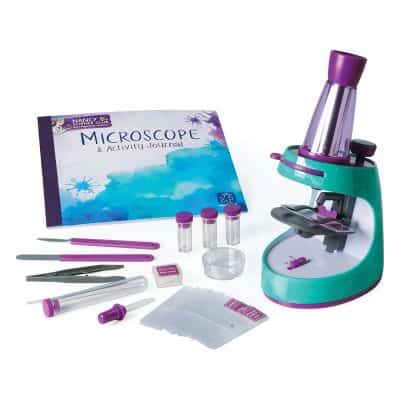 With the Nancy B's Science Club Microscope and Activity Journal, your kids can now enjoy looking and appreciating truly microscopic objects and living things. The set already comes with an ocular that can magnify objects as much as 400 times and a low power objective of about 30 times. Also included are a 26-piece lab science toolset and an activity journal. This microscope encourages scientific exploration through open-ended play. Use the prepared slides to explore items your kid will recognize like human skin cells. Like a real scientist, your kid is encouraged to record their discoveries. No additional items are necessary since even a journal is included. The slides can easily be grasped and placed on the microscope by children as young as eight and as old as eleven.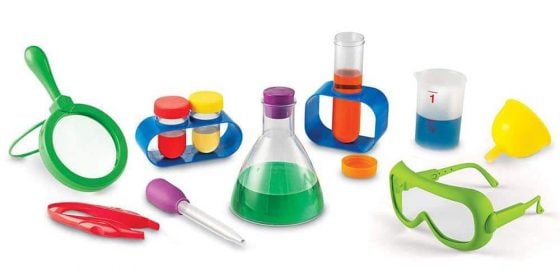 The Primary Science Lab Activity Set comes with realistic replicas in toy form of common laboratory tools such as test tubes, flasks, funnels, and goggles, just to name a few. All of the products are safe and they do a good job at stimulating preschooler's curiosity, sense of discovery, exploration, and experimentation. This should help prepare them for higher science concepts. While many science toys are for older children, this is perfect for ages 3 to 6. The tools are perfectly designed for use by young scientists.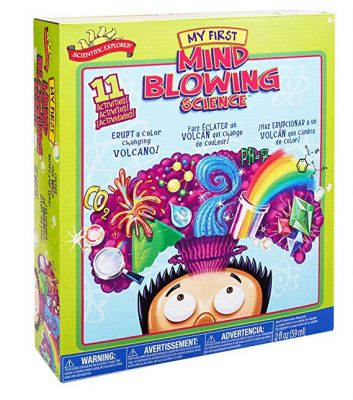 This kit is a great introduction to the world of science for young kids. It's recommended for kids from 6-years and up. This scientific kit comes with twenty pieces to create a variety of experiments for kids to learn more about science. This set is very budget friendly and makes an ideal gift. Experiments include classics like erupting a volcano and growing crystals. These give kids a good, fun way to learn more about the science behind how our world works. There are 11 different activities in total, and though it does require some extra items, most of these can be found around the house. Customer reviews love the variety of experiments available in this kit and the quality of the learning materials. Most of the materials will last for a couple of experiments so kids can repeat the ones they enjoy to get a better understanding of what's going on.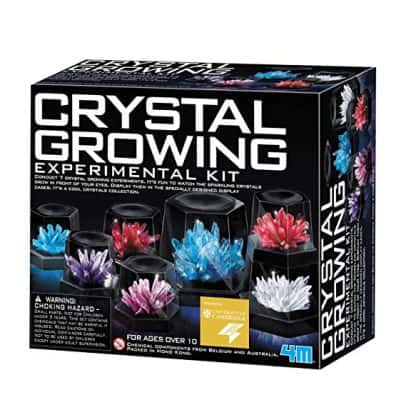 Crystals can be fascinating for kids thanks to their shininess and bright colors. This kit allows kids to grow their very own crystals and learn about how they are formed. The kit has enough materials in it for kids to try out seven different experiments, and get a deep understanding of the science behind the crystals they are growing. Display cases are also included so kids can show off their creations once the experiments have ended. Though this engages many STEM skills, it's particularly great at helping kids understand basic geology. It's recommended for kids from 10-years old and up. Thanks to the immense quality of the materials and educational information, this is Amazon's choice for crystal growing kits for kids. It's also very budget friendly and great for gifts at any time of the year.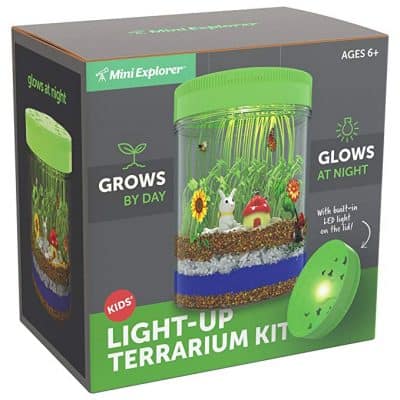 Terrariums are like miniature gardens that can be tended to and developed. This set is designed specifically for kids to be able to use and will help them learn all about basic plant biology. It also gives kids with issues focusing on a long-term project to work on, helping to build their patience. The lid has a small LED light inside so they can light up their garden at night and admire their work. The LED lamp can be recharged via USB so there's no need for batteries. The kit includes the terrarium jar and lid, soil, sand, rocks, wheatgrass, chia seeds, and small miniature toys. The instruction book allows kids to grow the wheatgrass as their first project. However, they can also add to it with other plant seeds. The kit is recommended for kids from 6-years old and up. It's therefore great for fostering an early interest in how the world around us operates. The plants will begin to sprout by the end of the first week and will be fully grown within a month and a half.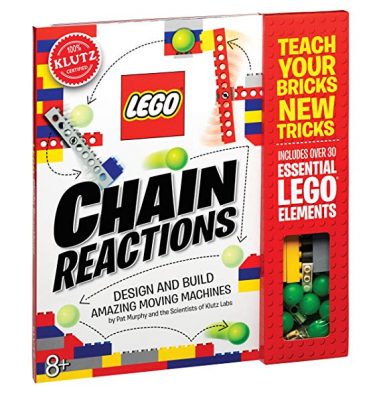 LEGO kits are already a good way to build STEM skills, but this kit takes it one step further to give kids a more in-depth understanding of science. This set allows kids to build up to 10 different functioning machines to learn about engineering and how all the components work together. This set comes with a full instruction manual, 33 LEGO pieces, plastic balls, and plenty of other components necessary to build the machines. It's recommended for kids eight years old and up. The instructions are very well written so that they are easy for children to understand. Like all great LEGO kits, this kit is compatible with other products in the LEGO range, so kids can easily use their imaginations to come up with their own machines.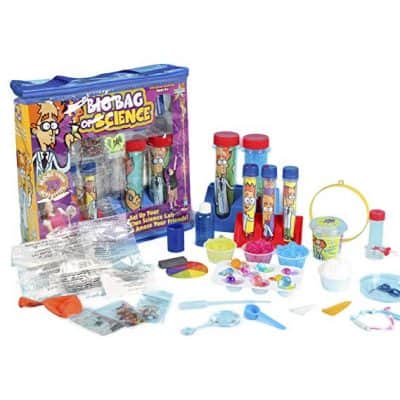 This is a great bumper science kit for older children aged between 9 and 12. It has enough materials inside the bag for more than 70 different activities, and the instruction booklet is very clear and easy for kids to understand. These experiments require a little less adult supervision than other science kits, though we do recommend their parents skim through the instructions to see if they think they should assist. The kit has experiments from a range of sciences. From biology to physics and from rocks to weather. This helps to give the kids using the set a broad knowledge of the scientific principles that influence their life and the world around them. It's a very well-priced product for the number of experiments included would be a great gift for birthdays or at Christmas. For full use of the kit, there are an additional 33 items required. However, the vast majority, they are inexpensive and can be easily found around most households.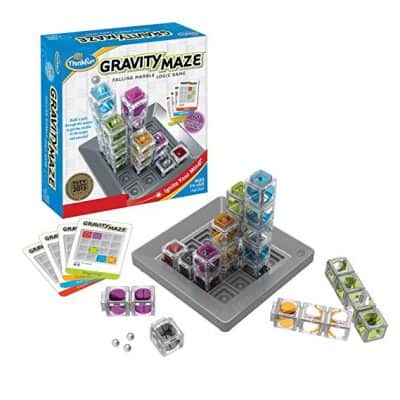 The Gravity Maze is a unique logic puzzle using 3D blocks and a board. It can be played individually as well as competitively with friends and family. This not only builds their STEM skills but also their interpersonal skills and sportsmanship. A set of problem cards are included, which kids must solve using the 3D blocks and included marbles. It's recommended for kids aged 8 and above. The set included 60 different challenge cards, a game grid, 9 towers, 3 marbles, and a target piece. It's designed to help kids expand their critical thinking skills, and is a great toy for STEM development. Due to the small marble pieces, it should only be used within the recommended age range. The other components are made of child-safe plastics that are non-toxic to humans. It's quite lightweight and can be easily stored and taken on family trips to keep them entertained.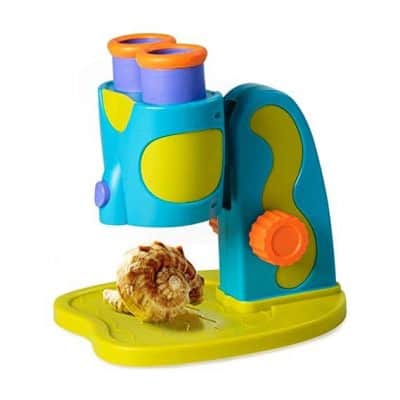 Unlike the Nancy B Microscope, this one is specifically designed for very young children to use and is incredibly safe and durable. The bulky eyepieces, chunky design, and easy zoom mechanism make it great for every toddler to use and foster an early appreciation for and understanding of science. It operates as a dissecting microscope, and slides are not required as it can easily magnify 3D objects as well as flat objects. It's not as powerful as other microscopes, as it's just a basic set for young children. It will magnify up to 8x the size. It requires 3 AAA batteries which are not included so you should purchase a pair of these if giving as a gift. It's suitable for kids from one and a half years to six years old. The double eyepiece means kids will not have to close their eyes to use it, making it more comfortable and convenient for such young children.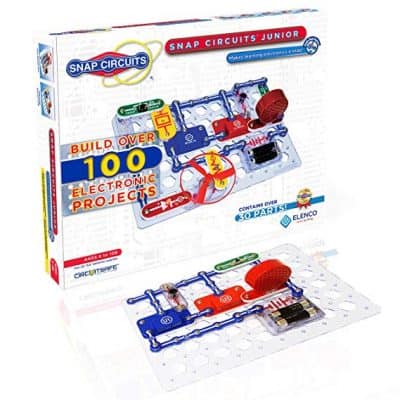 Snap circuits are a fun and safe way for kids to learn all about electronics that are approved not only by parents but by teachers and educational establishments. This kit comes with the parts necessary to build over 100 different electrical circuits, and works in a way that's safe for kids and minimizes all risks. Kids simply snap the components into place on the board and switch them on when necessary. Projects include building a photosensor, setting up an alarm and connecting lights. Projects vary in complexity and a handy instruction booklet guides kids through all projects from the easiest to the most time-consuming. This helps them grow their skills and understanding at a natural pace. No tools are required, however, it will require a pack of AA batteries to get started.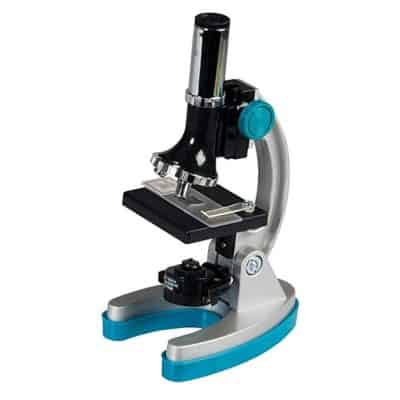 As kids start learning about biology and chemistry, chances are they'll become curious about what different objects are made of. There's no better way to help them learn and explore than with their very own microscope, which is why the GeoSafari Micropro Microscope Kit makes a wonderful gift. This 48-piece set is best for children eight and up, as it lets them get a closer look at anything. In addition to a kid-friendly microscope with up to 600x magnification, the kit includes tweezers, Petri dishes, empty slides, and vials. Besides, there are even a few prepared slides with cool specimens to get kids started. Overall, the Micropro Microscope Kit is an engaging, hands-on way to boost STEM skills. Don't worry about kids getting bored either, as the kit comes with a guide including several fun activities to encourage them to explore.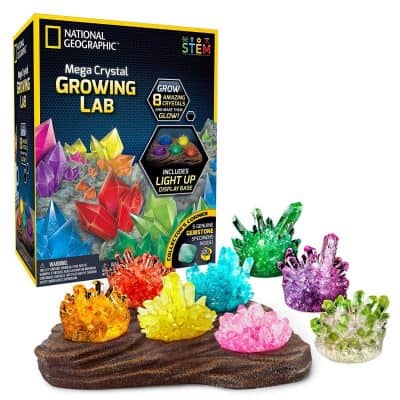 The only thing cooler than growing crystals is growing multi-colored crystals. The Mega Crystal Growing Lab, designed for kids six and up, teaches about chemistry and crystal formation through hands-on experiments. The Mega Crystal Growing Lab has everything kids need to grow beautiful crystals in fun colors like blue, green, purple, and orange. They'll get eight different colors of growing powder and eight rock seeds, as well as four growing chambers and a light-up crystal display stand. The STEM learning guide walks children through the crystal-growing process, and while they wait for their own rocks to form, they can examine the five real crystals. These are quartz, rose quartz, fluorite, calcite, and amethyst that come with the lab.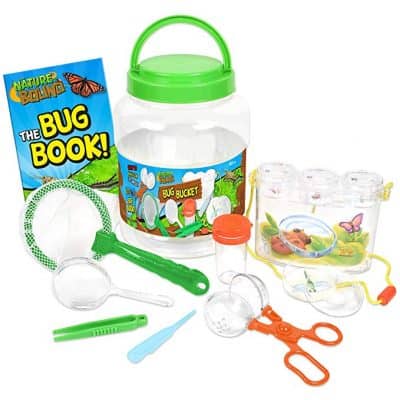 This Nature Set will surely be a hit with children who are fascinated by bugs and other creepy-crawly critters. Kids ages three and up can use the Nature Bound Bug Bucket Habitat Nature Set to explore their backyard, catching and examining bugs up close. The 7-piece set includes a bug bucket, tweezers, tongs, a net, and a magnifying glass. With these tools at their disposal, children can catch all sorts of bugs without touching them and safely store them for observation. They can sue the magnifying glass to take a closer look at insects, or learn about different kinds of bugs from the included activity booklet. The only problem you'll have is stopping kids from bringing bugs into the house.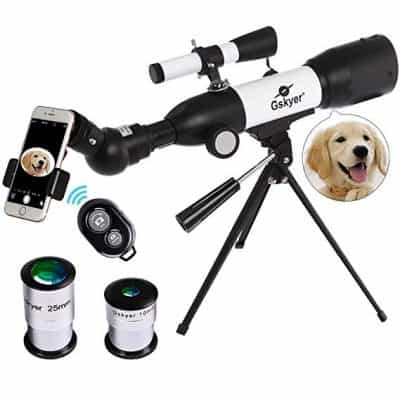 There's a huge universe out there, and with the Gskyer Travel Refractor, children can get a closer look at what's going on in the sky. This entry-level telescope lets young scientists stargaze or birdwatch, and we bet their parents won't mind playing with it, either. This telescope has been specially designed for students, and it's easy to put together, even if you know nothing about telescopes. The telescope comes with multiple eyepieces, a tripod, and a carrying case, so you can easily take it camping or to different locations. This cool astronomy gadget is easy to use, too. Simply adjust the focusing tube to bring objects into focus. Plus, there's an optical coating on the lens to protect kids' eyes.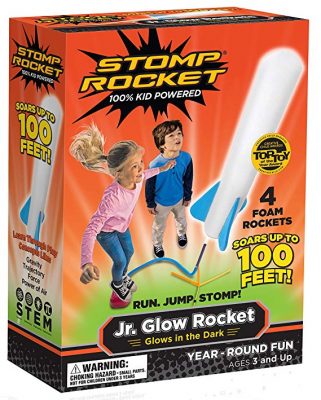 The Original Stomp Rocket Jr. Glow is so much fun that kids won't even realize they're learning. With this toy, children ages three and up will explore STEM concepts like physics as they launch glow-in-the-dark rockets high in the air. The Stomp Rocket Jr. is easy to assemble and even easier for kids to master. All they have to do is run, jump, and stomp on the launch pad to send the glowing foam rockets flying into the sky, up to 100 feet. Children will have a blast seeing how high they can send their rockets, and all the while, they'll be learning about concepts like gravity, force, and trajectory.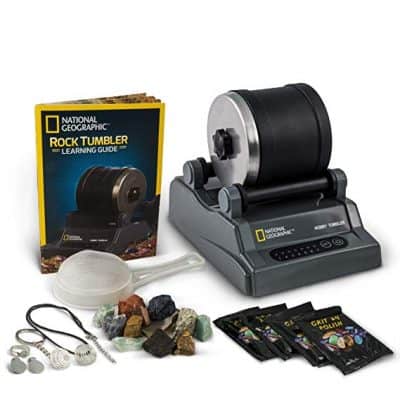 Some toys are simply classics, and rock tumblers definitely qualify. The National Geographic Hobby Rock Tumbler is just like the one you used when you were young, as it turns rough stones into smooth, shiny gems using grit. This Rock Tumbler kit is ideal for children eight and up, and it includes everything they'll need to transform ugly rocks into beautiful treasures. The tumbler itself has an automatic shut-off timer and a noise-reducing barrel, and the kit includes rough gemstones to get kids started, four polishing grits, jewelry fastenings, and instructions. Kids will love seeing how jagged rocks transform, and they have everything they need to turn their favorite pieces into jewelry. Once they've used up the rocks included in the kit, they can explore their backyard for more, keeping them occupied for hours.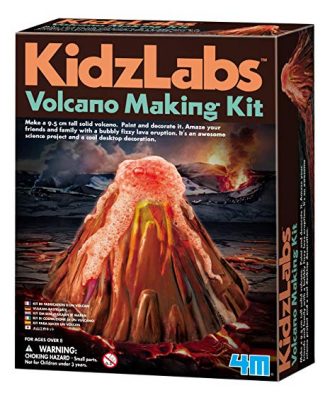 As an adult, maybe you remember the excitement of building a volcano in school. With the 4M Volcano Making Kit, children can enjoy the same feelings of wonder and curiosity. This volcano kit is a hands-on experiment, and it simulates the natural process of a volcano eruption. To produce realistic effects, the kit comes with a stir stick, paint brush, paint, volcano mold and drying plaster, and the detailed instructions make it easy to follow along. If you decide to purchase this product, you should know that it requires baking soda and vinegar, which aren't included.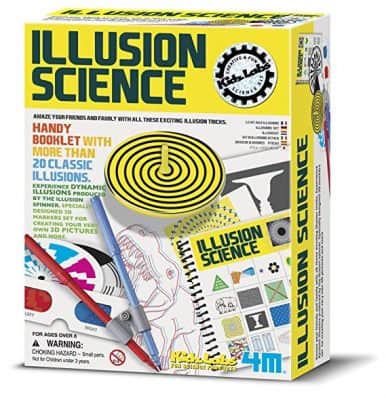 This popular science kit from 4M allows kids to experiment with 20 classic optical illusions. The kit is packed with 3D glasses, markers, 3D picture cards, and illusion trick cards. Since it also comes with a 20-page book of instructions, the science of optical illusions is revealed in a way that's easy for kids to understand. The 4M Illusions Science Kit is an ideal product for young scientists who are interested in optics.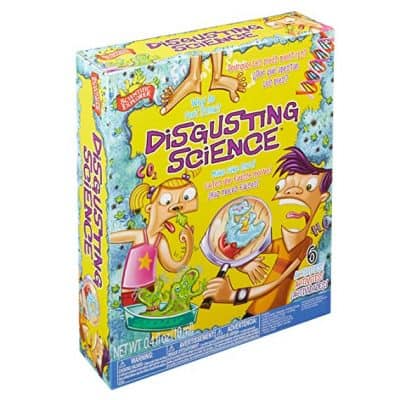 Disgusting things can bring out your inner child, and the Scientific Explorer Disgusting Science Kit is designed to teach kids about the things that grow on the human body. They'll learn cool facts about the body and find out how by-products are created. This kit can make kids grossed out and take their science knowledge to a new level. The included experiments allow kids to create slimy snot, stinky intestine, and fake blood. There are even experiments for growing friendly bacteria and molds.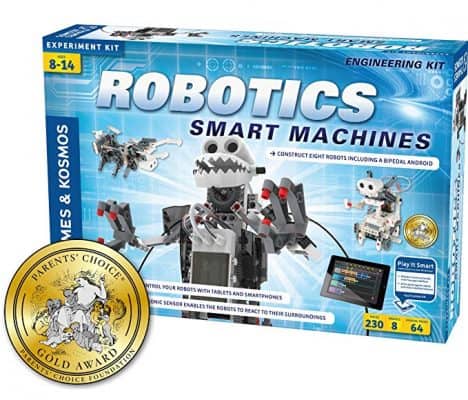 Robotics is an exciting field for many adults, and it can be just as enjoyable for young children. With this kit, kids will get a basic introduction to robotics, and they'll be able to build eight motorized vehicles. However, for proper functionality, it requires the use of a smartphone or tablet. With the app interface, kids can program the robots they build and make them behave based on feedback from an ultrasound sensor. An included step-by-step manual offers 64-pages of instructions and teaches kids how robotics work in the real world.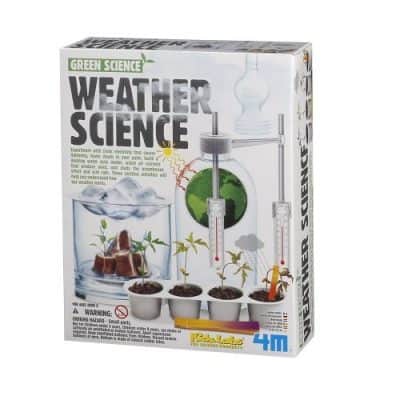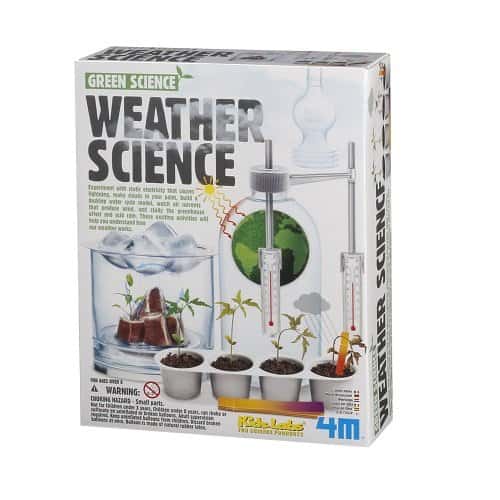 With the 4M Weather Science Kit, children have access to a variety of exciting activities, and they'll be able to learn how the weather works. The kit comes with a set of planets, which are designed to be snapped together, and it also includes a paintbrush and two glow paints. Every component needed to build a solar system is included in this kit, and it teaches kids about static electricity, water cycles, lightning, and cloud.
You don't have to travel across the world to excavate dinosaur fossils. With the National Geographic Dinosaur Dig Kit, children over six can dig for real dinosaur remains while they learn all about archaeology. This digging kit comes with a "digging brick" as well as digging tools, a magnifying glass, and a learning guide. Kids will feel like real paleontologists as they carefully excavate objects from their brick, each of which includes three real fossils. Once they've separated out the fossils, children will be able to identify their discoveries using the learning guide.