Top 30 Best Dinosaur Toys for Kids & Toddlers 2022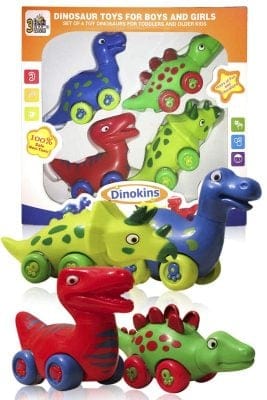 This toddler-friendly and super-cute set of four dinosaur toys is the right gift for kids and toddlers. Each of the dinosaurs has been constructed from child-friendly plastic and features all the details from the prehistoric age. The pieces have been brightly colored using the primary color schemes and can be used as educational toys in many ways. The advantage of using this fun toy is that it enhances your child's development of creativity and motor skills. It meets the needs of a large age span and is nice for a family that is growing.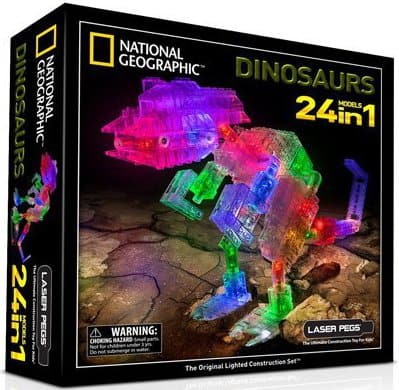 This is an engaging and lovely building toy for dinosaur enthusiasts over the age of five. They encourage kids to develop an interest in STEM subjects and engage a child's creative side. The box comes with building tools and instructions so that your kid can build 24 different kinds of dinosaurs. It may be necessary to help your kids when constructing dinosaurs. Once the dinosaur is built, it can light up and you can use it as a toy. You can place the completed dinosaur on a triangular stand, which makes sounds and a light show. The kit comes with 27 laser pegs and 191 building blocks all designed to be compatible with LEGO and other popular construction game blocks.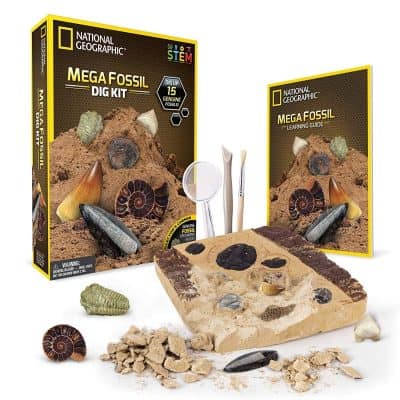 This paleontology-inspired toy comes with everything you need to excavate fossils with your kids. The tools include a chisel, magnifying glass, and brush. This set also features a 16-page learning guide with illustrated fossil facts. The learning guide will provide your young paleontologist with details of how fossils are formed and how they can easily identify each different specimen. Be sure that your kids will be digging for more information with this toy set.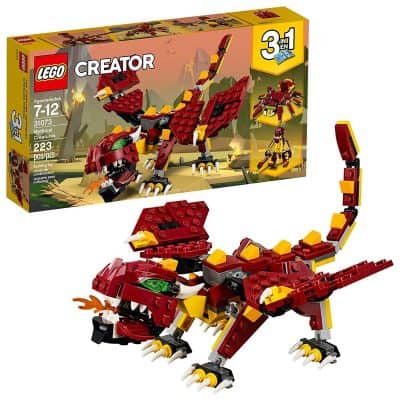 The building blocks of this toy are ideal for your child to hone their fine motor skills. It allows kids to build their own firing breathing, green-eyed, large fanged and pointed clawed dinosaur. Besides, once done playing with the dinosaur, your kid can use the building blocks to build a spider or a troll. The 3-in-1 design will keep your kids entertained and engaged with the same toy for some time. The set comes with 223 pieces of building blocks and are great for both girls and boys. This LEGO Creator set is a toy that will give your kid endless hours of fun playtime. It will be fun watching your kids break the current dinosaur down and start building them again.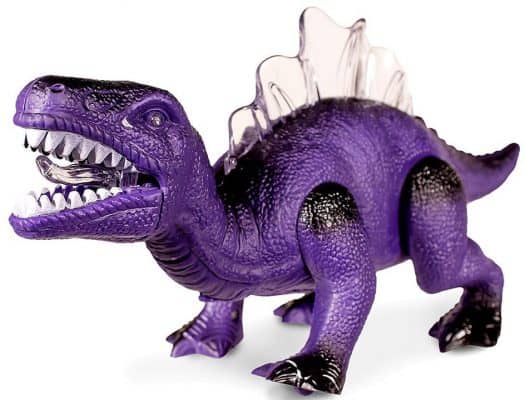 The Light Up and Walking Realistic Dinosaur comes with lights, sounds, and action-packed playing. This means that it can walk on its own, roar like a fearless dinosaur, and light up the room, giving you the Jurassic experience. The clear spikes on the dinosaurs back are illuminated by the blue, red, and green LED lights. The eyes and tongue have flashing lights. All these features give your little one an interactive experience. It is a good toy for a child to practice their motor-skill development. In addition, picking up and moving the figures and toys around is one of the best movements to one a child's developmental skills.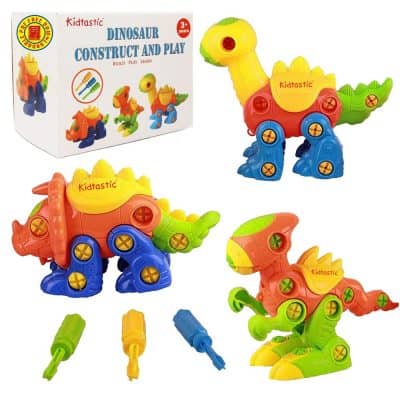 This early-learning toy is ideal for toddlers and offers hours of endless play options. It allows your kid to create three different dinosaurs with the parts, tools, guidance, and more than 106 pieces. If your child feels like exploring, they can take each of the dinosaurs apart and rebuild them. This is vital in the development of a child's skills and boosting their cognitive development. The dinosaurs are kid-sized and come with kid-sized screws an screwdrivers. Furthermore, there is a bonus downloadable coloring book for some extra playtime fun. You do not have to worry about the pieces becoming dirty from play since they are washable. Your kids will have a blast with this toy whether they are playing or building them.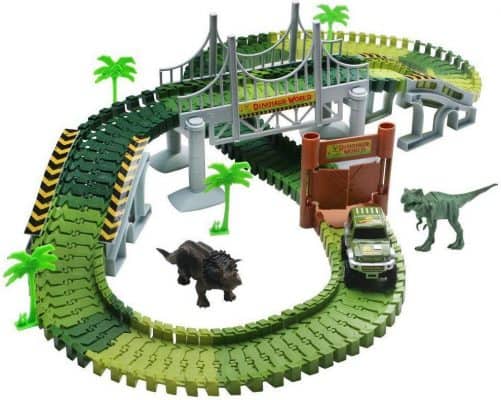 This premium race track will spark your kid's curiosity and stimulate their minds. The track easily twists, flexes, and snaps together to create many different combinations. This track offers endless possibilities such as being looped in a 360-degree circle. The design of this track makes it easy to assemble and disassemble. The track is going to be huge with kids when the cars run in and around the dinosaurs. The toys have been constructed from environmentally friendly materials and are not harmful to anyone playing with them. The set comes with 142 pieces of race car track, 2 large dinosaurs, a car, 4 trees, a door, and one hanging bridge. It is suitable for both big and little kids and the dinosaurs that come with this set are neat and have a lot of details.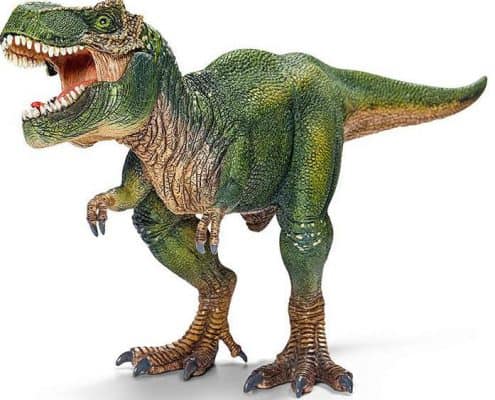 The Schleich Tyrannosaurus Rex is a realistic replica of the most fearsome and most famous dinosaur of all time. This can help your kid and toddler expand their full imaginations as they pretend to be roaming the jungle during the Jurassic period looking for prey. It helps in enhancing the imagination of a child making it ideal for encouraging creative thinking. It has been made of high-quality vinyl plastic and hand-painted with such realism that makes it a very interesting piece to display. The toy can last a lifetime due to the strong build and quality make.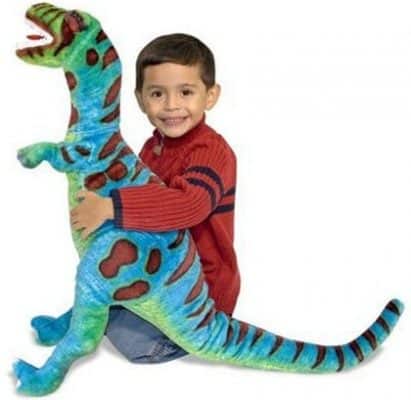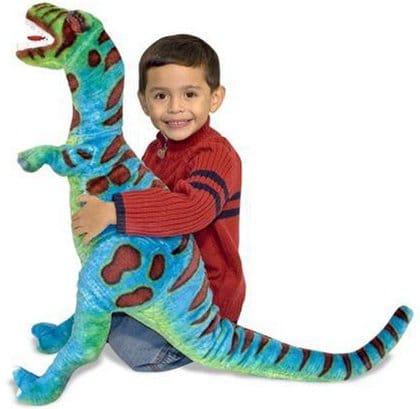 This adorable Melissa & Doug Giant T-Rex Dinosaur is a great addition to your child's dinosaur toys. It has been made from high-quality, colorful, and detailed fabric that displays all the cool features of the prehistoric dinosaur. The very colorful body of this dinosaur helps kids reinforce their color recognition besides being ideal for a child's imaginative and make-believe play. This toy is sturdy and durable but still maintains its softness making it not only fun to play with, but rewarding for hugs as well. The lifelike size of this T-Rex gives your child a personal connection and helps encourage their imagination.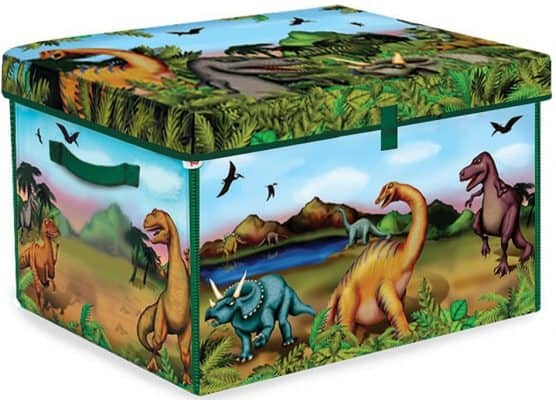 This collector box makes it easy for your kids to take their toys along and once they are settled, they can unzip the box into a colorful and fun play mat. The toy box features graphics displaying a prehistoric scene inspiring your kid's playtime. Furthermore, the box has been constructed to be sturdy, stackable, and strong. The box comes with two dinosaur figures but can hold approximately more than 160 dinosaurs along with other toys. With this box, it will be quite easy for kids to store and take their toys along.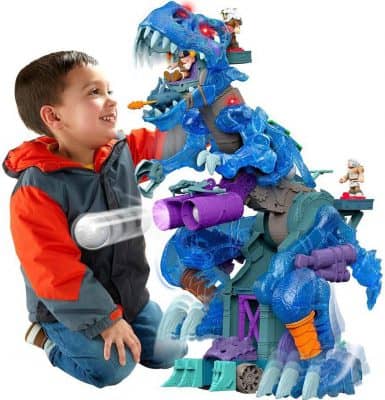 This big, boney, and interactive dinosaur toy features sound and movements with every turn. It is a great toy to create prehistoric adventures right from the playroom floor. Besides all the cool sounds, the Ultra T-Rex makes, it can stand, fire projectiles, chomp, and launch fun boulders. The multiple number of interactions makes it one of the favorites for any dinosaur or interactive toy lover. It is a great toy to promote gross and fine motor skill development for your kids and toddlers. The adventure that starts with this toy will be quite epic in any child's eyes. The T-Rex comes with three warrior-themed figures having helmets and accessories, four boulders to fire, and four projectiles.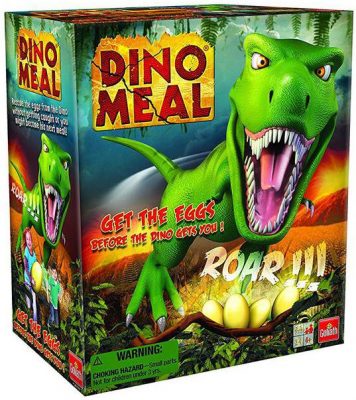 The Dino Meal is a board game for two to four players and is incredibly tense and dynamic for kids and adults alike. It requires precision, luck, and practice. It features colorful dinosaur eggs and a fierce T-Rex that lunges when you try to retrieve an egg from under its nose. The way the T-Rex lunges will make it hard to keep up a grudge about losing points. This game is very good for a child's social and cognitive development. In addition, it teaches patience and improves dexterity while helping improve your child's confidence.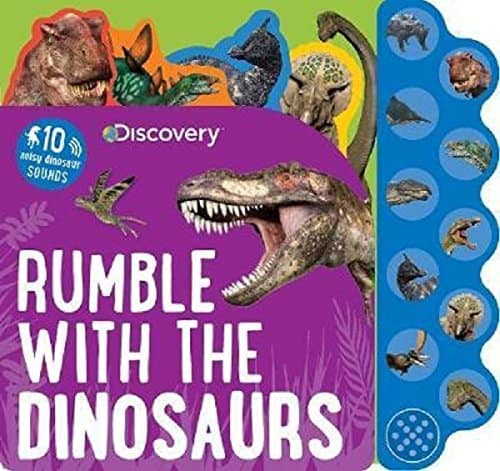 The Discovery Kids Dinosaurs Book is an interactive educational toy that is best suited for your kids and toddlers. It features ten sound buttons, each associated with a different type of dinosaur. The sound effects are fun, and the illustrations bright and engaging. Your kid will have an excellent tactile experience while turning the pages and pressing the buttons. Besides, the book will provide interesting and accurate facts about prehistoric life. Since it will not easily fall apart, these books will last you for a few years.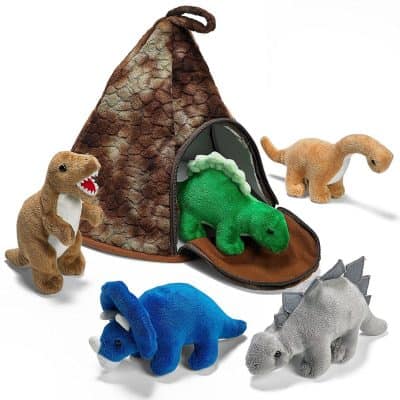 This toy comes with five friendly plush dinosaurs and a pyramid-shaped volcano bag to store them in. The pieces in this set are handcrafted with detailed attention to the dinosaurs, and durable as well. You can go anywhere with this toy making it great for your kids when traveling. It is great for kids since it encourages imaginative play and creative thinking.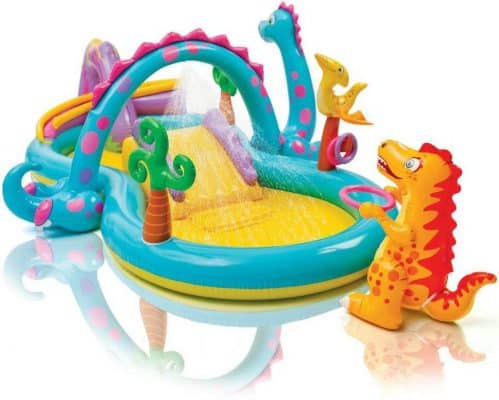 This inflatable dinosaur-themed kiddie pool is perfect for high-energy kids that love splashing around. The Homelux Inflatable Dinoland Play Center will get your kids out of the house since it is well suited for outdoor play. It features a water hose that will spray your kid from above. The inflated dinosaur figures make it more attractive to use it in the pool in addition to engaging your child's imagination. It has a slide with a gentle slope and a soft landing pad. It is a good toy for cooperative play and will provide an excellent and safe source of entertainment.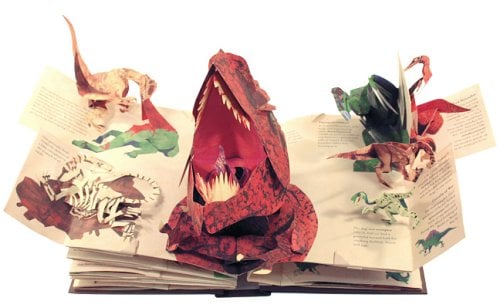 Children still adore traditional interactive books in this age of educational software. The illustrations in this book have been drawn with care and precision whereas the pop-ups are innovative and fascinating. It contains both well-known and obscure dinosaurs with the most impressive being the detailed t-rex skeleton pop-up. The humor in this book will keep your child entertained making it feel like less of a chore. This book has fold-out mini-books that contain more information in addition to engaging mysteries and more pop-ups.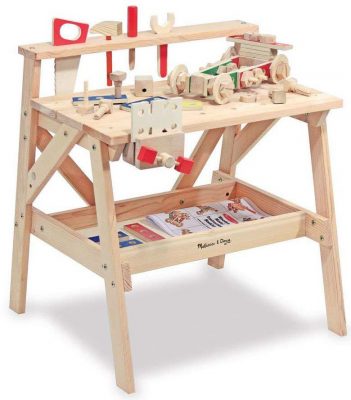 The Melissa & Doug Dinosaur Wooden Jigsaw Puzzle is ideal for kids that enjoy playing alone. This set comes with four different puzzles, each featuring a beautiful prehistoric scene with different species of dinosaurs. Every puzzle consists of 12 pieces, which makes it a great choice for kids. This jigsaw puzzle will help your child to develop their hand-eye coordination and precision in addition to helping in the improvement of their problem-solving skills. Once your child finished piecing every piece of the jigsaw puzzle, they will feel both accomplished and confident.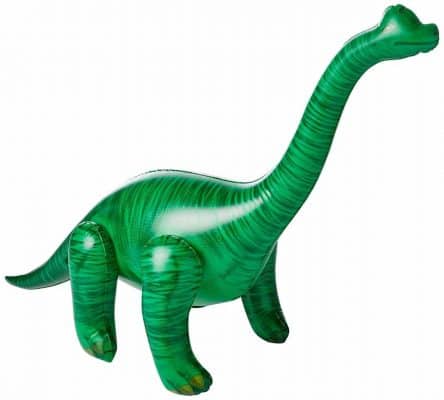 This toy is a great fan of dinosaur lovers. They can use it to decorate their rooms, collect, and play. The toy is made of durable plastic and will be with your child for most of their childhood. In addition, it will deliver hours of fun and make a cool display for any child's room. The package includes a repair kit in case the inflatable Brachiosaurus Dinosaur gets a puncture. It is also quite easy to repair the dinosaur.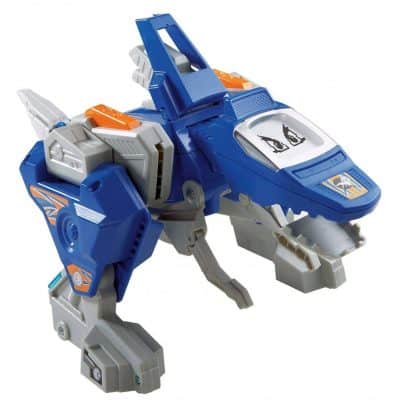 The 2-in-1 toy easily transforms from a fighter jet to a Spinosaurus and back again in just a few simple steps. Your child can launch food discs or save the included baby Dino with the rescue lift, cage, and crane. Your kid or toddler can squeeze the Spinosaurus' tail to trigger roaring action and chomping. It features a dynamic LCD screen that comes to life at the push of a button and features cool pilot and dino eyes animations. What's more, the realistic sound effects and phrases teach your child interesting dino facts.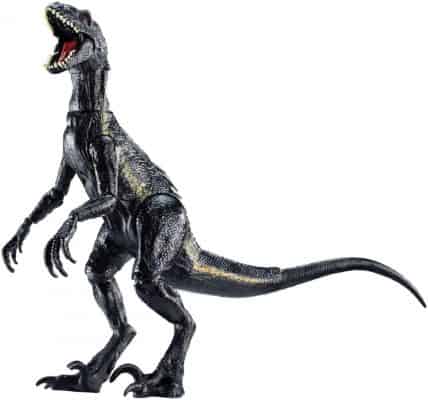 The Indoraptor figure has been intricately built from non-toxic material while its sturdy design ensures that it will be with your kid for the long run. It makes an awesome decorative piece in your kid's room. The toy requires 3 AA batteries to power the movement of the mouth and legs. This is the real deal that has been featured directly from the Jurassic World movie franchise.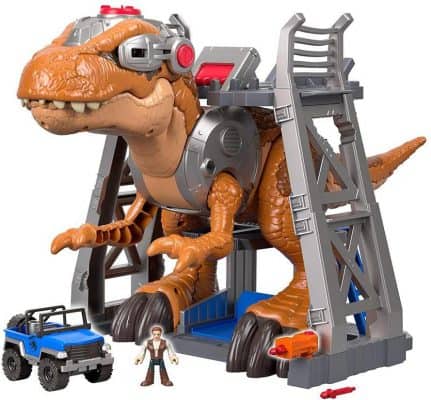 This toy has been well designed to give your kid complete control. The control comes via a handle on the dinosaur's back. The handle allows your kid to open the dinosaur's mouth and chomp on objects in addition to pushing the dinosaur forward and much more. The toy has been made using non-toxic hard plastic. The complete toy set comes with a single T-Rex, a holding base, projectile launcher, one vehicle, and Owen figurine. However, you need 3 AA batteries to use the toy.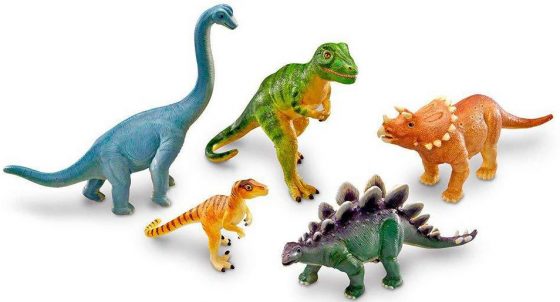 The Learning Resources Jumbo Dinosaurs contains 5 pieces of realistic- looking Dinosaurs. They include 2 carnivores; T-Rex and Raptor and 3 herbivores; Brachiosaurus, Stegosaurus, and Triceratops. The Dinosaurs are just about the size of an adult's palm, the largest being the Brachiosaurus. Their coloring is very nicely detailed with good shadings and can give kids hours and hours of imaginative play. It includes an activity guide that will enable your kids to actively participate and interact during play. The plastic used to make these toys is durable enough to be used indoors and outdoors too.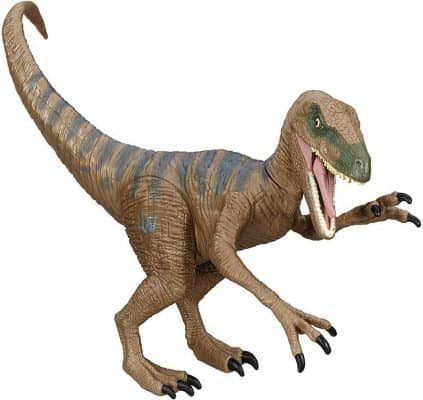 This awesome figure is an exact replica of Jurassic World's Velociraptor. It features realistic jaws, claws, and skin texture. The jaws can move so your child can use it to chomp. You can team it up with other dinosaurs in your kid's collection for them to hunt together.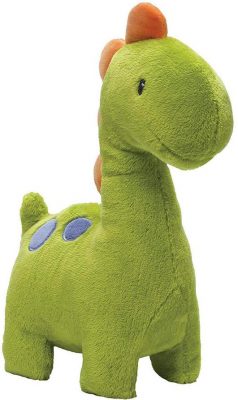 This adorable Ugg Dinosaur is machine washable and suitable for toddlers. Your child can snuggle with this toy. It features vivid and very vibrant colors. The eyes are embroidered so that it does not contain parts that may end up being choking hazards to children.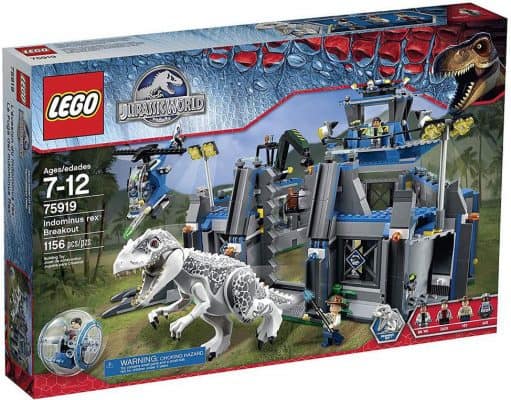 This building kit comes with the impound, a helicopter, pallet, the ferocious Indominus Rex, a gyro sphere, four mini figures, an ACU trooper, and Dr. Wu and a Vet with assorted weapons and accessories. The Indominus rex has movable arms, legs, and jaws to provide for interactive play.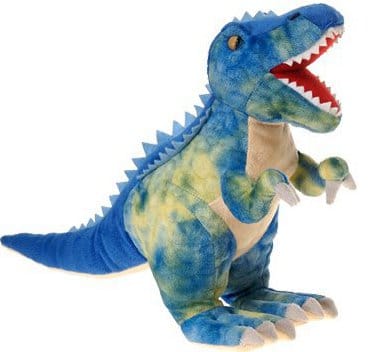 This plush stuffed animal features a very colorful design that is great with kids. In addition to using it as a plaything, your child can use it as a pillow or snuggle with it. It is quite light and tiny to carry whenever you are traveling.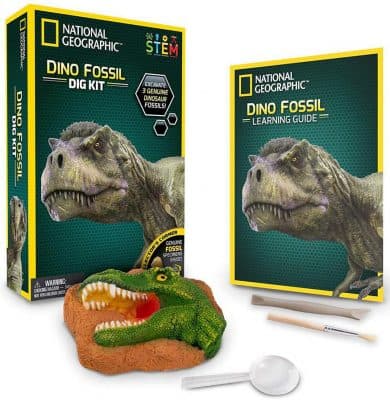 This National Geographic Dinosaur Dig Kit comes with archaeological tools that help your kid dig through the brick and find three ancient fossils. Your child can also use the magnifying glass to study the fossils. The fossils are real and have a dinosaur tooth, a shard of bone, and even fossilized dinosaur droppings. It will take time to dig through the bricks, therefore requires a sense of determination. However, the excavation process is exciting too.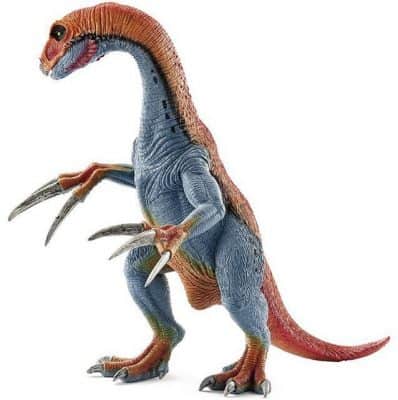 This toy features a striking gigantic claw that your child can use to defend it from other dinosaurs while playing pretend. A fun fact you and your kid can take along is the fact that the forelimbs of the actual Therizinosaurus were about a meter long. Therefore, the toy's forearms may look disproportionately large, but that is an actual reproduction of the relative size. The toy has been hand-painted with non-poisonous colors and would make a fine decorative piece and a wonderful addition to other dinosaur pieces.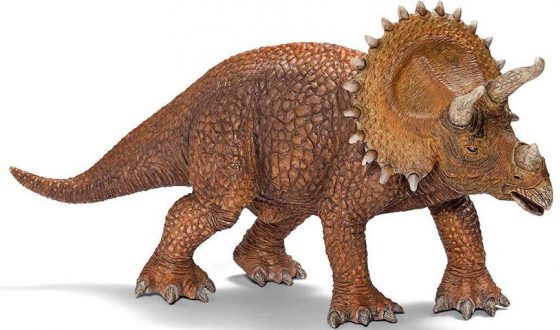 The Schleich Triceratops figurine is historically accurate and manages to capture the true beauty of the magnificent prehistoric creature. It features highly textured details and vibrant hand painted colors. In addition, it has been designed with the help of parents, teachers, and children.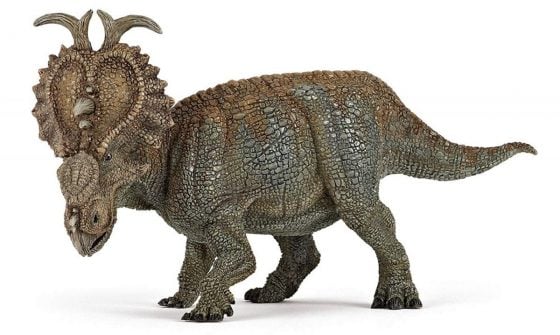 Papo the Dinosaur figure will surely spark not only the imagination of your kids but also the interests of Dinosaur figurine collectors and teachers alike. It measures approximately 6 inches long but manages to capture the elegant beauty of the Pachyrhinosaurus with its detailed textures and vibrant hand-paint. In addition, it has a detailed posture that gives it an animated feel making it look almost lifelike.