Top 30 Best Wooden Puzzles for Kids 2021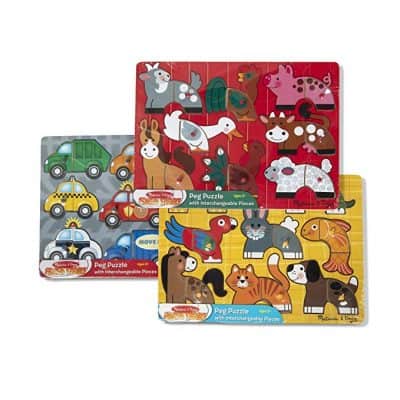 The Deluxe Mix 'n Match Peg Puzzle Bundle is a 3-puzzle board set that introduces your toddler to the wonderful world of animals and vehicles. The wooden peg puzzles are a time-honored tradition that never grows old. This type of puzzle is ideal for kids at an early age. While using peg puzzles, kids can learn to identify certain shapes. The 3 puzzles are also interchangeable to stimulate a child's imagination. Each puzzle is comprised of at least 8 puzzle pieces with the vehicle board containing 9. The bundle comes with a durable and safe wooden tray. This is an excellent toy for developing simple problem-solving skills, enhancing fine motor skills, and reinforcing pattern and shape recognition.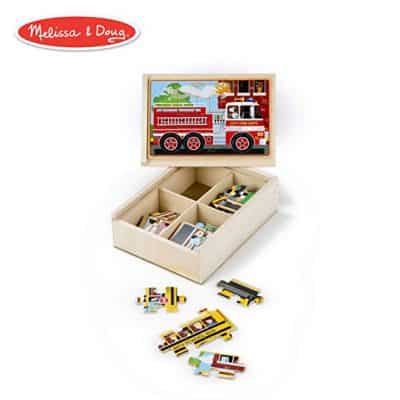 At an early age, kids seem to draw to vehicles such as cars and trucks. The Melissa & Doug Vehicles Jigsaw Puzzles is a great option because it's sturdy and durable. It'll hold up extremely well to kids who are still learning not to put things in their mouths, band them on the table. It's toddler-proof. When all the pieces are fit together these puzzles form a firetruck, a school bus, a train, and a race car. Each puzzle fits neatly into a strong wooden box which makes travel a breeze if your child wants to take his to school, on vacation, or to a friend's house. The puzzle designs come in very interesting scenes that you can frame them and hang on your kid's wall in his bedroom. It's also great for developing and enhancing his or her fine motor skills, hand-eye coordination, problem-solving skills, and spatial intelligence.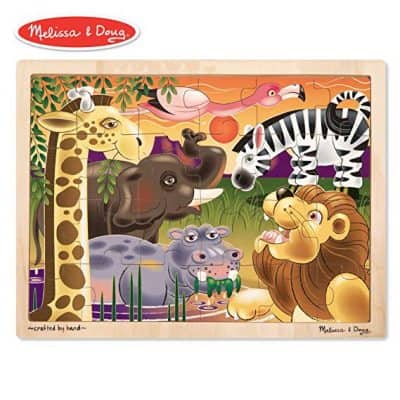 The Melissa & Doug African Plains Wooden Jigsaw Puzzle is handcrafted making it perfect for kids who love animals. The safari is mysterious and interesting and this puzzle does it justice with a beautiful and artfully created safari scene that'll motivate your kids. The scene depicts classic safari animals such as a lion, flamingo, elephant, zebra, giraffe, and hippo. They're adorable yet still realistic and make for the perfect educational tool to teach your kids about wildlife. For a few more dollars you can even have your child's name engraved on the top for a perfect personal gift. With 24 pieces it's perfect for anyone in elementary school and functions as a great first jigsaw puzzle. They'll have the chance to figure it out and use critical thinking to do so, but it's not overwhelming to the point where they'd have trouble with it.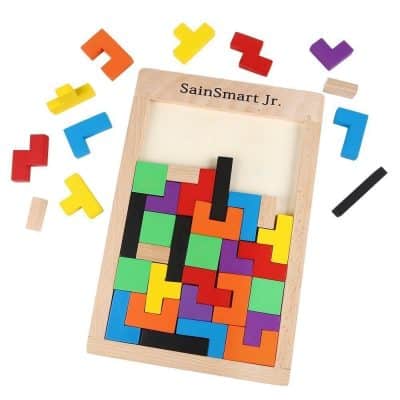 The SainSmart Jr. is a Tetris-inspired game designed to get kids away from gaming screens and focused on something hands-on. By trying to fit all the pieces back together, they'll be learning significant problem-solving skills and also exercising muscle memory. This is a real-life Tetris that will provide a challenge for the whole family whether this is after school, rainy day, or week game night fun. The box and pieces are made out of natural beech and maple wood as well as non-toxic paints, making it safe for any and all ages. Besides, this game will help kids in developing both their coordination as well as problem-solving skills.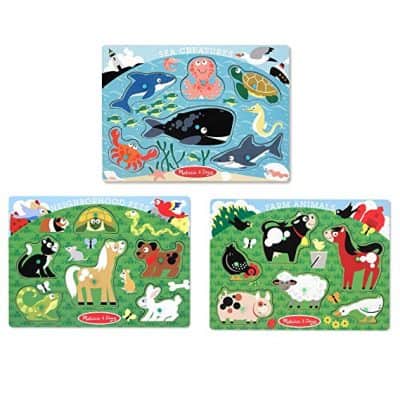 The Melissa & Doug Farm, Pet, and Ocean Puzzles Set is a great option for younger ages such as two. It's also a wonderful learning guide for ages three and four as well. You can teach your kids about farm life with horses, cows, and chicken, or engage them in underwater learning with whales, dolphins, and sharks. These puzzles will have a long-term place on your child's shelves as they get older and the puzzles become less of a sensory game, and more of a learning game when they begin to identify specific animals. Each of the puzzles making this set is colorful and bright, filled with vibrant scenes and expressive animals. Moreover, this set offers motor skill improvement as well as sensory memorization. Your child will improve their coordination but also have the chance to learn about the animal pieces they're taking out and fitting back in.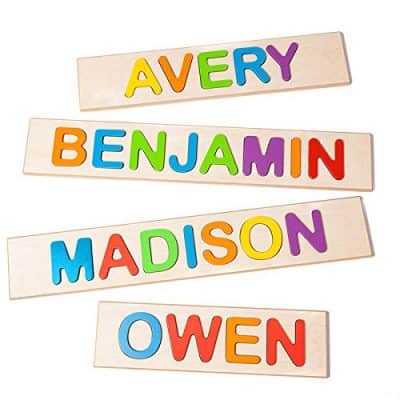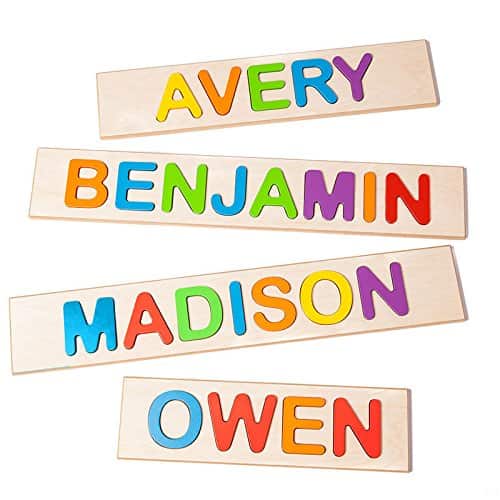 The Fat Brains Toys Personalized Name Puzzle makes a great gift for holidays and birthdays. It'll become a toy that they'll hold onto long after they've already learned to spell their name. Each letter in your child's name has been uniquely designed with a different bright color for each, along with a puzzle board that will fit all the letters perfectly. Furthermore, the puzzles are a great way to learn how to spell and even more fun when what your child is learning, is their own name. Phonetics and letter placement are equally important when your child is learning how to spell and this puzzle can help with both as well as motor development.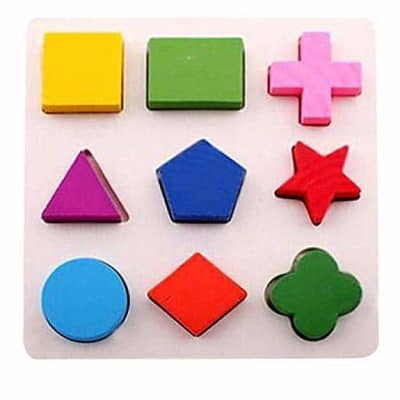 The Gybber&Mumu Wooden Preschool Shape Puzzle is a learning tool constructed from wood and offers multiple play-based learning activities. It's an overall great learning tool that'll provide toddlers and kids with the ability to learn how to stack and match, along with encouraging them to identify shapes and colors. The kid-friendly paints on the wooden pieces are water-based and are extremely durable. Each puzzle piece and the board have been created and constructed from high-quality materials and are safe for everyone in the family. Included with each puzzle are nine different coloreds shapes that each has a piece on the wooden board. This colorful shape puzzle promotes recognition of shapes while also enhancing dexterity and motor skills. Parents are able to work with children using this puzzle to help learn their colors and shapes easily.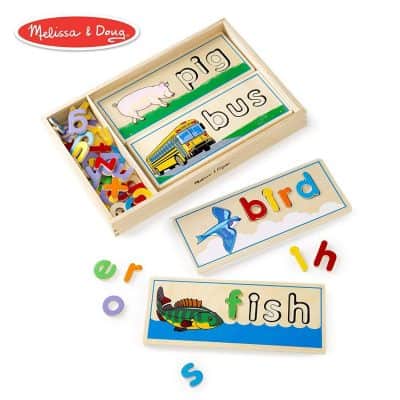 Without the use of a hands-on product or a game to make things fun and exciting, learning words can be difficult. This learning toy offers both entertainment and educational value in the form of eight different learning games. There are eight double-sided boards and over 50 puzzle piece letters that'll give kids the freedom to piece together their own words according to the letter outlines and accompanying picture. The artistic details in these puzzles are classic of Melissa & Doug and make these educational puzzles fun and entertaining. To help kids figure out each puzzle word, there's a matching animal that's depicted in detail so they know exactly what they're meant to figure out. Besides, each letter is color coordinated so they'll know which letters go to which words.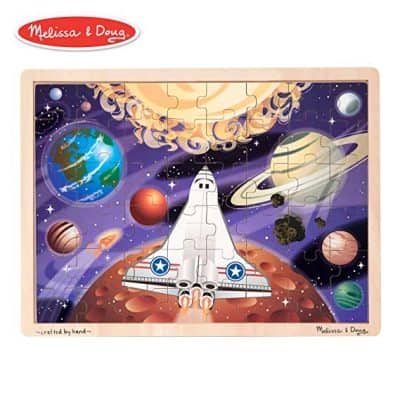 Melissa & Doug are known for their handcrafted toys and the artwork that goes on them. This Space Voyage Puzzle is the perfect guide to open up a world of science and anatomy to your kids. You can help them learn about the sun, moon, planets, and galaxies with each part of the puzzle they complete. With 24 pieces, this jigsaw puzzle will present somewhat of a challenge but will engage kids' critical thinking skills. Besides, it'll help stimulate them with the motivation to see what picture they're creating. The detailed galaxy background is the perfect setting for the 9 planets and stars that are in focus in the completed pictures and will inspire kids to learn more about the world around and above them. Moreover, this jigsaw puzzle will help kids develop physical skills like hand-eye coordination.
The BeginAgain Animal Parade A to Z is a great way to improve the problem-solving skills within children. This learning puzzle features letters and animals, but the real skill-building comes when they start to put it together. It can be stacked together in many ways, but getting them together is challenging and very rewarding at the same time. It features animals from A to Z in an educations puzzle game. All of the pieces of this puzzle feature a lowercase letter on one side and an uppercase letter on the other side then a corresponding animal is the shape. The wood used in creating the pieces is from sustainably harvested rubber trees. The animals and letters are very cute and boosts their imagination. Putting the puzzle together is fund and with no board it makes them work to place the pieces together.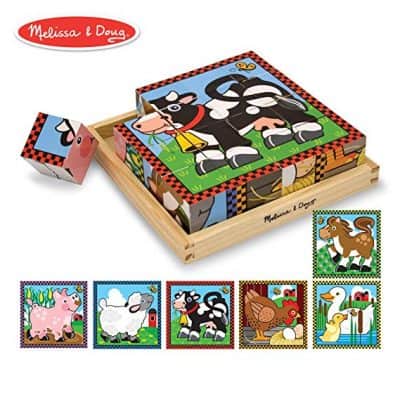 The Melissa & Doug Farm Wooden Cube Puzzle comes with the wooden puzzle for toddlers. There are 16 pieces and 6 puzzles included. It's easy to store these pieces in the tray after the toddler is done playing. This affordable wooden cube puzzle has pieces made out of sturdy wooden pieces. Your child will be tasked to match the picture clues to complete 6 farm animals. This introduces animal recognition in a very fun way. This puzzle will also help your toddler with developing visual and cognitive skills at a young age. It comes equipped with elegantly crafted 16 wooden cubes which are enough for a 3-year old toddler to play with. These cubes are 1.75-inches in size, which is a perfect size to grab with ease.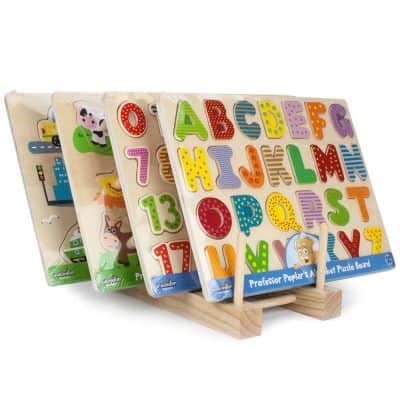 Professor Poplar's Puzzle Bundle has a weight that's ideal for toddlers around 3-years of age. With this educational tool, your kid can gain tremendous knowledge in letter recognition, numbers recognition up to 20 and boost mental development early. They'll also become more familiar with barnyard helpers and people movers. Its design embraces natural wood with a smooth finish whereas all the shapes have been designed with entertaining colors and patterns.
The learning outcomes of this puzzle include motor skills improvement, creativity and shape orientation. The bundle contains 4 puzzles each with dimensions 11.75-inches long and 9-inches wide. All the puzzles can be stored upright after the toddler has played. If you want to prepare your kids aged 3-years and up for the first grade, these puzzles can be a good consideration.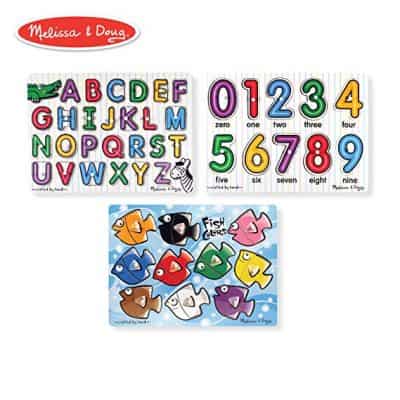 Melissa & Doug are a renowned manufacturer of kids' play toys. This Classic Wooden Peg Puzzle offers toddlers an opportunity to learn about numbers, colors, and letters. By engaging in this puzzle, your toddler will gain hand-eye coordination skills, visual skills, and fine motor skills. These are the skills that Grade 1 teachers struggle to equip kids with. To learn about colors, your kid will be challenged to match the correct colored fish together.
For help with learning their alphabet, a colorful picture is placed under each piece showing an image beginning with the same letter. Last, counting is made easy with the 0-9 puzzle. The wooden construction makes it a durable educational tool every parent should consider. Not only is the wooden construction colorful but also intuitive in skills acquisition.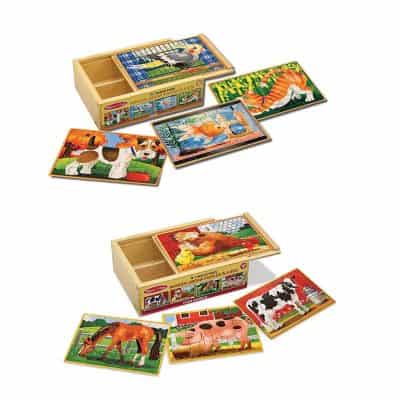 The Melissa & Doug 4-in-1 Wooden Jigsaw Puzzle Set is a pet puzzle with lots of fun for kids. As in the description, it's a 4-in-1 puzzle with a four-slot carrying case to help keep the pieces organized. All in all, there are 12 pieces in this wooden puzzle. There's no confusion about placing the pieces because they're color-coded. This puzzle set can significantly enhance the motor skills and hand-eye coordination skills of your kids. It'll also help them recognize everyday pets such as dogs, cats, and bird with vibrant colors.
The puzzle is recommended for kids over the age of 3 years. This is the ideal age since the place placement and the learning of colors requires a certain degree of judgment. Your kid will have lots of fun playing with these color-coded pieces. Once they appear to be bored or tired of one set of puzzles, you can present them with the other. The carrying case that comes with this puzzle makes it the ideal puzzle for traveling.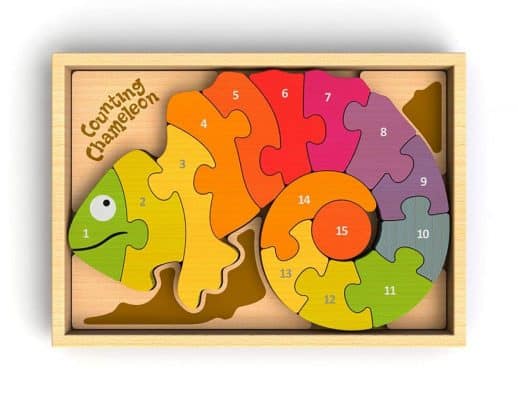 The BeginAgain Chameleon Wooden Number Puzzle is a 19-piece puzzle designed to make your toddlers unique in their early ages. If your child is bilingual in Spanish and English, this educational tool will be very helpful. Toddlers can count up to 15 on one side of the puzzle while the other side helps them know the numbers in Spanish. The puzzle is fun-sized, coming with a tray that measures 7-inches wide and 10-inches long.
It becomes easy to store the pieces without them getting lost. A variety of colors are used to help your child recognize the colors and patterns. Furthermore, it hones their skills in problem-solving, identifying the number of sequences and mastering two languages at the same time. The puzzle has been made of long-lasting rubberwood and features a design that's aesthetically pleasing and smooth. It also weighs 1.4-pounds, which is lightweight for kids as young as 2-years to hold it.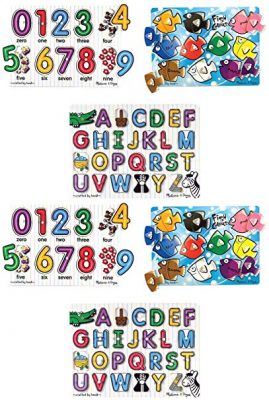 The Melissa & Doug Deluxe Mix 'n Match Peg Puzzle is composed of three boards that depict photos of animals and vehicles. Your child will need to match the shape and design of each cut-out with a pegged piece. The design ensures that your kids learn of different animals and vehicles while training their different developmental skills. Kids can also mix and match the pieces to encourage some imagination. These peg puzzles are great for smaller kids who may still have a hard time putting a jigsaw puzzle together. With these, they only have to match the shape of the cut out with a puzzle piece, helping refine their problem-solving skills and spatial intelligence. The pegs help with handling, promoting fine motor skills and dexterity.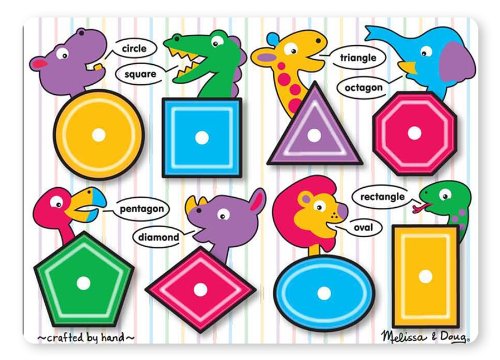 The Melissa & Doug Shapes Peg Puzzle is a great and simple toy that you can use to teach kids basic shapes and colors. This is mainly because they can play with these toys over and over again. This Peg Puzzle is a board with cutouts that match the different shapes of the pegged pieces. Your child will find shape-matching thrilling and challenging while learning different colors and even the spelling of the shapes' names. Working with the pegged pieces is also great for refining their motor skills.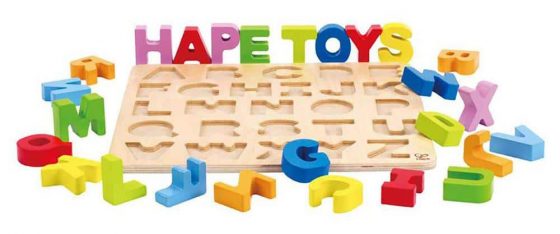 The Hape Alphabet Wooden Stand Up Puzzle comes with 26 different wooden pieces shaped after each letter of the alphabet in different colors. It features a cutout board wherein your little one can match the letters with the blank slots. It'll help your child learn about letters, their shapes, and colors. Small kids will also have a blast trying to figure out which letter goes to which slot. This is great for their problem-solving and motor skills as well as spatial intelligence. Moreover, this puzzle has been nicely sized and won't have a hard time standing up. They can also double up as the cutest props for your little one's social media entries.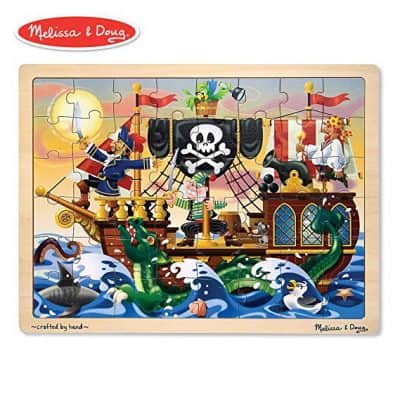 The Melissa & Doug Deluxe Wooden 48-Piece Jigsaw Puzzle is a great choice for those looking for a more challenging jigsaw puzzle. Composed of 48 puzzle pieces, it will get a school-aged child engaged and entertained. If they love pirates, this will even be a more exciting toy for them to play with. Besides, jigsaw puzzles are the most fun when they pose a challenge. This is why by the time your child will be turning four, they'll already be bored with peg puzzles. The Deluxe is, therefore, a great introduction to more serious puzzles since it has a more complicated and detailed design.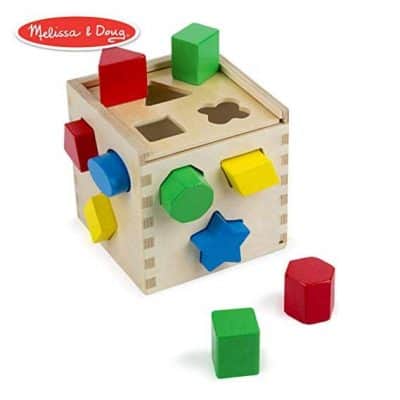 The Melissa & Doug Shape Sorting Cube is among one of the most common and traditional toys available. Almost every child has used a shape sorting cube and many have learned shapes with its help. This cube has been made of wood making it an even more nostalgic pick for most parents. Besides adding some sensory play to the toy, these three-dimensional shape pieces offer a shape-matching challenge. Each shape comes in a different color. This helps in the development of a child's ability to recognize different colors.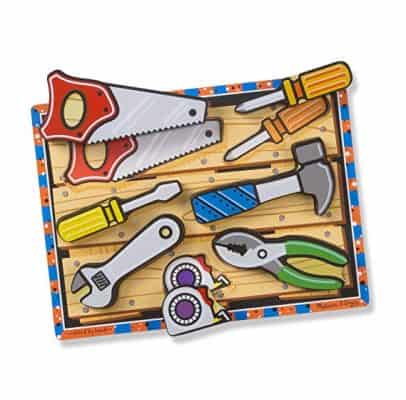 The Melissa & Doug Tools Wooden Chunky Puzzle offer cute and safe representations of everyday work tools. Any parent who's quite handy will love this puzzle. It comes with a cutout board with identical drawings of what's on the puzzle pieces. Kids can easily match them and complete the puzzle. By creating kiddie versions of construction tools, you can introduce your child to how your house was built and the various practical uses the puzzle's pieces. They can also utilize the different pieces for their pretend play, making the very basic concept of wooden toys more versatile.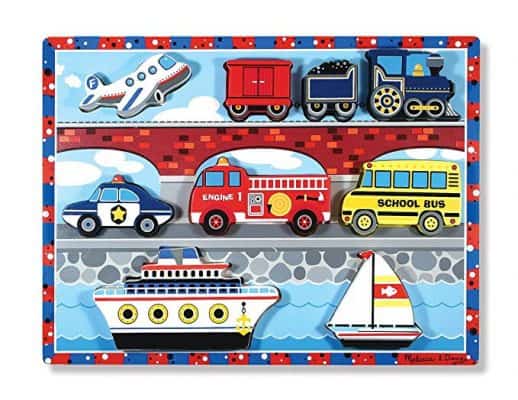 The Melissa & Doug Vehicles Chunky Wooden Puzzle will enable kids to differentiate land vehicles from cars to buses and trucks. This set features different water and air vehicles as well. Even if your child hasn't seen one in person just yet, you'll be amazed at how they'll recognize it the moment that they do. What makes this puzzle even better is that each piece is chunky so they can also be used for pretend play. With this product, you not only get a nice puzzle, but you can also help diversify your child's toy figures collection.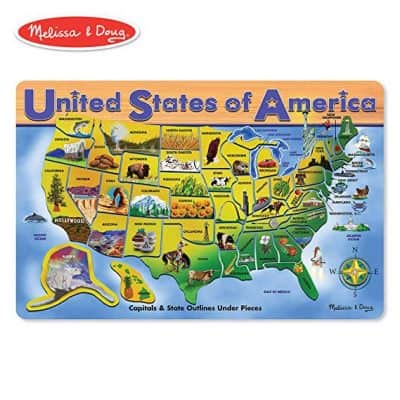 Geography can be pretty tricky to learn, so incorporating them into a puzzle game can be a nice way for your child to get to know the different states of the US. The Melissa & Doug Deluxe Wooden USA Map Puzzle is a nice choice as each puzzle piece represents the different states (with the exception of small New England ones). It may not exactly be a jigsaw puzzle, but it'll still be very fun to piece together. Besides, this puzzle piece notes the state's nicknames and other important information, so your child can get to know more about their country.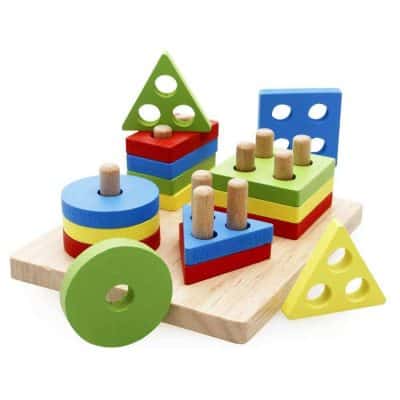 The Rolimate Wooden Educational Preschool Geometric Sorter is a great wooden puzzle for kids to learn about shapes and colors uniquely. This shape sorter toy is unlike others available in the market since it doesn't employ a cutout board to familiarize your child with different shapes. It uses pegs and holes on each piece instead to secure and differentiate each shape. Besides being used for puzzle play, kids can engage in building play as well.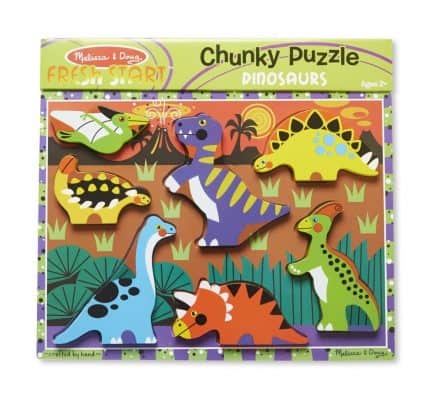 The Melissa & Doug Dinosaur Chunky Puzzle can be used to further hone your child's shape-matching abilities. It features seven different chunky dinosaur pieces with a matching cutout board. This versatile toy will let your child play with dinosaurs in more ways than one. So if your little one doesn't find the puzzle challenging, they can use the pieces for some pretend play. This extends the value and usability of the product. Besides, the easy-grasp dinosaur pieces are colorful and come with matching pictures underneath. The pieces can stand upright for pretend play.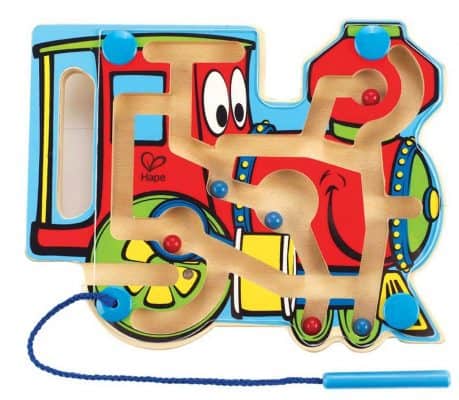 The Hape Choo Choo Tracks Kid's Magnetic Wooden Maze Puzzle offers a mess-free way to engage your child in play. It makes the use of magnets to move the balls around in a maze, engaging children to concentrate on a single task of controlling the direction of the balls to get them to different areas of the puzzle. There isn't an end goal so your child can explore the maze and call it a day. However, this toy will be great for their motor and problem-solving skills.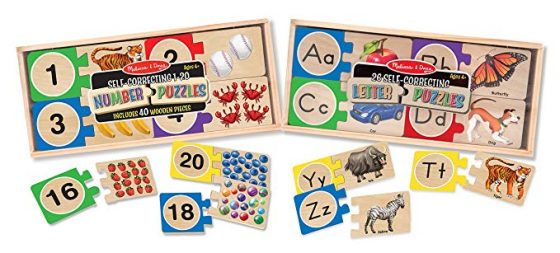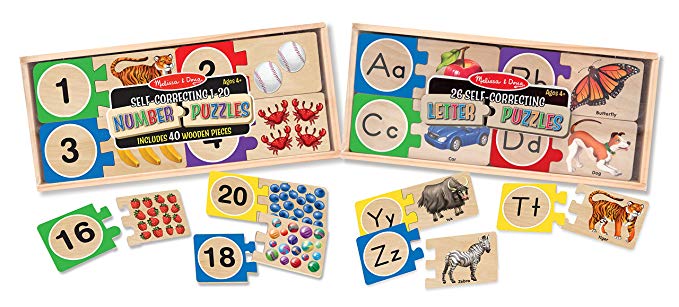 As confusing as the name might be, the Melissa & Doug Self-Correcting Letter will teach your kid the alphabet with the help of wooden jigsaw pieces. These pieces have letters on them that they'll need to attach to other jigsaw pieces with corresponding illustrations of objects and animals that start with the letter they match with. It's called self-correcting because of the unique cuts on each piece. Your child won't incorrectly match illustrations with non-corresponding letters.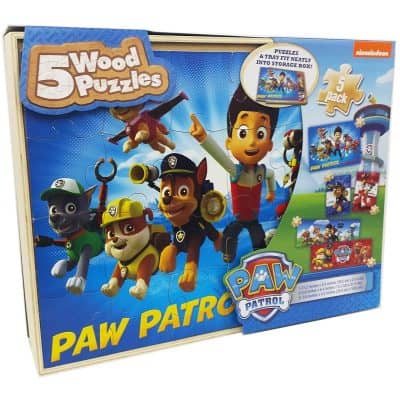 If you are a fan of Paw Patrol, then you will surely love this pack of 5 wood puzzles. It has puzzles that are easy to solve for kids. Besides, it comes with a wooden storage box that the puzzles can neatly fit in. This makes it easy to travel with. The first puzzles are two 12-piece puzzles, which are for beginners or those who want it easy. The second puzzle set contains two 16-piece puzzles so they are ideal for the intermediate players. Furthermore, there's a 24-piece puzzle that's a little more challenging than the others.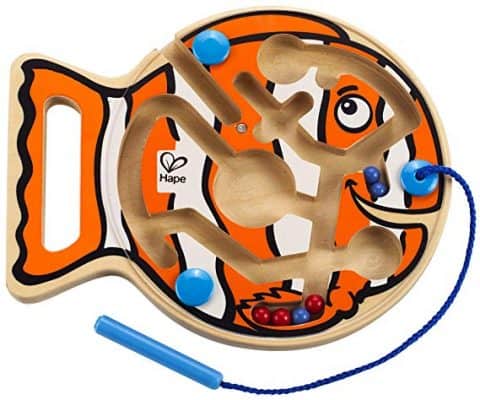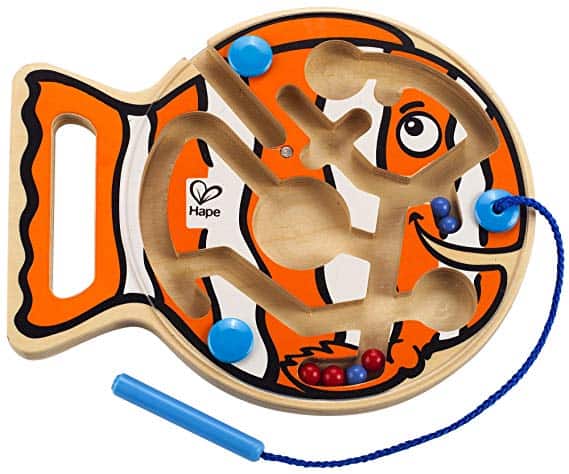 The Hape Go-Fish-Go is a wooden maze puzzle shaped like a fish with a bead maze. It's portable so you can easily travel with it. Besides, it features a carrying handle. This wooden puzzle has been made of wood so it's non-toxic for kids to enjoy. It's great for exercising your child's thinking and puzzle solving skills.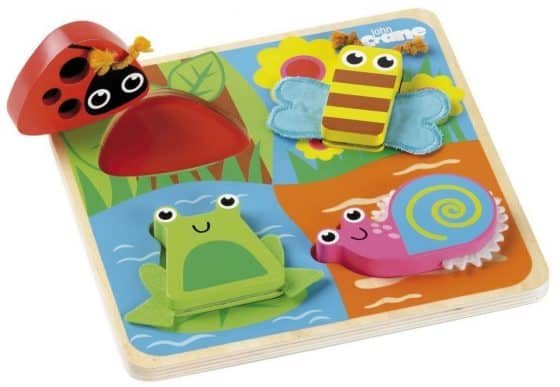 It'll be easy for kids to fall in love with this wooden 'Touch and Feel' puzzle. You get four easy-to-lift chunky pieces combined with bright colors to stimulate the senses. Being of excellent quality, it encourages early shape recognition as little ones explore the different textures hiding underneath each animal. It's recommended for kids 12-months and above.