Kids love taking a bath. The best bath toys for kids and toddlers can make this time even more memorable. But the problem is parents have to browse through thousands of bath toys. Some of them are attractive while others don't seem to offer too much in return. The following bath toys have been selected to suit various group ages. From simple floatables to complex toys which need to be put together, these toys are already a hit with many kids.
Top 30 Best Bath Toys For Kids & Toddlers 2020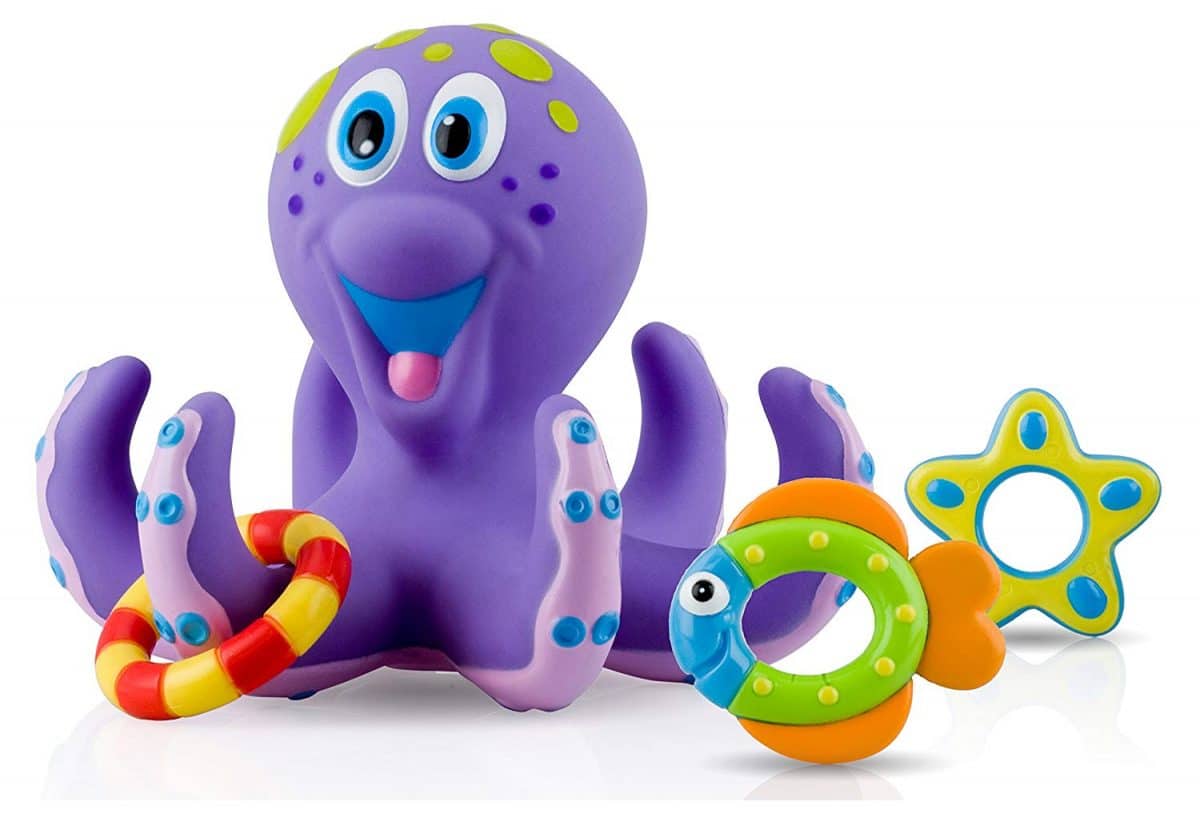 Why we like it: This is probably one of the simplest bath toys out there and kids go crazy for its quirky octopus tentacles.
As a simple floating toy, not many would expect this octopus to be one of the most popular toys in its class. However, it is one of the best and it represents one of the suitable solutions even for toddlers. It can be played with from the ages of 18 months and up.
But it's not just a simple octopus. Its tentacles are pointing upwards and kids have to throw plastic rings to fall on them. The further away it is in the tub from the kid, the more challenging and fun the octopus can be. Apart from being fun, it also develops movement patterns for toddlers.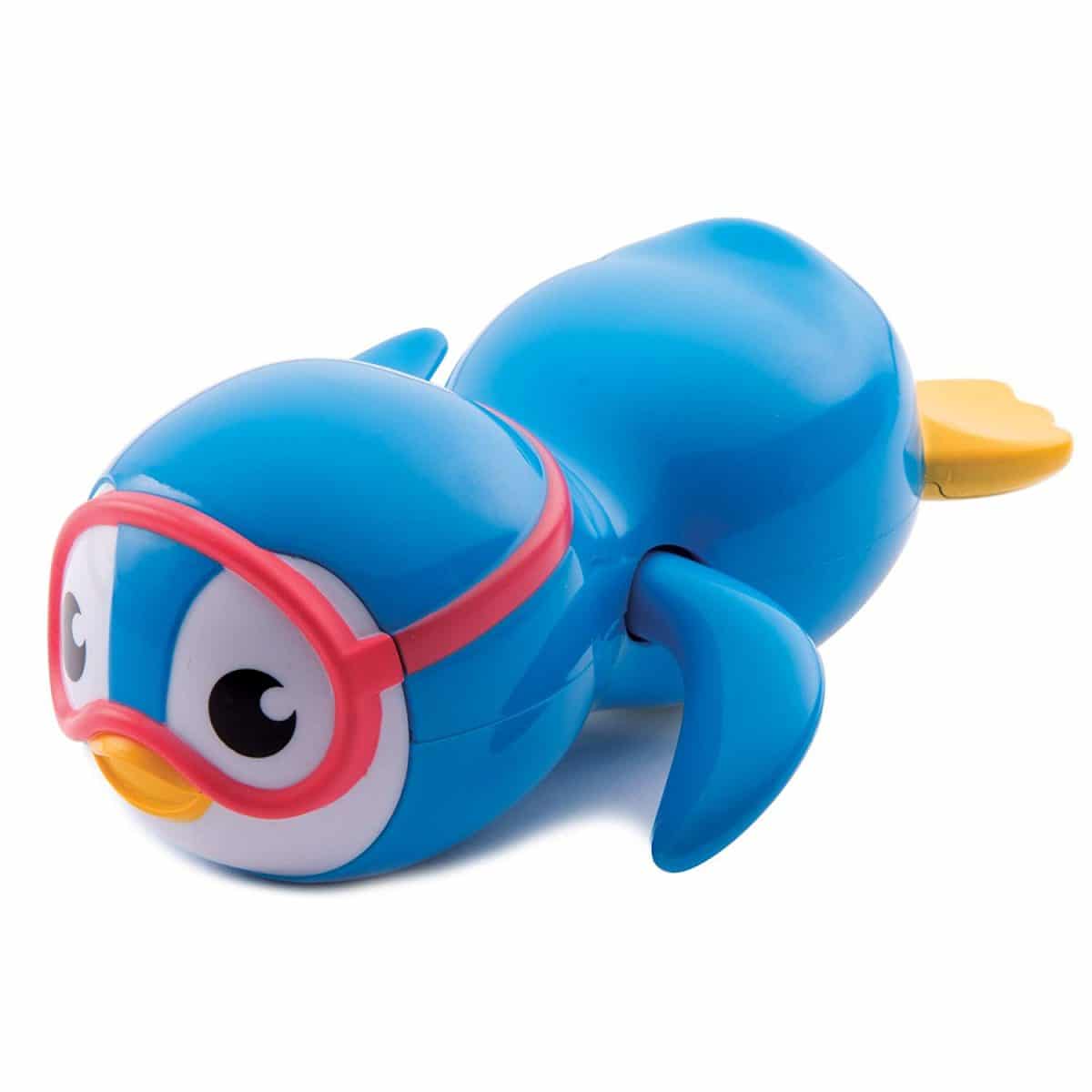 Why we like it: The friendly penguin swims on water and kids can watch it go round the bathtub.
Made with floating materials, the penguin is among the most popular bath toys of the moment. It has an included winding movement which allows it to swim for a few seconds on its own. The wind is made via its wings and kids can simply lay it in the water for it to swim away.
The toy is safe and large, without any small parts. Parents can do the winding but kids as young as 9 months can enjoy it in their tubs. The good part is that it can be toy kids can wash and allow to swim through the bubbles as well.
Why we like it: The pipes can be the first DIY bath toy for kids ages 1 year and up.
These pipes are one of the simples toys to be used in the bath. Kids can pour water through them but they can also put them together in a system which runs water as a chain. The simple pipes can be placed on the wall and kids can pour water directly through them.
As kids grow, the set can grow as well. Parents can purchase additional pipes and tubes to make the set larger. It can also be one of the toys which teach kids about basic principles such as how water flows through objects.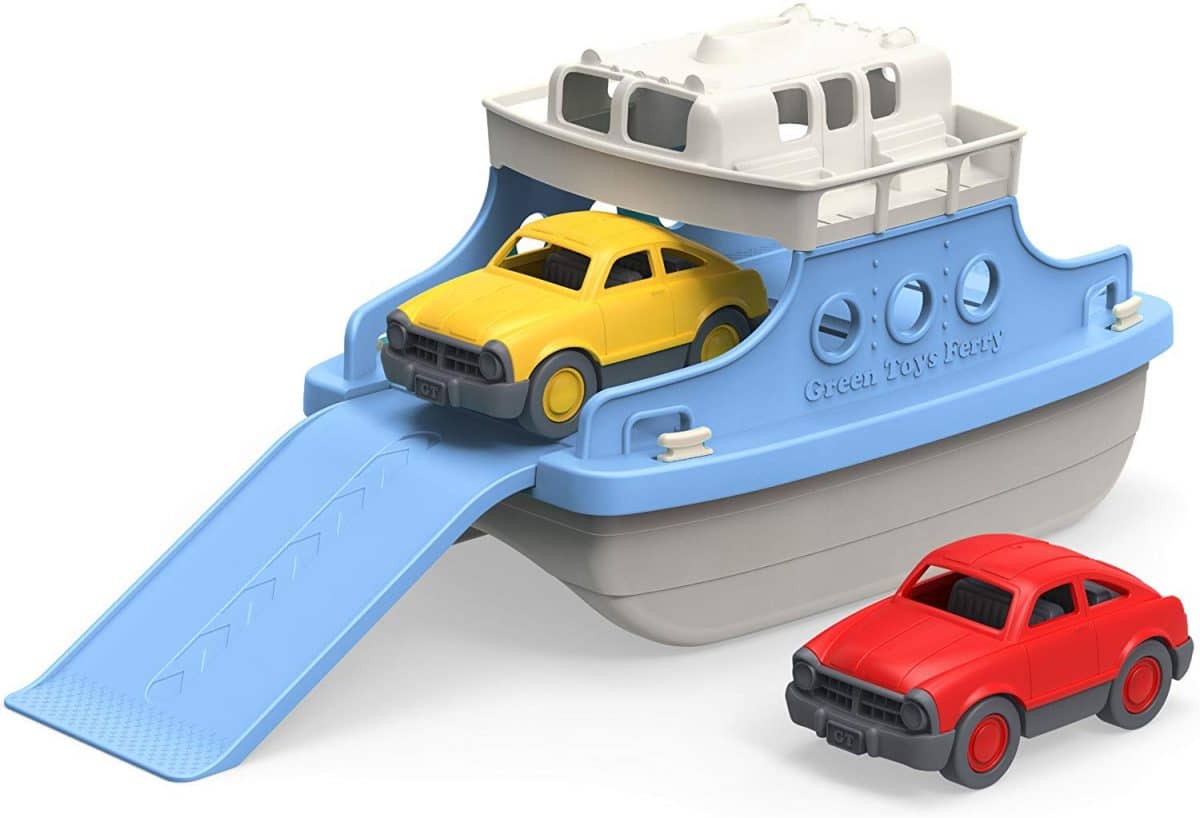 Why we like it: The simple bath is one of the best solutions which includes multiple toys in a single pack.
The boat is one of the fun toys to bring to the bath. But it also comes with 2 cars and a platform for them to roll off the boat. Made from PVC plastic, these toys float and they can be used for hours of fun whenever kids have to take a bath.
From an environmental perspective, the toys are made from recycled plastic. Suitable for families who are looking to reduce their impact on the environment, the bath toys are among the few options made from recycled materials.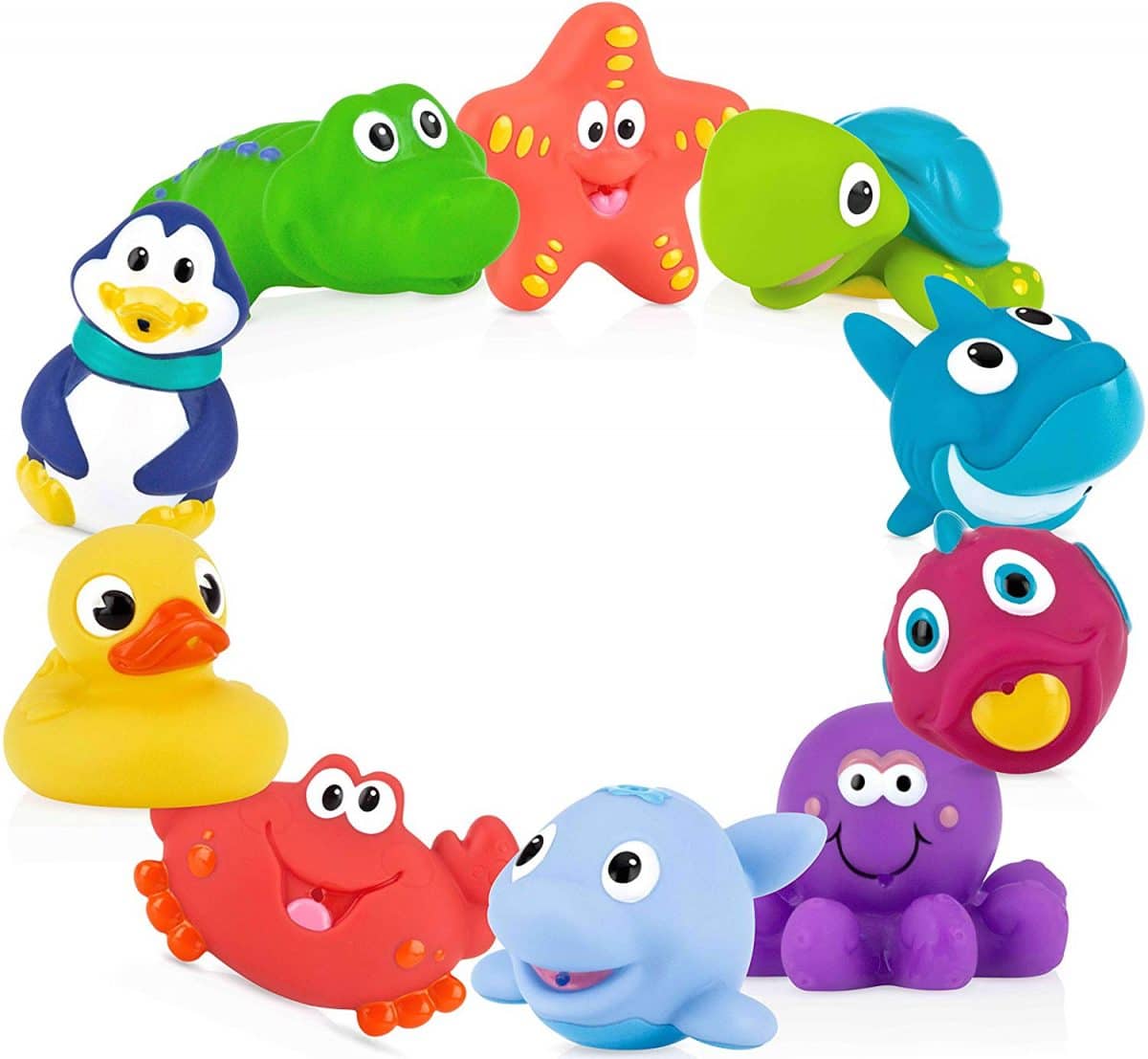 Why we like it: The simple floating toys can be the first of their kind to introduce kids into the world of fishes, turtles, and octopuses.
These toys are made from rubber and they are highly durable. Among them, kids can find a starfish, a turtle, or a dolphin. They are very durable and this is why parents can wash them with water and soap whenever they need to be cleaned.
There are two methods of purchasing these squirting toys. They can be purchased individually. But they can also be purchased as a bundle for kids who want to play with multiple toys at the same time. Since there 10 toys in total, they can be useful for siblings as well.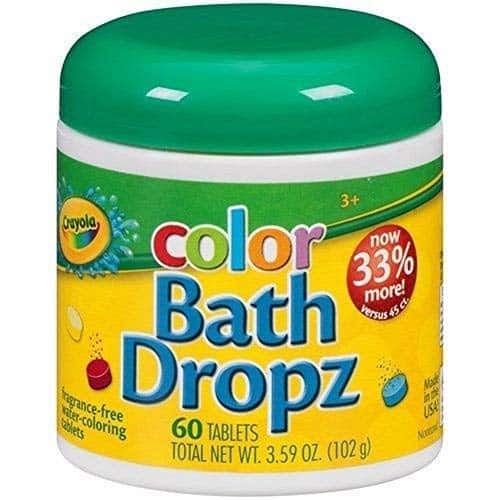 Why we like it: These color drops are a mini version of bath bombs for kids and they leave them speechless with their effect.
There are 60 tablets in this pack. They can be used for up to 60 baths which makes this a value pack. Instead of buying kids another toy, parents can simply add them to water to color it. Similarly to bath bombs, they completely dissolve in water. But unlike bath bombs, they do not create any fizz.
All of these drops are made in different colors. At the same time, they are not all made from natural ingredients as they contain colorants. This is why they are only recommended for kids who do not suffer from any skin conditions. At the same time, they can add a new perspective to bath time and play in the bathtub.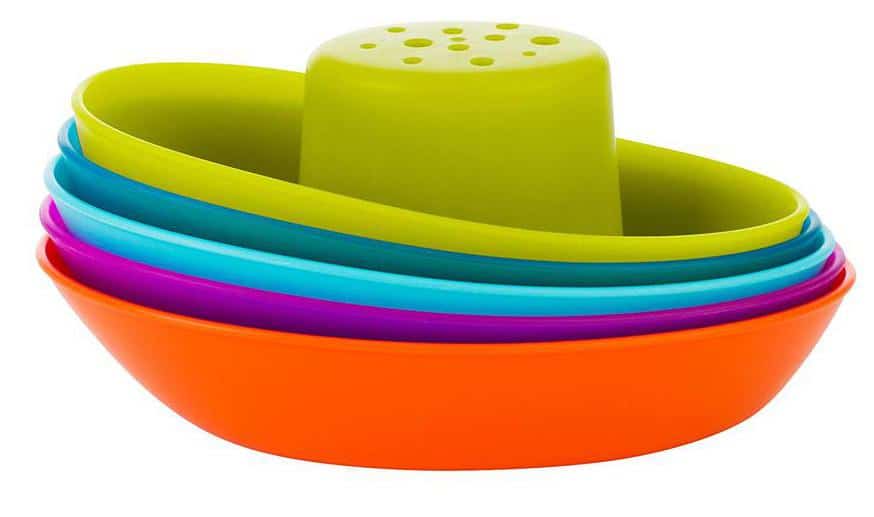 Why we like it: These simple toys can be the first go-to option for durable products which can be in contact with water for hours.
The simple floating boats are among the efficient toys kids of all ages understand how to play with. Each boat comes with holes to allow proper water drainage. At the same time, each boat is made with a different color. These boats also represent one of the most suitable products for parents who only want their kids to play with durable solutions which are not going to break after a few days.
The 5-stack floating boats can be used individually or together. Free from BPA, they are the most fun to use when toddlers play with brother, sisters or friends.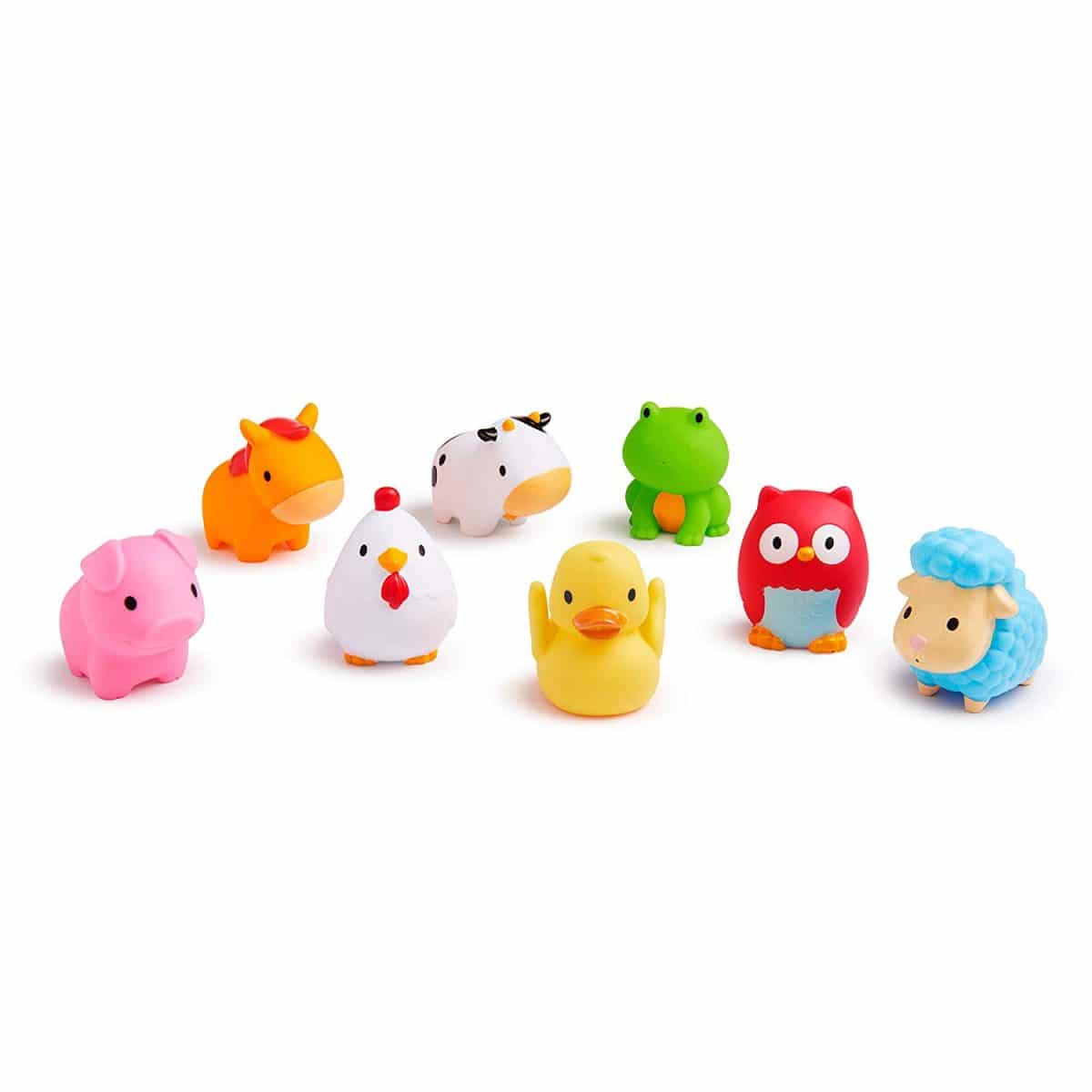 Why we like it: These small toys are hard to match when it comes to cute designs so that all kids have a large smile when they play with them.
There are 8 different squeezing toys in the set. They represent various animals such as sheep and ducks. But their design is made so they look like cartoons. This is why they can be a fun way of spending a bit more time in the bathtub, just enough for parents to have time to wash the kids properly.
But the small toys can also have an educative purpose. Parents can teach their kids the various names of these animals. At the same time, they can play together with their kids imitating the sounds such animals would make in the real world.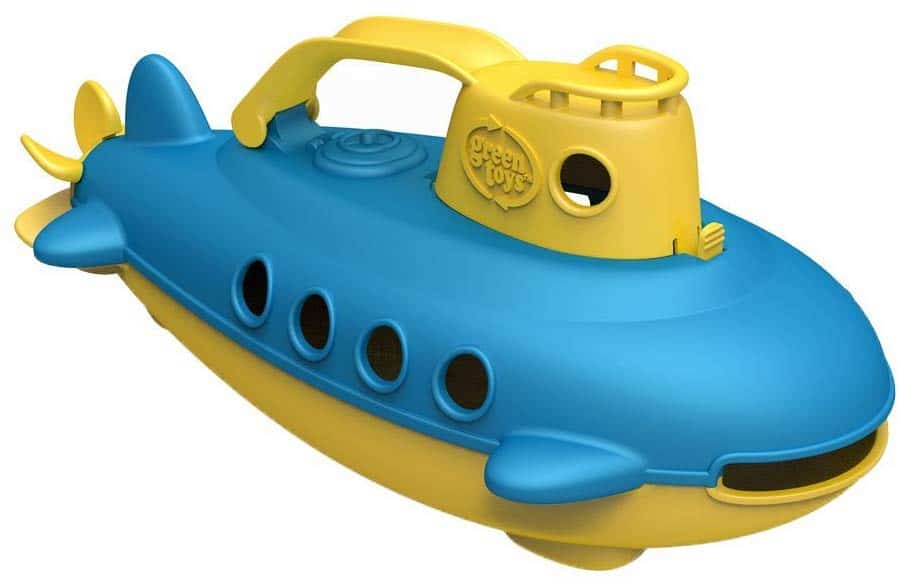 Why we like it: With a spinning rear propeller, the submarine can be a top toy for kids 6 months and up.
The submarine has been redesigned to be even safer. It is now a real option for toddlers ages 6 months and up. For many kids, the submarine with its moving propeller can be the first underwater toy to be played with.
Made in the USA, the toy follows the direction of recycled designs. Made entirely from recycled plastic, it can also be a good discussion topic for parents who need to teach their kids about environmental care. But at the end of the day, the submarine can power through many days where the mood for a bath is just not there.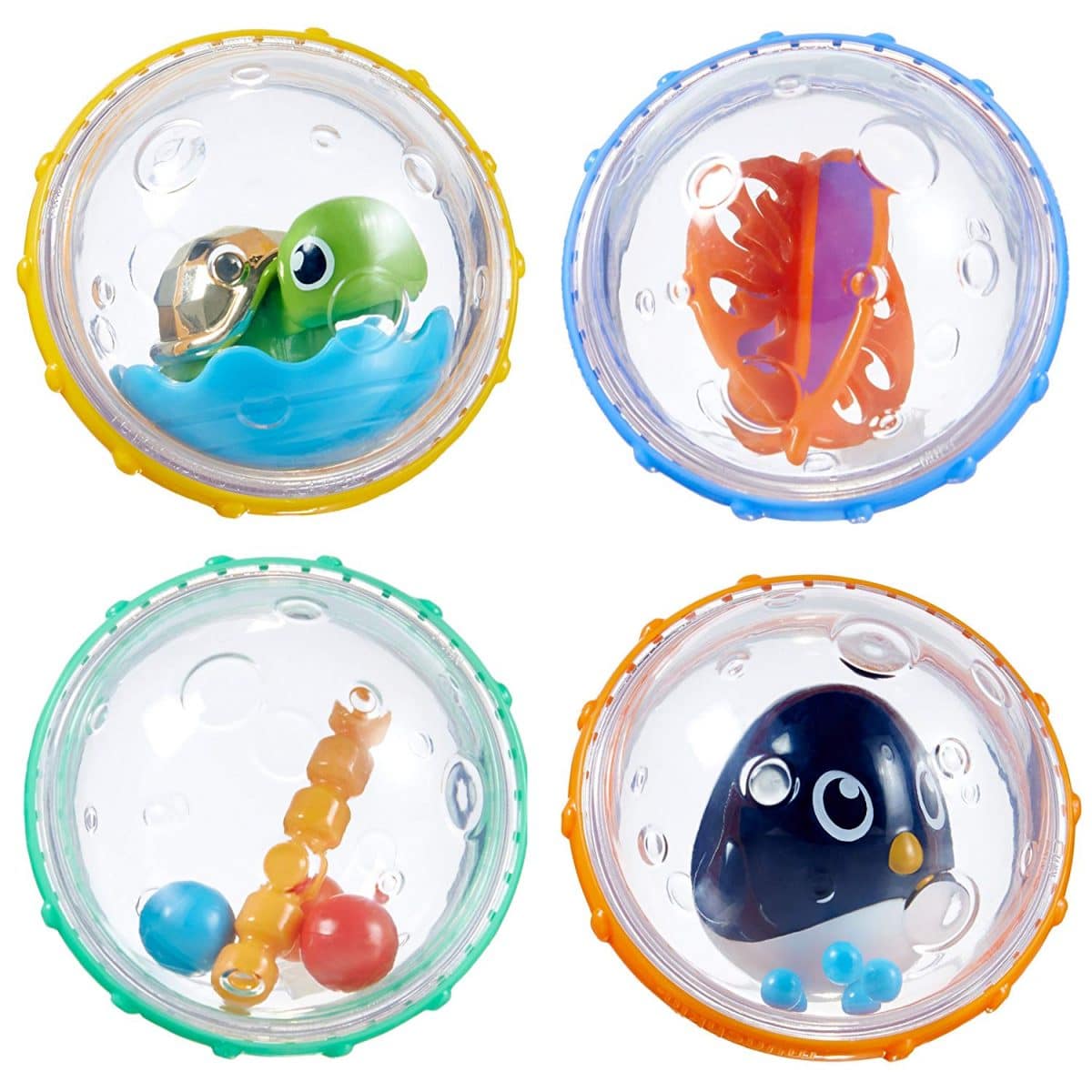 Why we like it: Based on a spinning ball design, these toys are unique as they are impossible to sink.
Munchkin is a top manufacturer in the bath toys for kids and toddlers. This time, they have created a truly unique set of toys. Toys and characters are included in floating plastic balls and kids can play with them in the most unique ways.
Since these plastic toys are filled with air, they will not go under at any time. This is why kids can use them together with other toys and they can power through any bath, at any hour. Parents can also place them on the water in the bathtub to help convince kids to take a quick bath at the end of the day. Safe for kids and toddlers, they can even be relaxing for adults to play with at times.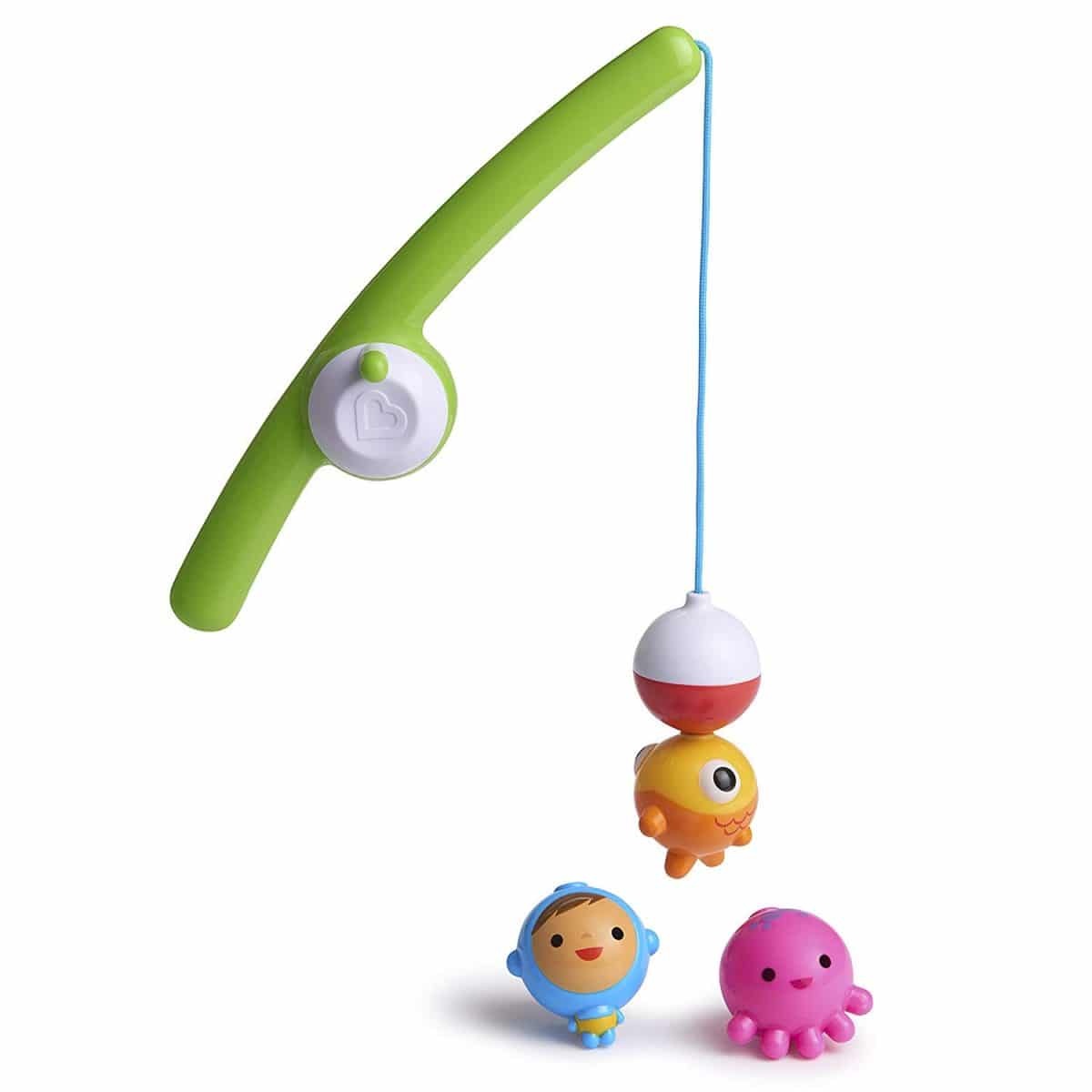 Why we like it: The fun little toys can be fished out the water with the help of the included fishing rod.
The toy set is one of the most interesting options for kids to play within the bath. It is a fishing rod with a few cute toys which can be fished out the water. But most kids don't understand how this is possible. But this is based on magnets.
Each toy and the fishing rod already include a magnet. This is why kids can easily fish them out of the water. In most cases, they have the option to simply put them back in the water and start fishing again. But kids can also collect the toys and place them in a container during the bath. Suitable for kids ages 2 and up, the toys are safe and durable.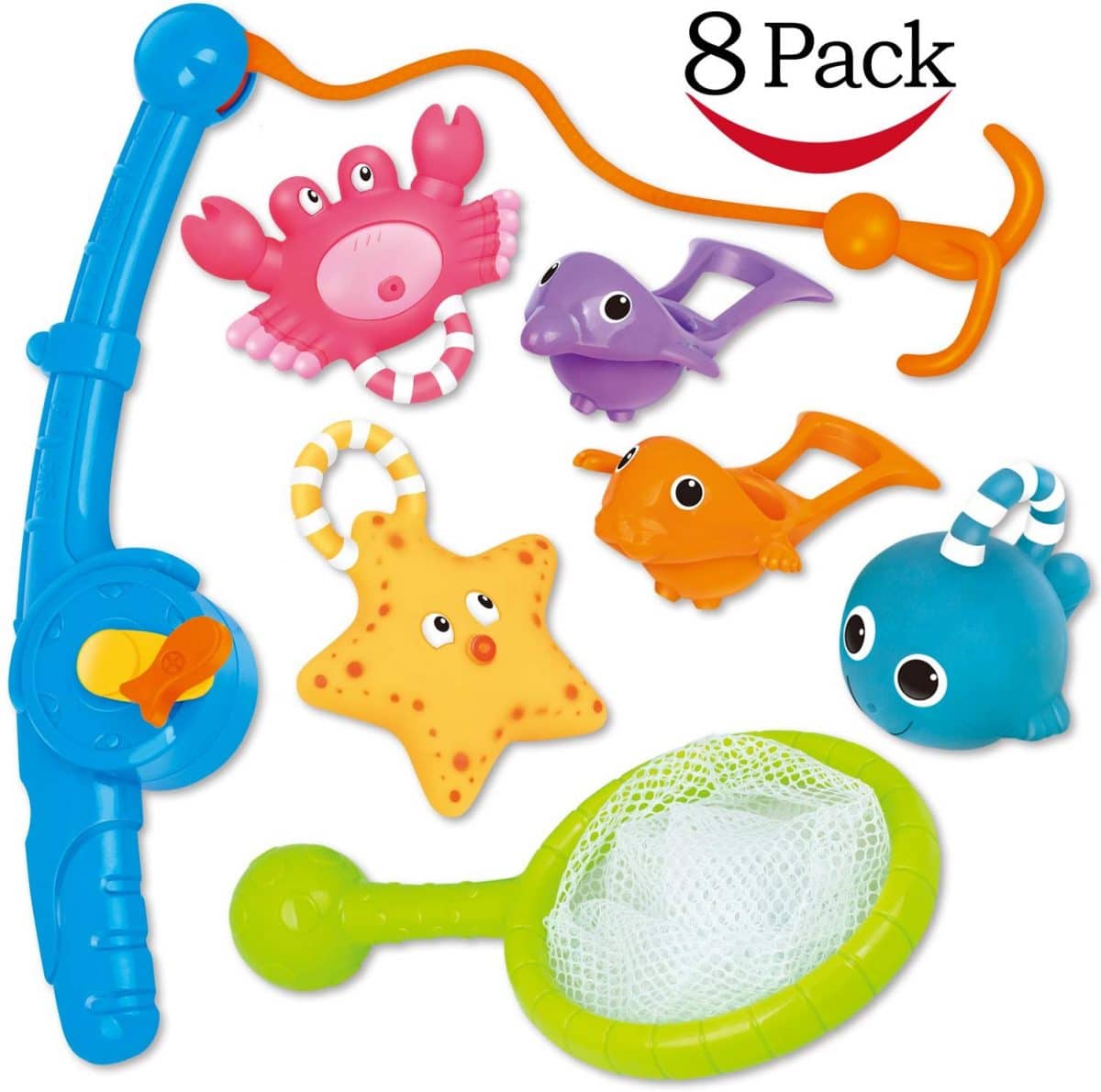 Why we like it: These fishing toys are made purely from plastic and they can be used in the bathtub or at the pool.
Made with a fishing net and an extra fishing rod, this set is another alternative for fishing games in the bathtub. They are safe for kids of all ages and they use simple principles to fish the toys out of the water.
These toys are not as easy to use as magnetic alternatives as they require good coordination. But they include a hook and a loop on the toys which need to be put together to get them out of the water. A starfish, a crab, and a few other fishes are made available in the set. They represent a good solution for those who might also plan a pool visit.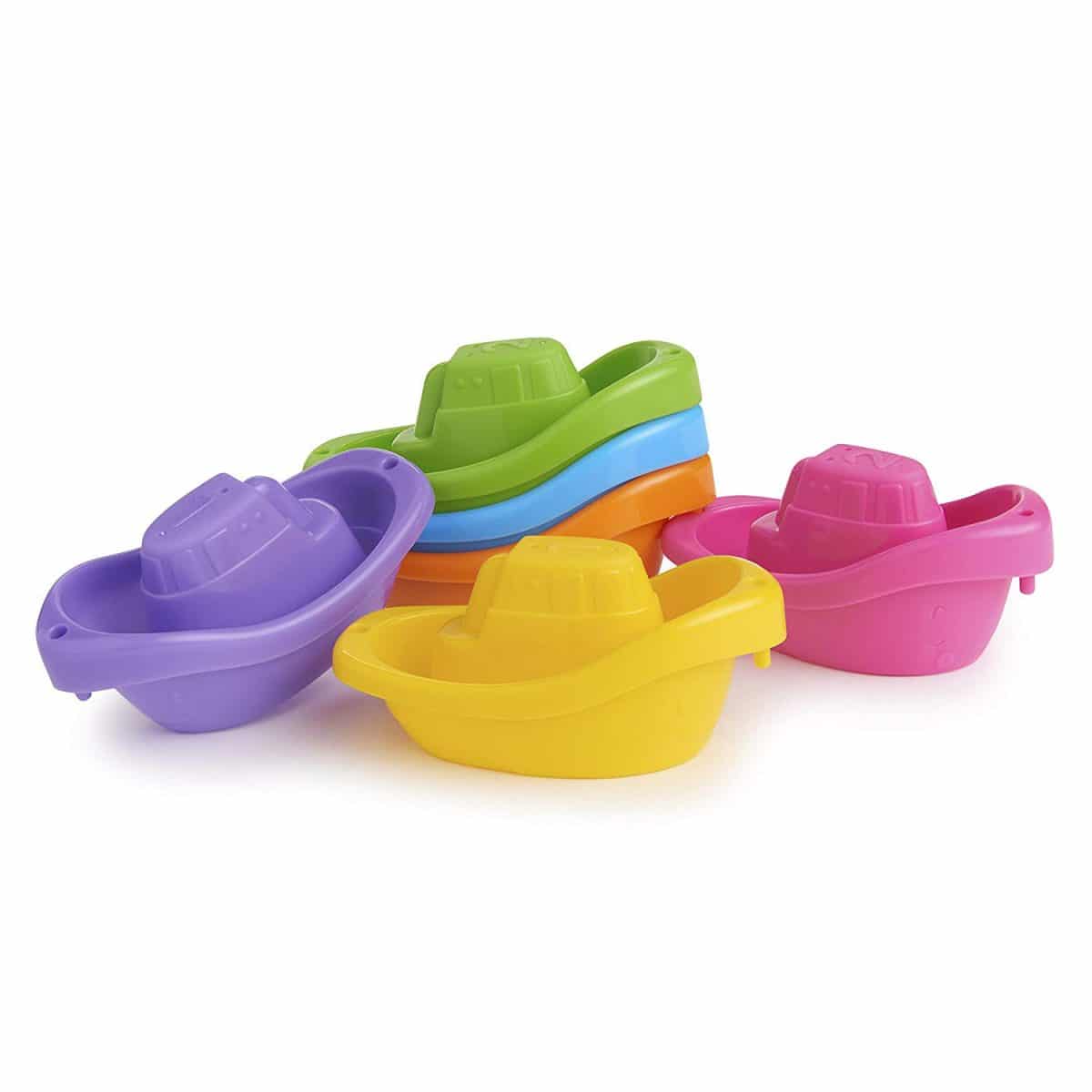 Why we like it: The boats need to be stacked on top of each other before they fall over into the water.
These durable toys are based on a stacking game. Each boat is numbered so that kids can learn how to count to 6. They then need to be stacked on top of each other without them falling over into the water. While this might sound easy, it might take some time to master. Kids will need to compensate for the movement of the water to keep them stable.
As a toy to improve hand-eye coordination, the boats represent a fun option for toddlers and kids to stay occupied while taking a bath. Most importantly, parents will love the boats as they keep juniors occupied until they are properly cleaned up in the bathtub.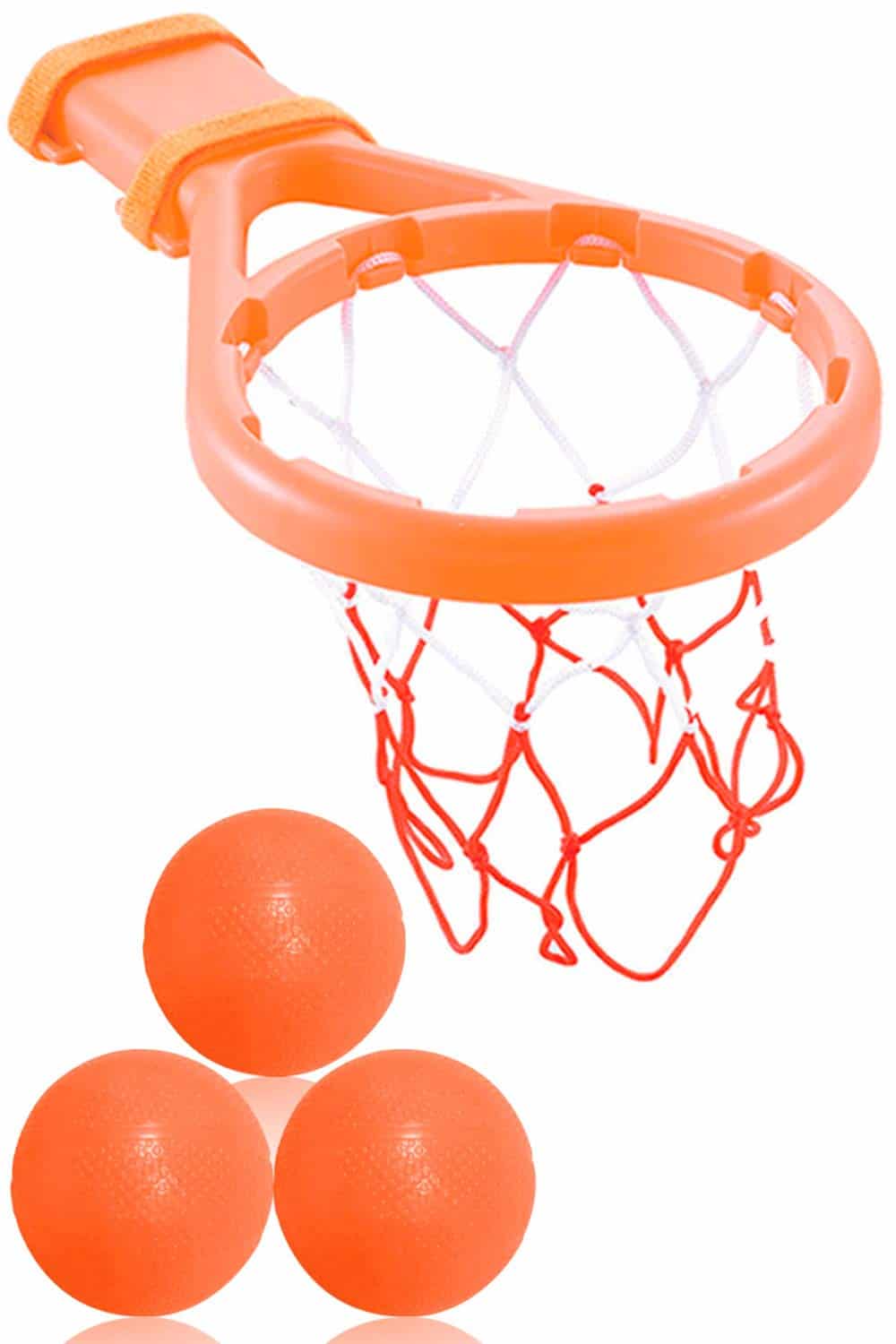 Why we like it: This basketball set is surely making a splash with many happy kids who stay active in the bathtub.
The last thing parents would think about to purchase is a basketball hoop for the bathtub. However, 3 Bees & Me has made such a toy. It might sound complicated to install but the set is ready for fun activities in minutes. The basketball hoop is installed directly on the faucet and this is the reason for which parents don't need to move anything around the bath.
There are 3 balls included in the set and kids need to score as many times as possible. The further they are from the faucet and basketball loop, the harder this is to accomplish. This is why it's worth investing in the solutions which prove the best when it comes to long-term fun options. Since mastering water basketball takes time, kids will not get bored with the toy anytime soon.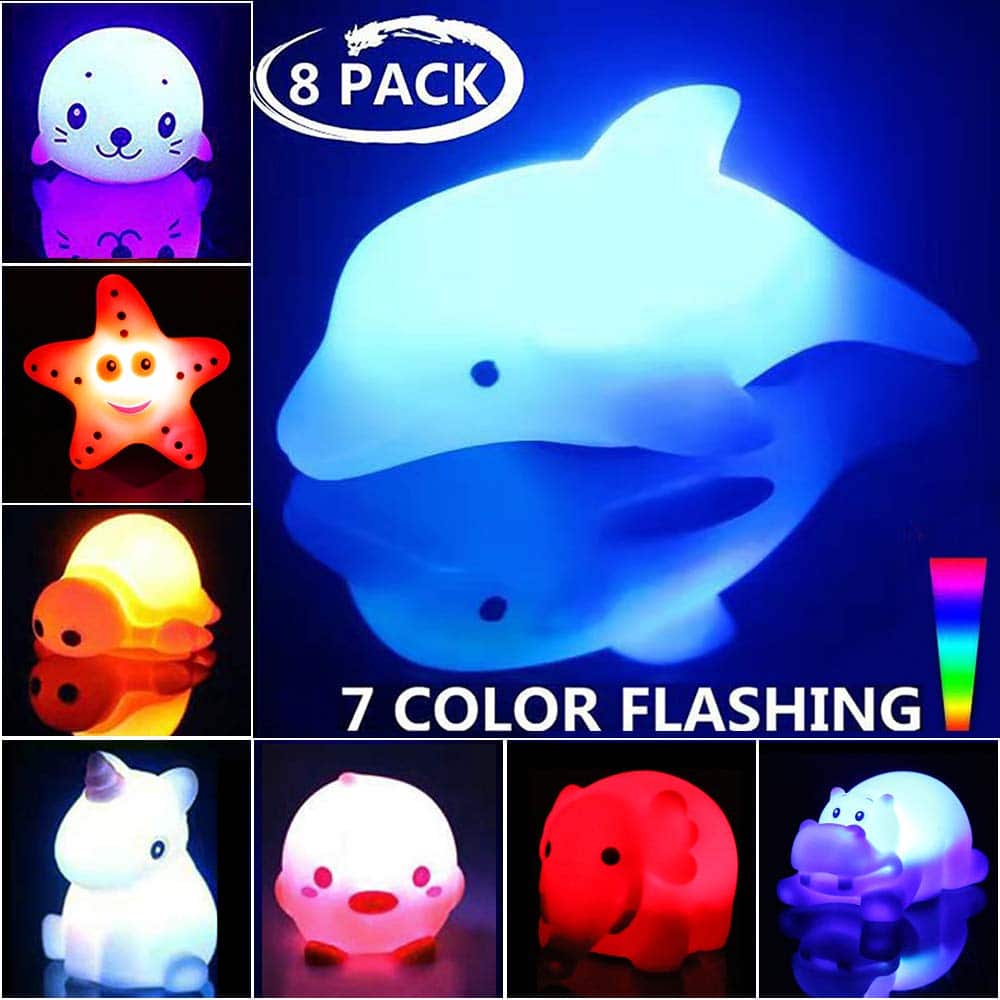 Why we like it: These toys stand out immediately as they come with included lights.
Made with a squeezable body, these small toys even contain a small light inside them. This is why these lights can be activated and the toys placed in the water for them to be activated and for the kids to play with. There are 7 small toys included in the set and all of them represent a type of water animal.
With a waterproof design, the interior light doesn't get damaged and the toys can be used for longer baths as well. Some parents might also worry about battery life. But in normal use conditions, the batteries will last for up to 3 months and they can also be replaced after this period. The set doesn't necessarily have an educative role representing toys which are fun to play with before everything else.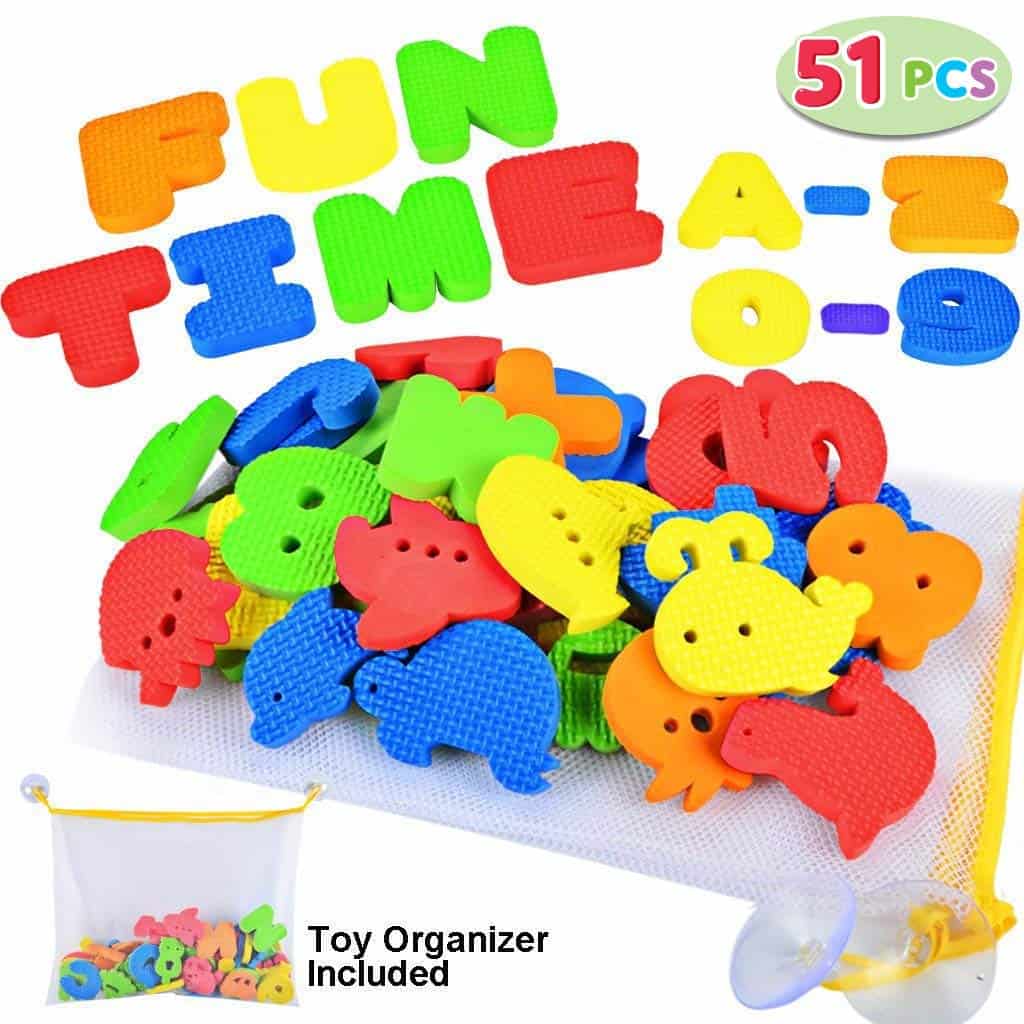 Why we like it: The impressive set is one of the educational toys parents can use to get their kids thinking and working their memory skills.
Made with 51 pieces, the set is one of the largest of its kind. It represents a suitable design for those planning to make the most out of the characters by learning to count to 10 as well as a few letters of the alphabet. Parents can also teach their kids about various animals with the toys included in the set.
Since all of the pieces are made with different colors, it is easier for kids to start learning and memorizing each piece. This is why they will also get to exercise their visual memory skills alongside with their cognitive skills.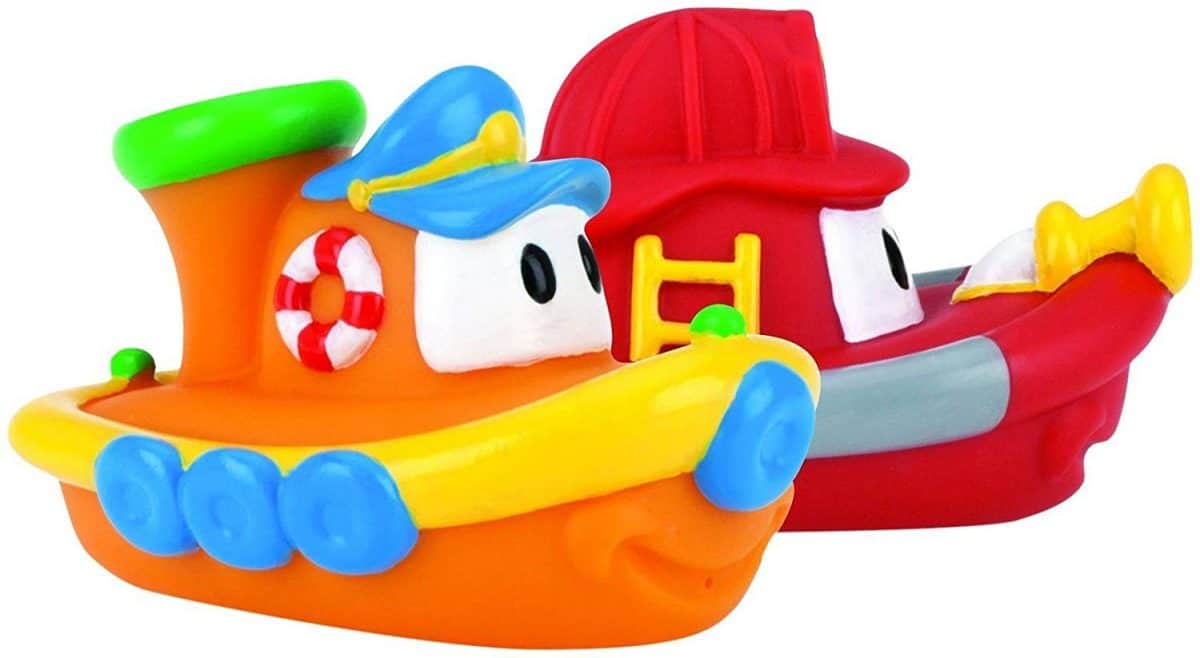 Why we like it: The boats are made with soft materials so they are safe to squeeze for most kids and toddlers.
The set includes 2 fun boats kids can push around the bathtub whenever they want some excitement. Parents can place the two boats into the water to get their kids into the bathroom faster as well. But these toys are also made from quality materials and their looks are not the sole strong point to consider.
Since they can be squeezed, the toys are safe for kids as young as 6 months. BPA-free materials have been used in the manufacturing process and the boats can even be washed to keep them germ-free in the long term.
A few color options are available as well. Parents can match the personality of their kids or even get different color boats for boys and girls from Nuby. Since they are unbreakable, the boats can also be taken on family trips to public pools.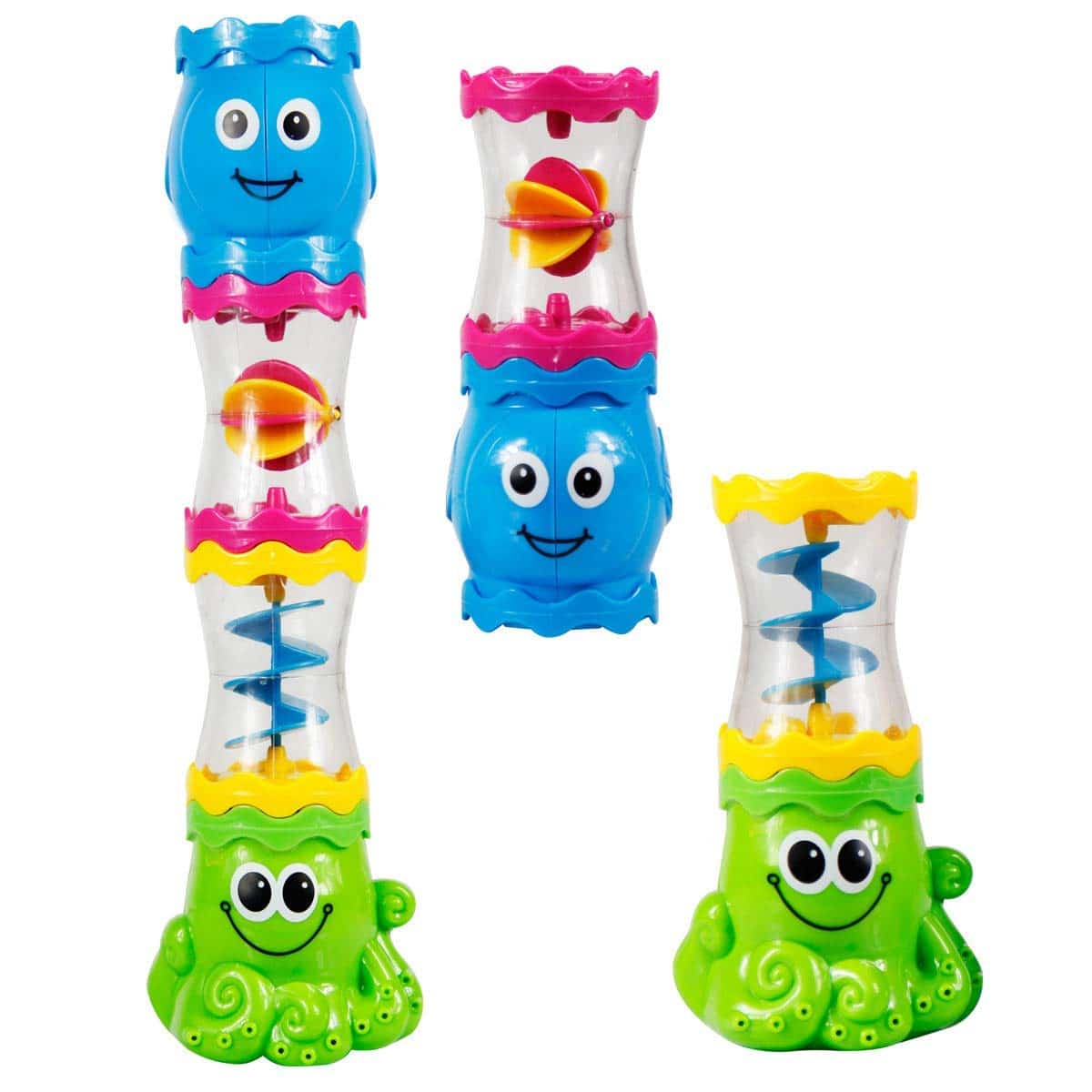 Why we like it: The waterfall station is one of the most creative toy ideas to use in the bathtub.
Kids love interactive toys and the PBOX design is here to prove it. With 4 stackable cups, the interactive set allows kids to pour water and see the magic of its interactions with various objects of the cups. Water will spin and turn as it passes through the stackable cups and kids can understand its physics while having fun as well.
These stackable cups can also be played with individually. Kids can take turns pouring water when bathing with sibling or parents can join the game as well. Since they can be stacked on top of each other, they can also create one single super waterfall with impressive visual effects. Pieces of this set are small and this is why the minimum recommended age is 4 and up.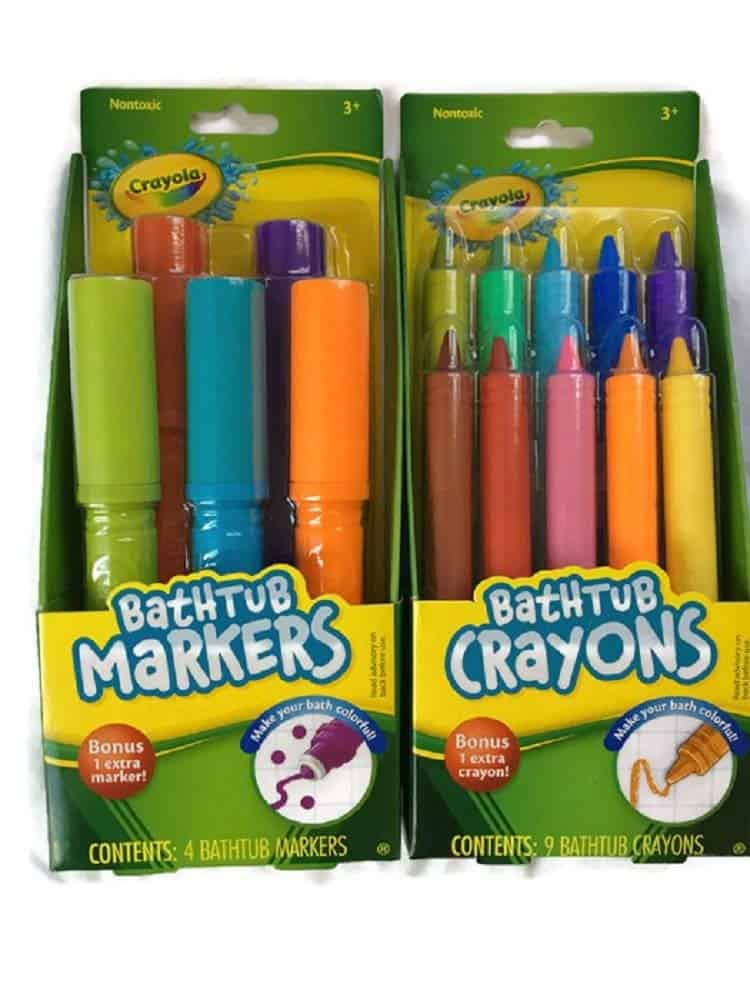 Why we like it: The bathtub crayons come in different colors and they allow maximum creativity right where accidents wash off quickly.
These unique bathtub markers are made to allow kids the ultimate freedom of creativity. If parents run around the house trying to stop kids writing on walls, things are different in the bathtub. This is why kids can make the most of the set by actually making drawings of their own.
Various colors are included in the set. But the best part is these markers are non-toxic. Kids of all ages can express their creativity as a result. Writing on the bathtub doesn't sound too complicated, especially when parents know they can erase the drawings quickly.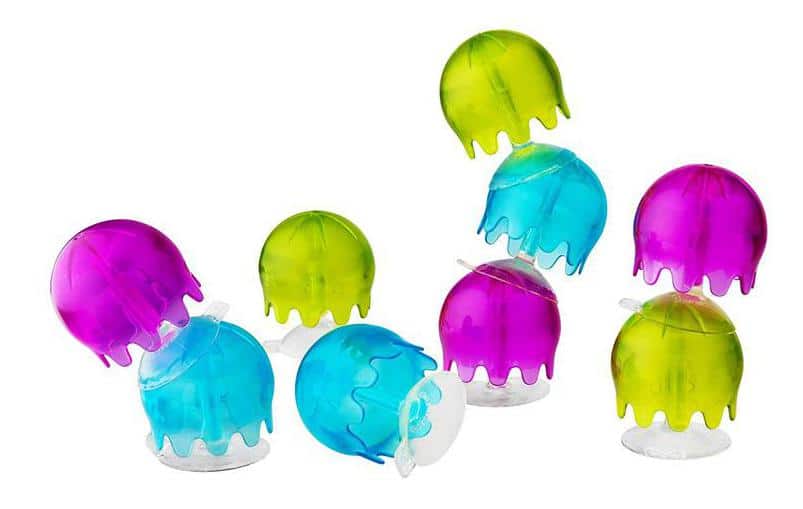 Why we like it: These suction cups are some of the most unique toys which can even resemble water life.
The set includes suction cups of different colors. Kids can use them to play simply with the bathtub. The little ones can apply them to the bathtub and remove them with a few giggles. At the same time, they can have even more fun by applying them underwater.
Made with BPA-free materials, these suction cups can be used by kids safely. Most kids over the age of 1 can already play with them on their own. Since they come in different colors, they can also be arranged according to how they look like. Parents can teach toddlers how to group the suction cups according to how they look to improve their cognitive skills. At the same time, the suction cups can be used to teach kids basic colors.
Why we like it: Lego toys cannot be missed from any bath time collection of a junior.
The boat comes fully equipped to be used as a coast guard vehicle. However, before being used to patrol waters, the boat first needs to be assembled. There are 144 pieces which need to be put together and they represent a top choice for those who like to build toys themselves.
As the pieces are small, kids should be at least 5 before trying to put the entire boat together. Once assembled, it can be launched to water and kids can bathe with it playing various games. The boat floats as it is lightweight and made from plastic. However, all pieces should be washed by parents carefully to prevent mold formation in time, one of the biggest enemies water toys have. At the same time, the boat can be put on display in the child's bedroom when it's time is up.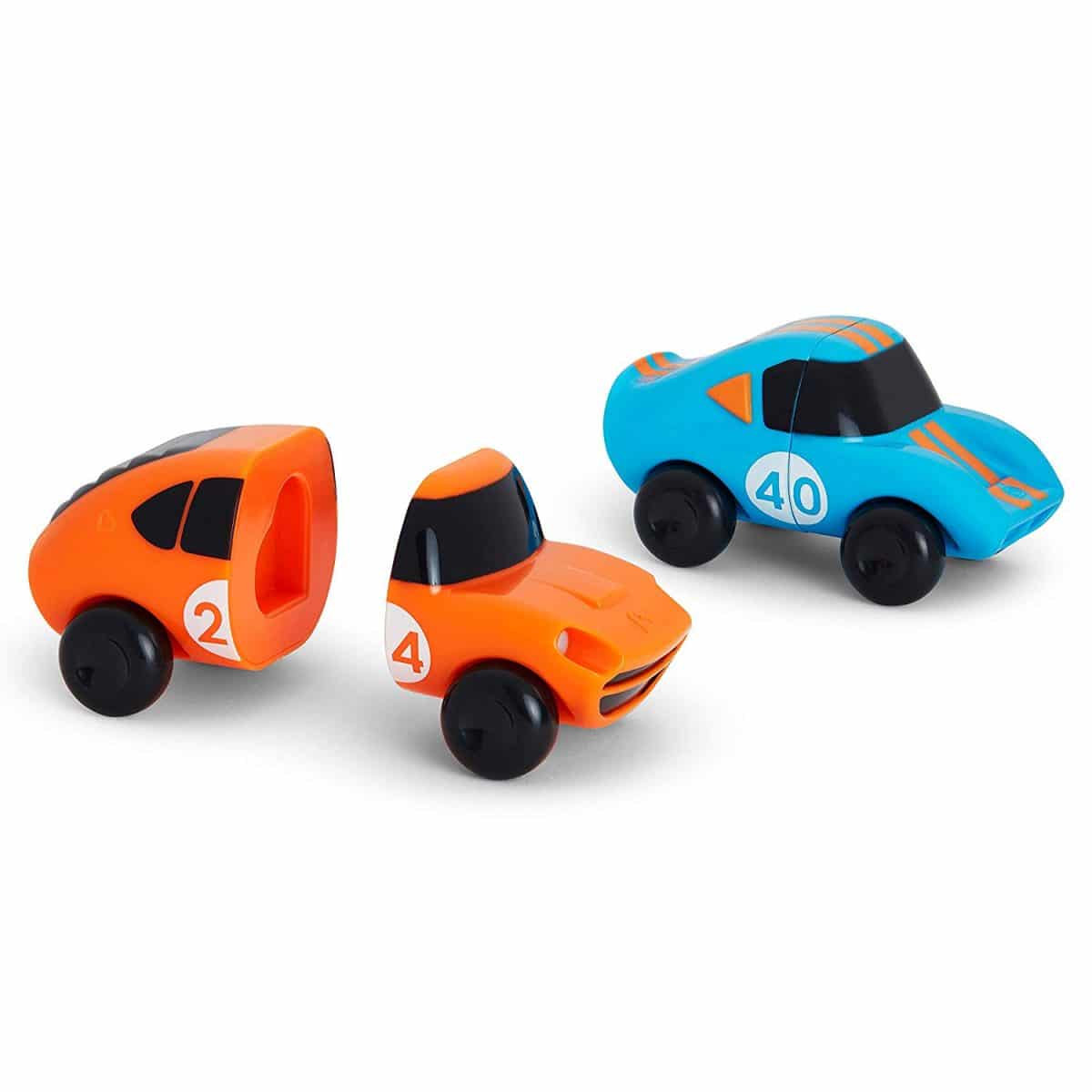 Why we like it: The set includes two small cars with small interior magnets for a unique water-based race.
There are two small cars in this set and kids can play with them at the same time. Each of these toy cars is made of two parts which are held together by magnets. With such an interesting design, kids can stay busy for longer while in the bathtub. At the same time, they can connect the pieces of one car with the pieces of the other for added variation.
But most importantly, the cars can be used for a bathtub race. Toddlers can begin racing these two cars on the bathtub or in the water. This is why they can be one of the suitable options for better versatility, even when it comes to racing in actual water. If parents are afraid of their durability, they need to know the cars are made with a waterproof design. They prevent mold formation if they are washed out and let dry naturally.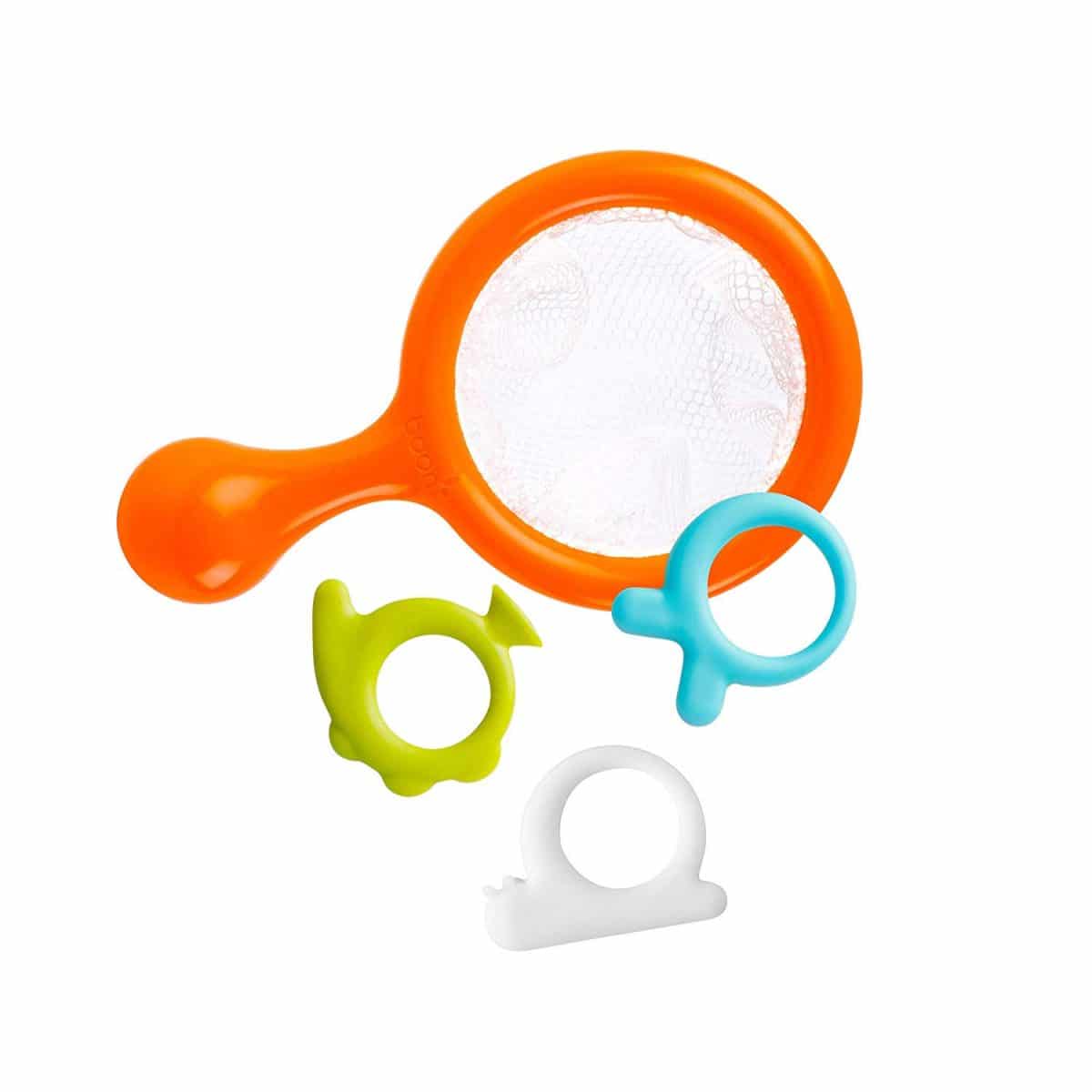 Why we like it: The bug set is one of the unusual toys kids like to play within the water.
Not every adult understand bugs. But kids know that no bugs are allowed in their bathtub and this is the reason they need to be fished out. The included fishing net is a good helping tool for this purpose. Most kids can do it on their own and they will not need adult help.
The bugs can be splattered over the water and they can be used to keep kids active. Furthermore, kids can do this themselves as they will try to stay in the water as much as possible. One of the craziest methods of play involves a lot of fizzes. Parents can fill the bathtub with fizz and kids can start looking for the bugs with the net, guessing their location. For most kids, this can be a fun method of actually improving their hand-eye coordination. At the same time, they will learn more about counting to 3, as parents can teach them the exact number of bugs in the water.r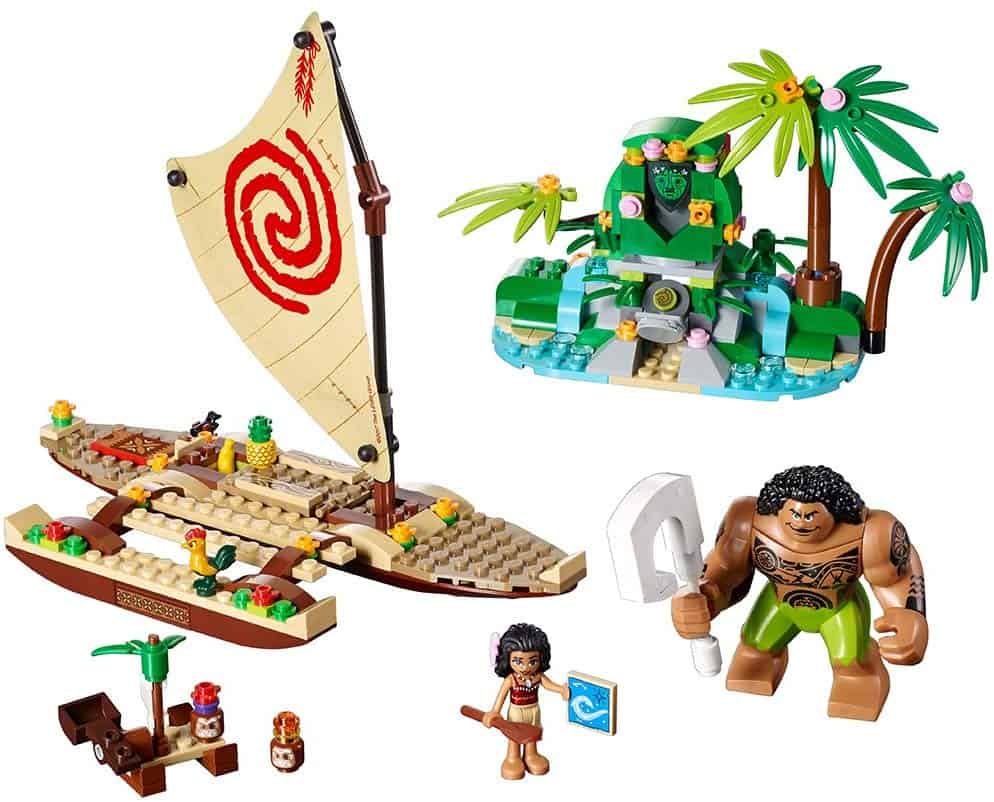 Why we like it: Inspired by Princess Moana, the Lego set is an intriguing water toy which can serve as a collectible.
Based on the award-winning Disney movie of Moana, the set is perfect for kids who love building their toys from scratch. It is complex as it comes with both, characters and even an island, the famous Te Fiti.
As all fans of the princess know, she also needs plenty of space to carry her belongings. This is the main reason why the boat is so large. With a length of 5" and a height of 6", the boat will be easy to handle during bath time. However, the princess needs to be properly fixed on the boat in order not to lose her going overboard.
This impressive collection of toys in the same box numbers over 400 pieces. It may as well take a few hours to put together. This is why kids can ask their parents for a helping hand as princess Moana needs her boat ready as soon as possible. Those who plan to take princess Moana on water journeys often also need to know the boat needs to be properly washed and dried to avoid mold formation.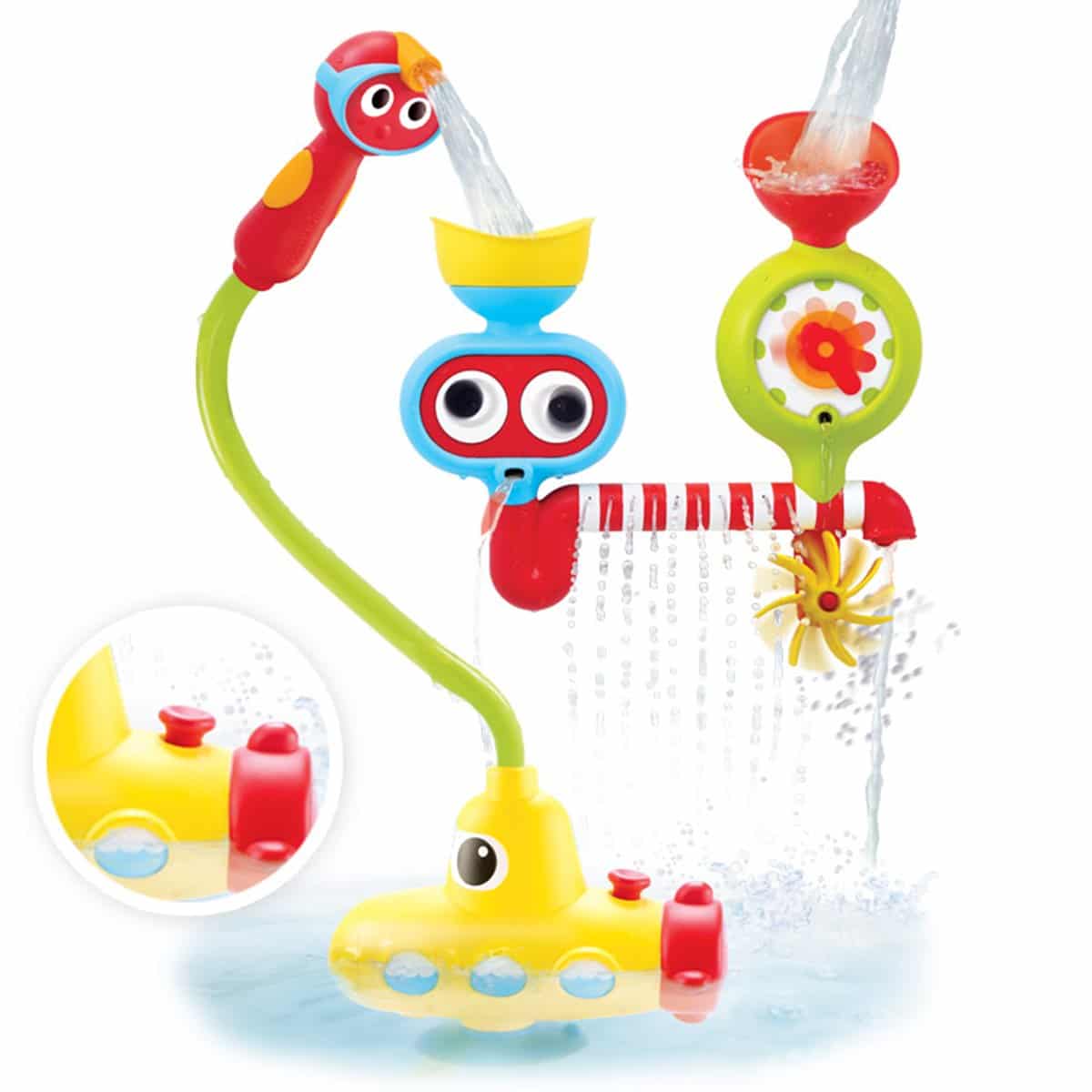 Why we like it: This battery-operated water submarine station is an inspired gift idea as an interactive toy.
Kids can power their underwater submarine with the toy set. It includes everything they need to draw water from the bathtub and launch it over the submarine spray station to watch it go back in. But they don't need to go through any type of effort to do so. The toy does it for them. With an included water pump, the submarine represents one of the simplest methods of actually pumping out water automatically.
Of course, the water pump is battery-powered. This is why it might even take some time for the batteries to be replaced when needed. But parents can purchase them in bulk to prolong the longevity of the spray submarine kit.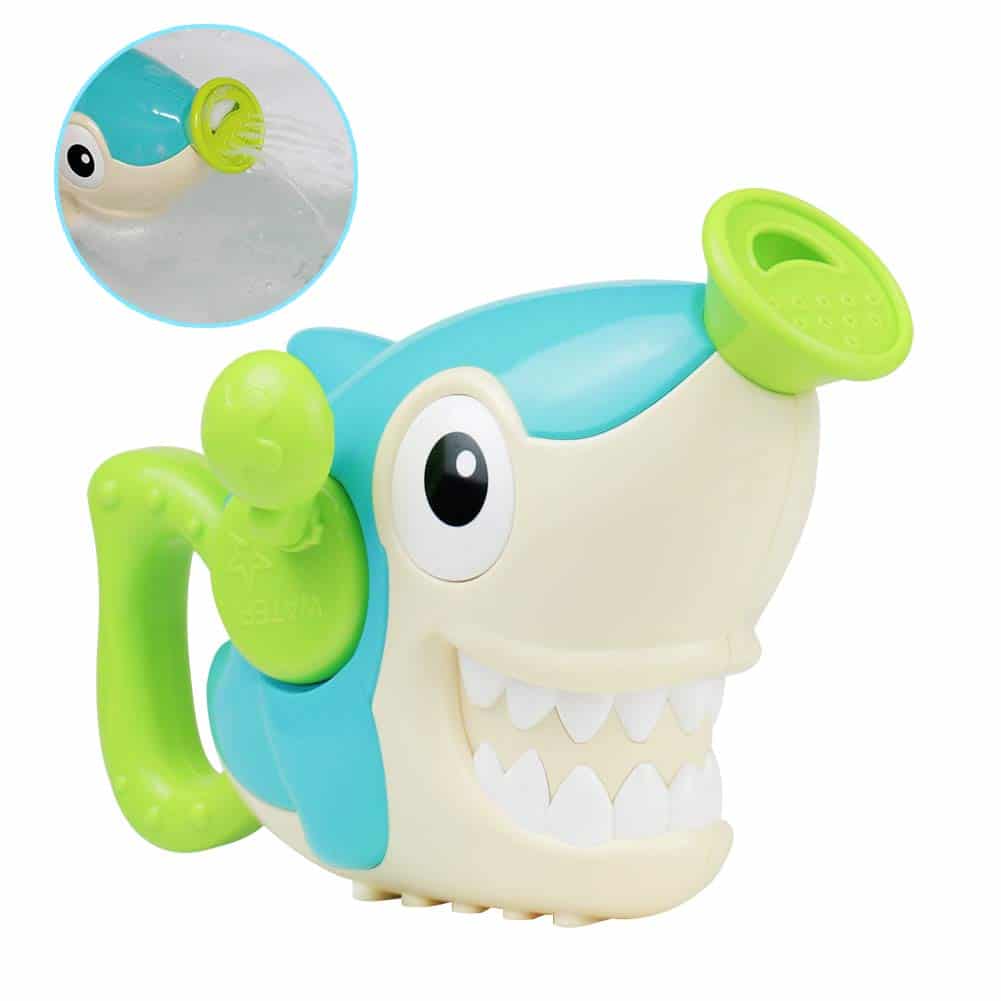 Why we like it: The spray sprinkler shark toy is a simple design which toddlers understand without any instructions.
Parents who want their juniors to start playing fast without having to build elaborate toy kits can consider this sprinkler shark among the best options. It is very easy to use. It is even made with a handle so that kids can grip it properly.
Those who are taking a bath with kids' bath bombs will see their kids having even more fun. Since the water is colored in this case, the shark will start spraying visible water which will put smiles on the kids' faces.
Made with thick plastic, the toy is also very durable. Most kids find it interesting. Even with occasional drops, kids will see just how tough a shark is. Parents can also rest assured their investment is safe as well.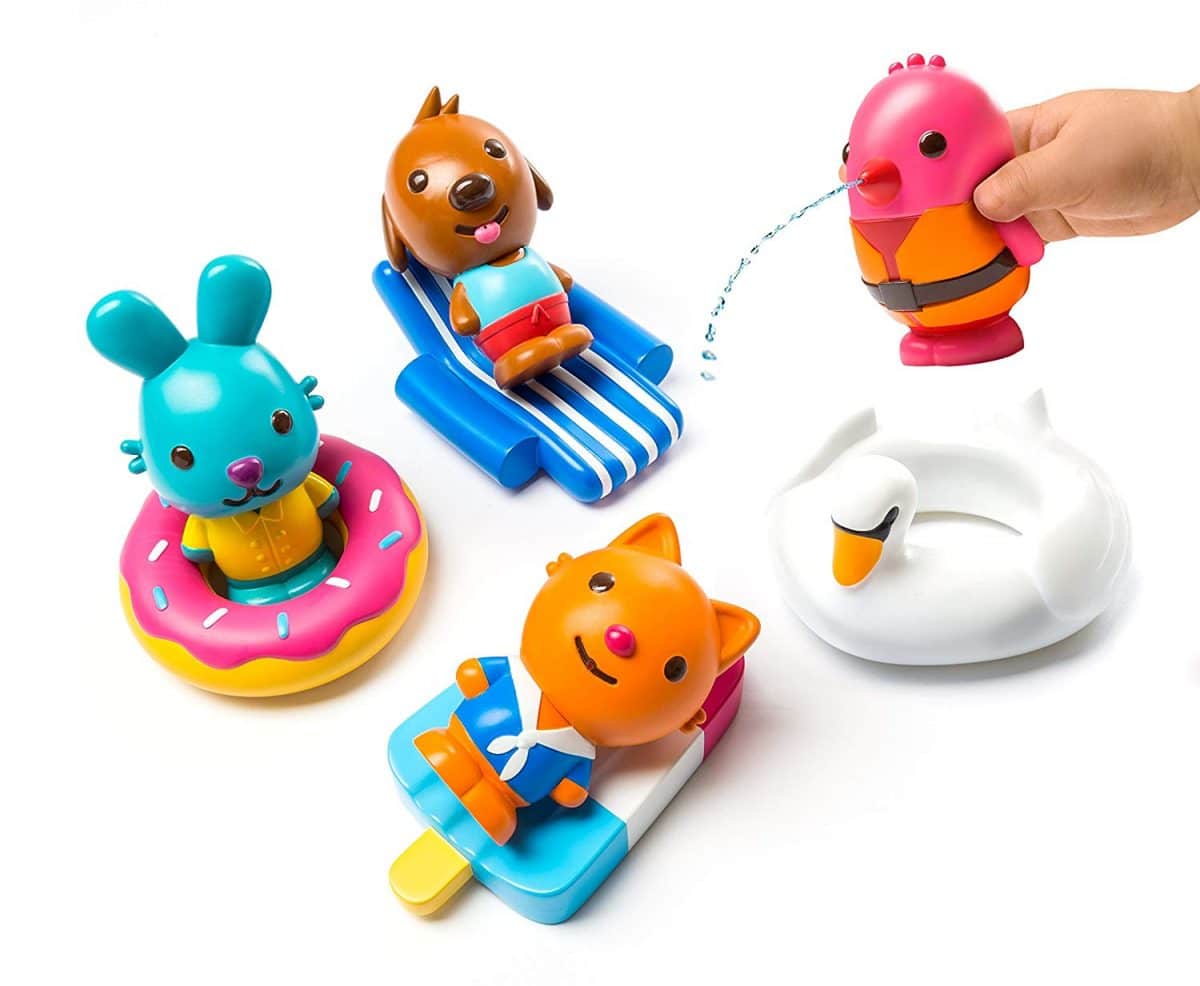 Why we like it: The squirters are fun to use, especially when kids bathe with siblings or friends.
4 squirters are included in this set. They represent an inspired gift idea for kids who have a sibling as they can trigger a bathtub water fight. But these toys are detachable and kids can drain them easily. This is one of the few designs which allow water to be properly drained. As a result, the squirters are among the few designs which are made to prevent mold formation from the start.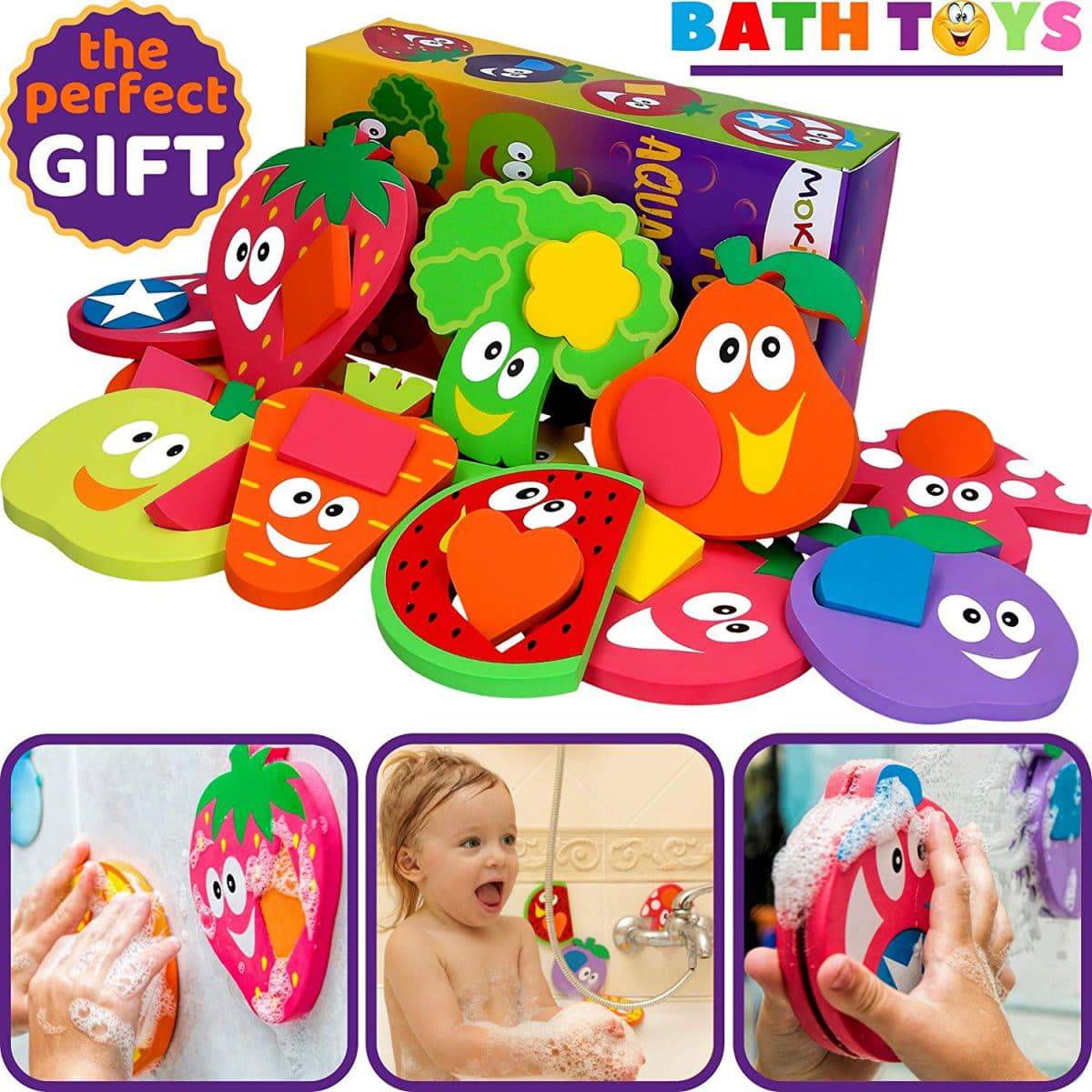 Why we like it: Made as small puzzles, these water toys are shaped like fruits and vegetables.
It's never too soon to begin learning. This might as well be one of the reasons for these bath toys to exist in the first place. But if most alternatives offer fixed pieces which are simple fruits and vegetables to play with, MokiDoki has also shaped them into small puzzles. Kids need to assemble the toys while in the water. Developing their cognition skills, kids also improve the coordination of their hands.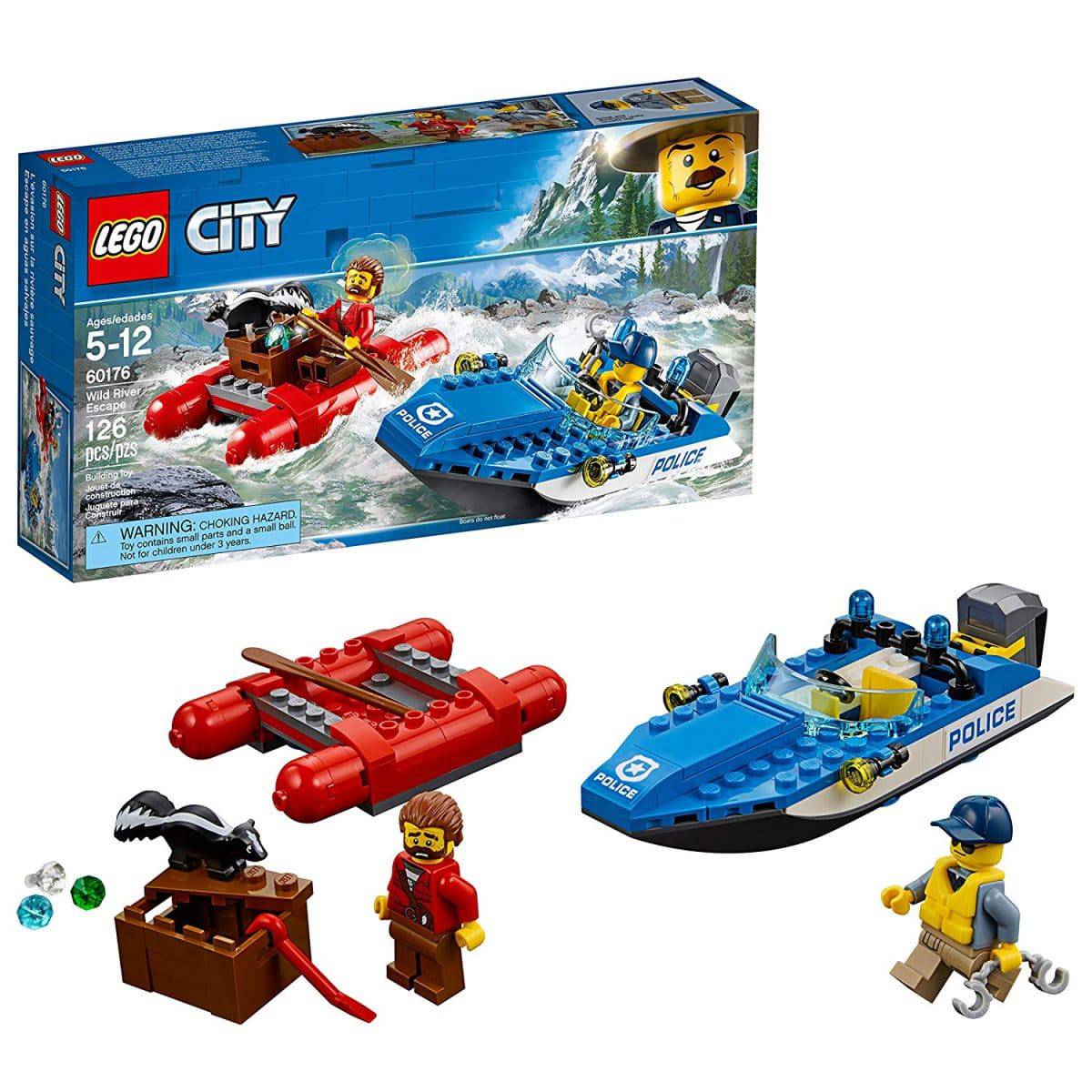 Why we like it: A police boat can never be replaced with any other water toy and Lego has built one with a motor
The Lego police boat is one of the most intriguing designs in the class of water toys. It seems that no matter how complex other toys get, kids still find it appealing to pretend they are actual police officers patrolling the water.
There are 126 pieces which need to be assembled for the boat to be ready for patrol missions. Once assembled, kids can add their included police officers and hit the water. When bath time is over this collectible can be displayed together with other Lego toys.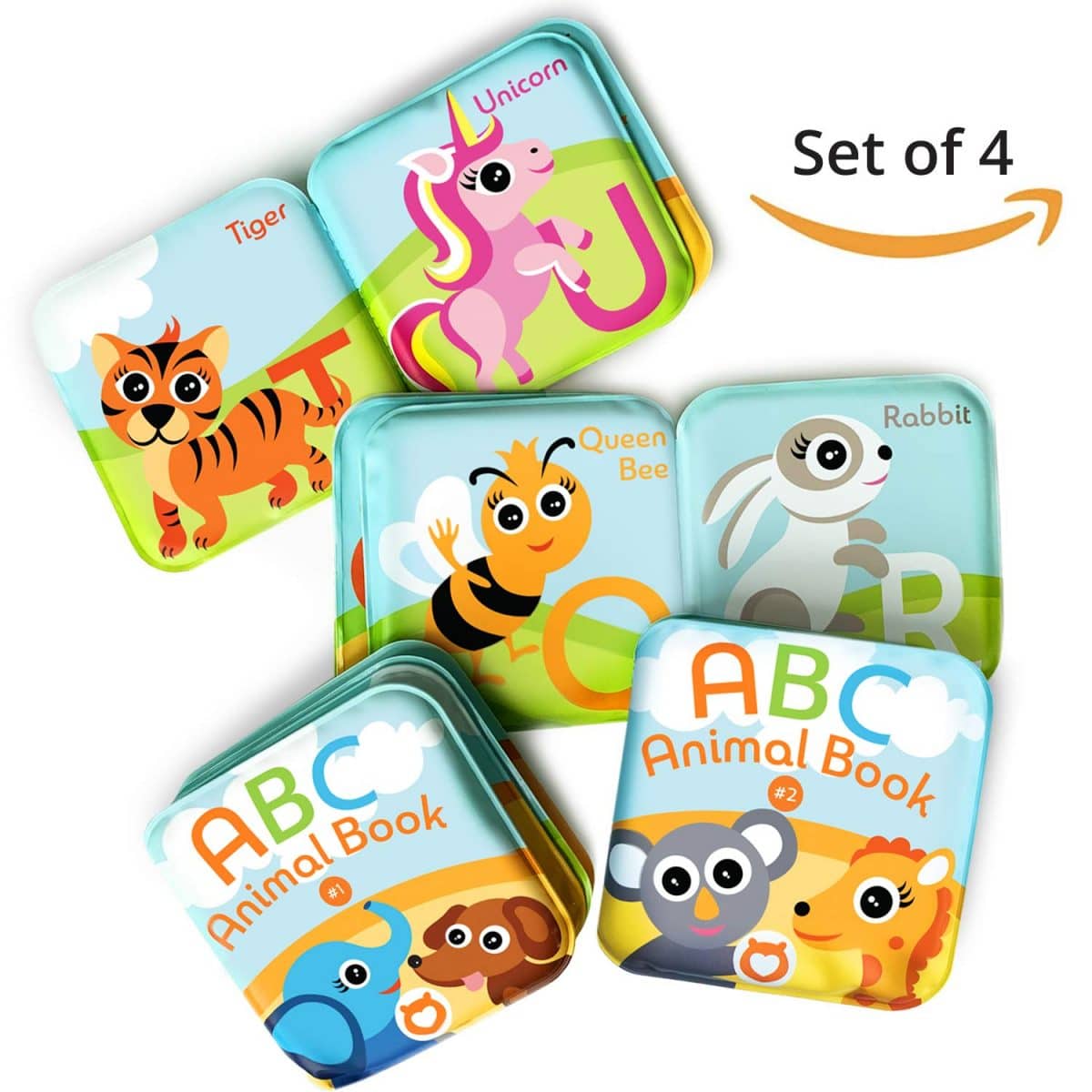 Why we like it: Covering 5 pages, the 4 bath books include the alphabet and a few pet names to learn.
Not many would think about offering toddlers a bath book, but they exist. BabyBibi has creates such a unique educational toy. With 5 pages per book, kids can start learning the alphabet and using the letters when remembering animals' names. Among the practical characteristics, the book includes small pages which kids can turn with their small hands with no adult help.
Final considerations
These unique best bath toys for kids make their mark on the toy industry. Most importantly, they are innovative for kids themselves. Only parents know the struggles of actually keeping kids in water long-enough so they can be properly washed. The toys above are all about fun and learning, some of them even combining the two characteristics.
As parents, it is always recommended to check the age limit on each of these toys. Since many of them can come with small pieces, it is advisable to first match the age of the child to the one recommended by the manufacturers. But the great part is the list above covers all ages as parents can find toys playable from the age of 5 months to the age of 12 years