Top 30 Best Marble Runs for Kids 2023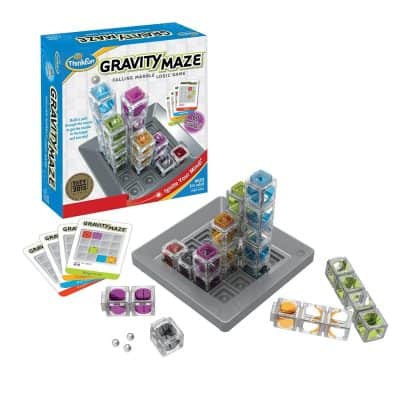 This unit doubles up as a marble run, STEM toy and a logic game. It is the perfect gift for children 8 years and above. The set contains 60 different levels that vary from beginner to expert. This means your kid will go through different levels of challenges as they advance from one challenge to the other. As they play, your youngsters are going to develop critical skills such as spatial reasoning, logical reasoning and planning skills among others. It comes with a clear instruction manual.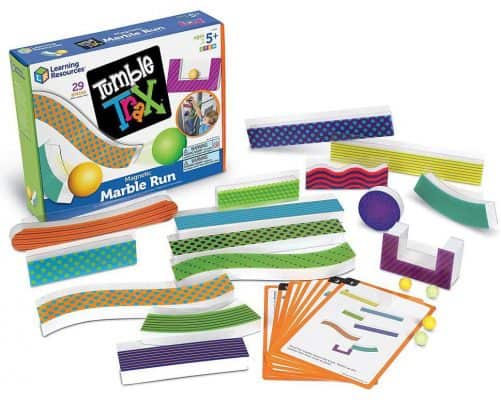 Unlike most other sets of marble runs, this set is unique in that its pieces are magnetic. Rather than the normal building, your kid can create a marble track by using magnetic pieces that come in varying sizes and lengths. It consists of 14 magnetic track pieces, four marbles, 10 challenging activity cards and a goal. The combination of short, long, straight squiggly and curves pieces let your kid develop limitless designs of magnetic surfaces among them whiteboard and refrigerator. Also, in case your kid needs inspiration, the set comes with activity cards. Once the track is ready, your kid can drop the marble from the highest point and watch it as it moves towards the goal.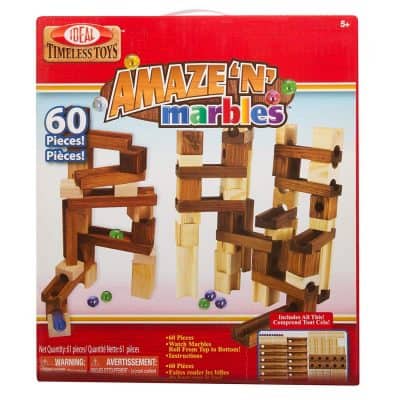 Although this set of marble run works like any other set, its slanting holes on the wooden pieces together with its channels make it great and eases the movement of marbles. The set comes with 50 pieces and 10 marbles. Also, the set includes a basic manual in case your kid needs a little help in building their first track. Once your kid gets the hang of it, they will be able to explore the basic principles of architecture, engineering and art at a tender age of 5 years.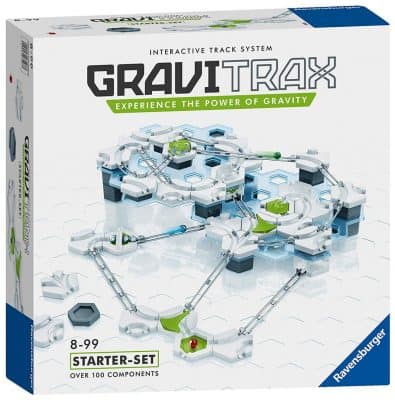 This set of marble run has a unique track that has unusual parts and cool features unavailable anywhere. It includes some crafty magnetic pieces as well as traditional kinetic ladders and gravity chutes. This unit is a bit complex compared to the traditional marble run so it is recommended for kids 8 years and above. The set comes with 9 tracks with 3 different levels of difficulty. Also, it includes 24 different tasks and 6 levels of difficulty. Your kid will experience the force of gravity, kinetic energy and magnetism by playing with this interactive marble track system. The unit provides endless opportunities for creative kids.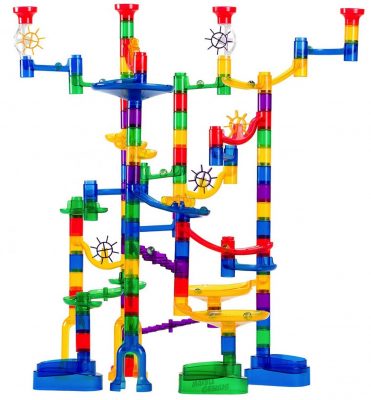 The set includes at least 85 translucent pieces and 19 different pieces that can be used in various track designs. It comes with 15 glass marbles. This package is easy and fun to assemble and has an instruction app that showcases how to build 9 unique marble racetracks. It is compatible with other sets from Marble Genius, which allows for expansion to keep your children engaged and interested for a long period. Kids and adults will have a lot of fun assembling this unit for a simple or more complex structure. The interlocking pieces fit easily and provide fun and intellectual challenge to all.
The set comprises of 70 transparent pieces that let your kids watch the 20 colorful marbles included as they move along the track. This is set provides medium complexity to your children and can be build in at least 4 different ways each characterized by increased complexity. It comes with a colored user manual and ideas on games of marble racing. It is made from non-toxic materials and its smooth edges on various parts provide for safe handling. The set will stimulate your children's creative and problem-solving skills. Also, the process of assembling the marble track will hone essential aspects such as spatial.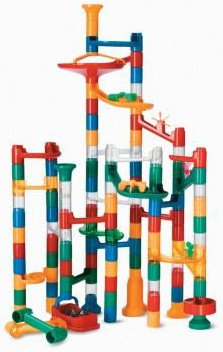 This Marble Run set by Mindware is made up of 103 pieces, 2 whirly connectors, marble launcher, landing piece, 20 marbles, centrifugal spinner and 2 s-shaped connectors. The pieces come in colorful combinations of opaque and translucent pieces for extra fun in kids. However, since not every piece is translucent, creating a structure that is too high may hinder your kid from seeing the marble as it moves in the maze. The set is made from durable plastic pieces that are not easy to break. Their interlocking mechanism is strong, so your kid will build a strong structure.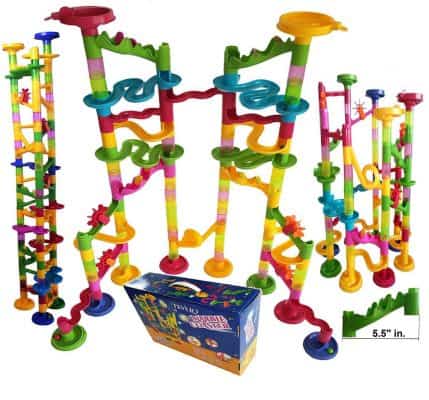 Tevelo Marble run is made up of 75 pieces of different shapes and 30 marbles. Unlike other marble runs that come with glass marbles, this set comes with plastic marbles that are believed to be much safer compared to glass marbles that tend to break. Broken glass marbles result in glass fragments that can hurt kids. Also, plastic marbles are slower which make it better for kids to watch them as they move. The set promotes creative play and combines learning skills with organizational and coordination skills. Even kids as young as 3 can enjoy building various structures. However, adult supervision is mandatory since the marbles are a choking hazard.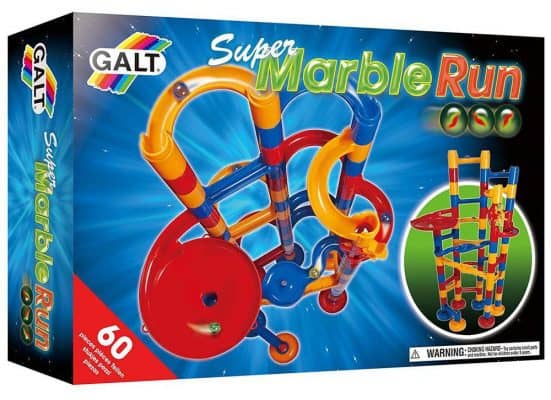 This set consists of 60 pieces, 9 chutes, 9 curves, 24 tubes, a staircase, 6 bases, spinning wheel, rotary drop, 8 marbles, and a roundabout. The 60 pieces can be used to build mazes of various designs where the marbles twist and turn before dropping to the bottom of the entire structure. The kit lets children create small, simple designs or complex structures suing the colorful fitting plastic pieces. Your young ones will love creating new courses and sending the marbles down continuously. Although the kit comes with a booklet with several samples, you kid will not need it they can create their custom designs with ease.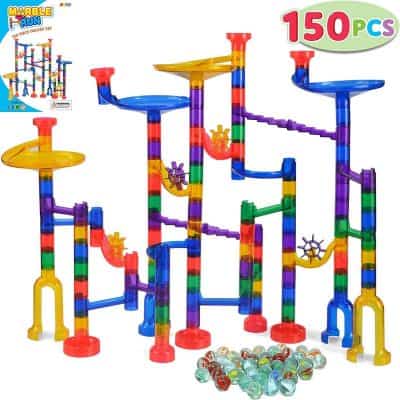 It consists of 150 pieces of which 100 are action parts made from translucent plastic together with 50 regular size glass marbles. It comes with colorful parts that your kids will spend numerous hours exploring the different possible routes. This will help improve their motor skills and logical thinking as they enjoy this entertaining toy. The toy meets US safety standards. So, the plastic used for these pieces is non-toxic and all the parts fit perfectly. This ensures the racetrack is stable which makes it reliable for the marble race. The STEM marble run set is equipped with a manual that helps children's hand-eye coordination.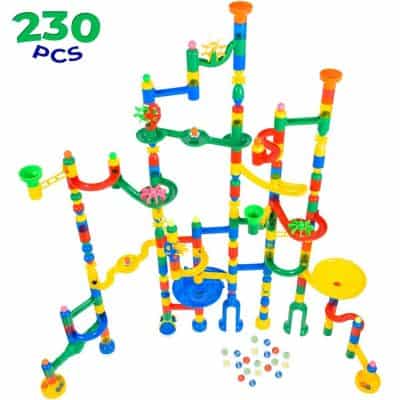 It comes with 176 track pieces build from colorful plastic and 24 translucent connector tubes including wheels, slides, ladder glides, windmills and U-turns. Also, you get 30 marbles with this marble set with vivid colors. The superset can be built in 4 different ways that range from easy to hardest through swapping various pieces. Your kids will thoroughly enjoy hundreds of possible designs, which means that the toy won't bore them anytime soon. This set will unleash your kid's inner genius, promote creativity as they engage in playful STEM learning. It comes with a booklet that helps stimulate your kid's mind.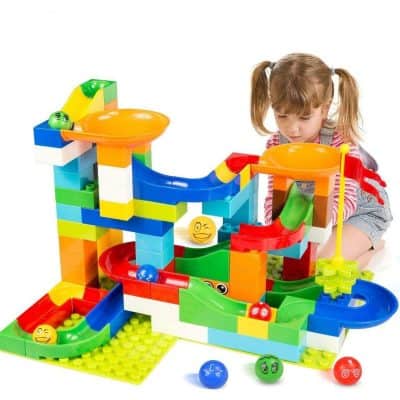 The set is made from a sturdy, smooth and safe plastic material. It comes with 97 pieces of different colors that can be linked in 3 different marble tracks. It is a great option for anyone looking for an entry-level marble run that can be fun and safe for younger kids while at the same time providing a challenge and entertainment. The marble run lets your children enjoy building different tracks and watch marbles as they move down around bends and fast.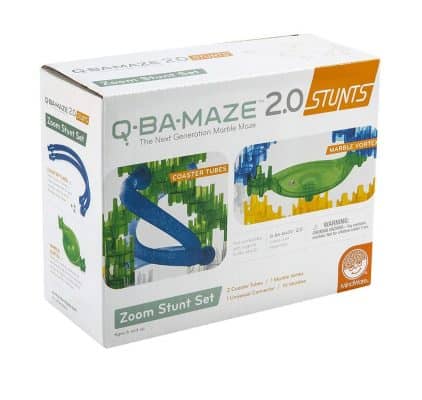 This marble run kit comes with two coaster tubes, cascade stilts, universal connectors, a pivot trampoline and a marble vortex, 30 marbles, 27 dual exit cubes and bottom exit. It is equipped with 108 cubes. Also, to ease the construction of this kit, it comes with a booklet for instructions. The pieces can be joined in infinite ways. The double exit cubes make this toy enjoyable while attempting to predict the plans of the marble run. The design of this unit is exclusive since it comes with colorful tubes that intertwine and make it difficult to predict the route the marble will follow. The maze assumes several shapes even animal form.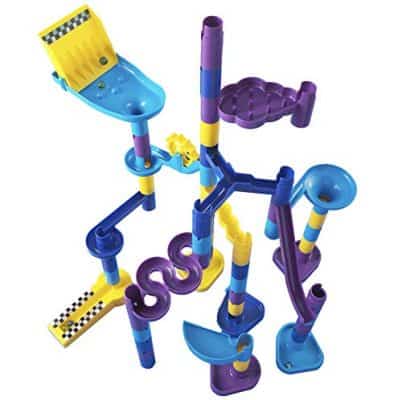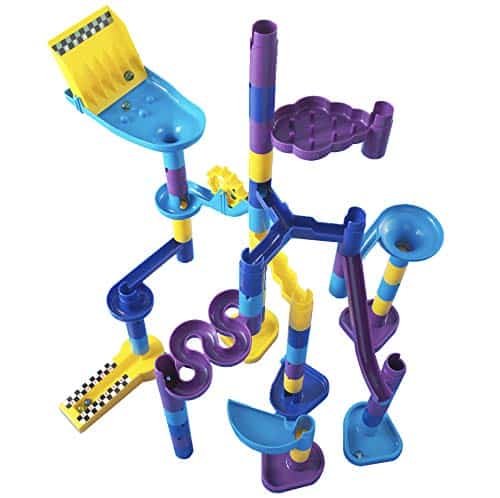 This marble run starter set from Discovery Toys comes with colorful chutes, bases, and tubes. Its open-end allows for numerous configurations. When racing marbles, kids learn about the laws of physics which make this marble run educative. This colorful marble run helps develops visualization in kids. As the marbles move through the tubes, children become aware of object permanence while at the same time developing coordination and visual skills. This Discovery Toy product enhances senses in kids and helps advance their knowledge.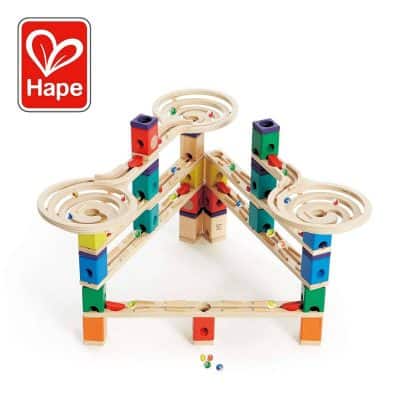 Hape quadrille wooden Marble Run has a spiral design with teeter-totter that makes it stable. This is an exceptional wooden marble run. It is equipped with a see-saw accumulator that enhances the excitement with each side reaching the tipping point then followed with a gush of marbles. Building this marble run and watching the marble run move is an interesting and exciting experience for kids. Children can use the manual to design similar structures which give them a sense of satisfaction. Its wooden blocks are sturdy. The see-saw alternates from tipping marbles and waiting for the next load. Constructing this marble run demands critical thinking a component that promotes thinking in the kids. This marble run helps children learn how to follow instructions.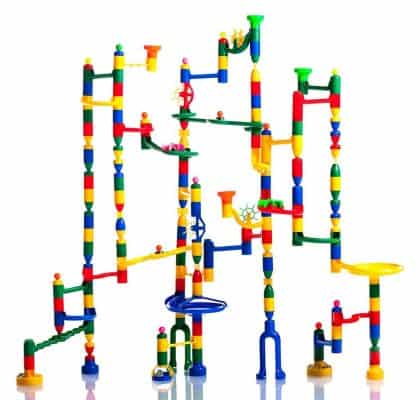 This MMP Living marble set consists of 220 components of which 200 are track components and the remaining 20 are marbles. The key to the growth of a child lies in their ability to learn. This MMP Living marble run encourages children to learn entertainingly. The tool enhances coordination, creativity and spatial skills. The manual in this set shows simple designs. Track pieces include chutes, caps, bells, carousels, rails, tubes, spinners, bases and funnels for the set. Also, the kit includes a stair stepper that mixes and matches the unique mazes. Your kids can drop as many marbles as possible without any worry of any getting lost since the base components capture all of them.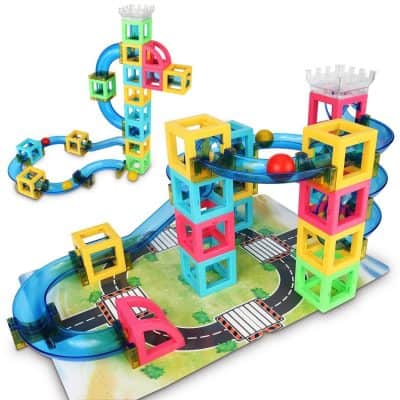 The toy's building blocks are magnetic so, the toy will act as a gravity maze whose assembly can take place in unusual areas with unexpected orientations. The different parts are made from eco-friendly materials that are notably shatterproof and sturdy and can be crafted in highly creative designs that traverse the normal concept of the traditional marble run track. The set is ideal for kids between 6 and 12 years old. They will enjoy experimenting and creating their unique designs by using the different pieces provided in this set. The set consists of 32 pieces and comes with a storage bag a manual.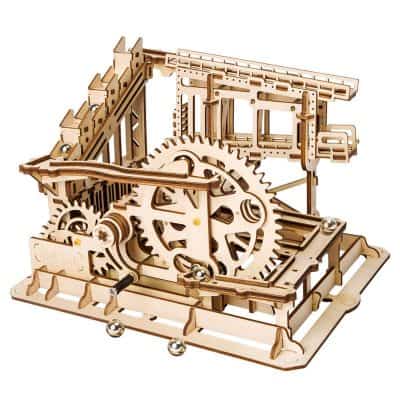 The assembly of this marble set feels more or less like a 3D puzzle as opposed to a mere marble run set because of its precision-engineered parts of plywood and the unique design that somehow resembles a rollercoaster with an automatic shunting fork. The task of assembling this marble run is both refreshing and interesting. The toy can even be used by adults to play on their own. The marble is aimed at children above 14 years. This marble run is an amazing educational toy that offers hours of fun to children while enhancing their learning skills together with their organizational and coordination skills.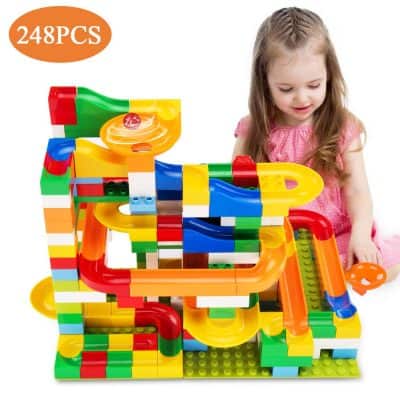 It comes with 248 pieces which are the building blocks that can be used to create different tracks that have a LEGO feel to them. Also, your kid can create various animals and shapes using different pieces in this set. This marble run set is for younger kids since it is very easy to build, and all the pieces are larger compared to the average size of marble runs. It is easy to assemble and disassemble. The marble run is good for developing your kid's hand-eye coordination, creativity, shape and color recognition, logical thinking, problem-solving skills and spatial imagination.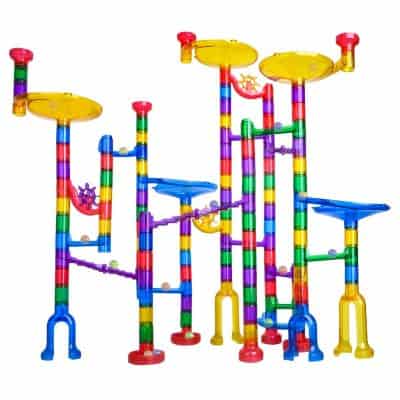 This marble run is aimed at children 4 years and above. It comes with 122 pieces and 20 marbles that offer your kid many hours of fun and learning. Included in the package is an assembly manual that makes it easy to assemble the marble run. As children put together this set, they improve their hand-eye coordination, creativity, spatial imagination and logical reasoning among others. The tracks in this marble run have centrifugal tunnels, U-turns, gradient slides, windmills and straight slides for added fun. It made from a durable and safe plastic material. Thus, is a sturdy marble run that is going to last. The smooth edges ensure your young explorer is safe.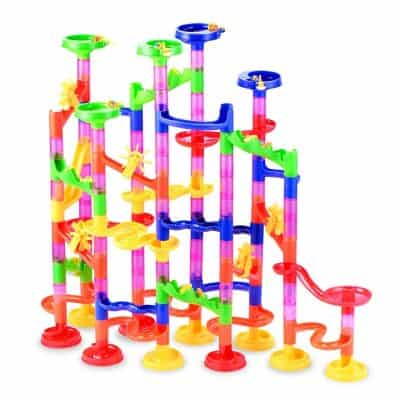 The marble set package features 130 pieces (52 pipeline linkages, 48 unique railway shapes and 30 colorful marbles). It comes with translucent pieces that let you and your kid watch the marbles as they move from the top to the bottom of the set through the build tracks. The pieces fit together well during assembly and let them stay strong even when the game is rough. This marble set is made from quality plastic to increase durability and its usefulness. It comes with assembly instructions that make it easy and fast to put together the marble run set for a fun-filled gaming experience.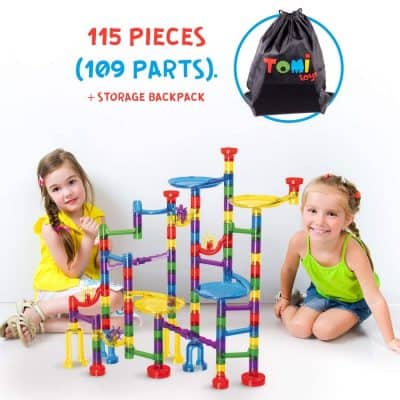 The Tomi Toy's marble run super set consists of 109 pieces (25 glass marbles and 84 construction pieces). The construction pieces include a mixture of windmills, steady bases, gradient slides centrifugal panels and U-turns. The various pieces allow your kid to create various designs of marble tracks. This is essential to avoid repetition to ensure your child is not bored easily. It is made from a non-toxic plastic material. Also, the smooth edges of the toy pieces enhance safety for your kid. It comes with a cute compact backpack that makes it easy to store the pieces and even carry them whenever needed.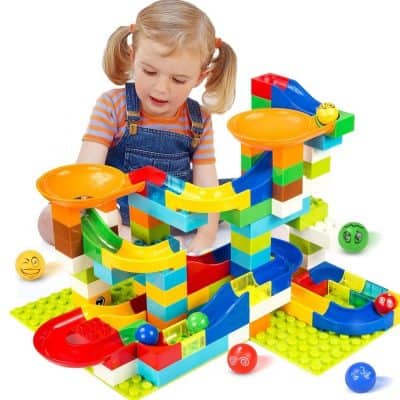 This marble run set is recommended for children 3 year and above. It comes with 97 pieces and 4 marbles. Since this is an interactive toy, children can play with their friends or parents. Thus, it fosters the development of a strong bond among them and creates wonderful memories. It is easy to assemble the pieces using the assembly manual provided. After setting it up, the marble run will take your kid through a fun-filled experience that will promote the development of hand-eye coordination, problem-solving ability and logical thinking. This marble run is made from a safe, durable plastic material. Its smooth edges enhance safety for your kid.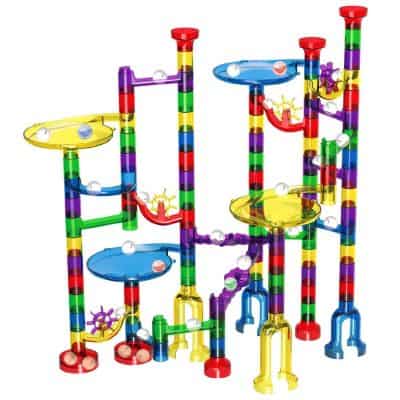 This marble run package comes with 127 pieces (90 translucent pieces, 32 DIY marbles an extra 3 glass marbles). This is an education marble set suitable for kids 3 years and above. Assembling it is very easy using the assembly manual provided in the package. Both adults and kids can engage in the assembly of this marble run making it a great way to pass time and enhance the family bond. As children build the marble run, they develop their logical thinking, hand-eye coordination, color and shape recognition, and creativity. This is a great tool for developing dexterity in young minds.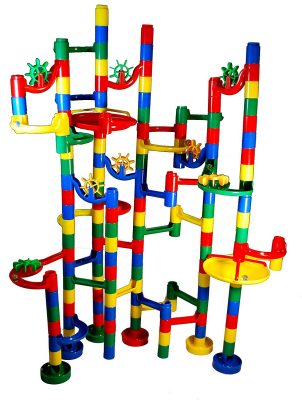 The marble set comes with 120 pieces. This package is a good gift for your kid to stimulate their minds and provide endless opportunities for constructing new and interesting obstacle courses. The package promotes creativity and is a good option if you want to stimulate and give your child a head start in STEM. The unit construction and mechanics help your kid grasp the application of the laws of physics. The marble run is easy to assemble and disassemble and even pack it up and take it wherever your kid wants. Your child will have many possibilities of creating unique and interesting marble tracks.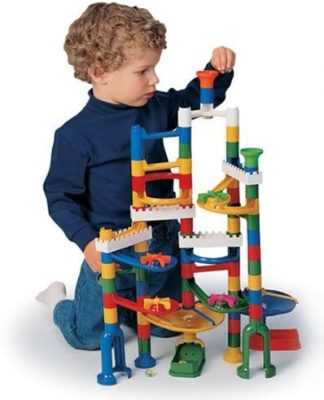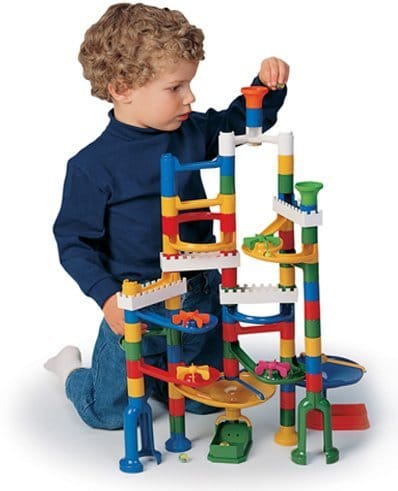 This package of marble run comes with 68 pieces (flippers, ramps and funnels) that support several designs for your kid. With this kit, your child gets 12 marbles. The pieces are made from non-toxic plastic to ensure your child is safe as they play with the toy. The toy promotes hand-eye coordination and creativity in kids. Building the marble track is fun for both kids and adults. The toy is aimed at children 3 years and above. It will provide them with hours of fun as they build the marble track and watch the marbles move from the top to the bottom.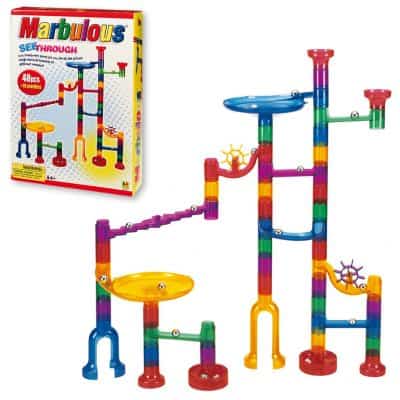 This is a great option for parents who wish to introduce marble run to their children but are not sure if their kids will appreciate the toy. The set comes with 48 transparent pieces and 16 marbles, which are perfect for an introductory set for your kid. The pieces are simple to assemble and are strong. Although it has fewer pieces compared to other marble run sets, it will stimulate creativity in your kid that will enable them to build impressive structures and ease the movement of marbles down the inclined track.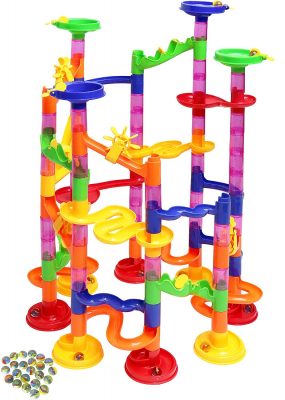 Kiddie Play Marble Run is meant for children between 4 and 8 years old. It comes with 30 glass marbles and 75 marble track pieces made from translucent plastic together with diverse connectors that can be swapped to create different combinations. This marble run set fosters creativity and is very easy to assemble and covers an area of approximately 14" and has a height of approximately 18". This unit does not have a fixed shape so children can build models freely. The design for this marble set varies from simple to complex. Kids will adore watching the marbles run through the different tracks.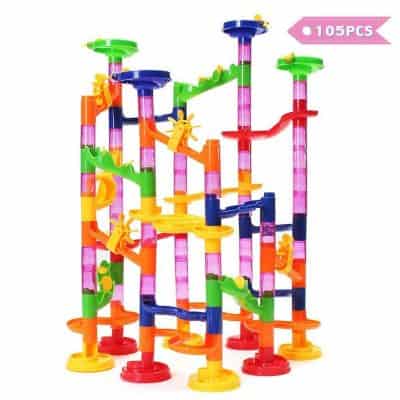 This kit comes with 105 pieces, of which 75 are the pieces and the rest are glass marbles. These marbles are made from glass and the pieces from a translucent material which allows you to see the marbles as they move after construction. This is very exciting for kids. This marble run kit improves children; coordination, thinking, creativity, and imagination. After construction, a push of a button starts the marble movement. This kit lets kids compete with friends to find whose marble is the fastest. The unit has a beautiful and attractive appearance which stimulates a kid's color recognition. Both the assembly process and marbles race result in the interaction among peers.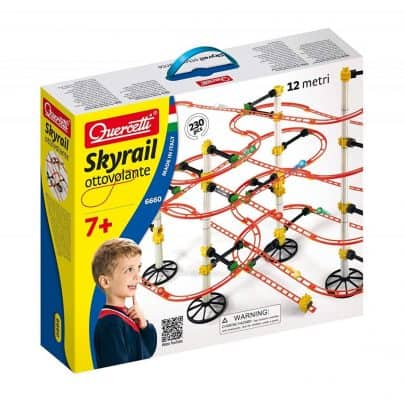 This marble run kit can create a set of fast-moving curves. Playing with this set introduces your kids to concepts of physics and enhances their knowledge of several concepts of physics. It has a great design that lets your kid use all the marbles that come in different sizes. Thus, your kid can focus on the movement of different marbles. This Maxi Playset lets your kid construct parallel dual tracks which accommodate 2 marbles at a go. This is exciting during the marble race. The unit comes with 38 joints and six bases, eight marbles, 30 straight tracks, and 46 curved paths, two colors of 55 pillars, two colors of 74 junctions and supports.