When you take your kids out to the beach, you definitely don't want to hear complaints about soggy shoes. That's why water shoes are so important to get right! Picking out the perfect pair will let them enjoy themselves, no matter how wet or rough the terrain might be. Designed with waterproof materials and comfortable soles, they'll be able to travel anywhere you want to take them.
Water shoes can be comfortable and stylish, and when you go on your next adventure, you can make sure your kid is more than happy to explore with you in any environment.
How to Choose the Right Pair of Water Shoes
Water shoes are an excellent investment if you plan on taking your kid to the beach, water park, or swimming pool anytime soon. However, with the variations in the shoes, it can be hard to figure out which one fits all of your child's needs. In this case, one size does not fit all. Below are some criteria to consider when you're trying to make the right choice. There's also a more in-depth guide to water shoes at the bottom.
Types of Water Shoes for Toddlers and Kids
The various types of water shoes are suitable for different environments, activities, and terrains. You can also read more about the differences between the types here! Below are three categories of waterproof footwear, ranked from least protective to most protective.
Aqua Socks
Aqua (or water) socks wear out the fastest and only offer a thin barrier between your children's foot and the ground. They're also the least restrictive, most flexible, and can easily be slipped on. These socks rest tightly against the skin and are good at keeping sand from slipping inside. The thin soles of aqua socks don't create a thick barrier between the feet and the environment, so avoid rough terrain – these are best for swimming pools. However, these are the easiest to swim in.
Water Sandals
This type of footwear is made in the classic style of sandals, usually held in place by a Velcro strap or buckle. Part of the foot is exposed to air, making this a solid choice for warmer days. However, these extra gaps may lead to sand and small bits of gravel getting stuck in the shoes. The shoes are often made of thicker soles to protect your child's feet from the rough terrain, making them a solid choice for hiking around water sources.
Water Shoes
Water shoes are the most protective out of the three categories, but also the bulkiest footwear. They look like sneakers, and the materials they're made of dry quickly once it's out of water. The soles are also thick and suitable for any terrain. These shoes also usually have special toe protectors to make sure your kid won't stub their toe when they're climbing and exploring. They're the best for heavy outdoor excursions and travel.
Factors to Consider When Buying Water Shoes
Knowing which type of water shoe to buy is only half the battle—to make sure that you get the perfect pair, you'll also want to keep the following factors in mind.
Age
Some shoes are made with certain age ranges in mind. If your child is younger, you'll want shoes with more support arch support, and you'll need to stay away from thicker soles, which can be hard for children who have just learned to walk.
Sizes
Shoes are made in a range of sizes, and toddler shoe sizing can be a tricky subject. You can find out more about children's shoe sizing below in our full guide. Make sure the water shoes you buy comes in the correct size.
Material
The material can impact how quickly it dries and whether your child's skin may chafe when wearing it. Rubber dries quickly, but is the least breathable material and can lead to shoes feeling hot and stuffy. Mesh is flexible and comfortable, but may not offer as much protection. Take a deeper dive into materials here.
Water Resistance
While all water shoes are made of materials that can get wet, the time it takes for them to dry varies. The water resistance of shoes depends on the materials) and design of the shoe itself. Some shoes have holes for better drainage and sole inserts to make the footwear more breathable and comfortable.
Ease of Use
Does your child like putting on their shoes themselves? Some shoes are easier to put on than others, and picking the right one means making sure your kid won't throw a fuss when you're trying to slide them on their feet. Some water shoes are so simple to put on and take off so that your child won't even need your help.
Shoe Soles
The soles of the shoes can have varying thicknesses – thicker shoes offer more protection against rough terrain. However, thicker soles make bulkier shoes, which could affect your child's balance if they are first starting to walk since the shoes aren't as flexible. The ridges in the soles can also affect the grip your child will have on the rocks when they explore so they won't accidentally slip.
Whether hiking or swimming, there's a pair of water shoes that can help any kid move in comfort while they're making a splash listed below.
Top 10 Best Water Shoes for Toddlers & Kids 2020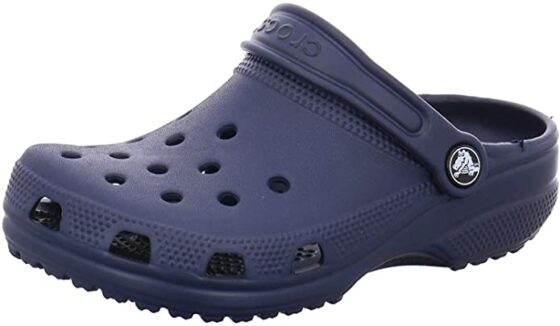 Why we like it:
Crocs are lightweight and easy for kids to put on by themselves. The design keeps your child from getting blisters, and the adjustable heel straps allow for two styles of wear.
Editor's Rating:
Quick Facts:
Type: Water Shoes
Sizes: 4 Toddler – 13 Youth
Material: Croslite (EVA)
Soles: Thick EVA material with ridges
The classic crocs are at the top of our list for their simplicity and ease of use. These shoes are also machine washable, making them easy to clean, and come in a large assortment of colors and patterns to choose from for boys and girls. The design also makes this pair of shoes good for wider feet, and the material won't rub against your child's feet and cause blisters as they walk.
The holes also make this a safe choice for hot and humid days. However, while the strap can be moved up and down, the length is not adjustable. The shoes can give off an odd smell as well if it is not washed regularly (though they're easy to clean), and the style is not as fashionable as some of the other shoes on the list.
Ease of Use
This shoe is one of the easiest for kids to put on by themselves. They can just slide it on without worrying about tying anything. The moveable strap can be pushed up or down to make sliding on the shoe easier.
Water Resistance
Holes at the top of the shoe allow water to dry or slosh out, and you can tilt the shoe back to empty the water at the bottom. The material does not absorb liquids at all, and the holes along the edge of the shoe allow for water drainage.
Pros
Lightweight and durable

No chance of blisters

Good for children with wider feet

Small children and put it on and take it off themselves

Moveable strap offers two styles of footwear
Cons
No adjustable strap

Odd smells if not washed regularly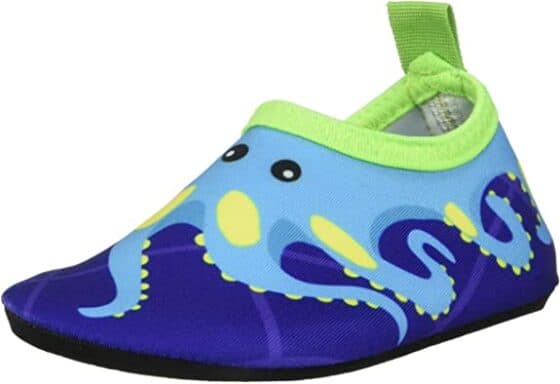 Why we like it:
These aqua socks are made of quick-drying fabric that helps with ventilation. 12 unique designs allow for more choice in styles for kids, and the tab on the shoe makes it easy to pull off and put on.
Editor's Rating:
Quick Facts:
Type: Aqua Socks
Sizes: 3 Toddler – 13 Youth
Material: Fabric with rubber soles
Soles: Thin rubber sole with small ridges
The Bigib aqua socks are made with quick-drying fabric so that your kid won't have to wear soggy fabric for too long. The rubber soles have small ridges on them for extra traction using a slip-resistant design. The softer material on the inside of the shoe prevents chafing and blisters, especially around the ankles.
However, the socks are less durable than other types of footwear, and you need to be cautious when using them for your child. The material is also thin, and won't protect your child's feet from colder waters. If you want socks that do help with heat retention, check out the SUIEK aqua socks. These would be suitable for pools and safe beaches with very little sharp rocks. With heavy play, it can be easy to wear out the socks.
Ease of Use
Tab at end of socks makes it easy for kids to slide on and take off
Water Resistance
Fabric used is quick-drying and comfortable to wear when wet.
Pros
Rubber soles have a good grip

Many patterns to choose from

Material keeps blisters from forming

Inexpensive option for water footwear
Cons
Not durable enough for rough play

Sole is too thin for some environments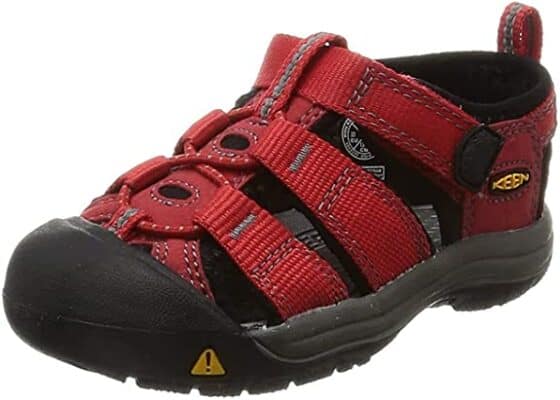 Why we like it:
The Keen water sandals are durable enough to hold up on any outdoor excursions, and the reinforced toe and heel pieces keep the feet protected in most situations. These sandals are good for heavy duty trips.
Editor's Rating:
Quick Facts:
Type: Water Sandals
Sizes: 4 Toddler – 13 Youth
Material: Polyester
Soles: Thick synthetic soles with ridges
The Keen water sandals are good for more extreme excursions and are durable enough to last a long time. They're not as lightweight as some of the other choices, but the thick soles will protect your child's feet against all outside elements. These sandals come with a reinforced toe and heel, but the material can rub against your child's skin uncomfortably if you choose the wrong size.
The shoes come in a variety of colors so that all kids can find a style that they might like. The soles are a little thicker, which can make it difficult for young kids to get used to it. In addition, it requires several bungee cords and a Velcro strap to put on which can be difficult for kids to get on by themselves – however, the extra straps and cords make the shoe more secure around your child's feet. For softer water sandals, check out the Tombik aquatic beach sandals.
Ease of Use
Harder to pull on and take off due to rigid structure. After breaking in the shoe, it becomes easier to pull on and take off. Needs to adjust some bungee laces and a Velcro strap when taking it on and off, so kids may not be able to put it on themselves.
Water Resistance
Textile fabric dries quickly, and multiple openings allow for easy drainage of water when the shoes get wet.
Pros
Safe and durable enough for any outdoor activities

Reinforced heel and toe pieces keep feet protected

Thick soles allow for good traction when walking

Sandals rest securely against your child's feet
Cons
May cause blisters if the sizing is off

Hard for children to put on by themselves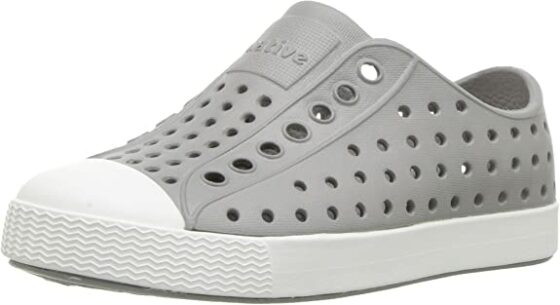 Why we like it:
The thick soles and stiff structure of the Native water shoes will keep your kid's feet safe in any environment. The shoes are also odor-resistant, and the ridges in the shoes keep your child from slipping.
Editor's Rating:
Quick Facts:
Type: Water Shoes
Sizes: 4 Toddler – 6 Youth
Material: EVA (Ethylene Vinyl Acetate)
Soles: Thick rubber soles with ridges
The Native water shoes are made of ethylene vinyl acetate for quick drying, with rubber soles and a reinforced toe guard. The material is also odor resistant, so you won't be getting weird smells from this shoe. With no straps and laces, these are easy for your kid to wear themselves. The material makes the shoe durable but stiff, making them a good choice for outdoor excursions. However, this can make it uncomfortable to hike in for long periods of time.
However, the soles are very thick and inflexible. While this means that sharp rocks won't poke through the soles at all, it can be hard for younger kids to walk in these slightly bulkier shoes. The shoes can also slide off easily, and cannot be used for swimming unlike the Speedo Surfwalker Pro. They're better suited for walking and hiking. The holes at the top of the shoe help with air circulation as well.
Ease of Use
Easy for kids to slip on and slide off
Water Resistance
Holes at the top allow for the shoes to air-dry, and the material is waterproof. However, there are no holes along the bottom for water to drain out of, so you may have to manually empty the shoe if there is water pooled at the bottom.
Pros
Durable and protective for all environments

Odor-resistant material

Thick soles with ridges allow kids to explore any environment
Cons
No adjustable straps to keep the shoe on

Can be hard for younger kids to walk in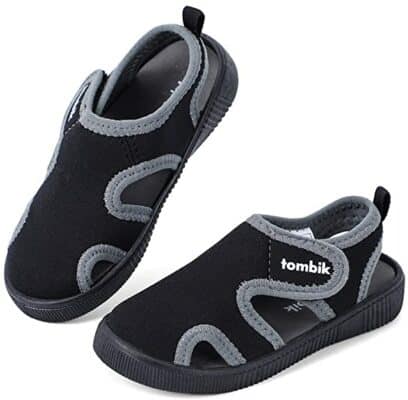 Why we like it:
The soft fabric of the Tombik sandals paired with the flexible, synthetic sole of the shoe makes this one of the most comfortable water shoes on our list.
Editor's Rating:
Quick Facts:
Type: Water Sandals
Sizes: 4 Toddler – 11 Toddler
Material: Fabric and synthetic soles
Soles: Flexible synthetic material with ridges
The Tombik beach sandals use their patented synthetic soles to make their shoes protective without being too stiff. While younger children usually have harder times walking with thicker soles, the special material used makes this easier for them to move around in these sandals. The fabric also dries quickly and stretches enough to help improve the fit of the shoe around the feet.
There is a Velcro piece holding the strap in place for kids to use. However, these water sandals have limited design choices, with only four options for girls and three for boys.
In addition, while the shoe is made with soft materials, making it very comfortable, it is also less durable than some of the other options and not suited for heavy use. The Keen Newport sandals would be a more durable choice.
The materials also make for a heavier shoe, and younger toddlers may find them too heavy to move around freely in.
Ease of Use
Uses one Velcro strap. Easy to slide on and off when the Velcro strap is open.
Water Resistance
Large open areas at the bottom of sandals allow for water to drain. The synthetic fabric dries quickly.
Pros
Synthetic soles are more flexible than other sandal soles

Single Velcro strap makes it easy for kids to use

Fabric stretches slightly for a better fit
Cons
Heavier shoe

Less durable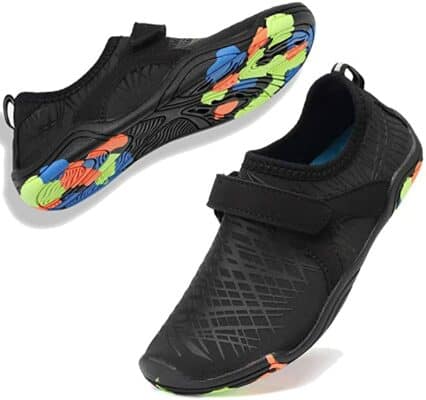 Why we like it:
These incredibly comfortable water shoes won't bother your little one on long walks, and the anti-slip ridges keep them safe on all kinds of terrain.
Editor's Rating:
Quick Facts:
Type: Water Shoes
Sizes: 9.5 Toddler – 7 Youth
Material: EVA (Ethylene Vinyl Acetate) Mesh
Soles: Flexible rubber with ridges
The CIOR water sneakers cover your child's whole foot and have flexible rubber soles to make walking easier for younger children. It has designed anti-slip ridges at the bottom of the show, and the design lets water drain out with time.
The mesh design from EVA also allows for air circulation inside the shoe so it won't get stuffy. The insole makes walking more comfortable for younger children.
However, the shoes are a tighter fit compared to some other options, so if you have a very young toddler, it could be difficult getting it over their foot if they squirm. If you want water shoes that are easier to slide on and walk in, take a look at the Crocband Clogs.
In addition, the material can be a bit scratchy when worn over long periods of time, and the water drainage is not as good when compared to water sandals.
Ease of Use
Very easy to slip on feet, with one Velcro strap holding the shoe in place.
Water Resistance
Mesh upper part and drain holes allow for water to escape. However, the foot is mostly enclosed, so drainage may not be as good as some of the other shoes.
Pros
Comfortable, high-quality rubber sole

Flexible

Good air circulation inside the shoe
Cons
Water drains slower out of this shoe

Slightly scratchy material

Why we like it:
These water sandals are made of genuine leather and come in multiple stylish choices for your little one. The soles are comfortable enough for walking and come in sizes large enough so that you can match with your kid.
Editor's Rating:
Quick Facts:
Type: Water Sandals
Sizes: 3 Toddler – Adult Sizes
Material: Leather
Soles: Synthetic, medium thickness sole with no ridges
These sandals are made of genuine leather with a synthetic sole. They're comfortable and the soles are thick enough to keep rocks from poking your child's feet. The brass on the buckle will not rust in water, and the shoe holds up for beachcombing explorations and smaller journeys. The sizes are also large enough that you could buy a pair for yourself and match with your child.
However, these shoes do not have ridges on the underside of the shoe to keep slipping from occurring on wet surfaces.
The shoes also provide little arch support for children, so avoid using this if you plan on having long stretches of walking. For water sandals with better arch support, check out the Keen Newport water sandals.
Ease of Use
Held in place with a buckle which can be harder for smaller kids to use. Easy to slide on otherwise.
Water Resistance
Sandals have enough open areas towards the bottom for good drainage.
Pros
Fashionable

Brass does not rust in water

Synthetic soles are thick enough for rough terrain

Come in every size so you can match with your kid
Cons
No ridges on the soles

No arch support

Potentially difficult for young kids to buckle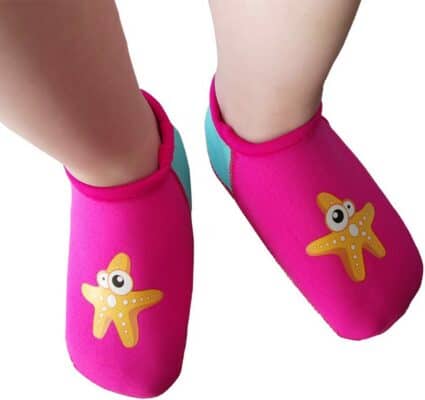 Why we like it:
The SUIEK aqua socks are comfortable even for the youngest children and made of completely waterproof material. The neoprene rubber also keeps feet warm in colder water.
Editor's Rating:
Quick Facts:
Type: Aqua Socks
Sizes: Younger Toddlers
Material: Neoprene fabric
Soles: Thin neoprene rubber soles with no ridges
The SUIEK aqua socks are made from neoprene which dries quickly and keeps your child's feet warm. It comes in four distinct patterns, and the ankle opening is designed to keep small grains of sand from getting inside. The fabric inside is soft to keep from rubbing against the skin, so your child can't get blisters from this. The shoes also float in water so you won't lose them if your child kicks them off.
However, the sole of the shoe is very thin and doesn't offer non-slip ridges. In addition, the sizes are only offered as "small," "medium," and "large" rather than traditional sizes. These aqua socks can fit feet from 4.9 inches long to 5.9 inches long and are not recommended for children past the age of 3. If you'd like aqua socks with more specific sizes, check out the Bigib aqua socks.
Ease of Use
Simply slide on the child's feet, with no straps or hooks needed. However, the fit can be a little tight, making them harder to slide on.
Water Resistance
Neoprene fabric dries quickly and is 100% waterproof
Pros
Breathable, lightweight material

Keeps feet warmer in cold water

Fabric makes it difficult to get blisters

Shoes float in water, making it hard to lose
Cons
Sizes do not follow typical size chart

Soles are thin and do not have ridges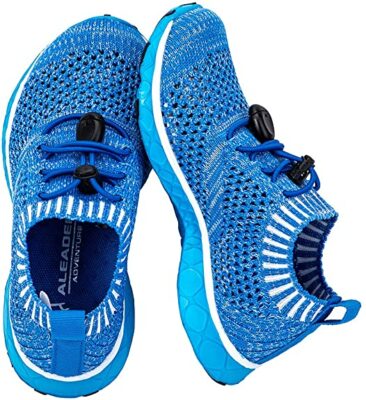 Why we like it:
The Aleader water shoes dry quicker than any other water shoes, with a mesh design that enhances air circulation. Combined with the pores in the soles, this shoe never stays wet for long.
Editor's Rating:
Quick Facts:
Type: Water Shoes
Sizes: 8 Toddler – 6 Youth
Material: Mesh and synthetic soles
Soles: Thick and flexible synthetic with pores and ridges
Aleader water shoes are designed to dry as quickly as possible when used. The mesh allows for air circulation within the shoe and the pores at the bottom let water drain out. The mesh also prevents bacterial growth and odd odors. In addition, with the synthetic sole, the shoe is comfortable to wear and lightweight for the younger kids.
However, the sole is still stiffer than some of the other shoes. If you plan on walking far, you should look for water shoes with more comfortable soles such as the CIOR water shoes. In addition, all the pores in the shoe's sole may allow for finer bits of sand to sneak in. The insoles have also been reported to move slightly when worn and don't always stay in place.
Ease of Use
Easy to slide on, with an adjustable bungee cord for tightening and loosening the shoe. The bungee cord is much easier than tying shoes but takes more effort than Velcro straps.
Water Resistance
The mesh allows for quick drying, and pores through the shoe's sole allows water to drain out quickly. One of the best drainage systems seen in water shoes.
Pros
Dries and drains water quickly from shoe

Mesh prevents bacteria and odor

Lightweight and comfortable for walking

Good air circulation

Bungee cords are easy to tighten
Cons
Sand may get in through small pores in the shoe's sole

Insoles may shift when worn

Soles are not as flexible as some other water shoes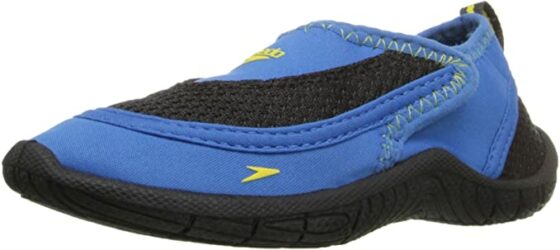 Why we like it:
These shoes are the perfect way to protect your child's feet while they're swimming in the pool, lake, or ocean. These are one of the few shoes besides aqua socks that can be worn while swimming.
Editor's Rating:
Quick Facts
Type: Water Shoes
Sizes: 4 Toddler – 11 Toddler
Material: Neoprene fabric and rubber soles
Soles: Thick rubber soles with ridges
These shoes are made of neoprene, and are light and stretchy enough to ensure a comfortable fit. The ridges at the bottom of the shoe help keep kids from slipping, and the pull tab at the heel makes it easy for them to put on the shoe themselves.
This shoe protects feet better than aqua socks can. The shoe is also tight enough that kids can easily swim while wearing them if needed. They are machine washable as well and easy to clean.
However, this shoe has a lack of air circulation inside, which can lead to it getting hot and sweaty if worn for a long period of time. The lack of holes means that it takes the shoes longer to dry, and there is the risk of odors if the shoe is worn for too long. While the soles are thick, they are also not as flexible as some of the other options. They are also not as protective as the Native Jefferson water shoes.
Ease of Use
Velcro holds the shoe in place, easy enough for kids to use themselves. The tab at the heel of the shoe makes putting on and taking it off even easier.
Water Resistance
The neoprene dries quickly, but there is a lack of draining holes and pores in the bottom part of the shoe. While the shoe will dry off, you may need to dump out water occasionally.
Pros
Can be worn while swimming

More protective than aqua socks

Velcro strap is easy to use and tighten

Comes with a pull tab at heel

Machine washable
Cons
Bad air circulation in the shoe

Dries slower than other water shoes

Feet get hot and sweaty after long periods of time
Guide to Picking the Perfect Water Shoes
With dozens of options, it can be difficult finding the right match for your toddler or child. In particular, water shoes are essential when taking your kid out to any location with water, so they won't have to deal with soggy footwear for most of the outdoor excursion. We'll go into each individual category so that you'll know what you should look for when it comes to choosing the best water shoes for your toddler.
Toddler and Children Shoe Sizing
In the US, toddler's shoe sizes run from 1 to 13 and usually have a "T" after the number (such as 3T, 4T). Sometimes, kids up to 4 or 5 years old can fit into toddler-sized shoes. After children get a little older, bigger "Youth" sizes start back over at size 1 and run up to size 7. These will not have a "T" after the number letting you know it's for older kids.
Finding the Right Shoe Size
You'll want to measure the size of your child's feet and compare it to a shoe size chart to find the typical size. However, keep in mind that different companies may use different sizes since there is not a standard size chart all shoe companies must use.
The two things you want to measure are length and width. One possibility is to print out online templates of shoe sizing guides and cut them out, then have your child stand on them to measure. Stride Rite offers such guides here, and you can follow along their detailed instructions to get accurate measurements. Another possibility is to trace your child's feet with a marker as they stand on paper and measure the outline you get.
If you do choose to do it manually, the length should be measured from the big toe to the heel for both feet along the traced outline. The width can be measured by wrapping a length of string around the widest part of your toddler's foot once; then hold the length of that string against a ruler to see the size. You'll need to take measurements again every few months, as feet grow a lot when your children are little.
Shoe Size Charts for Toddlers and Children
After you have your measurements, you'll want to compare it to a size chart and find one that can fit your child's feet just right. Make sure you don't choose a size with measurements that are too small – otherwise, the feet won't be able to fit in.
However, you can't shop for water shoes the same way you shop for normal shoes. You need to be cautious of choosing a size that is too larger as well, since ill-fitting water shoes can cause blisters.
Occasionally, shoes may come in double sizes, marked with a 3T-4T, 5T-6T, or something like that. That just means that kids with either shoe size can fit in these, though it's less precise. Often, it's used for rain boots and sandals. If you want to find the best fit, you may want to stay away from double sizing.
Why Can't I Choose a Size Too Large?
Normally, with shoes, you want them to run large so that your child can grow into them and get more use out of them. However, water shoes will be wet, and a shoe that's several sizes too large could cause chafing when it doesn't fit the feet right. In addition, ill-fitting shoes can cause blisters, especially as they are often wet.
Of course, when it comes to size, a large part still depends on the individual companies. While the size chart linked shows standard sizes, some companies deviate and their sizes may run too big or too small. You want to make sure you order with enough time to return the pair of shoes and order a new pair just in case!
How Do I Make Sure the Shoes Are the Right Size?
Have your child wear the shoes when they first arrive to test them out. Some children may have one foot that is a slightly different size than the other, so you'll want to make sure that both of their feet feel comfortable.
Next, you'll have to get a feel for the spacing inside the shoe. When you press your fingers to the front of the water shoes, there should be a little space about 1 cm long between your child's toes and the end of the shoe. Then, feel for the sides. Make sure that the feet aren't pressed right against the side, but you can feel it when pushing your finger in slightly. Finally, make sure your child's shoes are snug along the back so it won't slide up and down as they walk.
Finally, have your child walk around in the shoes. Sometimes, you may not be able to see the issue, but your kid may feel it as they move around. Ask them to be honest about how the shoes feel – if it doesn't fit right, then there is the potential for blisters.
If the pair of water shoes have a removable insole, you can take it out and make your child stand on it to compare the size of their feet with the size of the shoes. The trick is to have enough room for the feet to feel comfortable, but not so much room that the shoes will slide around too much as your child walks.
How Long Before My Child Outgrows Their Water Shoes?
When you have a young toddler, they grow very quickly and may need a new pair of water shoes in around two months. However, once they grow older, they could take around half a year to grow half a shoe size, and up to a whole year before their size increases more.
If you're worried about needing to buy too many shoes since they'll outgrow it quickly, you can look into getting shoes with double sizing. While these shoes may not fit as precisely as shoes with single sizes, your child will be able to wear it for longer before outgrowing it.
Picking the Right Type of Water Shoes
With three categories of water footwear (shoes, sandals, and socks), it can be difficult knowing the best choice for your kid. The biggest determinant of the right pair of water shoes will be the activities that you have in mind – taking your child to swim in a pool requires a different type than taking your child hiking in a wet location.
While the three types have some overlap, you'll want to make sure you have a good idea of the circumstance and location that you'll want these shoes. Even something like the weather and season can affect which shoes will be the most comfortable for your child.
Water Shoes
Water shoes are the most protected water footwear type and look like sneakers. This fully enclosed shoe makes sure that your child will never stub their toe or hurt their feet, no matter what terrain they're in. These are also the most durable out of the three and are the best for heavier duty excursions where you'll be taking your child hiking along mountains or rocky rivers.
However, the fully enclosed form makes swimming difficult, and the rigid soles can be hard for toddlers to walk with when they're first learning. Look for shoes with more flexible soles such as the CIOR water shoes. While the fabric that these water shoes are made of is breathable, your child's feet still won't have any access to the outside air. As a result, during the summer and warmer weather, these may feel hotter. In colder months, water shoes are the way to go.
Water Sandals
Water sandals are made in a sandal style, with open holes for your child's feet so that they won't get too hot. They're still quite durable (especially the Keen Newport sandals!) and have thick soles as well. These can also be good for hiking and explorations, though you will need to be careful since this type of shoe doesn't always have a protective toe piece for any sharp rocks they might hit with their feet.
While the air circulation for the water sandal is unbeatable, the holes and openings also allow for small grains of sand and rocks to get in. Depending on the brand, the soles may be rigid enough that your child may struggle with walking when they're first learning.
However, as these are more open, it is easier to swim with these shoes compared to sneakers, though it will still be difficult. These are good for riverside walking and smaller hikes, along with an excursion in warmer months.
Water Socks
Water socks are the least protective and only offer a small layer of fabric between your child's feet and the surroundings. This kind of footwear excels in a controlled environment, such as a safe beachside with very little rocks or a swimming pool. As these don't have tough soles, it's also easy for any toddler to walk in them, and they don't affect swimming at all if your child will be submerged in water.
You can't have your child wear these when they need to hike since the rocks can easily poke through the socks and tear them. There's very little resistance to outside terrain. However, this is one of the few choices that will not cause blisters, as the socks are tight against your child's feet and will not rub it wrong. They're also the easiest to fit, and most socks, such as the Bigib aqua socks have anti-slip technology built into the soles.

Material
The material that water shoes are made of can affect the drainage, drying, and even odor from the shoes. Some materials can dry faster than others, and some are more prone to odd smells after a while of wearing them. Others impact breathability, making the shoes feel stifling after a few hours of wear. When buying the right pair of water shoes, you'll need to make sure you choose a material that is quick-drying, durable, and odor resistant for the best effect.
Mesh
Mesh from fabric can be water-resistant and comes with the added benefit of hundreds of holes for air circulation and ventilation. Water shoes made with mesh may not be as protective as others, but definitely keep the feet cool in hot weather. The fabric doesn't absorb any water, and the beads of water that do get inside are dried off by air exposure quickly.
The fastest drying water shoes, such as the Aleader water shoes are made from mesh.
Leather
Leather is a more fashionable choice for water shoes. However, because of the permeable nature of leather, it is not fully waterproof and may fall apart if submerged in water too often. It's resistant to droplets of water or smaller exposure to water, but it gets heavy when it is waterlogged.
If you want your shoes to be used in pools or while swimming, you should stay away from leather. Some leather water shoes, such as the Hoy Shoe salt water sandals are better for walking along the beaches.
Rubber
Rubber is elastic, flexible, and waterproof, making it an excellent choice for shoe soles as seen in the CIOR water shoes. Paired with draining holes, it can be the perfect way to make the water shoes resistant to water.
However, if rubber is used in the entire shoe with no openings, it can cause the foot to feel hot and stuffy after wearing it for an extended period of time. It's more durable than mesh and leather but doesn't have good air circulation.
Neoprene
Neoprene is completely waterproof and often used as a substitute for rubber, although it is much thinner and doesn't offer as much protection. It's often used in wetsuits and gear meant to be submerged in water, and it can provide some insulation to keep your child's feet warm in colder water.
Our favorite water socks by SUIEK are made with neoprene. It's also elastic, which helps with the fit of the shoe. However, this is just a form of fabric and isn't as thick as rubber or leather. You can read more about neoprene here.
Ethylene Vinyl Acetate (EVA)
Ethylene vinyl acetate, or EVA, is a lightweight material that's a mix between foam and rubber. It's one of the more flexible materials and completely waterproof, which makes for comfortable water shoes and soles.
The thickness is enough to protect the child's feet from rough terrain, but can also cause the shoe to get hot and stuffy unless it's used in a design with good air circulation. EVA is also the material used in Croslite for Crocband Clogs. You can read more about EVA here.
Polyester
Polyester is water resistant and considered to be "everyday waterproof." This means that while it can hold up well when wet, it's not meant to be completely submerged in water. This is a common material used in many water-related clothing, such as raincoats. Our favorite water sandals that use polyester are the Keen Newport sandals.
Hitting the Beach
Water shoes are a necessity when you're taking your little one to the beach or pool. Picking out the right one helps your child feel comfortable as they walk around and explore with you. As long as you choose the right size and material, it's hard to find a pair of water shoes you won't be pleased with. With a little bit of research, your child will feel right at home running around on the beaches regardless of how wet they might get!