Top 30 Best Toys and Gift Ideas for 1-Year-Old Boys 2023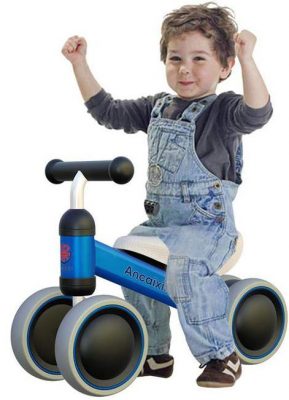 Recommended Age: 10-24 months
At around a year old, an early toddler won't be able to ride a pedal bicycle, but they can use a balance bike, an awesome toy that is a great way to teach the fundamentals of balance and activity. Designed for kids between 10 and 24 months old, the bike has no foot pedals. A fixed seat governs the max height, but it should be good for at least a year past their first birthday. It's powered by scooting along with your feet and it will help little ones develop balance in preparation for riding a real bike, allowing them to be more confident and capable once they hop on the real thing.
Assembling it is pretty easy and quick, and it's well built to last a long time. The body doesn't have any seams, meaning there are no joints or seams to rust, crack, or wear out, and making it easy to clean and maintain. The small form factor is perfect for being used both outdoors and indoors.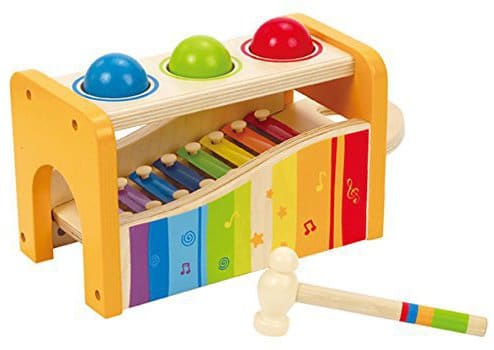 Recommended Age: 1-3 years
This is a great wooden toy that helps your little one make their own music. It can be used by any child starting at about 12 months, and it has various notes and instruments to keep kids entertained. It comes with a small wooden hammer which is used to tap the xylophone key, creating the music.
The toy helps with musical recognition at such a young age, and will help give a base for a baby to create their own music as they grow. It's stimulating and helps babies start to make connections to music in a fun way. There are no small or hazardous parts, and it's easy for young hands to use.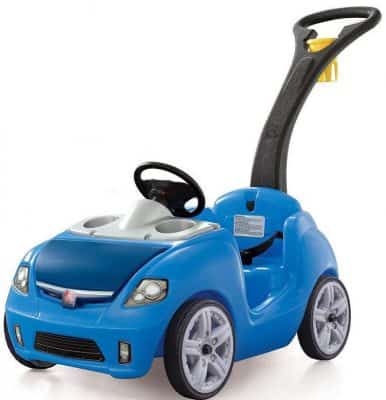 Recommended Age: 1-4 years
This ride-on pushcar enables you and your one-year-old boy to explore the neighborhood in a more fun and stimulating way. It features a beautiful, durable design, equipped to take on various surfaces with ease. The wheels are super-quiet, so it won't bother parents, and it features a nice storage space to stash snacks or toys under the hood. It also has a comfortable seat belt for safety and cup holders for your young boy to stay hydrated.
With this toy, your little boy will build confidence and even feel more mature and independent as they will be in control. It's a good way to help them develop some motor skills while also introducing them to directions, and it folds up out of the way to save space. A wide age range means it accommodates children up to 50 pounds, but at around $100, it's a bit pricier than comparable toys.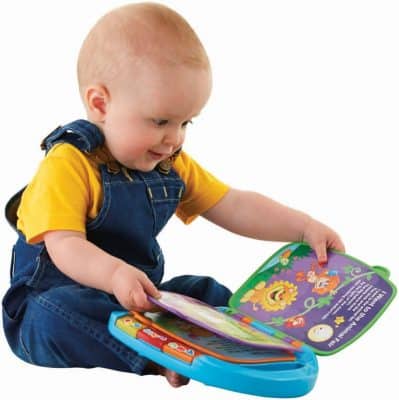 Recommended Age: 6 months – 3 years
A book filled with rhymes and songs, the one-year-old in your life will be so excited singing all of the six nursery school rhyme songs that fill this book's pages. Buttons on the side of the sheets produce different sounds, mostly letters and numbers. The book has a plastic handle, which kids love to use to transport the book.
The different bright colors and fun images on each page make the baby look forward to flipping to the next page. You'll definitely love watching them laugh and learn with every new nursery rhyme, although since the pages are made of plastic, there aren't too many pages.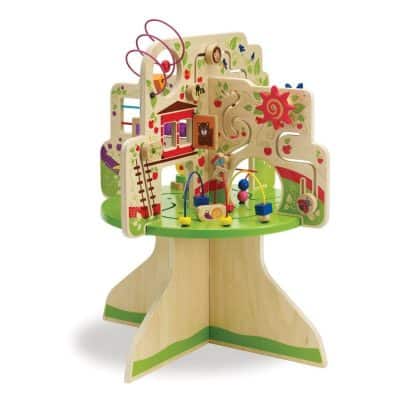 Recommended Age: 1-3 years
There is no better way of building your little one's adventurous and creative attributes than with this toy. It's a wooden playland that's full of fun activities and will entertain a young and imaginative mind for a long time. With beads on loops and various types of animals, it's meant to stimulate and teach motor skills. It's stable, but can topple over if your baby tries to climb it. Supervision is recommended.
Featuring various colors, it will help with color recognition. As it's loaded with colorful moving parts like colored beads, playing with this toy can improve fine motor skills. Other features include three built-in tracks with animal gliders and colorful spinners, birds, fruits, and leaves. It will help your baby use their imagination and develop creativity.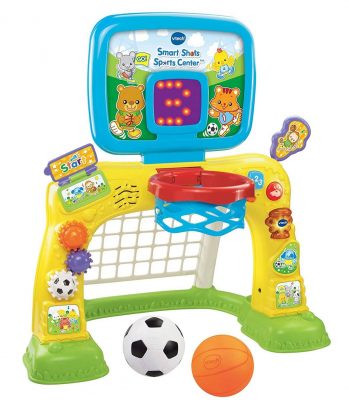 Recommended Age: 1-3 years
As a one-year-old boy is probably just learning how to take his first steps, so some entertaining motivation will greatly boost his energy. This sports center for one-year-olds comes in handy, and it will keep him active for a long time and keep him moving. You can either score soccer goals or simply shoot hoops on the basketball goal, with an LED scoreboard keeping track of points.
It lights up with every score, and the kid gets to enjoy the encouraging sounds, phrases, and animations that play with every attempt. It's perfect for building motor skills and can be used by two kids at a time.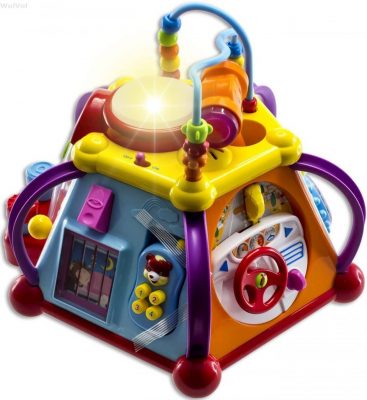 Recommended Age: 1-3 years
The WolVol Musical activity center is a full suite of toys meant to keep an infant stimulated and occupied. Each side of the cube has a different play item, so your little one won't get bored too quickly.  It includes a steering wheel that has sound effects produced by cars, a cell phone, a microphone, different melodies and a bell that makes the toy do things like waking up the baby, lighting up, and playing melodies that include birthday songs. Each of the featured objects performs different functions to keep the baby busy, and the lights, sounds and music draw their attention easily.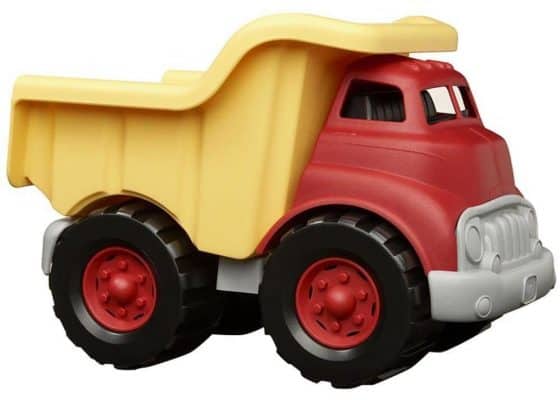 Recommended Age: 1+
Holidays at the beach can only get better with this dump truck. You can also get it if you have a sandpit around because your little one will find it more fun. It is also suitable for indoor play because there is so much that they can carry with it other than sand, including their other little toys. It's a good option if you want to encourage more physical activity, as they can push it around the house or outdoors without getting bored. It is constructed using 100% recycled plastic, plus it's BPA- and phthalate-free. It's not the largest dump truck toy, but it's enough to put various stuff on the dumping bed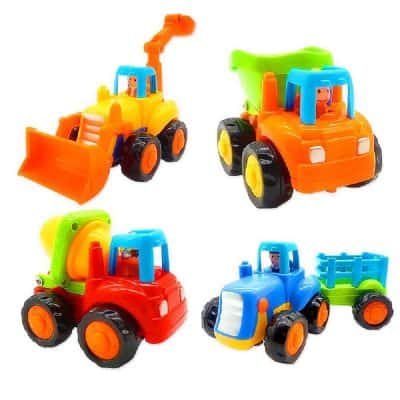 Recommended Age: 1+
Toddlers can develop their motor skills with this set of 4; a bulldozer, tractor, cement mixer and a dumper most ideal for the outdoor games. It will not require any batteries so the little one will just push it around. And because these toys are very colorful, the baby learns how to coordinate between the eye and hand, promote their imagination and sensory perception. They are also perfect for cooperative play.
The sizes might be smaller than some people expect but they are perfect for babies. Again, these toys are made of durable plastic hence strong and durable to withstand even those times that they might be smashed on the walls.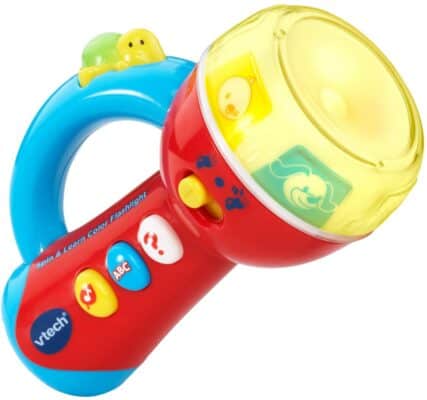 Recommended Age: 1-3
This interactive flashlight has a color ring with six colored lights, and your baby will definitely find it fascinating. Also, the flashlight has an interactive feature with animal letters and sounds to keep the little boy entertained. There are several buttons on the side that play some fun melodies, so more entertainment. Tour little one will enjoy turning the flashlight on and off, while learning a bunch of age-appropriate lessons.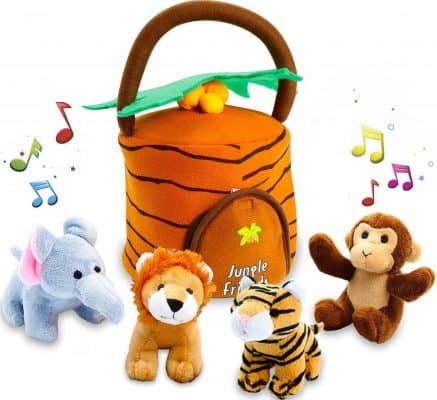 Recommended Age: 1 month +
Ever wanted to introduce your little one to wildlife? With this toy, they will begin to recognize wild animals, colors, and sounds at an early age. It comes with a plush carrier in the form of a tree that has different animals found in the wild plus a jungle house. And, because the animals are comfy, the parent will enjoy seeing the little one cuddle them. This is a wonderful way to inspire imaginations to the kids because they will be hugging, squeezing and cuddling them. They are also perfect for pretend play, especially with you or another child. The buttons might be a little hard for younger kids to push at first, but they get easier with time.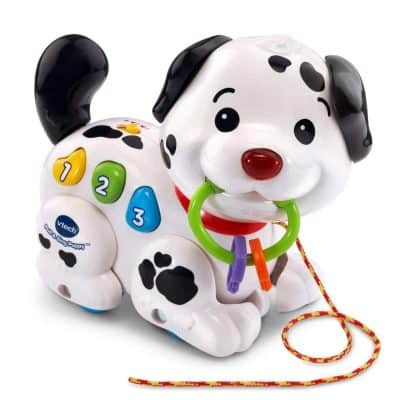 Recommended Age: 6 months – 3 years
Babies anywhere from 6 months to 3 years old will enjoy having a puppy follow them everywhere they go. With every push or pull, the puppy will produce different melodies. It has press buttons on the side to enhance the learning of numbers and sounds. This play toy will interest the kid with its movable legs, melodies that light up the nose and watch the keys swing with every movement. It also encourages your little one to be more active, and you will also love how adorable the two will look as they walk and sing together.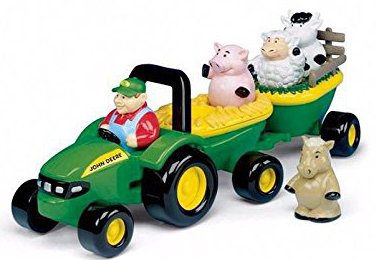 Recommended Age: 18 months +
This cute toy is ideal if you'd like to introduce your baby to animals and the sounds they make. It features a set of six, comprising a farmer, a wagon, tractor and four farm animals. The fun begins when you match the animals to their various wagons and press the button to hear the various sounds made by the animals. It is a great toy to help your little one know the various animals and their sounds.
It's also great for boosting their eye-hand coordination, as well as motor skills. The farmer has a button that once pressed will also produce his famous song "Old MacDonald." It's a really well-thought out toy.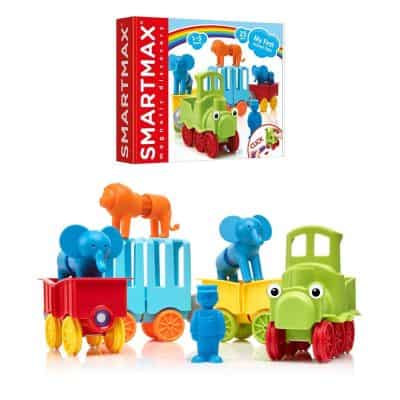 Recommended Age: 1 month +
The SmartMax train contains 25 pieces that the baby can put together to create a moving train. This will greatly improve the baby's eye and hand coordination. Also, they will get to learn the various colors while also improving their motor skills. It has large soft animals that have magnets underneath, and any Smartmax set will work with it, but keep in mind that the parts do not fit on other brands' train tracks. The animals are placed on top of the tracks to make the play more interesting. It's a great toy to boost their creativity, plus it's super entertaining.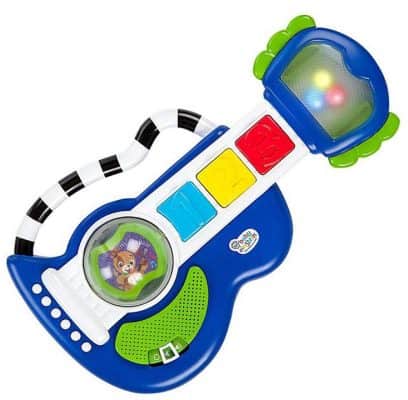 Recommended Age: 1-2 years
If your little one loves music and singing, then you will never go wrong with this rock light and roll guitar toy. The little musician will be able to produce sounds by rattling or pressing the buttons which produce different melodies.. It has two volume settings so you can select the tolerable level for you, but even the loudest level is very much manageable.
Another thing is that it's very portable, being so lightweight and small in size that you can take it with you for on-the-go fun. It also features lights and tunes to draw the baby's attention, while helping kids to be creative and acquire stage confidence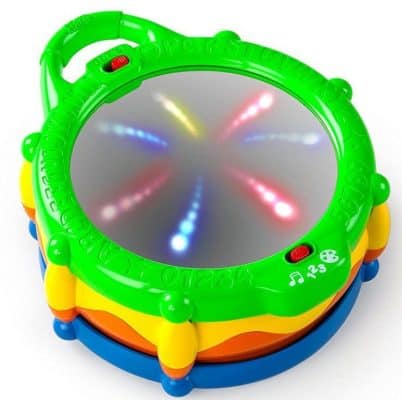 Recommended Age: 6 months +
This very interesting portable little drum will mesmerize the little fellow. With every tap, the drum will produce a different musical tone.  Bright colors correspond to every tap of the drum which will help babies learn to count. It is an interesting way of teaching your baby the numbers, different colors and music.
It's small in size and very portable so they can also take it to wherever they prefer to play from, and it's compact enough for durability. Keeping it clean is super easy as all you need is a damp cloth and some soap to wipe it.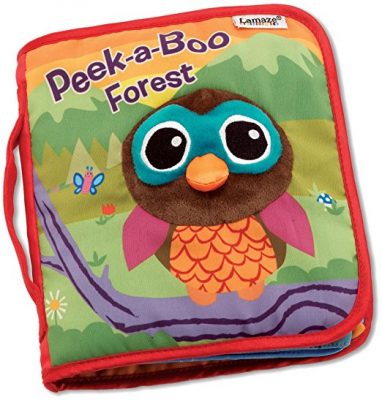 Recommended Age: 6 months +
Storytime with your little one will only get better with the Lamaze Peek-A-Boo. It has six colorful pages that you can use to teach the baby the different colors and also various rhymes to entertain them. With it, your baby will find it easy to focus, thanks to the bright and bold patterns and colors, and this stimulates vision.
It's really helpful when you're looking for ways to foster your baby's imagination, and it also helps you bond with the baby. Importantly, the pages are made of durable cloth, and the fabric is washable, so your baby won't be tearing it up, and you can keep it clean. It's not long, but your little boy will love reading it again and again.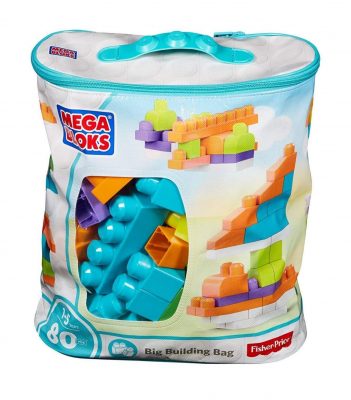 Recommended Age: 1-5 years
These are building blocks with different shapes and colors that help to build the kids creativity and imagination when they assemble them. They are suitable for toddlers as their little hands find it easy to hold, stick together, and pull apart. The various blocks make it easy to introduce your baby to colors and shapes, and they can also get as creative as they wish and build just anything.
They make a good way to bond with your little one as together you can build various stuff. With over 80 pieces, the set contains enough pieces for several children to play with, though the storage bag they come with doesn't look so durable. They also make a great way to boost your child's eye-hand coordination.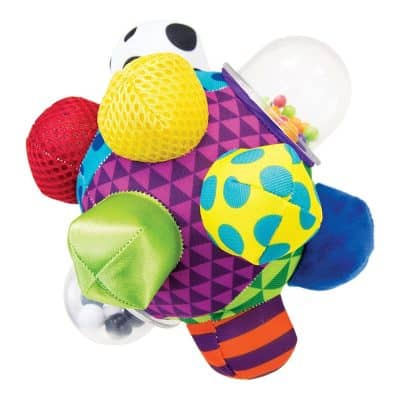 Recommended Age: 0-3 years
This developmental toy features some bright colors to help your baby master the different colors with ease. It also has well-designed grasping bumps so they can easily hold on to it, and the various patterns are also bold. Your little boy will love chasing after this activity ball, and this will boost their activeness while also entertaining them. With it, they will develop some strong sensory system and tactical skills as it features various textures, colors, and sounds, which is really good for their rapidly developing brains.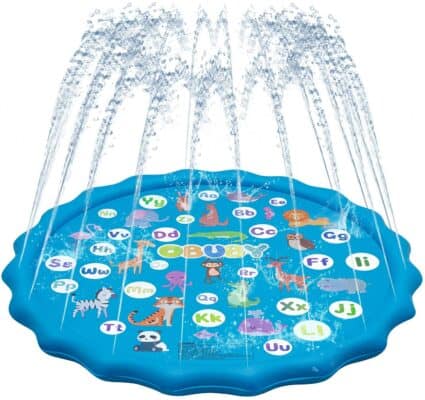 Recommended Age: 1+
The Obuby sprinkler is a soft blue mat that sprays water in the air, making for a ton of fun and warm summer days. Illustrated with cartoon animals, the Obuby sprinkler is made out of a collapsible vinyl that tucks away neatly after use. It also holds up to safety standards, using a non-toxic PVC without BPA or phthalates. Use is simple, just connect it to a water nozzle or garden hose and the water arcs into the sky, spraying unpredictably. It's great for barbecues, pool parties, or just a hot summer day. Since there's no standing water, it's much safer than a pool.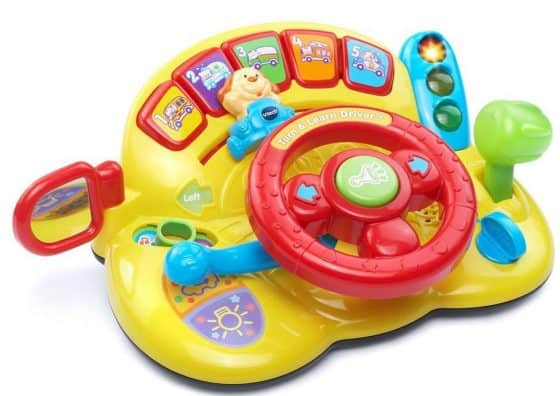 Recommended Age: 6 months – 3 years
This amazing steering wheel will get the baby hooked as they imitate how mummy/ daddy drives. When the steering wheel is turned, there is a dog-like character that moves back and forth. It has 5 different buttons that produce different sounds and have very attractive lights. On one side it has a shift gear and on the other a side mirror.
Your little one will enjoy driving and obeying traffic rules the same way parents drive, though it can be a little frustrating because the steering wheel doesn't turn all the way. It includes over sixty songs, phrases, sounds, and melodies. It's very entertaining as your baby can choose different buttons if they want it to make car sounds, talk or play music.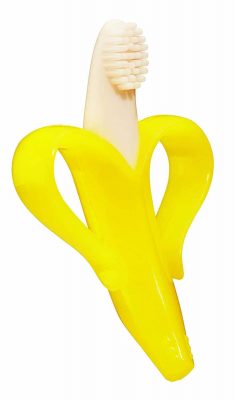 Recommended Age: 3-12 months
Babies are always curious about brushing their teeth, and most of the time they will want to do it on their own. However, leaving them to brush on their own might be dangerous due to choking hazards depending on the toothbrush design. Well, this toothbrush will make everyone happy because it's perfectly designed for use by babies even as young as 6 months as a teether.
Remember that even though your 1-year old boy might not need a teether, their gum and teeth are still very delicate and using a tough toothbrush might hurt them. This toothbrush has soft silicone bristles, and it will actually massage them, and there will be no mouth injuries if you left them to brush themselves. It might not be the best for plaque removal, but it's perfect for training.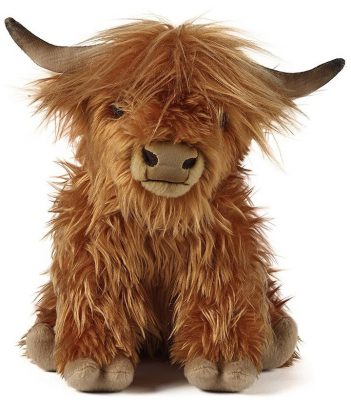 Recommended Age: 1+
If the little boy loves cows, they'll love this toy. It's the most realistic cow soft toy and the sound makes it all worth it. It has all the features of a cow, and even the color and texture is that of a real cow. It's not too large, but it's a good size for a stuffed animal. Overall, it's a really cute stuffed cow toy, and it's perfectly filled to give it a nice shape.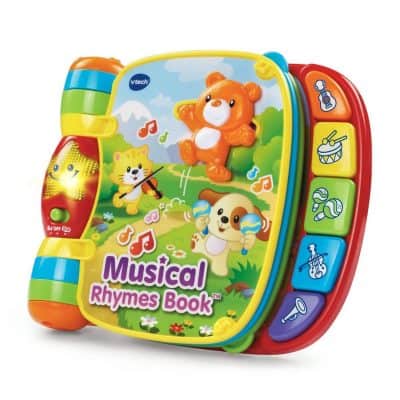 Recommended Age: 6 months – 3 years
This is an interactive classic book that has classic nursery rhymes for kids aged 6-3 years. It has easy to turn pages so the little one will not have any problem turning the pages. With it, the little one will acquire motor skills by sliding and twisting the fun play pieces. It visually stimulates the kids because of its bright colors and makes piano sounds when the buttons are pressed.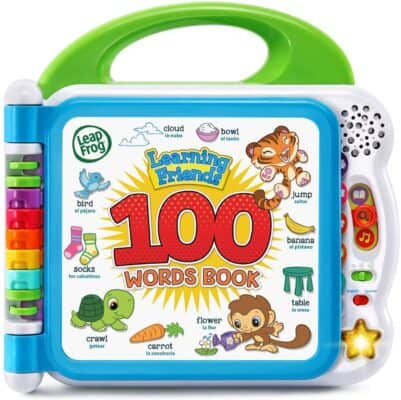 Recommended Age: 6 months – 3 years
With 100 separate new terms for young children to learn within this book's weatherproof and spillproof pages, this book could be the first one your child will enjoy by themselves. It's designed in a clever way, with each page turn unveiling a new group of sounds that will help your baby learn new terms and vocabulary words. Touching words plays the sounds, meaning the words themselves are shown each and every time to the child, helping with reading comprehension and more. Unfortunately, though, the words are only in English, not helping to expose children to other languages.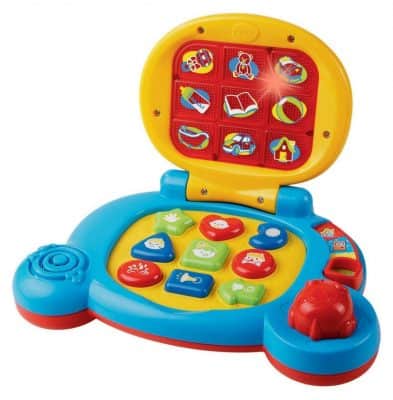 Recommended Age: 6 months – 3 years
This cute little laptop for the baby will help interact and introduce them to early childhood learning. It has different shapes, fun melodies and bright colors that draw the kids' attention. It has a light-up screen that helps with early learning concepts. It also has a moveable mouse and chunky keyboard keys that makes it look more like a real laptop. Again, it is solid-built for durability so your little one can use it for a long time. With over ninety sing-along songs, fun phrases, music and sounds, your baby will find it entertaining for a good while.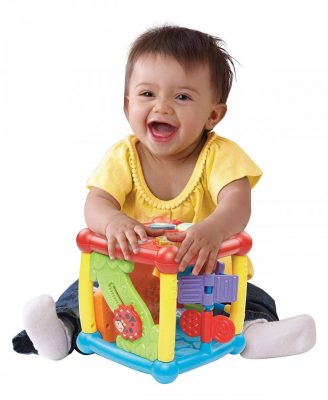 Recommended Age: 6 months – 3 years
This five-function cube is suitable for babies between 6 months and 3 years old, meaning it's phenomenal for your one-year-old baby boy. It's made of durable BPA-free plastic and only needs two AAA batteries to run, which come included. It's a perfect toy to encourage exploration, hand-eye coordination, shapes, animal sounds and names, and generally keep them engaged.
It has a motion sensor, so when moved around it produces different melodies. Because it has five different sides, babies will enjoy spinning cubes to discover new playthings and have fun pushing buttons that introduce different animal names and their sounds. It also features a music button.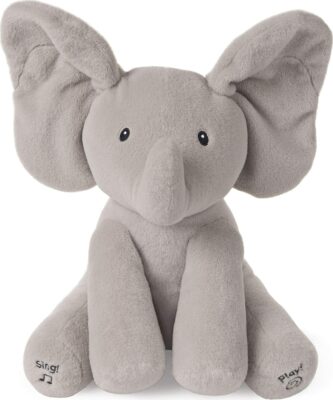 Recommended Age: 0 – 2 years
This cute elephant named Flappy is a plush that contains a small surprise: it sings! You can squeeze the left foot to play peek-a-boo with the elephant, and press the right to hear a wonderful and interactive song: "Do Your Ears Hang Low?" While singing or playing, Flappy's ears move around to the rhythm. For this reason, the toy does need batteries.
The toy is incredibly soft and plush, great for your child's crib or bed, and the fact that it sings means it will be a very beloved companion in your child's life. With durable and sturdy seams, it has the potential to last your child for many, many years.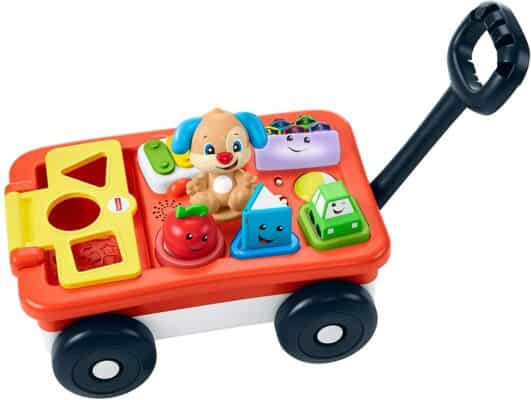 Recommended Age: 6 months – 3 years
This plastic wagon reminds us of the typical red wagon, although instead of getting loaded with a picnic and a couple little ones, it's loaded with a group of creative toys so that your child can imagine heading out on an adventure. With specific slots helping to organize the toys, this toy with 'Smart Stages' technology can help you change out the educational content as your baby grows. It's even got xylophone keys to add a musical element.
With a plastic construction, though, it's not the most durable wagon out there, and it won't hold any real weight, meaning it's only for play-pretend adventures.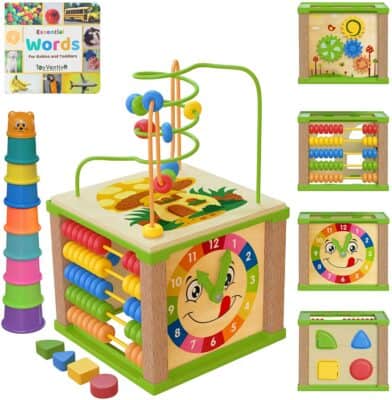 Recommended Age: 1+
This small, wooden cube is fantastically made and loaded with fun and hidden surprises for those babies always looking for a new type of fun. With several different play faces, all giving way to a new option for fun, this cube is fully loaded. It's colorful and, while being loaded with some round moving pieces that can help babies develop motor skills, it doesn't represent a choking hazard as all the pieces are attached. With a shape-sorter lid, a puzzle, and exciting moving and spinning toys, it's sure to capture your child's attention. Watch out for splinters as the box ages, though, as the surface is made of unsealed wood.