Best Toys and Gift Ideas for 3-Year-Old Boys 2023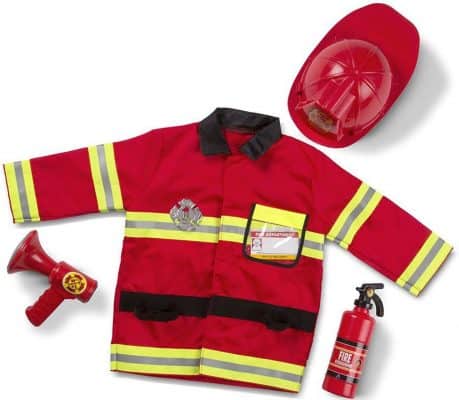 This is a set of six firefighting items that includes a jacket, badge, helmet, fire extinguisher, a name tag, and the bullhorn that makes sound effects. It's a very realistic set that will make your little boy feel like a real fire-fighter. And, nothing is cheaply made, so he can have and use them for a long time. The set is also perfect for creative and imaginative play, and his developing mind will have so much to create even for pretend play. The jacket is machine washable, while all the other accessories are easy to clean by just wiping. And, everything is safe for use by him.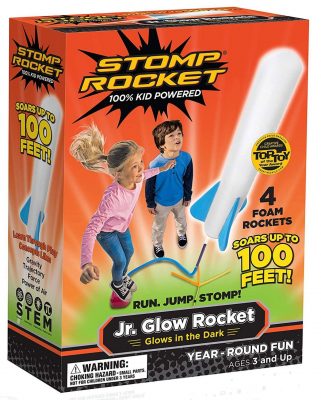 If you are looking for fun ways to help your kids burn off some their energy or to just get all active, running and jumping, these glow-in-the-dark rockets will do the trick. They will enjoy running, jumping and stomping on them to launch and celebrate the view of the glow. They are well-designed for durability and will withstand any weather conditions. The best thing is that they do not need fuel or batteries and you don't need a huge compound to enjoy the full fun. The view of the rockets shooting in the air is breathtaking, and your little man will love it more.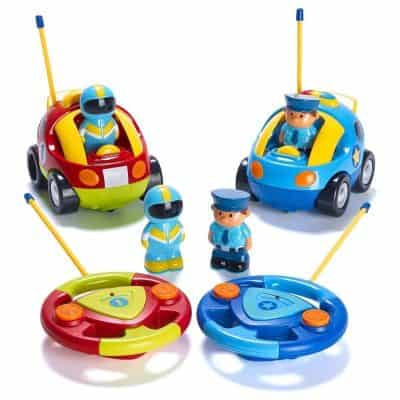 If the little guy has shown interest in racing cars, get them this pack of R/C police cars, and they will love it. It comes with two police cars, two policemen, and remote control, plus a racing car that has two drivers. He will have lots of fun. And, even better, the vehicles have different frequencies thus they can be controlled at once which means even more fun. Again, the police siren sound is very realistic, and he will have a real experience. The hocking is also very realistic plus the flashing headlights.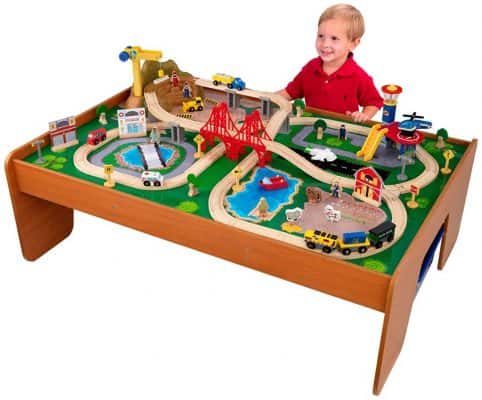 Most 3-year olds are very imaginative, and this train set and a table will take it a notch higher. It's very detailed to encourage exploration and creativity. Your kid won't have to even leave the house to experience different worlds. It has a long winding track that he will use to take other vehicles over the water and under the bridge and through the construction area and airport then finally back to the starting point. It's a perfect set for pretend play too and your little boy will spend so much time imagining and exploring this little new world.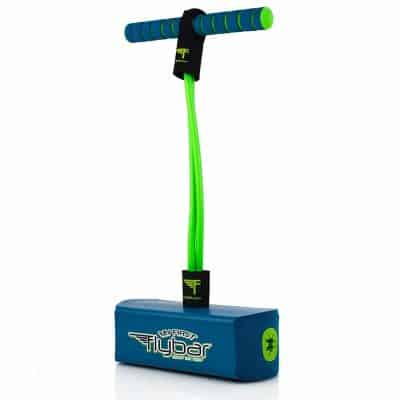 This is high quality and super fun foam jumper, designed to bring some fun for both the parents and their kids. The hopper can be used by kids and adults, and it makes some sound to help in counting the number of hops made. It motivates the kids to remain active, and this contributes greatly to their health. It also helps with hand-eye coordination for the little ones, not forgetting boosting their strength and balance. It's very safe for kids too and strong enough, despite being made from some soft foam base, to withstand constant use. The grip handles are also very comfortable, and it's great for outdoor and indoor use as it doesn't scratch or scuff surfaces.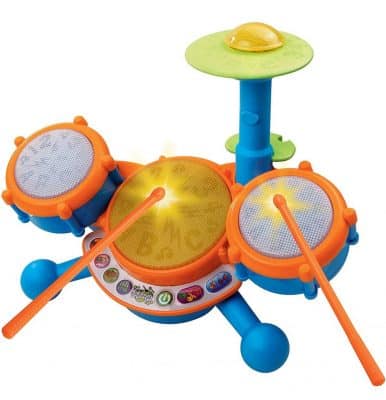 If your little guy has shown interest in music, drumming, or you would like to introduce him to this world, here is a perfect drum set for him. Each has a unique sound so he will not only enjoy using it but will also boost his sensory development. It features 9 melodies with different styles, (pop, dance, and rock) and so you'll soon discover his favorite style, and it also has some music that teaches numbers, music, and letters. It's really a great kids' drum set with LED light to capture their attention. He will soon become a real drummer because it comes with two drumsticks for him.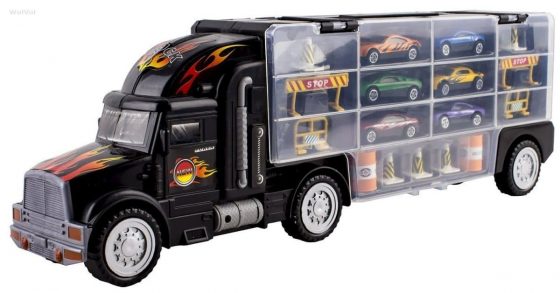 Now, when you think of a good car deal, this should be it for your little one. It is not only 20 inches long, but also comes with six cars and can carry a total of 28 cars. This will definitely be so much fun for him and also good storage for all his other cars. Also, included are cones and construction signs, so it will boost his creativity and imagination while also keeping him active for the most part of the day/night.
Another thing to like about this truck is its design. It looks so much better than most toy trucks that you will come across, and its front cab is detachable, and you can easily turn it. Again, once fully packed, your little one can carry it by the handle at the top if they wish.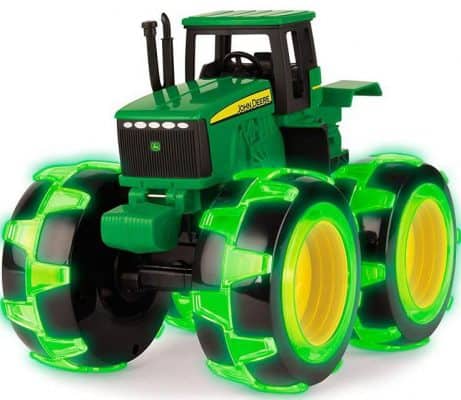 This is the perfect monster vehicle, and if your 3-year old boy is into huge cars, this will definitely be a win. The overall style is awesome and what makes it even more appealing is its lighting wheels. He will be all smiles by the sight of this. It is made of high-quality and durable plastic, and it's strong enough to take any rough treatment from the little boy. The color is also bright enough to catch his attention, and so much effort has been put on the design. To operate it, it requires 3 AAA batteries, and they are included, so he will start using it immediately.
Here is a great tablet toy for 2-5-year olds. It features a color changing screen to capture their attention, and they will find the piano keyboard entertaining and the letter buttons educational. It comes with batteries thus ready for use, and it's parents' friendly as it features volume control and to save on batteries, it has an automatic shut-off feature. In total, you get twelve learning activities, and the best part is that it has progressive learning levels, so your baby will still find it useful even as they grow. It's a perfect kids' gadget to bring out their explorative nature and also encourage discovery.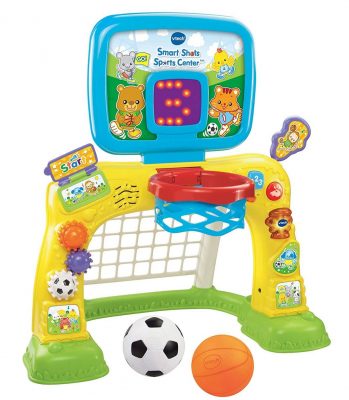 Sometimes kids need a little motivation to get off the TV, or other gadgets and this sports center will do the trick. It's well-designed to not only get the kids' attention but also to encourage them to keep playing, and you can take the opportunity to play with them as well. It has an LED scoreboard that counts the baskets up to ten while playing encouraging sounds, animations, and phrases. It's also an educational toy that any kid between 1-3 years of age will find helpful with shapes, counting, and letters. Also, the little one will learn how to shoot hoops and kick and a ball. It's a great toy to keep babies active and also to help parents bond with their babies in a fun way.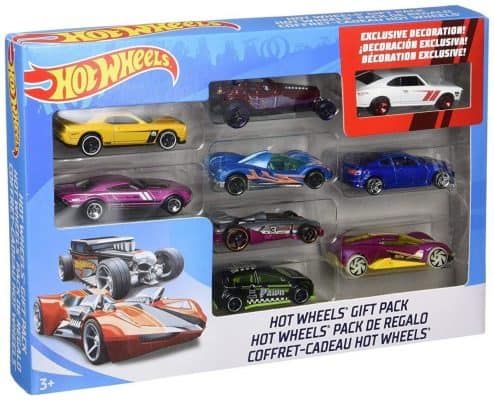 Having a 9-car gift pack feels like heaven for a 3-year old! If your baby boy loves cars, get him this pack and watch how excited he will be. The cars are in different designs and colors, so he will have a great time trying out each while also picking his favorite(s). They are small and well-made. Thus he can have them for a long time especially if he is a little collector. Also, if he has friends with the same passion, he can trade whichever he likes. The general styles of the individual cars are very appealing, and the overall quality is great for durability.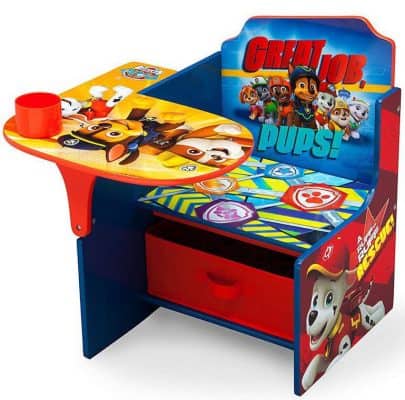 This is a pretty chair desk that the little man will love. It's colorful with a scratch-resistant finish to ensure that the graphics remain intact. It's also very sturdy and spacious to give him enough space to do his work. Again, the design makes it very comfy to sit on even for long hours, so he can have his quiet moments doing his own stuff for as long as he wishes. It's also low enough for a 3-year old, and it has a removable cup holder where he can fit his art supplies, plus a fabric storage bin underneath to store just anything that would fit. Cleaning it is also super easy and quick since you only need to wipe it using a dry cloth thanks to its finishing. He can also use it until he is 6-years-old, so it gives a good value for the money.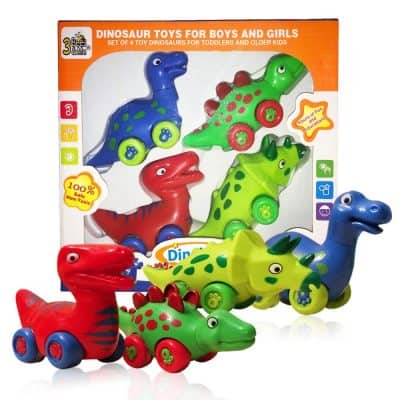 Every 3-year old boy will find this set of dinosaur toys fun to play with. The designs and the colors are cool, and the quality is great so they can use them for a long time. They are four in number, and they have little wheels so he can enjoy riding them. Also, they are pretty affordable given the quality and the number, so they are a good deal. Since at this age the little guy's curiosity is at its best, he will have fun exploring the different dinosaurs, and you should also expect a tone of questions on the same. It's a good playset, and they are very safe for kids (BPA free, Lead-free, and phthalate free)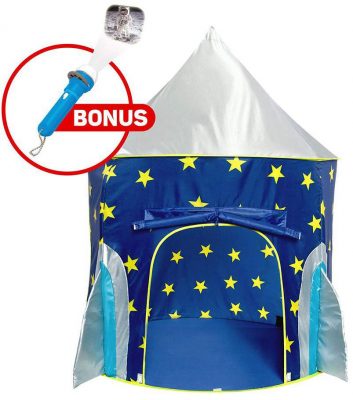 Both indoor and outdoor plays for the little guy will never be the same with this play tent. It's the ultimate spice, and they will love it. The size and the quality is perfect for use either indoors or outdoors, and that's why it's also great for classrooms. Assembling it takes just a short time since it's very straightforward. It's also very sturdy, and it will withstand everything from a 3-year old boy. Also, it will withstand the outdoor weather just fine. It's also easy to clean, and you won't need any special cleansers. Just a damp cloth and some soap to wipe it clean. It's very durable and can't be compared to any pop-up tent for kids. It's also well aerated with mesh wider doors and also mesh windows. It's also spacious thus making it safe for use by kids.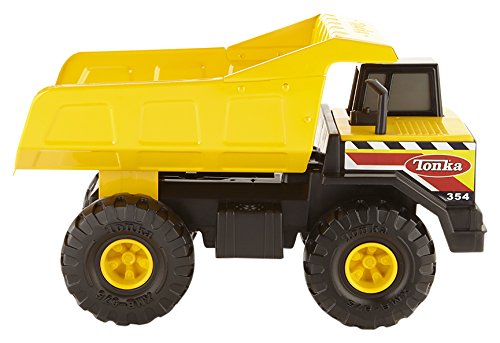 Just as you'd expect, this Tonka truck is really strong, and it will handle all the rough plays that it might be subjected to by your 3-year-old boy. It's made of steel and sturdy plastic materials, and it's really durable, to say the least, and he can use it for many years. It's also quite large, so he will have fun loading and dumping stuff with it. The bed actually tilts back to dump, so he will have loads of fun. It's a great toy or gift for a 3-year old boy because they will find it useful both indoors and outdoors and it also gives you value for the money.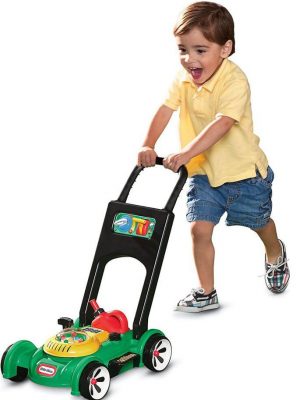 Boys at this age are very active, and this toy helps keep them actively occupied and at the same time helps them develops skills they will need in future, like having actually to mow the grass. It doesn't come assembled but is very quick and easy to put together. The toy has many fun features which will keep your child interested for a long time, such as a pull cord which makes revving noises when you pull it, a movable throttle, and a plastic clicking key. The pull cord, however, shouldn't be pulled too hard as it might break. These features also keep your child interested for a long time. It is affordable and lasts a long time.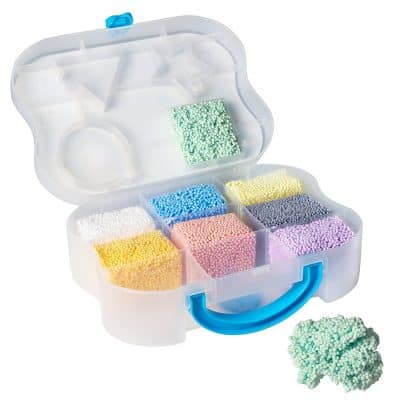 This product is packaged in a translucent portable travel case which has in-built shaping moulds and separate storage compartments. The Playfoam is non-toxic and comes in eight colors which, together with the shaping moulds, provide your child with a number of ideas on how to mix and mould them. It is a great way to keep your child engaged while boosting his creativity and imagination, as well as developing his motor skills and providing sensory and tactile development. It does not dry out and can be used over and over again without it getting spoilt. It is quite affordable, and the best thing about Playfoam Go is that it can be sculpted anywhere and at any time.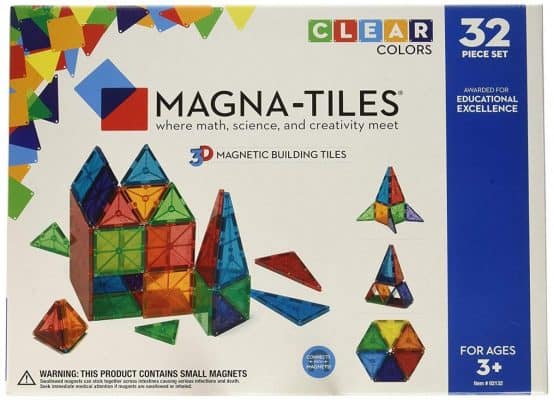 Your child is learning new things daily at this age, and the Magna-Tiles set is just the perfect toy for him. The tiles are lined with magnetic edges which always attract even when the tiles are flipped, making it convenient for your kid to make anything that comes to mind. It is an excellent way of encouraging and increasing your child's creativity and imagination and enables him to develop math and science skills. The shapes that make up this set include squares and triangles which make it possible to build almost anything, from a rocket to a house, to even a dragon. The shapes are also translucent and colorful, and your child will hardly lose interest for hours as he comes up with new and fun ideas to play about with the colors and shapes. It is costly but very durable.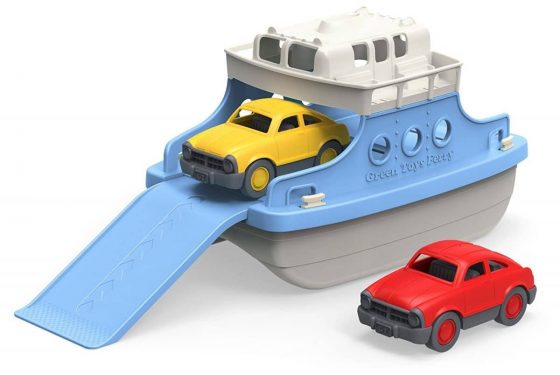 This is a great toy to keep your child occupied during a bath and is also great for pool play. The toy is designed to float on water, and it comes in three pieces which include the Ferry Boat and two Mini Cars, each with a solid color. The toys are entirely made from recycled plastic, easy to clean and can even be thrown into the dishwasher and it dries out entirely on its own. The ferry has a spacious cargo area for keeping the cars and a slide-out ramp for moving the cars in and out. It is sturdy and can withstand harsh conditions. It is affordable, and while your child gets to have fun with this, he is also able to learn about recycling and conserving the environment.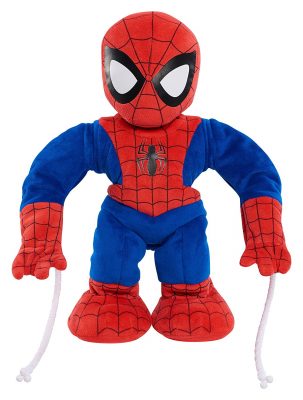 A boy who loves Spiderman will definitely enjoy this toy. It has many fun features that will surely delight your child. By pressing the foot and holding it by the webs, it can do amazing moves like swinging in the air, hanging upside down, tumbling back and forth, and doing a somersault. It also talks and plays the Spiderman theme song. Your child can pretend to jump it from building to building just like the real Spiderman does on T.V. It uses 4x AA batteries and is 13.5 inches tall which is just the right height for your child. This toy is interactive and helps keep your child active and engaged. It is packaged in a brown box and is very affordable.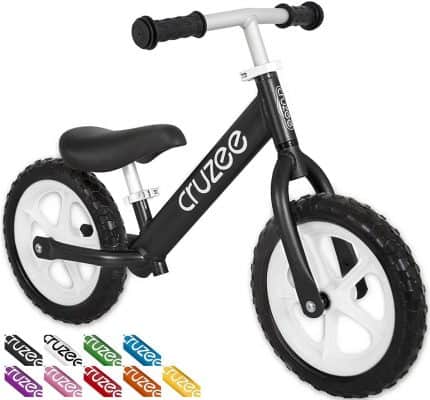 This bicycle is great for teaching your child how to balance as in does not have the training wheels. It is super light and comfortable for your child to carry around and maneuver. The bike is designed to grow with your child. It comes with an extra, long seat post which allows it to be adjusted to fit him as he becomes older until he is five years old. It is also really easy to assemble and does not require any tools. Your child will gain confidence and learn to ride a bigger bicycle within minutes after starting with the Cruzee. This bicycle is a long-term investment and is quite pricey although it is guaranteed that your child will love it.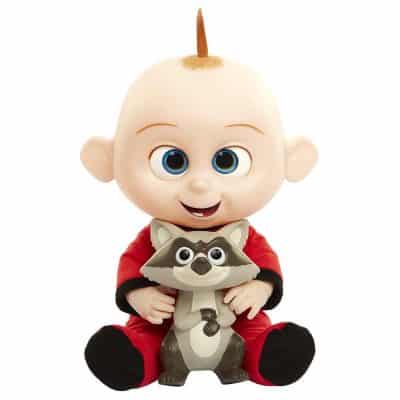 This toy is packaged very nicely and comes with a raccoon toy. Jack-Jack is soft. The raccoon, on the other hand, is made from hard plastic but with a furry tail. Jack-Jack has many exciting features, all of which are brought about by pressing the tummy. Pressing Jack-Jack once makes it laugh, twice makes it giggle, and thrice makes it light up and shoot lasers from its eyes. It can smoothly go from being adorable to combusting and shooting lasers from its eyes within seconds. It might look creepy though when it combusts, but your child will love it regardless. It helps in developing his sensory skills while also keeping him busy. It is also quite affordable and runs on 3 AAA batteries.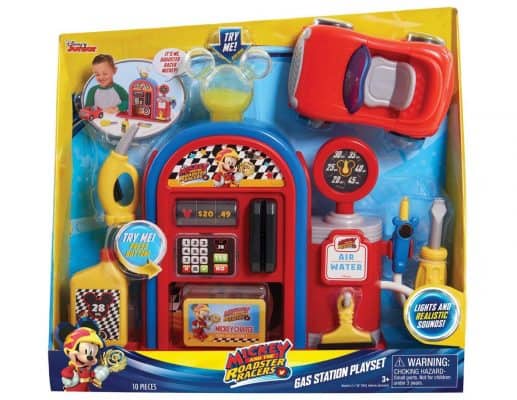 This toy is exactly what your little one needs if he is a Mickey Mouse fan. The set includes a gas station playset, a car, four wheels, a squeegee, a screwdriver, an oil bottle, and a credit card. He can pretend to fill the car with gas and use a pump that really puffs air. The gas station playset has numbers which spin on the dial when the Mickey icon is pushed. The set will blend in well with the rest of your child's car collection. It also has a variety of sound effects. This set will interest your child a lot and keep his mind active and engaged and also help him develop useful skills about handling cars. It is quite affordable.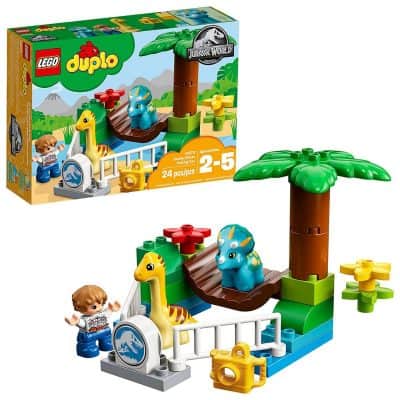 This set contains unique pieces, including a bridge, a swing, and two baby dinosaurs. The dinosaurs look cute and adorable instead of the scary ones presented in the movies and, therefore, will not scare your child. This kit is excellent for creative play and is a great way for your child to develop basic building skills and also to keep him occupied. The pieces are designed for tiny hands to hold and put together comfortably, and they help in developing fine motor and tactile skills and coordination. They are safe and very easy to construct. The kit is also very affordable.

This is a great interactive toy for learning and practicing letters and sounds. The set includes chunky stampers and stylus which are great for little hands to stamp and write letters. The guide booklets you get involved in your child's as you guide him into using the set. It also includes six cans of Play-Doh Brand Modeling Compound. The toy helps your child develop reading and writing skills in a fun way while also providing motor and sensory skills. It is very colorful and, therefore, there won't be a dull moment for your child while he is playing. It is very affordable and a great learning tool for your child.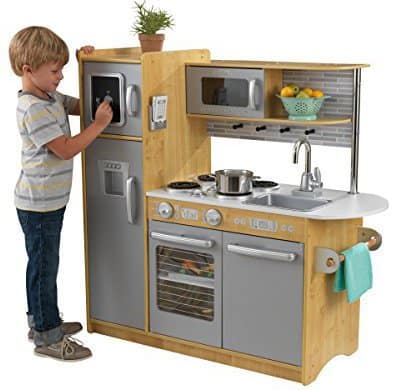 Let your child learn kitchen skills with this realistic modern kitchen. It is very well detailed and includes a fridge, a freezer, a microwave, an oven, and a dishwasher, all with doors that open and close. It also includes a chalkboard where your kid can write the day's specials, as well as a cordless phone. The parts come separated and need to be put together, and the manual that comes with it will make your work easier. The kitchen will keep your child busy and also help him learn to be responsible. It is big and cumbersome. The price is reasonable considering the size and detail of this product. It is also built to last a long time.

Thomas and Friends Railway set is great for indoor play. It includes a water mill which also doubles as a bridge with an elevated track, a battery powered Thomas, a signal gantry, a train station, and two signs. It is very entertaining and will blend in well with your child's other toy collections, and he can experiment and explore his creativity. Your child will also develop sensory and motor skills which are great for his growth and development. The pieces are easy to set up and can be easily disassembled and stored away safely.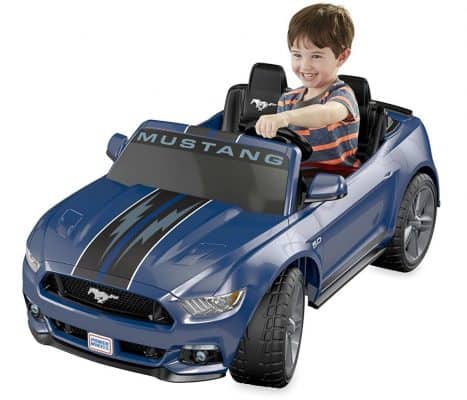 This car will make your little boy feel like is owns a real car because it's so realistic. It features real car sounds, a touch screen display for parents to change speeds and alerts on stability, traction control and low battery, and also allows kids to control the audio system easily. The dynamic traction control allows it to be driven on tough terrain and the advance stability control keeps the wheels on the ground and maintains its speed. It has three pre-loaded songs and an MP3 jack for children to play their own music.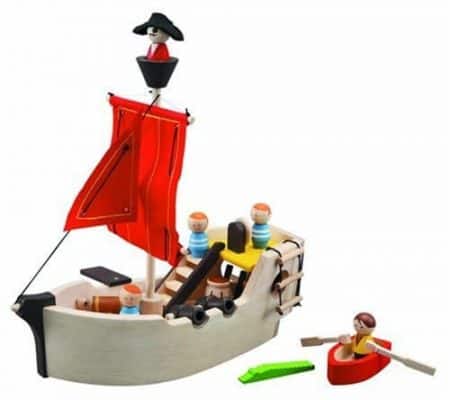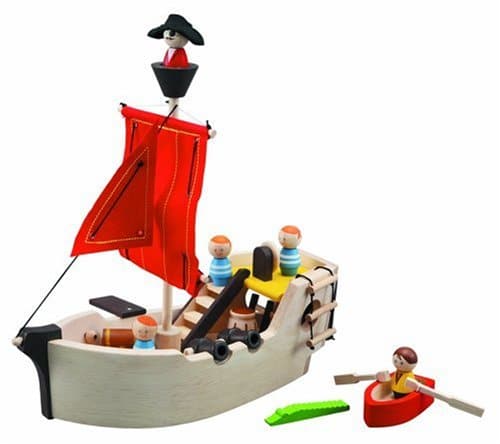 This toy pirate ship emulates the real ship with pirates in it and the stereotypical one-eyed hat wearing captain. It also comes with a little rowboat on the side plus a crocodile. Your child is able to come up with his own adventures thus promoting his creative and imaginative thinking. The ship has a passageway at the back which can be opened to move the cargo into the storage room, which is also where prisoners are kept. It is made from non-toxic and environmentally-friendly materials, which helps your child learn to be environmentally responsible. It is sturdy and durable and is designed to endure rough handling. The parts come off and can easily be lost, so they need to be taken care of. It is also a bit costly.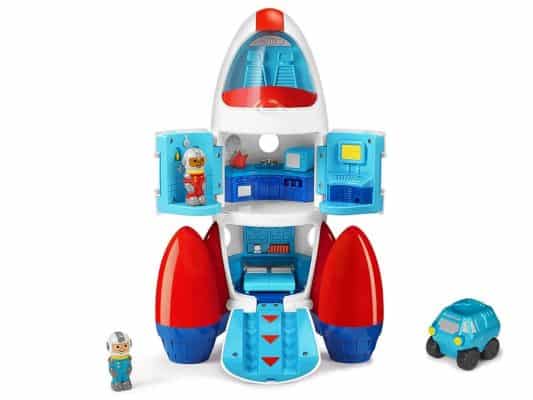 This realistic toy rocket lets your kid go to outer space in his mind. It is bright and colorful and has three compartments including a control room that holds two astronauts, a living area which has a computer, a kitchen and a shower, and a room which functions as a garage and a bedroom for the astronauts. It is high quality and very durable, and the color combination makes it very eye-catching and exciting. Your child develops good motor skills and will explore his imagination and use his creativity to come up with new adventures. The toy is affordable, does not make annoying sounds and can be carried around.