Top 30 Best Toys and Gift Ideas for 6-Year-Old Boys 2023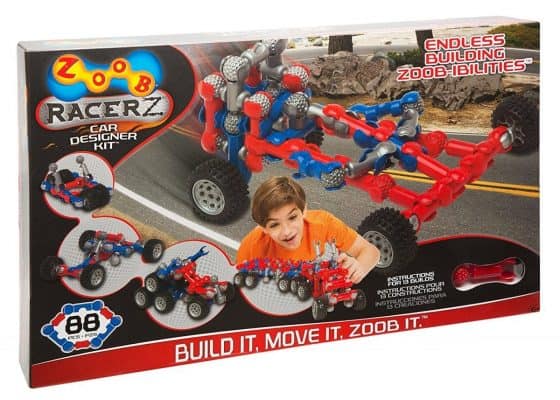 For boys, when it comes to toys, cars always take the top spot. With the Zoob RacerZ Car Designer, any 6-year-old boy fascinated by cars can enjoy creating toy replicas of 4 unique vehicles that include 3 ZoobMobile cars and a 12-wheeled car transporter. The 76-piece toy kit has a unique design and comes with an instruction guide—though it's not easy for some kids to folllow, especially since some pieces don't interlock.
The toy is ideal for both interactive and independent play. This kit provides ample creative opportunities with its pieces. This allows kids to use their imagination to build everything from monsters to motorcades. Or better still, engage in direction-following by studying the instruction guide.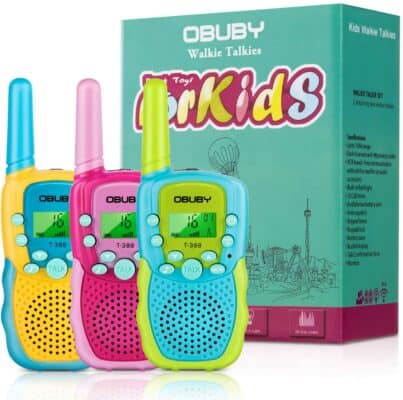 Enjoying the outdoors, and going on "adventures" with friends is fun with Obuby Walkie Talkies. Children can explore their surroundings all while keeping in touch with other "explorers" with this set of 3 brightly colored walkie talkies. Boys will love the built-in flashlights, and 10 different call signals to switch between.
Obuby Walkie Talkies have a range of 3 miles and has 22 different channels for added privacy. They are also equipped with a voice activation feature so the "talk" button does not need to be held for messages to be relayed. Battery life is short, so parents will need to have extras on hand when using these for long periods of time.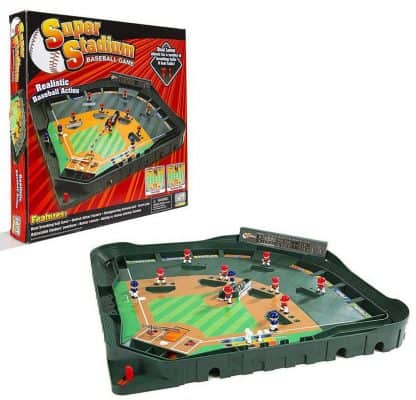 If your 6-year-old boy is a Yankees fan, search no more. Give him a gift of the Super Stadium Baseball Game. He will command his players in his room. This game, a cross between a mini baseball and a pinball arcade allows the kid to place the batter's hand on the right or left depending on where he wants the ball to go. The infield is fully magnetized, which allows for great movement of the ball.
The young baseball fan can recreate his favorite plays while refining his coordination and concentration skills. The game has different controls that change both the trajectory and speed of the balls. The boy will love both the game and the mechanics involved—although the pitcher can be frustratingly difficult to control, so remind him to be patient.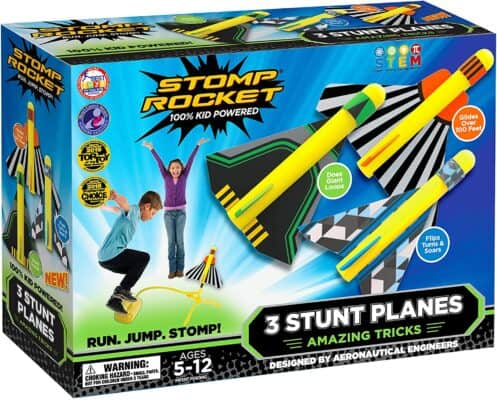 Stomp Rocket Stunt Planes are an exciting outdoor activity for boys who love planes, science, and watching things soar. Stomp Rockets have a foot launcher that boys can stomp, run, or jump on to catapult their rockets into the sky. It comes with 3 different plane types, a looper to make giant loops, a glider to fly long distances, and the "Wildcat" which makes fun aeronautical tricks.
Stomp Rockets are kid-powered, which means no batteries or remotes, and children can easily adjust the angles of the launch themselves. Some boys may get bored with the limited distance, and rockets can come apart with constant use. Stomp Rocket Stunt Planes are a great addition to playtime at the park or a beach day—just avoid using them in enclosed spaces, unless you want the toy and everything around it to break.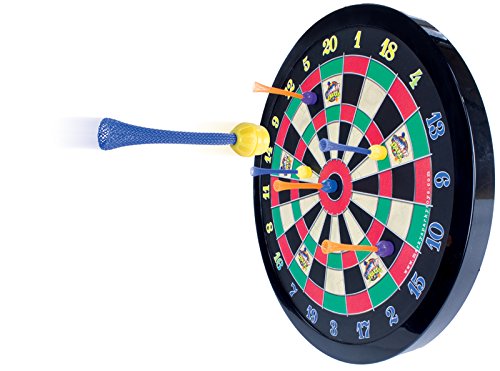 This is among the best toy gifts for a 6-year-old boy. High-grade neodymium is used to make the magnetic board to provide the excellent magnetic attraction of the magnetic darts. The darts provide many opportunities for socializing and learning.
The toy is safe and can be played in different ways by changing the throwing distance or using the point-keeping systems. The toy can be used to demonstrate the force of impact, magnetic strength, and scorekeeping techniques. Magnetic darts don't fly quite as straight as traditional darts, but the tradeoff for safety is well worth it.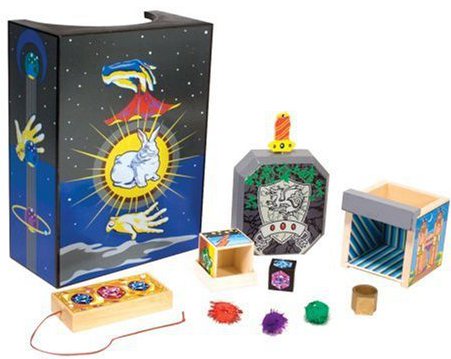 Mastering a single magic trick takes a lot of time. If your kid is fascinated with magic start with the Discovery Magic Set that already has 4 easy magic tricks to master. These tricks include the Chamber of Illusion action, Color-changing String spectacle, the Magic Jewel Box Phenomenon, and the Sword in the Stone trick.
In some cases, the ideal confidence-booster is a euphoric audience. This toy set provides your kid with the best opportunity to shine. After mastering the art of illusion through careful practice and study, your kid can delight a crowd with his magic and hopefully be equipped to answer questions. Do keep in mind, though, that the tricks are a bit complicated to pull off, so some kids (and any younger siblings) might find it frustrating.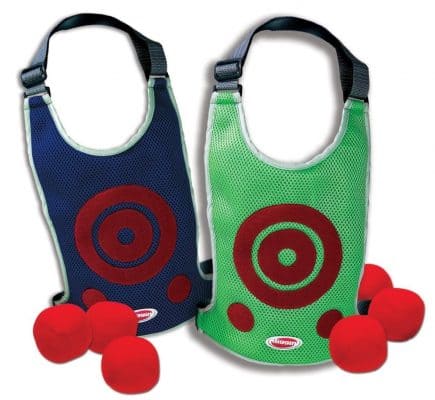 Children love playing dodgeball. This is a fun game that gets your kid active while helping them develop his hand-eye coordination. This Diggin's toy gives your child a chance to play dodgeball safely.
The toy kit comes with several mesh shirts that can be adjusted to fit your child's body. The shirts have a Velcro target which other plays aim at. After hitting the target, balls stick making it easy to keep the score when playing. Ensure that everyone involved understands the safe play and only use balls that come with the kit.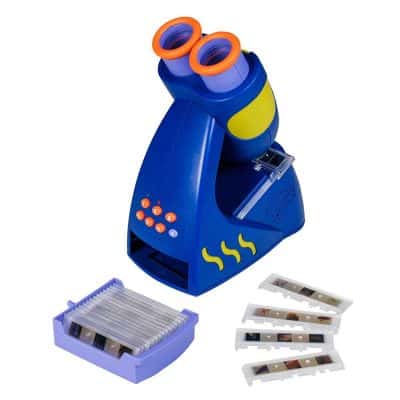 Most young boys are attracted to science as they begin school. This toy will boost the knowledge of your 6-year-old son in STEM subjects. The Talking Microscope is a good education toy that features interesting facts about each slide, as well as fun and educational quizzes. Plus, the toy familiarizes the young boy with the equipment he will soon begin using in studies—it's pretty similar to a full-size adult microscope.
The only problem with such a realistic toy is that it's also very easy to break—so make sure you tell your little boy about the importance of treating it with respect before he uses it. You may want to include some batteries, too—or the tantrum he throws when he realizes he can't play with it right away might be the end of it.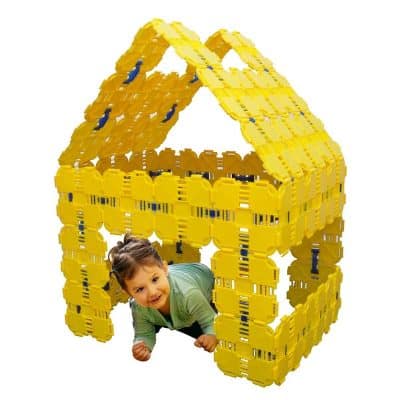 This building kit will help your son to construct a makeshift fort for himself. The toy set features 44 (8" x 8") boards and 44 connectors that give your child amazing building capacity. The toy guide includes plans for cars, castles, houses, and submarines. So, the only limit for your son is his imagination of the things he can create with the boards. This open-ended toy is a great gift since the child will continually find ways of using it.
Your son can snap the pieces together at any angle and then easily take them apart—which also comes with the downside that they might fall apart accidentally if misused. Disassembling these pieces is as fun as building them, so he will have fun building and rebuilding his fort. If only he let you in on the building fun.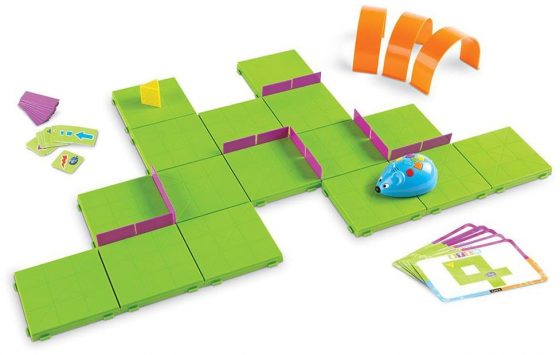 Your 6-year-old son can easily learn to code with the help of games and toys. One such toy that you can gift your 6-year-old son is the Code & Go Robot Mouse board game. This coding set transforms coding into a hands-on activity for visual and tactile learners. To program the mouse to move along the maze he creates, your son will use push buttons. The goal entails moving the mouse towards the cheese by following an established path without touching the mouse.
This kit will help your son develop skills such as critical thinking, programming fundamentals, sequencing, and problem-solving. It doesn't come with batteries, so make sure you add those to your gift.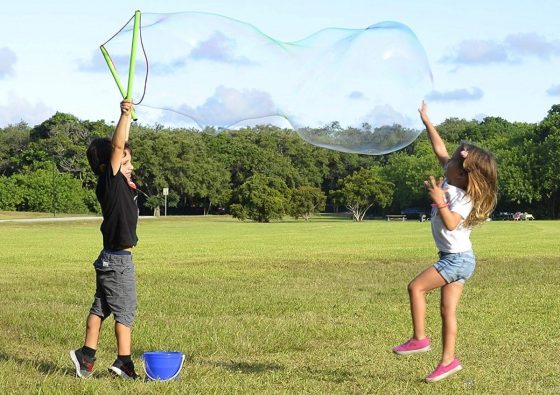 Most 6-year-old love blowing bubbles. This WOWmazing kit offers something more and excels at it. This is a great birthday activity or gift for your 6-year-old boy. It comes with 3 pieces a bubble wand, an instruction manual, and a bottle of bubble concentrate.
The manual not only tells your kid to use the hoop accordingly but also it is packed with tricks for your son to learn on his own. He will hone his fine motor skills as he shows off his skills to his friends. As your child engages in this outdoor fun, his creativity and confidence will increase while fortifying his body through physical activity—so long as he has the space to play with these massive bubbles.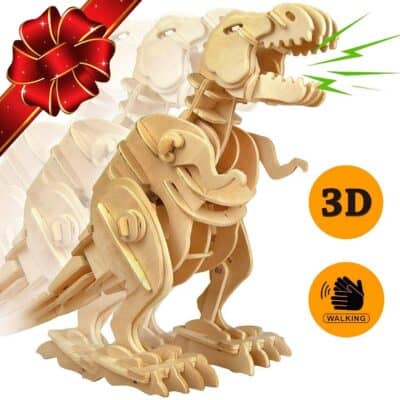 This is not your ordinary puzzle. It actually moves like a robot. The walking mechanism is activated by clapping your hands. As the dinosaur marches like a T-Rex, it emits a terrifying sound that will delight the young boy for long. The 3D design gives the toy an attractive and intricate look. Parents like the toy since they can collaborate with their kids, and because assembling the pieces of the toy is easy—just don't forget to buy batteries!
The toy allows the child to engage the part of the brain that handles space and dimension. It teaches the child to visualize and think from different angles as they attach each piece to create a 3D effect.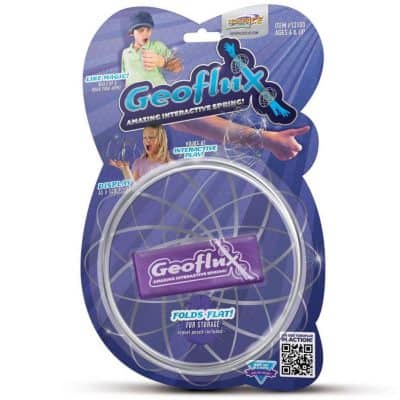 This entertaining, affordable, and Amazon's Choice item packs plenty of punch in terms of keeping your child occupied. The small package should not fool you; when opened, it springs into life in seconds! This fun toy is made from high-quality stainless steel which can be spun, twirled, and rolled on any kind of material including your own arm. The unique design of the toy ensures that the toy is durable and safe while allowing a child to play continuously with it.
Although on the face value you would not know, this unique toy functions rely on simple scientific principles that play an important role in a child's education. Friction and gravity ensure the coil twirls on any surface. The toy presents a good opportunity for discussing these simple concepts when playing with the child.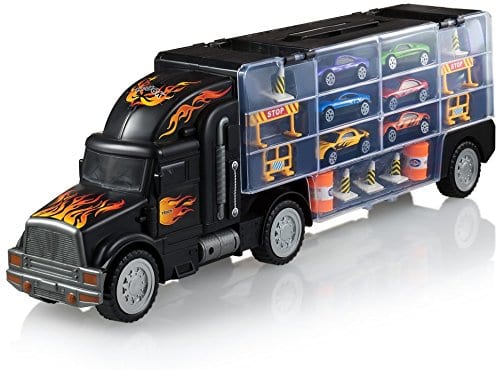 Every little boy is always fascinated by fast cars. That is why this Toy Truck Transport Car Carrier is a cool gift. The toy comes with 6 miniature cars that resemble fast cars and also comes with road cones as well as caution bars to allow your child to transform any space into a raceway. The child will love playing alone or with a friend.
In case your child owns other cars, this transport truck has room. This is a good starter toy but it is also a good addition to an already existing collection of miniature cars—just keep in mind that some larger Hot Wheels and other toy cars might not fit.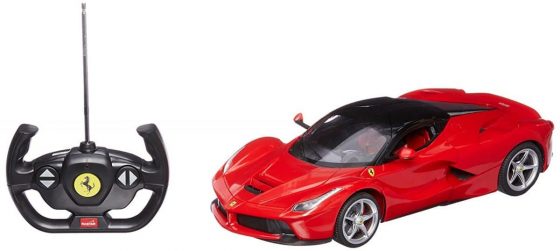 Ferrari LaFerrari RC Model Car is something every 6-year-old boy will definitely adore because of its power. It is beautifully detailed from the streamlined body to the 5-spoke wheels and the appealing side mirror and front grille. The toy comes with operational headlights and rear lights. Also, it has a spring suspension system, and it features unique scissor doors.
The ergonomic design of the remote control makes it look like the actual steering wheel of the real LaFerrari. The range of the remote control is 30 feet. When not in use, the car can be a stunning display as well—which will be all it does if you forget to buy batteries, since they're not included in the box.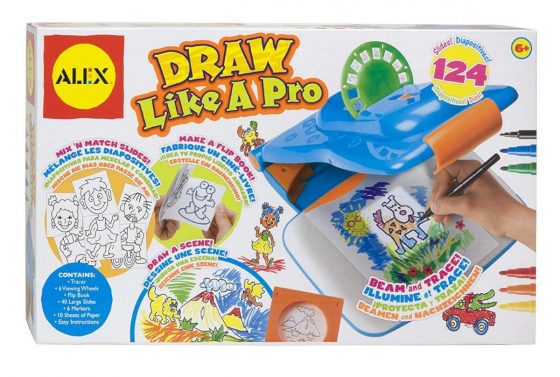 If you notice your kid is frustrated by skewed lines in tracing paper, get him Alex Art Draw Like A Pro. This toy projects images on the rotating slide onto the backlit platform for the kid to trace. The toy kit comes with 124 slides, 6 markers, and 10 sheets of paper.
If your 6-year-old is an art lover, this kit is wonderful since it will sharpen his eye-finger coordination and fine motor skills. The young aspiring artist will appreciate the limitless creative opportunities provided by this studio—with the exception of the limit that will be placed on the product if you forget to buy batteries, so be sure to include some with your gift.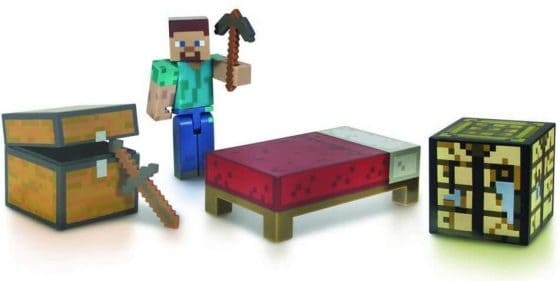 Kids love to play Minecraft either on PCs or on mobile devices. With this toy, you can add dimensionality in your kid's playtime. The accessories for the action figure include a sword, pickaxe, and a workbench—which (like the figures' arms, which tend to come off easily) are a choking hazard, so make sure you supervise any younger kids playing with this set. Also, this toy kit comes with a chest and a bed.
For a Minecraft fanatic, the operational Steve figure seems to have come out of the video game. The realistic role play is more fun with the accessories and action figure in hand. This is a great starting point for those who want to start a collection.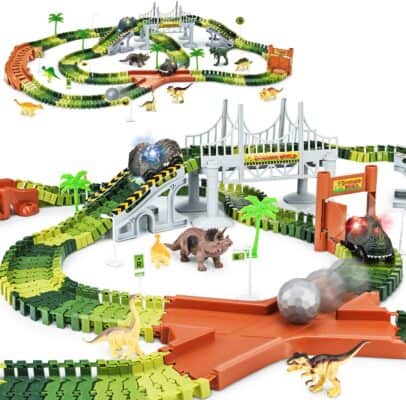 Create A Dinosaur World Road Race is a 273 piece set of fun cars, trucks, dinosaurs, bridges, signs, and more which boys can use to build fun dinosaur worlds for driving, crashing, and racing. Boys can easily manipulate those flexible tracks, so they can change their roads as quickly as they change their minds.
The cars are battery operated so they can be pushed, or race themselves along the tracks, though the cars do run through batteries quickly. Once playtime is over, Dinosaur World Road Race is a snap to clean up and put away in the included box, ready for the next day.

LeapFrog LeapReader is a unique pen that boys can use to follow and read along with stories, developing their reading and language skills. The system helps children sound out letters and unfamiliar words and teach them how to guide their pen strokes to begin writing words on their own. It comes with one book, sample no-mess writing paper, and is USB rechargeable. Learning how to write with the "magic" paper is fun and captures their attention as the pen guides each stroke.
Parents might find the sample book lacking, and once "magic" paper is marked it is permanent, so to keep using it you'll have to purchase more separately. Boys can explore LeapFrog's library of over 150 books and writing activities.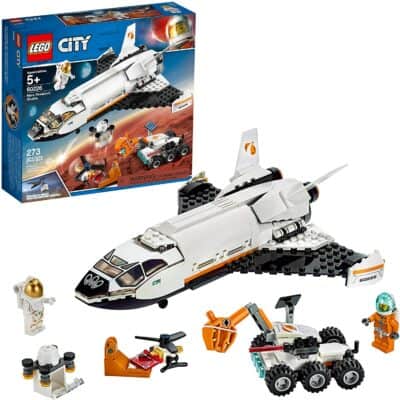 Learning about space is fun and exciting with LEGO's City Space Mars Research Shuttle set. It's a 273 piece set boys can build following along with the easy to use piece-by-piece instruction booklet.
Boys will enjoy playing with the 2 astronaut minifigures and making their own adventures with the space shuttle, Mars rover, and helidrone. They can use the grappling arm on the rover to retrieve LEGO geodes. The small pieces can be difficult for younger kids to put together, and get lost easily.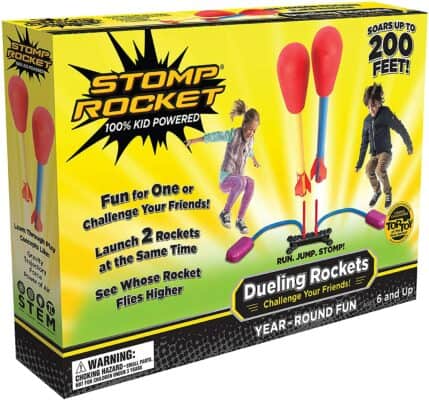 Dueling Rockets are a stomp rocket toy that two children can play with at one time to race their rockets, or just see how high they can fly. Boys can jump or stomp on the 2 included launch pads and watch their rockets soar as high as 200 feet.
The Dueling Rockets kit comes with 4 planes to launch so multiples can be launched in a row. The double launcher is more durable than single launch types, but the fins of the planes can get bent easily and younger boys may have difficulty stomping hard enough to make the planes go higher. Stomp Rocket Dueling Rockets make a fun outdoor birthday or party activity.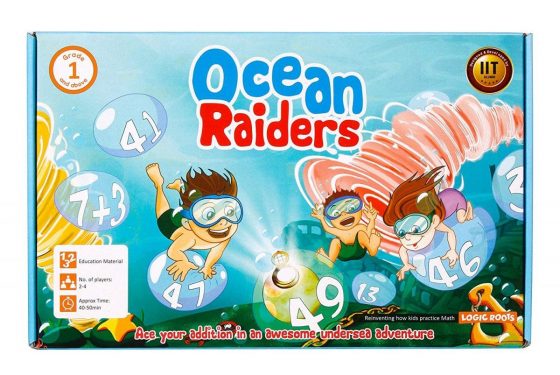 If your 6-year-old boy is a lover of stories and adventure, he will love this as a gift. The board game will help the development of your son's memorization and logic skills. As well, it provides you with an opportunity of enjoying your family time.
Ocean Raiders will challenge your son to grasp basic mathematics for him to find the hidden treasure. Your son will deal with both double and single-digit numbers. With more play, he will increase his mental arithmetic speed and skills.
The game is perfectly safe with adult supervision, but its small parts should be kept away from kids much younger than 6, as they're choking hazards.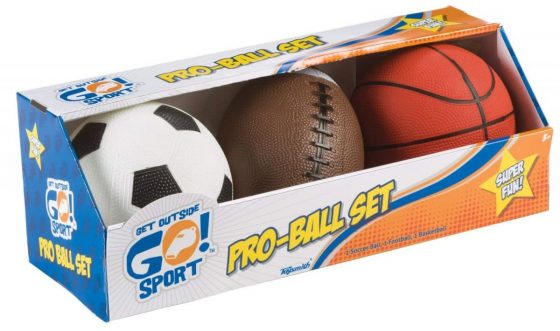 This set includes 3 of the most widespread sports: a football, basketball, and soccer ball provide physical exercise both out and indoors. The balls are made from a soft yet durable plastic material which is safe for children—though they're not unbreakable, so tell your little one to be careful. Give your little boy the change of mirroring his favorite athlete using these child-friendly and interesting sports balls.
The balls are designed to fit the hands of a 6-year-old to ensure they have the best experience possible when playing. Children learn through action and they like activities where they grasp a toy or an object themselves. This promotes their independence when they engage in physical play and inspires them to act.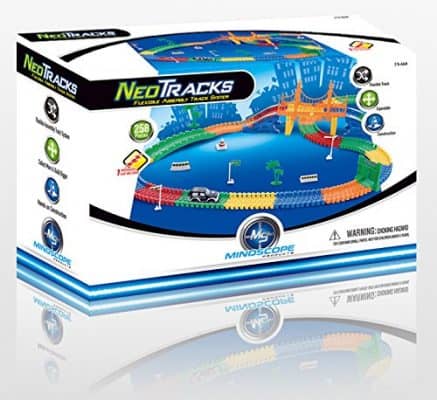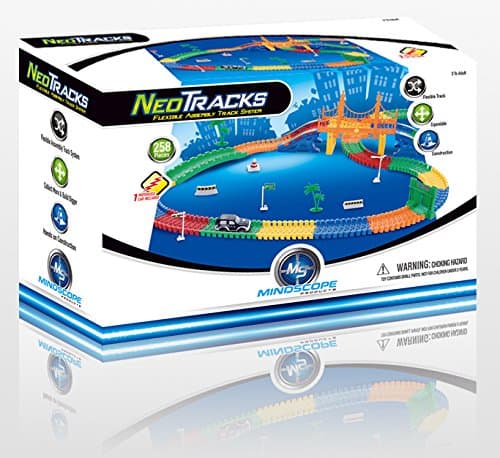 A 6-year-old child would love to construct his own highways. He can do so with the Neo Tracks twister Tracks that allow him to build a dedicated highway for his small motorized toy cars.
This toy kit comes with 256 flexible pieces that can be contorted into any road configuration. Apart from the track, the toys come with one motorized 4×4 car. All of the accessories are great, but the suspension bridge is a little bit less durable than the rest of the set.
The track system allows toy cars to go the extra mile. Your boy will love driving his cars on the colorful tracks. His creativity will be turned own as he plots different routes in his mind and conceives wild traffic situations.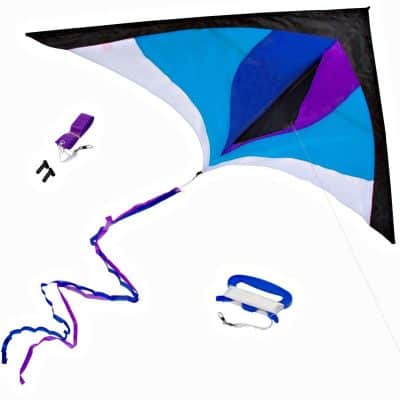 This kite spans 1.5 meters wide and 0.8 meters tall. It is the last kite you will purchase for your 6-year-old boy. The materials used to make the kite are very light and durable as well as rust- and mold-proof. The kite has a flying line that measures 60 meters and a convenient carrying and storage bag. Also, you get spare parts and a handy instructional guide.
Kites are fascinating and simple. To handle the flying line right will require from your boy. Also, figuring the technique involved in handing off the kite to the wind will require practice and effort. But it culminates in a flying beauty that makes your kid's dreams soar.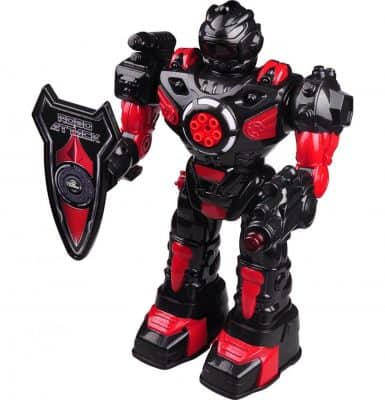 Almost all little boys love robots. For a 6-year-old, having a toy that he can control is unmistakably cool. This ThinkGizmo's robot places power in the hands of your son. He will certainly love it.
The toy features a bunch of pre-loaded phrases. It will refer to your son as "master" after turning it on. Also, it has a number of warning phrases when preparing to shoot. As well, it has several foam discs that the robot can fire after your kid instructs it by pressing a button.
The features in this RC robot will keep your child occupied for hours. The robot shoots rubber-tipped plastic missiles. After loading it with 6 plastic darts, your kid is ready to stalk an unsuspecting target.
This toy doesn't come with batteries, and since it runs through 6 AAs pretty quickly, you might want to stock up before purchasing.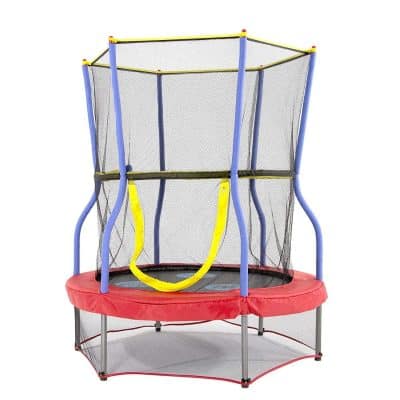 If your 6-year-old son has plenty of energy or you need him to be more active, the Skywalker Trampoline with Enclosure is great.
The trampoline is recommended for kids between 3 and 7 years and has a weight limit of 100 pounds, so this bouncer will last a long time. The trampoline measures 48" x 48" x 56" so it is perfect for one kid without taking up too much space. This trampoline provides a safe environment for your child to explore and learn.
There are two downsides, though: parental help will be needed to assemble it, and even though it's as safe as trampolines get, you should still never let your little ones play on it unsupervised.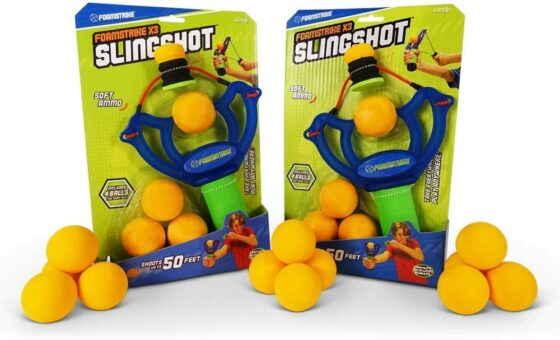 FoamStrike X3 Slingshot turns a fun novelty into a safe indoor or outdoor toy that boys can use by themselves or play with others. The set comes with 2 slingshots and 20 foam balls for constant action. The foam balls are hard enough to target as far as 50 feet away but soft so they won't hurt, injure, or cause any damage.
The slingshots are simple to load and small enough for younger boys to operate, and the striking hammer can only be used on the included foam balls so parents won't need to worry about their boys using other objects as ammo. The slingshots can be flimsy and some boys may be disappointed with the accuracy. Parents and kids will have fun hitting targets together and seeing how far they can shoot.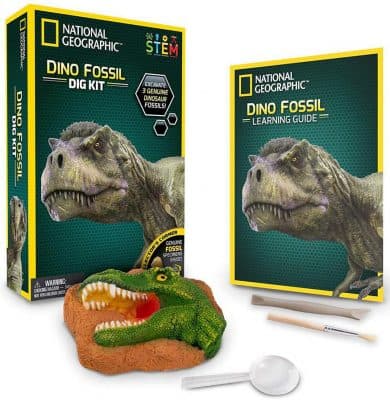 This National Geographic Dinosaur Dig Kit comes with archaeological tools that help your kid dig through the brick and find three ancient fossils. Your child can also use the magnifying glass to study the fossils. The fossils are real and have a dinosaur tooth, a shard of bone, and even fossilized dinosaur droppings. It will take time to dig through the bricks, therefore requires a sense of determination. However, the excavation process is exciting too.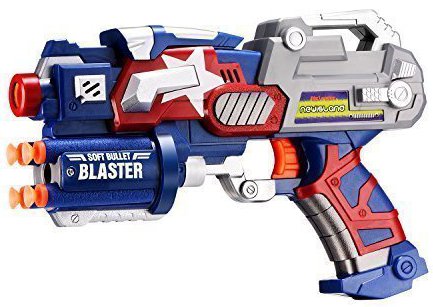 Apart from flying objects and cars, little boys are always interested in guns. The Big League Blaster Gun uses darts made from safe materials. Depending on the blaster angle, a kid can shoot colorful darts a maximum of 30 feet. The blaster gun operation is ideal for young children. As a lone downside, the included paper dartboard isn't built to last.
The darts can stick on any smooth surface, which allows boys to create and seek different targets. Young boys can invite friends for a friendly competition. Blaster Gun is available in the colors of Captain America, letting your young superheroes be properly equipped as they participate in a dramatic game.