At six years old, boys start to be independent. They require different toys to make meaningful connections between what they learn in school and their lives. Also, at this stage, toys play a supportive role in the development of skills in boys. If a 6-year-old boy is in your gift-giving list, then you are in luck. There are plenty of toys that make a great gift for a 6-year-old boy. Although their interests may differ, they are usually excited to discover new hobbies and try new things, which makes it easy to find a gift for them. Here are the best 30 toys and gift ideas, which are perfect for a 6-year-old boy. They range from active outdoor toys to toys that make a 6-year-old slowdown and think. The list has something for everyone to inspire their sense of curiosity and wonder about the world and fuel their love for fun.
Top 30 Best Toys and Gift Ideas for 6-Year-Old Boys 2020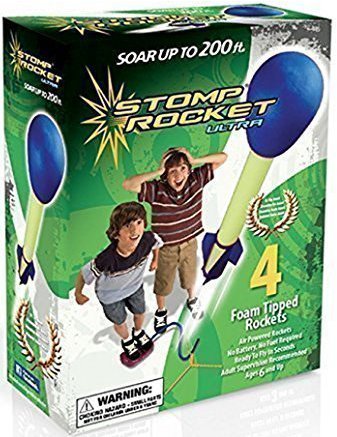 Boys are always fascinated by anything that flies. This toy comes with 4 rockets that have foam at the tips. The rockets shoot upward with a maximum height of 200 feet. The toy does not have complicated gizmos it just uses leg power. The rockets are launched by stomping on the launch pad. The foam-tipped rocket is ready to fly in seconds using compressed air. The toy promotes development in science, technology, engineering, and math.
This toy provides great fun for the whole family.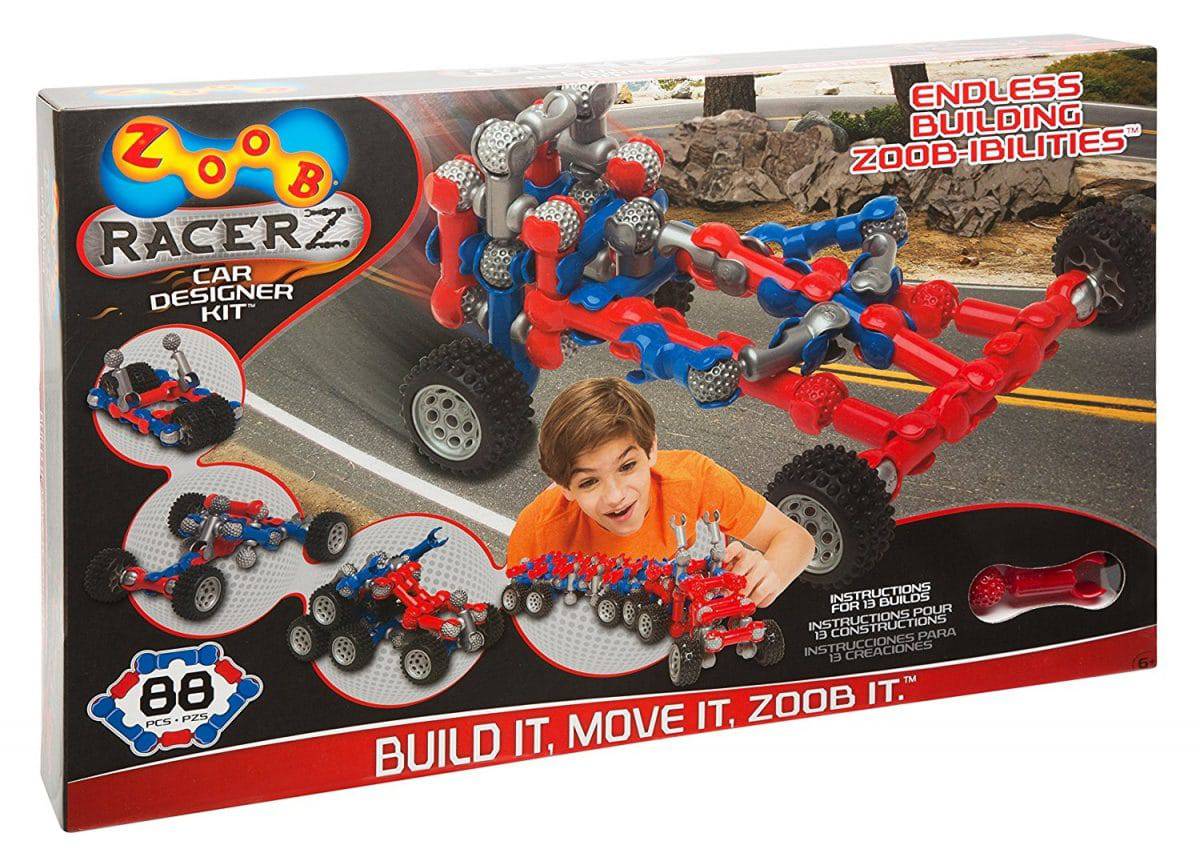 For boys, when it comes to toys, cars always take the top spot. With the Zoob RacerZ Car Designer, any 6-year-old boy fascinated by cars can enjoy creating toy replicas of 4 unique vehicles that include 3 ZoobMobile cars and a 12-wheeled car transporter. The 76-piece toy kit has a unique design and comes with an instruction guide.
The toy is ideal for both interactive and independent play. This kit provides ample creative opportunity with its pieces. This allows kids to use their imagination to build everything from monsters to motorcades. Or better still, engage in direction-following by studying the instruction guide.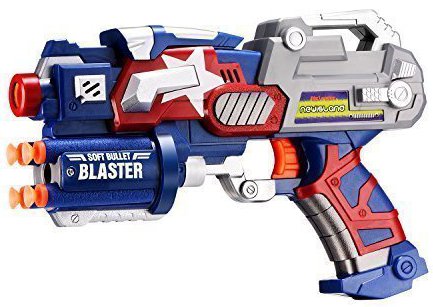 Apart from flying objects and cars, little boys are always interested in guns. The Big League Blaster Gun uses darts made from safe materials. Depending on the blaster angle, a kid can shoot colorful darts a maximum of 30 feet. The blaster gun operation is ideal for young children.
The darts can stick on any smooth surface, which allows boys to create and seek different targets. Young boys can invite friends for a friendly competition. Blaster Gun is available in Captain America colors which makes the young superheroes to be properly equipped as they participate in a dramatic play.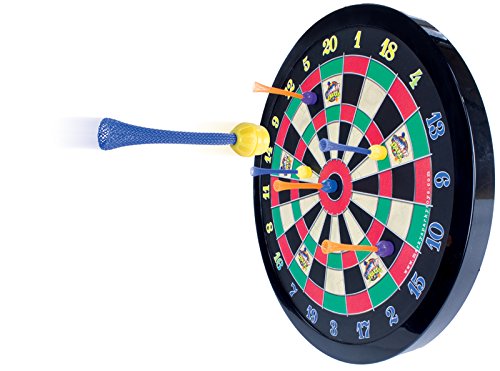 This is among the best toy gifts for a 6-year-old boy. High-grade Neodymium is used to make the magnetic board to provide the excellent magnetic attraction of the magnetic darts. The darts provide many opportunities for socializing and learning. The toy is safe and can be played in different ways by changing the throwing distance or using the point-keeping systems. The toy can be used to demonstrate the force of impact, magnetic strength, and scorekeeping techniques.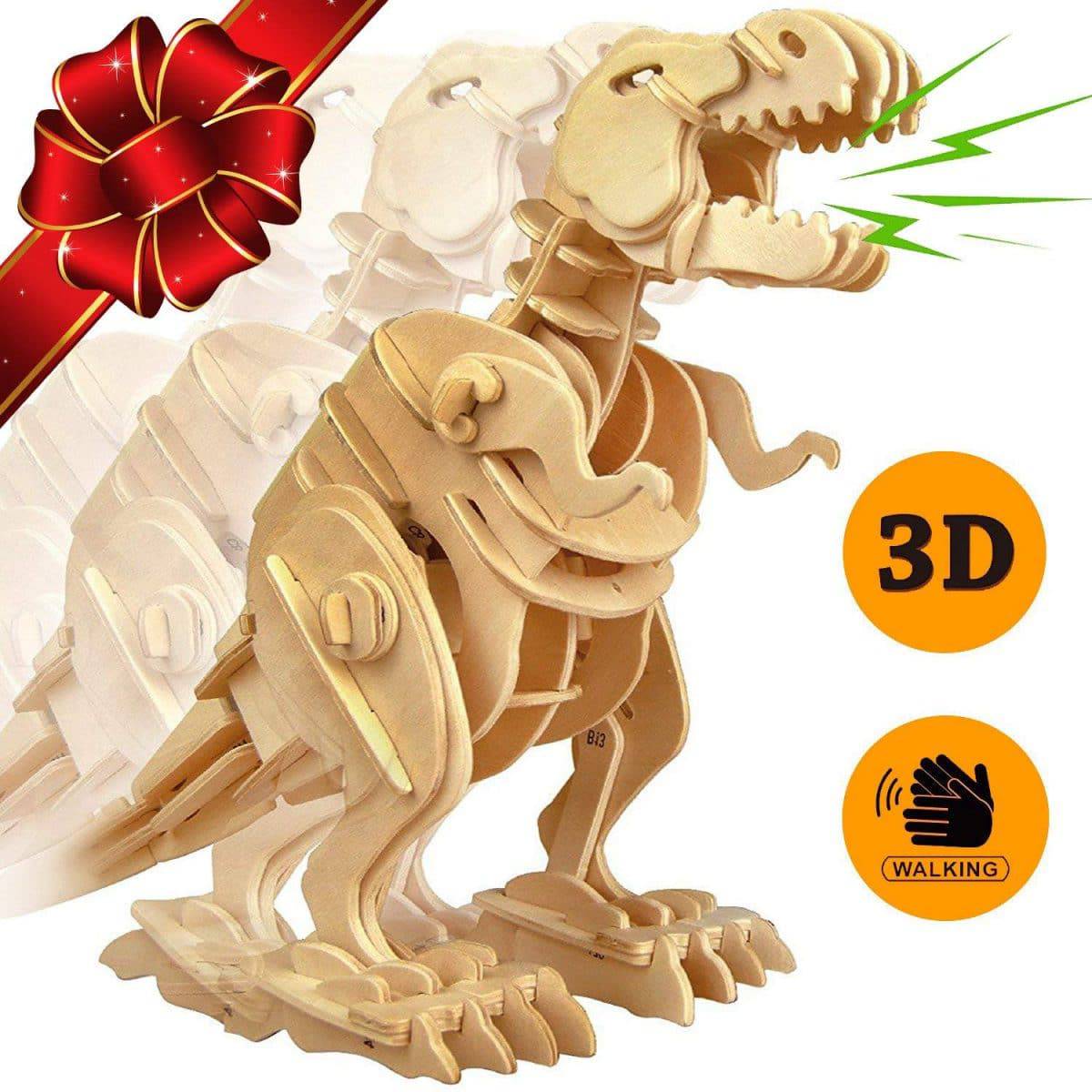 This is not your ordinary puzzle. It actually moves like a robot. The walking mechanism is activated by clapping your hands. As the dinosaur marches like a T-Rex, it emits a terrifying sound that will delight the young boy for long. The 3D design gives the toy an attractive and intricate look. Parents like the toy since they can collaborate with their kids. Assembling the pieces of the toy is easy.
The toy allows the child to engage the part of the brain that handles space and dimension. It teaches the child to visualize and think from different angles as they attach each piece to create a 3D effect.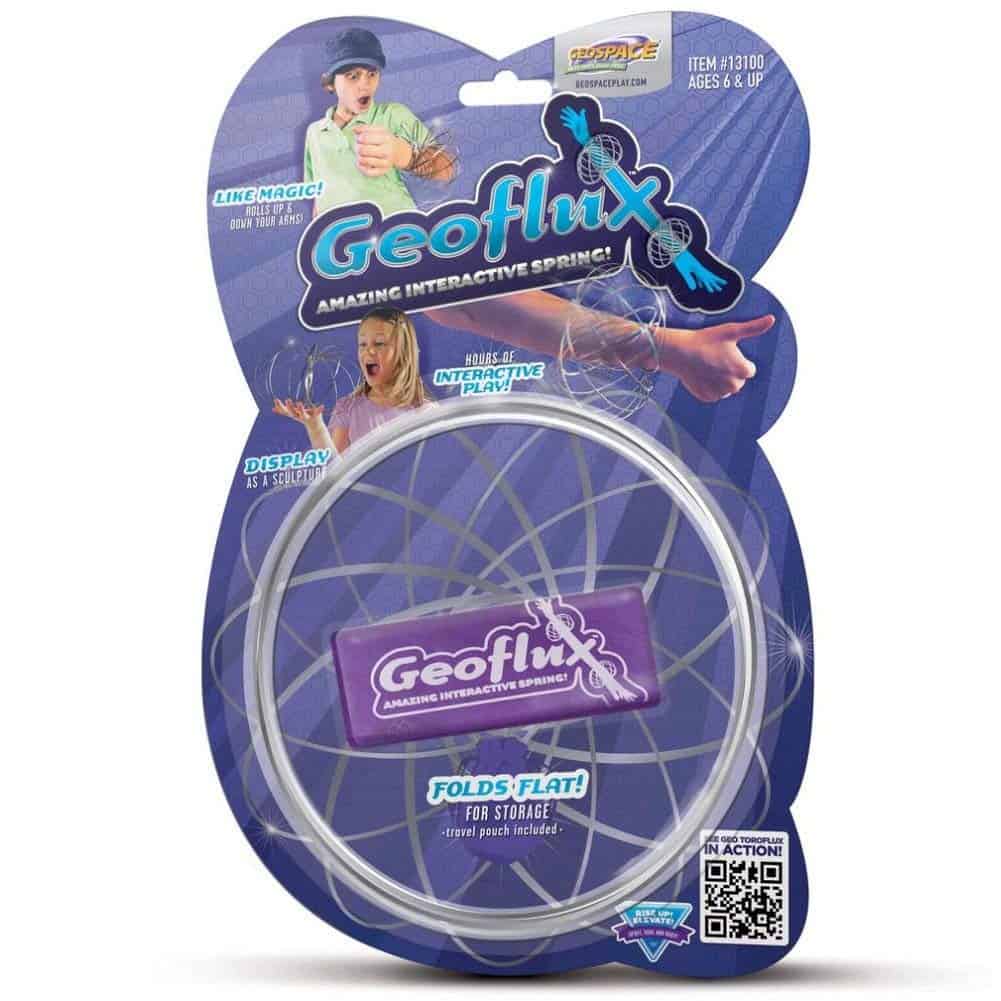 This entertaining, affordable and Amazon's Choice item packs plenty of punch in terms of keeping your child occupied. The small package should not fool you; when opened, it springs into life in seconds! This fun toy is made from high-quality stainless steel which can be spun, twirled and rolled on any kind of material including your own arm. The unique design of the toy ensures that the toy is durable and safe while allowing a child to play continuously with it.
Although on the face value you would not know, this unique toy functions rely on simple scientific principles that play an important role in a child's education. Friction and gravity ensure the coil twirls on any surface. The toy presents a good opportunity for discussing these simple concepts when playing with the child.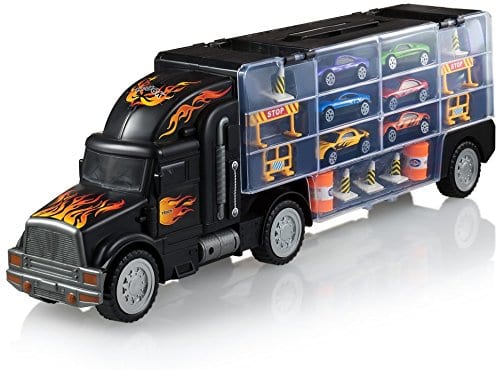 Every little boy is always fascinated by fast cars. That is why this Toy Truck Transport Car Carrier is a cool gift. The toy comes with 6 miniature cars which resemble fast cars and also comes with road cones as well as caution bars to allow your child to transform any space into a raceway. The child will love playing alone or with a colleague.
In case your child has owned other cars, this transport truck has room. This is a good starter toy but it is also a good addition to an already existing collection of miniature cars.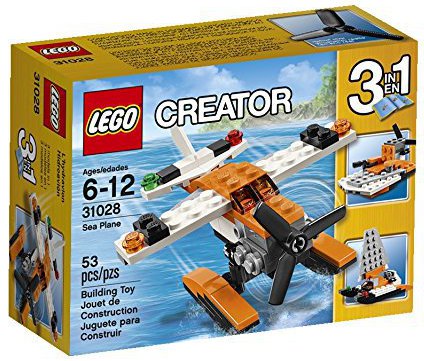 Imagine transforming a seaplane into a catamaran and then transforming it into a swamp boat. The end result is not a new member of the transformers but the latest addition to the Sea Plane line at LEGO. The 53 building blocks allow children to have plenty of ideas creating another vehicle with those blocks.
LEGO is designated as a classic toy for many reasons. This LEGO Creator Seaplane introduces the young boy to the concepts of symmetry, scale, and geometry. It allows children to transform their imaginations into tangible objects. This LEGO-building helps in the development of fine motor skills. The LEGO Creator Seaplane brings these benefits in one tiny box.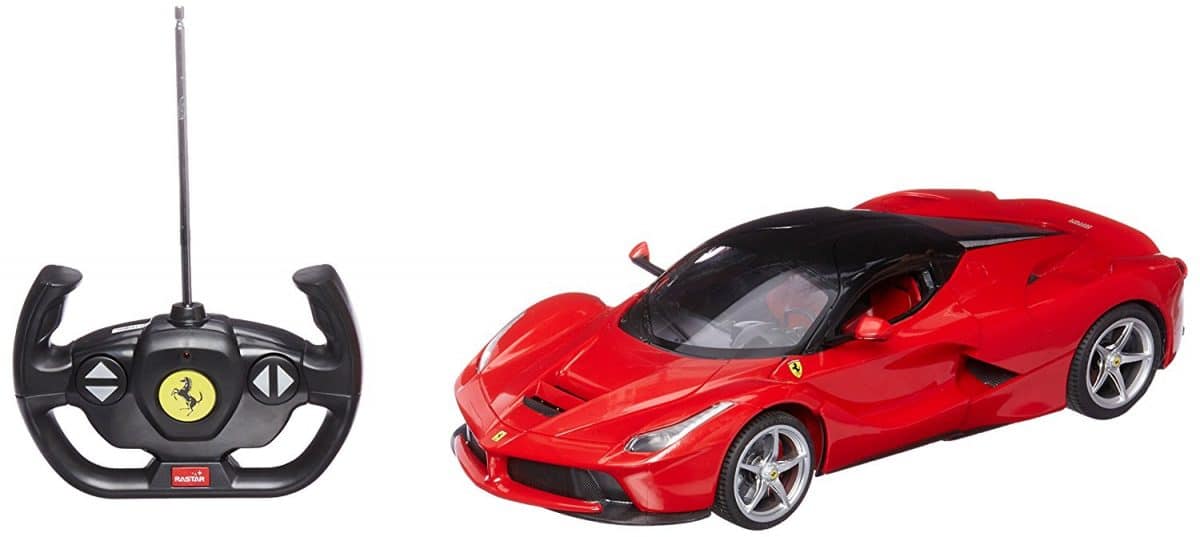 Ferrari LaFerrari RC Model Car is something every 6-year-old boy will definitely adore because of its power. It is beautifully detailed from the streamlined body to the 5-spoke wheels and the appealing side mirror and front grille. The toy comes with operational headlights and rear lights. Also, it has a spring suspension system.
The ergonomic design of the remote control makes it look like the actual steering wheel of the real LaFerrari. The range of the remote control is 30 feet. When not in use, the car can be a stunning display as well. The scissor doors are a unique feature of this car.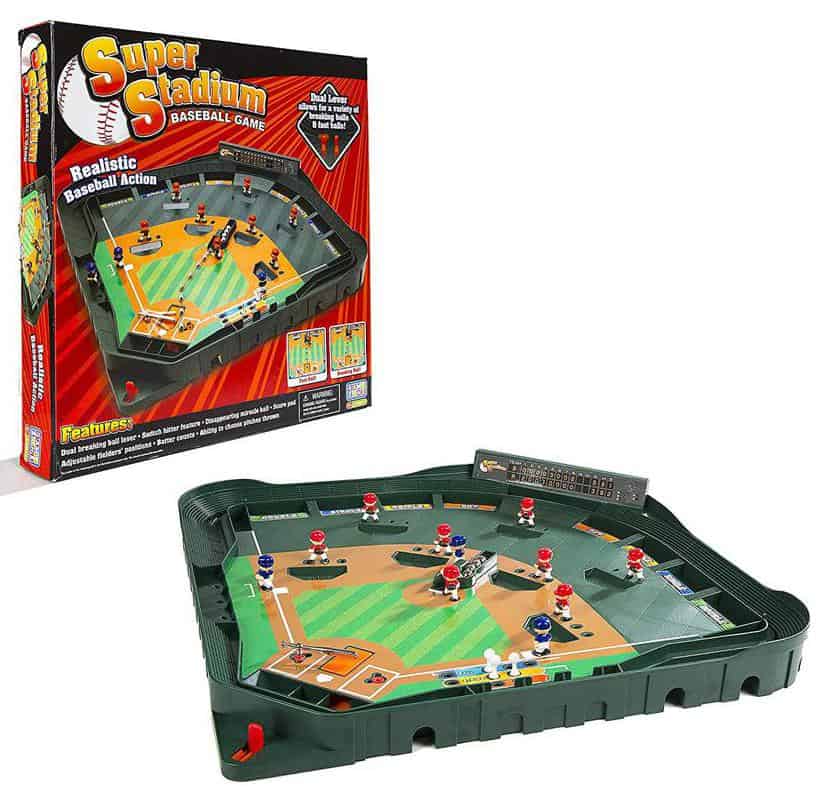 If your 6-year-old boy is a Yankees fan, search no more. Give him a gift of the Super Stadium Baseball Game. He will command his players in his room. This game, a cross between a mini baseball and a pinball arcade allow the kid to place the batter's hand on the right or left depending on where he wants the ball to go. The infield is fully magnetized which allows great movement of the ball.
The young baseball fan can recreate his favorite plays while refining his coordination and concentration skills. The game has different controls that change both the trajectory and speed of the balls. The boy will love both the game and the mechanics involved.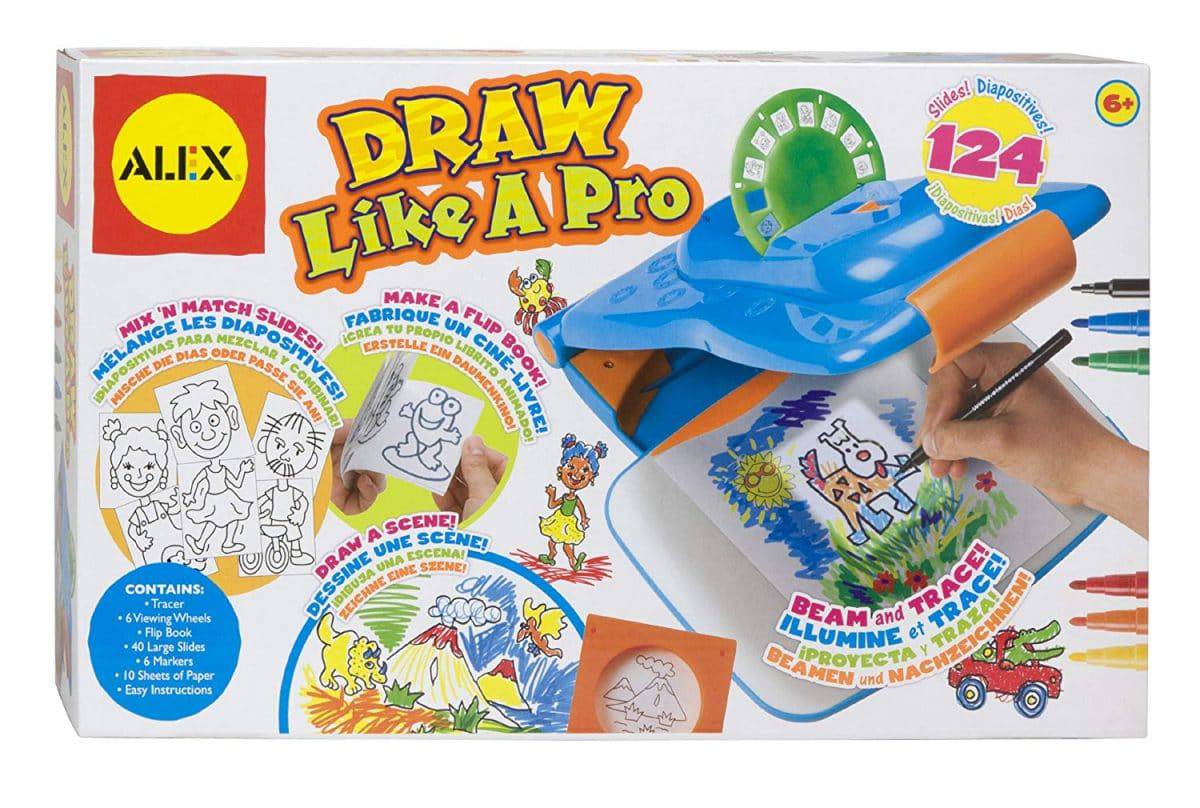 If you notice your kid is frustrated by skewed lines in tracing paper, the get him Alex Art Draw Like A Pro. This toy projects images on the rotating slide onto the backlit platform for the kid to trace. The toy kit comes with 124 slides, 6 markers and 10 sheets of paper.
If your 6-year-old is an art lover, this kit is wonderful since it will sharpen his eye-finger coordination and fine motor skills. The young aspiring artist will appreciate the limitless creative opportunities provided by this studio.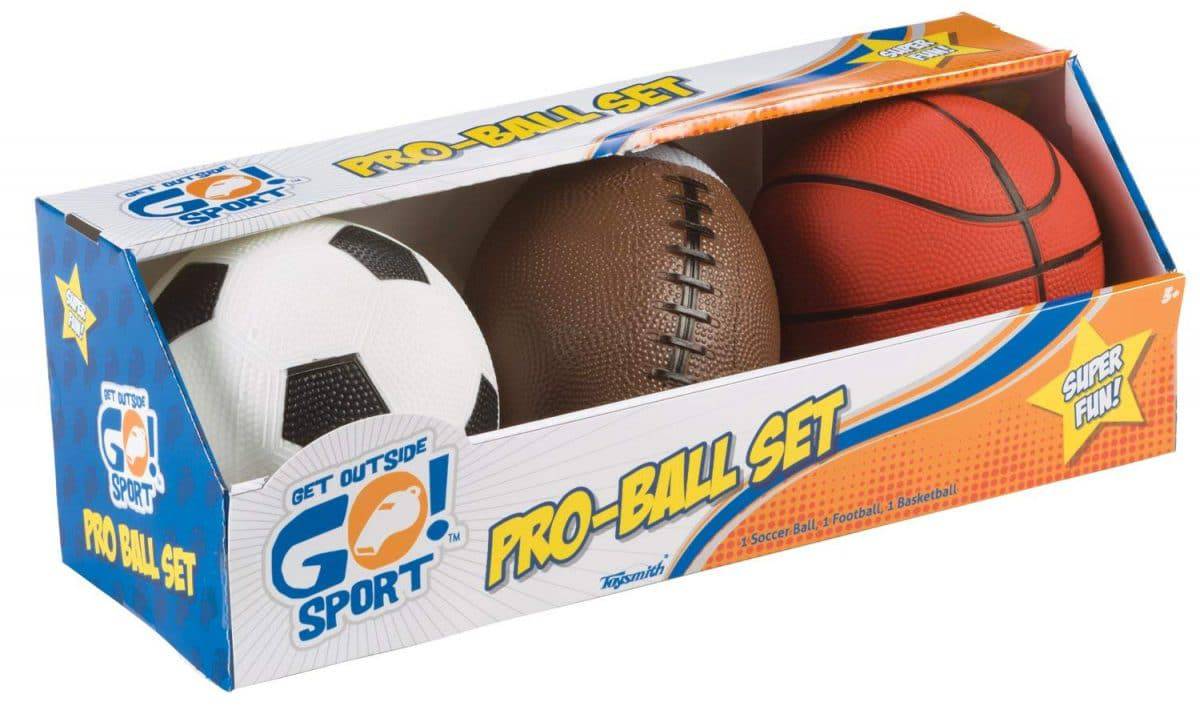 This set includes 3 of the most widespread sports; one football, basketball and soccer ball provide physical exercise both out and indoors. The balls are made from a soft yet durable plastic material which is safe for children. Give your little boy the change of mirroring his favorite athlete using these child-friendly and interesting sports balls.
The balls are designed to fit the hands of a 6-year-old to ensure they have the best experience possible when playing. Children learn through action and they like activities where they grasp a toy or an object themselves. This promotes their independence when they engage in physical play and inspires them to act.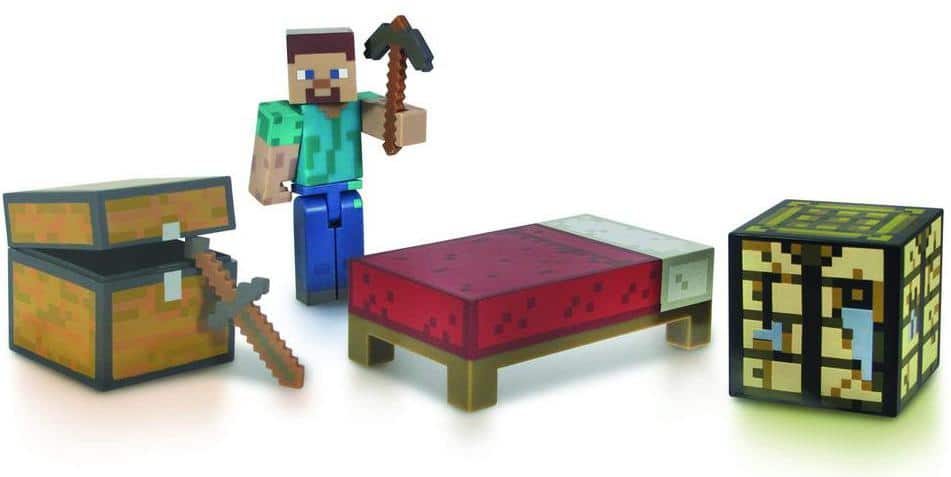 Kids love to play Minecraft either on PCs or on mobile devices. With this toy, you can add dimensionality in your kid's playtime. The accessories for the action figure include a sword, pickaxe, and a workbench. Also, this toy kit comes with a chest and a bed.
For a Minecraft fanatic, the operational Steve figure seems to have come out of the video game. The realistic role play is more fun with the accessories and action figure in hand. This is a great starting point for those who want to start a collection.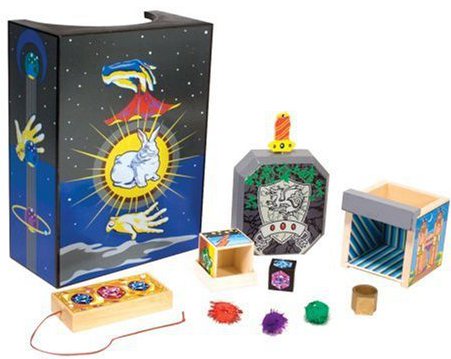 Mastering a single magic trick takes a lot of time. If your kid is fascinated with magic start with the Discovery Magic Set that already has 4 easy magic tricks to master. These tricks include the Chamber of Illusion action, Color-changing String spectacle, the Magic Jewel Box Phenomenon and the Sword in the Stone trick.
In some cases, the ideal confidence-booster is a euphoric audience. This toy set provides your kid with the best opportunity to shine. After mastering the art of illusion through careful practice and study, your kid can delight a crowd with his magic and hopefully be equipped to answer questions.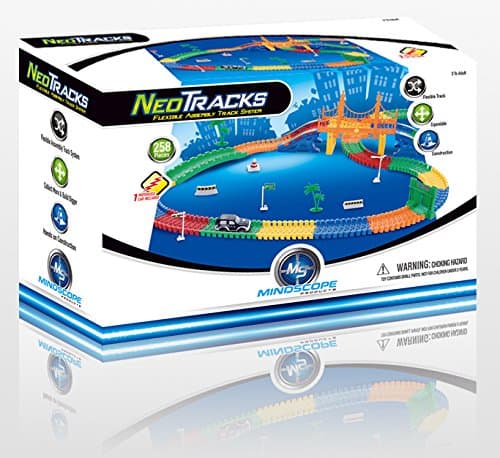 A 6-year-old child would love to construct his own highways. He can do so with the Neo Tracks twister Tracks that allow him to build a dedicated highway for his small motorized toy cars. This toy kit comes with 256 flexible pieces that can be contorted into any road configuration. Apart from the track, the toys come with one motorized 4×4 car.
The track system allows toy cars to go the extra mile. Your boy will love driving his cars on the colorful tracks. His creativity will be turned own as he plots different routes in his mind and conceives wild traffic situations.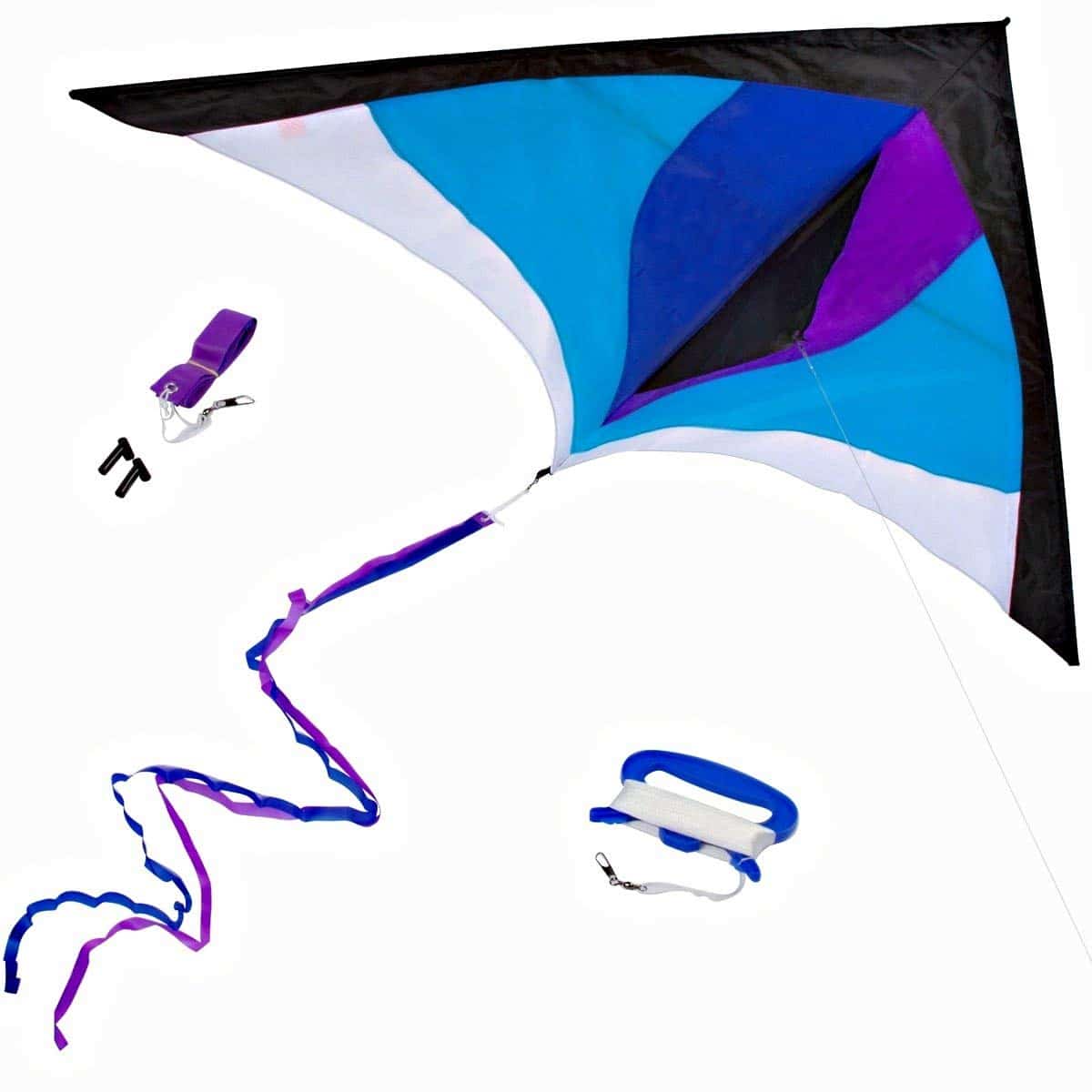 This kite spans 1.5 meters wide and 0.8 meters tall. It is the last kite you will purchase for your 6-year-old boy. The materials used to make the kite are very light and durable as well as rust- and mold-proof. The kite has a flying line that measures 60 meters and a convenient carrying and storage bag. Also, you get spare parts and a handy instructional guide.
Kites are fascinating and simple. To handle the flying line right will require from your boy. Also, figuring the technique involved in handing off the kite to the wind will require practice and effort. But it culminates in a flying beauty which also makes your kid's dreams to soar too.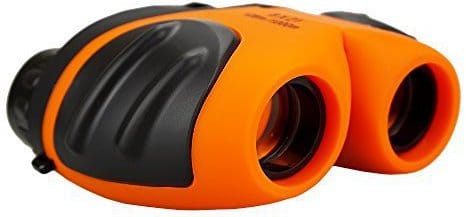 Binoculars are ideal gifts for children who love exploring nature. They are easy to carry on any day or camping trip and enable children to see the world differently. These binoculars are child-friendly and allow optimal viewing to easily observe and focus on their environment.
One great selling point of these binoculars is the fact they are child-proof. Even when dropped, the binoculars are scratch-proof and have a rubber coat that prevents breakage or damage.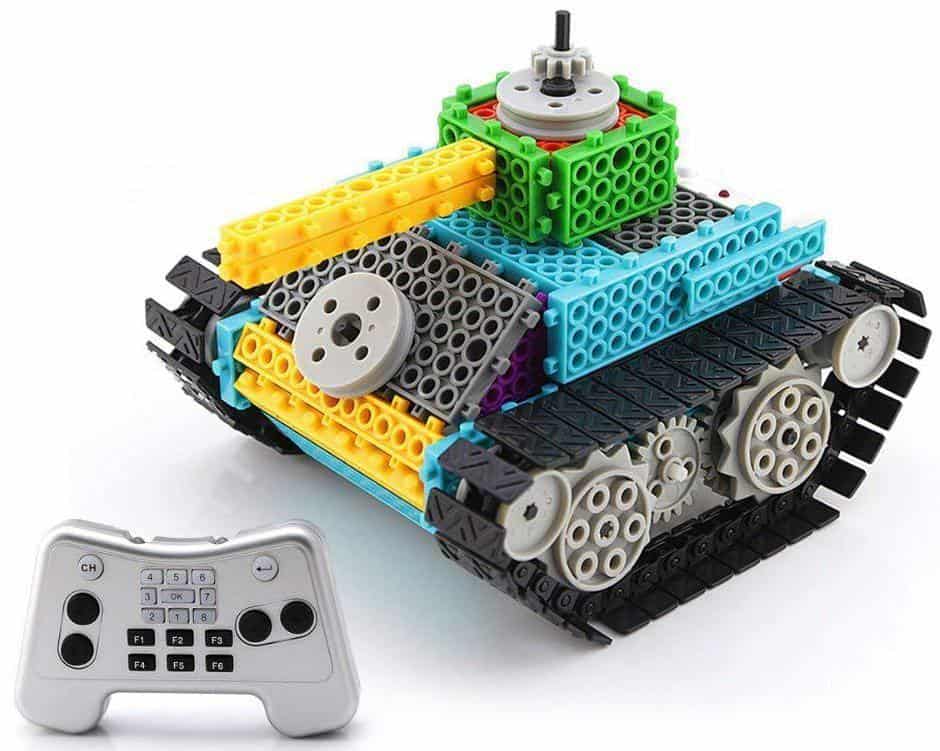 This Remote Control Tank Building kit is ideal for a 6-year-old boy who loves assembling toys. It comes with a remote control that allows a kid to control the tank after building it. This exciting gift impresses children of all ages. The toy kit gives children a feeling of accomplishment after creating something.
This toy is ideal as a Christmas and birthday gift for a 6-year-old boy. It will give your kid endless fun as he builds a bespoke tank with the toy blocks that are transformed into 4 different shapes.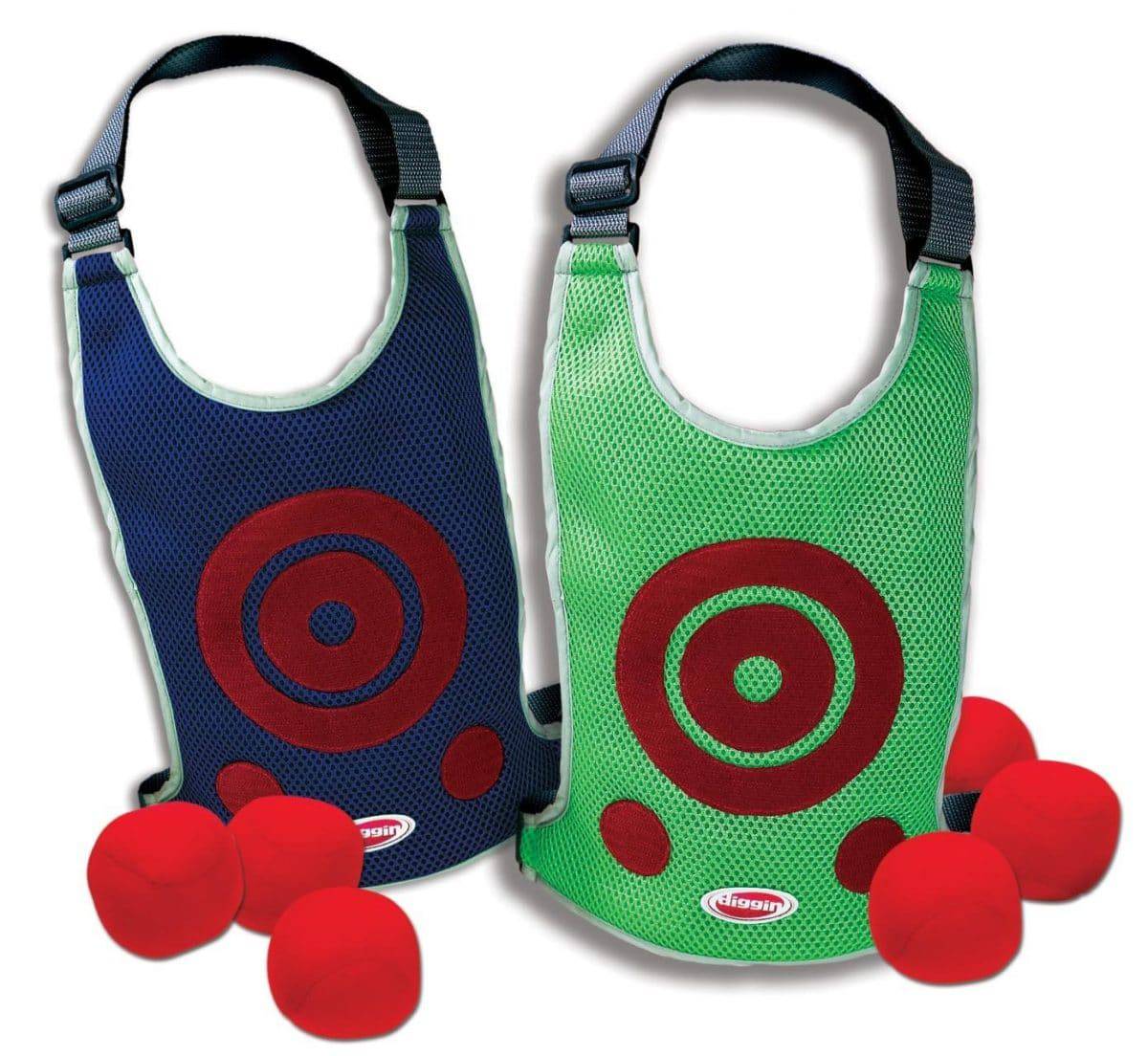 Children love playing dodgeball. This is a fun game that which gets you kid active while helping them develop his hand-eye coordination. This Diggin's toy gives your child a chance of playing dodgeball safely.
The toy kit comes with several mesh shirts that can be adjusted to fit your child's body. The shirts have a Velcro target which other plays aim at. After hitting the target, balls stick making it easy to keep the score when playing. Ensure that everyone involved understands the safe play and only use balls that come with the kit.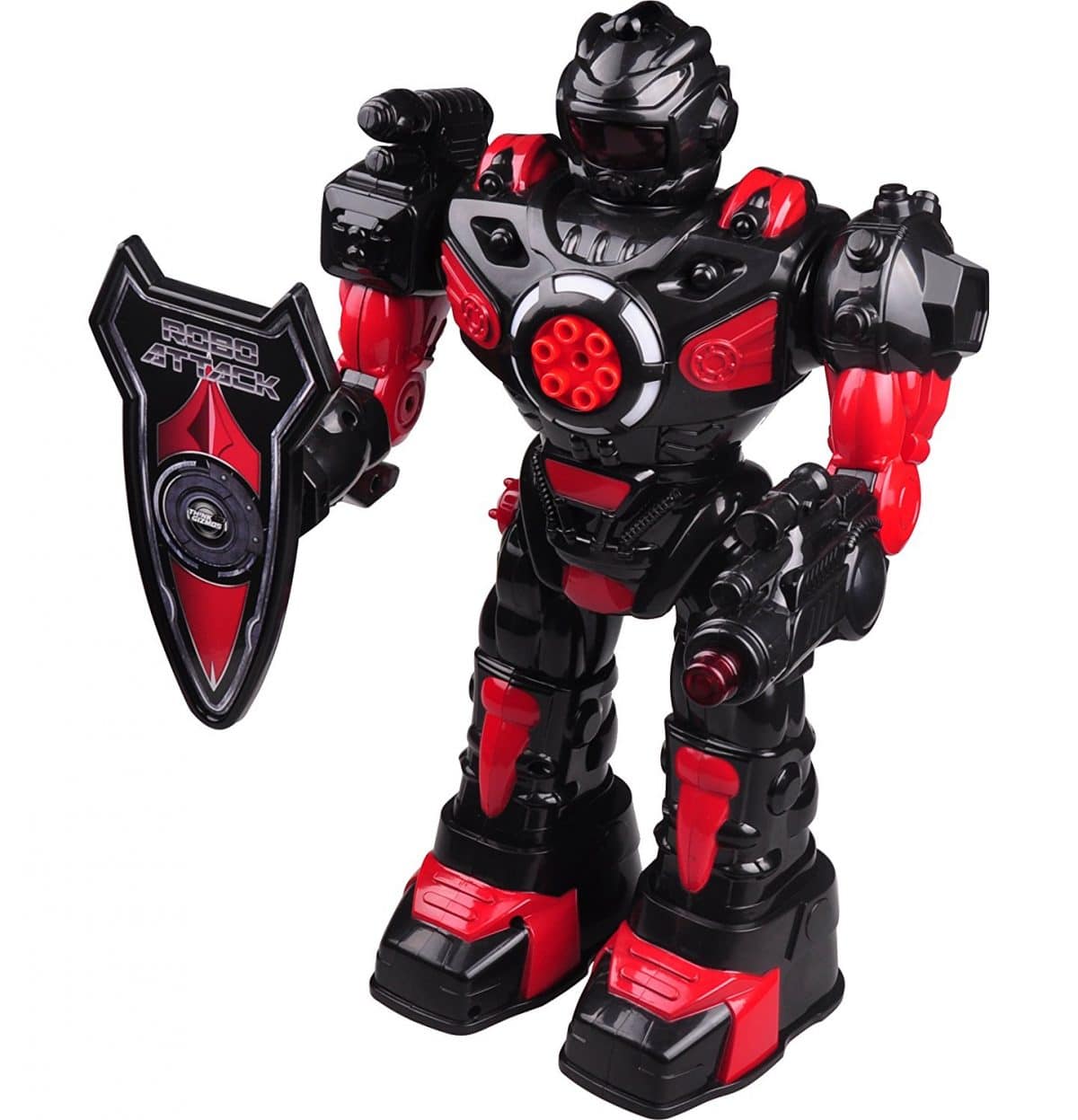 Almost all little boys love robots. For a 6-year-old, having a toy that he can control is unmistakably cool. This ThinkGizmo's robot places power in the hands of your son. He will certainly love it.
The toy features a bunch of pre-loaded phrases. It will refer to your son as "master" after turning it on. Also, it has a number of warning phrases when preparing to shoot. As well, it has several foam discs that the robot can fire after your kid instructs it by pressing a button. The features in this RC robot will keep your child occupied for hours. The robot shoots rubber-tipped plastic missiles. After loading it with 6 plastic darts, your kid is ready to stalk an unsuspecting target.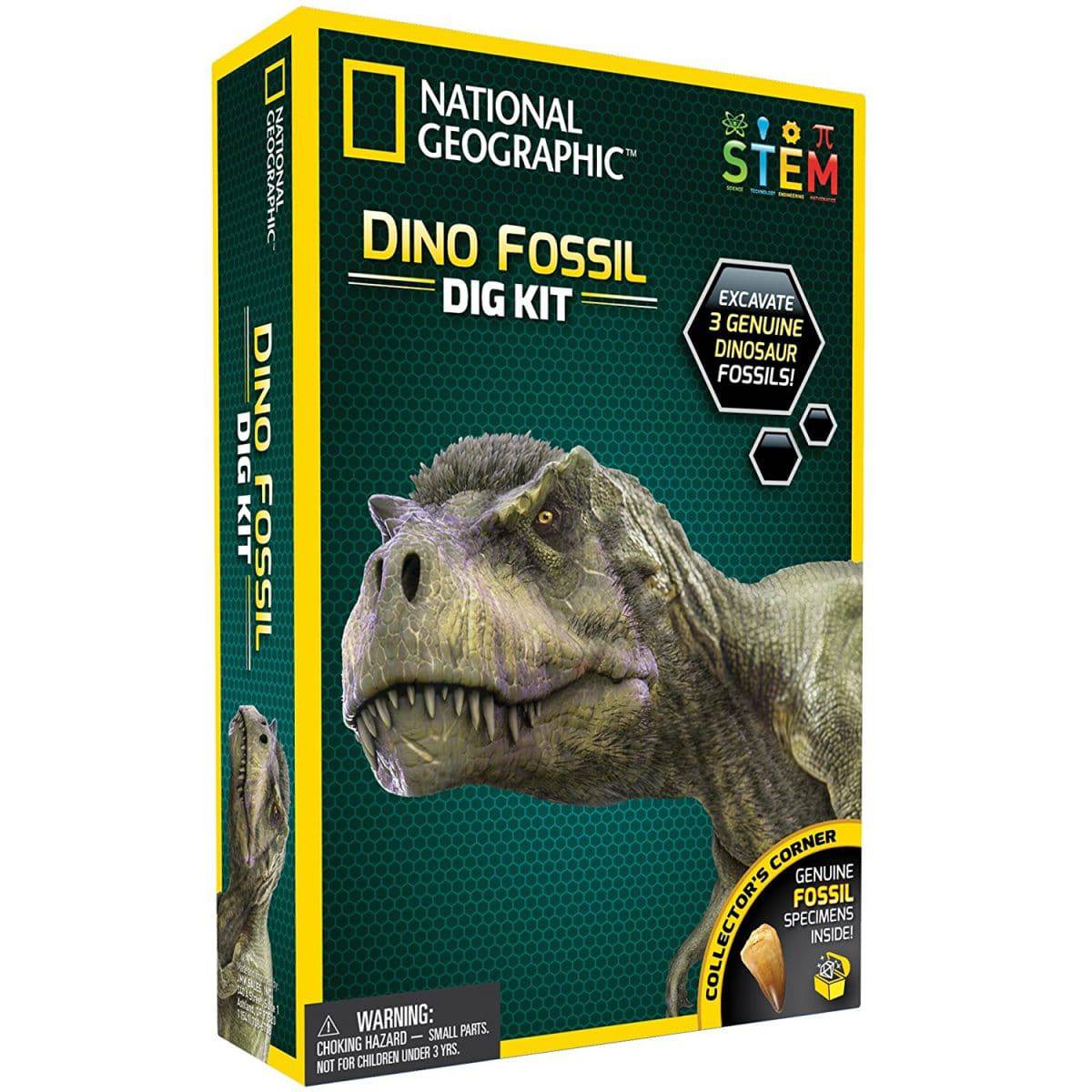 By the age 6, your son has some knowledge about dinosaurs. This National Geographic kit provides him with the chance of exploring this fascinating topic among children. The kit comes with 3 dinosaur fossils, a fossilized poo, a tooth, and a bone. You don't have to be concerned about the poo it is a rock.
The toy comes with real fossils instead of plastic recreations which gives the toy a totally new dimension. Your son will be immersed in a prehistoric era as he discovers amazing facts from a colored learning guide.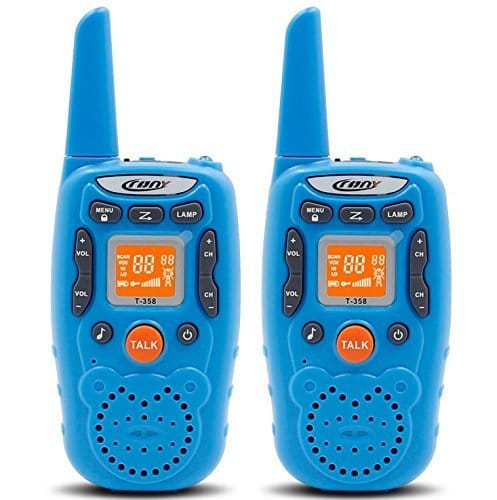 Every explorer loves engaging in nature adventures with colleagues. This Eoncore Walkie Talkie Set will give your son the opportunity of just doing that while keeping in touch with other explorers. These walkie-talkies have a one-mile radius although this will drop if there is plenty of plant life in the surrounding to block the radio signals.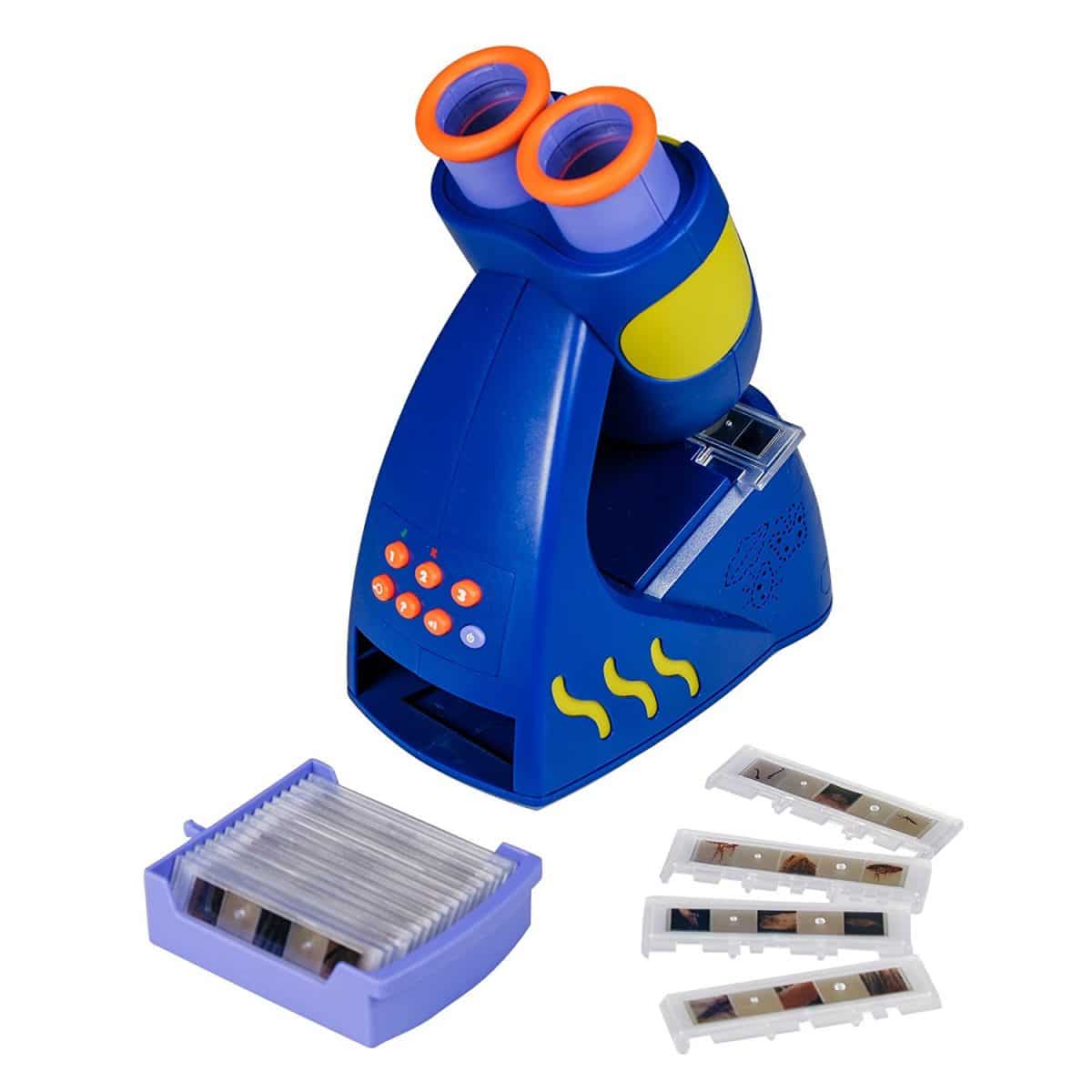 Most young boys are attracted to science as they begin school. This toy will boost the knowledge of your 6-year-old son in STEM subjects. The Talking Microscope is a good education toy. The toy familiarizes the young boy to equipment eh will soon begin using in studies.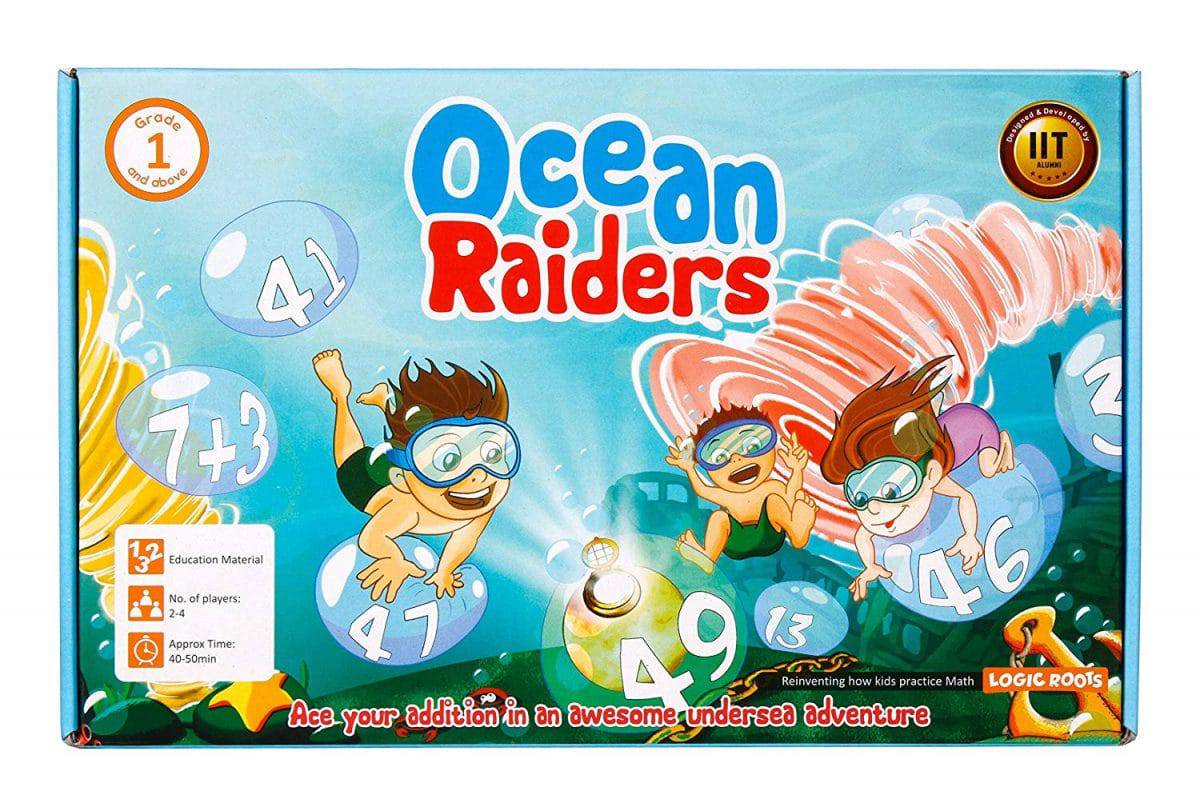 If your 6-year-old boy is a lover of stories and adventure, he will love this as a gift. The board game will help the development of your son's memorization and logic skills. As well, it provides you with an opportunity of enjoying your family time.
Ocean Raiders will challenge your son to grasp basic mathematics for him to find the hidden treasure. Your son will deal with both double and single-digit numbers. With more play, he will increase his mental arithmetic speed and skills.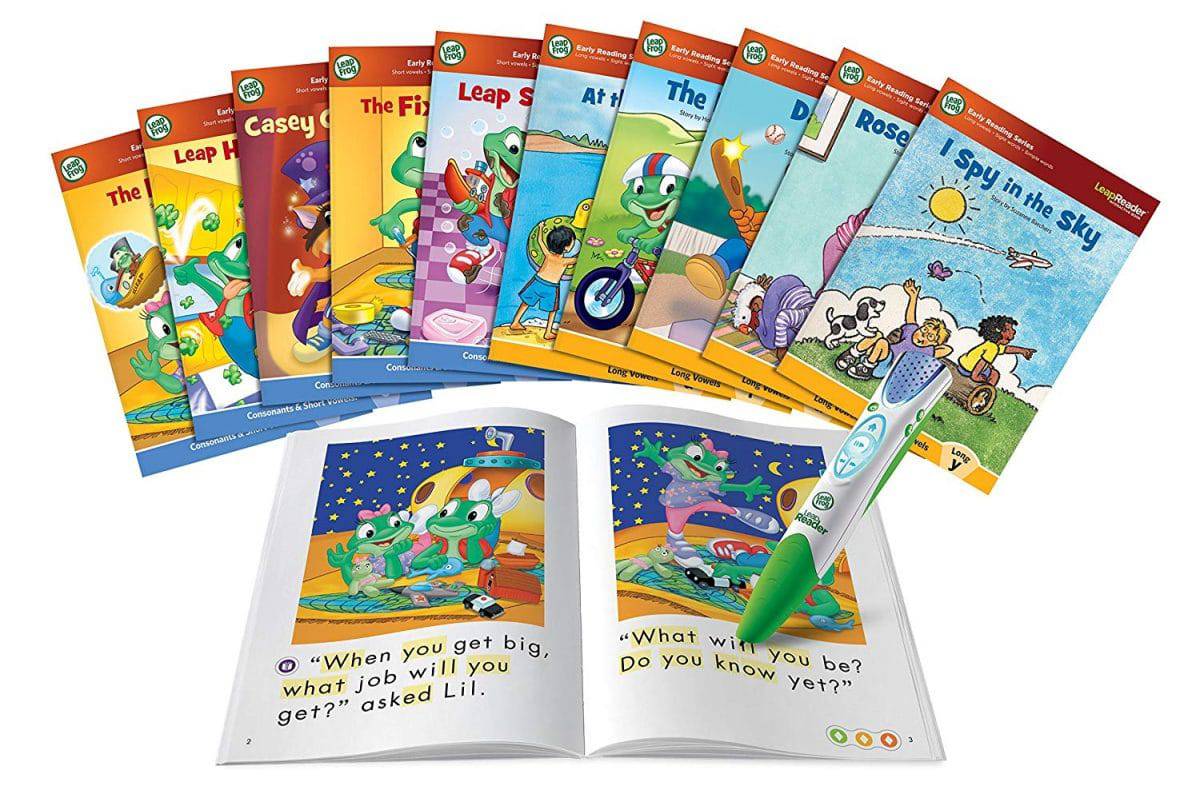 The reading skills in your 6-year-old son will start to develop over the coming years. He requires more time to understand how language operates and to begin learning and using sophisticated words on his own.
The LeapFrog LeapReader system comes with a bundle of 10 books which give your son a head start. Each book covers a unique subject. The toy comes with a really interactive pen. Your child can use the pen to scan unfamiliar words. Then the reader pronounces the word making this a useful learning toy.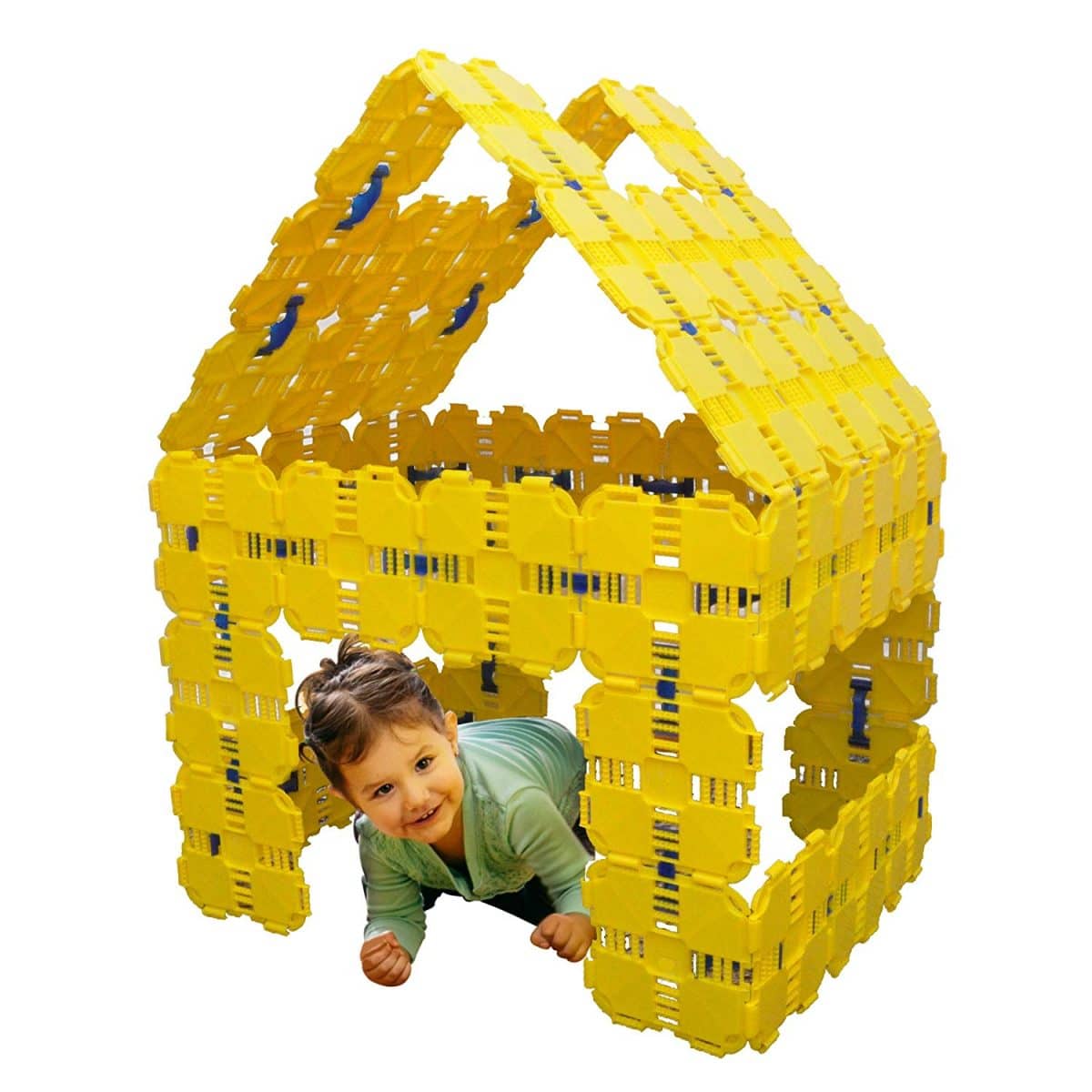 This building kit will help your son to construct a makeshift fort for himself. The toy set features 44 (8" x 8") boards and 44 connectors that give your child amazing building capacity. The toy guide includes plans for cars, castles, houses, and submarines. So, the only limit for your son is his imagination of the things he can create with the boards. This open-ended toy is a great gift since the child will continually find ways of using it.
Your son can snap the pieces together at 300, 600, 900, and 1800 angles and easily be take them apart. Disassembling these pieces is as fun as building them, so he will have fun building and rebuilding his fort. If only he let you in on the building fun.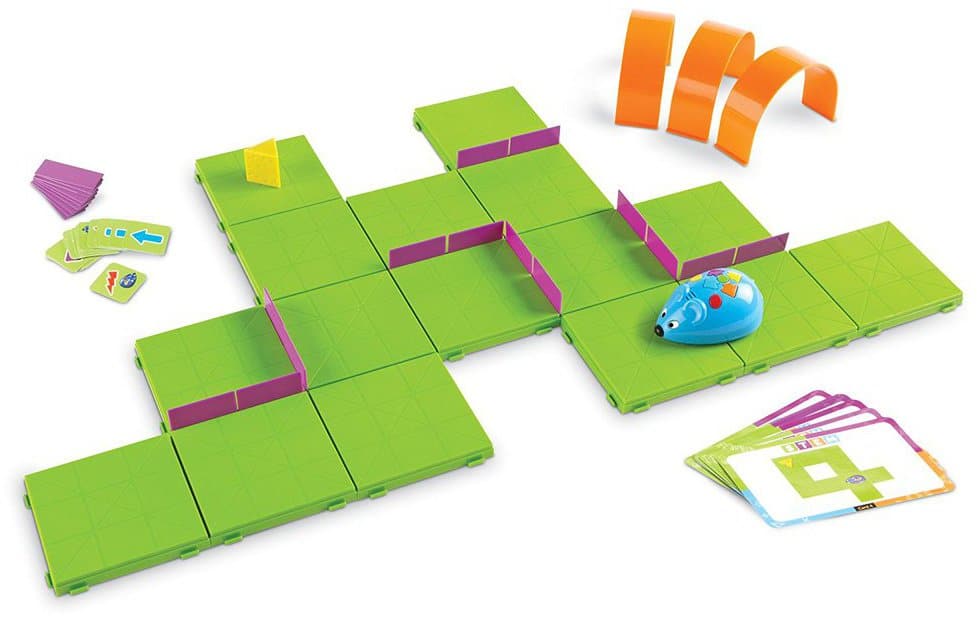 Your 6-year-old son can easily learn to code with the help of games and toys. One such toy that you can gift your 6-year-old son is the Code & Go Robot Mouse board game. This coding set transforms coding into a hands-on activity for visual and tactile learners. To program the mouse to move along the maze he creates, your son will use push buttons. The goal entails moving the mouse towards the cheese by following an established path without touching the mouse.
This kit will help your son develop skills such as critical thinking, programming fundamentals, sequencing, and problem-solving.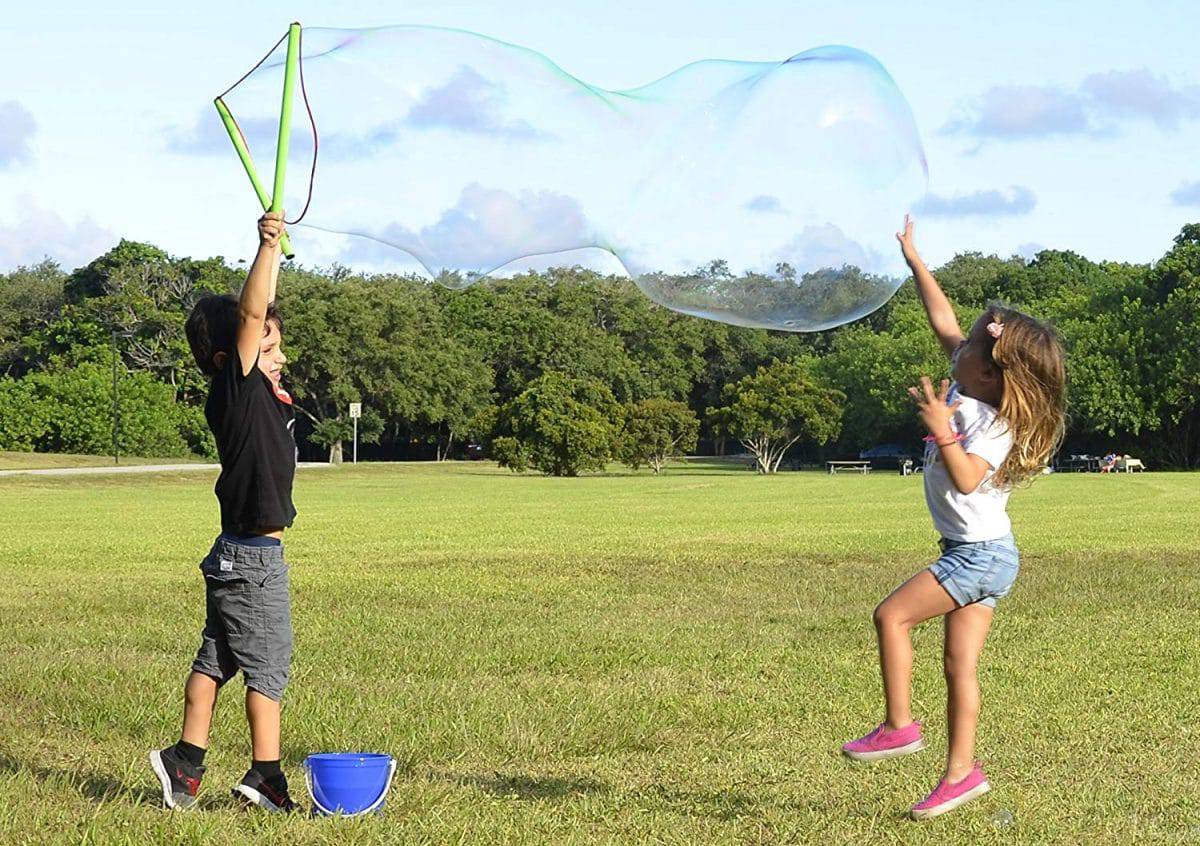 Most 6-year-old love blowing bubbles. This WOWmazing kit offers something more and excels at it. This is a great birthday activity or gift for your 6-year-old boy. It comes with 3 pieces a bubble wand, an instruction manual and a bottle of bubble concentrate. The manual not only tells your kid to use the hoop accordingly but also it is packed with tricks for your son to learn on his own. He will hone his fine motor skills as he shows off his skills to his friends.
As your child engages in this outdoor fun, his creativity and confidence will increase while fortifying his body through physical activity.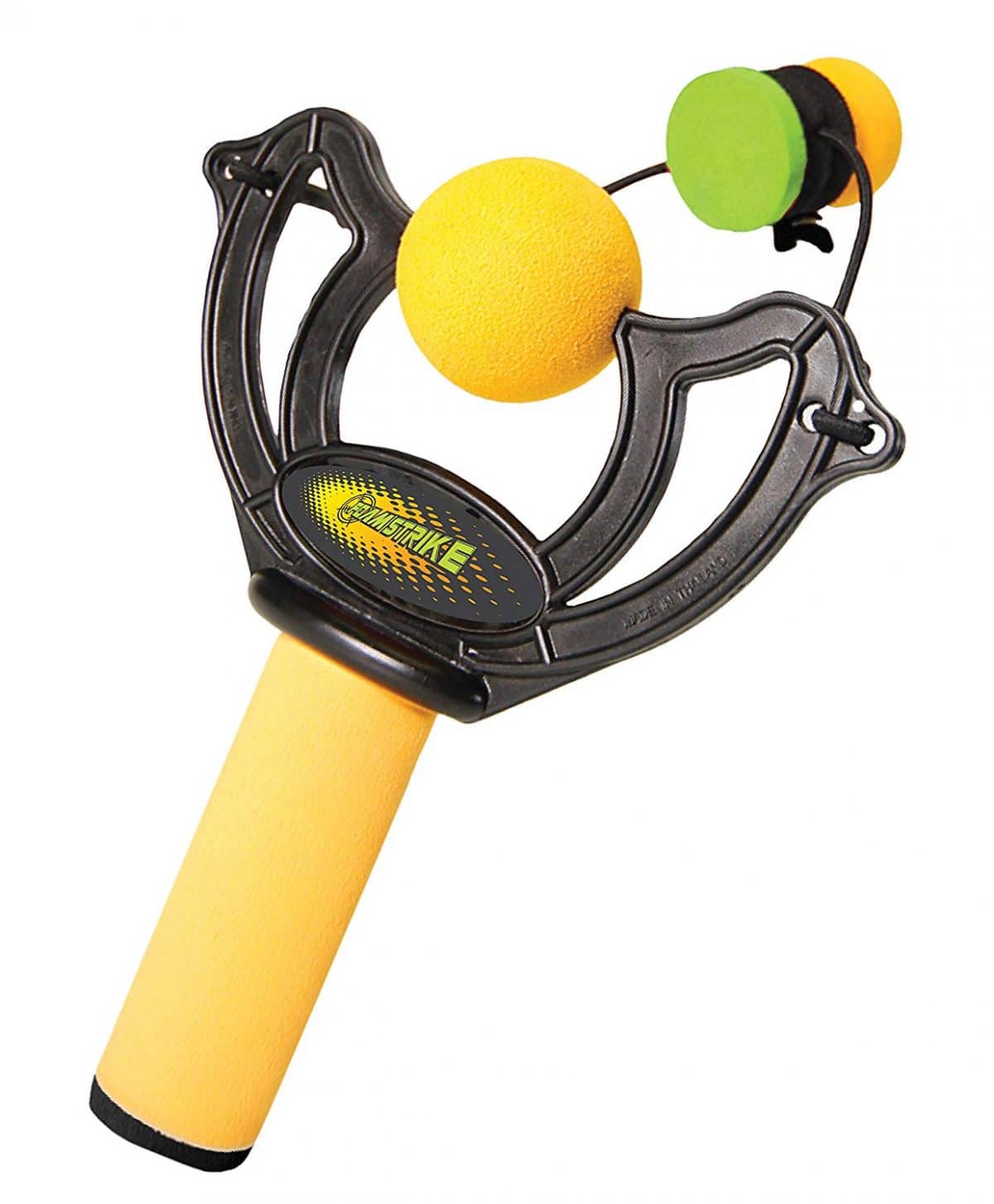 What could go wrong for a 6-year-old boy and a slingshot? With this soft version, nothing. This toy will give your son all the excitement of pulling the sling back, aiming and shooting without worries about broken windows or worse. Although this toy is safe and simple to use, the little launcher still has serious power. It is capable of launching its 1 ½'' foam balls ammo up to 60 feet.
The toy set come with 1 slingshot and 4 foam balls.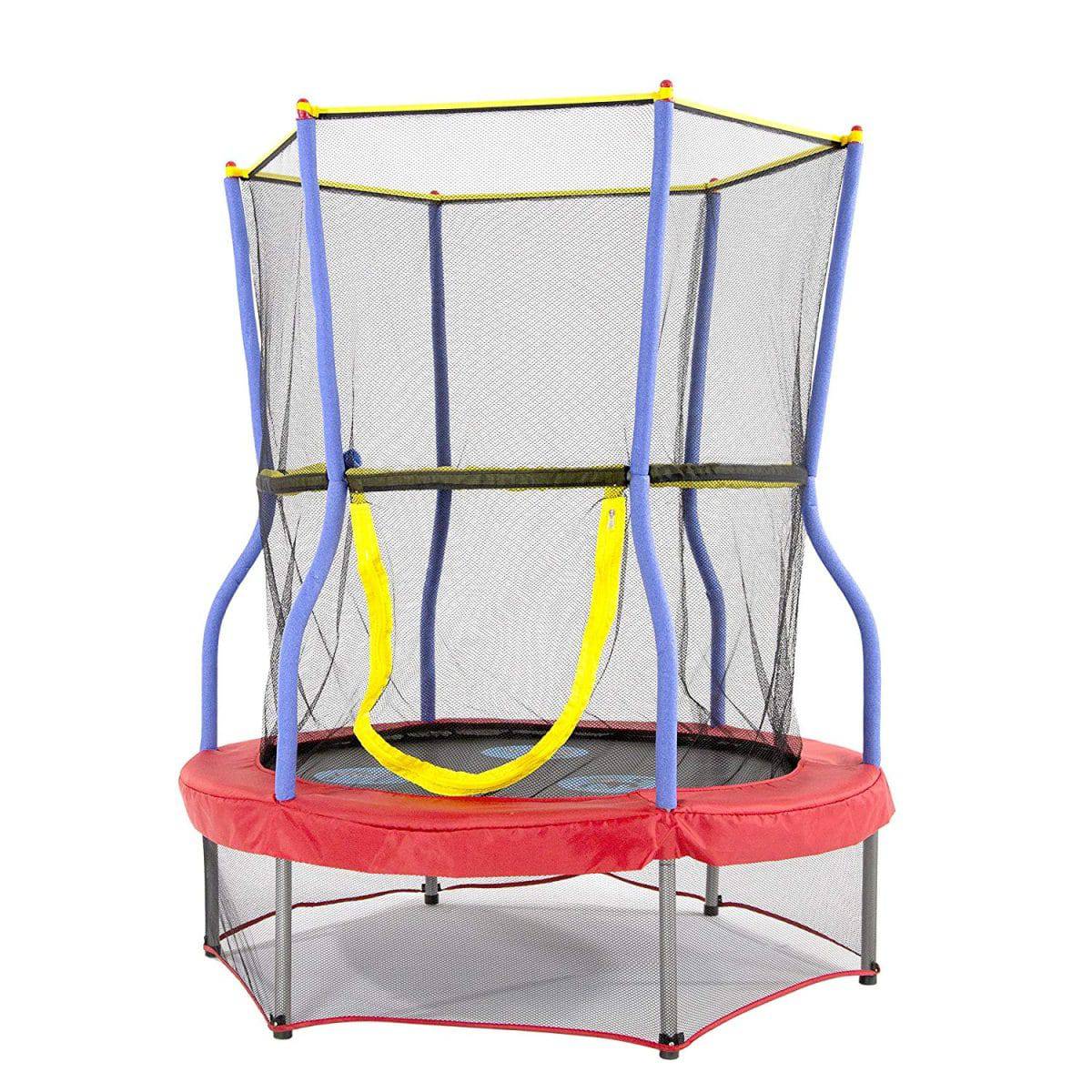 If your 6-year-old son has plenty of energy or you need him to be more active, the Skywalker Trampoline with Enclosure is great. The trampoline is recommended for kids between 3 and 7 years and has a weight limit of 100 pounds. So, this bouncer will last long. The trampoline measures 48" x 48" x 56" so it is perfect for one kid without taking up too much space.
This trampoline provides a safe environment for your child to explore and learn.
Finally
Toys are essential in your kid's development. A great toy will inspire your son to begin playing with others instead of watching television. Also, it should strengthen the skills your 6-year-old son is learning. The list above contains our choices for the best toys that will help your 6-year-old son create bonds with his peers and family. So, track your son's interests and select a toy gift that suits him.