Top 30 Best Toys and Gift Ideas for 8-Year-Old Boys 2022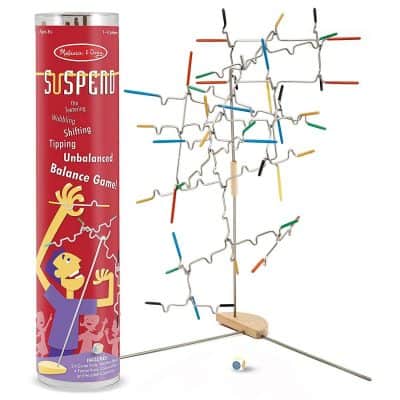 This is an exciting and suspense-ridden balance game which is great for family game nights. The pieces include 24 game rods, 4 frame rods, a wooden base, colored die, a wooden connector, and an instruction guide. The game has levels from amateur to expert, and your son can play it by himself or with his siblings and friends. The game becomes harder with each passing second as the rods are added shifting the balance of the structure. It will surely keep the players at the edge of their seats as they do not know what will happen next. It helps improve your son's problem-solving skills, promotes fine motor skills and improves his hand-eye coordination.

Your son is going to have endless fun playing with this product, either by playing alone, as a family and even with his friends. It includes 54 small wooden blocks which are pulled from the tower and stacked on top, one at a time, and a stacking sleeve. The game gets more complicated and suspense-ridden with each step, and it requires precision to prevent the blocks from tumbling down. The blocks are packaged in a cylindrical container for easy cleanup and safe storage. It can be played anywhere and at any time, and it enhances your son's creative thinking and balancing skills as it requires carefully studying the stack to choose which wood to pull out without the tower falling.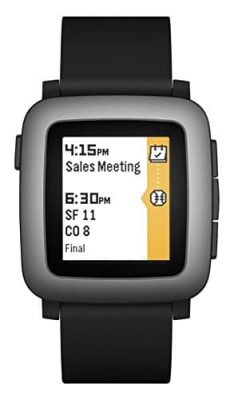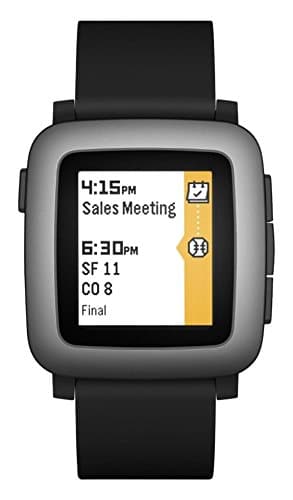 It's time for your little guy to finally become a grown up and this is the perfect gift for him. It has features including a built-in microphone for your son to take voice notes, and a built-in activity and sleep tracker. It is water resistant with a battery that can go for up to a week and is, therefore, excellent for your always active super playful son. It allows him to organize his day and actually get things done while also letting him to review his past activities and be organized. It is compatible with both apple and android phones. The band can be easily changed, and you can use a common band making the watch even more convenient. The alarm can be set multiple times, and the watch vibrates when the alarms go off.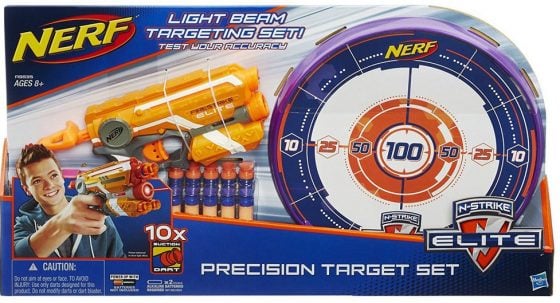 This target set includes the target, ten suction darts, two holders for the target and the suction darts, the strike, and an instruction manual. The target can be hung on the wall or door by clipping the holders to point to the front, and it can be made to stand by clipping the holders to point backward, and the suction darts firmly stick to the target. It is sturdy and very easy to use and is suitable for both indoor and outdoor play. This toy is great for your son to develop perfect aiming and accuracy skills. It is also a good way of keeping him occupied.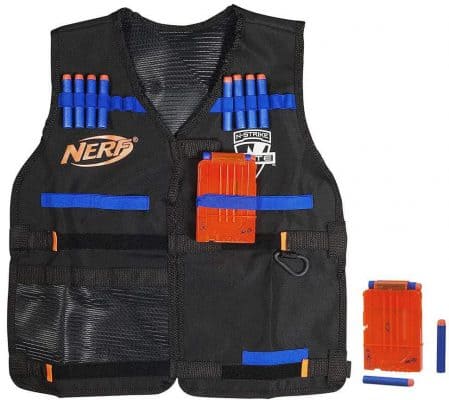 Your son's combat mission will even be more fun with this Nerf N-Strike Elite Series Tactical Vest. It comes with 12 Nerf darts and two dart clips which can carry six darts each allowing your son to stay fully armed not vulnerable to attacks. It also has a pocket where your son can store other things he will require for a successful mission. It comes in one size but is adjustable, and your boy can wear it comfortably. You will, however, need to buy the Nerf gun separately. Together with the Nerf gun, this vest makes it possible for your son to experience a perfect indoor and outdoor adventure without having to reload the gun each time he strikes.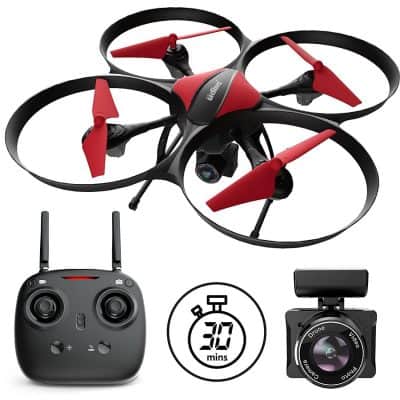 This drone is fitted with a camera to allow your son to take photos and videos from the sky. It comes with extra batteries in case the ones being used run out, a remote controller, a micro USB cable, a USB charger cable, and many more accessories needed to make photo and video taking successful. It can be used by both kids and adults and professionals. The drone has a rubber shock absorber to ensure that the drone remains stable when it's capturing photos and videos. The drones are easy to control the battery life is longer making it fun and convenient. It is sturdy and can survive several crashes. It is a great way to keep your son occupied, and he develops useful skills such as flying drones and using cameras professionally.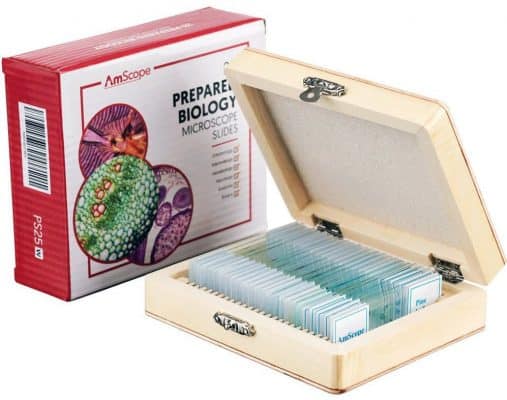 It is time to learn biology with this Microscope slide set. It has 25 slides with various plants, insect, and animal tissue specimens with the names written on each slide. It is a great educational tool and can be used for homeschooling your son. The slides have a coverslip to prevent them from getting contaminated and are preserved in cedarwood oil. The slides are packed in a wooden case to allow them to be easily handled as well as prevent them from breaking. The set will allow your son to gain basic knowledge of biology in a fun and entertaining way thus sharpening his mind and it will also boost his self-confidence.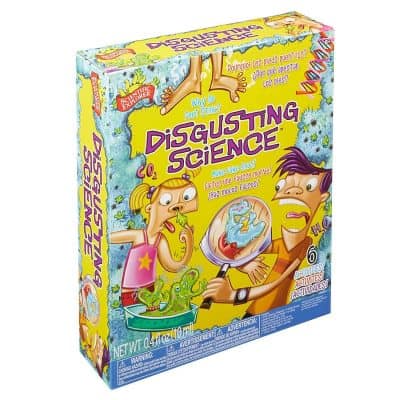 This kit is great for teaching your son about the gross activities that take place in the human body and why they do. It includes red and green food coloring, 4 Petri dishes, 4 cotton swabs, a magnifier, gelatin, sugar and baking yeast, a rubber balloon, and an activity guide. With adult supervision, your son can use the kit to perform different activities including making snot, stinky guts, fake blood, and more. He can also learn how to grow beneficial bacteria and fungus. The kit, aside from allowing your kid to learn about the human body, will encourage him to maintain good hygiene to avoid experiencing some of the disgusting activities and also develop his interest in science.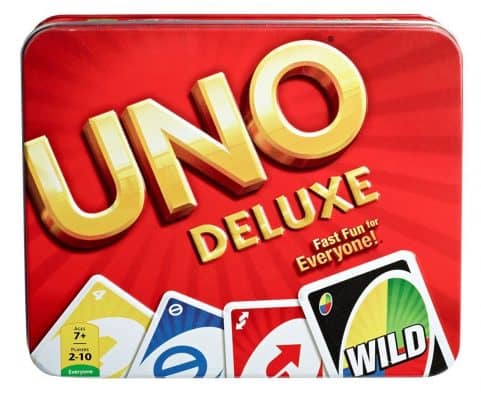 This is a great gift for both you and your son as he can play with his friends or with you, and is great for family game night. The tin includes a total of 108 cards, instructions, and rules for scoring the game. It is easy to grasp and play, and your son will become easily interested. It has eight wild cards which can be customized as the players wish which makes the game even more fun. It is a great way to keep your kid active and engaged, and it helps him to develop quick thinking and reasoning, and also help him learn to accept defeat and to expect events to change at any moment.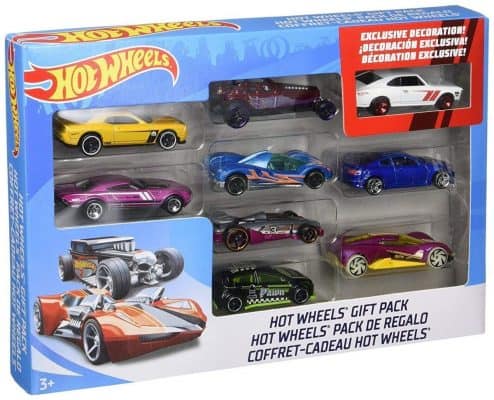 This cool pack contains nine small toy cars each with a different color and design. It is the perfect gift for any car lover, and your son will definitely appreciate it. He can add it to his car collections or race them on a track against each other. Either way, it will allow your son to have fun. The cars are very affordable and are of good quality, and your son will have them for a long time. The fun and unique designs of the cars make the pack even more interesting. Your son will learn to be organized and responsible for his items as he takes care not to lose his small toys.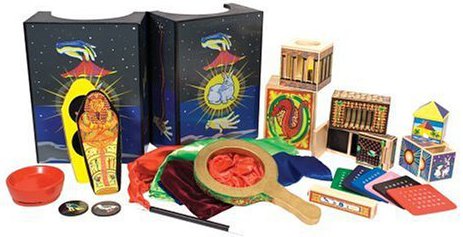 It's time for the little magician to have his own magic shows with this Melissa & Doug Deluxe Magic Set. It has 10 famous tricks magicians love performing disappearing coin and ball, magic number prediction, and more. The pieces are made of solid wood and are sturdy, and it includes an illustrated instruction booklet and a performance space which can also act as a storage space. The pieces in the set look like the real equipment used by magicians and your son will play with it as he keeps growing up. It is easy to learn and is a great toy for magic lovers. The set helps develop your son's confidence, creativity and imagination and it prepares him for future performances in front of people.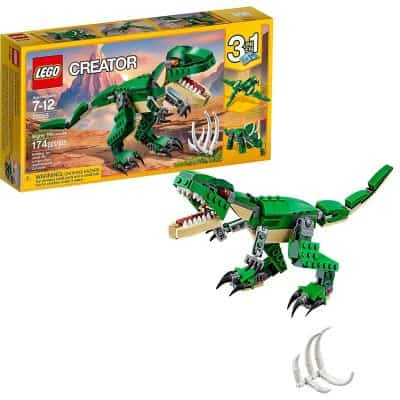 Let your son travel back in time to the era of dinosaurs by getting him this LEGO Creator Mighty Dinosaurs toy. It is a 3-in-1 set, and your son can build the T-Rex, the Triceratops, and the Pterodactyl. The dinosaurs are greatly detailed and have realistic features such as sharp pointed teeth, mouths that can open, and more. The limbs and tails are also movable and can be moved to imitate the real dinosaurs. The set comes with an instruction manual, and the dinosaurs are built one at a time and are sturdy. It is a good way of keeping your son engaged while also expanding his creativity and imagination and it improves his hand dexterity.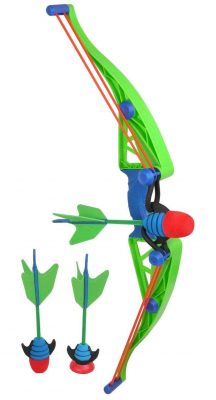 This toy consists of the bow and three arrows and is great for indoor and outdoor play. Two of the arrows have tips made of safe foam which reach a far distance and bounce back off of targets while the remaining one sticks to almost any surface. The two RedX arrows also whistle when they are shot adding to the fun and excitement. The bow is easy and fast to load, and it can be used by both right-handed and left-handed people. It is helpful in developing archery skills and building hand muscles as well as promoting hand-eye coordination. The arrows are safe to use and can be replaced when they get lost or wear out.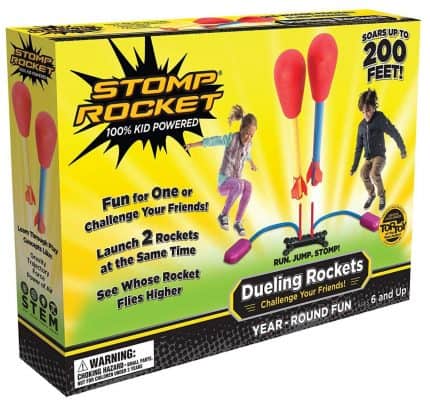 This toy is so much fun that even adults will want to play with it. It includes two launch pads and four rockets, and your son can challenge his siblings or friends to see who has the most stomping power. The rockets can launch up to 200 feet in the sky making the toy excellent for outdoor play. It helps to develop your son's interest in science, engineering, and technology and is also a great way of exercising since it involves running, jumping, and stomping. The rockets come in two different colors and are made from soft foam and are reusable and the launching pad is quite easy to assemble and use, and no batteries are required.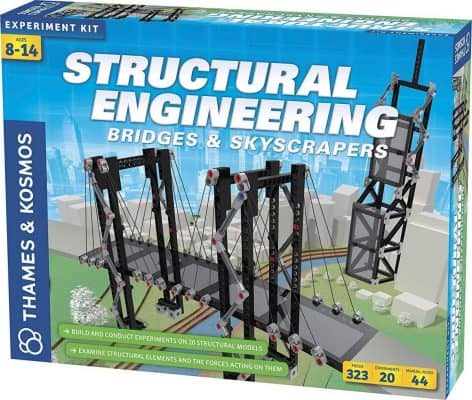 Bring out the architect in your son with this Thames & Kosmos Structural Engineering. It has 20 models and several building pieces which can be interchanged. The models demonstrate the basic concept of structural engineering and your son is able to learn how tall buildings and bridges stay intact. Your son can start by experimenting with smaller and simpler structures and gradually move towards building more complex models. It has an instruction manual which gives detailed instructions. Your son can build anything he can think about with the help of the manual which has questions at the end of each model to sharpen your son's mind. It promotes creativity and imagination and also enables him to gain useful skills and interest in mechanical engineering.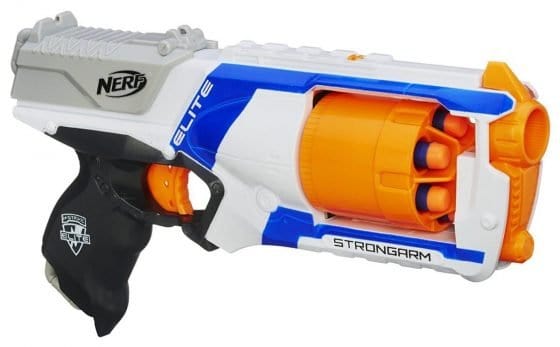 This toy includes the blaster, six elite darts, and the instructions. The blaster has an open cylinder which holds six darts which are loaded directly to the barrel, and this allows your son to fire the darts continuously without stopping to reload. The darts are fired by moving the slam fire slide back and forth. The barrel flips open to allow quick loading and prevent your son from losing the battle. The tactical rail on the top of the blaster allows it to be customized and you can add other Nerf N-Strike accessories to make it more fun. The toy is easy to operate and does not require any batteries and can be used for indoor and outdoor play. It is great for keeping your son occupied and increasing his attention span.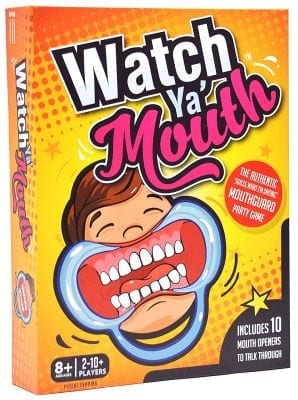 This is a fun game your son can play with his friends and is also great for a family game night. The pieces are worn in the mouth, and the player attempts to say the phrases written on the cards that are included and his teammates try to figure out what he is saying. The set has six standard size mouthpieces for adults and four smaller mouthpieces for younger kids. The cards are laminated to ensure they do not tear or wear out. The number of players is unlimited, and the mouthpieces can be easily cleaned by using boiling water. An extension pack can be purchased to ensure hours of endless fun and laughter. It promotes your kid's quick thinking and reasoning skills as he tries to figure out what his teammates are saying.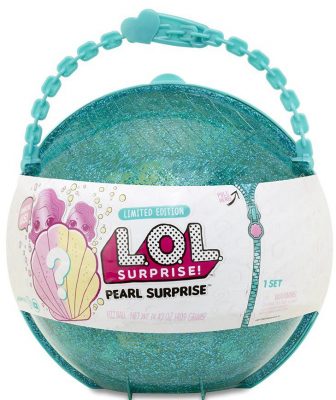 This toy is full of surprises for your little boy. It includes six surprise balls which have outfits inside for the doll and a fizz shaped like a seashell which is dissolved in water to reveal a beautiful doll stand shaped like a seashell. Inside the stand are two adorable little sisters for your son to groom and look after. These are all encased in a beautiful pearl case which your son can use to store small toys. The dolls change color when placed in cold water adding to the excitement. The fizzing part and the color-changing features make the toy pretty cool, and it keeps your son's interest as he waits for the reveal. It also teaches him to be responsible as he grooms and takes care of the dolls.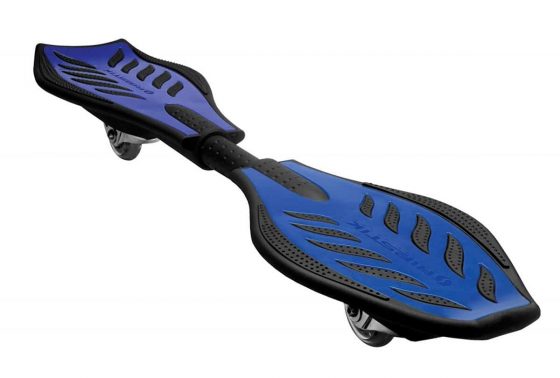 Your son is going to experience snowboarding on dry land with this Razor RipStik Caster Board. It has unique features including caster trucks which can rotate all the way around and can move on almost any kind of pavement and concave decks which make it resistant to slips and easier to control. The design also makes it possible to accelerate the caster board without having to push it, and your son can perform tricks and stunts safely. It is high-quality and sturdy and can hold up to 220lbs, thus can also be used by adults. Your son will learn about balancing and coordination while also developing his snow-boarding talent which might be useful to him as a sport.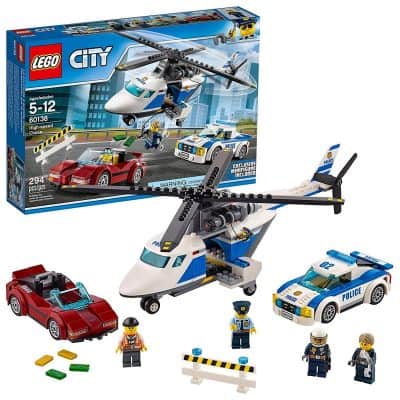 It's time to go on adventures and catch bad guys with this building toy. The toy includes 4 small figurines, a police car, a stolen sports car, a barrier, and a helicopter which has spinning rotors and a winch to make your son's adventures fun and realistic. With the help of the Chase McCain figurine, the police are able to catch the bank robber trying to escape using the stolen sports car. It has several pieces which are sturdy and easy to assemble, and your son can play with it by himself or with friends, and he can add other Lego sets to make his adventures more exciting. It is great for fostering your son's creativity and imagination and improves his hand-eye coordination.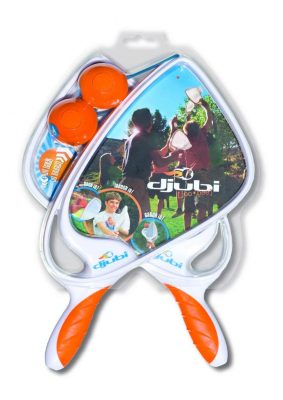 This is a fun outdoor toy which involves one player launching a foam ball into the air and the other player catching it using a catching net. It includes two racquets, two balls, a catching net, and a launching hook. This toy brings whole new excitement and fun to the game of catch. The game is easy to play, and the ball is soft and will not hurt your kid if it hits him by accident. It can also float on the water making it great for pool play as well. It is good quality and can be used frequently and for a long time. It is a good way for your son to exercise and keep fit and it also helps in improving his concentration and attention.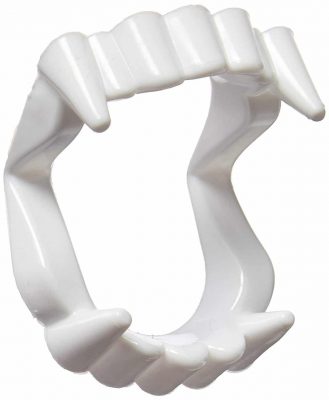 This is the perfect toy for costume parties, dress ups, and Halloween. Your son can turn into the mythical creature for Halloween and scare people away or just wear it for fun. The pack has 12 pairs of fangs which are foldable and simple to use and are made of soft and flexible plastic which do not hurt the gums and mouth. They can be worn by both kids and adults and are safe to put inside the mouth. The pack allows your son to have fun with his friends and it is very affordable. It enhances your son's creativity and imagination as he comes up with new ways of using the fangs.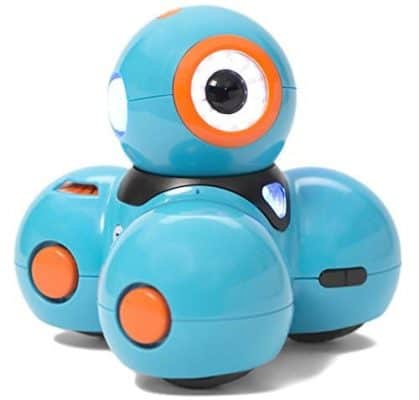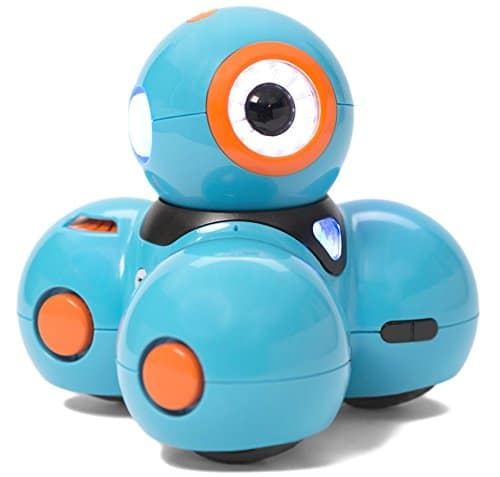 This kid's robot comes with two building brick connectors, a charging cord, and an instruction guide. It is a fun and an educational robot that teaches your son and plays with him at the same time and is designed to grow with your child. It uses apps compatible with Android, Apple and Kindle Fire mobile phones and tablets to make it move, light up, dance, avoid obstacles, and more, and can be charged when the battery runs out. The robot is easy to control with the apps and will keep your son engaged for hours, and your son learns about coding in the process. It also helps him develop problem-solving skills and knowledge about various sounds and activities.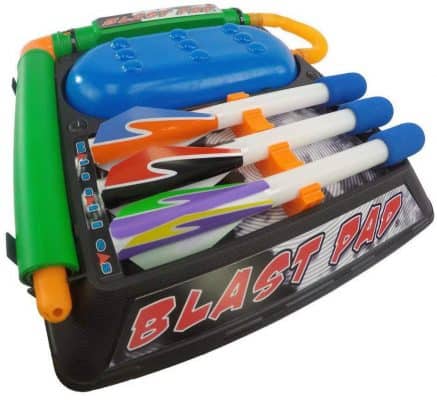 This kit includes three missiles, one blast pad, one launch tube, and a blast pad base. Your son will have a blast playing with this toy outside the house (it's a bit big to be used indoors) alone or with his siblings and friends to see who can launch the missile the highest. The tips of the missiles are made of soft foam to ensure that nobody gets hurt when they accidentally get hit by one, and they can easily be replaced in case they wear out or get lost.
A great feature of this toy is its ability to store neatly in the base without having to disassemble it. The game is easy to play, and your son will develop an interest in science and mechanical physics while he is having fun.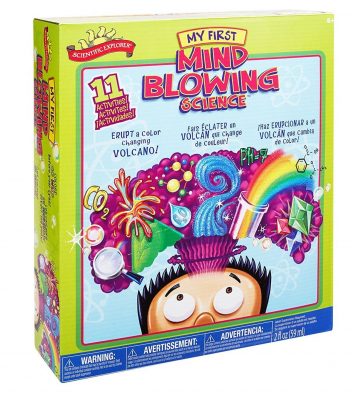 It's time for the little scientist to get to work and he will need his science kit. It includes 3 plastic cups, 2 measuring scoops, 3 test tubes, 2 cotton swabs, 2 sticks, a pipette, and an activity guide. It also includes chemicals which are not harmful and which are mostly used in the kitchen. Your son can perform amazing experiments by following the detailed instructions given in the guide in the presence of an adult. Your son will learn new and interesting facts in a fun way, and he will develop an interest in math and science. He will also gain more knowledge about everyday events and be able to explain simple phenomena thus also boosting his self-confidence.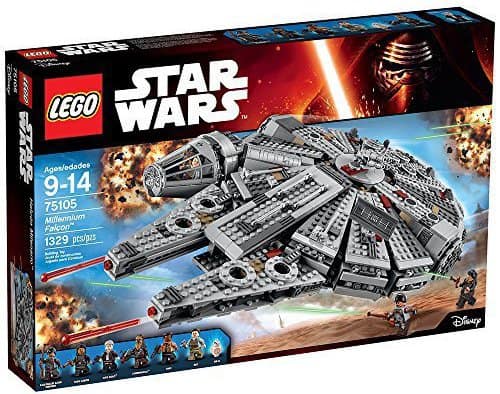 This toy is the perfect gift for any Star Wars fan. Your son will experience Star Wars and interact with the hero and villain figurines included. The figurines include Chewbacca, Han Solo, Kanjiklub gang member, and more. It has a lot of pieces for your son to build the ship substantially and it has great details such as a detachable cockpit, secret compartment, and more to make it look and feel like the real ship. The toy is compatible with other Lego building sets allowing your son to expand his creativity and imagination by coming up with creative structures and adventures. It also enhances his hand-eye coordination and basic construction skills.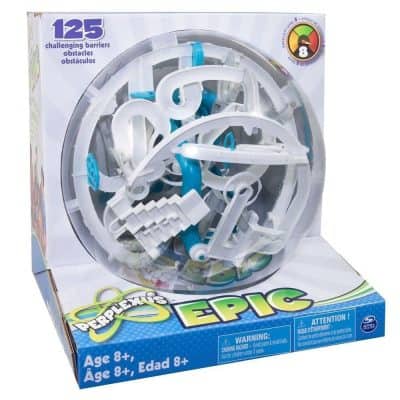 This labyrinth toy will challenge your son to great lengths. It is big and has a lot of obstacles your son will need to overcome using the metallic ball inside. The labyrinth is enclosed in a sphere which is flipped and twisted to move the ball to the finish line. It comes with a base which holds the sphere intact to prevent it from rolling over when not in use. It will take time for your son to master the game but once he does, the game will be easy for him. You can travel with it and play with it anywhere and at any time. It improves your son's concentration, hand-eye coordination, hand dexterity, and motor skills and he will also gain problem-solving skills.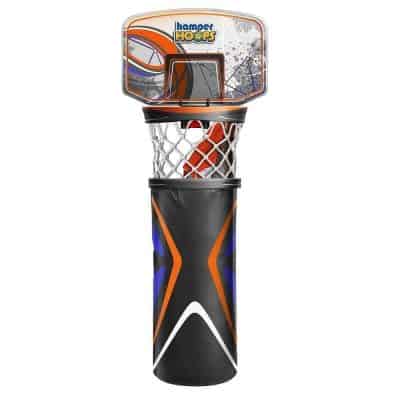 Dirty laundry in a boy's room is a nightmare most parents experience, and this product is here to save you by letting your son tidy up his room while he is having fun. This over-the-door hoop is similar to a basketball hoop with a basketball backboard and a net, and it comes with a detachable laundry bag to hold the laundry. It is very easy to set up as it only requires the laundry bag to be attached for fun to begin. It can fit any door, and the laundry bag has a zipper at the bottom which can be opened when it fills or time to do laundry. It helps teach your son to be neat, tidy, and organized.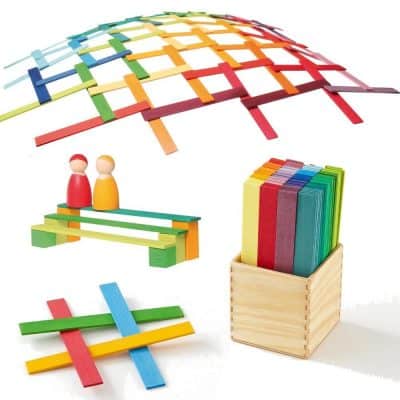 This toy consists of 100 colorful sticks and a set of instructions all packed in a wooden storage box. It provides various options for building and can be combined with other building sets to come up with various structures such as a house, stairs, and many more. Your son can build structures by himself or with the help of his friends to come up with a masterpiece. The sticks are non-toxic and of good quality and structures which have been completed can stand on their own and do not need to be glued or screwed together. The toy helps improve your son's steadiness and teaches him to be patient and work with people.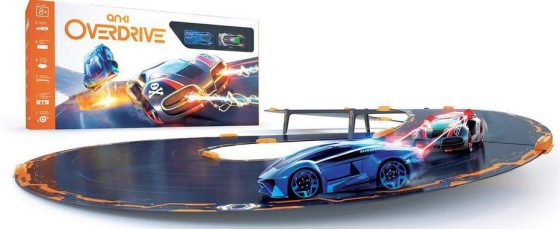 The Anki Overdrive Starter Kit is one of the modern options for a race car track toy. As kids already know, it comes with smartphone-controlled cars for the ultimate racing experience. Suitable for kids into gadgets, the race track also works with high versatility. The track itself has 8 epic battlefields which use corners of different angles and straight sections of different lengths to offer the ultimate playing experience. Loopback, The Point, Quadra, Capsule, Overpass, Microloop, Hook, and The Wedge are the options to consider. In some respects, they are inspired by some of the most popular racetracks in the world.
Of course, these track elements can actually be expanded in time, to offer extra racing challenges. With new supercars and new curved, straight or riser pieces, the options for a custom track are practically endless. Those who wish to offer the kit as a gift also need to know racing is based on WiFi smartphone connectivity.