Top 15 Best Ukuleles For Kids 2023

Recommended Age: 3-5
Designed in France with the young ukulelist in mind, the Janod Ukulele Music Set is sure to get kids excited to start playing. The initial impression starts with the bubbly, colorful design laid over the instrument's body and neck, which is sure to catch your child's eye. However, they'll be even more interested by their new gift once they manage to get the first few sounds out of it.
As you might expect, the sound capabilities of this ukulele aren't as rich as some of the more advanced entries, but that's not as much of a priority for the lower age group for which this uke is ideal. What matters here is that the instrument is functional, eye-catching and easy to use. Thankfully, Janod's ukulele is all of the above. On top of that, it weighs only 1.4 pounds, making it easy for a young player to tote around the house.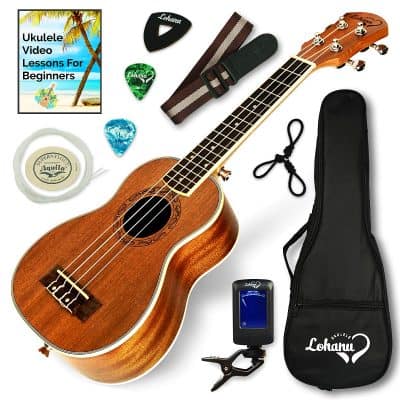 Recommended Age: 5-8
The impressive attributes of the Lohanu Soprano Ukulele go well beyond its attractive design. The chrome tuning gears along with the Aquila strings make it a joy to play, and it comes pre-tuned prior to shipping, which ensures that the strings are properly set in their standard tuning right out of the box. The kit also provides a full list of accessories, including picks, a gig bag, extra strings, a neck strap and tuner.
The Lohanu Soprano Ukulele produces an excellent sound for its price range. The solid mahogany body allows for the production of warm, clear tones with extended sustain. Like a fine wine, the sound quality of the instrument only improves as the mahogany ages. For parents looking for a ukulele that will last their children for years to come, this is definitely a solid pick.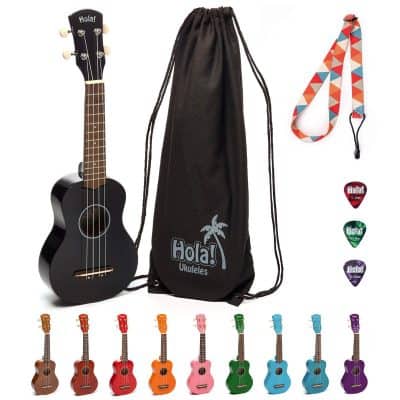 Recommended Age: 8+
You can get a good sense of the quality in Hola! Music's HM-21BK Soprano Ukulele just by holding it, with its smooth and solid mahogany neck and rosewood fingerboard and bridge. We're really impressed by the construction exhibited here, since the materials used are often applied to more professional instruments. Furthermore, it's sold at a price point comparable to lower quality models, making this bundle a really excellent deal.
To supplement the learning experience, the kit includes a canvas tote bag, a strap and picks, so your child will have everything they need to get started right away. They can enjoy long, uninterrupted practice sessions thanks to the instrument's great ability to hold its tune. Finally, there's a series of color options available to help your child form a personal connection with their new instrument.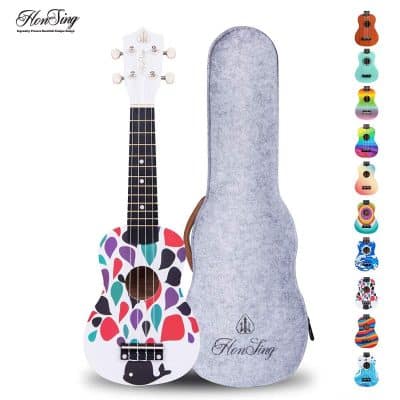 Recommended Age: 3-5
Honsing's Soprano Ukulele is constructed from high quality, eco-friendly materials. On top of that, it doesn't compromise in terms of pricing. If you're looking to get your child started on the ukulele in the simplest, most fun way possible, this model is definitely worth looking into.
When choosing a ukulele for kids in the earlier stages of infancy, keep in mind that the instrument's design plays a big role in the child's passion to learn it. Knowing this, Honsing has ensured that the colors and shapes of this ukulele practically leap from the box. If a certain design isn't quite to your liking, there's over a dozen other options to choose from.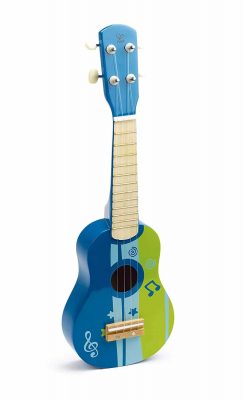 Recommended Age: 3-5
Although the Hape Kid's Wooden Ukulele might look like a toy, it's actually a full-fledged instrument that can produce some lush sounds. It's been made with child-safety concerns in mind; the strings are attached to the body so that there are no sharp ends, and the body's finish is entirely non-toxic. On top of that, the materials used here are produced from sustainably-maintained natural resources.
There are blue, red and green color schemes on offer here, so you can choose among them based on your child's personality. Once they pull this ukulele out of the box and strum its strings for the first time, they'll be hard-pressed to ever put it down.

Recommended Age: 5-8
Mahalo's Rainbow Series Ukulele is among the brand's top selling models, and for good reason. Its utility goes beyond the sleek, classic design—once your child becomes familiar with it, it's likely that they'll be unable to put this smooth-sounding instrument down.
The kit comes with everything that a beginner needs, including the instrument, a carrying bag and a digital lesson download that breaks down the fundamentals of how to play. Your child can access a full spectrum of tones thanks to the ukulele's Aquila strings and NuBone XB bridge saddles. It's easy to maintain standard tuning with the nifty dolphin-shaped geared tuners.
Fun fact: the word "mahalo" means "gratitude" in Hawaiian, which is the exact sentiment you'll see on your child's face as they unbox their new instrument.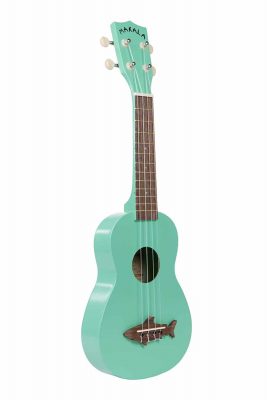 Recommended Age: 5-8
Don't be frightened by its shark-shaped bridge—this ukulele doesn't bite. Instead, it serves as a great instrument to help your child learn the basics of playing music. The Makala Surf Green Shark Soprano Ukulele is an ideal entry-level instrument that's built to last. Its high-quality construction includes a mahogany neck, walnut fingerboard, geared tuners, Aquila strings, and, of course, its signature shark-shaped bridge.
The manufacturer behind this model is Kala, whose ukuleles have been used by several renowned musicians across all genres. Some famous names that have taken these instruments on tour include Twenty One Pilots, Vance Joy and Dodie. Who knows—if your child practices hard enough, they might someday be listed among those famous names themselves.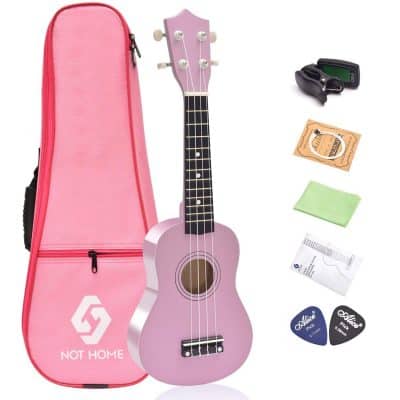 Recommended Age: 5-8
Every kid has a favorite color, and they're likely to find it among the range of color options available in Not Home's 21 Inch Soprano Ukulele range. You can also rest assured that the color is painted into the ukulele with eco-friendly paint, making it safe for your child's use and sustainable for the planet.
This ukulele offers great sound, playability and quality that definitely seem to exceed its price bracket. Its nylon strings are comfortable to handle and are quite well made, so they won't require replacement before long. The tuning pegs are solid and reliable, although the instrument might be tricky to tune at first. Considering the quality and price on offer here, this is quite the steal of a deal.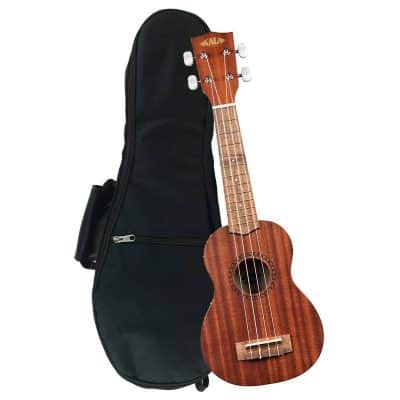 Recommended Age: 8+
As we mentioned above, Kala ukuleles are renowned around the globe for their quality and reliability. This applies to their professional ukuleles as well as their beginner kits, and the Kala KA-15S Mahogany Soprano Ukulele is no exception.
This model is known for producing a smooth, serene sound produced in part by its walnut fingerboard and mahogany body. Adding to the effect is the instrument's NuBone nut and saddle as well as its Aquila strings. The kit also comes with a lightweight bag, allowing your child to easily take their new instrument on the go with them.
Since it was introduced in 2005, this ukulele has been a staple in music classrooms. Although it's aimed at a very young audience, the build is versatile enough to last a player until they're ready to transition to a more premium ukulele.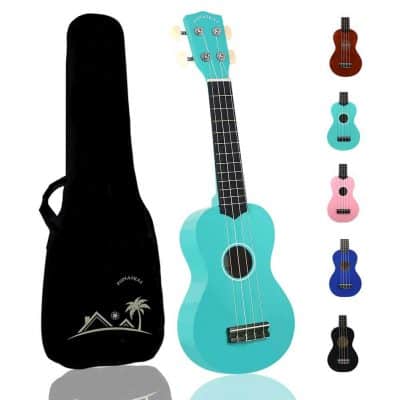 Recommended Age: 5-8
Picking up a new instrument is difficult regardless of your age bracket, but this definitely applies to children even more than it does to adults. Sure, young minds pick up new lessons like a sponge, but it's important that the instrument in question provides them with as seamless a learning curve as possible so that they're motivated to keep up with the hobby. If playing isn't frustration-free, they won't want to keep learning for long.
The Pomaikai Soprano Wood Ukulele's soft nylon strings are easy on the hands, so your child will be able to practice as long as they want to without much strain. Thanks to its lightweight construction, they'll easily be able to take it with them wherever they go. Finally, this ukulele features top-notch construction considering its price range. Its hardwood body and basswood fretboard help create a rich, classic acoustic sound that the whole family can enjoy.

Recommended Age: 5-8
Don't be fooled by the apparent simplicity of the Diamond Head DU-150 Soprano Ukulele's design. As is the case with any musical instrument, it's best not to judge the book by its cover, since its true value lies beneath the surface.
In fact, there's a lot to love about this ukulele's design. Its traditional shape facilitates the production of full-bodied sound. The sturdy body and neck is made from maple and overlaid with a high gloss finish that helps with its durability. Normally, ukuleles in this price range aren't made with such attention to detail.
The kit includes a convenient gig bag, a tuner and a 3-chord chart that will allow your kids to jump right into the mix of playing.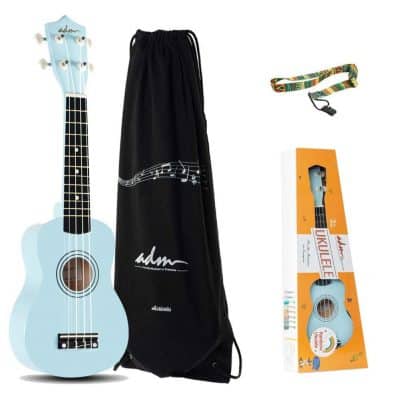 Recommended Age: 5-8
The ADM Soprano 21 Inch Ukulele is compact in its design, so your child will have an easy time maneuvering it. The more they play it, the more comfortable they'll be with its fundamentals, and you'll soon be hearing some great progress in their learning experience. We happen to like the look of this ukulele in light blue, but there are several other choices available to fit your child's preferences.
The starter pack comes with a gig bag and strap, so your child is all set to take their ukulele with them on outings to entertain friends and family. Just make sure they get a few good practice sessions in first! Additionally included in the kit are an extra set of Aquila strings and a clip-on tuner with an LED display, so there's really a ton of value on offer here.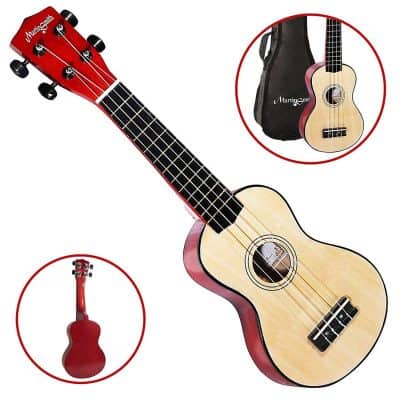 Recommended Age: 8+
The Martin Smith UK-222-A Soprano Ukulele might just be the most aesthetically pleasing model in this list. Looking at it, it's easy to imagine a larger, professional-level instrument that's been shrunk to kid-size. You also might think that it's an expensive option based solely on its looks, but you'll be pleasantly surprised by the low price tag.
Beyond its design, there's a ton of quality on offer in this kit. The nylon strings are extremely easy on the fingers, both when forming the chords and strumming them. Also included here is a durable carry case that's sure to protect it during transport. Ultimately, considering the cost-efficiency of this model, it's really tough to pass it up.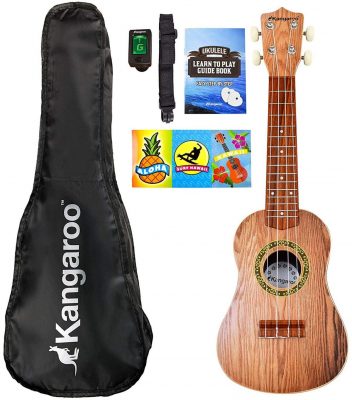 Recommended Age: 8+
Catering to slightly older children, the Kangaroo 22.5" Ukulele is a perfect choice for players looking to learn the ropes of the instrument. It's built with 15 wide frets to better help your child transition between chords. Although the faux-wood materials used in its composition aren't the most durable or premium-feeling, they actually help produce some surprisingly good acoustics.
This kit includes an electronic tuner, strap, picks, carrying case, instruction manual and songbook, making it one of the most comprehensive bundles in this list. The instruction manual is especially detailed, with 46 pages that break down the fundamentals of ukulele playing. All in all, this bundle exhibits a solid bang for your buck.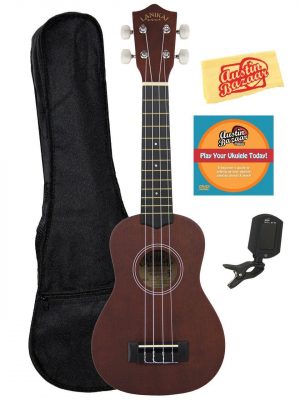 Recommended Age: 8+
Lanikai is known in the music industry for producing high-quality ukuleles that offer a ton of great features within their price range. On top of that, all Lanikai ukuleles are manufactured by Hohner, a German brand renowned for producing some of the world's best instruments. With all that in mind, it's easy to see why Lanikai's Kohala Soprano Ukulele is an excellent choice for a young player.
The benefits of mahogany construction are seen here once again. The body of this ukulele has been optimally constructed to produce vibrant tones while keeping the instrument in tune for far longer than average. Furthermore, the kit comes with useful accessories such as a gig bag, polish cloth, and even a nifty clip-on tuner.