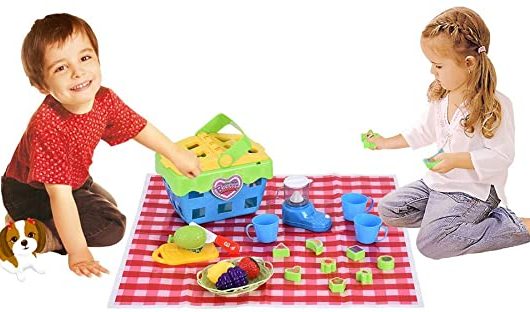 Melissa & Doug Dust! Sweep! Mop!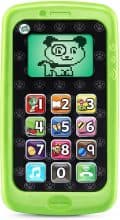 LeapFrog Chat and Count Smart Phone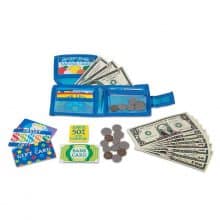 Melissa & Doug Pretend-to-Spend Wallet
Previous
Next
When your child engages in pretend play, they are using their imagination to learn about the world around them. Pretend play creates an environment where it is safe to experiment and mimic the language and activities that children see and hear from adults. This plays an important role in a child's development, and we believe that parents should do whatever they are able to do in order to promote positive pretend play. That's why we reviewed every one of the pretend play toys we could find. These are our top picks.
Features to Consider in Good Pretend Play Toys for Kids
Pretend Play Helps Kids Learn
Because there is no limit to the different ways that kids can play pretend, there are countless ways kids can learn through make-believe. For example, pretending to be a cashier at a store can help with basic math, while pretending to be a doctor can help them learn about their own bodies and health. Pretend play is a great tool for little ones to explore the world around them in a safe and creative way.
Finding the Best Pretend Play Toys for Kids
When we set out to find our favorite pretend play toy for kids, our goal was to find toys that encourage kids to use their imagination in fun and unique ways. All of the toys and playsets we reviewed were judged on the following criteria:
How they will play pretend: To give parents a better idea of how a toy or playset will be used once their kids get their hands on it, we've included make-believe ideas for each toy based on what other parents have told us about that toy. As the number of different ways a child can use a toy to pretend increases, the more likely it is to see a lot of use.
What they will learn: While not every toy on this list teaches skills like math and reading, there are several that encourage social skills like sharing and communication. We believe parents should seek out an assortment of pretend play toys for their kids that teach a wide range of skills:
Age Range: Kids respond better to toys that fit their age level and skill set. We give preference to pretend toys that appeal to a wide range of ages.
Choking Hazard: Because some of the pretend play toys on our list come with small pieces, we make sure to note which ones create a potential choking hazard for younger children.
Batteries Required: Some of the toys on our list below require batteries to operate. We've listed the number and types of batteries required as well as whether or not they are included with your purchase.
Top 13 Best Pretend Play Toys For Kids 2020
The Verdict
You should encourage your child to engage in pretend play whenever possible. By giving them options to explore the world around them in a consequence-free environment, you are giving them a chance to adopt a curious and creative attitude toward life. Pretend play helps little ones put the world around them into perspective and better learn their role in it. Improved social skills and a sense of belonging are just a few of the benefits of playing make-believe.
We believe that all parents should create an environment for their children to play make-believe at home. While the toys above provide a great start, it's also important for parents to remain active and join in the pretend fun whenever they are able. Not only is it a great opportunity to bond and teach your child, but you may also be surprised by what they already know just from observing the world around them.