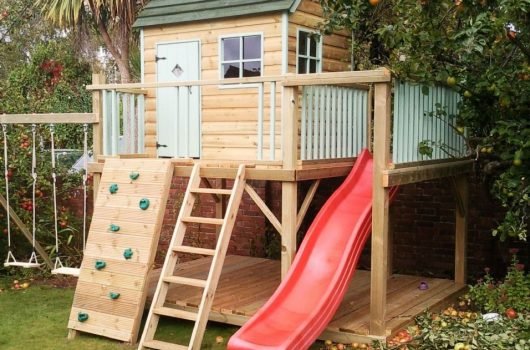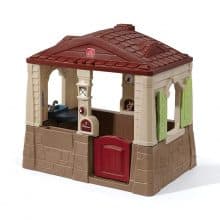 Step2 Neat & Tidy II Playhouse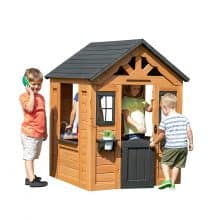 Backyard Discovery Sweetwater All Cedar Wood Playhouse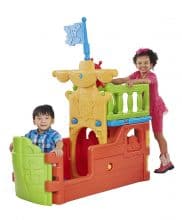 ECR4Kids Indoor/Outdoor Buccaneer Boat for Kids
Previous
Next
There is nothing like seeing your child's face light up when they see their new playhouse for the first time. However, not all outdoor playhouses are created equal, and it is helpful to know what makes the best outdoor playhouses for kids & toddlers truly special when deciding which option is best for your child, niece/nephew or grandkid.
In this guide, we'll go over how to choose the best outdoor playhouse for your kid or toddler, and we also make the decision-making process easy by showing 14 fun and exciting options to consider.
Features to consider in Good Outdoor Playhouses for Kids & Toddlers
There are two primary factors to consider when deciding whether or not an outdoor playhouse is right for you and your child. First and foremost, the playhouse should be able to meet the parent's needs. When parents are deciding on the right playhouse for their child, it is helpful to take into consideration how easy or difficult the installation process is, where the outdoor playhouse will be set up, the weight of the playhouse (to determine if it is easy to maneuver if necessary) and, of course, the budget. Children are likely to adore and love any playhouse that is high-quality, large enough to play in and includes the necessary features.
The other consideration to make is what your child desires. To determine this, consider what they enjoy, the colors they like and most importantly their size and age. A girl who enjoys pretending to be a princess may prefer a pink option with princess-specific features (See Little Tikes Prince Cape Cottage Playhouse), whereas a boy or girl who enjoys sports and running and playing may prefer a more sports-specific option that allows for more physical activity.
In other words, what works for one parent and their kid or toddler may not work for someone else, and you should consider your personal preference and needs when determining which option is right for you. To make the decision-making process easier, we have compiled a list of the best outdoor playhouses for kids and toddlers, and we included a range of different styles, sizes and pricing options to browse through. All of which are reviewed in detail for the most important things to keep in mind.
Now, without further ado, let's get into our ranking and reviews of 14 of the best outdoor playhouses for kids & toddlers in 2020.
Top 14 Best Outdoor Playhouses for Kids & Toddlers 2020
The Bottom Line
All of the 13 outdoor playhouses for kids and toddlers in this review guide make for great options that children are certain to love. Regardless of your final decision as to which option is the best outdoor playhouse for your child, you can trust you are getting a high-quality option at a fair price with the space and features necessary to allow your child to properly enjoy it.
Before you make your final decision, make sure that you have enough room outside of your home to place the new playhouse. It is also helpful to consider the necessary accessories you will need, such as AA or AAA batteries and installation equipment to ensure there are not any setbacks when the playhouse arrives and your child and their friends can start playing as soon as it is put together.