After every successful children's movie comes out, you can be guaranteed that toys featuring the characters in the film are going to follow right behind. The DreamWorks Trolls movie was a sensation, and it's no wonder, with its stellar cast of voices. A big hit for children of all ages, the Trolls characters are now well known and adored all around the world. Kids love to get toys that feature their favorite characters, such as Poppy, Branch, and Fuzzbert.
With toys, two ingredients are needed to make them a success among children. They're the fun aspect and the engaging/immersive aspect. The best trolls toys for kids are one of the rare toy sets in the market that bring those two aspects together in their toys. This review looks at some of the best trolls toys you can buy for your kids on their birthday or this season.
Top 30 Best Trolls Toys for Kids 2020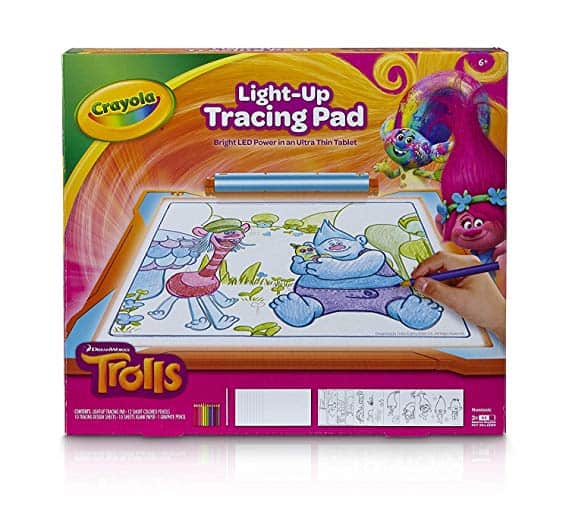 It doesn't matter whether your child is an avid drawer or just a beginner, the Crayola Trolls Light-Up Tracing Pad is one thing that should be on your list. For kids who are lovers of the Trolls series and just can't get enough of it, then this drawing pad is the way to their heart. It's perfect for the beginner because it features a powerful LED light that gives the background just enough glow to make tracing easier. It also locks stencils into place so that your child won't have any issue with sliding. This set provides everything your child needs to draw their favorite funky-haired characters, including ten tracing sheets, ten pieces of paper, 12 colored pencils, a tracing pencil, and the tracing pad itself. Furthermore, this pad makes it easy for beginners to use while also giving more advanced artists the freedom to draw things how they want.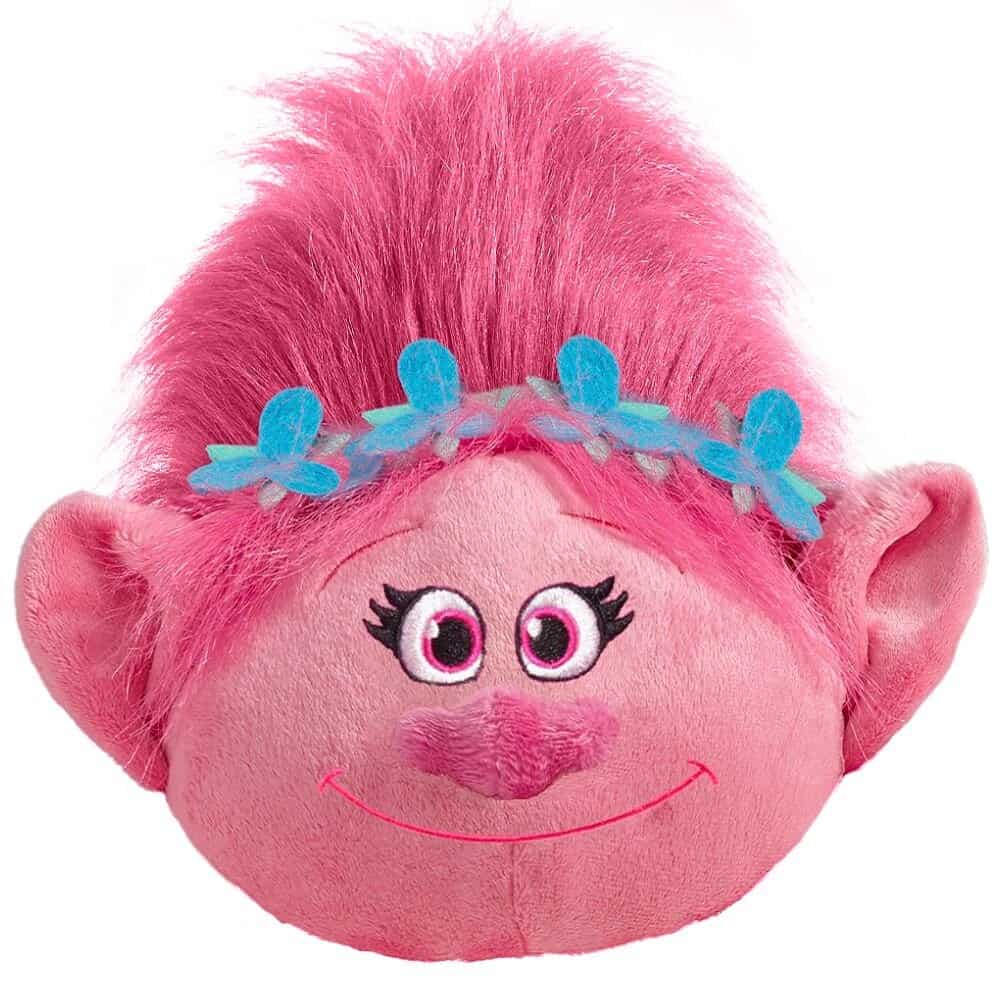 Pillow Pets Poppy DreamWorks Trolls are soft, unbelievably cuddly, and can be used as either a pillow or a pet. These Trolls pillow pets have realistic, troll-like hair and the same facial features as their television personalities. This makes them even more realistic for kids. They're great for long car rides, going to bed, or even bringing to a sleepover. Kids will love the fact that they can squash their pillow, lay on it, or even play with it. They can do all this without having to worry about anything bad happening. Besides, it's quite simple to wash this toy. All you have to do is throw it into a white pillowcase, tie off the ends, and wash normally in the washing machine.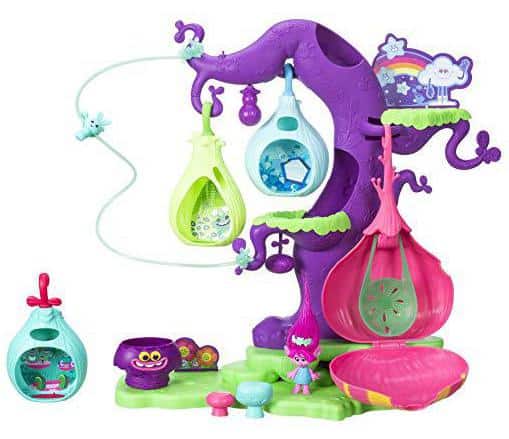 The DreamWorks POD'ular Troll Tree is a massive toy, at over 16-inches tall, your child won't even know where to begin playing. The tree itself serves as one giant home for the tiny Troll that comes with it and will encourage some serious imaginative play for fans of the popular show. Kids will be able to play with tiny Poppy and help her explore every aspect of this mind-blowing tree building that houses several unique pod "rooms" that she can hide in. The sheer size of it will bring a smile to your child's face when they realize they can have the bottom, and your child will love coming up with different scenarios for her to take on. Furthermore, this Trolls pod tree will help encourage kids to use their imaginations. The size of the set encourages them to get up and physically move around, which makes it both mentally and physically stimulating.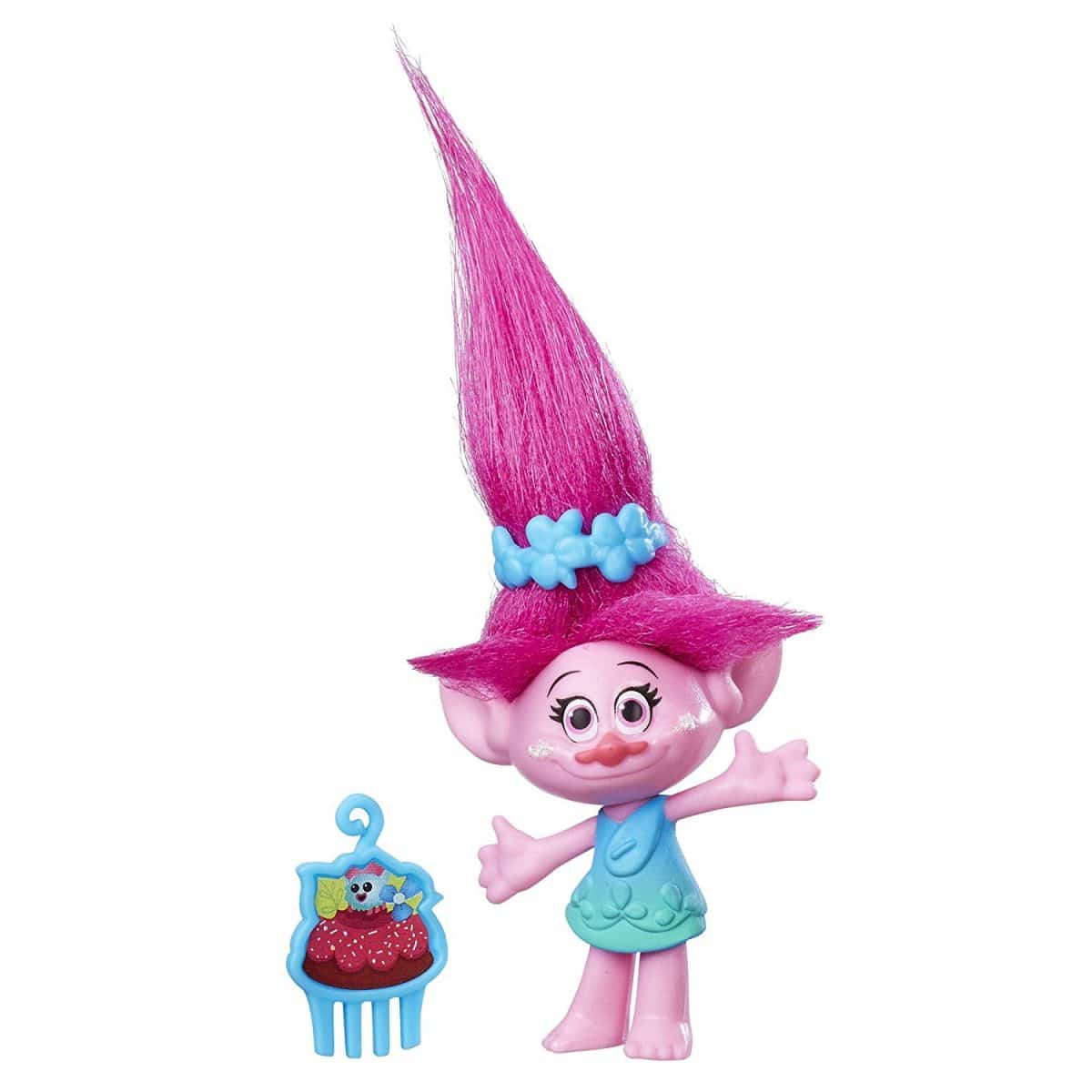 Sometimes big things come in little packages, and this is just the case with the Poppy Collectible Figure. She's only four inches tall but she packs a whole lot of love and fun into each moment spent with her. This set includes a miniature comb and headband so your child can help Poppy style her hair. It's small enough to fit in your pocket. You can collect her other friends to play out all of the movie's best scenes, and discover new journeys beside. This figurine is a great travel companion given her small size; she can fit into jacket zippers, backpack pouches, purses, and more. This collectible figure will help kids further develop their understanding of social dynamics, express themselves, and expand their creativity.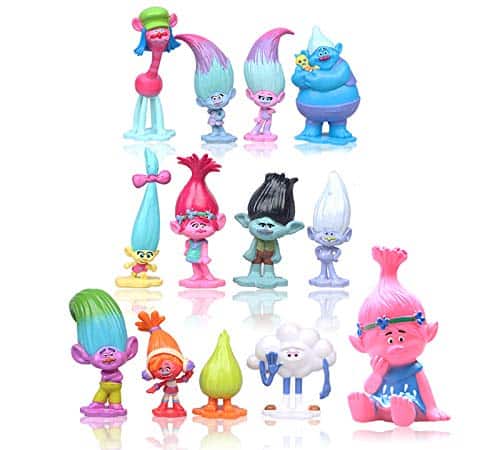 The Max Fun Trolls Dolls is a set of 13 cute Trolls action figures. Each figurine is painted in vibrant, eye-catching colors with careful detail to resemble their movie counterparts. They're the perfect size for cake toppers, car decorations, or a fun set to add to your child's collection. They're small enough to store and travel easily. However, this means that kids may want to gnaw their cute little heads off. The set is suggested for ages four and up and is made of hard, durable plastic. Besides, the set is so large, sharing and playing with friends is a fun and easy task. You can also engage your child's imagination and equip them with all their favorite Trolls friends as they embark on creative journeys together. This set encourages imaginative play, which is important for children who are still developing their ability to empathize and express.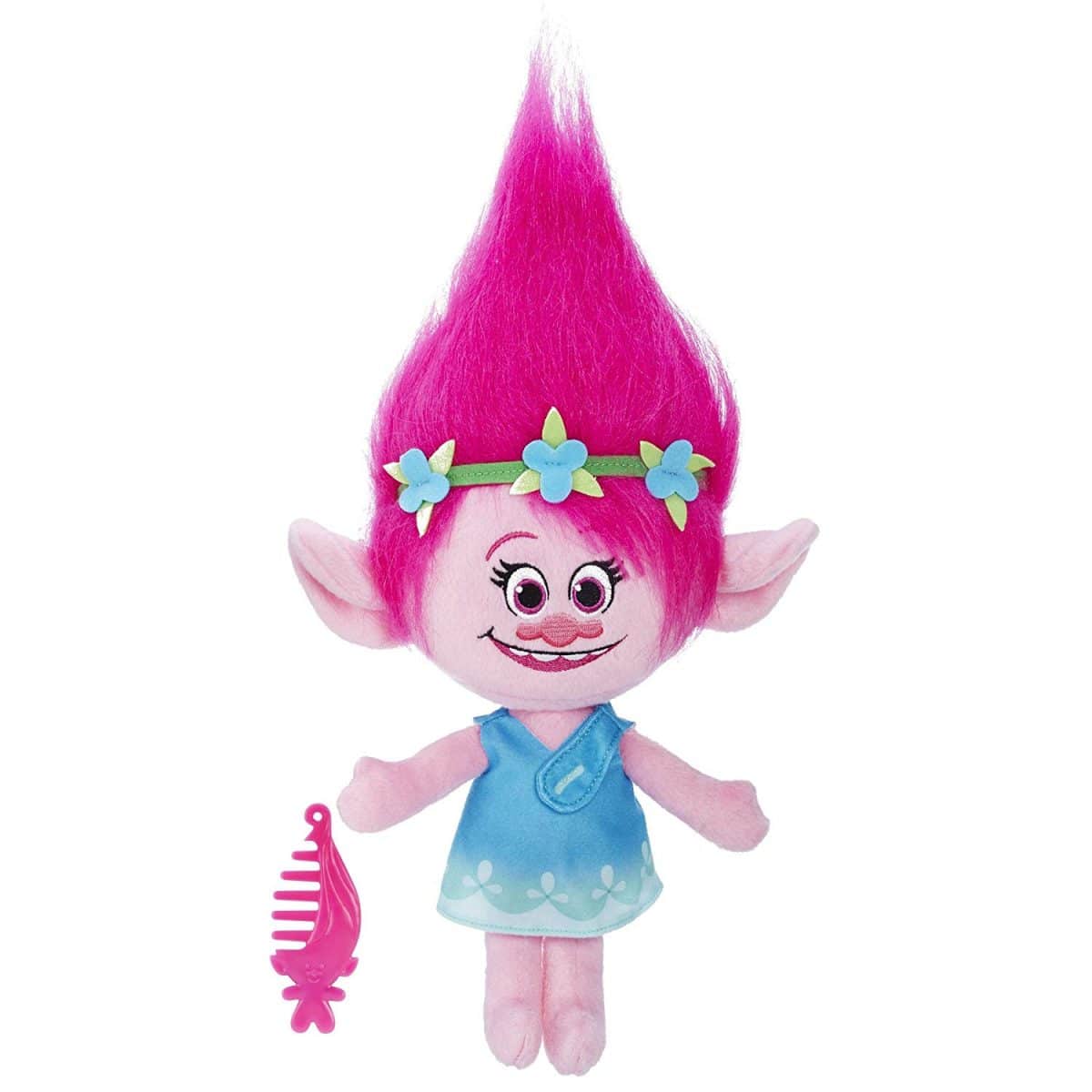 If you want a troll doll that's bigger, plusher, and has the unique ability to talk, you should get the Poppy Talkin Troll Plush Doll. This is the largest doll at about 14-inches making it ideal for roleplaying activities. Your kid can style Princess Poppy's hair with the accompanying comb. Princess Poppy also talks as well as acts as elicits a variety of cool sound effects. Since it's plush, it can serve as a great cuddle toy to snooze with. Your child can take this toy to sleepovers and tea parties. They can give it the perfect hair-do for any occasion. Besides, your child can enjoy bedtime stories with this Troll sized Princess Poppy Talkin' Troll Plush.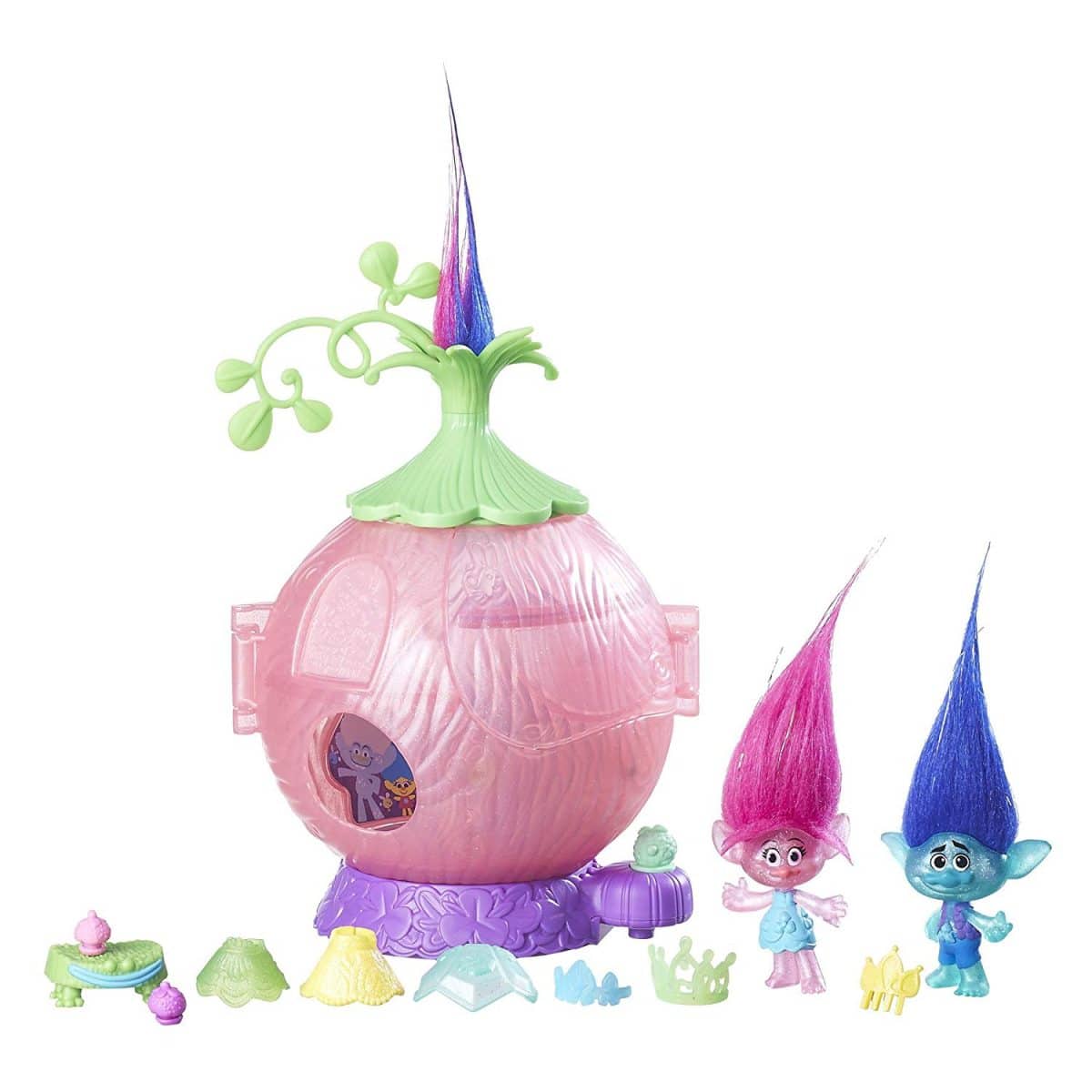 Your kid can relive their favorite scenes or create their own shows with this DreamWorks Trolls Poppy's Coronation Pod. Kids can play dress up or hairdresser with the Trolls styled hair. This is a fantastic toy for encouraging positivity in a kid's life. The lights up and mechanical actions, as well as the ability to create a fashion style that's unique to these characters, is simply amazing. This lovely piece of an onion-shaped pod that opens to reveal a fantastic stage befitting a princess should bring the magical world of the DreamWorks Trolls right to your child's heart. The dance floor spins and lights up while playing a song that can surely uplift anyone's spirits. This toy comes with both the princess and the Branch. With these two loveable characters, we're pretty confident your kid will have a fun time recreating a lot of storylines that are filled with optimism.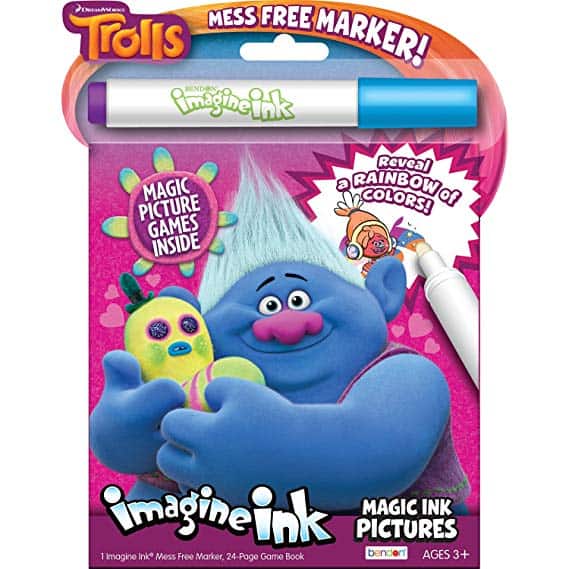 The Bendon Imagine Ink Magic Picture Coloring Book lets children who are still learning to color inside the lines create lovely, mess-free artwork. The games and activities inside help boost skills such as memory, matching, and problem-solving as well. Children love to color and parents often love to hang their artwork up on the fridge. However, the artistic process is messy for adults and children alike, and before you know it, their studio is a tornado of crayons, markers, paints, etc. You can give your children the ability to color and create with this mess-free, hassle-free Imagine Ink coloring book. It features everyone's favorite Trolls characters in twenty-four pages of games and activities brought to life by a mess-free magi rainbow ink marker.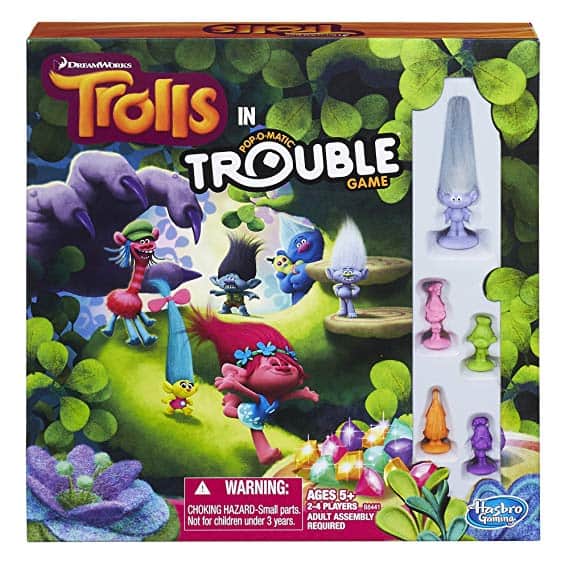 The DreamWorks Trolls in Trouble Game by Hasbro is the perfect trolls toy for both kids and family since everyone else can enjoy playing it too. It takes on the classic Trouble Game by utilizing the loveable happy characters from the DreamWorks film. The goal of this fun board game is quite simple. You aid the line happy beings to find their way home across the different obstacles on the game board. However, there's a catch since you have to watch out for the Bergens as they can pop out anytime and take your troll pawn to feast on. There are two dices to play with. One for the regular movement across the game and another for some power actions. The dies are conveniently stored in a Pop-o-Matic bubble, a piece of a transparent dome that's smacked right in the middle of the game board. There'll be no misplacing these dies as they stay confined in the bubble itself. Kids also learn about taking turns, sharing and the best way to get their Trolls home.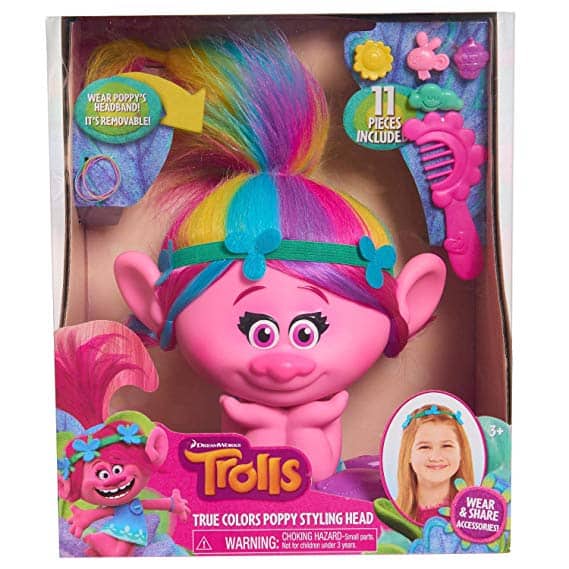 Troll hair has been something of an iconic cultural staple since Thomas Dam's original line. Poppy's hair is no exception to this since it takes a village to style a good head of hair. Your child can help with the Poppy Style Station. There are nine adorable barrettes and a mini comb for poppy or your child to use and share. The base of Poppy's bust also acts as a storage compartment, so all of her toys and accessories can be kept together even when they're not in play. Give Poppy's rainbow hairdo a new makeover. The Trolls hair is soft and easy to style so little ones can get creative while they work. Furthermore, the styling station is great for young children who enjoy role-playing. It will help build finger dexterity and strength, as well as working creative muscles and instilling confidence in little ones. They'll love the colorful hair and accessories, all meant to inspire them to indulge their imaginations.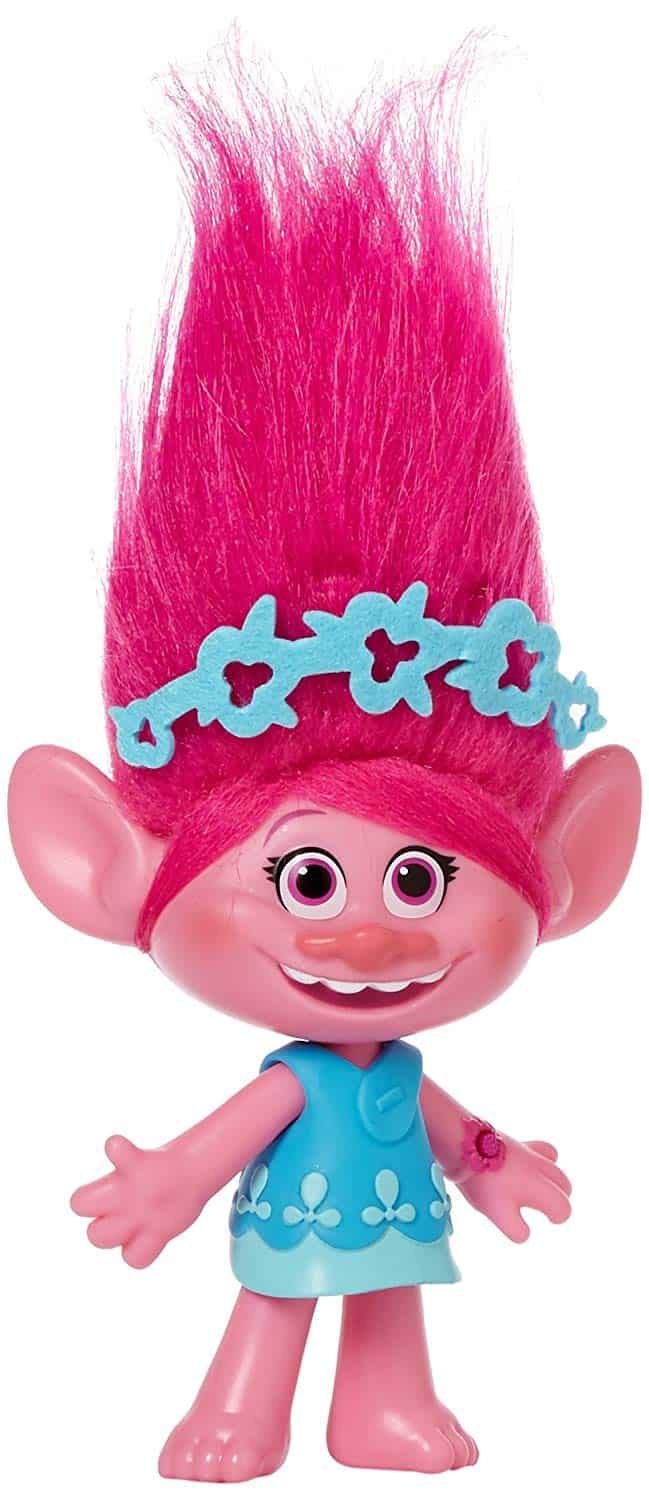 The world of Trolls toys wouldn't be complete without this Poppy Hug Time Harmony Figure. Poppy is the main star of the Trolls movie. With her heroic attitude, she's a great role model for kids. Poppy comes wearing her signature aquamarine dress and tiara. When the watch on her wrist is pressed kids can sing along with Poppy as she sings her famous tunes from the movie. This is an awesome toy for kids who love the film and have watched it so many times they know all the songs by heart. They'll love singing along over and over again to "True Colors" until you can't listen to it one more time.
The DreamWorks Trolls Little Music Note Sound Book is not only a fun toy for your kids to play with, but it's also educational as well. It helps children build up their language skills and also teaches them how to read. The book is interactive since you have to press one of the six buttons to play songs and sounds from the Trolls movie. This 8-page board book is durable and easy for small children to flip through without ripping any of the pages. They love all the Troll pictures of their favorite characters. Kids will love reading the sound book over and over again or having you read it to them on repeat.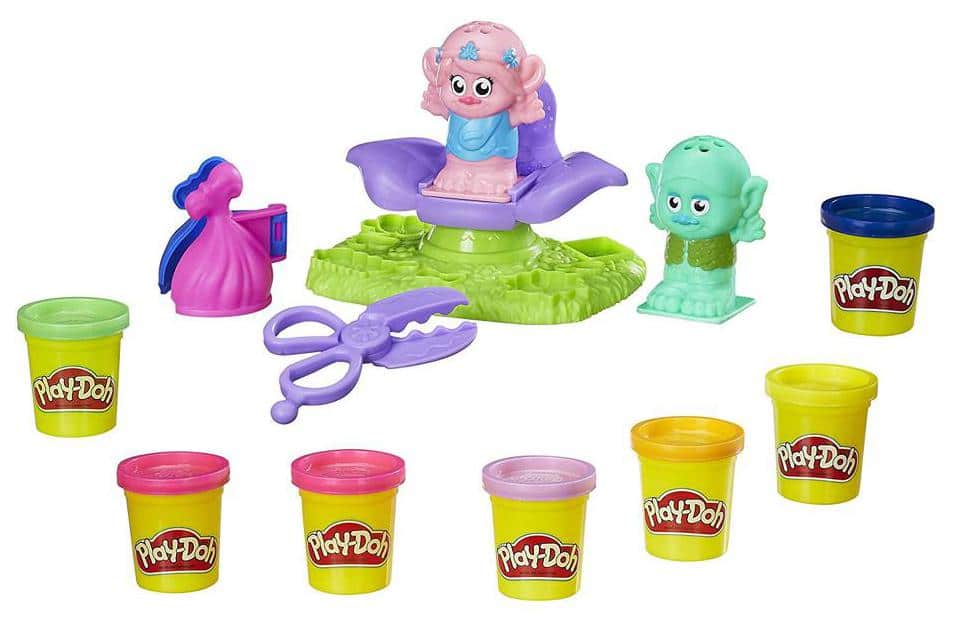 The Play-Doh DreamWorks Trolls Press 'n Style Salon is a classic toy that you can't go wrong with. Kids love being able to get their fingers into colorful Play-Doh to make all kinds of creations. With the Trolls Style Salon, they can create silly and unique hairstyles for their favorite Trolls. All they need to do is put one of the characters into the styling chair and press down on the styling mold. A quick snip with the scissors and they can start making a new hair creation. You can use the hair mold to make hair or use the styling chair to let the hair 'grow.' The Play-Doh Style Salon comes with a styling chair, scissors, and enough Play-Doh to keep playing all day.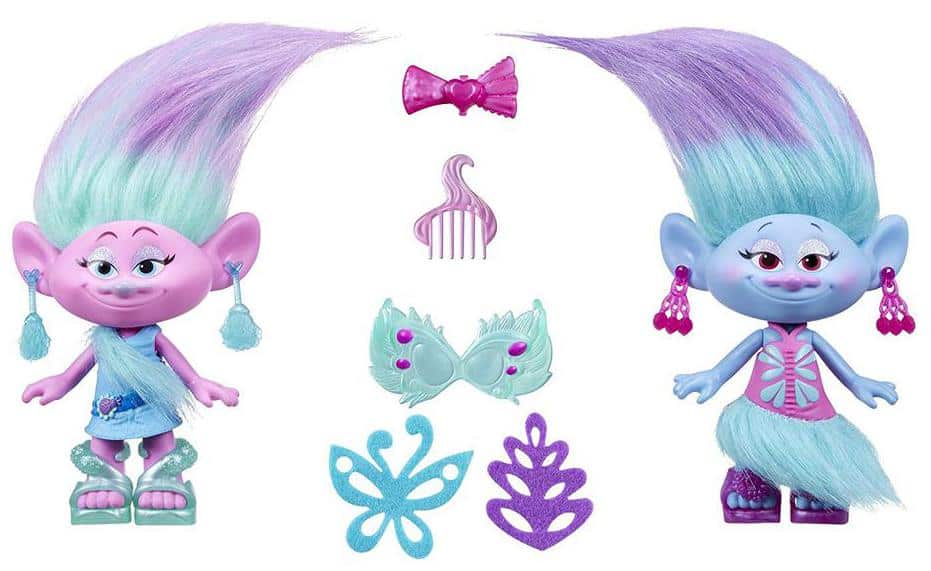 Satin and Chenille are two favorite characters from the Trolls movie. There's no child who wouldn't want the excitement of giving them both a new style. The Twin's clothing can be removed and is interchangeable between the trolls. Included in this playset with Satin and Chenille are 2 sets of outfits, 2 pairs of shoes, and other accessories, such as cute little earrings. The hair on these dolls is soft and full, making it easy for kids to comb and style anyway they want. These bright colored dolls are a sure hit with any child who loves to play make-up and pretend.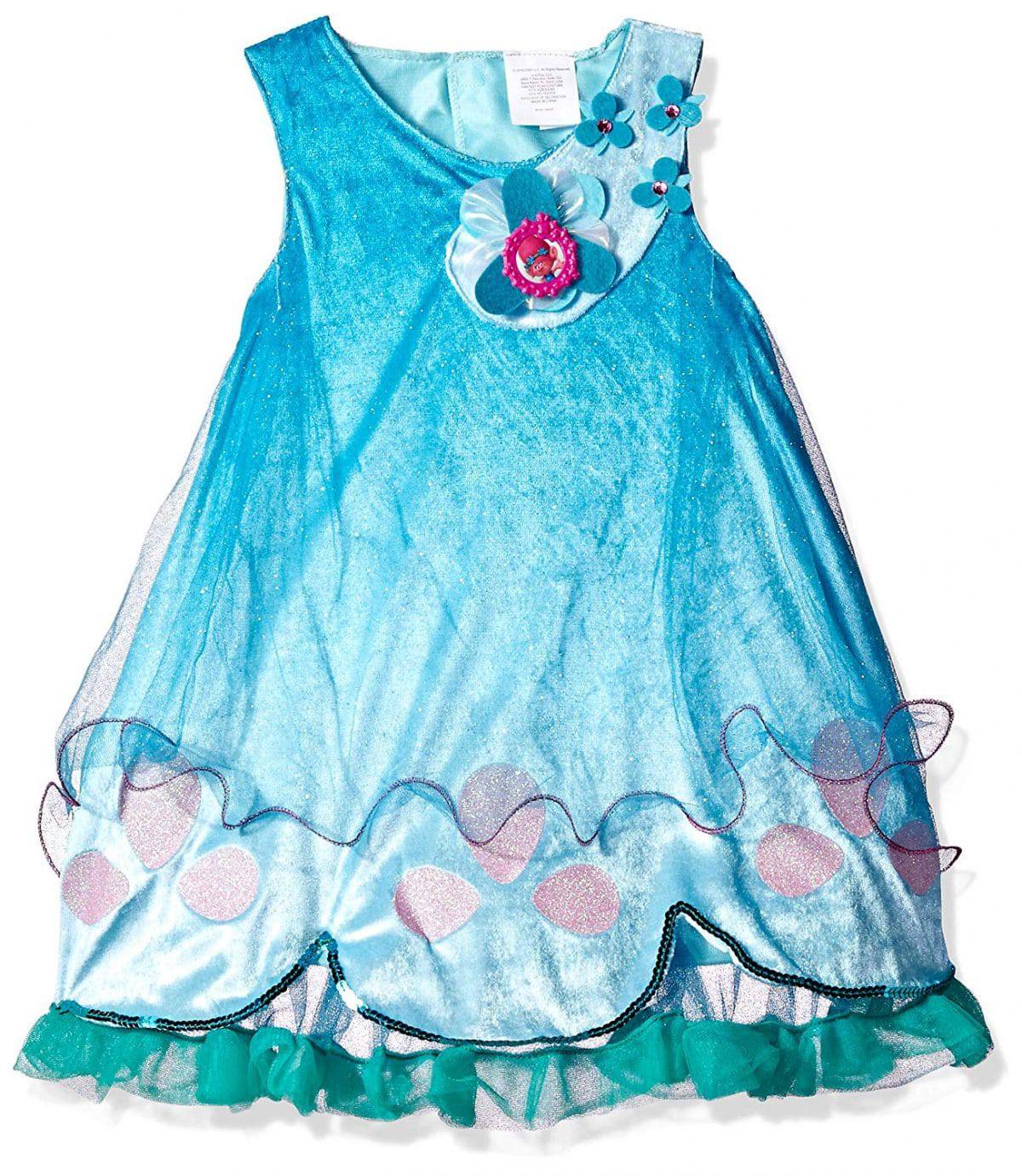 It's a well-known fact that kids love playing dress-up and this Just Play, Princess Poppy Dress is perfect for kids to put on for some fantastic pretend to play. The dress fits sizes 4 to 6 and is made with a sparkly blue material. The back closes easily with Velcro for a comfortable fit. Lots of little details on the dress, such as the taffeta flowers, will inspire your child to dance and spin just like Poppy does in the Trolls movie. This outfit is great for Halloween and Birthday parties. If you live in a colder climate, buy it one size larger so it can fit over your child's coat.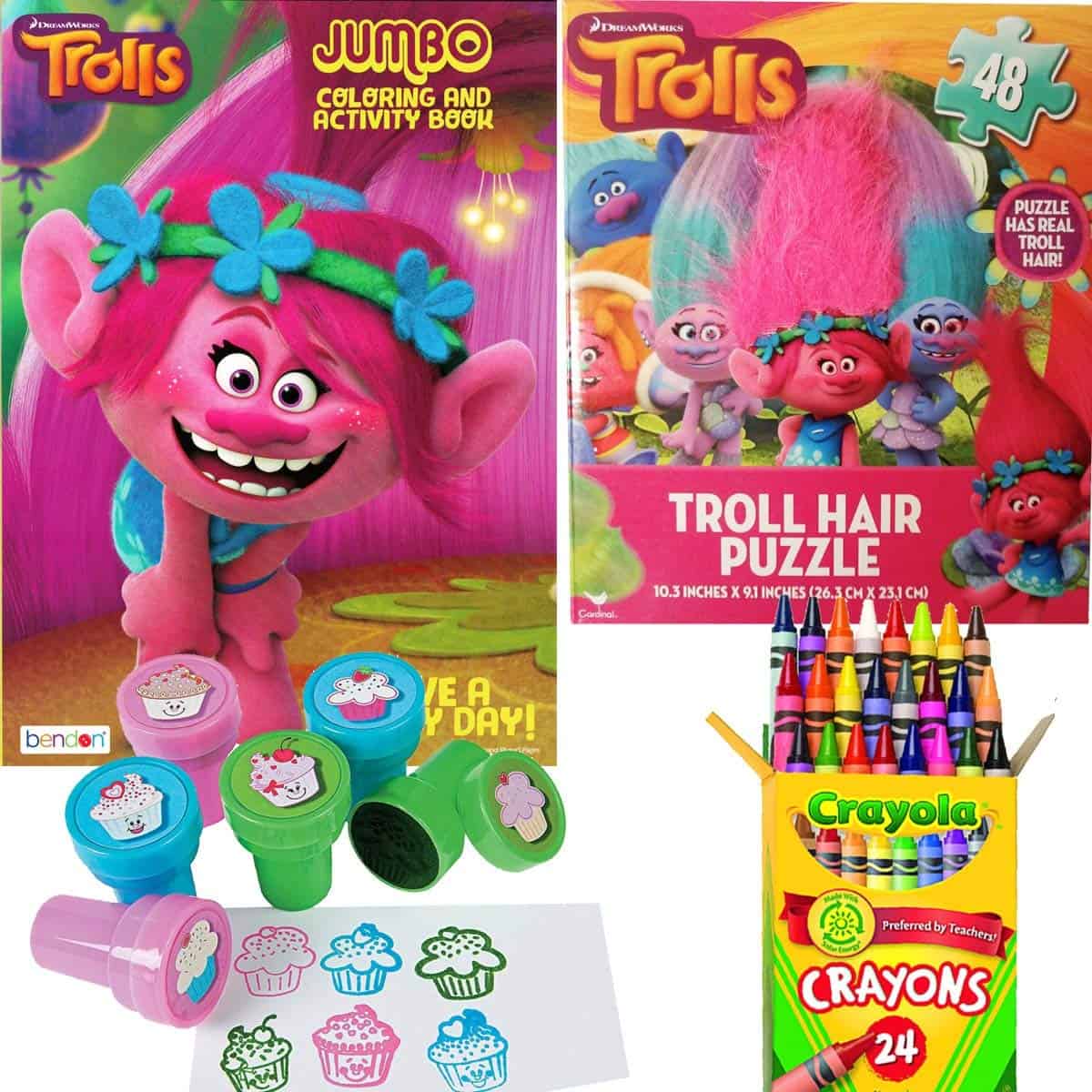 Keep your kids entertained for hours with the DreamWorks Trolls Coloring Book. This set comes with one coloring book of 96 pages, a Trolls puzzle, 24 Crayola crayons, and 6 Cupcake stampers. It offers 96 pages of fun and activities for kids with their favorite Trolls characters. Besides, it features perforated pages for easy tear-outs but covers may vary. The 48-piece puzzles and coloring are meant to inspire your child's creativity and spatial intelligence skills. The 24 non-toxic crayons in this pack feature classic colors, as well as bright, fun shades that help inspire self-expression and imaginative play. The stampers are safe and non-toxic making them a great party favor for Trolls fans.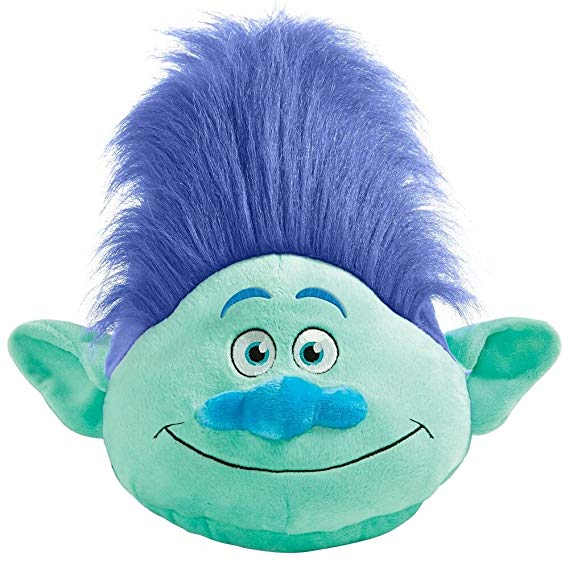 The Pillow Pets Stuffed Animal Plush Toy presents super soft, cute, and adorable stuffed animals that unfold into fuzzy pillows for sleep. Your kids will love these classic and collectible comfy critters. This plush can be used as a toy by day and can be unfastened on the belly to make a pillow by night. It's comfortable and friendly to travel with and can be used as a decoration in your kid's bedroom regardless of their gender. It forms a large enough pillow for kids to use when reading, playing with, or watch TV with.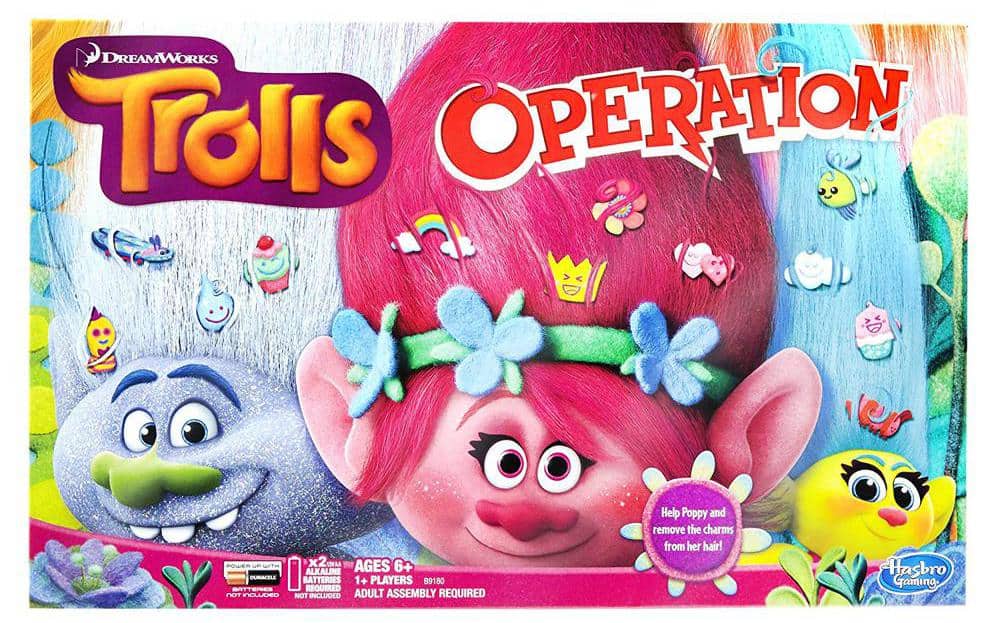 If your child loves operational board games, they're going to love the Trolls edition of the game. The Trolls board game can be a fun-filled family experience, full of laughter and excitement. It's about getting rid of charms stuck in Poppy's hair as well as her friend's hair. This board game tests your control and precision of your hand motion with tweezers. If the tweezer's touch undesignated areas, the buzzer goes off, and the next player takes their turn. The most precise person wins the game. At the end of the game when all the charms have been collected, the person with the most charms is declared the winner.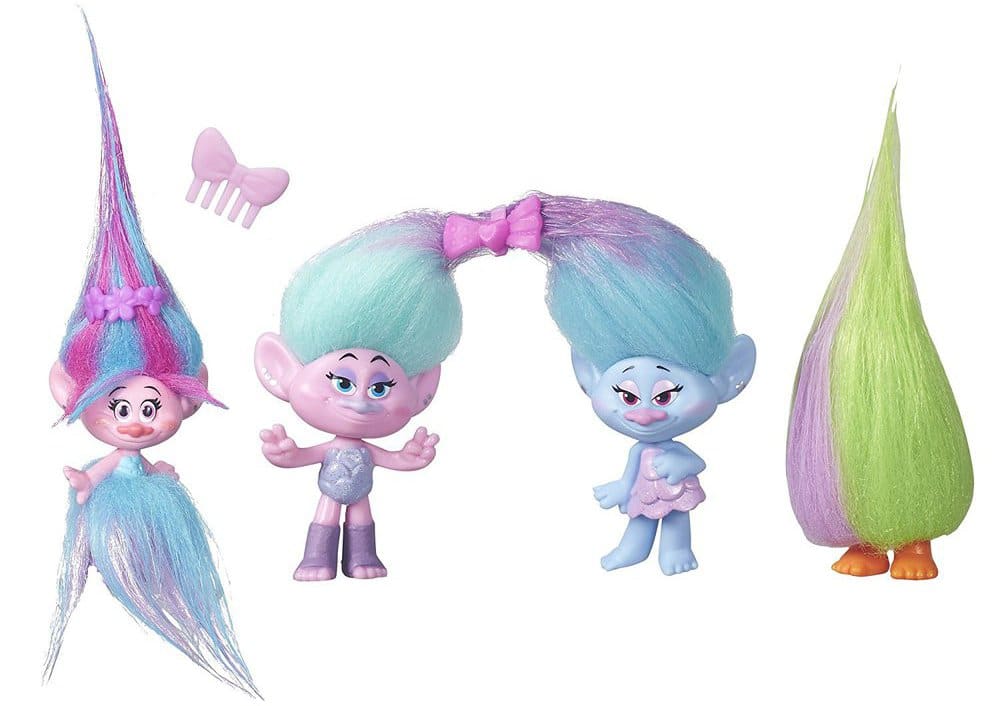 Get yourself in on the fluffy-haired joy with the DreamWorks Trolls Poppy's Fashion Frenzy Set. Teamed together by the loop of the bright colored hair they all share, Chenille and Satin like to design styles and dresses for their best friends. Start playing with these ergonomic favorites on classy adventures with the Fashion Frenzy multi-pack of the Poppy. With inspiration from the movie, the set has four characters which are, Chenille, Fuzzbert, Poppy, and Satin. More interestingly, this colorful figure boasts of fashion fur and wild hair. This set also comes with a headband and a comb for a wide array of hairstyling. If you're looking for a holiday gift, then this is undoubtedly your best bet.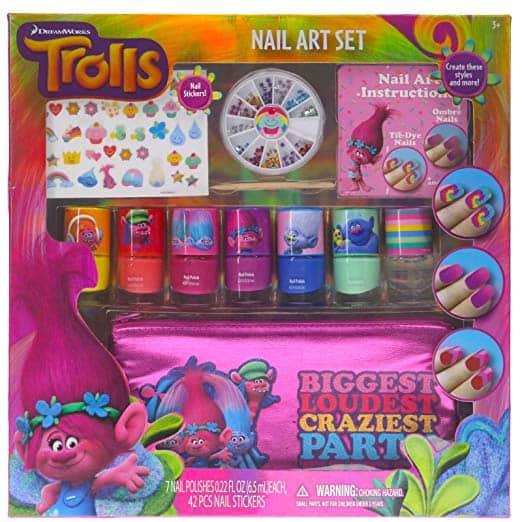 The Townley Girl DreamWorks Trolls is an amazing nail art set that contains everything your child will need to create the perfect manicure and pedicure. With multiple colors, sticker, and gem options and a nail art instruction book your child will be able to create a masterpiece on their nails in no time. Each bottle of polish, stickers, and carrying bag are adorned with different characters from the movie Trolls including Poppy, Bridget, and Branch. This is the perfect birthday and holiday gift for kids. Girls will love to play spa day or beauty salon with this awesome kit. The water-based formula makes these cosmetics safe for children aged 3 and up.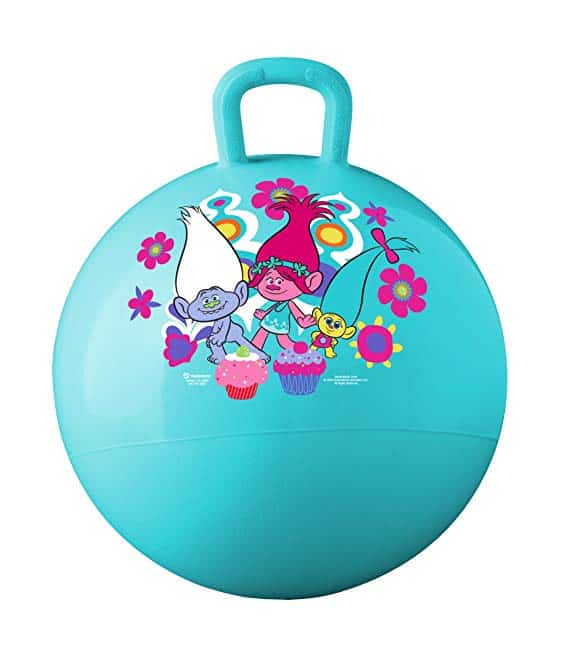 Hopper Balls are a timeless toy that has provided hopping fun for generations of kids. The Hedstrom DreamWorks Trolls Hopper Ball features fun, colorful graphics of characters from kids favorite TV show, movies and games. These balls are a great way to get kids active and exercising. They're durable enough to use both indoors and outdoors. The durable vinyl material stays inflated and bouncy while kids hop and bounce almost everywhere. The textured, rugged handle provides a secure grip for kids. It's ideal for kids aged four and up besides being easy to pack along for an outing. It comes deflated but can be inflated with any hand pump or electric pump.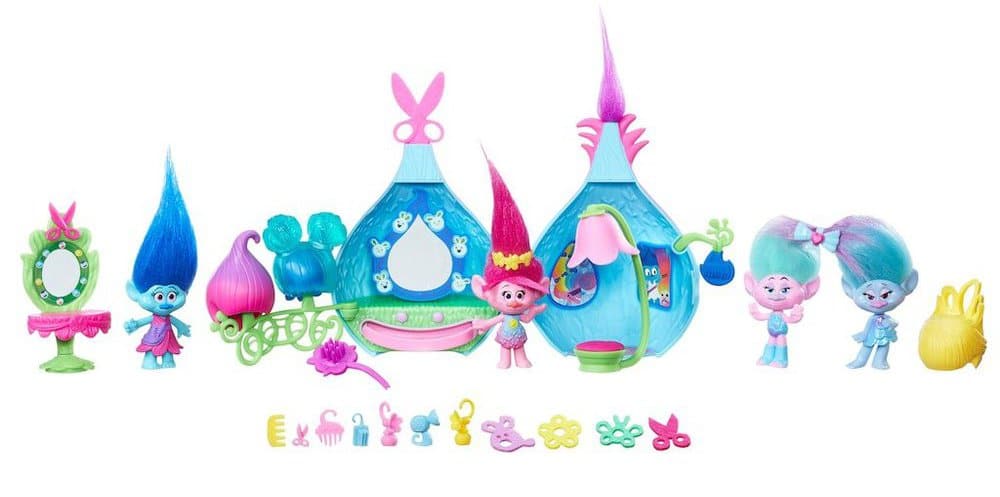 Join Poppy, Maddy, and the Fashion Twins for an enjoyable day at the DreamWorks Salon. This set comes with 15 accessories for your little one to style the Trolls hair however they like. This set will keep your kid engaged for hours on end as they try to style the Fashion Twins, Poppy, and Maddy. This is also a great toy to spark your kid's imagination as they engage in creative play. Besides, this hair salon comes with a set that closes for easy storage.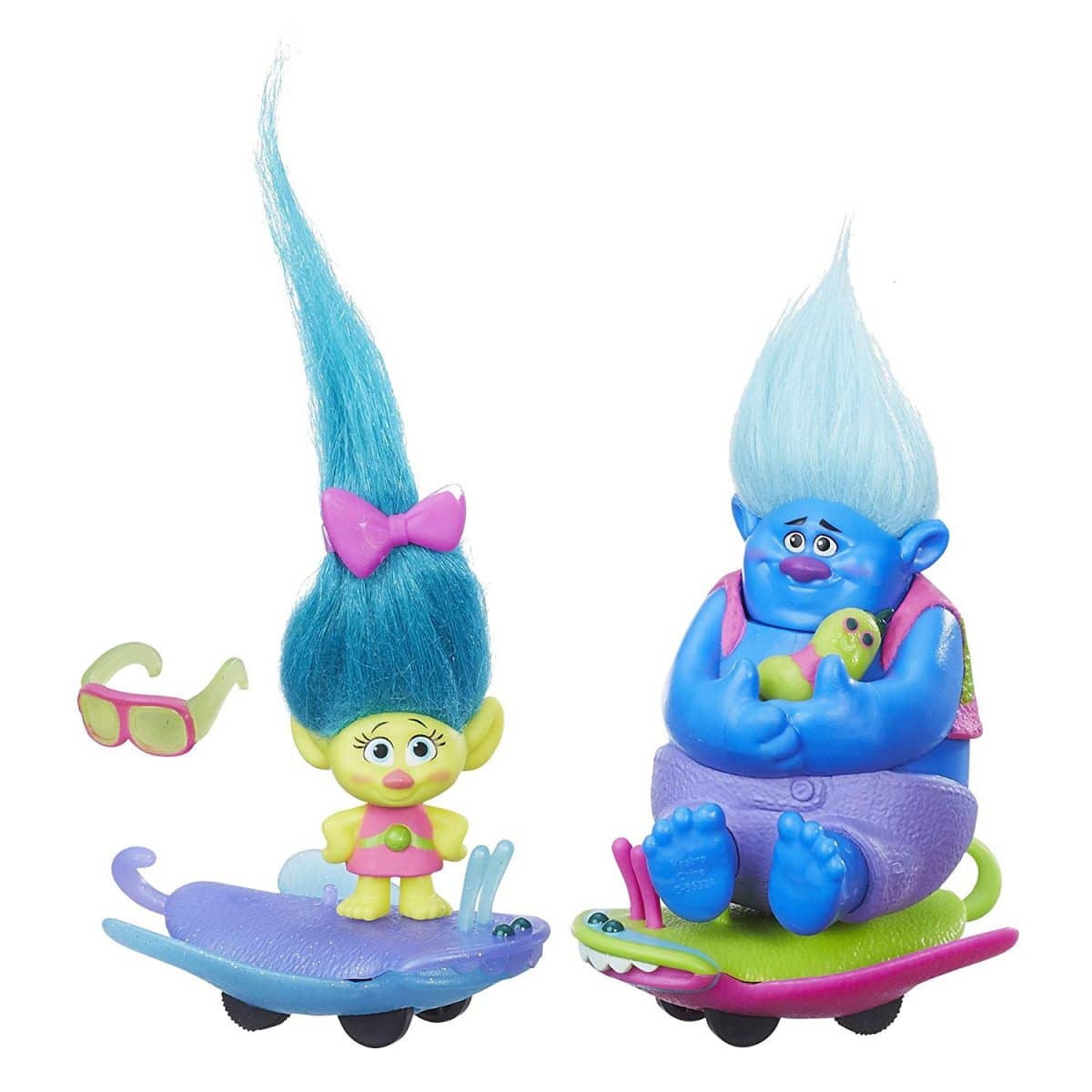 This set includes 2 scooting-fun DreamWorks Trolls Critter Skitter Boards vehicles, each with space for a figure to hitch a ride. You can pull back and let go of these boards to see them scoot. All character figures in this set can zoom around in style. This board is going to be great with kids because of its interactive nature providing endless hours of fun play. There are 2 figures, 1 critter, 2 boards, and 2 accessories.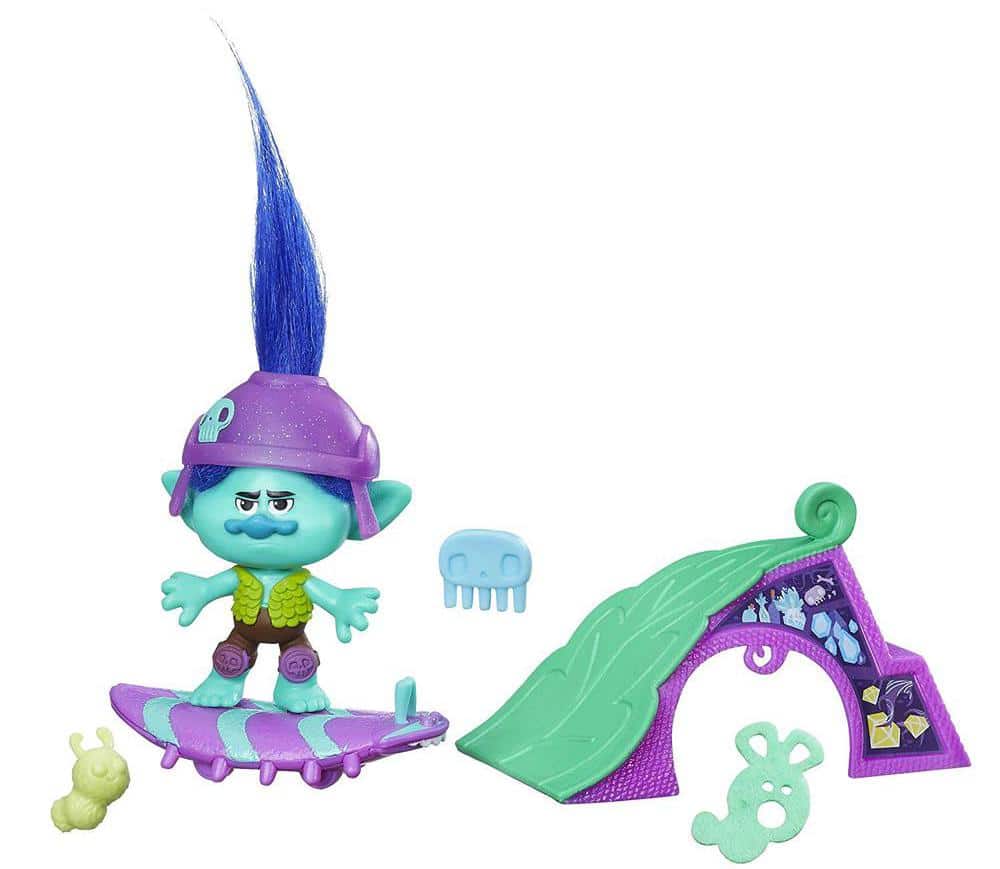 This Troll's Branch's Skate 'n Skitter Story Pack provides endless adventures. It'll spark kids creativity as they try to imagine some skating scenarios for the troll included. This set includes everything needed to have a super skating extravaganza. Skate down the ramp on the included skitter board and don't forget to put on the helmet on the little troll. The figure comes with wild hair and comes with a comb and fuzzy flair material for tons of hairstyling fun. Also included is one mini critter.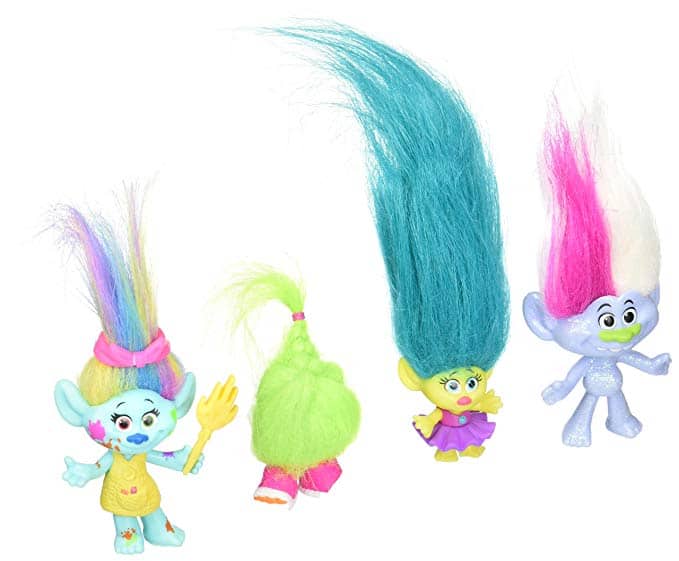 The DreamWorks Trolls Wild Hair Pack allows you to see all of the wild hairstyles that come out of playing with this set. From the movie, this set includes 4 characters and these colorful figures feature wild hair that bends and extends for endless hairstyling fun. This set also includes a comb for brushing all the hair on the trolls and a hairband. They are easy to travel with and your little one can play with them in the bathtub.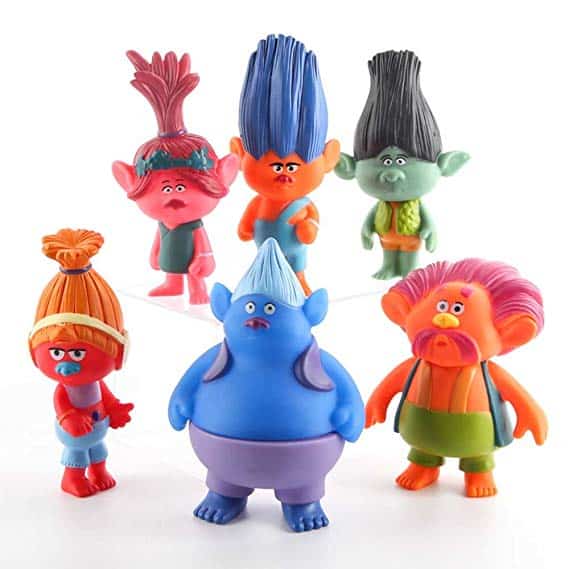 This fun set features all of the popular Troll characters including Princess Poopy, pessimistic Branch, Satin and Chenille best fashionable friends forever, DJ Suki, Biggie holding his favorite pet Mr. Dinkles, Guy Diamond, Fuzzbert, and Cooper the tall 4 legged Troll. The fun figures are about 3-inches tall and are recommended for kids aged 4 years and above. These cue trolls figure play-set offer endless hours of trolls fun for little ones. They've been made of hard PVC ensuring they are durable and waterproof. Besides they are perfect for desk decoration, theme Troll birthday parties, and bath toys.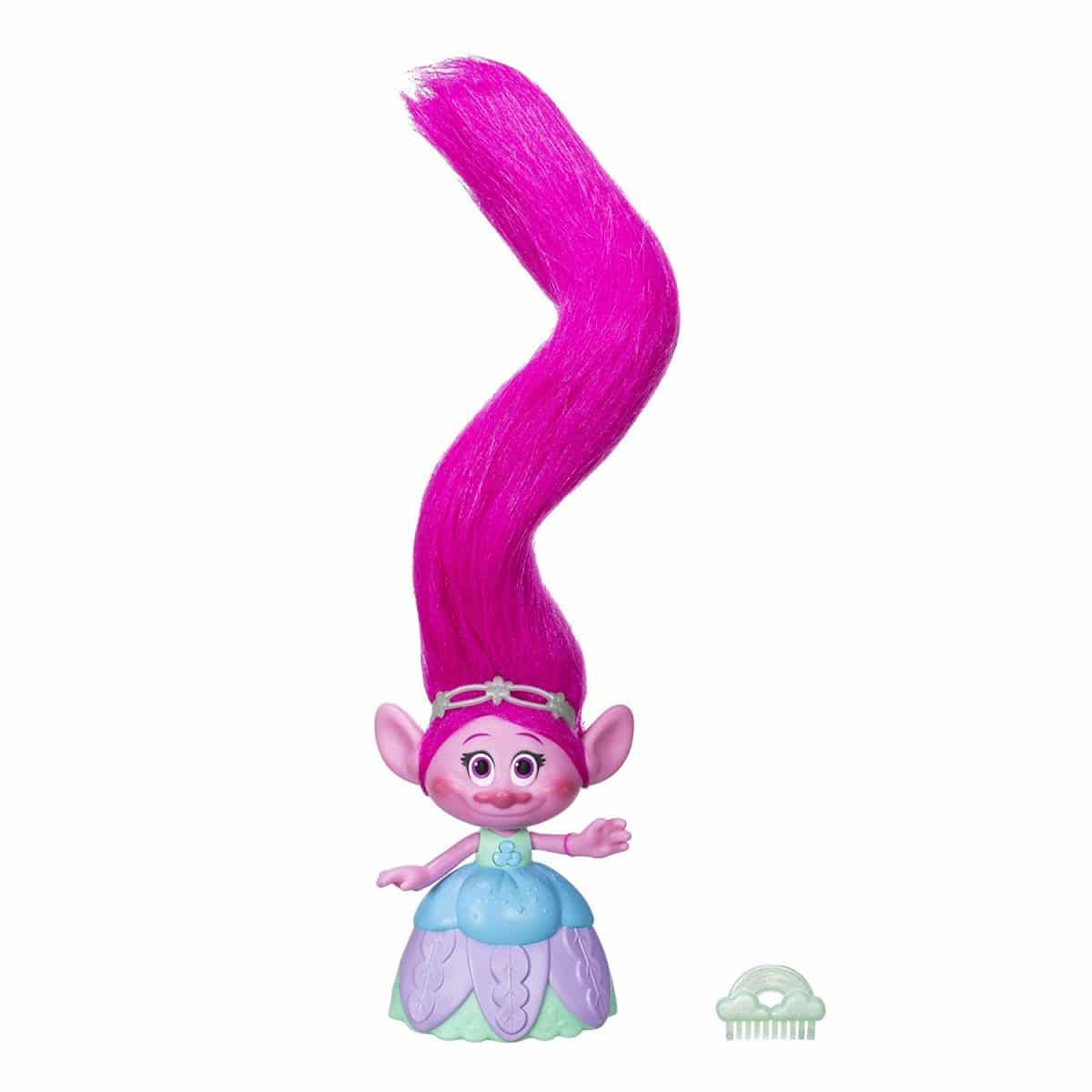 The Trolls DreamWorks Hair in The Air Poppy can sing to lift up anyone's spirits. It offers many ways to style and play other than just brushing. You can press the gown's button to see her light up with sound effects. It comes with a comb to set off the twinkling lights in the pattern of the brushing. You can unlock melodies with unique styling patterns. It features a soft, pink 14-inch long hair that can be bent and twisted to create lots of hairstyles. All you have to do is press the flower button on her gown to activate.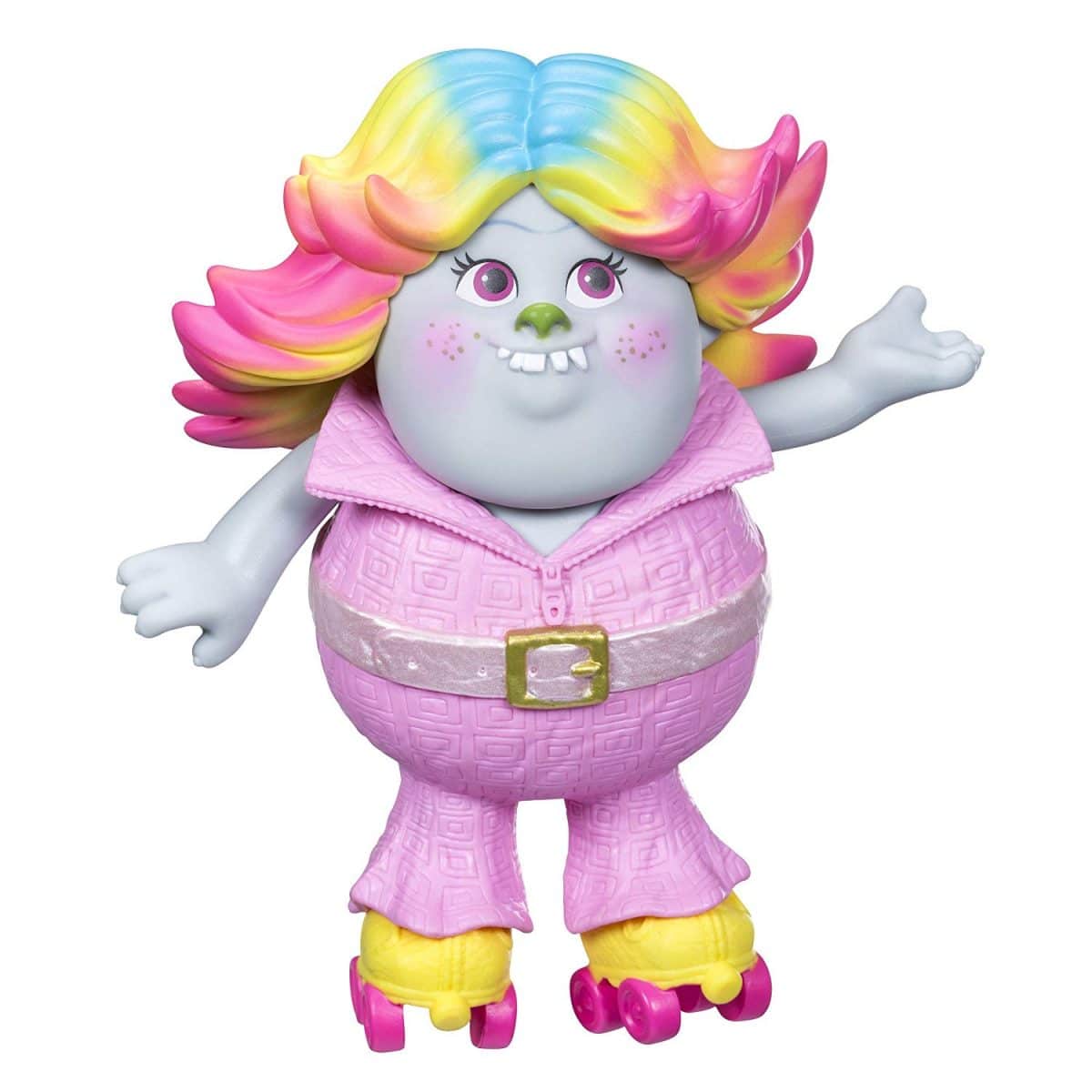 With the vibrant rainbow hair and roller skates, kids can imagine Bridget's transformation into a roller-disco queen. She has a sculpted rainbow hair and a funky, pink jumpsuit for kids to imagine her beginning to let her true colors shine. It's been scaled perfectly for playing along with other DreamWorks mini figures.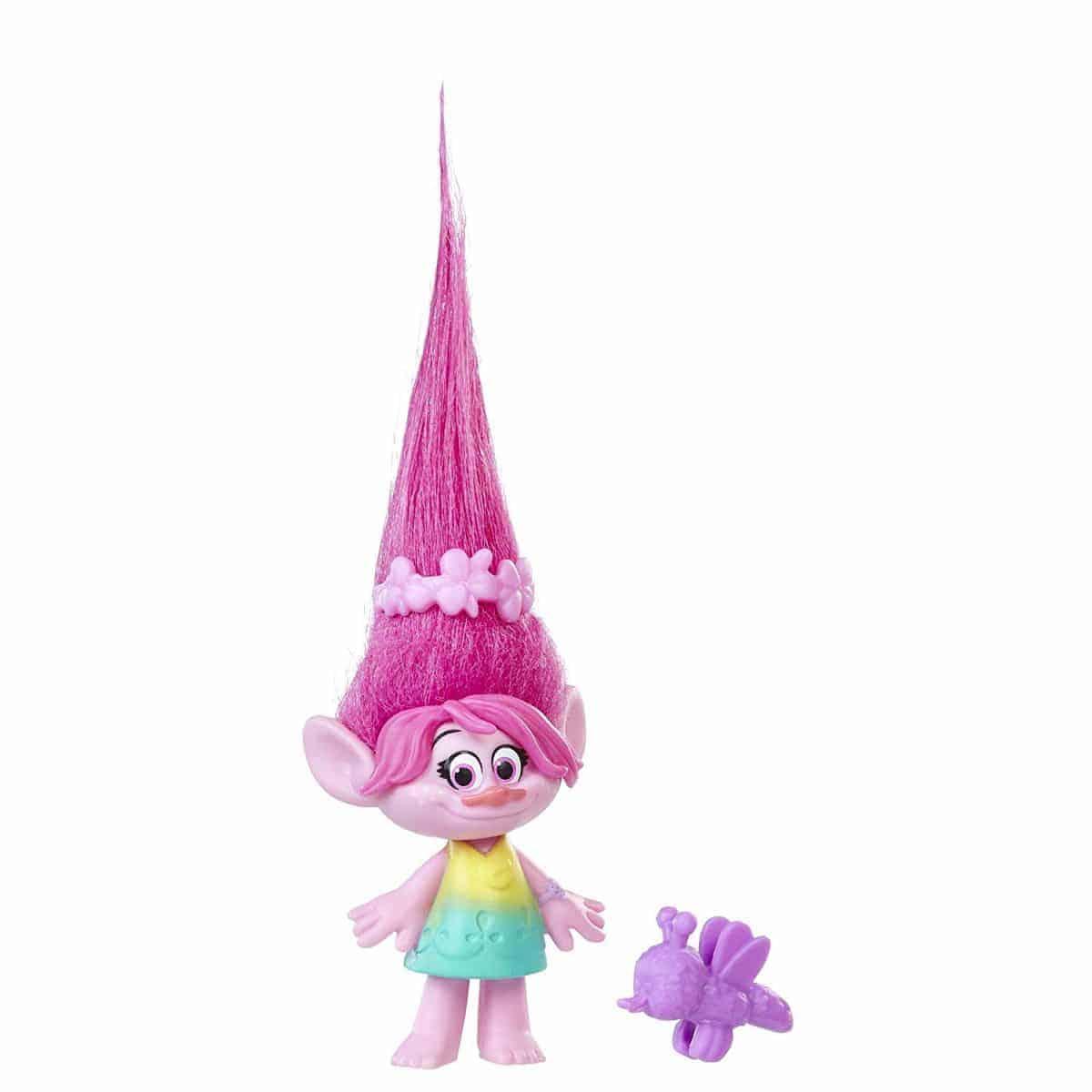 This fabulous Trolls Poppy figure includes a critter with flexible legs that can be attached to her armor worn in her hair. It's approximately 5-inches tall and ready for adventures. Kids will love collecting, trading and interchanging critters with other dolls. Therefore, it's a great addition to any child's toy collection.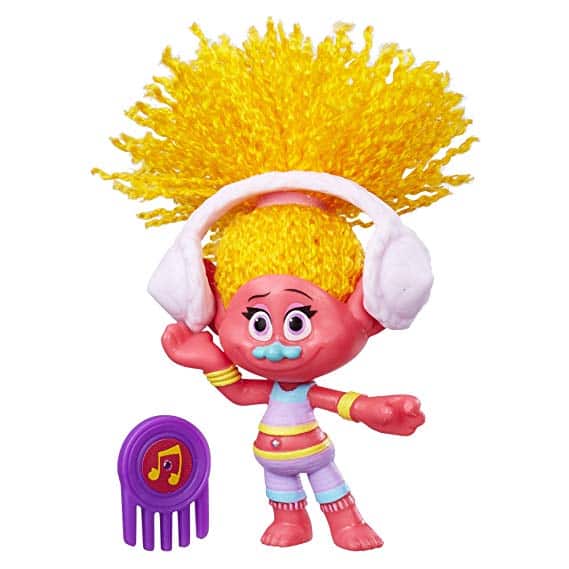 This highly collectible and fabulous toy comes with removable headphones and a record-shaped comb for taming her wild and colorful hair with tons of flair. It can be collected and added to a child's toy collection. It encourages kids to develop their imagination as they engage in pretend plays. This DJ Suki collectible figure is always ready to lay down the beat for an impromptu dance number.
Final Words
When it comes to Trolls toys, there's a little of everything for everybody. If you have a baby girl, you can choose to buy her the Poppy doll or the Nail Art toy set as they have proven to be popular among little girls. As for little boys, they'll love the wide range of Trolls action figures on offer.
You can also choose to go for gender-neutral trolls such as their famous board games or the Hopper Ball for your kids. The beauty of such toys is that they can be enjoyed by the entire family, not just the kids. However, deciding on the right troll toy can be difficult. Always take the ages and interests of your children into consideration. Our list of the best trolls toys for kids is a good place to start. There are sure to be at least one or more toys that catch your eye.