O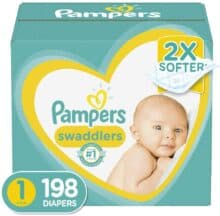 Pampers Swaddlers
B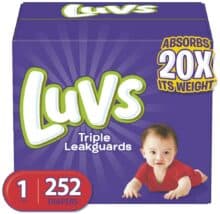 Luvs Ultra Leakguards Disposable Baby Diapers
P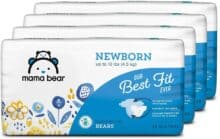 Mama Bear Best Fit Diapers
Previous
Next
Every parent knows that diapers are a priority. Without diapers, well, you're in for a smelly day. While diapers are a product that every parent is familiar with, how do you choose the best diaper for a newborn? It seems like a simple question, but we don't have a simple answer for you. Diapers for newborns vary, and it comes down to your child's needs. There is more to diapers than you think. Keep reading to see our list of the best diapers for newborns in 2020.
What to Know Before Shopping for Newborn Diapers
Some diapers prioritize softness while others focus on absorbing messes. So, if you're having trouble finding the best diaper for your newborn, read on. We're going to take you through everything you need to know about diapers and help you find the right fit. Along the way, we have plenty of tips to help you narrow down your choices.
Also, make sure to check out some of our other reviews if you're looking for diapers for your baby to wear overnight or while in the water.
Materials
First and foremost, you want to know if a diaper is hypoallergenic. Allergens will cause your child to develop skin irritations, rashes, and general discomfort. When you choose a diaper, it's essential to look beyond how soft they are.
While being soft is vital for newborns, safe materials free of parabens, latex, rubber, elemental chlorine, dyes, and fragrances are more critical.
The best hypoallergenic diapers are also made from unconventional materials. Most newborn diapers are made from a blend of polymers, spandex, cotton, and other flexible/absorbent materials. The best hypoallergenic diapers are made from bamboo or other plant-based materials. Keep an eye out for products made with at least 20% plant-based materials.
Count
The second feature you want to consider is the number of diapers you're getting. You'll be surprised by how quickly your baby can go through diapers, so the more, the merrier. Just make sure you don't sacrifice quality for quantity. You don't want a diaper that's going to irritate your child, even if you get 200 of them.
Most products have different counts that you can choose from. For this guide, we've done our best to keep the number of diapers for each product consistent to give you an accurate representation of the cost per diaper. There are a few outliers, but most packs include between 120-190 diapers. If a package of diapers has fewer, that's not always a bad thing.
Size
Diapers come in a few different sizes to accommodate different points in a baby's life. There are eight sizes in total, ranging from size zero to size seven. Most diapers can be found in various sizes, so if you love a product, feel free to choose the same diaper in a larger size. Also, larger diapers absorb more than smaller diapers because they use more material. Here is a look at the two sizes relevant to newborns.
Size Zero
Size zero, or newborn diapers, are for babies less than one-month-old. Newborn-size diapers can accommodate a child as small as four pounds and as large as ten pounds. The major downside to buying newborn-sized diapers in bulk is that your baby is likely to outgrow them quickly. Some babies can be born around ten pounds, and even if they're smaller, it doesn't take them long to grow.
Size One
While the newborn size is explicitly for newborn babies, size one diapers are more versatile. These diapers can be used once your child reaches 8 pounds and can be used up to twelve or fourteen pounds depending on the diaper. While they don't accommodate smaller infants, size one diapers can last you more than a month or two.
Price
The price of diapers can fluctuate depending on the brand and amount you're getting. That said, we've done our best to keep diaper counts consistent so you can determine how much you're paying per diaper. Most of the diapers on our list are available in different sized packages, and some parents aim to buy in bulk to save money, while others find smaller packages more convenient.
We'll leave that up to you, but we've grouped each diaper into one of three price categories based on the average price per diaper, which ranges from around 12 cents to 50 cents depending on the product and quantity you choose.
Top 10 Best Diapers for Newborns 2020
Everything You Need to Know About Newborn Diapers
Choosing the right diapers for your newborn is a big decision. You'll be changing them frequently, and your child will be wearing one nearly all of the time. You want to make sure you find a pack of diapers that will last you a long time while making your baby happy. We're here to help.
Shopping for diapers is easier when you have the best products in front of you, but it can also complicate things. For example, with ten great diapers to choose from, how do you settle on one? If you're stuck between a few products, don't panic. To help you narrow down your options, we're going to take you through everything you need to know about diapers by newborns.
Starting with Diaper Sizes
Getting to know the sizes and how a diaper is supposed to fit on your child is the first step to choosing the right product. In many cases, once you know your baby's size, choosing a diaper pack becomes simple.
The best way to determine your child's size is by getting their weight. Doctors will let you know at the hospital, but once you get home, you're on your own. Children grow by around 7-8 ounces per week, which can equate to two pounds per month.
With a baby's rapid growth, you'll want to get a pack of newborn diapers that will last you between one and two months to get your money's worth. Keeping this in mind, we're going to show you how to weigh your child to help you determine the diaper size you need.
Weighing your Newborn
You might be tempted to place them down on a scale, but this can be dangerous. Instead, step on the scale holding your baby and record the weight. Then, weigh yourself without holding your baby. Subtract your weight when holding your baby from your weight empty-handed, and you have the weight of your child. It sounds like a hassle, but it only takes a minute or two with a calculator handy.
If you don't have a scale in your home, there is another way to gauge the weight of your child. We know that children grow, on average, 7-8 ounces per week. So, whatever weight your baby was when they were born, simply add seven or eight ounces each week or one pound every two weeks. The number you get might not be 100% accurate, but it's a good starting point when buying diapers.
If Your Newborn is Light
If your newborn weighs less than seven pounds when you bring them home, you'll want to start with diapers that come in size zero (newborn size). These diapers can accommodate children between 4-10 pounds, making them an excellent choice for the first few months.
Great diapers to start with are Andy Pandy Biodegradable Bamboo Disposable Diapers. Not only are they designed for babies between 4-10 pounds, but they offer a lot of safety.
You have to be careful with smaller newborns because they can have more sensitive skin than larger children. That's why we recommend the bamboo material that these diapers offer because it's more forgiving on newborn skin.
If Your Newborn is Average
If your newborn is average size, you have plenty of options. You can choose a pack of diapers that are size zero or size one; it's about your preferences. Keep in mind, newborns that weigh 7.5 pounds will reach that ten-pound limit within a month.
So, for those average newborns, we recommend diapers like the Pampers Swaddlers. These diapers come in size one but can accommodate babies between 8-12 pounds. If your child starts at 7.5 pounds, you'll be able to use these diapers for well over a month, and you get a huge supply.
If Your Newborn is Heavy
There is no shame in having a big baby. While it's rare, some newborns can way between 8-11 pounds. For babies in this weight range, we recommend skipping size zero diapers and heading straight to size one. Size one diapers can accommodate babies between 8-14 pounds, giving you plenty of value for a few months.
Our favorite diapers for larger babies are the Huggies Little Snugglers. These diapers can grow with your child, up to fourteen pounds, and come with adjustable straps to keep your little one comfortable.
Shopping in Bulk
Shopping for diapers is a hassle. When you're changing them often, you'll run out before you know it. Shopping for newborn diapers in bulk is a smart move because you'll save time, money, and energy. While shopping for older babies in bulk is simple, you need to make sure that the diapers you find will fit your child for at least a month or two.
If you need a reliable bulk pack of diapers, we recommend Luvs Ultra Leakguards Disposable Baby Diapers. You get 252 diapers, in size 1, which can last the average newborn a few months.
Shopping for Newborns with Sensitive Skin or Allergies
Not all newborns are ready to jump into average diapers. If your child has sensitive skin, you want to make sure that the diaper you're using doesn't cause irritation. This can make choosing a diaper pack tricky, but any hypoallergenic diaper pack is suitable.
While any hypoallergenic pack will work, if you want to go above and beyond, look for bamboo or plant-based diapers. A great example is the Bambo Nature Eco-Friendly Baby Diapers. Their bamboo material is the best around for children with sensitive skin.
Why You Should Consider Eco-Friendly Diapers
Many of us take the Earth for granted, but we don't have infinite space. Each year, 3.5 million tons of diapers end up in landfills across the United States. While you may not notice, this type of poor waste management is damaging the Earth. If you want your child to have a happy and healthy life, going the eco-friendly route can help.
Not all eco-friendly diapers are a good solution. You still want them to perform as well as traditional diapers, but using biodegradable materials efficiently has alluded diaper manufacturers for decades. Luckily, over the past decade, several great companies have released remarkable eco-friendly diapers.
Our favorite eco-friendly diapers are the Earth's Best TenderCare Chlorine-Free Disposable Baby Diapers. They're made with all-natural materials and breakdown quickly.
FAQ
How many diapers do I Need to Change Each Day?
When you have a newborn, you're going to be changing a lot of diapers. If there is one thing Hollywood doesn't exaggerate in their films, it's the amount of diapers parents have to change. Even if you have a diaper with an absorbent liner, it's still best to change your child's diaper frequently.
Some good changing rules to follow include changing your newborn's diaper before and after feeding, after a bowel movement, before bed, when they wake up, and before you leave home. With so many diaper changing sessions, you'll want to make sure you have the best newborn diapers. So, look for diapers that have wetness indicators and leak protection.
Knowing how many times you'll be changing a diaper is valuable information. Some products claim to offer a month-long supply, but if a package only includes fifty diapers, you're going to need more. Even if you change a diaper five times per day instead of ten, you'll need over 100 diapers for just a single month.
What Size Diaper is Right for my Baby?
Babies love a diaper that fits perfectly. If it's too big or too small, your child will let you know with their visual discomfort. While babies are good at letting us know when they're unhappy, with tons of crying, they're not always reliable.
To determine if you have the right size diaper, you want to look for a few indicators. If there is a gap between your child's skin and diaper, it's too big. If your child is always unhappy or unable to wiggle in their diaper, it's too small. While this sounds simple, with all of the other reasons babies cry, being prepared is essential.
How do Diapers Absorb Moisture?
Most diapers you come across claim to absorb liquids and messes. While many diapers are absorbent, there are a few ways to tell. The first indication is if they're using absorbent gelling material or AGM. AGM is a polymer that has adhesive properties for pulling and absorbing liquid spills. While its impact on the environment is unknown, studies have shown that it's safe to use in food and diapers.
Diapers that focus on being all-natural may not have AGMs. While this isn't bad, it just means they're less efficient at handling messes. The reason all-natural and eco-friendly diapers lack AGM is because it's not a biodegradable substance.
Do Diapers Need to be Stored Anywhere Special?
Storing diapers is not complicated. Like most products, just don't store diapers in cold or hot conditions. The best practice is to store diapers at room temperature. If the air is too damp, cold, or hot, it can harm the absorbing properties of a diaper.
Final Thoughts
Shopping for diapers is easier said than done. Sure, you can find plenty of diapers at your local supermarket, but knowing what your child needs is essential. If you choose the wrong diapers, not only will your child suffer, but you will too. As a new parent, the last thing you want is more sleepless nights.
So, when you're shopping for the best diapers for newborns, take your time. Make sure you carefully consider each product and shop based on your needs. Even if other parents praise a product, it might not be the best fit for you. The good thing about diapers is that there is no shame in trying a few different types; you'll need a lot of diapers anyway, why not try a few?