Top 15 Best Zip Line Kits for Kids 2023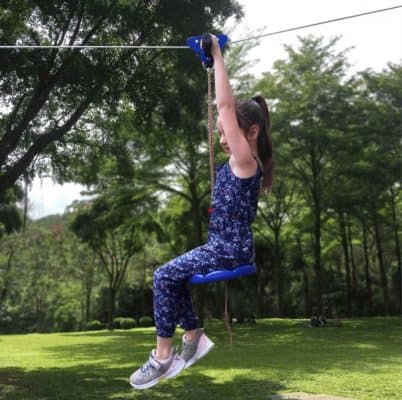 Weight Limit: 250 lbs.
Length of Line: 95 ft
CTSC is run by parents, so they know the importance of safety while having fun. The CTSC 95' Zipline Kit is a fantastic way to get the kids out of the house and make memories with you. The zipline is relatively easy to install, but it does require two adults to do it. The trolley has rubber grips to keep little hands from slipping. The kit also has a steel spring brake system to ensure riders have a smooth stop over a distance and not a sudden, jolting stop.
The customer service team at CTSC's goal is to make sure you and your family get what they pay for. If the line is too short, they ask you to contact them so they can make it the right length for you. The kit comes with a 10-year warranty so you can be sure to use it for years to come. The CTSC 95' Zipline Kit is fun for the entire family at an affordable price.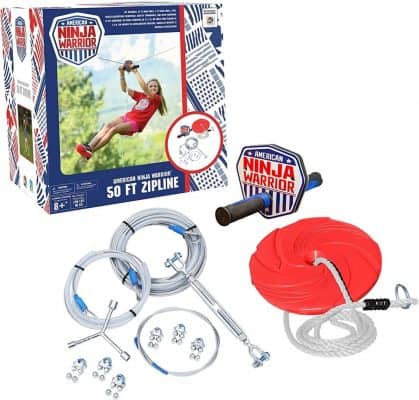 Weight Limit: 200 lbs.
Length of Line: 50 – 80 ft
Train like a ninja with your very own zip line course. The easy setup has you and the family zipping through the air in no time. The kit includes the two cables, one 50 feet and one 80 feet in length. Both are made of galvanized steel. The kit also includes a steel trolley, adjustable seat, turnbuckle with safety backup, and tightening wrench and clamps.
If you and your family are just getting into ziplining and looking for something reasonably priced and for smaller spaces, the ANW Zipline kit is the one for you. Your family will feel like the greatest American Ninja Warriors without having to leave your own backyard, and your mind will be at ease knowing the product is safe as well.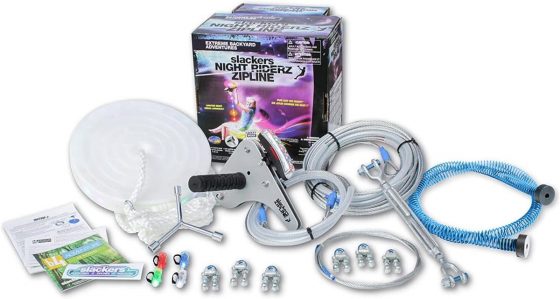 Weight Limit: 200 lbs.
Length of Line: 100 feet (113 feet of cable)
The Slackers Night Riderz Zipline kit is a fantastic addition that can be used day or night. The seat and trolley are lit up so the fun can continue after the sun goes down. The kit includes everything you need for safety and fun and can be set up in no more than an hour. Make sure to note that once the trolly is installed on the line, it is difficult to properly remove. This isn't a huge deal in most cases, but you do want to get it right the first time. The kit comes with a high-grade steel trolley with locking screws and hand grips for added durability. This system even comes with a steel spring braking system that helps to ensure the riders come to a smooth stop at the end of their ride.
The Slackers Night Riderz Zipline Kit is easy to install, safe to use, and guarantees hours of fun, day or night! This zipline system can be installed in any open area including a back yard, open field, cleared area in the woods, and more. Be the coolest family on the block and have your very own night show with the Night Riderz Zipline! There have been some reports of this kit arriving with missing parts, which is disappointing. The customer service team, however, will quickly send you anything that is missing to ensure you are happy.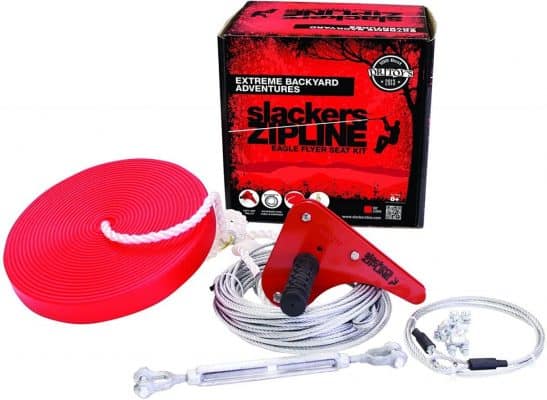 Weight Limit: 200 lbs.
Length of Line: 90 feet (100 total feet of cable)
If you want a reliable and safe zipline for your family that is still affordable, the Slackers Zipline Eagle Series is an excellent option. The kit includes a seat, grip trolley, and all the tools needed for set up and riding. It also has a spring steel braking system to ensure riders slow to a stop. When setting it up, you may want to add some type of cushion or other material where the cable wraps around the tree, or it could cause damage. Also, take your time when tightening the cable as it can be a challenge to get the tension correctly set.
It only takes two trees and the Zipline Eagle Series to get zipping over your own backyard. The zipline system is durable and made to last. The price on this kit is very affordable, especially considering the fact that it is made with all durable parts. This model comes with a full 10-year warranty, so you know you can enjoy it for years to come.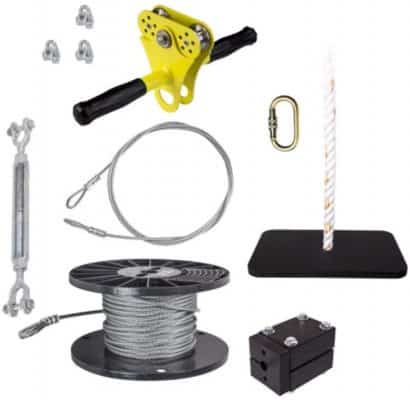 Weight Limit: 350 lbs.
Length of Line: 50-200 ft
Made with the highest-quality materials, the Hornet Zipline kit is a perfect outdoor activity for just about any area. The highlight feature of the kit is the easily removed trolley. It's unique in that it can be taken off the cable without taking the cable down. This is a great feature since you can bring the trolly inside when not in use to help avoid rust or other issues.
The kit includes all needed tools to install and use the zipline, except tree guards. When purchasing, you can pick the length of the line that is right for your area. The options range from 50 to 200 feet, so no matter the size of your yard, this kit will work. Even for the longest option, the price is very reasonable. The weight limit is 200lbs on this zip line, which may be too low for some adults who want to use it with their kids.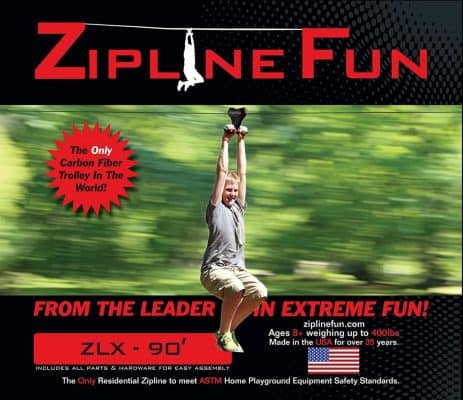 Weight Limit: 400 lbs.
Length of Line: 90 feet
Looking for a zipline for you and the family to enjoy? The ZLX Xtreme Zipline is quickly and easily installed and has the basic essentials for easy ziplining. The kit contains an enclosed trolley, so little fingers can stay safe and won't catch on the mechanism. The trolley is made of carbon fiber, making it extremely durable.
While the trolley itself is extremely strong, it seems that the wheels inside it aren't as durable as they could be. When used at higher speeds or with heavier people, the wheels may wear out quickly and may need to be replaced. Also, the kit does not come with a stopping spring, so consider either purchasing one or making sure the zipline isn't at too acute an angle to keep the speed down and avoid any collisions.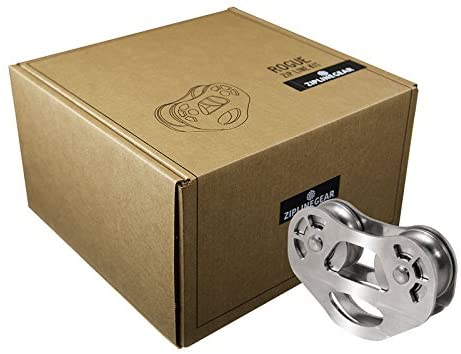 Weight Limit: 350 lbs.
Length of Line: 150 ft – 500 ft
For serious zipliners, this is an excellent kit to purchase. The kit comes with an industrial-strength, galvanized aircraft cable that holds up in weather and can be run up to 500 feet in length. The kit also boasts a premium trolley made of stainless steel featuring dual-bearing wheels for a fast and smooth ride. The kit includes a harness kit and bungee brake kit to help ensure the safety of riders. It does not include a seat, however, nor does it have any of the assembly tools you might need in the box.
The Rogue Zipline is a fun and family-friendly way to spend hours zipping through your own backyard or other areas. Available in multiple lengths, you can choose the line that works best for your yard. With industrial-strength materials and the best safety features available, you and your family will love the adrenaline rush while using the zipline for years.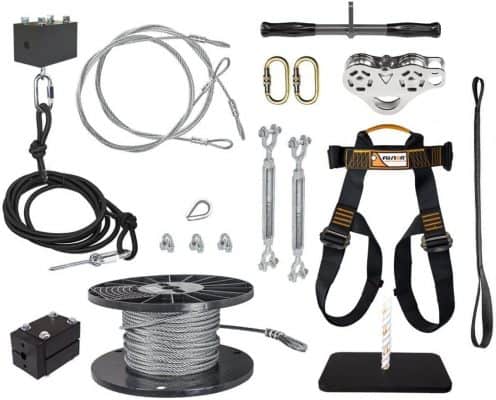 Weight Limit: 350 lbs.
Length of Line: 150 ft – 500 ft
The Ziplinegear is the high-quality kit for anyone who loves a good adrenaline rush! The instructions are detailed and customer support is offered by telephone. Torpedo Zip Kit and trolley is designed for speed and smoothness. Made of stainless steel, the zipline system is built to last while being able to handle both children and adults. The kit also includes the one-size-fits-all safety harness, seat, and handlebar. There is a bungee brake for smooth stops and a no-pass stop block as well. It's the complete package.
Whether you choose the 150', 500', or something in between, the Ziplinegear Ultimate Torpedo is the perfect zipline for your backyard. The high-quality material makes the zipline last. The Ultimate Tornado is one of the fastest zipline systems available. Setup can be a little difficult because it doesn't include a tensioning kit, but once you have it pulled tight, it will be a lot of fun. One other thing that is lacking on this kit is any type of tree protection materials.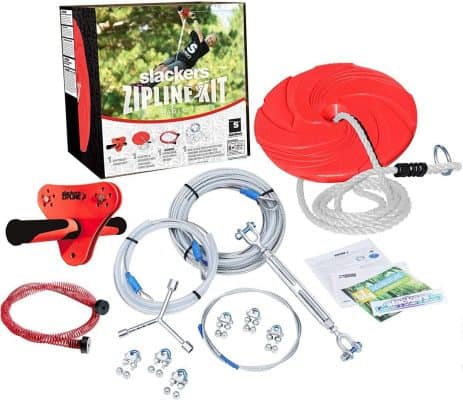 Weight Limit: 250 lbs.
Length of Line: 90 feet
The 90' Eagle Series Seated Zipline Kit is the perfect starter kit for any family which is just starting to get into ziplining. It's easy to set up, so you and the kids will be zipping for hours on end. The kit includes the essential tools for installation and riding. The seat can be adjusted to the rider's height, which is great when multiple kids want to enjoy it. The cable includes a protective coating to prevent damaging your trees.
A braking system is not included with this kit, so purchasing one separately may be necessary to keep riders from crashing at the end. The cable can rust over time, which means the zipline cable is not weather resistant and should be taken down when it is raining, etc. For the price and what is included, the Eagle Series Zipline is an excellent option for both novice zipliners and those with some experience.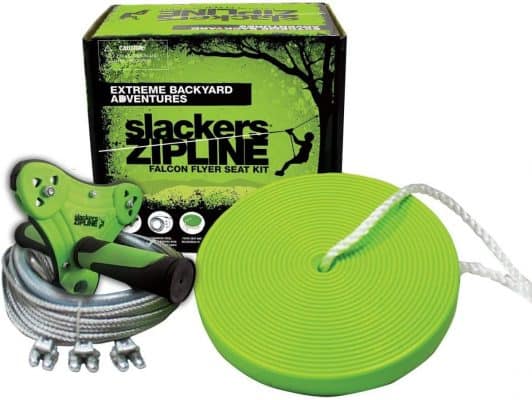 Weight Limit: 200 lbs.
Length of Line: 40 feet (50 ft total)
At 40 feet, the Zipline Falcon Kit a great option for people with smaller yards. The zipline is ideal for younger children and can hold up to 200 pounds so even older siblings can have a great experience. Having a shorter length cable means you will have the chance to keep kids closer to the ground.
The kit is a bright green, making it hard to miss all the fun. Let your kids soar through the air in their own yard while building their stamina and making sure they will be worn out for bedtime.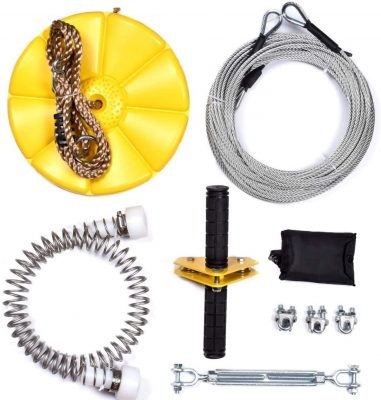 Weight Limit: 250 lbs.
Length of Line: 95 feet
The zipline is made with galvanized steel so it can withstand heavy use for years to come. The kit comes with all needed equipment for set up and riding, including a seat as well as a trolley with rubber handles. The trolley has sealed ball bearings, ensuring a smooth ride. One concern that the bearings wear down sooner than they should. The company, however, will replace them quickly if you let them know. The kit also comes with a braking system for safe stopping.
iZipline is a company that puts an emphasis on customer service. If you have trouble with the trolley ball bearings wearing out or you need help understanding how to install it, they will be there for you. The customer service team is very responsive to customer questions and goes above and beyond to respond to questions or concerns.
Weight Limit: 350 lbs.
Length of Line: 50 feet
If you are looking for an affordable and easy to install and use zip line for your backyard, this is the one for you. The industrial-strength cable is durable, and it can withstand up to 350 pounds. The kit comes with the basic essentials for reliable installation and use. The swing seat makes a comfortable ride for everyone.
The Black Raptor Zip Line Kit is a new up and coming zipline set that can bring you and your family entertainment all day without breaking the bank. The customer service team is responsive and helpful when customers have questions or concerns. If you are not looking for a long zipline and have 50 feet and two sturdy trees to spare, you just need the kit and you will be set for an afternoon of zooming!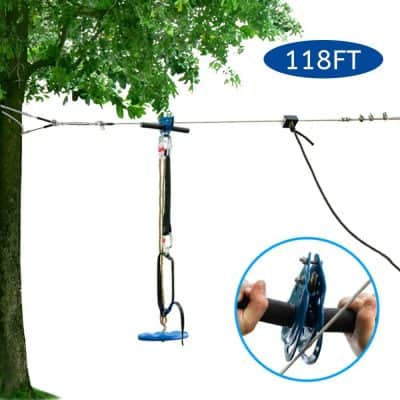 Weight Limit: 250 lbs.
Length of Line: 70 – 118 feet
JOYMOR knows that safety is a top priority for parents, and the Backyard Zipline Kit is the perfect way to keep children safe while they have a blast. The zipline kit is easy to set up and quick to tear down. The kit comes with a detachable trolley for your convenience. The cable is made with stainless steel so it can stand strong in weather and can handle weights up to 250lbs.
While the kit itself is easy to install, it can be a challenge to pull the cable tight enough. Taking your time and using the included tools for tightening the line will get things ready to go before you know it. Overall, this kit is very enjoyable for any adrenaline-loving kids.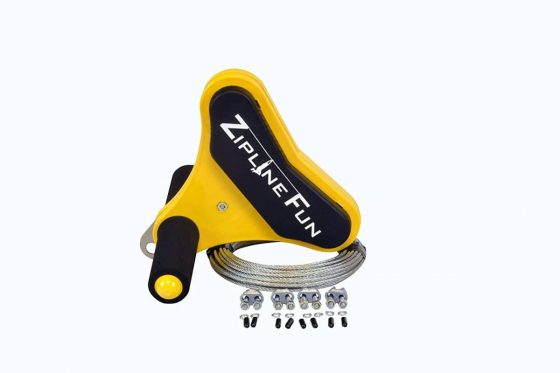 Weight Limit: 125 lbs.
Length of Line: 35 feet
The Adventure Parks Zipline is a fun way to keep your children entertained for hours. At an affordable price, the zipline is quick to set up as well as tear down. The fully enclosed trolley with drop style handles keeps their hands safe while they zoom through the yard.
The handles are foam, so they may tear more easily than rubber ones. The weight limit of 125 pounds means the zipline is designed explicitly for children and younger teens. You might also need additional tensioning tools to keep the line from slacking too much.
Weight Limit: 250 lbs.
Length of Line: 90 feet
The Zip Line ZL90 is easy to install. The fun can begin within half an hour and last for hours. Made with high-quality materials, the zipline system is built to last. The kit is also safe for all ages. The trolley is enclosed, and the handlebars are dropped to keep any fingers from getting hurt.
The Zip Line ZL90 is a reliable, safe, and durable zipline system. Instead of buying larger kits that are more expensive and come with all the unnecessary bells and whistles, this kit is great to throw up anytime in the backyard or at the park. The price is quite a bit lower than most other kits on the market today, making it an excellent option for first time zipline buyers.