Top 10 Best Backpack Diaper Bags 2023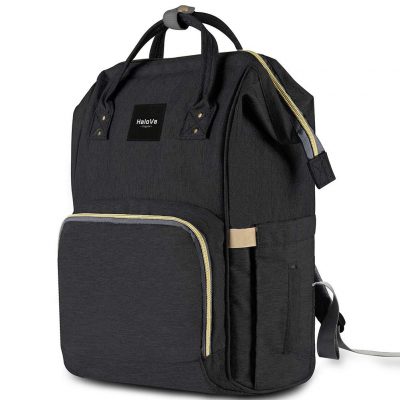 Functionality
No matter what you're looking for out of a backpack diaper bag, this HaloVa option almost certainly offers it. It's larger than many other options on the market, boasting a 24-liter capacity in just the main compartment, so you'll know you're prepared for the entire day. A whole host of individualized pockets (including insulated pockets for bottles, a tissue pocket, and a separate wet tissue holder) keep your supplies organized and easy to find.
Comfort
The straps are padded, making them easy on your shoulders. The HaloVa diaper backpack is surprisingly lightweight, even when fully stuffed. It's also designed to reduce bulkiness when packed, meaning it's as comfortable when fully-loaded as it is when you toss in only the essentials.
Durability
The high-density Oxford fabric is waterproof, so you won't have to be nervous if your bottle leaks, your baby drools, or you get caught in the rain. If you do end up having a quality issue HaloVa will replace the bag up to three years after purchase.
Style
This backpack diaper bag is sleek, modern, and sophisticated. It's neutral enough to not likely clash with your outfit, but stylized enough to not be boring. It comes in multiple colors as well, including fun pastel options.
Extras
An anti-theft pocket lets you securely carry cash, keys, your phone, or your ID (and leave your handbag at home). The L-shaped pocket in the back allows you to access items in the bottom of the bag without digging in from the top! All it's missing are stroller straps, which would be a great inclusion.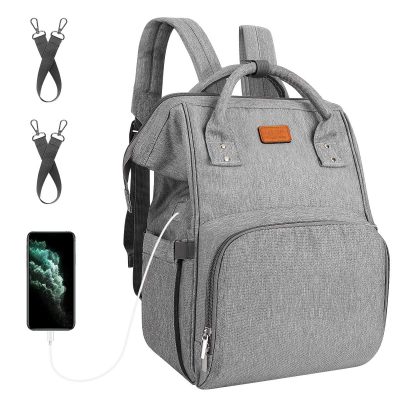 Functionality
While this diaper bag comes in at a very low price, you won't have to give up space or organizational tools. The main pocket is very spacious, and there are thirteen different pockets to make sure everything you need has its place. It comes with insulated bottle pockets, as well as a waterproof compartment meant for used wet wipes (so you won't get everything else in your bag damp).
Comfort
Luckily, this backpack won't break the bank—or your back. The Synsyne Waterproof Diaper Bag is very lightweight (under two pounds), so it won't weigh you down. And the padded straps make it even more comfortable! It is a little bit stiff, though, especially before its broken in.
Durability
There's no point in picking a budget-savvy choice if it falls apart (and you have to spend more for a replacement). Thankfully, you won't worry about that with this diaper backpack. It's made from a high-quality, waterproof material that can withstand multiple years of wear and tear. Even better—the bag is waterproof both inside and out, so you can easily wipe it down to clean it if there's a spill (and there will be spills).
Style
The understated, unisex look goes perfectly with many styles, and it's a fantastic choice for moms and dads to share.
Extras
We love that the bag's storage space is expandable by up to ten percent. It can stretch out on those days when you really need to pack it full, but stay more slender on shorter outings. The stroller straps make it great to take on the go.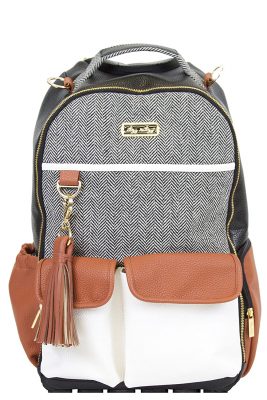 Functionality
If your budget has a little more wiggle room, the Itzy Ritzy Diaper Bag Backpack is worth the splurge. Unlike many designer bags that only offer a name (and not particularly useful features), this backpack offers lots of functions with decadent touches. It comes with ten internal pockets and ten external ones—including a felt-lined pocket for your valuables. Two of the pockets are insulted, so you can keep bottles or drinks cold and warm. There's an (adorable) changing pad that you can easily wipe down. And if you get tired of carrying it, it includes coordinated stroller straps. The lone fault with this bag's functionality is its zipper, which has a tendency to get caught.
Comfort
That changing pad does more than just keep your baby comfortable—it can keep you comfortable as well. When it's stored in its intended pocket, it provides extra cushioning for you. The straps are designed for all-day wear, and they won't dig into your shoulders. And the luxe faux leather is buttery soft.
Durability
We're in love with the iconic Itzy Ritzy rubber feet; they offer protection for your bag when you set it down on a public changing table and keep the material looking brand new. It's also easy to wipe clean, so if you do get it dirty, you won't have to worry about stains. It does tend to wear out quicker than you'd expect, given the price, though.
Style
This is a sophisticated bag that manages to make you feel trendy while changing diapers (no small feat). In fact, it's frequently seen on the backs of celebs, in fashion mags, and on social media. It also comes in a nice variety of colors, so you can find the look that works for you.
Extras
Love the classic look of leather, but hate the environmental or ethical impact? No worries; this bag is made of vegan leather!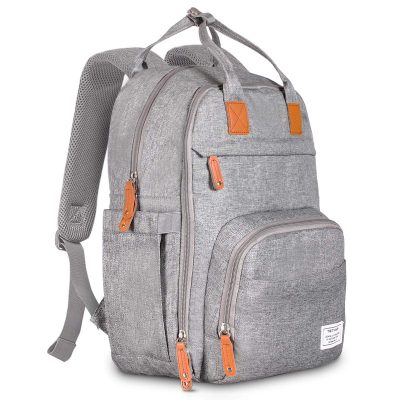 Functionality
While comfort is our favorite feature, this backpack diaper bag doesn't skimp out on other great offerings. It includes multiple pockets, included two insulated ones for storing bottles. You can even fit your tablet and your phone inside, so you can stay connected (and entertained) while taking your kid on an outing. The extra-wide openings make searching for a change of clothes or a favorite toy a breeze, and it's easy to wear as a handbag if you want to mix things up. A changing pad would be a nice touch, but unfortunately you won't get one included here.
Comfort
This is where the Tethys Multifunction Diaper Bag Backpack truly shines. It's designed ergonomically to help minimize any aches and pains. (And who wants to try to keep up with a toddler when they're dealing with back pain and shoulder aches?) The straps are also thickly padded, so they feel like a dream when you wear them.
Durability
This backpack diaper bag is made well-made and uses high-quality material. But if you do run into an issue, you don't have to worry—Tethys offers a full lifetime warranty.
Style
This neutral design works well with most wardrobes, and its unisex appeal makes it a great choice for everyone. Unfortunately, it's only offered in one color.
Extras
Thinking of traveling soon? The Tethy's Multifunction Diaper Bag Backpack can fit in most overhead compartments on planes. It also has an anti-theft pocket, so you can safely store your passport, ID, and cash. It's also made in the USA!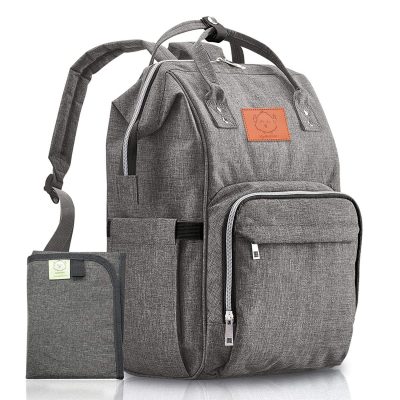 Functionality
Sometimes it feels like one baby needs a truck's worth of supplies to go out in public. But if you have twins, or a toddler and a newborn? Yeah, you're gonna need a backpack diaper bag with serious spaciousness. Thankfully, that's just what the KeaBabies Large Diaper Bag Backpack offers! It's roomy enough that it can fit up enough supplies to care for three children all day long. Also included: a large waterproof changing mat, a wide opening, a back access zipper, and the ability to attach to a stroller.
Comfort
While the straps are stiffer than other options, it's still much more comfortable than a tote bag. And since you can attach it to your stroller, you can always give your shoulders a break if needed (especially useful when you're carrying supplies for multiple kids; it can take a toll on your back, fast).
Durability
This diaper backpack is made of water-resistant Oxford fabric that's also scratch-proof—perfect for when you're lugging it around all day long. The zippers are also high-quality, so while they may stick initially, after that hurdle, you're good to go!
Style
Love a look that simple, no-frills, and classic? This is the bag for you. Those looking for a cool, fancy, stylish bag may prefer something like the Skip Hop Greenwich Baby Travel Bag, though.
Extras
Unlike most other diaper backpacks on the market, the KeaBabies bag includes elastic side pockets, so it can accommodate multiple sizes of sippy cups, bottles, or coffee thermoses (because, let's be real, if you have three kids? You probably need the caffeine).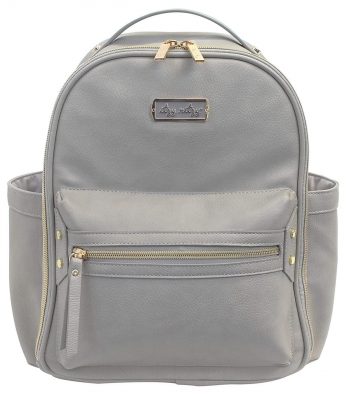 Functionality
If you're just popping out to hit the bank or go for a walk, you don't want to be caught without a fresh diaper, but you don't need to bring the whole nursery with you. The Itzy Ritzy Mini Diaper Bag is a perfect option for grabbing just the essentials. It offers many of the pros of our Premium pick, the Itzy Ritzy Diaper Bag Backpack, but streamlined: it comes with four external pockets, four internal pockets, a changing pad, and Itzy Ritzy's signature rubber feet.
Comfort
The faux leather is buttery soft and feels like a dream against your skin. Even though it's designed for short runs, it's comfortable enough to wear all day long, so if you end up out longer than expected, your shoulders won't suffer.
Durability
Just like with our Premium Pick, the rubber feet help keep the bag upright and clean. The vegan leather is also very easy to wipe down, so that spilled formula won't leave a watermark.
Style
This mini backpack is adorable, modern, and thoughtfully-designed. Honestly, it's cute enough that you may want to use it as a handbag once your kid is potty-trained.
Extras
Though it's smaller than most backpack diaper bags, it still has a space dedicated to storing your personal essentials (like keys, ID, cards or cash) so you won't have to worry about bringing your handbag.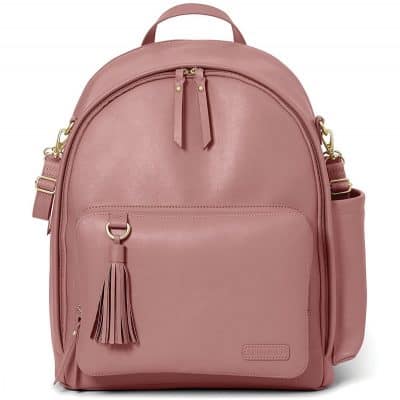 Functionality
Just because this bag is beautiful doesn't mean it isn't useful! It's packed with nine different organizational pockets, so there's a place for everything you'll need (and even a few extra luxuries—like your latest Vogue issue). It also includes a cushioned changing pad, so your baby will be comfortable while you swap out their diaper. And it has stroller straps so you can take a break from holding it (in case it's wrinkling your new dress).
Comfort
The adjustable padded straps make it feel nearly as good as it looks, no matter your height!
Durability
The vegan leather is easy to wipe clean, so you can keep it looking spotless with minimal effort. Plus, the changing pad is machine washable, so if your baby leaks (or if the public restroom changing table is… suspicious), the pad can be good as new!
Style
The design is ultra-modern and stylish, and manages to be both trendy and classic—so it'll likely look great with your wardrobe, no matter what your vibe is. The colors are earthy and sophisticated, and the bag is full of little style touches, like a faux leather tassel.
Extras
The Skip Hop Greenwich Baby Travel Bag has enough space for your tablet, so you can read the latest fashion news while your kid is on a playdate.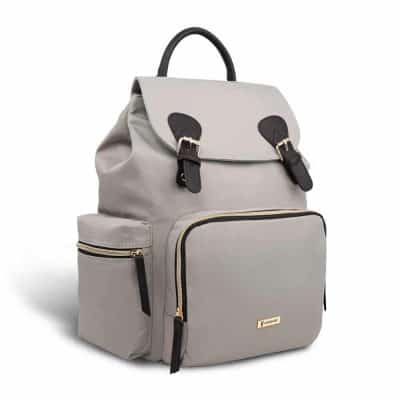 Functionality
Are you torn between all the diaper bag options on the market? The Vogshow Multifunction Travel Diaper Bag can give you the best of all varieties. Not only can you wear it as a backpack, but you can also wear it as a handbag, shoulder bag, or even a crossbody bag! It also has a ton of useful features, like three insulated front pockets, a large interior insulated pocket, a wet-dry separation packet for wet clothes or wipes, and an anti-theft back pocket. All that's missing are stroller straps, which are included in our similar premium pick
Comfort
The soft, padded straps are a joy to wear, no matter which configuration you choose. And as an added bonus, the bag is surprisingly lightweight, so it'll never be a strain to carry it.
Durability
The backpack's material is high-density, water-resistant, and extremely easy to wipe down and clean. Unfortunately, the backpack has been known to tear after prolonged use.
Style
The Vogshow Multifunction Travel Diaper Bag manages to be neutral enough to blend with multiple styles while also being fashionably streamlined, sleek, and modern. It comes in a few gorgeous color options too, so you can make it even more your own.
Extras
The top closes with two magnetic snaps instead of zippers, so it's easy to open in a hurry (or when your hands are full of a squirming baby). We also love that the bag is made of eco-friendly materials!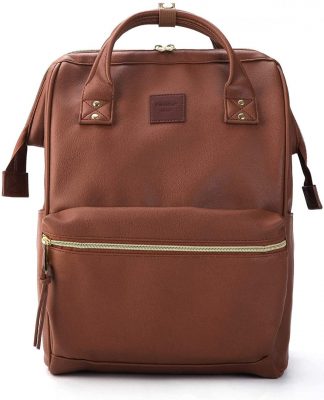 Functionality
Just because you're bringing your kids with you doesn't mean you don't still plan on conquering the world. Whether you're going back to school, starting a social media and blogging empire, or killing that corporate grind, you'll want to keep your own supplies with you, too. The Kah&Kee Backpack Diaper Bag includes a padded laptop compartment, so you can carry your work with you wherever you go. And its spacious design means you can keep your child's essentials with you too (including in the designated bottle spaces). It is a little light on some of the premium features contained in other backpack diaper bags, though—you won't find a changing pad, insulated pockets, or stroller straps here.
Comfort
The back mesh makes it this backpack diaper bag super breathable, so you'll always keep your cool (even when your work is on fire).
Durability
Kah&Kee recently upgraded the quality of this bag, so you can feel more secure in trusting it. The faux leather is easy to clean, and the shoulder straps are strong and sturdy.
Style
This backpack diaper comes in tons of colors, from pastels and classics shades to color combos like black and white.
Extras
Because of its laptop compartment, this bag will serve you well long after your little one has outgrown bottles and diapers, making it a great long-term investment.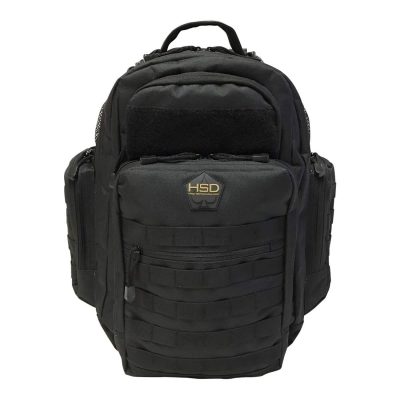 Functionality
First off, there's no shame at all in a man carrying a more stereotypically "feminine" bag. But if you're a dad who has a rugged style, or a mom who loves more of a military look, the HSD Military-Style Diaper Bag Backpack was made with you in mind. Not only does it have a unique, more-masculine vibe, but it's full of useful features: a changing pad that's big enough for toddlers, stroller straps, a wipe pocket and insulated compartments. Plus, it's big enough to fit a change of clothes for two kids (or multiple outfits for an extra-messy toddler).
Comfort
While this is designed to be rugged, it doesn't skimp on comfort. The shoulder straps are contoured, and the back is padded with foam cushions. It also has a vented air design to keep you cool. As it's designed to be comfortable for men, shorter men and many women might find it a bit irritating.
Durability
The HSD Military-Style Diaper Bag Backpack was tested by military members in both field and urban tactical environments. Even still, the stitching can come undone, so be mindful of that.
Style
A wonderful option for those looking for something other than "handbag-like" or totally neutral. It has a military-inspired, rugged, outdoorsy look, and even comes in a camo print!
Extras
A bottom outside pocket offers an organizational area for small items you may want to find quickly (such as pens, keys, or pacifiers,) so you won't have to dig for them.