A day spent relaxing at the beach, waterpark, or splash pad can turn from a fantastic time to an embarrassing mess if your child doesn't have a swim diaper. Swim diapers give children and parents the confidence to enjoy their time at the pool without needing to worry about any little accidents that could ruin the fun. In this guide, we go over what swim diapers are, what to look for, and the best swim diapers available on the market today.
What to Look for in a Swim Diaper
If your little one is not potty trained or still has accidents on a regular basis, you must have them in swim diapers. Standard diapers are filled with absorbent beads, a feature that prevents a baby's clothes from stains and unpleasant smells. If you put one of these diapers in water, the absorbent beads fill up with water and become useless. Swim diapers create a seal that keeps physical waste inside, but they do not absorb liquid.
Not sure what to look for in a swim diaper? These are a few of the features we looked at when evaluating different options.
Size
A newborn baby has very different needs than a toddler, but both may need swim diapers. It's important to check reviews and see how a specific diaper works on children similar to yours in age and size. Small babies prone to soft stools may need a tighter fit to hold waste in, but the same feature on a swim diaper for toddlers could keep them from walking comfortably. Many swim diapers are available in a range of sizes, but sizing often varies quite a bit between brands.
Reusability
Most parents fall squarely into either the reusable diapers camp or the disposable diapers camp. Both have their advantages and disadvantages, but either way, double-check that you're getting what fits your family's needs and lifestyle.
Those in the market for reusable swim diapers might also want to look into adjustable swim diapers. Babies and toddlers grow so quickly that a snug-fitting swim diaper could be too tight to close just a week later.
Closure Style
Several closure styles are available on today's swim diapers, and it all comes down to parents' preferences. Pull-up diapers are often the quickest to use, since you do not have to fuss with snaps or Velcro to close it. However, if they do not fit your child perfectly, they aren't a viable choice. Diapers with snap or Velcro closures require a little bit more work when you're getting your child ready for swimming or cleaning them up after, but they can be adjusted to fit your little one's size.
With these and other factors in mind, we chose our top 9 best swim diapers.
Top 9 Best Swim Diapers 2023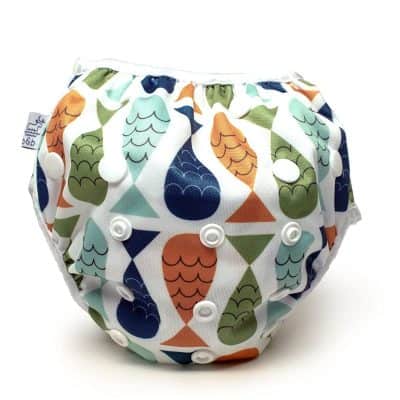 Why we like it:
Style and function come together in this high-end swim diaper, which features gender-neutral designs and quality construction that stands up after multiple washes and pool trips.
Editor's Rating:
Type: Reusable
Material
Nageuret diapers have several layers, each of which keeps your baby comfortable and dry in a different way. The outer shell is a soft waterproof layer that holds solid waste in. For your baby's gentle skin, the inner layer has a polyester mesh that promotes comfort and prevents waterlogging.
Size Options
While most swim diapers come in a wide range of sizes, Nageuret options come in just one size that they claim can fit a newborn baby, a five-year-old, and everyone in between. This is because there are adjustable snaps around the waist and legs that let you choose from three different sizes. There are also snaps for vertical adjustments to accommodate children of different heights.
Flexibility
The flexibility of the Nageuret swim diaper is unmatched; the adjustability of the waist and leg bands allows children to move freely without risking leaks.
Review
We love this diaper's ability to hold in physical waste. It offers such an airtight seal that you may not even know your child has pooped until you go to change them after a swim.
The diaper is sturdy enough to last through multiple years of use, and it really can be adjusted to fit babies and toddlers of varying sizes. This is a good feature for parents of multiple children, since they can pass down the swim diapers as their older children outgrow them.
In some cases, the elastic in the waistband wears out quickly. However, the manufacturer's customer service is excellent, and they are generally willing to send replacements when this occurs.
Finally, the attractive prints are a selling point for many parents, who enjoy not having to buy a swim diaper cover in addition to the diaper.
Pros
Good waste retention

Long-lasting

Attractive prints
Cons
The elastic can wear out quickly

The longer they are on, the less waste retention they have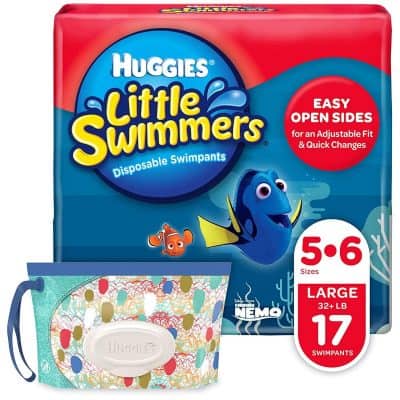 Why we like it:
We love the convenience of disposable swim diapers, and the easy-open sides make diaper changes a snap while allowing parents to adjust the fit of each diaper. They are designed to fit older babies and toddlers, though, so they may not be an option for parents of younger babies.
Editor's Rating:
Type: Disposable
Ease of Use
It doesn't get easier than disposable diapers. These diapers come closed, so you can slide them on your baby or open the sides and put the diaper on that way.
Adjustability
Huggies Little Swimmers really shine in this area. We love the soft stretchiness of the diapers, which let children move freely and stay comfortable. Additionally, the side tabs are re-adjustable, so you can tighten or loosen them as needed without needing to use another swim diaper.
Material
Little Swimmers use absorbent material that doesn't swell in water. This does minimize the spread of urine in the pool, but the absorbent material can still get heavy after a long swim.
Review
The disposable design of these swim diapers makes beach and pool trips convenient, limiting the number of baby items you have to haul back home after swimming. There are three sizes available, allowing parents to pick the right size based on their little one's height and weight.
The fasteners make it easy to get a good fit in seconds. Once fitted, the children can move freely in these swim diapers, maximizing pool fun.
However, some children suffer an allergic reaction to the swim diapers, so this may not be the ideal option for babies with sensitive skin. Most problematically, the diapers' ability to hold waste decreases with time, so it's important to prioritize frequent diaper checks and replace as necessary.
Pros
Disposability is convenient

Available in three sizes

Fasteners make fitting easy

Children move freely
Cons
Can cause allergic reactions with sensitive skin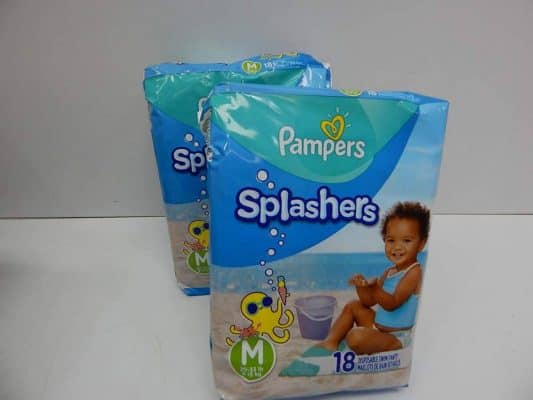 Why we like it:
We're drawn to Splashers' promise of a comfortable fit without swelling, since too-absorbent diapers can leave kids waddling after a trip to the pool. Rip-away strips on the sides save time when you're trying to get a little one out of their swimming gear.
Editor's Rating:
Type: Disposable
Security
Across the board, these diapers are among the best of the best in their ability to hold in solid waste. They do not hold in urine, but that is by design; diapers that absorb urine can become soggy and waterlogged, making them uncomfortable for babies. These hold in waste without sacrificing comfort.
Comfort and Ease of Movement
No matter how reliable a swim diaper is, its usefulness is limited if babies and toddlers can't move comfortably in them. These diapers wear similar to underwear, since they don't become waterlogged or restrict movement. While the leg holes and waistband are tight to keep waste in, they are not tight enough to make babies uncomfortable.
Review
Since these diapers don't get soggy in the water, babies and toddlers can enjoy every minute of their time in the water. These diapers hold up well during long swims. The stretchy waistband moves with your child without leaving them with red marks or indentations.
What's more, the tearaway sides are super convenient. This design feature saves time during wiggly diaper changes. However, the fact this diaper does not hold in urine at all is an issue, when other swim diapers manage at least a little absorption.
Pros
Don't get soggy in water

Resilient to long swims

Stretchy waistband stops discomfort

Practical tearaway sides
Cons
Doesn't hold in urine at all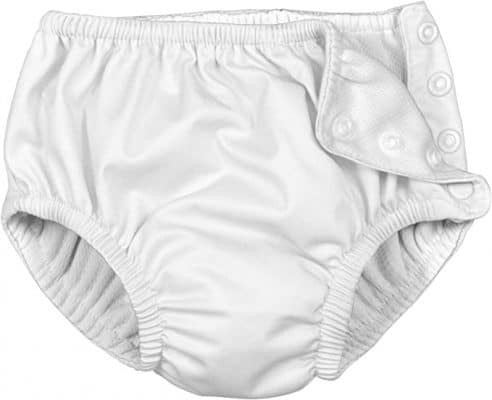 Why we like it:
With its simple gender-neutral design and easy-to-use waist snaps, this green sprouts reusable swim diaper is a no-frills choice that fits well under all styles of swimsuits.
Editor's Rating:
Type: Reusable
Material
Comfort is essential for a swim diaper, and the materials used in this i play. diaper support a baby's comfort and ease of movement. This diaper utilizes a soft material and liner that wicks moisture away from the skin, preventing skin breakdown caused by diaper rash. Additionally, the diaper has an absorbent layer to protect parents from accidents outside the pool.
Adjustability
While this green sprouts diaper is not adjustable, it does have a wide range of sizes available to help parents keep their little ones prepared for pool time at every age. Available sizes range from six months to five years. The waistband and leg holes are lined with elastic, providing some flexibility and a tight seal.
Reusable Design
Those who prefer the eco-friendly and budget-friendly design of reusable diapers will benefit from the longevity of this swim diaper. The sturdiness of this diaper is a big plus, and so is the way it stands up to multiple trips through the wash. This feature boosts the likelihood of one diaper lasting until your baby or toddler is big enough for the next size.
Flexible for On-the-Go Babies and Toddlers
The comfortable elastic bands on this swim diaper encourage movement, allowing your child to move freely without risking a blowout. This is a key feature that puts this diaper ahead of those with tight, restrictive leg holes that limit swimming and walking.
Approved for Pool Use
Public pools have stringent requirements for non-potty trained children. This swim diaper meets standards set by many community pools, allowing children to join in the family fun wherever you go.
Review
This swim diaper is affordable, so it's easy to keep a couple on hand for impromptu swim trips. We appreciate the thin absorbent layer, which holds in urine if your baby pees prior to getting in the pool or after getting out of the pool. You don't have to worry about leaks either, as the seal is extremely secure and that this diaper rarely causes leaks.
Best of all, the diaper is machine washable, making it a more convenient option than those that require hand washing.
Irritatingly, the sizing isn't always entirely accurate, so you may want to consider your baby's build and consider going up one size.
Pros
Affordable

Absorbs pee well

Doesn't leak

Machine washable
Cons
The sizing is strange, so it's worth going up a size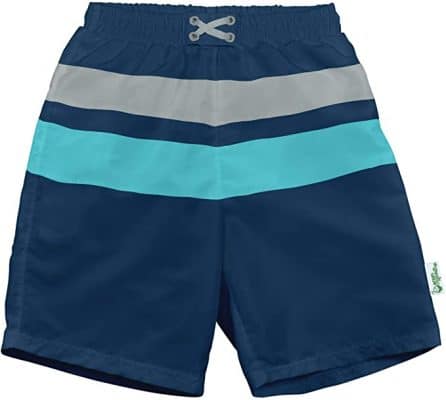 Why we like it:
All-in-one swimsuits are a popular choice for parents, since they save diaper bag space and make it easier to get ready for a trip to the pool. We like that these boys' trunks are approved for public pool use.
Editor's Rating:
Type: Reusable
Sizing
This swimsuit generally fits true to size, streamlining the buying process for busy parents. Sizes range from six months to 4T, so there's a solution for most children who haven't potty trained yet. Parents of young babies may need to look into other choices, however.
Material
The swim trunks are made of polyester, so they effectively wick away water and keep little ones from getting waterlogged while playing. The diaper uses a multi-layer design that includes an absorbent layer and a waterproof layer.
Closure Style
The edge of the swim diaper is sewn into the lining of the swim trunks, so you simply pull it up to close it. Unfortunately, that means that you cannot adjust the fit. However, this one-step design saves parents a lot of time.
Review
Children find these swim trunks extremely comfortable and not at all restrictive, so they're a great choice for boys who like to run and play at the splash pad or pool. The swim diaper effectively holds in solid waste while swimming, saving parents and little ones from accidents that can shut down an entire pool.
The material is very durable and holds up through constant machine washing. This swimsuit meets many public pools' requirements for non-potty trained children, saving an extra step when you're getting ready to swim. One problem is the sizing can be a little difficult for children on the larger side, so we recommend ordering a size up if your little one has chunky legs.
Pros
Very comfortable

Very good at holding in waste

Durable material

Meets public pool requirements
Cons
Doesn't fit children with big legs, so order a size up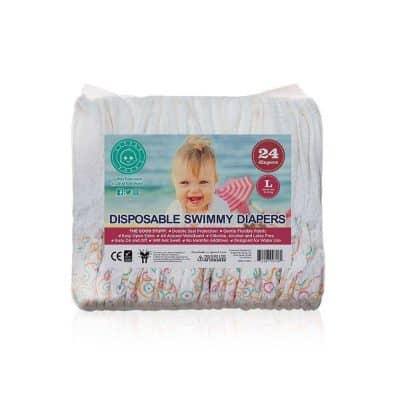 Why we like it:
Since these diapers are not made with alcohol, chlorine, latex, and perfumes, we like this choice for little ones with sensitive skin. The attention to detail when it comes to babies' comfort is another major selling point for this option.
Editor's Rating:
Type: Disposable
Sizes
Like many other swim diapers, this option comes in small, medium, and large sizes. These fit babies up to 17 pounds, 24 pounds, and 31 pounds, respectively.
Material
Unlike many disposable swim diapers, Little Toes diapers do not add chemicals during processing. Since they are free of scents, latex, chlorine, and alcohol, they are ideal for babies with sensitivities and latex allergies.
Reliability
These diapers successfully hold in solid waste, even large loads. There is more space at the back of the diaper than there is in other disposable brands, providing more room for waste and limiting the risk of blowouts.
Review
The diaper slips on, saving time when you get your little one ready for the pool. It also saves time when you are cleaning up after swimming, since you can just tear away the sides. The diapers are extremely stretchy, so each size comfortably fits children of different builds.
The breathable material of the diaper reduces the risk of diaper rash and keeps babies comfortable. However, it can be difficult to tell the front of the diaper from the back, which could be problematic if your child poops in it and you have it on incorrectly.
Pros
Easy to put on

Stretchy

Breathable
Cons
Tricky to tell if it's on the right way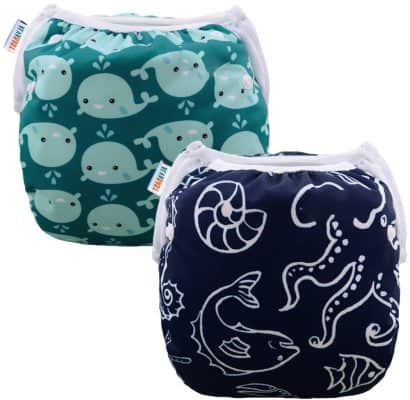 Why we like it:
This diaper's simple patterns and lightweight design make it the go-to choice for quick pool trips, and the fact that it is machine-washable makes it even more convenient.
Editor's Rating:
Type: Reusable
Comfort
The ALVABABY diaper is made completely of polyester to maximize comfort and adjust to babies of different shapes and sizes. Soft lycra bindings at the waist and leg openings are designed to cushion babies' skin. This diaper is extremely lightweight, so it keeps little ones from feeling weighed down as they move around.
Adjustability
These diapers are available only in "one size" and "large size." One size diapers accommodate little ones from newborn to two years of age, while large size diapers are designed for babies with thicker legs. The diapers are adjustable, so you can change the size of the waist and leg holes as your child grows.
Reliability
Despite how thin and lightweight this diaper is, it is extremely reliable when it comes to solid waste. They consistently keep in large bowel movements, which is a big plus for those swimming in public pools or beaches—no one wants to be the one who causes an entire pool to shut down.
Review
The variety of adjustable snaps ensures that the vast majority of parents will be able to find an option that suits their baby or toddler. Patterns vary quite a bit, providing options for those who prefer simple prints, plain colors, or fun designs. The polyester construction of the diaper enables comfortable movement without putting babies at risk for diaper blowouts. There are some sizing difficulties, as some parents of babies with chunky legs report that even the larger size of this diaper is too tight for their little ones.
Pros
Variety of adjustable snaps

Lots of patterns to choose from

Comfortable
Cons
Even the largest size of this diaper can be too small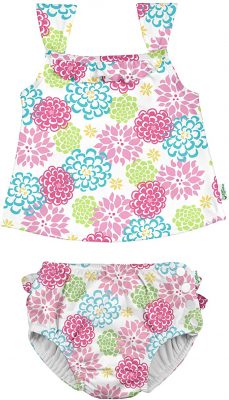 Why we like it:
All-in-one baby products make parents' lives a little easier, and this girls' tankini lets you get your little one ready for the pool in just a couple minutes. We like anything that makes it easier and less stressful to spend more time in the water.
Editor's Rating:
Type: Reusable
Sizing
This swimsuit/diaper combo is available in sizes from six months to 4T, so there are suitable options for most children young enough to still need swim diapers. However, the lack of smaller sizes may leave parents of newborns looking into other options.
Material
The suit is made with a mix of polyester and elastane, making it stretchy enough for swimming and playing. The elastic closures are snug enough to lock in physical waste.
Ease of Movement
Children are able to move freely while wearing this suit, so it's a great choice for mobile toddlers and squirmy babies. The elastic leg openings offer enough flexibility for kids to run, swim, and play.
Review
These diapers come in many different designs, so parents can find a pattern or color that suits their little ones. This all-in-one design saves space in your swim bag and limits the need for bulky backup diapers. The side snaps on the diaper make it easy to dress and undress babies before and after swimming. The suit can run small, so buyers should make sure they have up-to-date measurements for their child before ordering.
Pros
Many designs to choose from

All-in-one design

Handy side-snaps
Cons
Runs small, so check the size of your baby and maybe trade up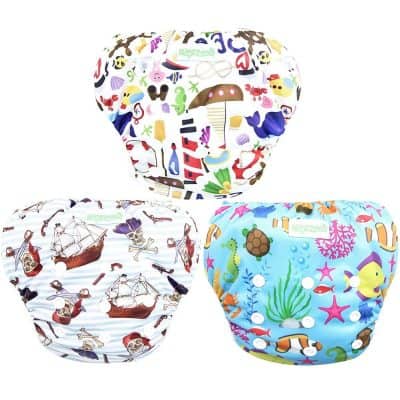 Why we like it:
The variety of patterns available makes these diapers a cute addition to any swim outfit, and the multi-layer design is ideal for keeping solid waste from making an escape in a public pool.
Editor's Rating:
Type: Disposable
Material
Unlike some swim diapers, this Wegreeco option does not have an absorbent layer, so they recommend only putting it on right before swimming or using a cloth insert if you'll be dressing your little one before getting into the water. These diapers use lightweight non-absorbent cloth to allow freedom of movement. The openings are bound with polyester elastic for comfortable movement and security.
Sizing
Wegreeco offers small and large swim diapers. Small diapers generally fit babies up to about 20 pounds, while large diapers fit children up to three years of age. The diapers are surprisingly flexible, stretching to fit both young infants and toddlers without losing elasticity.
Multi-Pack Options
One of the common drawbacks of reusable diapers is the need to launder them before you can swim again, which isn't practical for those with backyard pools or nearby beaches. This three-pack option solves that issue while still helping parents stick with reusable swim diapers. Parents of multiple children enjoy this buying option and the ability to mix and match different diapers with swimsuits.
Review
The stretchy, comfortable waistbands and leg holes let little ones move freely, which is key when they are learning to swim or just trying to get comfortable in the water. The wide variety of patterns is a big plus for parents who want cute summertime swimming photos. Furthermore, easy multi-packs are convenient for those who swim frequently or have multiple children.
However, with only two sizes available, some children may not fit comfortably in these swim diapers. This diaper also does not have an absorbable liner, which can lead to accidents if a child pees outside the pool.
Pros
Comfortable waistbands

Lots of patterns to choose from

Multi-packs
Cons
Two sizes available

No absorbent liner
Guide to Buying the Best Swim Diapers
How Often Do You Swim?
Consider how often you and your family swim while choosing which swim diapers are the right choice for your baby or toddler. Those who swim occasionally often find that disposable diapers are the way to go. The initial investment is generally lower than it is for reusable swim diapers, and it isn't quite as costly to size up when your little one grows. If you want a good disposable diaper, Huggies is always a safe pick.
For those who swim multiple times per week, though, reusable swim diapers could be the more budget-friendly option. If you change your baby just once or twice per swim trip, the cost of disposable diapers add up quickly if you're spending most of your time at the local pool or beach. Buying a few reusable diapers and laundering them after every trip could save quite a bit of money over the course of your little one's potty training years. If it's a reusable diaper you want, our top pick is an excellent choice.
What Are the Requirements at Your Local Pool or Beach?
To reduce the risk of contamination and keep patrons safe, many pools and beaches have stringent requirements for babies and toddlers who are not potty-trained. Look into the regulations at your favorite swimming spot before deciding which diapers are a good fit for you. At some pools, including many that offer swim lessons for babies and toddlers, you must have two layers of protection between your baby's swimsuit and their skin. In these cases, parents often use a disposable swim diaper and put a reusable swim diaper on top for added protection. At other facilities, just one reusable or disposable diaper is enough.
How Secure of a Seal Do You Need?
To get to the heart of the matter when discussing diapers, we have to talk about poop. You have to think about the consistency and frequency of your baby's bowel movements while choosing a diaper. Very young babies tend to have frequent, runny stools. If this is the case for your little one, you need to choose a diaper with the tightest seal possible. Otherwise, you risk a blowout that could contaminate the water and cause the entire pool to be shut down. Older babies and toddlers tend to have more solid stools, which is easily contained by most swim diapers.
You should also think about your child's diet while deciding how much protection you need. Breastfed babies tend to have looser and more frequent bowel movements, and as a result, they may need a little more protection. You could even double up on their swim diapers. Formula-fed babies generally produce more solid waste that is easily contained.
How Frequently Do You Do Laundry?
If you are still deliberating between disposable and reusable swim diapers, one major factor to keep in mind is how frequently you are able to do laundry. If you swim on a semi-regular basis and have a stock of two or three swim diapers, you have to be able to clean them promptly to be ready for your next outing. If doing the laundry is a once-a-week task for you, rather than a daily or every-other-day chore, disposables may be a more convenient option for your family.
On a similar note, think about your laundry facilities. If you have your own washer and dryer, this doesn't apply to you. If you live in a multi-family building or you do laundry at a laundromat, note that many of these facilities have strict limitations on what can and cannot be washed in their machines. Many forbid the washing of cloth or reusable diapers. If laundering reusable diapers would require a trip to another facility or hand washing, they may not be the most convenient option for you.
How Sensitive Is Your Little One's Skin?
Babies have notoriously sensitive skin, which diaper manufacturers keep in mind as they formulate new products. If your baby is susceptible to rashes and irritation from bath products, additives in diapers, or certain detergents, you should be particularly cautious when choosing a swim diaper. The combination of moisture, warmth, and prolonged exposure to the chemicals in swim diapers could create a harmful reaction on your little one's skin. If you're concerned, consider disposable options that are specifically designed to limit skin irritation. Reusable swim diapers are another option to explore, since you can control which detergent you use to clean them and limit exposure to harsh chemicals.
Does Your Baby Wear Their Swim Diaper Before Going in the Water?
The vast majority of swim diapers are not intended to hold in urine at all. This is intentional. If swim diapers absorbed water at the same rate as regular diapers, your baby would be weighed down and uncomfortable within seconds.
This is an important fact to remember as you think about your family's swim habits. If you change your baby before getting in the car or stroller and heading to the pool, the fabric of their car seat or stroller could be damaged if they pee. Because of this, you may want to consider swim diapers with absorbent liners if your baby spends time in their swim gear before getting into the water. These diapers don't absorb much, but they generally absorb enough to prevent damage to stroller seats, car seats, and parents' clothing.
If you change your little one immediately before and after swimming, you don't necessarily need diapers with absorbent liners.
Tips to Get the Most Out of Your Swim Diapers
Check your little one at least every hour, and if possible, every 30 minutes. Even though swim diapers are designed to hold in solid waste, you still want to clean up any accidents as soon as possible. The longer they sit in a soiled diaper, the greater the risk of contaminating the pool.
Verify the rules at your preferred pool or beach before each trip. If the rules change between trips, you risk leaving with a very unhappy little one if you haven't made adequate preparations.
Double-check the rules before visiting a new pool or beach. A handful of pools require a full three layers on non-potty trained swimmers because of the risk of infection-causing germs, and some completely prohibit non-potty trained children from entering the pool.
Always bring more diapers than you think you'll need. Children often unintentionally consume small amounts of chlorine-treated pool water, which may irritate their stomachs and increase the frequency of bowel movements for a short time.
Whether your family frequents pools year-round or you're just getting ready for summer, you need the right swim diapers to get the most out of your pool and beach trips. Stock up now and get ready to make unforgettable memories with your little one as they learn to love the water.