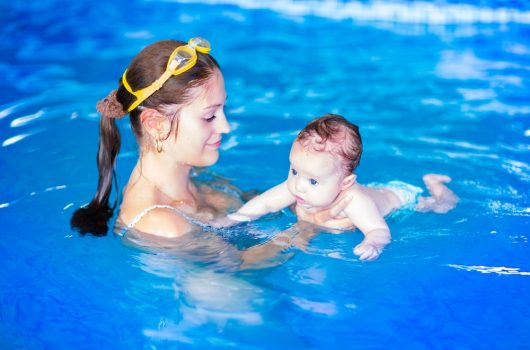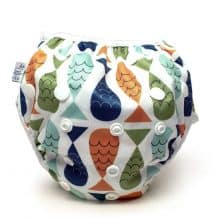 Nageuret Swim Diaper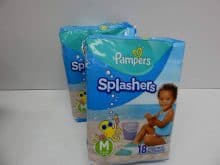 Pampers Splashers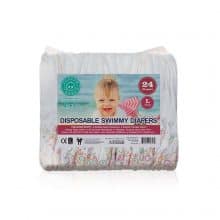 Little Toes Disposable Swimmy Diapers
Previous
Next
A day spent relaxing at the beach, waterpark, or splash pad can turn from a fantastic time to an embarrassing mess if your child doesn't have a swim diaper. Swim diapers give children and parents the confidence to enjoy their time at the pool without needing to worry about any little accidents that could ruin the fun. In this guide, we go over what swim diapers are, what to look for, and the best swim diapers available on the market today.
What to Look for in a Swim Diaper
If your little one is not potty trained or still has accidents on a regular basis, you must have them in swim diapers. Standard diapers are filled with absorbent beads, a feature that prevents a baby's clothes from stains and unpleasant smells. If you put one of these diapers in water, the absorbent beads fill up with water and become useless. Swim diapers create a seal that keeps physical waste inside, but they do not absorb liquid.
Not sure what to look for in a swim diaper? These are a few of the features we looked at when evaluating different options.
Size
A newborn baby has very different needs than a toddler, but both may need swim diapers. It's important to check reviews and see how a specific diaper works on children similar to yours in age and size. Small babies prone to soft stools may need a tighter fit to hold waste in, but the same feature on a swim diaper for toddlers could keep them from walking comfortably. Many swim diapers are available in a range of sizes, but sizing often varies quite a bit between brands.
Reusability
Most parents fall squarely into either the reusable diapers camp or the disposable diapers camp. Both have their advantages and disadvantages, but either way, double-check that you're getting what fits your family's needs and lifestyle.
Those in the market for reusable swim diapers might also want to look into adjustable swim diapers. Babies and toddlers grow so quickly that a snug-fitting swim diaper could be too tight to close just a week later.
Closure Style
Several closure styles are available on today's swim diapers, and it all comes down to parents' preferences. Pull-up diapers are often the quickest to use, since you do not have to fuss with snaps or Velcro to close it. However, if they do not fit your child perfectly, they aren't a viable choice. Diapers with snap or Velcro closures require a little bit more work when you're getting your child ready for swimming or cleaning them up after, but they can be adjusted to fit your little one's size.
With these and other factors in mind, we chose our top 9 best swim diapers.
Top 9 Best Swim Diapers 2020
Guide to Buying the Best Swim Diapers
How often do you swim?
Consider how often you and your family swim while choosing which swim diapers are the right choice for your baby or toddler. Those who swim occasionally often find that disposable diapers are the way to go. The initial investment is generally lower than it is for reusable swim diapers, and it isn't quite as costly to size up when your little one grows. If you want a good disposable diaper, Huggies is always a safe pick.
For those who swim multiple times per week, though, reusable swim diapers could be the more budget-friendly option. If you change your baby just once or twice per swim trip, the cost of disposable diapers add up quickly if you're spending most of your time at the local pool or beach. Buying a few reusable diapers and laundering them after every trip could save quite a bit of money over the course of your little one's potty training years. If it's a reusable diaper you want, our top pick is an excellent choice.
What are the requirements at your local pool or beach?
To reduce the risk of contamination and keep patrons safe, many pools and beaches have stringent requirements for babies and toddlers who are not potty-trained. Look into the regulations at your favorite swimming spot before deciding which diapers are a good fit for you. At some pools, including many that offer swim lessons for babies and toddlers, you must have two layers of protection between your baby's swimsuit and their skin. In these cases, parents often use a disposable swim diaper and put a reusable swim diaper on top for added protection. At other facilities, just one reusable or disposable diaper is enough.
How secure of a seal do you need?
To get to the heart of the matter when discussing diapers, we have to talk about poop. You have to think about the consistency and frequency of your baby's bowel movements while choosing a diaper. Very young babies tend to have frequent, runny stools. If this is the case for your little one, you need to choose a diaper with the tightest seal possible. Otherwise, you risk a blowout that could contaminate the water and cause the entire pool to be shut down. Older babies and toddlers tend to have more solid stools, which is easily contained by most swim diapers.
You should also think about your child's diet while deciding how much protection you need. Breastfed babies tend to have looser and more frequent bowel movements, and as a result, they may need a little more protection. You could even double up on their swim diapers. Formula-fed babies generally produce more solid waste that is easily contained.
How frequently do you do laundry?
If you are still deliberating between disposable and reusable swim diapers, one major factor to keep in mind is how frequently you are able to do laundry. If you swim on a semi-regular basis and have a stock of two or three swim diapers, you have to be able to clean them promptly to be ready for your next outing. If doing the laundry is a once-a-week task for you, rather than a daily or every-other-day chore, disposables may be a more convenient option for your family.
On a similar note, think about your laundry facilities. If you have your own washer and dryer, this doesn't apply to you. If you live in a multi-family building or you do laundry at a laundromat, note that many of these facilities have strict limitations on what can and cannot be washed in their machines. Many forbid the washing of cloth or reusable diapers. If laundering reusable diapers would require a trip to another facility or hand washing, they may not be the most convenient option for you.
How sensitive is your little one's skin?
Babies have notoriously sensitive skin, which diaper manufacturers keep in mind as they formulate new products. If your baby is susceptible to rashes and irritation from bath products, additives in diapers, or certain detergents, you should be particularly cautious when choosing a swim diaper. The combination of moisture, warmth, and prolonged exposure to the chemicals in swim diapers could create a harmful reaction on your little one's skin. If you're concerned, consider disposable options that are specifically designed to limit skin irritation. Reusable swim diapers are another option to explore, since you can control which detergent you use to clean them and limit exposure to harsh chemicals.
Does your baby wear their swim diaper before going in the water?
The vast majority of swim diapers are not intended to hold in urine at all. This is intentional. If swim diapers absorbed water at the same rate as regular diapers, your baby would be weighed down and uncomfortable within seconds.
This is an important fact to remember as you think about your family's swim habits. If you change your baby before getting in the car or stroller and heading to the pool, the fabric of their car seat or stroller could be damaged if they pee. Because of this, you may want to consider swim diapers with absorbent liners if your baby spends time in their swim gear before getting into the water. These diapers don't absorb much, but they generally absorb enough to prevent damage to stroller seats, car seats, and parents' clothing.
If you change your little one immediately before and after swimming, you don't necessarily need diapers with absorbent liners.
Tips to get the most out of your swim diapers
Check your little one at least every hour, and if possible, every 30 minutes. Even though swim diapers are designed to hold in solid waste, you still want to clean up any accidents as soon as possible. The longer they sit in a soiled diaper, the greater the risk of contaminating the pool.
Verify the rules at your preferred pool or beach before each trip. If the rules change between trips, you risk leaving with a very unhappy little one if you haven't made adequate preparations.
Double-check the rules before visiting a new pool or beach. A handful of pools require a full three layers on non-potty trained swimmers because of the risk of infection-causing germs, and some completely prohibit non-potty trained children from entering the pool.
Always bring more diapers than you think you'll need. Children often unintentionally consume small amounts of chlorine-treated pool water, which may irritate their stomachs and increase the frequency of bowel movements for a short time.
Whether your family frequents pools year-round or you're just getting ready for summer, you need the right swim diapers to get the most out of your pool and beach trips. Stock up now and get ready to make unforgettable memories with your little one as they learn to love the water.