Top 10 Best Baby Bassinets 2020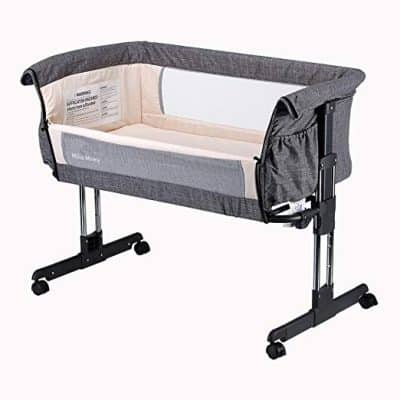 Comfort
Bedside bassinets are developed with convenience in mind. Most manufacturers realize parents don't want to be far away from their newborn at any point in time so why not design a cradle that becomes part of the adult bed? The Mika Mickey Bedside Sleeper is comfortable for both the mother and her child. Breastfeeding is made far easier. You can quickly attend to the baby when it is needed, and avoid disturbing the little one when he or she is asleep.
Safety
The Mika Micky bassinet is designed for a baby less than five months old and under 33 lbs. It offers some flexibility in terms of baby sizes until the child is able to start pushing up on their little hands or knees. Then you will need to upgrade to something more secure. Until then, the cradle is really stable with a comfortable mattress and sleeping board.
Convenience
The Mika Micky Bedside Sleeper can get switched easily from a sleeper to a traditional bassinet. It is a nice feature that makes the unit very flexible for newborns. Its ability to attach to most beds with just two fastening straps makes setup quick and effortless. The cradle is fairly lightweight so you can travel with it as well if you need, but there are more portable options on the market.
Verdict
The Mika Micky Bedside Sleeper is a great all-in-one product. It switches from sleeper to bassinet and easily hooks onto an adult bed. The seven different height positions accommodate most beds. There is also an easy-to-open side panel to quickly attend to your baby when it's needed. Overall, it's a really great universal sleeper/bassinet.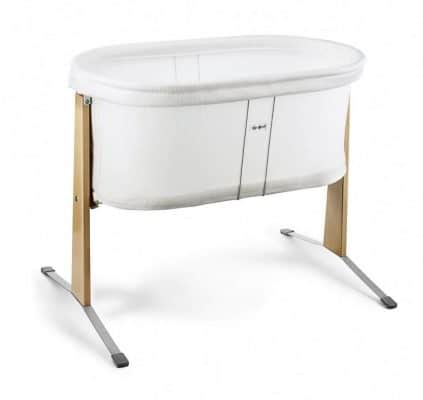 Comfort
The sides of this cradle are soft to keep your baby comfortable every time they are in the bassinet. It features gentle motions that relax your baby and soothes them to sleep. The spring suspension system assures smooth movement in all directions.
The breathable mesh on the sides of this cradle will keep your baby cool during hot weather conditions for comfort. It has a canopy that blocks your baby from excess light to allow them to sleep peacefully.
Safety
The BabyBjorn Cradle is easy to move around the house. It is also low in height and has see-through sides so you can keep an eye on your baby. The breathable mesh guarantees you do not have to worry about your baby suffocating in their sleep.
The cradle does not have any bars on the side which could trap your baby's feet and hands. Its fabric is not only safe to your baby's skin, but also harmless in case they chew it.
Convenience
When it comes to moving the bassinet you won't have to worry since it is lightweight. Also, the steel feet do not damage your floor. The fabric of the cradle is machine washable, and the mattress is removable and waterproof for easy cleaning. The canopy also removes for cleaning purposes.
Verdict
If you are looking for a baby bassinet for your newborn, the BabyBjorn Cradle is a solid option. It is low in height, provides see-through sides, and is sturdy. The bassinet is also easy to clean and maintain.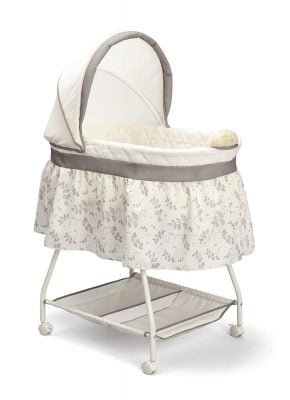 Comfort
The Delta Children Sweet Beginnings bassinet offers a canopy to keep your child from excess light to ensure a comfortable sleep. You can move the canopy either upwards or downwards as you prefer. The polyester pad gives your child a stable and firm place to sleep for comfort. Additionally, your baby will like the pre-loaded lullabies that soothe them to sleep.
Safety
The wheels of this bassinet are lockable to ensure sturdiness. The cradle also features mesh panels that help with the airflow, but they are not as well designed as other bassinets' offerings. Overall though, it is a safe unit with a stellar reputation among parents that have used the bassinet in the past.
Convenience
The Delta Children Sweet Beginnings includes a storage basket with two sections for baby essentials. The pram has four wheels so you can move with your baby from one room to another hassle-free. It features a nightlight for your convenience when you want your baby to sleep. The nightlight and sound features are all controlled with one button.
The height of the bassinet allows you to fit it by your bedside for easy access in the middle of the night. The unit also takes up very little area making it ideal for homes with limited space. It's a little more time-consuming that other Bassinets to assemble, taking around 30 minutes. It's easy to clean though with a damp cloth.
Verdict
The Delta Children Sweet Beginnings is a dependable choice for newborns. The lullabies and the soothing nightlight are perfect when you want to put your baby to sleep. It is lightweight for when you need to move it from one room to another, yet still sturdy enough to support a baby up to 15 lbs.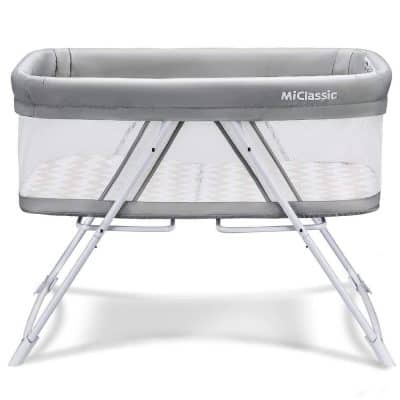 Comfort
The MiClassic 2in1 bassinet was produced for parents first and foremost because it has so much flexibility for a bassinet. However, that doesn't mean it is not comfortable for the little one as well. The best feature of the product is that you can make the bassinet either stationary or rocking. The two different options are very helpful for calming down an irritable baby and helping get your son or daughter to sleep sooner.
Safety
Of course child safety is priority number one with any baby product and the bassinet passes all the necessary checks. The breathable mesh that surrounds the cradle helps with airflow and also prevents your child from choking. You can easily communicate with your baby while in the bassinet with the see-through mesh. The unit weighs 16 pounds.
Convenience
The MiClassic 2in1 bassinet was designed with absolute convenience in mind. The ability to quickly switch the bassinet from rocking to stationary is an outstanding feature that sets this bassinet apart. Additionally, the unit folds up in just a second making it very fluid for transportation purposes. Those that live in tight quarters will like the fact you can quickly store away the bassinet when not in use in the included carry bag.
Verdict
The MiClassic 2in1 Stationary & Rock Bassinet is one of the best bassinets on the market in 2020. It is great value as it is far cheaper than a number of other cradles available online. Although it's not particularly attractive, the 2in1 option for how to soothe your baby in the crib, as well as the one-second folding option is terrific. The bassinet strikes a great balance between comfort and being easy to store and move around with.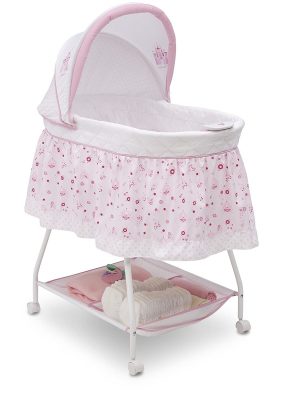 Comfort
Thanks to the comfortable mattress and features like soothing sounds and vibration, your little princess will sleep comfortably in the Disney Ultimate Bedside Bassinet. There is also a gliding base so parents can gently rock their babies to sleep with a light touch.
Safety
This bassinet was made as part of a licensing agreement between Disney and Delta Children, one of the leading manufacturers of baby furniture. This means that parents can be confident that their baby's safety is the top priority. This bassinet is also JPMA certified and meets or exceeds all applicable safety standards worldwide.
Convenience
The adorable Disney Baby Ultimate Bedside Bassinet has convenient wheels with secure locks that make moving around the house a breeze. It can also buy you a lot of extra free time with the calming nightlight, music, and vibration that can soothe your baby for you. There is also a large storage shelf located in the base of the bassinet.
Verdict
The Disney Baby Ultimate Bedside Bassinet is an easy buy for parents who want to create magical moments at home. There are a bunch of features that make life easier for parents and babies alike. Providing more than just a place for your infant to sleep, the soothing features are a big help when dealing with fussy babies. This is the perfect at-home bassinet for your little princess.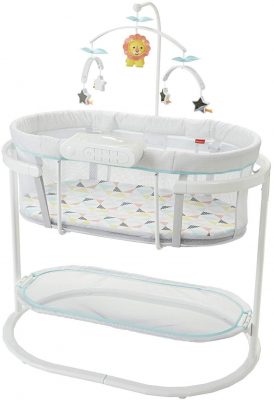 Comfort
The gentle swaying motion of the Fisher-Price Soothing Motions Bassinet can calm down even the crankiest baby. We also liked how comforting the included light projection unit works as a relaxing distraction for your baby alongside the nightlight. When your baby is ready to go to sleep, you can engage the lock in order to minimize the swaying motion while they dream. Sadly though, the lock does not stop the bassinet from moving completely. Best of all, this bassinet includes a mobile hanging above the basket to give your child something to dreamily focus on as they rest.
Safety
The mesh sides of this bassinet create excellent airflow and minimize the risk of suffocation should the baby roll over when you are not watching. The projector also acts as a soothing nightlight in order to keep parents safe while checking on the baby.
Convenience
With 30 minutes of sounds and music to accompany the vibration function, the Soothing Motions Bassinet from Fisher-Price can comfort babies when you don't have the energy or the free hands to pick them up. Because the gentle swaying motion comes from the unique hanging design of the basket, the bassinet does not need to be pushed in order to swing back and forth.
Verdict
Parents trust Fisher-Price to provide quality baby products that are built to last. The Soothing Motions Bassinet largely lives up to that promise by providing a safe sleeping area and lots of extras for both babies and parents to enjoy. Parents we spoke to also liked the included nightlight/projector that can be removed and used even after your child has outgrown the bassinet.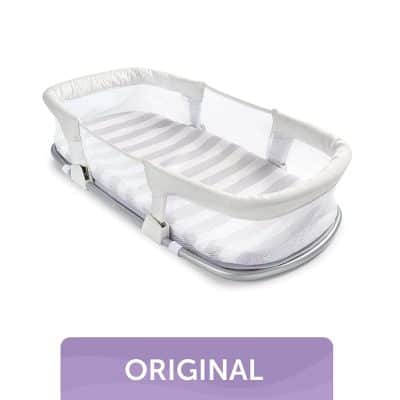 Comfort
The By Your Side Bassinet can provide a comfortable place for your baby to sleep in your own bed, but it can also fold up for easy storage and transport when not in use. The padded exterior is lined with a soft, breathable mesh for great airflow and visibility. This bassinet is comfortable for your baby until they reach about 30 pounds or are able to begin pushing up on hands and knees.
Safety
Parents can be sure that the SwaddleMe By Your Side Sleeper is safe for their babies. The bassinet exceeds CSPA standards and there is plenty of room in this large bassinet for baby to sleep safely and comfortably.
Convenience
The SwaddleMe By Your Side Sleeper is one of the most convenient folding bassinets we reviewed. You can open and fold this bassinet in less than a second. There is also an included carry bag for easy transportation. At just under 11 pounds, this bassinet is easy to take with you anywhere.
Verdict
The SwaddleMe By Your Side Sleeper is perfect for parents who want to sleep close to their baby while having a safe barrier. The mattress is comfortable and the mesh lining lets you see your baby from any angle, even from across the room. This bassinet is also ultra-portable. We love how easy it is to set up and put away. This bassinet is great at home or on-the-go.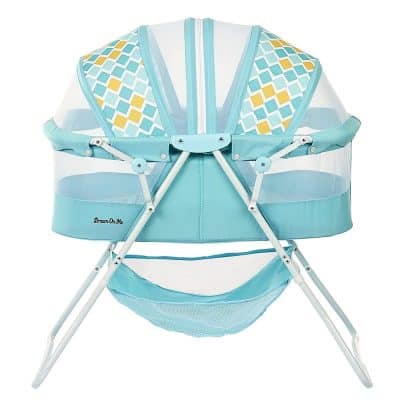 Comfort
The Dream On Me bassinet features two adjustable canopies to fully shield your little one from light and the elements for a comfortable sleep. It also offers a soft sleeping area and allows gentle motions that calm your baby. The breathable sides ensure your baby is cool even in hot weather.
Safety
The see-through sides allow you to watch over your baby with ease and also help with airflow so your baby will breathe easier. It is strong and can hold a child of up to 25 pounds without breaking meaning you can safely use it for a larger baby.
Convenience
The bassinet folds quickly and is lightweight thus making it a solid travel choice. The light frame also allows you to move with your baby from room to room. The included storage basket lets you keep all that you need to soothe your baby within an arm's reach.
The Dream On Me bassinet is sold in about eight different colors so you can find one that matches your home design. You will also love that the unit is easy to set up. It also does not take up much space so the bassinet works well in smaller homes, condos, and apartments too.
Verdict
If you are looking for a bassinet that doesn't take up much space, the Dream On Me Karley Bassinet is a top selection. The unit features two canopies for full coverage making it perfect if your house has pets or insects that can disturb your little one while sleeping. The cradle is also lightweight and easy to fold.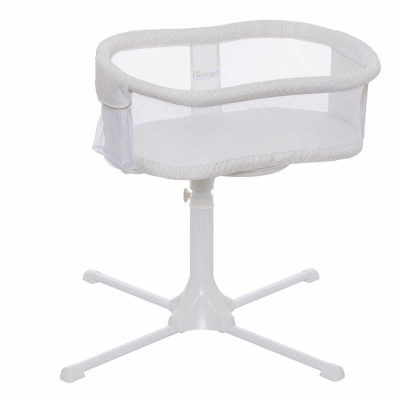 Comfort
The bassinet features mesh walls that allow free airflow into the bassinet to keep your baby comfortable even during hot weather. It comes with a comfortable thick mattress. The bassinet also has your comfort in mind. It allows you to tend to your baby without getting out of bed.
Safety
The Halo Swivel bassinet safely tucks underneath your bed so you can easily watch over your baby during the night. The mesh walls offer your baby maximum breathability to ensure they are safe when sleeping. The sidewall has a locking mechanism when you do not want it to lower down. Its sleeping pad secures to the bassinet perfectly to ensure your little one's fingers are not stuck.
Convenience
The Halo Swivel bassinet was designed with your convenience in mind. First, it features a four-point height-adjustable mechanism. It fits most beds between the heights of 24 to 34 inches. You will appreciate the fact the bassinet rotates fully in all directions. The rotating mechanism also comes in handy when you want to get out of bed.
The bassinet features sidewalls that you can pull down with ease when picking up your baby at night from the comfort of your bed. The product is designed with mesh pockets where you can keep your baby's essentials such as toys. It's also very easy to clean.
Verdict
If you are looking for a cradle that allows you to safely co-sleep with your little one, the Halo Swivel Sleeper Bassinet is an excellent choice. It slides beneath your bed and rotates 360 degrees so you can always have your baby nearby. The bassinet also provides flexible sidewalls that allow you to pick up your baby without effort, which is ideal for mothers who have undergone a C-section.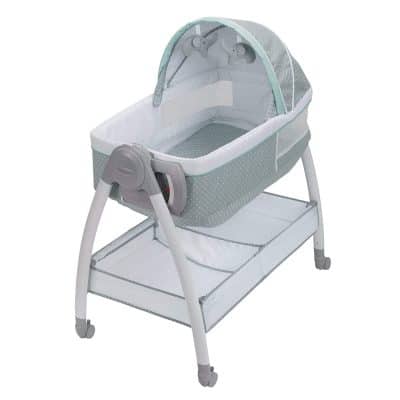 Comfort
When it comes to soothing your baby, the Graco Dream Suite bassinet offers two vibrations so you can choose one that comfortably calms your baby. It also features a canopy that provides your baby shade from the light as your son or daughter sleeps. Your baby will love the included toys that entertain them whenever they are in the bassinet. The side mesh keeps your baby from overheating so it is appropriate for all four seasons of the year.
Safety
The Graco Dream Suite bassinet features four wheels so you can always take your baby with you wherever you go for maximum safety. The wheels are lockable to ensure sturdiness when you need it. The mesh sides let you see your baby clearly and also keeps them from suffocating.
Convenience
The Graco Dream Suite bassinet presents you with the opportunity to change your baby's diaper as well as put them to sleep all in one place. The changing section grows with your baby and is usable until your baby is 30 pounds. The crib is sold in different colors so you can pick one that complements your home décor.
The bassinet also features a huge storage basket so you can have all you need within easy reach. It is small in size, therefore, fits perfectly in your bedroom meaning your baby will always be close to you. The mattress cover is detachable and is machine washable.
Verdict
If you are working on a budget and looking for a reliable bassinet for your three-month-old baby or younger, the Graco Dream Suite is a universal selection. The ability to also use the product as a changing station makes it really flexible and practical for a number of different reasons.