Just like the rest of us, babies love to sleep. That's why one of the most important things you can do for your little one is to make sure that they have a comfortable and safe place to rest. Creating a cozy spot for your baby to sleep is one of the most important steps to take before you welcome a child into your home.
When we think about the typical nest for a baby, we think about a bassinet. To help save you time and to find the perfect bassinet for you and your growing baby, we've put together a list of the best baby bassinets in 2021.
Choosing the Perfect Bassinet for Your Baby
Getting one of the best baby bassinets is vital to providing safety and comfort for your child. Here are some details to consider before choosing a bassinet.
Mattress
A baby bassinet's mattress needs to be thin and firm. While parents might think that a soft mattress may be cozier, that can be a dangerous mistake as a hard mattress keeps your baby safe from suffocation.
Walls
Bassinets are quite small and your baby is likely to toss from side to side when sleeping. So you may want to pick a bassinet with mesh sides in order to allow your baby to breathe in case they roll on the side. Also, a meshed wall allows air to flow into the bassinet keeping your baby cool in any season.
Portability
Nothing guarantees safety better than having an eye on your baby at all times. You will need to pick a bassinet that is easy to carry around with you. Consider one with wheels to make it easy for you to move from place to place in the house.
Storage
Babies need a lot of essentials such as toys to soothe them, diapers, clean clothes, and more. Having everything on hand always comes in handy. Pick a bassinet that features a storage basket or mesh pockets to allow you to keep essentials within easy reach.
Rocking
A rocking bassinet is perfect when it comes to soothing your baby. If you want an extra hand to help calm your baby, then pick one that gently rocks back and forth using an electric motor. Different bassinets offer varying levels of rocking, and some will offer more than one speed.
Canopy
For the quality of your sleep and that of your baby, a canopy offers shade from excess light that could wake your little one. Some bassinets even feature two canopies to keep away light from all angles.
Additional Features
Ensure you get the best value by making the most out of the bassinet's accessories. Consider features such as a toy bar to help calm your baby and wheels to offer quick transport. Picking a bassinet that includes bedsheets and a sleeping pad is also convenient.
With all of that in mind, let's get into our picks for the best bassinets for every family or family-to-be.
Top 10 Best Baby Bassinets 2023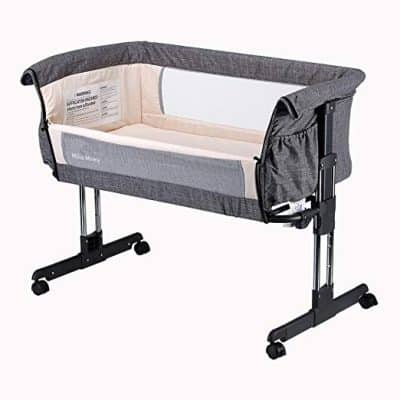 Why we like it:
The Mika Mickey Bedside Sleeper is a bassinet that integrates seamlessly into the edge of your bed, making it far easier to attend to your baby at any hour of the night. This bassinet makes breastfeeding easier and less stressful.
Editor's Rating:
Comfort
Bedside bassinets are developed with convenience in mind. Most manufacturers realize parents don't want to be far away from their newborn at any point in time so why not design a cradle that becomes part of the adult bed? The Mika Mickey Bedside Sleeper is comfortable for both the mother and her child. Breastfeeding is made far easier. You can quickly attend to the baby when it is needed, and avoid disturbing the little one when he or she is asleep.
Safety
The Mika Micky bassinet is designed for a baby less than five months old and under 33 lbs. It offers some flexibility in terms of baby sizes until the child is able to start pushing up on their little hands or knees. Then you will need to upgrade to something more secure. Until then, the cradle is really stable with a comfortable mattress and sleeping board.
Convenience
The Mika Micky Bedside Sleeper can get switched easily from a sleeper to a traditional bassinet. It is a nice feature that makes the unit very flexible for newborns. Its ability to attach to most beds with just two fastening straps makes setup quick and effortless. The cradle is fairly lightweight so you can travel with it as well if you need, but there are more portable options on the market.
Verdict
The Mika Micky Bedside Sleeper is a great all-in-one product. It switches from sleeper to bassinet and easily hooks onto an adult bed. The seven different height positions accommodate most beds. There is also an easy-to-open side panel to quickly attend to your baby when it's needed. Overall, it's a really great universal sleeper/bassinet with its lone drawback being it's not that portable—so if you plan to be on the move a lot, you might want to check out something like the easily foldable MiClassic 2in1 Stationary & Rock Bassinet.
Pros
Switches from sleeper to bassinet

Attached to most standard beds

Easy-open side panel so you can reach your child quickly

Great for mothers who are breastfeeding newborns

Stable and comfortable bedding area
Cons
It is not the most portable bassinet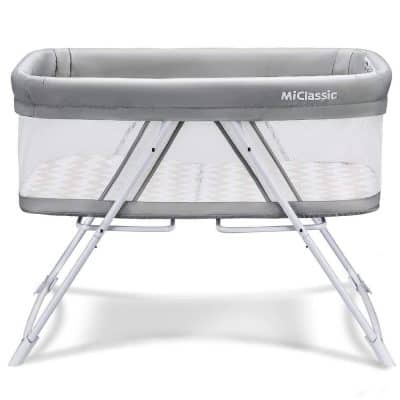 Why we like it:
The MiClassic 2in1 bassinet is exceptionally easy to fold up, transport, and store making it more versatile than other options on this list.
Editor's Rating:
Comfort
The MiClassic 2in1 bassinet was produced for parents first and foremost because it has so much flexibility for a bassinet. However, that doesn't mean it is not comfortable for the little one as well. The best feature of the product is that you can make the bassinet either stationary or rocking. The two different options are very helpful for calming down an irritable baby and helping get your son or daughter to sleep sooner.
Safety
Of course, child safety is priority number one with any baby product, and this bassinet passes all the necessary checks. The breathable mesh that surrounds the cradle helps with airflow and also prevents your child from choking. You can easily communicate with your baby while in the bassinet with the see-through mesh. The unit weighs 16 pounds.
Convenience
The MiClassic 2in1 bassinet was designed with absolute convenience in mind. The ability to quickly switch the bassinet from rocking to stationary is an outstanding feature that sets this bassinet apart. Additionally, the unit folds up in just a second making it very fluid for transportation purposes. Those that live in tight quarters will like the fact you can quickly store away the bassinet when not in use in the included carry bag.
Verdict
The MiClassic 2in1 Stationary & Rock Bassinet is one of the best bassinets on the market in 2021. It is great value as it is far cheaper than a number of other cradles available online. Although it's not particularly attractive like a more premium bassinet might be, the 2in1 option for how to soothe your baby in the crib, as well as the one-second folding option is terrific. The bassinet strikes a great balance between comfort and being easy to store and move around with.
Pros
Switch between stationary or rocking modes

Takes a second to fold or set up the bassinet

Easy to store for parents limited on space

Breathable mesh is a great safety feature

Very affordable unit with lots of value
Cons
Not very attractive compared to others on this list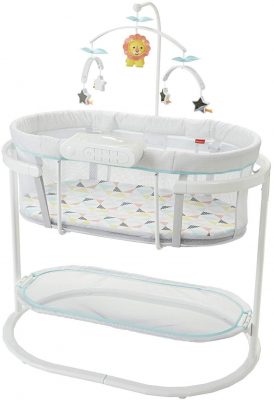 Why we like it:
A solid bassinet from one of the most trusted manufacturers of baby products, this bassinet has multiple features to help soothe your baby to sleep.
Editor's Rating:
Comfort
The gentle swaying motion of the Fisher-Price Soothing Motions Bassinet can calm down even the crankiest baby. We also liked how comforting the included light projection unit works as a relaxing distraction for your baby alongside the nightlight. When your baby is ready to go to sleep, you can engage the lock in order to minimize the swaying motion while they dream. Sadly though, the lock does not stop the bassinet from moving completely.
Best of all, this bassinet includes a mobile hanging above the basket to give your child something to dreamily focus on as they rest.
Safety
The mesh sides of this bassinet create excellent airflow and minimize the risk of suffocation should the baby roll over when you are not watching. The projector also acts as a soothing nightlight in order to keep parents safe while checking on the baby.
Convenience
With 30 minutes of sounds and music to accompany the vibration function, the Soothing Motions Bassinet from Fisher-Price can comfort babies when you don't have the energy or the free hands to pick them up. Because the gentle swaying motion comes from the unique hanging design of the basket, the bassinet does not need to be pushed in order to swing back and forth.
Verdict
Parents trust Fisher-Price to provide quality baby products that are built to last. The Soothing Motions Bassinet largely lives up to that promise by providing a safe sleeping area and lots of extras for both babies and parents to enjoy. Parents we spoke to also liked the included nightlight/projector that can be removed and used even after your child has outgrown the bassinet.
Pros
Includes overhead mobile with fun toys

Unique design creates a calming swaying motion

The removable projector can be used even after your baby outgrows the bassinet
Cons
The lock mechanism does not completely stop the bassinet from swaying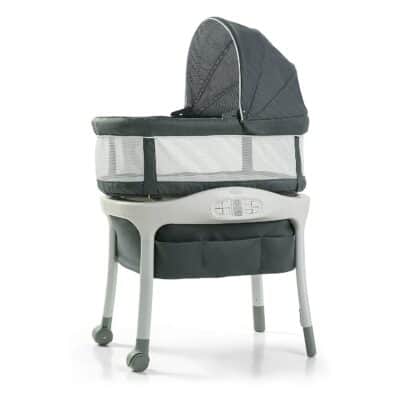 Why we like it:
This clever bassinet comes with a sensor that gently rocks your baby back to sleep if it detects crying.
Editor's Rating:
Comfort
With a relatively firm surface, this might not be the most comfortable surface for adults, but baby bassinets shouldn't really be made with a soft bed surface. A firm surface should also keep your baby well away from any risk of suffocation. Thankfully though, it has a fantastic mesh sides that help temperature regulation, meaning your baby should stay comfortable no matter the weather.
Safety
Mesh sides mean that you'll be able to see your baby without startling them or waking them, while a solid surface means that there's very low risk of suffocation. Some parents are concerned about the motor-based rocking feature, but even the highest setting is quite gentle. It does, however, require batteries.
Convenience
Convenience is the biggest selling point with this bassinet, as the idea behind the product is a crib that automatically soothes your baby by gently rocking the crib without you having to intervene. It's a parenting philosophy that is called self-soothing, and yields for better, longer sleep for both babies and parents. Unfortunately, though, it doesn't particularly help soothe your baby if they need to eat or be changed.
It also might not be worth the price for parents who don't want a tech-enhanced bassinet, so if you're not interested in the smart features you might prefer a simpler alternative.
Verdict
If you're thinking about a crib that can aid with a self-soothing parenting philosophy, this crib can help your baby learn to go back to sleep. Self-soothing can have benefits for bedtimes almost into adolescence.
Pros
Cry detector automatically detects upset babies

Motor can rock a baby to sleep

Firm mat is safe for babies

Mesh sides are good for checking on your child
Cons
Motor doesn't address most common sources of crying

Requires batteries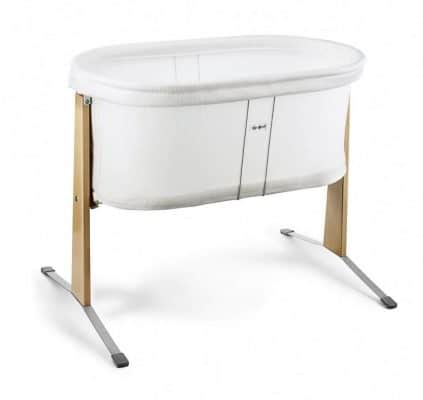 Why we like it:
The BabyBjorn Cradle features gentle motions that soothe your baby. It comes with breathable mesh fabrics for your baby's safety. This bassinet is our favorite premium option.
Editor's Rating:
Comfort
The sides of this cradle are soft to keep your baby comfortable every time they are in the bassinet. It features gentle motions that relax your baby and soothes them to sleep. The spring suspension system assures smooth movement in all directions.
The breathable mesh on the sides of this cradle will keep your baby cool during hot weather conditions for comfort. It has a canopy that blocks your baby from excess light to allow them to sleep peacefully.
Safety
The BabyBjorn Cradle is easy to move around the house. It is also low in height and has see-through sides so you can keep an eye on your baby. The breathable mesh guarantees you do not have to worry about your baby suffocating in their sleep.
The cradle does not have any bars on the side that could trap your baby's feet and hands. Its fabric is not only safe to your baby's skin, but also harmless in case they chew it.
Convenience
When it comes to moving the bassinet you won't have to worry since it is lightweight. Also, the steel feet do not damage your floor. The fabric of the cradle is machine washable, and the mattress is removable and waterproof for easy cleaning. The canopy also removes for cleaning purposes.
Verdict
If you are looking for a baby bassinet for your newborn, the BabyBjorn Cradle is a solid option. It is low in height, provides see-through sides, and is sturdy. The bassinet is also easy to clean and maintain.
Pros
Easy to clean

Provides mesh sides

Purchase includes a canopy

Lightweight yet sturdy
Cons
It is very price for a bassinet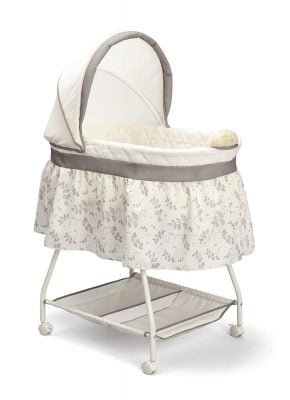 Why we like it:
The Delta Children Sweet Beginnings bassinet is sold with an adjustable canopy that protects your little one from excess light when sleeping. We like the storage basket at the bottom that keeps all your baby's essentials within easy reach.
Editor's Rating:
Comfort
The Delta Children Sweet Beginnings bassinet offers a canopy to keep your child from excess light to ensure a comfortable sleep. You can move the canopy either upwards or downwards as you prefer. The polyester pad gives your child a stable and firm place to sleep for comfort. Additionally, your baby will like the pre-loaded lullabies that soothe them to sleep.
Safety
The wheels of this bassinet are lockable to ensure sturdiness. The cradle also features mesh panels that help with the airflow, but they are not as well designed as other bassinets' offerings. Overall though, it is a safe unit with a stellar reputation among parents that have used the bassinet in the past.
Convenience
The Delta Children Sweet Beginnings includes a storage basket with two sections for baby essentials. The pram has four wheels so you can move with your baby from one room to another hassle-free. It features a nightlight for your convenience when you want your baby to sleep. The nightlight and sound features are all controlled with one button.
The height of the bassinet allows you to fit it by your bedside for easy access in the middle of the night. The unit also takes up very little floor space, making it ideal for small homes. It's a little more time-consuming than other bassinets to assemble, taking around 30 minutes. It's easy to clean though with a damp cloth.
Verdict
The Delta Children Sweet Beginnings is a dependable choice for newborns. The lullabies and the soothing nightlight are perfect when you want to put your baby to sleep. It is lightweight for when you need to move it from one room to another, yet still sturdy enough to support a baby up to 15 lbs.
Pros
Easy to move within the house

Affordable bassinet

Built with an adjustable canopy

Includes large storage baskets at the bottom

Offers soothing lullabies and nightlight
Cons
The mesh panels could be designed better for airflow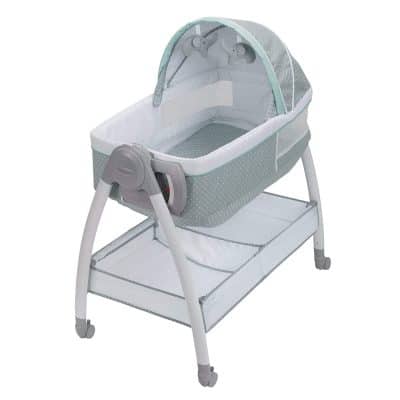 Why we like it:
The Graco Dream Suite offers you a bassinet as well as a changing station. It's a multifunctional bassinet that also comes with free baby toys.
Editor's Rating:
Comfort
When it comes to soothing your baby, the Graco Dream Suite bassinet offers two vibrations so you can choose one that comfortably calms your baby. It also features a canopy that provides your baby shade from the light as your son or daughter sleeps. Your baby will love the included toys that entertain them whenever they are in the bassinet. The side mesh keeps your baby from overheating, making it safe and comfortable for all four seasons of the year.
Safety
The Graco Dream Suite bassinet features four wheels so you can always take your baby with you wherever you go for maximum safety. The wheels are lockable to ensure sturdiness when you need it. The mesh sides let you see your baby clearly and also keeps them from suffocating.
Convenience
The Graco Dream Suite bassinet presents you with the opportunity to change your baby's diaper as well as put them to sleep all in one place. The changing section grows with your baby and is usable until your baby is 30 pounds. The crib is sold in different colors, so you can pick one that complements your home décor.
The bassinet also features a huge storage basket so you can have all you need within easy reach. It is small in size so it fits perfectly in your bedroom, meaning your baby will always be close to you no matter what your living space is like. The mattress cover is detachable and is machine washable.
Verdict
If you are working on a budget and looking for a reliable bassinet for your three-month-old baby or younger, the Graco Dream Suite is a universal selection. The ability to also use the product as a changing station makes it really flexible and practical for a number of different reasons.
Pros
Switches from a bassinet to a changing area at a simple button push

Comes with a storage basket

Features a dual speed vibration

Easy to move from room to room

Cradle provides a canopy
Cons
Some people find the mattress too hard for their baby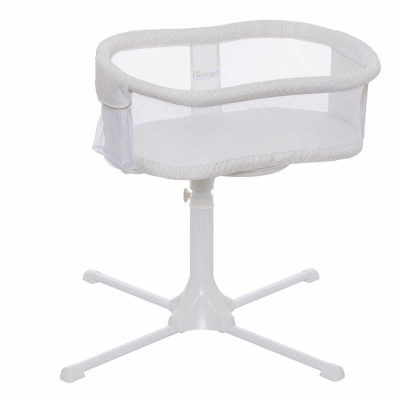 Why we like it:
The Halo Swivel bassinet allows you to sleep with your baby side by side. It's adjustable and comes with an included mattress.
Editor's Rating:
Comfort
The bassinet features mesh walls that allow free airflow into the bassinet to keep your baby comfortable even during hot weather. It comes with a comfortable thick mattress. The bassinet also has your comfort in mind. It allows you to tend to your baby without getting out of bed.
Safety
The Halo Swivel bassinet safely tucks underneath your bed so you can easily watch over your baby during the night. The mesh walls offer your baby maximum breathability to ensure they are safe when sleeping. The sidewall has a locking mechanism when you do not want it to lower down. Its sleeping pad secures to the bassinet perfectly to ensure your little one's fingers are not stuck.
Convenience
The Halo Swivel bassinet was designed with your convenience in mind. First, it features a four-point height-adjustable mechanism. It fits most beds between the heights of 24 to 34 inches. You will appreciate the fact the bassinet rotates fully in all directions. The rotating mechanism also comes in handy when you want to get out of bed.
The bassinet features sidewalls that you can pull down with ease when picking up your baby at night from the comfort of your bed. The product is designed with mesh pockets where you can keep your baby's essentials and toys. It's also very easy to clean.
Verdict
If you are looking for a cradle that allows you to safely cosleep with your little one, the Halo Swivel Sleeper Bassinet is an excellent choice. It slides beneath your bed and rotates 360 degrees so you can always have your baby nearby. The bassinet also provides flexible sidewalls that allow you to pick up your baby without effort, which is ideal for mothers who have undergone a C-section.
Pros
Cradle fits to most size beds

It tucks under your bed

Rotates 360 degrees

Comes with breathable side panels
Cons
It is heavy (46.9 pounds) thus hard to move around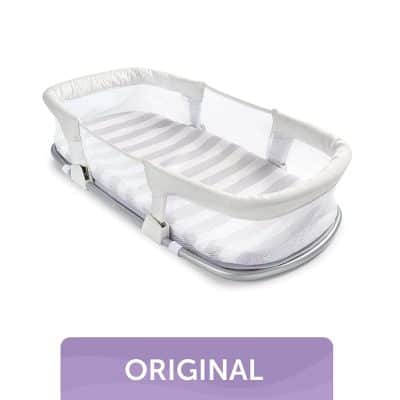 Why we like it:
Our top pick for parents who want to share their beds with their baby, the By Your Side sleeper by SwaddleMe folds totally flat for storage or travel.
Editor's Rating:
Comfort
The By Your Side Bassinet can provide a comfortable place for your baby to sleep in your own bed, but it can also fold up for easy storage and transport when not in use. The padded exterior is lined with a soft, breathable mesh for great airflow and visibility. This bassinet is comfortable for your baby until they reach about 30 pounds or are able to begin pushing up on hands and knees.
Safety
Parents can be sure that the SwaddleMe By Your Side Sleeper is safe for their babies. The bassinet exceeds CSPA standards, and there is plenty of room in this large bassinet for baby to sleep safely and comfortably.
Convenience
The SwaddleMe By Your Side Sleeper is one of the most convenient folding bassinets we reviewed. You can open and fold this bassinet in less than a second. There is also an included carry bag for easy transportation. At just under 11 pounds, this bassinet is easy to take with you anywhere.
Verdict
The SwaddleMe By Your Side Sleeper is perfect for parents who want to sleep close to their baby while having a safe barrier. The mattress is comfortable and the mesh lining lets you see your baby from any angle, even from across the room. This bassinet is also ultra-portable. We love how easy it is to set up and put away. This bassinet is great at home or on-the-go.
Pros
Takes only one second to open or fold

Creates a safe sleeping surface for your baby on the bed

Sides lined with breathable see-through mesh
Cons
Takes up a good amount of space on your bed

The mattress pad is not removable for cleaning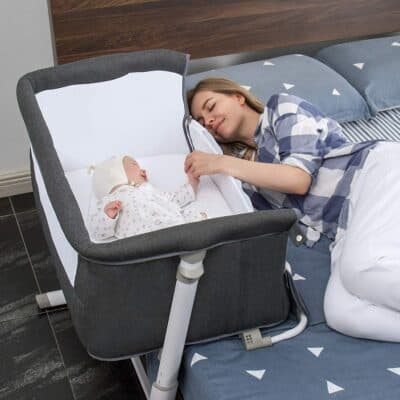 Why we like it:
This convenient sleeper sets up perfectly next to your bed, allowing you to sleep near your baby while simultaneously keeping them safe, cool, and in their own space.
Editor's Rating:
Comfort
While the sleeping surface is about average in terms of comfort, temperature regulation, and firmness, the comfort factor really comes when considering how this crib allows you to be close to your baby. It's freestanding, but the mattress rests against the bed, creating a connected but separate space for your baby.
Safety
There's an increasingly popular trend for parents to sleep with their babies, something that's debated in health circles but can often create psychological comfort for babies and help parents feel more connected with their children. Still, though, any time your baby is sleeping in your bed, there's a higher risk of suffocation for your baby.
Convenience
There are two sides to the convenience story when using this crib. First of all, your baby is right there if you have any problems, meaning you can change or soothe your baby immediately. On the other hand, your baby is right there all the time, meaning you're dealing with their fussiness all night, every night.
Verdict
If you're a parent that's interested in experimenting with cosleeping without the fuss or potential hazards of the baby physically sleeping in your bed, this is a compelling bassinet.
Pros
Comfortable and cool sleeper enables cosleeping safely

Helps you connect with your baby

Immediate access to your baby
Cons
Slightly more dangerous than a stand-alone bassinet
Best Baby Bassinets Buying Guide
It's not only important to have a safe bassinet, but also one that's comfortable for your child. There are many infant sleep-related deaths each year and every parent wants to do absolutely everything in their power to avoid such a tragic scenario.
Types of Bassinets
Let's start with the types of bassinets, your choice of which will have the biggest effect on how you and your baby sleep through the night.
Co-Sleeper Bassinets
The Co-Sleeper bassinet is designed to allow you to sleep with your baby as close to you as possible. It tucks under your bed mostly to ensure it takes up little space yet also brings the baby closer to you during the night hours. If you want this type of bassinet, consider one with an adjustable stand that allows you to bring your baby to eye level like the Halo Swivel Bassinet.
Freestanding Bassinets
The freestanding bassinet is able to be on its own feet – literally. Freestanding bassinets can go beside a bed, but they are bulkier compared to co-sleepers and takes up a lot of space. The sidewalls are often high, and you will need to get out of bed to tend to your baby. Most of these types of cradles are built with wheels so you can push them around.
Multipurpose Bassinets
As the name implies, the type of bassinet can serve multiple purposes. For example, one product can serve as both a bassinet and playpen. Multipurpose bassinets are practical because they can support a variety of size babies and ages. Some even feature an onboard changing station.
Factors to Consider When Choosing a Bassinet
There's no one 'best' bassinet, only different ones for different babies and families. Consider the following when shopping for a baby bassinet:
Weight
Bassinets are not universal, so you will have to consider your baby's weight before selecting one. Manufacturers often give maximum and minimum weight limits that you should observe for safety reasons. Also, consider your baby's age. Check the manufacturer's recommendation for both to make sure the bassinet is the correct fit.
Placement
The area you intend to place the bassinet determines a lot of things. It helps you select a type of bassinet that is most appropriate for your home. If you are considering placing the crib in the nursery a large-sized bassinet is okay. If you plan on having it by your bedside, consider one that is smaller in size. Co-sleepers work really well for bedrooms that are shared with the adults. It is recommended that parents sleep with their kids in the same room, at least in the early days, so maybe that's something you want.
Your Baby's Height
Is your baby tall enough to climb over the bassinet? Once your baby can stand and starts moving, you should consider transitioning to a crib or playpen. Some bassinets are multipurpose and offer both bassinet and a playpen all in one and will grow with your child for convenience.
Easy to Move
If the main purpose of getting the bassinet is to offer your baby a place to sleep and rest while at home, consider one with wheels such as out our top pick or our best budget pick that allow you to move it from room to room within the house with ease. If the bassinet does not feature wheels you may want to consider a lightweight, foldable product that's easier to haul around when not in use.
Cleaning
Babies are quite messy and you will need a bassinet with an easy to remove mattress for quick cleaning in case of a messy accident. Machine washable sheets and mattress pads will make life a lot easier for you!
Ease of Setup
Can you assemble the bassinet by yourself? Consider one that easily sets up without compromising on its sturdiness.
Budget
Lastly, how much are you willing to spend on the bassinet? With multiple designs and styles in the market, getting a quality bassinet that fits your budget should be possible. We've offered a variety on this list for you to choose from.
A Good Night's Rest
Taking care of a baby involves ensuring they have a safe and comfortable place to sleep every night. Whichever way you choose to let them rest, always ensure it is safe. We have gathered the ten best baby bassinets in 2021 to make the work more manageable for you. Whether you are looking for a bassinet for travel or home use, for a toddler or a newborn, you have great options in every category.