If you're expecting a new addition to the family, then you need a comfortable spot for your little one to rest and a safe place for them to play. Ask any veteran parent, and they'll tell you there's a two-in-one solution for both of these essential baby needs: the playard.
Formerly known as the playpen, these versatile mesh-covered baby spaces are comfortable enough for your little one to enjoy an impromptu nap or perhaps even a full night's sleep. They're also sufficiently spacious and secure to serve as a cozy infant-sized playground, allowing mom the chance to focus on her tasks while baby sits safely out of harm's way.
Features to Consider in Good Playards
Above all else, playards are designed to provide a safe space for a baby to rest and play. But not all models are created equally. Some focus on filling in for a crib, with cozy bedding for the baby to sleep on full time. Others lean heavily towards portability, folding down tight so mom can whisk them off to grandma's on a whim. Let's take a look at the top key considerations when shopping for a playard to help determine the right choice for you.
Safety: Any seasoned parent will tell you infants are experts at finding new ways to injure themselves, so safety must be the first consideration when investing in a playard. Although cheaper, those tattered old second-hand models won't comply with the latest safety regulations and standards. All of the models on this list, on the other hand, meet or exceed all applicable safety rules, and are well built and stable enough to ensure that they won't fall apart.
Design: There are many different features included in various models of playards. Having a changing station included in your playard is perhaps the most convenient, as you can get the dirty deed done and dusted right then and there. But it comes at the expense of size and portability; so many moms decide to forgo the feature. If you already plan to use a separate changing station, then you'll probably want to give this a miss. Other features, like toys and bassinets, can also make your playard much more appealing and multifunctional.
Comfort: Do you need a crib for your baby to sleep in full time? Or are you just after a playpen they can take the occasional nap in? The more comfortable playards work perfectly well as a substitute for a mini-crib, while the play-orientated models might be a little too flimsy and stiff.
Portability: If you want a lightweight playard you can quickly pack up and haul over to grandma's for the day, then portability is your primary consideration. Sometimes known as travel cribs, these playards are specially designed to be moved around with ease.
Top 10 Best Playards 2020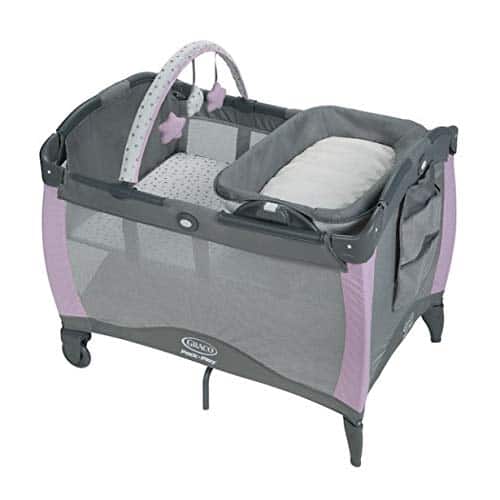 Why we like it: 
It's incredibly versatile—think napper, changing table, and playard all in one.
Editor's Rating:
Size: 40 inches
Weight: 29 pounds
Max baby weight: 15 pounds
Design
Graco's Reversible Napper and Changer gets our top pick for its sheer versatility. The unit effectively serves three core tasks in one—a napper, a playard, and a changing table—making it perfect for the multi-tasking mom. Taller parents should note, though, that the changing table is quite low, so using it might be uncomfortable.
Features
The napper up top comfortably sleeps smaller babies up to 15 pounds who aren't yet able to roll over. And when it comes time to change nappies, you simply flip the napper over, and you've got a diaper changing station ready to go. Once your little one outgrows the napper, you can just put it aside and sleep them in the playard down below.
The playpen has a comfortable elevated mattress, which is high enough to let your little one swat away at the included toy bar to their heart's content. And then, once the baby starts getting bigger and more active, you can move the mattress down through an adjustable height setting to give them a safe space to sleep and play. And all this superb functionality comes at a very reasonable price.
Portability
The downside is this playard is quite a bit heavier and less portable than other options on our list. Although it is possible to lug around town, it's heavy and tough to set up and pack down, which makes the whole process a bit of a drag.
Pros
Napper for smaller babies
Convertible changing table
Spacious playard with adjustable mattress
Reasonably priced
Cons
A pain to pack and unpack
The changing table is too low for taller parents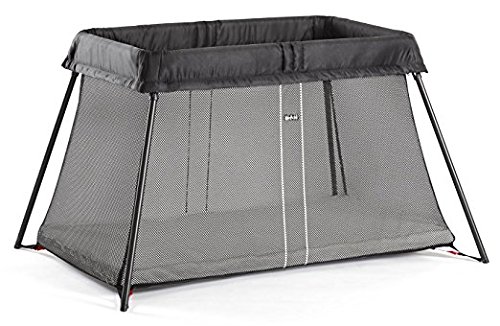 Why we like it: 
It's sleek, comfy, and ultra-lightweight—a killer combination for parents who insist on the best.
Editor's Rating:
Size: 44 x 24 x 32 inches
Weight: 13 pounds
Maximum age: Suitable for babies up to 3 years or babies who can climb, whichever comes first
Design
The big draw to the BabyBjörn playard is its high-quality premium design. BabyBjörn is a boutique family-run business from Sweden who specializes in manufacturing premium products, so you can rest assured the workmanship here is world-class. A sturdy frame provides plenty of support for bigger babies, while the polyester mesh and Trevira fabric mattress cover are both durable and machine washable.
Another thing we love about BabyBjörn is that their sleek Scandinavian style really looks the part. Coming in minimalist shades of black or grey, the playard blends in seamlessly with a contemporary home.
Features
The mattress itself is another highlight, as it's far thicker and more comfortable than that of the competitors. In fact, it's cushy enough for babies to sleep on full-time, which is a definite plus and something you just won't find on other portable models. The fitted sheets cost extra but are well worth the expense as they feel super soft on the baby's skin. It's lacking in other added features, but the most important parts are all included and perform exceptionally well.
Portability
New parents on the move love this portable travel crib, as it's one of the easiest models on the market to set up and put down. With just a little practice, most users manage to get the playard ready for action in just 15 seconds—it doesn't get much easier than that.
Pros
Packs down small—can fit into the overhead luggage bin on most airlines
Super light at only 13 pounds
The mattress is much more comfortable than cheaper portable models
High-quality fabrics are machine washable
Cons
Expensive
Doesn't have a bassinet, toy bar, or change table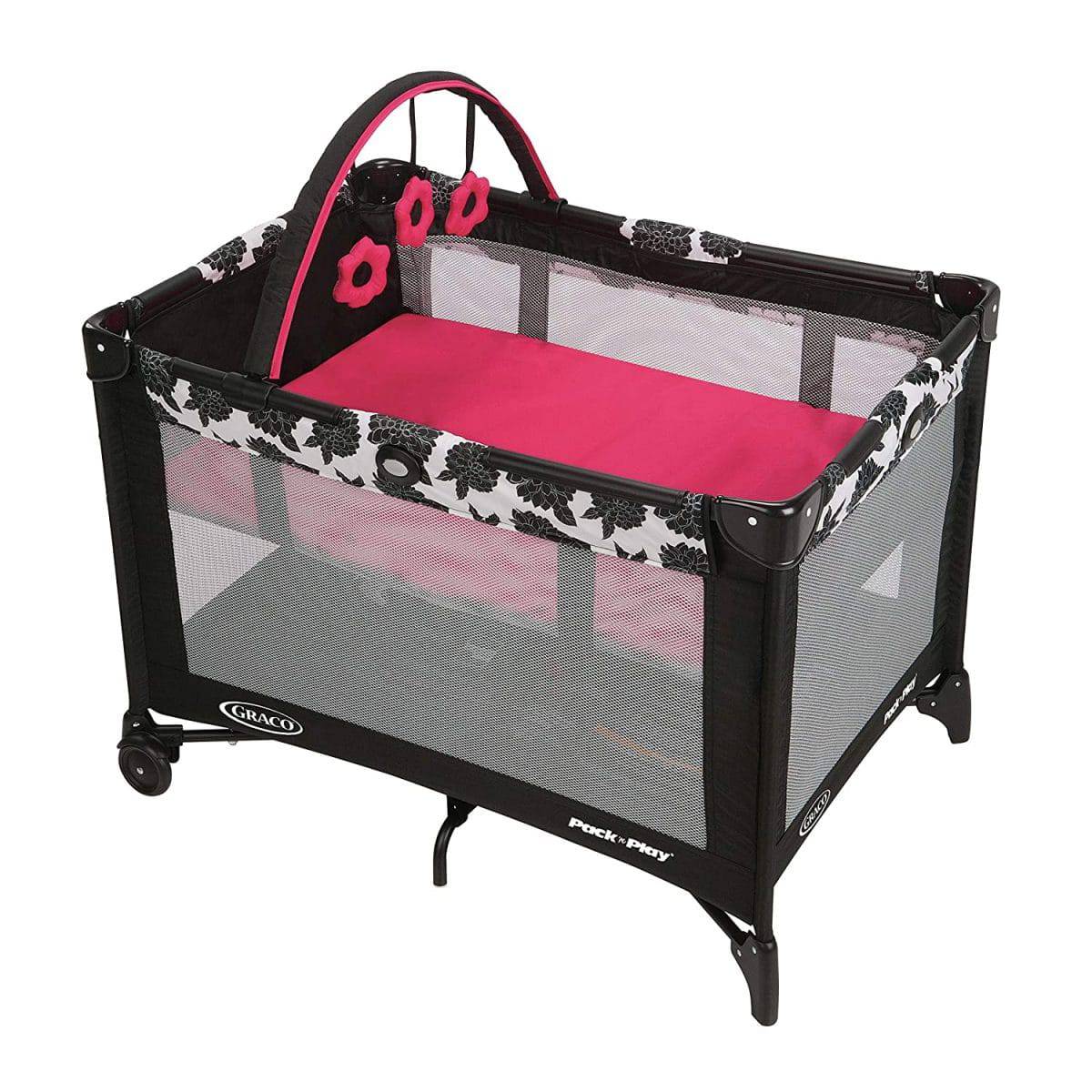 Why we like it: 
It's comfortable, portable, and incredibly cheap.
Editor's Rating:
Size: 40 x 28 x 29 inches
Weight: 23 pounds
Max baby height: 35 inches
Max baby weight: 25 pounds
Design
Graco has been in the baby accessory business for over 60 years. During that time, the company has learned a thing or two about manufacturing top-quality products at an affordable price. And much like their other low-cost playards and cribs, this budget-orientated model delivers the goods without breaking the bank.
Features
Coming in at well under a hundred dollars, the On the Go Playard is the best model on the market at this price point, making it a no-brainer for parents after a playard on the cheap. But cheap doesn't detract from functionality here, because this model boasts a sturdy frame, a removable bassinet, and a toy-bar up top.
Up the top, there's a removable full-size bassinet, which is great for napping until your baby hits around 15 pounds. Budget moms seeking an affordable playard with a bassinet should bear in mind this model is currently the cheapest on the market.
So at this price and with these features, what's the catch? Well, the included one-inch play pad isn't the most comfortable thing in the world, so you might not want to consider this is a full-time sleeping space. There's no adjustable height setting either; thus, the mattress sits very low to the ground, which is going to strain your back everything you pick up the baby.
Portability
As the name suggests, however, the key benefit is portability. The On the Go packs down fast with a one push button to make travel hassle-free and goes right back up again with minimal fuss.  Automatic folding feet help keep it all nice and compact for storage, while the attached wheels make it easy to maneuver around the home. At 23 pounds, it's quite light, too, so you won't pull a back muscle while lugging it across town.
Need to Know:
The On the Go is primarily designed as a portable travel playard rather than a permanent crib, making this product great as a backup playpen and crib for when you travel or visit friends.
Pros
Affordable
Sturdy design
Easy to pack up and down
Includes bassinet
Cons
The mattress is too thin for everyday sleeping
Playard sits very low to the ground
Why we like it: 
Setting up and packing down this super simple playard is a breeze.
Editor's Rating:
Size: 43 x 30 x 29 inches
Weight: 23 pounds
Max baby weight: 30 pounds
Design
While some playards make you wrestle furiously to set them up and pack them down, the 4Mom's Breeze is the exact opposite because opening and closing this thing is a breeze—we've done it one-handed with our eyes closed!
Opening it up requires pressing a one-push button on the center, which makes the legs spread out and the playard pop into place. And closing is just as easy: pull a ring on the center and watch the whole thing collapse into itself. The assembly and disassembly process is so simple it's strangely satisfying to do.
Features
Inside the playard, there's a comfy mattress that suits babies from birth up to 30 pounds. We also love this playard's sleek minimalist appearance and smooth greyish hues, which perfectly complement any modern home. This model doesn't come with a nappy changer or bassinet. However, if these are important to you, then you can always upgrade to the 4Mom's Breeze Plus
Portability
The Breeze packs away into a handy carry back, so it's a cinch to lug between houses as you please. Sure, at 23 pounds, it's slightly heavier than other travel playards on our list, but its super-simplified assembly mechanism makes up for this minimal additional weight.
Pros
Super easy to pack up and down
Comes with a convenient carry bag
Cool modern design
Cons
No bassinet or changing table included
A little more expensive than other options
Quite heavy for a portable playard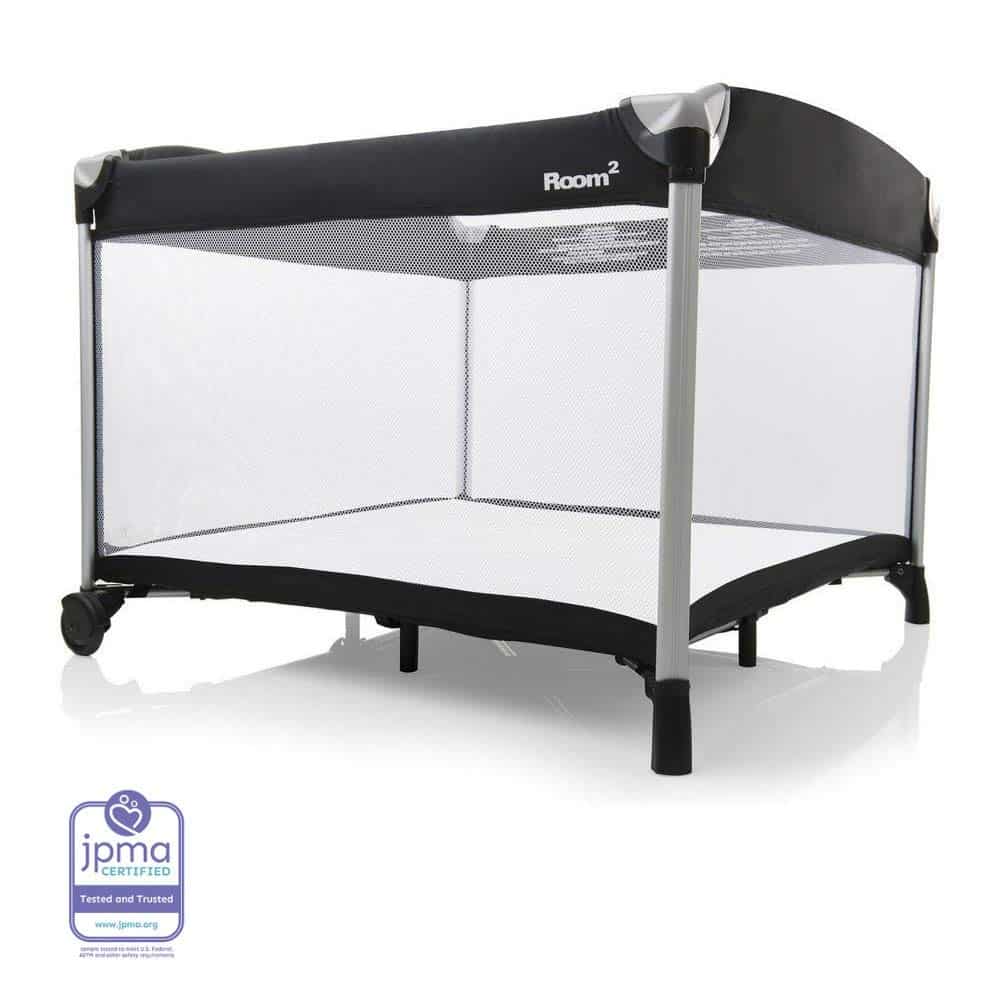 Why we like it: 
The Joovy New Room
2
is big enough for two and surprisingly portable for its size.
Editor's Rating:
Size: 39.8 x 39.8 x 31 inches
Weight: 29.6 pounds
Max baby weight: Suitable for two babies up to 25 pounds each
Design
Spanning a sizable 10 ft2 of space, the Joovy New Room2 is specially designed with the parents of multiples in mind—with this much room to play with; there's no reason you can't double up with two babies in the same playpen. To give you an idea of what we're talking here, 10 ft2 is 50% larger than the average playard. That's big.
The supersized Joovy New Room2 is way bigger than other playards on the market, so only invest in this model if you've got twins or two similar-sized babies playing together. You'll need plenty of extra space in the house to fit it in as well.
Features
The heavy-duty mattress is relatively comfortable and comes with a cotton fitted sheet. However, it's not the coziest full-time sleeping space, which is why you'll probably prefer to use this model as a portable playpen and occasional napping station. The model works better as a playpen rather than a permanent sleeping space.
The playard comes in a chic minimalist design, making it ideal for a modern home with contemporary décor. Furthermore, the solid frame, 600D Nylon mesh, and wheels are built to last, as the two-year warranty, which is far longer than most playards on the market, will attest.
Portability
Of course, all that extra surface area is going to detract from its portability, and there's no denying the Joovy New Room2 is rather heavy at 29 pounds. However, it does pack up and down quickly, sliding into a smallish travel bag for you to carry around. Two wheels make it easy enough to roll around the home, which is where most moms prefer to let it stay put anyway.
Pros
Packs up and folds down easily
Fits up to two babies with plenty of space
Easy to clean
Minimalist style blends in with a contemporary home
Cons
Quite heavy, which detracts from its portability
Not an ideal sleeping space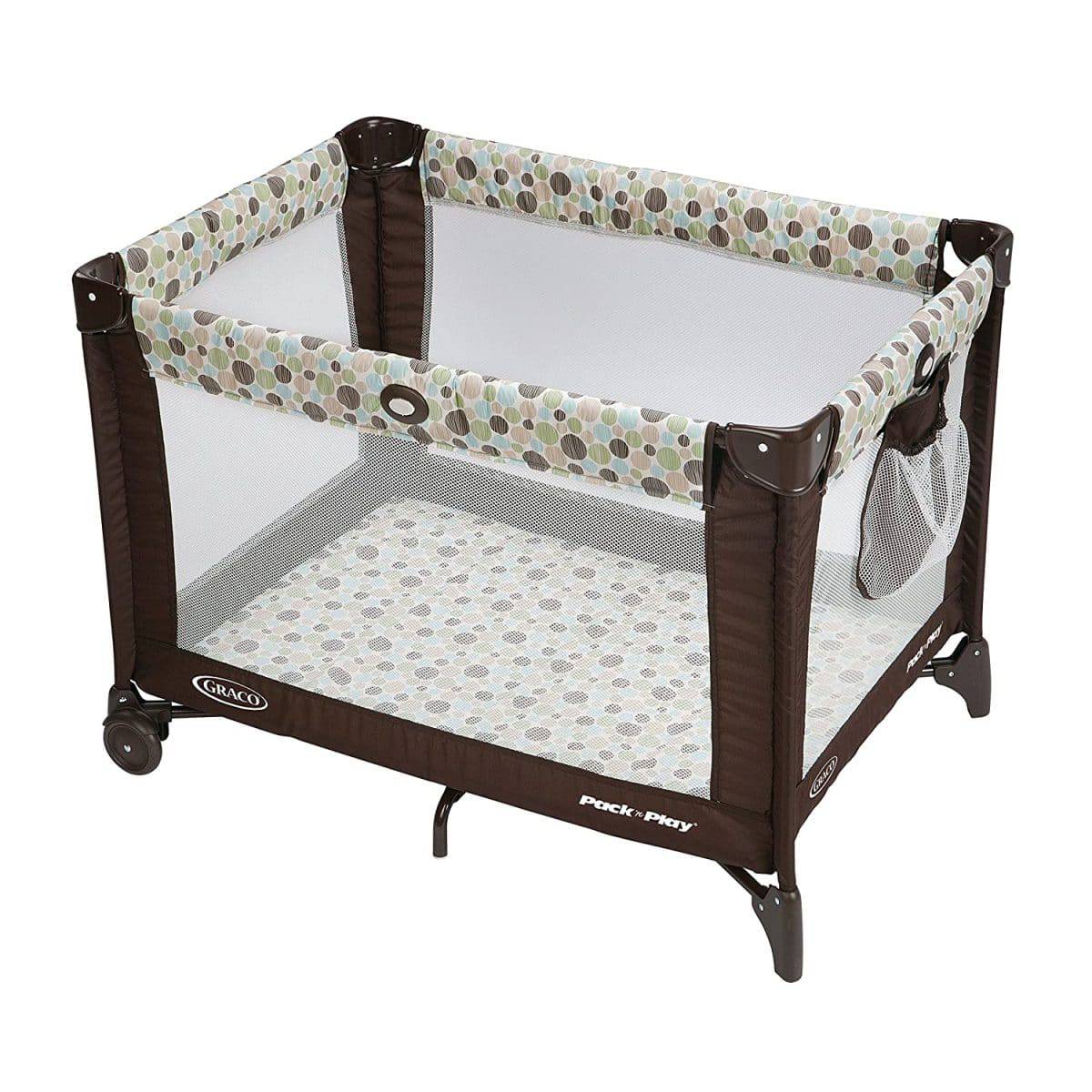 Why we like it: 
It's a no-fuss, budget-friendly playard that's portable and ultra-lightweight.
Editor's Rating:
Size: 39 x 28 x 29 inches
Weight: 11.9 pounds
Max baby weight: Suitable for babies up to 30 pounds
Design
Looking for a super affordable, no-frills playard you can whisk over to grandma's house on a whim? Then the Graco Portable Playard is the ultimate option for you. While the Graco Portable Playard is superb for travel, we don't rate it as a permanent sleeping solution. The included one-inch play pad is rather thin and flimsy, and there's no manufacturer-approved option you can substitute in for a better night's sleep.
Features
You won't get any bells and whistles on this model—think no bassinet, change table, or adjustable mattress height setting, etc. But what you will get is a super simple portable playard you can take everywhere you go, and it's incredibly cheap. The Graco Portable Playard costs several times less than the more expensive options on our list, so it's perfect as a backup for budget-minded parents.
Portability
Because this model comes with no fancy extras, it's ultra-portable, weighing in at a measly 12 pounds. Packing it up and down is simple, too, with a hassle-free push-button fold mechanism that's user friendly and super quick. A toy bar up top gives your baby something to play around with, but you won't find any add-ons other than that—it's a simple, stock-standard playard, after all.
Pros
Super cheap
Ultra-lightweight and portable
Packs up and down easily
Cons
Very basic design—no adjustable mattress height, bassinet, or change table.
Not comfortable enough for a long-term sleeping solution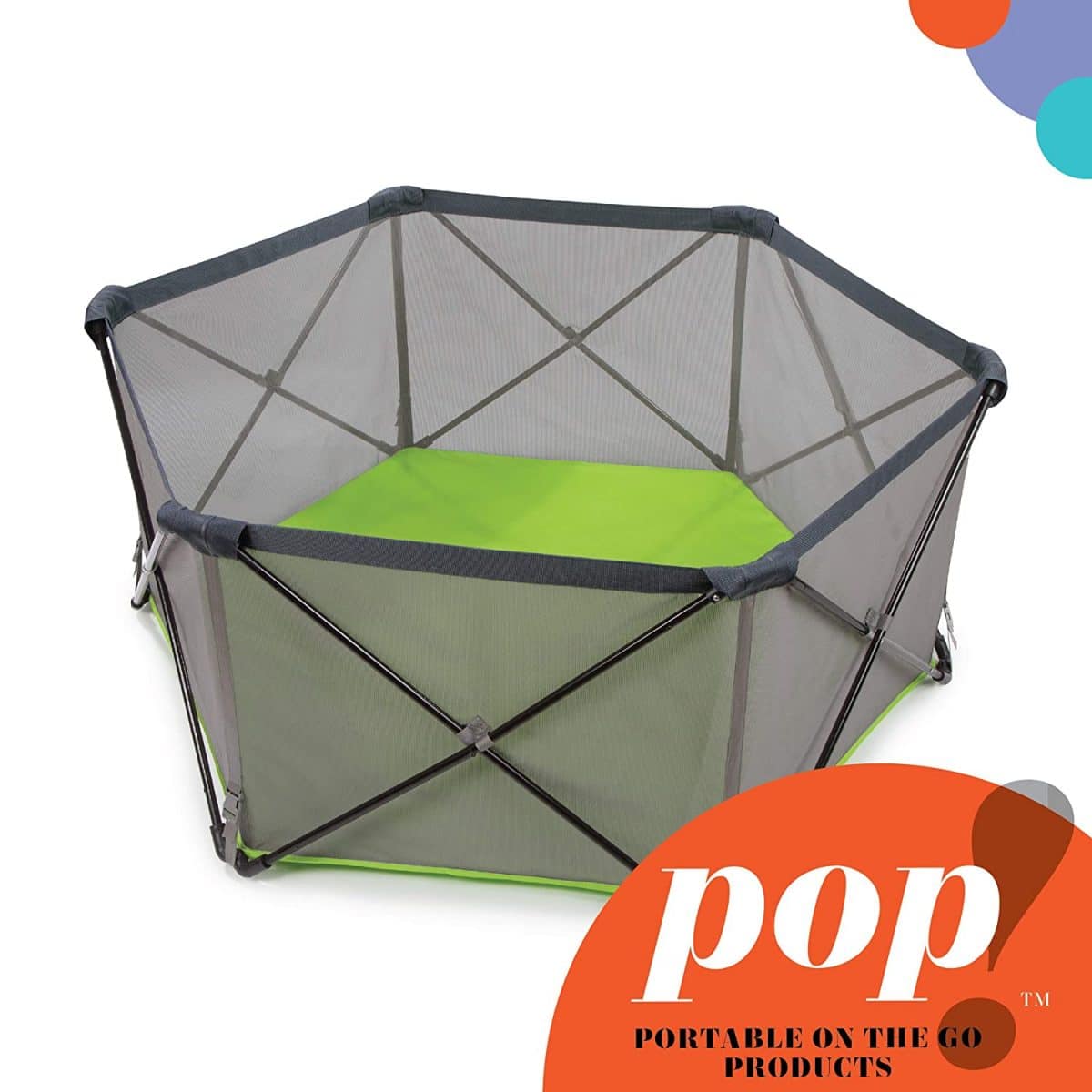 Why we like it: 
This featherweight option is super portable despite providing a whopping 14 feet
2
of play space.
Editor's Rating:
Size: 48 inches wide and 26 inches tall
Weight: 12 pounds
Age range: Suitable for babies from 6 to 24 months
Design
While the other playards on today's list are strictly designed for indoor use, this oversized option from Summer Infant is perfect for introducing your little one to the great outdoors. The Summer Infant Portable Playard is also the biggest option on our list, measuring a whopping 14 ft2, enough for up to three tots to play together. Of course, at that size, it's going to be too big to fit in the average living room, so think twice if you're looking for a playard for indoor use. It's also designed to emphasize portability and outdoor use over comfort, so it's not ideal for long-term sleeping.
Features
The lightweight mesh sides provide optimal visibility and adequate breezy airflow, while a removable 50UPF canopy (sold separately) keeps your baby safe from harmful UV rays. The whole set up is waterproof, too, so you can take it to the beach, park, or campsite without having to worry about the rain.
Portability
Despite its gigantic size, the Portable Playard lives up to its name—it is, in fact, remarkably portable. The foldable metal frame packs down and up in seconds with minimal fuss, and the whole thing only weighs a mere 12 pounds, including the carry case.
Pros
Enormous size
Fully waterproof
Specially designed for outdoor use
Packs up and down easily
Lightweight
Cons
Not comfortable enough for long-term sleeping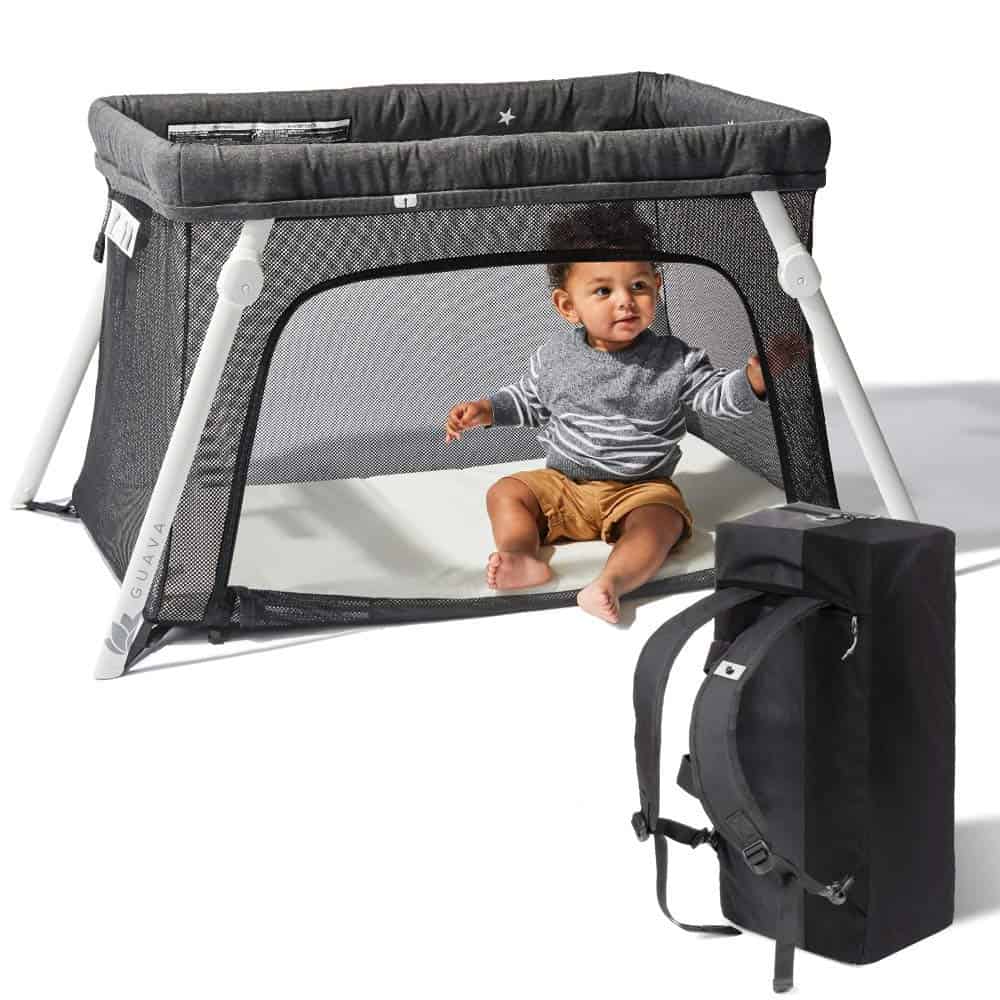 Why we like it: 
It's an awesome all-around portable playard that quickly packs down into a backpack.
Editor's Rating:
Size: 46 x 31 x 25 inches
Weight: 13 pounds (including mattress and backpack)
Age range: Suitable for babies under 3 years old
Design
It's a miracle no one has tried to emulate Guava Family's idea to combine a backpack and a playard, because the combo works like a charm. Unlike every other option on the market, you'll have two free hands as you walk around with the Lotus Travel Playard so you can carry more than ever before. The biggest downside is that the included mattress isn't exceptionally comfortable, so we don't recommend it for a long-term sleeping arrangement, although that's normal for ultra-portable playards.
Portability
Aside from the novel carrying method, it's also a mighty fine portable playard. The whole thing sets up in a mere 15 seconds and weighs just 13 pounds, making it suitable to take with you just about anywhere you go. Like with many other lightweight portable playards, it's unfortunately not comfortable for daily sleeping, although it will work fine in a pinch.
Features
One of the cool, unique features we love about this playard is it's got a side door zipper, which lets you lay down on the same level as your baby to cuddle and play. Once you're done, simply zip it up again to re-establish a secure perimeter. If you fancy a bassinet, Guava Family sells a compatible one for an additional fee.
Pros
Packs into a cool backpack
Super light and portable
Sets up fast
Cool modern design
Machine washable
Cons
No included bassinet
The mattress isn't all that comfortable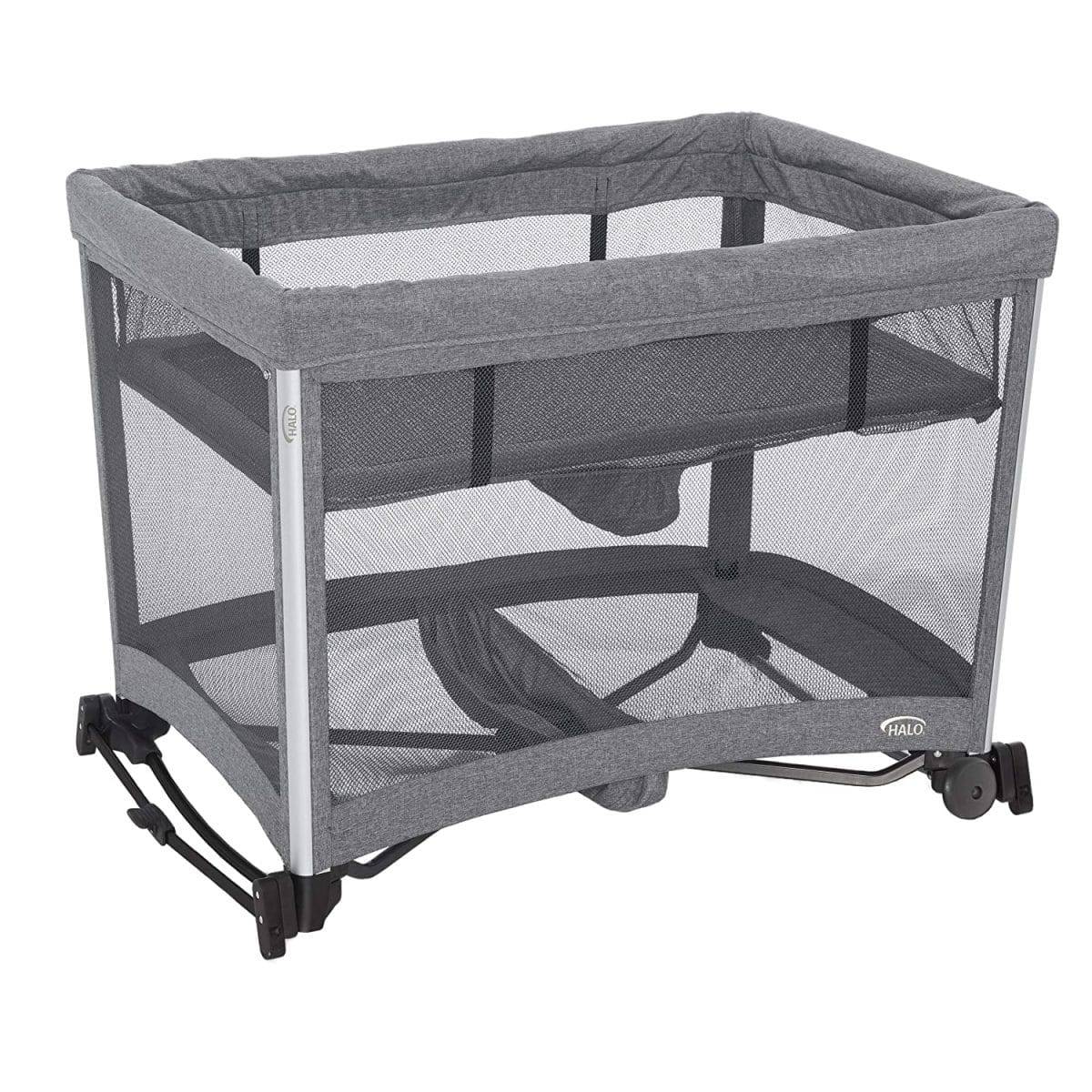 Why we like it: 
This playard rocks—it's the only model on the market to feature a rocking bassinet.
Editor's Rating:
Size: 32 x 16 x 9 inches
Weight: 30 pounds
Max baby weight: Suitable for babies up to 30 pounds
Design
The DreamNest from HALO is the perfect choice for parents whose little one loves that gentle rocking motion. The EasySway rocking bassinet connects to a foot peddle on the ground so mom can sway a crying baby to sleep. Of course, it doesn't hurt that the mattresses here—both in the bassinet and the playard—are more comfortable than most other models on the market.
Features
The advanced 3-in-1 system also serves as a playpen and toddler's cot, meaning you'll get plenty of use out of the playard before your little one outgrows it (usually around three years). The breathable mesh and mattress come out quickly and can be machine washed.
Portability
Despite being rather cumbersome, the DreamNest does fold down into a portable travel bag for easy transport. Keep in mind, however, that this beast weighs a whopping 30 pounds, so you're guaranteed to get a bit of a workout when moving it around.
Pros
Special rocking mechanism
More comfortable mattress than many playards
Nifty 3-in-1 design
Cons
Fairly heavy
Difficult to set up and take down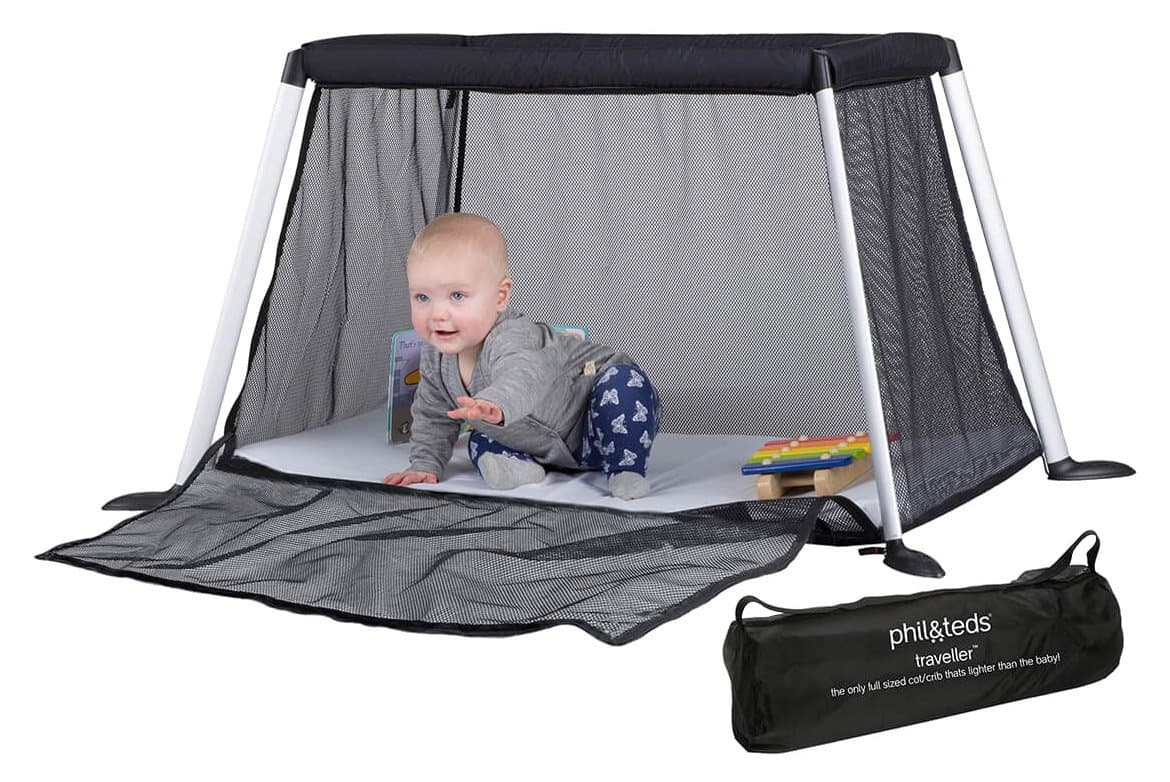 Why we like it: 
This surprisingly effective mini-playard weighs six pounds—that's less than most babies!
Editor's Rating:
Size: 31 x 24 x 46 inches
Weight: 6 pounds
Max baby height: Suitable for babies up to 35 inches
Design
Of course, being so outrageously light does come with disadvantages. The self-inflating mattress provides minimal padding, so it's best to lay the playard down somewhere soft like a big wooly rug. It's rather unsteady as well. While the manufacturers claim it's good until 35 inches, there's a chance a much shorter tot could topple it over.
Features
The breathable side mesh allows ample air to flow in, so this one is a viable option to use outdoors (make sure you keep it in the shade as there's no canopy). Dual zippers on one side turn the playard into an open playpen with ease.
Portability
Playards don't get any lighter than the Traveler Crib from phil&teds, which weighs in at a feather-light six pounds. Marketing itself as "the only full-sized traveler crib that's lighter than a baby," this model is all about optimal portability—it packs down into a bag the size of a yoga mat for effortless transportation. However, the assembly and disassembly process isn't as painless as some of the other portable playards on our list, taking a matter of minutes rather than seconds.
Pros
Super lightweight
Packs down tiny
Good for outdoor use
Cons
Unsteady for bigger babies
Mattress not suitable for long-term use
Playard Buyer's Guide: Everything You Need to Know
If you're not sure whether you need a playard in place of a mini-crib or would just like to learn more about the pros and cons, then take the time to peruse our buyer's guide below.
What is a Playard?
A playard is a rectangular mesh-clad enclosure designed to work as both a mini playpen and a comfy place for your infant to sleep, or at least nap. Back in the day, these were widely known as playpens, although the term has fallen out of use because modern models are also intended for sleep. Ultra-portable versions of playards are sometimes referred to as pack n' plays or travel cribs.
Advantages of a Playard
Versatility is a playard's biggest draw. Rather than forking out for a separate accessory for your baby to rest and play in, these nifty little contraptions cater to both activities to save space in your home. Particularly for modern families living in tiny inner-city apartments, every extra square inch is a blessing.
Another key advantage of playards is that they tend to be cheap. While a mini-crib, a changing table, and a playpen could set you back close to a grand, your playard can combine all three for as little as a hundred bucks. And considering all the other expensive stuff you need to buy for a newborn—toys, diapers, baby clothes, and so on—saving money wherever possible becomes paramount for the average mom.
Disadvantages of a Playard
If playards create a safe space for your baby to rest and play, why would anyone consider investing in a crib or mini-crib?
Generally speaking, a playard isn't quite as comfortable as a crib, meaning your little one will have a harder time dozing off to sleep (and so will you). Cribs are sturdier and bulkier than playards, which means they can support thicker mattresses and provide a comfier sleeping space overall.
The other drawback is that playards just aren't that elegant. Most are constructed from a functional combination of plastic, nylon, alloy, and mesh, meaning aesthetics aren't a significant consideration. Cribs, on the other hand, may come in a delightful design of natural hardwood with a sophisticated finish, allowing them to add an elegant touch to any home.
Also, unlike cribs, most playards don't have adjustable mattress height settings. Therefore, parents will have to bend down low to scoop up their baby, which puts unnecessary strain on their back.
What's Better: A Playard or A Crib?
The best option depends on your circumstances, so you need to consider your space requirements, budget constraints, frequency of travel, and personal taste.
Many parents opt to grab a sturdy, attractive crib to use as a permanent sleeping space, plus a portable playard for daytime play sessions and travel. While having both at once is ideal, it's going to cost you significantly more upfront. Moms on a budget who need to move the baby around every day usually find that playards are preferable, while those who don't need to travel with their child often might opt for a crib.
Things to Consider When Purchasing a Playard
Playards come in a wide range of different designs to cater to parents with varying needs. When shopping for a playard of your own, consider the following factors:
Safety
As the life of your baby is at stake, safety must come first when picking out a playard. The US Consumer Product Safety Commission (CPSC) mandates safety guidelines that manufacturers must follow to prevent accidental death. All playards sold as new within the United States must follow these guidelines, so as long as you're not purchasing second-hand, you can be assured that they have the following safety features:
Secure locking/latching devices
Folding panels
Height and strength requirements
Mattress displacement
The Junior Products Manufacturers Association (JPMA) imposes several additional safety standards, including prohibiting mesh holes from being larger than ¼ inch, a standard that every playard on this list meets.
Size
As the name implies, most playards measure about one yard (36 inches) in length, although this can vary between different designs. Furthermore, the width and height also tend to fluctuate, which means playards come in a range of different shapes and sizes. If you need a lot of space, a playard made for twins like the Joovy New Room2 should work well. If you've got a cramped space to work with, you mustn't get a bigger playard than you need—something like the HALO 3-in-1 DreamNest would be a great choice. First, measure where you plan to place the unit to ensure it's going to be a good fit, then begin your search from there.
Portability
Some playards on the market, like the Graco Portable Playard are specially designed to quickly pack down into small, lightweight bags, making them super handy for when you need a suitable space for the baby to sleep at grandma's house. And, for example, if you fancy popping round to your friend's place in the afternoon, you can bring your playard with you to create an instant, baby-safe play space.
The downside to having an ultra-portable playard is comfort, or lack thereof. Typically, the more lightweight and portable a playard is, the less comfortable it'll be for the baby. If you're looking for a combination of portability and comfort, you can't beat the premium BabyBjörn Travel Crib.
Comfort
Your baby will sleep better on a comfortable bed, and that means their exhausted parents will get a better night's sleep as well. Larger playards like our top overall pick tend to be sturdier, providing optimal comfort to help your little one doze off. Lightweight and portable models, on the other hand, are more rigid and less cushy, making it harder for the tot to catch some z's.
If you don't plan on moving your playard around a lot, opt for a non-portable model to give your baby the top-quality sleep they deserve.
Price
Baby accessories don't come cheap, especially considering the vast quantity of different things you'll have to buy. So for the mom on a budget, price is a huge consideration when shopping for infant gear. Thankfully, however, not all playards cost a fortune, and we've handpicked a few fantastic budget options for under a hundred bucks each—like the great-value Graco On The Go Playard
But on the other hand, your baby is the most precious thing in this world. Do you really want them to suffer through their early years on a substandard playard that doesn't afford a comfortable night's sleep? If you've got the funds to spare, it makes sense to aim upmarket and invest in a quality sleeping set-up so your baby can thrive.
Diaper Changing Stations
If you don't already own a diaper changing table, then consider getting a playard that comes with this essential piece of furniture already included—like several of our recommendations, including the Graco Reversible Napper & Changer Playard . Although they may cost a little more upfront, these playards will cost you less in the long-run as you won't have to purchase a separate changing table, which can go for a hundred dollars or more. You'll also save on space by having one accessory rather than two, even though the playard itself will be larger than usual.
Outdoor Use
If you're planning to pop your playard up in the great outdoors (or even just the backyard), then opt for a model with a canopy to protect bub from the sun's harmful rays like the Summer Infant Portable Playard. Another nifty add-on that comes standard in some outdoor playards is a mesh ceiling cover to keep those pesky bugs and mosquitos at bay.
Playard FAQ
When can I start using my playard?
You can use your playard from the day your newborn comes home from the hospital. However, as the mattress sits low on the ground, young moms may find it difficult to bend down so far during this delicate stage. Newborn bassinet inserts elevate a baby off the ground to make it easier for the mom.
When should I stop using my playard?
Although it varies between models, you should generally stop putting your baby in a playard when they reach 30 pounds, 35 inches, or learn how to climb, whichever comes first. At this stage, which usually happens around their second birthday, although it could be as late as the third, your child has officially outgrown the playard and needs to sleep in a toddler's bed instead.
Can my baby sleep safely in a playard?
Absolutely. Playards are designed for infants to sleep in, both short afternoon naps and heavy overnight sleeps. However, the parent needs to clear out the clutter to ensure their little one won't suffocate while asleep.
Remove all the loose toys, bottles, and blankets from the playard, as these are serious safety hazards. Tight fitted sheets and blankets are okay, but only if they fit snuggly under the mattress, and the baby can't wrangle them loose. If you're worried about the cold, a safer option might be to dress your tot in a cozy jacket, pants, and booties instead.
Can I add a thicker mattress?
Using anything other than the manufacturer's mattress or one of their recommended alternatives is dangerous. With an ill-fitting, un-regulated playard mattress, your baby could slip into the space between the mat and the side of the playard and suffocate. For the same reason, never add a second mattress on top or try to pad the sleeping space out with pillows and blankets.
Should I buy a second-hand playard?
We love saving money and the environment by shopping second-hand—but not when the lives of our little ones are at risk. An obsolete old playard could pose a serious safety threat to your precious baby as it may not comply with the latest government regulations.
Where should I set up my playard?
The great thing about a playard is its versatility. Feel free to set it up almost anywhere you like, from grandma's living room to the kitchen floor. Just be sure to keep it out of reach of electrical cords, curtain draw-strings, or anything else a baby could possibly hurt themselves with.
If the baby's going to sleep in a playard at night, be aware that the CDC recommends that babies sleep in the same room as their parents for at least the first six months of their life.
From lightweight and ultra-portable options to stocky and solid units with attached bassinets, there's a whole host of playards on the market to choose from. Be sure to refer back to our in-depth buyer's guide to work out which design is the perfect fit for you and your precious little infant.