One of the fun parts of planning for a baby is decorating the nursery. Nowadays, with online registries and social media to help plan, it's easier than ever to pick out the perfect items for your little one. Along with mobiles, play mats, and baby monitors, crib sheets are a must-have. Your baby may be spending most of their day resting on the crib sheets, so you'll want the best sheets to keep your baby (and you!) happy and healthy.
A Brief Introduction to Crib Sheets
Crib sheets are a great way to tie a room together while also making sure your baby can sleep in comfort. However, just like any other product, there are many crib sheets out there that aren't a match for the messes and mayhem of parenthood. We've got you covered with a quick overview of what makes a quality crib sheet, then we'll get into our top ten recommendations!
What Are Crib Sheets?
Crib sheets are the bedclothes that go around a crib mattress. They can be made of a variety of materials, from microfiber to cotton to flannel. Many are fitted sheets, measuring 28 inches wide by 52 inches long for standard size and 24 inches by 38 inches for mini-cribs. The "pocket" of the crib sheet measures how thick of a mattress it can fit around. The deeper the pockets, the more secure your crib sheet will be, and the easier it will be to manage.
Crib sheets should be tight and secure around the mattress to prevent your baby from pulling it loose or getting tangled in extra material. Because babies are so messy, you'll need to wash the sheets frequently, and they should be made of soft, hypoallergenic material that won't irritate your baby's skin or allow them to overheat.
Checklist for Choosing the Perfect Crib
Your baby deserves sheets that will keep them safe and comfy, and you want sheets that will make cleanup easy and brighten up the room with a splash of color. To get the best bang for your buck, keep in mind fabric quality, maintenance, and color. You may also be interested in keeping your baby's nursery organic and natural.
Material
You'll want to pick out sheets with the right material for you and your baby. Cotton material is more durable, but jersey cotton is often softer. Synthetic or microfiber sheets hold up better to washing and don't require ironing. They may also have more stretch to them.
For a more in-depth discussion of crib sheet material, refer to our full guide below. For each product on our list, we'll make note of the fabric and let you know what that means for your baby.
Maintenance
Parenthood is hard enough without having to use special laundry soap or find a place to line dry your crib sheets. Messes (sometimes serious ones) are part and parcel of having kids, so you want anything you buy to be simple to care for and resistant to stains and odors. Our list has a variety of products for both natural parenting and easy-care options.
Style and Color
If anyone tries to tell you that the look of your baby's accessories isn't important, it's safe to say that they haven't taken a look at parenting research. Babies need contrasting colors to help develop their optic capabilities. Not only that, but the look of your nursery can help soothe you when you're stressed and make the nursery a calming environment. We'll discuss color and your baby's growing brain more in our explanation of infant brain development.
For each product we'll discuss quality, care, and how each product can make your job easier. Safety goes without saying: we'll never recommend any products with harmful dyes or unsafe designs. In our full guide to crib sheets, we'll also make note of some common safety questions for new parents.
Without any further ado, let's get into our list of top ten crib sheets!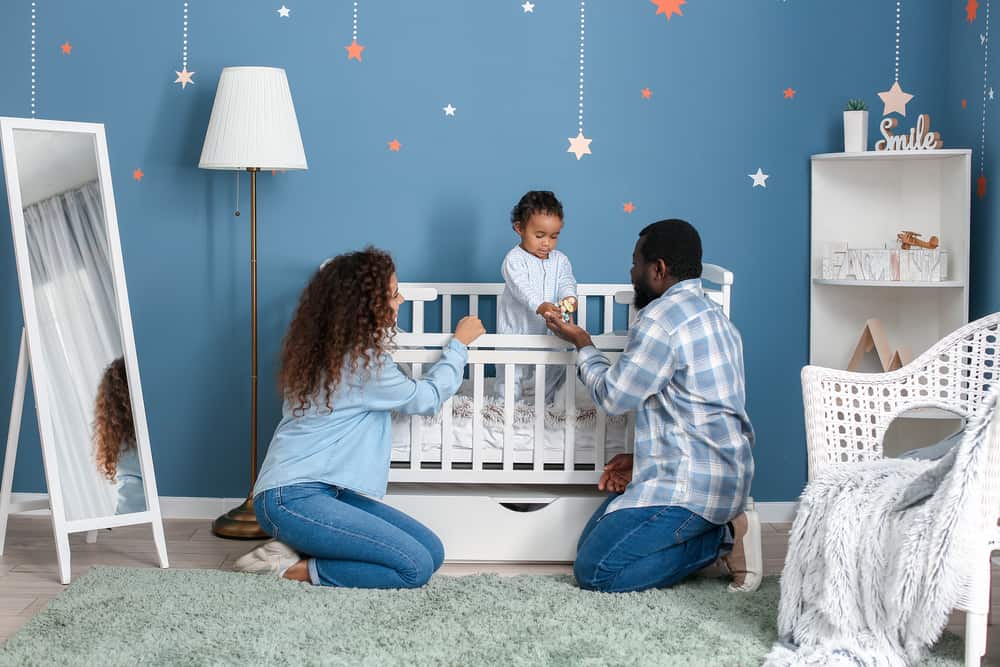 Top 10 Best Crib Sheets 2023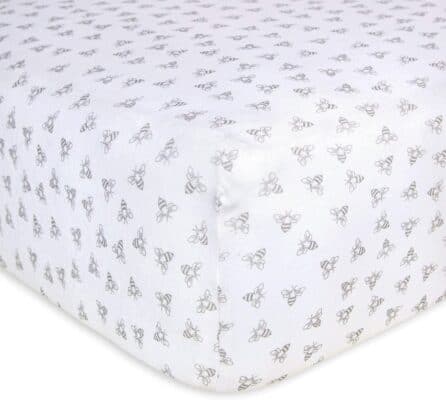 Why we like it:
This budget-friendly, baby-soft crib sheet comes in a variety of cute patterns and offers new parents the opportunity to pair high quality with simplicity.
Editor's Rating:
At a Glance:
Fabric: 100% organic cotton, jersey knit
Dimensions: 28" x 52" x 8"
Material Quality
Burt's Bees is known for being a conscientious manufacturer. Not only is their 100% cotton material organic and Global Organic Textile Standard (GOTS) certified, but the fabric itself is designed specifically for your baby's soft skin.
It is a high-quality jersey knit, meaning that it will be soft and have some give to it without being loose or flimsy. The cotton is breathable and soft enough for gentle skin. Unlike synthetic fabrics, cotton is light and cool to prevent overheating. The dyes are also GOTS-approved and non-toxic, so you can rest assured that even the most vibrant patterns are safe for your baby.
Product Care
Caring for this crib sheet is simple. It is machine washable and won't pill over time like lower quality cotton sheets. For best results and color protection, you should hang dry these sheets, but you can tumble dry it on low heat in a pinch. Expect a little bit of shrinking if you machine-dry these sheets, but they won't shrink too small to fit the mattress.
These sheets have a bit of give to them, but because 100% cotton isn't a very stretchy fabric, it may take a bit of effort to get this sheet back onto the mattress after a wash.  The 360-degree stretch in the band keeps these sheets safe and secure but simple to remove. 
Color and Style
Burt's Bees Cotton Crib Sheets are offered in 24 color options. With solid colors, stripes, and adorable patterns, you're sure to find the perfect fit for your nursery. Unfortunately, these sheets are only offered in standard size, but their solid color line is offered in standard, mini, and bassinet sizes.
Pros
100% organic cotton

GOTS certified

Fabric texture is gentle on skin and will not overheat

24 adorable colors and patterns

Machine wash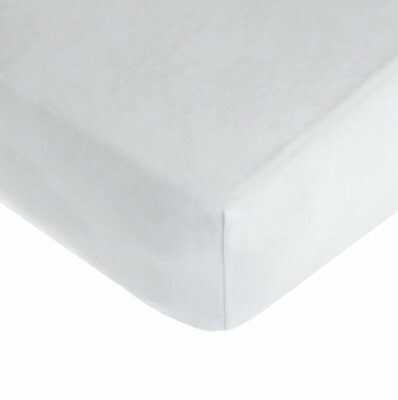 Why we like it:
These mini-crib sheets offer soft and breathable cotton sheets with a little bit of stretch and adorable color combinations.
Editor's Rating:
At a Glance:
Fabric: 100% cotton, jersey knit
Dimensions: 24" x 38" x 3", 24" x 38" x 5"
Material Quality
This jersey knit 100% cotton fabric is light and soft on sensitive skin. American Baby Company does not use organic cotton, but the fabric is light, washes well, and high quality. The jersey knit gives it the softness of your favorite t-shirt and a little more stretch than other sheets.
Product Care
The stretch in this fabric will make it easier to take this sheet off and put it back on. It can be machine washed and dried with cold water and low heat. It may shrink some, however, so getting the extra-deep pocket is the safest way to ensure that your sheets will fit even after shrinking.
Color and Style
With 39 color and pattern combinations, the American Baby Company offers some of the widest variety for mini-crib sheets. What you can get varies depending on whether you buy a one, two, or three-pack, but you're sure to find the perfect color to match your nursery décor.
These sheets are only offered in mini-crib dimensions, but our pick for Best Soft Crib Sheet is American Baby Company's standard size crib sheet. These sheets can be purchased with a three-inch pocket or an extra-deep five-inch pocket.
Pros
100% cotton jersey knit

Favorite t-shirt feel

More stretch than regular cotton sheets

Huge variety of colors and patterns

1-pack, 2-pack, and 3-pack options for extra savings
Cons
Only sold in mini-crib dimensions

Cotton is not organic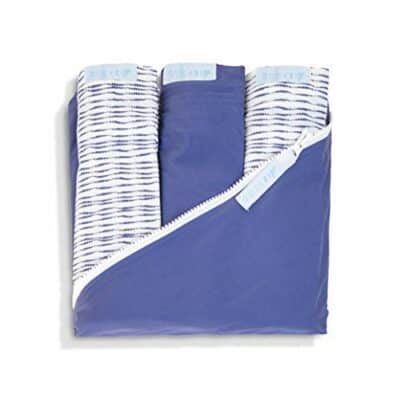 Why we like it:
For parents looking for an easier, simpler clean-up, these innovative zippered sheets offer a great solution to save time and energy.
Editor's Rating:
At a Glance:
Fabric: 100% cotton, smooth
Dimensions: 27" x 52" x 7"
Material Quality
QuickZip uses high-quality 100% cotton. It is breathable and durable without being rough. They aren't quite as soft as jersey-knit sheets like Burt's Bees or Brolex's sensitive skin microfiber, but the smooth cotton will easily break in after a wash or two.
Product Care
Where QuickZip's sheets really shine is in how easy they are to care for. These sheets come with a hefty price tag, but the unique zippered design is perfect for parents in a time crunch or anyone who wants to make washing their crib sheets a breeze. If your baby spits up often, you're juggling twins, or if you struggle to change your mattress sheets, these zippered sheets offer the perfect solution.
The sheets come with a secure base that stays around the crib mattress. A top sheet is then zipped into the base using a hidden zipper just inside the top border of the mattress. The zipper is safely covered with a layer of cotton, but is easy for parents to access.
They are machine washable and can be dried on low heat. The base can be washed as often as you feel comfortable, but you can leave it on up to a year without washing it. These sheets are pre-shrunk to avoid mishaps in the wash.
Color and Style
These sheets are offered in a couple of cute styles. You get the best bang for your buck with the three-pack option, but the colors are pretty limited. One-pack style options include four solid colors, 3 patterns, and two adorable prints with baseball or flowers. You can also buy extra interchangeable sheets for more variety in your colors.
Pros
Super easy to care for

Ideal for busy parents

Zipper is safely hidden

High quality 100% cotton

Durable fabric will survive many washings
Cons
Very pricy

Smooth cotton is not as soft as jersey knit cotton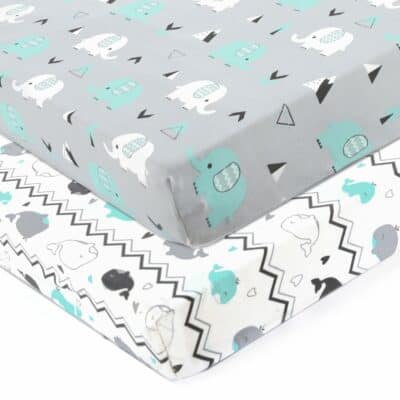 Why we like it:
For babies prone to rashes, flaking skin, or allergies, Brolex's hypoallergenic microfiber sheet offers a budget-friendly, super smooth crib sheet to avoid skin irritation.
Editor's Rating:
At a Glance:
Fabric: Microfiber, jersey knit
Dimensions: 28" x 52" x 9"
Material Quality
While microfiber is not as breathable or durable as cotton, it's a great choice for babies with very sensitive skin. This smooth blend of polyester, lycra, and cotton is perfectly soft and is less likely than rougher natural fibers to trigger rashes or breakouts on your baby's delicate skin. Microfiber sheets are also hypoallergenic, making these sheets a wonderful option for babies prone to skin troubles.
These sheets are also very stretchy, meaning they can fit standard size crib mattresses as well as mini-cribs and bassinets in a pinch.
Product Care
Microfiber is super easy to care for. It can be both machine-washed and dried, and does not need ironing. Microfiber is also more absorbent than cotton, meaning that spills will stay in place on the sheets.
Color and Style
Brolex only offers three style options, but the patterns are adorable. Each budget-friendly two-pack purchase comes with a white patterned sheet and a darker shade. You have a choice of arrows and owls, whales and elephants, or bears and owls to bring your baby's dreams to life.
Pros
Ideal for sensitive skin

Made with hypoallergenic microfiber

Stretchy sheets will fit standard, mini, and bassinet-style cribs

Adorable animal patterns

Easy to care for

Budget friendly
Cons
Limited style options

"One-size-fits-all" is convenient but leads to wrinkling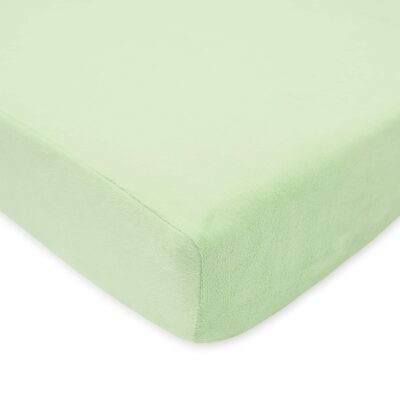 Why we like it:
These plush chenille sheets are perfect for fussy babies or little ones who find cotton too rough and soothe even the most sensitive sleepers.
Editor's Rating:
At a Glance:
Fabric: 100% polyester
Dimensions: 28" x 52" x 9"
Material Quality
While this fabric is polyester, it's a chenille blend, making it one of the softest fabric options available. Chenille is less breathable, so you may want a few different options for warmer months and climates, but if your baby has trouble sleeping, this American Baby Company crib sheet may help soothe and calm them. It is soft and plush, so your baby can feel comfy and cozy all night long. It also can help your baby stay warm without the risk involved with using a blanket.
The three-panel design and deep pockets of these sheets will keep these sheets secure and in place on the mattress.
Product Care
Synthetic fabrics tend to hold up to washing and drying well. This crib sheet can be machine washed in cold water and tumble dried on low. It's not as durable as 100% cotton options, but it will not shrink and does not need ironing.
Color and Style
This sheet is offered in 18 colors and patterns. American Baby Company offers a great variety of gentle solid colors and a few lovely vibrant patterns, like the yellow twill. Unfortunately, these chenille sheets are only offered in standard size.
Pros
Super soft chenille blend

Soothing for fussy or sensitive babies

Lovely color options

Easy to wash and dry

Helps keep your baby warm on cold nights

Deep pockets
Cons
Less durable than cotton sheets

Not ideal for hot climates or seasons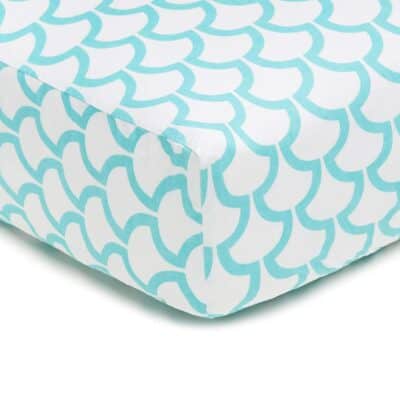 Why we like it:
This 100% cotton woven crib sheet has the longest lifespan on our list and offers a tight, secure fit around your crib mattress.
Editor's Rating:
At a Glance:
Fabric: 100% Cotton, percale
Dimensions: 28" x 52" x 9"
Material Quality
With another entry from American Baby Company, we may seem a little biased, but ABC's sheets are truly high quality with great variety for every parent's needs. This percale cotton sheet is an alternative to all of the knit options on our list.
Percale cotton, unlike jersey knit or interlock knit, is strong and durable with little to no give. This lack of stretch means that these sheets will stay in place extremely well and won't slip or slide as your baby bounces or moves around. Woven cotton is an ideal choice for older babies or anyone looking for a super long-lasting crib sheet. Where other sheets may break down after a year, these percale sheets should last you years with proper care.
There's a reason hotels use percale woven sheets to find the best match between comfort and lifespan. These particular sheets have a 220 thread-count, which is right in the acceptable thread count range for crib sheets (200-400). They are a little rough at first, but they'll break in well. You'll want to soften them up for your baby's delicate skin before putting your bitty one down for a nap.
Product Care
These sheets can be machine-washed and dried on low heat. They will be a little difficult to put on the mattress, and you will need to be careful to follow instructions to avoid shrinking.
Pro-tip: to soften rough cotton sheets, use baking soda instead of detergent, and add vinegar to the rinse cycle when you first wash these sheets.
Color and Style
American Baby Company offers a wonderful variety of colors for all of their crib sheets. These percale sheets are available in 31 different, adorable patterns. Even better, these patterns are all very well suited to aiding your baby's visual development, with lots of contrasting colors and patterns. The polka dot and kilim patterns are particularly cute and modern.
ABC only offers this model in standard size, but the company as a whole offers a variety of different sizes and materials.
Pros
Percale weave is super durable

Does not stretch, and stays secure on mattress

Long lifespan

31 colors and patterns for perfect customization

American Baby Company is super reputable
Cons
Percale weave is not as soft as knit sheets

No size flexibility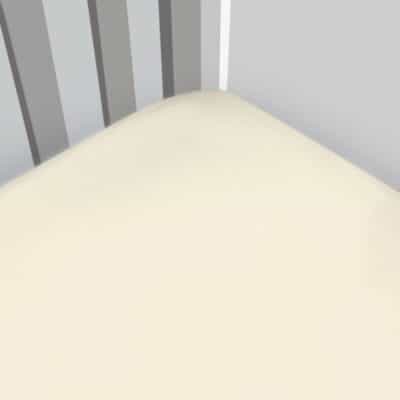 Why we like it:
These organic cotton sheets are guaranteed to have no pesticides or herbicides and non-toxic dyes with a soft, smooth interlock knit that offers extra cushioning power for picky babies.
Editor's Rating:
At a Glance:
Fabric: 100% organic cotton, interlock knit
Dimensions: 28" x 52" x 9", 15" x 30" x 2"
Material Quality
These crib sheets are made of soft, durable organic cotton. Like Burt's Bees this Magnolia Organics sheet is GOTS certified, with no pesticides or herbicides used at any stage, and no toxic dyes. The material is soft cotton, and is perfect for any time of year.
This is the only product on our list that uses interlock-knit cotton. Interlock knit has more stretch to it than jersey knit, but it's also thicker and more durable. This knit will have more cushioning and a smooth surface on both sides, unlike jersey knit.
Product Care
These sheets are machine washable. For best results, they should be line-dried, but they can be put in a dryer on low. The deep pockets and interlock knit of these sheets should give them plenty of stretch when getting these sheets on and off the mattress.
Pro-tip: to preserve vibrant colors, soak these sheets in a solution of one part vinegar to 10 parts water before washing them.
Color and Style
These sheets are available in eight rich colors. Magnolia Organics offers standard, mini-crib, and bassinet sizing, though the mini-crib and bassinet color options are more limited. This variety is perfect for green parents who want to transition from bassinets to standard cribs. You can stay natural from the minute you bring your baby home.
Pros
Strong and soft interlock knit

100% organic cotton and dyes

Comes in vibrant colors

Offers standard, mini-crib, and bassinet options

Ideal for any season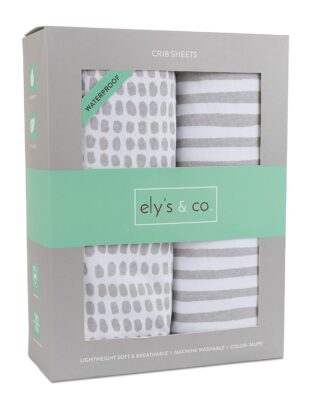 Why we like it:
This waterproof crib sheet protects a crib mattress from even the messiest babies without sacrificing comfort or safety for your baby.
Editor's Rating:
At a Glance:
Fabric: 100% Cotton, jersey knit
Dimensions: 28" x 52" x 9"
Material Quality
This 100% cotton sheet is breathable, durable and natural. It gets its waterproof capabilities from a thermoplastic polyurethane (TPU) lining. TPU is a safe, inert material approved for use with infants, so there's no fear of strange chemicals harming your angel.
Adding to the quality of Ely's & Co's crib sheet is the double reinforced elastic band that offers safety and reliability for years to come. The jersey knit means it will have some stretch to it, so getting this sheet on and off of the mattress will be a snap.
Product Care
Waterproof sheets are a great way to protect your crib mattress from spills and messes. There's nothing worse than a mess that soaks through the sheets to the mattress beneath. To get the best life out of your mattress, protect it from messes and germs with a waterproof sheet. Even better, the waterproof lining goes both ways. You can feel confident that no germs are getting to your baby from the mattress.
These sheets wash out well, but be careful to use a delicate dry cycle or line-dry them to avoid damaging the waterproof inner lining.
Color and Style
The cute, neutral taupe pattern of these crib sheets can go with almost any color scheme. It's modern and monochrome, so it will go with almost any color scheme. Ely's & Co. does offer a pink version of these sheets, but the color options overall are quite limited.
You can get these sheets in a variety of sizes, for standard cribs, pack 'n' plays, changing pad covers, and bassinets. Because the elastic band is strong and flexible, the standard sheet can be used for both crib mattresses and toddler mattresses.
Pros
Waterproof for easy cleanup

Baby-safe TPU formula

Double elastic band for added safety

Great variety of mattress sizes
Cons
Must go through a delicate dry or line dry

Limited colors and patterns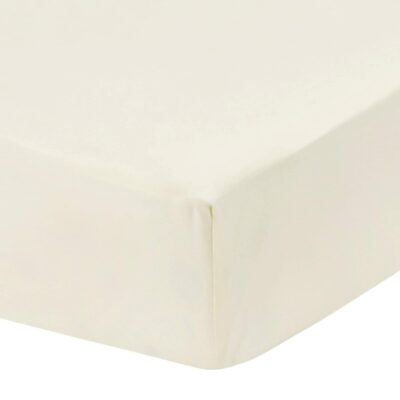 Why we like it:
These highly affordable sheets are a great short-term solution with lots of fun colors and patterns and a soft out of the package feel.
Editor's Rating:
At a Glance:
Fabric: 100% polyester
Dimensions: 28" x 52" x 8"
Material Quality
As a super budget-friendly option, the quality of this microfiber leaves a lot to be desired. Everyday Kids' sheets last long enough to be cost-effective, but careless washing will cause runs in the fabric. These sheets are thin and not as durable as other options. Putting a mattress pad under the sheet for added cushioning can help, but it isn't as convenient as buying thick sheets from the get-go.
Like our sensitive skin pick, Brolex crib sheets, the microfiber is soft and hypoallergenic. These sheets are a bit less breathable than all the options on our list, so they aren't the best option for warm months.
However, the price is unbeatable. A two-pack of these sheets will get you the most bang for your buck. If you're in the market for a quick replacement or something more disposable, these sheets are a great option. If you need to supply sheets to your daycare or bring them on trips, these sheets are a great disposable option that packs well.
Product Care
These sheets are machine washable and can tumble dry on low heat. They are wrinkle-resistant and have just enough stretch to make getting them on and off the mattress a breeze. They do stain fairly easily, however. If you have a particularly messy baby, buying one of the darker colors is your best bet.
These microfiber sheets will not shrink in the wash, but avoiding heat can help you prevent runs in the fabric. This polyester definitely has some plasticky fibers in it, which makes it heat intolerant.
Color and Style
One of the best features of these sheets, aside from the price, is in their adorable array of patterns. Other sheets opt for more abstract colors and prints, but Everyday Kids goes all in with toy trains, ballerinas, princesses, and construction tools, alongside more traditional solid colors. The space-themed sheets are especially cute, with a vibrant blue background and lots of fun spaceships.
These sheets are only offered in standard size, but you get a choice of one-pack or two-pack options.
Pros
Super affordable

Adorable patterns for all babies

Soft microfiber

Wrinkle-resistant
Cons
Not the best quality

Not super breathable

Fabric is very thin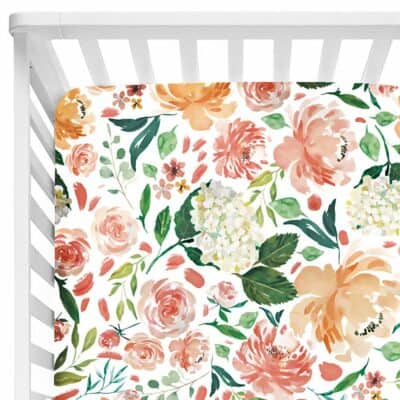 Why we like it:
These sheets offer the most vibrant patterns on our list, with gorgeous floral designs in rich colors.
Editor's Rating:
At a Glance:
Fabric: Polyester microfiber
Dimensions: 28" x 52" x 9"
Material Quality
Sahaler's sheets are 100% polyester microfiber, so they aren't as durable or breathable as other blends. These sheets are advertised as super-soft, however, they are more silky and satiny than plush. They aren't scratchy or irritating, but they are not as soft as Brolex's microfiber sheets.
They are a much better quality microfiber than our budget pick, but they aren't as durable as cotton blends.
Because they don't soften up as much, these aren't the best option for young babies and should be saved for older, more active babies with less porous skin.
Product Care
These sheets can be machine washed and dried. They hold up well to repeated washes, and the color doesn't fade easily.
Color and Style
The main reason these sheets are on our list is because of their adorable floral patterns. These offer the best color splashes and prints available, without sacrificing too much quality. These sheets are offered in eight different prints, seven of which are lovely floral prints and one which is a cute print of whales.
These patterns look like watercolors or block printing, which adds to the appeal and contrast of the colors. These sheets are only available in standard size, but as they are not recommended for bassinet-aged babies, this shouldn't cause any issues.
Pros
Gorgeous floral prints

Soft enough for most babies

Decent quality microfiber
Cons
Not as soft as other options

Not very durable
Making the Bed: A Complete Guide to Crib Sheets


Now that we've gone through some of the best crib sheet options, we'll discuss how your crib sheets are part of building the best nursery for you and your child. We'll discuss safety first, then get into how your choice of sheets can help keep your baby comfortable and promote their development.
Safety Questions
The most important question for parents picking out things for their nursery is safety. We'll never recommend anything that hasn't been fully checked out for toxic ingredients or recalls, but how you use a sheet can also play a role in creating a safe nursery. Babies are still learning how to interact with the world when we bring them home, so it's important to set up your nursery to keep them safe.
An infant can't tell you when they're in trouble, and it can be hard to tell why your child is crying. Is it because they're hungry or lonely? Or perhaps it's because their crib sheet is too scratchy or hot. Maybe they're just not able to get comfortable in a certain position. In this section, we'll talk about how you can keep your baby safe and happy in their crib.
Breathing Hazards
We all want to have the cutest and comfiest crib for our little ones, but it can be hard to know what is safe and what isn't. Until recently, many parents were picking out adorable bumpers to keep their babies from knocking into the crib railings and getting bruises. Unfortunately, bumpers pose a serious risk to babies.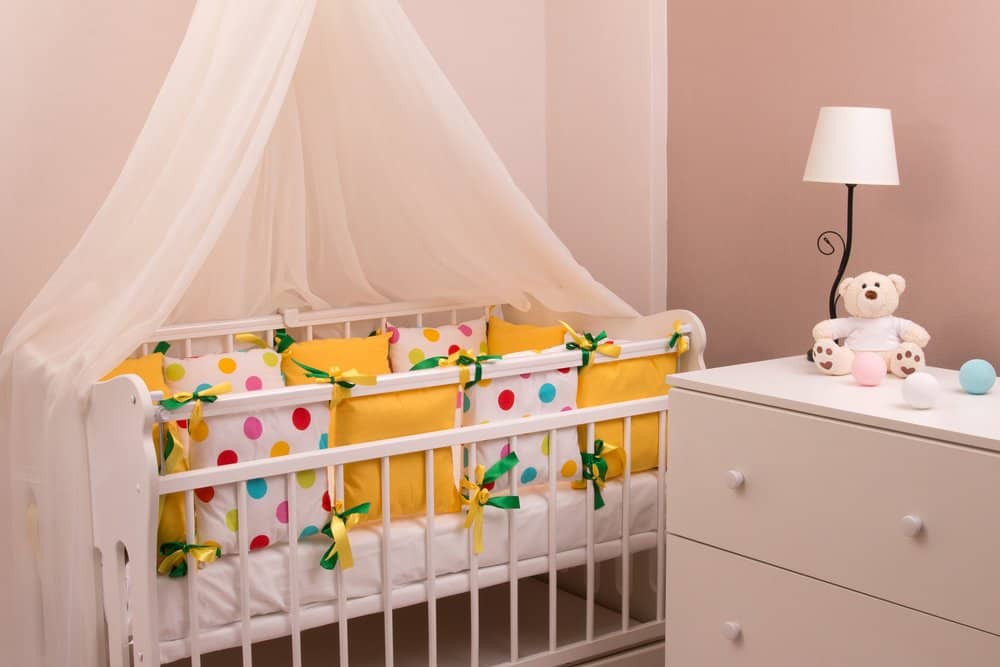 As cute as it is, the crib in this picture is a safety hazard. If your baby rolls up against the pillows tied against the crib, the bumpers could block your baby's airway raising the risk of a SIDS incident. Even mesh bumpers are questionable, as they could result in your baby breathing in too much carbon dioxide.
The safest way to set up your crib is to keep it simple. A mattress and a flat sheet are all you need to keep your baby safe. To decorate your crib, you can add a mobile, out of grabbing range, or paint the outside of your crib.

Materials
Many years ago, cribs with toxic materials posed a serious risk to the health of children everywhere. In 2011, the Consumer Product Safety Commission introduced new safety standards for cribs, marking a public effort to promote good practices in manufacturing.
However, misuse of items that have generally been considered safe can happen. Both polyester and cotton crib sheets are perfectly safe for use, but using them improperly can harm your baby.
Generally, thick polyester sheets should not be used during the summer months. While sheets like ABC's Chenille Crib Sheet are perfectly soft and safe, using them in a hot climate can cause your baby to overheat, leading heat rashes and discomfort. Cotton is quite breathable, so it is a better choice of sheet for hot climates.
Magnolia Organics' all-natural Crib Sheet is a great year-round option. The interlock knit is thick and soft without trapping heat, making it a great option for both winter and summer months.
You also want to be sure to buy a sheet that's the right size and will stay secure on the mattress. Sheets that come loose or have too much stretch can get caught around your baby's hands or feet injuring or entangling them.
Best Sleeping Positions
If you're a first-time parent, you may picture your baby sleeping on their stomach, angelic and peaceful, clutching a blanket.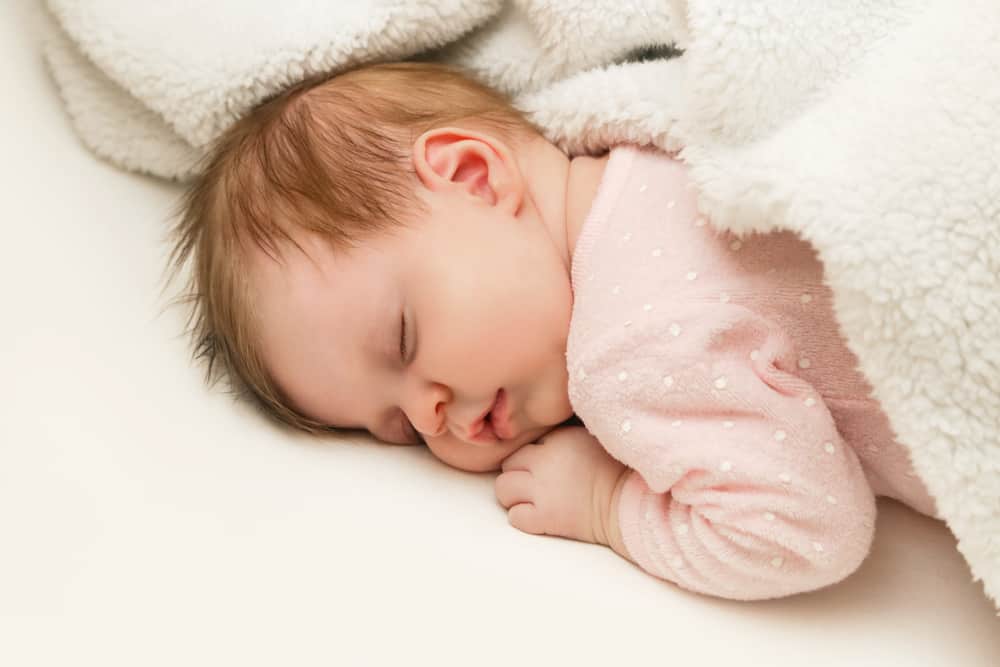 This is adorable, but unfortunately not very safe. Babies who sleep on their stomach or sides are at heightened risk for SIDS or suffocation. It's very important that every time you put your baby down to sleep, they be on their back.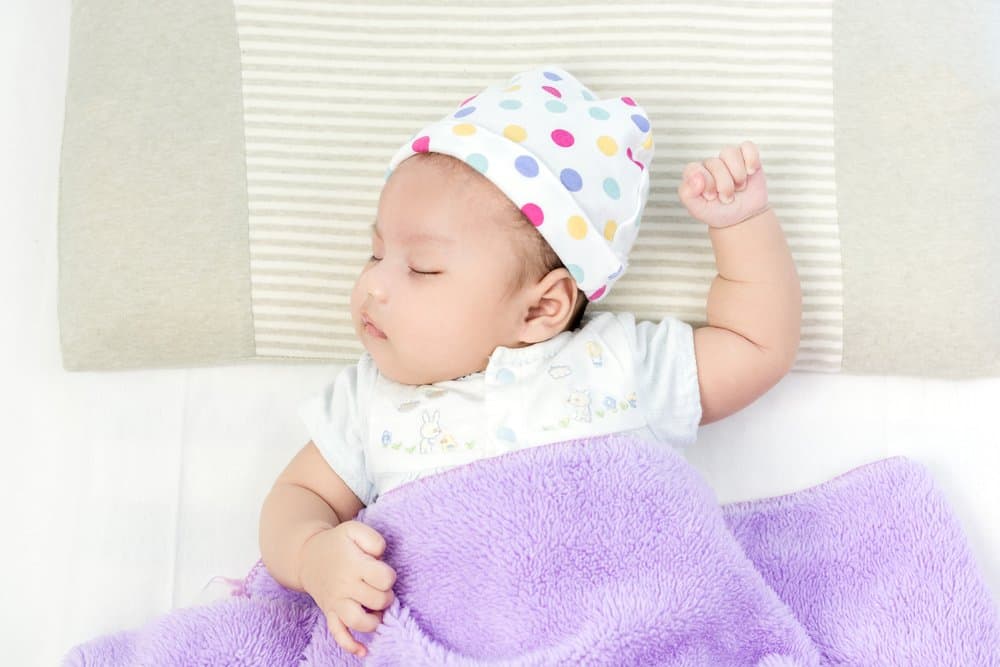 It may be tempting to give them a blanket or a pillow, but this does not promote good development and can harm your baby. This is one of the reasons why it is so important to have a good crib sheet. The right sheet can help your baby regulate their temperature and soothe them to sleep even after their swaddling days are over.
Baby Brain Development
Now into the more fun part of choosing crib sheets. If learning about the dangers to infant health was scary, learning about how you can help your baby excel should cheer you up! Many other large mammals, like giraffes, horses, and elephants, remain in the womb for far longer than human babies. These animals are born well-developed and able to walk, and in some cases play, not long after being born.
For many years, some scientists have viewed the first nine months of a baby's life as a second period of development called exterogestation. Infancy is a time of great neurological development for babies, and your choice of nursery décor can help them experience new things in a safe and calming environment.
Touch
Different fabrics can provide your baby with an exploration of touch and texture. American Baby Company's Chenille Crib Sheet, for example, is a very different texture from the waterproof crib sheet by Ely's & Co.
Color
Color is one great way of exposing your little one to new experiences early. From birth to four months, babies can mostly see in black and white, noticing high contrast colors first. Around five months, most babies have color vision, so this is a great time to introduce different colors to the nursery and play time.
Babies can't see very far, mostly focusing on objects no more than 10 inches away. Crib sheets are often the first thing your baby regularly sees, so choosing a high contrast color, like Burt's Bees' Blueberry Bold Stripe, can often help them start to differentiate between colors and provide stimulation from an early age.
Promoting Good Sleep Habits
One of the most important things a crib sheet can do for you as a parent is to promote good sleep habits in your baby. A fussy baby means a tired parent, so buying the right crib sheet to soothe your baby is essential.
Some babies won't mind a thin crib sheet, but many babies are soothed by the cushioning thickness of Magnolia Organics' interlock knit sheet or the hypoallergenic microfiber surface of Brolex's sensitive skin crib sheet.
It's also important to wash your sheets fairly often: at least once a week if not more, so you'll need to have a few sets of sheets. Rotating through different kinds of sheets can be a great way to find out what material your baby likes best. Most parents like to have three sheets on hand, so that they can alternate sheets in the wash and still have an extra for emergencies.
Sleep and Aging Up
Lastly, as you're deciding what crib sheet is right for you, be sure to consider your child's age and what is right for you as a parent and your baby.
For the first four months, you may choose to have your baby sleep in a bassinet. These oval beds are smaller and easier to make space for if you share a room with your little one. In our list, Burt's Bees, Brolex, and Magnolia Organics all offer sizing specifically for bassinets.
As your child gets older, you may switch to a mini-crib or a standard crib, then to a toddler bed. Keep in mind how long you plan to use each bed when purchasing your crib sheets. If you plan to use a standard crib for a long period of time or for multiple children, a more durable crib sheet, like a woven cotton sheet is a great option.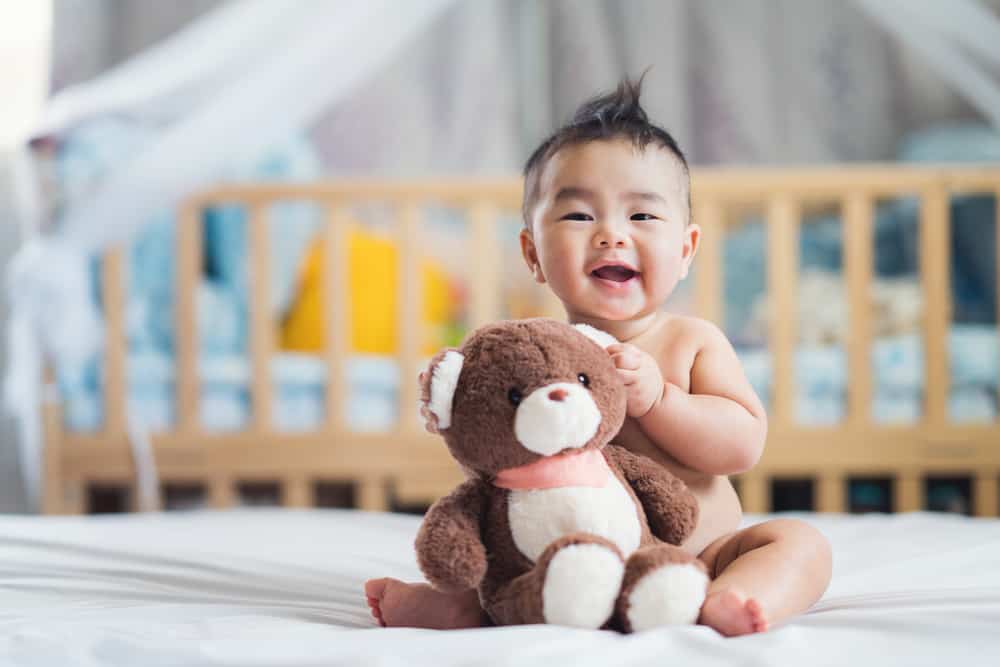 Final Thoughts
Be sure to savor these fun moments as you prepare for parenthood. The trials and tests of being a parent start long before your baby is born, and you can step up to the task by making sure to purchase the right essentials for you from the get-go.
There are great crib sheets available for any budget and any baby, so don't be afraid to shop around for the perfect fit! We hope that our recommendations have helped you figure out just what kind of crib sheet you want for your baby.