Is your baby too old for a bouncy seat but too young to sit upright by themselves? Then you need to grab them a baby floor seat, a sensible seating solution to keep your child snuggly tucked away and out of harm's way. Babies don't develop the necessary muscles and motor skills to sit independently until 6-7 months or so. And until that day comes, it's up to their parents to provide a safe and comfortable space for them to sit.
Busy parents on the go have a million and one chores to attend to at any given moment. Not only does a baby seat provide your little one with ample back support, but it also gives parents a much-needed moment to focus on the mountain of laundry piling up in the kitchen.
To help pinpoint the best baby seat for you, we're going to cover what to consider when buying a baby seat, the top 10 baby seats on the market, and an in-depth buyer's guide.

What to Look for in a Baby Floor Seat
Baby seats are created with a range of different features and factors to cater to all kinds of parents. Take the following critical considerations into account when purchasing a baby seat to ensure you find a product that is suitable for your needs.
Safety
The last thing you want is to put your precious little one in danger, so you need to ensure your baby seat is sufficiently safe. A baby seat should have a wide flat surface on the bottom that doesn't tilt backward when pressure is applied. There should be ample leg and arm support to promote proper posture and allow your baby to rest in comfort. Finally, some baby floor seats come with a safety harness to fix your little one in place, while other models have a wrap-around tray that serves the same purpose.
Comfort
If you plan on putting your baby in the floor seat for a considerable amount of time, then comfort is of utmost importance. Moms and Dads who use their floor seats for extended periods prefer something a bit more rigid to promote good posture. On the other hand, inflatable and fluffy toy-like seats tend to be more comfortable yet offer less lumbar support.
Entertainment
Some baby seats come with a play tray packed full of colorful toys to keep your baby amused. Others blare out music and flashing battery-operated lights for optimal entertainment value (but these can get a bit annoying for the parent). Parents who plan to use their baby floor seat for entertainment will prefer these add-ons already included in the deal.
Eating trays
Do you expect to feed your child on the floor, or would you rather have them on a high chair up with the family? Many baby floor seats have an attached tray for snack time, some of which you can remove when not in use.
Portability
If you plan on carting your baby floor seat around town (or at least as far as grandma's place), then you need to factor in portability. Our recommended baby floor seats range from 1 to 6 pounds, and some even fold away for hassle-free travel.
Top 10 Best Baby Floor Seats 2020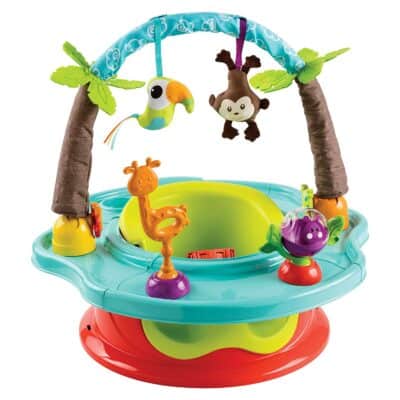 Why we like it:
This ultra-fun baby seat and play stage is oodles of fun for your little one.
Editor's Rating:
Quick Facts:
Weight capacity: 33 Pounds
Size: 21 x 22.2 x 22 inches
Fold Away: No
Eating Tray: Yes
Entertainment: Yes
Safety: Soft foam insert, 3-point harness
Review
Boasting a 360-degree toy-filled entertainment tray, the 3-Stage Deluxe SuperSeat by Summer Infant is the most fun a baby can hope to have while sitting on the floor. Six vibrant, hyper-color toys lie scattered across the wrap-around tray, and parents can choose from one of two different fun-filled themes: island pink and wild safari.
Should you fancy giving your baby a plain old chair, the entire play tray can be entirely removed and stowed away. Another nifty feature is the toy tray can quickly be transformed into a snack tray, with plenty of room to put your baby's favorite foods. It also has a cup holder to stash their milk. It's a wee bit on the flimsy side, but not too bad considering the product has multiple uses.
The name '3-Stage' comes from the fact the baby seat grows with your little one, with three separate sizing settings to accommodate babies in varying stages of development: an infant support seat positioner, a 360-degree activity seat, and a booster seat with straps to attach onto a chair. Regardless of which option you set up, your baby will feel exceptionally comfortable thanks to Summer Infant's cushy foam inserts. And if you're worried about safety, rest assured a 3-point harness will keep them safely tucked away at all times.
Superior comfort, safety, and versatility make this standout option our top pick overall. The design isn't exactly subtle, though, so it's not ideal for minimalist parents.
Pros
Converts into three stages

Loads of fun toys to play with

Can be used for eating

Comfortable foam

Includes safety harness
Cons
The vibrant design is a bit lurid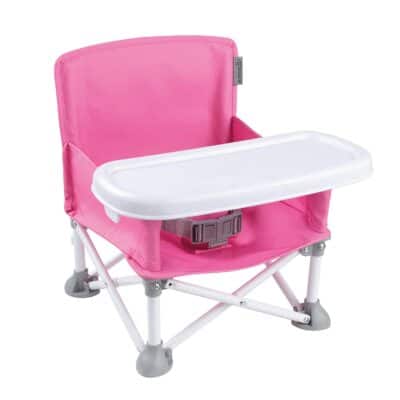 Why we like it:
This fantastic fold away baby seat is perfect for outdoor family adventures.
Editor's Rating:
Quick Facts:
Weight Capacity: 37 pounds
Size: 15 x 14 x 15 inches
Fold Away: Yes
Eating Tray: Yes
Entertainment: No
Safety: 3-point safety harness, chair safety straps
Review
Parents with a predisposition for spending quality time in the great outdoors can't go past the Pop 'n Sit Portable Booster Chair from Summer Infant.
Whether your baby is rocking out in the campsite or the backyard, this stylish outdoor baby seat will keep them looking groovy all afternoon. And when you fancy packing up at the end of the day, the chair folds down easily into a handy carry bag for optimal portability—just like a real camping chair.
Its extra-durable weather-proof material and robust design ensure the chair will last for years to come. Although it's specially designed for outdoor use, there's no reason you can't enjoy it indoors too. From the living room to the dining table and sitting in front of the TV, the Pop 'n Sit can go wherever you do. The detachable tray even gives your little one a safe place to snack when dinner time rolls around.
You won't find any toys or entertainment here, but the joy of being outside should be enough to appease your little one.
Pros
Excellent for outdoor use

Folds away quickly

Lightweight design

Includes eating tray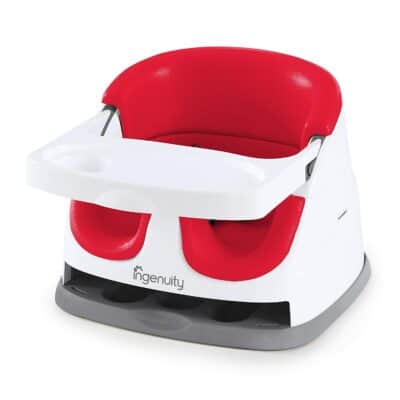 Why we like it:
This no-nonsense 2-in-1 comes in a sleek minimalist design that won't ruin your interior aesthetics.
Editor's Rating:
Quick Facts:
Weight capacity: 50 pounds
Size: 17.2 x 15.2 x 11.8 inches
Fold Away: No
Eating Tray: Yes
Entertainment: No
Safety: 3-point harness, booster seat straps
Review
If you're looking to do away with those garish, technicolored baby seats in favor of something a little more subtle, then the Baby Base from Ingenuity is your best bet. The sleek minimalist design of this 2-in-1 booster and baby seat makes it a hit among style-conscious parents across America. As you can see, the toned-down design features just two shades—go with the beige and white for the ultimate minimalist look.
Despite its stellar good looks, the product functions wonderfully as both a booster and a baby seat. At dinner time, simply tie the attached straps around the chair to hold it firmly in place and slip the tray out from under the seat. The foam insert can be removed once your baby starts to grow to create more space.
Although it's a fantastic product for mom and dad, your baby might not be too thrilled with the lack of toys and the plain color theme.
If you're digging the non-descript style of this piece, check out the Skip Hop Silver Lining and the Bumbo Floor Seat as well.
Pros
Unobtrusive minimalist design

Tray slides away under the seat

Can be used as a booster
Cons
No toys

Colors are boring for a baby

Not all colors are always in stock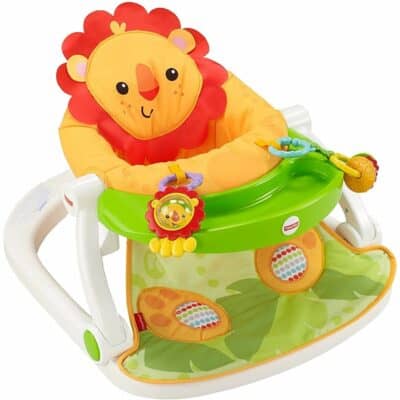 Why we like it:
This exuberant baby floor seat has enough adorable toys to make your little one smile from ear to ear.
Editor's Rating:
Quick Facts
Weight capacity: 25 Pounds
Size: 8.3 x 10.4 x 12 inches
Fold Away: Yes
Eating Tray: Yes
Entertainment: Yes
Safety: Sturdy base, head support
Review
Fisher-Price makes some of the most adorable baby gear in the world, and this endearing baby floor seat is no exception. What we love most about this model is just how darn cute it is, whether you go for the plush lion or crab design.
Rest assured, your baby will love the floor seat just as much as you do, not least for its wide array of exciting interactive toys. On the lion version, you get sliding clacker rings, a lion rattle with teether feet, and a left paw that squeaks when it touches your little one's feet. On the crab model, there are removable clackers and spinners to muck around with—we really can't decide which we adore more!
Aside from the cutesy vibe and baby-friendly toys, Fisher-Price has produced a baby seat with impressive functionality. You can fold up the lightweight 6.5-pound frame and cart it away with ease, and there's a handy table tray for baby snack time.
The catch? This unit is only suitable for babies up to 25 pounds, so you won't get much use out of it before it's time to move on.
Pros
Adorable design

Fun and interactive toys

Fold-up seat

Eating tray
Cons
Only suitable for smaller babies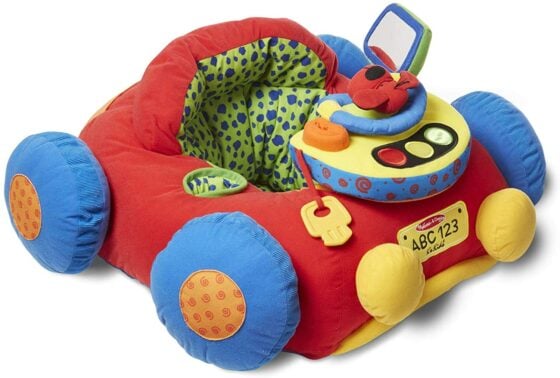 Why we like it:
The plush car-shaped baby floor seat is as cozy and comfortable as they come.
Editor's Rating:
Quick Facts:
Age range: 9 months – 3 years
Size: 8.25 x 21 x 21 inches
Fold Away: No
Eating Tray: No
Entertainment: Yes (2 AAA batteries required)
Safety: Soft
Review
If you don't mind splurging a few extra greenbacks on a plush toy-style seat, then the Beep-Beep And Play will get your baby giggling all day. Melissa & Doug have built a strong reputation for their quality baby gear and toys, and it's easy to appreciate the craftsmanship in this superb baby floor seat.
Sure, you won't get an eating tray, and the bulky seat doesn't easily store away. But what you will get is an unbelievably cushy little car that envelopes your little one in soft plushness—it doesn't get much more comfortable than that.
It's not all about the comfort factor, though, for the Beep-Beep and Play comes packed full of intriguing toys to enjoy. Turning an attached key emits a life-like engine sound, while honking, flashing, and music make your little one feel just like daddy driving the car.
It's a bit louder than other floor seats on the market, so think twice if you value your quiet time.
Pros
Lovely soft texture

Comfortable to sit inside of

Cool car theme

Lots of exciting toys
Cons
Expensive

A bit too noisy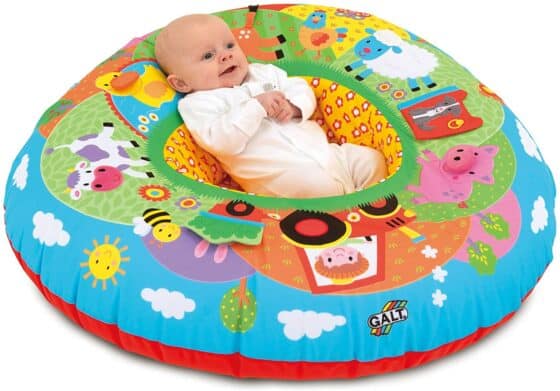 Why we like it: It comes with a bunch of adorable farmyard characters on the print and a baby-hugging, donut-style design.
Quick Facts:
Age range: Suitable from birth
Size: 14.57 x 2.95 x 11.1 inches
Fold Away: Yes
Eating Tray: No
Entertainment: No
Review
Who needs a solid structure when your baby can be floating on air? The donut-shaped Playnest from Galt Toys is a unique inflatable ring that strives to provide the utmost comfort for a baby in rest. It does a decent job of it too—in fact, you'll need to pay close attention to make sure your baby doesn't fall asleep inside the thing (it's bad for their back).
There isn't any eating tray included in the deal, although the barnyard inspired print will let your baby's imagination run wild. If not, just wait until they encounter the eight, animal-themed multi-sensory activities, including quacking ducks, baaing sheep, and oinking pigs.
A machine-washable quilt in the middle adds extra comfort with a lovely soft texture and helps the baby feel just like they're in bed. And that brings us onto an important question: is it a seat or is it a bed? You be the judge.
Pros
Unique donut-shaped design

Baby will be floating on air

Fun farmyard prints and activities

Soft quilt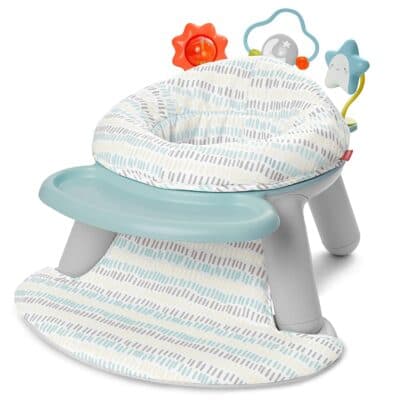 Why we like it:
It's got a low-key minimalist design and works like a treat for both eating and playing.
Editor's Rating:
Quick Facts:
Weight capacity: 25 pounds
Size: 23 x 19.6 x 15 inches
Fold Away: No
Eating Tray: Yes
Entertainment: Yes
Safety: Wide-leg base, baby directly on the floor
Review
Sometimes having a whole bunch of fun toys to play with won't do. Many on-the-go moms want a baby floor seat that will both entertain their little one and provide a clean space to serve a snack. Enter the 2-in-1, the baby floor seat specially designed to do both tasks in one handy unit.
Skip Hop has the perfect solution with its marvelous Silver Lining Cloud Baby Chair, in which mom can simply spin the tray around to go from toy time to tucker time. And then when your baby is done chowing down their food, just twist it back around again for more playtime.
Although the toys here can't compete with the outlandish Fisher-Price Sit-Me-Up, they're not dull, either. Three interactive toys come included in the set to keep your baby entertained, featuring all sorts of zany spinners and rattlers based on astral entities like the moon and the stars.
For moms who like subtle designs, the Silver Lining delivers the goods with its sophisticated gray-hued pattern that blends in seamlessly with any modern home.
Sadly, the seat doesn't fold away, so give this one a miss if you need something to lug over to grandma's.
Pros
2-in-1 functionality

Sleek modern design

Fun toys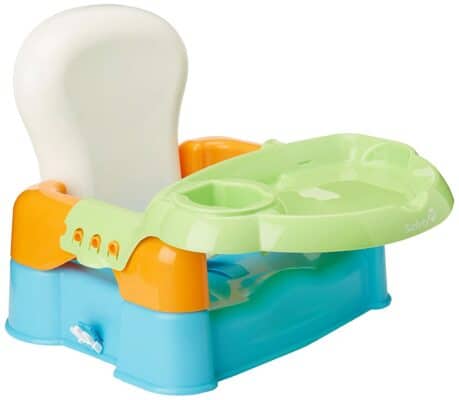 Why we like it:
It does what it's supposed to, and it comes with a much more manageable price tag than the competition.
Editor's Rating:
Quick Facts:
Weight capacity: 50 Pounds
Size: 14.5 x 11 x 16 inches
Fold Away: Yes
Eating Tray: Yes
Entertainment: No
Safety: 3-point harness, chair straps
Review
It may not be the prettiest floor seat in the world, but the Sit, Snack, And Go from Safety First does what you need at a minimal cost. As you might've guessed from the name, the product is designed for quick meals on the run.
Truth be told, this chair is primarily intended as a booster rather than a floor seat. Nonetheless, you can use the thing directly on the ground as well, although it's not all that comfortable for extended periods.
We aren't blown away by the aesthetics, either, as the 'plastic fantastic' design looks and feels a little cheap. Of course, the product is intended for moms on a budget, so that should hardly come as a surprise.
The chair has plenty of room to serve even the heartiest baby's dinner, and it's easy to clean in the dishwasher. Should you need to take it away, the whole package packs down small and weighs a modest 4.5 pounds.
Pros
Very cheap

Easy to clean

Light and portable
Cons
Not especially attractive

No toys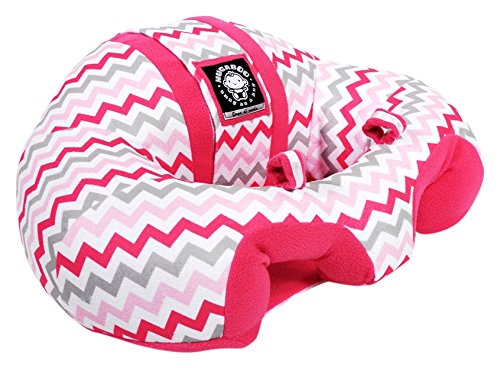 Why we like it:
This super cushy floor seat wraps around your baby to provide optimal comfort.
Editor's Rating:
Quick Facts:
Age range: 3 to 11 months
Size: 17.5 x 20 x 10 inches
Fold Away: No
Eating Tray: No
Entertainment: No
Safety: Covers a wide area
Review
It may not have any technicolored toys to play with, nor a tray to serve your baby's food on. The Hugaboo's bean bag-like design isn't particularly portable, either.
But what this gorgeous baby floor seat does have going for it is comfort, and no shortage of it. The Hugaboo's plush, lightweight interior wraps around your baby to support every section of their body with a soft and cushy barrier.
The sensation of being completely enveloped makes baby feel like they're in a warm and cozy cocoon, not unlike their mother's womb. And that familiar feeling is priceless for a young human who's still learning to cope with the big scary world around them.
The Hugaboo comes in six pretty patterns suitable for little boys and girls. It's a bit of a chore to get your baby in and out of at first, but with practice, you'll work the process out (see Hugaboo's guide if you get stuck).
Pros
Amazingly comfortable

Comes in six attractive designs
Cons
No attached toys

Cannot fold away

Hard to get baby in and out

No eating tray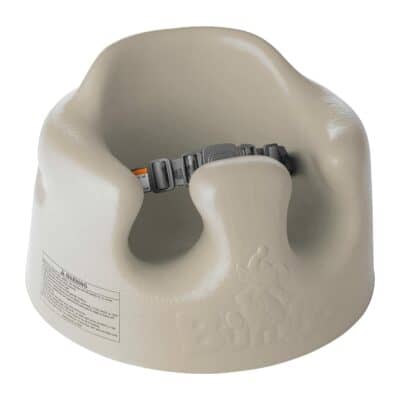 Why we like it:
Although it's nothing flash, it's kind of awesome at the same time.
Editor's Rating:
Quick Facts:
Age range: Up to 6 months
Size: 15 x 15 x 9.2 inches
Fold Away: No
Eating Tray: Optional-extra
Entertainment: No
Safety: Adjustable safety harness, wide floor seat design
Review
Some people say the simplest things in life are the best. And going by that logic, the Bumbo Floor Seat can't be beat.
The design at play here is so basic it's brilliant: a plain-colored potty-like structure to hold your little one firmly in place. You won't get any lurid colors or infantile toys on this product, only a straightforward seat so your baby can sit upright with glee.
Although it doesn't fold, the ultra-lightweight, low-density foam weights under three pounds, so it's a breeze to bring with you wherever you roam. And an adjustable harness inside the seat keeps baby snug and tight in any situation.
As much as we love the simplicity of the product, we feel Bumbo could have incorporated a tray for playing and eating at no extra charge. Instead, the company decided to maximize profitability by selling a play tray separately for a not-so-insignificant sum. It's probably a bit overpriced for such a small piece of plastic, but serious fans of the Bumbo will find value in it anyway.
Pros
Charming simple design

Safety harness

Comes in several colors

Extremely light
Cons
No toys

No tray included

Cannot fold
The Complete Guide to Baby Floor Seats

Do you still have a few questions about the baby floor seat?
Chances are you'll find the answers here in our baby floor seat buyer's guide. We've structured the information as an FAQ to make it easier for you to find what you need.
How Can I Safely Use My Baby Floor Seat?
The safe use of a baby floor seat is pretty straightforward. All a parent needs to do is correctly insert the baby into the seat, ensuring the legs protrude through both leg holes, and that their little one is well- balanced. If there's a harness, then tighten it up. And that's all there is to it.
There are two vital things to remember, however.
Firstly, at the risk of sounding a little obvious, a baby floor seat should only be used on the floor. Avoid putting them on tabletops or counters as there's a real chance it could topple over with disastrous consequences. Second, never put a baby into a baby floor seat if they exceed the manufacturer's maximum weight recommendations.
What Are Boosters and Do They Differ to Baby Floor Seats?
Some baby floor seats are designed to double as boosters, which means they can be put on top of a chair to keep the baby level with the table. Always follow the manufacturer's instructions regarding how to properly fasten a booster to a chair, which typically involves tightening a series of straps. This floor seat works well as a booster, if that's a priority for you.
Do I Need to Get Toys With My Baby Floor Seat?
It depends on what you intend to use the product for. Parents who want somewhere to quickly and safely stow their baby while focusing on household chores may figure toys and entertainment aren't all that important.
On the other hand, those who want something to distract their baby for an extended period will insist on the very best entertainment system. Interactive toys are always more fun—think lights, sounds, and moveable parts.
Our favorite baby floor seat with toys is the uber-exciting Fisher-Price Sit-Me-Up Floor Seat.
Do I Need an Eating Tray?
Do you plan on feeding your baby while they're safely snuggled away in the floor seat? If so, then yes, an eating tray is a must-have accessory. Our favorite baby seat has a baby tray. The Bumbo Floor Seat also has an eating tray available as an optional extra.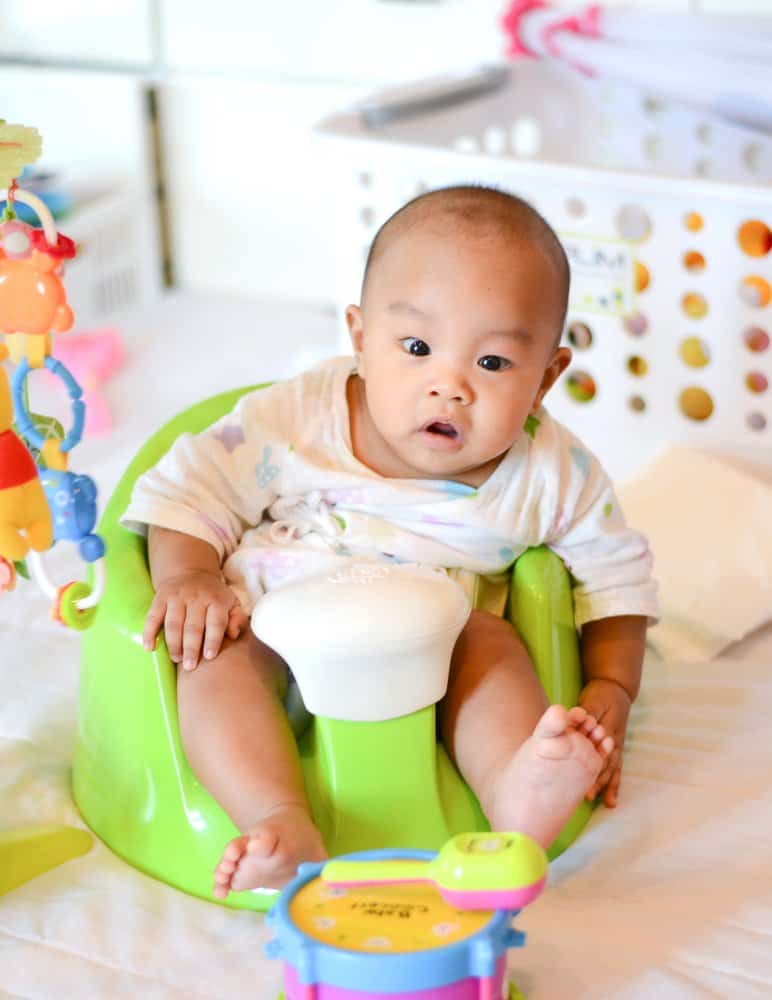 Are Baby Floor Seats Portable?
Some baby floor seats are easy to whip around town on a whim, while others are too big and bulky to leave the home. If you want a product you can bring with you to grandma's house (or anywhere else), then check out the item's weight and size.
Another factor that affects portability is whether or not the floor seat can be folded away and stashed in the boot of the family sedan. Our favorite fold-up floor seat is the Summer Pop 'n Sit Portable Booster Chair.
How Can I Find a Safe Baby Floor Seat?
Unfortunately, the CPSC does not regulate the use of baby floor seats in America, which means it's up to the buyer to assess the safety of each chair. However, we've done the legwork and sifted through countless products to find the safest possible options online.
First and foremost, a safe baby floor seat must have a large and flat surface area that isn't prone to topping over. You must remember never to exceed the manufacturer's weight limit as that dramatically increases the probability of a floor seat toppling over. We've included the manufacturer's recommended weight limit whenever available in our reviews.
Some baby floor seats also have a safety harness to lock the baby in place. Others, however, have a wrap-around tray instead, which effectively does the same thing.
Finally, a safe product won't have any sharp edges or awkward clips the baby could pinch themselves on.
What Age Baby Should Use a Baby Floor Seat?
Baby floor seats are perfect for little ones who've become bored with their playpens and outgrown their bouncy chairs, yet aren't big enough to sit upright all alone. All babies develop differently, but generally speaking, baby floor seats are ideal for infants aged between 3 and 12 months.
However, as babies all grow at a different speed, manufacturers sometimes provide a maximum weight limit rather than an age recommendation. For safety reasons, you should never exceed this limit; otherwise, you run the risk of them climbing out the seat or toppling over.
When Should I Use My Baby Floor Seat?
The perfect time to make use of your shiny new baby floor seat is a matter of personal preference. Some parents like to take advantage of the contraption while in the middle of doing their household chores—the baby floor seat provides a safe space to leave the little one while mom pays attention to other things.
Others may prefer to keep their baby in the floor seat for an extended period, using it in lieu of a playpen or playard. If you do go down this route, pay close attention to how comfortable your baby is (they'll let you know if they're not happy) and act accordingly.
More importantly, experts recommend against using a baby seat of any sort for more than two hours per day as it can inhibit development.
What Kind of Baby Floor Seats Are Most Comfortable?
The most comfortable baby floor seats on the market are soft and cushy, typically stuffed full of beads like a plush toy. Specifically, our top pick for comfort is the Original Hugaboo Infant Sitting Chair, which feels heavenly to lay back on.
While these kinds of baby floor seats are super comfortable to keep your baby in for a short amount of time, we don't recommend using them for extended periods.
What Kind of Baby Floor Seats Are Most Ergonomic?
Rigid baby floor seats provide better ergonomic support and are a safer bet if you're worried about your baby's posture. Many different options are available on our list, although we prefer the Bumbo Floor Seat for optimal lumbar support.
Although these kinds of baby floor seats are more ergonomic than the plush toy variety, that doesn't mean you can leave your baby in them for the long term. Follow the two-hour rule—a maximum of two hours in a baby floor seat per 24 hour period—to give your baby a chance to develop back muscles on their own.
Final Thoughts
We've presented a wide variety of enticing baby floor seats today, from brash infantile products to low-key, minimalist designs. It's crucial to consider what works for the parent and the baby, so do your best to take both perspectives on board before making a decision.
And don't forget to browse again through our top recommended baby floor seats to find the ideal product for you.