Baby wipes are a must-have for all parents, but finding an affordable wipe that is gentle enough on your baby's skin can feel like an impossible task. To help you find the best product for your family faster, we've compiled this short guide along with a list of our top 11 recommendations for the best baby wipes on the market.
How to Choose the Best Baby Wipes for Your Baby
As you shop for baby wipes, the most important features you'll consider are the ingredients, the thickness of the wipe, the container it comes in, and its disposability. Let's take a quick look at each of those factors:
Ingredients
When it comes to baby wipe ingredients, the fewer, the better. Your little one is still new to this world, and their young skin is often more sensitive than an adult's. So sticking to minimalist formulas like these water-based wipes or natural formulas like these Eco wipes will minimize the chances of skin irritation.
Even if you'd prefer a wipe with more cleansing power, better moisturizing capabilities, or a refreshing scent, be careful which ingredients are used to create these capabilities.
Read our list of ingredients to watch out for in the full buyer's guide below for more information on the most common skin-drying or irritating ingredients found in baby wipes.
Thickness
A thicker wipe is important if you plan to use these for diaper duty. If it's too thin, it'll tear in the process and you'll end up with messy hands. If you're not changing the diaper at home or in a restroom where there's immediate access to a sink, that's not fun.
Unfortunately, there isn't really a way to objectively measure the thickness of a wipe until you've pulled it out of the package and used it. Brands will make claims about how thick their wipes are, but it's all relative.
If the package specifically mentions that the wipe is thick, it's a good option to consider. But you won't know which brand offers the most thickness you need until you've tried them.
When in doubt, wipes with materials like bamboo or cotton are a promising place to start. Those are naturally stronger materials.
Container
A good container needs to be airtight but also easy to access one-handed when you need it. Your most common options are going to be small plastic or cloth pouches or bulkier plastic tubs.
The smaller pouches are better for on-the-go parents, but they aren't quite as airtight as the tubs. While the tubs generally completely seal up, they also take up a lot of space in your already full diaper bag. Decide which of these tradeoffs you're more willing to make.
If you find a wipe you really like, but the container is flimsy or inconvenient, one workaround is getting a reusable container. These are more durable tubs or pouches designed specifically for baby wipes. You can buy the wipes you like best and then just remove them from their package and place them in a reusable tub like this.
You can also just keep the old container of another brand that has better packaging, then refill it with the wipes you like.
Disposability
The majority of baby wipes are meant to be thrown away after one use. Most of them are made of plastic so they cannot be flushed down the toilet, they also do not biodegrade.
If you want to minimize your carbon footprint, opt for a compostable option like these Mum & You wipes or a reusable option like these cloth wipes.
Even if waste is not a primary concern of yours, do make sure that you throw your wipes away in the trash and not in the toilet. They can wreak havoc on your house's sewer system and the cost of those repairs comes out of your pocket!
After having to read about the key factors that go into deciding which baby wipes are the best choice, take a look at our recommendations below:
Top 11 Best Baby Wipes 2020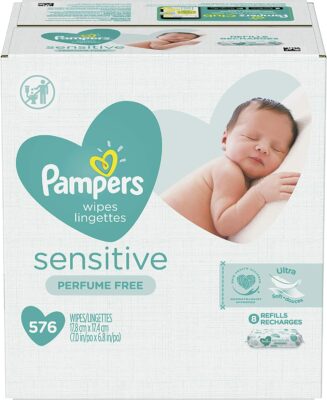 Why we like it:
These wipes from pampers are plush, soft, and fragrance-free so they won't tear easily and are less likely to cause irritation.
Editor's Rating:
Quick Facts:
Main Ingredients: Water, Castor Oil
Potential Irritants: Benzoyl alcohol, PEG
Container Type: Pouch
Not biodegradable
This refill pack of Pampers sensitive baby wipes allows you to get quality, plush wipes at an affordable bulk price. They're great for all babies and thick enough that they won't fall apart while wiping. They're also large enough to cut in half, doubling the wipe count!
Safety & Use
We love that this formula is free of toxins like parabens, phenoxyethanol, and other harsh ingredients that tend to wind up in baby wipes. This makes them safe to use on all areas of the body. They're gentle enough for babies' sensitive bits but also free of any unsafe-to-ingest ingredients so you can use them on the face and hands as well.
It does contain benzyl alcohol which might irritate extra sensitive skin. However, this is a naturally occurring alcohol in fruit and tea, so it's much gentler than the rubbing alcohol used in harsher baby wipes.
The PEG is also cause for concern. You may need to switch to an alternative wipe if your baby has an infection as PEG can prolong that infection. For a PEG-free option, consider the Aleva Naturals wipes.
Durability & Convenience
This newer design from pampers is 20% thicker than their other baby wipes. That thickness is coupled with softness to create a gentle wiping experience with no risk of tearing through the fabric.
These wipes come in eight separate pouches. They're meant to be refills for a plastic tub that you already own. If you don't already own one, you can pick up an individual tub of wipes and then refill it with these when it runs out.
Environmental Impact
These are not biodegradable or flushable. The wipe itself is made of a blend of natural fibers and plastics.
Pros
Extra thick

Very soft

Toxin-free formula

Gentle on sensitive skin
Cons
Contains potential irritants

Not biodegradable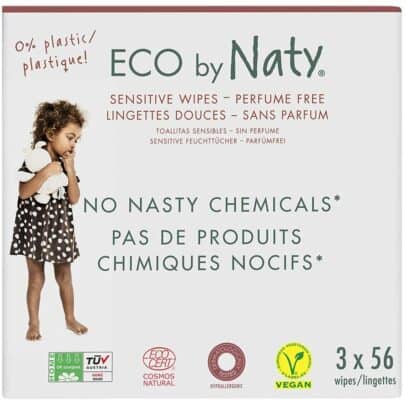 Why we like it:
These natural wipes boast a completely plastic-free design and all-natural ingredients.
Editor's Rating:
Quick Facts:
Main Ingredients: Water, Aloe, Chamomile
Potential Irritants: None
Container Type: Pouch
100% biodegradable
Eco wipes were developed as a solution to the problem of standard wipes that include formulas that are harmful for babies and plastic that's harmful for the planet. These are 100% biodegradable and free of any potential irritants.
Safety & Use
Our favorite thing about these wipes is the lack of harmful ingredients. The formula is mostly water, with a dash of aloe and chamomile to create a soothing, hydrating solution that nourishes and softens your baby's skin.
These are a great go-to wipe for babies with sensitive skin.
Durability & Convenience
The wipe itself is made of plant-based fibers that are strong yet soft so this wipe is very durable without being scratchy.
These wipes come in simple pouches. There is no lid to open and the pouch is not resealable once opened. So you need to have your own resealable pouch or bag to transfer these wipes to as soon as you open them or else they will dry out, but this design minimizes waste.
For something with a better container, you might prefer the Seventh Generation wipes.
Environmental Impact
With zero plastic and no toxic ingredients, these are incredibly ecofriendly. They'll transform from wipe to soil in just 12 weeks. If you have a hot compost system, you can even toss these in with your compost.
All in all, these are a great alternative for sensitive skin and for environmentally-conscious parents.
Pros
Toxin-free formula

Gentle and soothing on baby's skin

Great for sensitive skin

Compostable wipe will disappear in 12 weeks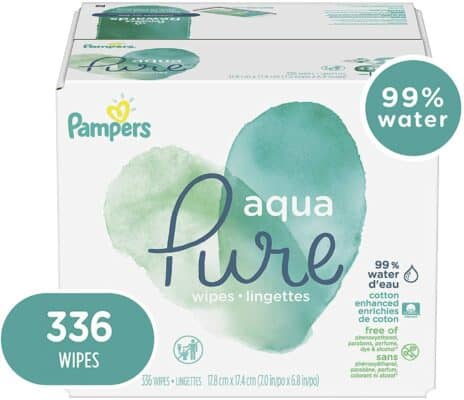 Why we like it:
99% water, these are some of the safest, gentlest wipes you could choose for your little one.
Editor's Rating:
Quick Facts:
Main Ingredients: Water
Potential Irritants: PEG
Container Type: Pouch with flip top
Not Biodegradable
These water-based wipes are thick, soft, and affordable. They're a great pick for parents looking for a wipe that won't tear and comes in a convenient, portable pouch for on the go diaper changes.
Safety & Use
The partial-cotton blend makes these wipes super soft to the touch, so your baby's bottom won't get irritated from a scratchy wet wipe. They're generally irritant-free, but the addition of PEG might not be gentle enough for babies with dry skin.
Because these are mostly water, the last few wipes in the pack can start to get soggy since the collected runoff from the rest of the pack pools at the bottom. This can be solved by simply squeezing or wringing them out before wiping.
Durability & Convenience
While these are mostly plastic, the cotton adds plush thickness that makes them extra durable without creating a scratchy, unpleasant texture. The flip-top pouch is also a nice touch that makes these wipes ready to go right out of the box.
Environmental Impact
While the small amount of cotton in these wipes will biodegrade, it's still mostly plastic and therefore not an eco-friendly choice. If you remove the flip-top lids, you can recycle those and minimize your footprint slightly that way.
For a more eco-friendly option that's still soft and gentle, consider the Eco wipes.
Pros
Cotton-enhanced fabric is super soft

Water-based formula is gentle on sensitive skin

Convenient flip-top pouch

Thick, tear-resistant design
Cons
Sometimes too soggy

Contains potential irritant

Not environmentally friendly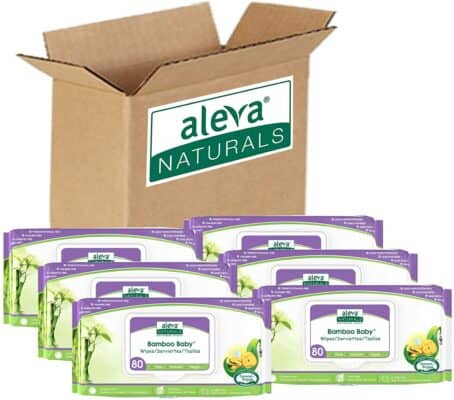 Why we like it:
This soothing blend of aloe, lavender, and tea tree oil calms irritated skin while the soft bamboo material gently cleanses, making this a great option for babies with eczema or sensitive skin.
Editor's Rating:
Quick Facts:
Main Ingredients: Water, Chamomile, Assorted Essential Oils
Potential Irritants: None
Container Type: Pouch with flip top
Biodegradable
The formula in these wipes is so luxurious, you'll be tempted to use them yourself! The good news is they are fully biodegradable, so use as many as you want without worrying about the environmental impact!
Safety & Use
We love that this is a water-based formula. The touch of chamomile and essential oils adds soothing and cleansing powers without making it harsh on your baby's skin. The result is something soft, nourishing, and safe for sensitive skin.
Durability & Convenience
The bamboo fiber makes these an incredibly strong wipe that will stand up to whatever mess your baby can throw at it. Bamboo also makes for a pillowy soft wipe that won't scratch your baby's skin.
While the pouches do have a flip-top lid for easy access and an airtight seal, it isn't the best-designed container. You might find yourself struggling to get any wipes out or accidentally pulling out 2-3 at a time. This is an easy fix if you just transfer them to an old tub or pouch.
Environmental Impact
These fully biodegradable wipes are made from bamboo. By using bamboo, Aleva Naturals not only skipped the plastic but used a sustainable material. So you can wipe with confidence, knowing that the environment was not harmed to keep your baby's bottom clean.
Pros
Extra strong and soft bamboo wipe

Soothing and cleansing essential oil infusion

Water-based formula

100% biodegradable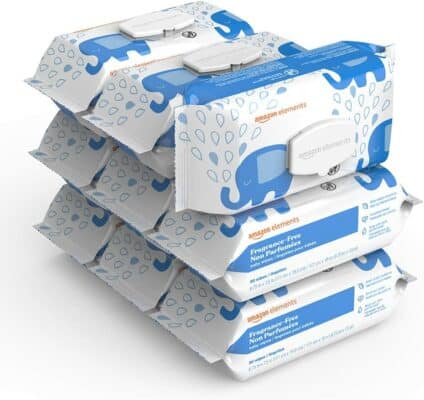 Why we like it:
These water-based wipes are as affordable as they are gentle on your baby's bottom.
Editor's Rating:
Quick Facts:
Main Ingredients: Water
Potential Irritants: None
Container Type: Pouch with flip top
Not Biodegradable
The simple, irritant-free formula and the low price make these a great decision for budget-conscious parents who don't want to sacrifice their little one's safety to get a good deal. These are gentle, soft to the touch, and great for everyday use.
Safety & Use
Our favorite thing about these wipes is that they contain none of the potentially harmful ingredients that you often find in baby wipes. They're free of parabens, preservatives, alcohol, and everything else that your baby's sensitive skin doesn't want. Overall, the formula is simple and gentle, making it a good go-to wipe to prevent irritation.
Durability & Convenience
This wipe isn't especially thick but it is surprisingly durable. It will hold up to most messes and is reliable enough to be your go-to wipe. The flip-top pouch makes them convenient for keeping in your diaper bag or car.
Environmental Impact
While these aren't biodegradable, they were manufactured with recycled ingredients and the flip-top lid is recyclable, so if you detach that, you can put that in the recycling bin. It will cut down on the environmental impact, but it's still far from the most eco-friendly option.
If you'd prefer something with a smaller carbon footprint, try these Aleva Naturals wipes.
Pros
Water-based formula

Irritant-free

Affordable

Made from recycled materials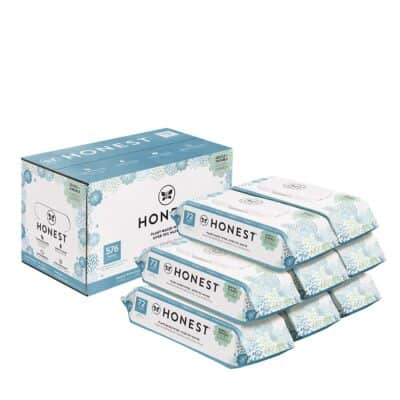 Why we like it:
For parents who seem to constantly tear through wipes, these extra-thick, hypoallergenic wipes are a great choice.
Editor's Rating:
Quick Facts:
Main Ingredients: Water, Various essential oils
Potential Irritants: Caprylyl Glycol
Container Type: Pouch
90% Biodegradable
The Honest Company is known for making wipes that are free of harmful toxins and packed full of soothing ingredients. These hypoallergenic wipes are a great example of the quality you can expect from this brand.
Safety & Use
This wipe is free of parabens, alcohols, and other irritating ingredients. The 99% water formula is also boosted by some nourishing essential oils that can calm inflamed skin and leave skin feeling extra soft.
The only possible cause for concern is the caprylyl glycol used to artificially soften the wipe. It appears at the bottom of the list so it's likely that it's been diluted enough that it won't cause any problems, but babies with extra sensitive skin might react to it. On the other hand, it makes for a softer-than-normal texture.
Durability & Convenience
The extra thick design makes these some of the strongest wipes on the market. They're up to the task for even the biggest and stickiest messes.
This bulk pack of wipes is meant to be a refill. That means it doesn't come with a flip-top pouch or tub. You'll need to transfer them to one you already have as soon as you open the pouch.
Environmental Impact
Despite the all-natural branding, these are not fully biodegradable. They are just 90% biodegradable but will still leave behind a small amount of plastic. If you're looking for a compromise between durability and eco-friendly design, this will do.
However, if you'd prefer something that actually is 100% biodegradable, you'll be more satisfied with these Mum & You wipes.
Pros
Extra thick design

Water-based

Free of harmful parabens, alcohol, and other irritants

Infused with a blend of soothing essential oils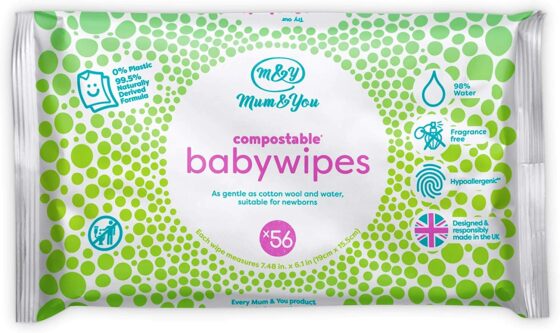 Why we like it:
These plastic-free and toxin-free wipes are sustainably sourced and gentle enough for even the most sensitive skin.
Editor's Rating:
Quick Facts:
Main Ingredients: Water
Potential Irritants: None
Container Type: Pouch
Biodegradable
With a minimalist ingredient list, these plant cellulose-based wipes are some of the most planet-friendly wipes you could buy. They also happen to be some of the most baby-friendly wipes as well!
Safety & Use                                                        
The formula used in these wipes is mostly water. The 2% that isn't water is mostly plant-based, and none of the ingredients are potential irritants. The result is a gentle yet powerful cleaning solution that will keep your baby's bottom clean and smooth.
Durability & Convenience
These are pretty thin. The plant cellulose fiber that the wipe itself is made of is not as durable as, say, bamboo or cotton. The lack of a top flip pouch also means that they are a little inconvenient to use if you don't have your own pouch or tub to transfer them to.
Environmental Impact
These wipes are completely plastic-free and safe for the soil. They will biodegrade in 4-6 weeks and can be added to your compost heap if you use a hot composting system.
In addition to biodegradable, all of the plant-based fibers used to make these wipes were sourced from sustainably managed forests. It's one of the most ecofriendly disposable wipes you can find.
Pros
Gentle, irritant-free formula

Water-based

100% compostable

Ingredients sourced from sustainably managed forests
Cons
Somewhat thin

Inconvenient packaging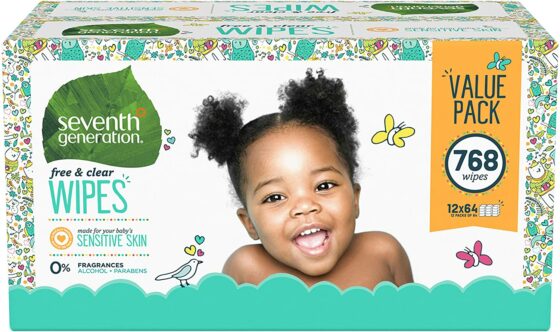 Why we like it:
These are some of the most affordable toxin-free wipes for sensitive skin so they're a great balance of affordability and safe formulas.
Editor's Rating:
Quick Facts:
Main Ingredients: Water, Aloe
Potential Irritants: None
Container Type: Pouch with flip top
Partially Biodegradable
These fragrance-free and gentle baby wipes are great for sensitive skin. The aloe infusion can help soothe rashes or inflammation so it's a great wipe to use when your baby has diaper rash or an infection.
Safety & Use
We love the minimalist recipe used to make these baby wipes. There's not a single irritant to be found and the dash of aloe adds a soothing element that is gentle and soothing on your baby's skin.
Because they are largely water-based, you may notice that they get a little soggy. This is especially so as you near the end of the pack. Fortunately, it's easy enough to squeeze out any excess water if needed.
Durability & Convenience
These are much more durable than you would expect for a wood pulp-based wipe but that's probably due to the plastic blended in. They're strong enough to handle tough messes and gentle enough to do it without irritating your baby's skin.
The flip-top pouch design is convenient and makes these a great choice for diaper changing on the go. However, due to their thickness, they tend to cling together. This increases the risk of unintentionally pulling out more wipes than you need.
For a wipe that dispenses more easily but still is gentle on your baby's skin, you might try the Honest wipes.
Environmental Impact
The wipes are made from a blend of wood pulp and plastic. So, they will partially biodegrade in the landfill. It's not a perfect environmental solution, but it's a step up from the fully plastic wipes that have become standard.
The flip-top lids can be removed from the pouch and recycled as a way to lower the environmental impact a little further.
Pros
Soothing aloe infusion helps calm irritation

Fragrance-free

Irritant-free

Convenient flip-top pouch
Cons
Don't dispense easily

Can be soggy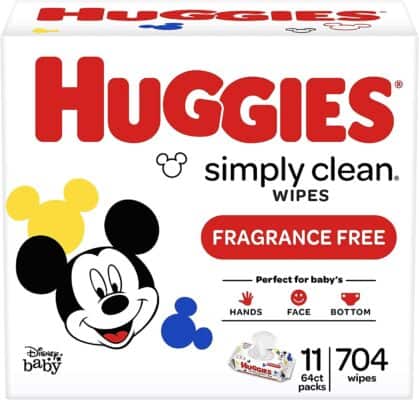 Why we like it:
These simple, scent-free baby wipes are great for the budget-conscious parent.
Editor's Rating:
Quick Facts:
Main Ingredients: Water, Aloe
Potential Irritants: Caprylyl glycol
Container Type: Pouch with flip top
Not Biodegradable
The signature quilted design that has made Huggies a favorite in many households is what makes these wipes stand out. Combine that with the fragrance-free formula and you've got a wipe that's gentle enough for your little one.
Safety & Use
While these are mostly safe, caprylyl glycol, a potential irritant is the second ingredient on the list. It may be diluted enough to not cause any problems. However, the chance that your baby might react to it is a little higher.
We do appreciate that it's a water-based formula. They've also included soothing aloe extract to help calm irritated skin. However, if you'd prefer a wipe with no potential irritants, try these Seventh Generation wipes.
Durability & Convenience
While these are a little on the thinner side, they're still reliable. They might not hold up under the worst messes but if you fold them in half, you should be able to avoid your fingers tearing through.
The flip-top pouch design is a nice touch that makes these convenient for keeping in your diaper bag.
Environmental Impact
These are standard as far as wipe manufacturing goes. They aren't made of recycled materials and they certainly aren't biodegradable. They're just regular plastic-based wipes. If an ecofriendly design is important to you, something more like the OsoCozy wipes would be a better choice.
Pros
Soft quilted design

Fragrance-free

Water-based

Aloe infusion

Convenient flip-top pouch
Cons
Not biodegradable

Thin

Potential irritant in the ingredients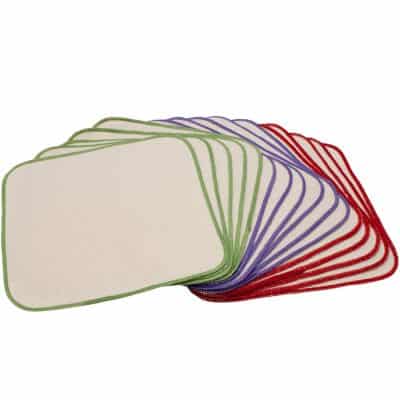 Why we like it:
These reusable cloth wipes will save you hundreds of dollars and provide an ultra-soft wipe for your baby.
Editor's Rating:
Quick Facts:
Main Ingredients: 100% cotton
Potential Irritants: None
Container Type: None
Reusable
These cloth wipes are a great option for parents who are eco-conscious, budget-conscious, or just want something that isn't full of harmful or irritating chemicals. They're pure cotton, reusable, and easy to wash.
Safety & Use
With no other ingredient except pure cotton, you can't get safer than these flannel baby wipes. They're ideal for all skin types and all purposes. You can use them dry or dampen them with water for a more wet wipe-like experience.
These wipes are ideal for all uses. The unbleached flannel will not tear and makes for a more effective wipe than disposable wipes. The cloth "grabs" messes much better than slippery wet wipes do.
Durability & Convenience
The ultra-soft flannel is both gentle and incredibly durable. Where these wipes lose a couple points is in convenience. You will obviously have to wash these after every use. It's as simple as throwing them in the laundry with a little bleach though. However, if you only buy one pack and you have a young baby, you'll likely be doing laundry on a near-daily basis.
We recommend buying two or three packs to cut back on how long you can go between loads of laundry.
Environmental Impact
As far as the environment is concerned, this is the best choice you could make. While biodegradable wipes are better than plastic, the option of keeping wipes out of the landfill altogether is even better.
Since biodegradable wipes still come in plastic packages, you're also cutting back on the amount of plastic you send to the landfill by not having to buy refills on these wipes.
Pros
Reusable

Machine washable

100% soft cotton

Can be used wet or dry

Safe on all skin types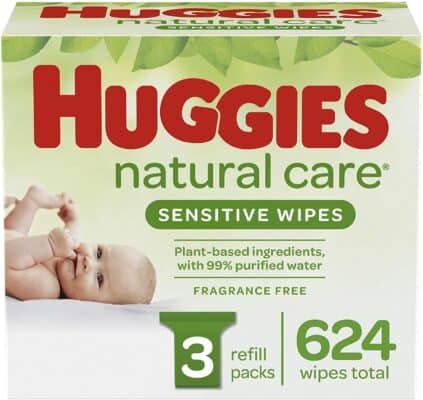 Why we like it:
These quilted wipes for sensitive skin are soft, durable, and affordable.
Editor's Rating:
Quick Facts:
Main Ingredients: Water, Aloe
Potential Irritants: PEG, Caprylyl Glycol
Container Type: Bag
Not Biodegradable
This natural alternative to the standard Huggies wipes has been formulated to be safe enough for babies with eczema. The infusion of aloe and vitamin E help to soothe inflamed skin and prevent scaling.
Safety & Use                                                                                         
While the ingredients in these wipes are generally safe, they aren't as harm-free as we'd like to see in a wipe that brands itself as "natural" and for sensitive skin. The caprylyl glycol and PEG may not have any noticeable effect on your baby's skin, but there is still a risk of irritation, especially for dry skin.
For something with no potential irritants, you might prefer Aleva wipes.
Durability & Convenience
The wipe design is strong, tear-resistant, and pillowy soft. They're a great option for parents who have been struggling with thin wipes and want something that can handle bigger messes.
The packaging isn't particularly convenient. This bulk shipment packages the wipes in three large bags. Once opened, the bags don't reseal. So, unless you transfer all 200+ wipes from the bag into assorted airtight containers, they will dry out.
If you don't already have a stock of multiple tubs and pouches, this could be a real inconvenience. For an affordable option that comes in more convenient packaging, try these Amazon Elements wipes.
Environmental Impact
These are standard plastic wipes, so they won't breakdown.
Pros
Formula includes soothing aloe and vitamin E

Tear-resistant wipe design

Quilted, pillowy soft material

Safe for eczema
Cons
Contains potential irritants

Very inconvenient packaging
Frequently Asked Questions About Baby Wipes
As a new parent, you've probably got no shortage of questions, and the topic of baby wipes is no exception. Here are a few of the most frequently asked questions regarding baby wipes:
What Are the Safest Baby Wipes to Use?
The safest wipe is the one that doesn't irritate your baby's skin. This means there is a lot of variation. For example, some babies don't show any signs of irritation from scented or alcohol-based wipes while others immediately get a rash. Some babies do fine with essential oils and cleansers while others don't.
Even if you skip all the additives and just get plain water wipes, some babies might still break out in a rash from the texture of the wipe itself.
If that sounds frustrating, don't worry. With a little research and experimentation, you can quickly identify a brand that works for your baby. Here are some general tips you might follow:
The fewer ingredients there are, the lower the risk of it having an ingredient that irritates your baby's skin.
The more natural the fibers (think bamboo and cotton), the less rough the texture.
The thicker the wipe, the softer the texture (in most cases).
Regardless of which wipes you choose, make sure you take the appropriate first steps. When changing brands, start with just one package of the new brand.
Test the wipe by using it on their back or stomach, somewhere where the potential for a rash won't be as irritating as it would be on their bottom. Wait a day or two to see if any rash or irritation appears on the area you wiped. If nothing appears, you're good to go with the new brand!
If a rash does appear, you'll be thankful you only bought a single package to start. Donate the unused wipes to another new parent you know or to a local family charity!
What Ingredients Should You Avoid in Baby Wipes?
Even though they're made for babies, not all manufacturers are as careful to stick to gentle, baby-safe ingredients. In this section, we'll list some of the most common offenders you'll find in baby wipes and why you should avoid them.
We've split the list in two. The first set of ingredients are actually toxic and should be avoided at all costs. The second set of ingredients may cause irritation but aren't necessarily harmful to your baby's health. All of them have been found in baby wipes, though. So you have to be alert.
The absolute deal-breakers include:
Phenoxyethanol, SHG, and Other Preservatives
These ingredients are added as stabilizers or antibacterial agents. However, if absorbed through the skin, they can disrupt the central nervous system, especially a developing immune system. The risk of absorbing dangerous levels of the preservative is increased if the product is used multiple times a day. Considering you'll go through dozens of wipes a day, that risk is too high.
Parabens
While they are becoming less and less popular, parabens are still occasionally found in baby wipes. They generally get used as a preservative to prevent bacterial and fungal growth.
The problem is that parabens disrupt natural hormone functions. Hormones play a major role in child development, so any disruption can affect your baby's growth. Parabens have also been linked to cancer. It's rare you'll find them in any cosmetics for babies, but keep your eye out.
Imidazolidinyl Urea
This and other preservatives like it are used to extend the shelf-life of baby wipes. Unfortunately, they also release formaldehyde, a chemical that has been linked to cancer. If you use the wipe on your baby's face, formaldehyde can get into their eyes, mouth, and nose. This can cause difficulty breathing and leave behind a burning sensation.
You generally want to avoid any ingredient that is used as a preservative.
The ingredients that you'd be better off without but could still tolerate if you liked everything else about the wipe include:
Polyethylene Glycols (PEG)
This is a compound that's used to artificially soften baby wipes. However, it also enhances absorption, meaning other chemicals in the baby wipe will be absorbed faster and deeper into your baby's skin.
Even if there are no toxic ingredients in the formula, PEG can still have a drying effect on skin, so sensitive babies might break out in a rash or experience skin dryness.
Sodium Lauryl Sulfate and Other Foaming Agents
SLS and similar foaming ingredients act as a detergent to clean and disinfect your baby's bottom. However, these are rather harsh detergents so, when used repeatedly, they strip away natural oils and dry out the top layer of skin, increasing the risk of irritation and infection.
If your baby has sensitive skin, you really have to be careful about this one. It is technically derived from coconuts, so you may even find it in wipes that boast "all-natural" ingredients.
It can also be listed under a lot of different names. Here are some of the other names it might go by:
Sodium sulfuric acid
Sulfuric acid
Monododecyl Ester
Sodium Dodecyl Sulfate
Aquarex Methyl
Those and any variation of those above names should be avoided if your baby has sensitive skin.
For sensitive skin, be extra careful and opt for wipes like these Pampers wipes which were specifically formulated to prevent irritation.
Isopropyl Myristate
This is usually found in baby wipes that offer moisturizing capabilities. It's the same thing that makes most lotions thick and creamy. While it is generally safe, it can make existing skin conditions worse because it creates a nonpermeable barrier on top of your baby's skin.
When bits of feces from your baby's diaper gets trapped under that moisturizing layer, you've got a recipe for infection. If your baby already has diaper rash or irritation, this ingredient can make it even worse.
Using them on the face and hands is fine but you might want to skip these wipes for their more sensitive bits.
Alcohol
This is commonly used as a cleansing and disinfecting agent in baby wipes. It works well for that purpose but it can also dry out skin. If your baby already has sensitive skin, avoid it.
Fragrance
There are many chemicals used to create pleasant scents. However, even when they're nontoxic, they can be irritating to sensitive skin. If you want a wipe with a scent, opt for something that uses natural oils like Aleva Naturals.
Is It Safe to Flush Baby Wipes?
No. Most wipes are made with plastic. This means you have to put them in the trash. You can't flush them. Even if the package says "flushable," they aren't flushable. A recent study tested over 100 brands and found that not one of them was actually flushable.
Dispose of them with your trash instead. If they're compostable or biodegradable, you can put them in the organic waste bin or compost heap. If you're concerned about the smell, get a small wastebasket with an airtight lid specifically for diapers and used wipes.
How Can I Save Money on Baby Wipes?
Baby wipes are one of your big expenses as a new parent. Whether you're changing a diaper or wiping down your newborn after one of the hundreds of messes they somehow manage to get in, you run through a lot of wipes in a day. By the end of the first year, you'll have gone through thousands. Before we talk about how to save money on wipes, let's look at the numbers:
In the first five months of your baby's life, you'll likely be changing diapers 8-10 times per day. Approximately 1-4 of those diapers will be bowel movements.
If you used just one wipe per diaper (and let's face it, most changes require more than one wipe), that would be somewhere between 240-300 wipes per month.
Then, you add in the ones you use to wipe down their face, hands, seat, table, and anything else that gets dirty. This will add about 3-4 additional wipes per day, on the conservative side. That's another 90-120 wipes per month. Altogether, you're looking at, 330-420 wipes per month, and that's a low estimate.
As you can see, it adds up. It's going to be one of your main expenses in the first year or two of your baby's life. So how can you save money?
Skip the Wipe for Wet Diapers
According to the American Academy of Pediatrics, urine does not really irritate the skin. That's even more true given the fact that many modern diapers are so absorbent that most urine is absorbed before it can even come into contact with your baby's skin.
So you don't really need to wipe your baby's bottom if it's just a wet diaper. Just remove the wet one and go straight for the dry one, or use a reusable wipe like the OsoCozy Flannel Baby Wipes.
By skipping the wipes for wet diapers, you can bring your usage from 8-10 wipes per day down to 1-4 wipes per day, plus face/hand wipes. That brings your total down from a max of 420 to a max of 240 per month.
Switch to Reusable Wipes
The best thing you can do to save money on wipes is switch to reusable. If you plan properly, you can eliminate the need for disposable wipes altogether. If you go through 10-15 wipes a day, buy a pack of 15 reusable wipes.
They'll get you through the whole day without having to wash them until you get home. Now, you're spending no additional money on wipes each month and you're not throwing plastic wipes into the trash. It's a win-win for everyone.
Even if you just commit to using reusable wipes for face, hands, and other cleaning duties, you can eliminate 90-120 wipes per month. If you combine that with only using wipes for bowel movements, you bring your total disposable wipe use down from 420 to 120. That's some serious savings.
Use Half and Quarter Wipes
If there's no big mess to clean up, there's no reason to use a full-sized wipe. A half wipe is more than enough to clean off smaller messes or wipe down hands and faces.
Before you leave the house, cut a few wipes in half or in quarters and store them in an old container or Ziploc bag. If you're just wiping down a smudge on your baby's face, there's no reason to use a whole wipe for it.
So, keep a supply of smaller wipes on hand. That way, you have all the convenience of a ready-to-use wipe but you've stretched your supply to last twice as long.
If you combine this tip with the one above, you'll cut your usage down to a max of 180 wipes per month. Then, if you switch to reusable cloth wipes for all non-diaper related messes, you can bring that total down to just 60 disposable wipes per month!
Use the Sink at Home
When at home, you can skip the disposable wipes altogether. Instead, rinse your baby off in the sink or with a wet washcloth. This provides a much more thorough clean than any wipe can offer, and it saves you having to use a wipe at all!
Buy in Bulk
Once you've found the perfect wipe, go all in! Buying bulk is much cheaper in the long run than buying individual packs. Plus, you'll rarely have to worry about running out of wipes in the middle of the night.
Shop Sales
With staple supplies like diapers and baby wipes, it's always a good idea to take advantage of sales. These are things you would have to buy anyway. So if there's a sale, take the opportunity to stock up on extra!
Other Convenient Products for Parents
Baby wipes work miracles, cleaning up millions of messes a year. They're not only useful for changing, but just for having around. Thankfully, there are plenty of other great products making life easier for young parents.
Diaper Bags: All young parents have a moment when they realize they need a diaper bag. Don't have one? It'll change your life.
Potty Chairs and Seats: Transitioning from diapers to the real deal? A potty chair or seat makes the transition possible.
Diaper Pails: A good diaper pail makes all the difference when changing your baby, as well as helping with smells and making trash day easier.
Diapers for Newborns: Young parents looking for the best baby wipes will probably be looking for the perfect diaper as well. It's worth experimenting with to find the right ones.
How to Use Reusable Wipes
Reusable wipes used to be the norm up until the 1950s. While it fell out of fashion for a while, the recent trend in eco-conscious shopping has helped it regain popularity. The fact is that reusable wipes are safer for your baby, cheaper than disposable wipes, and better for the environment.
We get that when you're on the go, the last thing you want is a diaper bag stuffed with poop-covered wipes. But with a little prior planning, it's not as bad as it sounds. Here are a few tips:
Use an airtight container to store used wipes in. It'll trap the odor in and keep soiled wipes away from the other things in your bag.
Use them dry or wet them with water. You can do this in a sink or with a water bottle.
If you soak cloth wipes ahead of time, store them in a clean, airtight container. Only soak the number of wipes you expect to use for the day.
How Do You Wash Reusable Wipes?
The thought of washing cloth wipes is probably the biggest concern parents have when considering this alternative. Luckily, it's not all that hard. You can wash them like you would any other laundry.
Wash them in a separate load and using the "heavily soiled" setting on your machine. If you're also using cloth diapers, you can wash your wipes with them. Some families add a small amount of bleach to help disinfect.
The Benefits of Reusable Wipes
While it can take a little bit of an adjustment to get used to reusable cloth wipes, they are well worth making the transition. Here are some of the main benefits of going reusable:
More effective at cleaning because the cloth "grabs" the mess instead of just smearing it around
No risk of fingers tearing through
Save hundreds of dollars on skipping or cutting back on disposable wipes
Much more environmentally friendly
No harmful or irritating ingredients
Cloth is gentler on sensitive skin
Final Word
The best baby wipes are the ones that are gentle on your baby's skin and on your wallet. Before you commit to a new brand, be sure to buy a smaller trial package so that you can make sure the wipes meet your needs. Once you know which brand has all the qualities you're looking for, buy in bulk and don't look back!