Top 30 Best Barbie Toys for Kids 2023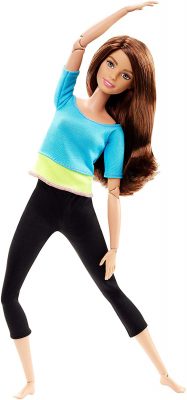 Most new Barbie dolls aren't flexible, but not this one. This Barbie toy is 100% flexible. The doll features 22 joints that can be bent to achieve any position. She can be a professional gymnast, yoga master or anything else.
She comes in two versions, blonde and brunette, and the top is different depending on which hair color doll you choose. This Barbie doll is unlike any on this list, making it the perfect gift for your little one.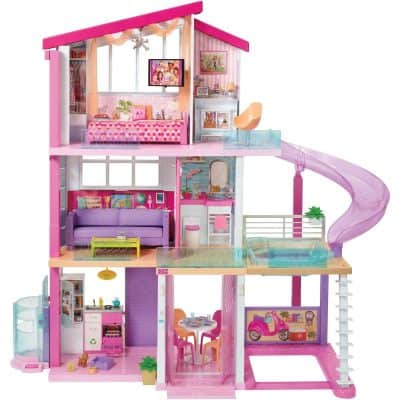 If your little one loves Barbie, then this is the ultimate gift for their dolls. The dream house inspires playground jealously in everyone who hears about it, and it's easy to see why.
The Dreamhouse comes with its own pool, slide and elevator. It stretches over three stories and has six rooms and a porch/garage area. Clad in stunning and classic Barbie pink, the Dreamhouse is the iconic Barbie mega-set for all fans of Barbie.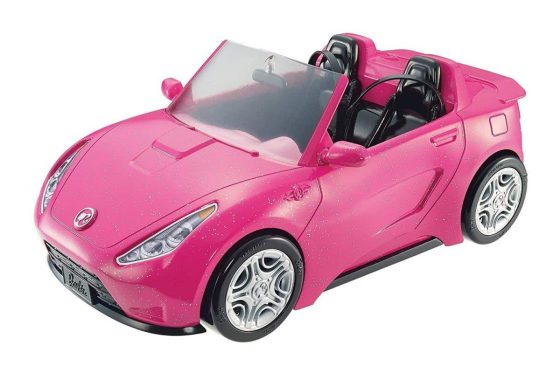 Alongside the house, the Barbie convertible is the most recognizable Barbie toy out there. This sleek pink convertible lets Barbie ride around with her friends all day long.
The car rolls so you can push it along and get the adventure started. It's finished in signature Barbie pink and there is enough room for two dolls if your child's friend brings their doll to ride-along. The realistic touches like the seatbelt and upholstery add a delightful level of detail to this car.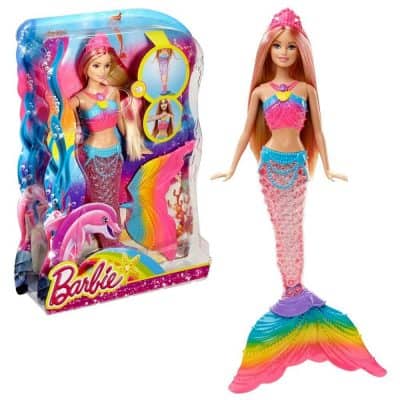 If you want to impress your little girl, this is the perfect Barbie toy to do that. Take this beautiful Mermaid doll for a swim and see her tail glimmer with rainbow lights. The light show starts once the doll is placed in water. To enjoy the magic light show without water, press the button in the doll's necklace.
The pink-streaked hair, rainbow fin and princess tiara make this Barbie doll magical. This is an excellent toy that kids will hold dear.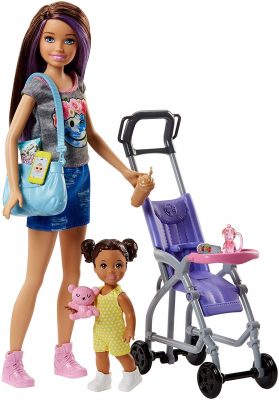 Barbie Skipper Babysitter is one set we recommend for all kids. The set includes a fancy new stroller, bouncing seat, and exciting accessories such as toy phone, teddy bear, and baby bottle. The fancy stroller gets imaginations rolling. Put the baby doll in and push to see her bounce as the stroller moves.
Skipper doll is all ready for her outdoor walks with a diaper bag, cell phone, and snacks for the toddler. This lovely set is appropriate for girls over the age of 4.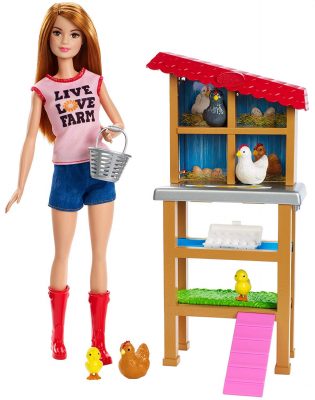 This set is part of the Barbie Careers collection that we know all youngsters will love. The farmer playset comes with a specially designed hen house, eggs, chickens, and a basket. The chickens are in different colors and will steal any animal lover's heart. Your kids can play gathering eggs in a basket, tray of eggs, and much more.
The Barbie doll is dressed in a pink t-shirt with "live, love, farm" on it, denim shorts, and red farm boots. With a beautiful Barbie doll and fun accessories, your little girl can have the playtime of her life. She can learn where chicken and eggs come from and have fun at the same time.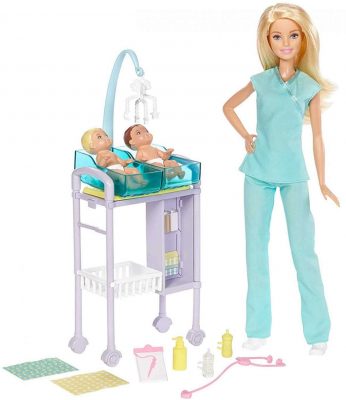 The Baby Doctor doll is another great Barbie Careers playset that all young kids can enjoy. The set includes a Doctor Barbie and two babies. She has all the equipment she needs to care for the babies. You will also find a health chart, spinning mobile, stethoscope, bottle, towels, and two cots.
This lovely Barbie set is appropriate for all kids over the age of 3 and will provide hours of fun and entertainment. The Barbie Doctor Playset is one of the most popular Barbie sets available to buy.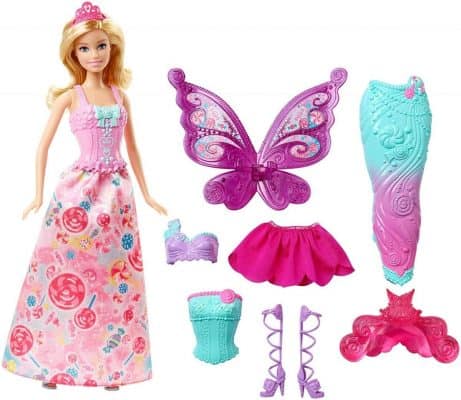 Allow your little one to create their own happily ever after with this fairytale set. The set includes one Barbie doll and three character outfits – a mermaid, a princess and a fairy. The beautiful blonde princess wears a pink bodice, a long glittery skirt, and a princess tiara. Your child can play out fairytale stories or create new adventures of their own.
This fantastic toy is one of the best Barbie toys for kids due to the exciting outfits, making this doll the perfect addition to every playset. The fact this doll can transform from a princess to a mermaid means kids love it.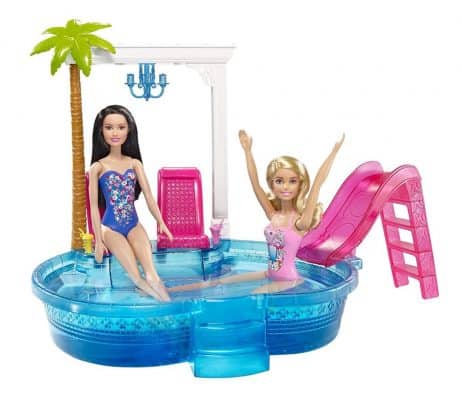 As one of the best Barbie games available, this Barbie Glam Pool Playset can be a great addition to your kids' Barbie collection. While it looks simple, it certainly can bring your little one fun and enjoyment. The set offers plenty of lively play opportunities. You can fill the translucent pool with water and you can set up the pink slide for your Barbie Dolls to use. Note that the Barbie dolls are sold separately.
Kids will have so much fun playing out poolside stories with this Barbie pool set. From a backyard barbecue to a tropical vacation, kids can explore all kinds of ideas. With Barbie, you can be anything.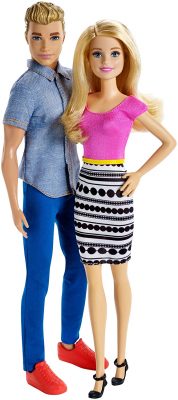 Double the fun with beautiful Barbie and Ken dolls in one pack together. The duo is ready for all kinds of adventures. Dressed in retro designs, Ken comes in blue plants and a shirt while Barbie is wearing a bright pink top and skirt with graphic prints. It's a great set to combine with other Barbie products and accessories .
Whether at home or on the go, kids will love the endless play possibilities with Barbie and Ken. This set is suitable for kids over the age of 3.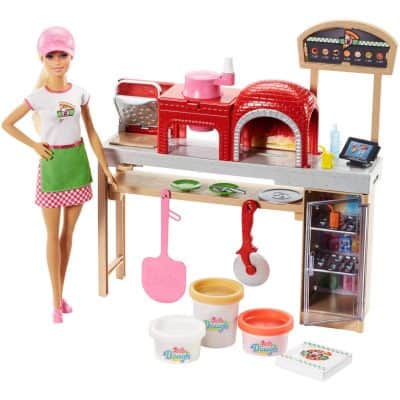 Let your kids cook up a pie with this Barbie pizza chef doll set. This set comes with a Barbie doll, an oven and all the ingredients to bake and serve pizza.
Create a pizza by placing the dough into the pizza press and preparing the sauce. Move it to the next station and turn the hand crank to sprinkle cheese on top of the pizza. Put the pizza in the oven. Use the spatula to serve slices or send the whole pizza in a box. There are so many things you can do. If your little one loves pizza, they will surely enjoy Barbie Pizza Chef.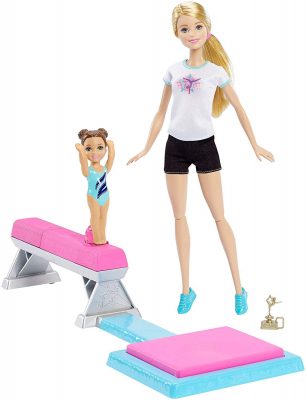 This fantastic set includes a Barbie gymnastic coach, a toddler student doll, a trophy and a balance beam with a landing mat. With this set, the student doll can practice her landings on the landing mat. Coach Barbie is here to make sure the student is okay and does her flips perfectly.
It is easy to activate and super fun to play with. Just place the student doll on the launch area and press the button to send her high into the air. The student does a flip and lands on the mat, thanks to the magnet attached. Dressed as a real gymnastic coach, Barbie wears shorts, a white t-shirt, and sneakers.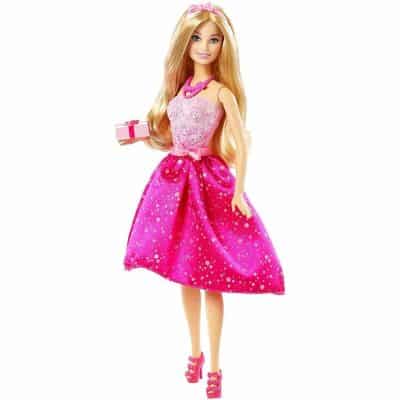 If your little one is celebrating a birthday, this Barbie Happy Birthday doll is the perfect gift idea. To make the Birthday celebration special, this Barbie set comes with a present accessory. Barbie's party dress stands out with a dark pink skirt and a light pink top. Barbie's party clothes sparkle with glitter.
Kids love the matching accessories such as the statement necklace, the pink pair of shoes, and a pink bow belt.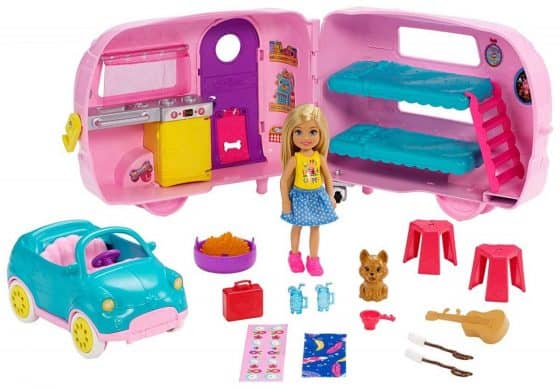 With this fun camper playset, kids can go camping anytime they want. If your little one is an adventurous type, this Chelsea camper doll is the perfect toy. The set comes with a Chelsea doll, car, puppy, camper, guitar, firepit, and ten extra accessories.
You can hitch and unhitch the camper, use the campfire to set a camping scene to inspire camp stories and songs. Inside the camper, there are two bunk beds with a ladder to ensure the Barbie doll has sweet dreams on the road. The set is suitable for 3 to 7-year-olds.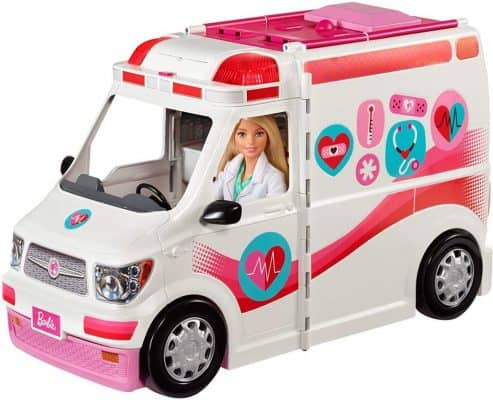 To make your kids use their imagination, this Barbie Ambulance and Hospital Playset is the perfect toy to add to your collection. This incredible set comes with 20 different accessories, including sirens and flashing lights.
The Barbie ambulance can quickly transform into a hospital, featuring a waiting room, exam room, and a gift shop. Barbie's mission is to respond to calls and care for her patients. Kids love it because there are so many things you can do with it. This set will provide hours of endless fun.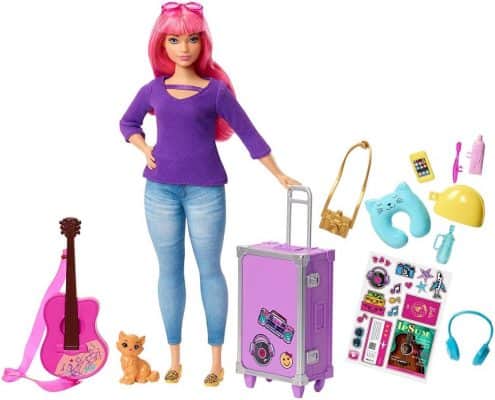 This realistically proportioned Barbie doll is ready for adventures around the world. Perfect for kids who enjoy traveling, this Barbie playset comes with all kinds of accessories. From a kitten for a travel companion to a guitar, working luggage, and nine other cool accessories, this toy creates hours of endless enjoyment.
With so many travel pieces, this Barbie travel set makes an excellent gift for young adventurers and explorers who cannot see the world. Youngsters will love taking Daisy places near and far, letting their minds travel as well.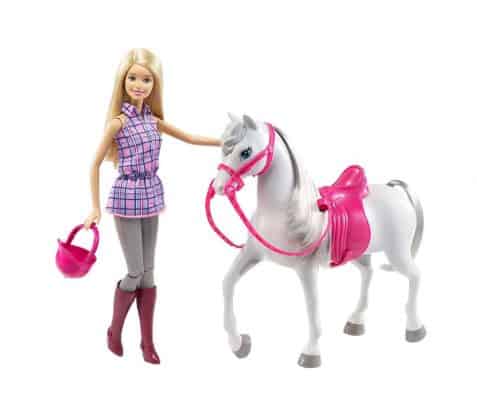 For parents who are looking for a traditional Barbie playset, this is a great toy to consider. This Barbie doll wears a cute riding outfit, tall riding boots, and a pink helmet to match the horse's saddle.
The horse comes with a soft tail and mane that can be brushed out and styled as kids prefer. If your child loves horses, they will find playing with the saddle and bridle lots of fun.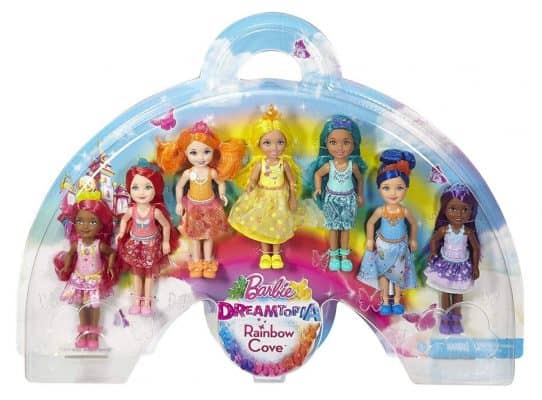 Next on our list of best Barbie toys for kids is this incredible Barbie Dreamtopia Rainbow playset. Unlike other sets, this one includes seven Chelsea dolls, each representing a different color of the rainbow. Each doll has a brightly colored outfit and has matching hair in a cute, unique hairstyle.
With matching outfits and hairstyles, these seven small dolls do stand out. Kids can play endless games and create all kinds of fairytale stories. This Barbie set is perfect for every girl above the age of 3.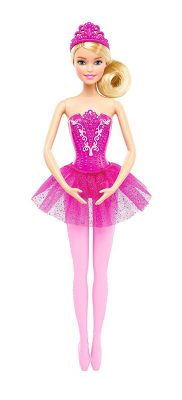 For a child who loves dancing, this beautiful Barbie Fairytale Ballerina doll is ideal. The doll is dressed in a cute pink dress and is ready to dance the day away. Your little one can choreograph new adventures or do traditional dance.
Available in a pink and purple dress, the doll also has a matching tiara, painted tights, and attached shoes to complete the look. Young dancers will love playing with this beautiful ballerina doll. You can spin, leap, and twirl to their favorite music hits.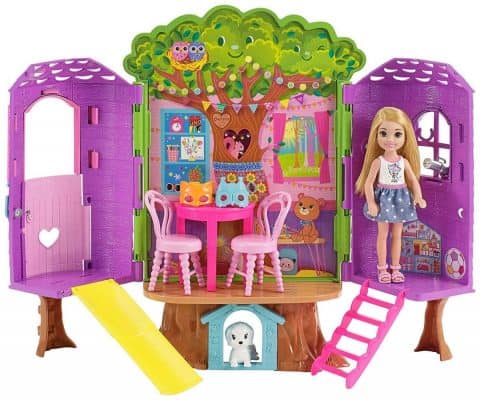 Elevate dollhouse play with a beautiful Chelsea doll, her cute puppy and her treehouse set. The house has five zones and accessories to keep kids' imagination engaged all day long.
Barbie Chelsea doll and her puppy can eat cupcakes, play dress up, slide, swing, and more. Kids can play from different angles. You can open the swinging door to the treehouse and send the Barbie doll up the ladder to enter the house. Fun details like a heart-shaped squatter, tree backdrop, and tree trunk add to the endless fun.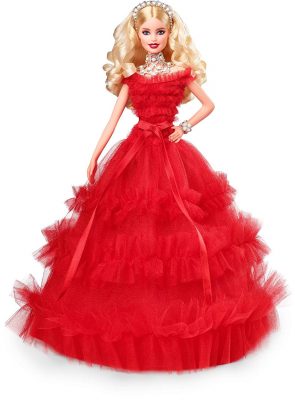 This beautiful Barbie Holiday doll is inspired by the first of its kind, designed 30 years ago. We love Barbie's red dress with multi-tiered layers. The dress is similar to that worn by the first official Holiday Barbie doll. This Barbie is styled with a big red ribbon with a bow at the waist.
Sophisticated accessories such as the necklace, headband, and bracelet complement her unique style and beauty. There are 30 pearls to celebrate the special occasion and represent that she is the original holiday doll.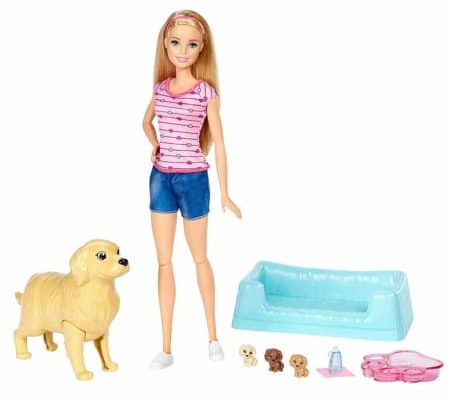 If your kids love puppies, there is no better toy to play with. This Barbie set features one doll, mommy dog, and three little puppies. Barbie's mission is to deliver some cute puppies and put them in the bed.
To deliver the puppies, press the head of the mommy dog, and watch how three little puppies pop out in the delivery tub. Apply warm water to reveal a colorful heart on each little puppy and to discover whether it is a boy or a girl. With this Barbie puppy playset, young animal lovers can bring so many happy stories to life.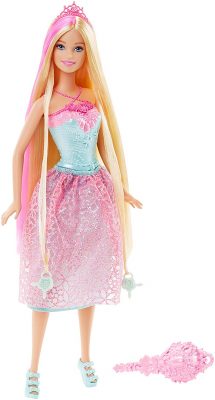 If you are looking for a unique Barbie toy for your child or grandchild, this is the perfect one. This Barbie doll has much longer hair than any normal Barbie, and that's what makes it so beautiful. With eight inches of pink-streaked hair, there's plenty of scope for styling her hair however your child pleases.
The set features a brush and two beads. You can use the decorative beads together if needed. This Barbie is available in pink, blue, and purple. Select your favorite color and pick extra accessories (other accessories sold separately) to braid and style.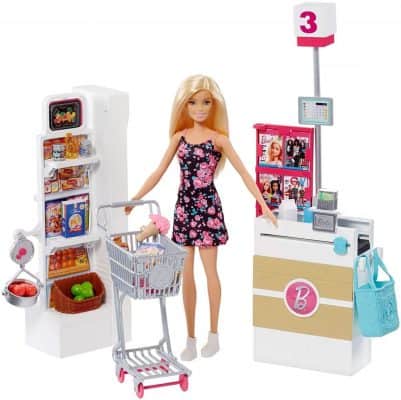 Youngsters want to copy what they see, and they often see their parents go to the grocery store to do the shopping. If your child loves to go grocery shopping with you, this is the ideal gift for them.
This Barbie set comes with all the items you need to run a supermarket. Some of the accessories included are a checkout stand with register, display stand, food to stock the shelves, and shopping cart. The inventory consists of milk, yogurt, eggs, apples, flowers, and more. At the end of the conveyor belt, there is a bag to put the groceries and carry them home.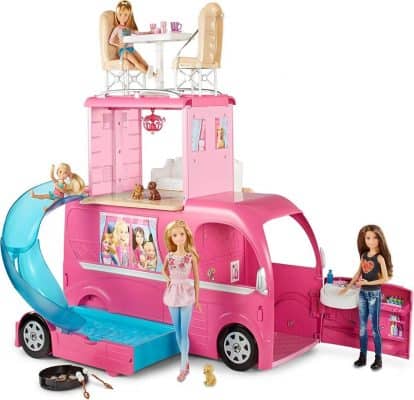 All young ones will love this incredible Barbie Pop-Up Camper set. The set includes so many great accessories such as a fire pit with marshmallows, hammock, and water slide, providing hours of fun and inspiration. By flipping over the spare tire, you can transform the back of the camper and reveal a complete kitchen with stove, oven, sink, and fridge.
The front of the camper transforms into a bathroom, and in the back, there is room for all sisters to sleep.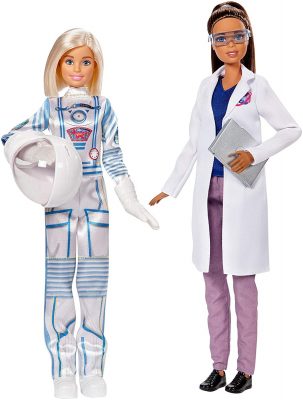 This collection includes Astronaut and Space Scientist Doll and is excellent for kids who want to be space explorers or rocket scientists when they grow up. These two doll friends are perfect for showing kids how working together can help accomplish great things.
It is one of the most inspirational Barbie sets on our list. The Astronaut doll is wearing a specially designed spacesuit with a helmet and gloves while the Scientist doll has a lab coat and laptop. They are ready for a new mission.

Inspired by the Barbie doll, this Chelsea boy doll comes with cool clothing designs, shoes, and an ice cream cone to expand the play possibilities. It is a perfect addition to any Barbie playset.
All-new looks and hairstyles can spark imaginations among kids and help play out countless fun stories. Dressed up in a striped t-shirt with a camera decal on it, orange shorts, and white sneakers, all kids over the age of 3 years old will love playing with the Chelsea boy doll.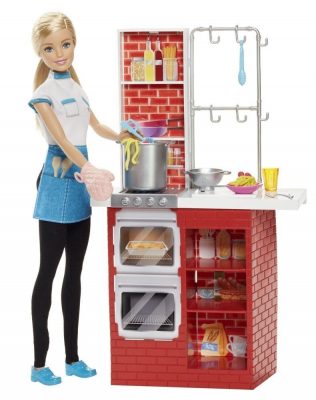 If your kid loves cooking, this Barbie set is the perfect gift idea. This playset is designed for serving delicious spaghetti dinners. Barbie can heat the kitchen, create spaghetti noodles, and serve lunch or dinner.
Kids love this toy because they can create realistic spaghetti noodles with the amazing spaghetti maker. There are extra accessories included in the set to make the experience even more authentic. Barbie comes with a chef-inspired apron, black pants, and an oven mitt.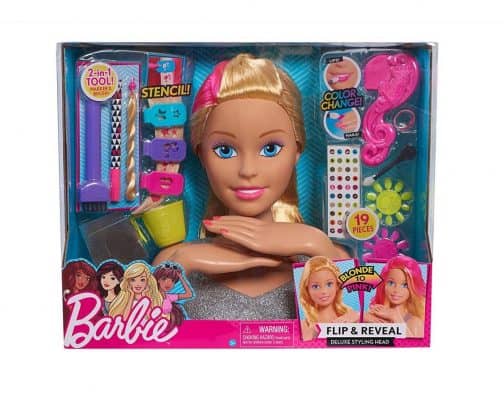 This is not the traditional Barbie doll. However, it must be included as one of the best Barbie toys for kids as it creates hours of endless fun and enjoyment. The Barbie Styling Head will motivate youngsters to express their style through styling Barbie's hair.
The playset comes with lots of accessories, including brush applicator, color change gel, hair barrettes, and fun hair decorations. To activate nail color change, add water to the applicator brush and swipe Barbie doll nails. Young stylists can also add stickers for a unique look.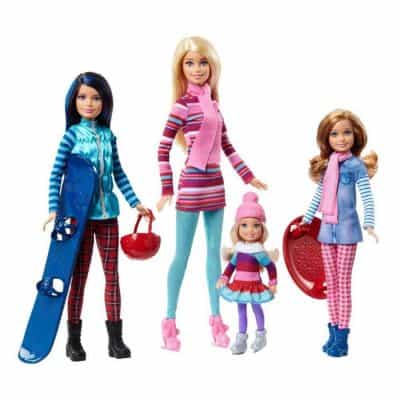 For a unique Barbie set that will occupy your kids for hours, consider this Barbie Sisters Winter Gateway playset. Unlike most Barbie sets, this one features four dolls ready for a skiing getaway. Barbie, Chelsea, Skipper, and Stacey are all ready for a new winter adventure.
It is the perfect family set to gift to your kids. All dolls are dressed up in warm clothes including sweaters, hats, and scarves and are ready to enjoy winter sports fun. Each Barbie doll has a favorite hobby. One prefers sliding, other snowboarding, the third skiing and last ice skating.