Top 30 Best Lego Sets for Kids 2022
This toy set features a police station toy which has every piece to create the scene of a cop, that will wow both boys and girls. There is a safe, spyglass, and jail cell with an opening door to keep the villains. A helicopter is available to chase the bad guys. It comes with a quad bike and a crook who breaks into the safe and steals the cash inside, but there is a police officer who is ready to give chase. This 115-piece set is easy to build and is suitable for boys and girls of ages 4 to 7. A simple guide is there to help your kid to build and play, and they build their confidence as they are having fun.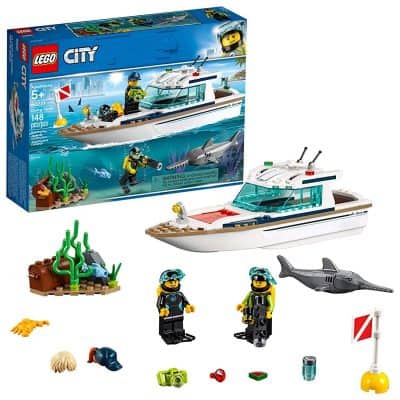 This 148-toy set has everything that a kid needs to create a complex underwater environment. Your kid will enjoy removing the roof of the diving yacht and it comes with a turning searchlight. The buildable buoy, opening treasure chest and a seafloor scene will complete an adventure into the underwater world. In addition, you also get 2 LEGO City mini-divers, a swordfish, and crab toys. So, whether your children only want to play with the buoy and yacht or they desire to build the entire underwater scene, this set has all the pieces they need to enjoy with their imaginations as they search for the treasure chest.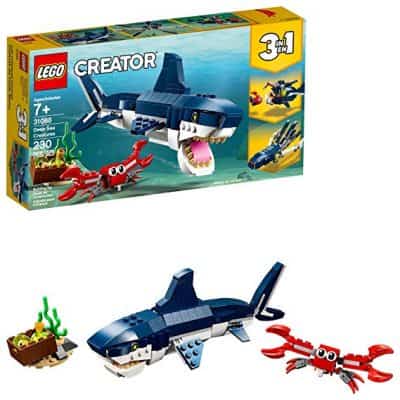 LEGO Creator 3 in 1 provides a lot of creative opportunities for boys and girls to create 3 ocean-theme models with this playset. They can build a shark, a crab, a squid or a huge Angler fish while searching for a box of treasure. A scary shark toy features an opening mouth with pointy teeth, movable joints, reflective eyes, and moving fins, which makes the entire playtime exciting. This kit has 230 pieces and the fans and children of all ages can join in the play as they create this underwater world which has deep sea creatures.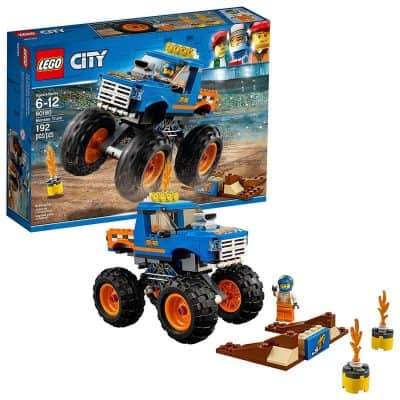 The Lego City Monster Truck is geared towards kids who are between the ages of 6 and 12. It has 2 fire barrels which feature flame elements, a buildable ramp, and a stunt driver mini-figure. This set has 192 pieces to create a stunt show for your child. While kids will be building the monster truck, they will be developing their building skills. The truck also has air scoop and working suspension to make it appear authentic. Your child will enjoy watching his truck moving over the barrels with flames or through the barriers.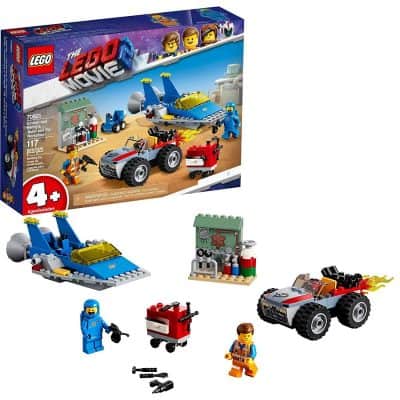 The set encourages kids to follow instructions as they build two toy cars, a spaceship, and buggy. The building exercise helps the kids to develop their building skills. The kit includes a Starter Brick Base which helps the first-timers learn the skill of constructing buildings and cars. It also has a buildable gas station and there is a tool trolley to help your kid on their way to playing The LEGO Movie 2. This 117-piece Lego set features a gas station with the right tools to fix the spaceship and buggy. The kids love to play their favorite stars, Emmet and Benny. The building instructions will help your kid understand the task ahead and gives them the confidence to accomplish the project.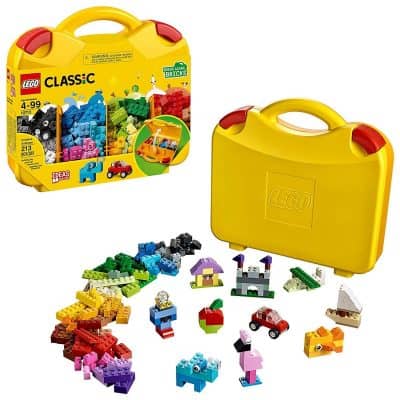 The LEGO Classic Creative Suitcase is good for kids who already have a LEGO collection or they are just beginning to collect because it has everything in it. The kit has 213 pieces which come in a bright yellow suitcase to help you carry it wherever you want to go. The building blocks come in different colors which is a great way for kids to become familiar with the colors. It also has bricks, shapes, wheels, and eyes to helps them build anything such as cars which can stimulate them to learn fine motor skills. The set is suitable for boys and girls of 4 and 99 and it comes with a simple to follow instructions.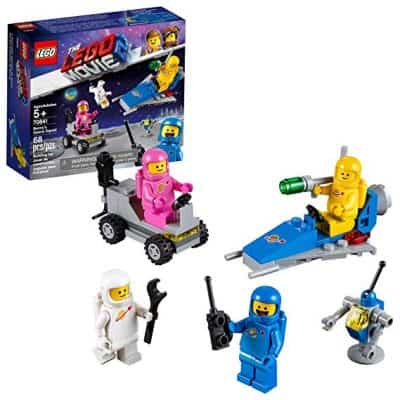 Space missions have always attracted special interest from many kids. This pack consists of 4 characters from The Lego Movie 2 and a lunar buggy that has 2 mini-figure seats to help them role-play as they explore new planets. The outer space accessories include air tanks, helmets, a walkie-talkie, and a metal detector. The 68 pieces are enough to build a perfect space scene for boys and girls aged 6 and above, and all kids who are fans of The LEGO Movie 2. If you have other original LEGO sets and LEGO bricks, you can use your imagination and creativeness to build a space scene with this set.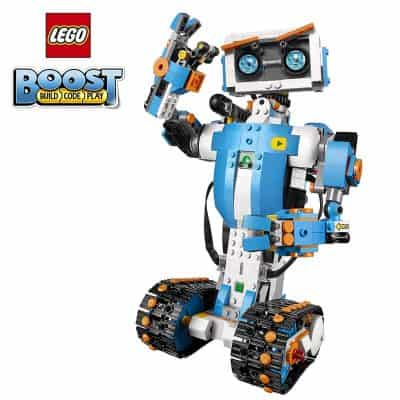 This kit has 847 pieces that children can build into 5 different models, which are educational and interesting. Boys and girls of between 7 and 12 years old have a chance to build, learn, and program robots, which develops their interest in science. The pieces have various colors, distance and tilt sensor technology to enable you to have a day of fun. You can use basic coding to bring robots such as Vernie and Frankie to life. The entire production line can be automated and the set comes with a free app on your tablet, which is used as a source of basic coding.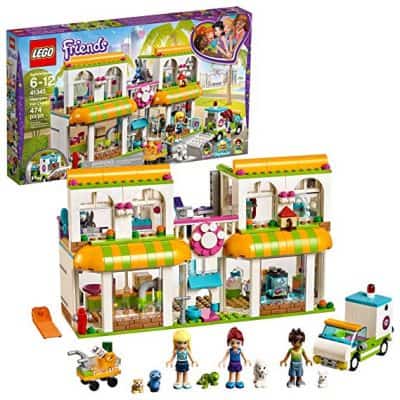 This LEGO set is suitable for boys and girls between the ages of 6 and 12, as it will let them create their own 2-level pet center. This is where they can build a pet shop, vet clinic, and grooming parlor. The kit includes a grooming van to carry their 5 furry friends figures and 3 mini-doll figures which can swap clothes and their body parts can populate the pet center. This is a 474-piece set that comes with several accessories such as scales, a playground that has a seesaw and a sleeping area. It's a great set for kids to learn how to interact with their friends as they are role-playing.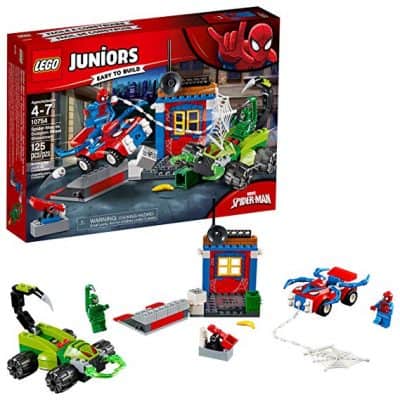 The kit has 125 easy to build pieces with a Spider-man and Scorpion. It's a proper set for small hands as the children attempt to build an alley wall which has a rooftop, ramp, and opening window. It also includes connection spots to connect big webs which the Spider-man uses. To complete the construction, there is a car with movable legs for Spider-man and another one with movable pincers and a tail for Scorpion. This junior set is easy to build, this helps the kids to build on their confidence. A simple guide is there to help the children complete the constructions so that they can start playing pretty fast.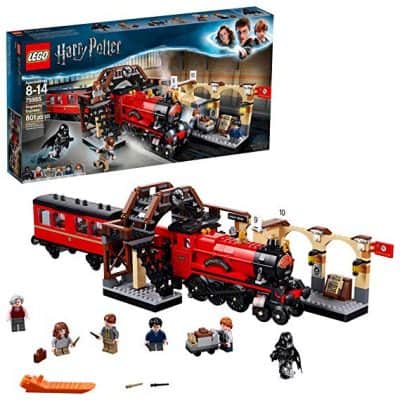 Children get to improve their coordination as they build this LEGO Hogwarts Express train set which has a removable side panel and roof. It also comes with a railway bridge, a train toy, a carriage with 4 seats, and mini-figures such as Harry, Hermione, and Remus. They can unleash their creative skills by building Hogwart's dining hall and potion room. This kit which is designed for kids aged between the ages of 8 and 14, blockbuster Harry Potter fans, and big kids of all ages has 801 pieces that make it possible to use their imagination to create a movie scene. The set can also be used with other original LEGO sets and bricks.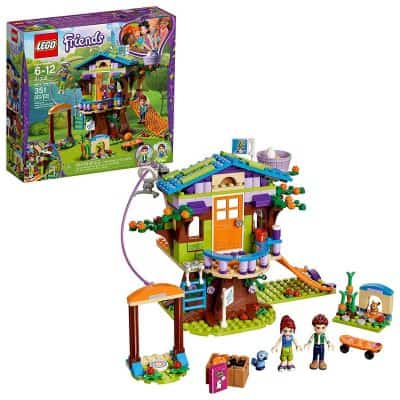 This toy set is designed for boys and girls aged between 6 and 12 years who want to have fun with Mia as they build a detailed tree house. The set comes with a zip wire, an attic which has an opening, and a climbing net for the mini-figures to use when getting into the tree house. This is a 351-piece kit that includes mini-figures of Mia, Daniel, Mimi bunny, and Cinnamon figures. The folding ladder and skateboard are included for the mini-dolls and this allows the kids to be imaginative in their playtime. Wild animal figures inspire the children to use creative building play.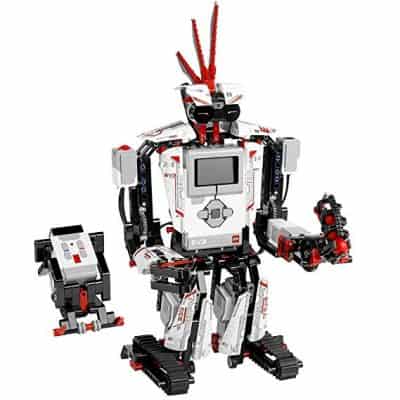 This EVE3 features a robot that you can control using the app to make it talk, walk, or play games. It's a STEM engineering robot ideal for children of all ages. The building instructions are simple to follow and you can download further instructions which are available online to make it more customized. This set has 601 pieces and features 3 interactive servo motors, and color, touch and IR sensors. This kit will undoubtedly keep the kids busy as they have to create 17 different robotic designs with their own features. This set provides endless opportunities for kids to learn and explore technology.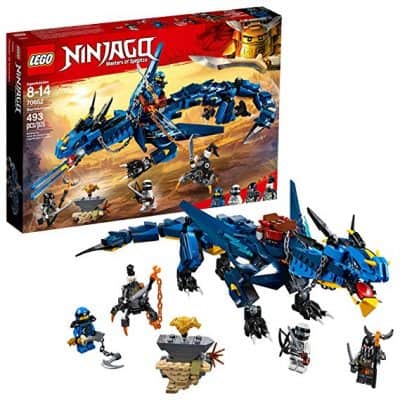 This is a 493 pieces project that guarantees long hours of play as the kids build some TV series scenes. The set has shooters, a swiping tail, and mini-figures which can be used to engage some ninja warrior battles. The mini-figures can have assorted weapons such as collectible dragon bone blade to add new dimensions of roleplay. It also comes with a pedestal for the Dragon Chestplate. Children can take part in roleplay as they ride the dragons with their mini-figures. LEGO Ninjago Masters of Spinjitzu can be built with other LEGO sets and pieces to make epic adventures.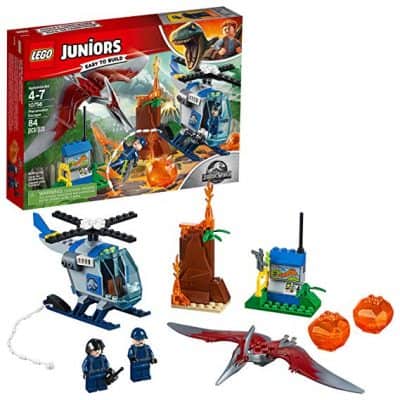 While some LEGO kits come with man pieces, this set has 84 pieces for kids to build Pteranodon figure which has movable wings. It has a small volcano and buildable lava balls that will help them use their imagination to play. In addition, the set features a helicopter that has a spinning rotor and a Starter Brick chassis that will enable the kids to build their confidence as they complete the project. The three figures of a Pteranodon, a tracker, and a pilot will stimulate excitement in the kids as they play scenes from the Jurassic movies. This kit is suitable for boys and girls aged between 4 and 7 years old.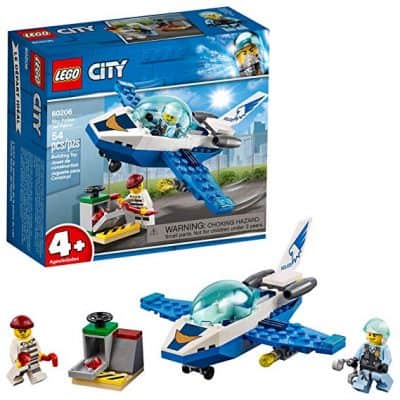 This set is recommended for kids aged 4 years and above. It's made up of 2 mini-figures which are a crook and a police officer. Children can build a Sky Jet airplane which has an opening cockpit. A turning searchlight and a Starter Brick base suitable for the first-time builders will make sure that your kid builds and plays with heroes that want to make the world safe for everybody. A simple guide helps your kid follow the instructions as they make their way to become creative builders. This grows their imagination as they chase the bad guy who wants to steal gem elements that are in an opening safe.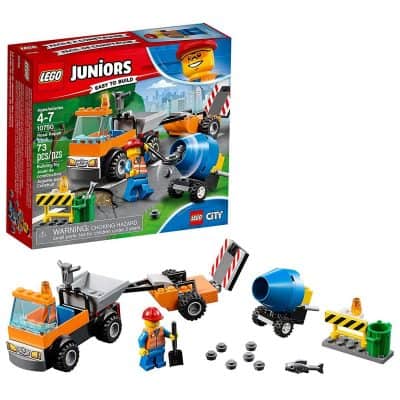 This kit consists of 73 pieces to help kids build a strong road repair truck toy that features an open back to carry construction tools. It also comes with a roadblock toy, a detachable trailer, and a spinning cement mixer, which are enough to appeal to the kids. A road worker figure is small enough for the children between the ages of 4 and 7 to hold. Kids can use their imagination and creativity skills to build different cars. This is a fun set that will help kids build and play and they can use bigger starter pieces to gain confidence, especially in younger kids.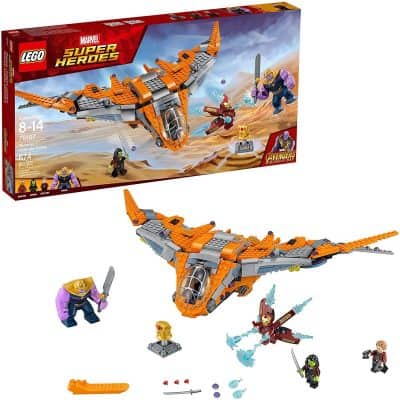 Lego Marvel Super Heroes Avengers is perfect for growing minds as they build Infinity Thanos with the 674 pieces. This set has the Guardians of the Galaxy Starship and the Benetar. With the inclusion of a Thanos figure and Infinity Gauntlet, it makes this set exciting to build. It has a lot of accessories including 4 mini-figures, Infinity Stones which can be placed to the Thanos figure, and a sword. The Guardian's Starship has an opening cockpit where you can put the space scooter. There is an opening rear room and storage room to keep the Infinity Gauntlet which comes with its own stand, and stud shooters. This set recreates scenes as depicted in the Marvel movie.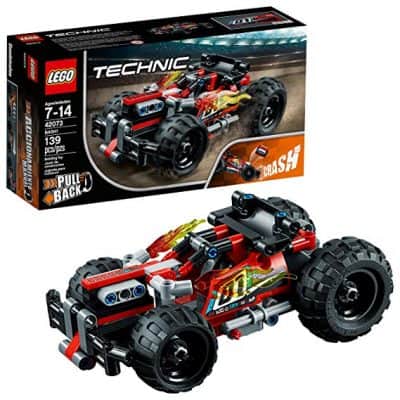 This kit does a fine job for kids as they build a powerful pull-back car with a sturdy front bumper. The motor features a large spoiler at the back, wide rims which have tires and an engine that comes out as it hits an obstacle. The kids will find all pieces they need to make their car clean such as Care and Cleaning elements for wiping it clean. Kids of ages between 7 and 14 years use this set not only for creative building but to fine-tune their fine motor skills.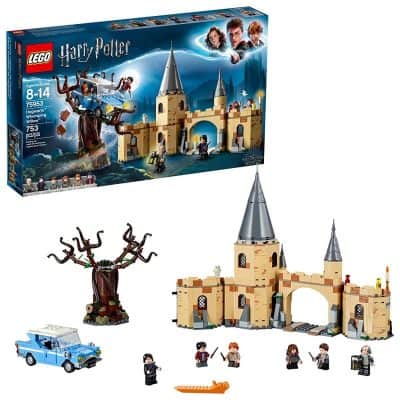 This is a set of toys made up of 753 pieces that can be used to build Hogwarts Whomping Willow that features spinning branches. It also has a three-story castle model with a gate and other interesting accessories such as potion wands. The set comes with the flying Ford Anglia car, 6 mini-figures such as Harry Potter, Ron Weasley, and Argus Filch. The kids will use their creativity to build Professor Snape's office and potion classrooms. Boys and girls will have a great time as they recreate the scenes from the fantasy Harry Potter and the Chamber of Secrets movie.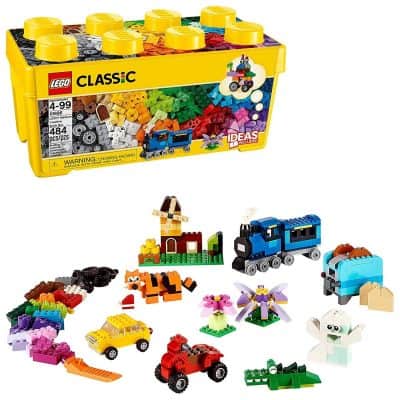 LEGO bricks promote constructive play and provide an early learning environment for your little girl. The Classic Medium Creative Brick Box contains 484 pieces with 35 different colors suitable for girls and boys aged 4 years and above. The collection of bricks includes 18 tires, wheels, rims, windows, eyes, and more that will help her to create buildings, vehicles, and more.
The construction set features a wide range of constructions with model pictures of a blue train, a tiger, flowers, and a windmill with a green baseplate and window frame. Unfortunately, the instructions included in the kit are lacking, so you and your little one will need to figure out how to build them on your own.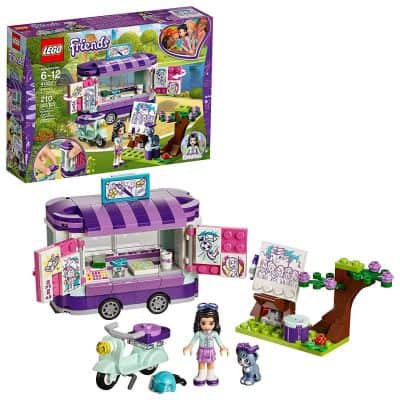 This kit is very engaging as it allows boys and girls of ages between 6 and 12 to build their LEGO friends and play with them. It features an art stand trailer that can be opened in three different ways, a postcard stand, and a cat bed. Besides, it has a separate painting area that has an easel for more creations. Kids get to recognize Emma mini-doll figure and Chico who is a cat figure. The kit comes with 210 pieces for creative toy building. The clothes and hair for the mini-dolls can be swapped for the kids to build their own.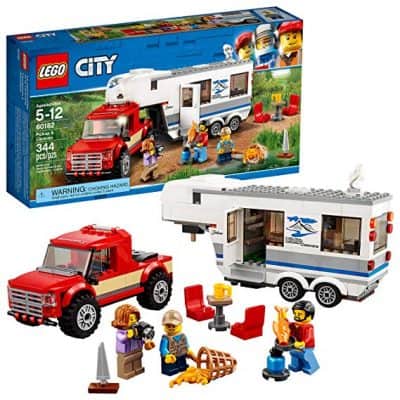 This is an interactive set that allows kids to build a pickup truck toy. The truck has a hitch, a caravan trailer with a removable roof, a side opening, and a leg to support it. This car helps kids develop fine motor skills while they are enjoying playing with it. The figures of mom, dad, son, and crab figure create imaginations of the camping adventures. The figures can be put inside the caravan by opening the roof and the side. This is a good opportunity for kids to roleplay as they go outdoors to have fun.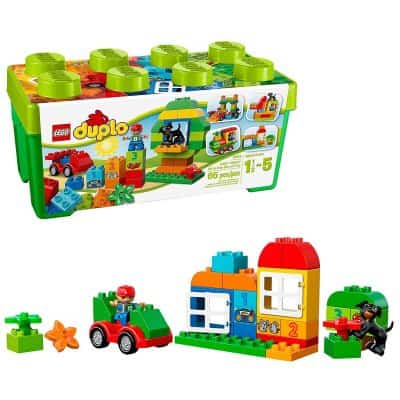 The kit is designed for kids of between 1.5 and 5 years. It has 65 colored pieces which are easy to handle, making them ideal for a toddler of 1.5 years old. The pieces are also numbered which is good to develop the counting skills of the young minds. It includes one boy figure and a dog figure. The LEGO Duplo pieces can be used in the same way as the other set by building many things such as cars and houses. The set comes in a storage case, making it easier to carry the set on a trip.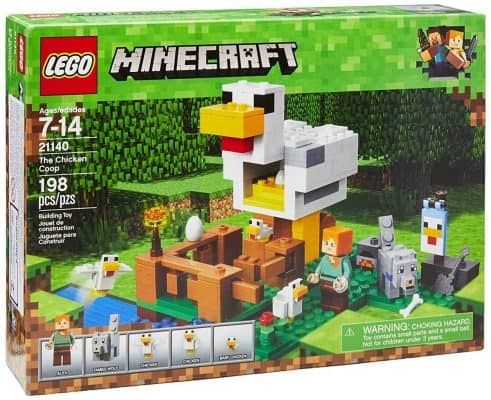 The LEGO Minecraft The Chicken Coop is an educational toy that allows kids to build a chicken farm. Children get to learn how to build a chicken pen and furnace. The set has water and grass areas, an elevated henhouse that is designed to deliver chicken eggs straight into a box. The kit ensures the children interact with Alex who is the mini-figure, baby chicken and wolf figures, plus 2 chicken figures. This is a 198-piece set that caters for boys and girls of between 7 and 14, who enjoy the Minecraft video game.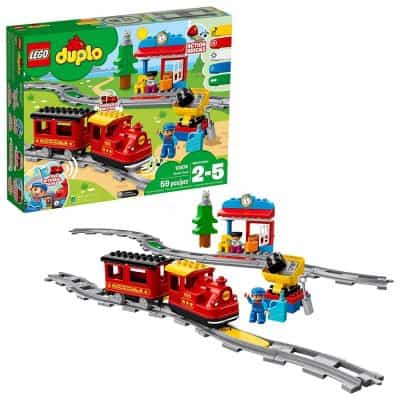 This set will spark your child's imagination and they become creative as they build a push and go train. It comes with 16 track pieces and action bricks, and you can also use an app on your own device to remote control the amazing train. You can activate the lights, sound, and movement to have a wider dimension of fun activities. This is an easy-to-build train designed for toddlers who can play with an animal figure, locomotive driver, and a child figure to increase their fun and creativity. The set has 59 pieces and is suitable for boys and girls aged between 2 and 5, and all other kids who love trains. The kids are going to benefit through language development and cognitive development.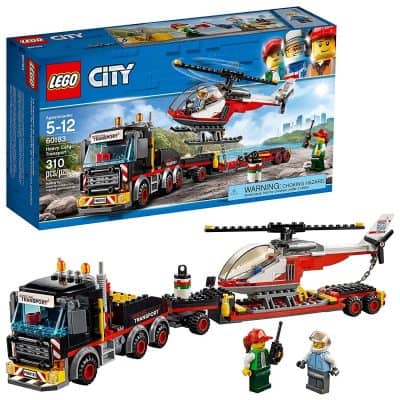 Kids can have long hours of fun and play with this 310-piece set. They can build a large truck which has an opening cab and a flatbed trailer. The set also comes with a toy helicopter that features spinning rotors and an opening cockpit. Plus, it has 2 mini-figures of the truck driver and helicopter pilot. This is designed for boys and girls between the ages of 5 and 12, who can use it not only to play but also to develop their fine motor skills.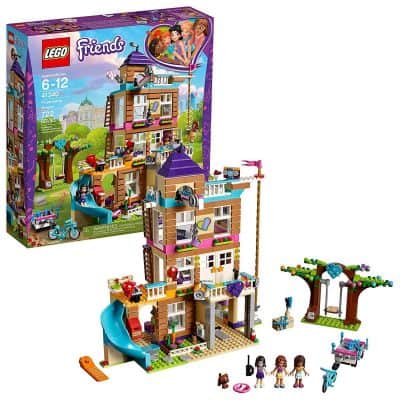 This is a set of toys made up of 722 pieces that can be used to create a girls doll house. It has a multi-story fire station house with a garage, kitchen, roof terrace, and a pulley system. The girls would love to see a slide where they can swing and enjoy some patronizing the juice bar. The mini-dolls have their own hot tub and there is a friendship tree. This toy is safe for boys and girls aged between 6 and 12 years old who can enjoy interacting with the hamster and the bunny figures.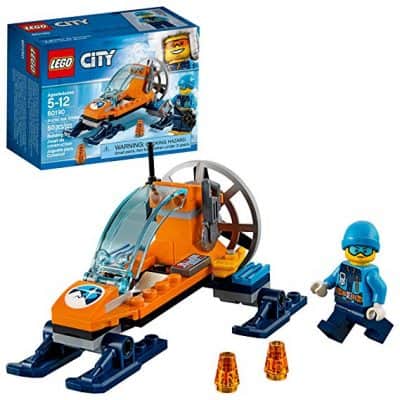 The LEGO City Arctic Ice Glider set consists of 50 pieces and comes with an Arctic explorer mini-figure, a map, lights, a radio, a saw, and snowshoes. The kids can build an Arctic ice glider featuring a spinning fan. This set is perfect for boys and girls aged between 5 and 12, and all fans who are passionate about exploring the Arctic region. It's easy to build and there are plenty of opportunities to play a variety of activities by using their creativity and imagination.
The Lego Creator 3 in 1 has 223 pieces enabling kids to build a fire-breathing dragon with terrifying eyes, large fangs, and sharp claws. Children can have fun and experience their creative skills by rebuilding the pieces into a spider or troll toy. This toy has movable legs, tail, head, and wings, which helps the kids to use their imagination as they play with the monstrous creatures. The set is suitable for boys and girls between the ages of 7 and 12.