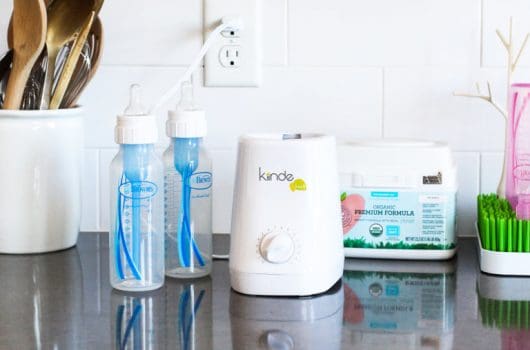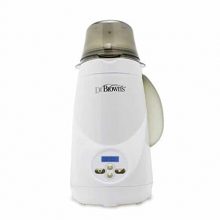 Dr. Brown's Bottle Warmer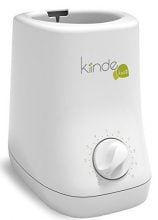 Kiinde Kozii Baby Bottle Warmer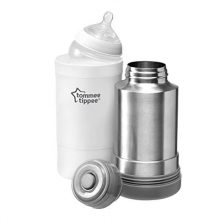 Tommee Tippee Bottle and Food Warmer
Previous
Next
It's probably the most respectable title you'll ever have: 'Parent'. But it won't feel glamorous or remarkable every day. That bundle of joy in your arms comes with many challenges. So here's one huge benefit of living in the 21st century: Technology can make a lot of things easier so embrace it.
Your child's feeding times are some of the most important parts of the day. It keeps them healthy but can also help you find a routine faster. But that only happens if you get everything done in time. So let one of the best bottle warmers 2018 has to offer help you cope a little better. Below we reviewed some impressive ones.
Features to Consider in Good Bottle Warmers
You've probably heard parents purchase many unnecessary items while they prepare for the baby's coming. Believe me, a bottle warmer doesn't fall in to this category.
Bottle warmers—and some that are effective to warm up food too—make feeding times easier so you can focus on other important tasks. And since the milk's temperature is vital you can't get this wrong. You don't want to burn your child's delicate tongue or offer too cold liquids. He or she may refuse to drink it which ruins your routine and leaves the baby hungry.
So let's help you pick a good one.
Aren't They All the Same?
If you really want effortless feeding times don't simply pick the first bottle warmer you find on a store shelf. Technological developments have empowered manufacturers to add handy features that are definitely worth the investment. Now you can find one that makes sense in your context and will suit your lifestyle.
Here's an example: If you're fond of traveling you must get a warmer that will work in the car and may not even need electricity. This enables you to carry one with your usual hobbies even after Baby has arrived.
See? It's worth doing some research.
How to Pick the Best
You may not be aware of all the functions these machines have. Let me guide you through them.
Features
Read through the list of features and see what's applicable to your lifestyle. There's no point in paying for something you'll never use:
Sterilizing feature
Night light
Bottle cooler
Activation via your Smartphone
Warmer
Keeping milk warm for long periods
Ease of Use
Above all it must be user friendly. When your baby is screaming for milk you don't want to be frustrated with complicated procedures, too small buttons or the need to measure liquids to the last drop.
Safety
You'll be holding your baby in your arms most of the times while using your bottle warmer. Is it safe to have around children and does it have guidelines in place that will prevent the milk over heating? You can't serve scalding hot milk.
Maintenance
And when you're done making a bottle you know you need an easy clean up procedure. New parents don't have the luxury of free time—or energy—to tend to messes and scrubbing.
Make sure your bottle warmer complements your parenting instead of making it more difficult than before. Now let's get shopping.
Top 10 Best Bottle Warmers 2020
Guide to Buying the Best Bottle Warmer
Why Do You Need a Bottle Warmer?
Yes this is luxury living but it's convenience you shouldn't say no to. You know how grumpy you can get when you have to wait in line at a restaurant. Why put your child through that agony if his or her milk can be ready in minutes?
And here's the truth: If you experienced the effortlessness and speed of these machines once you'll wonder why you didn't get one sooner.
A bottle warmer makes it easier, safer and frustration free to be a parent especially at those times you need it most such as midnight feedings.
Now let's help you find a good one for your home.
How Do You Know Which One is Best?
Here's what you need to remember when shopping for baby products: Stay relevant.
Modern gadgets meet many of our needs but they'll only be value for money if they actually suit your personal preferences. Here are the main features you'll find and now you simply have to pick the ones that relate to your lifestyle.
Types of Bottle Warmers
Parents are often tempted to purchase all the gadgets they can find. Some couples end up with three versions of similar products. Yes, they'll work but it can waste your money.
Is there a type that will suit all your requirements instead of having a separate one for each application?
Home bottle warmer:These units usually stand on kitchen counters and they use steam. Obviously you won't take one on the road as you can't use it in the car.
Hot water home bottle warmer:You don't use steam but water needs to be heated to a certain degree for it to heat up your bottles. This could take longer and won't work on the road.
Travel bottle warmer:This can draw power from your car or it can use hot water from a thermos you carry with you. These can work at home or on the road and could be your only purchase if you're happy with the time it takes. These are essential for people who are often on the road.
Features To Look For
Once you know which type will fit with your habits you must look at the finer details:
Bottle size: What bottles can the unit handle? If you use a certain brand of bottles—and remember your child may be particular about which ones he or she prefers—make sure the warmer accommodates it.
Timing: Do you want to do certain tasks manually—such as setting the time—or do you prefer automated features? You'll pay more for high tech gadgets and it's a waste of money if you'll never use it.
Safety: Does it have auto shut down features? This is essential for those times you get sidetracked and may forget about the bottle altogether. Also, think about the danger of hot water or steam hurting you or the baby. Is the design safe to use around small children or can they easily make it topple and spill the hot liquid?
Energy-saving: An auto shut off also helps you save energy.
Healthy living: Modern research has shown us that our food intake often doesn't provide the nutrients we need and cooking methods are part of the problem. If your baby's milk or food gets too hot the healthy nutrients will be killed off. This is one good reason to invest in a pricier model.
Benefits You Don't Realize Until Later
My utmost respect to all parents who manage to do everything by themselves and manage without modern technology taking over. Simple living is a great option.
But what if you're missing out on some great benefits that—in hind sight—you may wish you could have had? Think about this:
If you need to hand over care of your child to someone else it's easy to teach them to use these bottle warmers. As a bonus you won't have to worry about whether the person's manual heating or temperature measurement works. You know your bottle warmer works so you know your baby will be happy.
These units are designed to create safe parenting environments. There won't be any risks of hot water splashing over you or your child which is possible when you use your kettle.
Do you really have time to wait for the tap to warm up when the only milk you have is frozen? These emergencies do happen. Perhaps the mother has a problem expressing milk or you simply forgot to buy formula. Limit the time your child needs to wait for a feeding by being prepared with this.
Now simply make the decision whether these situations are important enough to warrant a little more tech in your home.
Does Parenting Require Technology?
Imagine getting up in the middle of the night because your baby is screaming. Do you really want to bother with boiling the kettle, trying to get the milk to an ideal temperature, wiping the sleep from your eyes while your child is crying in your arms and probably in need of a diaper change too?
While some activities require your full attention it's a waste of your time to watch a bottle warm up if a machine can do it for you. Rather calm your baby and let tech take over. This is one of those gadgets you won't have buyers' regret about.
Get it Right from the Start—A Few Warnings
The Formula Container
Remember you're working with warm water all the time in these units. This creates opportunity for mould to grow. Prepare to clean these containers regularly (weekly or daily) to prevent scale, odors and unhygienic components.
Counter Space
Put in the effort of looking at each aspect of your bottle warmer before making a purchase. Even its size can affect whether you're going to love or hate it:
Is there enough space on your kitchen counter?
Is it small enough that you can place it in the cluttered baby room if necessary?
If it must travel with you will the size make it easy to put in your luggage?
Having a baby is a wonderful experience but without proper planning the elements of parenting can be overwhelming and something as simple as counter space can be something you yearn for. Some parents tend to pack away valuable and effective tools simply because a kitchen or room becomes too cluttered. What a waste that would be!
Final Words
It's worth your money to minimize your frustration. Technology can make parenting easier and this is one of those gadgets you should treat yourself to. As many users state, it's simply better than standing by the tap waiting for water to heat up while a baby screams in the background. Which of these will be in your kitchen from now on?